Getting Started With WordPress
- How to get up and running with WordPress
(WinningWP content is free to all. If you make a purchase through referral links on our site, we earn a commission – learn more).
Looking for an complete and easy-to-follow guide on how to get started with WordPress?
WordPress is by far the most popular way to make a website, so you've definitely made a great decision. It powers well over 40% of all websites — and that number is only going up!
People love WordPress because of its flexibility and community. It's free, open-source, and has tens of thousands of extensions that let you customize your site's look and functionality without requiring any special technical knowledge.
But when you're just getting started with your first WordPress site, it can be tough to know what you need to do to get it up and running.
To help, we're going to walk you through exactly how to get started with WordPress in seven easy-to-follow steps.
Ready to begin? Let's get you a working WordPress site!
Note: This guide is about how to get started with a self-hosted WordPress site powered by the free, open-source WordPress software found at WordPress.org. This is different from WordPress.com.
How to Get Started With WordPress: Step-by-Step Guide
Below, I'll take you through every step you need to take to launch your WordPress website in detail, but, before we get into the nitty-gritty, let's take a high-level look so you know the basic process you'll be following:
Choose a domain name — your domain name is your WordPress site's permanent address on the Internet. Ours is winningwp.com.
Purchase web hosting — web hosting is the 'engine' that powers your WordPress site and makes it accessible to visitors around the world.
Install WordPress — most WordPress hosting companies give you convenient tools to install the free WordPress software.
Pick your WordPress theme — your WordPress theme controls how your website looks. It lets you personalize your site without requiring any special knowledge.
Install must-have WordPress plugins –– while themes are about style, WordPress plugins are all about adding new functionality to your WordPress site.
Add your content — you have some options for how you add your content.
Consider other plugins as needed — beyond must-have WordPress plugins, there are tens of thousands of other plugins you may want to use.
Now, let's go through everything in more detail…
Step 1: Choose Your Domain Name
Your domain name is your site's permanent address on the web — every website needs one so people can access it. Ours is winningwp.com.
In addition to being your site's address, your domain name also plays an important role in branding, so you'll want to put some thought into getting it right.
So, what's a good domain name? It depends…
If you're building a personal portfolio, you may want to use your own name — such as keanureeves.com. Or, if your business already has a name, you'll probably want to use that — such as walmart.com.
Otherwise, you'll need to do some brainstorming to come up with the perfect name — we have tons of tips on how to choose a domain name, or you can use a domain name generator to jumpstart the process with some ideas.
There are two parts to your domain name — the name itself (e.g. 'winningwp') and the domain name extension (e.g. '.com').
There are tons of different domain name extensions and, while '.com' is the most popular, it's becoming more and more acceptable to use a different extension.
The tricky thing, though, is that a specific domain name can only be owned by one person at a time. Once that domain is registered, no one else can register it (unless that person lets the registration lapse). For example, you can't go out and buy facebook.com.
For that reason, you may find that a lot of the names you think of are already taken — you can test this with Instant Domain Search. If that happens, you can either try a different extension (such as '.net' instead of '.com') or use a different name: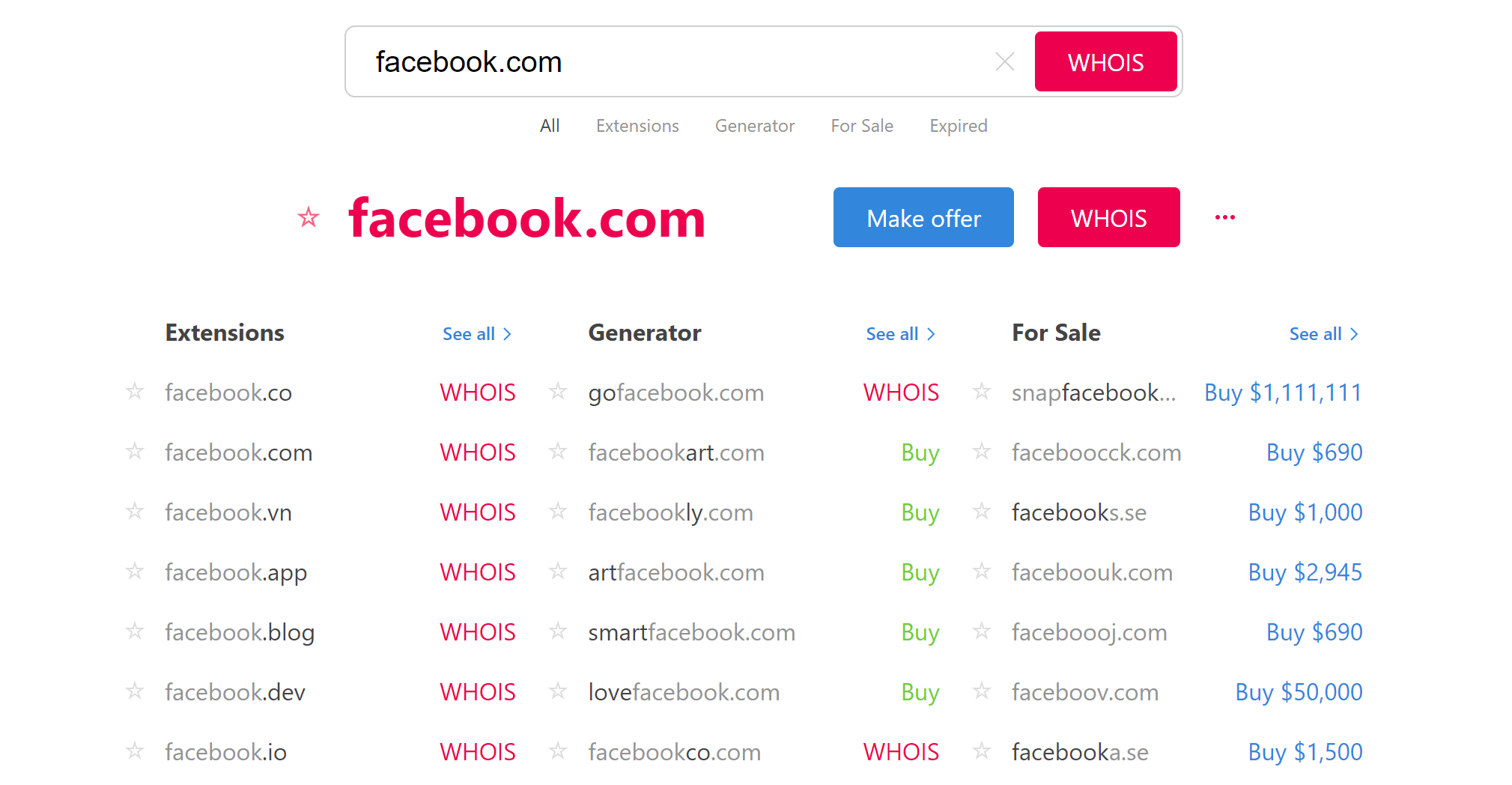 Once you find the perfect domain name, you need to register it via a domain name registrar.
There are a lot of quality domain registrars, but we recommend Google Domains.
To purchase your domain name:
enter your domain name
add it to your cart and check out.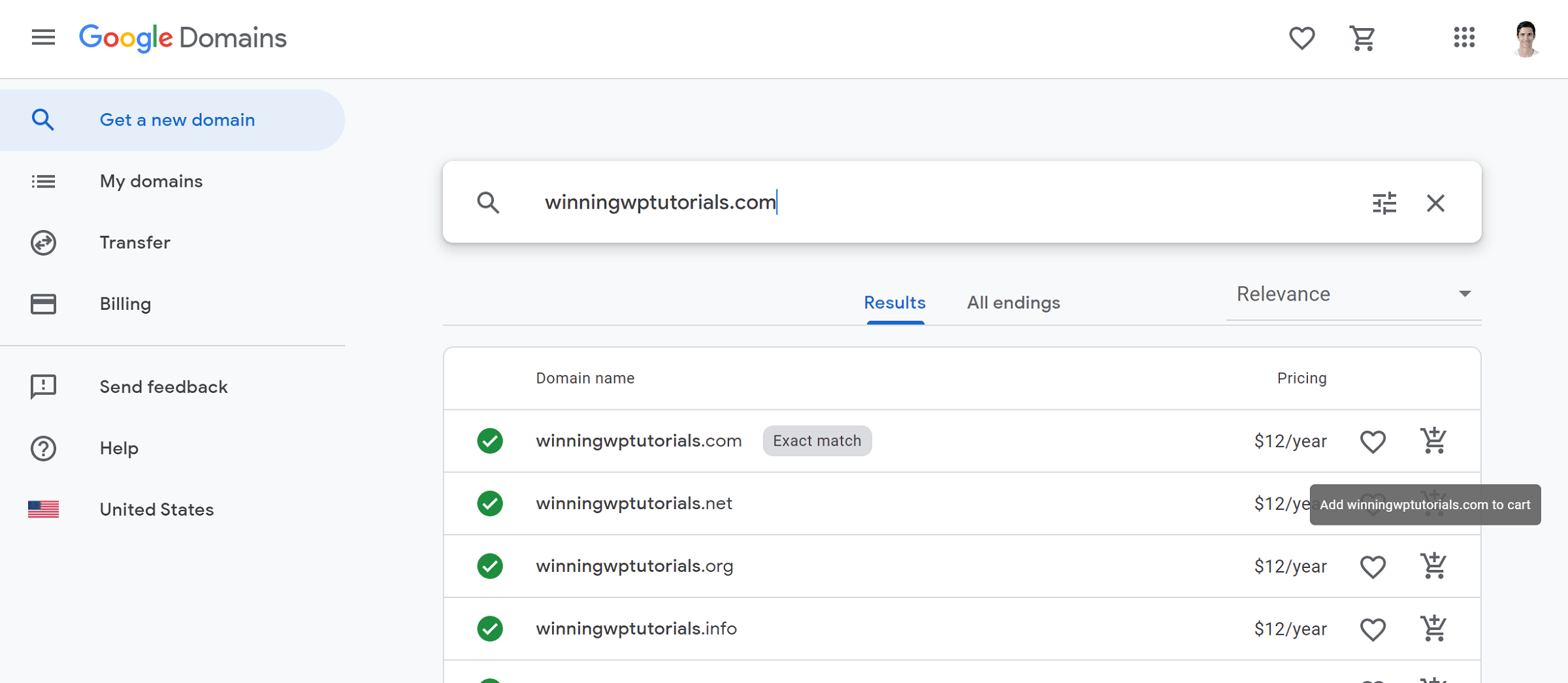 Step 2: Purchase Web Hosting
To power the WordPress software and make your website accessible when someone visits your domain name, you need web hosting.
With web hosting, you're basically renting space on a computer to power your website.
You'll find hosting at all price points — from a few bucks a month up into the hundreds of dollars a month.
When you're just getting started with WordPress, it's totally fine to choose cheap WordPress hosting — you can always upgrade later as your site grows.
For cheap WordPress hosting that doesn't skimp on quality or service, we recommend SiteGround (read our SiteGround review).
To get started, go to SiteGround and choose your plan — StartUp or GrowBig are both good options: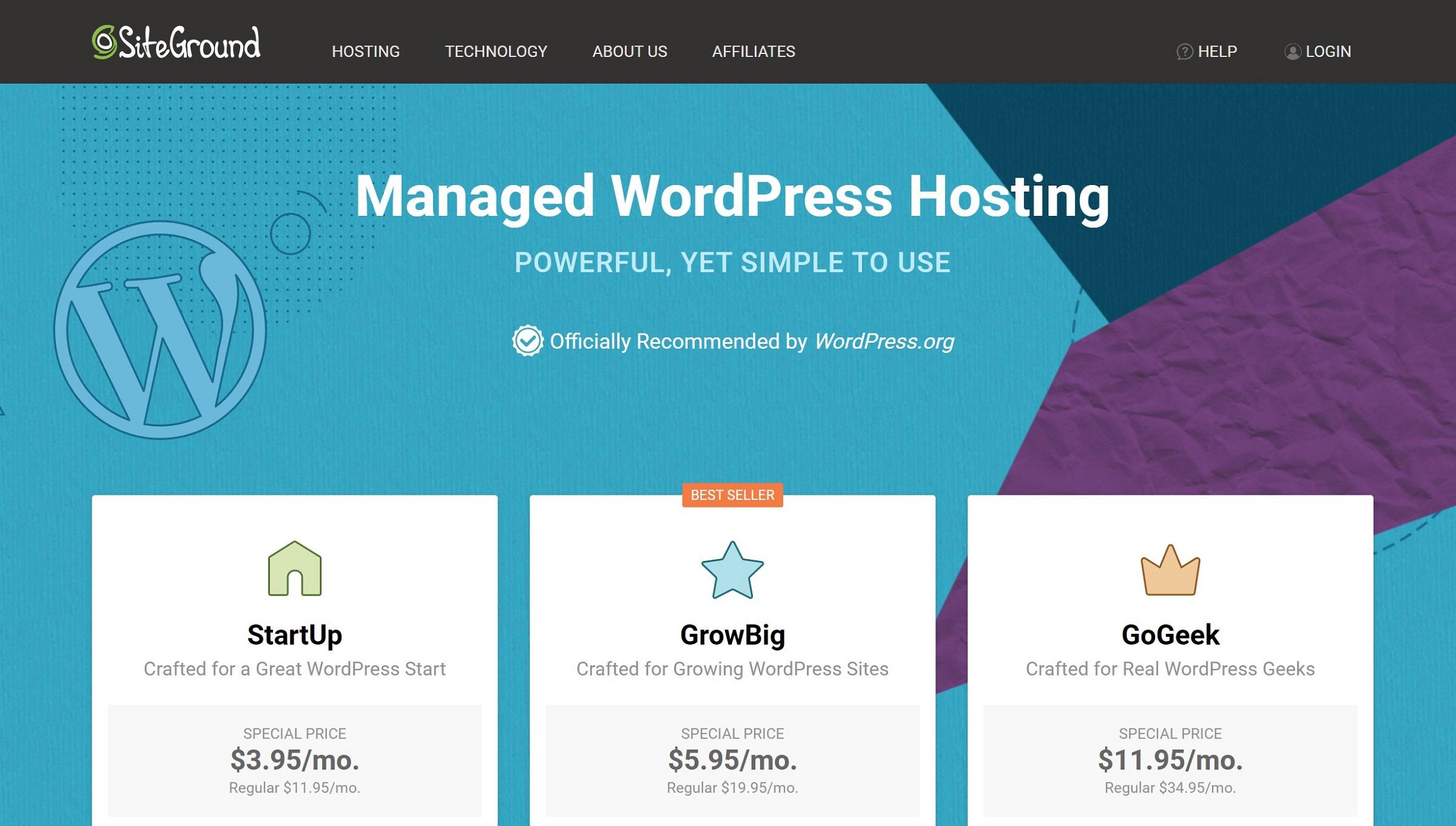 On the next screen, choose I already have a Domain and enter the domain name you purchased in the previous step: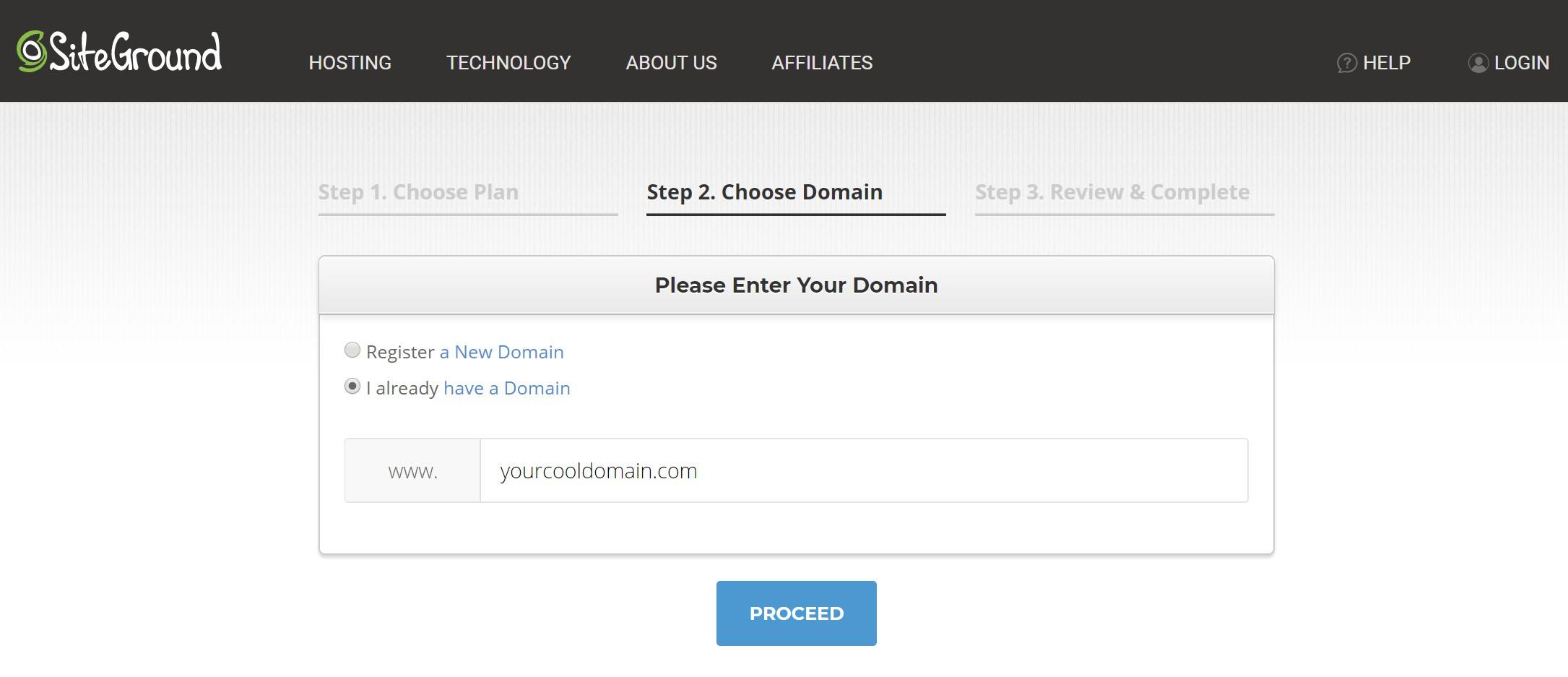 Then, fill out your account information and pay for your hosting plan: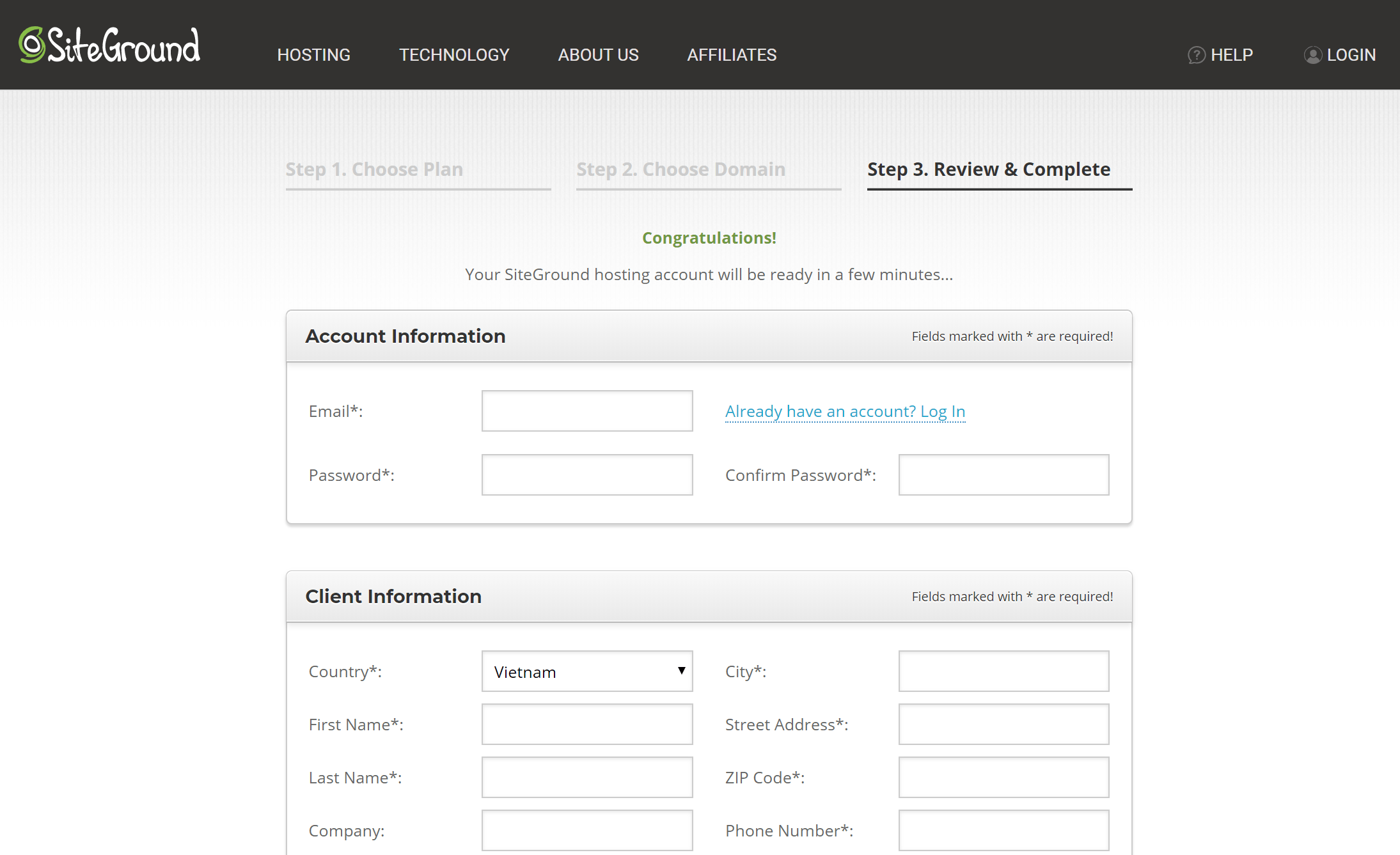 Once you purchase your hosting, you'll need to 'point' your domain name to your SiteGround hosting by editing your domain's nameservers. While that sounds complicated, it's really just a matter of changing the values in two boxes.
To do that, you can follow these instructions:
If you need a helping hand, you can reach out to SiteGround's support and they'll be happy to help.
Step 3: Install WordPress
Once you have your hosting, you need to install the basic WordPress software.
Beyond its affordable price, one of the nice things about SiteGround is it makes it super easy to do this via a dedicated website installer.
When you log in to your SiteGround dashboard for the first time after purchasing your hosting, SiteGround will give you a simple wizard to install the WordPress software.
Or, you can always manually access this wizard at a later date from the Websites area in your SiteGround dashboard: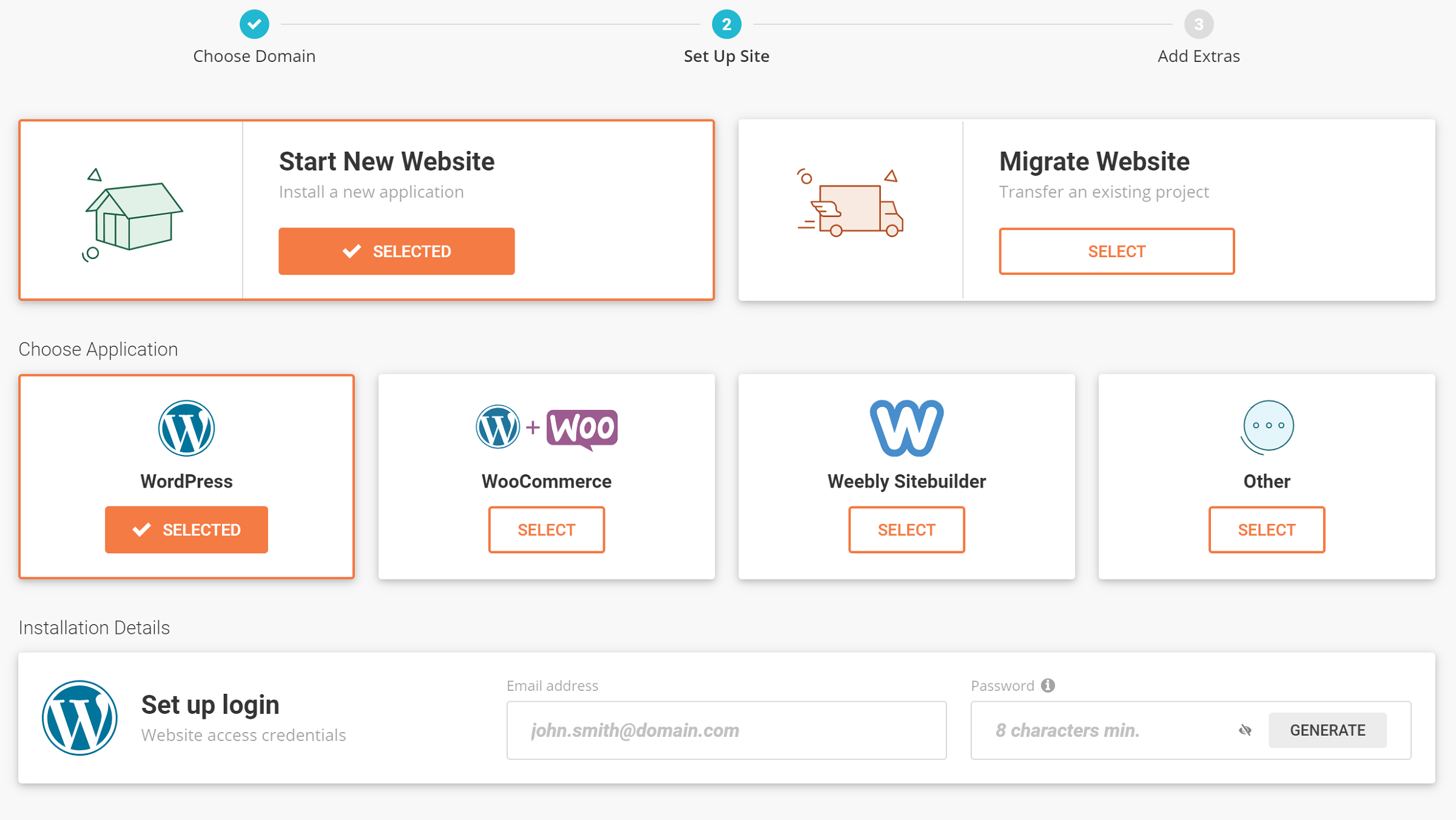 We also have a detailed guide on how to install WordPress.
Once you install WordPress, you can access your WordPress dashboard by visiting yoursite.com/wp-admin and logging in with the username and password that you entered in the WordPress installer wizard.
Now, it's time to make your WordPress site your own…
Step 4: Choose Your WordPress Theme
Your site's theme controls its appearance.
It's an important consideration, because you want your website to look professional and be easy to navigate.
You'll also want it to match the purpose of your WordPress site, which is why you'll find tons of 'niche' WordPress themes.
For example, if you're creating a portfolio website, you can find dedicated portfolio themes. Or, if you're launching a food blog, you can find dedicated food blog themes… and on and on for tons of different niches.
Another option is to choose a 'multipurpose' theme that you can adapt to a variety of niches. Two such themes we recommend are Astra (our review) and Divi (our review).
For example, Astra comes with tons of pre-made starter sites that you can import with just a few clicks: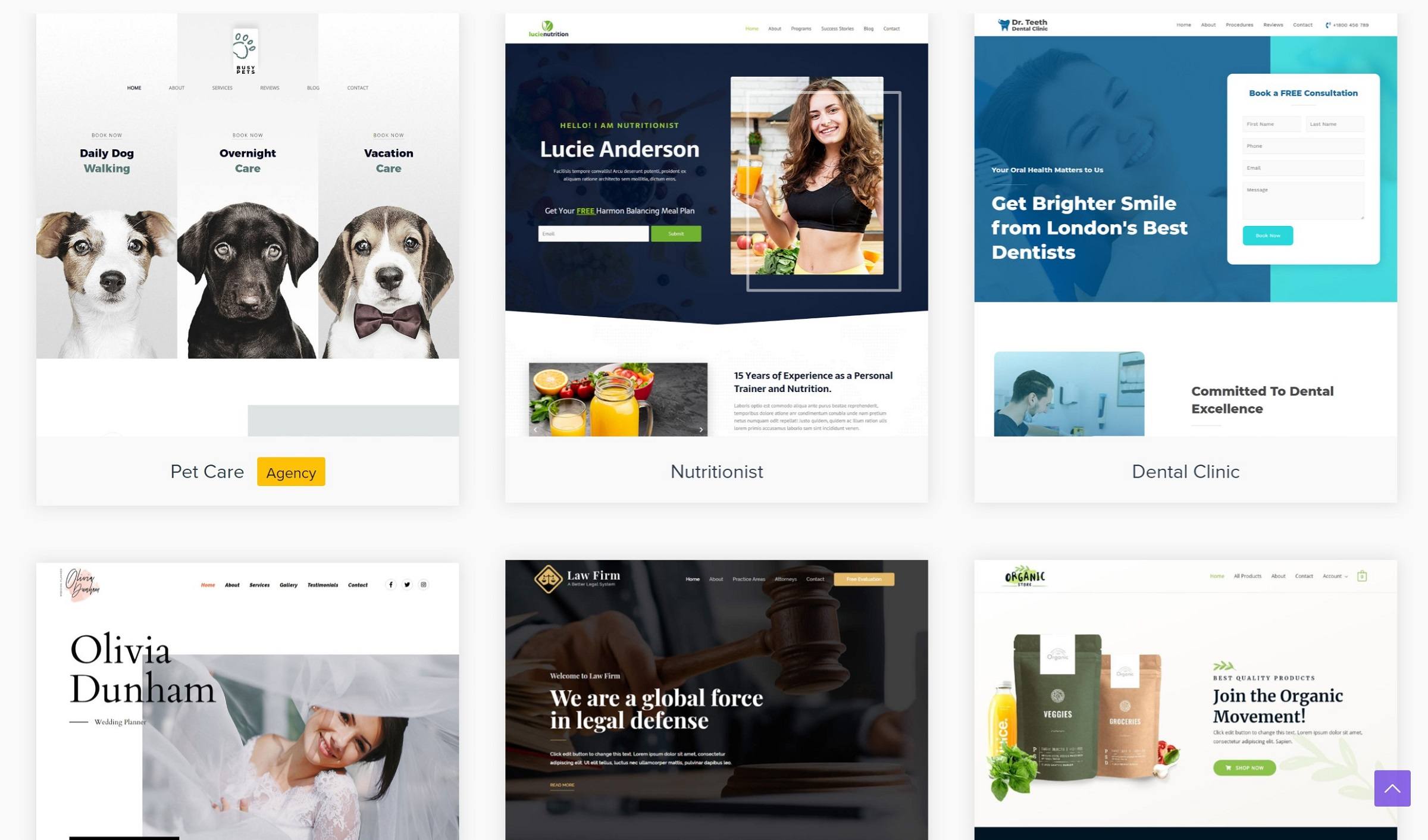 If you'd like to check out different themes, two good places to look are:
You can also find lots of great premium themes that developers sell directly.
Once you pick the perfect WordPress theme, you can install it on your site by going to Appearance → Themes → Add New and either:
Searching for the theme if it's available for free at WordPress.org.
Uploading a zip file if you purchased a premium theme.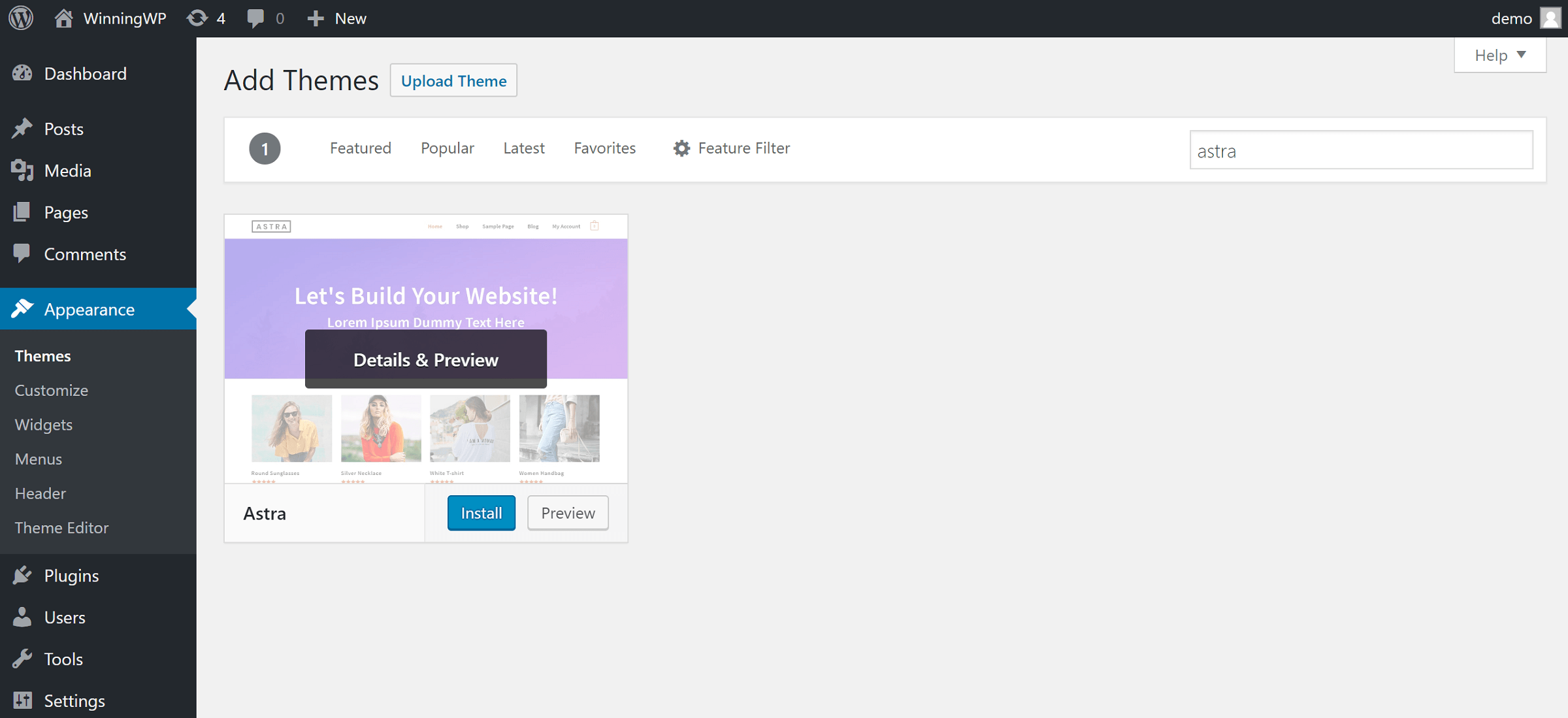 For more detailed instructions, check out our guide on how to install a new WordPress theme.
Once you've installed and activated your theme, most theme developers let you further customize its looks using the WordPress Customizer.
You can access the Customizer by going to Appearance → Customize. Then, you'll be able to customize your theme using a simple interface and a real-time preview:
Step 5: Install Must-Have WordPress Plugins
While your theme controls your site's looks, WordPress plugins help you to add new functionality to your site.
Plugins can add small features, such as a contact form, or big features, such as turning your site into a fully functioning eCommerce store.
There are tens of thousands of free and premium plugins available, but we'll divide them into two rough categories:
Must-have plugins that all WordPress sites need, no matter what your site is about.
Niche-specific plugins that add functionality that's specific to your needs. Not all sites need them, but you may want them to flesh out your site.
In this section, we'll focus on the first category — the must-have plugins.
Here are the few basic plugins that we believe all WordPress sites need:
To install a WordPress plugin, go to Plugins → Add New:
For a free plugin available at WordPress.org, you can search for it by name.
For a premium plugin, such as WP Rocket, you can install it by uploading a zip file.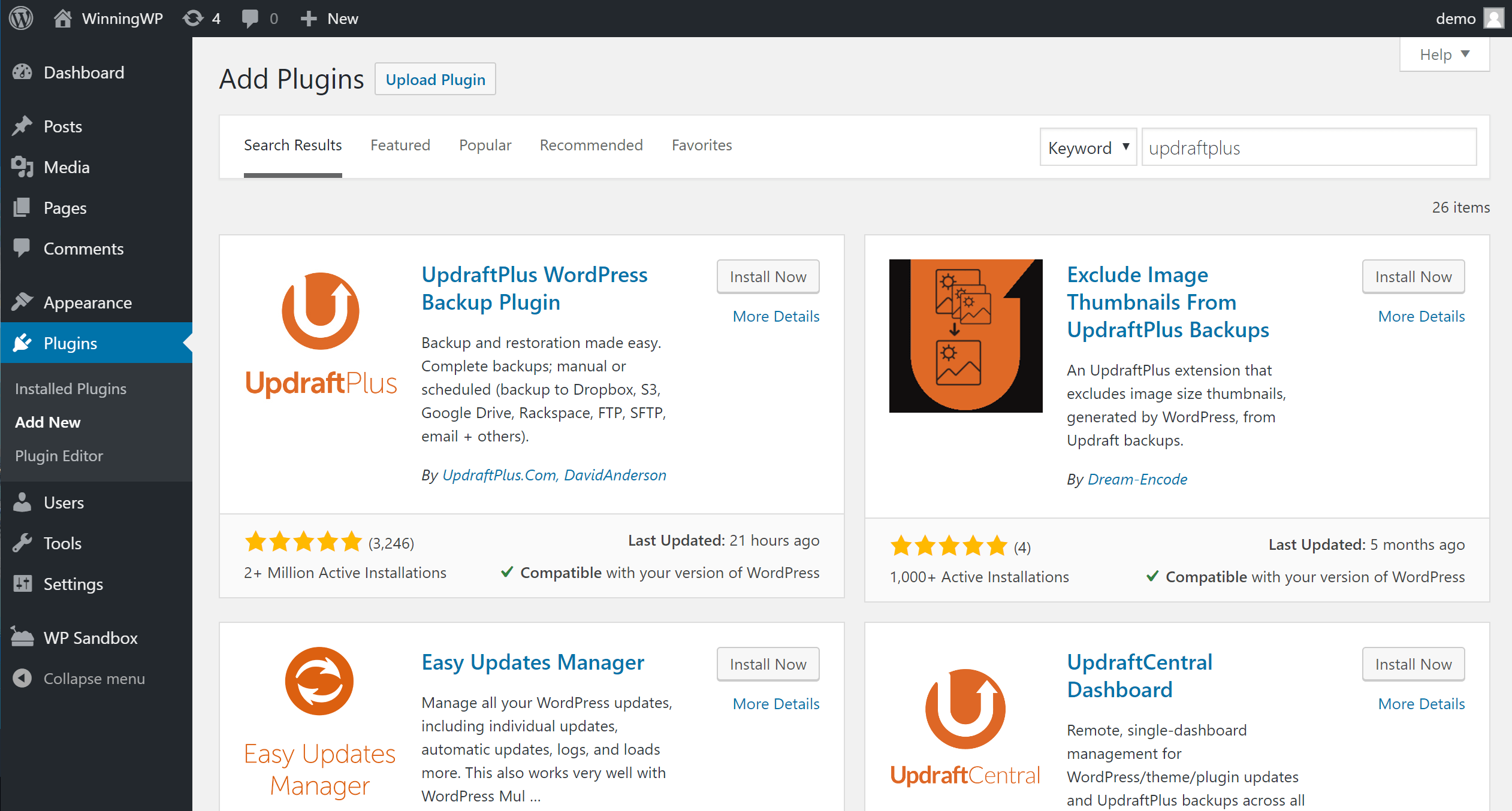 For a more detailed guide, check out our full tutorial on how to install WordPress plugins.
Step 6: Add Your Content (Homepage, About, Etc.)
At this point, you're finished with the foundation of your site. You should have the WordPress software installed, your theme set up and a few must-have plugins that will set your site up for success.
Now, you're ready to start adding your content. A good spot to begin is your site's 'core' pages, such as your homepage, 'about' page and so on.
To do this, you have two main options, depending on what content you want to add.
Your first port of call should be the native WordPress Editor. You can access it by going to Pages → Add New.
The native editor uses a 'block' system, which lets you incorporate multimedia content, as well as basic layout options. You can check out this post to learn more about how blocks work: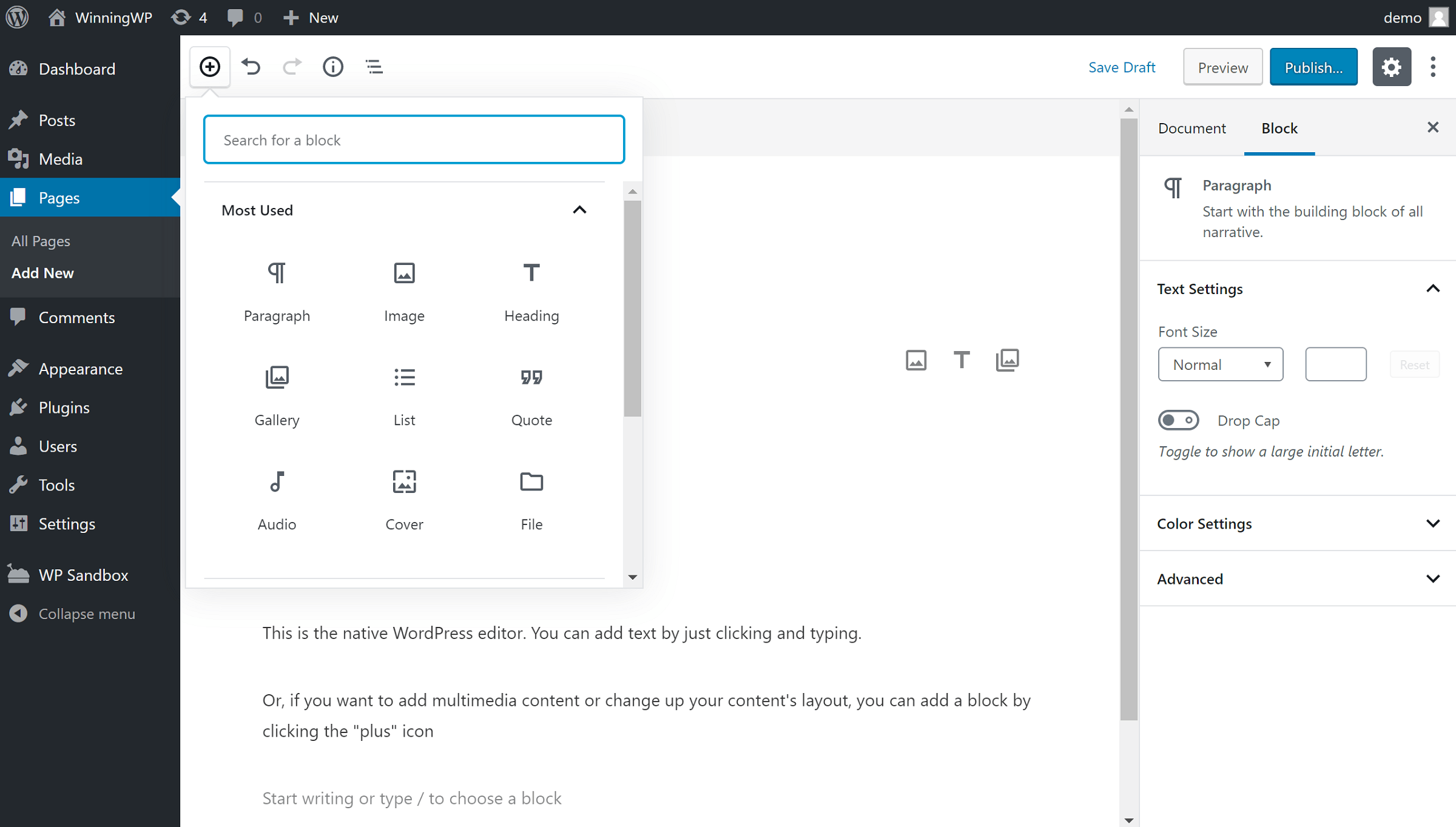 It's a great place to start and, if your desired layout isn't complicated, it may be all you need.
If, however, you want something with a little more design power, you may want to turn to a WordPress page builder plugin.
A page builder plugin gives you a visual interface where you can create more complicated layouts using a simple drag-and-drop system. If you've ever tried a website builder, such as Squarespace or Wix, a page builder plugin brings that same type of experience to WordPress.
While there are a lot of great WordPress page builder plugins, Elementor (our review) is a great starting option because:
it offers a generous free version that can help you to design complex pages without paying a dime
the interface is pretty easy to pick up.
Here's an example of what it looks like to design a page with Elementor: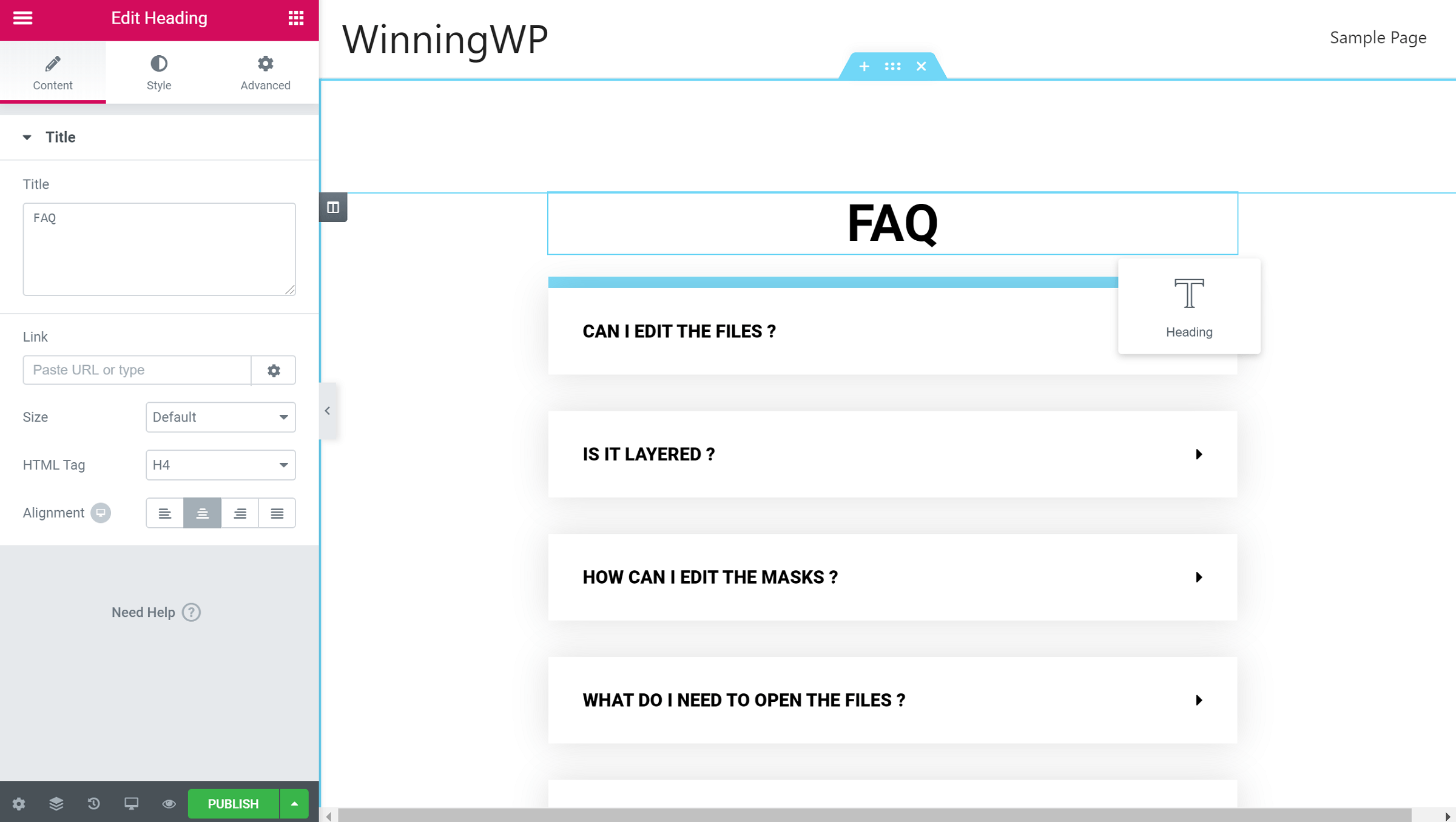 Notice how you're able to see exactly how your page will look to visitors? That, along with drag-and-drop and more style/layout options, is the big appeal of page builder plugins.
Step 7: Add More Plugins as Needed
In Step 5, we took you through some of the must-have WordPress plugins that all sites need. However, you'll probably also want other plugins that are specific to your site's needs.
At this point, you should do some exploring to find plugins that will add helpful functionality to your site.
For example, if you're active on Instagram, you may want an Instagram feed plugin to display your latest content on your website.
Or, if you host a lot of events, you may want an events calendar plugin.
So, where can you find such plugins?
A great starting point is the official WordPress.org plugin directory. It contains more than a staggering 50,000 plugins… So, you can probably find something relevant to your site.
Many of these plugins are 100% free, while you'll also find some that have a limited free version, along with extra functionality if you're willing to pay.
Beyond WordPress.org, you can also find tons of premium WordPress plugins at CodeCanyon.
Just one warning: While it's totally fine to install more plugins, you'll want to be careful about only installing plugins you really do need. If you install too many unnecessary plugins, and those plugins aren't optimized, you can 'bloat' your site, which may make it slow to load.
Enjoy Your New WordPress Site!
Congrats! If you've made it to this point, you should now have a working WordPress website that's customized to your needs.
Now, it's time to learn more about WordPress and grow your website. To that end, we have a reading list with some helpful blog posts and tutorials: