WinningWP content is free to all. If you make a purchase through referral links on our site, we earn a commission (
learn more
).
Top Eleven Best WordPress Membership Plugins – Compared
Membership websites let you try for one of the Holy Grails of business: Recurring income. Tempt someone in with your exceptional content just once and that person could remain a paying customer for months to come — or, if you're lucky, maybe even years.
Thanks to a superb collection of membership plugins, WordPress is, without doubt, one of the best-equipped platforms for powering a feature-rich, flexible membership website.
These membership plugins provide lots of useful features. You can:
restrict content
create tiered membership levels
set up one-time or recurring billing structures.
With a membership plugin taking care of all of the behind-the-scenes tasks, you're free to focus on crafting the excellent content that'll keep your membership site ticking over.
Remember, though: Good content is vital — for your membership website to succeed, it'll need to provide real value. If you've cracked the art of creating outstanding content, and know exactly how to reach your potential audience, recurring membership riches await!
But which membership plugin should you choose? Let's take a look at 11 of the very best WordPress membership plugins available (both free and premium).
What to Look for in a WordPress Membership Plugin
Before we get to the plugins, let's quickly run through some of the most important features to look for in a membership solution, so you can focus your search and zero in on what's important to you:
Content restriction — all of these plugins let you restrict content, but the important details are in how you do that. Can you bulk restrict content? Partially restrict content? Can you restrict content from another plugin? These are all important questions depending on your situation.
Drip content — can you drip content out over time rather than giving users access to everything right away? This is important to keep members around and it's a tactic most membership sites will want to use.
Payment options — can the plugin integrate with your preferred payment gateway? Does it let you offer one-time or recurring payments? Can it handle marketing strategies such as free trials, coupons and so on?
Automation — some plugins give you tag-based systems for creating your own automation rules, while others limit you to only the built-in features. If you want to set up advanced automation rules, you'll likely want one of the tag-based systems.
Integrations — does the plugin integrate with the important tools you're already using, such as your email marketing service or CRM? Or does it at least offer a Zapier integration?
Ease of use — some of these plugins are fairly simple and beginner-friendly, while others get pretty technical (but give you more flexibility). You should pick an option that matches your knowledge level and the learning curve you're willing to put up with.
With those things in mind, let's get into the plugins…
Restrict Content Pro (From $99)
We kick things off with Restrict Content Pro. This plugin was originally built by the same team behind Easy Digital Downloads and AffiliateWP. However, in September 2020, iThemes acquired Restrict Content Pro, which is its current home. This puts Restrict Content Pro's future a little in flux, but iThemes (itself owned by Liquid Web) is also a very established WordPress development company and has committed to maintaining/improving Restrict Content Pro (otherwise, why would it spend the money to acquire it?).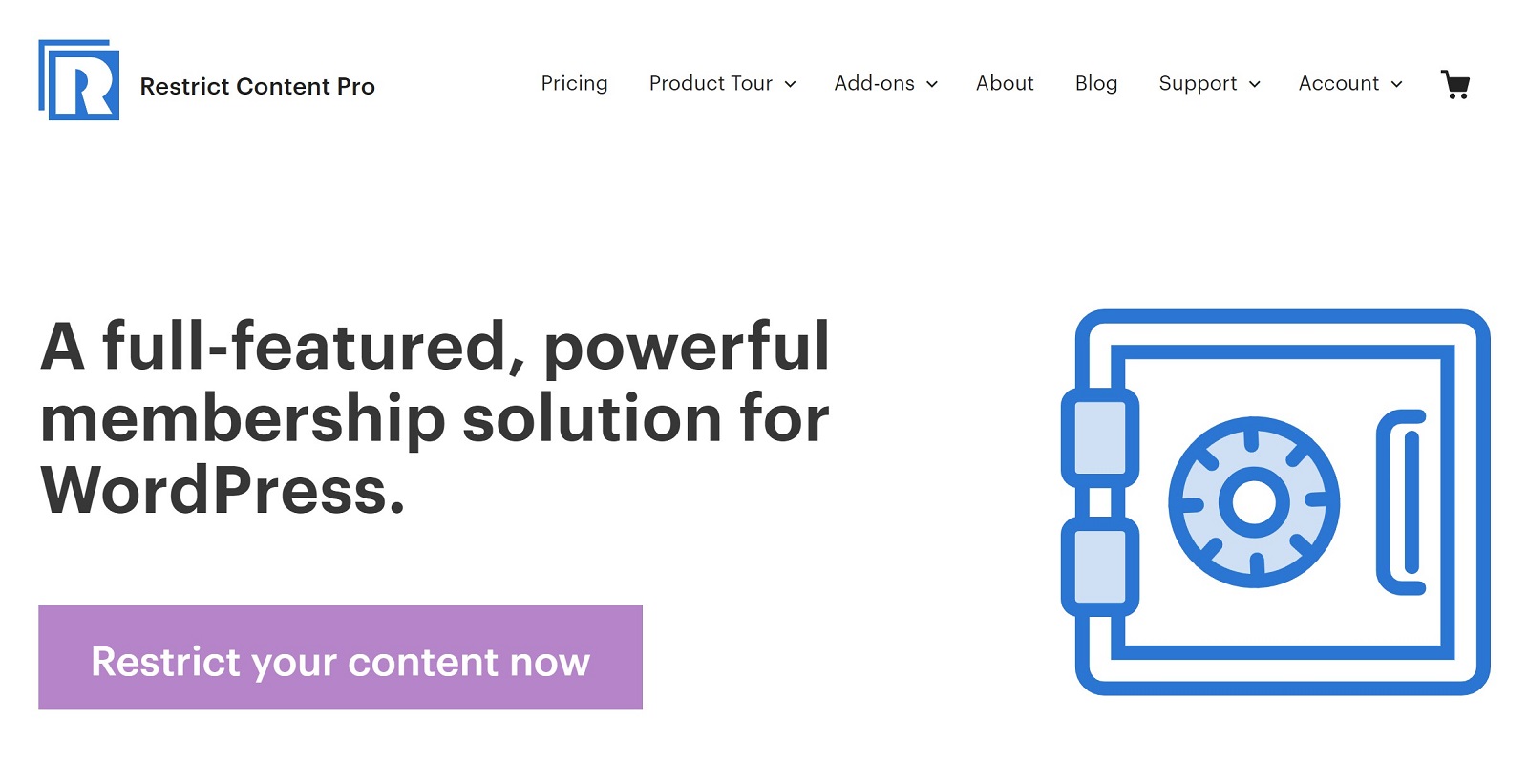 Starting at $99, Restrict Content Pro is one of the more affordable membership plugins on today's list. However, don't let the price tag fool you: Its functionality packs a serious punch, and it's user-friendly throughout.
For a start, you can create an unlimited number of membership levels, meaning you can implement a multi-tiered membership structure — for example: Free, silver, gold and platinum memberships. You can also configure trial memberships and offer discount codes to entice visitors.
You can integrate with popular payment gateways — including Stripe and PayPal — and automatically charge members with recurring billing.
Restrict Content Pro also includes some useful back-end functionality, including easy-to-digest analytics reports. These reports let you track membership numbers over custom time periods, giving you the opportunity to monitor growth levels. You can also view and manage an overview of all members, past and present, from one handy screen.
Creating and protecting content is super easy, too. Directly below the WordPress editor, you'll find a meta box titled restrict this content. From here, you can choose what membership levels are able to view the content, plus whether or not to display an excerpt for non-members. You can use this meta box to restrict access to any post, page or custom post type. You can also restrict entire categories, or just parts of content using a shortcode.
While Restrict Content Pro starts at $99, you'll also want to consider the $249 Professional Plan, which gets you access to 18 new pro add-ons on top of the 13 free add-ons. These add-ons tack on powerful functionality, such as:
content dripping
group memberships
multisite creation
more options for restricting content by date.
You can learn more in our full Restrict Content Pro review.
MemberPress (From $149)
Next, we have arguably the best-known membership plugin available to WordPress users: MemberPress.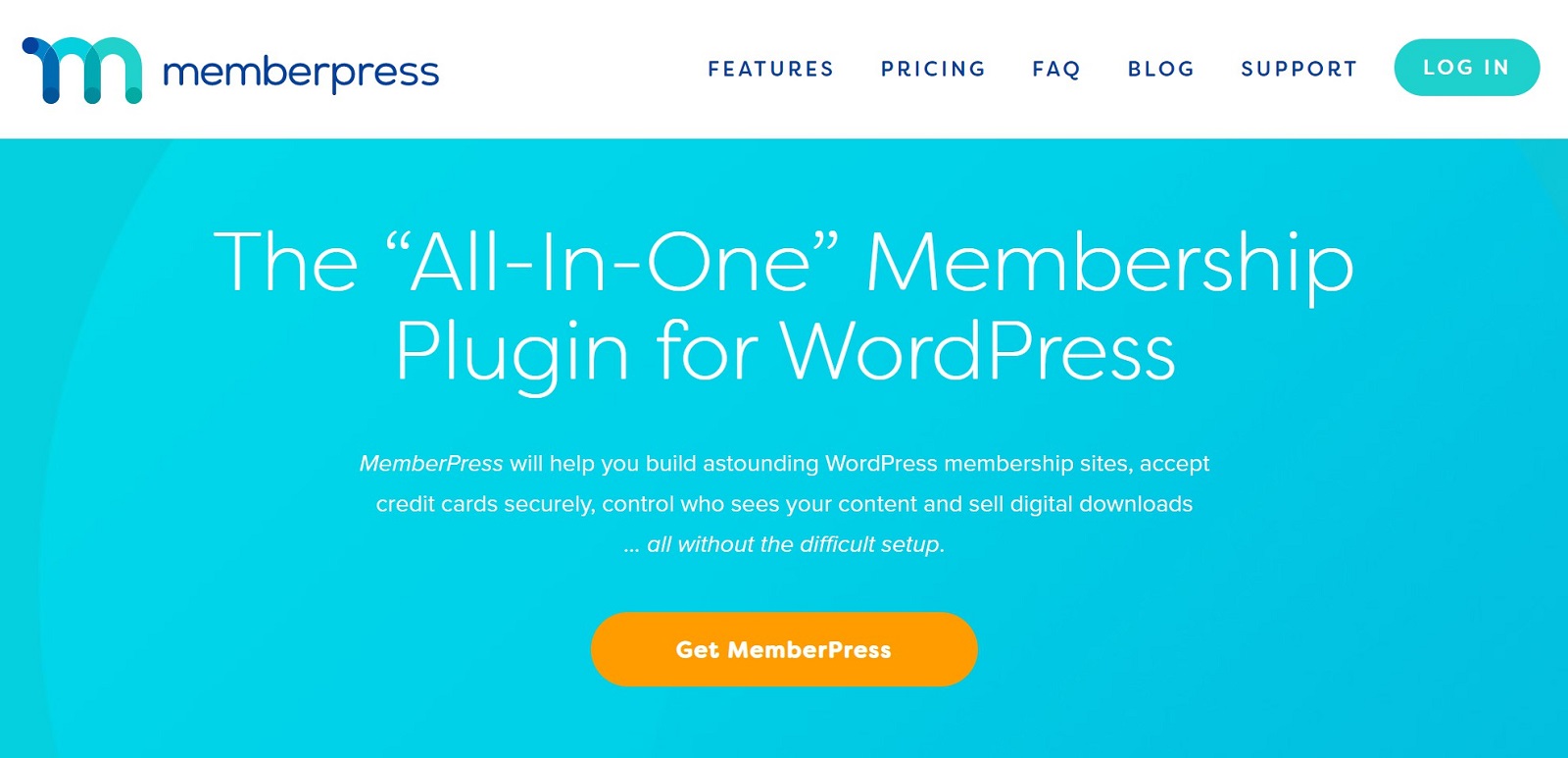 Starting at $149 a year, it lets you access what the developers claim to be 'the easiest membership site software you've ever seen'.
In just a few clicks, MemberPress lets you restrict access to any post, page or custom post type you wish. If you'd like to restrict access in bulk, you can lock entire categories or tags, too. You can also restrict access to any files in your WordPress Media Library, which allows you to create, say, PDFs that only members can download.
There are also built-in integrations for restricting bbPress (forums), Blubrry PowerPress (podcasts) and WooCommerce (eCommerce). These integrations open up use cases such as a members-only podcast site for your podcast's premium content or a private forum board (maybe even where users need to pay for access to certain forums).
As with most membership plugins, MemberPress lets you create premium memberships, with access to Stripe, Paypal and Authorize.Net, depending on your plan.
You can create both one-time plans and automatic recurring payments. Members also get their own front-end area where they can manage their memberships, including an option to upgrade/downgrade and only pay the prorated difference.
Obviously, the more paying customers you have, the healthier your website's financial position — and MemberPress ships with plenty of cool features for maximizing conversions.
For a start, this includes pretty pricing pages (another way of saying stylish pricing tables). You can play around with the content, organization and styling of these tables — with several built-in themes to choose from — to find the best-converting combo.
Email marketing is still as powerful a weapon as ever, and MemberPress is compatible with 13-plus email marketing services to help you to integrate it into your arsenal, as well as a catch-all Zapier integration for everything else. And, if you want to create your own affiliate program, the $349 Pro plan includes the Affiliate Royale plugin, which lets you create your own army of loyal promoters.
Not enough? MemberPress also supports content dripping and coupon codes, along with plenty of other helpful features.
You can learn more in our full MemberPress review.
Paid Memberships Pro (FREE to $297-plus for Pro)
With 21-plus free add-ons and 65-plus premium add-ons, Paid Memberships Pro is one flexible WordPress membership plugin. Plus, the core version is also 100% free, which makes it easy to get started with and test out.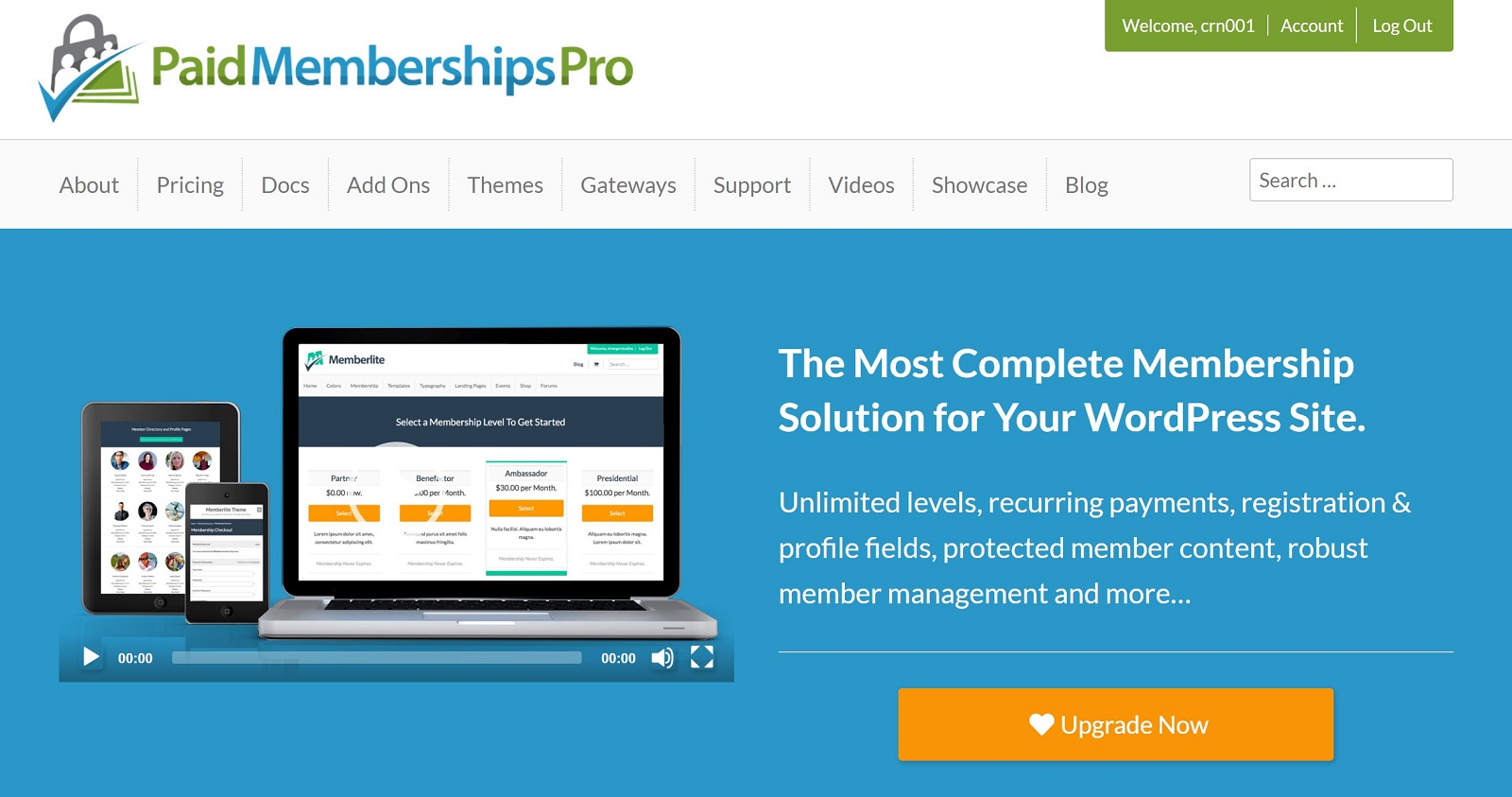 So, what makes it so popular? Well, as I mentioned above, one of the big advantages is flexibility. The fact that there are so many add-ons means you can add a ton of different functionality to your site. But, because each feature is a separate add-on, it also avoids bloating your site up with features you don't actually need.
And, if there's not already an add-on for what you want, there are heaps of pre-made code recipes for all kinds of little tweaks.
For now, though, let's just start with the core membership site functionality that all sites need. You get all of the important stuff, including:
Lots of options for restricting content, including shortcodes, Gutenberg blocks and PHP functions. Or, you can restrict entire posts, pages, custom post types or even categories.
The option to sell one-time or automatic recurring memberships, including free/discounted trials, one-time signup fees and so on.
Content dripping.
Support for six payment gateways, including Stripe, PayPal and Authorize.Net.
A membership area where members can upgrade/downgrade/cancel their memberships.
Then, there are the 80-plus add-ons you can use to tack on all kinds of features. Here are just a few examples of the types of things you can do:
Give members their own Multisite network site.
Add an affiliate program.
Integrate with Zapier automation.
You can browse the full list of add-ons here.
Beyond that, the developer also offers a free Memberlite theme that helps you to create a great-looking membership site from day one.
In the end, if flexibility is key for you, Paid Memberships Pro is a great option. The only potential downside? Price. With access to all of the paid add-ons and code recipes starting at $297, it's one of the pricier plugins on this list.
WooCommerce Memberships ($199)
I'm sure you're already familiar with the excellent WordPress eCommerce solution, WooCommerce. The next item on today's list, WooCommerce Memberships, extends the core WooCommerce plugin, letting you create awesome, scalable membership websites.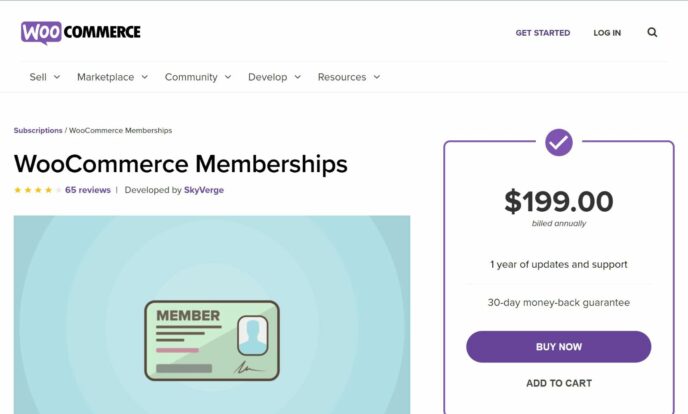 As you may expect from such tight-knit integration, this extension enables you to use all of WooCommerce's relevant functionalities. Most importantly, this includes any of the hundred-plus WooCommerce-compatible payment gateways — PayPal, Stripe, Amazon Payments, Authorize.net… you name it. Members can also use the WooCommerce customer area to manage their memberships.
WooCommerce Memberships also supports all of the standard membership plugin functionalities — restricting content, drip-feeding content and premium memberships, among others.
Because it's based on WooCommerce, WooCommerce Memberships also gives you some neat eCommerce integrations. For example, you can offer free shipping to your members, which lets you create your own mini version of Amazon Prime. Or, you can offer special discounts such as 10% off for paying members.
The one feature lacking from WooCommerce Memberships is recurring billing. However, you can add this functionality by integrating another extension, WooCommerce Subscriptions, for $199.
The WooCommerce Subscriptions extension is arguably the best recurring payment plugin for WordPress, and, when used in conjunction with WooCommerce Memberships, it lets you add important features, such as trial memberships, recurring billing and member upgrades/downgrades.
The downside is that, when you add up just these two plugins, you're already at $398, which makes this setup one of the pricier membership solutions on this list.
MemberMouse (From $29 a month)
MemberMouse is one of the most feature-rich membership plugins when it comes to built-in functionality, while still managing to keep things pretty user-friendly.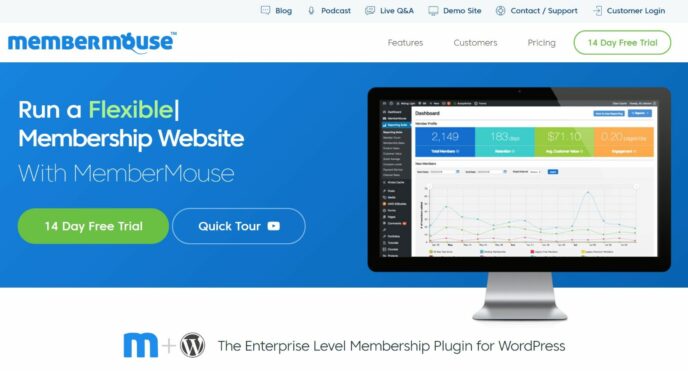 MemberMouse allows you to restrict access to any published post, page or custom post type. In just a few short seconds, you'll be able to specify which membership levels can access what content — plus, you can drip-feed content by configuring a time release. The one downside is that, while you can restrict posts by category, you can't restrict custom post types by category — only one at a time.
Included with MemberMouse is one of the most detailed reporting suites found in any membership plugin. You can access this from the WordPress dashboard, and it includes lots of key metrics you can target to increase profits, such as
total members
average retention duration
average customer lifetime value.
If you want another way to boost your revenue, you'll love some of MemberMouse's more advanced features, such as one-click upsells and downsells.
However, my favorite feature is pricing A/B testing, which lets you optimize your pricing strategy to maximize subscribers and revenues.
MemberMouse also offers several integrations:
Eight different payment gateways, including PayPal, Stripe and Authorize.Net.
Four email marketing services, including Mailchimp.
Want to recruit an army of affiliate marketers to sing your praises and promote your website? Great, because MemberMouse is also compatible with any affiliate network.
While there's a lot to like about MemberMouse's feature list, there's one thing some people don't like: It's not GPL. In part, this means the underlying code is obfuscated and you won't be able to make direct edits to the source code.
MemberMouse does add its own hooks that you can 'hook' your code edits into, as well as an API. However, if you want to do something beyond what the hooks and API let you do, you're kind of just out of luck with MemberMouse, whereas most of the other plugins would let you tweak the source code as needed.
Plans start at $29 a month and go up from there depending on which features you want.
You can learn more in our full MemberMouse review.
Ultimate Member (FREE to $249 for full bundle)
Ultimate Member is an interesting membership plugin that makes a good option if you're less focused on monetization and more focused on building a thriving social community.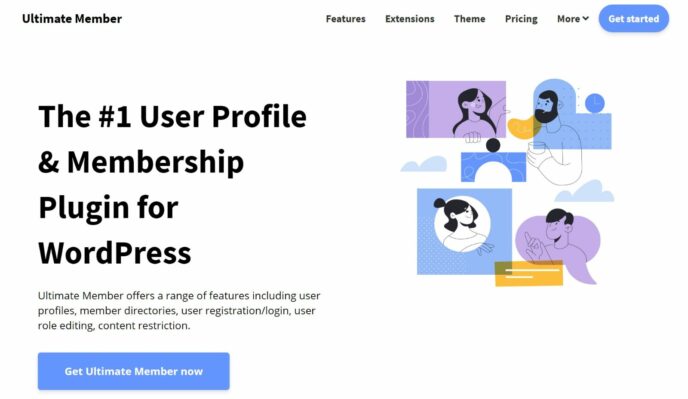 It's kind of like a mix between a membership plugin and a social network tool. It still includes features to restrict access to content, but it also includes lots of social networking-type features. Some examples:
Member directories — create front-end directories of your members that are sortable and filterable.
Friends & followers — let users become 'friends' with one another or just follow another user (similar to Facebook).
Private messages — let users send and receive private messages.
User reviews — let users rate and review each other.
Custom profiles — create custom profile areas and let users manage their profile details from the front end of your site.
It also pairs well with the ForumWP plugin from the same developer if you want to add a public or private message board to your membership community.
Overall, these social features are definitely Ultimate Member's key differentiation versus many of the other membership plugins on this list. If you want those social features, give Ultimate Member strong consideration. If you don't, you'll almost certainly be better off with another tool on this list.
One of its biggest weak points is that Ultimate Member isn't great if you want to monetize your membership community. Basically, it doesn't include any built-in features for monetizing access. There are some third-party workarounds, such as using the UM Switcher plugin to automatically change a user's role after they purchase a WooCommerce product. But, overall, Ultimate Member is probably not the best option for paid communities unless you really value those social features and are willing to deal with no built-in monetization tools.
The core Ultimate Member plugin is available for free at WordPress.org, but you'll need paid extensions to access many of the features. You can purchase individual extensions for ~$40 to $50 each or get a bundle of all extensions for $249.
WishList Member ($147)
WishList Member is a well-established plugin that got a complete relaunch and facelift with version 3.0 in April 2019. Prior to that, WishList Member felt a little dated and out-of-step with more modern membership plugins.
However, that update brought a complete revamp of the interface and features, and WishList Member has now definitely earned back its spot on this list.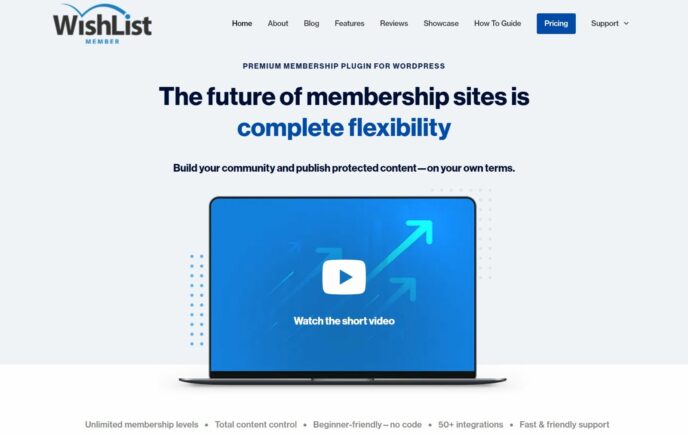 One area where WishList Member excels is its huge array of built-in payment integrations. You've got the big names, such as PayPal and Stripe, but you also have lots of smaller options, such as ThriveCart, InfusionSoft, SendOwl, SamCart and more. And, if that's not enough, there's also a WooCommerce integration that lets you tap into any WooCommerce payment gateway.
To restrict content, you get tons of flexible options, including the following:
Drip content on a custom schedule.
Offer 'sneak peeks' and partial content displays.
Archive content, so only people who were subscribed at that time can view it (this encourages people to be long-term subscribers).
Create private RSS feeds.
For more flexibility, there's a 'trigger' system that lets you perform certain actions based on triggers, such as automatically creating a private post when a user signs up for a coaching plan. There are also 50-plus integrations, as well as a catch-all Zapier integration.
Overall, thanks to the version 3.0 relaunch, WishList Member is definitely a top option again, and it's one of the more flexible solutions on this list.
WishList Member starts at $147 for all features and use on a single site. There are also higher license limits if needed.
Paid Member Subscriptions (FREE to $69-plus)
Paid Member Subscriptions is another popular option that has a fairly generous free version at WordPress.org, as well as a premium version with more features. It's also pretty simple, offering all of the 'main' features you need in a fairly lightweight package.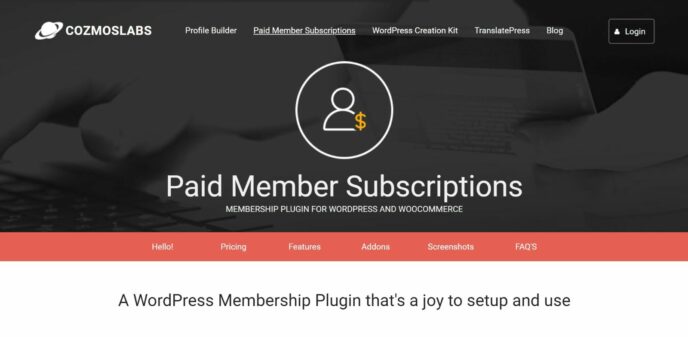 You can restrict access to content on your site at varying levels (partial restriction to bulk content restriction), including options to drip content out over time.
With just the free version, you can sell one-time access to your membership site. And if you upgrade to the premium version, you'll also be able to set up automatic recurring subscriptions (as the plugin's name suggests).
You can also offer discount codes and even give people the option to 'pay what they want'. There are also tools to handle taxes and EU VAT, and also offer invoices.
Another strong point is its integrations. You get some unique WooCommerce-specific features, such as offering membership discounts and restricting purchasing and/or viewing products. Other integrations include Elementor (restrict access to widgets/columns/sections) and bbPress.
You can get started with Paid Member Subscriptions for free at WordPress.org. In terms of free versions, it's one of the better options out there, which makes it a great choice if you're on a tight budget.
After that, paid plans are still quite affordable, starting at just $69 for basic premium features or $149 for all premium features.
DigitalAccessPass (From $14.99 a month)
DigitalAccessPass, or DAP for short, is a heavy-duty WordPress membership plugin with a lot of features. If you want something simple and easy, DAP is probably not for you. But if you want something that will let you really dig in and customize things to your needs, it's a good option to consider.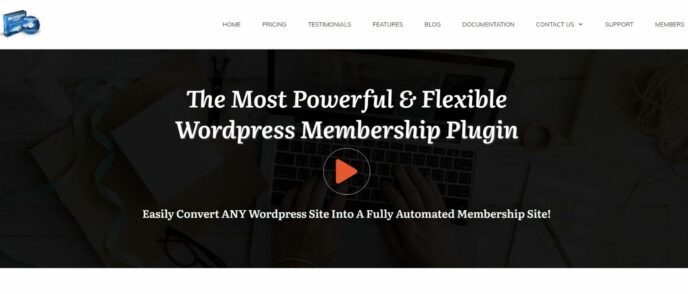 When I say a lot of features, I'm not kidding. Here's a high-level list of just some of the bigger features you get access to:
Built-in learning management system (LMS).
Visual automation engine to create tag-based automations inside your WordPress site or with external integrations (including Zapier).
Built-in affiliate module to create your own affiliate program.
Built-in email autoresponder solution (send via your own preferred SMTP server).
Drag-and-drop checkout page builder.
One-click upsells.
And that's not even including all of the 'basic' features you'd expect in a membership plugin, such as content restriction, payment gateways, and so on. DAP certainly does those too.
The same developer also offers some other useful tools, which may or may not be available to you depending on the membership plan you choose. One of the most notable is S3MediaVault, which lets you store files (e.g. audio or video content) on Amazon S3 while still protecting them. This lets you skip embedding YouTube videos without sacrificing content restriction.
Of course, as I mentioned, having all of those features isn't all rainbows and unicorns — DAP is also one of the most complex membership plugins out there. You'll need to be willing to really invest time into getting the most out of it. But, if you're willing to do that, it's definitely another good one to consider.
DAP has three different pricing plans, each with slightly different features and benefits. You can either pay monthly or get two or three months free if you pay annually. Plans start at $14.99 a month and range up to $44.99 a month.
WP-Members (FREE to $59 for Pro)
For those of you who are working with a tight budget, WP-Members represents another free option on today's list. Its free core lets you block access to content for non-registered users, converting your WordPress-powered website into a fully functional membership site.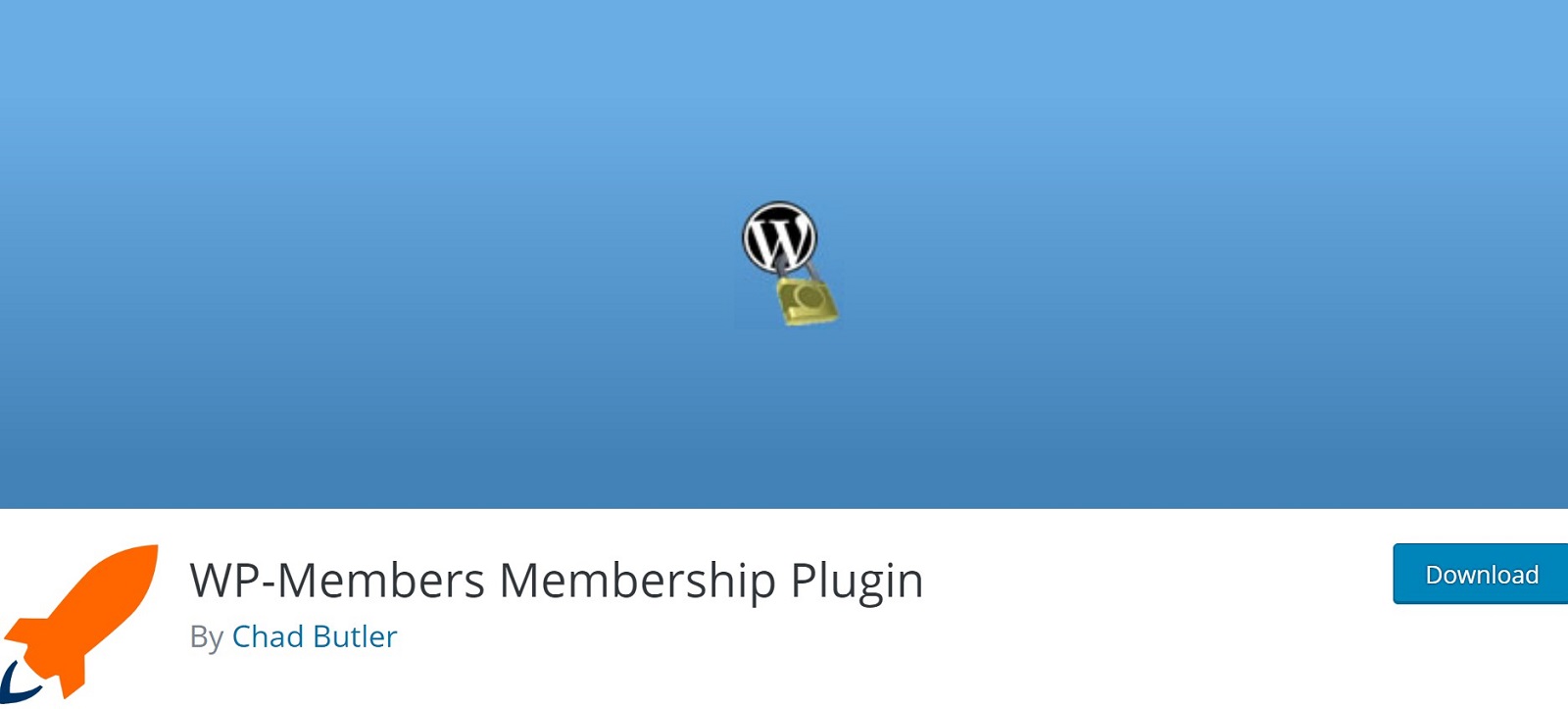 You can restrict content via a simple settings screen, from which you can blanket-restrict all of your posts or pages, or restrict individual post or pages. Or, you can also use shortcodes to partially restrict content.
WP-Members can also auto-generate excerpts for restricted content — based on the number of characters — or you can create excerpts for yourself. This is a neat feature, because you can leverage carefully crafted excerpts for SEO purposes.
WP-Members also sets you up with front-end login and registration forms, as well as 120-plus action and filter hooks that you or your developer can use to customize things.
As a free plugin, it has two obvious limitations.
First, you can't create custom menus for registered users, so even casual visitors will be able to view your menus in full.
However, the biggest limitation is you can't charge for memberships with the free version — you need one of the paid add-ons. You'll find paid add-ons for two different payment solutions:
WooCommerce — use WooCommerce to handle payments.
PayPal Subscriptions — visitors can pay for memberships using PayPal, including trials. Recurring membership payments are collected automatically.
Upgrading gives you access to priority support, premium code snippets, exclusive tutorials and a members-only support forum. It also means you can access the 11 premium add-on modules, which include the two options above, as well as several other useful extensions for features such as download protection, user tracking, a Salesforce integration and more.
The Pro bundle costs $125 for access to everything. Or, you can also purchase individual extensions for $29 to $47 each.
AccessAlly (From $99 a Month)
AccessAlly is kind of like a marriage between a WordPress membership plugin and an LMS plugin. So, if you're looking to offer online course content to your members, this may be the tool for you — although it's not cheap.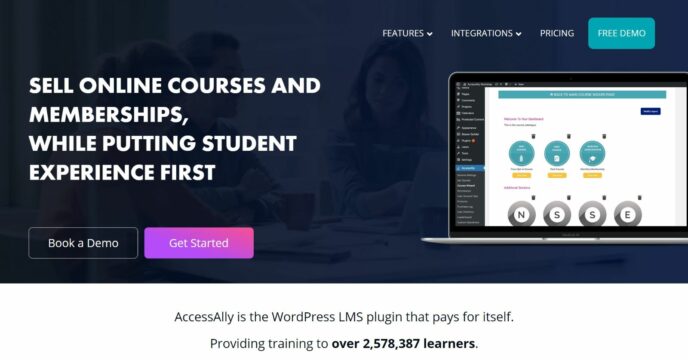 One of the most unique things about AccessAlly is how it's built to integrate with marketing automation and CRM tools. In fact, when you set up your restricted membership content, you'll integrate AccessAlly's tags into your marketing automation tool as part of the process. As such, you'll need to use one of these five tools:
I know that sounds a bit complicated — and it's a little more upfront work — but the result is you'll have this powerful automation and segmentation built into your membership site from day one, which can help you to engage members in unique ways and boost your conversion rates.
For example, if someone starts checking out but doesn't finish, you could automatically send them a reminder email with a special unique coupon just for them. Or, you could automatically send a member an upsell after they finish a course or lesson.
There are also some other nice conversion-boosting features, such as the ability to offer one-click upsells and order bumps (think those marketing funnels people are always talking about!), and AccessAlly also includes built-in functionality to create your own affiliate program.
There's no beating around the bush — AccessAlly is the most expensive option on this list by a big margin, so it's definitely not going to work for everyone. But, if you think you'll take advantage of all of the powerful automation options it gives you, it's definitely one to consider.
Final Thoughts and Recommendations
In the end, there's no 'best' WordPress membership plugin for all situations. There are far too many variables and considerations — what's best for one membership site my not be best for another.
All of the plugins featured represent excellent selections, though, and each comes equipped with all of the essential membership features needed to satisfy most users. This includes the ability to 'lock' content, monetize your website by selling premium memberships, and drip-feed content to increase membership lifespans.
When making your choice, consider some of the features I highlighted at the beginning. For example, you don't want to decide on a plugin only to later find out it doesn't support the payment gateway you want to use. These are important questions you want to answer before you open your wallet.
While I can't give you a single answer, I can try to roughly group the plugins to focus your search.
First off, I'd say the following plugins are all great starting points because they do a good job of balancing features, affordability and ease of use:
MemberMouse can also be a solid option here, though some people may be put off by its lack of a GPL license.
On the other hand, if you're willing to put up with a higher learning curve in exchange for lots of flexibility and automation, here are two places you may want to start:
If you're on a tight budget, here are two solid options with fairly generous free versions:
Finally, here are a few others that don't fit neatly into categories:
WooCommerce Memberships — can be a good option if you're already using WooCommerce/running a store.
Ultimate Member — a good option if you want more of a social community and aren't focused on monetization. Again, there are some workarounds to charge for access, but monetization really isn't a focus for the plugin.
All of these membership plugins have something unique to offer, so figure out which features are essential for your website, then check to see whether your preferred plugin supports them.
Using any of the above membership plugins? Thoughts?
All comments are held for moderation. We'll only publish comments that are on topic and adhere to our Commenting Policy.