Easy Digital Downloads Review: Sell Digital Files Online with WordPress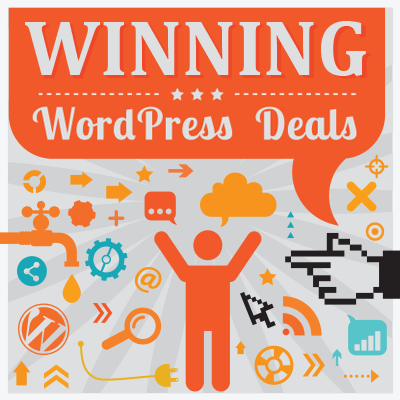 Pippin Williamson is an expert WordPress-plugin developer who's been working with WordPress for several years. He's released a lot of great plugins, such as Better Recent Posts Widget Pro, Affiliate WP, Easy Content Types, and Restrict Content Pro.
One of the most popular plugins he's developed is Easy Digital Downloads — a plugin that allows you to manage and sell digital downloads online. It's a fantastic eCommerce solution for WordPress that's free to download from WordPress.org.
Let's take a closer look at what this superb plugin can do…
Adding a Download File to Your Website
Easy Digital Downloads is a versatile plugin that's packed full of features. For such an advanced WordPress plugin, it's surprisingly easy to use. It will only take you a few minutes to add a download file and configure settings to your preference.
The "Add New Download" page has the same WordPress interface that's used in posts and pages — so you'll feel right at home! Once you have completed all of the necessary information on this page, a new download page will be published on your website.
The title and description that you enter will be displayed on your download page above the file download or file purchase button. Since the WordPress post editor is used to enter a description, you can be as creative as you want. You can add images, videos, quotes, text, and more.
Easy Digital Downloads allows variable pricing. This means you can offer multiple versions of the same product. For example, you could sell a basic version of your eBook for one price and an extended version, with additional chapters and expert interviews, for another price. If you wish, you can allow customers to purchase every version of your product.
Next, you upload your digital files. You can assign files to individual versions or assign multiple download files at one price.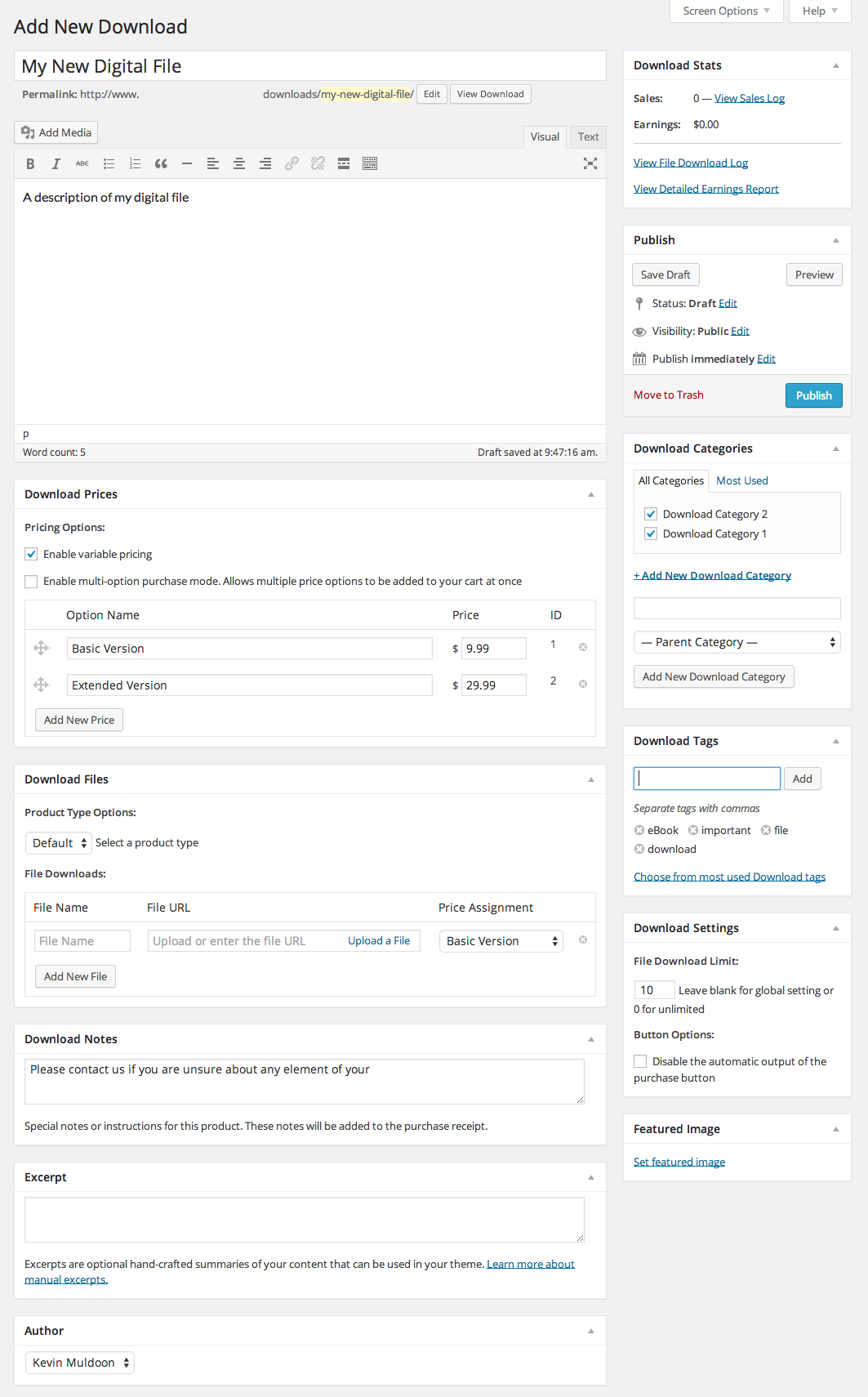 In the sidebar area there are links to reports such as download logs and earning reports. Categories and tags can be assigned to your download file too — something that's particularly useful if you're offering a lot of digital files on your website.
Files can be be restricted to a defined number of downloads. Alternatively, you can let people download files an unlimited number of times.
Your download page will be as basic, or as complex, as you make it. It really depends on how much content you add through the WordPress post editor — which is one of the reasons why Easy Digital Downloads is loved by so many users!
Promoting Your Digital Files
By default, Easy Digital Downloads will add the download/purchase button to the bottom of your download page. If you have a short description for your download file(s), this is probably the best area to display the download button or purchase button.
If, however, you have a long detailed description of your product(s), you may want to display the button somewhere else. Thankfully, Easy Digital Downloads allows you to do this.
At the bottom of the sidebar is an option to disable the automatic output of the purchase button. If you enable this option, you can then use the 'purchase' shortcode to insert the button anywhere you choose.
For example, you could display a brief introduction or some sales-text at the beginning of the page. After that you could display the purchase button and then display a much longer explanation of what the product does. Finally, you could then display another purchase button.
This gives you a lot of flexibility over how you market your digital products to visitors!

Customization doesn't stop there. Easy Digital Downloads also gives you a 'downloads' shortcode that lets you display a list of all your products. These can then be presented on a dedicated sales page in multiple columns.
Discount codes are also built into the core version of Easy Digital Downloads. You can define the coupon-code text and whether the discount is a fixed amount or a percentage of the total sale.
Coupons can be applied to all of your products or restricted to specific files. You can also enter the start and end date of the coupon, the minimum purchase amount for a coupon to be valid, and the maximum number of times a coupon can be used. Coupons can also be restricted so that customers can only use them once.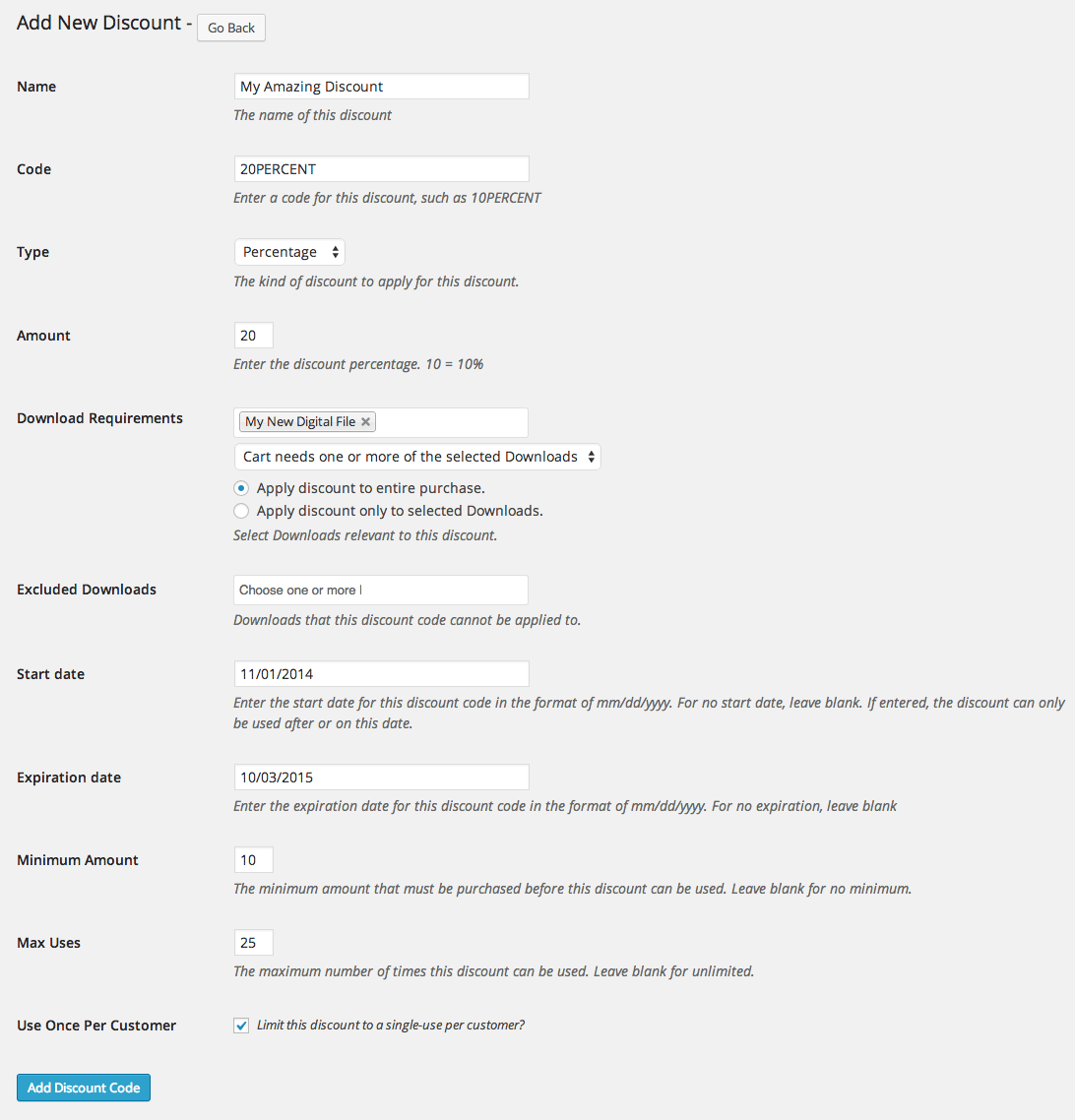 With many eCommerce WordPress plugins, you are somewhat forced to promote products in a specific way. Easy Digital Downloads however, doesn't really do this since the use of shortcodes allows you to promote products on any area of your website. The plugin also comes packaged with a range of widgets to help you display your cart and download categories on your sidebar.
Setting Up Easy Digital Downloads
Easy Digital Downloads has a user-friendly settings-area with six main sections.
The general settings page allows you to define important pages such as your checkout page, success page, failed transaction page, and purchase history page. You also define your currency in this area.
The core version of Easy Digital Downloads supports PayPal Standard as a payment gateway. Payment icons can be displayed to make your payment page more professional and you can enable a text payment system to ensure that everything is configured correctly. Additional payment gateways are available as extensions.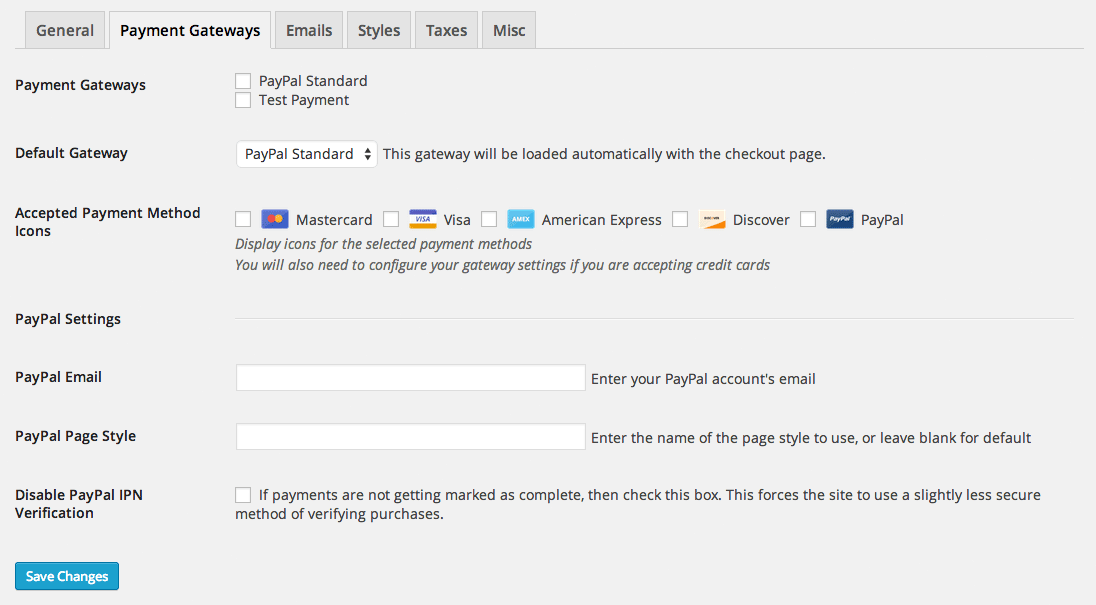 The purchase-confirmation email that's sent to the customer can be modified: as can the sales email that's sent to you. Nine different purchase button colors are available. Alternatively, you can use plain text.
Taxation is also supported. You can define the tax rate for specific countries and specific regions/provinces. The miscellaneous settings page allows you to define many more settings, such as the purchase text, agreement terms, download methods, and more.
There is also a tools section that lets you ban emails and import-and-export your settings to another website.
Extensions & Themes
The core version of Easy Digital Downloads is a practical eCommerce plugin that has a lot of great features. However, the biggest selling point of Easy Digital Downloads is how the plugin can be extended.
On the official website of Easy Digital Downloads you will find over 250 extensions (sometimes referred to as addons) — one of the reasons why the plugin is a viable alternative to WordPress eCommerce solutions such as WooCommerce.
Extensions vary in price greatly. Free extensions are available, however the majority of extensions are priced between $29 and $99 for use on a single website. 25 core extensions are available as a bundle for $495; which could potentially save you thousands of dollars if you planned on purchasing them all and using them on multiple websites. Purchases of three or more extensions will automatically have a 10% discount applied.
There are extensions available for, well, just about everything: analytical reports, payment gateways, widgets, licensing, featured products… …you name it!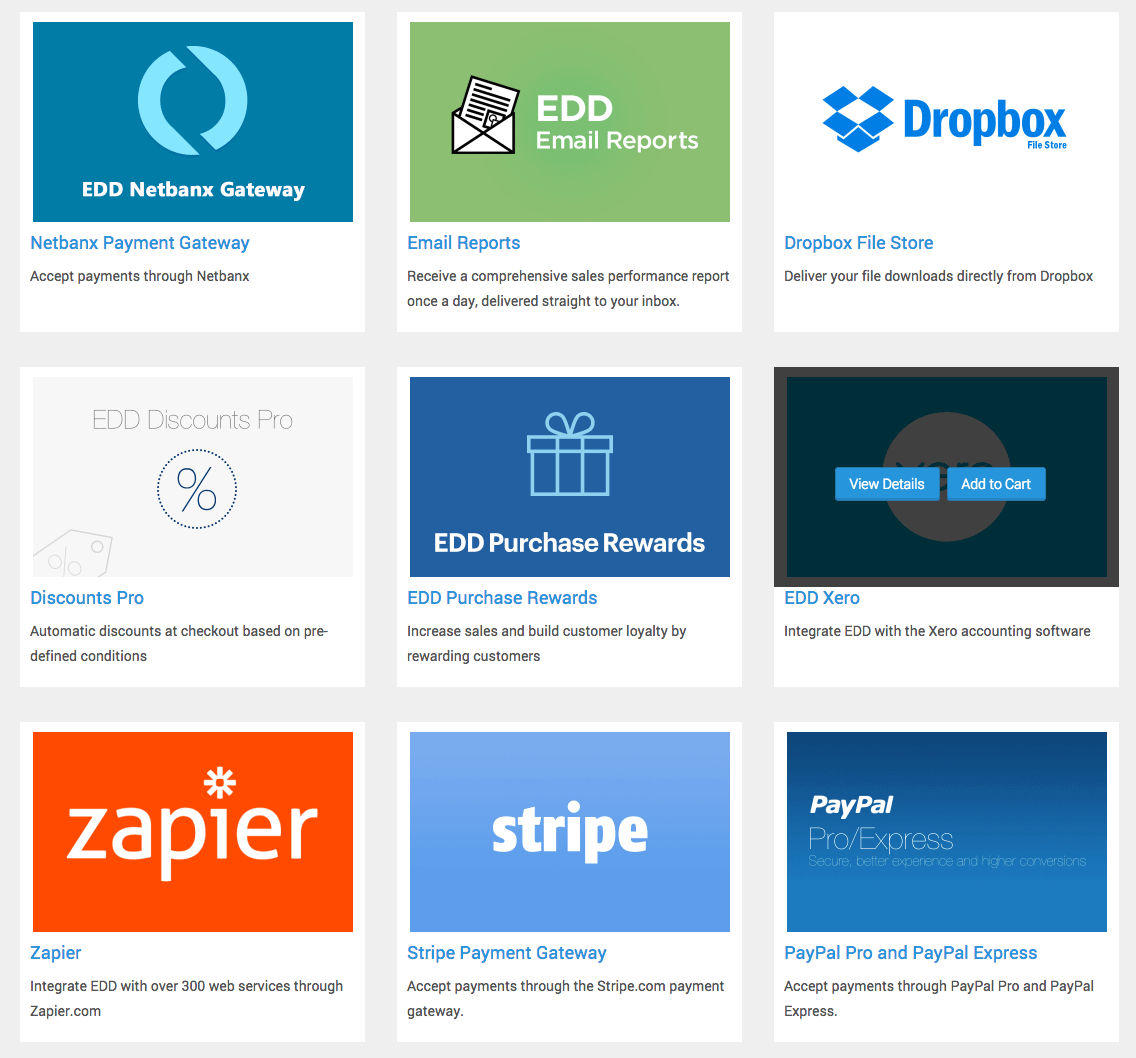 Around 40 WordPress themes are also available. These themes were built specifically for websites and online stores that sell products using Easy Digital Downloads. Prices of themes generally range from around $10 to $60.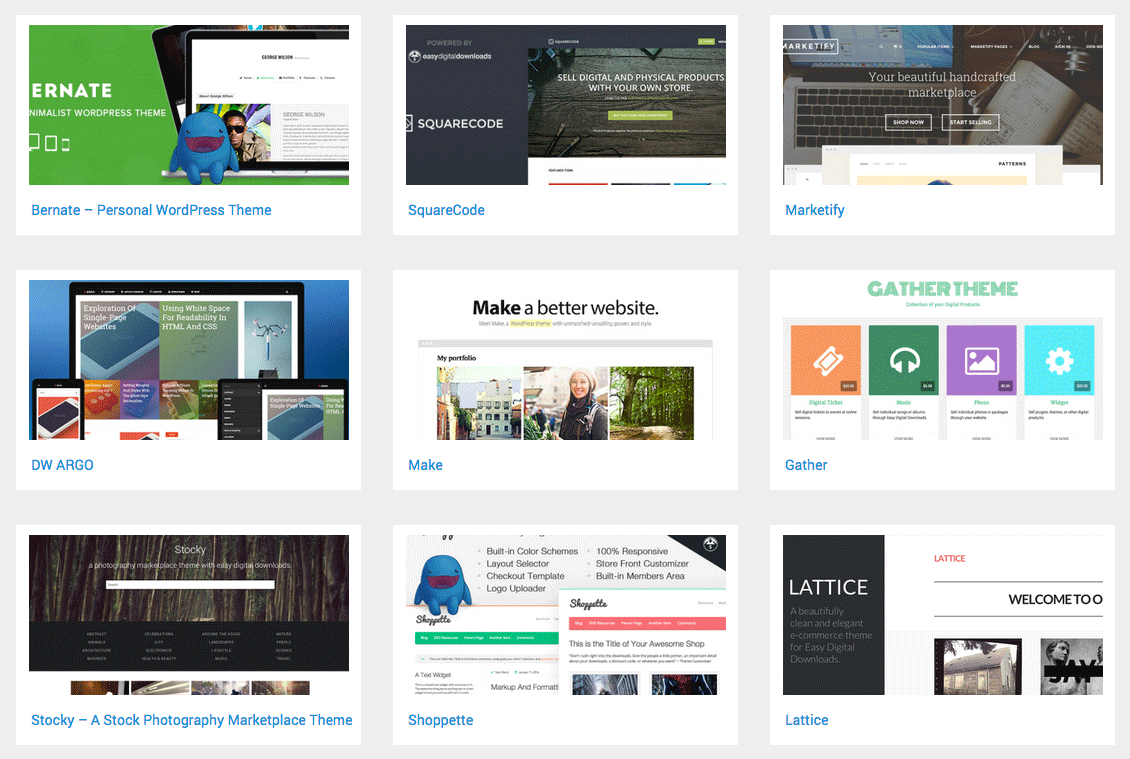 It's worth noting that the price of themes and extensions isn't dictated by Pippin Williamson. Easy Digital Downloads related products are priced by the developer who released them. This explains why there is such a disparity between the pricing of themes and extensions.
Final Thoughts on Easy Digital Downloads
Easy Digital Downloads is one of the most flexible eCommerce solutions available to WordPress users. Once you've activated the plugin, it only takes a few minutes to upload a file and start selling products on your website.
As already mentioned, the plugin is free to download; however, whilst the core version is sufficient for selling digital files, if you want to build a digital store, you may have to purchase one of the many extensions that are available to get the functionality you need.
Extensions can be costly, though this same criticism can be leveled at all WordPress eCommerce plugins as they all use the same freemium business model. My advice is to test the free version of the plugin and review what extensions you need and how much these extensions will cost you — which will then give you the true cost of using Easy Digital Downloads.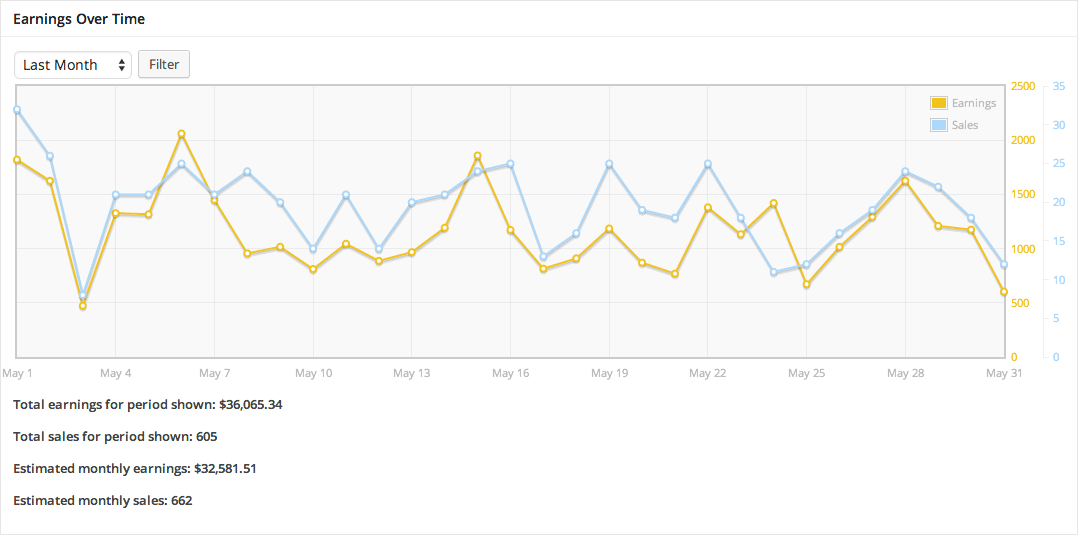 If you're looking for a way to sell digital files, I encourage you to give Easy Digital Downloads a try — it could well prove to be just the plugin you're looking for!
Using Easy Digital Downloads? Thoughts?