WinningWP content is free to all. If you make a purchase through referral links on our site, we earn a commission (
learn more
).
Bloom vs OptinMonster: Which is the Better Email Optin Form Plugin?
When it comes to feature-packed WordPress plugins for displaying email optin forms on your website, two popular options are OptinMonster and Bloom, from Elegant Themes.
As regular readers will know, we've already looked at these plugins in detail in two previous posts, OptinMonster Review: Exploring the New Features of this Optin Form Plugin for WordPress and Bloom Review: A Brand New Email-Optin Form Plugin from Elegant Themes. However, while those reviews go into considerable depth, they don't try to help you to answer the all-important question: Which is the best option for your site?
To help you to decide, let's compare the two.
In this comparison, I'll look at their features, assess how easy they are to use and try to determine which one offers the best value for money.
Let's get started…
Email Optin Form Types
The most important feature of an email optin plugin is the selection of form types. Both Bloom and OptinMonster go far beyond being just simple popup/optin form plugins, with both including lots of useful form types that will help you to grow your email list.
With Bloom, you get six form types to choose from, including lightbox popup, fly-in/slide-in, widget, below post, in-content and locked content options.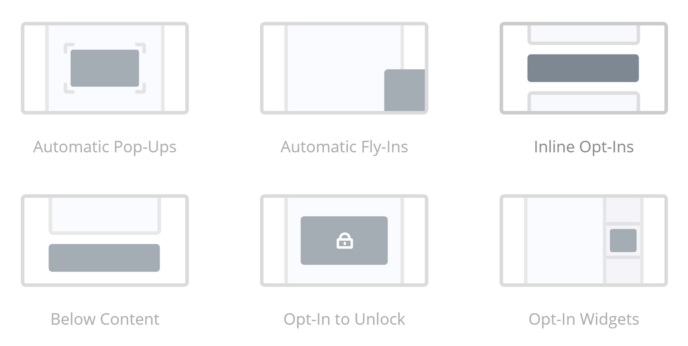 With OptinMonster, you get access to nine optin/popup types, referred to as campaign types.
The OptinMonster campaign types include lightbox popup, fullscreen welcome mat, slide-in scroll box, floating bar, countdown timer, sidebar forms, inline forms, content locker and a coupon wheel optin.
There's also a blank canvas popup option that can be used to display any custom content of your choice in a popup.
However, like many aspects of this plugin, the exact form and popup types you get access to will depend on which OptinMonster pricing plan you choose (more on those later).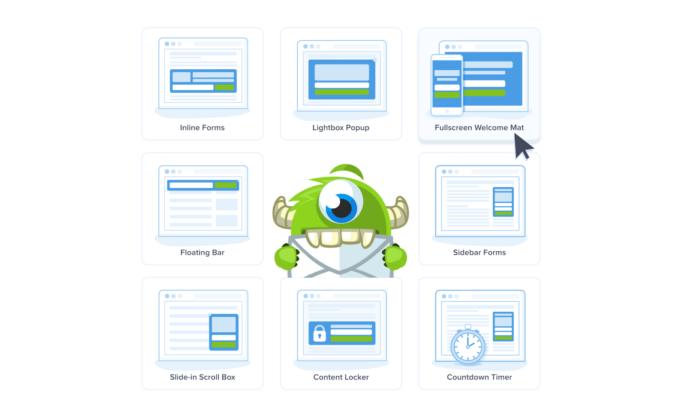 Bloom definitely covers all of the essential form types, but so does OptinMonster — and it also gives you a few more, including a floating bar, a blank canvas popup, a fullscreen welcome mat option and a coupon wheel optin.
Let's look at the different types of forms in more detail to help you to decide which ones you need.
Locked Content and In-Content Optins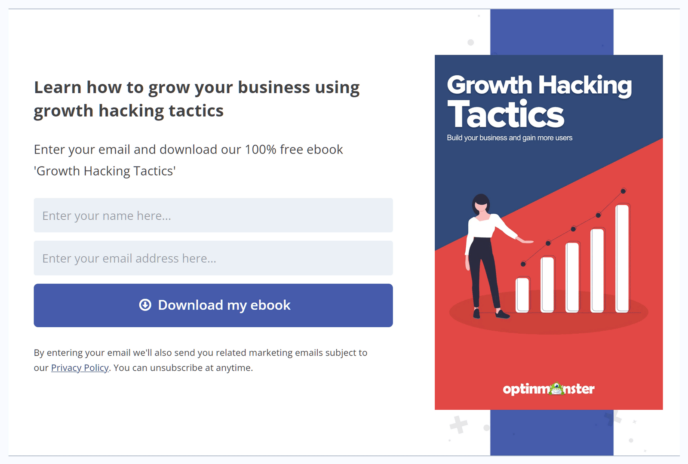 The locked content form options of both plugins are useful if you want to use high-value content, such as a file download or a premium article, to entice visitors to join your list.
Also, the ability of both OptinMonster and Bloom to insert forms into your content using a shortcode is useful, because it could help to generate sign-ups midway through a post or page.
Blank Canvas Popup
With OptinMonster, the blank canvas option allows you to display any custom content you like within the popup window.
This content could be product links, social media profiles, shareable links, or anything else you want. In short, the endless possibilities presented by the canvas form make it a very interesting feature.
As OptinMonster has its own drag-and-drop editor, it's easy to take control of the design of the blank canvas popup.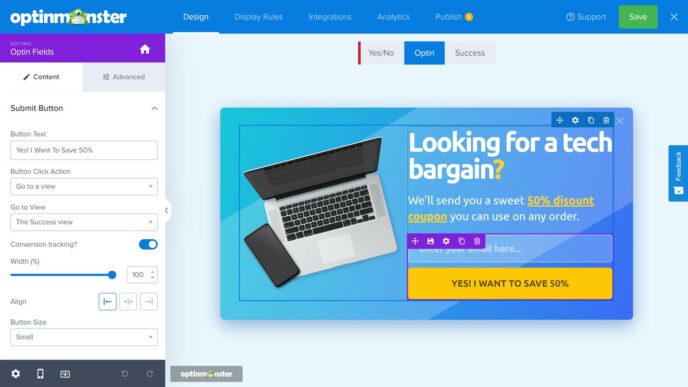 Unfortunately, Bloom doesn't have a comparable blank canvas popup feature.
Floating Bar Optins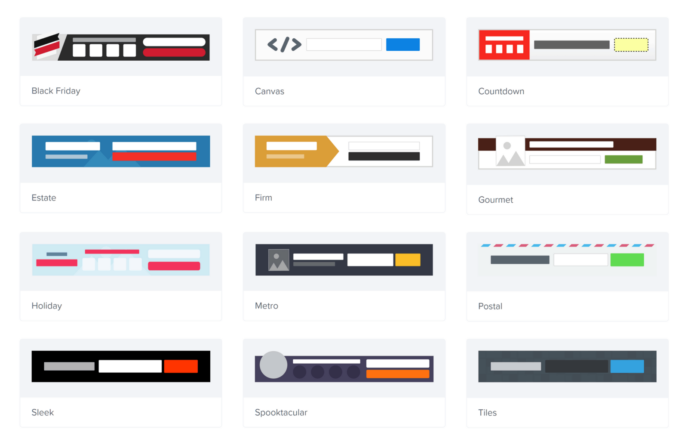 The OptinMonster floating bar is another potentially useful form type. Because this type of optin form is always on display, either at the top or bottom of the browser window, it doesn't matter where a visitor is on your page. Again, Bloom doesn't have this feature.
Mobile-Friendly Popups
Although both tools generate mobile-friendly popups and optin forms, OptinMonster has mobile-only templates.
As these templates for your optins and popups have been designed specifically for mobile devices, they'll not only look good on smaller screen devices but should also help to avoid slowing down your site and annoying your visitors.
Because you can also use the Exit-Intent and InactivitySensor features of OptinMonster to trigger your mobile popups and optins (more on those later), you should be able to generate as many sign-ups from mobile users as desktop ones.
With Bloom, you can set optins so they're not displayed on mobile devices. However, you don't get the ability to create and display mobile-specific popups and optins as you do with OptinMonster.
Fullscreen Popups
OptinMonster's fullscreen popup is another feature that's definitely worth having. When triggered, this option covers the whole browser window.
Depending on how you configure it, the popup could be displayed when a visitor arrives on your site, when they're about to leave or when a few other conditions are met.
If you really want to grab the attention of your visitors, this could be the best option.
Coupon Wheel Optin
One of the newest additions to OptinMonster is the coupon wheel optin.
One way to use this optin would be to let your visitors spin the wheel to see what prize they've won, and then ask them to enter their email address into the optin form to claim it.
You can watch a video that demonstrates exactly how this works on the OptinMoster website.
Animation Effects
Both plugins also give you a selection of animation effects to apply to your forms. These optional effects do a great job of catching the attention of your readers so they don't miss your popups or optins.
While both tools have animation effects, OptinMonster has more. Also, after an update, OptinMonster now lets you add sounds to your popups as well.
Verdict: OptinMonster wins when it comes to optins and popups. Both plugins cover the essentials, such as popup forms, in-content optins and sidebar options. However, OptinMonster simply has more form types to choose from, although you will need to pay extra to unlock all of them.
Winner: OptinMonster
Form Designs and Customization Options
Bloom ships with an impressive number of pre-built form templates that can be applied to all of its form types.
On closer inspection, though, many of these form templates are actually only slight variations on the core set of designs. Despite that, there are still a good number of significantly different designs to choose from.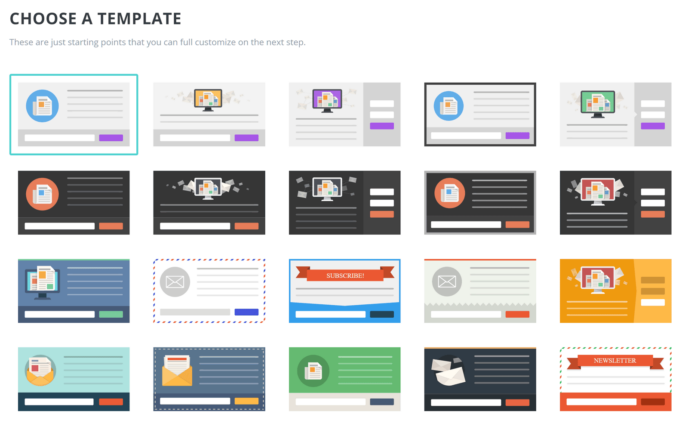 The OptinMonster form templates are divided across the different available types of forms. Because of this, some form types have more templates than others, but, whichever form type you choose, you won't be short of template options.
The OptinMonster templates have been designed to a very high standard. There's a wider range of designs compared with Bloom, giving you more options for how your forms will look.
OptinMonster also has seasonal templates, such as designs for Black Friday, Cyber Monday and Halloween, to name just a few. Because of this, you can make really targeted campaigns with very little effort.
With both tools, you can edit the design of your optin and popup forms to some extent. However, OptinMonster gives you way more creative control over how your forms will look, thanks, mainly, to its powerful drag-and-drop editor.
Verdict: Bloom definitely has a good selection of well-designed form templates, but so does OptinMonster — and it also has more templates to choose from.
Winner: OptinMonster
Form Triggers and Activation Settings
Triggers let you control when your forms are displayed. When a certain condition has been met, the form is activated.
One way you can use triggers is to delay the activation of your form. You could use a time-based trigger to give your visitors a few minutes to enjoy your content before the popup is displayed. The idea is, because they've had more time to appreciate your website, they'll be more likely to sign up.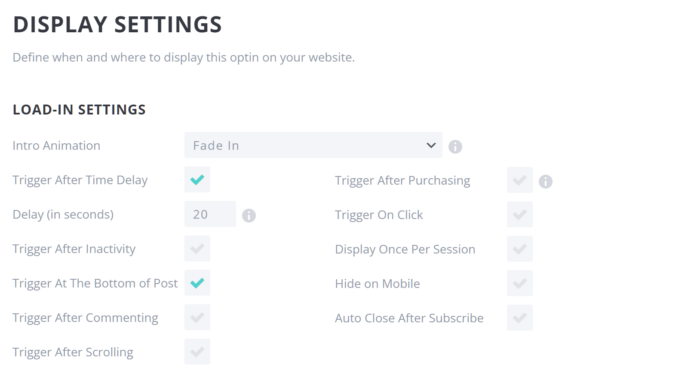 With Bloom, you get access to some interesting triggers, such as time delays, after commenting, after a WooCommerce purchase has been made, page scrolling triggers, idle time triggers and when a user clicks on a button or link.
As you may expect by now, OptinMonster has even more useful triggers than Bloom. Some interesting options include a powerful time and date-based option that's great for displaying promotions on certain days of the week or during a specific time period.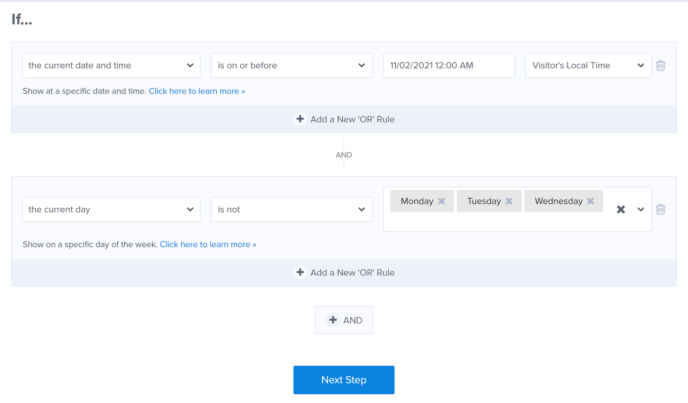 The Exit-Intent trigger is another very useful feature of OptinMonster that Bloom doesn't have.
The Exit-Intent trigger can detect when a visitor is about to leave your site. This is done by tracking the mouse cursor movement to detect when it leaves the browser window, giving a good indication that the visitor is about to click the back or exit button.
As the cursor leaves the window, the form is displayed. The benefit of this is your popup form is only displayed when a visitor is about to leave your site, thereby removing the risk of annoying readers as they're consuming your content.
Updates to OptinMonster have seen another powerful trigger added to the plugin. The InactivitySensor trigger will detect when a user is disengaged with your page, maybe because of switching tabs or walking away from their device.
Once this inactivity is detected, a popup is triggered, giving you a chance to re-engage that visitor when their attention returns to your site. Combining this trigger with the sound effects features could be an ideal way to grab the attention of a distracted visitor.
Again, the pricing plan you choose will dictate which triggers you get access to with OptinMonster.
Verdict: While Bloom's triggers are very useful, OptinMonster wins here, mainly because of the inclusion of the exit intent inactivity sensor triggers.
Winner: OptinMonster
Form Display Controls and Settings
Both Bloom and OptinMonster give you lots of control over where the forms are displayed, whether across the entire site, on posts from individual categories and tags, or on specific pages. Both also allow you to exclude individual posts and pages from featuring the forms.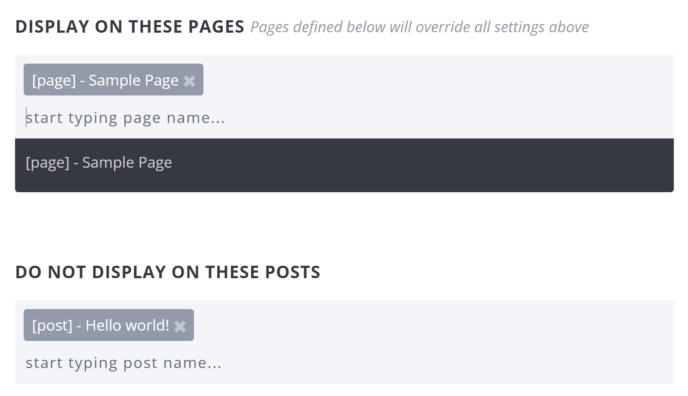 While both plugins have good display settings, OptinMonster takes things to the next level with controls that cover the visitor's physical location, visitors with a specific URL parameter, visitors using AdBlock and visitors from a specific traffic source.
As well as displaying a custom message, both OptinMonster and Bloom let you redirect visitors to a specific URL after a form submission.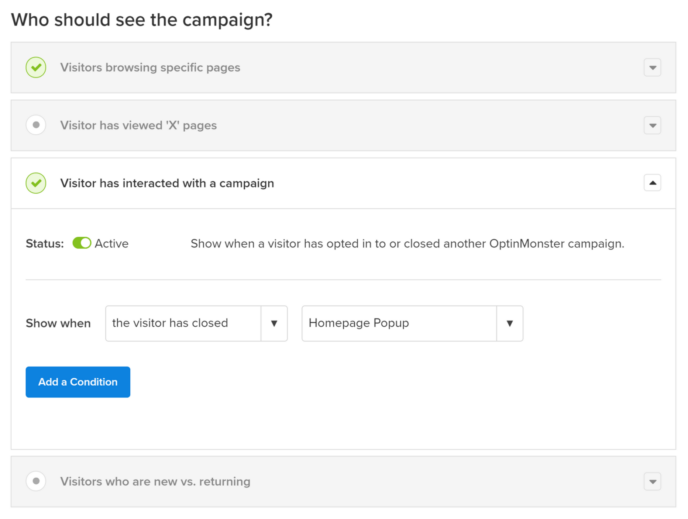 Verdict: OptinMonster wins this one, as it has more options for showing your forms based on a wider range of scenarios.
Winner: OptinMonster
Email Marketing Integrations
Both plugins integrate with all of the leading email marketing services, as well as some of the more obscure ones.
The process for connecting the plugin to your email service is equally straightforward with both options.
While both tools have good coverage, OptinMonster has the edge. It simply supports a wider range of services. However, Bloom has been adding support for more services with each update, so it may well catch up soon.

Verdict: OptinMonster wins based on the larger number of email marketing services currently supported.
Winner: OptinMonster
Ease of Use
Creating, configuring and managing your email optin forms is actually very straightforward with both plugins.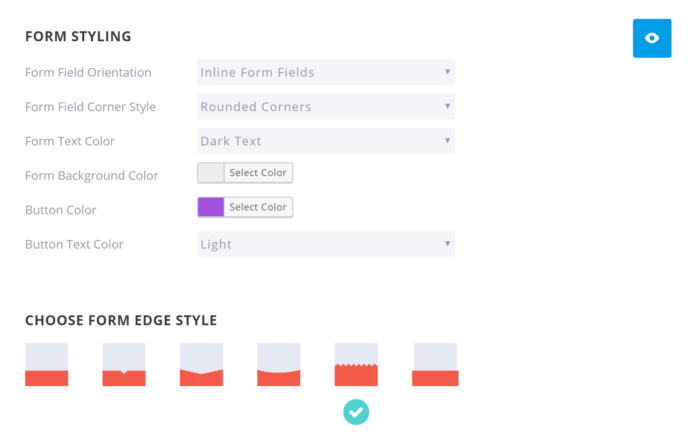 Both tools have their own user interfaces rather than using the default WordPress interface. However, as they've both been well designed, they're easy to use.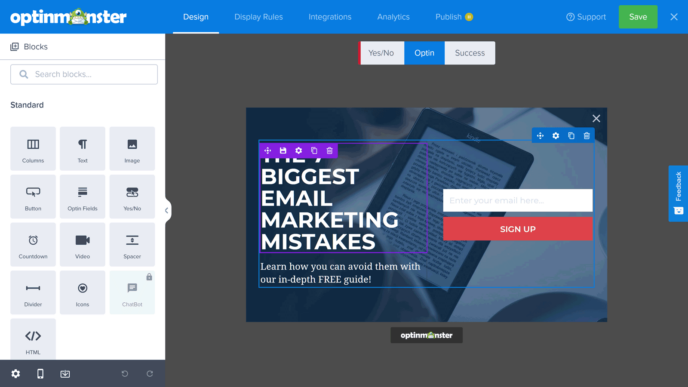 To help users to get started, there's an optional tour of the OptinMonster user interface that points out the main elements.
If you plan to use these tools on more than one website, OptinMonster lets you manage your campaigns for multiple sites through a central dashboard. Unlike Bloom, you can also use OptinMonster on any website, and not just those powered by WordPress.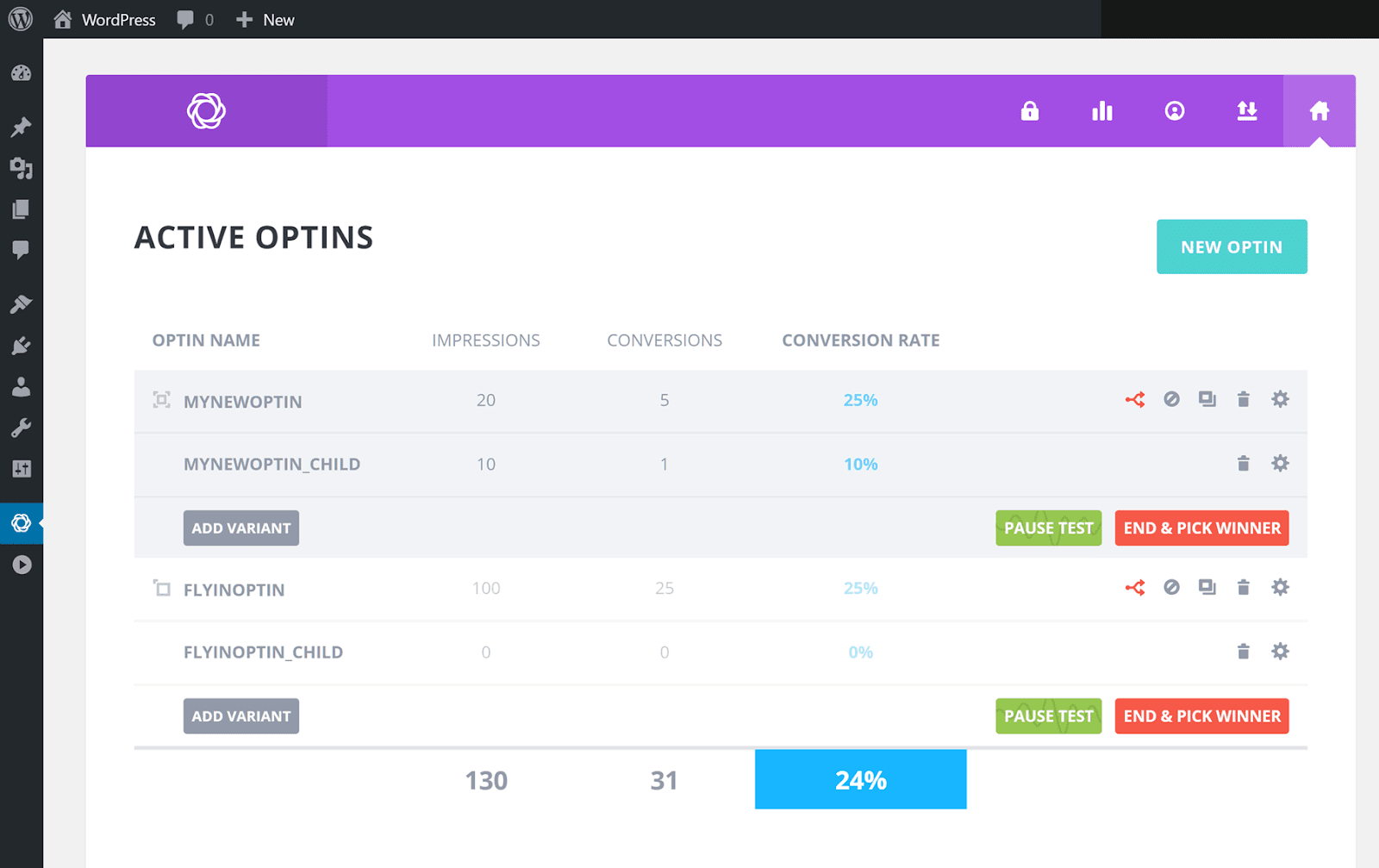 While both user interfaces and experiences are different, they're both well designed and easy to use.
However, OptinMonster, which features a side panel of settings next to a large main panel with a live preview of your form design, makes it easier and faster to build your forms.
Verdict: OptinMonster wins here, thanks to a user-friendly interface with a large live preview and click-to-edit customization options. However, as you can do more with OptinMonster, it may take you longer to master this tool.
Winner: OptinMonster
Other Features
Bloom and OptinMonster both have some additional features that don't fall into the above categories. Here's a quick look at some of the best ones.
A/B Testing
Bloom and OptinMonster both let you run A/B and split test experiments on your optin and popup forms.
Through this feature, you can quickly duplicate a form, make one or more changes to it, and then display the different versions to portions of your audience. Soon, you'll find out which version generated the most leads from your audience, and you can then make the winning version the one all of your visitors see.
As you can run multiple experiments at any one time, you can keep testing your forms to optimize them as much as possible.
If you've ever wondered which form design or copy would generate the best response from your audience, having access to A/B testing is invaluable.
While both plugins have this feature, it's only available on the more expensive OptinMonster plans, above the Basic entry-level option.
Multi-Step Forms
Bloom doesn't let you create multi-step forms, but OptinMonster does. Because of this, you can walk your visitors through a series of questions as part of the lead generation process. This can enable them to be added to a specific list based on their answers, or you can deliver a certain lead generation asset based on their responses.
Adblock Detection
If you're worried about savvy visitors missing out on your popups because of their use of ad blockers, OptinMonster is the only one of these two plugins that has a feature to help to overcome this. However, this feature is only available on the most expensive OptinMonster plan.
Verdict: When it comes to additional features, you can do a lot more with OptinMonster. However, Bloom isn't lacking any important or essential functionality, and, with OptinMonster, you often have to pay more to unlock the extras.
Winner: Draw
Pricing
Bloom is available at two price points. One is an annual license, and the other is a lifetime option. With both, you get access to all of the features of Bloom. You can also use the plugin on an unlimited number of websites.
Bloom yearly license: $89 a year.
Bloom lifetime license: $249 (one-time payment).
Bloom also comes with the powerful multi-purpose Divi WordPress theme, plus a few other useful tools.
OptinMonster is available on four pricing plans. The main differences between the plans are the features you get access to and how many sites you can use OptinMonster on.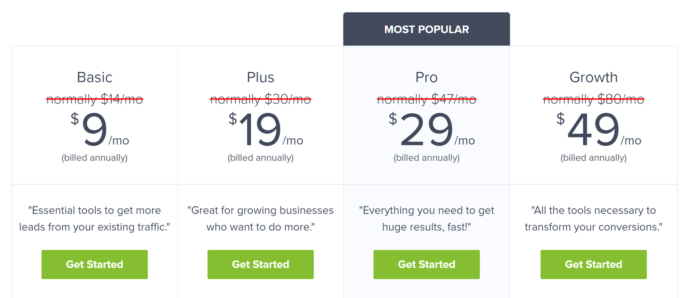 It's also worth mentioning that the OptinMonster plans have page view limits. Because of this, you'll need to choose a plan that's compatible with how busy your site is.
Here's a quick overview of the OptinMonster pricing options, but you can view the full details on its website:
OptinMonster Basic: From $9 a month (billed annually at $108).
OptinMonster Plus: From $19 a month (billed annually at $228).
OptinMonster Pro: From $29 a month (billed annually at $348).
OptinMonster Growth: From $49 a month (billed annually at $588).
With the lowest-priced OptinMonster plan costing the equivalent of $108 a year, compared with $89 a year for Bloom, Bloom is the cheapest option here.
However, that doesn't necessarily mean Bloom is the better-value option.
Paying extra for OptinMonster does get you access to more features, including the exit intent and inactivity sensor triggers, sound effects and campaign scheduling, to name just a few.
Verdict: When comparing value for money, I'd say Bloom is the better option because it has a lower price and still includes a good set of features.
Winner: Bloom
Final Verdict: OptinMonster vs Bloom
While OptinMonster has won the most rounds in this comparison, there isn't much to separate these two plugins when it comes to the essentials. Both are very easy to use and include all of the features you'll need to start growing your email list.
However, when it comes to advanced features that could really boost your results, OptinMonster comes out ahead, although access to those extras isn't cheap.
If budget is a key factor, investing in Bloom is probably the best option, compared with the entry-level $108-a-year OptinMonster Basic plan.
One reason for this is Bloom comes with an A/B testing tool, while with OptinMonster this is only available on the $228-a-year Plus plan and above. However, the entry-level OptinMonster Basic plan does include some form types Bloom doesn't, such as floating bars and fullscreen overlays.
If you're also looking for a new WordPress theme, purchasing Bloom and getting access to Divi and Extra makes it an even better deal.
On the other hand, if you can afford the feature-rich Pro and Growth plans from OptinMonster, you'll get access to a very powerful tool for increasing conversions and generating leads on multiple websites.
The features you value the most and how much you're willing to spend will determine which is the best WordPress optin form plugin for your website.
When it comes to deciding between Bloom and OptinMonster, both are good tools, and you won't be disappointed with either.
Using either Bloom or OptinMonster? Thoughts?
All comments are held for moderation. We'll only publish comments that are on topic and adhere to our Commenting Policy.