Bloom Plugin Review: A Superb Email-Optin Form Plugin from Elegant Themes…
Bloom is an excellent WordPress plugin from the Elegant Themes team, designed to help you to grow your email list and generate leads from your website. Growing a list of email subscribers is arguably one of the most important tasks for any blogger or website owner, as, once you have a list of subscribers, you can contact them whenever you want, rather than having to wait for them to return to your site.
It's no surprise, then, that WordPress users are particularly well served, with many plugins that can help them to do this. From basic free options to full-featured premium products, there's almost certainly a plugin that'll work for you when it comes to adding email newsletter opt-in forms to your WordPress website.
So, with that in mind, let's take a look at Bloom's features and how easy it is to use, and see where it fits into the landscape.
Let's get started…
Why Use the Bloom Plugin?
The purpose of Bloom is to display email sign-up/opt-in forms on your website.
When visitors enter their contact details into those forms, those details are added to the email newsletter or marketing service you use (for example, MailChimp or AWeber). Once a visitor has joined your list, you can email them whenever you want.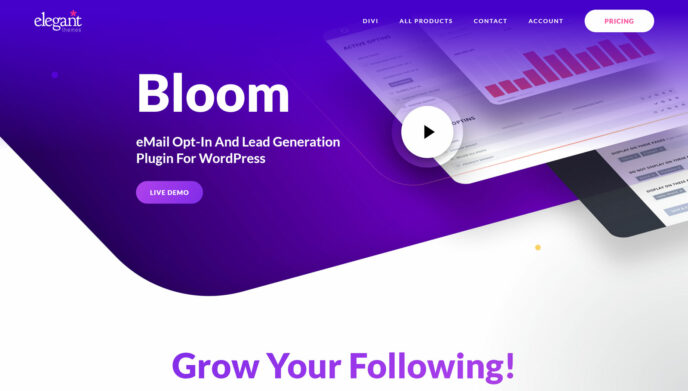 Having a list of email subscribers is highly valuable because it gives you a way to encourage people to return to your website. It's estimated that 50% to 80% of new visitors never return to a website, so it's vital you have some way to contact those people once they've left.
Your email list also helps you to develop a better connection with your audience. You can use it to provide them with useful content, direct to their inbox. Then, when the time is right, you can use your list to ask them to return to your site. Once you've formed a connection with your subscribers, you can promote products and services to them via email as well.
Bloom Features: What This Email Opt-in Form Plugin Has to Offer
For Bloom to compete with market leaders in this field, such as OptinMonster (which we covered in a previous article), it needs to be easy to use. Not only that, but it must also include most — if not all — of the important features users of other popular opt-in-form plugins have come to expect.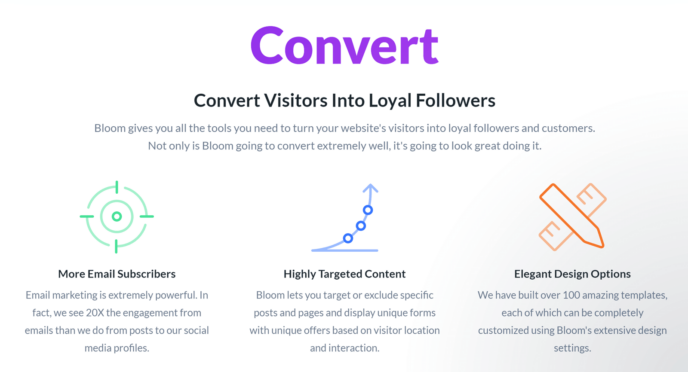 For those in a rush, Elegant Themes has produced a well-made two-minute video that gives a nice overview of what Bloom can do. However, if you have more time and are looking for the full story on this plugin, read on…
Six Email Opt-in Form Types
Thankfully, when it comes to features, Bloom doesn't disappoint.
Unlike some other premium email opt-in plugins, Bloom is only available in one version. Because of this, you get access to all of its features when you purchase it, rather than having to pay more to unlock advanced functionality.
As part of this, you get to choose from six types of opt-in forms from the outset.
The form types range from standard forms displayed after each post to animated fly-in and pop-up forms. There's also a locked-content form that can be used to hide your content until the reader enters their email address to join your list — a method of encouragement that's commonly employed when a site owner has something to offer in return, such as a free eBook or another type of downloadable file.
The only notable absence in the collection is the header ribbon format* that can be used to display a form at the top of your website.
However, Bloom's ability to create beautiful pop-up and slide-in forms to display in both the sidebar and after post content, and also the ability to insert them midway through a post using shortcodes, gives you plenty to work with.
Countless Form Templates and Customization Options
A great set of form types isn't all you get with Bloom. This plugin has lots more up its sleeve, including access to high-quality pre-built form designs.
These form templates can either be used as they are, or customized through the design options. While you don't get a visual builder tool to modify the templates, you can easily preview the form at any time by clicking on the floating preview button.
The design options are, again, very extensive. These allow you to customize almost every aspect of the form, including the title, message, image, animation effects, fonts, borders and the various built-in form fields, as well as their positioning. If that isn't enough, you can also easily insert your own custom CSS to personalize them further.
The floating preview button is a particularly nice feature, letting you instantly see how your form is developing by displaying it in a lightbox popup window. Because the button is always on display, it eliminates having to switch browser tabs, save your work or lose your place by scrolling up or down the page. Just click on it to see how your form will look to your website visitors.
Detailed Form Display Settings and Triggers
The display settings cover when and where the form will be shown on your website. They also enable you to set an animation effect — such as slide-in and pop-up effects — for some form types.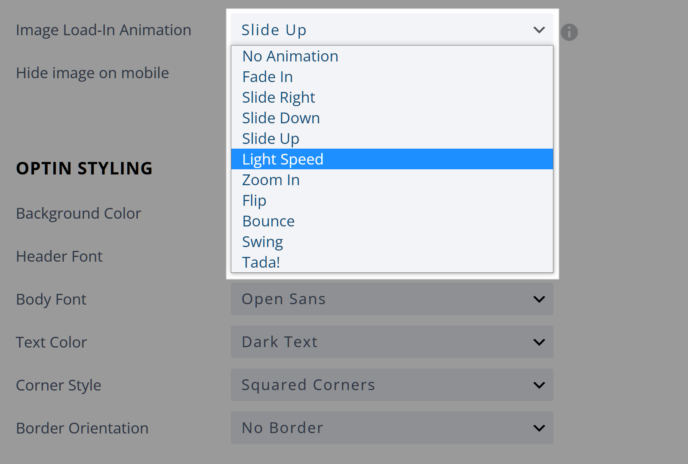 When deciding how your form will be triggered or activated, the options for displaying it include: After a set time delay; after a period of inactivity; when the user reaches the bottom of the page or has scrolled a certain percentage down the page; or after they've left a comment.
In an update to the plugin, you can now set the pop-up and fly-in forms to be displayed using the on-click trigger. This lets you create links or buttons that will launch the form when clicked. One benefit of this is it allows you to make use of the popular conversion-rate-increasing two-step opt-in process found in services such as Leadpages.
Unfortunately, there's no exit intent trigger. OptinMonster was one of the first email signup form plugins to give you the ability to only display a popup form when the user was about to leave your site. Now, though, the exit intent trigger is a feature that's found in many other premium plugins of this type.
There are alternatives to the exit intent trigger, though. With Bloom, you can trigger a popup or slide-in form to be displayed when a user scrolls past a certain percentage of a page, reaches the bottom of a page, or has been inactive on your site for a set period of time.
Also, since the plugin integrates with WooCommerce, you can even set the trigger as the 'thank-you for purchasing' page. Because of this, you can display a particular form after a customer has checked out of your store, rather than interrupting their shopping experience.
While the exit intent feature can help you to avoid annoying your visitors while they're still enjoying your content, Bloom can help you to turn down the annoyance factor in other ways, such as by changing how frequently your forms are displayed to each visitor. Mobile users can be catered to by choosing to hide the forms on small screen devices.
The other display settings cover which parts of your website the form will be displayed on. As well as general settings, such as the homepage, everywhere, posts, pages, and category and tag pages, you can choose to enable the form for posts assigned to specific categories, or even choose individual posts and pages to display (or not display) your forms on.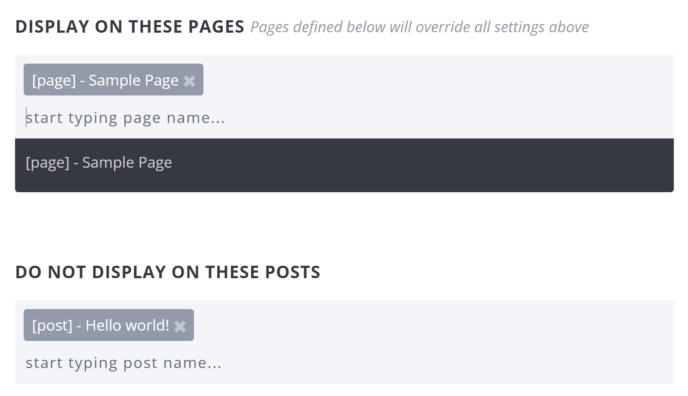 As Bloom supports multiple opt-in forms on one site, you can also create different forms to be shown on specific posts and pages, thereby allowing you to display content optimized for the articles they're being shown on.
Effective Split Testing and Optimization
With so many form options and design templates to choose from — not to mention all of the customization settings — it can be hard to know if you've created the right form for your website. Thankfully, the split testing tool makes it easy to compare multiple designs to find the best performer.
Bloom also lets you instantly clone a form, and you can then modify that clone and start testing it against the original. The result of this is you'll be able to see which one converts the most visitors into subscribers.
Multiple Email Marketing Service Integrations Supported
Bloom is essentially a tool for enticing your visitors to subscribe to your email list or newsletter. Therefore, it's good to see that it integrates with all of the most popular email list management services, including AWeber, MailChimp, Constant Contact, ConvertKit, GetResponse, Infusionsoft, MailerLite and many more. You can also integrate the plugin with multiple accounts, which means you can subscribe visitors to the different lists you manage.

The integration process is very straightforward; unlike some other opt-in form tools, there's no need to generate the raw HTML for the forms and then copy and paste it into the plugin.
What's more, updates to the plugin have seen support for even more email marketing services added to Bloom, including HubSpot, Mailster, Salesforce and ActiveCampaign. Therefore, if there's a service you're using that's not on the list, there's a good chance it'll be added in the future.
Useful Opt-in Form Performance Statistics
Once you've set up one or more forms, you can view their performance from the statistics page. Here, you'll see the number of impressions and conversions, as well as the conversion rate, for each active form on your site.
You can also view the highest converting pages on your website and see the number of signups per day.
Form settings can also be imported and exported between sites, making it easy to quickly deploy your tried-and-tested designs and settings to a new project.
Bloom Review: Creating an Email Opt-in Form
Bloom's features certainly tick all of the right boxes. However, this doesn't mean much if the plugin isn't easy to use, so let's walk through the process of creating a pop-up email opt-in form, complete with split testing.
The Bloom Control Panel
Bloom features a custom-built control panel for creating forms for your website, rather than using the default WordPress user interface. However, Elegant Themes has done a particularly good job with this. While some may prefer to use the native WordPress interface, the Bloom control panel doesn't have a negative impact on usability, and still looks great.
Email Marketing Service Integration
The first step when adding Bloom to your website is to connect the plugin with your email marketing service. As mentioned, Bloom integrates with all of the main players, so it's simply a case of choosing the appropriate option from the drop-down list and following the on-screen instructions to connect to that service.
If you need some assistance at any stage of the setup and form creation process, you can click on the help icon to get additional information. Some of the tips also contain a link that takes you directly to the relevant section of the online documentation.
Choosing a Form Type
Once you've authorized the integration with your email marketing service, you can start creating your opt-in form. The first step is to choose a form type from the six available options.
Next, you must decide which of your newsletter service integrations to add your subscribers to. These options also let you subscribe your website visitors to different lists, depending on the form they've signed up through.
Selecting a Form Template
Once Bloom and your email marketing service are connected, you can move on to the fun task of designing your opt-in form. Bloom has an impressive number of template designs to choose from.
Customizing the Form Design
After making a selection, you'll be able to customize the design and make it your own. The customization settings cover every aspect of the form, giving you plenty of scope for personalization.
The floating preview button makes it very easy to see how your form looks, without the need to switch tabs.
Once you're happy with its appearance, you can move on to configuring the display settings.
Form Display Settings
Depending on the type of form you choose, you'll have different options for how it's displayed. For the pop-up type, you can set a load-in animation from a range of options. Other settings include the time delay before the form is shown, choosing the triggers for displaying the form, and whether to hide the form on mobile devices.
From this screen, you can also define the posts and pages the form is displayed on, while a new feature lets you redirect users to a custom URL once they've submitted their details.
Effective ways to use the success redirect feature include taking the users to a thank-you page where they can access a lead magnet, taking them to another page on your site where they can perform other actions, such as sharing your content with their followers, or even taking them directly to one of your social media profile pages.
Once you've finished with the display settings, your form will be shown on your website in accordance with your configuration.
Setting Up Split Testing
Setting up a split testing experiment to find the highest converting design and form settings is very straightforward. After clicking on the A/B testing icon for the form you want to optimize, you can create a variant.
While you can't choose a different template for your variant, you can customize the individual elements of the form. This allows you to change the colors and form text. Selecting a different trigger is an option, too.
You'll then be able to start the test or create additional variants to compare design choices. You can check in at any time to view its progress, and, once a winner emerges, end the test.
All that's left to do now is to sit back and monitor the performance of your forms through the statistics page.
Pricing
Rather than being sold on its own, Bloom is only available as part of the Elegant Themes package of tools.
However, as this only costs $89 for one year, or $249 for a lifetime license, and includes access to all existing and future Elegant Themes products, it's a pretty good deal.
Among the products from Elegant Themes you get access to are the powerful Divi multipurpose WordPress theme and the useful Monarch social sharing plugin. You also get access to the standalone Divi Builder plugin that lets you add the drag-and-drop content editing capabilities of the Divi theme to any WordPress website, no matter which theme is installed.
Because Bloom has features to help you to grow your business by building an email list, it should be an investment that's easy to justify.
Final Thoughts
As well as being particularly well designed and easy to use, the Bloom opt-in form plugin comes packed with useful features. All of the main form types are included, and there's a solid selection of templates.
The only important missing feature that can be found elsewhere is the exit intent pop-up form trigger. As this form trigger can reduce the chances of annoying your visitors by only showing the popup forms when people are about to hit the browser exit or back button, it's something that's worth having.
Because of this, it's a little disappointing to not see it included. That said, the triggers that display a form when the reader reaches the end of a page, has been inactive for a set amount of time or scrolls down to a certain percentage of a post shouldn't be overlooked, and will be suitable alternatives for most users.
If you're keen to grow your email list, Bloom is one plugin you'll definitely want to consider.
*For those who really can't do without a ribbon format, the likes of Thrive Leads may be a better option.
Used/using Bloom? Thoughts?