WP Engine WordPress Hosting Review – Does It Really Make a Difference? Speed Tests + Pros and Cons!
WP Engine aims to provide fast, secure and stable managed WordPress hosting for people who take their sites seriously. But does it deliver on those goals?
In this review, I'll share the load times of our sites hosted by WP Engine, reveal how well our test sites handled spikes in traffic and let you know what level of uptime you should expect. By using the best paid tools out there, this review of WP Engine gives you real data to help you to decide if this is the right host for you.
I'll also look at the WP Engine features, discuss its pros and cons, and consider whether its plans are good value.
If you want to know what you get with WP Engine, and whether the service is well delivered, read on for our comprehensive review. But, if you just want a quick summary of our findings, then WP Engine is a user-friendly high-performance host that has fast loading times, good uptime and helpful support staff, as well as a range of useful features such as automatic backups and security scanning. The only real downside is the cost, although you get a lot for your money.
WP Engine Pros and Cons
Before we get to the main part of our review, here are the key WP Engine pros and cons:
As you can see, WP Engine gets a lot right. The only real drawback is it costs significantly more than cheap, shared hosting, but, as you'll learn in the rest of this WP Engine review, you do get a lot more for your money. You can also get four months free by using our WP Engine discount code.
👍 If you just want to know if you should sign up with WP Engine, in most cases, the answer is yes. There are other hosts out there offering a similar package for a similar price, such as Flywheel and Kinsta, but, if you sign up with WP Engine, you won't be disappointed.
If you want to know more before making a decision, read on…
About WP Engine Managed WordPress Hosting
WP Engine may not have been the first to offer managed WordPress hosting — that honor actually goes to Pagely — but it's now the biggest (and best-known) company in the managed WordPress hosting sector.
With more than 120,000 customers in 140 countries, WP Engine certainly has heaps of experience hosting a huge variety of WordPress sites. In fact, according to its marketing materials, 'five percent of the online world visits at least one experience on WP Engine each day'!
By offering high-performance hosting environments specifically optimized for WordPress websites, while also taking care of many of the ongoing tasks necessary to run a stable and secure WordPress website, WP Engine is a strong contender for anyone who needs more than regular low-cost web hosts can deliver.
But does WP Engine really live up to all of the marketing hype? Is it worth the extra cost?
Let's dive in…
Why Consider WP Engine?
Here's a quick overview of the most important features of the hosting plans: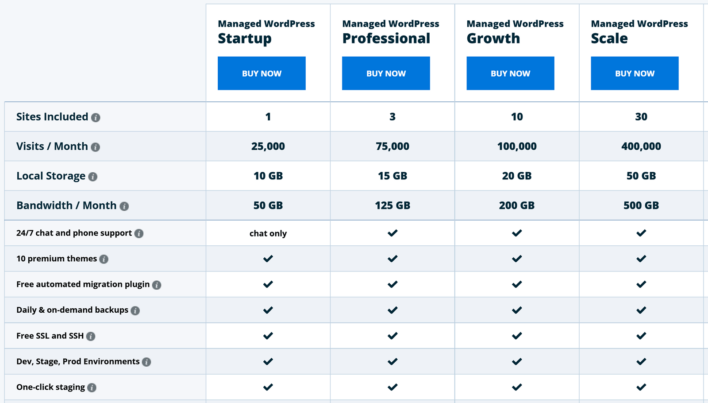 The plans certainly check all of the right boxes, but let's have a look at exactly what you get with WP Engine.
WP Engine Customer User Experience
As you can see, WP Engine offers customers a good range of useful features.
Thankfully, its service is also extremely easy to use. If you're new to WordPress, you should be able to have your site set up and accessible online in very little time. If you're a more advanced user, you'll be pleased with the easy-to-access technical features and tools.
In fact, the WP Engine experience is much more user-friendly than most of the shared hosting services that are aimed at beginners.
Using the features, such as the backups and staging environments, is very straightforward. Thanks to the well-designed account area on the WP Engine site, you can access everything through an intuitive dashboard.
The support team is only ever a click away too, and, in my experience, is really helpful and responsive. The WP Engine website is packed with in-depth documentation and guides to help you to master every aspect of this host.
WP Engine has done a fantastic job of making its service accessible to anyone who's new to WordPress, without dumbing down the experience in a way that could alienate more technical users. However you want to use WordPress, WP Engine can accommodate you.
💻 WP Engine is extremely easy to use, and ideal for both new and experienced WordPress users.
Web Hosting Performance
One of the main reasons to choose premium managed WordPress hosting over cheaper options is the potential decrease in website loading times, as well as the ability to accommodate more simultaneous visitors without the performance of your website suffering. Fewer instances of website downtime is another important factor.
WP Engine certainly promotes itself as able to deliver a high-performance hosting service, but is that really the case? Let's find out by looking at the loading times of our test websites hosted by WP Engine, as well as its ability to handle multiple visitors at the same time.
Loading Time Test Results
⚡ WP Engine performed well in all of our performance tests.
Because all websites are different, we created two test sites for this review. The first was built using a lightweight WordPress theme, while the second was created with a feature-rich multipurpose theme. The two sites were monitored using the Pingdom service, with the loading times recorded every 30 minutes over a period of seven days. Here are the results…
Seven-Day Speed Test Results with a Lightweight Theme
Twenty Twenty is a popular free WordPress theme. It's a lightweight option that's in use on more than a million WordPress websites, making it a good candidate for testing how quickly WP Engine can deliver a website using a basic theme.
If you plan on using this theme (or a similar option), here are the loading times you may experience with WP Engine:
Our test site using the lightweight theme hosted by WP Engine was very fast. At around a quarter of a second, WP Engine was able to deliver impressive loading times that were much faster than the results from our comparison of the Bluehost, HostGator and SiteGround budget shared hosting plans, although these plans were much cheaper.
However, WP Engine also performed better than Kinsta in our Kinsta review, showing it can hold its own against other hosts in the same price bracket.
But not everyone wants to use a no-frills WordPress theme, so what happens if you choose a feature-packed multipurpose option for your website? Let's find out…
Seven-Day Speed Test Results with a Multipurpose Theme
When it comes to a good example of a multipurpose WordPress theme, Avada is hard to beat. With a long list of features and multiple website demos, it's not hard to see why it's so popular — racking up more than 840,000 sales to date. However, all of this functionality can have an impact on site speed, making Avada a good candidate for testing how well WP Engine can handle more heavyweight WordPress websites.
For this loading time test, the Avada theme was installed, and its Agency website demo was imported. Again, the loading times were recorded by Pingdom at 30-minute intervals over a seven-day period.
As you can see, the file size of the Avada theme test page was much larger than the page used for the Twenty Twenty theme test (165 KB compared with 4.99 MB). However, despite this, while the loading times were slower compared with the site using the lightweight theme, they were still very impressive.
In fact, the loading times of our test using the Avada theme hosted by WP Engine were faster than the times recorded in our Kinsta, WordPress.com Business plan, Pressable and Liquid Web reviews.
Not everyone who chooses a multipurpose theme, such as Avada, will use its demo sites exactly as they are. So, with that in mind, we also tested the loading times of a blog post published on our Avada test site.
For this test, the results were even better, with an average loading time of 776 milliseconds for the blog post, compared with the 929 milliseconds of the Agency homepage demo. Again, this was faster than the competition we've tested so far.
While a website using a heavyweight theme such as Avada won't load as quickly as one using a more minimal theme, you can still enjoy fast loading times if you host it with WP Engine.
Site Speed Test Results Summary
As the loading times recorded by Pingdom show, WP Engine is certainly a fast web host. So, whether you want to use a basic theme, one of the options from StudioPress that comes with all WP Engine plans, or a multipurpose theme, such as Avada, your website should load quickly if you choose this managed WordPress host.
Our test sites were hosted in North America by WP Engine, and a US testing location was chosen in Pingdom for the site speed monitoring. Although you can choose which data center your site is hosted in, with options all around the world, the distance your visitors are from the site will have an impact on the loading times they experience. However, the use of a CDN (included with all WP Engine plans) can help to mitigate this to some degree.
Load Impact Performance Testing
Loading times are a useful way to judge the quality of a web host, but it's also important to get an idea of how your site will perform when multiple visitors are accessing it at the same time. For this part of our review, we used the Load Impact service to simulate multiple users simultaneously accessing the WP Engine-hosted WordPress website.
Over a five-minute testing period, the number of virtual users accessing the site increased from one until there were 199 virtual users visiting the site at the same time (represented by the green line on the graph below). The response time of the site (represented by the blue line on the graph below) was recorded by Load Impact at regular intervals to see how well the site performed as the visitor numbers grew. Again, the multipurpose Avada theme was used on the test website.
According to the Load Impact test results, up to 199 virtual users accessing the site simultaneously did not have any impact on the performance of the site hosted by WP Engine. The results are available on the Load Impact website if you'd like to know more about the test.
Similar results were recorded when testing the Kinsta managed WordPress hosting, with 250 simultaneous virtual users having no impact on the performance of the test site. However, our tests of the budget hosting from Bluehost, GoDaddy and HostGator revealed that all three had problems with more than 50 virtual users accessing the sites at the same time.
So, now we know how quickly the test websites load and what effect multiple virtual users accessing them at the same time has, let's look at the results from our WP Engine downtime monitoring.
Uptime Test Results
Downtime, no matter how small, can have a very negative impact on the effectiveness of your website. Periods of unavailability can make your website and, by extension, you look unprofessional and untrustworthy, leading to missed opportunities and a negative reputation.
WP Engine aims to deliver an uptime of at least 99.95%, and, while our monitoring did detect four minutes of downtime for both of our test sites over eight days of testing, the uptime level never fell below the guaranteed 99.95%. If your site does experience less than the agreed-upon uptime levels, you can apply for credit toward your monthly fees.
As you can see, WordPress websites hosted by WP Engine have the potential to load quickly and handle multiple simultaneous visitors with minimal downtime. But how much do you have to pay for this type of service?
Pricing Details
💰 The WP Engine plans start at $30 a month.
There are four predefined WP Engine managed hosting plans to choose from, as well as a custom option that's suitable for sites receiving millions of visitors a month or those who need to host more than 30 WordPress websites on one account.
WP Engine also has WooCommerce plans for anyone running an eCommerce store powered by WordPress.
When it comes to the WP Engine managed hosting plans, your options are as follows:
Startup: $30 a month for one site, 25K visits, 10 GB storage and 50 GB bandwidth.
Professional: $59 a month for three sites, 75K visits, 15 GB storage and 50 GB bandwidth.
Growth: $115 a month for ten sites, up to 100K visits, 20 GB storage and 200 GB bandwidth.
Scale: $290 a month for 30 sites, up to 400K visits, 50 GB storage and 500 GB bandwidth.
However, you can get four months free when you sign up for an annual plan by using our WP Engine discount code, which takes the effective monthly rate down to $20 for your first year.
The visits and bandwidth allowances are applied monthly. The prices listed above are only available if you pay yearly, and paying monthly results in slightly higher prices.
As mentioned earlier in this WP Engine review, all plans include access to the ten WordPress themes from StudioPress and a free SSL certificate. You also have the option of installing more WordPress websites on your plan for an extra $20 a month per site. However, all of your sites will be sharing the resources available on your plan, such as the bandwidth and storage allowances. There are also other optional paid extras available, including Smart Plugin Manager and Site Monitoring.
Regardless of which of the predefined plans you choose, your WordPress websites will be hosted on the same type of hardware. Therefore, whether you're paying $30 or $290 a month, you should be able to enjoy similar performance levels to our test sites. Obviously, your website configuration and traffic levels will play a large part in determining how well your sites perform.
For more information, you can view a full comparison of the WP Engine pricing plans on its website.
What about Overage Fees?
If you exceed the monthly bandwidth and visit limits of your plan, you'll be charged overage fees of either $1 or $2 per thousand extra monthly visitors, depending on which plan you're on. You can find out more about these charges and how WP Engine counts visitors on this page.
Final Thoughts
🏆 WP Engine comes highly recommended, and you should definitely consider signing up if you can afford it. If you can't, then the cheaper but more restrictive Tiny plan from Flywheel is a great alternative. If the Tiny plan is too restrictive, then a cheap but good shared hosting plan is your next best option.
Now we're at the end of our WP Engine review, it's time for the final thoughts…
WP Engine is easy to recommend. It delivers on its promise of providing a stable, high-performance WordPress hosting environment.
Some of the reasons to choose WP Engine include:
✅ Fast loading times.
✅ Useful features, such as automatic backups and security scanning
✅ Easy to use.
✅ Helpful and responsive support staff.
✅ Premium WordPress themes.
The easy-to-use, developer-friendly features, such as the development and staging environments, as well as the ability to transfer sites to clients, are more reasons to consider WP Engine.
The only real drawback is the price of the plans. Although in the same range as many of the other leading managed WordPress hosting providers (such as Kinsta and Flywheel), paying $30 a month or more isn't justifiable for every website.
💵 It's worth mentioning that you can currently get four months of hosting for free when you sign up for an annual plan using our discount code. If you do, you'll be paying the equivalent of $20 a month for your first year of hosting with WP Engine on its Startup plan.
However, if your site generates revenue, is important to your business or is outgrowing your current host, it definitely makes sense to add WP Engine to your shortlist. There's also a competitive 60-day money-back guarantee that lets you try it without risk.
Who Should Choose WP Engine?
If you can afford it, there's no real reason not to choose WP Engine. However, if your budget can't accommodate $30 a month, then this obviously isn't the host for you.
Cheaper Alternatives to WP Engine?
The Tiny plan from Flywheel is a great alternative to WP Engine for those who want the features of managed hosting but can't afford the entry-level WP Engine plan.
The smaller storage, bandwidth and visit limits of the Flywheel Tiny plan will make it unsuitable for some readers, though.
However, if you can work within those limits, the low price does make it an excellent choice for owners of small sites that don't get many visitors and who don't want to pay more than $13 a month for premium managed hosting.
If you need more than what the Tiny plan provides but can't or don't want to pay $30 a month, then shared hosting is your best option. Our guide to the best cheap shared hosting will help you to find the right service from hosts such as Bluehost, DreamHost and HostGator.
Overall, though, if you can afford it, WP Engine should be the right choice for your site.
WP Engine FAQ
Here are some quick answers to questions you may have about WP Engine (click to expand).
Related Posts:
Used/using WP Engine to host your site? Experiences? Thoughts?