WinningWP content is free to all. If you make a purchase through referral links on our site, we earn a commission (
learn more
).
Kinsta WordPress Hosting Review – How Good Is It? Speed Tests + Pros and Cons!
If you're looking for top-quality WordPress hosting, then Kinsta is a name you'll have very likely already come across. They have a strong reputation for fast, secure, stable, and user-friendly hosting, and should definitely be on your shortlist.
But how does it compare with the other big names in the managed WordPress hosting space? And does it deserve the top spot?
To help you to decide if it's the top choice for your needs, in this post I'll be exploring its best features, measuring its performance in our independently set-up test sites (using two different WordPress themes: One basic and one more complex), and examining what you get for your money and how the pricing compares with that of its main rivals.
Kinsta: A Quick Summary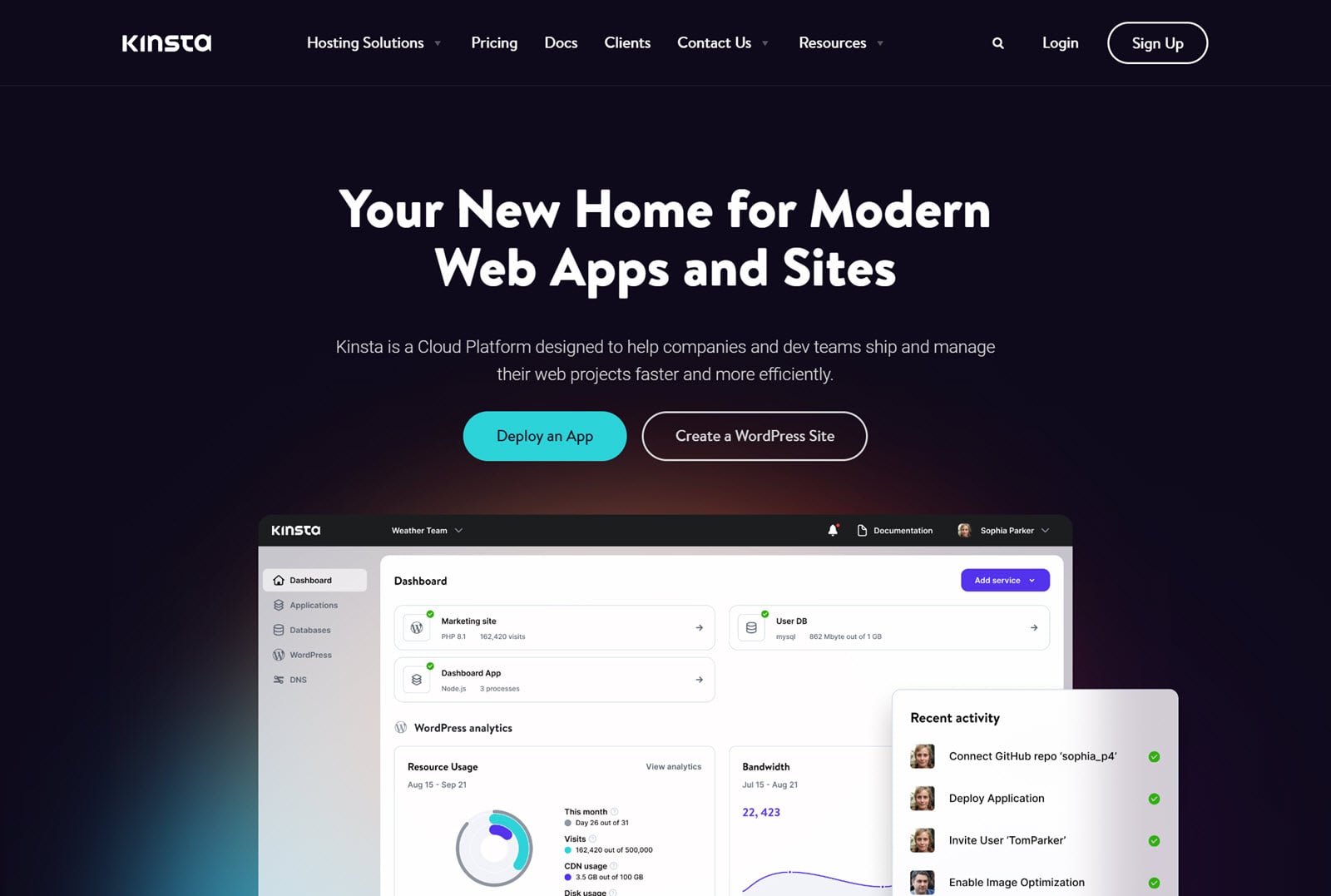 Kinsta specializes in hosting WordPress sites, meaning, instead of trying to optimize its hosting infrastructure for all types of websites, its technology is configured solely to deliver the best possible experience for those using WordPress.
This means fast load times, high levels of security, a simplified user experience and solid uptime. Whenever you speak to the support staff, you'll know you're speaking to a WordPress expert who handles sites similar to yours day in, day out.
The only drawback of Kinsta is the pricing. While its not much more expensive than other top-tier managed WordPress hosts, its plans are significantly more expensive than those of cheap entry-level shared hosting services. Also, although its plans are competitively priced in the premium managed WordPress hosting space, its main rival, WP Engine, is slightly cheaper (for the first year, thanks to a new customer signup promotion) and also includes a selection of complimentary premium WordPress themes.
But if you're in the market for high-quality managed WordPress hosting, you won't be overpaying if you go with Kinsta, and you certainly won't be disappointed by the service it delivers.
If you're interested to see exactly how I've come to this conclusion, read on for an in-depth, hands-on Kinsta review.
Let's dig in…
Kinsta Review: Pros and Cons
Before we break down and evaluate the service it provides, here's a quick overview of the Pros and Cons to help you to get a good understanding of why you should consider Kinsta:
Pros
✅ Exceptionally fast load times
✅ Very easy to launch a new WordPress site
✅ Free WordPress site migrations
✅ Scalable servers for handling spikes in traffic
✅ User-friendly custom account dashboard
✅ Automatic daily backups
✅ Fairly priced for managed hosting
✅ Helpful 24/7/365 live chat support
There are clearly lots of reasons to choose Kinsta. However, you'll pay a premium for its services — with higher prices than all typical entry-level shared-hosting services and even many big-name competitors in the managed hosting space, Kinsta is only worth considering if it really is as fast, easy to use and reliable as is proclaimed (more on this below).
👍In case you don't have time to read the full review: Kinsta is a great managed WordPress host that comes highly recommended. However, WP Engine offers similar levels of quality, and is slightly cheaper (for the first year at least, after which it's actually the same price as Kinsta).
Kinsta Hosting Features
Getting familiar with Kinsta's features will help you to decide if this is the right host for you and your website.
It'll also help you to understand why it charges more than shared hosting providers, and why it's worth the money.
After I've covered the main features, you'll find the results from the site speed, load handling and uptime tests. These results will give you an idea of how fast your site may load if you sign up with Kinsta (spoiler: It's safe to say the results show it's a very fast WordPress host).
True Managed WordPress Hosting
As mentioned, Kinsta isn't a cheap shared hosting provider, it specializes in delivering a high-performance hosting environment that's optimized to get the best out of WordPress.
It understands the potential limitations of WordPress, such as slow loading times, security vulnerabilities and caching issues, and has mitigated all of these by building a best-in-class WordPress hosting environment.
Not only has Kinsta engineered its hosting environment for the best performance possible, but it's also built its platform on the popular and powerful Google Cloud Platform.
This means you get to host your site on an infrastructure built by one of the biggest tech companies in the world — Google — but have the hosting environment managed by Kinsta. Not only that, but you get to host your site in one of five main global regions, thanks to the 35 data centers of the Google Cloud Platform.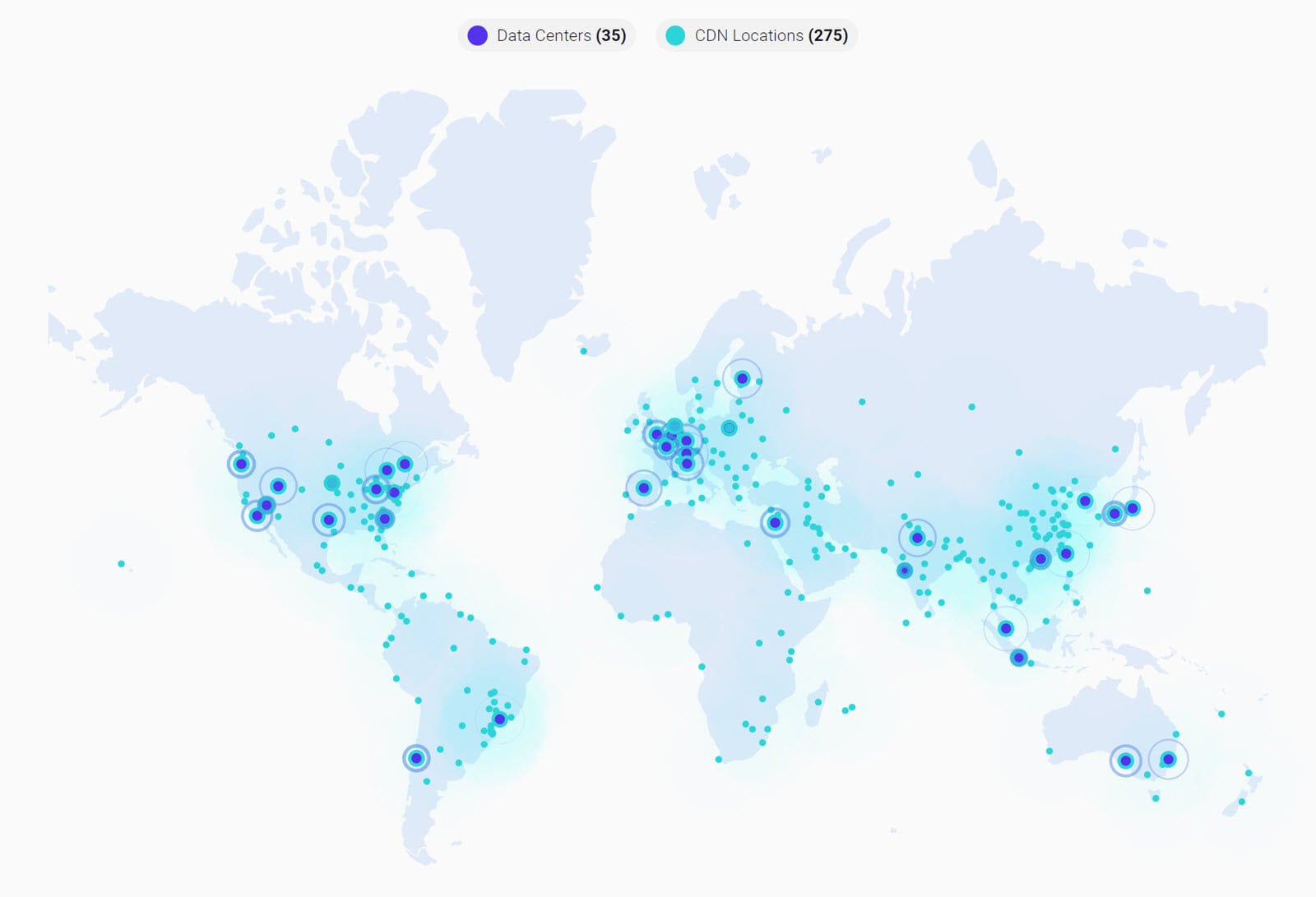 However, because Kinsta has created its own user-friendly custom dashboard (more on that later), you'll never know your site's running on Google Cloud Platform, because everything is managed through your Kinsta account area.
Kinsta has also partnered with Cloudflare for its CDN. Included on all plans, the Kinsta CDN distributes your site's files to more than 275 worldwide points of presence (PoPs), so your content is always close to your visitors, no matter where they are.
According to Kinsta, enabling its CDN can result in up to a 44% reduction in page load times.
Kinsta also handles caching with its own in-house solution. Rather than having to try to find the best caching plugin for your site, and then attempt to configure it for your hosting environment, you can just let Kinsta take care of all of this for you.
All this means that when you sign up with Kinsta, you get access to a hosting environment that draws on the best technology out there to deliver a premium managed hosting experience.
What Does Kinsta Manage for You?
As well as tweaking and optimizing its servers and hosting environment to keep your site fast and secure, Kinsta will also manage a number of essential tasks for you, including:
Other Notable Kinsta Hosting Features
As well as managing some aspects of your site for you, the Kinsta plans come with an array of other useful features, including:
a simple dashboard for managing sites and tracking usage
the ability to add multiple users to your dashboard for collaborating
24/7/365 support via live chat (average ticket response time is less than 90 seconds)
a scalable hosting environment for handling surges in traffic
a performance monitoring tool for WordPress sites
malware removal and hack-fix service
a one-click site staging tool.
Using Kinsta Is Easy
Because Kinsta's main focus is on hosting WordPress websites, it's been able to simplify its user experience and focus on making it as easy as possible for its customers to create and manage these.
Because of this, you can create a new WordPress website through the well-designed Kinsta account dashboard in just a few clicks.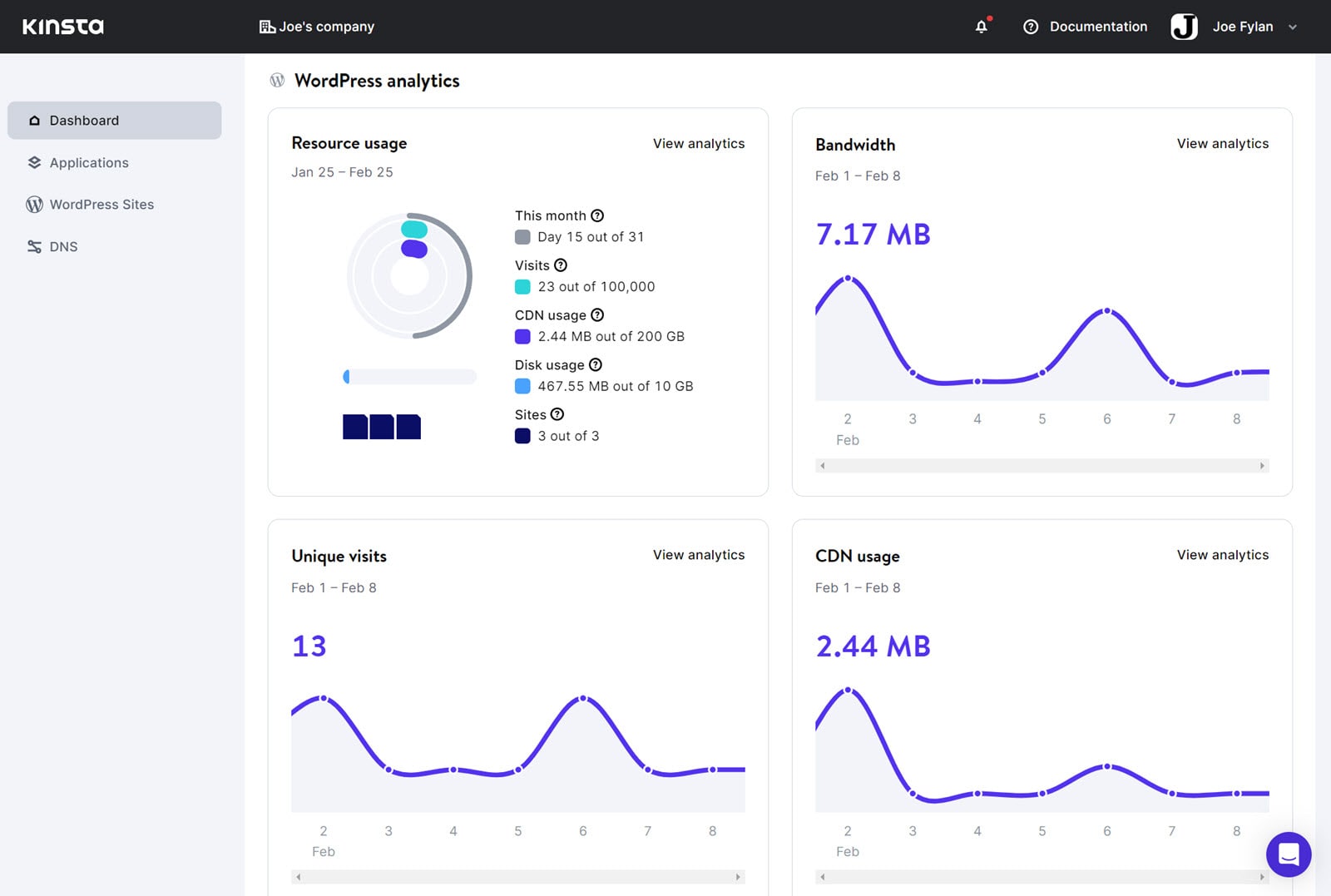 Click here to see more images of the Kinsta dashboard.
Accessing the other features of your account, such as the backups that are automatically created each day, or the staging site tool, is all very straightforward.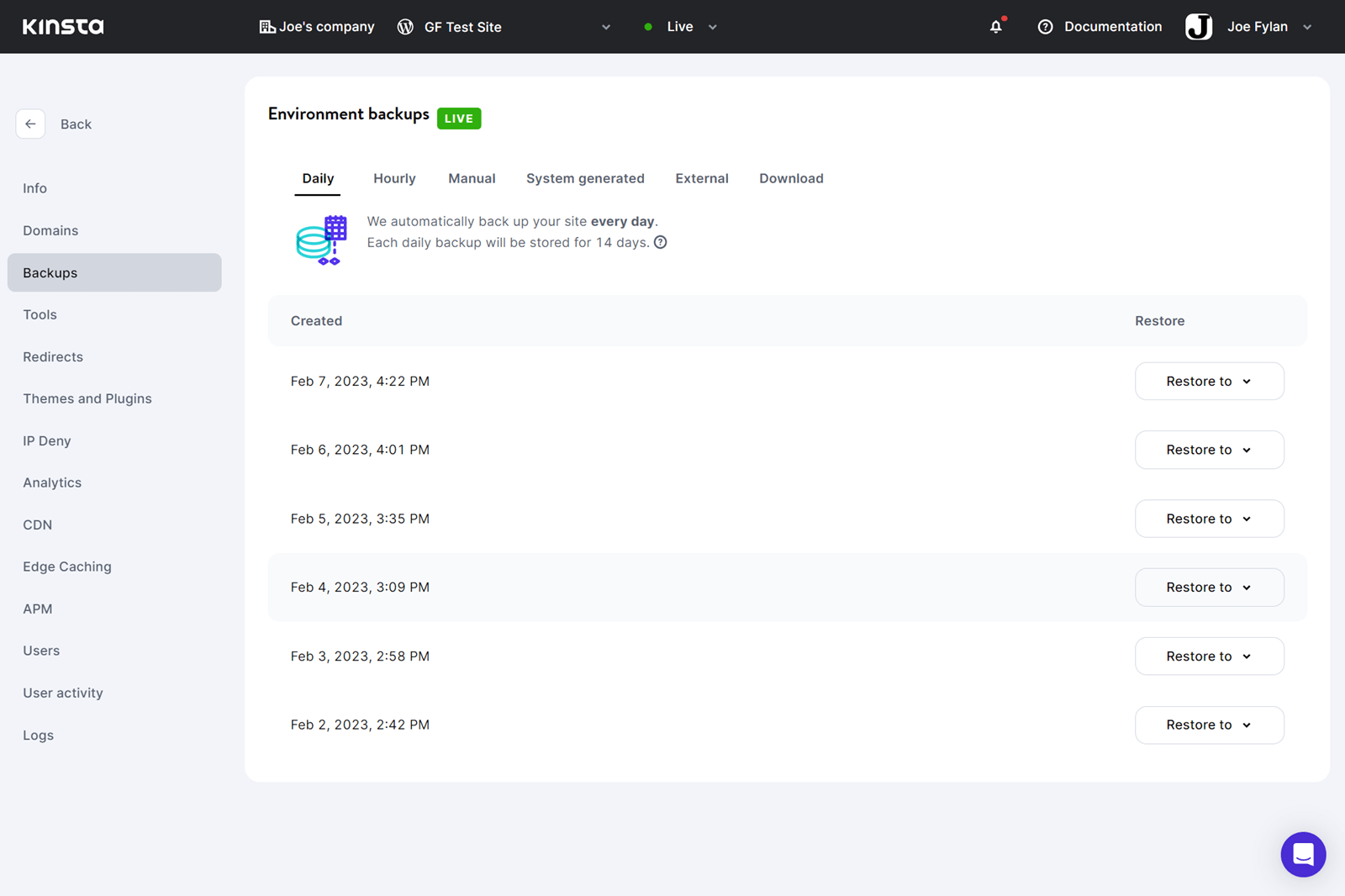 Click here to see more images of the Kinsta dashboard and tools.
Kinsta has done a great job of delivering an advanced hosting environment through an easy-to-use interface.
If you ever need support, the Kinsta staff are only ever a few clicks away via the live chat channel located in your account dashboard. Kinsta doesn't provide phone support, though, but its reasons for this do make sense.
What Else Do You Get for Your Money?
As this Kinsta review has covered already, this isn't a budget hosting provider that offers a basic service for a low price.
But what do you get for your money?
Well, the entry-level Starter plan is pretty competitive in this space. For $30 a month (if you pay for a year upfront, or $35 if you choose to pay monthly), you get:
the ability to install one WordPress website
10 GB of storage
up to 25,000 visits a month
100 GB of CDN bandwidth
one premium WordPress website migration.
The higher-priced plans let you host more websites, come with more storage, and have greater monthly visit and CDN bandwidth allowances.
Kinsta also offers custom plans and WordPress hosting for agencies.
Unlike some popular low-cost shared hosts, you don't have to pay for a higher-priced plan to unlock greater performance levels. With Kinsta, your site should load at the same speed, regardless of whether it's hosted on the entry-level Starter plan or the top-tier Enterprise plan.
Is Kinsta Fast?
No Kinsta review would be complete without looking at load times and overall performance.
To find out if Kinsta lives up to its marketing claims of being one of the fastest WordPress hosts around, I set up a few test sites. I then put those test sites in Pingdom, where the load times were recorded every 30 minutes for seven days. This made it possible to establish an average load time that took into account the daily fluctuations of the internet. Here are the results…
Kinsta Load Time Test Results
I created two sites for the tests. One used a free lightweight theme, and the other a premium heavyweight theme. Whichever type of site you decide to build and host with Kinsta, this should give you an idea of what load times you might experience.
Kinsta Lightweight Theme Speed Test Results
I used the free and popular Twenty Twenty-One theme for the lightweight site test.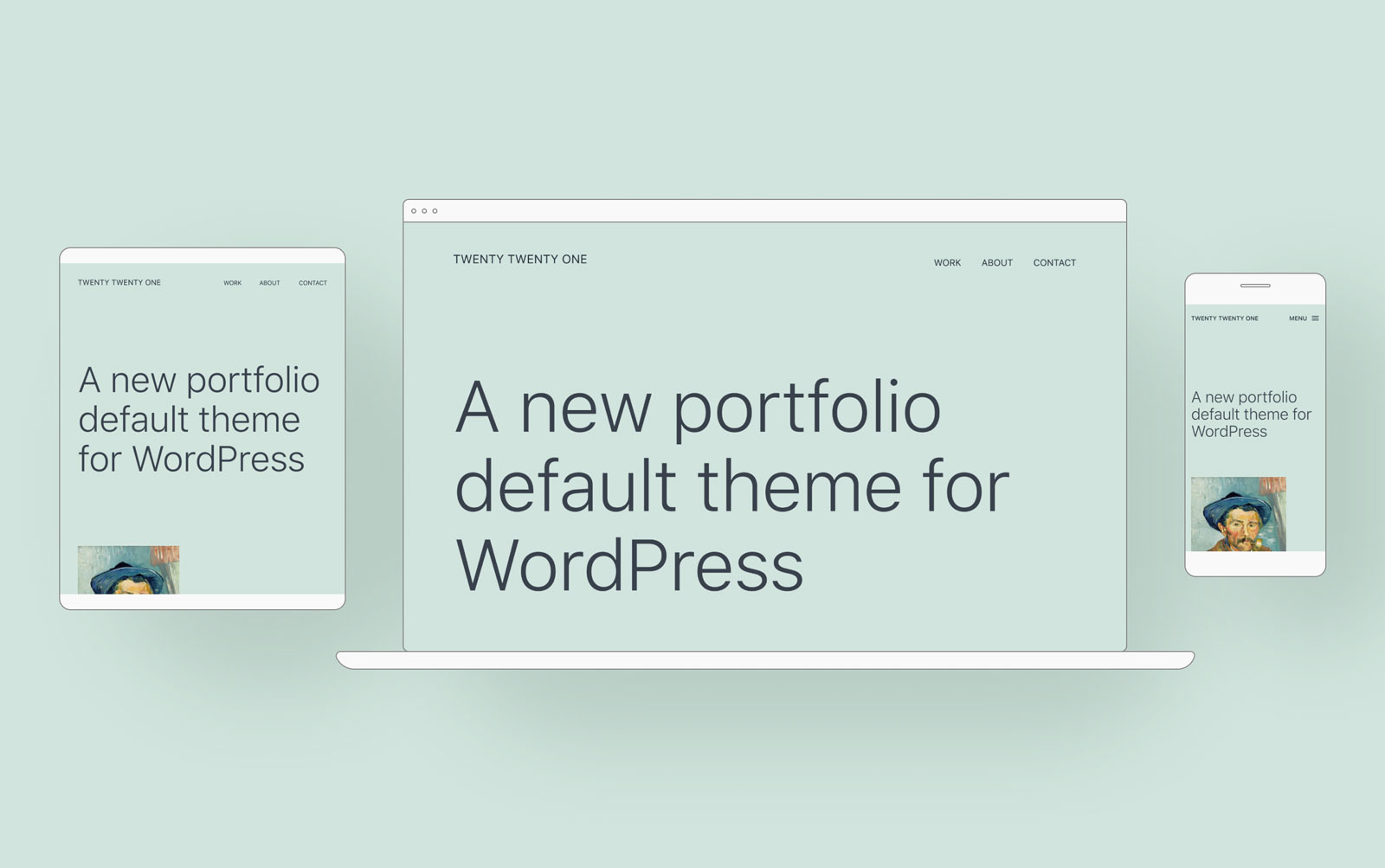 Here are the results from seven days of monitoring by Pingdom: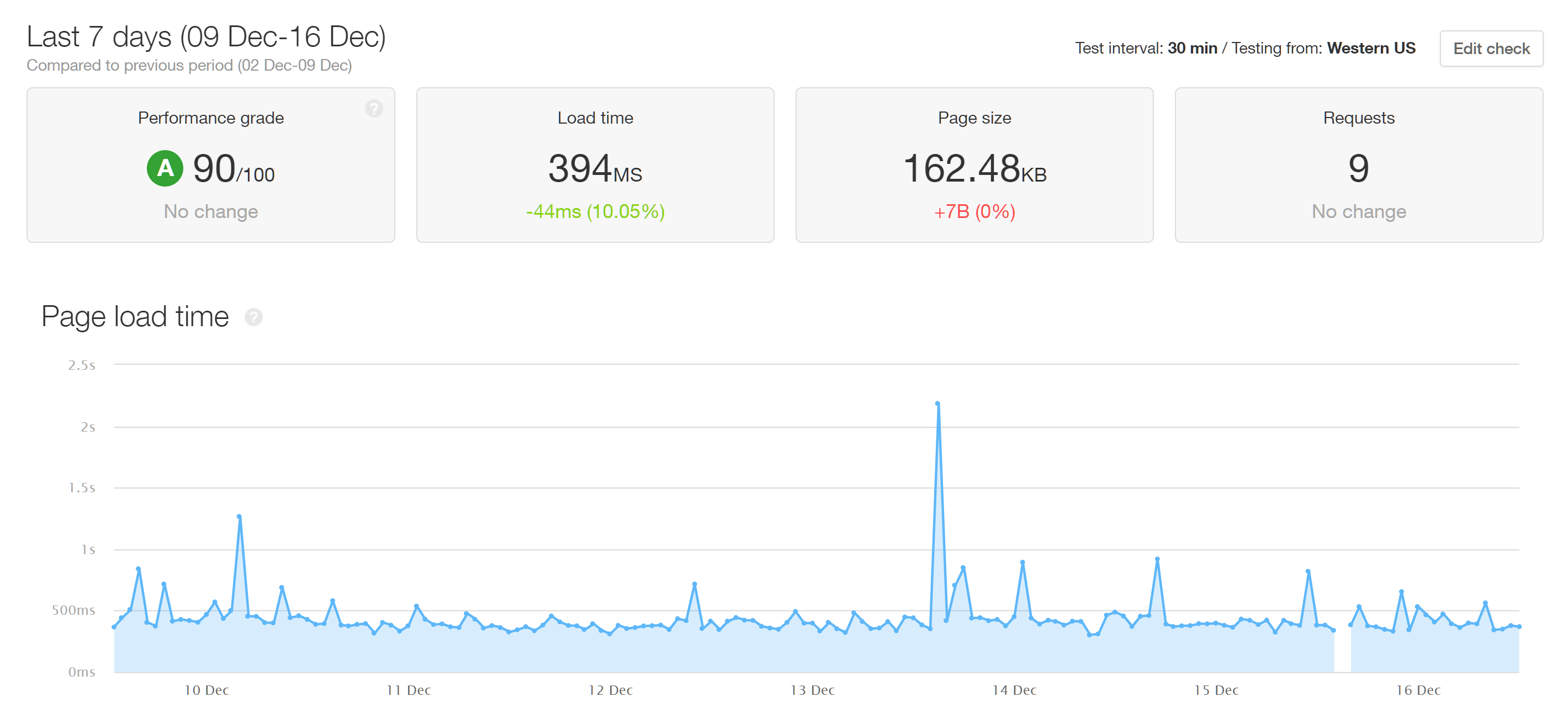 As you can see, the page loaded very quickly, with an average time of just 394 ms — just over one-third of a second. This was much faster than the results from our Bluehost and HostGator shared hosting comparison.
Kinsta Heavyweight Theme Speed Test Results
If you'd rather use a more feature-rich theme or build a more advanced website, then the results of my Avada theme test will be of interest.
Avada is a very popular multi-purpose theme that can be used to build any type of website. Its demos are packed with features, such as large graphics, complex layouts and sliders. Because of this, its pages tend to have larger file sizes, which low-cost shared hosts can struggle with.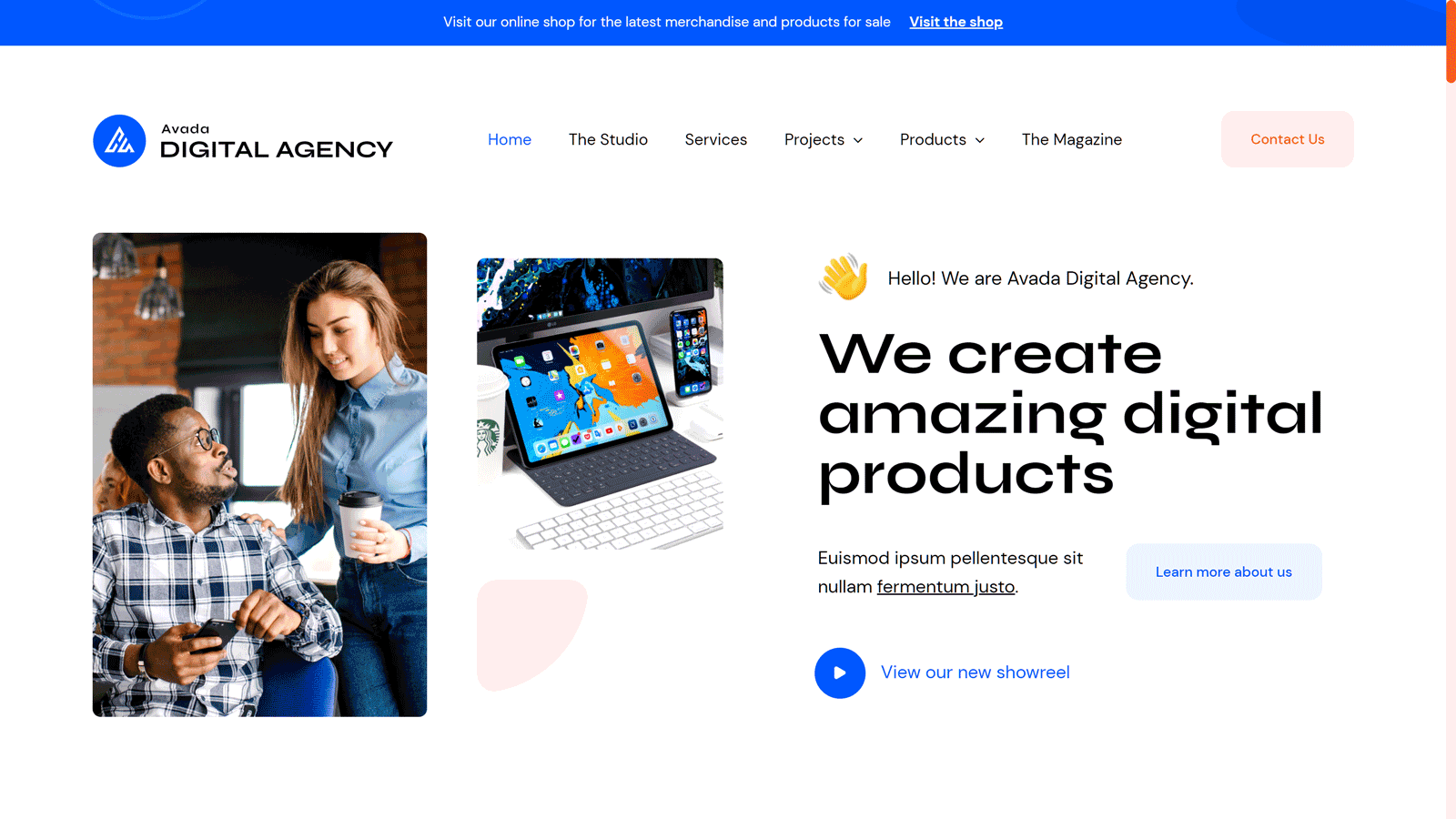 To see if Kinsta could handle a more feature-rich and complex site, I imported the Avada Digital Agency demo into a test site and set Pingdom to record the load time every 30 minutes. After seven days of monitoring, the average load time was 889 ms — less than one second.
Considering the page size was 4.17 MB, compared with just 162.48 KB for the page using the lightweight theme (almost 25 times bigger), the average load time of 889 ms was very fast.
I also tested the speed of a blog post from the Avada Digital Agency Demo to give you an idea of how fast the internal pages on your site might load if you were planning to use a heavyweight theme.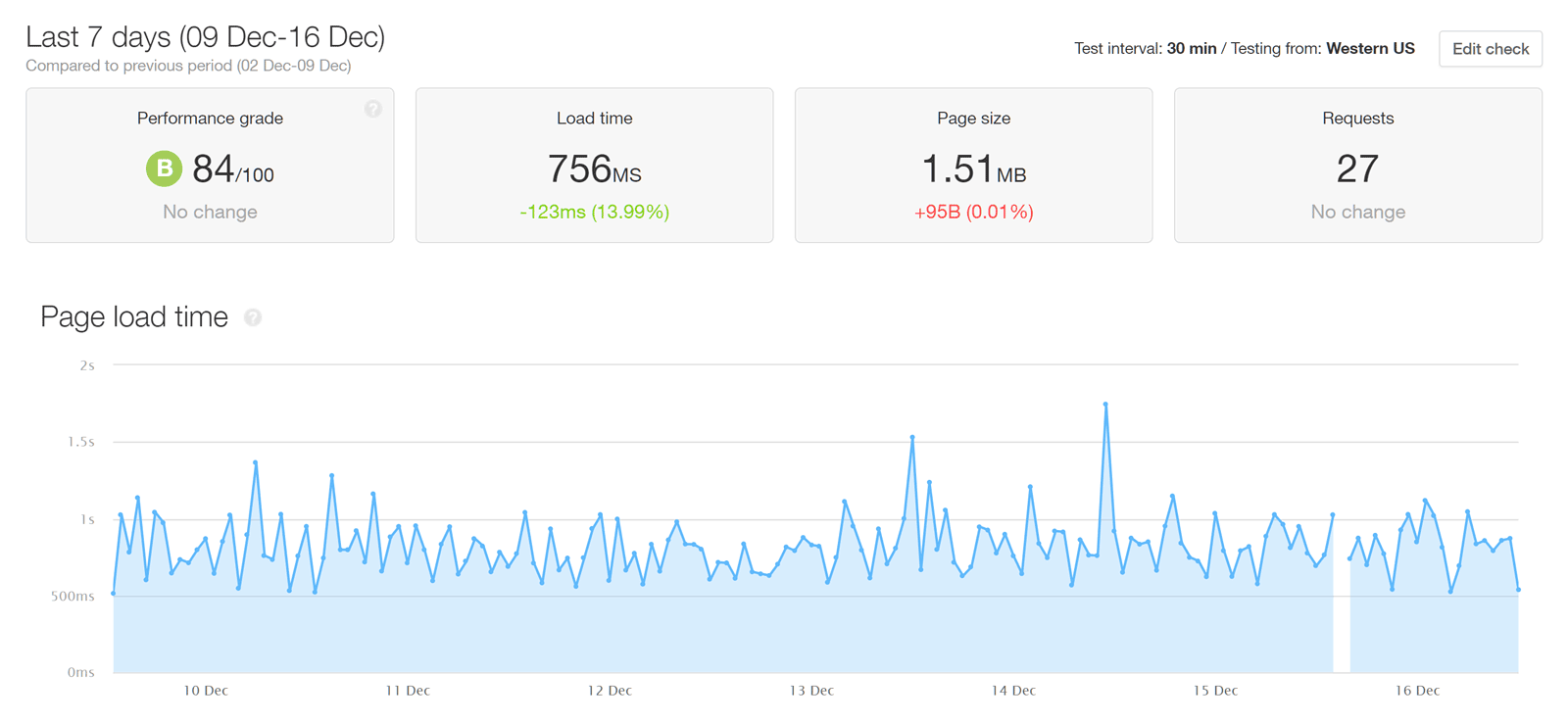 This time the page size was 1.51 MB, and the load time was 756 ms. Again, another impressive result for Kinsta.
Kinsta Load Time Test Summary

Kinsta did well in all three of the load time tests. With average load times of less than one second, visitors to those sites won't be disappointed or left waiting for long.
| Theme | Page Size | Load Time |
| --- | --- | --- |
| Twenty Twenty-One | 162.48 KB | 394 ms |
| Avada Agency Homepage | 4.17 MB | 889 ms |
| Avada Agency Blog Post | 1.51 MB | 756 ms |
Kinsta vs Other Managed Hosts
Compared with its main rivals, Kinsta performed well in the speed tests. Kinsta (889 ms) was faster than Liquid Web (959 ms), WordPress.com (1.06 s), and WP Engine (929 ms) in the heavyweight theme homepage tests.
In the lightweight theme tests, Kinsta (394 ms) was faster than WordPress.com (603 ms) but slower than WP Engine (246 ms) and Liquid Web (358 ms).
| | Kinsta | Liquid Web | WordPress.com | WP Engine |
| --- | --- | --- | --- | --- |
| Heavyweight Theme | 889 ms | 959 ms | 1.02 s | 929 ms |
| Lightweight Theme | 394 ms | 358 ms | 603 ms | 246 ms |
Load time is based on the seven-day average recorded by Pingdom
However, all hosts were fast — and much faster than cheaper shared hosting.
Kinsta Load Impact Performance Testing
To find out how sites hosted by Kinsta handled visitors and spikes in traffic, I used the K6 service to run some load impact tests.
The test simulated multiple visitors accessing the site at the same time, starting with one visitor and increasing to 198 simultaneous virtual visitors over a five-minute period. K6 recorded the response times (not load times) of the site during the test.
The blue line on the graph below shows the response time of the site, while the gray area shows the number of virtual users accessing the site. As the response time remained stable, it showed that the site didn't suffer any performance issues during the test. This test was run on the site using the lightweight theme.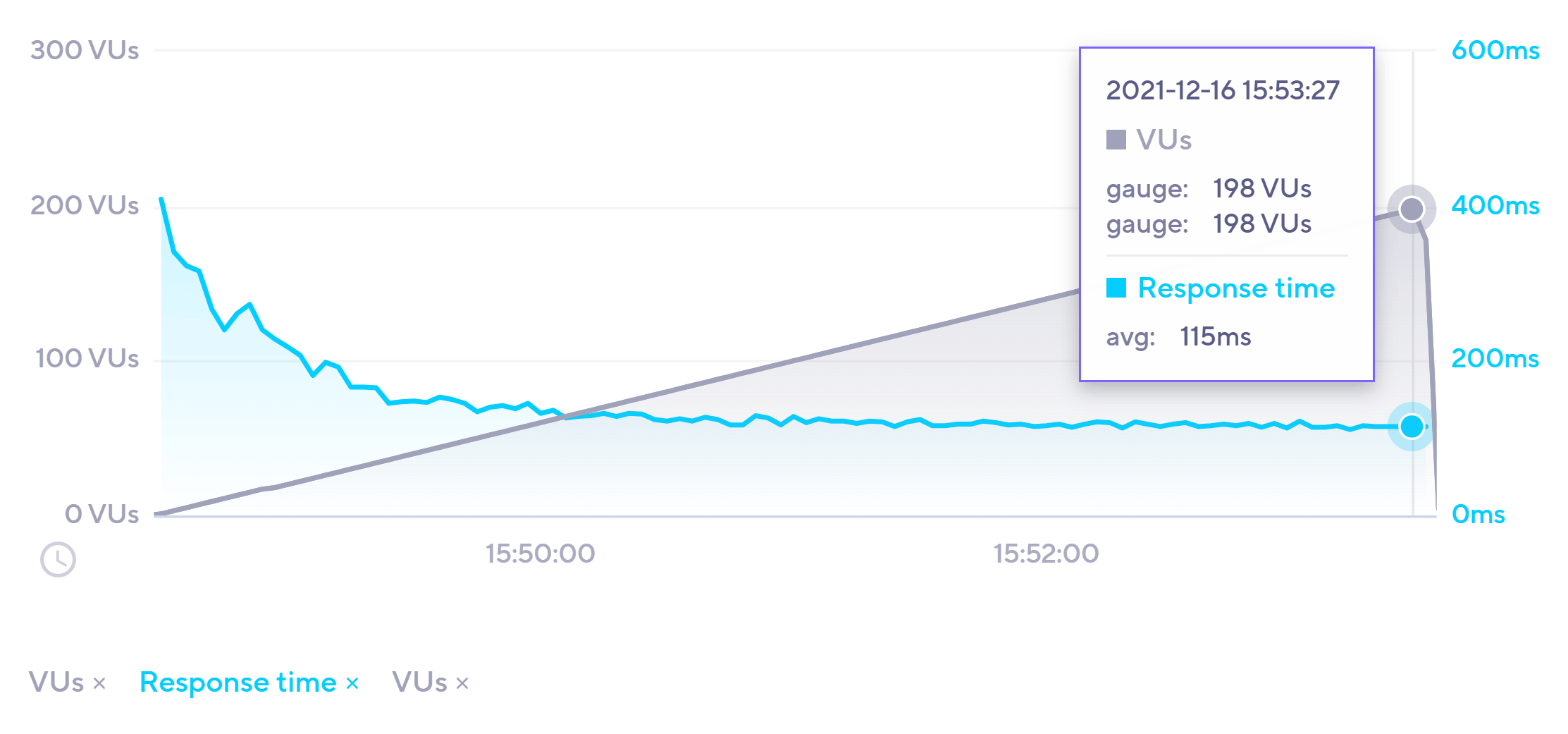 A second test was run, this time on the site using the heavyweight Avada theme. As you can see from the graph below, the response time (blue line) again remained stable during the test.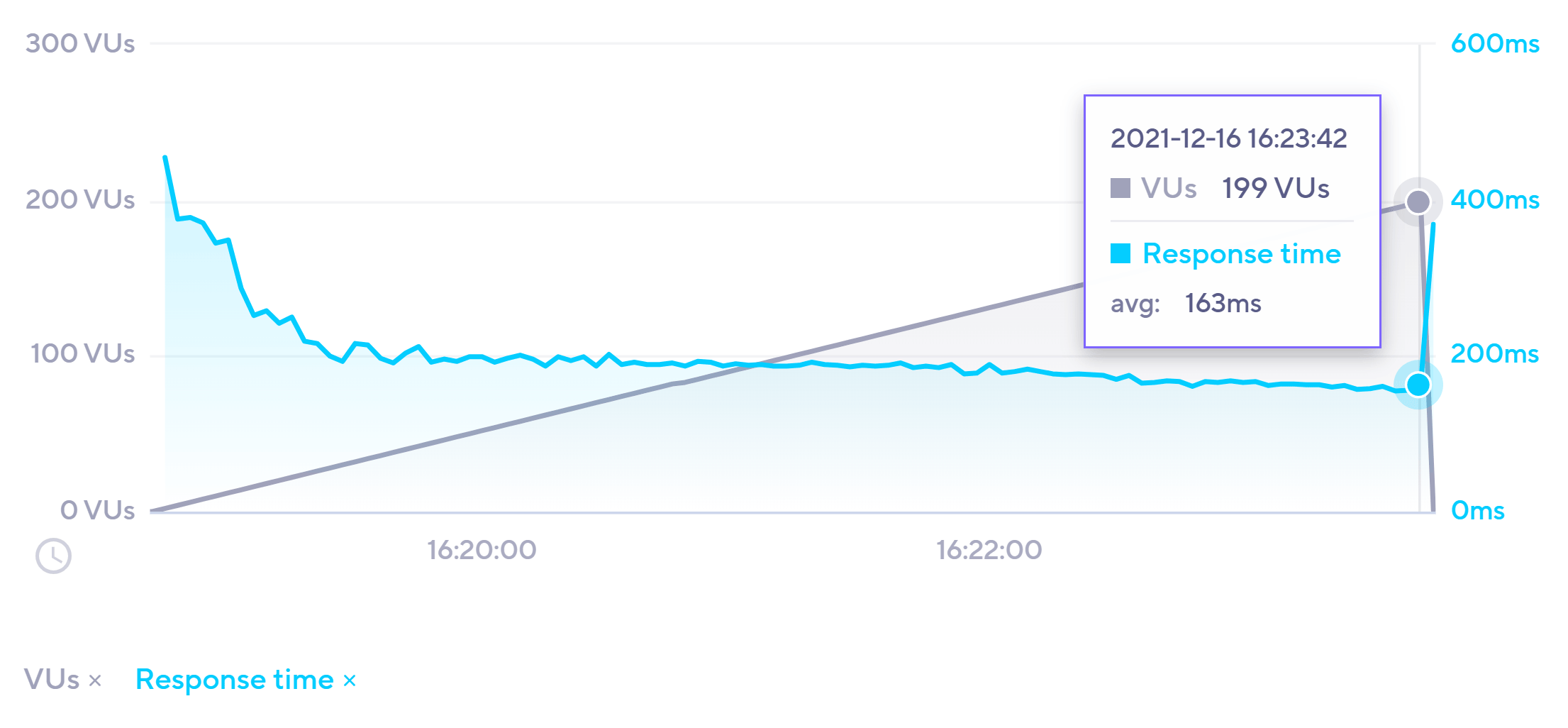 If you take a look at the Load Impact Performance Testing section of our Bluehost, GoDaddy and HostGator comparison, you'll see that the low-cost shared plans from these three hosts all suffered from performance issues before 50 virtual users were accessing the site simultaneously.
Therefore, if you expect to have a busy website, you'll probably need to invest in premium managed WordPress hosting from a company such as Kinsta.
Kinsta Uptime Test Results
So far, our tests have shown that Kinsta is fast and able to handle multiple simultaneous (virtual) visitors comfortably.
But how good is the Kinsta uptime? Well, it guarantees 99.9% uptime, but does it deliver on that?
To find out, the availability of two test sites was monitored by Pingdom for seven days. At the end of the test period, Pingdom recorded that both sites had 100% uptime, with no instances of downtime.

While cheaper hosts also guarantee 99.9% uptime, 99.9% still allows for a not-insignificant amount of downtime. For example, if a site has 99.9% uptime, it can be down for more than a minute a day, or eight hours and 45 minutes over a year.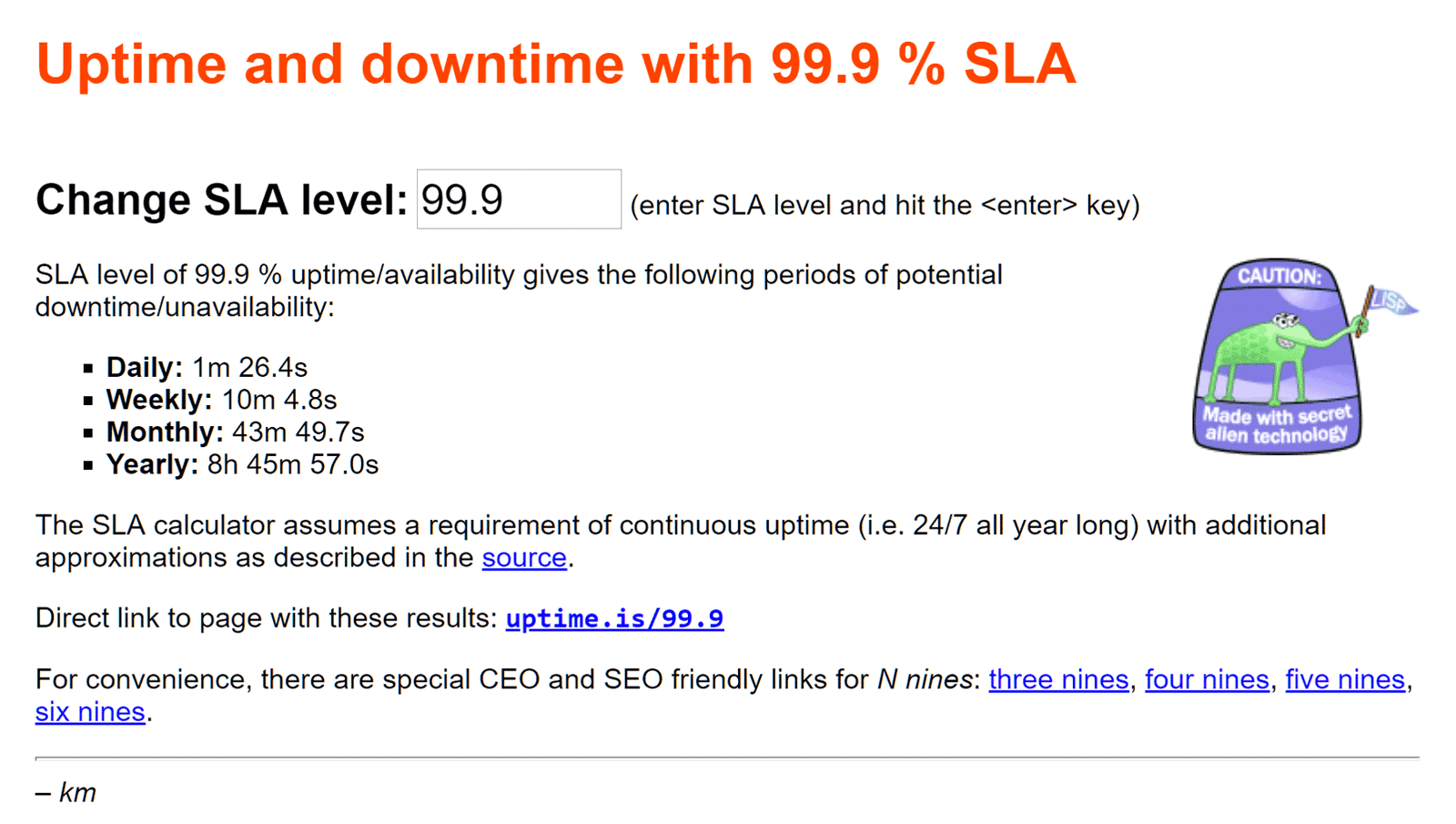 In our Bluehost, GoDaddy and SiteGround comparison, all three hosts achieved 99.9% uptime, but Pingdom still recorded some downtime. So, if downtime and site availability is important to you, it's another reason why it's probably worth investing in premium managed hosting.
Kinsta Pricing Details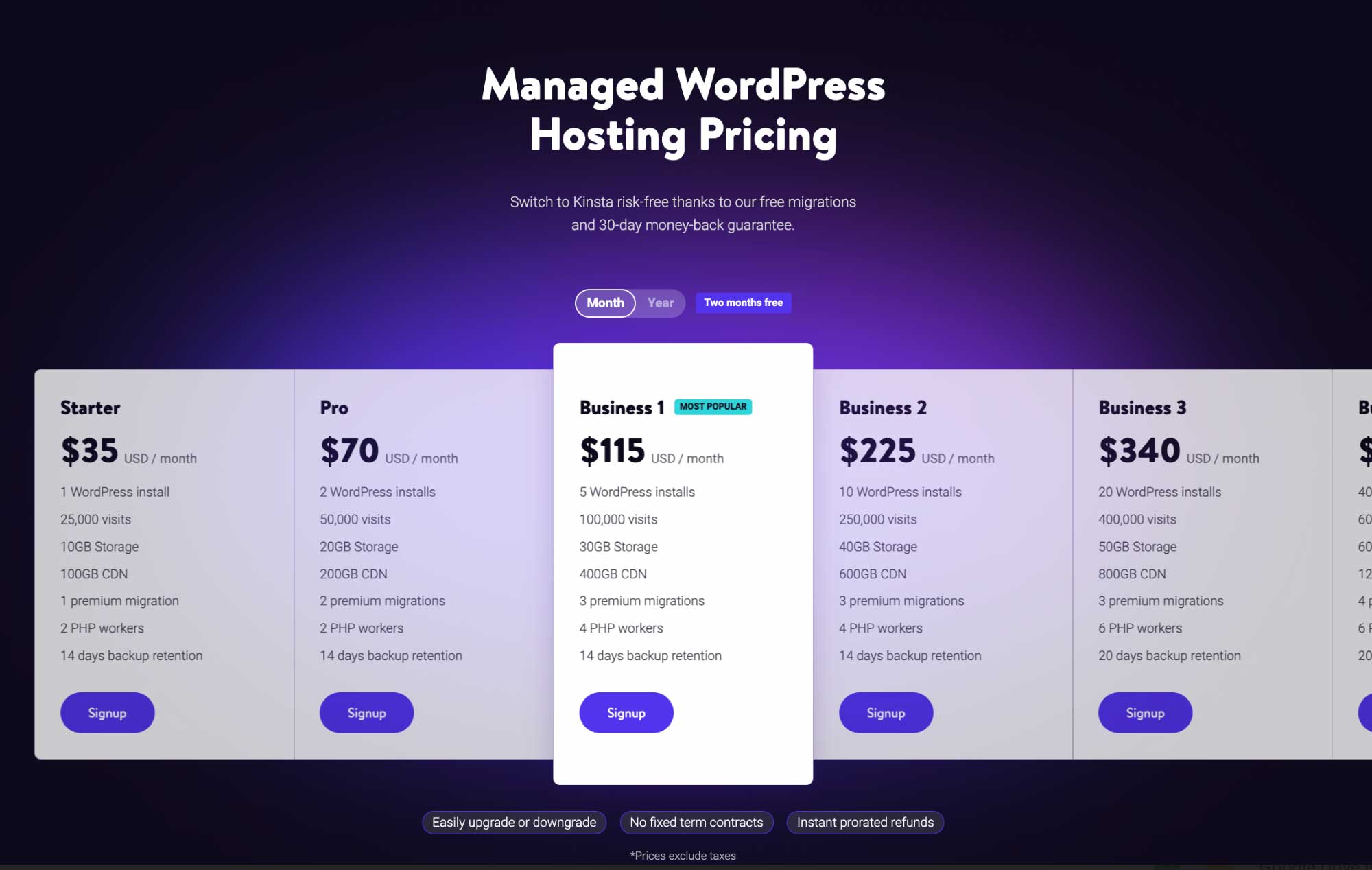 While I've already touched on the price of the entry-level Kinsta managed WordPress hosting plan, here's a quick overview of some of its other plans:
| | Starter | Pro | Business 1 | Business 2 |
| --- | --- | --- | --- | --- |
| WordPress Installs: | 1 | 2 | 5 | 10 |
| Monthly Visits: | 25,000 | 50,000 | 1000,000 | 250,000 |
| Storage: | 10 GB | 20 GB | 30 GB | 40 GB |
| Monthly CDN Bandwidth: | 100 GB | 200 GB | 400 GB | 6000 GB |
| Premium Migrations: | 1 | 2 | 3 | 3 |
| PHP Workers: | 2 | 2 | 4 | 4 |
| Price From: | $35 a month | $70 a month | $115 a month | $225 a month |
There's a 30-day full money-back guarantee on all plans, so you can try Kinsta without financial risk.
As mentioned earlier, each plan has access to the same infrastructure powered by Google Cloud Platform. This means that, unlike some other hosts (Bluehost and SiteGround, for example), you don't have to pay extra for faster hosting. With Kinsta, upgrading mainly just increases the number of WordPress installations allowed and the visits and storage allowances.
However, if you're running a dynamic site, such as an eCommerce store, membership site or forum, you'll get better performance from a plan with more PHP workers, such as Business 1 and above.
In fact, Kinsta doesn't recommend hosting a dynamic site on its Starter and Pro plans (which only have two PHP workers).
What About Overage Fees?
In most cases, if you exceed the storage or visit allowances of your plan, your site won't be taken offline, but you will be charged overage fees.
However, in the case of what Kinsta terms extreme overages, it reserves the right to temporarily limit access to your website until the issue has been resolved.
When it comes to the Kinsta overage fees, there are three main types:
Visit overage fees are $1 per thousand visits.
CDN overages are charged at $0.10 per GB.
Storage or disk space overages at $2 per GB.
You can view the full pricing details on the Kinsta plans page.
Final Thoughts
🏅 Kinsta comes highly recommended. It's fast and reliable, as well as easy to use. It's not the cheapest premium managed WordPress host around, though.
Our tests show that Kinsta is fast, reliable and stable.
If you want your WordPress site to be available to your audience, even during busy periods, and you want to achieve fast load times, Kinsta is up to the job.
The 35 data centers and an array of CDN locations mean your audience should experience fast loading times no matter where they are.
Kinsta is easy to use too, whether that's setting up a new WordPress site, creating and restoring backups, or monitoring your usage levels and analytics.
However, it is a little more expensive than its main rivals, such as WP Engine (at least for the first year) — another premium managed host that also offers a great service.
The 30-day money-back guarantee and free site migration mean you can effectively try Kinsta without risk. You can then see for yourself how well it handles your site, and then make an informed decision on whether or not to remain a Kinsta customer.
Who Should Choose Kinsta?
The price of Kinsta is the only real stumbling block. If you can afford it, then hosting by Kinsta is a great option.
While the plans from Kinsta aren't overpriced for premium managed WordPress hosting, if you can't afford or justify around $30 a month, then it's not the host for you.
Cheaper Alternatives to Kinsta?
If the price of Kinsta is too much, but you don't want to compromise by choosing low-cost shared hosting, there are some other options out there.
Flywheel is one of the main Kinsta-competitors. Its $13-a-month (if paid annually) Tiny plan has all of the best managed WordPress hosting features, but has relatively small allowances, such as less storage and bandwidth, and fewer monthly visitors. Its $25-a-month Starter plan has a similar specification to the Kinsta Starter plan, but is around $5 a month cheaper.
You can find out more in our hands-on Flywheel review.
At the time of writing, you could get four months of free hosting if you paid for a year upfront with WP Engine, making its Startup plan the equivalent of only $20 a month for the first year. Considering this plan has the same allowances as Kinsta and similar features, and includes some premium themes, it's an excellent lower-cost alternative. However, after the first year, you'll pay the full price, which is $30 a month — the same as Kinsta.
Check out our in-depth WP Engine review to find out if this is a better option for you.
The Nexcess WordPress managed hosting from Liquid Web is another lower-priced alternative to Kinsta. Its entry-level plan starts at just under $16 a month (if you pay annually), and you get access to all of the main managed WordPress hosting features. It also performed very well in the speed tests of our Liquid Web hosting review. Because of this, it's definitely worth checking out.
Read our Liquid Web review if you'd like to know more about this host.
If you feel like you don't need premium managed WordPress hosting, you can find some good low-cost options in our guide to the best cheap hosting options for WordPress.
For more information, here are some answers to frequently asked questions about Kinsta:
Kinsta FAQ:
(click to expand)
Related Reading:
Used/using Kinsta WordPress hosting? Thoughts?
All comments are held for moderation. We'll only publish comments that are on topic and adhere to our Commenting Policy.