WinningWP content is free to all. If you make a purchase through referral links on our site, we earn a commission (
learn more
).
SiteGround vs WP Engine – Which Offers the Best WordPress Hosting?
If you're looking for hosting for your WordPress website, two names you're bound to come across are WP Engine and SiteGround. Both companies have great reputations for providing high-quality WordPress-focused hosting services — but which is best?
To help you to answer that question, in this comparison I'll explore their features, what you get for your money (here's WP Engine's pricing – and here's SiteGround's pricing) and what they're like to use. I'll also test the performance of both hosts to find out which one delivers the fastest loading times and the least downtime.
Since launching in 2010, WP Engine has become one of the main players in the premium managed WordPress hosting space (here's a link to our in-depth WP Engine Review), and has earned a reputation as a specialist in this area. SiteGround (and here's a link to our in-depth SiteGround Review) has been offering general-purpose hosting packages since its launch in 2004, later adding managed WordPress hosting — the service we're looking at today — to its line-up.
So, which is better for WordPress? Let's get started…
SiteGround vs WP Engine Quick Overview
As mentioned, both companies are very well established in the WordPress hosting space.
While WP Engine is unquestionably a managed WordPress hosting company, SiteGround is still considered by some to be a shared or general-purpose hosting provider.
However, SiteGround, like WP Engine, now uses the powerful Google Cloud Platform as part of its infrastructure, and that, coupled with the fact it now has many, if not all, of the features most people would expect from a 'traditional' managed WordPress host, makes it fair to say it too offers managed WordPress hosting (or at least a service that appears to be just as good).
That said, one area where WP Engine and SiteGround differ is pricing. So, let's start this comparison with a quick look at the plans available from both hosts.
SiteGround vs WP Engine Pricing
SiteGround (here's SiteGround's official pricing page) started off providing more generic budget-friendly shared hosting before launching its WordPress-only plans, and, perhaps because of this, its prices sit somewhere between cheap shared hosting and premium managed WordPress hosting.
WP Engine (here's WP Engine's official pricing page), on the other hand, launched as a premium managed WordPress hosting company, and the prices of its plans have always been more expensive than regular shared hosting.
SiteGround Plans Pricing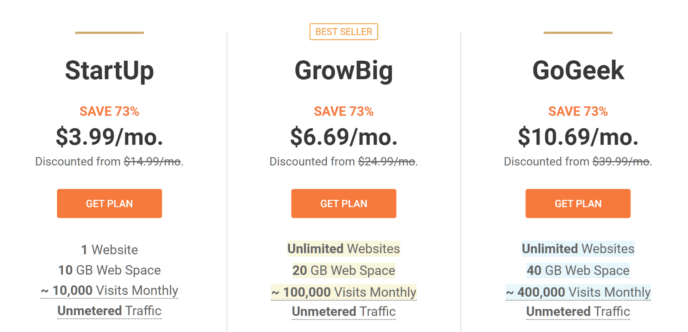 SiteGround has three WordPress-focused hosting plans to choose from:
StartUp: From $3.99 a month for one website, 10 GB of storage and ~10,000 monthly visits.
GrowBig: From $6.69 a month for unlimited websites, 20 GB of storage and ~100,000 monthly visits.
GoGeek: From $10.69 a month for unlimited websites, 40 GB of storage and ~400,000 monthly visits.
These prices were the best deals available from SiteGround at the time of writing. They're only available for your first invoice, which must be at least one year long. After the initial invoice period, the regular prices will apply.
The regular prices vary, depending on how long you pay for upfront when renewing your plan. However, as they can be as high as $19.99, $29.99 and $44.99 for the StartUp, GrowBig and GoGeek plans respectively, it's a good idea to take this into account when deciding which SiteGround plan you can afford.
Unlike WP Engine, all of the SiteGround plans support unlimited traffic or bandwidth. The monthly visits numbers listed above are recommendations for what each plan can handle, rather than a limit.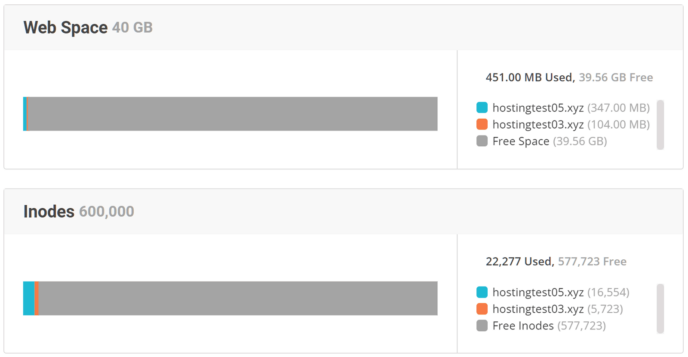 However, there are some limits in place with SiteGround, including CPU seconds, memory and inode usage. The amount of resources you get access to depends on which SiteGround plan you choose.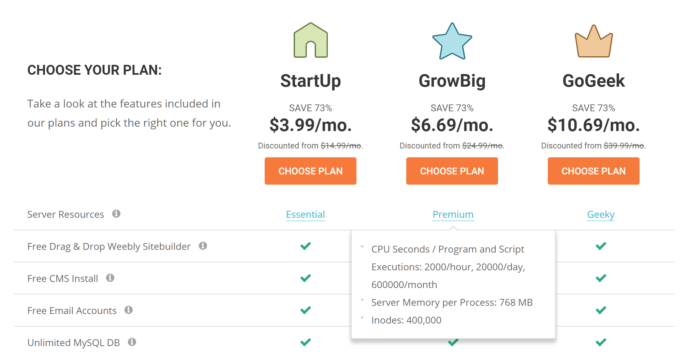 Because of these different allowances, your website will not only be able to receive more traffic, but it should also load faster and perform better under load if you choose a more expensive SiteGround plan. Evidence of this can be seen in the speed tests from our in-depth SiteGround review.
If your site consumes too many of these resources, SiteGround will probably ask you to fix the issue or upgrade to a higher performance plan to avoid access to your website being limited.
If you outgrow the top-level GoGeek WordPress plan, SiteGround has a cloud hosting service that may be a better option for your site.
WP Engine Plans Pricing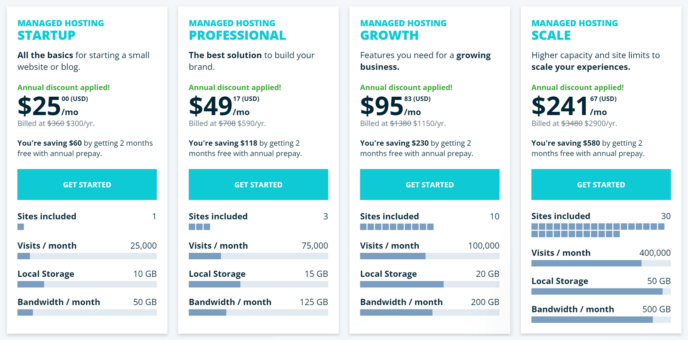 WP Engine has four managed WordPress hosting plans aimed at small to medium-sized businesses:
Startup: From $25 a month for one website, 10 GB of storage, 25,000 monthly visits and 50 GB of bandwidth.
Professional: From $49 a month for three websites, 15 GB of storage, 75,000 monthly visits and 125 GB of bandwidth.
Growth: From $96 a month for ten websites, 20 GB of storage, 100,000 monthly visits and 200 GB of bandwidth.
Scale: From $242 a month for 30 websites, 50 GB of storage, 400,000 monthly visits and 500 GB of bandwidth.
These prices are available if you pay for your hosting on a yearly basis; if you'd rather pay monthly, the prices are a little higher. Unlike SiteGround, there were no discounts for new customers at the time of writing.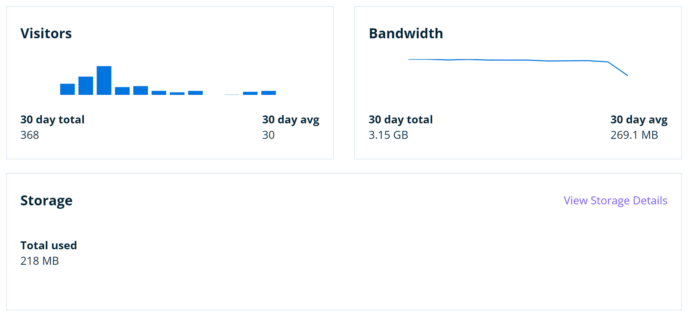 WP Engine can also create a custom plan if you need more than what's available on its scale plan. It also has eCommerce, enterprise and headless WordPress hosting services.
Unlike the SiteGround plans, all of the WP Engine plans should deliver the same levels of performance in terms of site speed and ability to handle load.
As well as those listed above, there are a few other differences between the WP Engine plans, including how you can contact support (chat only on the Startup plan).
Both hosts have money-back guarantees, so you can try them without any financial risk.
What Happens If You Go Over Your Limits?
If your site receives more visits than your plan allows, WP Engine will charge you overage fees. These fees vary, depending on which plan you choose, but they start at $1 per thousand extra monthly visitors.
The WP Engine approach does mean that, while you'll incur extra hosting costs if your site gets busy beyond the limits of your plan, access to your site won't be restricted. This is something you'll appreciate if your site goes viral, you want to make the most of the extra traffic and you don't mind paying for it.
With SiteGround, there are no overage fees, but, as mentioned, access to your site can be limited if you use too many resources. Because of this, you won't face higher hosting fees if your site suddenly becomes popular, but it may not stay online for you to benefit from the additional exposure.
Both approaches have their pros and cons, so it's up to you to decide which one you prefer.
Best Value?
Based on the SiteGround special prices or introductory rates listed above, it seems like the better value option of the two.
However, once you take the regular prices (which you'll pay when you renew your initial contract) into account, SiteGround starts to look less affordable. That said, you still get more for your money compared with WP Engine in terms of how many sites you can host on your account and how much storage you can use, not to mention the unlimited bandwidth or data transfer.
Verdict: SiteGround wins as it's cheaper than WP Engine, without much sacrificing of features or functionality.
However, there are more differences between these two hosts than just the prices and allowances. The rest of this comparison will cover those differences, including performance, features and user experience.
SiteGround vs WP Engine Features
Now we know how much these hosts cost, let's take a look at what you get for your money with each, starting with their performance.
Load Times and Performance
One of the best reasons to invest in a premium host such as SiteGround or WP Engine, compared with cheaper shared hosting, is your website should load faster with these services.
To find out which host is the fastest, and to give you an idea of what sort of load times you can expect from SiteGround and WP Engine, I ran a few tests using the paid Pingdom service.
About the Pingdom Load Time Tests
For the tests, I created two WordPress sites hosted by SiteGround and two by WP Engine. One site on each host used a lightweight theme, while the other used a heavyweight theme. Because of this, the results should indicate what site speed you may experience, depending on which type of theme you use or the style of website you plan to make.
Pingdom was set to monitor the speed of the sites for seven days and record their load time every 30 minutes to get an average load time.
For all tests, the Pingdom testing location that was closest to where the site was hosted was chosen. The caching, CDN and optimization features of both hosts were enabled, but no other efforts were made to improve the performance of the test sites. You may get even better results if you use a third-party caching plugin or other tools.
Here are the results…
SiteGround vs WP Engine Lightweight Theme Load Time Test Results
To find out how fast a lightweight website hosted by SiteGround and WP Engine loaded, I built a site using the popular and free Twenty Twenty One WordPress theme. I created a basic page on each site that contained text and an image. Pingdom monitored the load time of that page.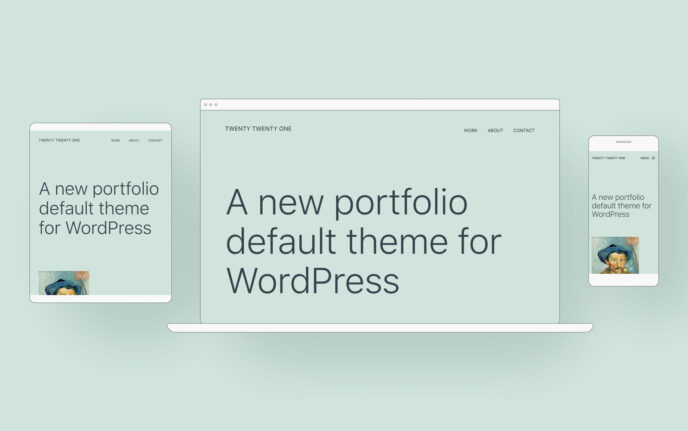 SiteGround Lightweight Theme Load Time Test Results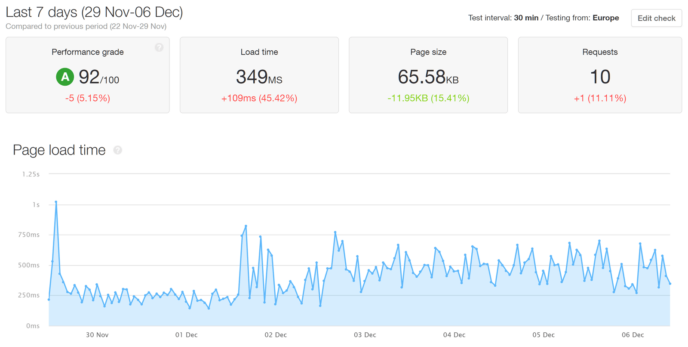 WP Engine Lightweight Theme Load Time Test Results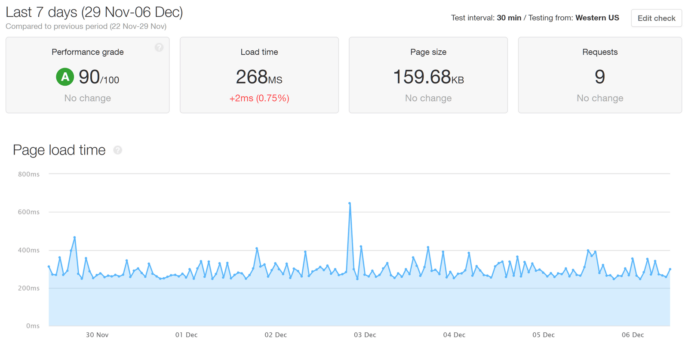 As you can see, the site using a lightweight theme hosted by WP Engine was 81 milliseconds faster than the same site configuration hosted by SiteGround. Now let's take a look at the results for my test sites using a heavyweight theme.
SiteGround vs WP Engine Heavyweight Theme Load Time Test Results
If you plan to use a more feature-rich theme than Twenty Twenty One, or build a more resource-intensive website, the load times of my test sites using the popular multipurpose Avada theme and its Digital Agency demo will be of interest.
For the heavyweight theme tests, I installed Avada and then imported the Digital Agency demo content. Pingdom was then set to monitor the speed of the homepages of the sites for seven days.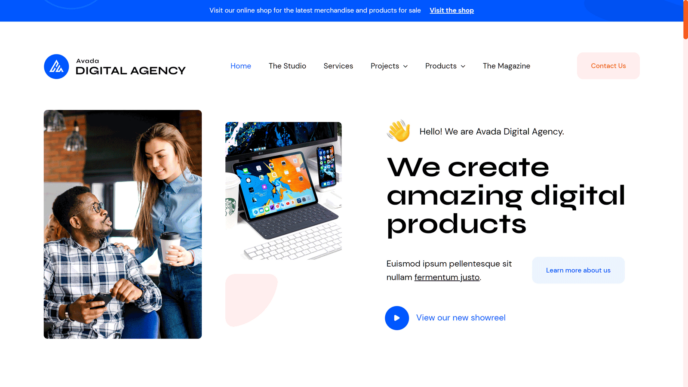 SiteGround Heavyweight Theme Load Time Test Results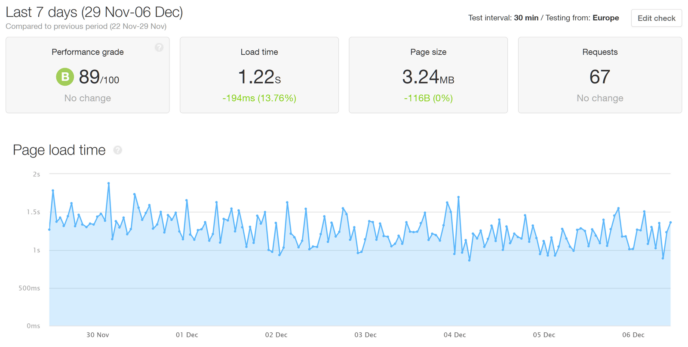 WP Engine Heavyweight Theme Load Time Test Results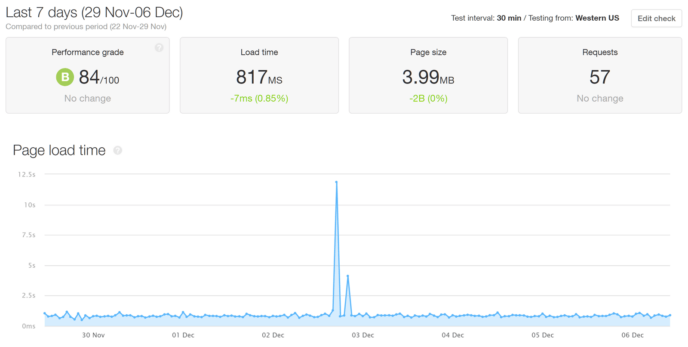 Based on the Pingdom results from this test, WP Engine would be a better option for anyone creating a feature-rich WordPress website, as it was 403 milliseconds faster.
WP Engine vs SiteGround Load Time Test Results Summary
Here's a quick overview of the load times recorded by Pingdom:
SiteGround Lightweight Theme Test: 349 milliseconds.
WP Engine Lightweight Theme Test: 268 milliseconds.
SiteGround Heavyweight Theme Test: 1.22 seconds/1220 milliseconds.
WP Engine Heavyweight Theme Test: 817 milliseconds.
Verdict: Based on these results, WP Engine wins as you should experience faster load times if you choose it over SiteGround, regardless of whether you create a simple lightweight site or a feature-rich heavyweight one.
While WP Engine was faster than SiteGround in my tests, both hosts were fast, and there wasn't that much difference between the two, especially when using a lightweight theme. Therefore, it's still worth considering both options and checking out what features they have to see if one matches your requirements better than the other.
This is especially true if you don't plan to build a website that resembles the heavyweight demo from a theme such as Avada. Also, as there's a notable difference in their prices, opting for the faster WP Engine — without first checking out the features of both hosts — may not be the best option based on your budget.
So, now we know how fast these hosts are, let's look at their features to see what other differences there are between WP Engine and SiteGround.
WordPress Themes
The WP Engine plans include access to ten premium WordPress themes from StudioPress. Because these are high-quality themes that can be used for a range of different website types, this could end up saving you the cost of a premium theme (around $60 or more).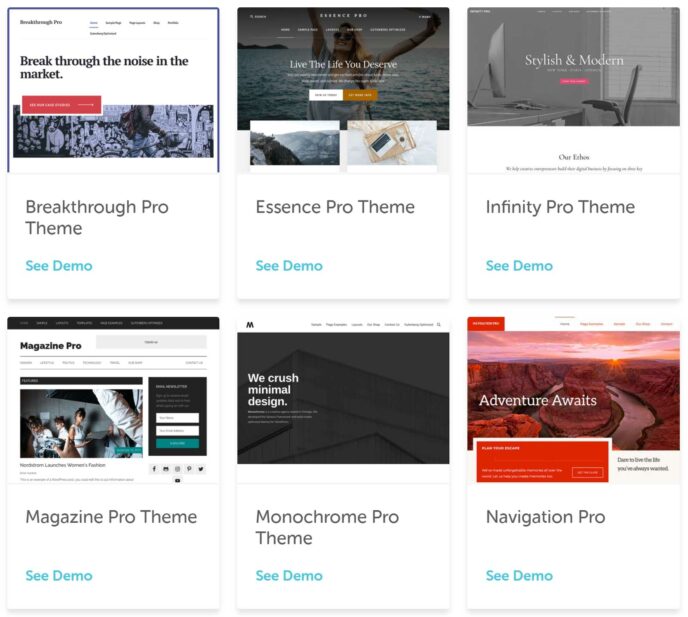 SiteGround doesn't give you access to any premium themes as part of its plans.
Verdict: WP Engine wins here as the StudioPress themes are a great addition to its service.
Uptime
Both hosts achieved 100 percent uptime when I monitored them for seven days with Pingdom.
WP Engine guarantees 99.95% service availability, while SiteGround guarantees 99.9%.
Verdict: WP Engine wins as it has a slightly better uptime guarantee.
User Experience
Because both hosts have plans that specialize in hosting WordPress websites, it's very easy to get started with them.
Once you've signed up with either host, you can create a new WordPress website in just a few clicks. Both give you the option of starting with a relatively fresh installation of WordPress, and you can also use their wizards or setup tools to walk you through many of the common steps involved in getting a new site ready for launch.

While both hosts are very easy to use and really simplify the process of getting a new WordPress website online, I found WP Engine to be more user-friendly and hands-off than SiteGround. With WP Engine, features such as caching and SSL were enabled by default.
With SiteGround, some of its optimization and security features had to be manually enabled through the control panel. While it didn't take that much extra effort to set up a site with SiteGround, if you're looking for the easiest and quickest way to launch, WP Engine gets my vote.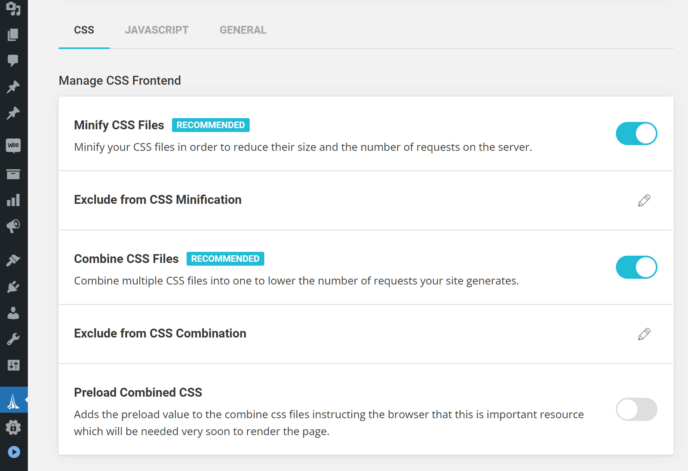 Also, with SiteGround you get a lot more choices regarding how your website is optimized, such as which caching features and compression methods are enabled. While more choice is usually good, it does mean you have to take a bit more of an active role in configuring how your site is optimized.
Because of the options available, it's not simply a case of turning everything on, as some settings, such as browser-specific caching and combining JavaScript files, may not be optimal for your website configuration.
Verdict: Because of all of the above, I'd say WP Engine wins because it makes it easier and faster to launch a well-optimized website than SiteGround. However, it's definitely not difficult to get a new site online with SiteGround, and most of the extra steps involved only have to be done once.
Domains and SSL Certificates
Unlike some cheaper shared hosts, neither SiteGround nor WP Engine give you a free domain registration when you sign up. SiteGround does have a domain registration service, but, because of its prices, you may want to purchase one elsewhere.
Both hosts make it very easy to point your domain name to your website. If you need any help with the process, the support staff are on hand 24/7 via live chat.
You can apply an SSL certificate to your domain and website for free with both hosts. All it takes is a few clicks, and communication between your site and its visitors will be encrypted.
Verdict: It's a draw, as neither host offers free domain registrations, but both do provide easy-to-enable SSL certificates.
Managed WordPress Updates
When managed WordPress hosting first launched, one of its key selling points was that your WordPress software, plugins and themes would be updated for you. Doing so saves you time and helps to keep your site secure.
However, this feature is now widely available from most hosts, including cheap shared hosting providers, and automatic updates are now a core feature of WordPress itself.
To differentiate itself from most of the competition, WP Engine has added extra functionality to the automatic update process to make it more robust.
With its Smart Plugin Manager tool, not only will your plugins get automatically updated, but visual regression testing will be used to ensure the update didn't break anything. If an issue is detected, the tool will immediately revert to a backup that was taken prior to the update. The WP Engine support staff will be informed and will start work on resolving the issue.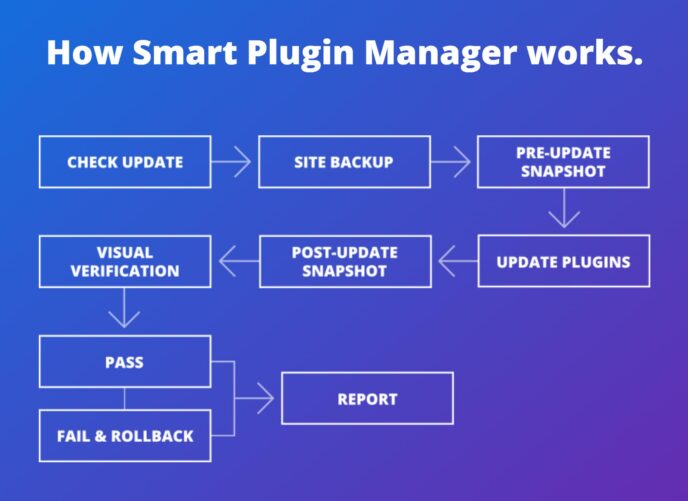 The main downside to this service is it's a paid add-on, rather than a part of the WP Engine hosting plans. Also, if you don't pay for the Smart Plugin Manager add-on, WP Engine won't automatically update your plugins. However, you can still rely on the core functionality of WordPress to do this. The WP Engine plans do include automatic updates of the WordPress software with some testing.
Automatic updates can be enabled on all of the SiteGround plans, but there's no testing or comparable feature to the Smart Plugin Manager from WP Engine. Backups are automatically created before an update is applied, so, if you do notice something has gone wrong, you can roll back to before the update took place.
Verdict: SiteGround wins as it includes more automatic updates as part of its plans. However, if you pay for the WP Engine Smart Plugin Manager, it's a tool you may find very useful.
Managed WordPress Backups
Another important benefit of managed WordPress hosting is having your site automatically backed up for you.
Thankfully, both SiteGround and WP Engine will back up your site each day. You can also create backups on demand, whenever you feel the need, apart from on the SiteGround entry-level StartUp plan. On the other SiteGround plans, you can create up to five on-demand backups at a time.
When it comes to restoring the backup files, SiteGround gives you the option of restoring the entire backup, just the files or just the database. With WP Engine you can restore the files with or without the database, but not the database on its own.
Verdict: WP Engine wins, as, while both systems work very well, you can manually create backups on all of its plans.
Support
Unlike many cheap, and even some not-so-cheap, WordPress hosts, both WP Engine and SiteGround have very responsive and helpful support staff.
Although some say SiteGround support isn't as good as it used to be, I didn't notice any degradation in service and was able to connect with a member of the support team very quickly via live chat.
As well as being able to connect quickly, the staff replied to messages swiftly with helpful responses — something I didn't always experience when researching my recent Bluehost vs GoDaddy hosting comparison.
The support provided by WP Engine via live chat was also very good.
However, with WP Engine, its entry-level Starter plan only lets you contact support via live chat. If you want telephone support, you'll have to choose its higher-priced plans. SiteGround provides telephone, chat and ticket support on all plans, although issues raised by customers on the most-expensive GoGeek plan are assigned with priority to its most experienced support agents.
Verdict: SiteGround wins. While both hosts provide a good service, SiteGround gives you more ways to contact support.
Summary of WP Engine and SiteGround Technical Details
Here's a quick recap of some of the details covered in this comparison, along with some additional information you may be interested in:
Website Caching: WP Engine has a proprietary caching system called EverCache, while SiteGround has its own SuperCacher technology.
Content Delivery Network (CDN) Service: Both hosts include access to a CDN, with WP Engine using a MaxCDN-powered CDN and SiteGround using Cloudflare.
Server Locations: SiteGround will let you host your website in six data centers while WP Engine has 11 locations on its managed WordPress hosting plans.
PHP: Both hosts support PHP versions 7.3, 7.4 and 8.0, with SiteGround also supporting 8.1.
HTTP/2.0: Both WP Engine and SiteGround use HTTP/2.0.
SSL: Both WP Engine and SiteGround provide free Let's Encrypt SSL certificates and support other options.
SFTP: Both hosts give you SFTP access to your server space on all plans. SiteGround also has a browser-based file manager.
Database Access: Both hosts provide database access via phpMyAdmin.
Staging: SiteGround and WP Engine let you create staging websites for testing and other purposes.
Email Service: SiteGround offers a full email service, while WP Engine doesn't provide an email service.
WordPress Website Management: SiteGround will keep your WordPress software and plugins up to date, while WP Engine updates the WordPress software only, with plugin updates available as a paid add-on.
Plugin Restrictions: SiteGround allows all WordPress plugins, while WP Engine has a list of disallowed plugins.
Security Measures: Both the SiteGround and WP Engine plans include features to keep your site secure, as well as offering paid security extras (SiteGround SG Site Scanner and WP Engine Global Edge Security).
Post-hack Cleanup Services: SiteGround doesn't offer any hack or infection clean up services, but does have some advice. WP Engine will provide assistance to fix your site if it's hacked.
Now you have a good knowledge of the SiteGround and WP Engine WordPress hosting services, it's time for my final thoughts on these two options.
Final Thoughts
Both SiteGround and WP Engine make it very easy to start and manage a WordPress website. They both have lots of useful features, as well as a very responsive and helpful support staff.
However, it's fair to say you get more for your money with SiteGround, especially if you take into account things such as the number of websites you can create on each plan, the amount of storage you get and the unmetered bandwidth. Still, it's worth noting that the StudioPress themes that come with WP Engine could save you money.
As we saw in the Pingdom load time tests, though, the WP Engine Startup plan performed better than the SiteGround GoGeek plan. This was true for both types of sites and themes — lightweight and heavyweight — that I tested.
There was a greater difference in load times for the sites built with a heavyweight theme. Because of this, if you plan to create a feature-rich site, you'll get the most benefit by choosing WP Engine over SiteGround when it comes to speed. If you plan to build a simpler, more basic site, then there's not that much difference between the two hosts.
That being said, if fast loading times are your main priority, WP Engine is the better option.
However, if value is more of a priority, especially if you need the ability to create multiple sites, then SiteGround would probably be best for you. However, do take the SiteGround regular prices into consideration, and not just the promotional rates, when comparing the cost of SiteGround and WP Engine.
Both WP Engine and SiteGround are good options, though, so the features you need and how much you're willing to pay will dictate which one is best for you.
Used/using either of these two hosts? Thoughts and opinions on each?
All comments are held for moderation. We'll only publish comments that are on topic and adhere to our Commenting Policy.