WinningWP content is free to all. If you make a purchase through referral links on our site, we earn a commission (
learn more
).
35 Best WordPress Theme Companies / Shops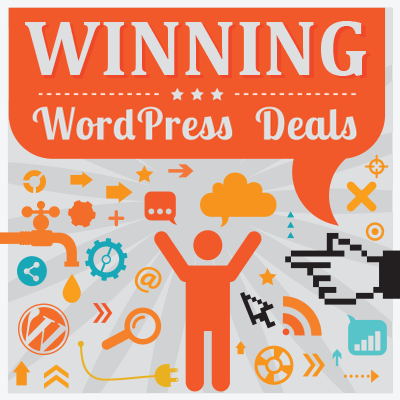 In the world of WordPress, your chosen theme will determine the way your website looks —– and, to some extent, the way it works. All of your site's style — the layout, the images, the typography — comes from your theme's code. As such, choosing the right WordPress theme provider is one of the most important decisions you'll have to make.
No pressure then.
And to make matters worse, choosing a theme isn't as simple as picking your favorite design — a lot more goes into the decision than that. In fact, there's rather a lot to consider: The quality of the code, the built-in functionalities, how easy the theme is to set up, whether it's optimized for speed and SEO, whether you can integrate it with your favorite third-party plugins, whether support is provided, etc, etc, etc.
Let's get the bad news out of the way first (indecisive users, look away now): There are hundreds, perhaps thousands, of good theme developers out there.
Of course, not all theme providers are created equal, and that's where a little insight can help, which is exactly why we're here today — to line up 35 of the very best WordPress theme companies out there.
Chosen based on quality, reputation, popularity, longevity, size and a little bit of sentiment. Here goes…
(Listed in no particular order)
1. Elegant Themes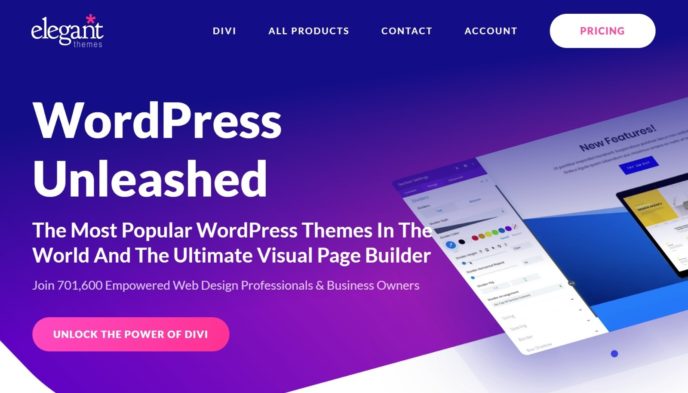 Let's start with one of the most popular WordPress theme shops of all: Elegant Themes. (Read our full review.)
Established in 2008, Elegant Themes has gone on to attract more than 701,000 customers with its collection of themes and plugins. Elegant Themes used to have more than 80 different themes, but it's since pared down to just two (which is the way the WordPress space is moving*):
Divi — an epic multipurpose theme with tons of functionalities and almost endless versatility. Read our full Divi review.
Extra — a magazine theme for publishers. It also comes bundled with the same visual drag-and-drop Divi Builder you get with the Divi theme.
Between these two themes, you can create pretty much any type of website.
You can get access to both themes, as well as all of the developer's plugins, with a single membership. You can pay $89 for one year of access or $249 for lifetime access. Both options let you use the themes on unlimited sites (including client websites).
Official Website — (See Deals)
* Nowadays, many theme developers are moving towards a model of creating a single multipurpose theme, and then providing importable demo sites for different niches. For example, instead of creating one theme for travel bloggers and another for fashion bloggers, a theme company may just create one multipurpose theme with separate importable demo sites for travel blogs and fashion blogs. You'll see this shift pop up a few more times in our list.
2. StudioPress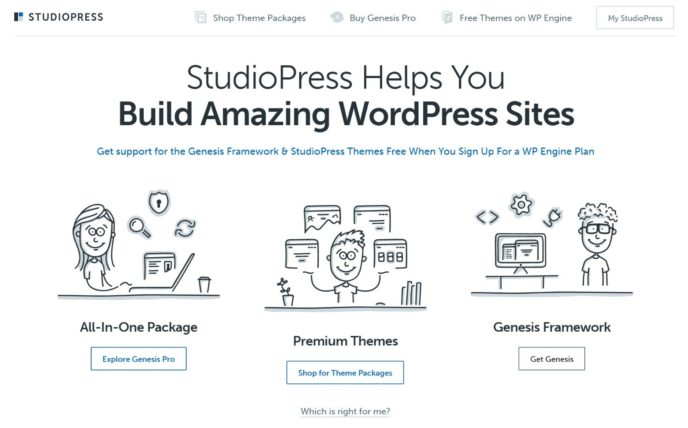 StudioPress (read our full review) is the design team behind the famed Genesis Framework — the foundation for more than 500,000 websites. The Genesis Framework brings clean design, custom layouts and powerful security to the table.
In addition to the Genesis Framework, StudioPress makes 35-plus different child themes to control how the framework looks. By itself, the Genesis Framework isn't a standalone theme (hence the 'framework' in the name) — you need to add one of these child themes.
StudioPress was acquired by WP Engine, a popular WordPress host, in 2018, but anyone can still purchase the themes. However, if you're a WP Engine (our review) or Flywheel (our review) hosting customer, you'll get access to the Genesis Framework and all of StudioPress's child themes for free as part of your hosting.
3. Astra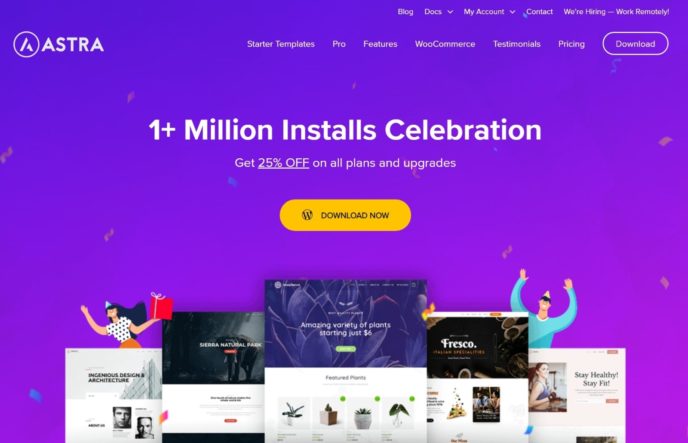 Astra isn't a theme shop per se, because the developer only sells one theme. However, it's one of the most popular themes of all time, so we can't leave it off the list. In fact, Astra is the only non-default WordPress theme to ever achieve over a million active installs, according to WordPress.org. That's pretty impressive!
Astra is lightweight, multipurpose and comes with hundreds of pre-built importable demo sites to help you to quickly get started. You can learn more about all of the Astra theme's features in our full Astra theme review.
The core Astra theme is free, but you can get more features by upgrading to the Pro version for $59.
4. Graph Paper Press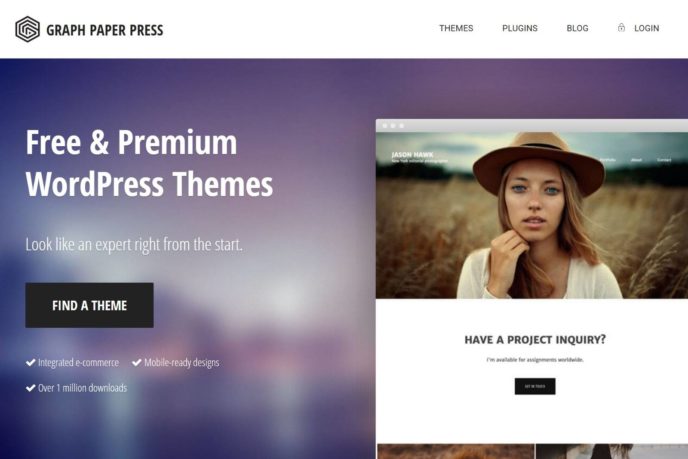 Graph Paper Press is a WordPress theme shop targeted at artists and photographers. Its themes feature stunning minimal designs, providing an uncluttered platform that allows your work to do the talking.
There are 46 premium themes available, with bulk-access prices starting at $149 a year or $399 for lifetime access. You can also purchase individual themes for $99.
Official Website — (See Deals)
5. MyThemeShop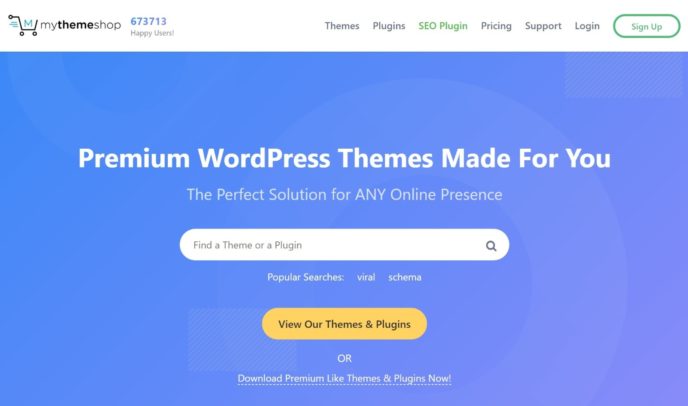 With more than 673,000 customers, MyThemeShop (read our full review) is one of the best-established theme developers in the WordPress world.
Its themes are built with performance in mind, ensuring lightning-quick load times and the best possible front-end user experience. There are plenty of back-end features too, though MyThemeShop has been slow to embrace the real-time WordPress Customizer.
MyThemeShop's collection of 72 premium themes can be accessed for just $99.47 a year, or you can buy individual themes for between $35 and $77, depending on how many sites you want to use them on.
6. aThemes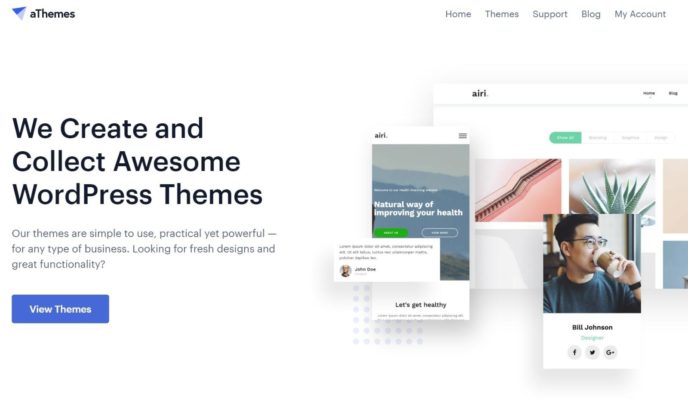 aThemes is a popular theme shop, where you can find both free and premium themes for a variety of niches — ranging from business uses to portfolios or blogs. For newer themes, aThemes has added an integration with the popular Elementor page builder for easy drag-and-drop customization of the demo content.
To get access to the premium themes, you can either purchase individual themes for $59, or you can buy a club membership for $99 for yearly access or $249 for lifetime access.
7. Themify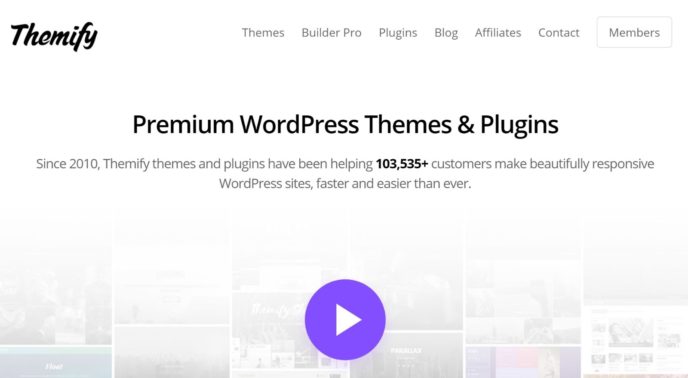 Themify (read our full review) is the drag-and-drop WordPress theme specialist.
Every one of its 42 themes ships with the drag-and-drop Themify Builder plugin, meaning you can endlessly customize any Themify theme from top to bottom, giving you the platform to craft your dream site.
With themes targeted at magazine websites, eCommerce stores and bloggers — to name just a few — a Themify membership offers something for everyone, too. If you're not sure where to begin, the multipurpose Ultra theme makes a good starting point.
Prices start at just $59 a year for a single theme. Or, you can get access to all of the themes and plugins via the Master Club for just $89.
Official Website — (See Deals)
8. TeslaThemes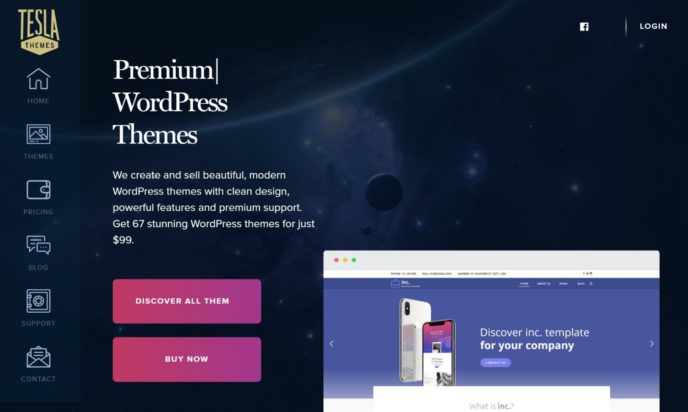 Of all the WordPress theme clubs, TeslaThemes is arguably the one that represents the best value. It's a 68-strong theme collection, which you can purchase individually or via a club membership.
Tesla prides itself on the quality of the designs, which remain beautifully clean while incorporating plenty of advanced functionalities. The themes are consistently high-quality too, so it's well worth spending a bit of time perusing the demos.
If you'd prefer to purchase a single theme, you can do so for $58. Or, you can get access to all 68 themes for $99 for one year of access or $299 for lifetime access (including all future themes).
9. CSSIgniter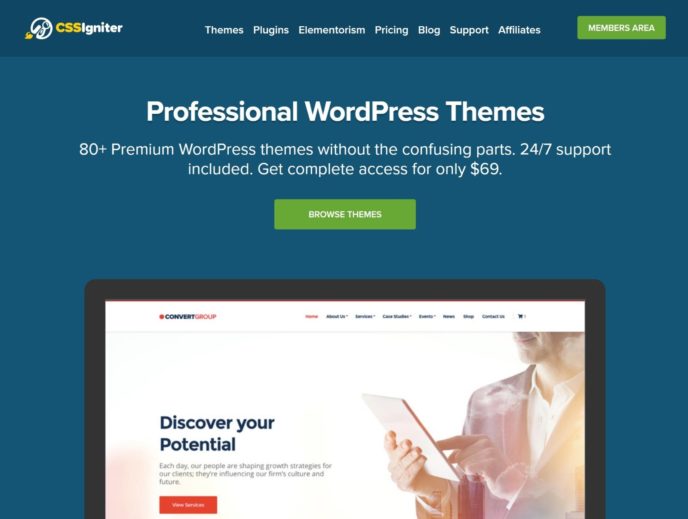 Looking to build a beautiful website with minimal fuss? CSSIgniter could be one of your best bets, then.
CSSIgniter's themes come with a super-streamlined setup process, plus you can install as much — or as little — dummy content as your site needs. The collection of 74 premium themes come in all shapes and sizes too, so it isn't difficult to find a layout that meets your needs. If you're a fan of the Elementor page builder (our review), CSSIgniter also offers a collection of 50-plus Elementor templates called Elementorism.
You can access all 74 premium themes for just $69 a year — that's less than $1 per theme! Or, you can purchase an individual theme for $49.
Official Website — (See Deals)
10. WPZOOM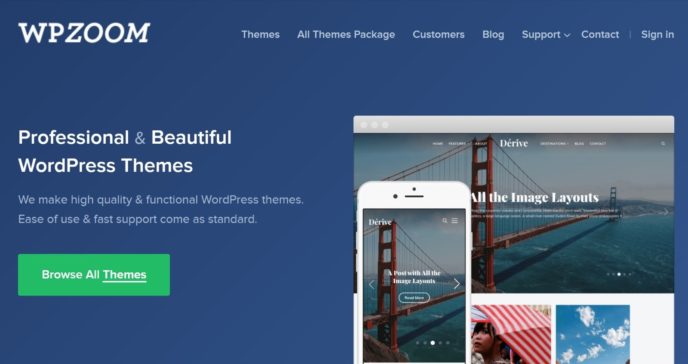 WPZOOM specializes in building professional-quality WordPress themes, with 44 published to date. A lot of WPZOOM's themes are targeted towards specific niches. For example, WPZOOM has one of the most popular food blogging themes in Foodica, as well as themes for photographers, fashion blogs and lots more.
If you want to purchase individual themes, most are priced at $69, while a few cost $79. Or, you can also purchase a club membership to get access to all current and future themes. The price for membership varies based on the number of sites you want to use it on — going from $99 for up to three websites to $139 for up to ten websites.
11. Create and Code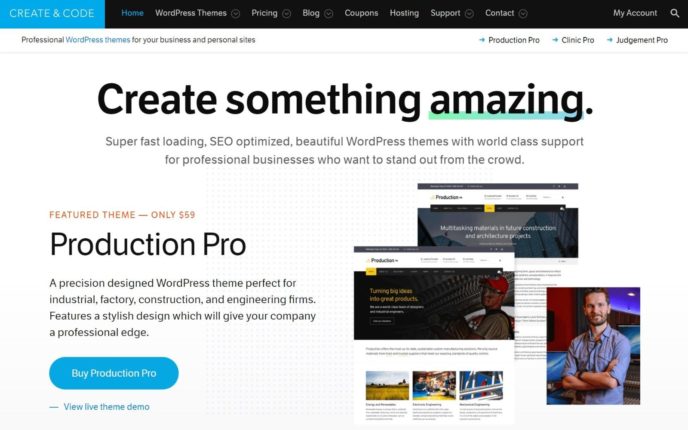 Create and Code is a modern theme shop that focuses primarily on making niche business themes. For example, in addition to some generic business themes, you'll also find niche themes for medical groups, lawyers, construction companies and more. It's not all business, though — it also offers a few stylish blogging themes.
With only six on offer, the selection isn't huge, but each theme is well-designed and has thoughtful features. You can purchase individual themes for $59 each, or you can get access to all themes for $99 for one year or $299 for lifetime access (including future themes).
12. OceanWP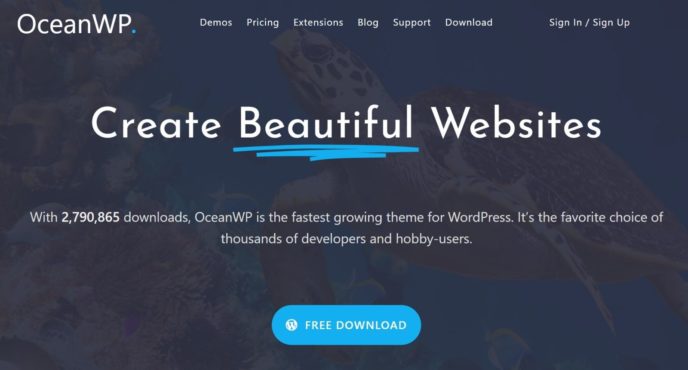 Like Astra, OceanWP is a single-theme company, rather than a shop with multiple themes. However, it's multipurpose, so you can adapt it to pretty much any niche. It also includes lots of pre-built demo sites, which gives it the feel of 'multiple' themes.
Active on more than 600,000 sites (according to WordPress.org), OceanWP is the second-most popular non-default theme at the WordPress.org theme directory. You can learn more about this theme and company in our full OceanWP theme review.
You can get started using the free version at WordPress, and, if you want more features than are included in the free version, you can purchase the Pro version starting at $59.
13. GeneratePress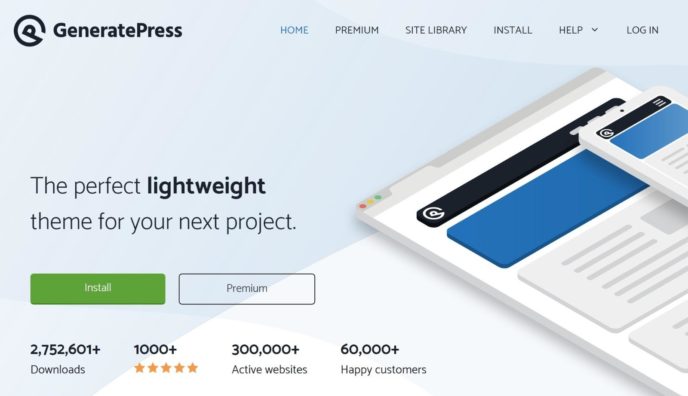 Much like Astra and OceanWP, GeneratePress is another single-theme company. While we tried not to include too many of these, it's tough to deny GeneratePress because it's also one of the most popular themes at WordPress.org. As with those other themes, GeneratePress is flexible and multipurpose — you can adapt it to pretty much any niche imaginable. It's also incredibly lightweight, which means your site will be set up to load quickly.
You can get started with the free version at WordPress.org. Then, for more features, you can consider upgrading to the premium version for $50.
14. Themetry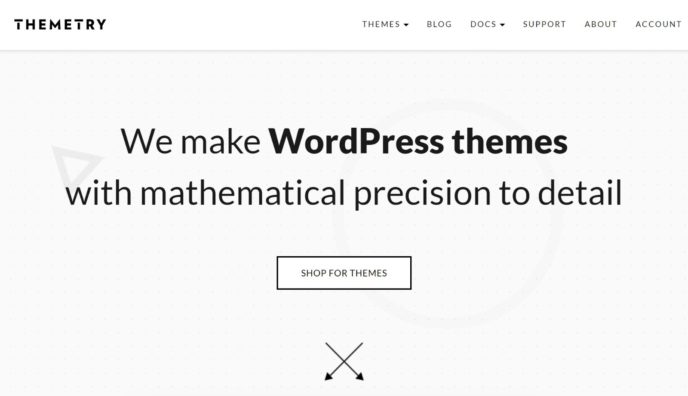 Themetry bills itself as an anti-ThemeForest WordPress shop. Rather than inundating its themes with unnecessary options, every Themetry product is built with simplicity in mind.
The Themetry experience was designed to be as painless as possible, with super-easy setup, loads of tutorials, and a knowledgeable support team on hand. The themes are gorgeous, too, built by master craftspeople in complete compliance with the latest WordPress standards.
Themetry has released seven themes to date, and you can access the lot for just $99 a year.
15. Pixelgrade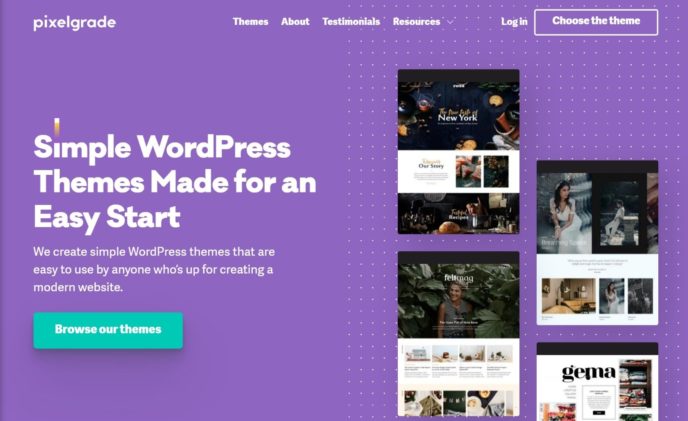 Pixelgrade is something of a hidden gem, boasting some jaw-dropping designs that are guaranteed to hook visitors. The Pixelgrade team has definitely created some of the most beautiful themes of any shop on this list.
Pixelgrade takes a creative approach to building themes fit for specific purposes — for example, restaurant, magazine or photography themes. This creative approach is evident in all of its work, which has some of the most unique layouts you'll find.
Such bold and stunning designs don't come cheap, though, as Pixelgrade is a little pricier than most other theme companies. However, if you're serious about taking your business to the next level, the investment is well worth it. For individual themes, Pixelgrade uses different prices, ranging from $70 to $100-plus depending on the theme. You can also get lifetime access to all of Pixelgrade's themes for $498.
16. ThemeFusion (Avada)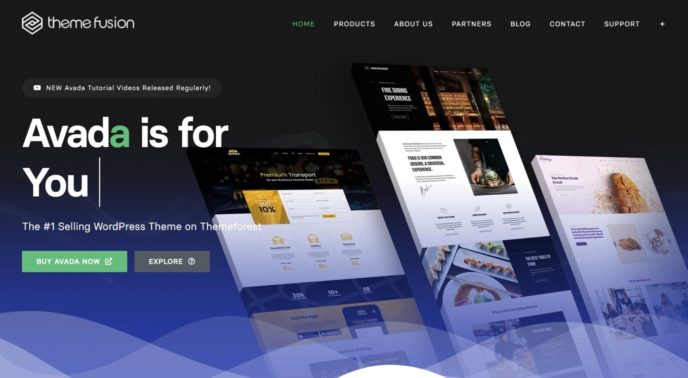 ThemeFusion is the last of the single-theme companies on our list. But again, no list of theme companies could be complete without ThemeFusion because it makes Avada, the all-time best-selling WordPress theme at ThemeForest. Avada has been purchased more than 608,000 times, while maintaining an excellent 4.76-star rating on more than 23,000 reviews.
As with other single-theme companies, Avada is a multipurpose theme that lets you build anything from a blog to a business website, eCommerce store and more. You can learn more in our full Avada review, and you can also check out some real-life Avada examples to see what the theme can do.
Avada costs $60, which gets you lifetime updates and six months of support.
Official Website | Avada Theme
17. ThemeGrill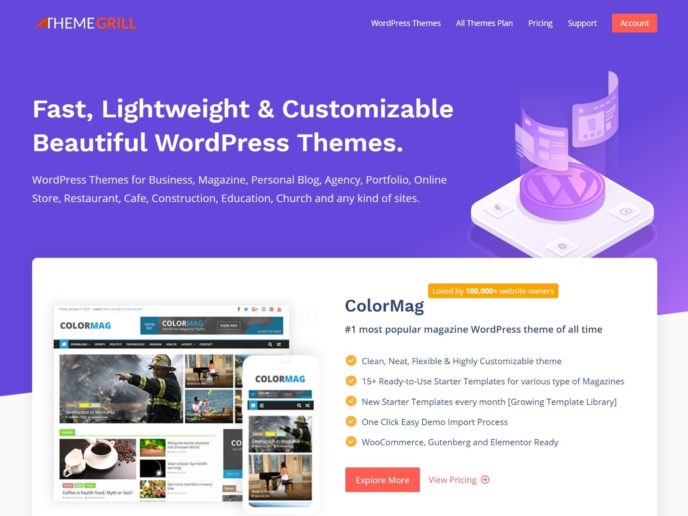 ThemeGrill makes a number of popular business, blogging and magazine themes. Its best-known theme is probably the ColorMag theme, but it also offers a popular flagship theme called Zakra that it markets separately from the ThemeGrill brand.
Under the ThemeGrill brand, you'll find 16 separate themes for a range of uses. You can purchase individual themes for $69 or you can get a bundle of all themes starting at $99 for one year of usage on a single site, or $299 for lifetime access/usage (this bundle doesn't include Zakra, though).
18. FloThemes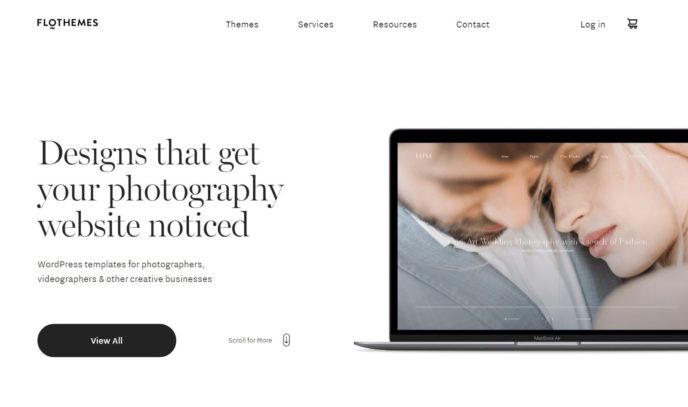 FloThemes makes gorgeous themes for photographers, videographers, and other similar types of creatives. That's all the developers focus on, which means each theme is built to give you all the features you need, such as pre-made blocks to display team members, vendors, albums and more.
While the themes look great, they're also quite expensive in the WordPress space. In fact, they're some of the most expensive themes you'll find — individual themes cost $279 each, but you can usually find promos to save ~$80.
19. GretaThemes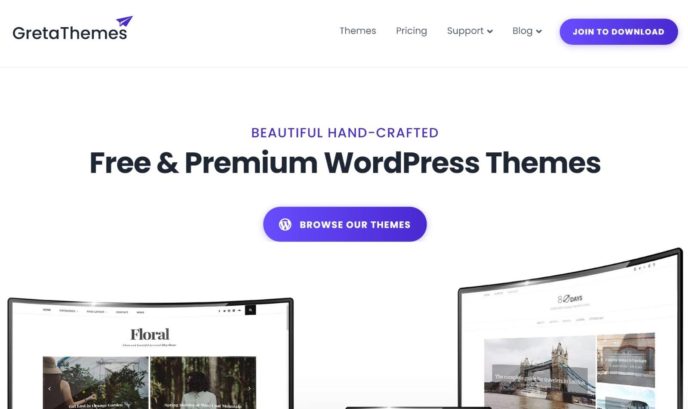 GretaThemes offers 21 themes to date — the quality of its designs is impressive, with a super-sleek style that really stands out from the crowd.
The themes couple easy setup with loads of customization options — in fact, by importing demo content and playing around with the control panel, you can have a gorgeous-looking website set up in just minutes.
GretaThemes offers many of its themes for free — when it comes to the premium themes, you can purchase individual themes for $49 or you can get a bundle of all themes for $89 (one year of access) or $149 (lifetime access).
20. ThemesKingdom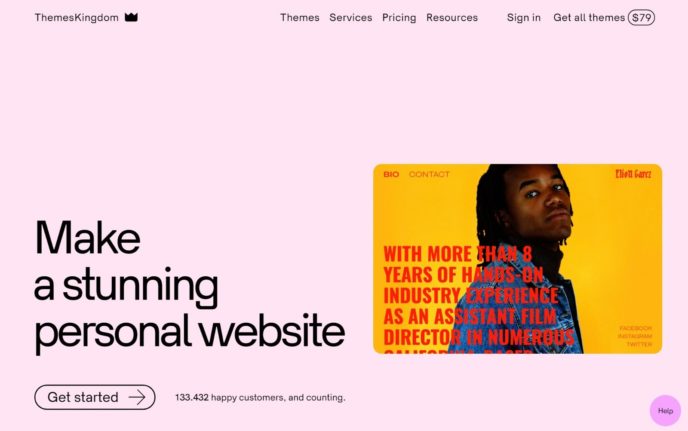 Having launched way back in 2010, ThemesKingdom's longevity is unsurprising. Simply put: Its themes are among the most stylish you'll find, as evidenced by its 133,000-strong user base.
ThemesKingdom currently offers 42 themes, covering a range of different niches and use cases.
You can purchase individual themes for $19-plus for a one-year license or $57-plus for lifetime access (the exact pricing varies by theme). Alternatively, you can purchase access to all 42 themes for $79 for one year of access or $237 for lifetime access. These prices make ThemesKingdom one of the more affordable options on this list.
Official Website — (See Deals)
21. Anariel Design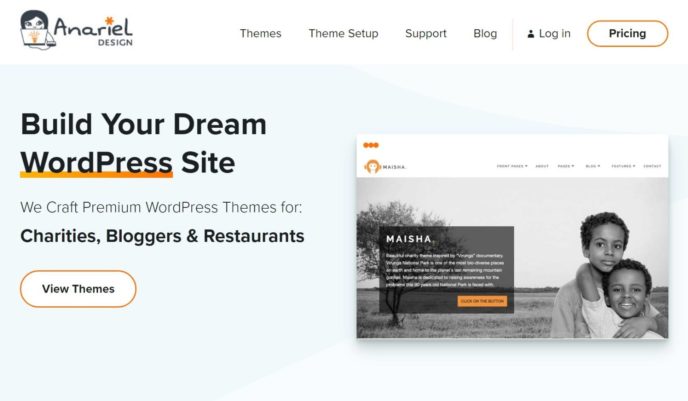 Anariel Design is a niche theme developer from Germany. Its ethos is simple: 'We build unique themes so you can build unique websites.' And, so far, it's really working.
There's a personal quality to all of its themes, with the developers doing their best to ensure no unnecessary bloat. This guarantees fast, SEO optimized websites that your visitors will love — and, should you get stuck, the team is also committed to providing genuinely helpful support.
With 18 themes to date, an Anariel Design membership starts at an affordable $59 for six months of access to all of the themes. Upgrade to a 12-month membership for $89, or lifetime membership for $199, and you'll also receive one free theme setup.
22. Themeum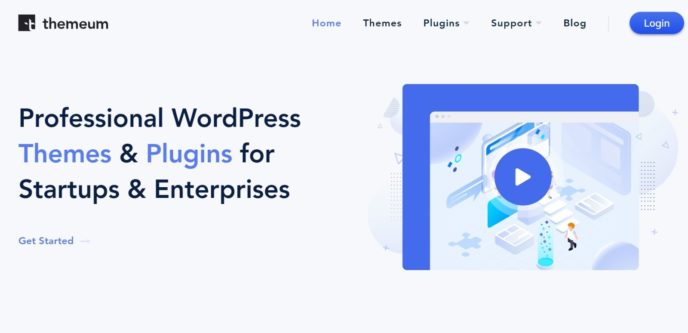 Themeum makes both themes and plugins, but, for this list, we'll be focusing on the themes. You'll find 22-plus themes covering a range of uses, with most of the newer themes focusing on helping you to create online courses. This makes sense because Themeum has its own learning management system (LMS) plugin called Tutor LMS.
You can purchase individual themes for $79, or you can get access to all 22 themes via the club membership for $199 for one year of access. There's no lifetime club membership, unfortunately.
23. Bluchic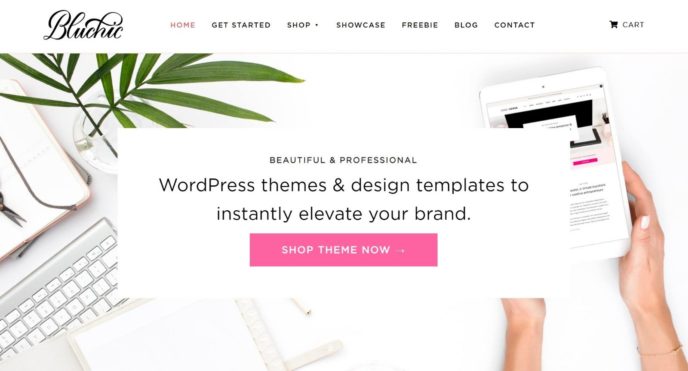 Bluchic is the first female-focused WordPress theme shop on this list. It specializes in producing themes targeted at female entrepreneurs and bloggers who want a professional-looking website. All of the themes have the same basic aesthetic you'll commonly see for lifestyle blogs.
Bluchic also sells Canva templates (for featured images and social media images), as well as landing page templates. This makes it a great 'one-stop shop' for female entrepreneurs and bloggers.
Most themes cost $79 each, though Bluchic sells a few themes for $129. You can also buy 'bundles', which include a WordPress theme, landing page templates, and Canva templates in one package. These cost $347.
24. Organic Themes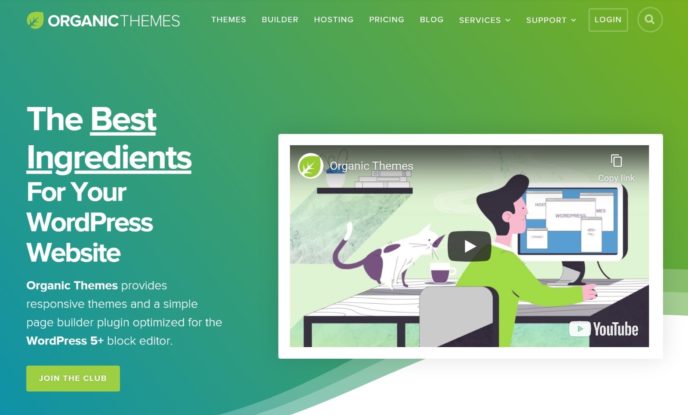 Organic Themes sells premium WordPress themes, with no preservatives or GMO ingredients (that's a joke). You'll find 42-plus themes for a variety of niches, ranging from business sites to gaming blogs, personal CVs and lots more. Organic Themes was also one of the first companies to embrace the WordPress block editor with its Block theme.
You can purchase individual themes for $69 each, or you can get a bundle of all 42 themes for $99 for one year of access. If you want access to the theme design files, you'll need to pony up $249 for the Developer membership.
25. ThemeZee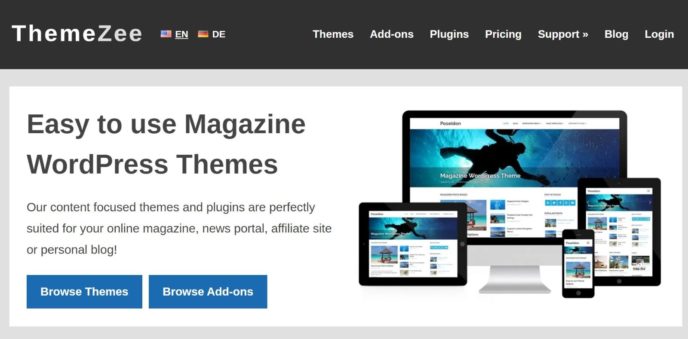 ThemeZee is another WordPress theme developer originating from Germany. It specializes in creating magazine themes — in fact, it only produces magazine themes.
Magazine themes are known for relatively complex layouts, with lots of content on screen at any given point. As such, you'll be pleased to learn that ThemeZee themes use the WordPress Customizer to help you to organize your content and configure your layout.
ThemeZee offers 27-plus premium themes and a few magazine-focused plugins to club members, at a price of €59 a year for one year of access and use on up to three WordPress sites. You can also get lifetime access for €179.
26. SecondLine Themes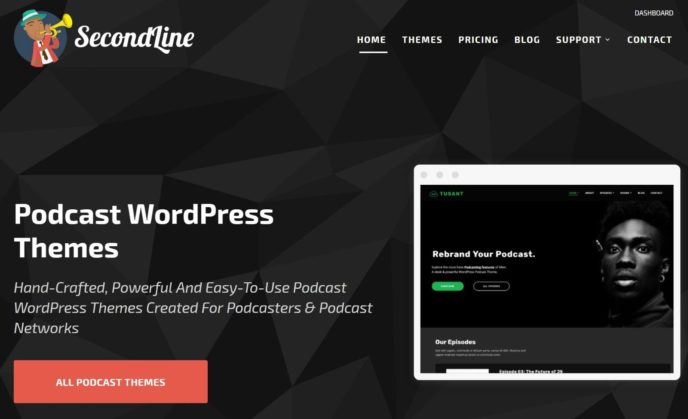 SecondLine Themes makes premium themes for one specific niche — podcasters! Because the themes are only focused on this one area, they offer great podcast-specific features, such as eye-catching audio players and episode lists.
Currently, SecondLine Themes offers five premium podcast-focused themes. You can purchase individual themes for $69 or you can get access to all themes for $139 (one year) or $389 (lifetime access).
27. CommerceGurus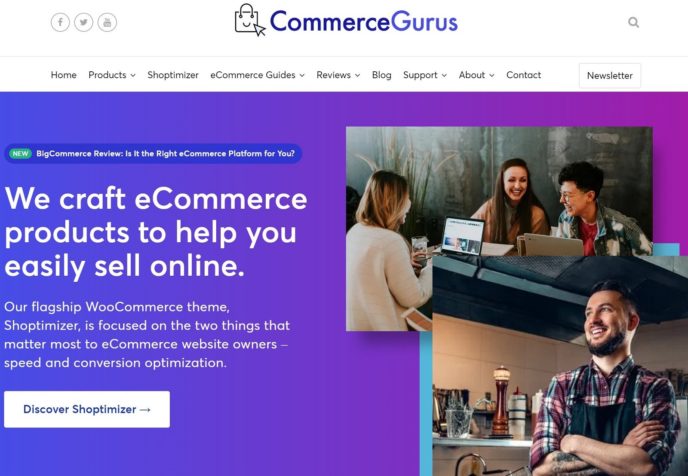 As the name suggests, CommerceGurus focuses primarily on making themes for WordPress eCommerce sites. While you may think that means it only has WooCommerce themes, CommerceGurus goes beyond just WooCommerce, even offering a theme that's compatible with the BigCommerce WordPress plugin (though WooCommerce is still its main focus).
CommerceGurus' flagship theme is Shoptimizer, but it also offers a number of other themes, including some non-eCommerce options (though all are WooCommerce compatible).
Most themes cost $59 each, but the flagship Shoptimizer theme costs $99.
28. ThemeIsle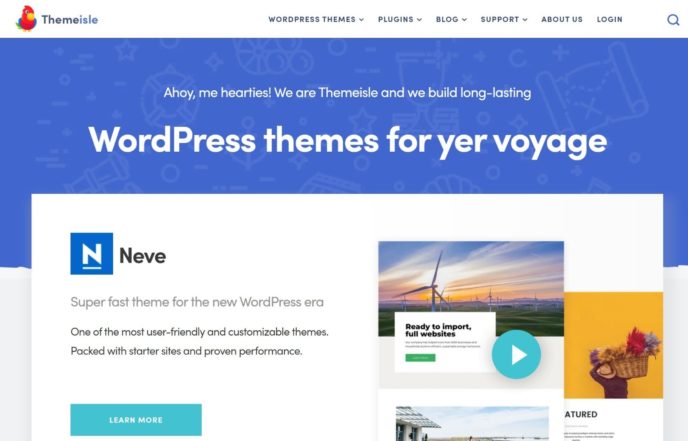 ThemeIsle is another much-loved WordPress theme shop, renowned for its gorgeous designs and top-quality coding.
While ThemeIsle used to have a number of different themes, the ThemeIsle team has since pared down the list to focus on just a few flagship themes, with the main focus being its Neve theme. Each theme comes with a variety of different importable demo sites, though.
All of the themes have free versions that you can use, as well as pro versions with more features. You'll pay between $49 and $69 for the premium versions
Official Website — (See Deals)
29. 17th Avenue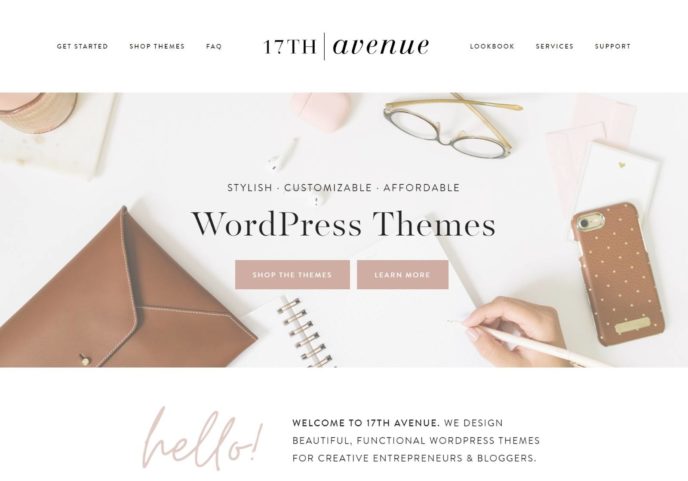 As with Bluchic, 17th Avenue is a theme shop whose focus is on female business owners, and is a great option for creative entrepreneurs and lifestyle bloggers. All of the themes have a lifestyle aesthetic, with creative fonts and lots of white space.
Currently, 17th Avenue offers 18 different themes, ranging in price from $45 (for older releases) to $69 (for newer releases). You can also purchase a Premium Theme Package, which helps you to get up and running with bundled installation and setup, as well as some custom design work. This package costs $269-plus, depending on the theme.
30. The Theme Foundry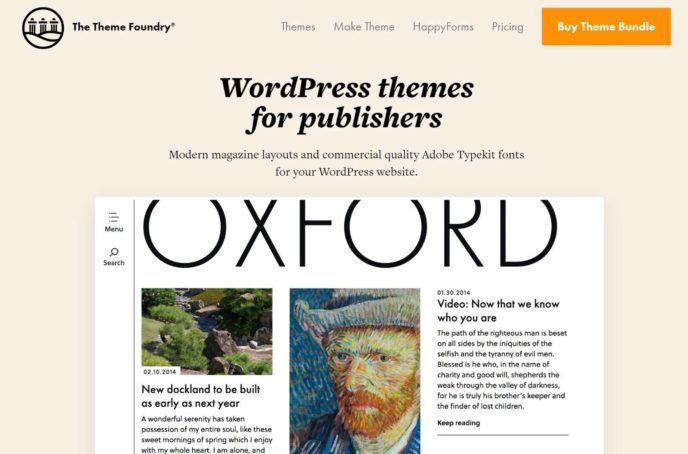 The Theme Foundry makes WordPress themes for publishers, such as news or magazine websites. The company is known for the quality of its code, its modern designs and its helpful video tutorials. More recently, it has integrated professional-grade Typekit fonts with its themes, ensuring the text on your site looks bold, sharp and striking.
The Theme Foundry also offers a flagship drag-and-drop theme called Make. You can purchase all eight 'regular' Theme Foundry themes for just $99. Or, you can add on access to the Make Plus flagship theme for $149 (this price also includes access to the eight other themes).
31. Anders Norén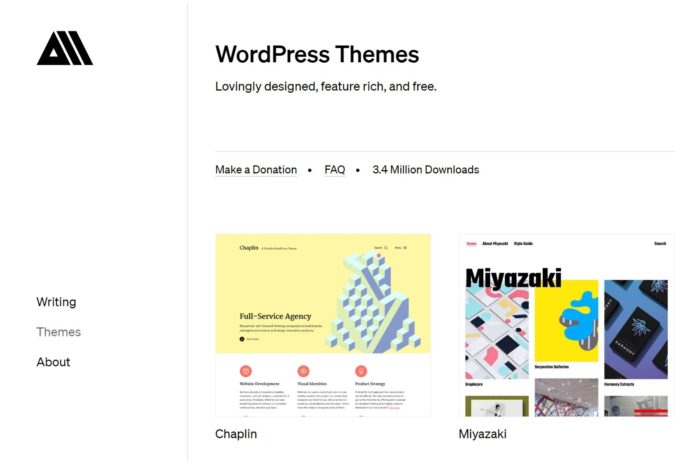 Anders Norén isn't a theme company per se — he's a freelance designer. But Anders gets a place on this list because, in his spare time, he makes some of the most popular free WordPress themes in existence. In fact, Anders was also the person who designed the default Twenty Twenty theme, which shipped with WordPress 5.0.
If you like clean, minimal themes and you're on a tight budget, Anders' collection is a great place to begin your search. He offers 20 different free themes that have collectively racked up more than 3.4 million downloads.
32. ThemeTrust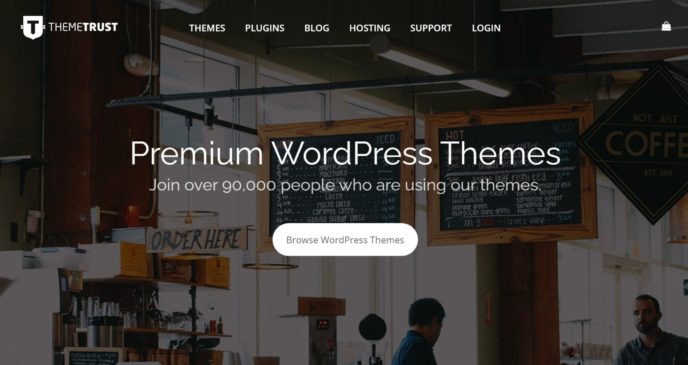 If you're looking for timeless designs, look no further than ThemeTrust for your next WordPress theme. It uses beautifully clean and minimalist designs, which look impressively stylish.
With no overly flashy design elements competing for attention, this philosophy puts your content as the focal point — whether written word or beautiful images.
ThemeTrust has released 20 themes to date — you can purchase most themes for $49, though a few cost $58.
33. Theme Junkie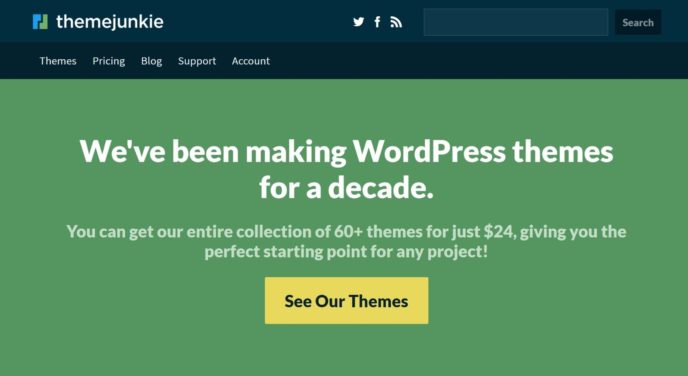 Theme Junkie has been making themes for more than a decade, and, over that time, it has amassed a collection of more than 60 different themes covering a range of niches, from podcasts to churches, schools, real estate firms and more.
Its team of developers is tasked with creating unique themes that play on minimalist design concepts. However there's also a multipurpose element to its themes, with each one offering versatile grids and a range of layouts. To get you started in the minimum amount of time, every theme ships with one-click dummy content import.
You can get access to all 60-plus themes for one low price — you'll pay $99 for one year of access or $199 for lifetime access. Theme Junkie also regularly runs huge promotions — such as offering 75% off all bundles.
34. Restored 316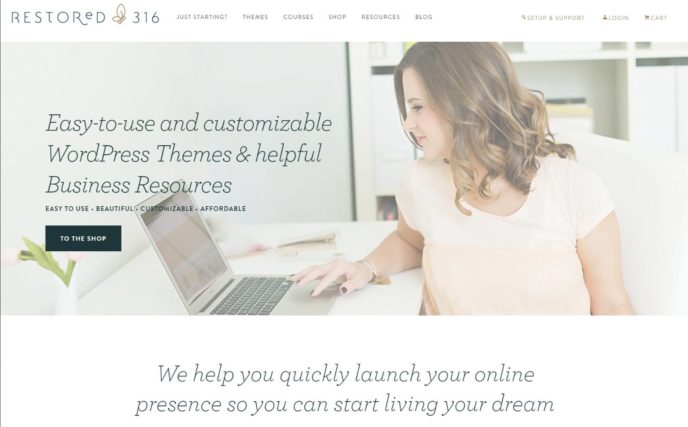 The last company on our list is another theme shop targeted at female entrepreneurs: Restored 316.
As such, you can expect highly professional designs, but with small creative touches that ensure your site stands out from the crowd and appeals to your target demographic. The company also offers lots of guidance and a beautiful branded business tracker — perfect for managing and organizing all of the offline stuff to do with your website.
In total, Restored 316 offers 14 different themes, most of which cost $75 each. However, a few of the newer releases go for $99. You can also get access to all of the themes for $199 a year via the Shimmer Pass.
Final Thoughts
Remember: Before purchasing a WordPress theme, there's plenty to weigh up.
Sure, a winning design is always a top priority, but there's a lot going on under the hood and behind the scenes that you need to be aware of. You'll need to factor in considerations such as code quality, built-in features, setup simplicity, site speed, SEO, support quality and third-party plugin integrations.
The other thing you need to consider is price. Many WordPress clubs price their memberships at a level designed to entice you in — for example, 50 themes for the price of three.
While those sorts of promotions represent exceptional value for money — really, they do! — you have to ask yourself: Do you really need to fork out the full membership fee? Putting aside the best value for a moment, if you only need a single theme, well, you only need a single theme! As such, you can save money by opting for the individual license.
In other words, before buying, test out the demo extensively, see what extra services the seller is offering with the theme, and decide how much you really need to spend.
Best of luck!
Used/using themes from any of these? Thoughts?
Related Posts:
All comments are held for moderation. We'll only publish comments that are on topic and adhere to our Commenting Policy.