45 Best WordPress Theme Companies / Shops (2020)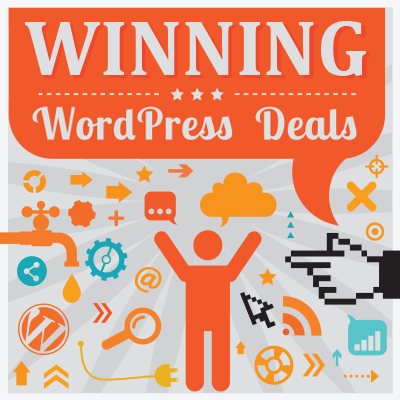 In the world of WordPress, your chosen theme will determine the way your website looks — and to some extent, the way it works. All of your site's style — the layout, the images, and the typography — come from your theme's code. As such, choosing the right WordPress theme provider is one of the most important decisions you'll have to make.
No pressure then.
And to make matters worse, choosing a theme isn't as simple as picking your favorite design — a lot more goes into the decision than that. In fact, there's rather a lot to consider: the quality of the code, the built-in functionalities, how easy the theme is to set up, is it optimized for speed and SEO, can you integrate it with your favorite third-party plugins, is support provided, etc, etc, etc.
Let's get all the bad news out the way first. Indecisive users, look away now: there are hundreds, perhaps thousands, of good theme developers out there.
Of course, not all theme providers are created equal, and that's where a little insight can help, which is exactly why we're here today: to line up 45 of the very best WordPress theme companies out there.
Chosen based on quality, reputation, popularity, longevity, size, and a little bit of sentiment. Here goes…
(listed in no particular order)
1. Elegant Themes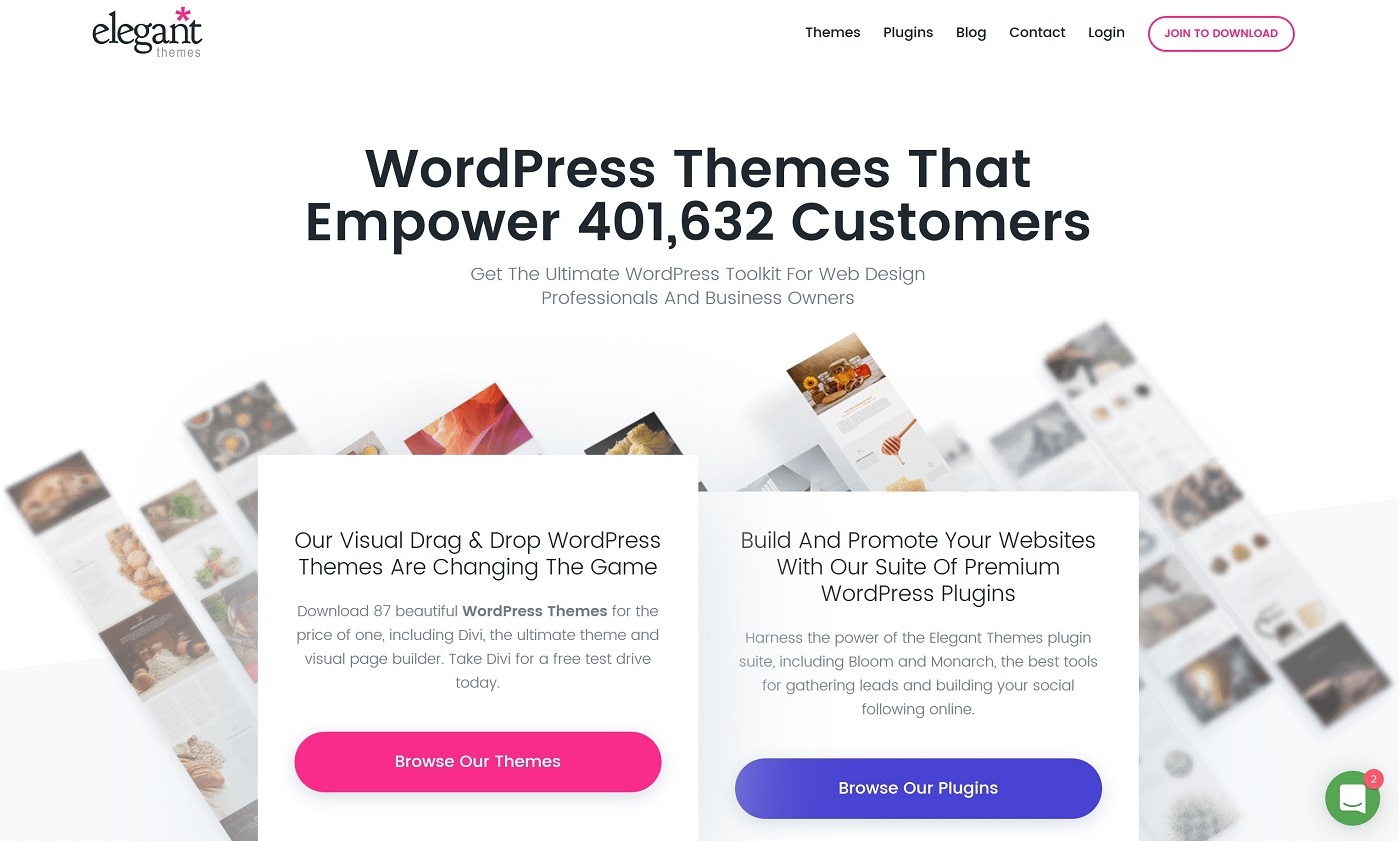 Let's start with one of the most popular WordPress theme shops of all: Elegant Themes (note: read our full review).
Established in 2008, Elegant Themes have gone on to attract a whopping 350,000 customers with its collection of 87 themes — as well as a few market-leading plugins thrown in for good measure. Its flagship theme is, of course, Divi, an epic multi-purpose theme with tons of functionalities and almost-endless versatility.
The entire Elegant Themes collection is available via a single membership, with prices starting at $69/year — that's less than 0.80¢ per theme!
Official Website – (See Deals)
2. StudioPress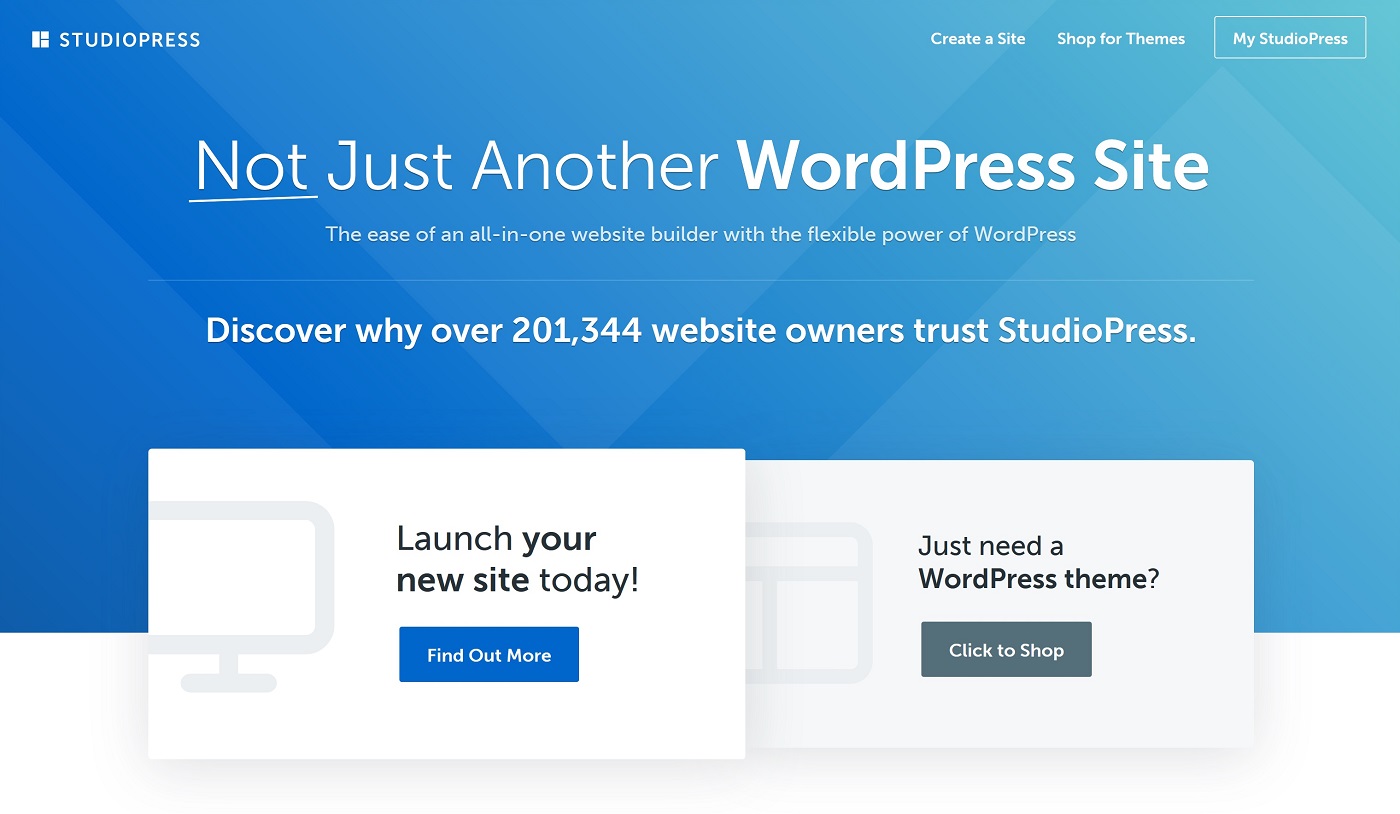 StudioPress (note: read our full review) is the design team behind the famed Genesis framework — the foundation for over 500,000 websites. The Genesis framework brings a clean design, custom layouts, and powerful security to the table.
StudioPress also offers some fresh innovation: hosted WordPress sites. That means you won't need to sign up for a personal hosting account; you simply let StudioPress take care of everything. The infrastructure is top-notch, too, making it one of the most scalable options around. Plus, you'll have the knowledgeable StudioPress support team on hand 'round the clock, just in case something goes wrong.
Hosted website plans start at $24/month and include 20 top quality themes.
3. WPMU DEV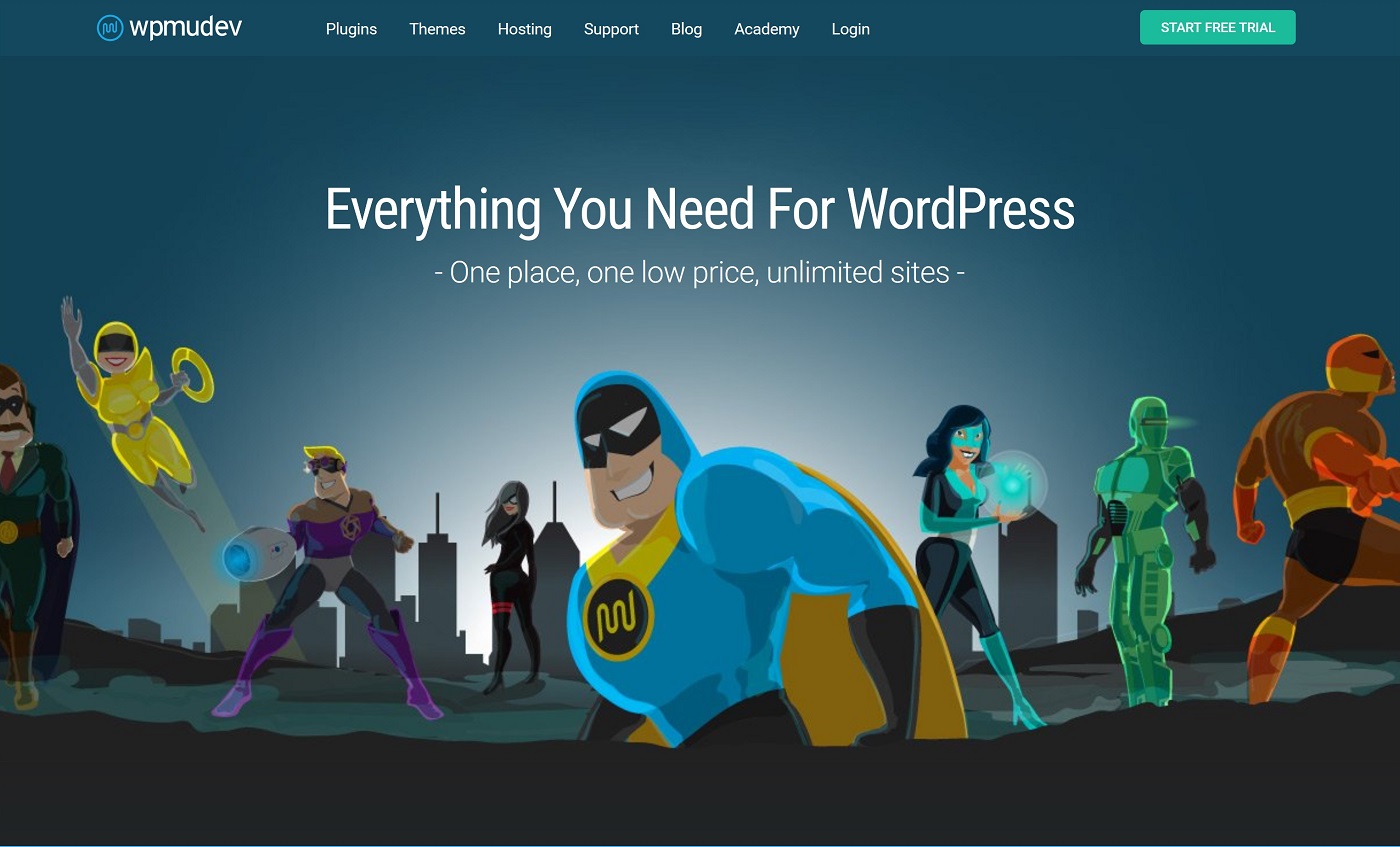 Few names in the WordPress-sphere come bigger than WPMU Dev. Its in-house team of developers has put together one of the most compelling WordPress clubs around, crammed with lots of cool features that help you get the absolute maximum from the world's favorite CMS.
This includes the excellent Upfront theme, which ships with real-time front-end editing, tons of powerful page builder modules, and eight starter templates to get you up and running. It also offers drag-and-drop in the truest sense — you can resize any element just by dragging it to your preferred size, like you would an image in Microsoft Word.
Prices start at $49/month, with members also enjoying over one hundred premium plugins. In fact, the list features dedicated plugins for speed optimization, SEO, eCommerce, and website security — basically, everything you could possibly need.
4. Graph Paper Press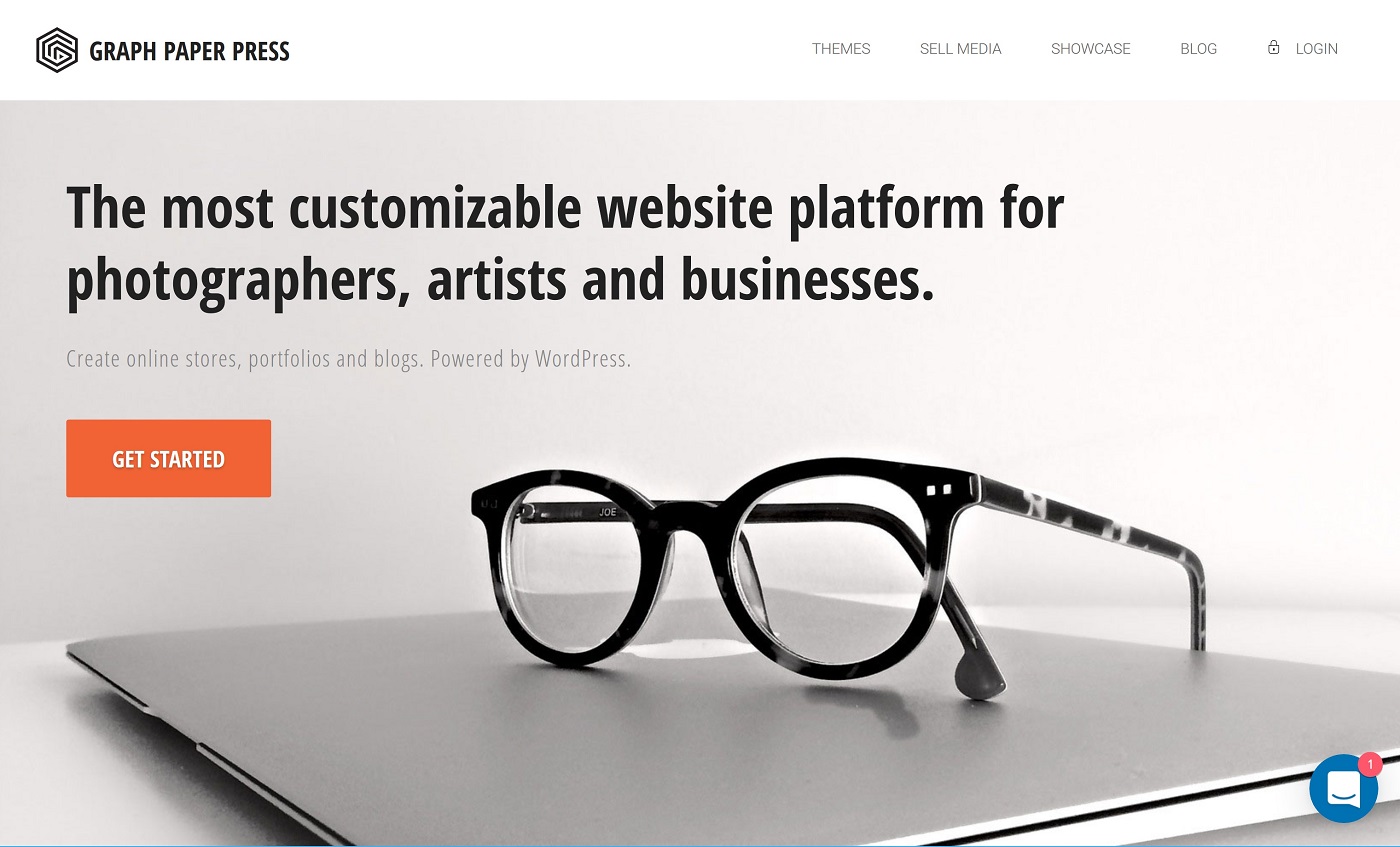 Graph Paper Press is a WordPress theme shop targeted at artists and photographers. Its themes feature stunning minimal designs, providing an uncluttered platform that allows your work to do the talking.
There are 38 premium themes available, with bulk-access prices starting at $99/year.
However, the real fun begins when you combine the Graph Paper Press themes with its Sell Media plugin. Again targeted at artists and photographers, the plugin lets you build beautiful galleries to showcase your art and, ultimately, sell it — in either digital formats or physical prints. Combining an annual Sell Media license with the 38 themes costs just $149/year.
Official Website – (See Deals)
5. MyThemeShop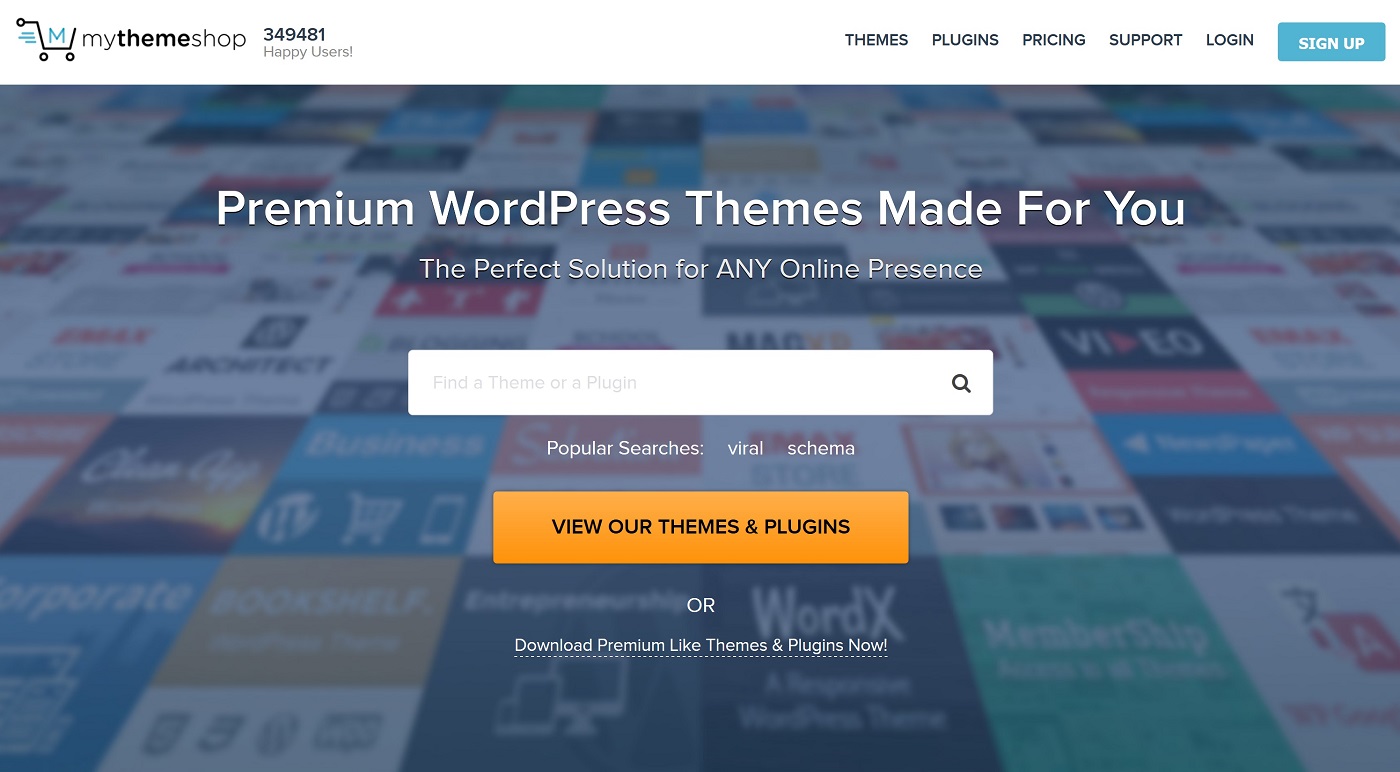 With just shy of 350,000 customers, MyThemeShop (note: read our full review) is one of the best-established theme developers in the WordPress world.
Its themes are built with performance in mind, ensuring lightning quick load times and the best possible front-end user experience. There are plenty of back-end features too, though, including one of the most comprehensive and versatile options panels around. From this panel, you can even import dummy content to replicate the theme's demo in just seconds — a populated site like this gives you the framework you need to build up the site with your own content.
MyThemeShop's collection of 91 premium themes can be accessed for just $87/year, or you can buy individual themes for between $29 and $59.
6. iThemes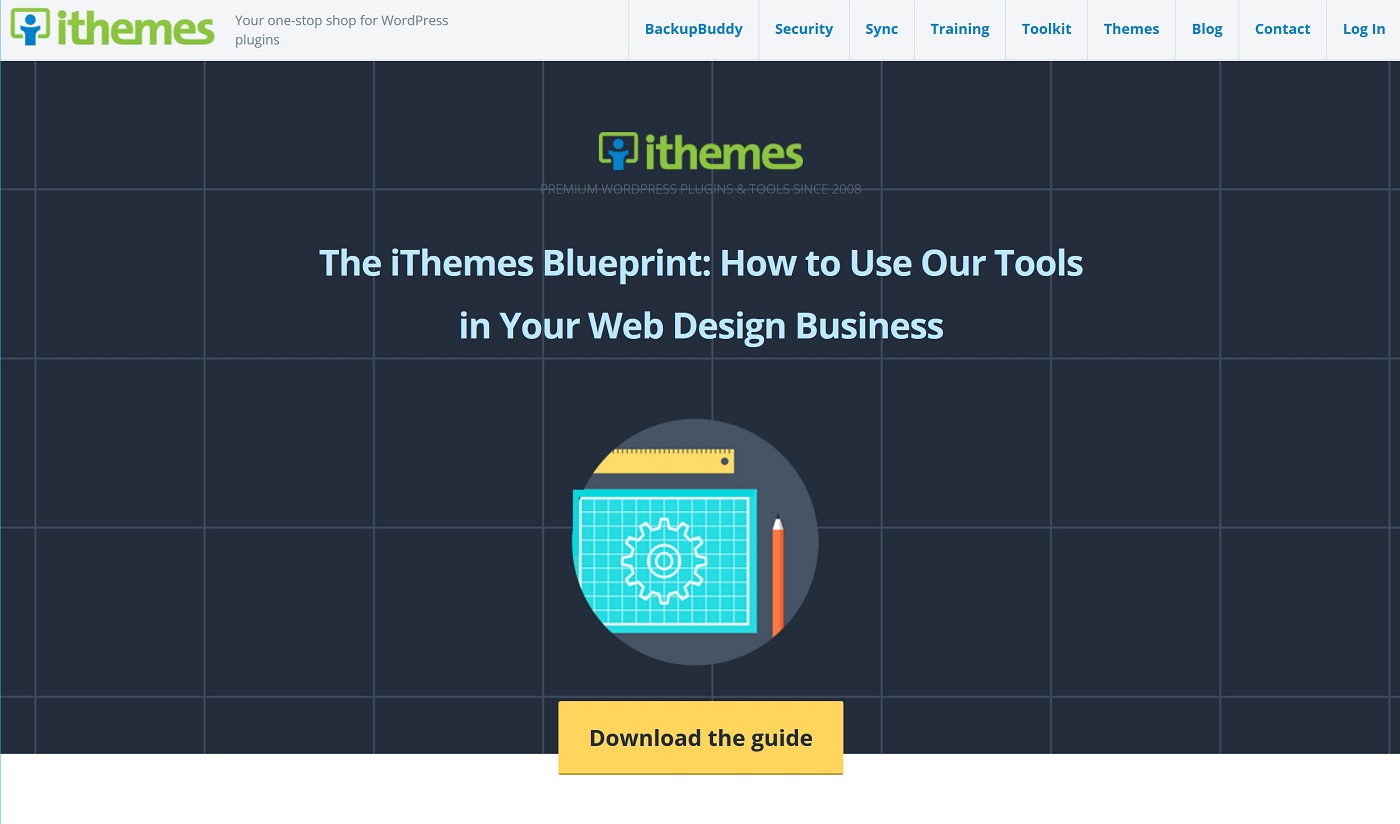 iThemes (note: read our full review) are one of the biggest names in the WordPress world, thanks mainly to its market leading security and backup plugins — iThemes Security and BackupBuddy. However, as the company name implies, themes are still a key part of the business.
For starters, iThemes has put together 100+ themes as part of its Builder range. Builder themes come with the ability to produce innovative custom layouts, giving you the chance to flex your creative muscles. There are also 30+ eCommerce themes, too, which are ideal for anyone powering their store using the iThemes Exchange plugin.
In addition to the Builder themes, iThemes stock a Classic and Allure range. In total, this tallies to an eye-watering 200+ themes. Enjoy the lot with an all access pass, costing just $197/year.
7. Themify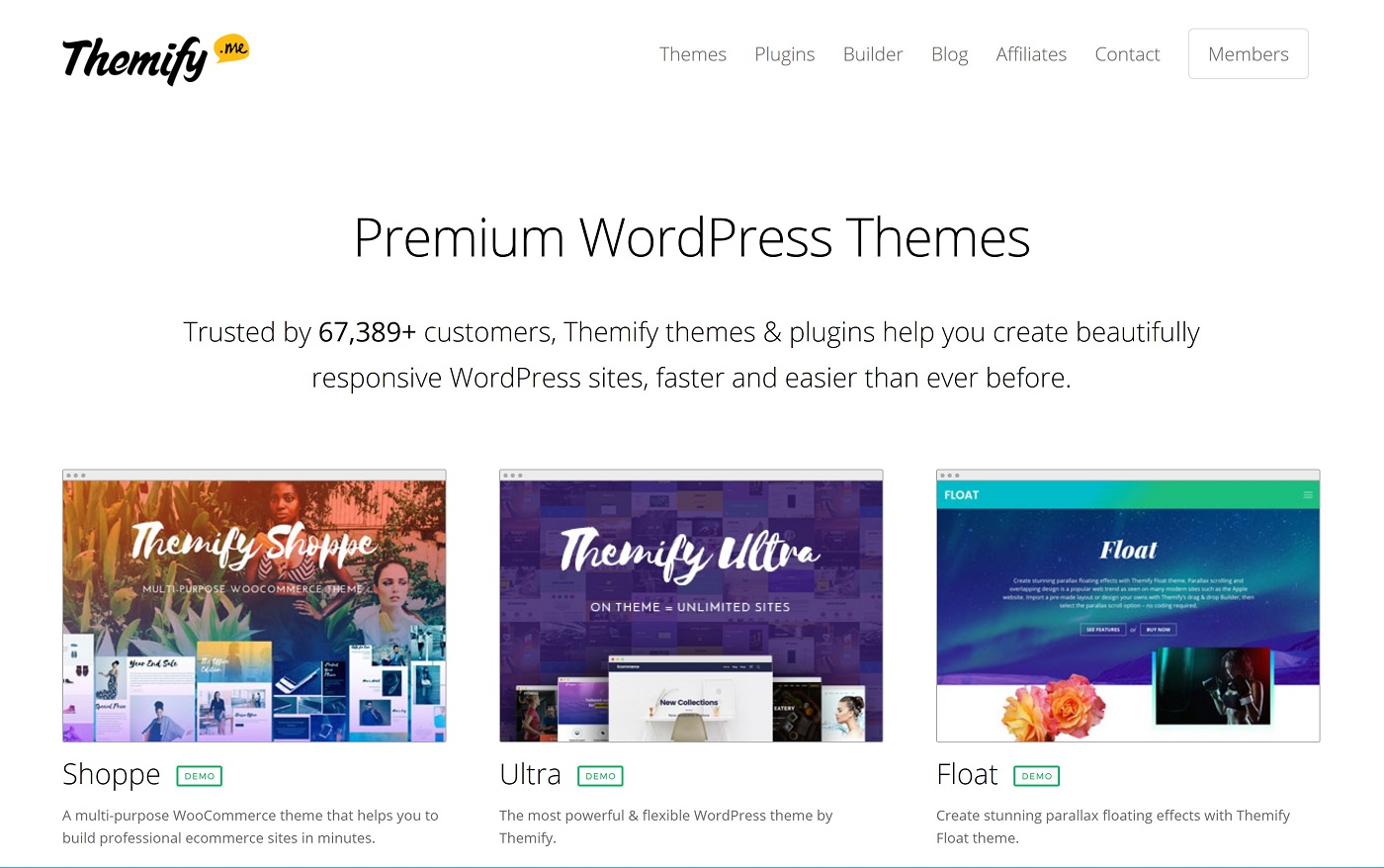 Themify (note: read our full review) is the drag-and-drop WordPress theme specialist.
Every one of its 40+ themes ships with its famed drag-and-drop page builder functionality. That means you can endlessly customize any Themify theme from top to bottom, giving you the platform to craft your dream site.
With themes targeted at magazine websites, eCommerce stores, and bloggers — to name just a few — a Themify membership offers something for everyone, too. Prices start at just $59/year.
Official Website – (See Deals)
8. TeslaThemes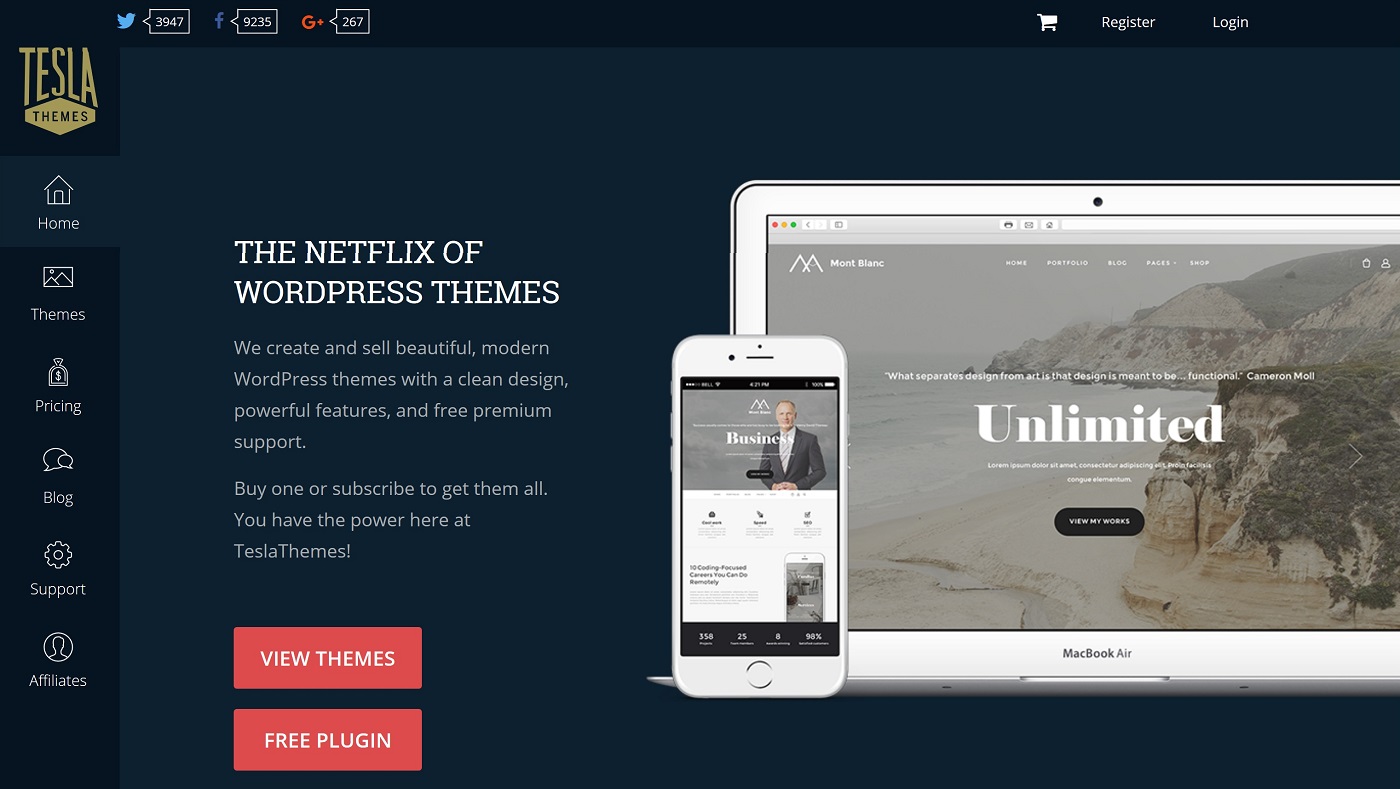 Of all the WordPress theme clubs, TeslaThemes is arguably the one that represents the best value. Theirs is a 66-strong theme collection, with a price tag of just $59/year.
Tesla prides itself on the quality of the designs, which remain beautifully clean while incorporating plenty of advanced functionalities. The themes are consistently high quality, too, so it's well worth spending a bit of time perusing the demos.
If you'd prefer to purchase a single theme, you can do so for $48. However, with an additional 65 themes for just $11 more, for me, the club membership is a no brainer!
Official Website – (See Deals)
9. CSSIgniter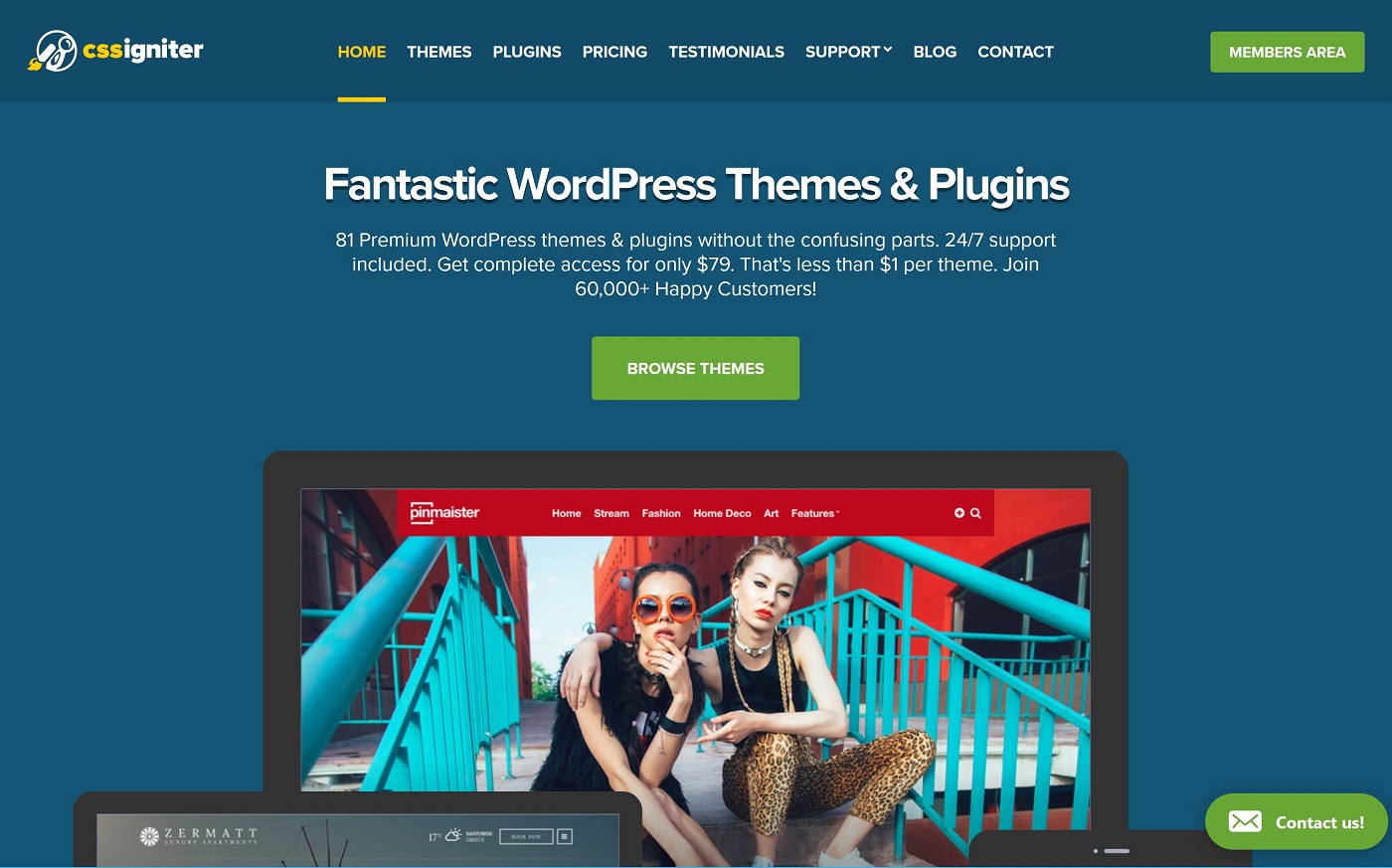 Looking to build a beautiful website with the minimal fuss? CSSIgniter could be one of your best bets then.
CSSIgniter's themes come with a super-streamlined setup process, plus you can install as much — or as little — dummy content as your site needs. The collection of 81 premium themes come in all shapes and sizes, too, so it isn't difficult to find a layout that meets your needs.
You can access all 81 themes for just $79/year — that's under $1 per theme!
Official Website – (See Deals)
10. WPZOOM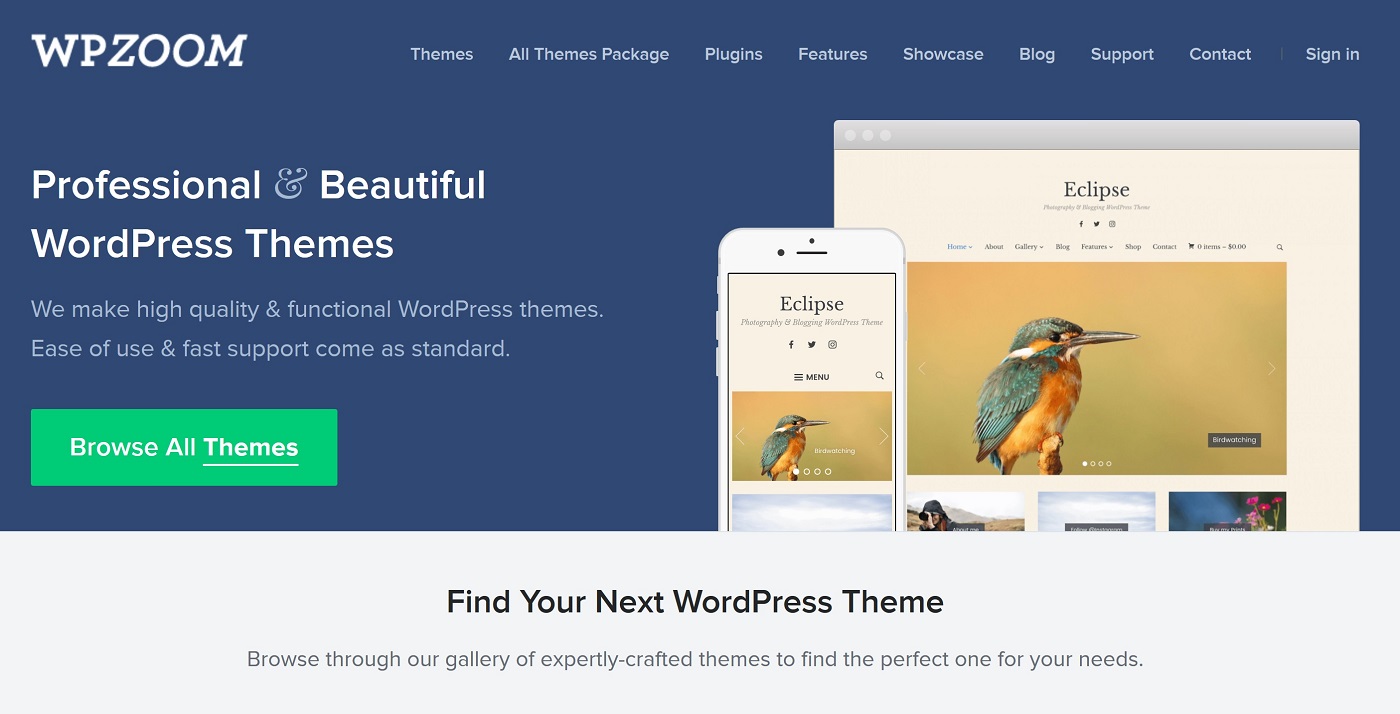 WPZOOM specialize in building professional quality WordPress themes, with 36 published to date. During its eight years in operation, its themes have been used by many instantly-recognizable brands: UNICEF, Bloomberg, Citroën, and Groupon. Not bad names to have on the customer list, eh?
Its themes are built for users of all experience levels, too. As such, they come with an intuitive and streamlined setup process — complete with one-click demo content installation — and a top-notch support team, as vouched for by 97% of users. Should you run into any trouble, rest assured that WPZOOM will do everything in its power to put you back on the right path.
The WPZOOM themes retail for $69 each, or you can purchase the lot from $99.
11. Themezilla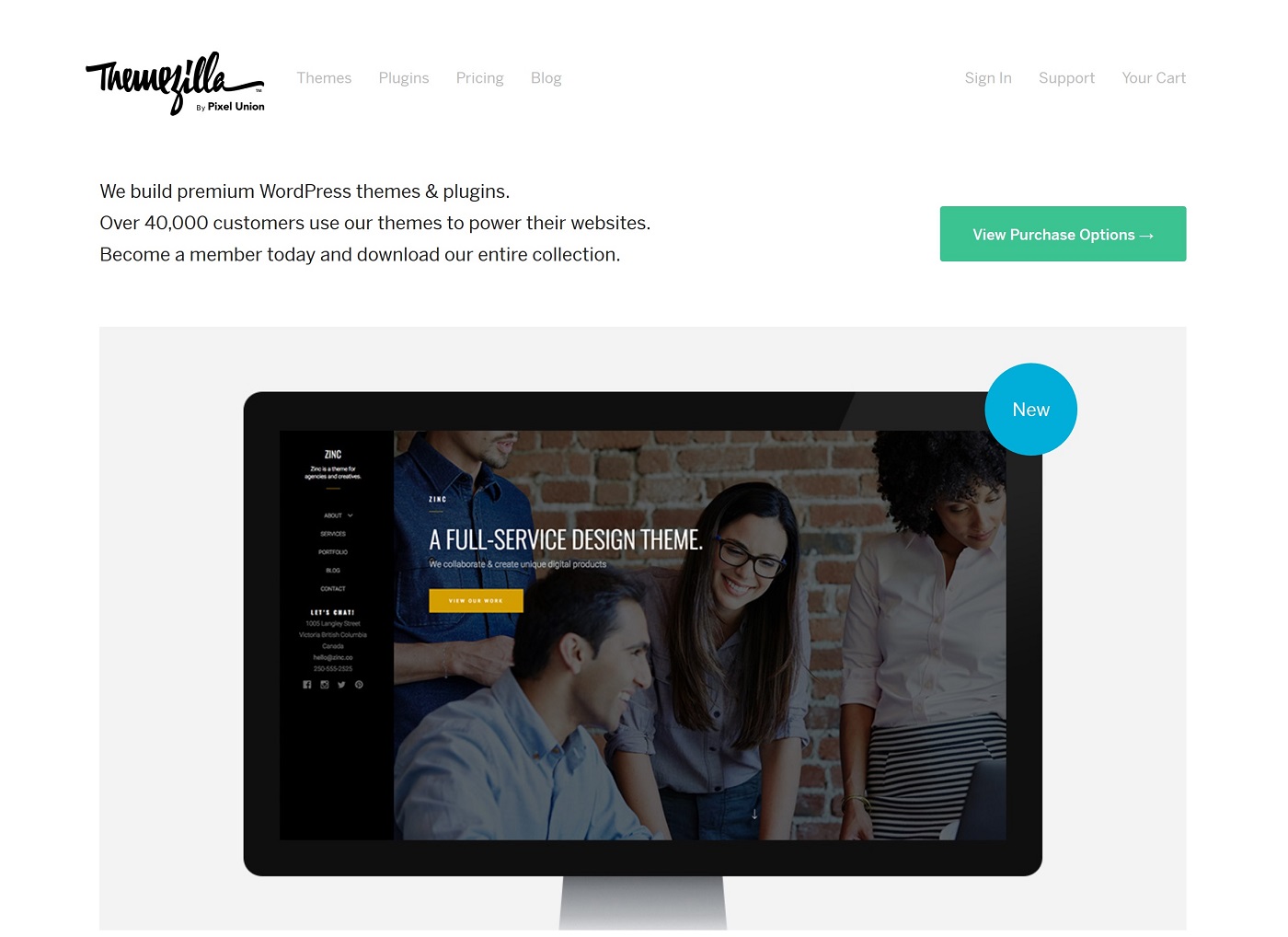 Themezilla has produced some of the nicest looking themes it's possible to find in the WordPress world. This is achieved courtesy of the philosophy at the heart of the design team: prioritize clean design and lots of white space. The result? Professional-looking sites that are a guaranteed step up from the competition.
Themezilla has also pioneered a new eCommerce service called Zillacommerce. Essentially, it merges the power of WordPress and Spotify — use WordPress to build your site, while using Shopify functionality to power your storefront. It's a sound choice for anyone looking for a WooCommerce alternative.
Single Themezilla licenses will set you back $59. However, the more prudent among you will prefer the $199 Themezilla membership, which includes its full complement of 27 themes.
12. Themes Awesome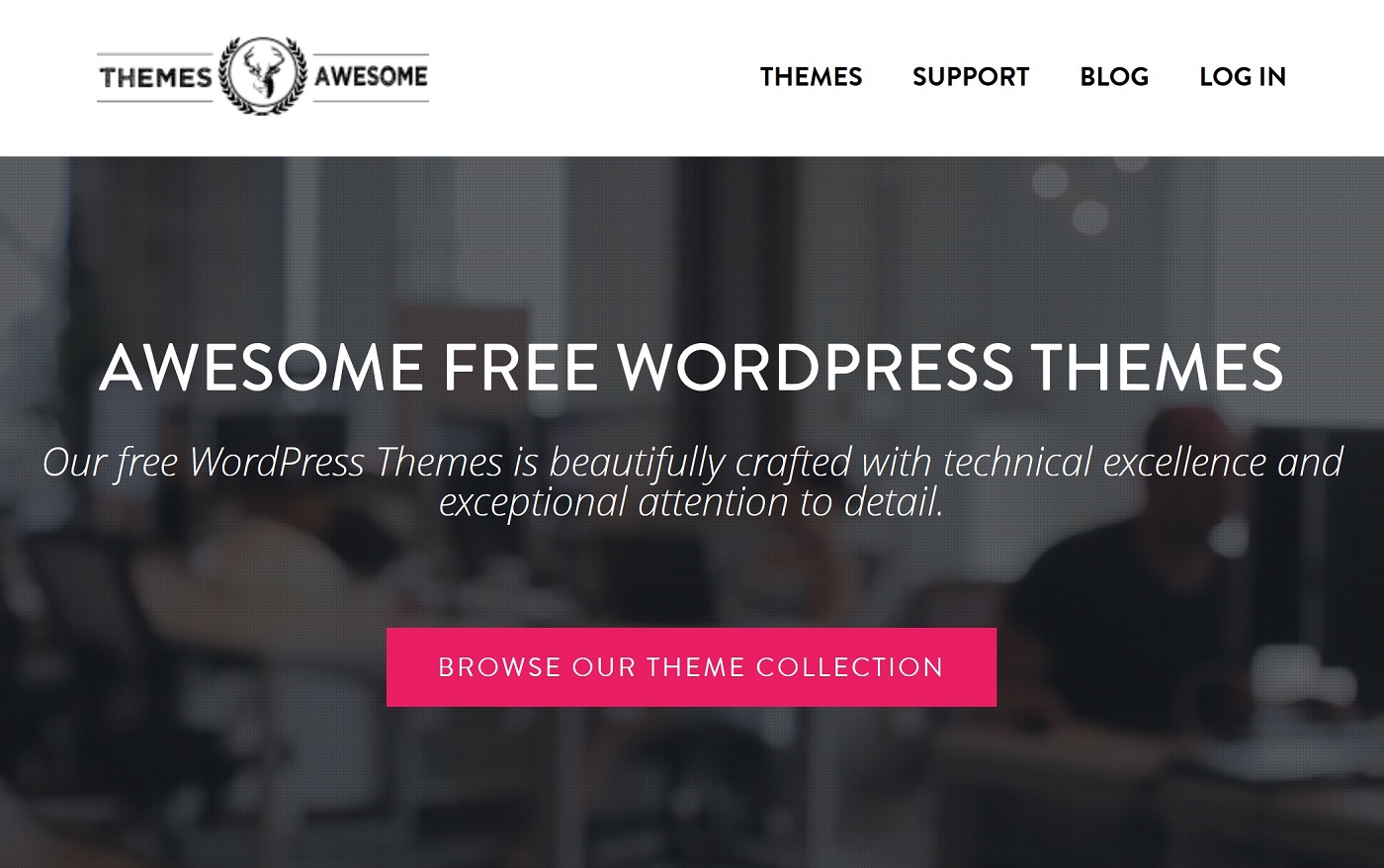 Themes Awesome have produced a beautiful collection of beginner friendly WordPress themes. Each theme can be installed and configured in just minutes, with customizations made with a few simple mouse clicks.
Beyond the simplicity, the themes look the part, too. Each utilizes clean and modern designs, with dedicated themes for schools, construction, apps, and musician websites.
Single licenses can be bought for $39 each. However, you can try before you buy with Lite versions of several Theme Awesome products available on the official WordPress repository.
13. ThemeFuse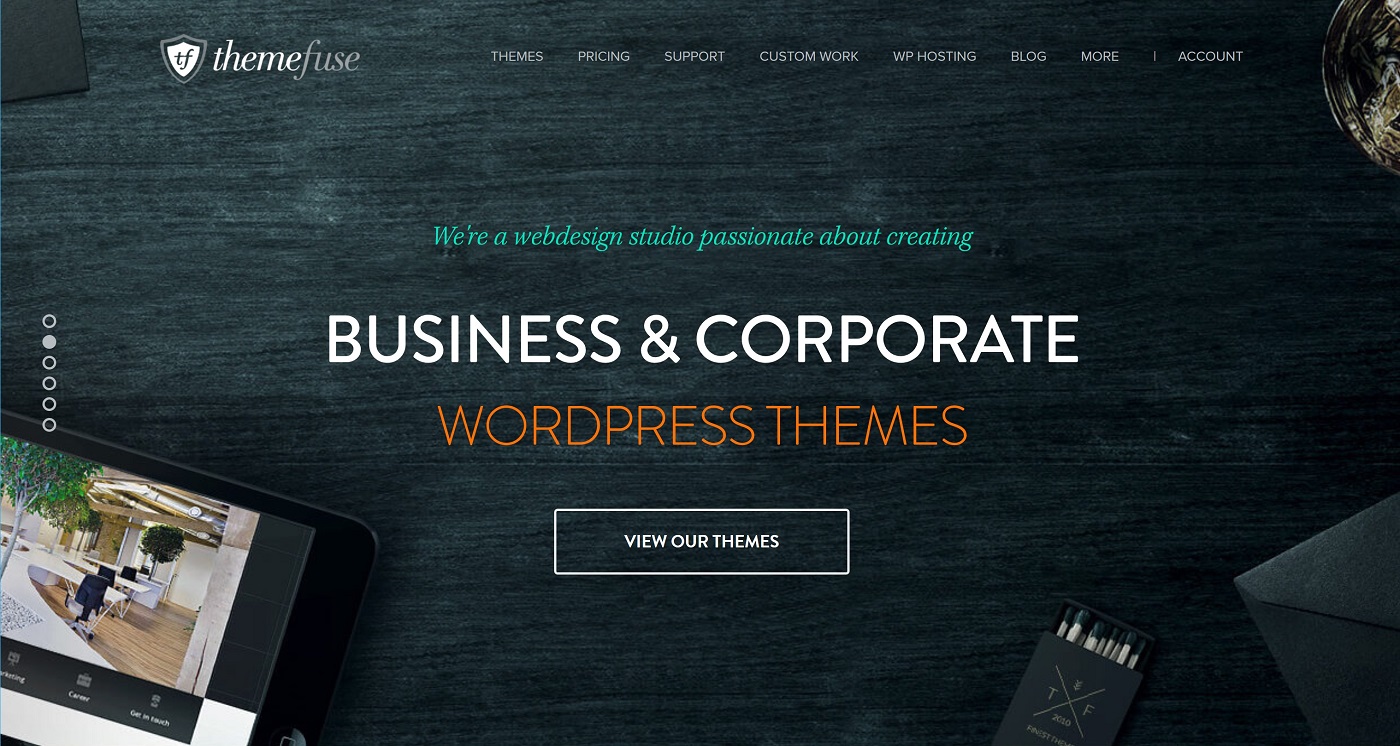 ThemeFuse is one of the most versatile WordPress theme clubs around, with themes fit for just about any purpose — restaurants, corporate, and magazine themes to name just a few.
The most popular product is The Core, which follows the recent trend towards powerful multi-purpose themes. It includes an intuitive visual page builder plus endless customizations at the click of a button. The theme also ships with 20 demo templates that you can import, with demos built for weddings, bakeries, charities, universities, and architecture firms.
Club membership starts at $195/year for over 45 themes. The developers also ask club members to play an active role in deciding what style of theme they produce next.
14. Press75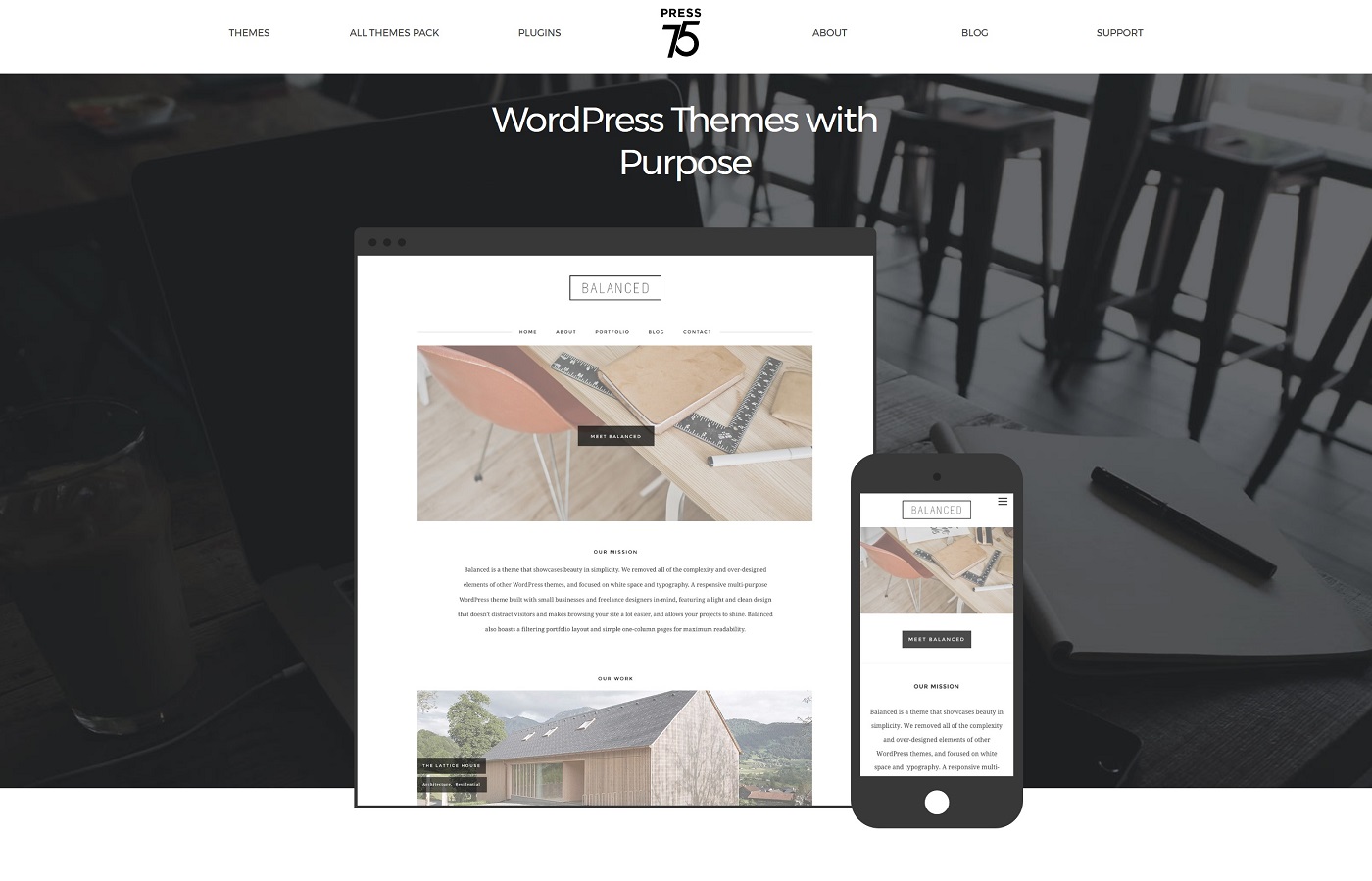 Press75 have created some of the most visually stunning themes in the WordPress space. Its professional designs utilize clean lines and lots of white space, creating a highly memorable appearance. And, by eliminating needless design elements acting as a distraction, your content takes center stage.
Although Press75 has designed its themes with usability in mind, we all need a helping hand from time to time. Each theme ships with extensive documentation and easy-to-follow video walkthroughs. For those extra tough spots, you can also reach out to the knowledgeable support personnel who will do their best to get you back on track.
Press75 have released 21 themes to date and have priced an "All Themes Pack" at just $99 — a real bargain in my eyes.
15. Themetry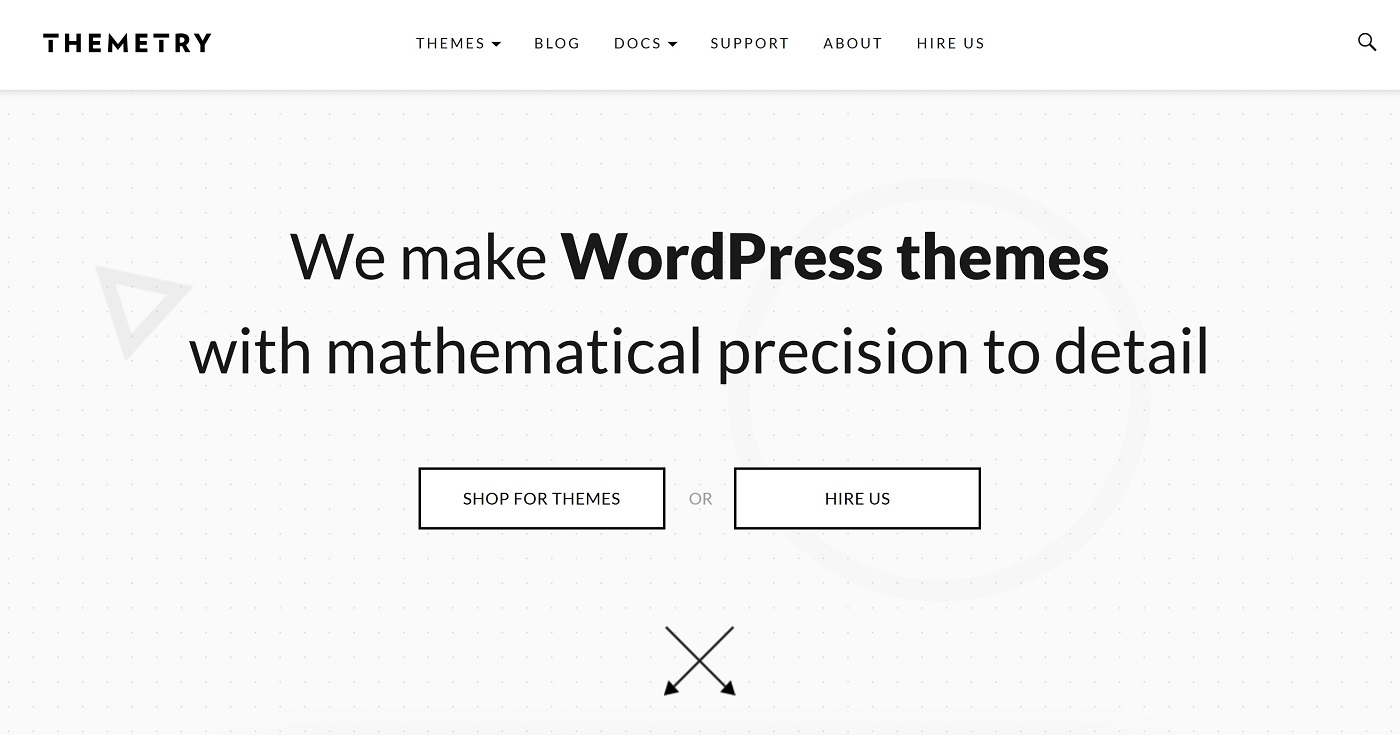 Themetry bills itself as an anti-ThemeForest WordPress shop. Rather than inundating its themes with unnecessary options, every Themetry product is built with simplicity in mind.
The Themetry experience was designed to be as painless as possible, with super-easy setup, loads of tutorials, and a knowledgeable support team on hand. The themes are gorgeous, too, built by master craftsmen in complete compliance with the latest WordPress standards.
Themetry have released eight themes to date, and you can access the lot for just $99/year.
16. Pixelgrade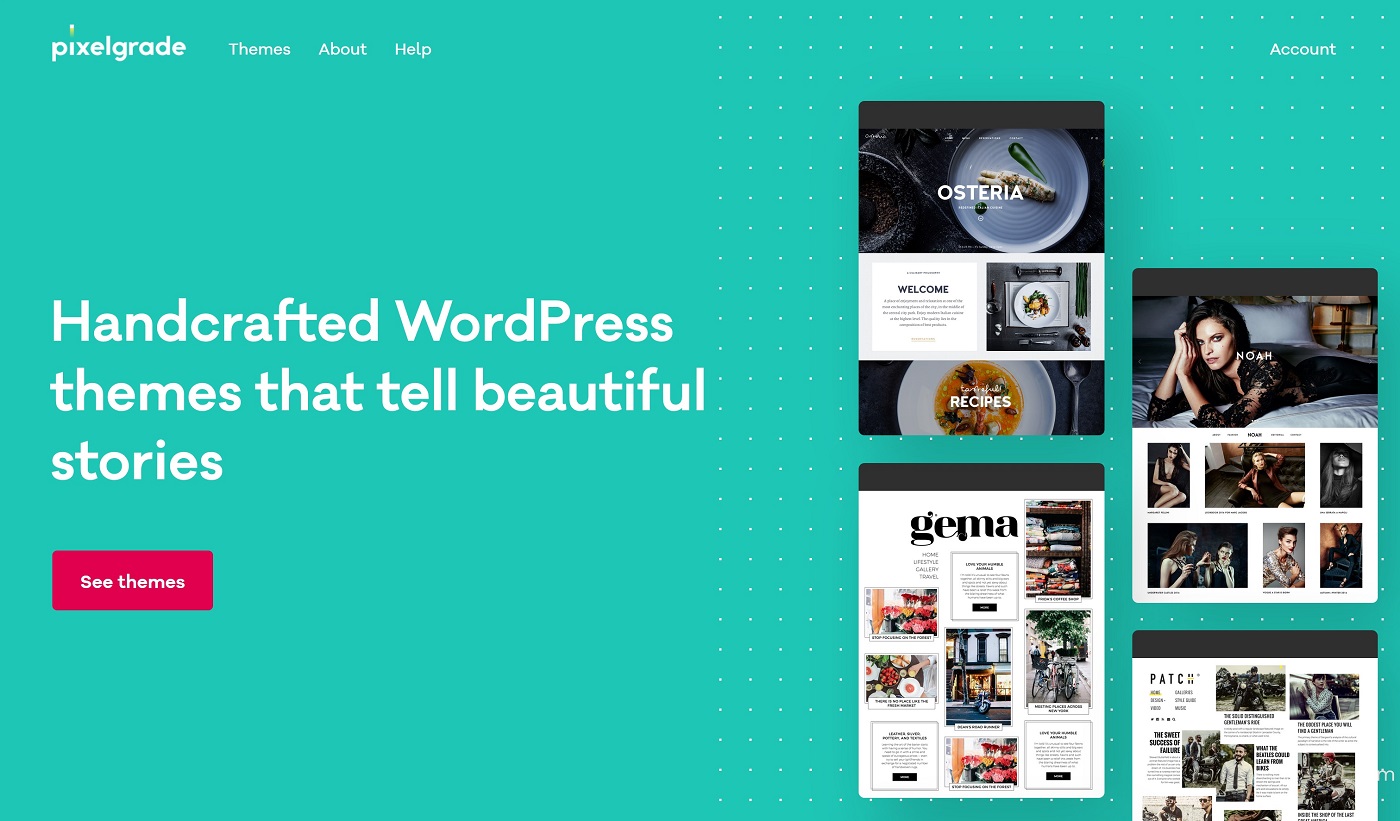 Pixelgrade is something of a hidden gem, boasting some jaw-dropping designs that are guaranteed to hook visitors.
Pixelgrade takes a creative approach to building themes fit for specific purposes — for example, restaurant, magazine, or photography themes. This creative approach is evident in all of its work, with some of the more unique layouts you'll find.
Such bold and stunning designs don't come cheap, however, with each Pixelgrade theme costing $225. If you're serious about taking your business to the next level, though, the investment is well worth it.
17. Obox Themes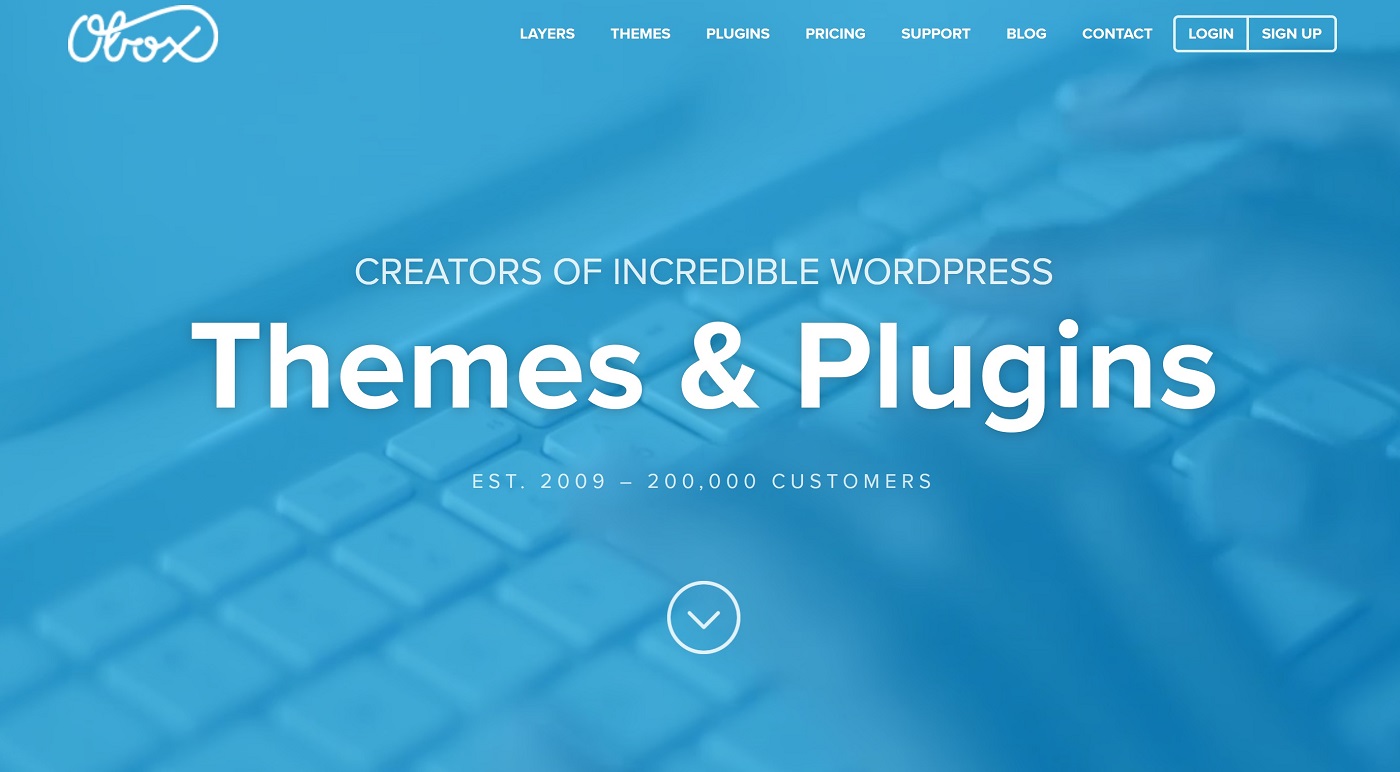 Obox Themes has been around since 2009 and during that time it has acquired the business of over 200,000 customers.
Obox Themes is best known as the team behind the excellent Layers Site Builder theme. Layers allows you to create stunning websites, built from the ground up using widgets — this means you can preview your site in real-time straight from the WordPress Customizer. It's arguably the most straightforward WordPress site builder of all.
You can buy an individual theme from $49, or pick up the full collection of 27 for $299.
18. Theme Furnace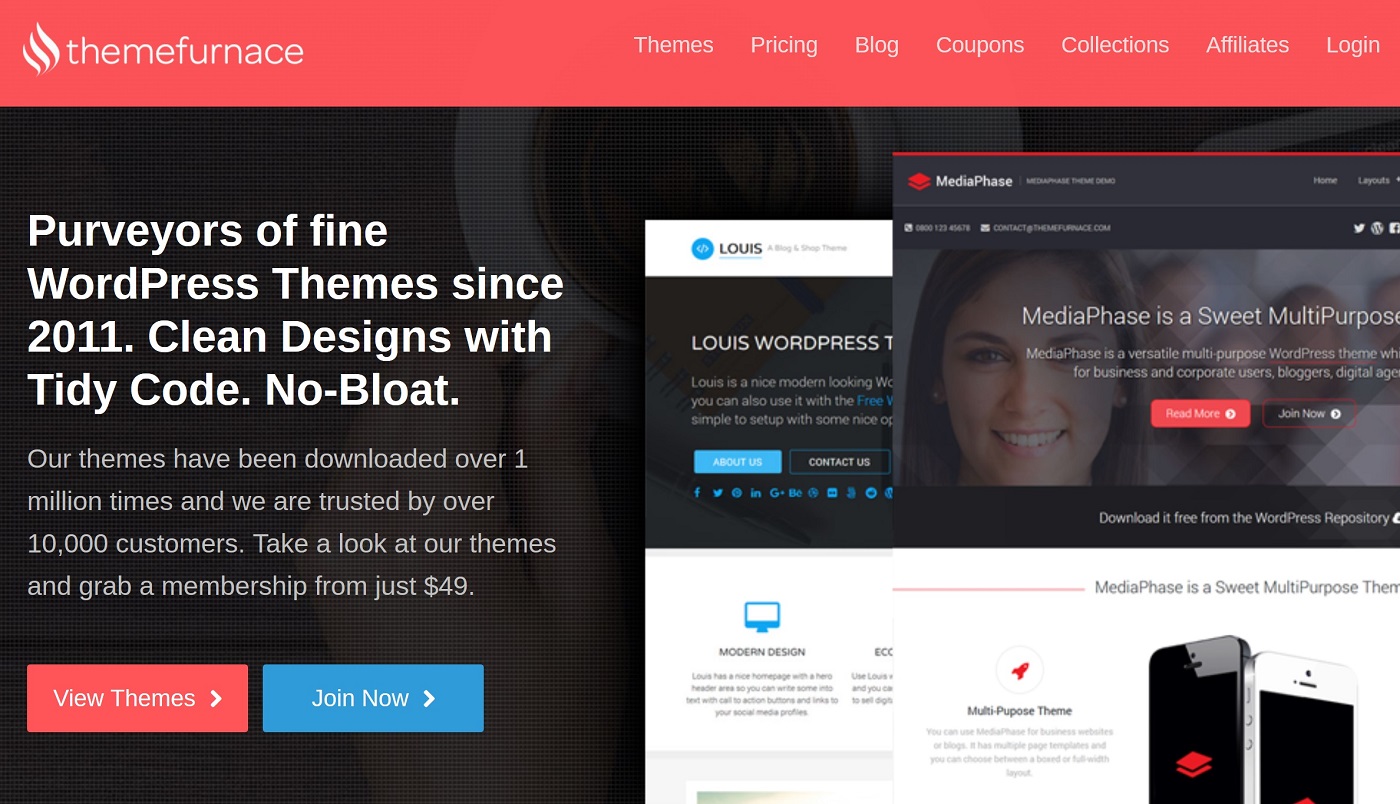 Launched by WPLift's Oliver Dale in 2012, Theme Furnace has built a nice club consisting of high-quality, professional WordPress themes.
Theme Furnace has shunned unnecessary bells and whistles in favor of streamlined, bloat-free themes — and that's great news for site speed and SEO performance. The themes also avoid complex options panels, instead utilizing the WordPress Customizer for making live edits. And if that wasn't enough, each theme ships with best-in-class documentation, written by the actual developers themselves.
With 22 themes, membership is super-affordable at just $49/year.
19. FrogsThemes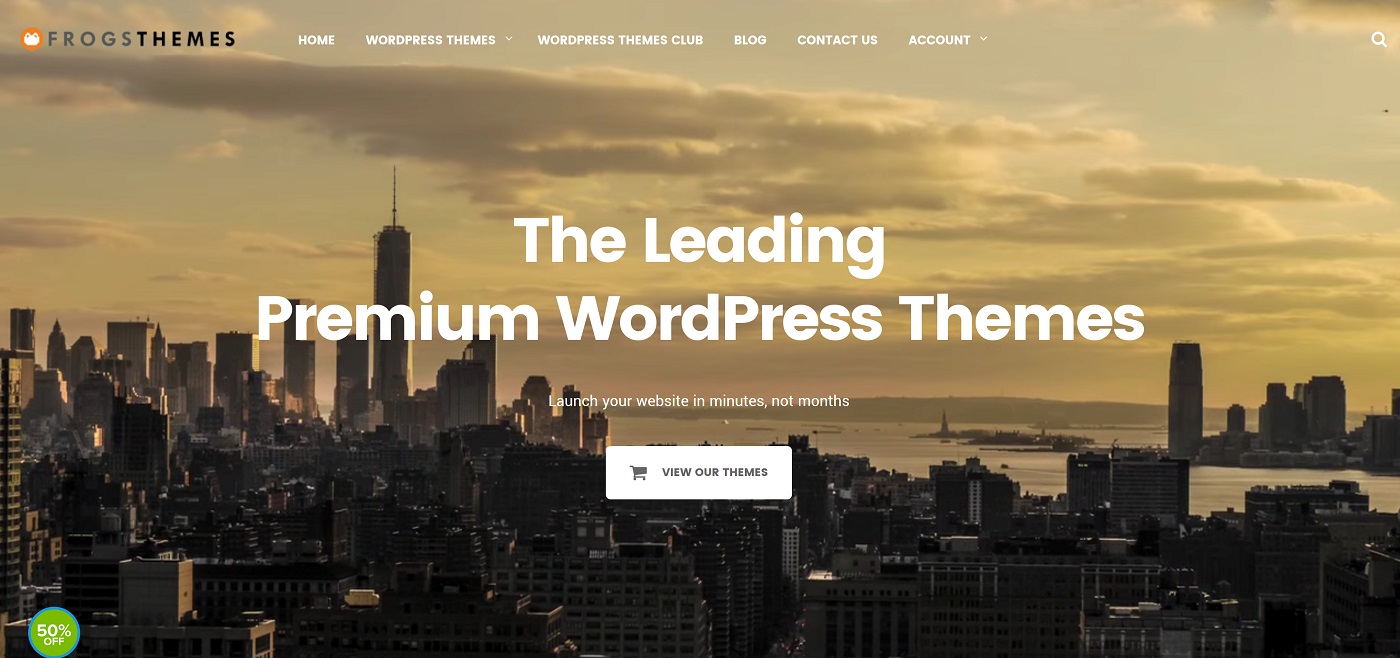 Next up, FrogsThemes — best known as the developers behind the best-selling Avada theme.
The themes are best described as professional, business-style in their design, with each one built on top of the FT Options Framework. There's lots of powerful features and functionalities, too, including a page builder, dynamic widget spaces, and an extensive fonts library.
You can now purchase access to 25+ Frogs Themes as part of the club membership. Prices start at $47/year, with lifetime membership and premium support costing a fixed $147. Note: Avada is not available with club membership.
20. EngineThemes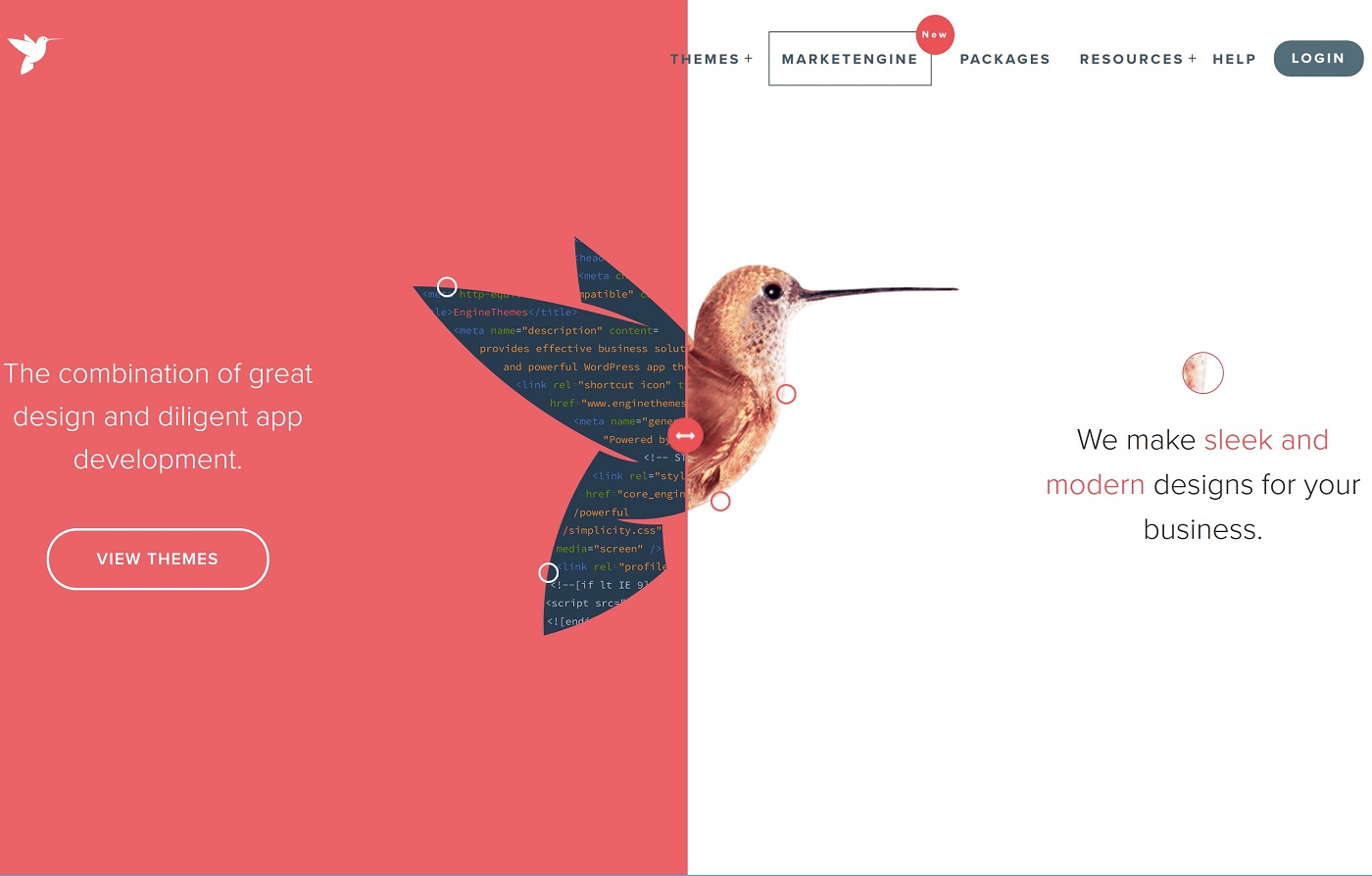 Now for one of the most innovative theme companies you'll find: EngineThemes (note: read our full review).
Each theme is built for a specific purpose — think directory, hotel, job board, and real estate websites. There are also more general themes, too, for blogging, freelancer, and one-page sites. Each theme ships with all the pre-requisite functionalities for the job, plus several more general features like a page builder and front-end editing.
Purchasing all 13 of its themes will set you back $299/year. However, depending on which themes you require, a slimline package containing four of the most popular themes is available for $199/year.
21. Themes Kingdom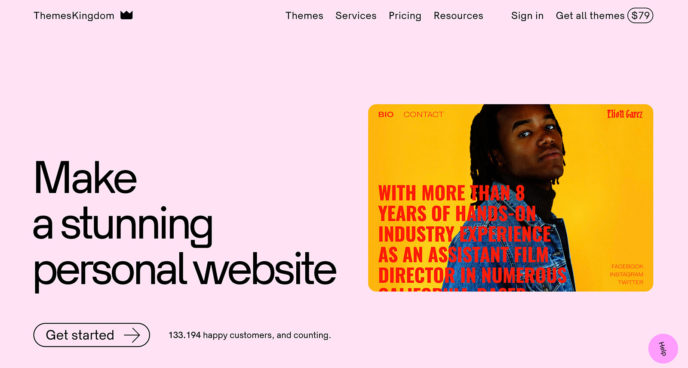 Having launched way back in 2010, Themes Kingdom's longevity is unsurprising. Simply put: its themes are among the most stylish you'll find, as evidenced by its 100,000-strong user base.
Themes Kingdom currently offers quite a few themes: 44 in total — and four different pricing plans.
Additionally, they also offer custom website design and development services.
Official Website – (See Deals)
22. Anariel Design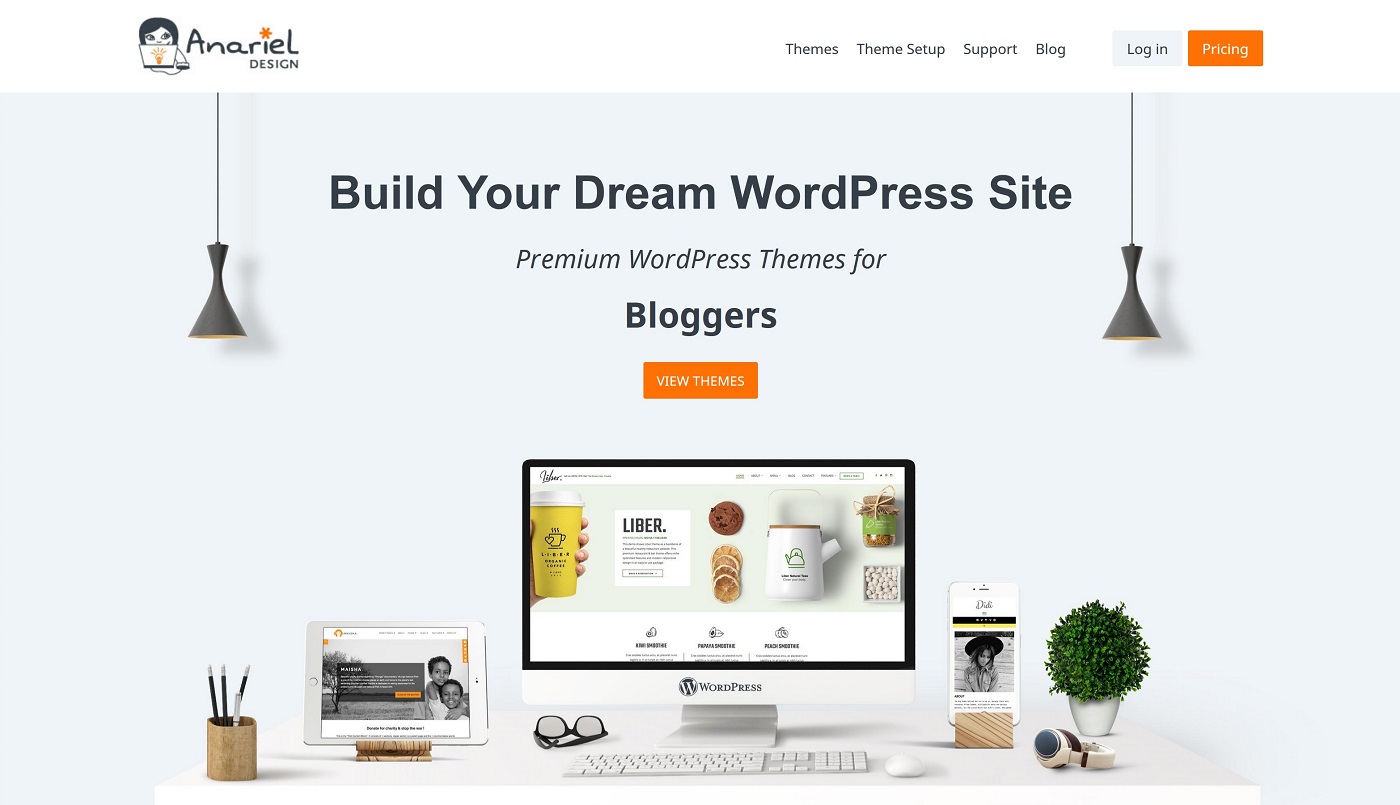 Anariel Design is a niche theme developer from Germany. Its ethos is simple: "we build unique themes so you can build unique websites." And so far, it's really working.
There's a personal quality to all its themes, with developers doing their best to ensure no unnecessary bloat. This guarantees fast, SEO optimized websites that your visitors will love. And, should you get stuck, the team is also committed to providing genuinely helpful support.
With 22 themes to date, an Anariel Design membership starts at an affordable $59 for six months. Upgrade to a 12-month membership for $89 — or lifetime membership for $199 — and you'll also receive one free theme setup.
23. CR3ATIV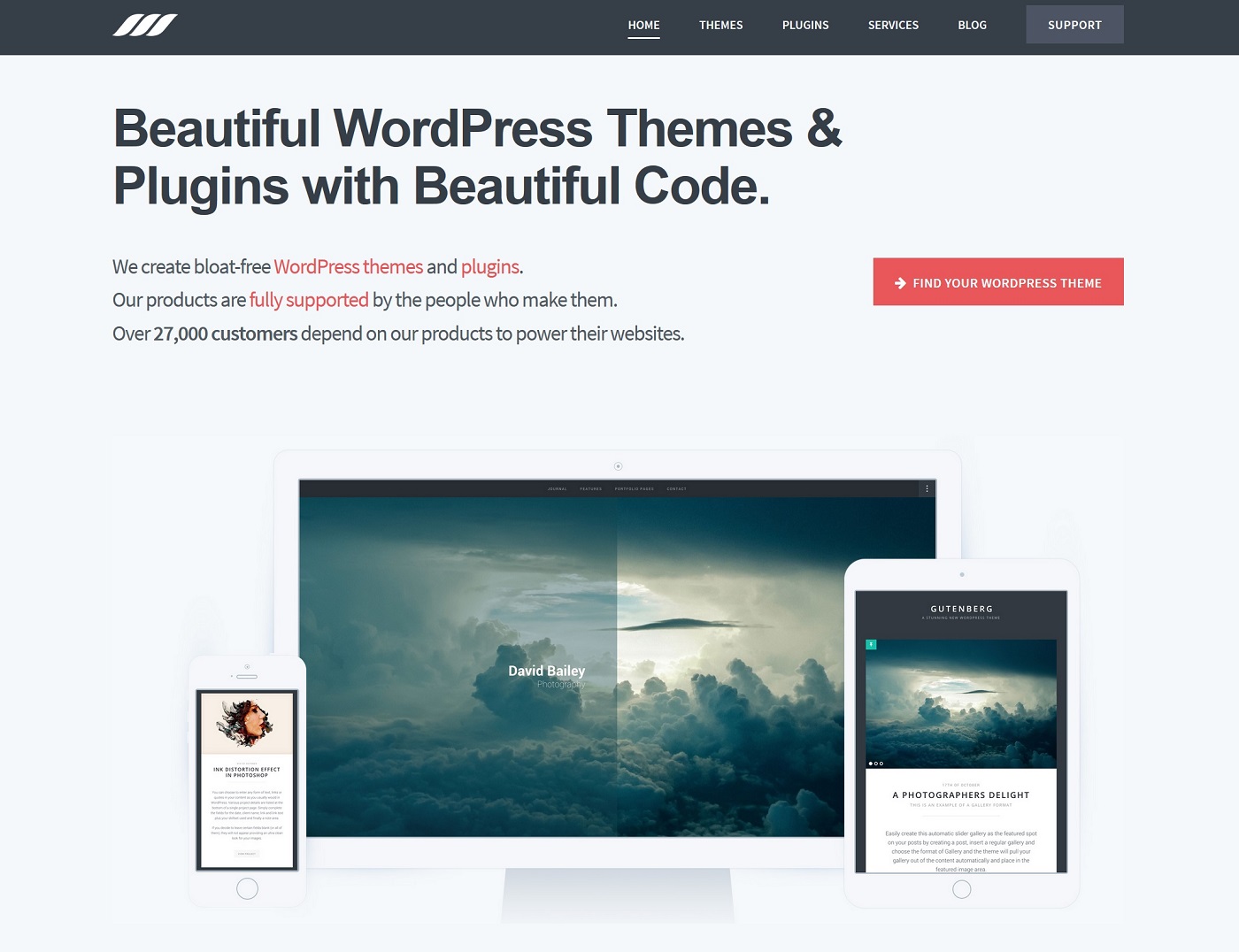 CR3ATIV have produced some of the most stunning WordPress themes it's possible to find. In addition to the beautiful designs, the developers pride themselves on the quality of their code, being particularly keen to stress that its "bloat free." This is great news for you: your site will load faster, rank higher, and your visitors will benefit from a more enjoyable all-round experience.
The developers' philosophy is simple: themes are for design, plugins are for functionality. This means that CR3ATIV themes will only contain the bare-bones functionality that is absolutely required for the theme to function properly. This brings us back to the "bloat free" nature of the themes — they carry minimal baggage and so load times are lightning quick. If you want the advanced functionalities to complement the CR3ATIV themes, check out its range of plugins.
There are 11 themes in the CR3ATIV collection, with themes purchased individually at around the $49 mark.
24. Bluchic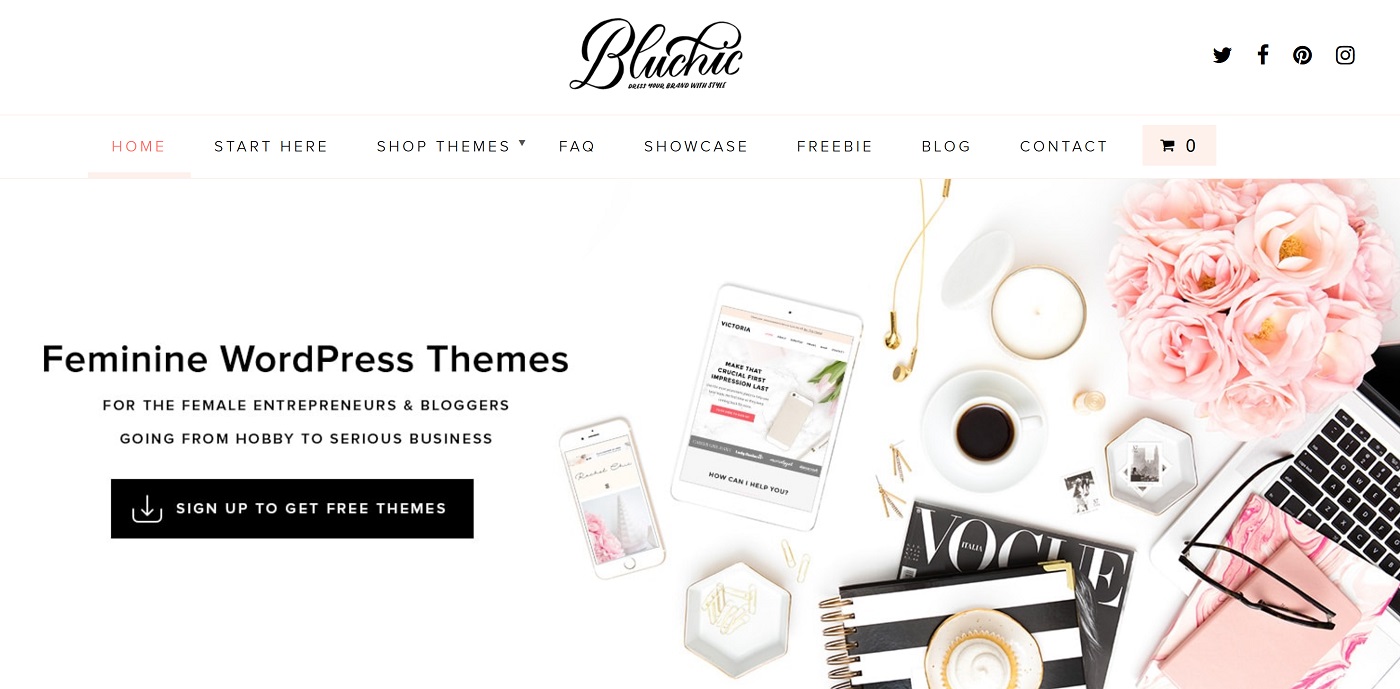 Bluchic is the first feminine-focused WordPress theme shop in today's list. It specializes in producing themes targeted at female entrepreneurs and bloggers, who want a professional-looking website that maintains feminine qualities.
And because we could all use a helping hand with attracting more visitors to our site, Bluchic also offer marketing kits — these are essentially social media templates featuring your chosen theme's branding.
Themes cost $79 each, or you can access Bluchic's 21-theme collection — worth over $1400 — for just $297/year.
25. BizzThemes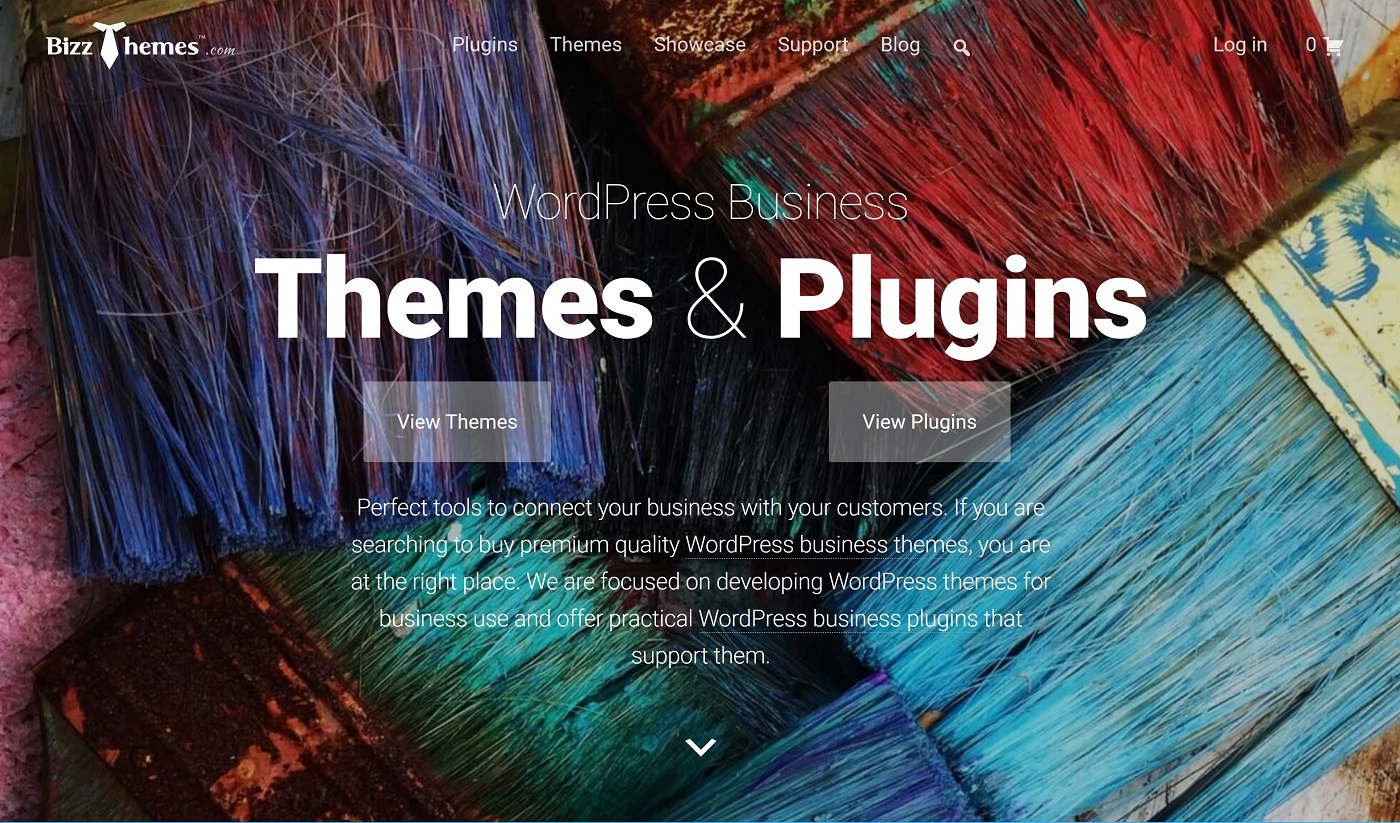 BizzThemes specialize in producing themes for rental- and appointment-based businesses. As such, there's tight integration with WooCommerce (for collecting payments) and also Google Calendar Sync 2.0.
Because its themes require relatively specialist functionality, BizzThemes have developed its own "in-house" plugins for the job. This functionality includes adding appointment scheduling to the WooCommerce core and introducing conditional logic to menus and widget areas.
Club membership will set you back $199, which includes access to 13 themes and the three plugins, plus use on unlimited domains.
26. ThemeZee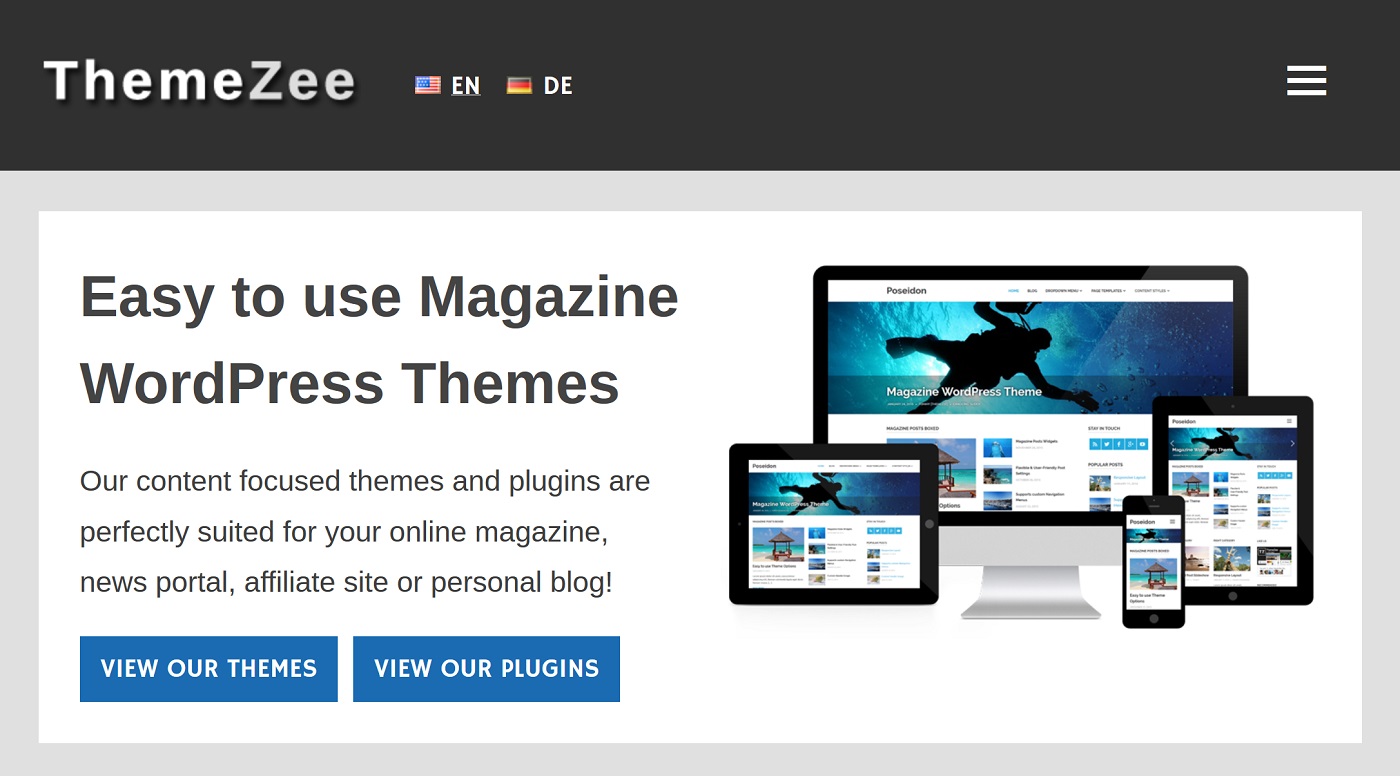 ThemeZee is another WordPress theme developer originating from Germany. It specializes in creating magazine themes — in fact, it only produces magazine themes.
Magazine themes are known for relatively complex layouts, with lots of content on screen at any given point. As such, you'll be pleased to learn that ThemeZee themes utilize the WordPress Customizer to help you organize your content and configure your layout.
ThemeZee offers 21 premium themes and six magazine-focused plugins to club members, at a price of €59/year. Impressively, it also offers a free version of all 21 themes on the official repository — of course, these free versions package fewer features and customizations.
27. Slocum Themes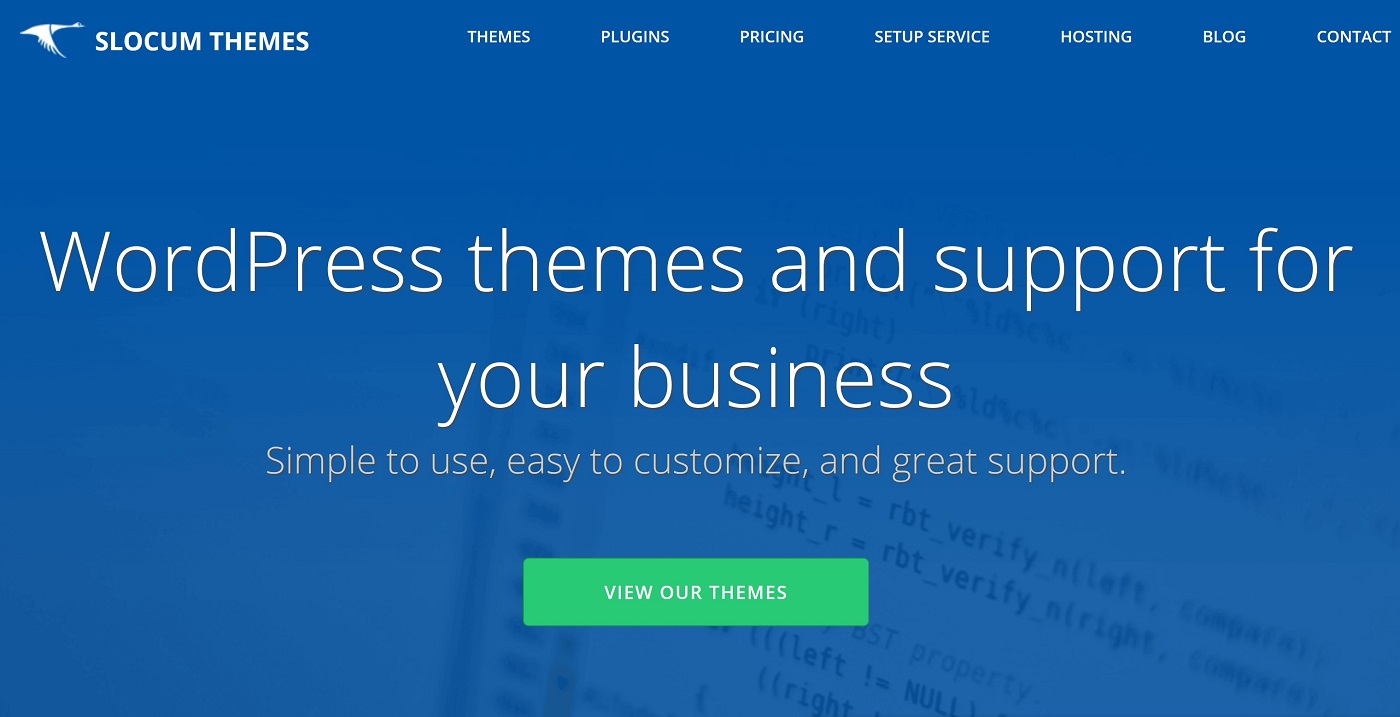 Slocum Themes has built itself a reputation for combining easy-to-use themes with a super-helpful support team to help you out of any sticky spots.
The themes are also built to integrate with many of the WordPress world's leading plugins — including WooCommerce, Gravity Forms, and Easy Digital Downloads. Throw in loads of customization options, and you have a collection of beautiful themes that you can mold to your requirements.
Themes are priced at $59 each or $99 for all nine, plus you can pay an additional $99 to have the Slocum Themes team set up your site.
28. Gabfire Themes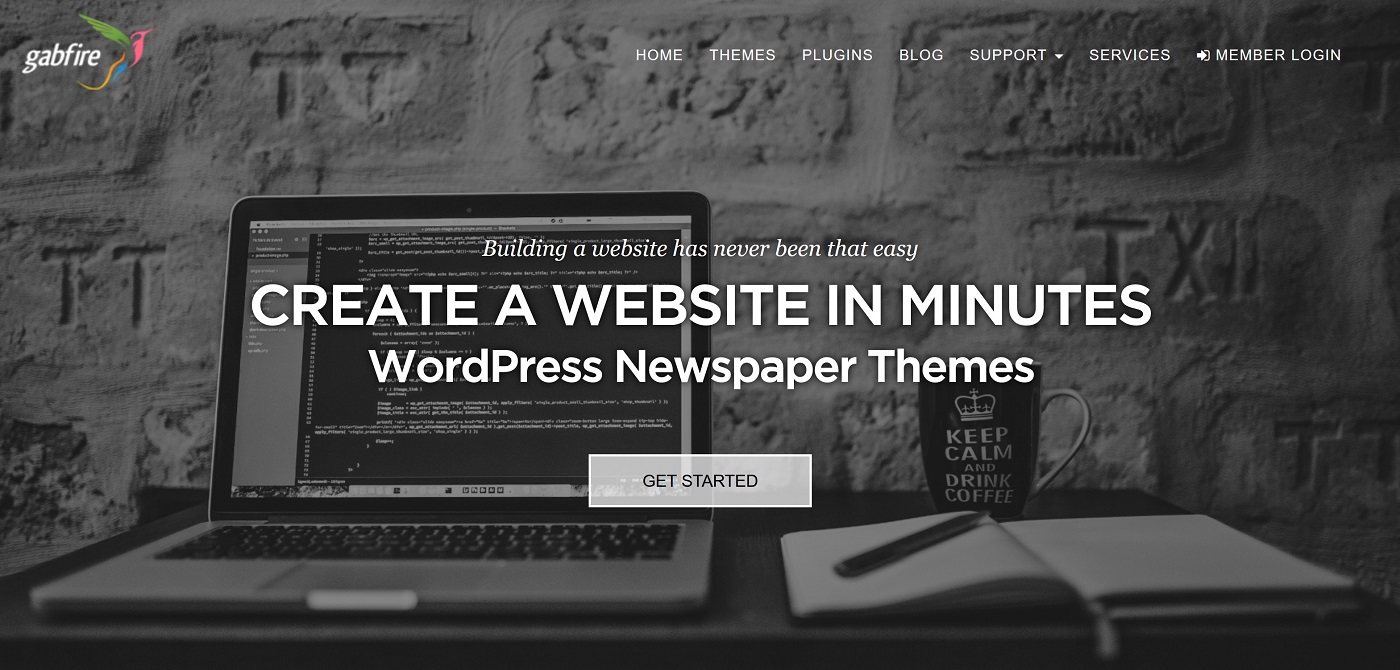 Gabfire Themes consists of a small team of highly qualified developers. These developers have gone to great lengths to create the best possible user experience for you, with websites that are painless to setup and easy to get to grips with.
This is even more impressive when you consider its themes' relatively complex, magazine-style designs. And, if you can't figure something out for yourself, shoot an email across to the support staff who will do their best to assist you — alternatively, turn to the extensive documentation and video tutorials included with each theme.
Themes are available from the Gabfire website for $59 each.
29. ThemeIsle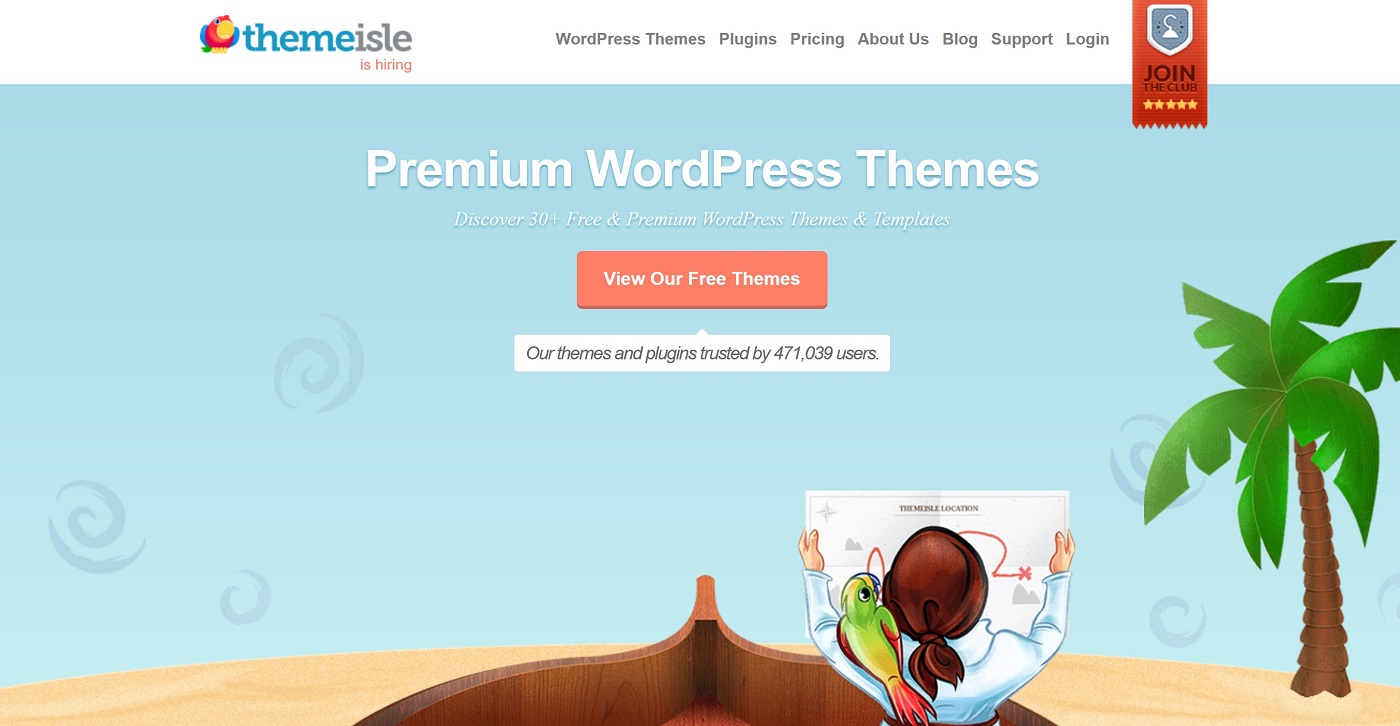 ThemeIsle is another much-loved WordPress theme shop, renowned for its gorgeous designs and top-quality coding.
Despite being a major player in the premium theme market, ThemeIsle also caters to more budget-conscious users. To date, it has released 37 free WordPress themes on the official directory — it's one of the ways ThemeIsle gives back to the WordPress community.
You can download the 20+ premium ThemeIsle themes by forking over just $99/year. This price tag also includes support, free WordPress tutorial videos, and one year's worth of free shared hosting.
Official Website – (See Deals)
30. InkThemes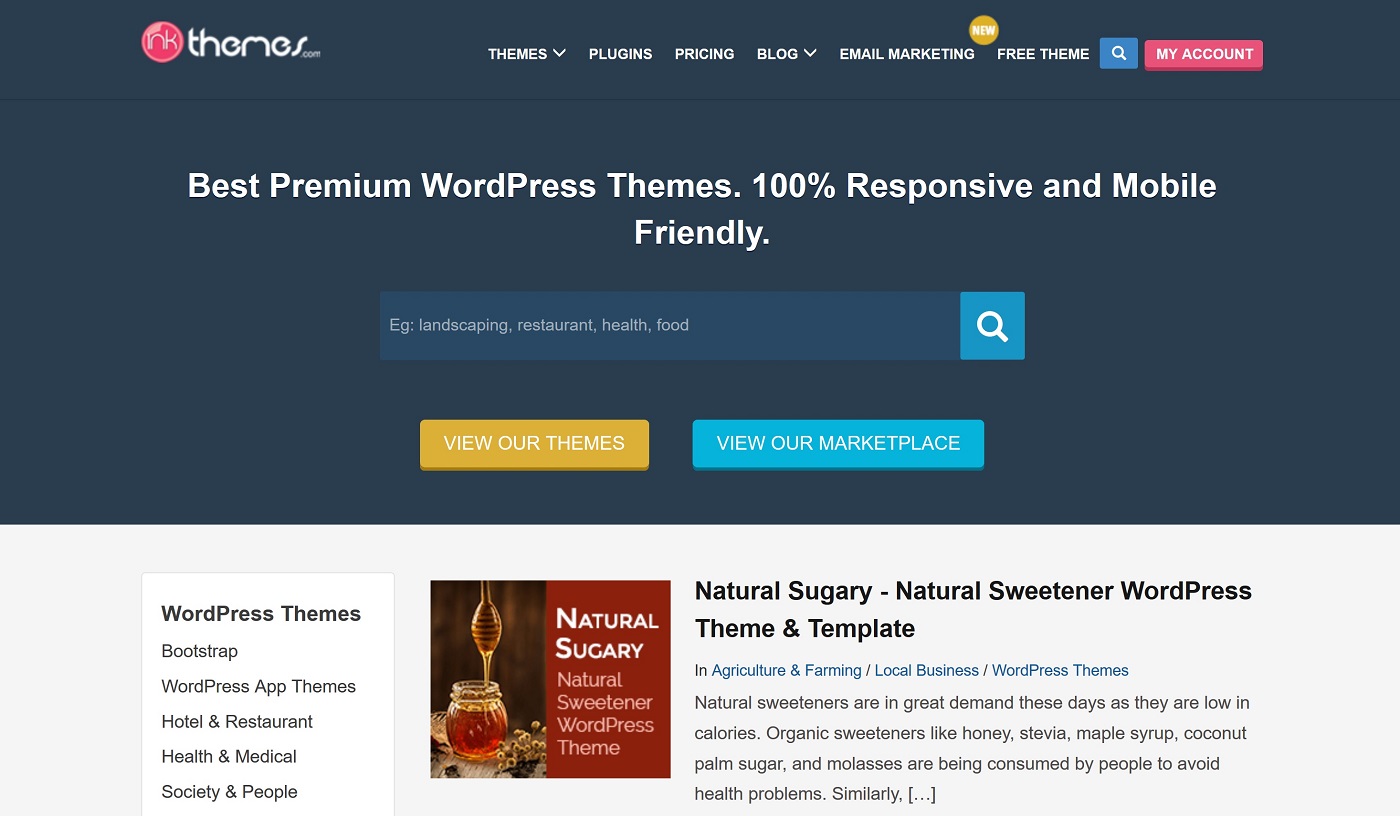 With over 500 themes to date, InkThemes has to have the widest selection of WordPress themes in the world.
Within this enormous collection, you'll find some of the "nichest" WordPress themes around. So, if you're a gelato maker, a professional bull rider, or in the business of doghouse construction, there's a ready-made theme just for you.
Themes can be bought individually, or you can subscribe for a membership to unlock 47 of InkThemes' finest for $147/year.
31. The Theme Foundry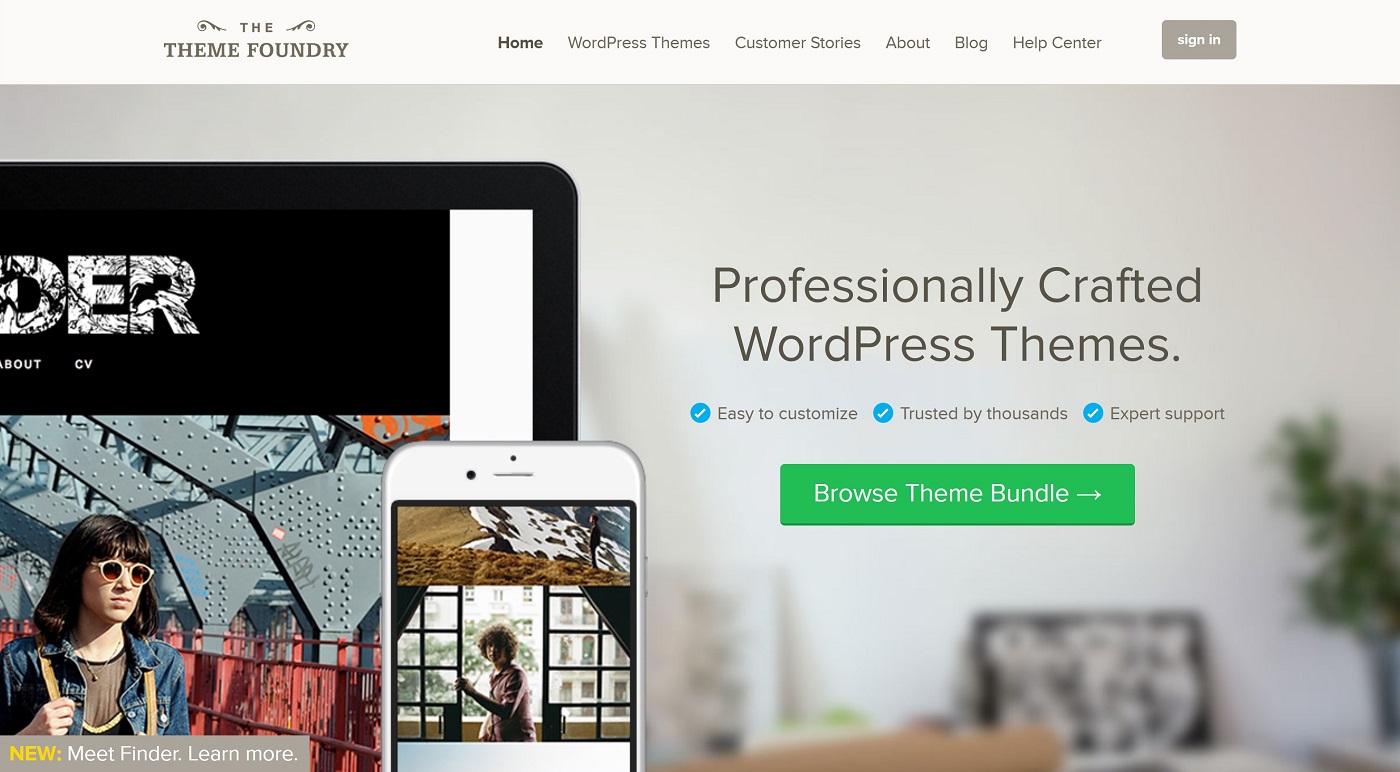 The Theme Foundry has been in operation for nine years now, making it one of the more established theme shops in today's list. As such, it's a name you can trust.
The company is known for the quality of its code, its modern designs, and its helpful video tutorials. More recently, it has integrated professional grade Typekit fonts with its themes, ensuring the text on your site looks bold, sharp, and striking.
You can purchase all 11 Theme Foundry themes for just $79.
32. Crocoblock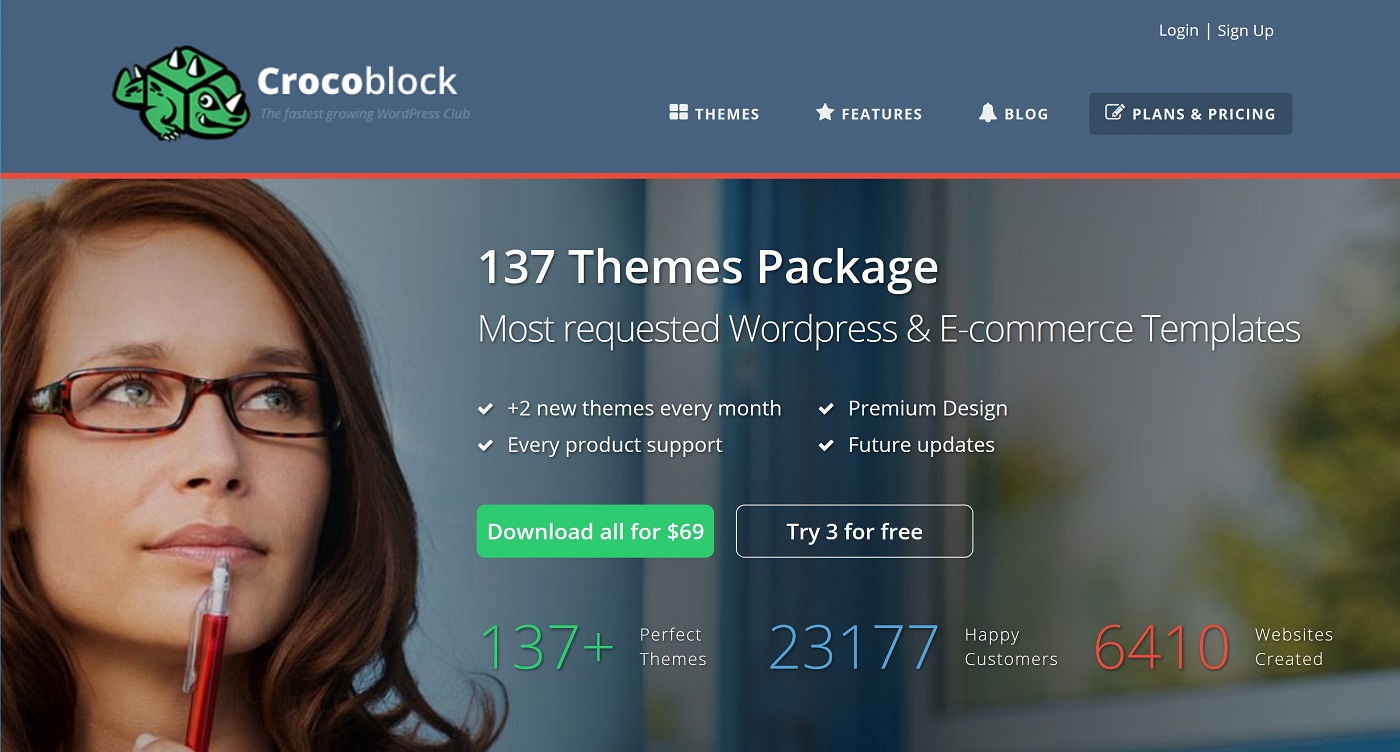 Crocoblock is a quick-growing WordPress club — it releases an impressive two themes every month, so there's always something new available. Crocoblock takes its support commitments seriously, too, with live chat providing instant resolutions — it's difficult to beat.
Its most popular themes fall under the eCommerce category, with Crocoblock themes offering WooCommerce or Jigoshop integrations. The themes come with lots to customize, too, with plenty of unique layouts available in just a few clicks.
The fast release schedule means Crocoblock now offer 137 themes, with all-inclusive membership costing just $69. That works out to around 50¢ a theme — serious value.
33. ThemeTrust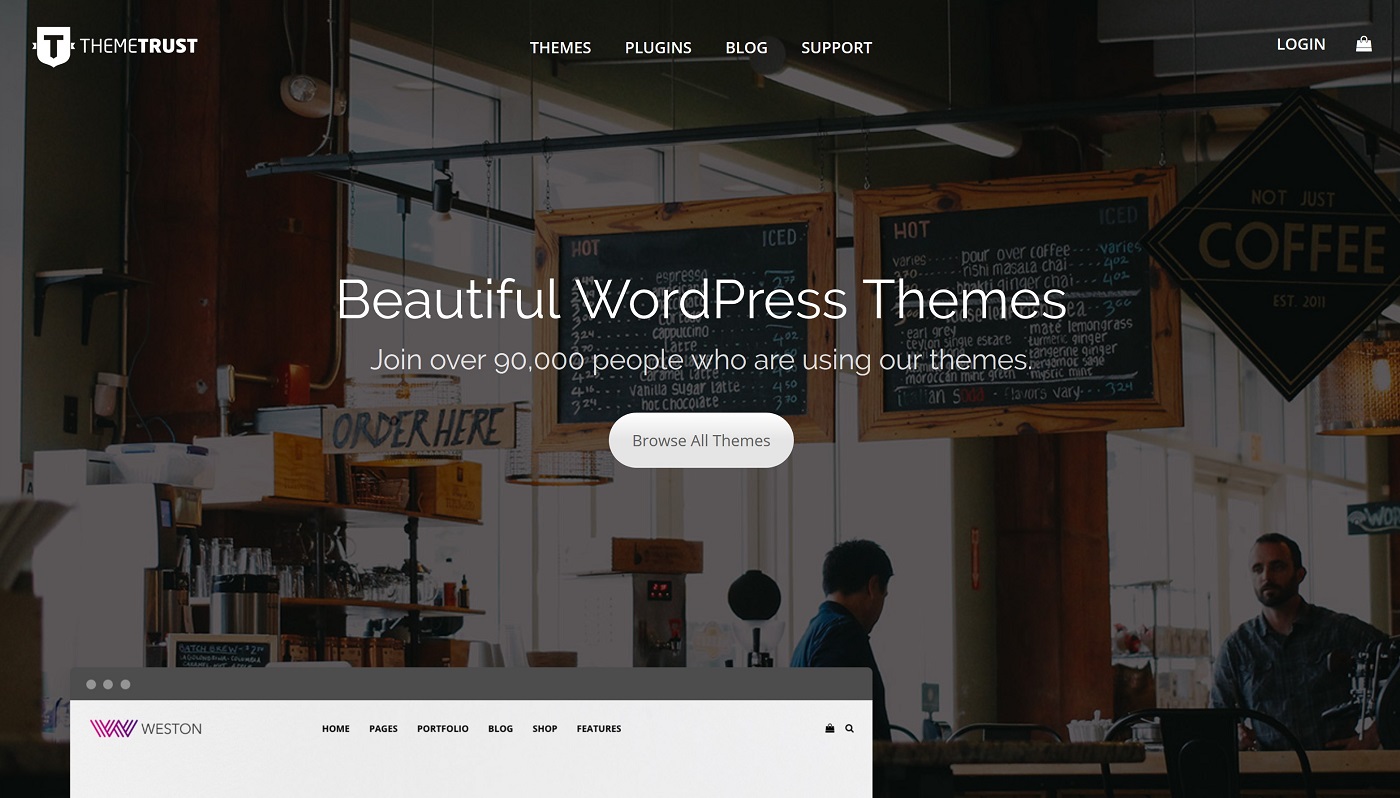 If you're looking for timeless designs, look no further than ThemeTrust for your next WordPress theme. It uses beautifully clean and minimalist designs, which look impressively stylish.
With no overly flashy design elements competing for attention, this philosophy puts your content as the focal point — whether written word or beautiful images.
ThemeTrust have released 19 themes to date, which can be purchased for $49 apiece.
34. GretaThemes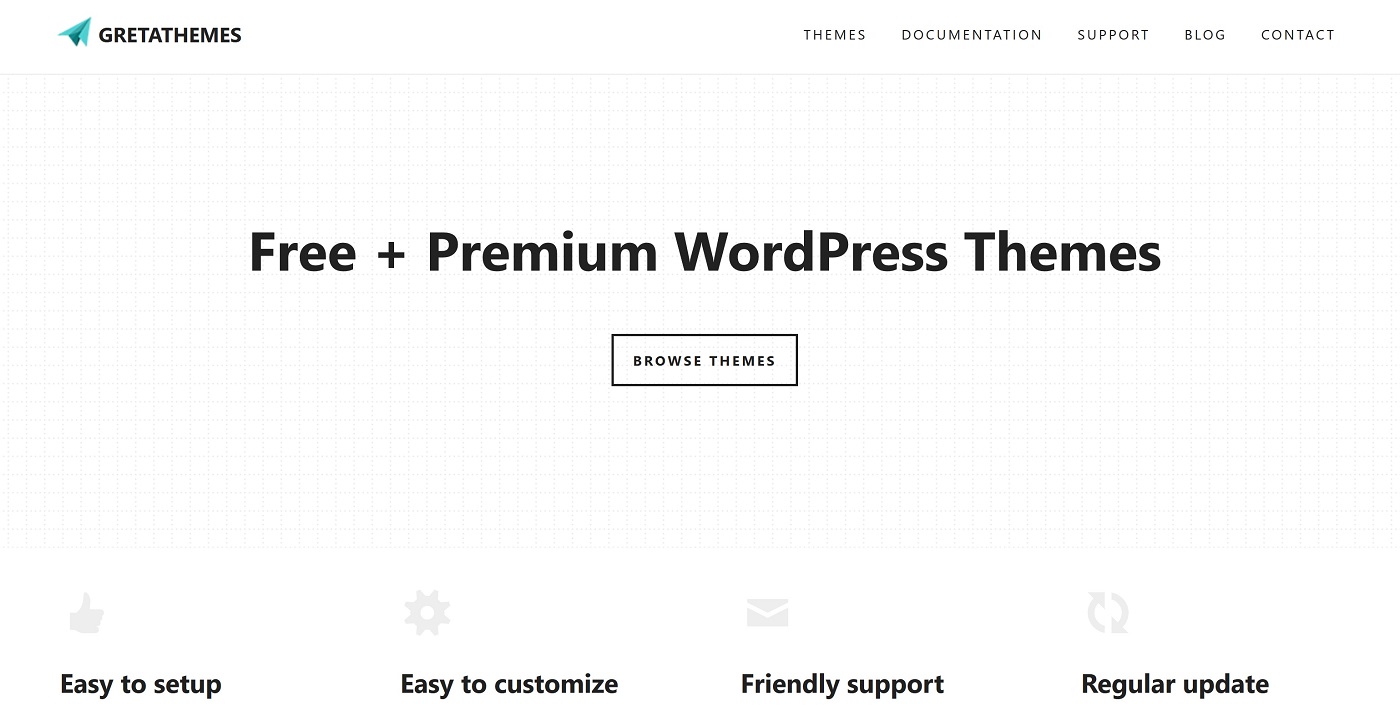 As a theme shop, GretaThemes is relatively small with only four themes to date. However, the quality of its designs is impressive, with a super-sleek style that really stands out from the crowd.
The themes couple easy setup with loads of customization options. In fact, by importing demo content and playing around with the control panel, you can have a gorgeous-looking website set up in just minutes.
At the moment, GretaThemes is focusing primarily on the free market, but it recently released a first premium theme, Bayn, which costs $59. Expect big things from Greta in the not-too-distant future!
35. Nimbus Themes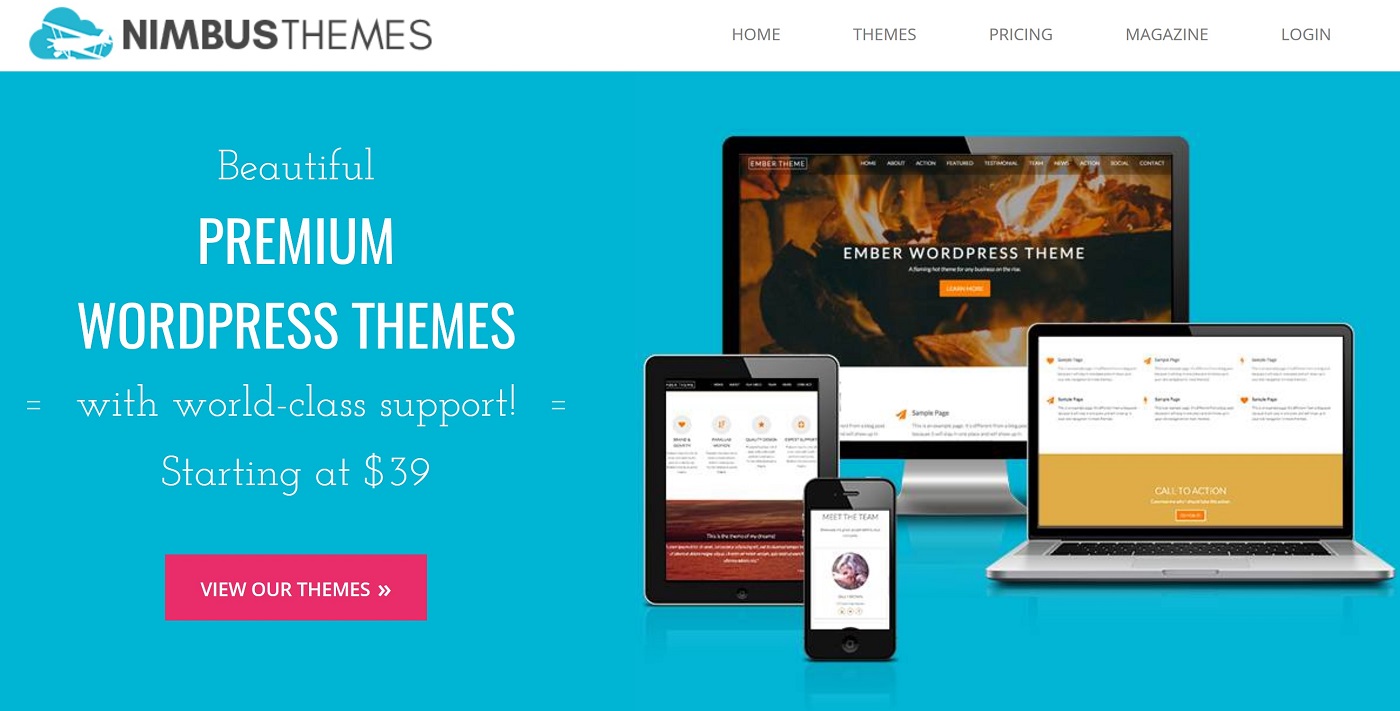 Nimbus Themes might only boast a small number of themes — ten to date — but those themes have racked up some serious mileage with just shy of one million downloads.
The reason for its success? Gorgeous design and an ongoing commitment to providing world-class support. If you're relatively inexperienced with WordPress, you should have no problems getting up and running thanks to Nimbus Themes' assistance.
Single themes cost $39 each, while an all-access pass costs $99. Because of the high-level support given, plus the super-fast response times, Nimbus Themes charge an additional $15/month for unlimited access to a "best-in-class" support team.
36. Array Themes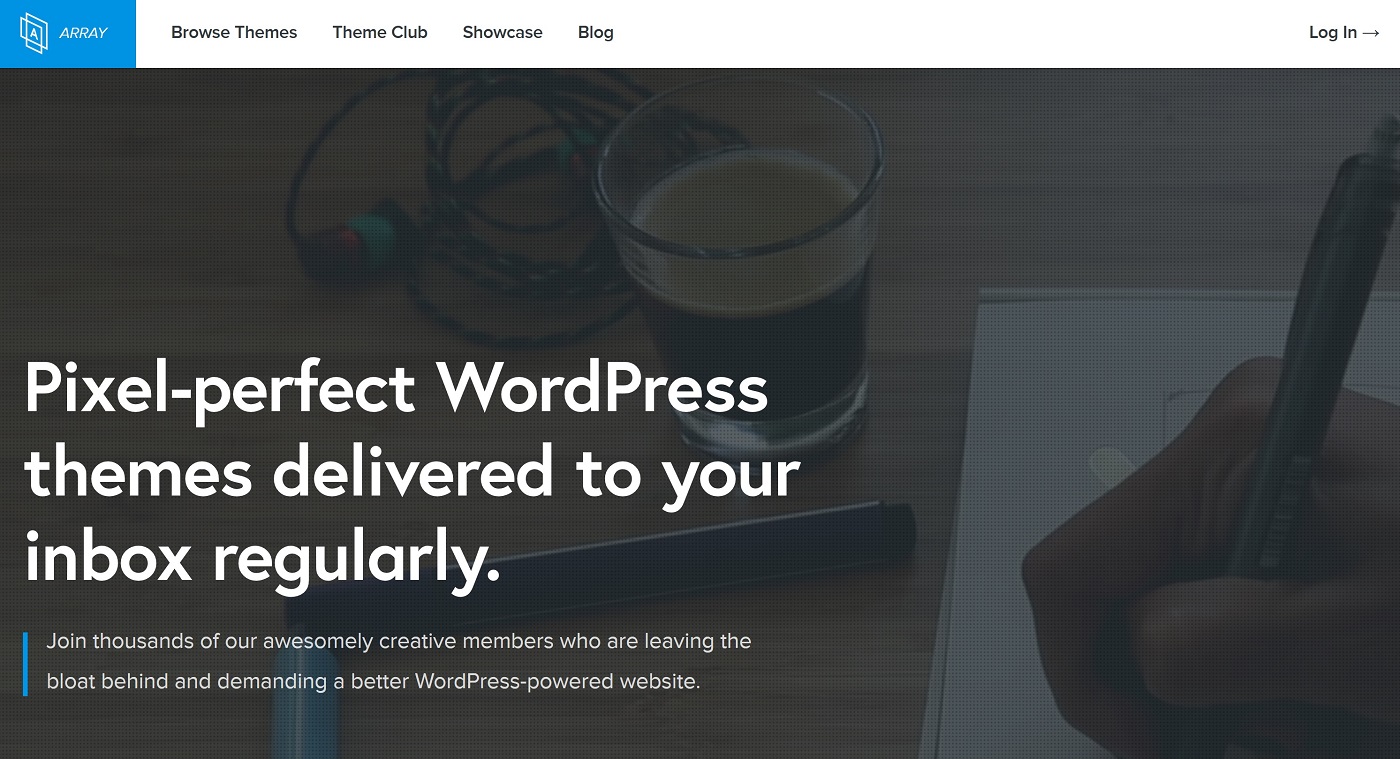 Array Themes has been in the game since 2009, and from the get-go has had a simple philosophy: create beautifully-coded, well-designed WordPress themes.
Its themes are always clean and modern, often without the bells and whistles that over-complicate competitors' themes. That leaves you with an uncluttered, professional grade website.
You can purchase a club membership for just $89/year, which unlocks access to all 18 Array Themes.
37. CyberChimps
Next up we have CyberChimps. Its themes specialize in producing easy-to-build websites, with loads of useful built-in functionalities — drag-and-drop, social sharing buttons, and customizable fonts to name a small sample. This makes them perfect for less experienced blog builders, who want to build a great-looking website without the headaches.
There are 43 themes in the CymberChimps collection, plus six plugins. A club membership costs just $49/year.
This annual membership also includes a website setup at no additional cost. Simply make a purchase, then sit back and relax as the CyperChimps team installs WordPress and sets up your site in the style of your favorite demo — a real time-saver.
38. Shape5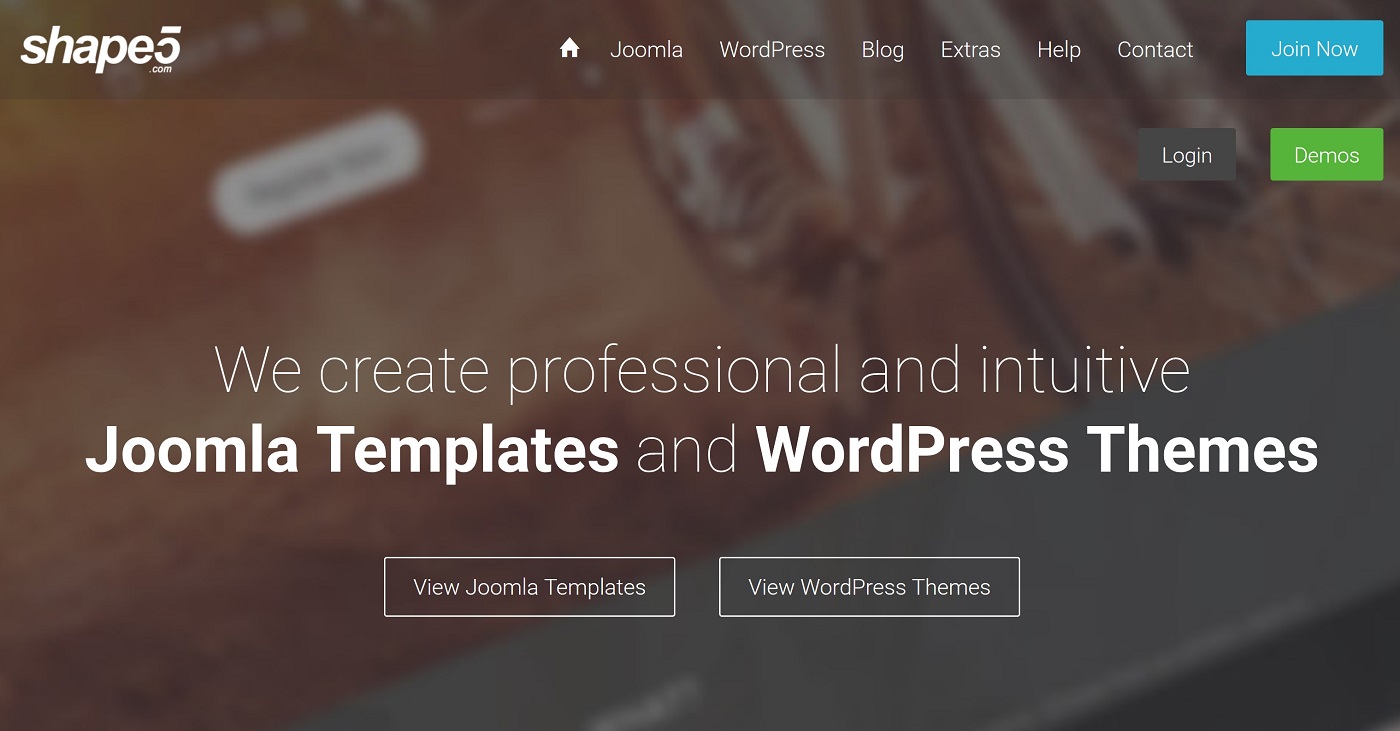 Shape5 is primarily a Joomla developer but has also put together a nice collection of 79 WordPress themes.
With just under 300,000 customers, Shape5 has received a lot of feedback over the years, and it consistently strives to give its growing community the designs being asking for. As such, there is a strong emphasis on high-quality support and usability — you can be up and running with a brand new website, complete with demo content, in just minutes.
Annual Shape5 membership starts at $99/year, giving you unrestricted access to the full range of themes and plugins.
39. UpThemes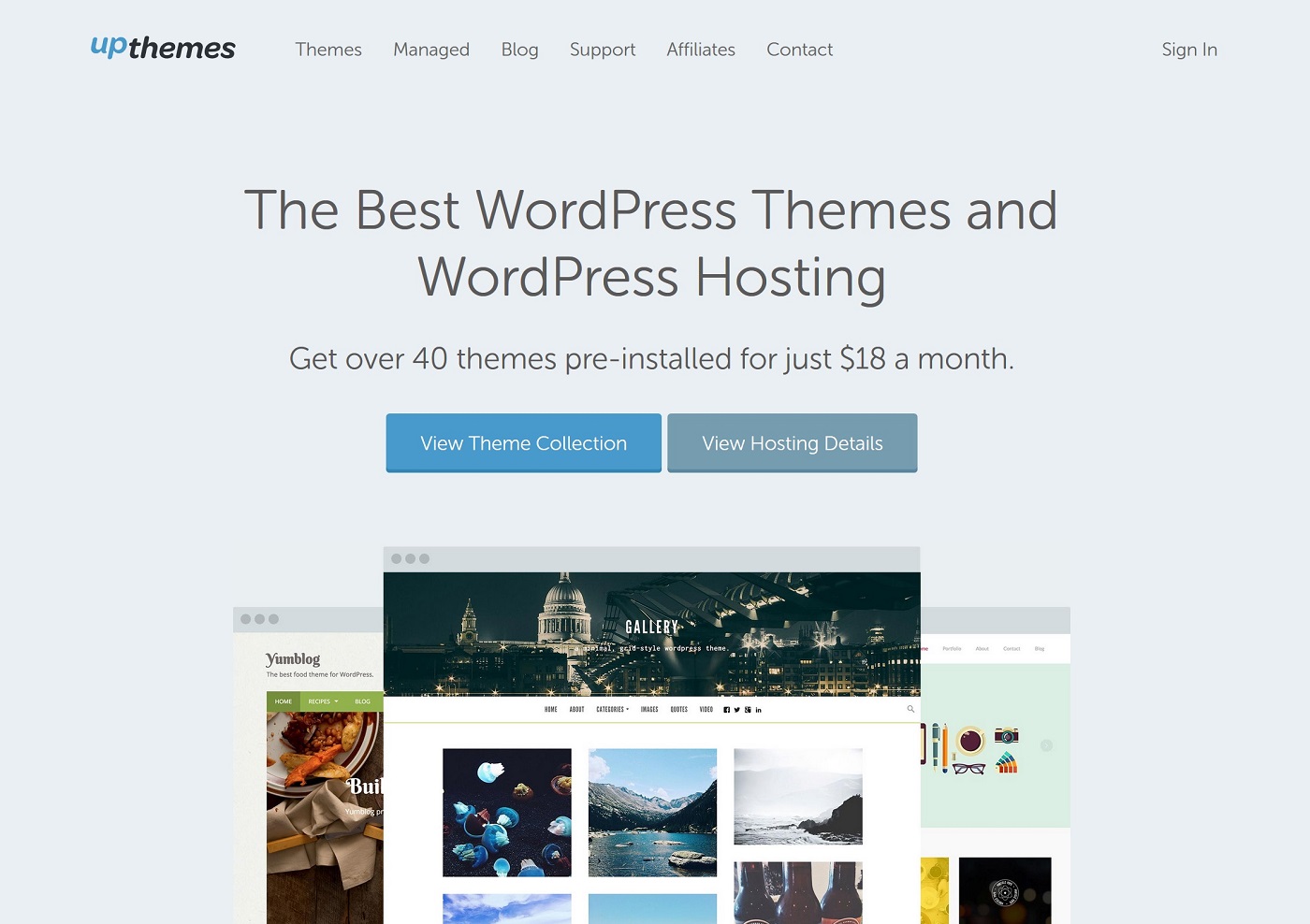 UpThemes offers its 40-strong theme collection bundled with managed hosting for $18/month. Considering the themes would be worth over $1,000 if purchased individually, that's not bad value at all.
This makes UpThemes one of the best theme companies if you're looking to avoid headaches — everything is handled on your behalf. The comprehensive service includes unlimited website migrations and a single hosting panel that lets you access all of your WordPress dashboards.
The themes are stunning, too, oozing style and incorporating lots of unique designs.
40. Restored 316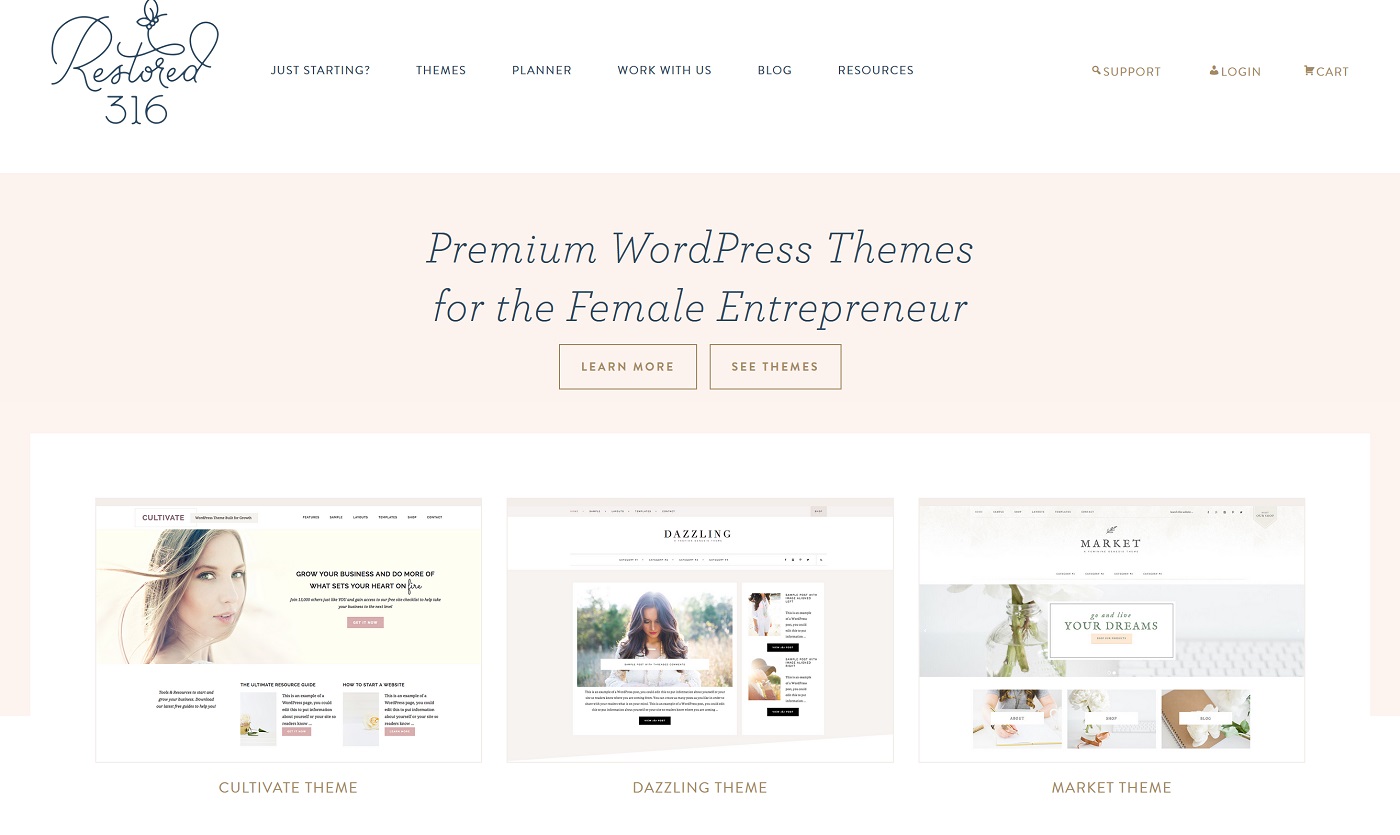 Another theme shop targeted at female entrepreneurs up next: Restored 316.
As such, you can expect highly professional designs but with small feminine touches that ensure your site stands out from the crowd and appeals to your target demographic. The company also offers lots of guidance and a beautiful branded business tracker, perfect for managing and organizing all the offline stuff to do with your website.
There's no club membership available to date, but the 19 themes in the Restored 316 collection can be bought for $75 each.
41. ThemeShift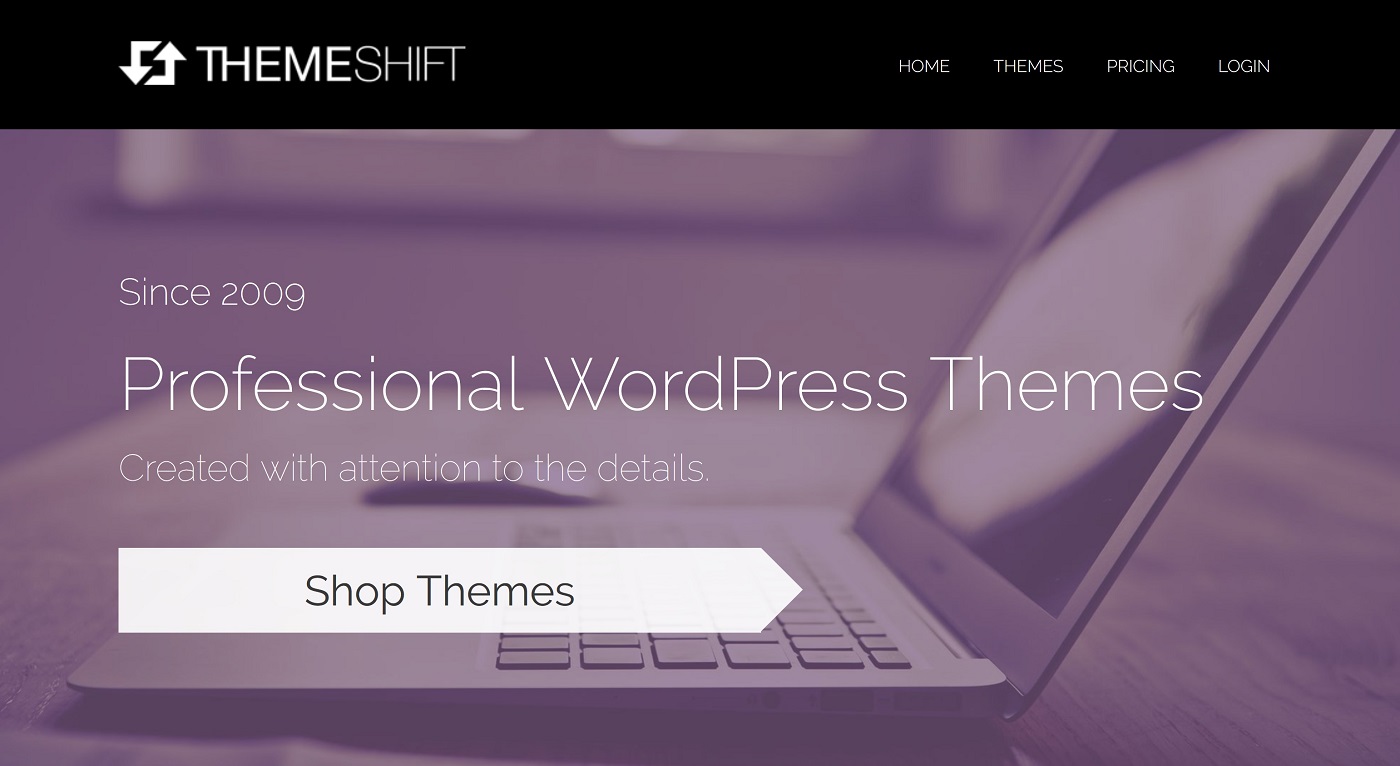 ThemeShift has been in the game since 2009. Its philosophy prioritizes quality over quantity, with a collection containing just two themes. However, those themes are stylish and versatile, and fit for just about any purpose.
Both themes come loaded with features, including WooCommerce integration, custom widgets, and stunning parallax backgrounds. You can customize the themes extensively, too.
Themes can be bought individually for $39 or as a pair for $99 — the latter price tag is justified by including a license for unlimited domains and access to unrestricted support.
42. Mint Themes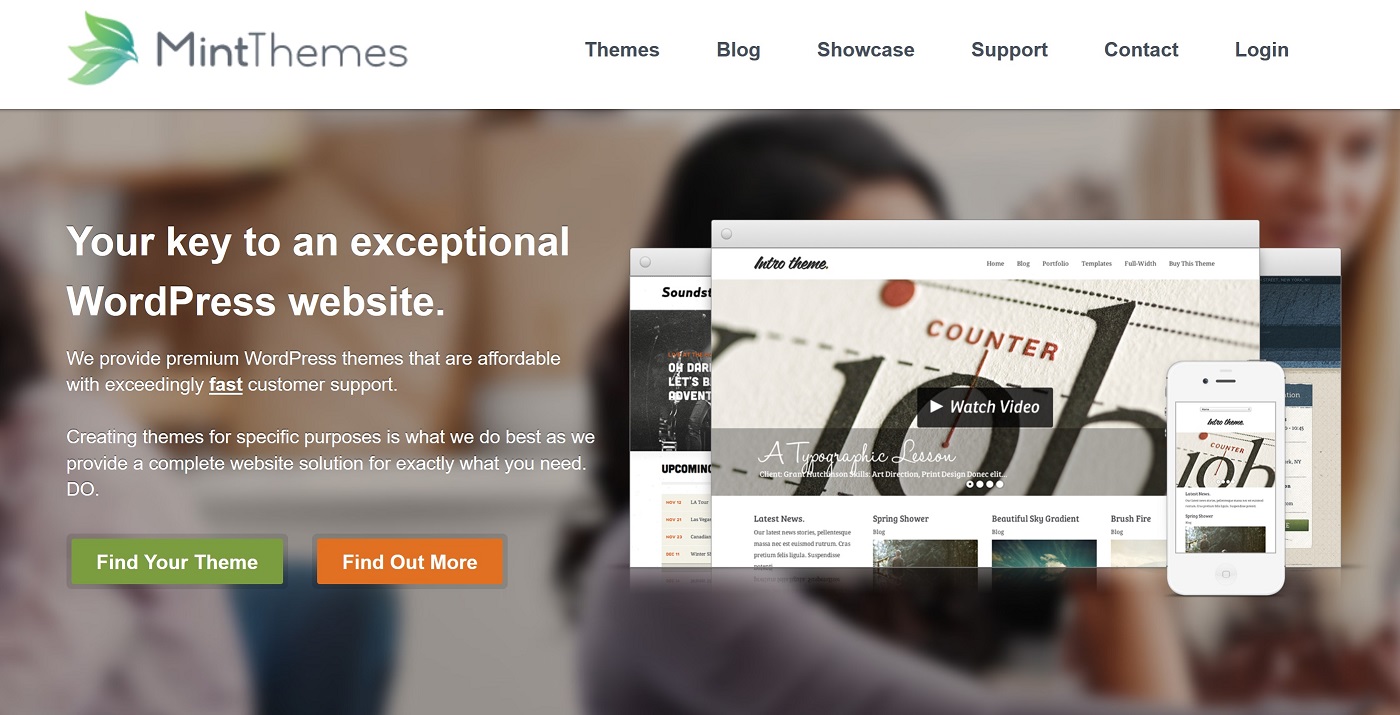 Mint Themes specialize in building handcrafted themes for specific purposes — for example, church, landscaping, or music websites.
Of course, all users want to make their website their own, so Mint Themes ship with loads of intuitive customizations. All it takes is a few mouse clicks to create your own color scheme, adjust the layout, and tweak the design.
Each theme can be purchased individually for $79. However, bargain hunters will prefer the $169 package that unlocks all 11 Mint Themes.
43. RocketTheme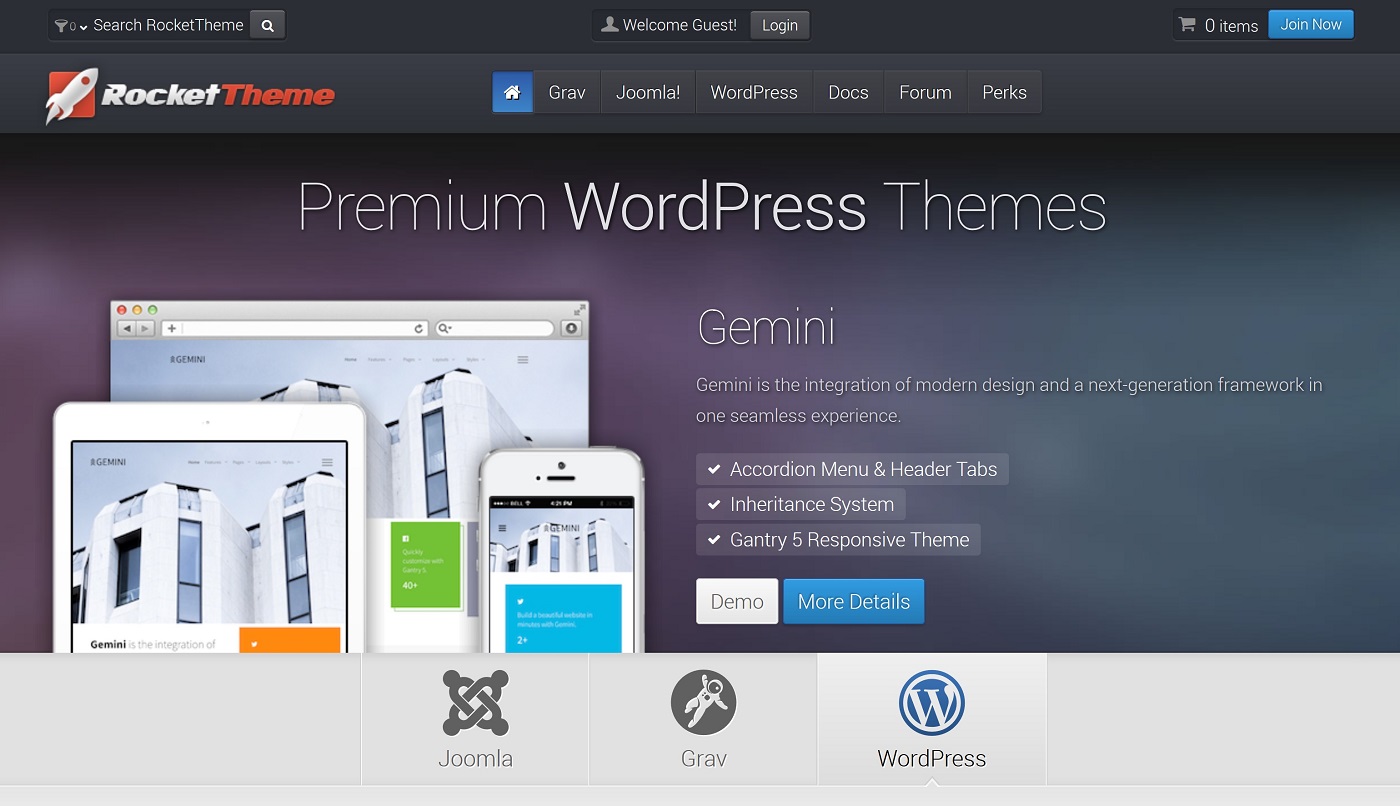 Although primarily a Joomla template club, RocketTheme also stocks a hefty number of high-quality WordPress themes — over 100, in fact.
The themes are built on top of its groundbreaking Gantry 5 framework, which underpins all of its Joomla and WordPress — and more recently, Grav — themes. This framework provides a robust platform that ensures all RocketThemes are user-friendly, highly customizable, and compatible with all top third-party plugins.
Themes can be purchased individually at around the $49 mark or as a job lot, with club membership costing $99/year — shorter memberships are also available.
44. Theme Junkie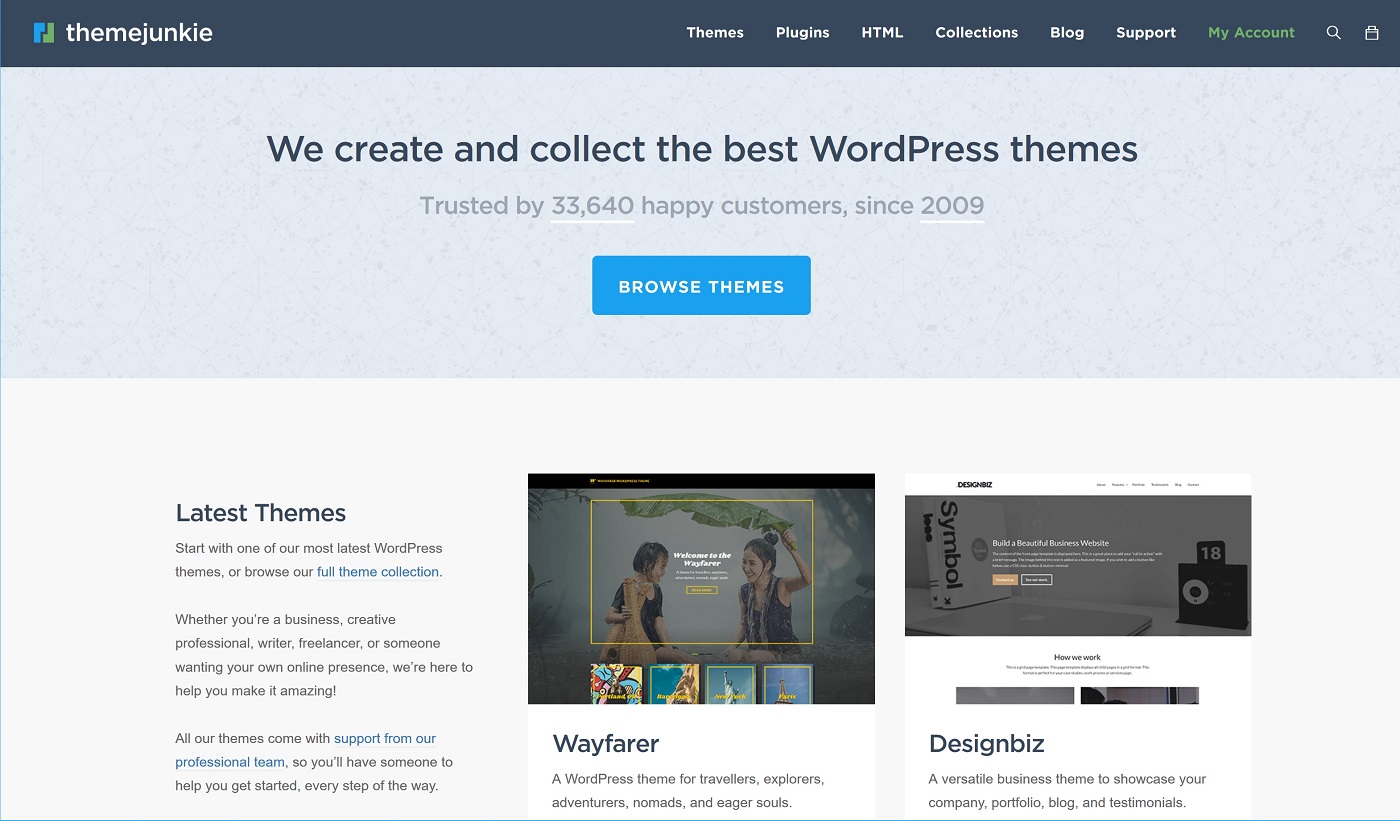 Theme Junkie has been online since 2009 and during that time has added over 50 themes to its catalog.
Its team of developers are tasked with creating unique themes that play on minimalist design concepts. There is also a multi-purpose element to its themes, though, with each one offering versatile grids and a range of layouts. And, to get you started in the minimum amount of time, every theme ships with one-click dummy content import.
Individual themes are priced at $39, or you can pay $49 for the lot.
45. Themes by bavotasan.com
We wrap up today's list with Themes by bavotasan.com.
The themes utilize some really striking designs with bold colors and intriguing layouts. You also get loads of built-in animations and plenty of customization choices, all adding to your site's visual appeal. You can also complement the themes with some of the most popular third-party plugins — top plugins like BuddyPress, WooCommerce, and WPML integrate seamlessly.
Single licenses cost $69 each, or you can enjoy all 16 themes for $99/year. Themes by bavotasan also offer a customization-free version of every one of its themes without charge on the official WordPress directory — this gives you the opportunity to take them for a test spin.
Final Thoughts
Remember: before purchasing a WordPress theme, there's plenty to weigh up.
Sure, a winning design is always a top priority, but there's a lot going on under the hood and behind the scenes that you need to be aware of. Things like code quality, built-in features, setup simplicity, site speed, SEO, support quality, and third-party plugin integrations must all be factored into the buying decision.
The other thing you need to consider is price. Many WordPress clubs price their memberships at a level designed to entice you in — for example, 50 themes for the price of three.
While those sort of promotions represent exceptional value for money — really, they do! — you have to ask yourself, do you really need to fork out the full membership fee? Putting aside best value for a moment, if you only need a single theme, well, you only need a single theme! As such, you can save money by opting for the individual license.
In other words, before buying, test out the demo extensively, see what extra services the seller is offering with the theme, and decide how much you really need to spend.
Best of luck!
Used/using themes from any of these? Thoughts?
All comments are held for moderation. We'll only publish comments that are on topic and adhere to our Commenting Policy.
Our commenting form also supports the use of Markdown.