StudioPress Review: The Best WordPress Themes in the Business?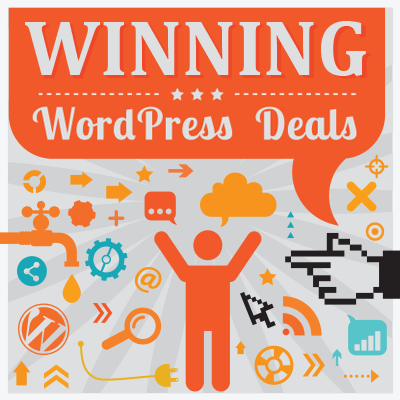 There's never been a better time to be a WordPress user — with so many high-quality themes and plugins to choose from, the types of websites you can build with WordPress are virtually unlimited.
However, one of the downsides of having so much freedom can be making the right choice. With so many products on offer, all vying for your attention, it can be hard to even know where to start.
To help you in your search for that all-elusive perfect design, we'll be looking at StudioPress — one of the best-known, and most-established, players in the business!
With more than 170,000 WordPress websites powered by its themes, and around 80 templates to choose from, for many WordPress users, StudioPress is the go-to destination for finding new themes.
Let's delve deeper…
Why Choose StudioPress?
StudioPress is the creator of the Genesis Framework — probably the most well-known theme framework for WordPress. Genesis is best described as a layer of code that sits between the WordPress software and your theme of choice.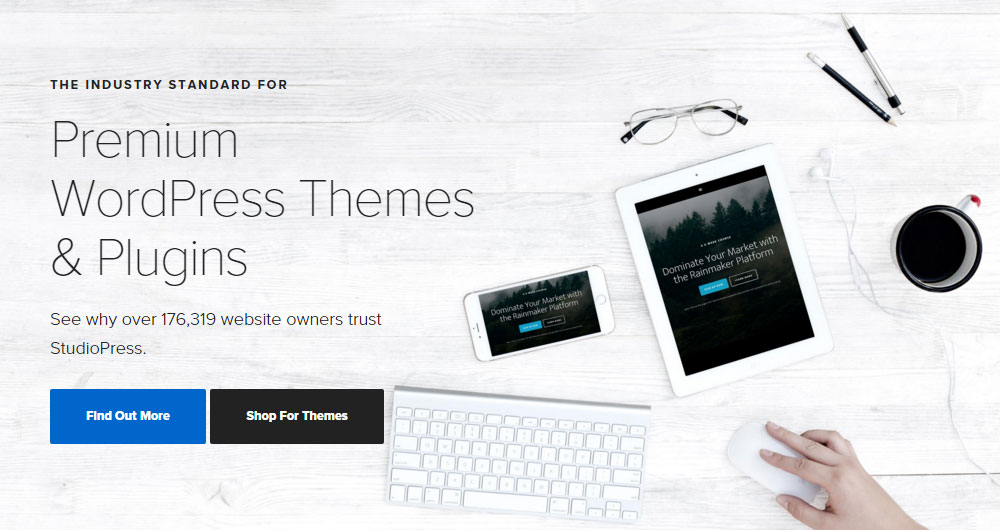 Another way to look at the Genesis Framework is that it's a WordPress theme with a basic design and appearance. This design and appearance can then be enhanced by installing one of the many child themes that have been built for it. These child themes build upon the solid foundation and codebase provided by the Genesis Framework, and cover a wide range of styles and uses.
The StudioPress team likes to describe WordPress as the engine of your car, Genesis as the frame and body, and the StudioPress child themes as the paint job.
Only child themes that have been built specifically for the Genesis Framework can be used alongside it. However, anyone is free to create child themes for the StudioPress Genesis Framework, and many developers make a living from creating commercial child themes for the framework.
This means that if you choose one of the themes from StudioPress, you'll also be choosing the Genesis Framework. However, apart from ensuring you've installed the Genesis Framework before you install your chosen child theme, there aren't any additional steps involved in running a Genesis Framework-powered WordPress website.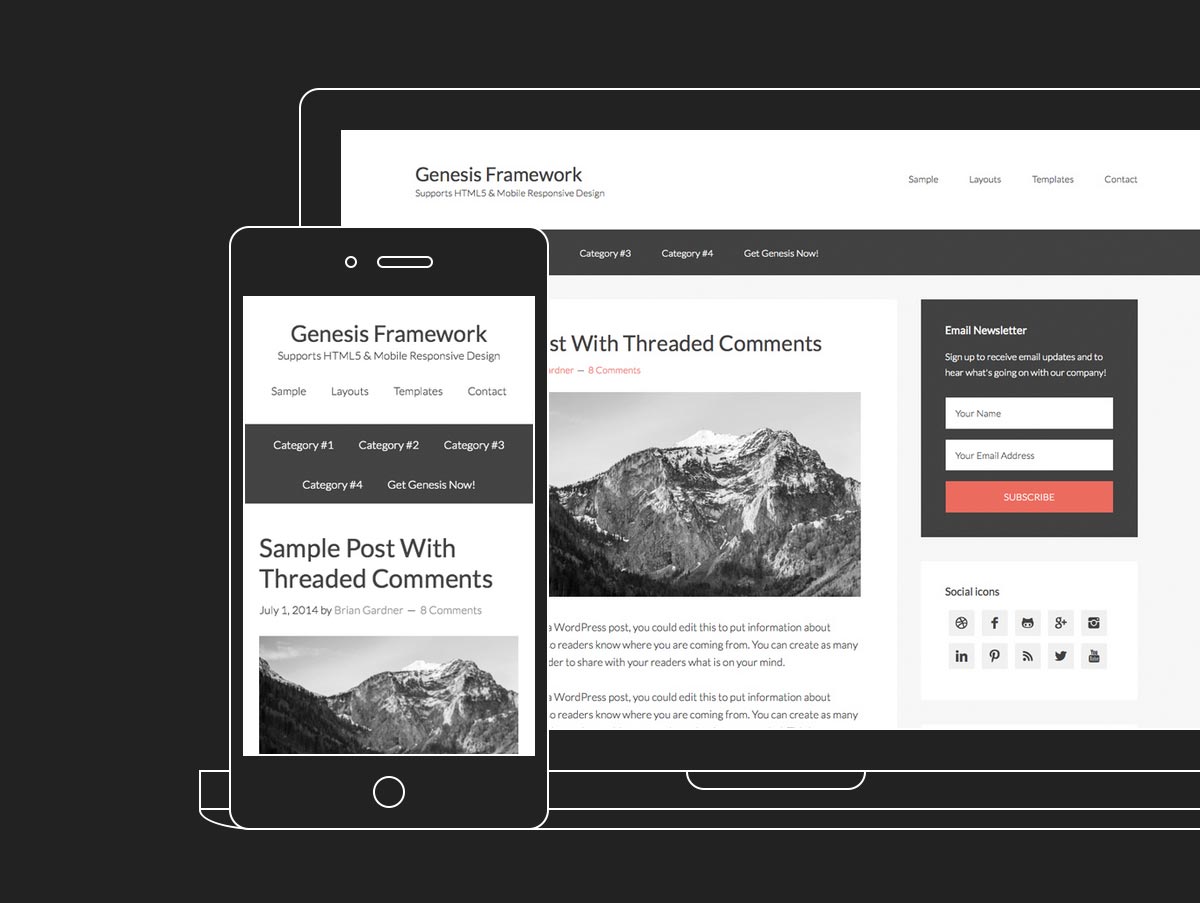 Choosing the Genesis Framework and one of its child themes doesn't mean the look of your website is restricted in any way. To get a better idea of what's possible, check out the showcase of custom websites built on the Genesis Framework.
StudioPress Themes Features and Benefits
Before getting to our pick of the best, it's worth looking at why you should consider choosing one of the themes from StudioPress. Understanding some of the benefits of using a theme that runs on the Genesis Framework can help you make an informed decision.
Some highlights and characteristics of a typical StudioPress theme include:
fast website loading times
extra emphasis on security
fully responsive HTML5 design for mobile users
no bloat from excessive built-in features
minimal customization options for a more streamlined user experience
clean code that will appeal to developers
access to the search engine optimized Genesis Framework codebase.
Many of the StudioPress theme features, such as fast loading times and a commitment to security, are undoubtedly benefits. However, some, such as the minimal amount of customization options and built-in features, are debatable. The upside to these characteristics is that less code is used to produce the themes, which means a faster loading website and a more streamlined user experience.
However, the current popularity of multipurpose WordPress themes such as Divi (by Elegant Themes), demonstrates that there is a huge demand for all-in-one themes. Some WordPress users simply prefer themes that can be used to build almost any type of website with all the necessary features included in one package.
That's not to say that the same results can't be achieved with a StudioPress theme. It's just that you'll need to install additional plugins or write custom code. This, in turn, has the potential to wipe out some of the benefits on offer from the StudioPress theme, such as a simplified admin interface, clean code, and fast loading times.
Choosing a StudioPress theme that's been built for creating a specific type of website, along with a handful of plugins that are essential for your project, still has its upsides. Your site will still probably outperform a true multipurpose theme that includes every feature imaginable, and countless demo versions and templates.
Another benefit of going down the framework-and-child-theme model is that changing the design of your website is relatively straightforward — at least compared with more traditional WordPress themes. To give your site a new look, simply switch to a different child theme — the foundation of the site will remain intact, while the outward appearance is changed.
When changing child themes, you won't need to worry about negatively affecting usability ratings or SEO rankings. This is because the core site structure provided by the Genesis Framework remains the same, with only the overlying design changing.
With the underlying Genesis Framework taking care of the design, security, and SEO foundation for your website, and the child themes supplying the pure design elements, no matter which StudioPress child theme you choose, your website will have a solid and robust foundation.
If you aren't sure whether a multipurpose WordPress theme or a more focused StudioPress theme would be the best option for your project, read our guide to choosing between the Divi theme and the Genesis Framework.
Top StudioPress WordPress Themes
Now that we've covered why you should consider using the Genesis Framework and one of the themes from StudioPress, let's explore some of the best options.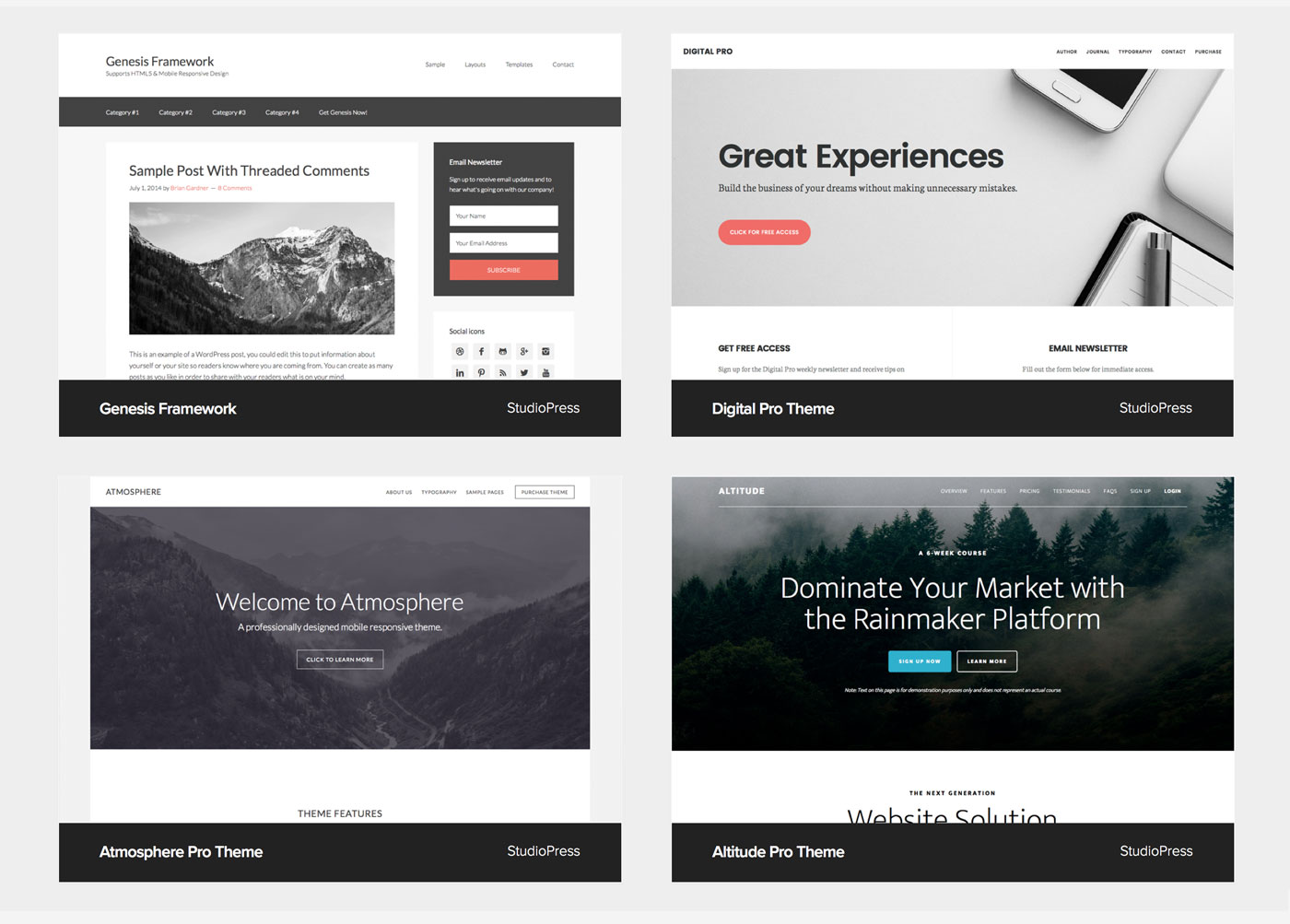 As mentioned earlier, anyone is free to create child themes for the Genesis Framework — and some third-party themes are even available to buy directly from the StudioPress website. However, for this review we'll only be looking at the themes created by the official StudioPress team.
Digital Pro
Digital Pro is one of the newest themes from StudioPress. The homepage text area gives you a great opportunity to grab the attention of your visitors with an enticing statement. After that, you can list the key selling points of your business, before highlighting your main services and introducing your latest blog posts.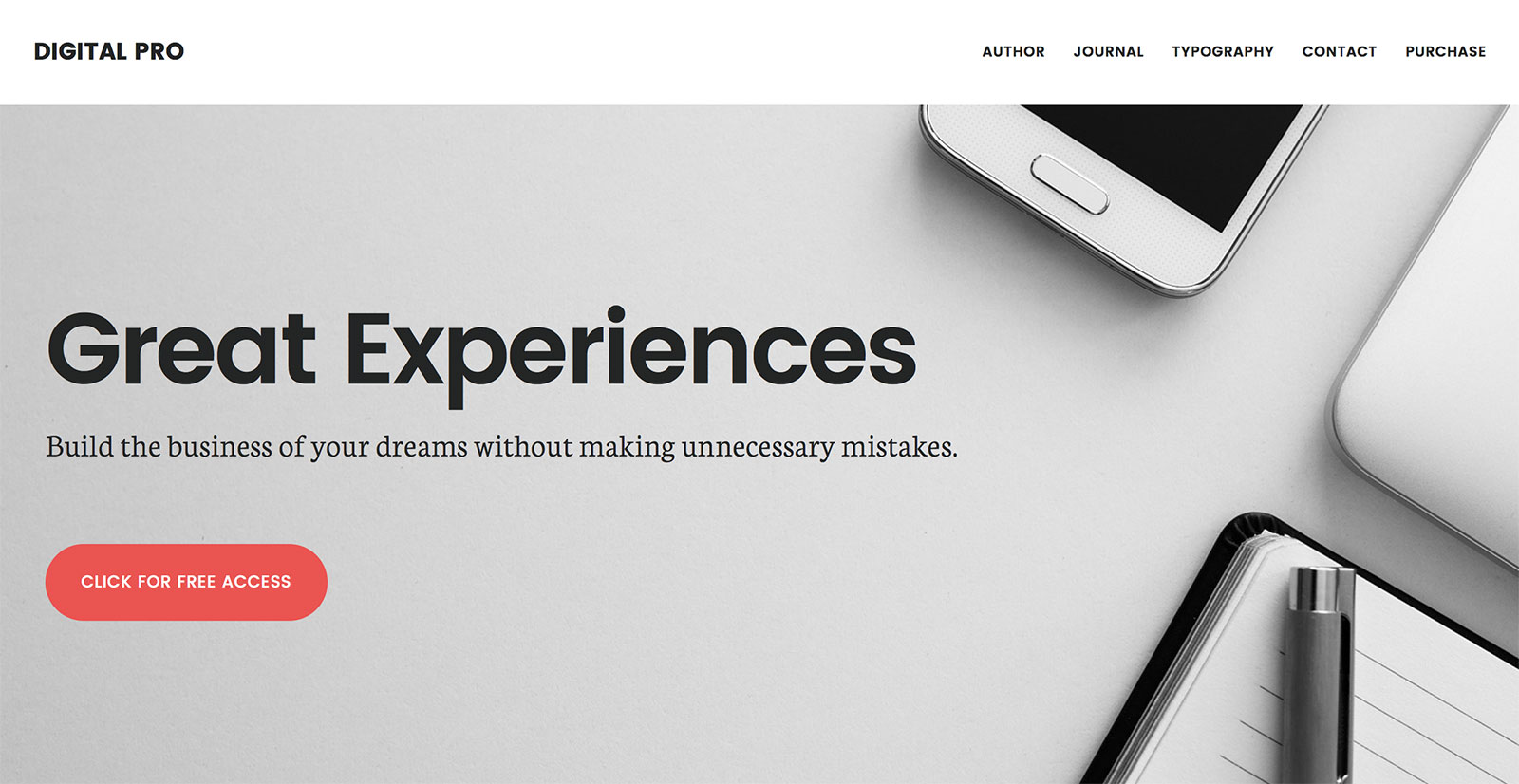 Digital Pro lets you make the most of any screen space available to your website, helping you to really sell your services or products. This Genesis child theme is also a great choice for bloggers looking for a clean and minimalist design.
Other highlights of Digital Pro include:
select customization options
multiple widget areas
a small selection of page templates and layout presets.
Digital Pro is a perfect example of a modern StudioPress WordPress theme.
Workstation Pro
Workstation Pro has been created to help you use WordPress to build a website for a creative agency. Even if you're a freelancer or solopreneur, you should be able to make good use of this theme, thanks to the homepage welcome message and the many opportunities to highlight the projects you've worked on.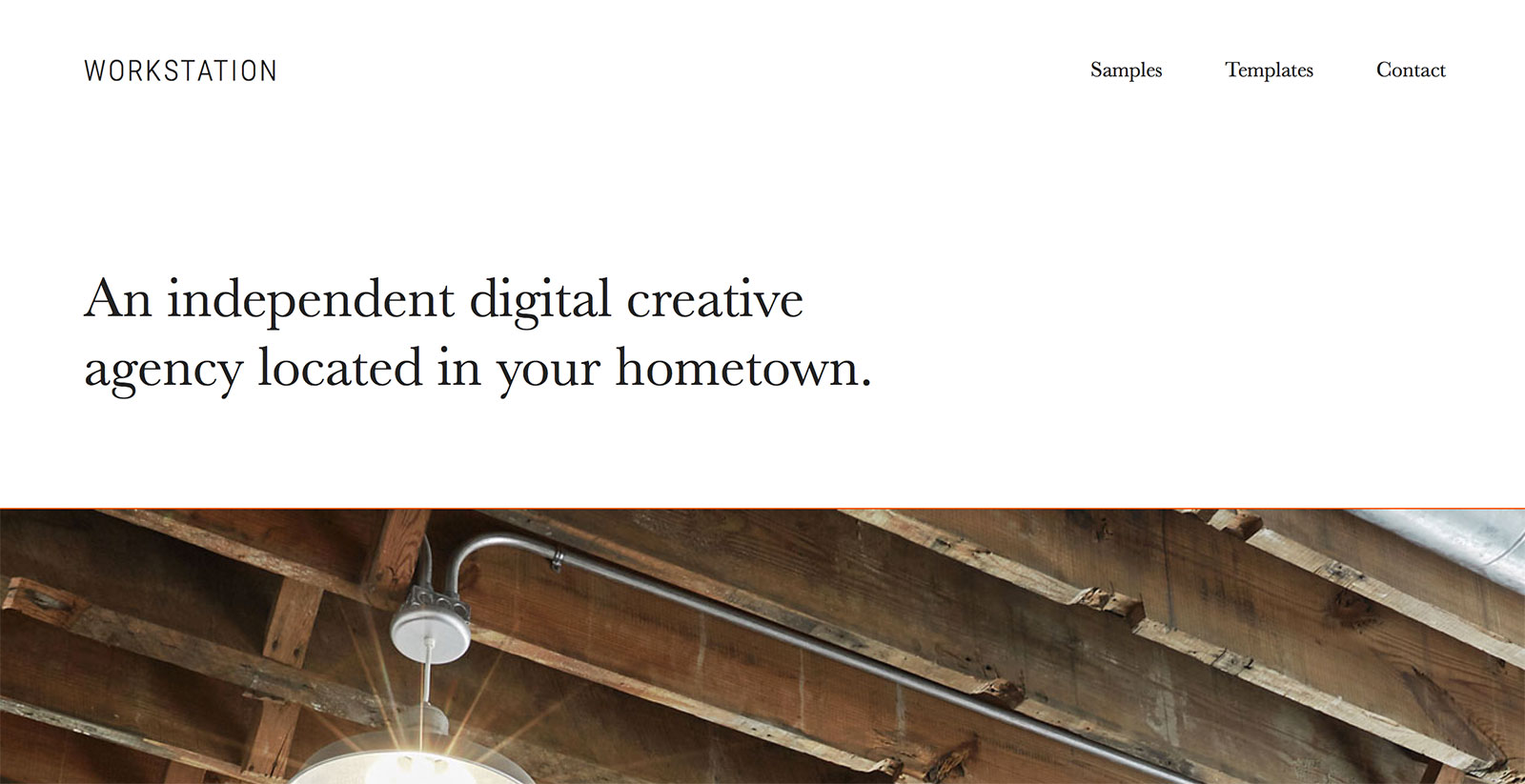 Although the default homepage of the theme looks great, you're free to mix and match the options and elements to give it your own style. You can also tweak some of the colors through the WordPress Customizer tool.
Other highlights of Workstation Pro include:
space for a large welcome image and slogan
skills and service lists
a landing page template
basic formatting and customization options.
If you have lots of interesting work and photos to show off, Workstation Pro could help you create the perfect home for them.
Beautiful Pro
Beautiful Pro is a great example of a clean and minimalist WordPress theme. While the flower homepage image looks nice, it can easily be swapped out for something more suited to your blog or business.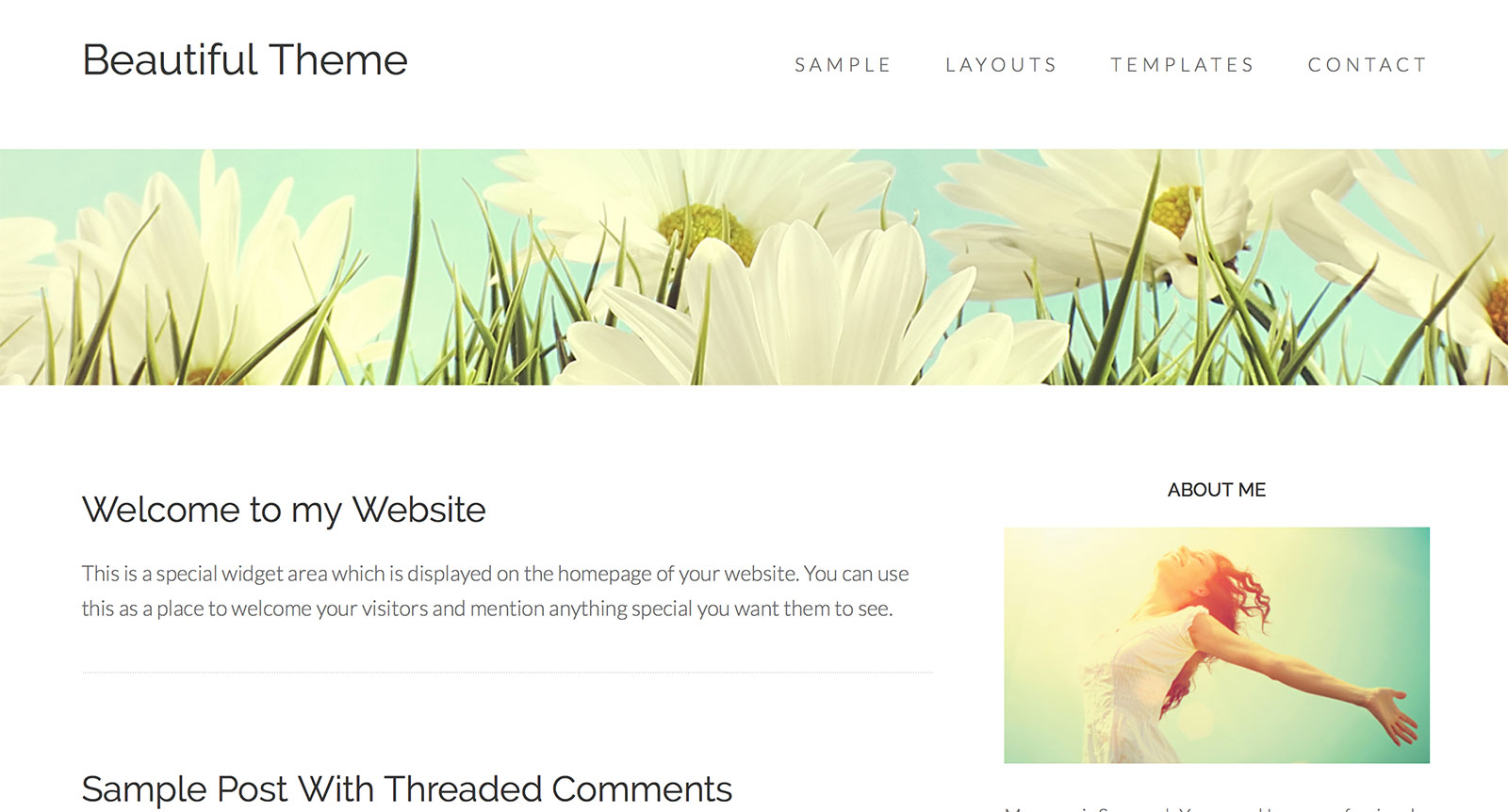 Thanks to the widgetized homepage layout, your visitors can be greeted with a welcome message or your latest blog posts. There's also an attractive 'about me' widget that you can use to introduce yourself.
Other highlights of Beautiful Pro include:
a selection of layout and sidebar configurations
a landing page template
ten widget areas for displaying custom content
an integrated contact form and social media icons.
Beautiful Pro is an ideal choice if you're looking for a spacious blogging theme that gives your content room to breathe.
Altitude Pro
Altitude Pro is a business theme that's perfect for marketing a course, product or service. From the welcome text to the long-form homepage layout, you can catch the attention of your visitors from the outset and lead them through your marketing message before asking them to take action.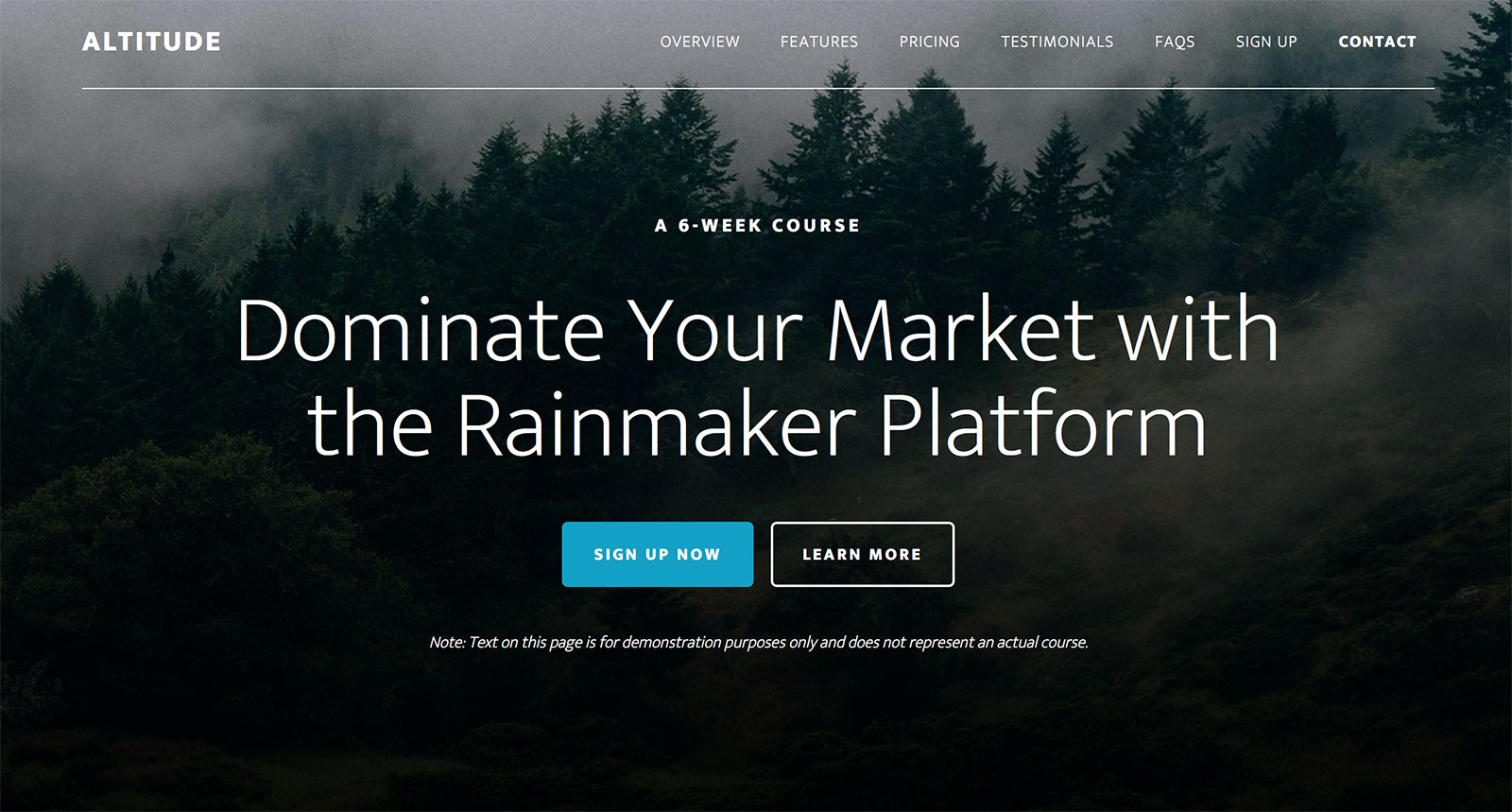 With sections on the homepage for a wide range of content, including full-width images, pricing comparison tables, and testimonials, Altitude Pro provides you with everything you need to generate more leads from your website.
Other highlights of Altitude Pro include:
a homepage with seven widget areas for displaying custom content
parallax scrolling effects
a selection of custom page templates
The ability to personalize colors and background images through the Theme Customizer
multiple content and sidebar configurations.
Altitude Pro is a modern marketing theme that will help you to create a website that can grow your business.
Café Pro
Although Café Pro has been created specifically to help restaurants and cafés promote their business online, with a bit of customization, any brick-and-mortar business can use it to establish an online presence.
The homepage design of Café Pro gives you the opportunity to share a full-screen image before displaying your mission statement and listing the services or items on offer. Changing the color scheme is easy, thanks to the included style presets.
Other highlights of Café Pro include:
menu/services table builder tool
a homepage layout with four widget areas
author and landing page templates
customization options for the core features of the theme.
Café Pro makes it easy to build a website to promote your offline business and get more customers through your doors.
AgentPress Pro
AgentPress has been created to help build websites for real estate agents. This theme makes it easy to set up your website and list your wares, and the integrated search tool helps your visitors to find the right properties.
This WordPress real estate theme makes use of the free AgentPress Listings plugin, which keeps your property listings organized, and ensures they're easy for your visitors to search and browse.
Other highlights of AgentPress Pro include:
attractive property listings page templates
the ability to display agent profiles
a client testimonial publishing tool
four color scheme presets
multiple page layout and template options.
The AgentPress real estate theme serves one purpose and serves it very well.
Building a Website using a StudioPress WordPress Theme
When you purchase a theme from StudioPress, you get access to the detailed installation and theme setup instructions for your chosen theme. These guides walk you through the process of setting up your website so that it matches the demo version for the specific theme you're working with.
From your dashboard on the StudioPress website, you can access the themes you've bought and find their setup instructions. Each theme purchase includes access to the Genesis Framework, and it must be uploaded to WordPress alongside your chosen StudioPress child theme.
To begin building your new WordPress website, download the theme and the framework archive files to your computer. The files can then be uploaded to your WordPress website through the themes section of the admin dashboard.

Genesis Framework and StudioPress child theme files are typically very small, especially compared with some of the other popular multipurpose WordPress themes out there. Of course, you don't get access to the same wealth of features, settings, and integrated plugins, but, if you're looking for a lightweight, fast-loading theme, those from StudioPress are hard to beat.
Once you've uploaded the Genesis Framework and StudioPress child themes to your website, activate the child theme to apply it to your site.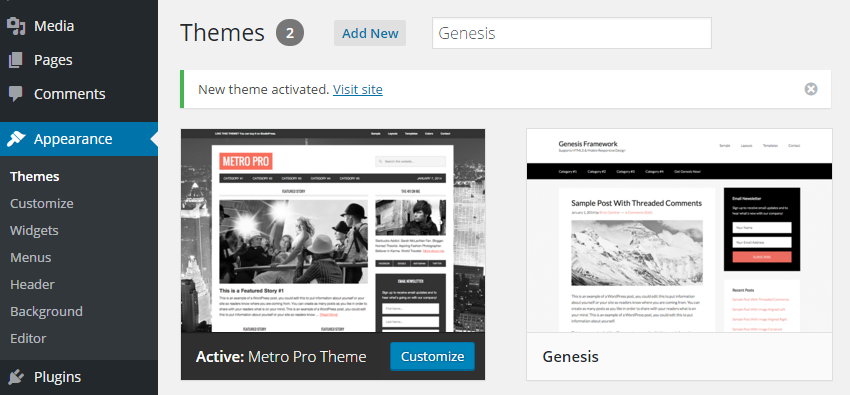 You can then either set up the theme as you wish or follow the instructions to duplicate the demo version of the theme (following the instructions gives you a good understanding of how the theme works).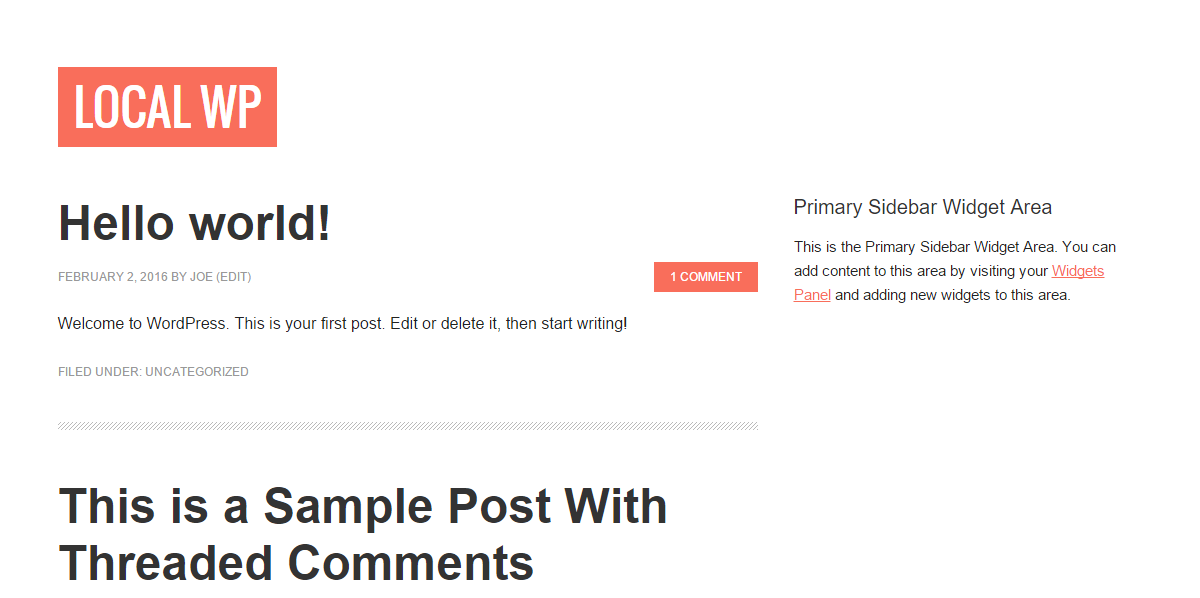 You also have the option of importing the demo content. However, unlike some other themes, this doesn't apply the settings and configuration of the demo version to your site, just the sample content.

Depending on which theme you've chosen, you'll get access to slightly different features and settings. However, with most StudioPress themes you can customize or modify the following areas:
Color scheme
Basic Site layout
Homepage content
Appearance of the content archives
Individual page layouts
Display optional breadcrumbs navigation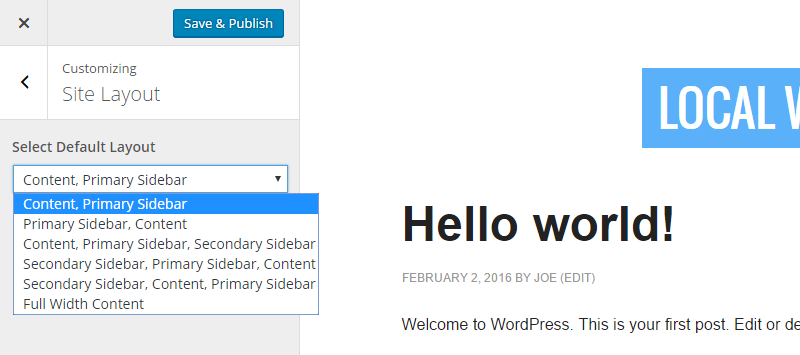 When it comes to adding content to your website, the StudioPress themes usually have a few templates to choose from, including a landing page template. There are also custom content and sidebar configurations that can be applied to individual posts and pages.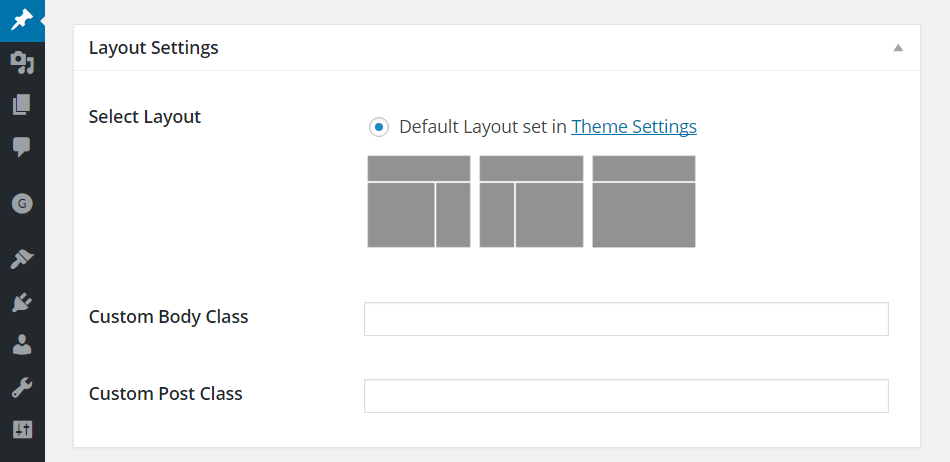 Other customization options, depending on your chosen theme, can include the ability to add widgets to your homepage layout; depending on which ones you choose, you'll be able to add a range of different types of content to your homepage via the widgets.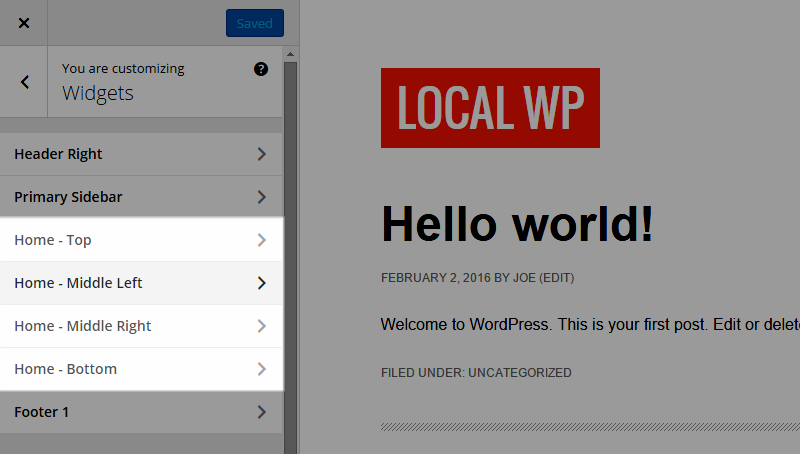 Once you've created the structure for your website and customized its appearance, all that's left to do is add your own content.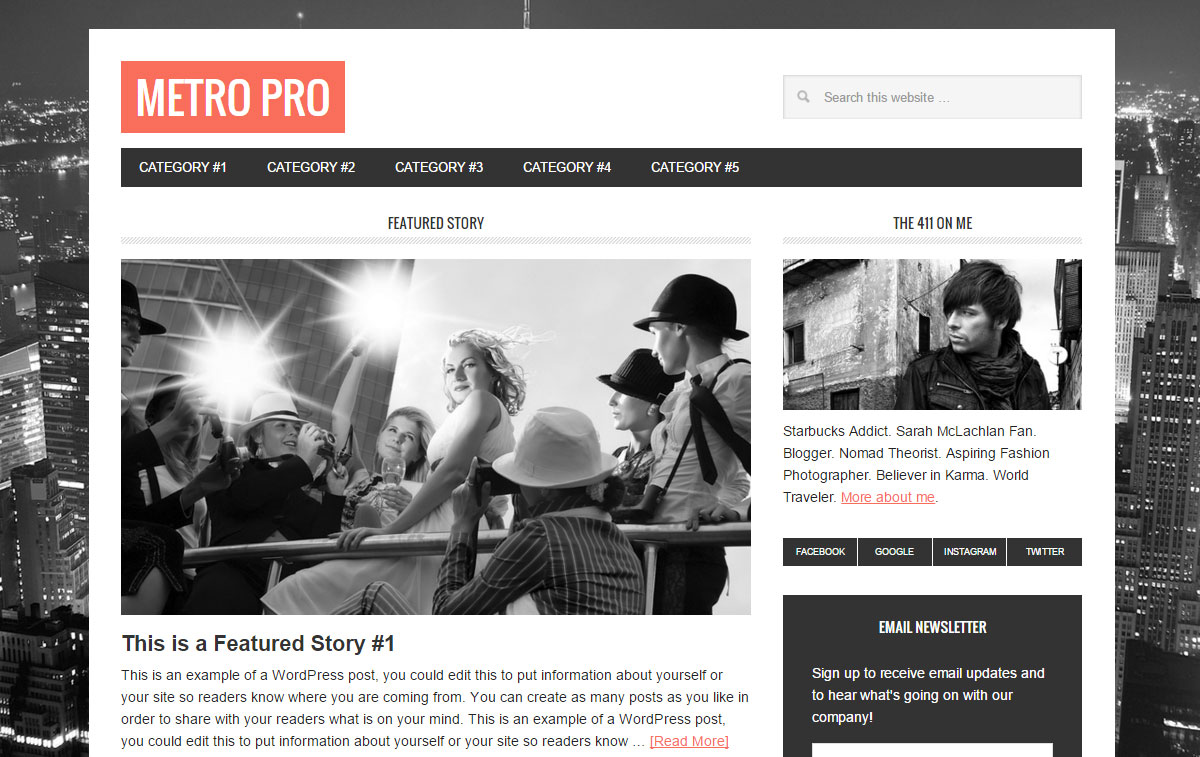 StudioPress WordPress Themes Support
StudioPress theme users can seek help at the public support forums hosted on the StudioPress website, where they can post questions and receive responses from staff and community members.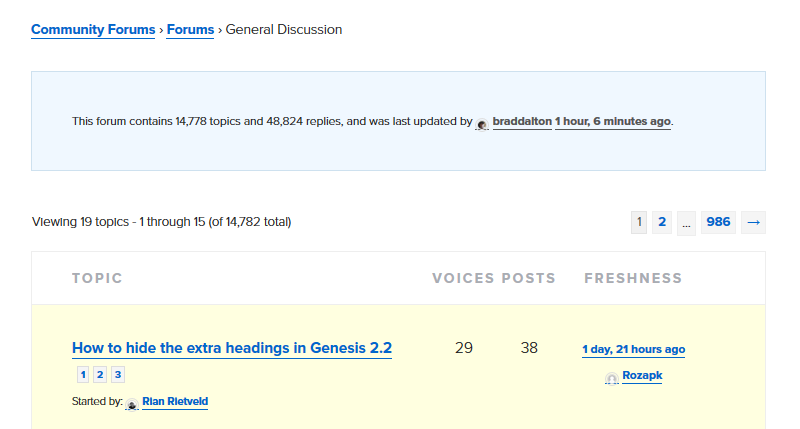 In the guides section of the StudioPress website, you'll find a beginner's guide to Genesis, a series of online tutorials, a members-only FAQ, code snippets, a collection of resources from around the web, and a list of recommended Genesis developers to help with any custom jobs you need taken care of.
As mentioned, any theme you buy will include detailed instructions and a guide to setting up your website.
StudioPress Pricing Details
As the Genesis Framework is required to use themes from StudioPress, it's good to see that it's included in the price. However, the framework is also available on its own for $59.95, should you want to use it as a foundation for your own custom website design.
When it comes to buying themes from StudioPress, there are two pricing options:
Because you can use the themes you buy on an unlimited number of websites, the Pro Plus All-Theme Package is a great option for web designers and WordPress implementers who create sites for clients.
At $99 for a single item, the StudioPress themes are a little more expensive than some other WordPress themes, but they still offer great value for money when you consider how quickly and easily they can be used to build a professional-looking website. Return customers also receive a discount when buying additional themes from StudioPress.
It's worth noting that, unlike some of the comparatively priced feature-packed WordPress themes, with StudioPress themes you may need to purchase additional commercial plugins to get the features you need.
The StudioPress website also lists third-party themes that have been built to run on the Genesis Framework. However, these have not been created by the StudioPress team and are individually priced.
Final Thoughts
The WordPress themes from StudioPress are ideal for anyone who wants an extremely well-built, great-looking theme that they can easily install and have up and running on their site with as little fuss as possible.
Solid, practical and low-maintenance, these are undoubtedly some of the best themes in the business, but, unless you're a coder or are willing to pay for custom development work, for the most part, what you see is what you get!
Any experience with StudioPress and/or its themes? Thoughts?
All comments are held for moderation. We'll only publish comments that are on topic and adhere to our Commenting Policy.
Our commenting form also supports the use of Markdown.