WinningWP content is free to all. If you make a purchase through referral links on our site, we earn a commission (
learn more
).
Shared vs Managed WordPress Hosting Explained – Everything You Need To Know!
If you're setting up a new WordPress site, chances are you've started looking into your options for hosting, and, as part of your search, two of the key terms you'll have undoubtedly come across are 'shared hosting' and 'managed WordPress hosting'. But what are they? And which one should you choose? If you're confused about the difference between shared and managed WordPress hosting, and which type is best for your site, then read on.
In this beginner-friendly guide, I'll cover the key details and differences between these two types of hosting, so you can choose the right plan for your WordPress site. I'll be taking an in-depth look at these two approaches, and answering common questions you may have, including:
What's the differences between shared hosting and managed WordPress hosting?
What are the pros and cons of managed WordPress hosting vs shared hosting?
Which are the best shared and managed WordPress hosts? How do I choose the right host for my WordPress website?
📖 Shared vs Managed WordPress Hosting Summary
If you're just looking for a summary, here are the differences between shared and managed WordPress hosting in a nutshell.
What is shared hosting?
Shared hosting is a type of hosting where a single server's resources are shared between different customers, so your site will be sharing server space with other websites. Because of this, shared hosting is the cheapest way to host a WordPress website, and can also typically offers unlimited sites, visitors and storage.
However, because you're sharing resources, your sites will usually load more slowly and won't be as reliable (because other accounts sharing your server can affect your sites). Support is usually limited with shared hosting too, and you typically won't get as many features.
What is managed WordPress hosting?
Managed WordPress hosting is designed specifically for WordPress websites. With this type of hosting, all of the technical details are taken care of for you, so you can focus on the business side of running your site. It's also usually much more reliable than shared hosting, because your site typically gets dedicated resources that can scale up during high-traffic periods. You can also expect much faster performance and better support, as well as useful features such as staging sites, automatic backups and other tools.
Of course, you get what you pay for, and the downside is it's more expensive than shared hosting and usually has specific limits when it comes to the number of websites, monthly visits and storage you get access to on each plan.
Shared Hosting vs Managed WordPress Hosting Comparison Table
Shared Hosting
Managed WordPress Hosting
Best for
Total beginners or hobby sites
Important websites or any website that earns you money
Price
Starts at $5+ a month
Starts at $30+ a month
Infrastructure
Share resources with other accounts
Typically cloud hosting with dedicated resources that scale automatically
Hosting Dashboard
cPanel
Custom dashboard
Site Limits
Unlimited
Low limits
Visitor Limits
Unlimited (usually)
Monthly visitor limits (overage fees if you exceed)
Performance
Can be slow
Very fast
Reliability
Can be unreliable
Very reliable
Support
Limited
Expert help with everything WordPress
Features
Limited
Lots (automatic backups, staging, etc.)
Top Providers
GreenGeeks
DreamHost
Bluehost
Kinsta
WP Engine
Flywheel
These differences aren't 100% universal, and there may be some variation for certain hosts, but these are the general differences between the two types of hosting.
💡 Shared vs Managed WordPress Hosting: Explained in More Detail
Let's take a more in-depth look at the differences between shared hosting and managed WordPress hosting.
Shared Hosting
Shared hosting, as mentioned earlier, is a type of hosting setup where your account 'shares' resources with other accounts on the same server. This has a number of drawbacks, which we'll discuss in a second. But it has one distinct advantage — it makes hosting a website incredibly cheap, which is why it's so popular.
☝️ Key point: The only real advantage of shared hosting is it's cheap, especially when you factor in that most shared hosts support unlimited websites and visitors. Excluding price, managed WordPress hosting is superior to shared hosting in every way.
Here's an example of shared web hosting from Bluehost: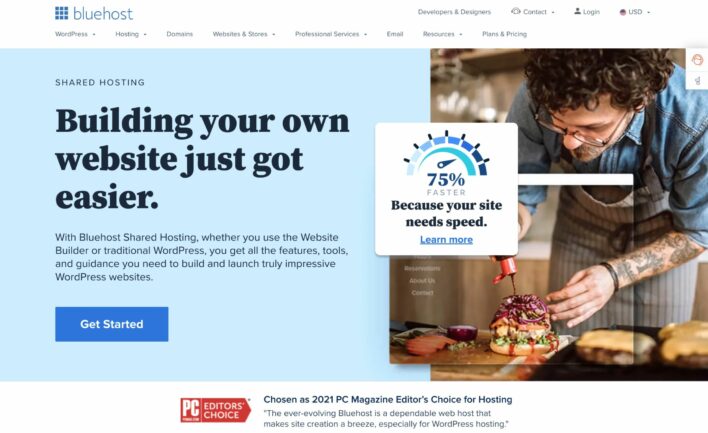 Managed WordPress Hosting
Managed WordPress hosting, on the other hand, is perhaps best defined as a concierge set of WordPress-specific features and optimizations that can be added to any hosting setup. For example, managed WordPress hosting typically encompasses:
hosting environments that are optimized for WordPress performance
WordPress-specific security rules
automatic WordPress updates
automatic backups and easy restores
support members that are experts in WordPress
staging sites to test changes.
While managed WordPress hosting can use any type of infrastructure, most performance-focused managed WordPress hosts use cloud hosting infrastructure from Google or AWS. This cloud approach lets managed WordPress hosts scale resources up or down based on your site's traffic.
For example, if your site goes viral on social media, the host can quickly scale up its resources to ensure it keeps loading quickly and reliably.
Here's an example of managed WordPress hosting from Kinsta: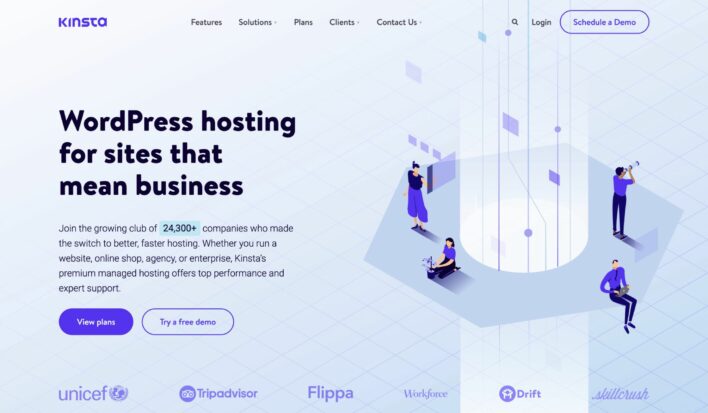 ⚠️ The Trouble with Shared Hosting
With shared hosting, because different customers share resources, other users' websites can affect your site's performance and reliability.
For example, if another account on your server is using lots of resources, your site may slow down as a result.
There are a number of issues with standard shared hosting, most of which stem from its business model.
Although the accounts are cheap, they're cheap because hundreds (sometimes thousands) of users are put on the same server. This leads to the so-called 'bad neighbor effect'.
The server, which houses hundreds of accounts, has a fixed amount of memory. If one website exploits more than its fair share of the available memory, all of the other sites housed on the same server will experience issues because of this one 'bad neighbor'.
This essentially means one troubled website has the potential to cause thousands of unrelated sites to load slowly, or even, in the worst-case scenario, not at all.
On top of that, memory isn't the only resource that gets divided on a shared server. Bandwidth, processing power, storage… Everything has to be shared between these accounts.
In many cases, hosts are powerless to resolve an issue.
A particularly diligent company may disable a website that's using too many resources due to inefficient code, for example, but what can they do if a website on the system suddenly experiences a huge traffic surge from social media? Not much!
🥜 In a nutshell:
Websites on shared hosting aren't dependable and often load slowly, especially in high-traffic situations.
👍 The Advantages of Managed WordPress Hosting
Key benefits of managed WordPress hosting:
Faster load times — the hosting uses more optimized infrastructure and you don't need to share resources with other accounts.
Better security — managed WordPress hosts build in WordPress-specific protections that go above and beyond shared hosting.
Automatic daily backups — even if your shared host offers backups, managed hosts go above and beyond in this area.
Better uptime and reliability — managed WordPress hosts use more reliable infrastructure and you don't need to share resources.
Higher-quality support — support staff can help you with both your hosting and WordPress. You also usually get faster response times and more knowledgeable help.
Custom hosting dashboards — most managed hosts offer custom hosting dashboards packed with useful tools such as staging sites, redirect management, update management, and more.
By moving your site to a managed WordPress host, you'll not only be able to effectively sidestep the 'bad neighbor' problem altogether, but also reap a number of very significant benefits…
Blazing Fast Speeds
Everything about managed hosting servers is optimized to run WordPress. In contrast, regular shared hosts need to be able to run any kind of platform/application, so they have to forfeit all of the WordPress-specific tweaking and fine-tuning managed WordPress hosts are able to do.
On managed hosting, everything from the hardware to the software is built for WordPress websites.
They'll have server-level caching in place and will likely be running the most optimal version of PHP, MySQL and Nginx — all of which will be individually configured to give the best performance possible.
Faster page load times aren't just a vanity metric — speeding up your site can have an effect on your bottom line because page load times are important for everything from user experience to engagement, Google rankings and conversion rates.
Enhanced Security
Shared hosts likely perform basic security sweeps to ensure the hundreds of users they have on each server aren't hit by all sorts of threats. However, managed WordPress hosting takes security to a whole other level.
Increased security protocols, daily malware scans and the ability to ward off all kinds of cyber threats (such as DDoS attacks) are features you'll find pretty much as-standard on most managed WordPress hosting plans.
Many managed WordPress hosts will also help you to protect the WordPress login page, and almost all of them offer free, easy-to-install SSL certificates to secure your site's data in transit.
If your site is unfortunate enough to get hacked on managed WordPress hosting, you'll get a lot more expert help — and some managed WordPress hosts will even fix malware problems for free.
For example, both Kinsta and Flywheel, two of the best managed WordPress hosts, offer free 'hack fix guarantees'.
Automated Backups
I simply can't emphasize enough how important it is to make regular backups of your site! Luckily, most (if not all) managed WordPress hosting plans include not only automated daily backups, but also features that let you quickly and easily restore to your backups should you ever need to.
Many shared hosting services do offer automatic backups (after a fashion) via cPanel. However, these are almost always stored on the same server, meaning they're just as susceptible to damage as the original data. In addition, restoring to one of these backups is often difficult.
In contrast, managed WordPress hosting usually offers one-click restores that will bring your whole site back online within minutes, if not seconds!
Automatic Updates
With managed WordPress hosting, your web server will be managed by professionals whose goal is to ensure things are performing at peak efficiency. Automatic updates cover not only everything from the operating system on the server to PHP and MySQL etc, but also WordPress itself!
This means you'll always be running the latest, most stable and most secure versions of just about everything.
Convenient Dashboard Features
Because managed WordPress hosts are 100% dedicated to WordPress, most of them use a custom hosting dashboard, rather than the standard cPanel dashboard you'd get with most shared hosts.
Beyond being more pleasant to work in, these dashboards can also give you access to a lot of helpful management features.
For example, Kinsta lets you view your WordPress plugins from your hosting dashboard and see when updates are available: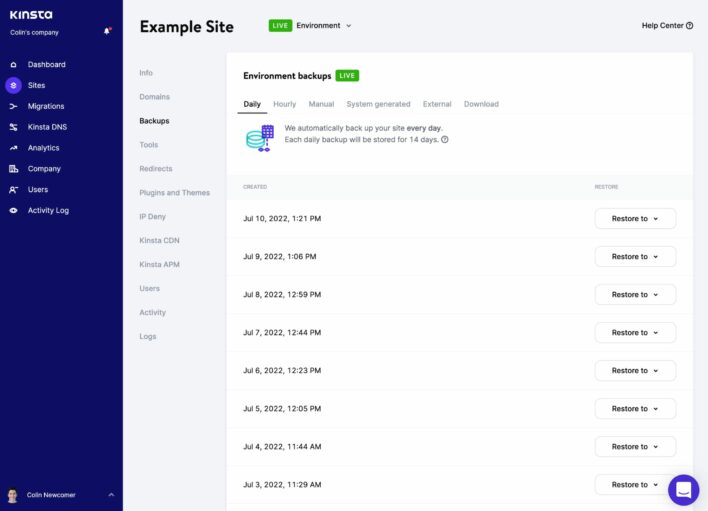 Most also offer staging sites, which give you safe sandboxes to test any changes you make. When you're happy with the changes, you can push them to your live site with the click of a button.
Better Support
Support personnel at your shared host may be extremely friendly, but they're unlikely to be WordPress experts.
Have you ever had issues where the standard response was: 'Make sure WordPress is updated and make sure you aren't using bad plugins?'
Or that old classic: 'Try deactivating your plugins one by one to see if one of those is the problem?'
Managed WordPress hosts know exactly what version of WordPress you're running (since they themselves are the ones maintaining it) and what plugins you have installed.
They'll usually be able to home in on your problem much more quickly and will, generally speaking, be able to solve issues shared hosts won't even get into.
Better Uptime & Scalability
Because of the highly tuned nature of the setup, your website will be able to handle a much higher number of viewers with a managed WordPress host than it would be able to when running on shared hosting.
However, keep in mind that many leading hosts, such as WP Engine, will have predefined limits on the number of monthly visitors your site will be able to accommodate before being subject to additional charges.
Based on all of the above, I'm sure the prospect of a managed WordPress environment is beginning to sound pretty great — as indeed it should! However, before you decide, there are some downsides of which you should be aware.
👎 Disadvantages of Managed WordPress Hosting
Notable drawbacks of managed WordPress hosting:
More expensive — managed WordPress hosting costs more than shared hosting, especially if you have multiple sites.
Visitor limits and overage fees — it's normal to have a monthly visitor limit on your plan (e.g. 100,000 visitors). If you exceed this, your site will keep working but you'll need to pay overage fees.
Banned plugins — some managed WordPress hosts will block a small selection of plugins that interfere with the platform and/or can cause performance issues.
Can't install other software — managed WordPress hosting is literally just for WordPress sites. You cannot install any other software (e.g. Matomo for analytics).
Let's take a more detailed look at the downsides…
A Higher Price Tag
There's no getting away from it: Managed WordPress hosting costs more than shared hosting. If you're running a serious online business/endeavor, then of course the additional cost will almost certainly be more than justified.
If, however, you're simply running a personal or non-profitable blog, then it may be worth sacrificing all of the above-mentioned potential benefits and sticking with shared hosting to keep costs to a minimum instead.
Entry-level managed WordPress hosting plans tend to start at around $30 a month. On many managed WordPress hosts, this price can get you your own dedicated resources on a VPS. For example, Kinsta's $35 entry-level plan uses Google Cloud infrastructure.
This is much higher than the $4 to $5 a month you'd pay for cheap shared hosting. Additionally, it's important to remember that most managed WordPress hosts limit the number of sites you can have — you won't typically find the 'unlimited websites' option cheap shared hosts offer.
Monthly Visitor Limits and Overage Charges
Beyond the higher price tag, many managed WordPress hosts also implement soft caps on the number of visitors your website can have a month.
Typically, a ~$30-a-month managed WordPress hosting plan will allow for around ~20,000 to 25,000 visits a month, which is a far cry from the 'unlimited' traffic most shared hosts advertise. Of course, there's no such thing as unlimited in the real world.
Now, this doesn't mean a managed WordPress host will shut off your site if you exceed those limits, but it does mean you'll need to pay overage fees if you go above your traffic limits.
Most managed WordPress hosts charge around $1 to $2 per thousand visitors over your limit.
Limitations on Plugins
Many managed WordPress hosting companies will put certain restrictions on usable plugins. They may disable some plugins because the task they perform is handled on the server level (such as caching), or they may disable them for performance or security reasons.
For example, WP Engine blocks the Broken Link Checker plugin because of its effect on performance.
Inflexible Infrastructure
This one almost goes without saying: You can only use WordPress on managed WordPress hosts. You won't be able to run other systems such as Joomla, Drupal or Magento on the same server.
This is, of course, an absolute deal-breaker if you need to run something other than just WordPress!
🤔 Should You Use Shared or Managed WordPress Hosting?
🥜 In a nutshell:
Shared hosting can be an effective option to keep your costs low when you're just getting started or if you're running hobby websites.
But as your site starts growing, it's usually a smart decision to invest in managed WordPress hosting, especially if you're planning to earn money from your website.
When to Consider Shared Hosting
Shared WordPress hosting can be a good option if you're just getting started with your first WordPress site because it lets you keep costs low.
For a new site, the benefits of managed WordPress hosting aren't as prominent. For example, while high-performance infrastructure is important for all sites, it's less important for low-traffic sites only getting a few hundred visitors per day. Because the load on the server is so low, even cheap shared hosting providers can usually offer acceptable performance for very low-traffic sites. For the same reasons, shared hosting can also be good for hobby websites or 'just-for-fun' websites.
When to Consider Managed WordPress Hosting
Once your site starts growing, we recommend you consider investing in managed WordPress hosting, especially if you rely on your website to earn money.
With managed WordPress hosting, your site will load faster and more reliably, which creates a better experience for your visitors and can have other benefits such as improving your search engine optimization (because Google uses site speed as an SEO ranking factor).
What's more, if you earn an income from your site, every minute of downtime means lost revenue. In that case, investing in more reliable managed WordPress hosting can be a smart financial decision.
Beyond the improved performance, using managed WordPress hosting can also let you focus more on growing your site/business rather than dealing with technical details, because your managed WordPress host will handle a lot of basic technical details for you, such as backups and WordPress updates. You'll also get tools to work more efficiently, such as easy staging sites that let you safely test changes to your site.
Finally, if anything does happen to your site, you'll get access to more responsive, knowledgeable support staff who are more willing to help you with general WordPress issues (instead of just hosting issues).
🏆 Top Shared Hosting Companies
If you think shared hosting is a better fit for your website(s) right now, here are some good options to consider:
Of the three, GreenGeeks offers the best performance, while still keeping prices low. It achieves this, in part, by using LiteSpeed Web Server.
DreamHost offers okay performance, but its main advantage is you can pay monthly while still getting cheap prices (whereas most other shared hosts make you pay for at least a year upfront).
Bluehost doesn't perform as well as GreenGeeks, but it does offer a very beginner-friendly setup experience, including a WordPress-based website builder. This can make it a good option for non-technical newbies.
To see more options, check out our full list of recommended shared hosting providers.
🏆 Top Managed WordPress Hosting Companies
If you think managed WordPress hosting is a better option for your site, here are some of the top providers:
All three of the providers above offer excellent performance, reliability, features and support.
You won't go wrong choosing any one of them, and they all offer free migrations and/or migration tools to help you to easily move your site from shared hosting.
If you want a more affordable option, you can consider SiteGround, which kind of sits in between shared hosting and managed WordPress hosting. It offers some (but not all) of the benefits of managed WordPress hosting but at a lower price point. You can learn more in our SiteGround review.
To see even more options, check out our full collection of the best managed WordPress hosting companies.
❓ Shared vs Managed WordPress Hosting FAQs
What is shared hosting?
Shared hosting is a type of hosting where your hosting account "shares" resources with other accounts on that hosting server. By sharing resources like this, shared hosting providers are able to offer rock-bottom prices, but at the expense of speed and reliability.
Is shared hosting good for WordPress?
Shared hosting can be a good option when you're just getting started because it lets you keep costs down. However, once your site starts growing, you'll typically want to upgrade to access better performance and reliability (not to mention support and features).
Is shared hosting good for beginners?
Shared hosting can be a great option for beginners because it lets you keep costs down at the beginning and many shared hosts offer simple setup experiences, such as Bluehost's guided setup wizard.
What is managed WordPress hosting?
Managed WordPress hosting is a set of concierge features and optimizations to help you host WordPress sites more effectively. These typically include WordPress-specific performance and security optimizations, useful features such as automatic backups and staging sites, and expert WordPress support.
Is managed WordPress hosting worth it?
Managed WordPress hosting is worth it for webmasters who are willing to spend a little more money to access the best performance, reliability, features, and support.

If you want to earn an income from your site, we recommend investing in quality managed WordPress hosting.
Is managed WordPress hosting shared?
While some hosts do advertise managed WordPress hosting while still using shared hosting, most quality managed WordPress hosts will completely isolate your sites from other accounts (typically by using a cloud hosting approach).
👉 How to Pick the Right Host for Your Needs
If you just look at the quality of service you receive, the best choice is obviously a premium managed WordPress host such as Kinsta, WP Engine or Flywheel. These three hosts offer the absolute best performance, reliability, support and convenience.
Of course, most of us have to worry about another consideration beyond quality of service — the budget!
So, if spending $25+ a month for the best hosting isn't an option, here are your other choices:
Basic shared hosting — only use this if it's literally the only thing you can afford (e.g. you're launching your first site and you need to keep costs low). The only positive thing we can say about these hosts is they're cheap and they can get you a working WordPress site. Here are our recommended shared hosts.
'Shared' managed WordPress hosting — if you want some managed features at a lower price point, you may like SiteGround, which offers some managed WordPress features on shared environments. Again, these types of hosts do not match Kinsta, WP Engine or Flywheel in service quality, but they do offer a budget-friendly entry point to achieve some of the benefits of managed WordPress hosting, especially if you need to host multiple sites.
Related Posts:
Still have any questions about shared hosting vs managed WordPress hosting for your sites? Let us know in the comments!
All comments are held for moderation. We'll only publish comments that are on topic and adhere to our Commenting Policy.