Recommended 'Shared' WordPress Hosting Providers
When you launch a WordPress site, your hosting is one of the most important choices you'll make. It affects how quickly your website loads, how reliably your website is available and how much maintenance work you need to perform.
Basically, you want to get it right.
But, when you're just getting started, you may not have the budget to go with the absolute best of the best WordPress hosting. Most premium managed WordPress hosts start at around $25 a month just to host a single site, and, while those hosts offer great performance and helpful features, $25-plus a month per site may just be outside your budget.
In that case, shared WordPress hosting makes a great option.
Are these budget shared hosts as good as the hosts on our recommended managed WordPress hosting list?
If we're being honest, no they're not. You'll often make sacrifices on at least some combination of features, performance and support.
But the shared hosts we recommend are good enough for most WordPress sites — especially when you're just getting started — and they accomplish this at a fraction of the cost of more premium managed WordPress hosts.
These hosts can still get you respectable page load times and uptime, and, in some cases, you'll even get a taste of managed WordPress features, such as automatic updates and staging sites.
So, if you want to host your WordPress site(s) on the cheap, here are WinningWP's recommended shared WordPress hosting providers…
SiteGround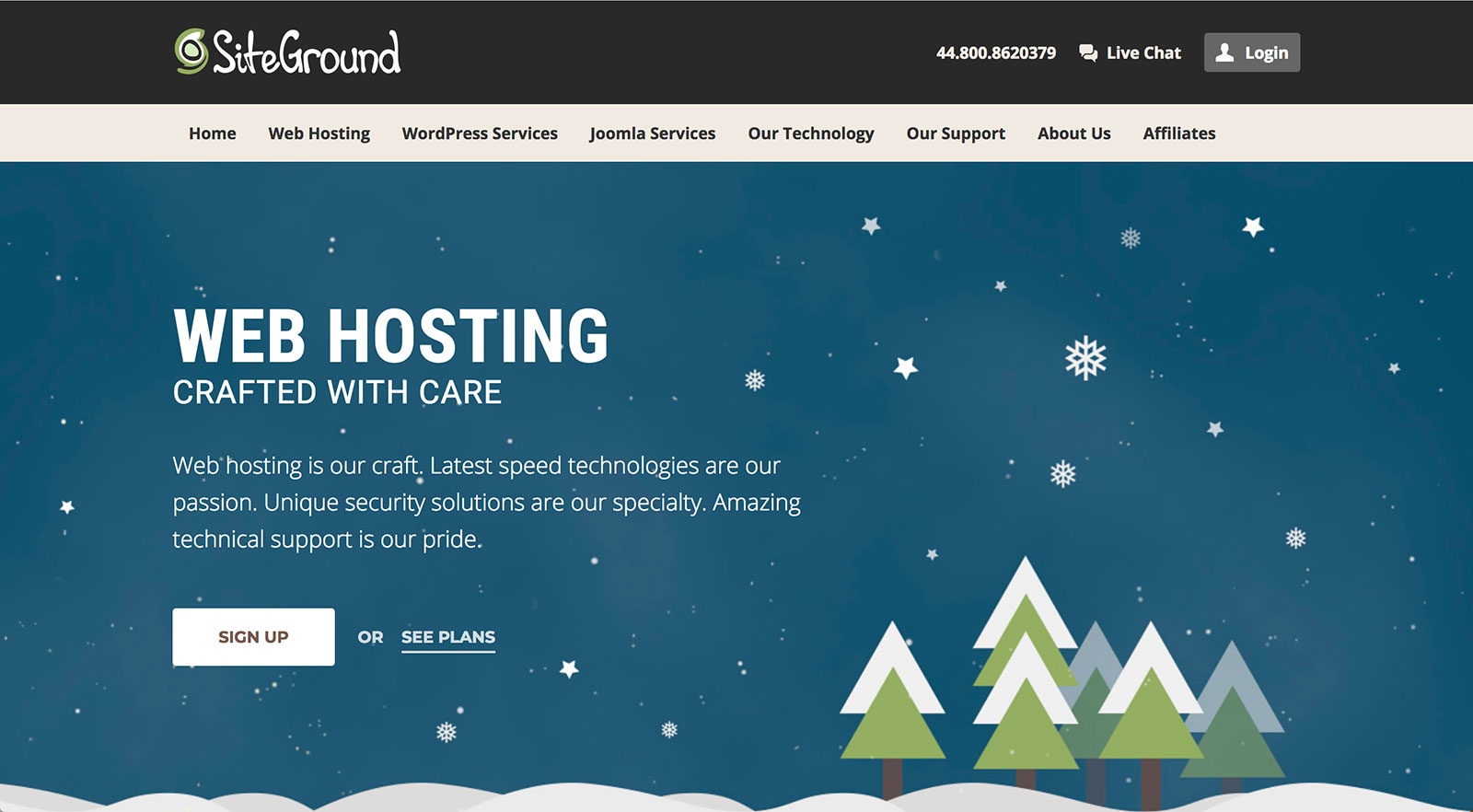 SiteGround are a well-regarded shared WordPress host that manage to offer stellar performance, good uptime and some convenient managed WordPress features at a surprisingly low price point.
If you go with the mid-tier shared hosting plan, you'll be able to host unlimited websites with features such as built-in staging, automatic WordPress updates, server-level caching and automatic backups.
SiteGround also offer great support, which is important if you run into any issues, and they recently launched a new web hosting dashboard that makes it super easy to manage your WordPress site.
Read our full SiteGround review.
Price: SiteGround's cheapest plan starts at $3.95 a month with promotional pricing, but most people would be better suited to the $5.95-a-month GrowBig plan. Pay attention to the regular prices, though, as the promotional pricing only applies to your first billing cycle.
The minimum commitment at SiteGround is one year, which you'll need to pay upfront.
DreamHost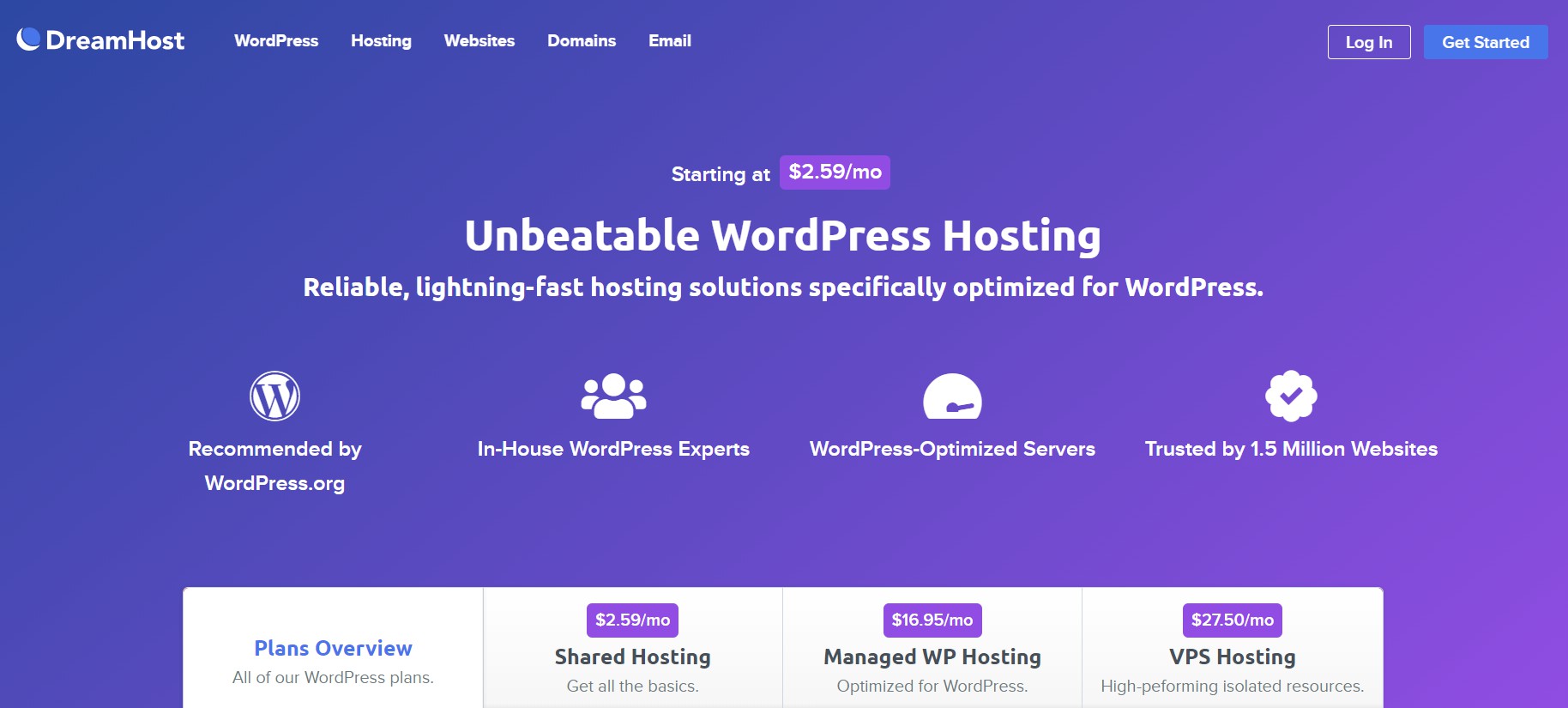 Founded all the way back in 1996, DreamHost are one of the oldest web hosting companies you'll find. Over that time, they've built up a reputation for having stellar, if not top-of-the-line, hosting plans.
DreamHost offer the lowest pricing on this list, and even let you pay month-to-month (which neither of our other recommended hosts allow).
You'll get unmetered bandwidth, a free SSL certificate, automatic WordPress updates, and automatic daily backups.
If budget is your primary concern, DreamHost offer good value for their rock-bottom prices.
Read our full DreamHost review.
Price: Prices for a single-site start at $2.59 a month for three-year commitments or $4.95 for month-to-month billing. There's also an unlimited website plan for $5.95 a month or $10.95 a month, respectively.
Bluehost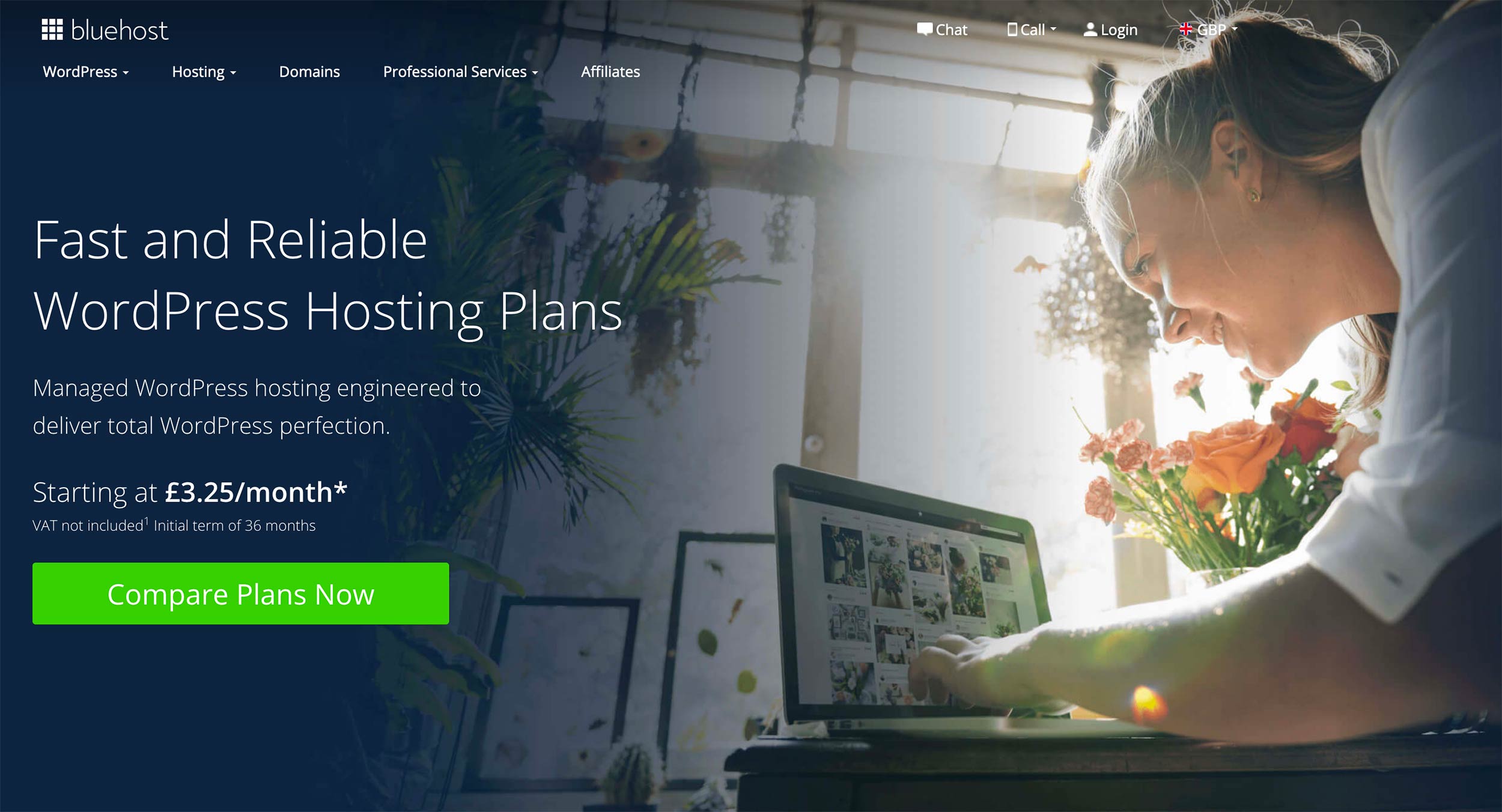 Bluehost are one of the most popular shared WordPress hosts in existence, with low prices and a really well-designed hosting dashboard that makes it easy to launch and manage your site.
Bluehost also come with some nice goodies for WordPress users, such as staging sites, automatic WordPress updates and free SSL certificates.
The middle-tier plan and up also offer both unlimited storage and unlimited websites, which is quite generous.
Bluehost's reputation isn't quite as good as SiteGround's when it comes to support and performance, but Bluehost's regular prices are also a good bit lower than SiteGround's.
Price: Bluehost's cheapest plan starts at $2.95 a month with a three-year commitment, or $4.95 a month with a one-year commitment. As with SiteGround, you'll want to pay attention to the 'normal' price, as that's what you'll pay when you go to renew.
The minimum commitment at Bluehost is one year, which you'll need to pay upfront.
How to Pick the Best Shared WordPress Hosting for Your Needs
We recommend all of these shared WordPress hosts, so you won't necessarily make a 'wrong' decision with any of the options on this list. Yet, there are some factors that may make one host better for you than another.
First, let's talk about overall performance and quality.
Overall, SiteGround are a bit above the other hosts when it comes to performance and support. For example, you'll usually be able to get ahold of a SiteGround support rep faster than a Bluehost support rep.
But, at the same time, SiteGround are also the priciest host on this list — especially once your promotional pricing period is over and you have to pay full price.
So, if you're comfortable paying SiteGround's full prices for a slightly higher level of service, you may want to start with SiteGround.
On the other hand, if price is the biggest determiner for you, then DreamHost may be the best option. With both SiteGround and Bluehost, the minimum commitment is one year. So, even though the per-month price is low, you'll still need to be willing to shell out ~$60 upfront to get started.
DreamHost, in contrast, offer low month-to-month prices with no commitment. While they do offer a discount if you pay for multiple years upfront, the cheapest plan still only costs $4.95 a month with month-to-month billing. There's no setup fee either, so you can literally pay just $4.95 to launch your website.
Finally, if you value the simplest user experience, then Bluehost may be right for you. Bluehost's onboarding wizard makes it super easy to launch a WordPress site and manage its day-to-day operations.
While both SiteGround and DreamHost also make it pretty easy, Bluehost are the winner when it comes to ease of use and simplicity.
Finally, if you're still unsure which is best for you, you can check out our full SiteGround vs DreamHost vs Bluehost comparison.