Recommended Managed WordPress Hosting Providers
Your hosting is the foundation of your WordPress site. Much like you wouldn't build a house on an unstable foundation, you don't want to choose low-quality WordPress hosting because it's going to make running your site a lot harder than it needs to be.
When you're looking for WordPress hosting, it's not just about finding a host that can make your site load fast and serve it up with near-100% uptime. It's also about finding a host that's going to make your life easier when it comes to the day-to-day parts of managing a WordPress website.
That's what managed WordPress hosting is.
A good managed WordPress host won't just nail the technical aspects of serving up a WordPress site, but will also help you out with features such as:
convenient management dashboards
security, including both proactive firewalls and rules, as well as help if something gets through your defenses
automatic daily backups
staging sites and other helpful development tools
monitoring and analytics.
To make it on to our list of recommended managed WordPress hosting, these four hosts nail both parts:
While our four recommended managed hosts aren't the absolute cheapest hosting out there, they all offer great value for money.
So, if you can swing it in your budget, invest in the foundation of your site. Your investment will pay dividends when you have a high-performing site that you don't have to waste time managing on a day-to-day basis.
Here are WinningWP's recommended managed WordPress hosting providers…
WP Engine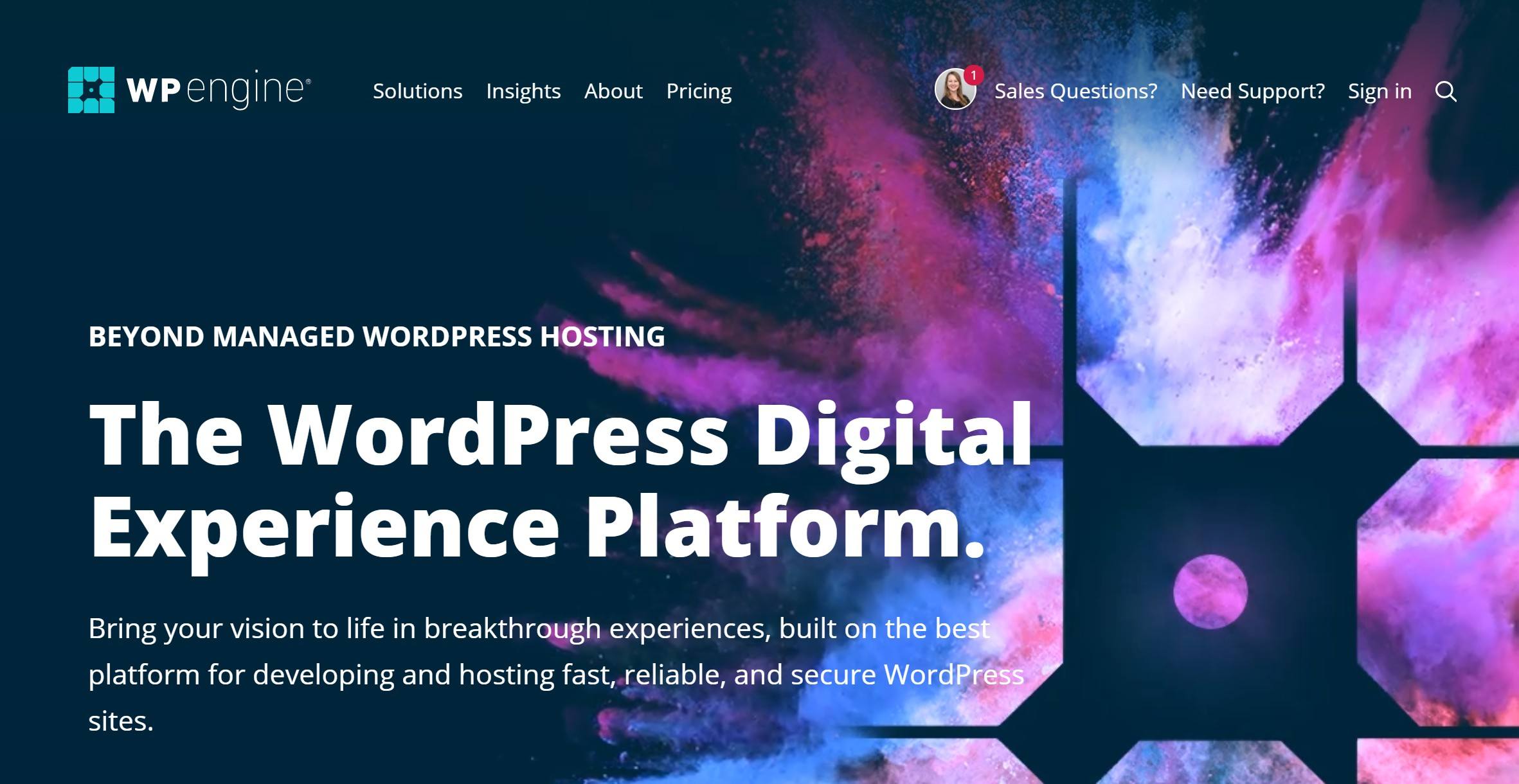 WP Engine are probably the biggest name in managed WordPress hosting, having recently received a $250 million investment and acquired Flywheel (another host you'll see on our recommended list).
WP Engine offer an optimized tech stack built on Amazon Web Services (AWS) infrastructure, as well as a custom hosting dashboard to help you to manage all aspects of your site. The dashboard isn't quite as user-friendly as Kinsta or Flywheel's, but it does give you a lot of control and multiple development environments.
WP Engine are also trying to be more than just a managed WordPress host. They've recently acquired the popular Genesis Framework and all StudioPress child themes, and WP Engine customers get access to all of those themes for free. They've also acquired other WordPress products, such as Atomic Blocks, and are making those available to customers, too.
Read our full WP Engine review.
Pricing: WP Engine's plans start at $35 a month for up to 25,000 visits.
Kinsta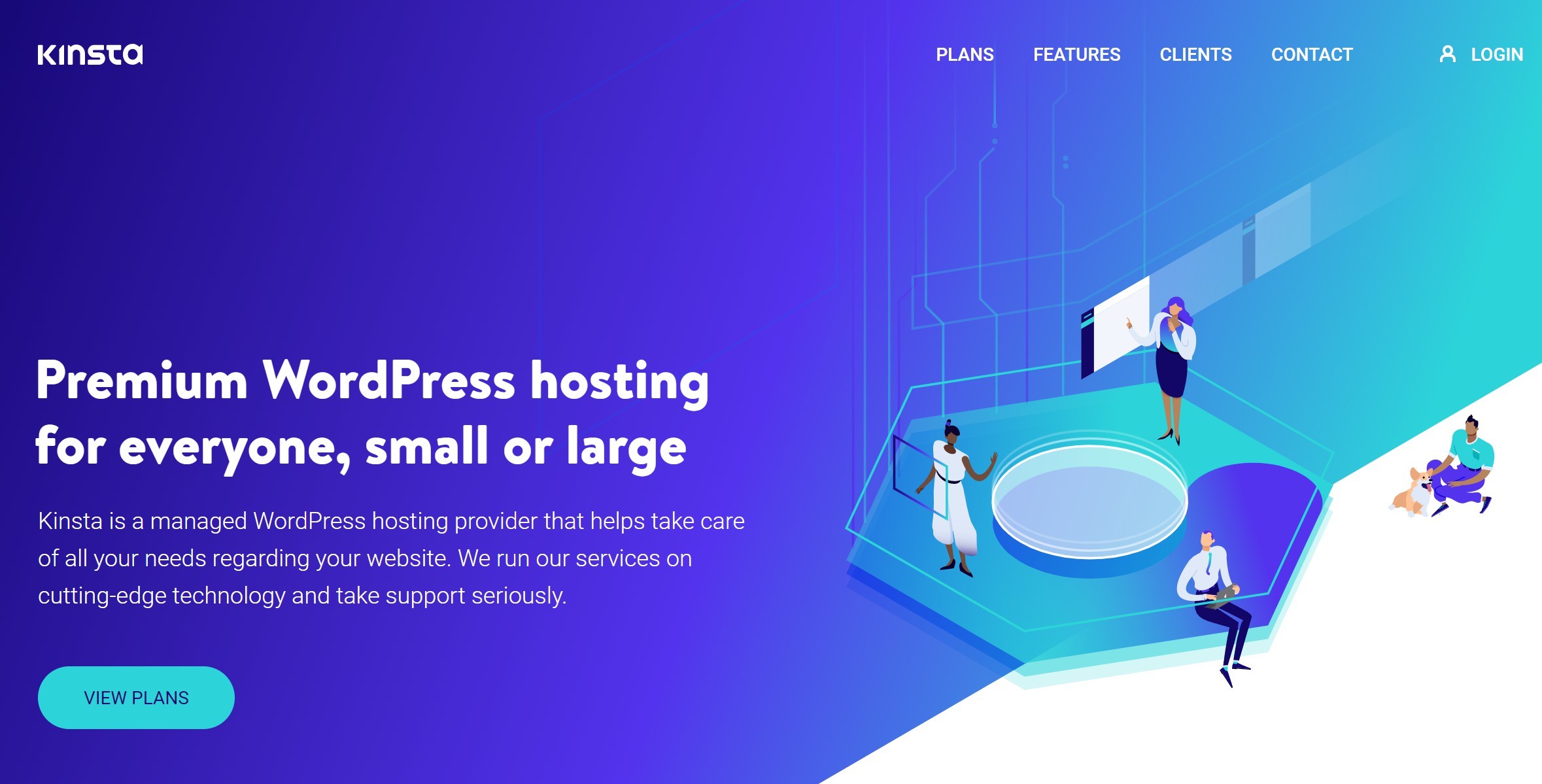 Though they're the youngest host on this list, Kinsta have quickly developed a reputation for having a high-performing, quality WordPress hosting product.
Kinsta use Google Cloud Platform infrastructure as their foundation, and build on it with a performance-focused stack including Nginx, server-level caching, a built-in CDN and more.
Beyond high performance and availability, Kinsta offer a user-friendly custom hosting dashboard, along with convenient features such as automatic daily backups, easy staging sites, security protections (plus a hack fix guarantee if something gets through), and lots of helpful monitoring and analytics tools.
Pricing: Kinsta's plans start at $30 a month for a single site with up to 20,000 monthly visits.
Flywheel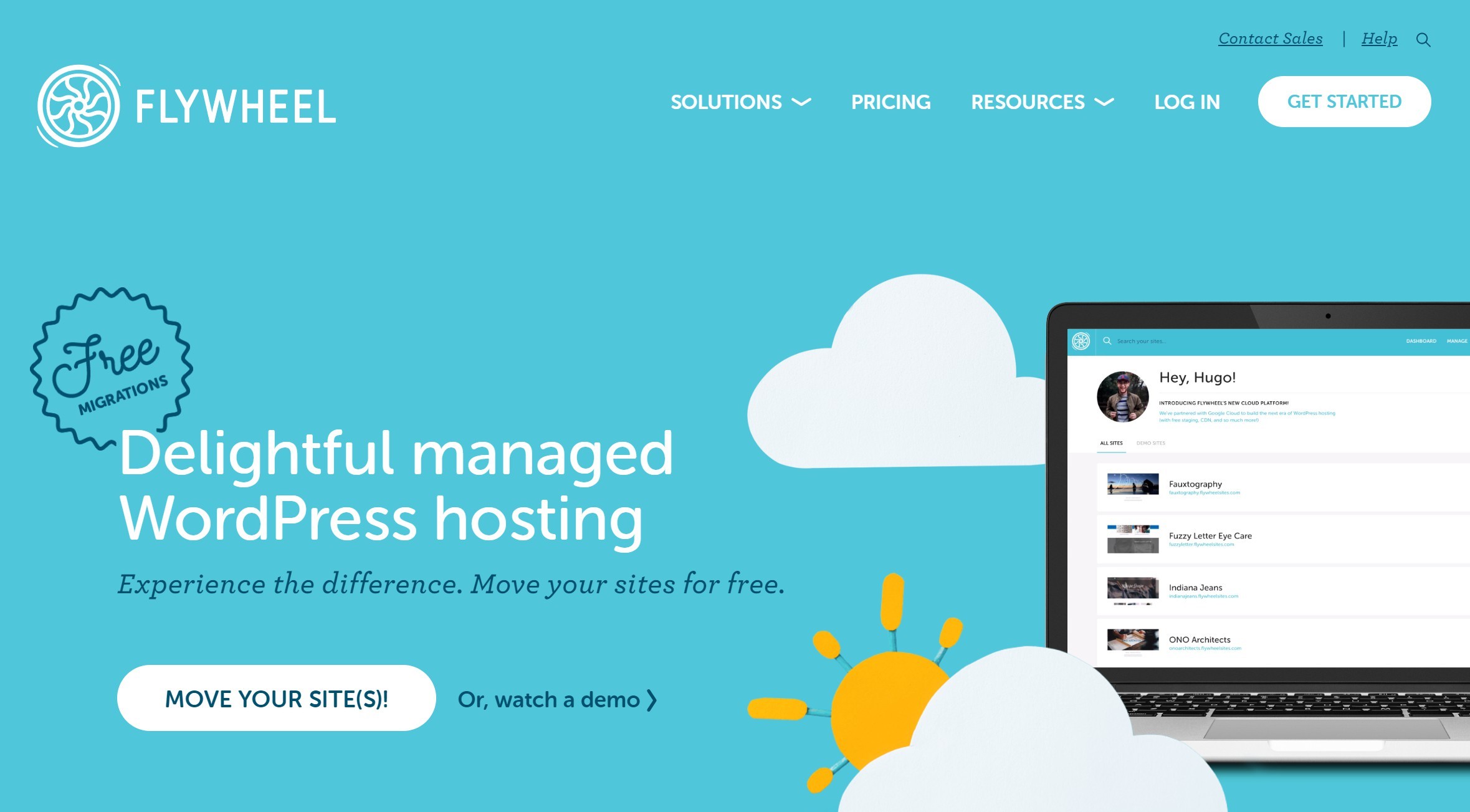 As mentioned above, WP Engine acquired Flywheel in June 2019. Even with that acquisition, Flywheel are still a completely separate product, with their own technology stack and custom hosting dashboard.
In fact, Flywheel probably have the most convenient, easy-to-use dashboard of any host on our list (though Kinsta are close). They also have a performance-friendly tech stack — Flywheel use Google Cloud Platform for their underlying infrastructure, and add on features such as server-level caching, a built-in CDN (extra fee) and more.
Some more notable things about Flywheel are their designer and agency-focused features. Flywheel offer really nice development workflows, including a tight integration with their Local WordPress development tool, and you can also easily transfer billing to your client once you finish building their site. You don't need to be a designer to benefit from Flywheel, but these features are great if you do build WordPress sites for a living.
Read our full Flywheel review.
Pricing: Flywheel's plans start at just $25 for a single site with up to 25,000 visits, which makes them the most affordable host on our list.
Pagely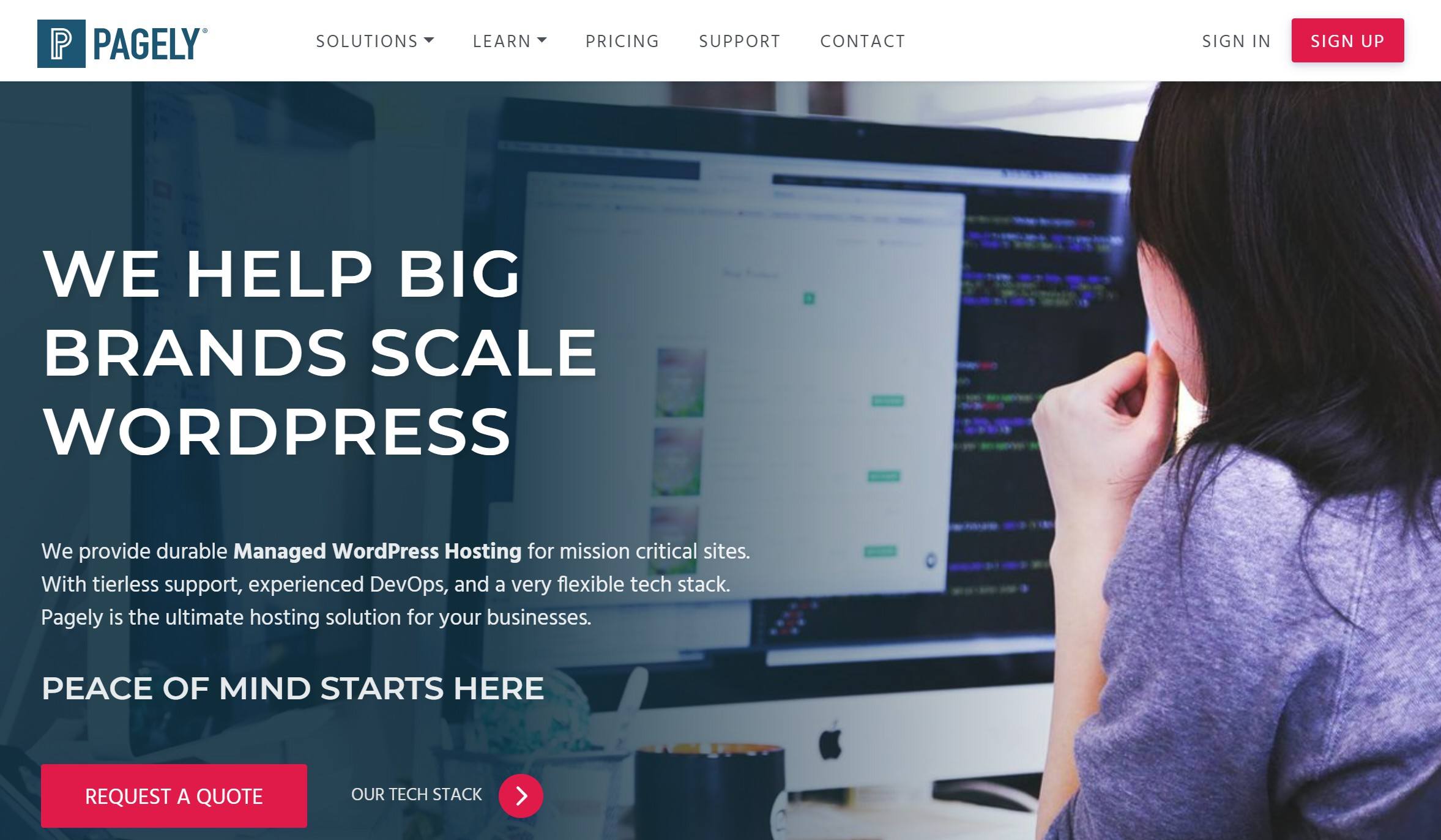 Pagely are the most expensive host on this list by a good margin. But, if you can swing the prices, they have a great reputation for working with mission-critical WordPress sites and businesses that want a more concierge managed WordPress hosting product.
One notable thing is that Pagely don't enforce any arbitrary visitor limits like the other three hosts on this list — you get your own dedicated resources with no restrictions.
Pagely build their tech stack on Amazon Web Services (AWS), and put in place a number of performance and security optimizations including premium DNS, an integrated CDN, server-level caching, image optimization, security and more.
Overall, Pagely were the first host to offer a managed WordPress product back in 2009, and they've rightfully built a great reputation in the intervening ten years.
Pricing: Pagely's cheapest VPS plan starts at $199 a month for 2 vCPU, 4 GB of ram, 30 GB SSD storage and unlimited PHP workers.
How to Pick the Best Managed WordPress Hosting
We recommend all of these hosts, but you still only need to choose one — so how do you pick?
Because all of these hosts use a managed approach, there are a lot of similarities between them. For example, all of them offer:
server-level performance enhancements, usually in the form of an optimized stack, caching, and a CDN
proactive security rules and protections
automatic backups
staging environments
cloud architecture (either Google Cloud Platform or AWS)
top-notch WordPress expert support.
But there are still some factors that may point you one way or the other. If you want the long version, you can check out our complete guide to choosing the best WordPress hosting. But the short version is that you should consider these three factors…
1. Price
Duh! But there's more to price than just the numbers on the pricing page. For example, three of these hosts limit their plans by the number of visits you get a month. So, you also want to consider the price per visit in your calculations.
Additionally, if you go over those limits, you'll be charged overage fees. For example, Kinsta, WP Engine and Flywheel all charge $1 per thousand visits over your limit, while Pagely doesn't apply overage limits.
2. Dashboard
All of these hosts offer a custom hosting dashboard (no cPanel!), but they vary in usability. Kinsta and Flywheel have the most user-friendly dashboards, but that doesn't mean you won't prefer the flexibility of WP Engine or Pagely.
For example, WP Engine let you create both staging and development environments, whereas Kinsta and Flywheel only let you create a single staging environment.
Similarly, Pagely let you create unlimited staging environments, though the process is a little more technical.
3. Tech Stack and Performance
Of course, performance and uptime are two of the most important considerations when choosing hosting. But all four featured hosts offer great performance and uptime, so it's not something you need to worry about as long as you stick to the hosts on this list.
However, there are some differences in each host's technology stack that may appeal to more advanced users.
For example, Kinsta and Flywheel both use Google Cloud Platform and Nginx FastCGI for server-level caching, while WP Engine use AWS and Varnish, and Pagely use AWS along with their own PressCACHE solution that both caches your content and serves it up via a CDN.
If you don't know what those terms mean, you can ignore them and be confident that any of the hosts on this list will get you a reliable, fast-loading WordPress site.
Get Started with Managed WordPress Hosting Today
These WordPress hosts are the best of the best in the managed WordPress hosting space, so you won't go wrong no matter what decision you make.
Find the one that has the price, dashboard and tech stack that works for you, and you'll enjoy a much more convenient WordPress hosting experience.
Your host will worry about performance, security and maintenance — you can just focus on growing your WordPress site!