WinningWP content is free to all. If you make a purchase through referral links on our site, we earn a commission (
learn more
).
Top 30 Best Free WordPress Plugins for Every Website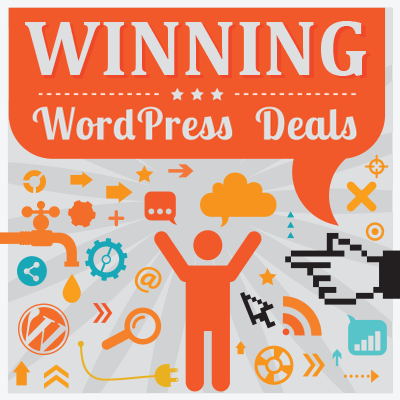 You've probably heard the old adage 'there ain't no such thing as a free lunch'. But, as much as I love Heinlein, in the world of WordPress, there actually is!
Without looking too hard, you can find heaps of amazing free WordPress plugins that add all sorts of helpful functionality to your WordPress site. Such plugins can help you to create better content, market your site more effectively, and keep it loading quickly and humming along smoothly… All without you needing to spend a dime.
To help you to find some great free WordPress plugins for your site — we've collected what we consider to be the 30 best free WordPress plugins, based on both personal experience and data from WordPress.org/
We'll divide these plugins into four broad categories. Plugins that are good for:
Whether you're a casual user or someone who likes playing around with custom fields and post types, you should find some great free options on this list.
Let's get started…
Best Free WordPress Plugins for Creating Content of All Types
Whether you want to create a contact form, build more beautiful pages, or add eCommerce functionality to your WordPress site, these plugins can help.
1. Fluent Forms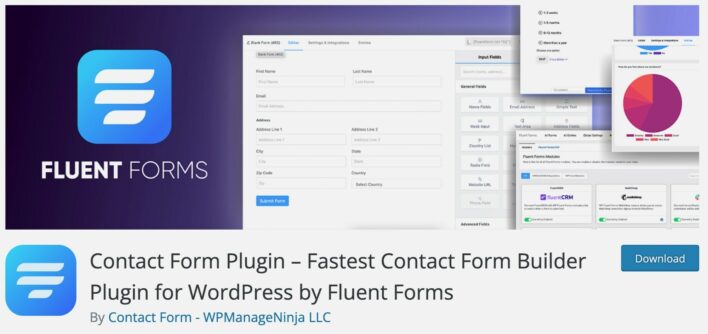 Every website needs a contact page, and, when it comes to contact forms (or other types of forms), Fluent Forms is one of the best free options that you'll find.
Honestly, you're spoiled for choice when it comes to quality free form plugins, and I could have easily replaced Fluent Forms with other options such as Ninja Forms, WPForms, Forminator, and more.
In addition to its reliability and easy-to-use drag-and-drop interface, the main reason that I've started using Fluent Forms over those other options is that it offers a more generous free feature list.
For example, Fluent Forms offers conditional logic and in-dashboard submission management in the free version, whereas many other form plugins charge for this type of functionality.
But honestly, while I give Fluent Forms the slight edge as a free solution, you'll do just fine with any one of the plugins that I've listed above.
2. Elementor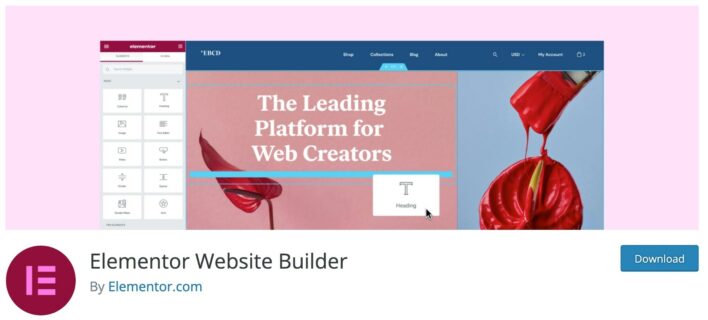 Elementor is a front-end drag-and-drop page builder. This means it lets you design complicated-looking pages without needing to know a single line of code.
Essentially, it makes web design accessible to anyone.
To create your designs, you'll use a visual interface. You can arrange layouts and content elements using drag and drop. And to customize how everything looks, you'll get detailed options to control styles, spacing, and lots more.
Read our Elementor review for more information. You can also check out some Elementor example websites to see what it can do.
3. WooCommerce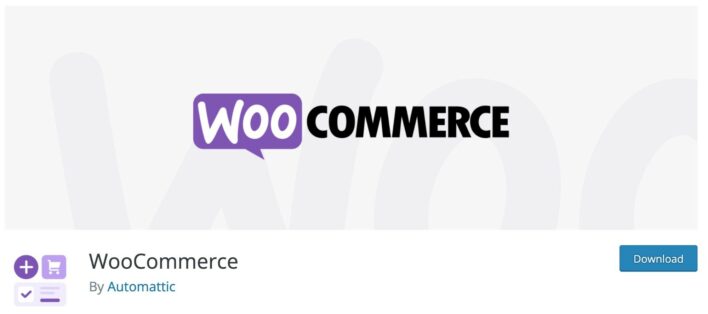 If you want to create an eCommerce store with WordPress, WooCommerce is the way to do it. Heck, if you want to create an eCommerce store period, WooCommerce is the way to do it. According to BuiltWith, this free plugin powers more than 23% of all eCommerce stores, and is even more popular than Shopify.
While the core WooCommerce plugin gives you all the basic functionality that you need to create a store, another standout detail about WooCommerce is that you can also find thousands of free WooCommerce extensions to add new features.
Check out some examples of WooCommerce stores.
4. TablePress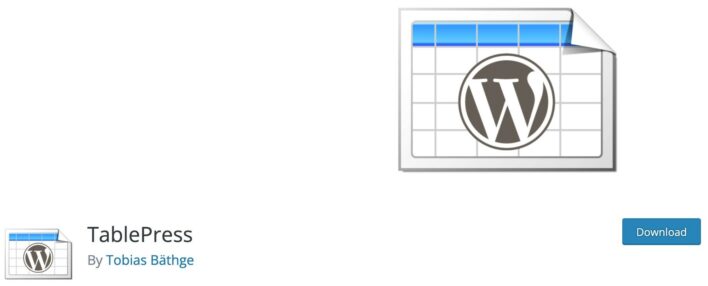 TablePress has one of the most impressive ratings I've ever seen for a WordPress plugin:
It has a perfect 5-star rating on more than 4,463 votes at WordPress.org.
And, as someone who has used this plugin quite a bit, I can say it deserves every one of those 5-star reviews.
If you need to display any type of table on your WordPress site, TablePress can handle it.
It gives you a simple, Excel-like interface right in your WordPress dashboard. You can import data from Excel or Google Sheets, use any type of media in your table, and extend it with a huge variety of free add-ons.
5. Modula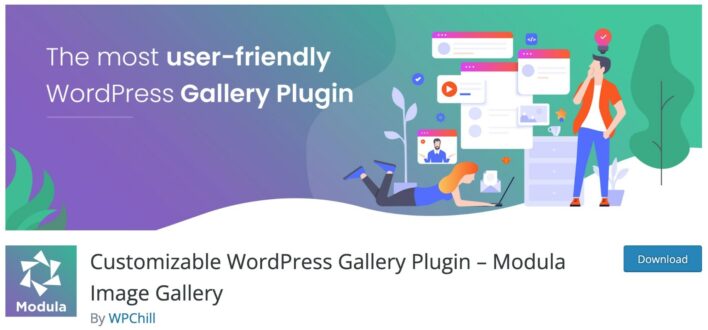 If you have a ton of images that you want to display at once, you need a gallery. WordPress includes basic gallery functionality built into the core, but it's not very flexible and the end product looks pretty basic.
Modula changes that by giving you a user-friendly interface to create great-looking galleries. It can automatically generate a stylish grid gallery based on your images. Or, if you like having more control, it includes a custom drag-and-drop layout builder so that you can control the size and placement of every image.
You can learn more about it in our Modula vs Envira Gallery comparison.
Envira Gallery used to occupy this spot on our list of the best free WordPress plugins. While Envira Gallery is still a great plugin, we think Modula now has the edge for most people in 2023.
6. Smart Slider 3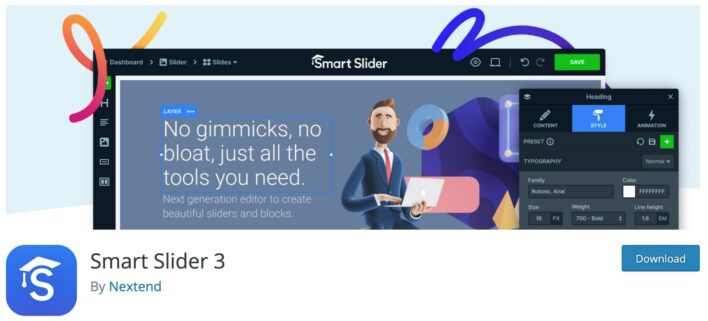 Like galleries, slider plugins provide you with another helpful way to display media content on your site. And when it comes to free slider plugins, Smart Slider 3 is one of the best you'll find.
Smart Slider 3 gives you a beginner-friendly live slide editor, as well as some beautiful templates to get you started. Even in the free version, you'll feel like you're using a premium plugin.
7. GenerateBlocks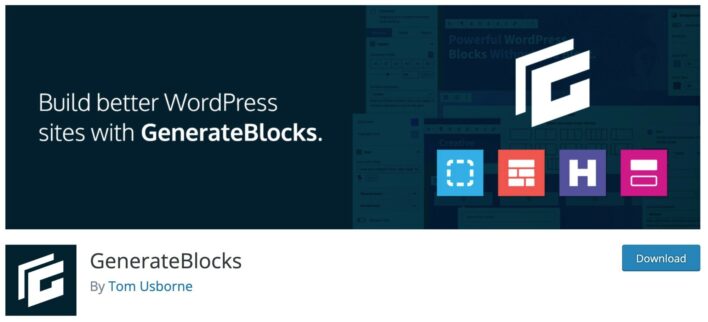 GenerateBlocks extends the native WordPress editor with some really helpful new blocks to give you more control over your designs.
While its block selection is smaller than some other block plugins such as Kadence Blocks and Spectra, the blocks that it does offer are all essential elements that you'll use over and over in your content.
In total, GenerateBlocks offers the following new blocks:
Container
Grid
Headline
Button
Query loop
Image
Each block gives you lots of options for customization and the attention to detail in the block settings is excellent.
While GenerateBlocks does come from the same developer as the GeneratePress theme, it will work with any WordPress theme that you're using.
Best Free WordPress Plugins for Marketing and SEO
Whether you're marketing by ranking your site in the SERPs or growing an email list, these free plugins can help to move the needle on your marketing efforts.
8. Rank Math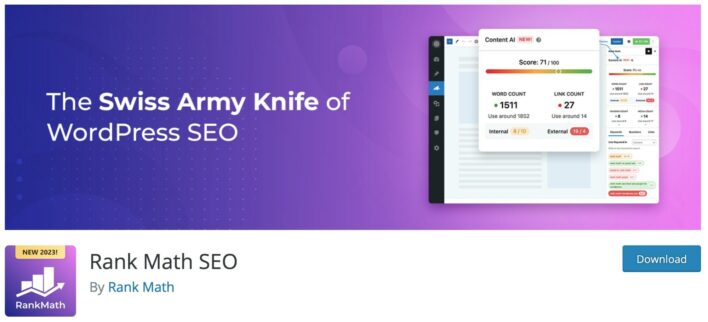 If you want your WordPress site to rank at the top of search engines, you need an SEO plugin.
While Yoast SEO is still the most popular WordPress SEO plugin (and a great free option to consider), I think that the Rank Math SEO plugin has now surpassed Yoast SEO as the top free option.
My reasoning here is primarily that Rank Math offers more free features than Yoast SEO. So if you want the most SEO tools without paying any money, Rank Math is your best bet.
For example, the free version of Rank Math supports optimizing for multiple focus keywords and offers internal link suggestions, which are both features that Yoast SEO charges for.
With that being said, if you're not going to use those extra free features and you just want a simple SEO tool to let you set SEO titles and meta descriptions, I still recommend Yoast SEO over Rank Math (or even The SEO Framework, which offers a great lightweight approach).
9. Redirection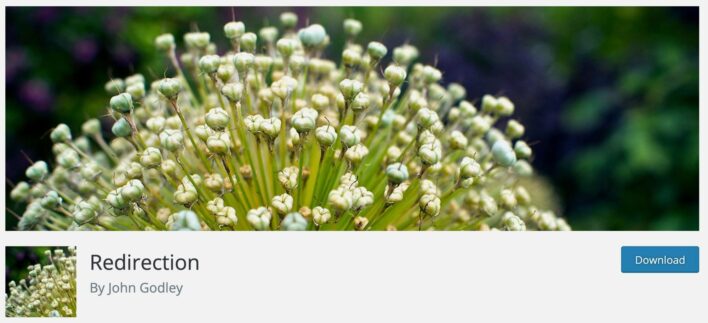 At some point while you're running your site, you're probably going to want to change the URL of a post or page. It happens to all of us.
When that happens, you'll need a way to redirect traffic from the old post to the new post.
That's what Redirection does.
It gives you a graphical interface where you can easily manage all of your site's 301 redirects — which is a lot more user-friendly than trying to dig into your .htaccess file every time you want to add a new redirect.
You can also get creative with your redirects — such as conditionally redirecting someone based on whether or not they're logged in — and all of this is available for free from a responsive developer who works at Automattic.
10. Pretty Links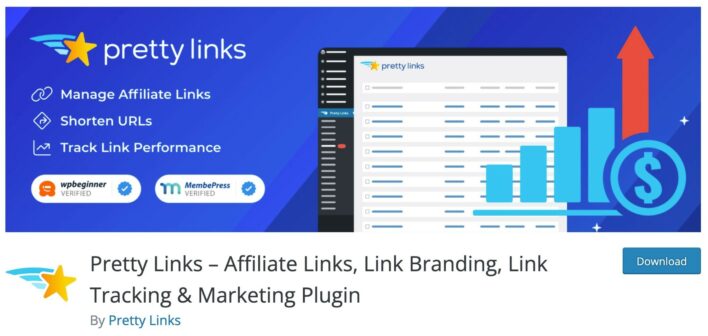 If you use affiliate marketing on your WordPress site, you know how ugly affiliate links can be.
Pretty Links lets you change that by cloaking affiliate links using your own domain.
For example, cloaking is why any affiliate links you see here at WinningWP use the format 'winningwp.com/ref/product_name'.
If you want, you can even track how many clicks each link receives.
11. Broken Link Checker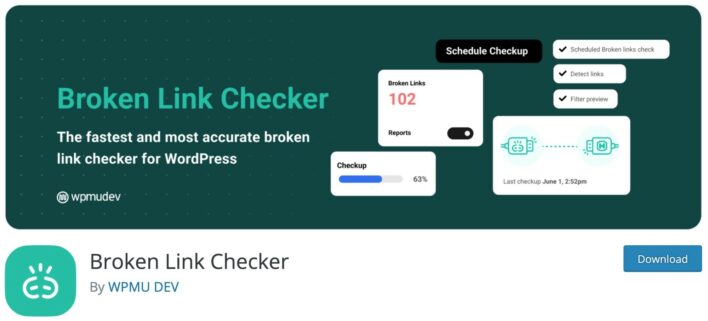 As your site ages, it's invariably going to pick up broken links. By broken links, I mean either internal links or external links that no longer go where they're supposed to.
Broken Link Checker can help you to automatically catch these links by scanning all of your internal or external links. Then, you can easily update all of the broken links to ensure your visitors have a great experience.
This plugin recently picked up new life thanks to an acquisition by an established developer, WPMU DEV, which means it should be set for continued usefulness in 2023 and beyond.
*While Broken Link Checker is a really helpful plugin, I recommend that you leave it disabled when not in use to avoid any performance hits.
12. Shared Counts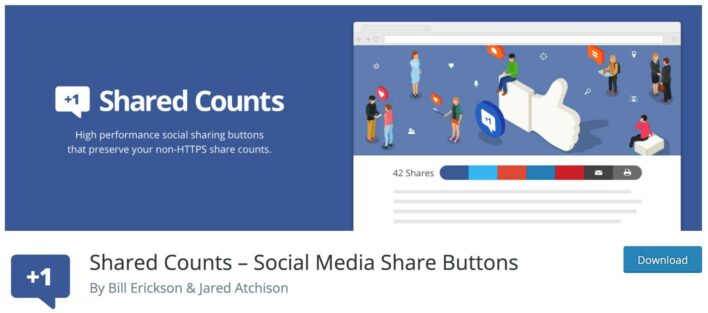 There are a lot of great social media share button plugins, so it's hard to choose just one. But if I had to recommend one free option, it would be Shared Counts. It's not the most feature-rich sharing plugin, but it includes all the popular networks and it has one big advantage — performance. It's the most lightweight free social sharing plugin that I've found.
Additionally, while it's not quite as popular as other plugins, it comes from two established and well-respected WordPress developers — Bill Erickson and Jared Atchison.
If you need access to more social share networks, you can consider a universal sharing plugin such as AddToAny — the main downside is that it won't be as lightweight from a performance perspective.
13. MailPoet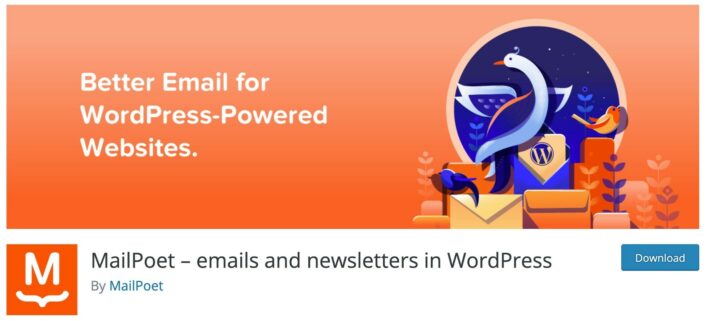 Building an email list for your site gives you an evergreen asset and a way to always stay in touch with your fans.
While you can find lots of great third-party email marketing services that you can integrate into your site, the free MailPoet plugin offers a native solution that lets you manage everything right from your WordPress dashboard.
You can build your lists using custom opt-in forms/popups and send them emails using MailPoet's visual, drag-and-drop email editor.
MailPoet also includes lots of other helpful features such as a built-in email sending service to ensure high deliverability, email segmentation options, special WooCommerce features, and more.
MailPoet's free plan lets you send up to 5,000 emails per month to up to 1,000 subscribers. If you grow past those limits, MailPoet's paid plans start at just $10 per month.
To learn more, you can check out our full MailPoet review.
14. Site Kit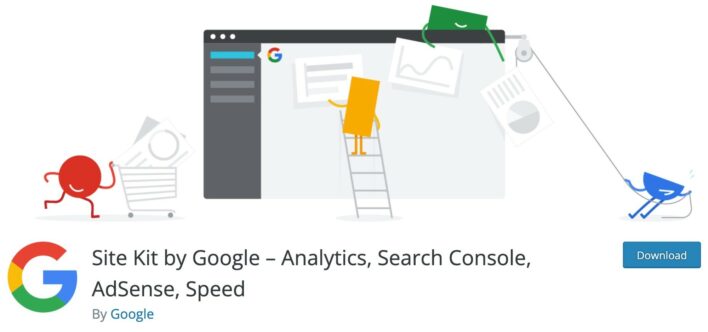 After you've used the above plugins to boost your site's SEO and social media, you'll want a way to actually analyze how all of your marketing efforts are doing.
Site Kit is an official plugin from Google that helps you integrate Google's services into your website. Most notably, Google Analytics.
The plugin can help you add the Google Analytics tracking code to your site and also view analytics data from right inside your WordPress dashboard. You can see both sitewide data as well as data for specific pieces of content.
In addition to Google Analytics, Site Kit also lets you see data from Google Search Console, which lets you track your search performance from your WordPress dashboard.
While I personally find those two integrations to be the most useful, Site Kit also includes a few other features:
See AdSense data to track your site's AdSense earnings.
Use PageSpeed Insights to analyze your site's performance right from your WordPress dashboard.
Set up Google Tag Manager (you'll still need to manage your tags from the Google Tag Manager website, though).
Best Free WordPress Plugins for Performance, Security, and Maintenance
Back-end site management isn't sexy, but the free plugins in this section may just be the most important on this list. They'll help you to speed up your site, make it secure, and just generally keep everything humming along.
15. Really Simple SSL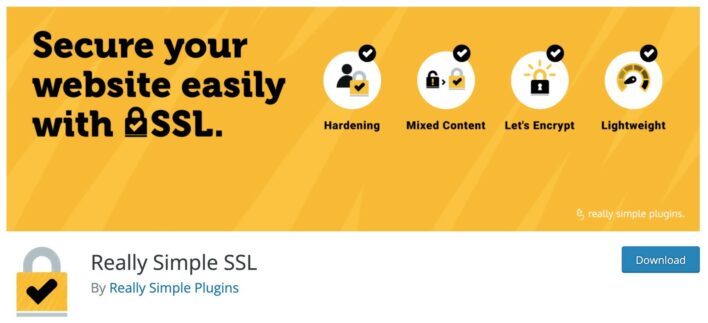 Moving your WordPress site to HTTPS/SSL is a great way to make it more secure for both you and your visitors, and it will also help you to avoid the nasty Not Secure warnings that Google added to Chrome for ALL non-HTTPS sites.
With the availability of free SSL certificates, it won't even cost you a dime — you just need a way to safely migrate your WordPress site to HTTPS.
That's what Really Simple SSL does. It's basically a one-click solution to set up redirects, update your old URLs, and handle everything else you need to do to safely migrate your site to HTTPS.
Personally, I still recommend setting up HTTPS manually if you feel comfortable doing so. But I recognize that a lot of people don't feel comfortable doing that. And if you're one of those people, Really Simple SSL is a great option.
16. Wordfence Security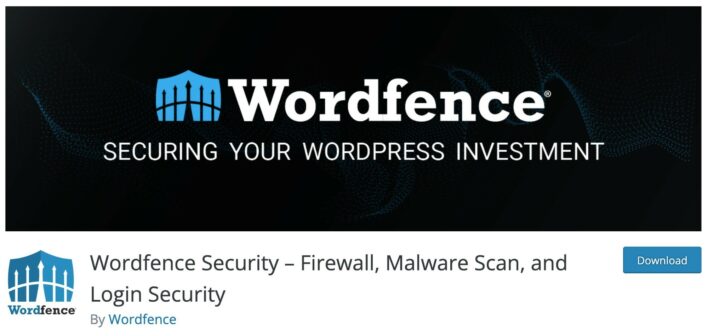 Active on more than four million sites, Wordfence is the most popular WordPress security plugin. It can implement most of the important WordPress security hardening in an all-in-one package, including:
a firewall
malware scans
login hardening.
While there is a premium version, the free version is still a great option for most sites, which is why it's so popular and well-rated.
The main difference between the free version and the paid version is that the free version makes you wait 30 days to update the malware and firewall threat rules, while the paid version gets real-time updates.
17. UpdraftPlus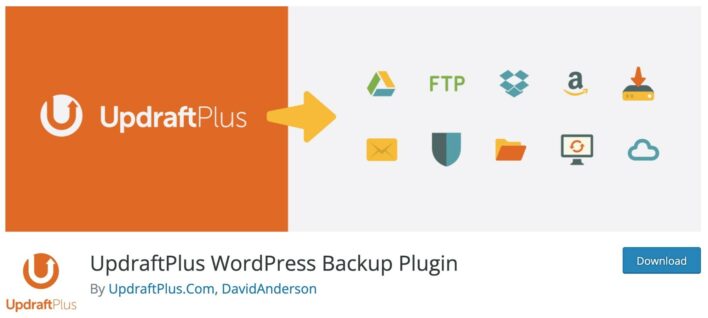 It's absolutely essential that you back up your WordPress site, so, if anything ever goes wrong, you have a working copy just in case.
There are some great premium backup services, such as Jetpack Backup (formerly VaultPress), but when it comes to free backup plugins nothing beats UpdraftPlus.
It lets you manually or automatically back up your site with a single click, and you can even automatically have UpdraftPlus store your backup on cloud services such as Dropbox, Google Drive, or Amazon S3.
If you ever need to restore your site, UpdraftPlus also makes that very easy to do.
Unless you're using a managed WordPress hosting provider that already offers daily off-site backups, I highly recommend using UpdraftPlus to regularly back up your site to an off-site storage provider (such as Google Drive).
18. All-In-One WP Migration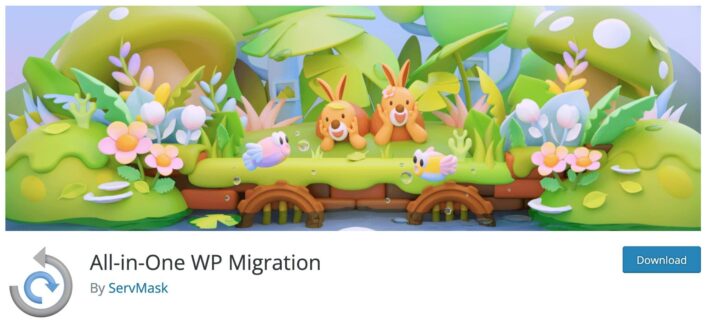 There are all kinds of reasons why you may need to move your WordPress site at some point. You may want to:
upload your site from a local development site to your live host
create your own hosted staging site.
No matter what your reason, the free All-In-One WP Migration plugin can help. This handy plugin exports your entire WordPress site as a single file. To move your site, all you need to do is create a fresh WordPress install and upload that file to the new location.
As part of importing your site, All-In-One WP Migration can also run a search and replace on the database to change the site to a new domain name.
There's just one caveat with the free version of All In One WP Migration — it only supports sites up to 512 MB. If you need to move larger sites, Migrate Guru is another great free option to consider.
19. Asset CleanUp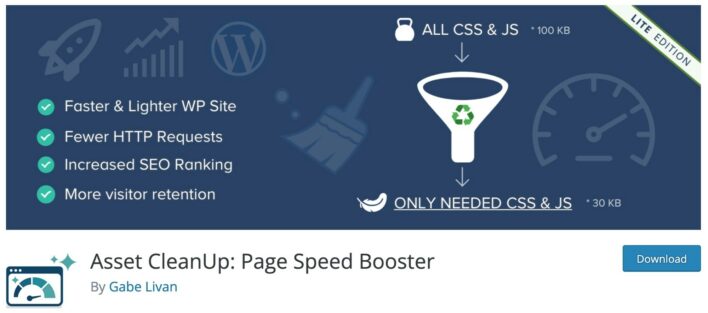 Asset CleanUp offers a comprehensive solution to clean up your site's code, which can help you speed up your site and improve your site's scores in performance analysis tools such as PageSpeed Insights.
To start, Asset CleanUp offers some sitewide optimizations for your site's HTML, CSS, and JavaScript:
Minification — this cleans up your site's code by removing unnecessary characters.
Concatenation — this reduces the number of HTTP requests on your site by combining separate CSS and JavaScript files into a single file. I don't recommend enabling this if your host uses HTTP/2, though.
Beyond that, Asset CleanUp also includes a script manager tool that lets you enable or disable specific scripts on your site, as well as tons of other code optimizations such as deferring JavaScript, removing WordPress emojis, and more.
When it comes to free tools to optimize your site's code, this is one of the best.
20. Smush Image Compression and Optimization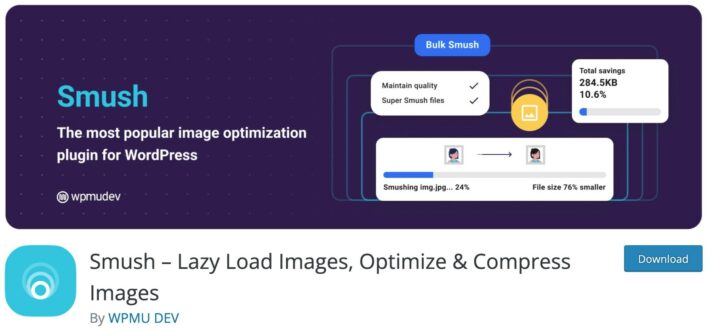 Smush is another free plugin that can improve your site's performance — this time, by automatically compressing and resizing the images you upload to your WordPress site.
Smush uses lossless compression, which means your images won't lose any quality — they'll just have a smaller file size!
Or, Smush also recently added free support for lossy compression as well, which it previously only offered in the paid version.
It lets you optimize unlimited images for free (with a 5 MB file size max per image), and is super easy to use.
21. Limit Login Attempts Reloaded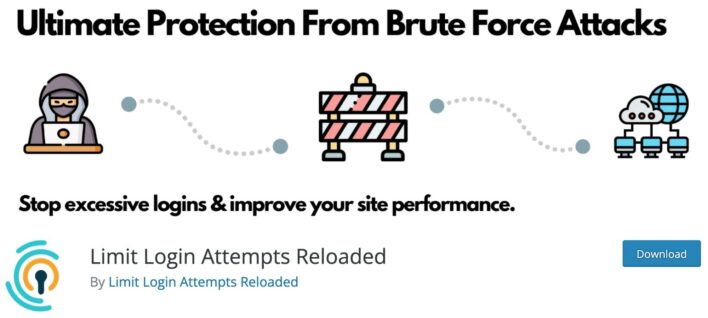 Beyond using a strong username/password combo, one of the best ways to secure your login page from brute force attacks is by limiting the number of attempts a user can make.
This is why if you enter the wrong information when logging into your online banking, you'll usually get locked out after three incorrect attempts.
Limit Login Attempts Reloaded lets you add that same functionality to your WordPress site — and it even lets you control the exact criteria for how many attempts a user can make and how long they get locked out for.
To avoid accidentally locking yourself out, the plugin also lets you add your IP address to a safelist.
22. WP 2FA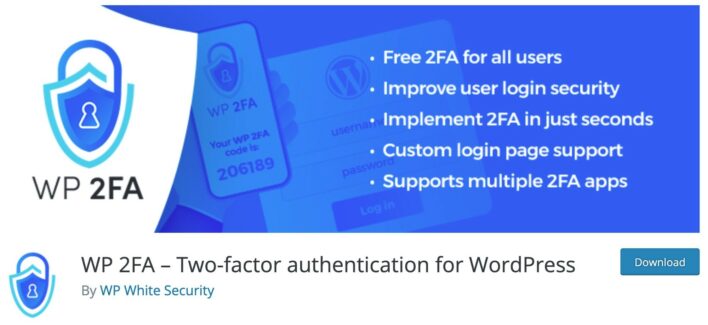 The free WP 2FA plugin lets you lock down your login page even more by adding two-factor authentication via the well-vetted TOTP + HOTP protocols, which lets you use authenticator apps such as Google Authenticator, Authy, and other apps that support these protocols.
It also supports email verification and lets users download one-time backup codes to use in case they ever lose their two-factor devices.
It's free for unlimited users, and it's also really easy to implement.
For absolute peace of mind when it comes to brute force attacks, this is a great option.
23. Enable Media Replace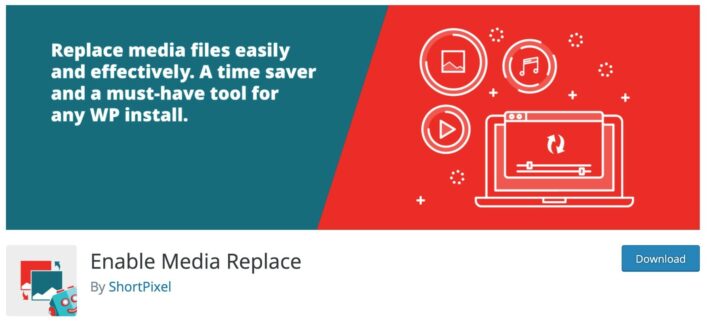 Enable Media Replace solves one problem really well:
It lets you replace any file in your WordPress Media Library by uploading a new file in its place. No more need to go through the annoying process of deleting a file and then making sure you upload a file with the exact same name.
Overall, a simple plugin…but one that's really handy for managing your site and updating old images.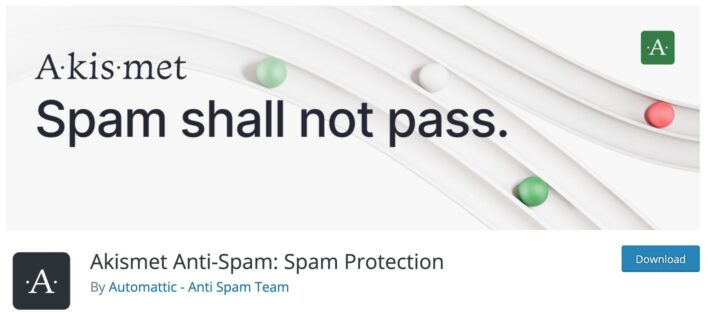 Because of its popularity, an unfortunate side effect of WordPress is that its sites attract a lot of comment spam.
Akismet Anti-Spam helps you to eradicate this by automatically screening all of your incoming comments for spam. Many form plugins also integrate with Akismet so that Akismet can stop contact spam as well.
The Akismet plugin is developed by Automattic, so you can trust its quality and longevity.
Note — Akismet is technically only free for non-commercial use. If your website is of a commercial nature, you're technically supposed to purchase a paid plan, though this is largely handled on the honor system.
25. Cookie Notice & Compliance for GDPR / CCPA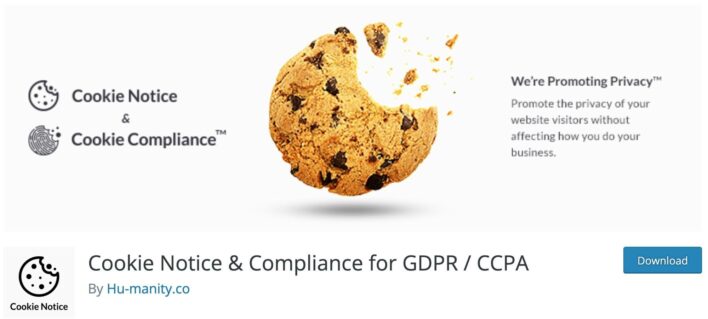 Cookie Notice & Compliance for GDPR / CCPA helps with "security" of a different kind — the "security" of complying with important laws and regulations. Specifically, privacy regulations such as Europe's GDPR and California's CCPA.
This free plugin helps you add a cookie consent notice, as well as features to control cookie usage on your site based on users' preferences.
The cookie consent notice functionality is 100% free. If you want some of the more advanced cookie compliance features, you might need to pay.
26. Yoast Duplicate Post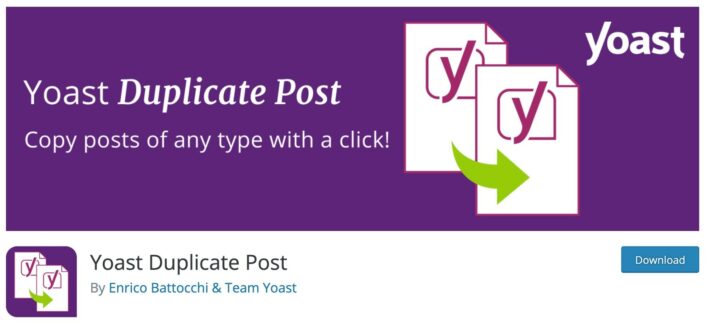 Yoast Duplicate Post is a super handy plugin for working with existing content on your site. It does what the name says — it lets you duplicate any post, page, or custom post type with a single click.
It also includes a neat "merge" feature that's great for updating content. You can clone a post, update the content in the cloned version, and then automatically overwrite the live version when you're ready to go live.
Overall, the plugin is quite narrow in its scope, but this functionality is really handy in a lot of different situations.
27. TranslatePress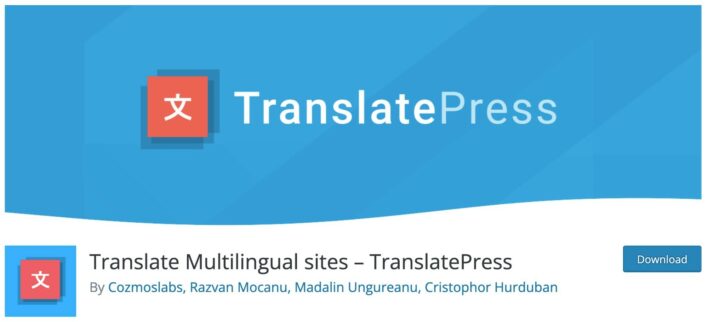 If you're looking to make your website content available in multiple languages, then TranslatePress will make this straightforward. Going multilingual is proven to have significant benefits on increasing your multilingual website traffic, as well as conversions.
You can use TranslatePress' visual translation interface to translate every piece of content on a page, directly from the front-end. To speed things up you can set up the built-in automatic translation functionality (using machine translation services like Google Translate or DeepL).
Due to its translation approach, the plugin works out of the box with any theme or plugin, including page builders like Elementor or ecommerce plugins like WooCommerce.
Best Free WordPress Plugins For Advanced Users Who Like Tinkering
If adding code snippets and custom post types is your idea of a fun Saturday evening (or if you're just an advanced user), these plugins will make your life easier without costing a penny.
28. Advanced Custom Fields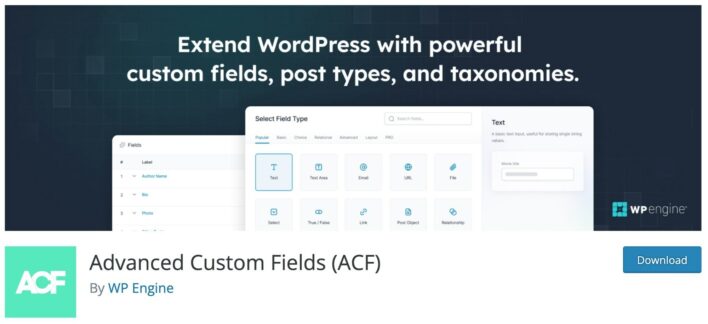 Advanced Custom Fields makes your WordPress site a lot more flexible. As the name suggests, it does that by making it easy for you to add a variety of custom fields to your WordPress site.
You can use these custom fields for… Well, pretty much everything! That's why this plugin is massively popular with developers.
If you've ever felt limited by the basic WordPress Editor, you can use Advanced Custom Fields to create a more customized editor with fields that make your life easier and improve your productivity.
Plus, Advanced Custom Fields also recently added support for custom post types and custom taxonomies as well, so you can use it for all of your custom content needs.
You will need to be a little tech-savvy to benefit from the plugin, but you definitely don't need to be a developer to use it. I'm not, and I still love it!
If you're interested in this type of functionality, two other free plugins that also do a great job are Pods and Meta Box.
29. Code Snippets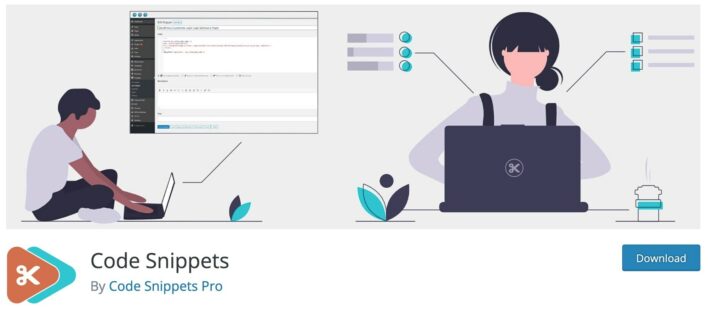 If you like to tinker with your WordPress site, you probably already have an intimate relationship with your theme's functions.php file.
Code Snippets greatly simplifies using functions.php code snippets in two ways:
It lets you add each code snippet separately using a custom title. You can also activate/deactivate individual snippets as needed, making it a lot easier to stay organized.
Your code snippets will stay with your site even if you switch themes.
Code Snippets also recently added support for custom HTML snippets as well. And if you're willing to pay, you can also use it to add custom JavaScript and CSS.
30. Head, Footer and Post Injections
Head, Footer and Post Injections operates on a similar principle to Code Snippets — only instead of helping you to add code to your functions.php file, it helps you to add code snippets to your:
header
footer
post content.
Makes sense given the name, right?
This functionality actually opens up a lot of benefits. You can:
add tracking scripts, such as Google Analytics, Facebook Pixel, or any other JavaScript code that needs to go in your <head> section
inject ads or other content above or below your post content.
The plugin even lets you conditionally inject code depending on whether a visitor is on a desktop or mobile device.
Which Are Your Favorite Free WordPress Plugins?
And there you have it! Based on personal experience, as well as the many reviewers at WordPress.org, these are 30 of the most helpful and best free WordPress plugins.
Used/using any of these? Any we've missed? Thoughts?
---
Setting up a new site? Here's a few of our other posts to check out:
All comments are held for moderation. We'll only publish comments that are on topic and adhere to our Commenting Policy.