WinningWP content is free to all. If you make a purchase through referral links on our site, we earn a commission (
learn more
).
MailPoet Review: The Ideal WordPress Plugin for a Seamless Email Marketing Experience?
Every business owner wants to increase their email list and build better email marketing campaigns. There are numerous tools to help you to do this, including a variety of plugins that allow you to integrate email marketing with WordPress.
In this article, I'll be taking a look at one of these in particular: MailPoet — one of the best email marketing plugins on the market.
Below, I'll explore how you can use MailPoet to:
create custom signup forms that fit perfectly with your theme
collect subscribers in an easy-to-manage database
automate aspects of your email marketing
build email marketing campaigns
study your analytics.
If you're looking for a full-service email marketing platform that integrates directly with WordPress, read on…
What Do Email Marketing Plugins Do?
Email marketing plugins for WordPress typically have one job: To help you to collect email addresses from website visitors. These plugins make it easy for you to create attractive signup forms that connect directly to your email marketing service.
Some plugins, such as MailPoet, also allow you to create email marketing campaigns through your WordPress site. This gets rid of the need for a separate email marketing service.
What to Look for in Email Marketing Plugins
There are a few things you want to look for in an email marketing plugin for WordPress:
Form variety. You want to be able to build a variety of signup forms and place them in different areas of your website. In particular, you should be able to create signup widgets for your sidebar and/or footer.
Form customization. This allows you to create forms that truly match your website's aesthetic. Most plugins offer a code editor for this, requiring some knowledge of HTML and/or CSS.
Emailing capacity. If you don't have an email marketing service (or don't like the ones you've tried), then you may want to choose a plugin that allows you to send emails directly from WordPress.
Reliability. The plugin should be both well-reviewed and frequently updated. You want a solution that will continue to work well with your site as WordPress evolves.
MailPoet Review: Let's Dive In: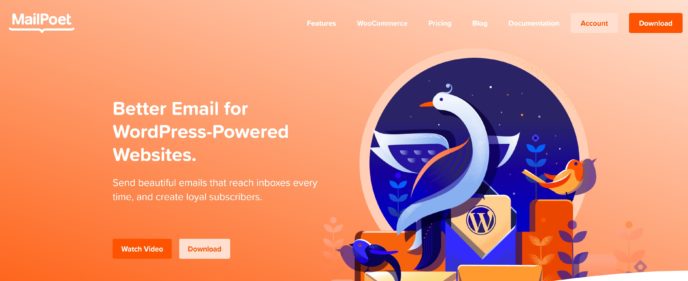 Overview
MailPoet is a full-service email marketing plugin for WordPress. You can use it to design attractive signup forms, collect and manage subscribers, and send newsletters and other promotional emails. MailPoet also integrates with WooCommerce (learn more) to automatically send information about new products to your subscribers.
Features
Fully customizable sign-up forms
Pop-up forms
Slide-in forms
Advanced analytics
Easy-to-manage subscriber database
Ability to manage multiple lists on one site
Segmentation
Easy database import from spreadsheet or direct from MailChimp
Easy database export as a CSV file or Excel file
Access to the email template library
Template import
Drag-and-drop editor
Integration with WooCommerce
How to Use MailPoet
Initial Setup
You can get MailPoet by going to the 'Plugins' area of your WordPress dashboard, selecting 'Add New', and searching for the MailPoet plugin. The plugin will only take a few minutes to install.
Once you've installed the plugin, you'll be encouraged to sign up for an account on the MailPoet website. This is necessary for you to connect an email address to MailPoet and begin sending emails. Please note that you can't use a personal email address to send emails with MailPoet — meaning you can't use an email address that ends in gmail.com, yahoo.com, outlook.com, and so on. This is actually done to protect you, as newsletters sent from personal email addresses are more likely to get caught in spam filters.
You'll also need to wait for your account to be reviewed by MailPoet. This typically happens within a couple of hours, but may take up to 24 hours.
Finally, you'll need to connect your MailPoet account to the plugin on your site. You can do this by grabbing the activation key from the 'My Subscriptions' page on the MailPoet website. From there, go to your WordPress dashboard and enter the 'Settings' area for MailPoet. Continue to the 'Key Activation' area and enter your subscription key in the provided area.
Importing Contacts
If you already have a subscriber list, the next thing you need to do is import your contact list. This process looks slightly different for MailChimp users than for everyone else.
Importing Contacts from MailChimp
If you're a MailChimp user, you can do this easily by going to the 'Subscribers' area of MailPoet and clicking the 'Import New' option at the top.
This will take you to a page where you have three options. Choose 'Import from MailChimp' and enter your MailChimp API key in the box provided (you can create an API key in the 'Extras' area of your MailChimp account panel).
When you've verified your MailChimp API, you'll be asked to select the list you want to import to MailPoet. If you want to add multiple lists to one website's MailPoet, you'll need to repeat this process.
Importing Contacts from Another Email Marketing Service
If you're importing contacts from an email marketing service other than MailChimp (note — for those interested, here's an earlier post of ours on The Best MailChimp Alternatives), you'll first need to export those contacts into a spreadsheet. This process will look slightly different depending on your provider, but, in general, it goes something like this:
Log into your account.
Go to the 'Lists' area of your account.
Click on the list you want to export.
Select 'export' and choose a file type — MailPoet can accept .CSV files and Excel files.
Download the file onto your computer.
You can then return to the 'Subscribers' area of the MailPoet plugin and click on the 'Import New' button. At this point, you have two options:
Select 'Copy+Paste' and copy and paste information from a spreadsheet into the text box provided.
Choose the 'Upload a File' option and select the appropriate file from your computer.
Creating Signup Forms
Once you have the basics set up and you've imported any existing subscriber information, you can move on to creating signup forms. This is one place where I'm really impressed with MailPoet, which provides an elegant drag-and-drop editor you can use to customize your forms.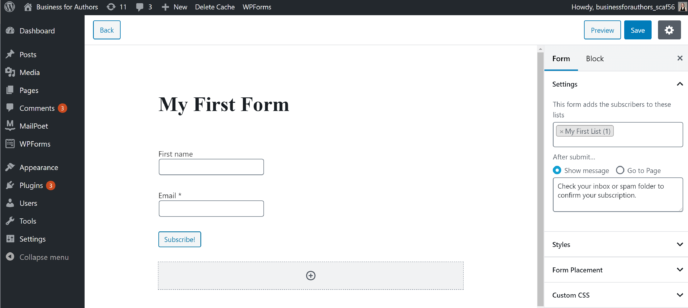 This editor allows you to create a highly customized form without any previous knowledge of code — including the ability to change things such as the background color, font color and font size.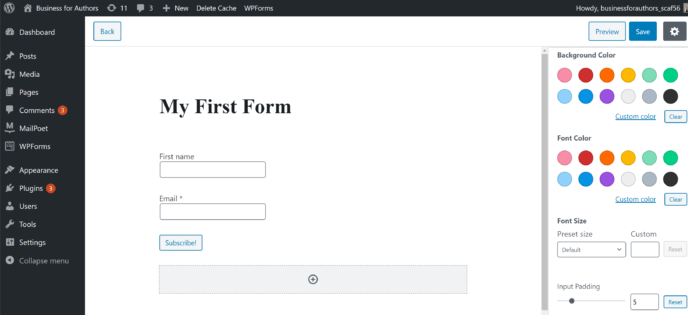 If you're comfortable using CSS, you can also access the source code for more complete customization abilities.
Once you're happy with the design, you can decide how this particular form is displayed. You can display it in the sidebar or footer of your website, create a floating subscription bar at the top of your website, embed it directly into a specific page or make it a pop-up or slide-in form. If you choose the pop-up or slide-in options, you can also choose when the form appears (for example, 30 seconds after a visitor arrives on your site).
You can design as many different signup forms as you desire, customizing design and placement for each one. Combined with the ability to display specific forms only on specific pages of your website, you can use this capability to create targeted forms for specific members of your audience.
Automated Emails
Now you have everything in place to build your list, you need to work on what you'll send out. MailPoet makes this easier by allowing you to automate several types of content:
Welcome emails: This is a one-time automated message new subscribers receive when they show up on your site. You can choose to send this email right after they subscribe, or delay it by a specific number of hours, weeks or days. This email is a great opportunity to remind subscribers of how your business can help them, and spotlight specific products or services they may find useful.
Latest post notifications: These emails keep readers up to date with content posted on your blog. You can send these out daily, weekly, monthly or immediately upon publication of each post.
WooCommerce: MailPoet offers integration with WooCommerce to inform customers when you have new products. You can also set up automated emails for people who purchase specific items or items in specific product categories. Last — but certainly not least — MailPoet can work with WooCommerce to send 'Abandoned Shopping Cart' emails.
Once you've set the parameters for the type of content you wish to create, you'll be taken to MailPoet's template library. I'll talk a bit more about how to use the template library and MailPoet's email designer in the section below.
Building Your First Email
Now you've got all of the basics in place, it's time to explore how to build email campaigns. You can do this by going to the 'Email' section of MailPoet and clicking the 'Add New' button. You'll then be able to choose the type of content you want to create.
If you've chosen to build a specialized type of email, such as an email to share your latest content with subscribers, you'll then be able to specify how you want this email to function.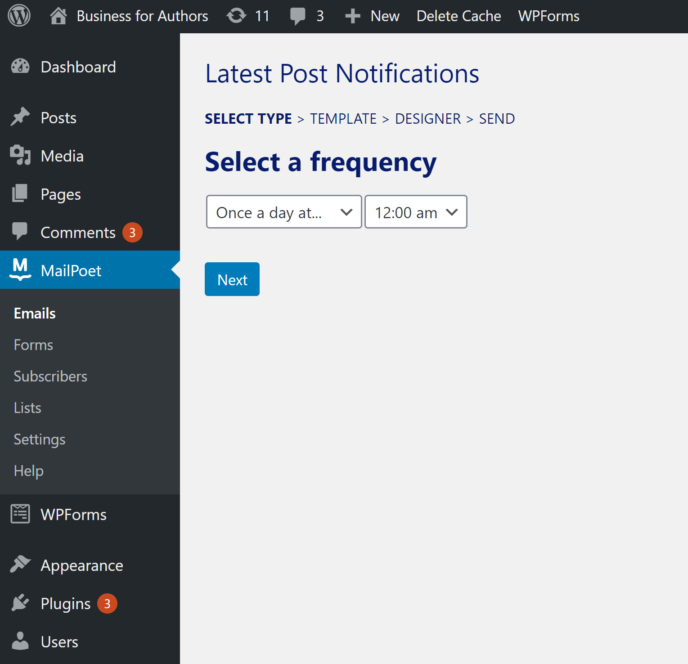 If you're building a regular newsletter, you'll be taken straight to the template library, where you can access dozens of templates built for specific industries, niches and topics. MailPoet doesn't offer as many templates as some other email marketing tools, but I find the templates they do have to be quite attractive.
Once you've chosen your template, you'll be taken to the MailPoet designer, which allows you to customize aspects of the template. You can edit text, replace or move images, or even delete parts of the template altogether.
You can also use the designer's drag-and-drop functionality to add content blocks to the email. This includes both the normal content blocks, such as text and image blocks, and specialized content blocks, such as an automated latest post display. Once a block is in place, you'll have the opportunity to customize it.
One thing that really stands out about the editor is the 'Styles' section, which allows you to choose the font you want to use, the color of that font and the height of each text line. You can also select a background color for an individual piece of content or the entire newsletter, allowing you to create a truly unique look for your email.
When you're satisfied with how your email looks, scroll down in the sidebar to find the 'Preview' option. This allows you to send a test email to an email address of your choice (it doesn't have to be the same email address you are sending emails from).
If the preview looks good to you, you can continue to the next stage of the process — choosing who the email will be sent to. You can also use this page to revise your subject line, add a reply-to email that's different from your sending email and set up Google Analytics for the newsletter.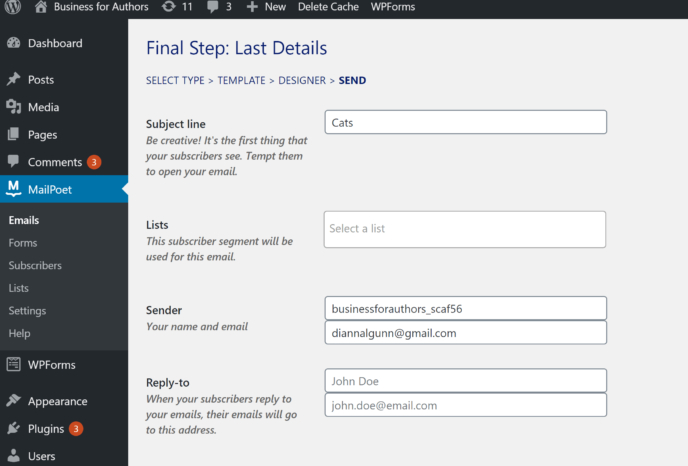 Last, but certainly not least, you'll find a scheduling option at the bottom of the page. This lets you choose a precise time for the email to be sent. MailPoet doesn't offer any automated time optimization options or the ability to send emails to individuals based on their specific time zones, which is a common feature of other email marketing tools.
Analytics
MailPoet tracks how subscribers respond to your emails in real time. You can view your analytics by going to the 'Emails' section of MailPoet. The main 'Emails' page lists all of the emails you've created.
The listings for sent emails will have a graphic displaying how many people the email was sent to. You'll also be able to see the percentage of people who opened your emails and the number of clicks your email received.
If you click on these numbers, you'll be taken to a more detailed analytics page for the campaign. This will show you more information about how readers engaged with your content — including how many people clicked on each individual link.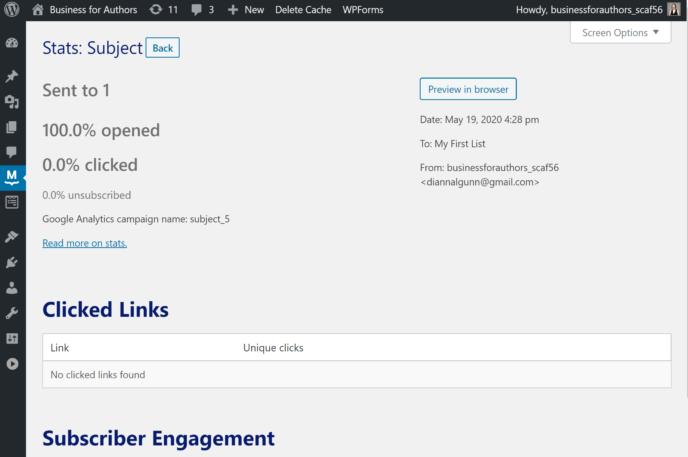 Once MailPoet has been given some time (around six hours) to see how people interact with the email, you'll be able to access even more analytics information, such as audience demographics.
Pricing
The base MailPoet plan is free for up to a thousand subscribers. After a thousand, pricing increases on a sliding scale based on the number of subscribers, starting at $13 a month. This goes all the way up to $292 a month for 70,000 subscribers. Custom pricing plans are available for businesses with more than 70,000 subscribers.
MailPoet Review: The Pros
Manage email marketing campaigns from start to finish, including analytics, within your WordPress dashboard.
High-quality design tools for signup forms and emails.
Pop-up and slide-in functionality for signup forms.
Automation for specific types of email marketing.
Easy subscriber import and export.
Well-organized subscriber database.
Ability to manage multiple lists on one site.
Segmentation capabilities.
MailPoet Review: The Cons
Limited number of email templates.
Limited scheduling functionality.
Final Thoughts
All in all, MailPoet is an excellent tool for businesses that want to run high-quality email marketing campaigns from their WordPress dashboards. The plugin is easy to use and offers a wide range of features, including specialized forms of automation that are rarely included with the basic plans of other email marketing tools.
MailPoet functions seamlessly as part of the WordPress experience, and I believe anyone who enjoys using WordPress will enjoy using MailPoet. The specialized automation options are doubly useful for brands with a heavy emphasis on blogging or eCommerce.
Used/using MailPoet? Thoughts?
All comments are held for moderation. We'll only publish comments that are on topic and adhere to our Commenting Policy.