Top 15 Best Newsletter Plugins for WordPress (2017)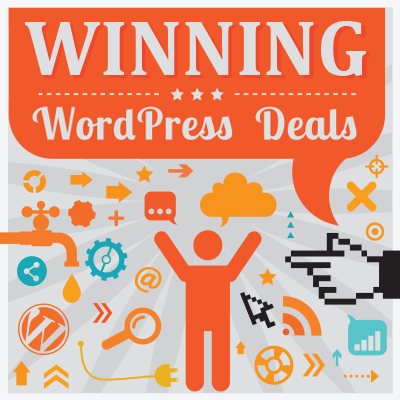 Building an email list is one of the most important things you can do for your online business. Why? Because if gives you direct access to an audience that's genuinely interested in your business: an audience that, by signing up for your newsletter, has already shown their willingness to continue to listen to what you have to offer!
How to build this valuable list? Well, it all starts by collecting (with permission!) the email addresses of folk that visit your website — which, unfortunately, is a tricky business. Why? Well, because we now live in a world where it's now harder than ever to catch someone's attention!
As marketers (read: business owners, entrepreneurs, leaders) we need to try and grab — and continue to maintain — as much of the attention of our visitors as we can, however, and here's the hard bit: not only must we attract their attention, we've also got to persuade them that whatever we have to say/offer is genuinely worth listening to/receiving.
Active and Passive Lead Generation
Traditionally, marketers place the subscription box in the website's sidebar, footer or sometimes even within an article itself (usually somewhere in the middle). Such methods mostly passive ways of collecting emails. That is to say, they don't prevent the visitor from continuing whatever it is they're current doing on the site, such as reading an article or simply browsing through your site.
However, when newsletter pop-ups arrived (the kind you occasionally see 'pop up' in the middle of the screen) — the game changed. Popups are active ways of collecting emails, wherein people had to literally stop what they were doing and either (a) subscribe, or (b) close the pop-up.
Many marketers took this new-found power for granted, and bombarded their visitors with popups as soon as they arrived on the site — often before they'd even gotten to know what the website was even all about!
Which naturally created a LOT of frustration.
The first rule for a new (or any) website should really be to not ask for email address straight upfront.
Instead, you need to first show value, i.e. give something to the user (such as great content!), and then ask for something in return, which in this case, is, of course, their email address.
The term "showing value" can be anything and depends on your website's domain. It may be a great article, free reports with great visualizations, e-books, guides, resources Photoshop files, icons, images, audio samples, video effects — the list is practically endless.
Once a visitor has benefited from your content — he/she will then be naturally more inclined to share his or her email address with you and/or your business.
But how to collect said emails? Below, we've put together a list of the top fifteen WordPress plugins for doing exactly that: i.e. a list of the best newsletter plugins for WordPress.
Listed in no particular order:
OptinMonster ($9+/month)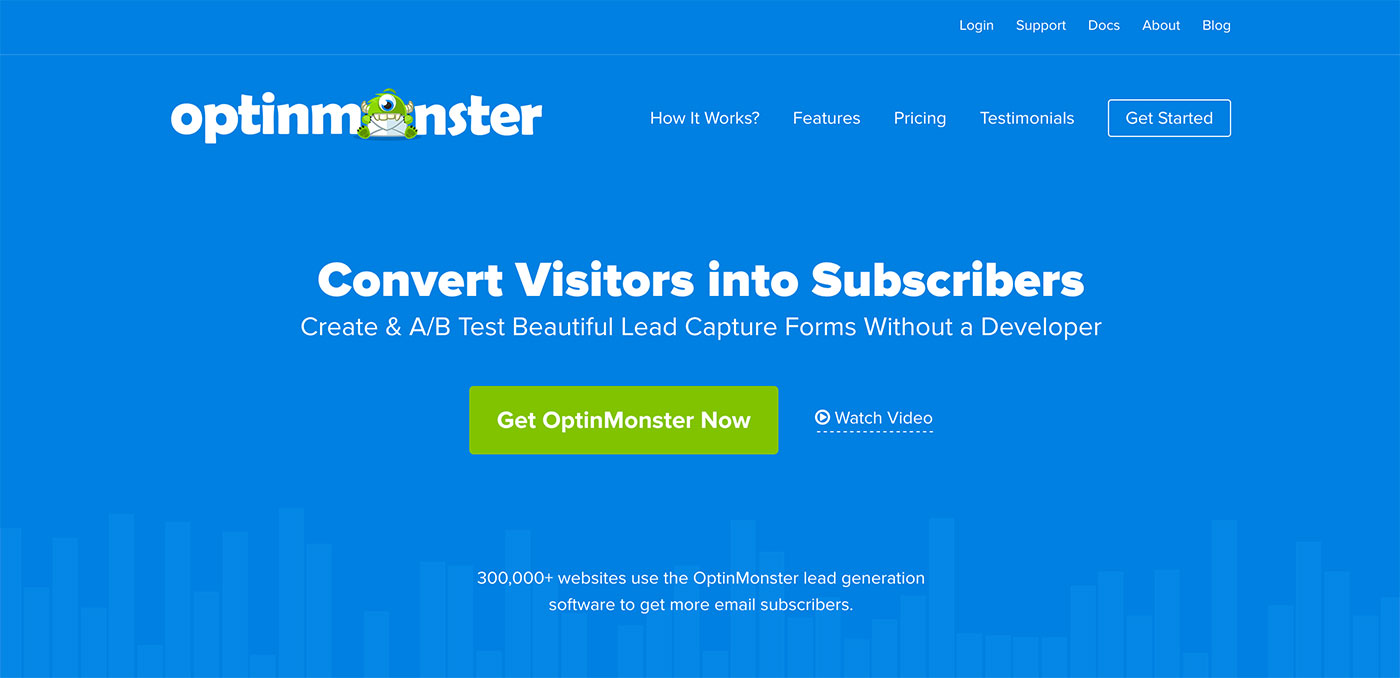 No newsletter plugin list is complete without mentioning OptinMonster. Founded in 2013, this plugin has become one of the best-selling newsletter plugins of all times: now used by well over 300,000 websites.
OptinMonster comes with a variety of customization features such as Exit Intent technology, multiple form types, A/B split testing and more.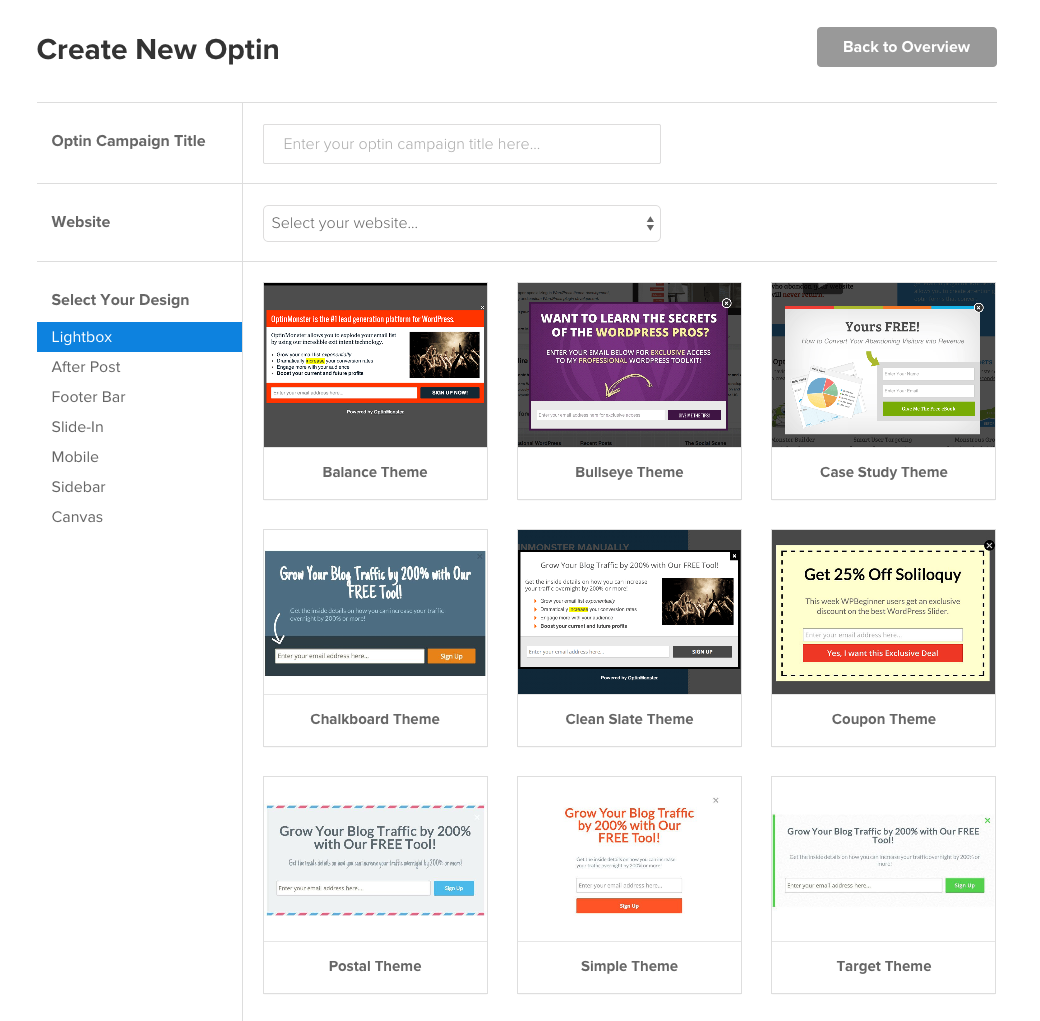 It makes designing highly converting forms a breeze — starting with the full-featured form designer to amazing animation effects from MonsterEffects. And is, in fact, a plugin we've already gone to some lengths to review in a previous article: OptinMonster Reviewed.
Bloom by Elegant Themes ($89+/year)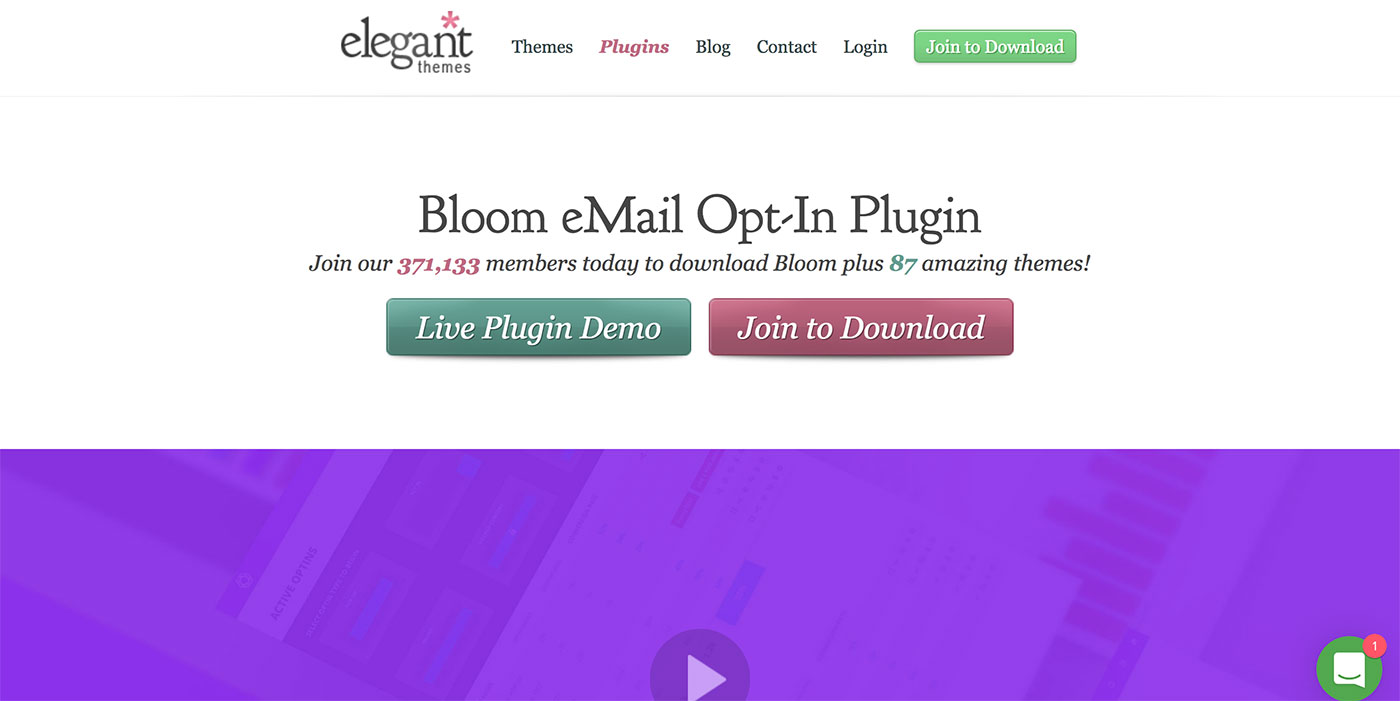 Elegant Themes is one of the most popular theme developers in the WordPress market, effectively gaining well over an absolutely whopping 350,000+ paying customers from just 87 WordPress themes!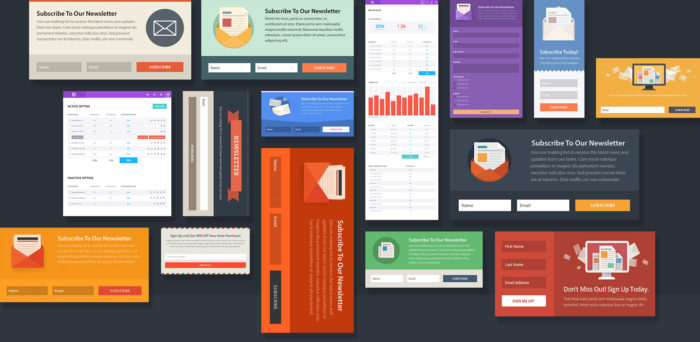 Bloom is a beautifully designed newsletter plugin with over 115 templates. It supports six different popup form types: pop-ups, fly-ins, widget area, in-line with content, below content, and content lockers.
Check out our in-depth review of this amazing plugin for more information. Plans start from $89/year, which also includes access to all 87 themes and 5 other really rather powerful plugins.
And finally, should you find yourself struggling to decide between OptinMonster (above) and Bloom, here's another handy article of ours you might be interested in: Bloom vs OptinMonster: Which is the Better Email Optin Form Plugin?
Newsletter (free or $45/year)

Newsletter is one of the best free newsletter plugins available for WordPress — currently boasting well over 200,000 downloads. This plugin lets you have unlimited subscribers and send unlimited emails.
Here are the three most exciting features of the plugin:
Feature-rich drag-and-drop responsive email composer – which you can use to craft beautiful mobile-ready newsletters.
Double opt-in subscriptions – thereby making sure you abide by EU anti-spam laws.
Email tracking with advanced statistics – so you know who is opening your emails.
Easy segmentation to fine-target your campaigns – so that you can target specific groups of people on your list.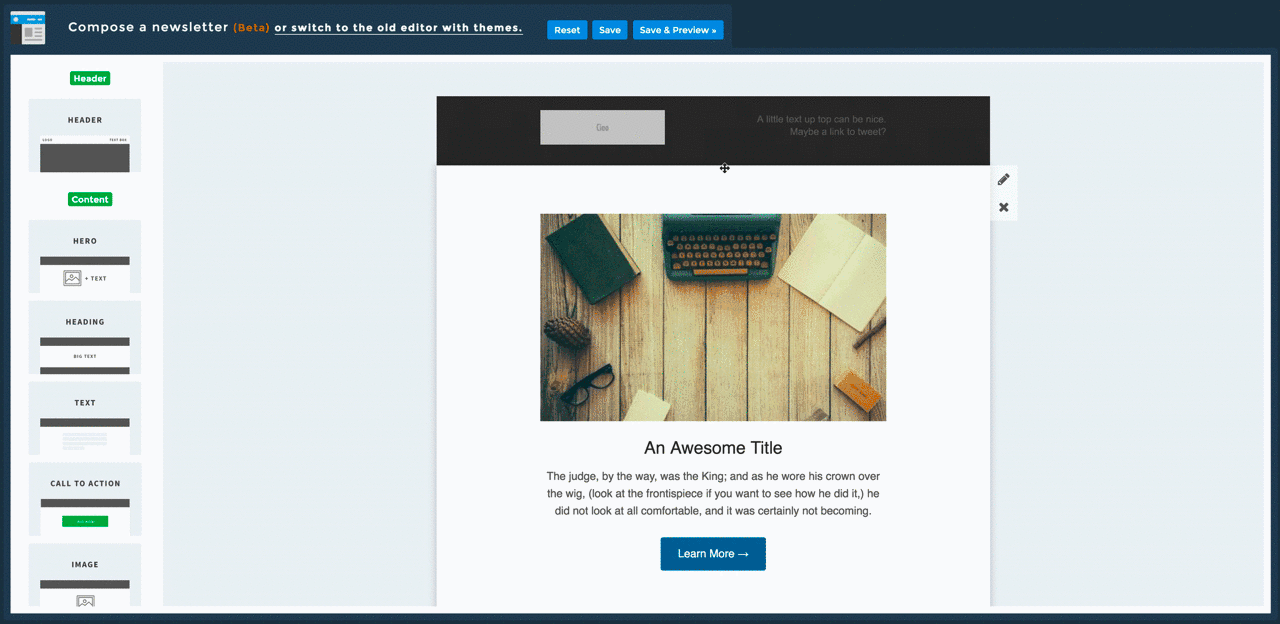 Rather than having to rely on third-party services like MailChimp or AWeber, this particular plugin uses your web host to send out emails, so there's no additional to you personally for delivering mail. Although this sounds good at first, this could actually be a problem if you have a lot of subscribers — because your web host might not be able to support email delivery to such a system.
To counter this problem, the developers have premium module which seamlessly integrates the plugin with Amazon SES. Amazon SES is a cloud-powered email delivery service offered as a part of Amazon Web Services (AWS).
Along with a number of other useful extensions, such as email automation and full reporting, such addons are available in the premium version of the plugin, which starts at $45/year.
SumoMe (Free or $10+/month)

SumoMe is far from just a free list building plugin. Instead, it's more a full-blown marketing solution — used by over 430,000 websites over the world, including the likes of Airbnb and Social Media Examiner. Further, it's actually one of the most popular free marketing plugins in the WordPress store — with well over 100,000 active installations!
With regards to the newsletter-specific features of the plugin: first off, you have the popular opt-ins such as, the welcome mat, scroll-in popup coupled with exit-intent technology. The free version also includes a form customizer to reflect your brand's identity.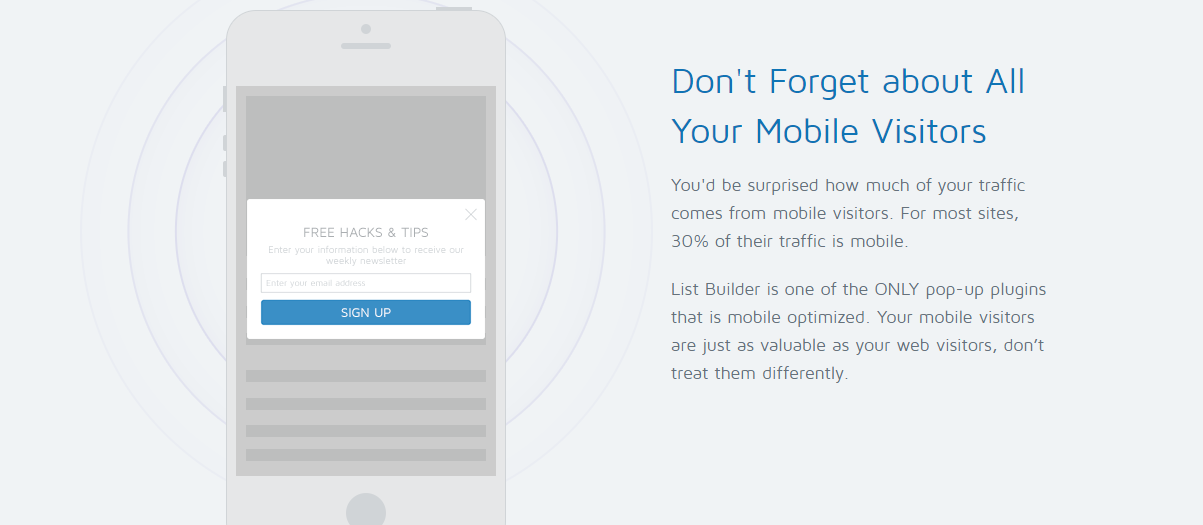 Premium features include customizable templates and A/B testing, allowing you to measure the effectiveness of your signup boxes, etc. Advanced display rules enable you to show the popup on a mobile, desktop or home page. The SumoMe product suite is an excellent starting point for a data-driven content marketer — for more info, check out another of our in-depth reviews: SumoMe Review: The Ultimate All-In-One Set of Online Marketing Tools for Website Owners?
ChimpMate Pro — WordPress MailChimp Assistant ($19)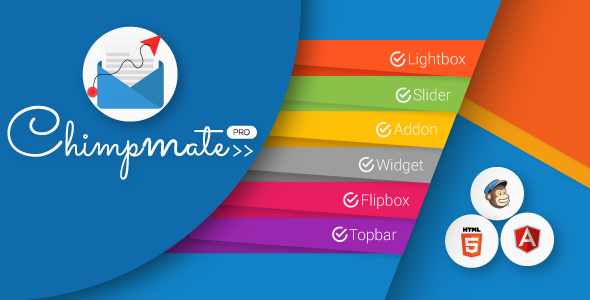 Since MailChimp is mine (and many others) go-to newsletter service — free or paid, I dig deep into any plugin that extends MailChimp's features in WordPress. Remember how we discussed active and passive newsletter plugins? Well, ChimpMate Pro falls under the active category, with multiple trigger actions.
Let's take a quick look:
With the inactivity trigger, the popup is shown when the user is inactive on the page.
In the time delay trigger, the popup is displayed after a certain time has passed, regardless of the activity of the user.
The next one is the exit-intent trigger, which displays ta pop-up right when the user is about to close the tab.
The page scrolling trigger displays the popup after the user scrolls the page.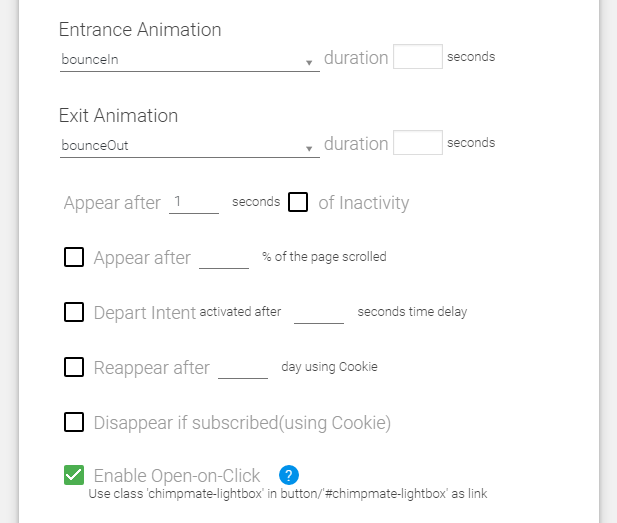 The plugin also features material design, supports content locking (i.e. content is displayed only after subscribing to the newsletter), A/B testing, mobile-first lead capture lightbox, one-click backup and restore (a great option if you run multiple sites) and powerful analytics.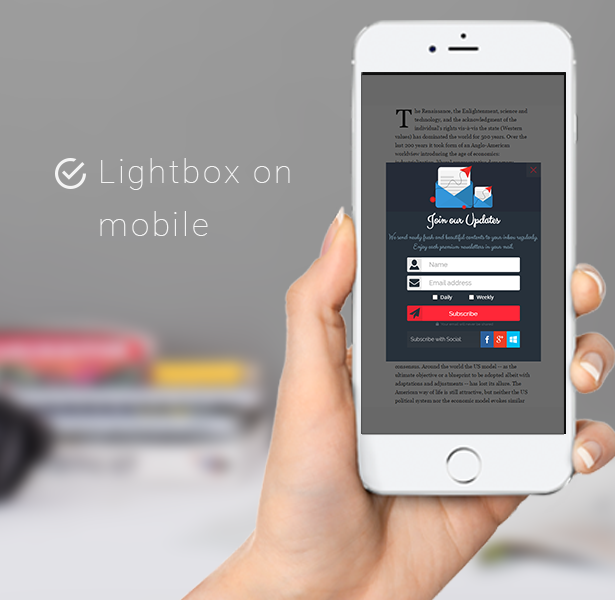 All of this for $19 — that's a steal!
Icegram (Free)

The developers of Icegram describe their product with the tagline "grow your subscriber list, engage and convert visitors, decrease bounce rate".
To be honest, I wouldn't categorize it as a completely free plugin though, since the free version doesn't offer triggers like time delay and common lead generators, such as header action bars, toast notifications (like the ones you get on an Android phone) and slide-in messages.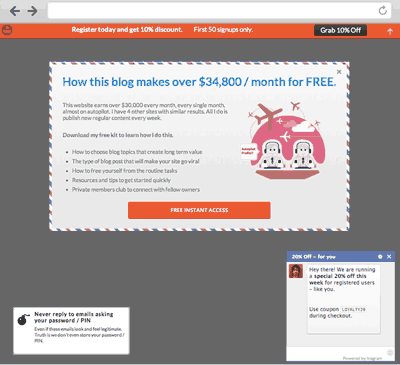 There are, however, a ton of capabilities that are offered as addons starting from $19. Check out this page for a complete list of addons. Moreover, you have the freedom to only purchase the add-on you want — which could help you reduce costs significantly.
Chimpy — MailChimp WordPress Plugin ($22)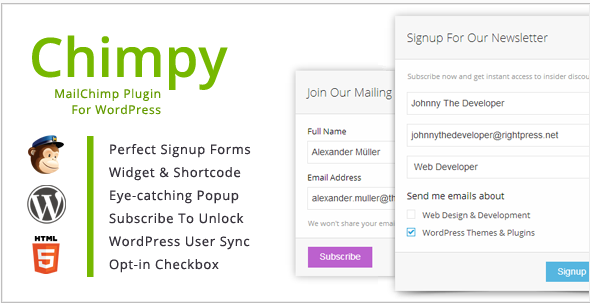 The Chimpy plugin is yet another great "pro MailChimp" plugin for WordPress. It packs some great features including customizable content locker, signup forms and opt-in checkboxes — a feature which places a checkbox in the WordPress comment and registration form.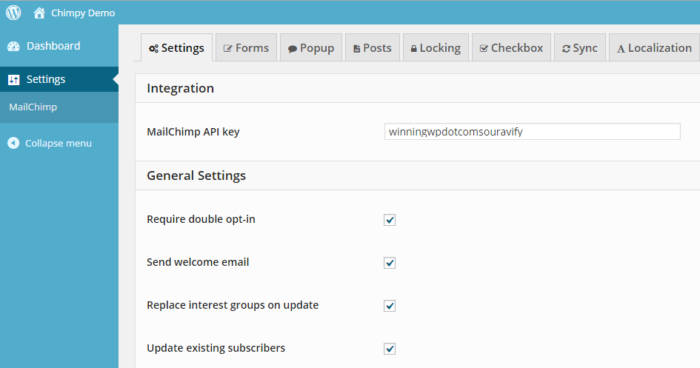 Another interesting feature is the WordPress User Sync option, which synchronizes the information of the email address in your WordPress database with the ones in your MailChimp list. Details such as first and last name are synched to your MailChimp list, which can be used to make personalized newsletters.
Pippity ($49/year)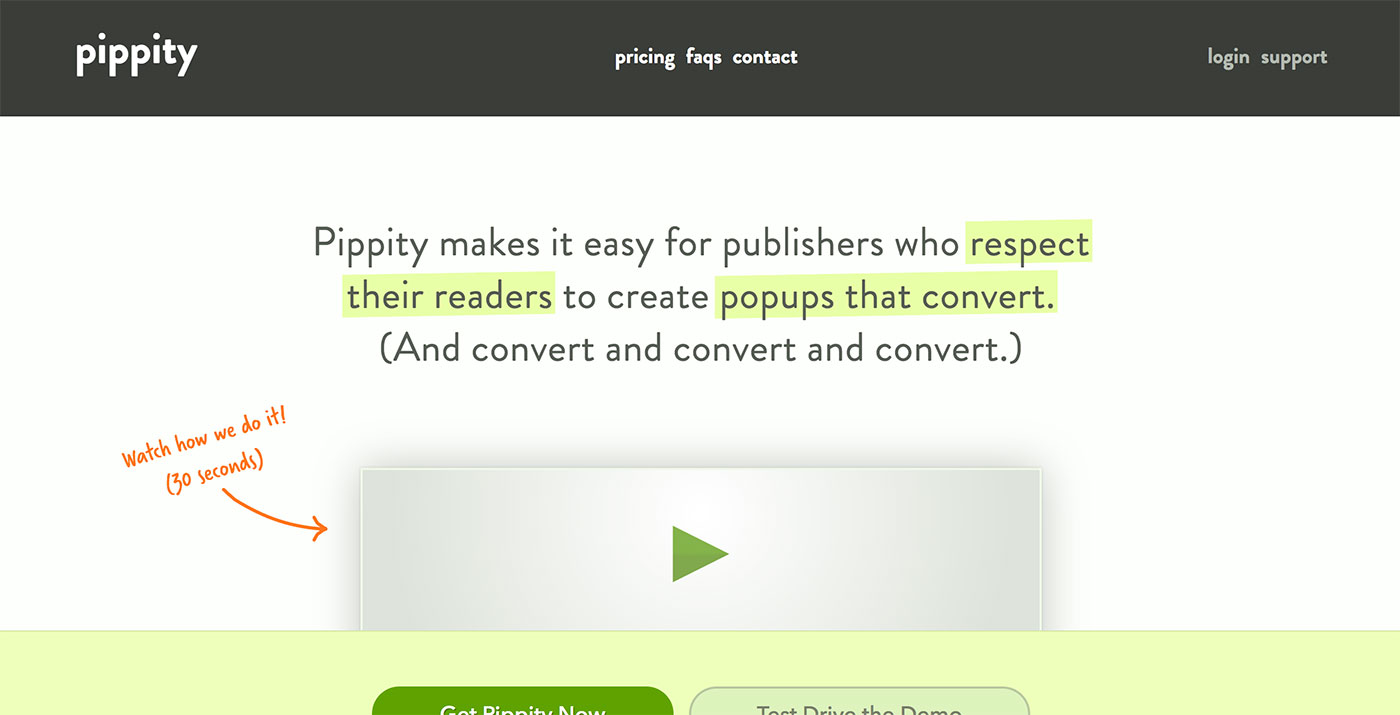 Pippity is one such newsletter plugin that focuses relentlessly on user experience. With its live preview feature, you're able to view (in real time) exactly what your visitors will see. Pippity also offers over 20 pre-built customizable newsletter opt-ins including popup forms and popup bars.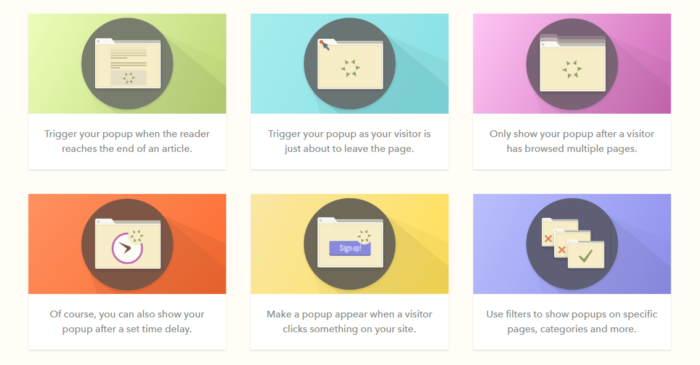 As for triggers, Pippity has all the standard ones as the rest of the plugins, including features like displaying popups on specific pages and categories or when someone clicks something in your site.
With advanced analytics, A/B testing and integration with all the major email marketing software — Pippity is a great plugin starting at $49/year for a single site license.
Ninja Popups ($25)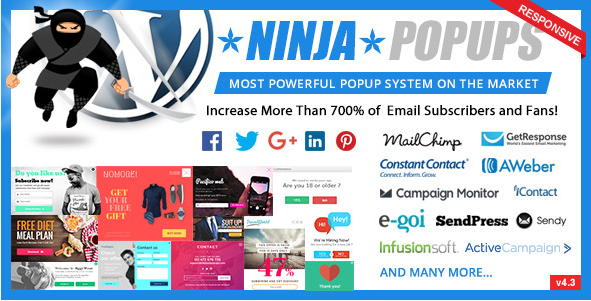 Ninja Popups is the most popular newsletter plugin in the Envato WordPress plugin store (CodeCanyon), with over 22,000+ sales. On the features front, the plugin has everything you'd expect:
A drag-and-drop newsletter builder
50 popup themes and 8 free opt-in panel designs
70+ animation effects
Opt-in locker and social locker
A/B testing with Google Analytics event tracking integration
Page/post level targeting
Integration with almost very email marketing software
I like the fact that there are so many ready-made templates available for use. And the best part is these templates are built by competent designers, which means they're bound to look good! Plus, this plugin is a one-time purchase — meaning that all future updates are free.
Plugmatter Optin Feature Box (Free or $67+)

One of the most interesting features in Plugmatter's Opt-in Feature Box plugin is its capability to target specific user groups. For example, you can create custom pop-ups for individual pages that line up with your content. You can also assign a different pop-up for returning visitors to your site.
The free version of the plugin enables you to turn off the popup for already subscribed users — which is a pretty neat feature for a free plugin.

With the premium version of the plugin, you can also visually customize the look and feel of the plugin to uphold your brand's identity. Apart from this, it also supports A/B testing and Google Event Tracking for all you hardcore data buffs out there!
Thrive Leads ($67+)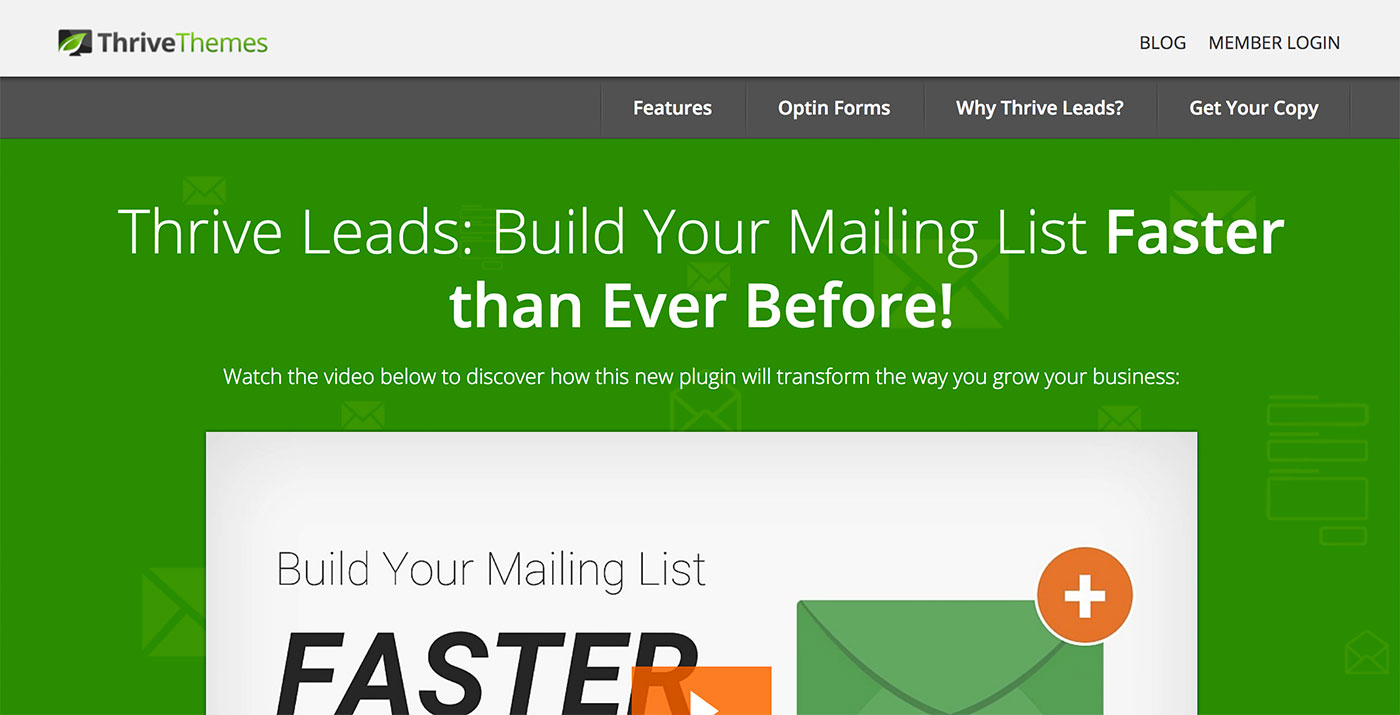 ThriveThemes are one of the most highly reputed WordPress developers in the market. And they're damn good at their job. Just look at the Thrive Leads landing page! Go ahead — try it, it's pretty cool! Neat design, coupled with actionable information — makes me want to buy the plugin right away!
Thrive Leads has a host of amazing features built into the plugin:
First off, it has ten (yes, you read that right) different types of opt-in forms including content locker, sticky ribbon, full-screen filler, scroll mat and multiple choice forms.
Trigger options include time, exit-intent, scrolling and clicks.
You can target your specific people in your website based on post, page, tag, category, URLs and even custom post types!
Thrive Leads features over twenty awesome animations to jazz up your opt-in box.

Apart from this you have features like A/B testing, targeting specific user types such as new visitor, returning visitor, and customer and no-fluff, actionable reporting.
Starting at 67$ for a single site license, Thrive Leads is an excellent plugin for those ready to take their email marketing to the next step.
For more info on Thrive Leads, take a look at another of our one-off in-depth reviews.
Popup Domination ($9+/mo)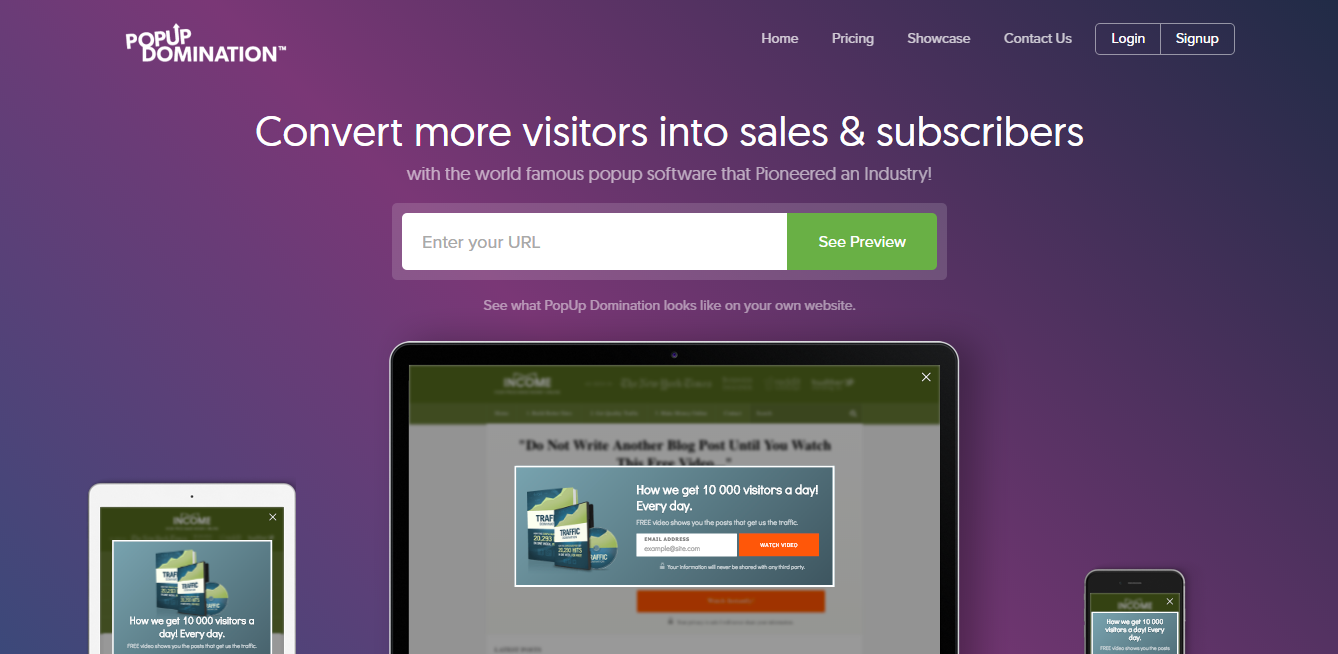 Popup Domination is one of the most beautifully designed newsletter plugins out there. Actually, it would be an understatement terming it as a newsletter plugin, because it actually does so much more!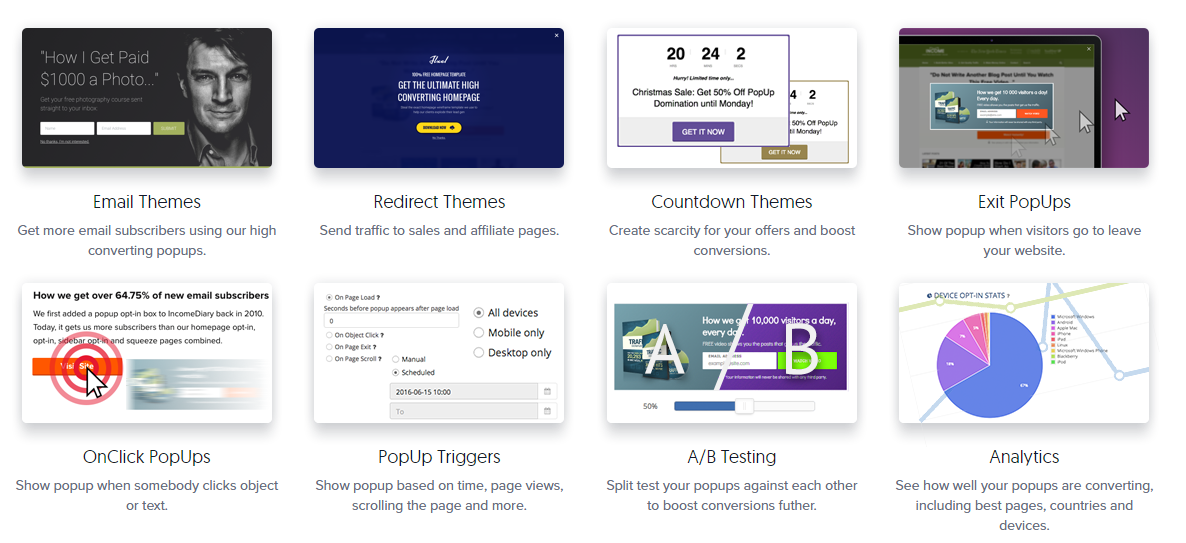 Popup Domination has a number of unique features, such as geographical targeting, countdown timers, redirect themes (which is essentially a popup redirecting you to another website), and popups based on the referring/source URL. This essentially means that you can configure two different popups for people coming from Facebook and LinkedIn.
Of course, it also has all the basic features you'd expect, such as split testing, responsive customizable designs, page-specific popups and more.

Popup Domination follows a monthly pricing plan starting at $9/month with 30,000 popup views per month.
There's a couple of awesome benefits to it:
You can use it on an unlimited number of websites — which is super useful if you run multiple niche blogs.
Live Chat support helps resolve your problems faster
A steady revenue stream for the developer means faster updates and more beautifully designed themes.
WP Subscribe Pro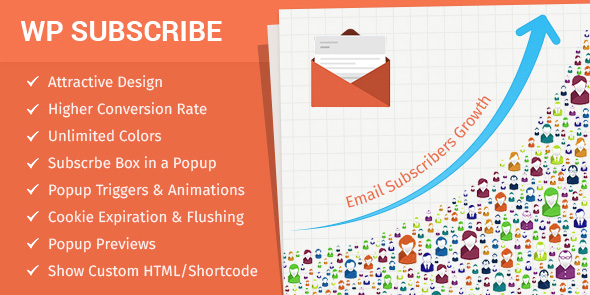 Like most premium newsletter plugins, WP Subscribe Pro offers all the necessary features you'd expect, such as basic popup triggers such as specific posts/pages, time delay, exit intent, etc. The popup's behavior and design customization options are pretty simple — so you'll be up and running in no time.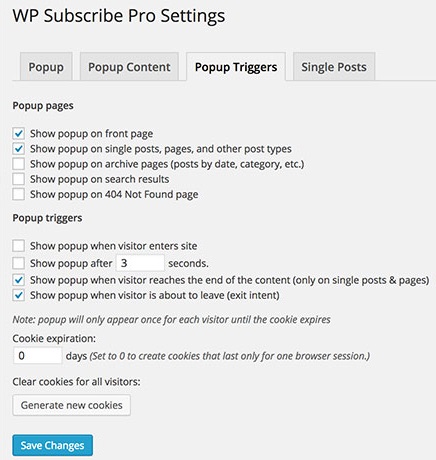 WP Subscribe Pro is compatible with Feedburner and a limited number of newsletter services including MailChimp, Aweber, GetResponse, MailerLite and Benchmark Email. What sets the plugin apart however, is its pricing policy. With most premium plugins, the updates and support are valid for one year. However, with WP Subscribe Pro, you get lifetime updates and support for just $29.
WordPress PopUp — Popover Maker (Free)

A freemium plugin from WPMU DEV, WordPress PopUp offers most of the good features such as 8 popup animations, 20+ conditional behaviors, various popup trigger options and more. You can also design responsive popup forms using the free form builder or use the any of the pre-built customizable templates.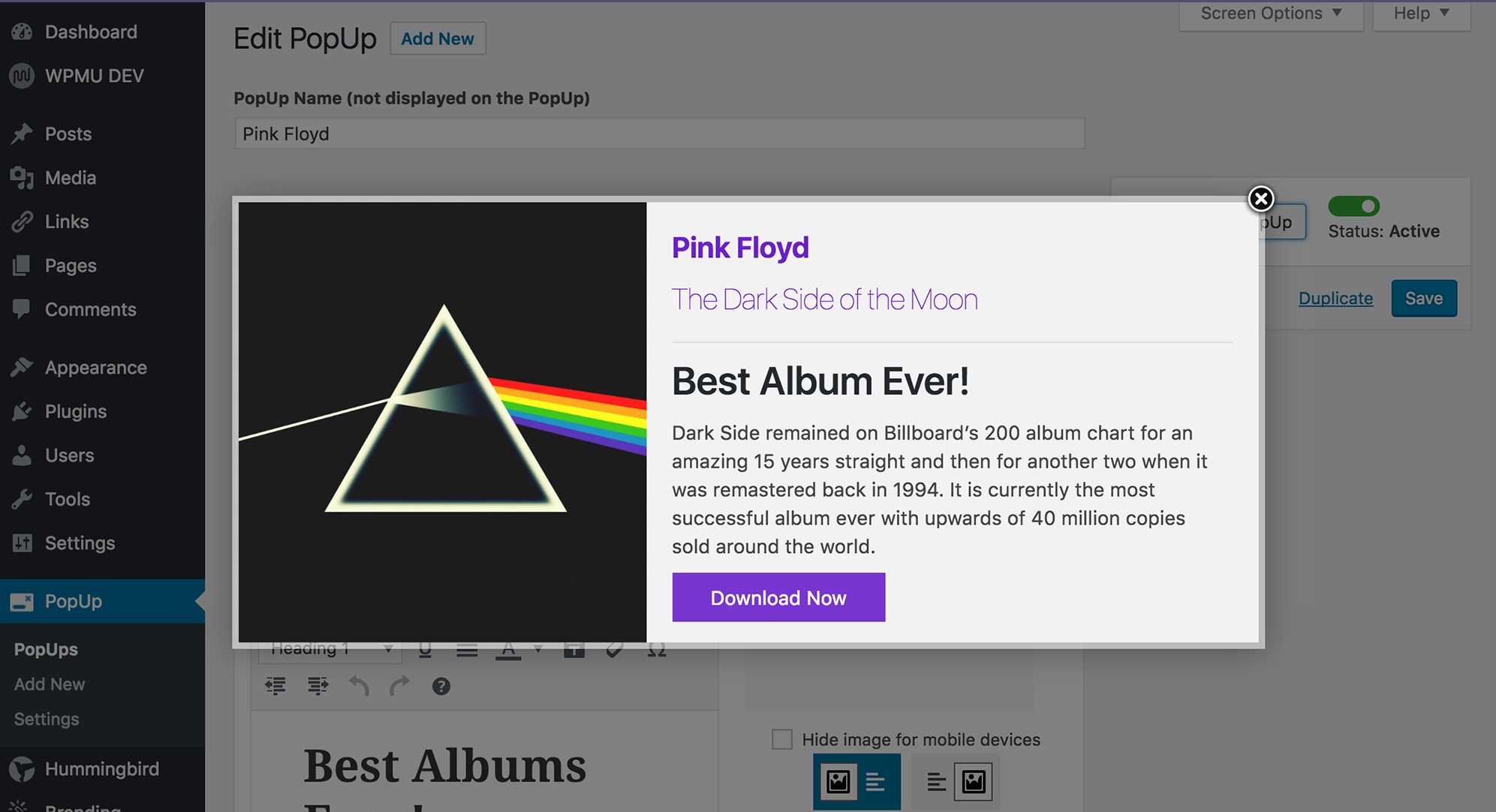 The premium version of the plugin also includes more popup trigger options and ad-blocker bypassing. While the free version is a great option for beginners, the premium version includes access to WPMU's library of multiple plugin lists.
MyMail — Email Newsletter Plugin for WordPress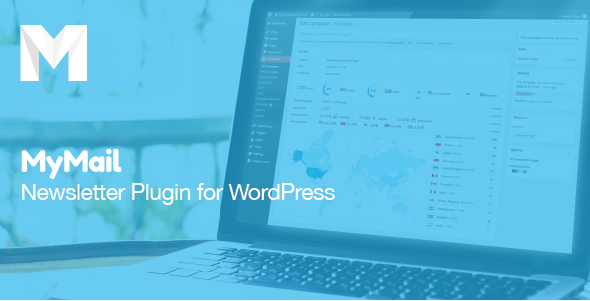 MyMail is one of the most powerful and cost-effective newsletter plugins — that can save you a lot of money, if used properly. This isn't actually a pop-up plugin however, instead it works with other form-builder or popup plugins like Ninja Forms.
What MyMail does is that it builds a fully-functional newsletter software right on top of WordPress. It uses third party services like Mandrill and Amazon SES to send out the emails to your subscribers. It has six types of autoresponders and supports real-time tracking of mail open rate, clicks and more.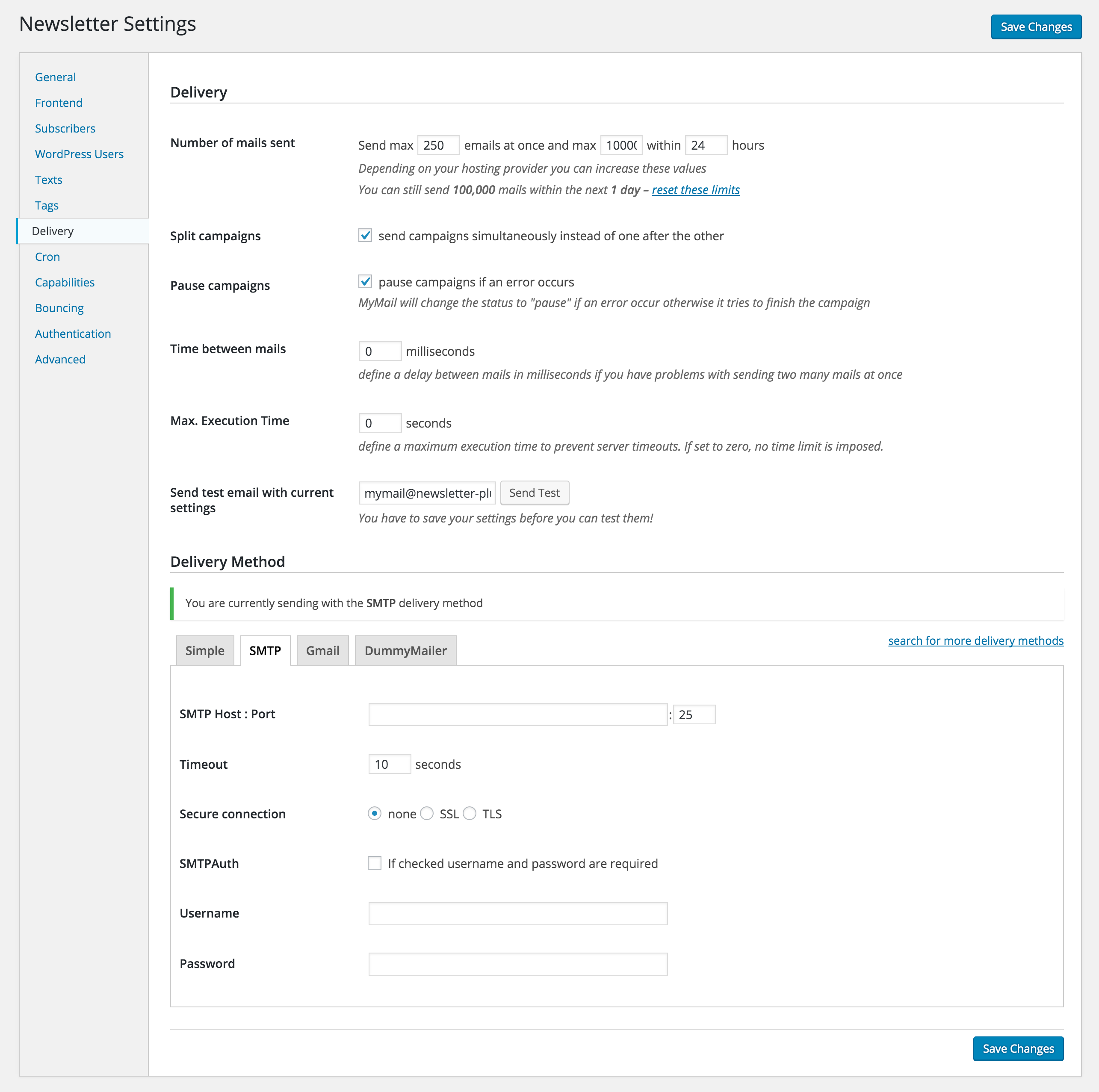 However, I would not recommend this plugin to folk just starting out with email marketing, as it involves quite a bit of technical setup.
Final Note
Starting off with email marketing is a good step toward your overall marketing goals. However, it's important to have a content marketing plan — i.e. a solid strategy in place — questions to ask yourself include: How often do I send emails? What will I be promoting in my emails? Should I consider a drip-email strategy?
Investing in premium plugins can deliver good user engagement and ultimately a good return on investment for larger websites.
Consider your budget, which features you need (and which you really don't) and give a few different options a try before deciding. Good luck!
Used/using any of the above? Thoughts?