WinningWP content is free to all. If you make a purchase through referral links on our site, we earn a commission (
learn more
).
OptinMonster vs MailPoet: Top Email Marketing Plugins Compared!
Email marketing plugins for WordPress allow you to build highly effective email marketing campaigns within WordPress itself. In this OptinMonster vs MailPoet review, I'll review and compare two of the most popular email marketing plugins available.
By the end of th article, you'll know how to choose the best email marketing plugin for your needs.
What an Email Marketing Plugin Does
There are two types of email marketing plugin for WordPress:
Lead generation plugins: These are designed with the express purpose of collecting email addresses. OptinMonster is one example of a lead generation plugin.
Full-service email marketing plugins: These allow you to edit signup forms and email marketing campaigns within WordPress itself. These plugins, which include MailPoet, are usually designed plugin-first and use the proprietary website mainly as a place to deal with billing.
What to Look for in an Email Marketing Plugin
A full-service email marketing plugin should offer the following features:
Fully customizable signup forms. You should be able to completely customize the appearance of your signup forms to work with your WordPress theme. The best full-service email marketing plugins will also allow you to set up how your signup forms are displayed, such as in a sidebar or a pop up.
Campaign editor. If you don't already have a preferred email marketing tool, you'll want to seek out a plugin with the ability to create full email marketing campaigns. There should also be some ability to automate marketing emails.
Analytics. Email marketing plugins should allow you to view campaign analytics within WordPress. At the bare minimum, a plugin should be able to tell you how many people opened the email, how many clicked on any links provided and which of these links received the most clicks.
Automation options. You'll also want to be able to automate certain types of emails, such as welcome emails and post notifications.
Ease of use. The plugin should function as a seamless part of the WordPress experience.
Reliability. You should only work with email marketing plugins that are both well-reviewed and regularly updated, as this will ensure your continued ability to use the plugin as new versions of WordPress are released.
OptinMonster Review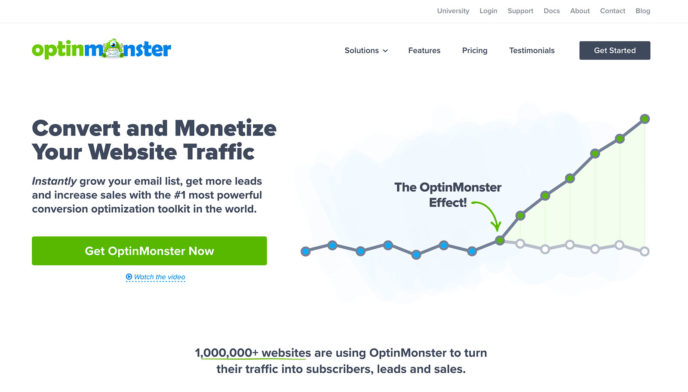 Features
Fully customizable signup forms
Pop ups
Slide-in scroll boxes
Floating subscription bars
Fullscreen overlays
Drag-and-drop email builder
Email template library
Custom fonts
Custom CSS
Timed-display control
Scroll triggering
Subscriber recognition
List segmentation
Page level targeting
Analytics
Overview
OptinMonster is an email marketing service with a connected WordPress plugin that allows you to create automated lead generation campaigns. This software can be integrated with numerous email marketing services, including MailChimp and Aweber.
How OptinMonster Works
Getting Started
The first thing you'll notice about OptinMonster is that it doesn't offer a free plan or a free trial of any kind — meaning you'll need to pay for the service during the signup process. There is, however, a 14-day money-back guarantee, should you change your mind.
Once you've paid, you'll be asked to fill in some basic information about yourself and your website. OptinMonster will then direct you to a dashboard where you can build campaigns.
To get the actual plugin set up, go to the Plugins area of your WordPress site, choose 'Add New' and search for OptinMonster. The plugin will only take a minute or two to install.
To use the plugin, you'll need to connect your OptinMonster account using the grey 'Connect' button near the center of the screen.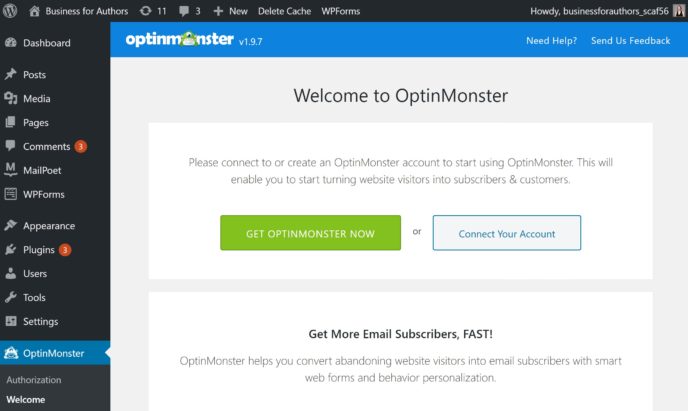 The plugin will then ask you to authenticate the account via pop up.
Creating Lead Generation Campaigns
Now your account has been authenticated, it's time to create your first lead generation campaign. You can get started by clicking the 'Create Campaign' button at the top of the OptinMonster page of the WordPress admin.

This will take you to the OptinMonster website, where you can choose the type of campaign you're building. For the purposes of this article, I'm going to choose a pop up campaign.

You'll then be taken to the OptinMonster editor. Click on one of the aspects of the form listed in the sidebar to reveal a dropdown menu with customization options: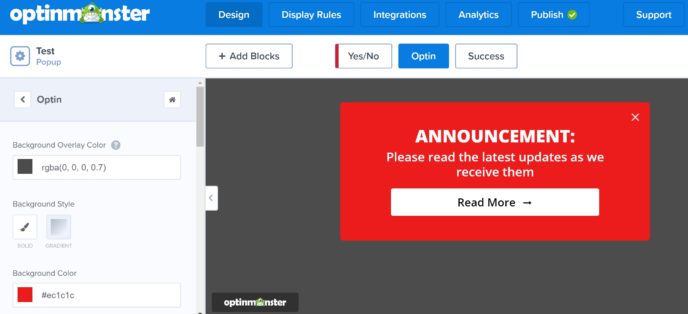 When you're happy with the appearance of the signup form, click the 'Success' button near the top of the page. This allows you to edit what happens to the pop up after a new subscriber enters their information. You can use this feature to direct people to other important areas of your website.
With the aesthetics of your campaign decided, you can move on to establishing the rules of how it will operate. Click on the 'Display Rules' button at the very top of the site:

This will take you to a page where you can set the exact conditions under which the signup form will appear to visitors.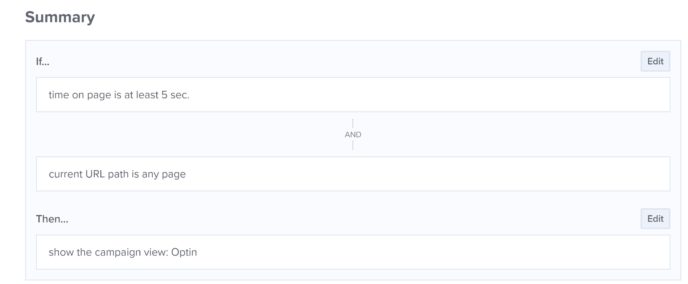 Click on the 'Edit' button to gain access to dropdown menus with potential rules.
When you're satisfied with the display rules, you can then click on the 'Integrations' button in the blue bar at the top of the site. This will lead you to a place where you can integrate OptinMonster with your email marketing service. It offers integrations with dozens of email marketing service providers, including MailChimp, Aweber and Constant Contact. Choose your email marketing service provider from the dropdown menu and follow the instructions to connect the two accounts.
NOTE: MailPoet is not one of the integrations available here. If you want OptinMonster to send subscriber info to MailPoet, you'll need to authorize that through the WordPress plugin.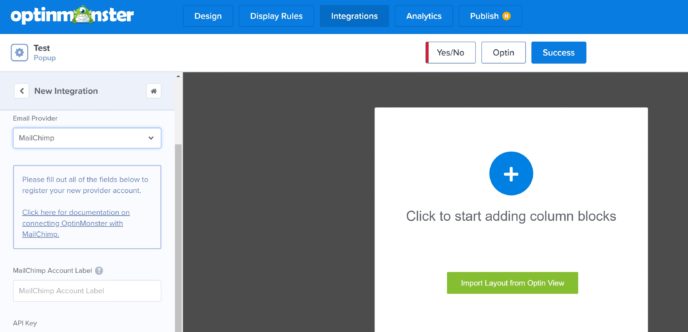 Once you've connected OptinMonster to your email marketing service, click on the 'Publish' button in the blue bar at the top of the page. This will take you to a page where you can see the status of your campaign and change the website the campaign is for.
Move the ball in the 'Status' slider bar from 'Paused' to 'Live'. Then click on the green 'Save' button in the top right corner, and your campaign is ready to go on WordPress!
Putting Campaigns on WordPress
With your campaign created, it's time to return to the OptinMonster plugin. In the 'Campaigns' screen, you'll now be able to see the campaign you've built. If you don't see it right away, click on the blue 'Refresh Campaigns' button near the center of the page.

When your campaign appears, click on the title. This will take you to a page where you can enable the campaign and choose who sees it. You can also access advanced settings, such as disabling the campaign on specific pages.
Note: If you're a MailPoet user, this is the screen where you can authorize OptinMonster to send information to MailPoet. This potential integration should be considered in the question of OptinMonster vs MailPoet.

You must choose to enable the campaign and manually save this choice before the form will appear on your WordPress site.
Analytics
There are two types of analytics available for OptinMonster campaigns:
OptinMonster analytics: OptinMonster collects data on the total number of visitors who see the campaign, the number of conversions and which pages receive the highest conversions.
Google Analytics: Individual campaigns can be connected to Google Analytics.
Pricing
OptinMonster has four pricing plans:
Basic: Costs $9 a month, billed annually, and includes all of the features discussed in this review.
Plus: Costs $19 a month, billed annually. Members with a Plus plan get all of the features of the basic plan plus advanced analytics, A/B testing and more.
Pro: Costs $29 a month, billed annually, and includes everything from the Plus plan, as well as a slew of additional features. Some of the most notable features are campaign scheduling and UTM tracking.
Growth: Costs $49 a month, billed annually, and comes with all of the features from the Pro plan, as well as new campaign types, behavior automation and more.
MailPoet Review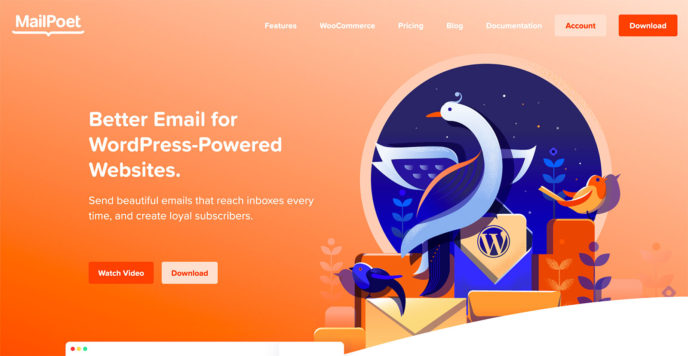 Features
Free plan for up to a thousand subscribers
Signup form creator with extensive customization options
Pop up and slide-in form creation
Comprehensive analytics
Easy-to-manage subscriber database
Simple database import
Simple database export
Multiple list capacity
Segmentation
Email template library
Template import
Drag-and-drop email editor
WooCommerce integration
Overview
MailPoet is an email marketing service dedicated to serving the WordPress community. Its WordPress plugin offers extensive customization options for signup forms and email campaigns, and it also offers a free plan for lists of up to a thousand subscribers — which is an important point to consider when choosing between OptinMonster and MailPoet.
How MailPoet Works
Getting Started
You can get started with MailPoet by installing the plugin on your website the same way other plugins are installed.
Once installed, MailPoet will direct you to sign up for an account on the MailPoet website. You can sign up for your account using a personal email address, but MailPoet won't allow you to send an email from a personal address. This means addresses ending with extensions such as gmail.com, yahoo.com, or outlook.com can't become authorized sending addresses.
MailPoet will also need to verify your account before starting. The main things required for verification are a) a professional email address and b) confirmation that you have access to said professional email address. The verification process typically happens within a couple of hours, but may take up to 24.
You can import existing subscribers from a previous email marketing service via spreadsheet at any point. If your subscribers are currently registered through MailChimp, you can use an automated process to import them instead.

You can also export your subscriber database as a spreadsheet at any time.
Creating Signup Forms
One of the most important things to consider when comparing OptinMonster vs MailPoet is their signup form creators. The MailPoet form builder isn't quite as comprehensive as the OptinMonster form builder, but it does offer extensive customization options — including the ability to fully customize your font.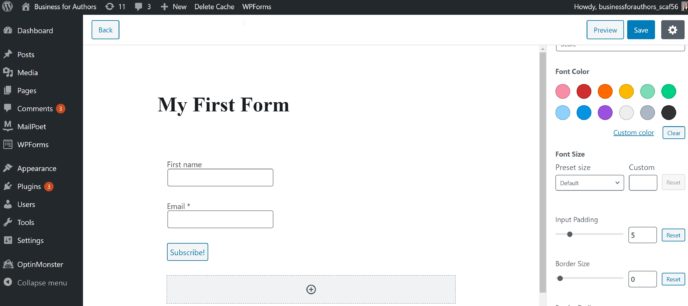 The form creator also allows you to choose how each form will be created. This includes simple options, such as sidebar and footer widgets, as well as more complex options, such as pop ups.
When you create a pop up or slide-in form, you can choose to have the signup form appear after a set period of time.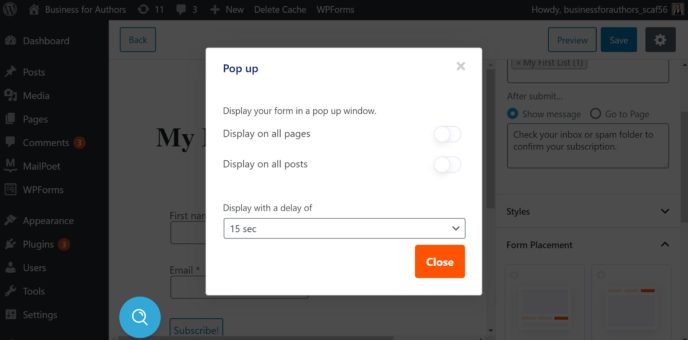 Automated emails
MailPoet allows you to set up a variety of automated email types:
Welcome messages
New post notifications
WooCommerce marketing emails
WooCommerce abandoned cart emails
Each of these automated emails comes with specialized parameters.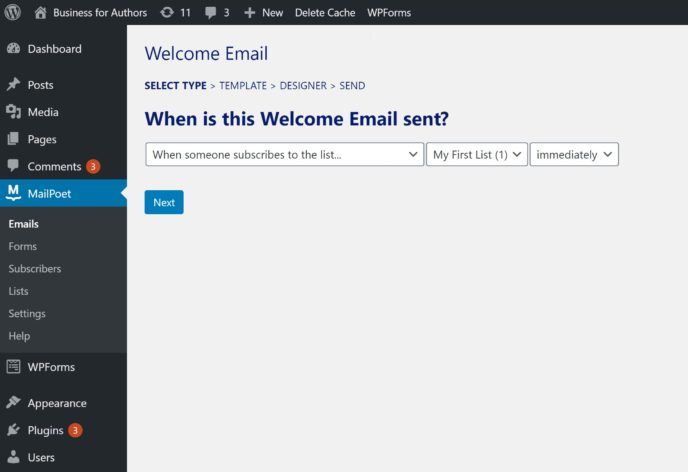 Once you've chosen these parameters, you'll be able to create the email using the same templates and designer used to create regular emails.
Email Creation
MailPoet offers a variety of fully customizable email templates, each designed for a specific purpose.

The plugin then takes you to a drag-and-drop editor, which has a variety of content blocks — including an automated latest post display and other content blocks specifically designed for WordPress users.
When you're happy with the appearance and content of your newsletter, you can move on to the sending process. At this stage, you'll be able to choose the list you're sending to and add a reply-to email that's different from the sending email. This is useful if you want to use an email address you don't check frequently as the sending email.
You can also schedule your email to go out at a specific time on this screen.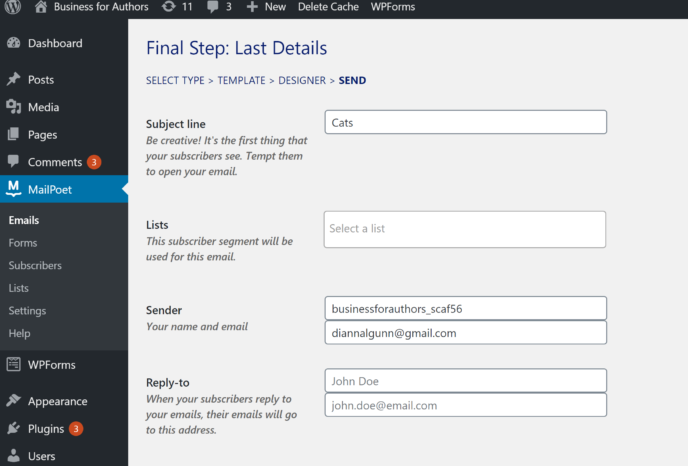 Last, but certainly not least, you'll have the opportunity to turn on Google Analytics for the individual campaign.
Analytics
Once your email is sent, MailPoet tracks how people interact with it in real time. You can see basic statistics about your email as soon as five minutes after it's been sent — including how many people opened the email and how many people clicked on the links within the email.
After about six hours, you'll get access to more in-depth analytics. This includes information about who clicked on what links, engagement heatmaps and demographic information.
MailPoet Pricing
MailPoet is free for lists with fewer than a thousand subscribers. After that, the cost starts at $13 a month and increases on a sliding scale to $292 a month for 70,000 subscribers. Businesses with more than 70,000 subscribers can contact MailPoet for custom pricing.
OptinMonster vs MailPoet: The Verdict
So, which plugin is the winner of this contest?
Well, the answer is both and neither. The real question is how can you use OptinMonster and MailPoet to best effect?
In an ideal strategy, OptinMonster is used to collect subscribers and MailPoet is used to build email marketing campaigns. These tools will help you to maximize both your subscriber rate and your engagement rate on future email marketing campaigns.
That said, if you're a small business with a small marketing budget, stick with just MailPoet for access to the free plan.
Used/using either OptinMonster or MailPoet? Thoughts on each?
Related Posts:
All comments are held for moderation. We'll only publish comments that are on topic and adhere to our Commenting Policy.