WinningWP content is free to all. If you make a purchase through referral links on our site, we earn a commission (
learn more
).
OptinMonster Review: Exploring the Leading Optin Form Plugin for WordPress
OptinMonster is undoubtedly a powerful lead generation tool. It's packed with features, is regularly updated and is very popular. If you want to get more signups for your newsletter, sales of your products, engagement with your content, or elicit many other actions from your audience, OptinMonster should be on your shortlist.
However, OptinMonster isn't cheap, and its large feature list may also be overkill for some readers and their websites. Because of this, it's not possible to recommend OptinMonster to everyone.
So, to find out whether you're one of the people who would benefit from paying for and using this tool, read my OptinMonster review to get the full details.
Let's begin…
OptinMonster: A Quick Overview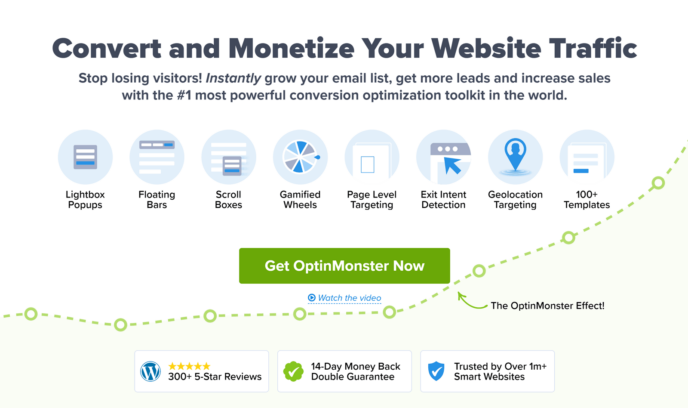 OptinMonster started out primarily as a WordPress optin form plugin that could help you to get more subscribers to your email list. However, over the years it's evolved to become a tool that can be used on any type of website, and not just those powered by WordPress.
OptinMonster now also has many more features and purposes, but they all focus on the goal of helping you to generate more leads for your website, regardless of what type of website you have and what leads you want to generate.
Once you've signed up with OptinMonster, you can create forms and other assets, and then display them on your site. You get lots of control over how they look and function, as well as when and where on your site they're displayed.
This OptinMonster review will explore the best aspects of this service, as well as cover its drawbacks. But if you're short on time, here are some of the main highlights of OptinMonster:
Many different optin, popup and lead generation types that can be added to your website.
Lots of triggers and rules for controlling how those optins and popups are displayed, including Exit-Intent and InactivitySensor features.
Huge library of editable templates for the optins, popups, and other lead generation assets.
Intuitive drag-and-drop editor for customizing the lead generation assets.
A/B testing tool to help you to optimize your assets with split tests.
Detailed conversion analytics for understanding your campaigns.
Integrations with many email marketing services and other products.
Multiple pricing plans, which start at $9 a month.
A 14-day money back guarantee.
It's fair to say OptinMonster is probably the most feature-rich and powerful lead generation tool for WordPress.
However, those features come at a cost. Furthermore, the pricing plan you choose will dictate which features you get access to. While the cheapest option costs $108 a year, or the equivalent of $9 a month, it costs $588 a year, or the equivalent of $49 a month, to unlock all of the OptinMonster features.
The pricing section of this review will have more information on the different plans, but you can also view the details on the pricing page of the OptinMonster website.
OptinMonster Features
Here's a look at the most important features of OptinMonster as well as my thoughts on each of them.
Campaign Types
When creating a lead generation asset with OptinMonster, the first step is to choose a campaign type. In OptinMonster, campaign refers to the type of popup, optin form or other type of asset you're creating.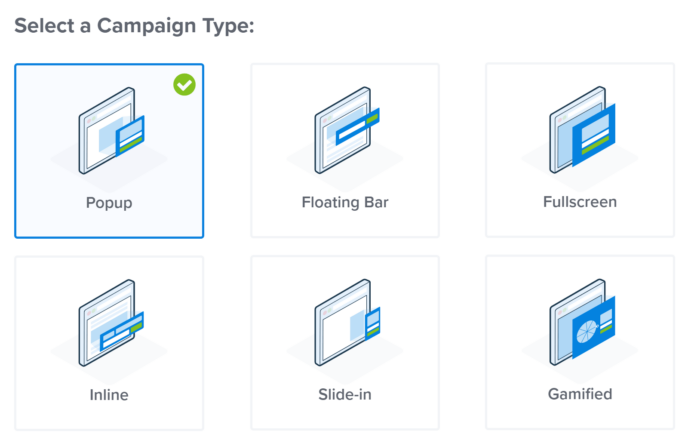 As you can see, there's a good range of options available. If you want to catch the attention of your audience in a way that's hard to miss, then good options are the popup and full-screen campaigns.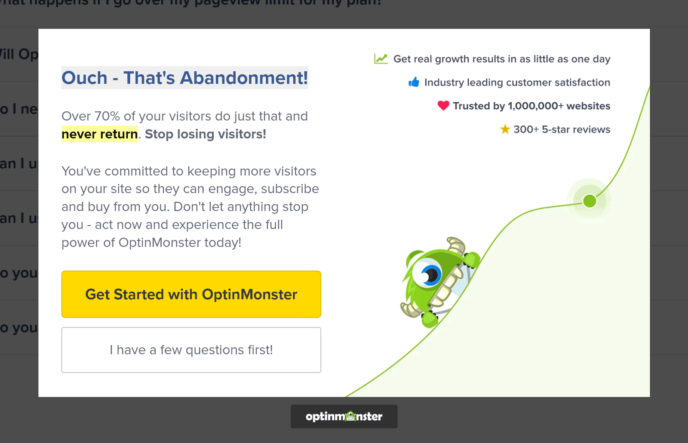 More subtle options include the floating bar, which can be positioned at the top or bottom of the browser window and is always on display. The inline option, which is inserted into your posts and pages very easily, is another more subtle campaign type.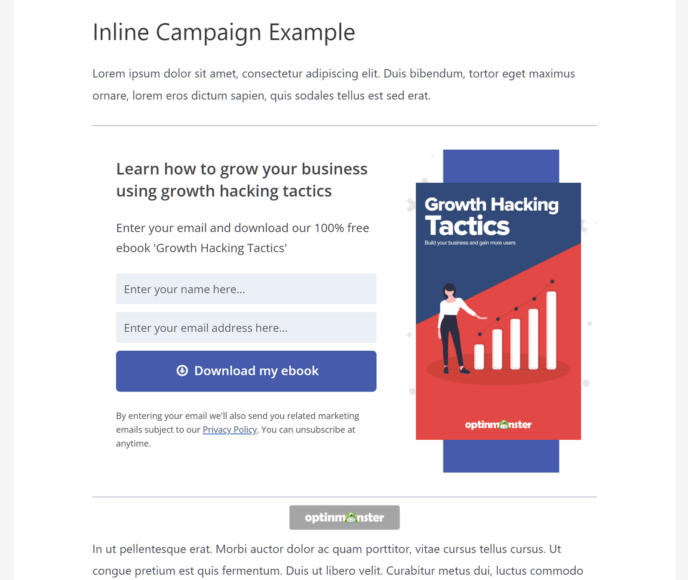 The gamified campaign is a more interactive option that uses a spinning wheel to enable your visitors to attempt to win a prize when submitting their email or performing another action. It's quite an interesting feature, and one that hasn't been available from the other optin and popup plugins for WordPress I've used.
Campaign Templates
Once you've chosen a campaign type, you'll be presented with the templates that are available for that type. Some types definitely have more templates than others, but whichever type you choose, you'll still have lots of easily editable templates to choose from.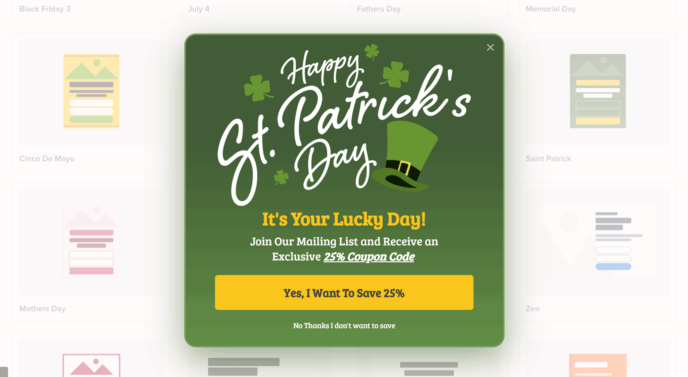 The OptinMonster templates are very well designed. They're some of the most attractive options I've seen from any tool of this type. It's also worth pointing out that there are some seasonal templates, such as Christmas, Black Friday and Halloween, for your timely campaigns.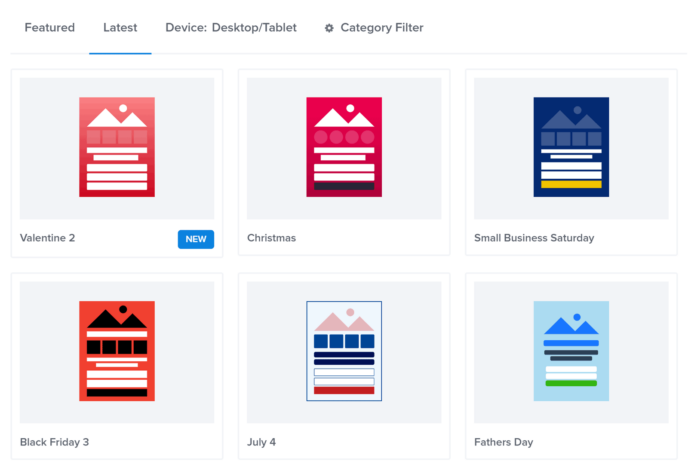 The fact that there are so many, not to mention that new ones are added on a seemingly regular basis, makes this one of the strongest OptinMonster features. This is especially true if you're not a designer or don't have the time to create your own designs from scratch.
Drag-and-Drop Builder
If you do want to design your own template or edit any of the existing ones, OptinMonster has a powerful builder tool.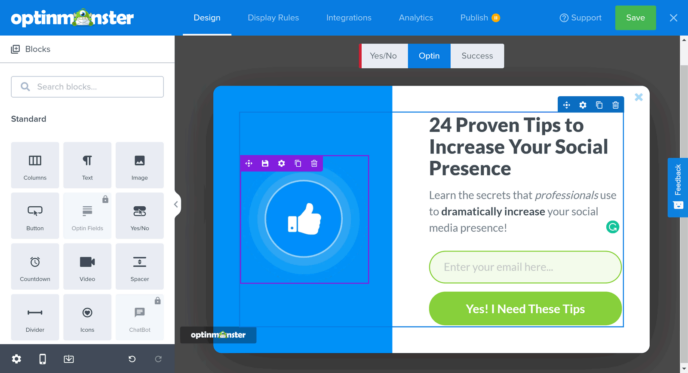 As well as editing the colors and other visual properties, you can also add some elements to your popup or other type of campaign you're working on. Some examples include videos, countdown timers and even a chatbot via a supported integration. You can also use the custom HTML element to add your own custom content to the template.
However, as I covered in my Bloom, OptinMonster and Thrive Leads comparison, Thrive Leads does let you add a wider range of widgets or elements to your popups and other assets.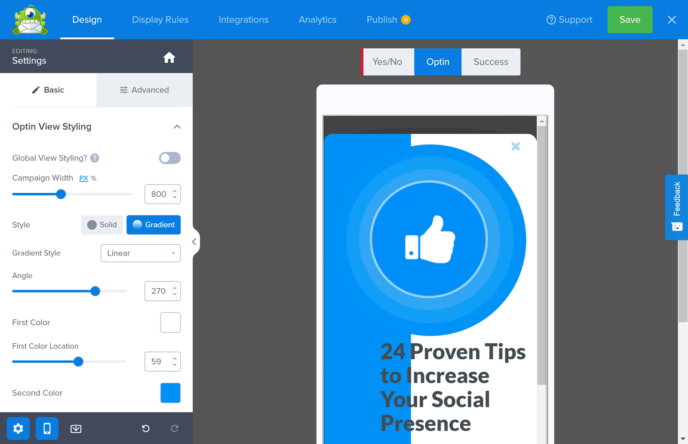 One particularly useful feature of the drag-and-drop builder is the ability to switch to mobile view. All of the assets you create with OptinMonster are mobile friendly and will look great on smartphones. However, switching to the mobile view gives you a way to optimize your designs for smaller screen devices.
The other builder settings and controls let you define things such as the borders, shadows and spacing. You can also edit the button hover effects, popup or optin widths, and how the popup can be closed.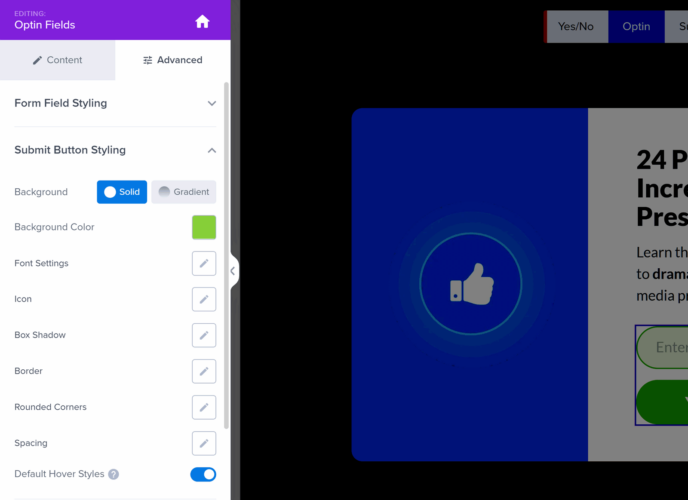 Whether you want to start with a blank canvas or simply change a few fonts and colors, everyone should be able to produce a custom design using the OptinMonster builder.
Display Rules
Once you've created a popup, optin or another type of asset, you can define where and when it'll be displayed on your site. Choosing specific pages on your site to show (or not show) the campaigns on is very easy. Because you can create multiple popups, optins and other campaigns, you can design unique ones for the different types of content on your site.

Through the display rules page, you can also use a time delay to trigger a popup after a visitor has been on your site or viewing a page for a set amount of time. Creating schedules based on time and date is another useful option, especially if you're running holiday promotions.
Inactivity Trigger
Another option is to use the InactivitySensor to detect a lack of activity from a visitor, and then trigger the campaign. One use could be to trigger an unmissable popup or full-screen campaign that a visitor would see when they return to the page or their device.

In fact, despite being a very useful feature, an inactivity sensor is something I haven't seen with any other lead generation tool for WordPress.
Visitor Based Triggers
Other criteria for your rules include whether the person viewing your site is a new visitor or not, their physical location and how far they've scrolled down a page, to name just a few of the many options.
You can also trigger a popup or other type of optin if the visitor came to your page or site via a specific URL.
eCommerce Triggers
For anyone running an online store, there's a good set of eCommerce-related display rules and triggers. Some examples include if the shopping cart subtotal or the number of items in the cart is above or below a certain amount, or if the cart contains specific products.
One way to use this would be to display a promotional popup message if the value of the cart isn't quite enough to qualify for free shipping. The popup message could notify them of this, and gently encourage them to increase their cart total to avoid paying shipping fees. Alternatively, if the customer has a specific product in their cart, this could trigger a popup that recommends other related items.
There's also a cart abandonment trigger to help you to prevent people from leaving your store without paying for the items they've added to their shopping cart.
HTML Element and JavaScript Variable Triggers
If you want to get a bit more advanced, you can use the HTML and JavaScript-based rules to get more creative with your triggers and display rules.
Combining Display Rules
OptinMonster also lets you combine your display rules. Because of this, you could use the inactivity trigger together with the physical location rule to define when a specific popup is displayed and who sees it.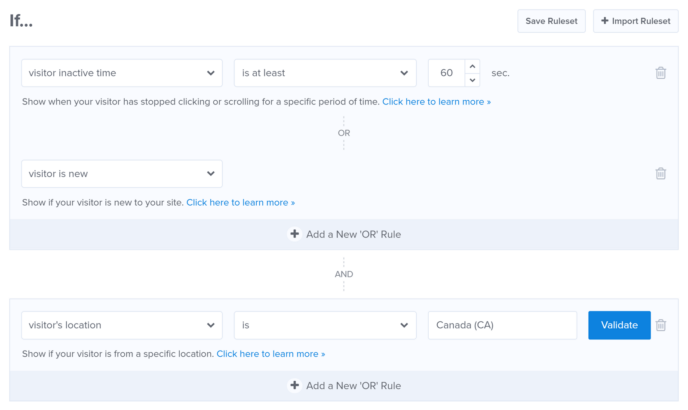 You can also trigger campaigns based on how a visitor has interacted with the other campaigns on your site. For example, you can display a follow-up campaign if a visitor has closed a previous campaign on your site without performing the desired action, such as entering their email address. This gives you an opportunity to try a few different campaign types or designs on your audience to increase the chances of them opting in.
Once you start exploring the different display rules and triggers of OptinMonster, it's easy to start thinking of ways they can be used to generate more leads or sales.
One of the highlights of OptinMonster is it does so much more than you think, or perhaps were looking for, in a tool of this type. Chances are, once you start experimenting with it, you'll be able to grow your business in ways you hadn't even considered. The OptinMonster case studies are worth checking out if you want more ideas of how this tool can be used.
Animation Effects
While you're defining the rules of your campaign, you can also apply MonsterEffects to it. These are animation effects that are applied to the popup, optin or another item when it's displayed. Some examples of the effects include bouncing, rotating and flying animations, to name just a few. Playing sound effects is another way to grab the attention of your audience when a campaign is activated.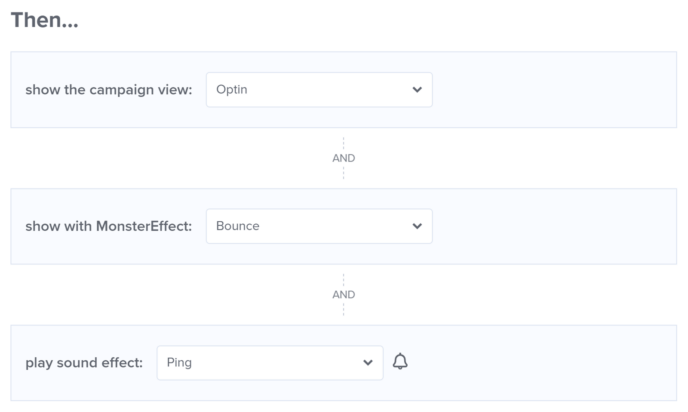 If you want full control over when, where and how campaigns are displayed on your website, as well as to which type of visitors, OptinMonster has all of the rules and settings you could think of.
Integrations
As you'd expect, OptinMonster integrates with all of the best and most popular email marketing services, as well as some not-so-well-known options. You can also send leads to multiple services with OptinMonster. In the unlikely event you're using a service that's not a native integration for OptinMonster, you can use custom HTML for the connection.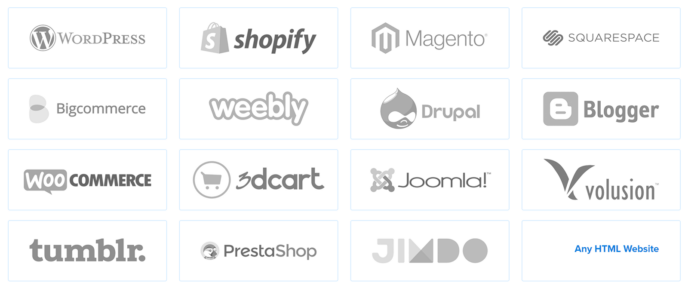 Because of this, you should be able to use OptinMonster to enable your visitors to sign up to your email list, no matter which service you're using. If you aren't using a service to collect and manage your leads, you can use the Monster Leads feature to store them until you're ready to use them.
As well as email marketing services, you can connect your campaigns to a wide range of other types of services via Zapier.
Publishing Options
OptinMonster is now a hosted service, rather than just a WordPress plugin. Because of this, your campaigns are created and managed in your account area on the OptinMonster website rather than in your WordPress dashboard.
One benefit of this is your campaigns aren't tied to one site. They can also be published on any type of website, and not just one powered by WordPress.
Another benefit of this is you could hire someone to create campaigns for your website without having to give them admin access to your WordPress dashboard. Alternatively, you could provide services as a campaign manager, managing all of your client campaigns from one central account area on the OptinMonster website, and then deploy them to client sites remotely.
However, there's still an OptinMonster plugin that connects your account to your WordPress website. It also adds a handy dashboard to WordPress that gives you an overview of the performance of your campaigns.
Overall, adding the campaigns to your WordPress website is very easy. There's also a block for the WordPress editor that lets you quickly insert inline optin forms into your posts and pages.
Analytics and Testing
OptinMonster gives you a good amount of analytics data on your campaigns. Because of this, you can easily see how they're performing and how your audience is responding to them.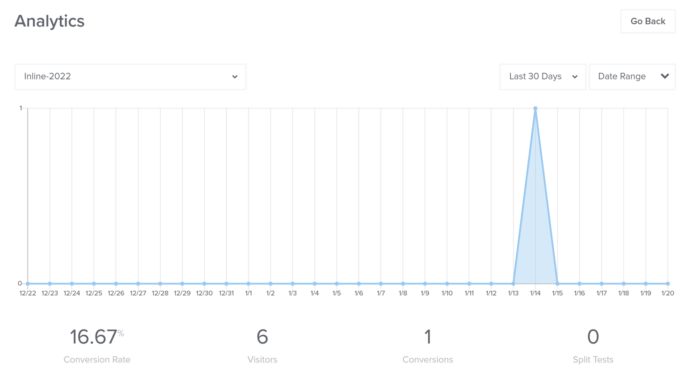 Another powerful feature of OptinMonster is the A/B testing tool that lets you run optimization experiments on your campaigns. In just a few clicks, you can clone a campaign. You can then make a few changes to that clone, such as editing the text or its design. OptinMonster will then show one version to a portion of your audience, and the other to another portion. You'll then be able to view the data showing which one gets the best response from your visitors.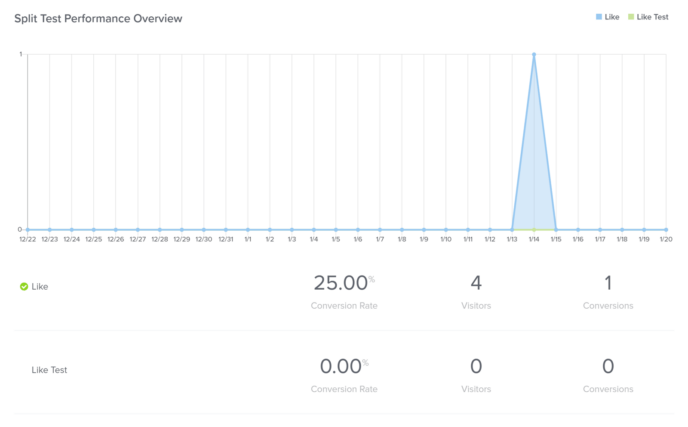 If you'd rather let the data drive your design decisions, as opposed to relying on guesswork when creating campaigns, the A/B testing tool is an invaluable feature.
Other OptinMonster Features
Here are some more features of OptinMonster that you may be interested in:
You can view the full list of features on the OptinMonster website.
OptinMonster Pricing
There are four pricing plans for OptinMonster, each with its own set of features:
Basic: $108 a year for use on one site and up to 2,500 page views.
Plus: $228 a year for use on two sites and up to 10,000 page views.
Pro: $348 a year for use on three sites and up to 25,000 page views.
Growth: $588 a year for use on five sites and up to 100,000 page views.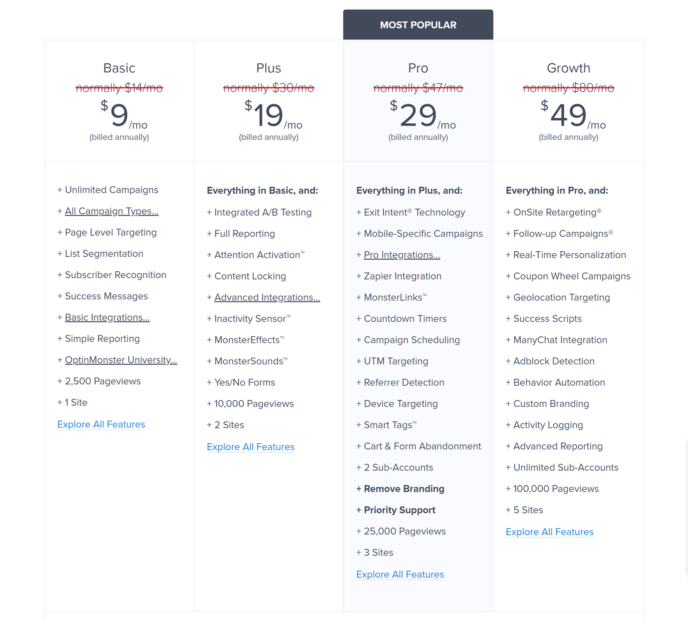 As you can see, OptinMonster starts to get pretty expensive — at least compared with other WordPress lead generation plugins — if you want to use it on more than one site, have a busy site and/or want access to the best features.
For example, Bloom from Elegant Themes is a well-regarded alternative to OptinMonster. The plugin costs $89 a year or $249 for a lifetime license.
For this price, you get access to a good range of campaign types, an A/B testing tool, and lots of integration options. The form templates aren't as good as OptinMonster and the customization capabilities don't compare well, either. However, you'll be able to create optins and signup forms. You can read my Bloom vs OptinMonster comparison and Bloom review to find out more. Bloom comes with the popular and powerful Divi theme at no extra cost.
Thrive Leads is another popular OptinMonster alternative. It's a more powerful and feature-rich option than Bloom, and it compares well with OptinMonster. Thrive Leads is available for $228 and comes with a selection of other tools as part of the Thrive Suite package. You can find out more in our Thrive Leads review and Thrive Leads, Bloom and OptinMonster comparison.
Having to pay $348 a year for the Pro plan to be able to remove the OptinMonster branding from your popups, optins and other campaigns seems like a lot to ask.
All of the plans do include a Done-For-You Campaign Setup, which sees one of the OptinMonster conversion experts 'designing one free campaign for you to get maximum results'. If you'd like some help getting started, or just want to outsource campaign creation, this may be an appealing feature.
Final Thoughts
OptinMonster is a very powerful and feature-rich tool for growing an email list and generating leads. Despite its high levels of functionality, it's also very easy to use. Arguably it's the best tool of its type for WordPress.
However, if you want access to the best features, you'll need to pay a relatively high amount each year for them.
The lowest-priced $108-a-year Basic plan does include all of the campaign types, the editable templates, and drag-and-drop editor, so it's still a powerful and useful product. However, the 2,500-a-month pageview limit on that plan may be prohibitive for some, although you can purchase extra pageviews — something you may find useful during busy months.
Despite having some good features, the entry-level Basic plan doesn't include some of the highlights from this tool, such as A/B testing, the InactivitySensor and Exit-Intent triggers, or the ability to remove the OptinMonster branding from your popups and optins.
However, as OptinMonster is a tool that can help you to generate more revenue from your site, you may find that its features are worth investing in. Alternatively, if you're simply looking for the best lead generation and email optin plugin for WordPress, and don't mind paying for it, then OptinMonster will be a great choice for you too.
Overall, OptinMonster is highly recommended for anyone who wants to grow their email list or generate leads. The relatively high price tag is the only drawback.
Used/using OptinMonster? Thoughts?
All comments are held for moderation. We'll only publish comments that are on topic and adhere to our Commenting Policy.