Thrive Leads, OptinMonster or Bloom: Which is the Best Email Optin Form Plugin for WordPress?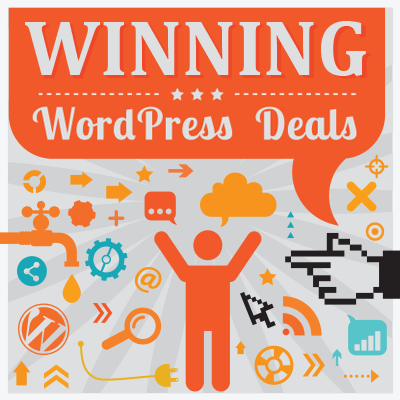 OptinMonster, Bloom, and Thrive Leads. When it comes to growing your email list, these three commercial plugins are the main players in the WordPress ecosystem. Which is the best? Well, unfortunately, there really isn't a simple answer to this particular question.
However, if you want to know which the best email optin plugin is for you personally, then read on and by the end of this article you'll have all the information you need to decide for yourself.
In today's comparison, we'll be looking at what each of these three plugins has to offer, how easy they are to use, how much they cost, and what you get for your money.
If your email list just isn't growing as quickly as you'd hoped (or perhaps you've yet to start one), the following should help you decide which of these superb email optin form plugins will give you the best results.
Can I Grow My List with a Free Optin Plugin?
What about the free email optin form plugins? It's true there are some great free options out there for adding attractive email newsletter sign-up forms to your site, but the free or lower-priced options simply can't compete with the big three plugins when it comes to features and ease of use.
There are free plugins out there that are ideal for adding in-content subscription forms to the end of your posts; others make it easy to display a popup optin form on your site. Maybe you could cobble together a bunch of free email optin plugins to try to cover all the bases, but you'd still be missing out on what the commercial Bloom, Thrive Leads, and OptinMonster plugins have to offer. That's without even going into the risk you'd be running of slowing down your website with each extension you install, or the overhead of managing multiple plugins.
When it comes to growing your email list, Thrive Leads, Bloom, and OptinMonster each have plenty to offer, including:
many different form types
varied selections of form templates
user-friendly interfaces for designing your own forms
integration with all the best email marketing services
split testing tools to help you optimise your optin forms.
If you compare those features with what you get from the free plugins and budget options, it becomes clear that, for those who are serious about growing their email list, only one of these powerful premium options will do.
Thrive Leads, Bloom, or OptinMonster?
Okay, now that we've established why you should consider one of these three plugins over the others in this category, it's time to look at which one you should choose.
Well, the truth is they're all great plugins — if you stop reading now and pick one at random, you should have access to all the features and tools you need to start generating more email sign-ups and optins from your website. If you're already using one of these three plugins and are thinking about switching, then, unless you are massively unhappy with an aspect of that plugin, changing tools probably won't be the solution to your problem.
Instead, it might be something else that's preventing you from getting the results you were expecting. This could include the lack of a compelling lead magnet, poorly designed or worded forms, or uninteresting content on your site. As these plugins all include optimisation tools, you should constantly be running split tests to increase your conversion rates.
However, if, like me, you prefer to know exactly what's on offer before making a decision, read on for a look at the main features of the best email optin form plugins for WordPress.
The Main Features and Differences
While there are a few areas where Thrive Leads, OptinMonster and Bloom differ, they have more in common than not. Each plugin does, however, do things in a different way from its competitors.
Let's take a look at the best features they have in common, as well as their major points of difference.
Types of Form on Offer
When it comes to the different types of email sign-up forms you can display on your site, you'll be spoilt for choice with any of these three plugins. Each tool gives you the following types of forms to work with:
Popup lightbox forms
Slide/fly-in forms
In-content forms
Widget area forms
Two-step optin forms
As you can see, all of the main types of form are available from each tool. This means you can use email optin forms that are displayed in popup lightbox windows, forms that slide into display from the side of the page, or those that are inserted into your posts and pages. Each tool also includes a form widget that can be added to your sidebars and other widgetised areas of your site.
One of the more advanced features present in all of these tools is the two-step optin form. These are popup forms that are triggered when a user clicks on a text or image link on your site. This two-step optin process has been shown to convert at a higher rate than regular popup forms.
However, there are a few types of form that aren't universally available. One is the content locker form, which requires the visitor to enter their email address to gain full access to your content. This form type is available with Bloom and Thrive Leads, but not OptinMonster.
OptinMonster and Thrive Leads both offer a full-screen welcome gate form or screen filler form. This type of form will cover the whole of the visitor's browser window, making it very hard for them to ignore your offer. Depending on how you configure the form, it could be displayed using a range of triggers — including when a visitor is about to leave your site.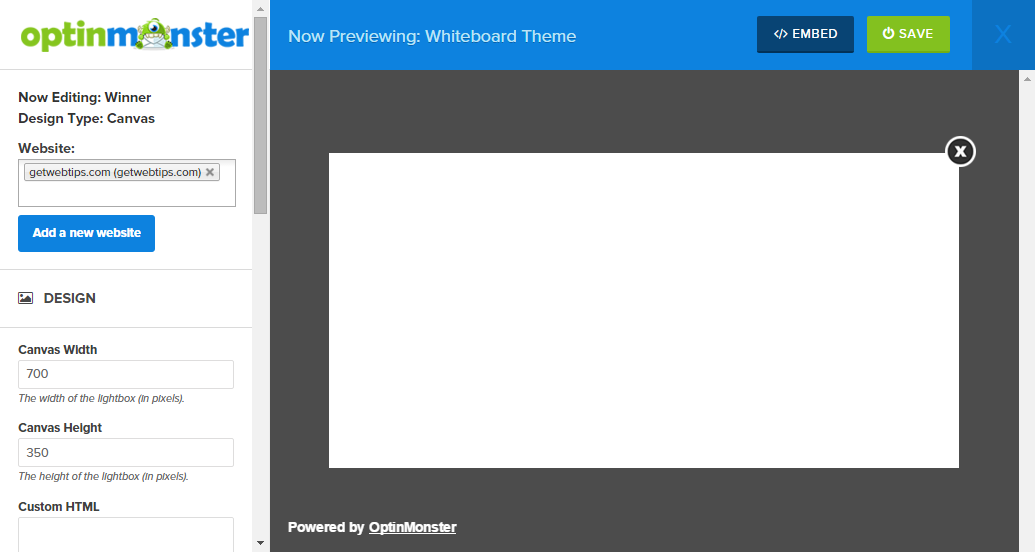 Thrive Leads and OptinMonster give you the option of starting out with a blank canvas, which you can then add your own custom content to. This content doesn't have to be an email sign-up form — it could be any content of your choice, such as a welcome or goodbye message, a video, links to your latest products, or your social sharing buttons. If you do plan to use this feature, it's worth noting that the Thrive Leads form designer makes it easier, and gives you more options for adding your own custom content to a blank popup, than OptinMonster.
To confuse things slightly, users of OptinMonster get access to different features depending on which pricing plan they choose, so bear that in mind when weighing up the different form types and features.
Form Design and Appearance
Each plugin includes a great selection of prebuilt form templates that are ready for you to add your custom content to. Which ones you prefer will, of course, depend on your preferences, but it's safe to say the form templates are all of a very high standard.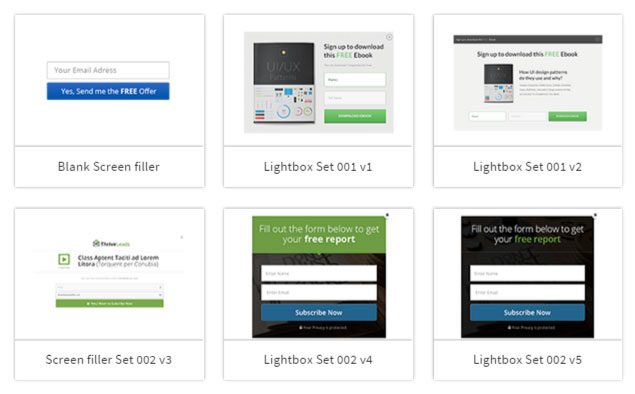 Thrive Leads has a varied selection of form templates that can be used to promote a wide range of products and offers. If you want a good mix of form types, then the selection on offer from Thrive Leads may appeal to you the most.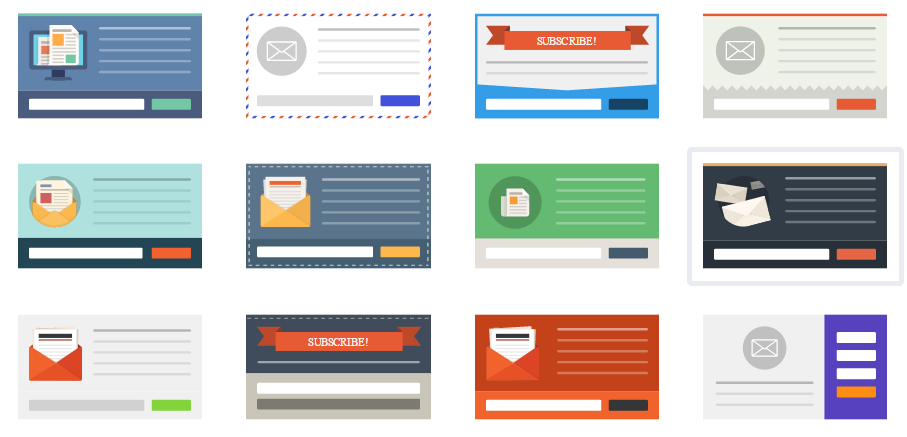 The Bloom form templates would be well suited to modern blogs and websites. Because Bloom has been created by Elegant Themes, the form templates share a similar appearance to its most recent themes. Therefore, if you plan to use other products from Elegant Themes (which are included with Bloom) or any modern WordPress theme with a clean and flat design, the Bloom forms should complement them nicely.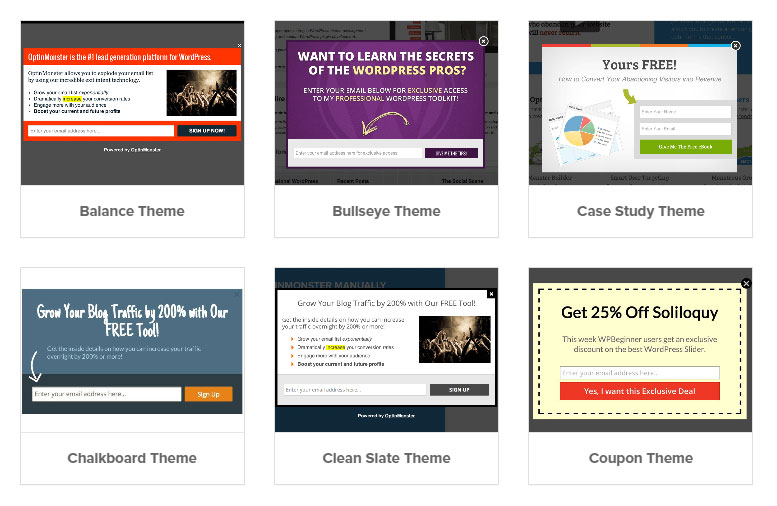 OptinMonster has some of the best-looking form templates on offer. The designs cover a range of styles, so there should be an off-the-shelf template suitable for your project.
Because of the popularity of OptinMonster, you may be familiar with some of the form templates on offer. However, you should be able to find some lesser-used designs if you delve into the collection.
As you can see, each plugin has a selection of high-quality form templates to help you start collecting email addresses as quickly as possible. There's not much to separate the tools in this category — instead, the decision on design comes down to your personal preference.
Form Customisation Options
As well as the high-quality form templates on offer, each plugin also includes a tool for creating your own custom form designs.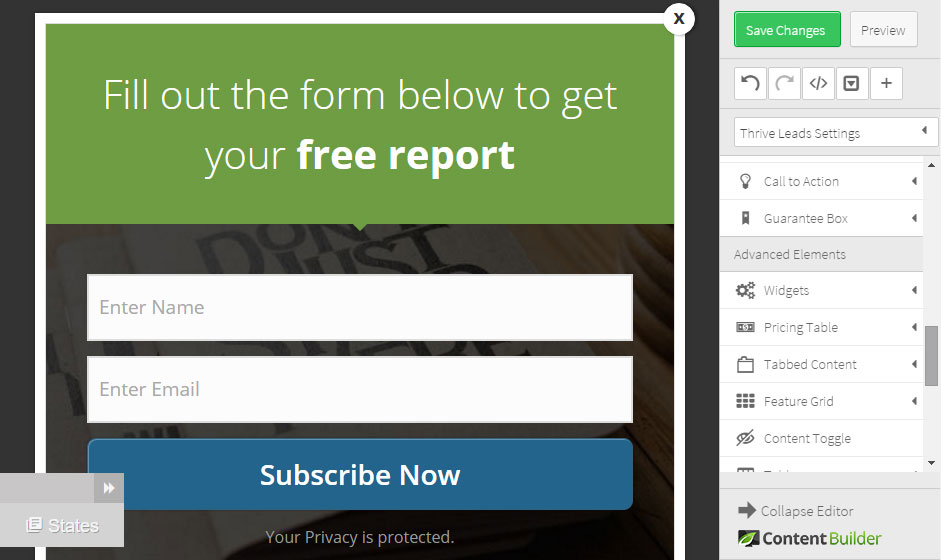 Of the three tools, Thrive Leads offers the most scope for form customisation. This makes it the best choice for those who have a precise vision for their forms or the need to create a unique design.
Through the Thrive Leads builder, you can insert a wide range of elements into your forms. This includes WordPress widgets, pricing tables, feature grids, countdown timers and videos, to name just a few.
Pretty much any custom content you can insert into a WordPress post can be added to your popups. The elements that make up your forms can be fully customised through the context-sensitive menus, opening up a whole world of possibilities for your popups.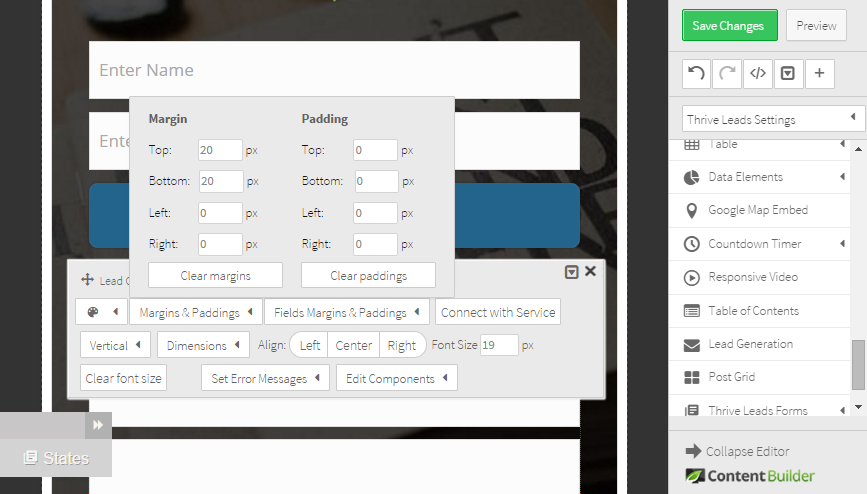 This extra freedom comes at a cost, though: the user interface (UI) for creating the forms with Thrive Leads has a steeper learning curve — and there's a lot going on.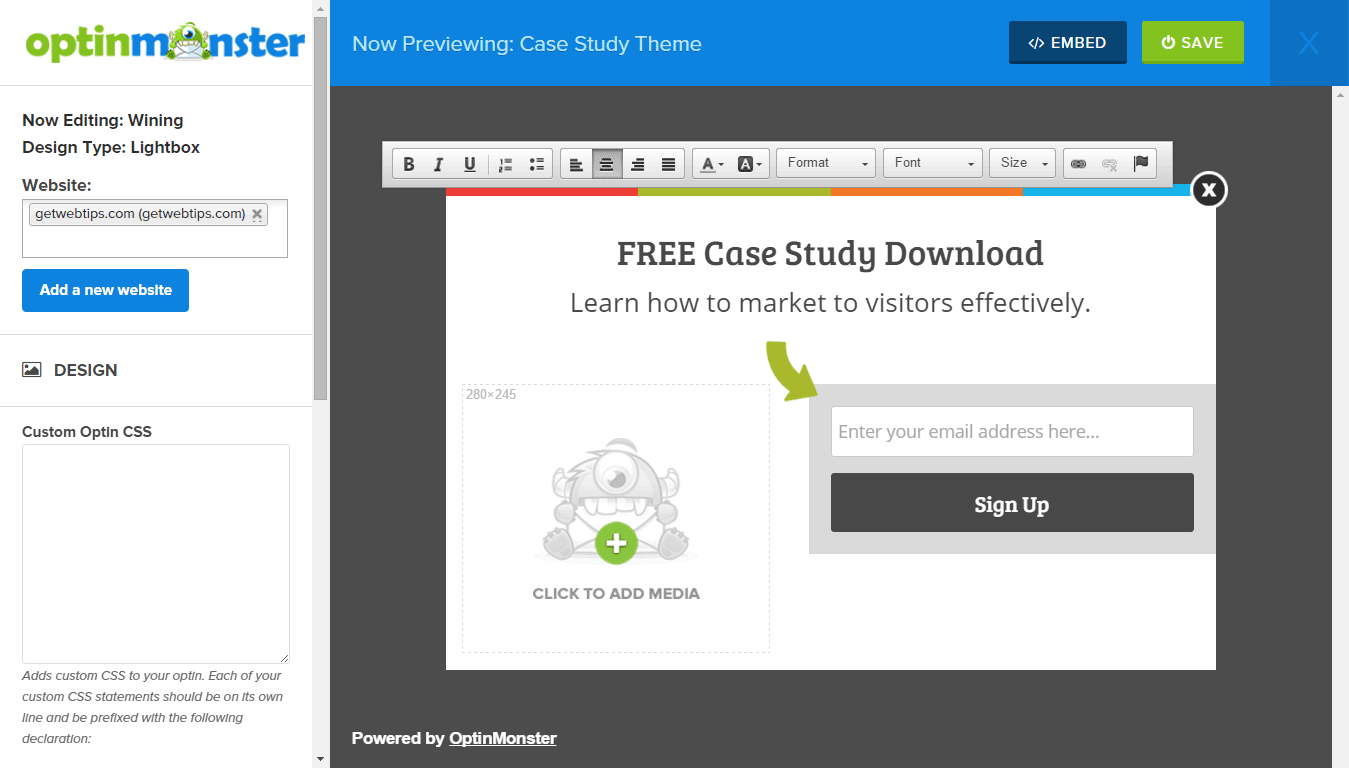 OptinMonster is no longer simply a WordPress plugin — it has transitioned to becoming a hosted service. This means the user interface for customising the forms is hosted outside your WordPress admin area, and therefore has a little more room to breathe. However, the hosted service is powered by WordPress, so it should look familiar to most users.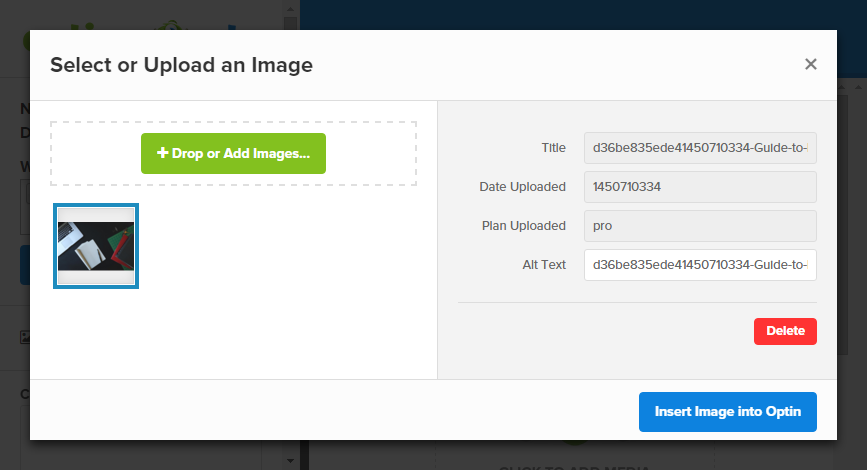 Once you've chosen an OptinMonster form template, customising it is simply a case of clicking on the element you wish to modify and interacting with the context-sensitive menu. Adding your images takes place through a lightly customised version of the WordPress Media Library, which, again, should be familiar to most.
While you can add your own CSS to the OptinMonster forms, you just don't get the same scope for customisation as you do with Thrive Leads. However, fewer options mean fewer decisions to make. This, in turn, helps to get the job done faster.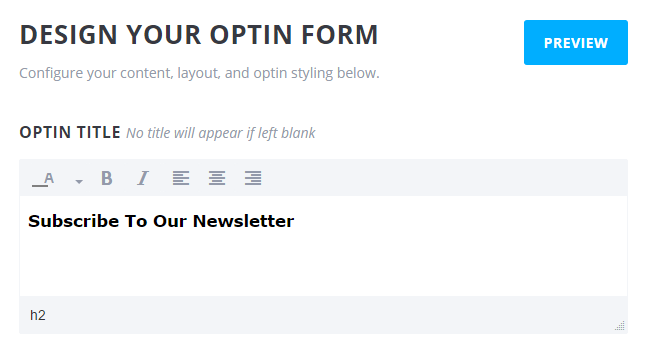 The Bloom form designer is the least intuitive of the three. This is because there is no live preview on display while you work. Instead of clicking on the element you wish to edit, you simply work your way through the fields, entering text, choosing settings, and uploading images as you go.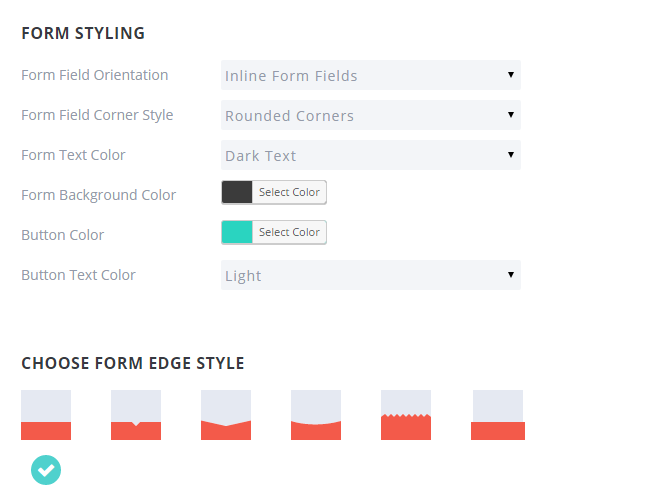 If you do want to see how your form is taking shape with Bloom, you can hit the preview button at any point. However, it would be nice if this were on display at all times. The Bloom UI is close to the standard WordPress UI, so it shouldn't present much of a challenge to anyone familiar with this software.
Form Triggers and Display Options
All of these plugins give you plenty of control over where on your site your popups and other forms will be displayed. You are free to create as many forms as you need, and then assign them to the different parts of your site — this can be to individual posts and pages, as well as content from certain categories.
This all helps you to create forms that are optimised for the different types of content on your site, which, in turn, should result in higher email optin rates.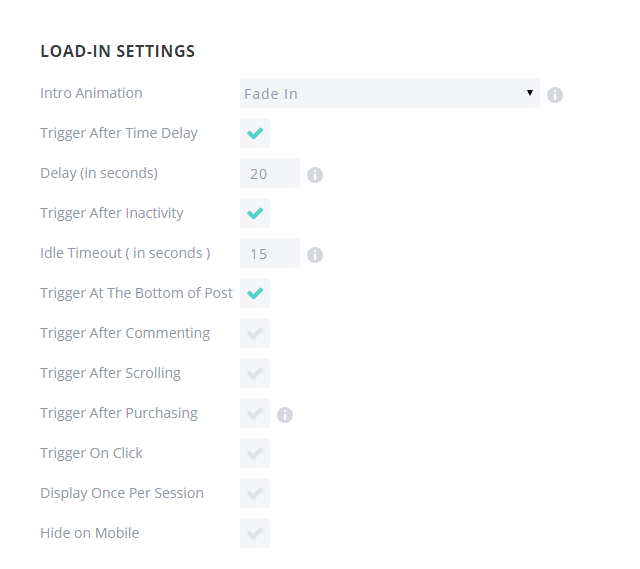 When it comes to the triggers that activate the forms — particularly the popups and slide-in forms — you get access to a good range of options. The exit intent trigger is a powerful tool that does a good job of determining when a visitor is about to leave your site, and then, and only then, loading the popup.
OptinMonster and Thrive Leads include the exit intent trigger; Bloom does not. However, Bloom has a trigger that will display a popup when the user scrolls to a certain point on the page, or after they've been idle for a certain amount of time.
Other Features
Other notable features on offer from Bloom, Thrive Leads, and OptinMonster include split testing tools, animation effects, mobile optimised forms, and conversion analytics and statistics.
The split testing tools are particularly useful, because they allow you to quickly clone a form, modify it, and then compare it against the original to determine which one produces the best results.
User Interfaces
As mentioned, OptinMonster is now available as a hosted SaaS tool, rather than as a WordPress plugin, meaning all of the form creation and management tasks take place through your account area on the OptinMonster website.
This is convenient if you're using OptinMonster on multiple websites, because you now have a central location to manage your forms from. The benefit of this move is that you can now use OptinMonster on any website — not just those powered by WordPress. However, if you're only using OptinMonster on one site, you might not appreciate having another website to log into.
Because the hosted OptinMonster service is powered by WordPress, like Thrive Leads, it remains pretty close to the native WordPress UI. Bloom takes more of a unique approach to its UI, but it's easy enough to get to grips with.
There isn't much to separate these three tools when it comes to their user interfaces, although OptinMonster is probably the most intuitive and easiest to get started with.
Pricing Options
The cheapest way to start using one of these plugins is to sign up for OptinMonster on the basic $9 per month pricing plan. However, you can save 40% by choosing one of the annual plans instead, with the most feature-rich option costing $199 per year.
You can only get access to Bloom by joining the Elegant Themes club on the $89 per year developer pricing plan, but signing up also grants you access to all of the other plugins and themes from Elegant Themes. Notable highlights are the powerful Divi Builder plugin, the Monarch Social Sharing tool, and the highly versatile Divi theme. You'll also get access to the newly released Extra blogging and news theme.
Thrive Leads is available on its own for $67 per year for use on a single site or $97 per year for use on all of the sites you own; agencies can pay $49 per month to use Thrive Leads on all of their client's websites. If you're in the market for a new theme, you can get access to all of the Thrive themes and plugins for $19 per month by joining its membership package.
Just as comparing these plugins on features is difficult, comparing them on price is also tricky. There isn't one option that offers the best value for money — rather, the best deal for you will depend on the features you want to use and the value provided by the additional products you get access to.
Final Thoughts
There isn't much to separate OptinMonster, Bloom, and Thrive Leads — they're all easy to use, have a wealth of features, and have a great selection of form templates and designs to choose from.
Bloom and OptinMonster have the most modern and attractive form templates. These two plugins make it easy to personalise the forms and activate them on your site in just a few clicks. This makes them ideal for those who don't have much time to invest, but would like to start growing their email list straight away.
Thrive Leads, on the other hand, is best for those with needs that are more diverse, or who require full control over how their forms look and what content they contain. While neither OptinMonster nor Bloom are short on customisation possibilities, if you really want to personalise your popups and optin forms, Thrive Leads may well be the best option.
There are a few features that aren't universal to these three plugins, and I recommend that you closely examine the feature lists to see which one best meets your needs. However, whichever tool you choose, you'll be getting access to a high-quality WordPress plugin that, if used correctly, will help you grow your email subscriber list.
Good luck!
Using Thrive Leads, OptinMonster or Bloom? Thoughts?
All comments are held for moderation. We'll only publish comments that are on topic and adhere to our Commenting Policy.
Our commenting form also supports the use of Markdown.