A Must-Read Guide To Finding – And Buying – Themes On ThemeForest!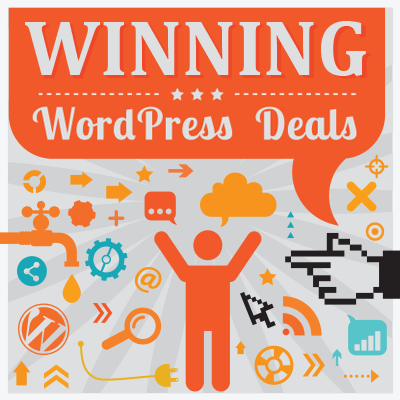 Looking to find the perfect WordPress theme? Then you're in luck. Below, I'll be taking a detailed look at ThemeForest — one of the most popular places to buy WordPress themes — and sharing some essential tips to help ensure you don't end up with a dud.
When building a successful website, your chosen theme is one of the most important pieces of the puzzle. After all, a theme is primarily responsible for not only a website's style and design, but often much of its functionality as well.
In other words, buying a theme is not a decision you should make lightly. Instead, you'll want to weigh up all of your options before jumping in — and, when it comes to options, ThemeForest is a site that really can't be beaten.
So sit back, relax, and enjoy, as I attempt to tell you everything you need to know about buying themes on ThemeForest.
What is ThemeForest?
Launched in 2008, ThemeForest is the world's most popular WordPress theme marketplace — pairing WordPress theme developers with hungry buyers. ThemeForest is part of the eight-strong Envato Markets family (unified in 2014), which also includes the now extremely well-known WordPress plugin marketplace, CodeCanyon.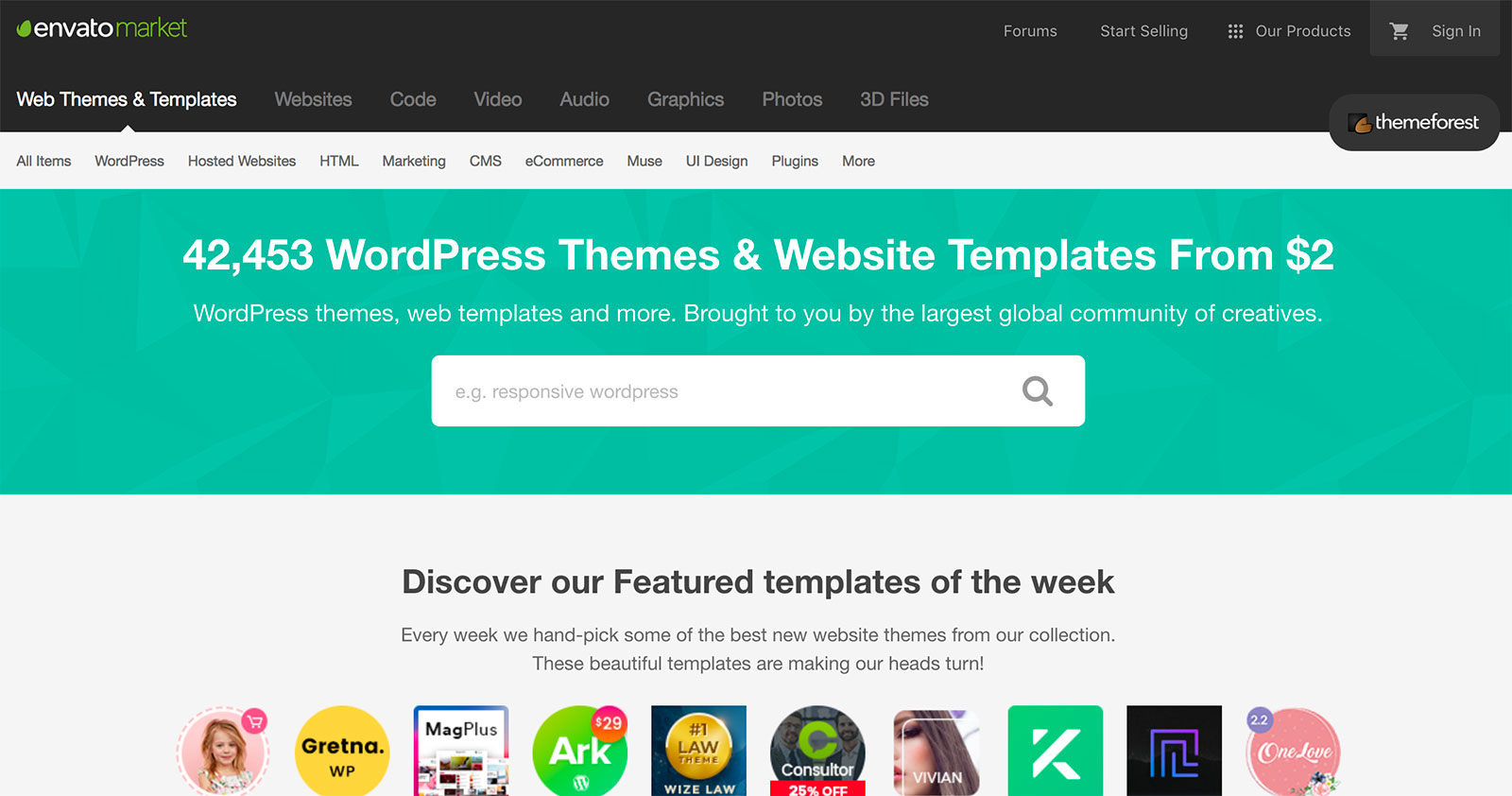 Because of its popularity, ThemeForest is one of the best ways for WordPress developers to earn a living — simply develop a theme, upload it to ThemeForest, and, after validation by quality control, start selling to a huge pool of qualified buyers. Depending on the volume of sales, theme developers earn somewhere between 50% and 70% of each dollar generated.
And, with more than five million buyers split across the eight markets, there is, in theory at least, good money to be made. Although the company's financial details are not publicly disclosed, the stats that are available are absolutely staggering. In 2014, it was revealed that Envato had paid out a cool quarter of a billion dollars to its sellers, with 48 of its sellers having generated more than $1 million worth of sales each.
From a theme buyer's perspective — the main focus of this post — you're spoilt for choice. ThemeForest lists over an impressive 11,000 WordPress themes, priced between $13 and $199 — giving it a wider range of pricing than most other large theme marketplaces (more on this later).
Getting Started: Finding a Theme
With so many themes to choose from, narrowing down your selection is tough — I know from personal experience that it's all too easy to spend several hours (even days!) staring blankly at hundreds of different themes.
However, ThemeForest comes equipped with a number of features to help you find your perfect theme.
For a start, ThemeForest supports a useful search function, allowing you to find themes based on your preferred keywords. Themes are also split across 14 top-level categories (corporate themes, blogging themes, eCommerce themes, etc), which should help you find something suitable.
After you've performed your initial search (or category selection), ThemeForest will return a long list of relevant themes. To help you narrow your search further, you'll be able to sort these based on six criteria from an almost-hidden drop-down menu located directly above the returned list:
Best match (this is the default)
Newest items
Trending items
Best sellers
Best rated
Price (low to high)
Price (high to low)
Similarly, just to the right of this drop-down menu, there's a second (also not particularly obvious) drop-down menu that allows you to sort the themes by date — something that's particularly handy if you're returning to perform a previous search and want to see what's new.
To help trim your list even further, ThemeForest also offers a user-friendly filtering system, which you'll find to the left of the main theme results list. You can filter the list based on category, tags, price, sales, and overall rating. Having sorted and filtered your list depending on your own specific requirements, you should then be working with a much more manageable number of themes.
Of course, if you really don't have time for all that (or if you've already tried and, for whatever reason, got nowhere), you can always jump to ThemeForest's current best-sellers page, or check out some of the top authors' portfolios by finding the top-selling themes and clicking on the author names that appear in the righthand sidebar.
Before Buying: How to Choose a Theme
After selecting the criteria you wish to use to narrow down the candidates, it's time to check out the options. Every theme on ThemeForest features a live preview — an invaluable tool that allows you to see it in action on a preconfigured website, which should demonstrate its main features and functionalities.
The live preview will also give you the opportunity to test some of the theme's customization settings, such as changing the color scheme or trying different layouts and backgrounds. It's worth testing these customizations extensively, as this will give you a better idea of how it will look when it's kitted out with your own branding.
One word of caution: try to evaluate the theme without being influenced by the images. Most theme previews feature extremely specific, high-quality stock images, which can be deceptive. I've fallen for themes based purely on the stunning images the developer used in the demo, and I'll bet my bottom dollar I'm far from the only one to do so. Of course, when you install the theme on your website, the images are gone, and, as a result, the theme looks considerably less impressive. If you are struggling to look beyond the imagery (and have the necessary Photoshop skills) it might be worth taking a screenshot of the demo site and whitening out the pictures, or, better yet, inserting the graphics you plan to use on your own site, to get a more accurate view.
It also pays to read the sales description on the theme's product page. This is where the author will list the main features and share any bonuses — for example, some themes include several premium plugins in the price, sometimes worth upwards of $100 or so.
The product page includes four other snippets of information that are worth considering:
Number of sales — if a theme sells by the thousands, it's likely to be a good theme, and the developer will have the resources to continue updating and improving it.
Buyer rating — good themes will attract high ratings, and vice versa (pay attention to the number of ratings too).
Last updated — a WordPress theme that hasn't had an update in a while is more prone to security vulnerabilities and compatibility issues. If it's been ages since the last update, it also suggests the theme has been abandoned and might never receive another update again.
Comments — less important than they used to be, but the comments section is a good place to look for more detailed buyer thoughts. It will also give you an insight into how responsive the developer is, and how they generally handle issues.
Support
It's easy to think: Hey, I already know how to use WordPress — it's not that hard. I won't be needing any help so what does support really matter? Unfortunately however, things sometimes break, or perhaps you aren't able to get the theme set up in quite the way you'd hoped. In such a scenario, the theme developer is by far the most qualified source of assistance.
Now, although providing after-sales support is not compulsory on ThemeForest (still a relatively controversial point), most developers will provide at least some level of support — because a) it's arguably the moral thing to do, and b) offering highly rated support is a surefire way to increase sales.
Until recently, most of the theme support took place in the ThemeForest comment sections. Buyers would make a note of their problems, and the developer — or an agent of the developer — would respond to try to resolve it. Before buying a theme, it was therefore often recommended that you read through a theme's comments to see how timely and knowledgeable the after-sales support was (something that's actually still worth doing even now — although to a much lesser extent).
All this changed in August, however, when Envato announced a new support policy. Authors can now include six months' worth of support for their theme — you'll see this listed in the top-right of the theme's product page — which buyers can extend to a full year for a fee (something worth considering, especially if you're just starting out with WordPress).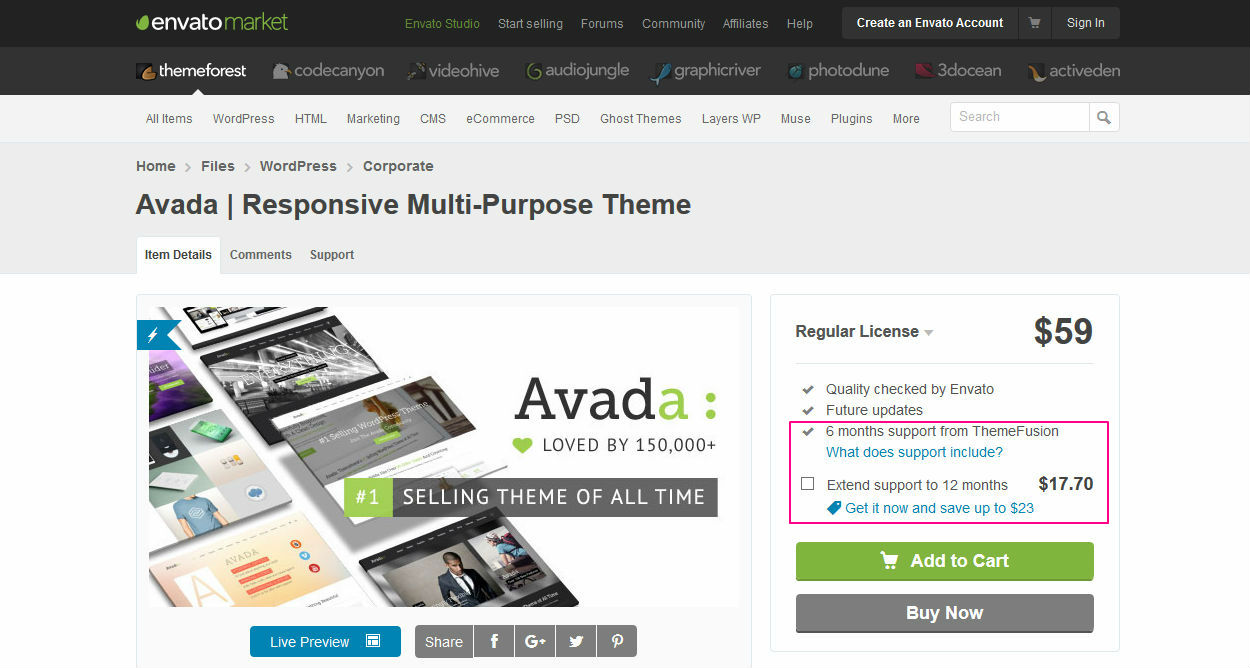 Within this support period, the author is committed to answering any questions on how the theme works, its features, and how to set up specific functionalities. It's worth pointing out, though, that the support services do not include installation or any personal customisation work (this is still, as it should be, entirely on the theme-buyer to sort out).
Best-Selling WordPress Themes
If you're unsure which theme to buy, I recommend taking a look at the best-seller list.
These are the themes that have already sold tens of thousands of times. That's not to say they are necessarily the 'best' themes on ThemeForest — and it's definitely not to say they are necessarily the best themes for your own website/business. But they tend to have quite a bit going for them, such as a combination of stylish designs, an abundance of functionality (something that can actually work against them in some respects, because the more functionality a theme has, the more it is susceptible to complications and/or slow loading speeds), and strong user-ratings.
It's safe to say that for a theme with a high number of users, its developers will have had plenty of feedback, will have made considerable effort to iron out any kinks, and will be motivated to continue developing and improving the theme for years to come.
An important thing to note about top-selling themes on ThemeForest is that they're almost all multipurpose. This means they all come loaded with heaps of customisation options, the potential to create multiple layouts, and various inbuilt-functionalities you won't usually be able to find in their simpler counterparts (such as built-in drag-and-drop page builders, sliders and image galleries). This is often true to the point where they're versatile enough to be used in just about any niche — which often makes them popular with web design agencies and freelancers building sites for clients.
Here's a quick look at some of ThemeForest's most popular WordPress themes — all of which have netted their developers well over $1 million in revenue.
Avada (500,000+ Sales)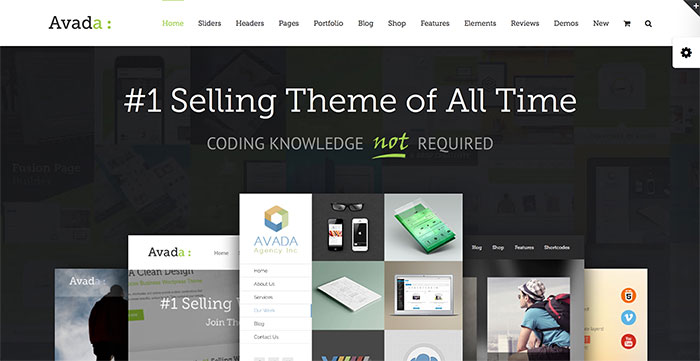 Price: $60 | Live Demo | Full Details
– by ThemeFusion.
X Theme (200,000+ Sales)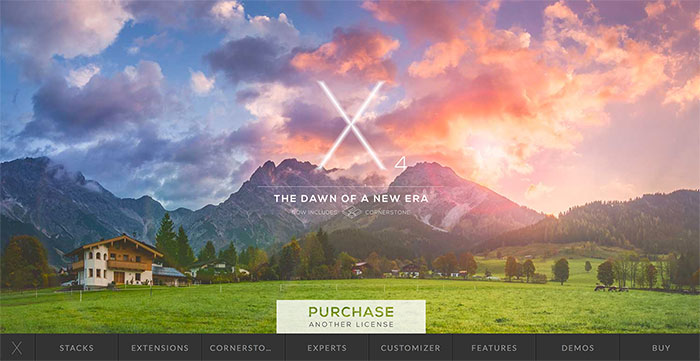 Price: $59 | Live Demo | Full Details
– by Themeco.
Enfold (180,000+ Sales)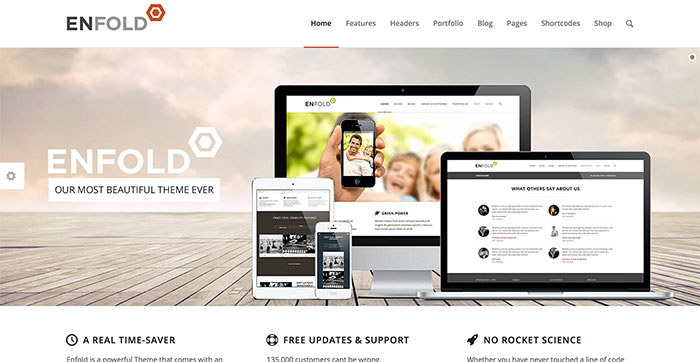 Price: $60 | Live Demo | Full Details
– by Kriesi.
Salient (90,000+ Sales)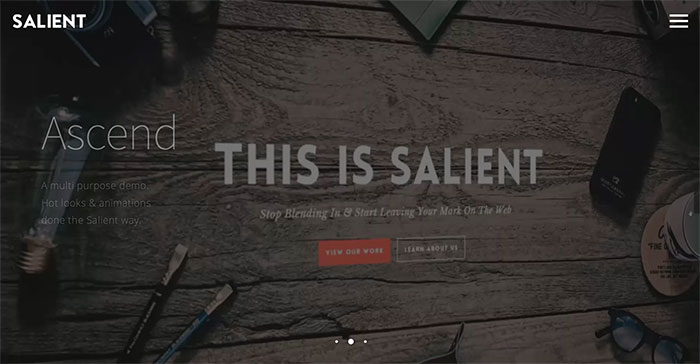 Price: $59 | Live Demo | Full Details
– by ThemeNectar.
uDesign (48,000+ Sales)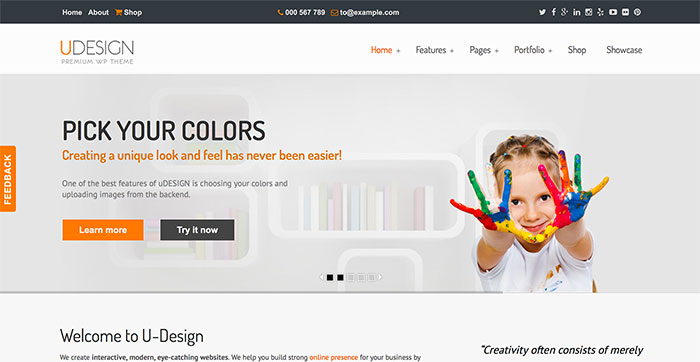 Price: $59 | Live Demo | Full Details
– by AndonDesign.
The Downsides of ThemeForest
Despite the volume of customers buying from ThemeForest, it isn't universally popular, and there are a few downsides to buying from this marketplace.
The first (and biggest) downside is quality: ThemeForest has historically given just about any WordPress developer a platform to sell themes, and not all are created equally.
Although ThemeForest now has a team in place to verify a theme's quality (something it hasn't always been particularly strict about), quality control is still something of an issue — especially when considering many of the older themes on sale. Not all themes are coded according to WordPress best practice, and this has given ThemeForest something of a bad reputation among many leading developers. If you follow the theme-finding advice provided in this post, though, and don't stray too far off piste with new, unproven developers, quality shouldn't be an issue.
Another criticism aimed at ThemeForest is theme lock-in — a scenario that often occurs with some of the super-versatile multipurpose themes we've already mentioned (and, indeed, with many multipurpose themes NOT on ThemeForest).
When you choose a multipurpose theme, you have an almost unlimited degree of flexibility — in terms of layouts, customization options and features. To use all these options, however, the theme usually depends heavily on tailor-made shortcodes.
The problems come when you want to change your theme further down the line, because the new theme you choose won't recognize these shortcodes. Instead, they'll be displayed on the page as useless code (rather than as whatever the shortcode was designed to show), and all those lovely layouts you've spent hours crafting will be reduced to rubble in a matter of clicks. Yikes!
Unfortunately, there's no way around the problem, and it means that the penalty for changing themes can be high — hence the name, 'theme lock-in.'
One last, and sadly common thing to note regarding many ThemeForest themes, is that some new developers will upload a theme, make a bunch of sales and then move on — ie they won't continue developing and updating them (especially if said themes don't prove all that popular/lucrative). If the theme was made well, this needn't be a problem, but it's worth considering if you're planning to use the theme for years to come, as you may find that it eventually becomes unstable and/or outdated. There's no guarantee against this, but, if you do a little research on the author (by looking at their history, current portfolio, and so on) you may at least be able to limit the chances of it happening. Another good indicator is the number of sales the theme has made — since popular themes are, to some extent, more likely to be continued.
Beyond ThemeForest: The Alternatives
Of course, there are many, many other places to buy WordPress themes online, and it almost always pays to consider your options before committing.
There are several other big marketplaces out there that have a wide variety of themes — MOJO Themes and Creative Market being perhaps two of the best-known examples (find out more about them here).
Additionally, there are also lots of well-respected WordPress theme shops around — some of the best known being Elegant Themes and WooThemes (note: we've covered these two in considerable detail here), StudioPress, Themify, and ThemeIsle. In case you're interested, we've actually put together a huge list of just about all the different quality options that exist here.
And, if you're working on a budget, the official WordPress theme repository is the place to get high-quality, dependable free themes!
Final Thoughts
If you're on the hunt for a new WordPress theme, it would be foolish to rule out ThemeForest. You might hear some rumblings about quality issues, but if you stick with the highly rated, well-established themes you can't really go far wrong — these themes sell well for a reason, and it's usually because they're on the quality end of the spectrum.
Of course, ThemeForest's main selling point is selection. And, with more than 11,000 WordPress themes available, there really is something for everyone!
Do you use — or have you previously used — ThemeForest? Thoughts?
All comments are held for moderation. We'll only publish comments that are on topic and adhere to our Commenting Policy.
Our commenting form also supports the use of Markdown.