WinningWP content is free to all. If you make a purchase through referral links on our site, we earn a commission (
learn more
).
15 Of The Very Best One-Page WordPress Themes on ThemeForest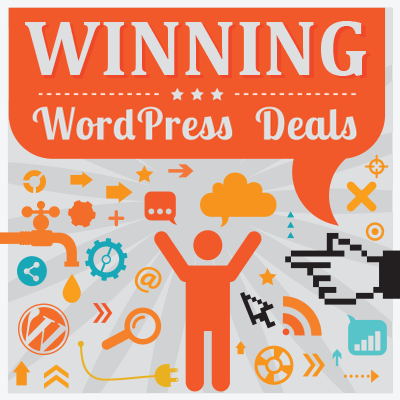 One-page web design (also known as single page web design) is a trend that's really taken off this past decade. Although it's been around since the beginning of the web, it took a backseat for years, as companies and individuals alike opted for all-encompassing sites with dozens of pages. As time passed, however, one-page design was revisited with modern web design know-how and a better understanding of user-focused design. As a result, it saw a fierce resurgence in 2012 that continued ever since — and it still shows no signs of stopping!
Nowadays, both designers and developers recognize the potential of one-page design for simplifying websites and, in some instances, boosting conversions (among other benefits). Never one to be left behind, and despite WordPress being a content management system designed primarily to manage complex websites, the WordPress community has embraced this design trend and produced a truly impressive array of one-page WordPress themes.
In this post, we're going to look at 15 of the best one-page WordPress themes from one theme marketplace — ThemeForest.
Why ThemeForest?
While there are many fantastic one-page WordPress themes available away from ThemeForest (such as Flat by Themify, Parallax Pro by StudioPress and Freelancer by ThemeFuse to name a few), none of the other third-party marketplaces or theme shops provide sales figures or, more importantly, customer reviews.
ThemeForest, on the other hand, give not only these two extremely insightful snippets of information, they also list a host of other helpful things, such as the date of the most recent update, creation dates, user comments and more, making it easier to get a comprehensive feel for just how well-received these themes are!
Let's get straight into our list of amazing one-page WordPress themes!
Avada
As the best-selling ThemeForest theme of all time, Avada is more than just a one-page WordPress theme. But through its many included demos and core functionality, it's easy to set up your own one-page design.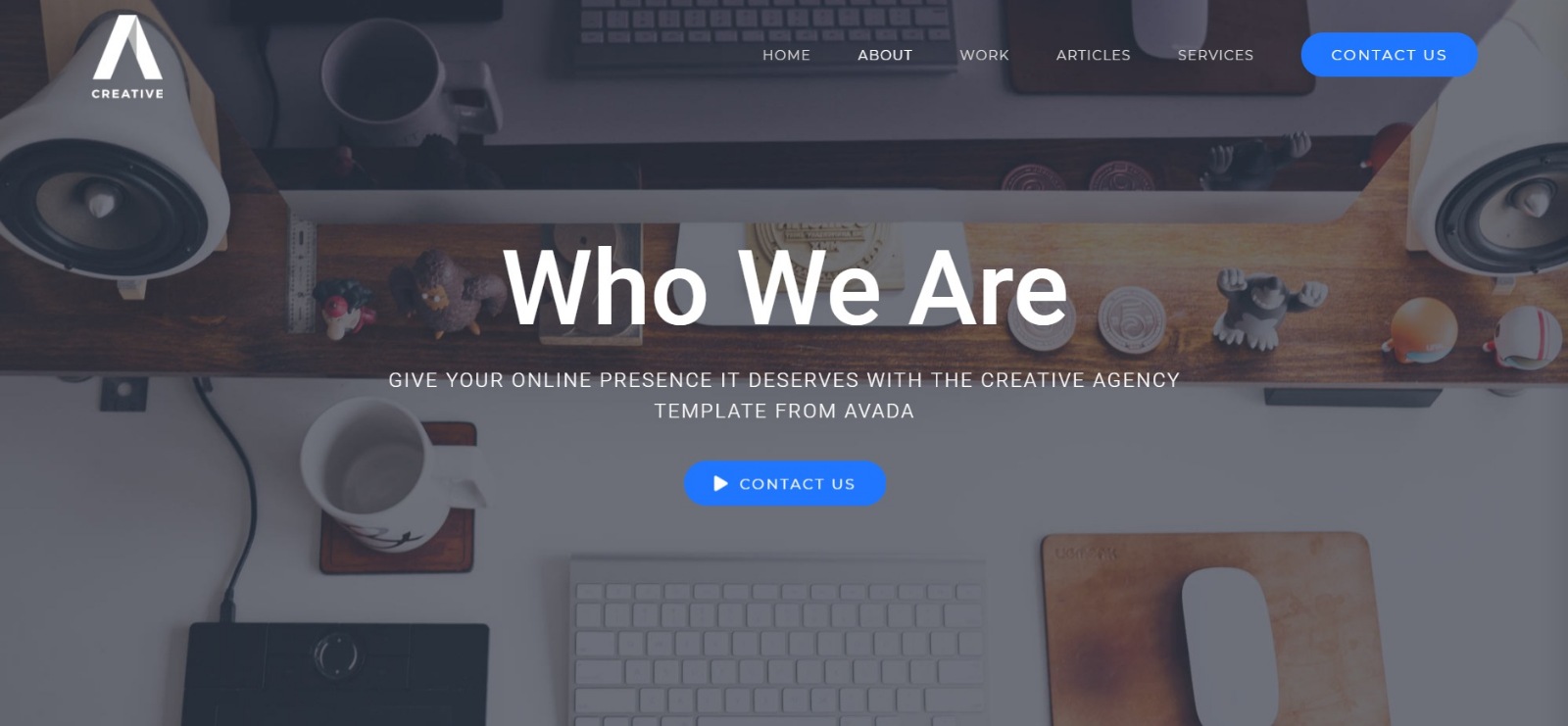 Avada has more than 416,000 sales for a reason — it's flexible, easy to customize, and lets you make a great-looking site. (Note: Check out some examples of Avada sites here.)
Price: $60 | Demo | Full Details
– by ThemeFusion.
Newave
Originally launched in 2014, Newave is now on version 2.0 and is still receiving regular updates from the developer.
Version 2.0 features a one-page design complete with:
six different home sections
video background support
a parallax slider
four navigation styles
five different one-page demos
a filterable portfolio with mouse hover effect.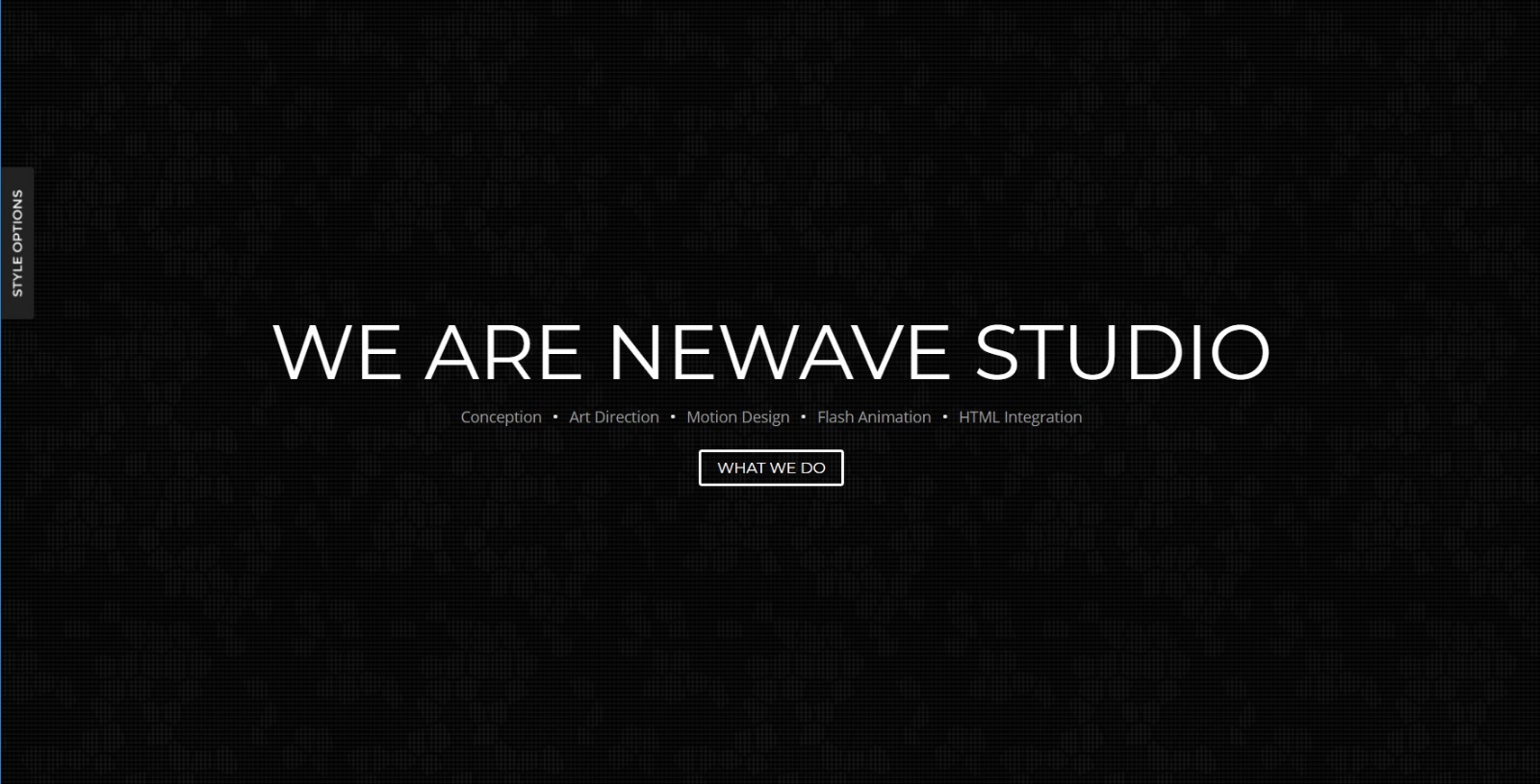 Overall, Newave has a modern design that should work for a wide variety of niches.
Price: $49 | Demo | Full Details
– by ClaPat.
X | The Theme
Like Avada, X The Theme is a massively popular theme that's capable of creating any type of website — one-page designs included.
X offers four different design 'stacks' (AKA aesthetics), and you can find great prebuilt one-page demos in each. For example, here's a one-page demo from the Icon stack.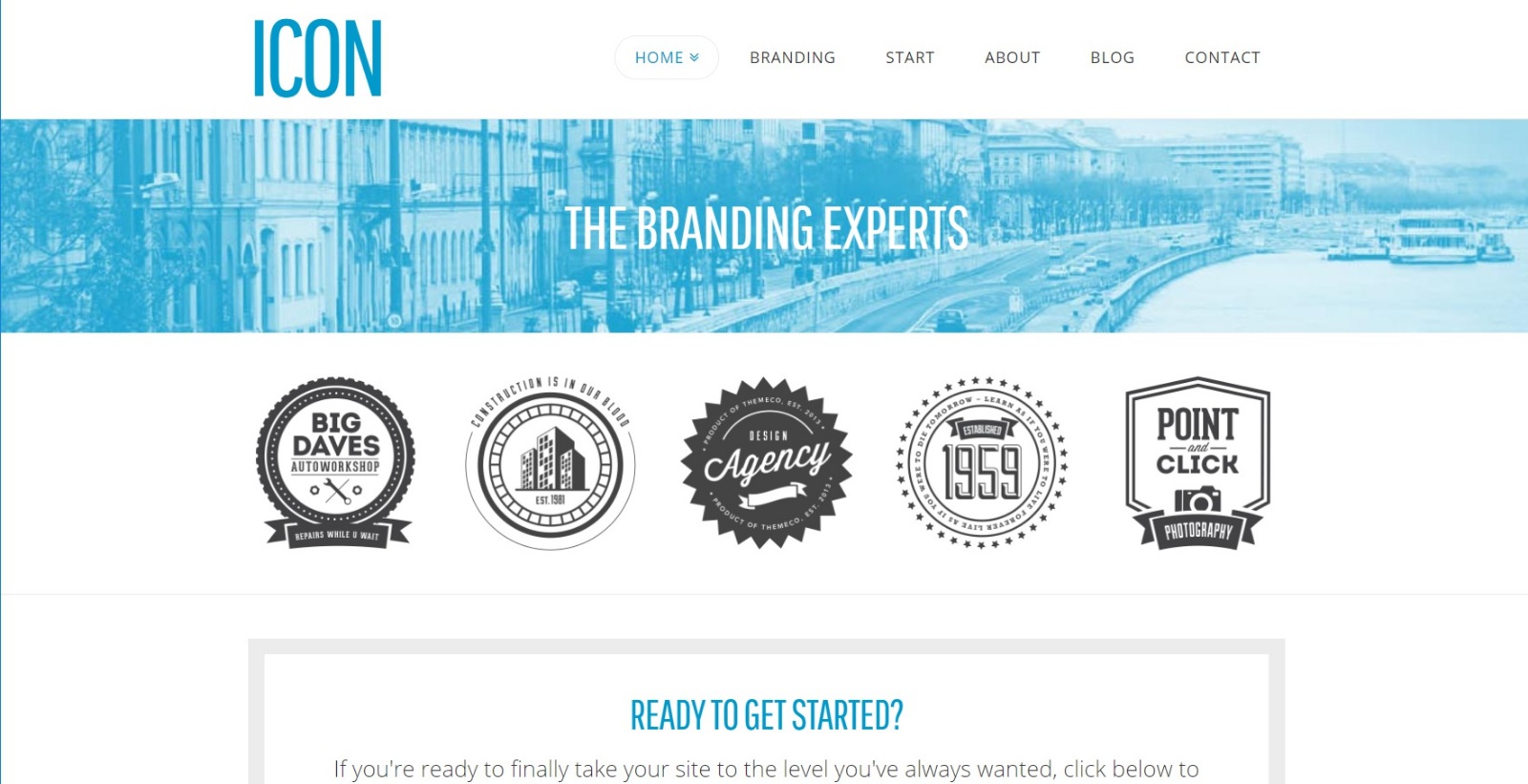 With a built-in page builder, dozens of navigation options, and a large arsenal of shortcodes, X has proved itself to be a fantastic option for completely customized one-page WordPress sites. But that's just scratching the surface of what this theme can do. For the full laundry list of features, see the 'full details' link below.
And, if you're interested in seeing the X theme in action, check out some of our favorite X theme examples.
Price: $29 | Demo | Full Details
– by THEMECO.
SimpleKey
SimpleKey markets itself as a one-page WordPress theme for portfolios, landing pages or businesses. Like Patti, it's powered by WPBakery Page Builder for easy customization. And it also features a neat smooth scrolling effect — as well as an AJAX contact form.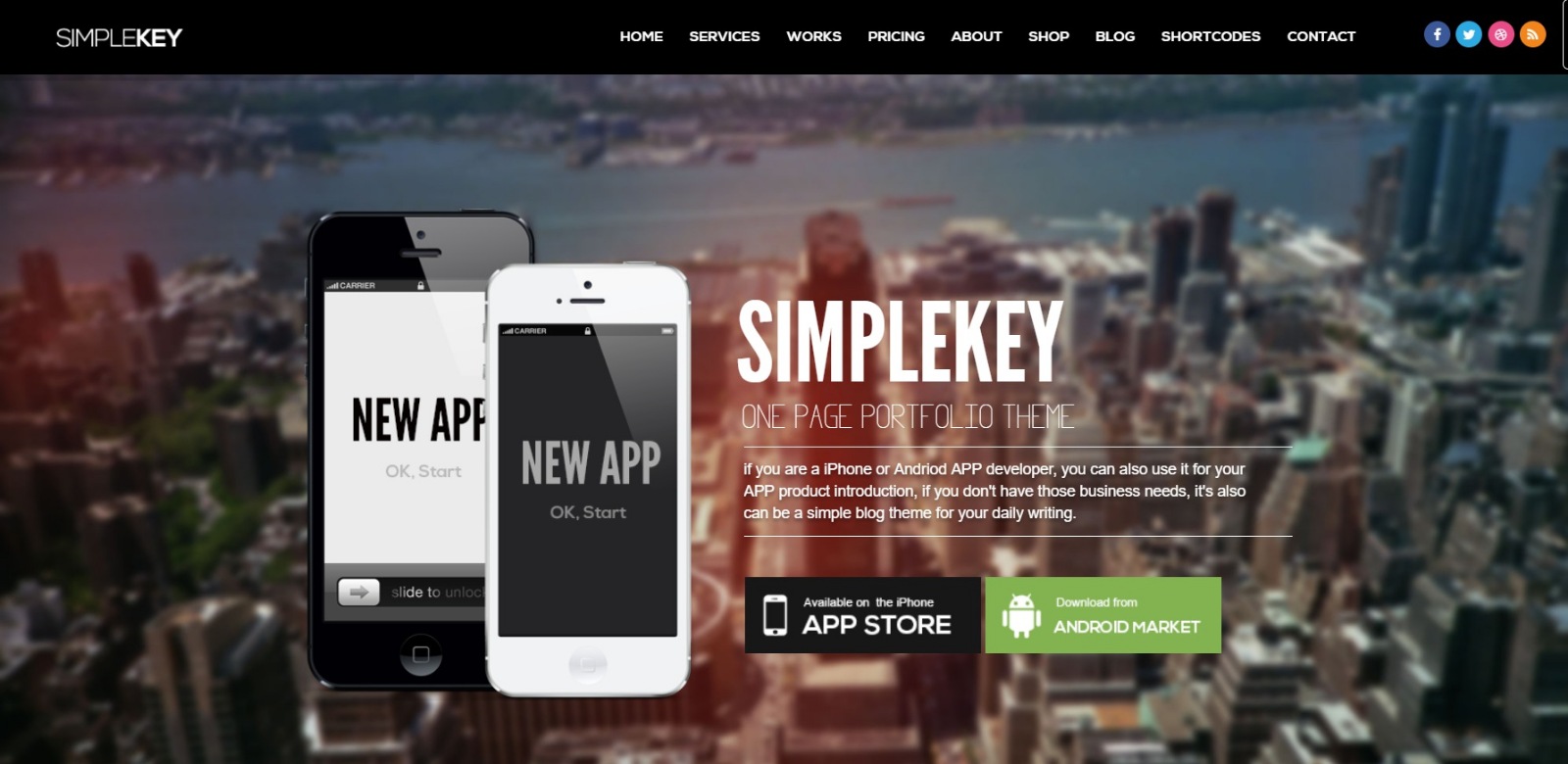 Price: $39 | Demo | Full Details
– by ThemeVan.
Native
Native is a business-focused one-page theme that includes a variety of demos for various business niches. All these templates are built on WPBakery Page Builder for easy edits, and Native also includes a variety of header and footer styles to pair with your one-page design.
To round things out, Native's one-page template also includes parallax support.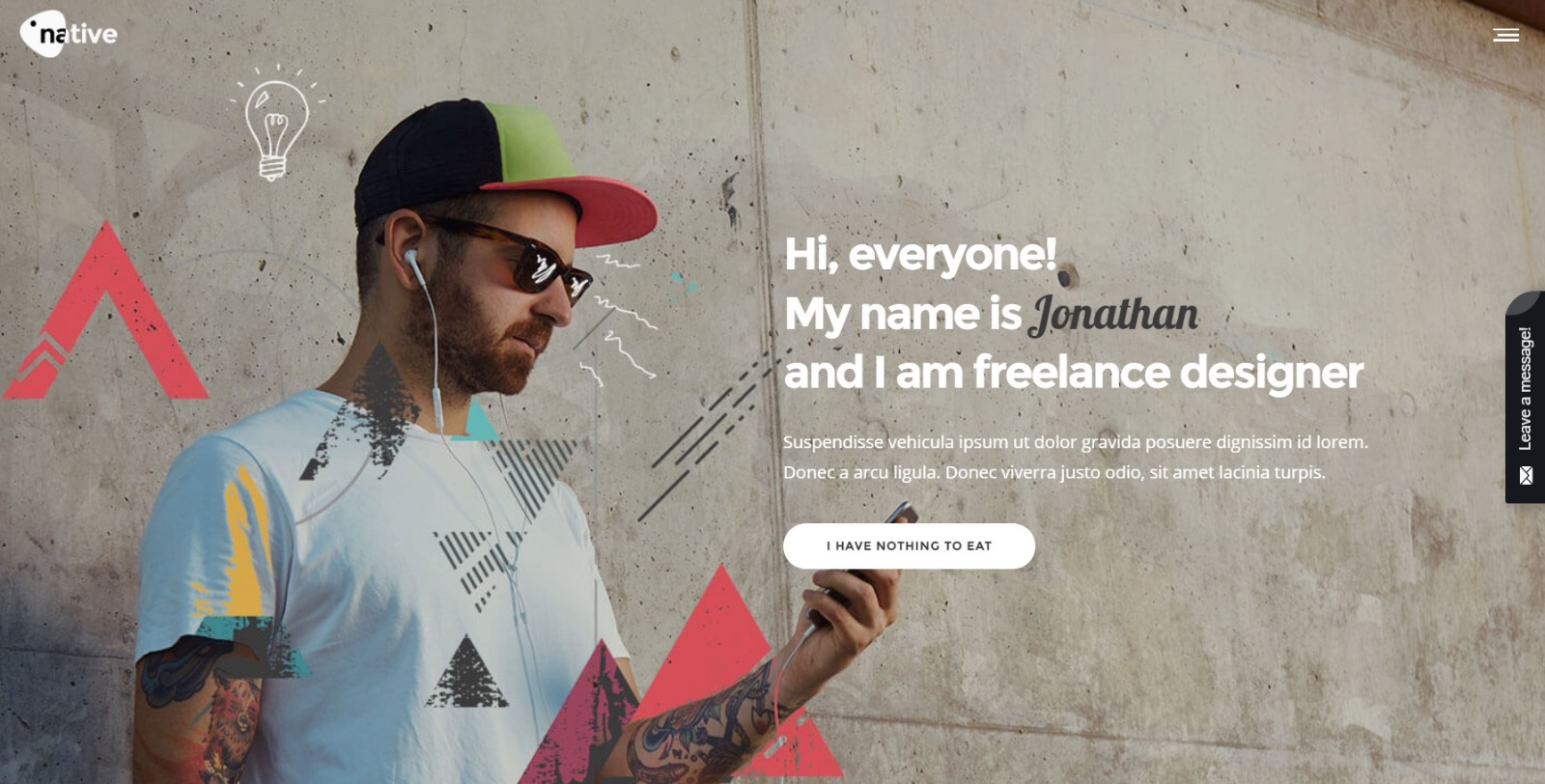 Price: $39 | Demo | Full Details
– by DFDevelopment.
Vela
Vela is a business one-page WordPress theme with a built-in one-page site tool that helps you to automatically generate anchor tags for your one-page design's navigation (these help visitors to easily navigate to specific sections of your single page design).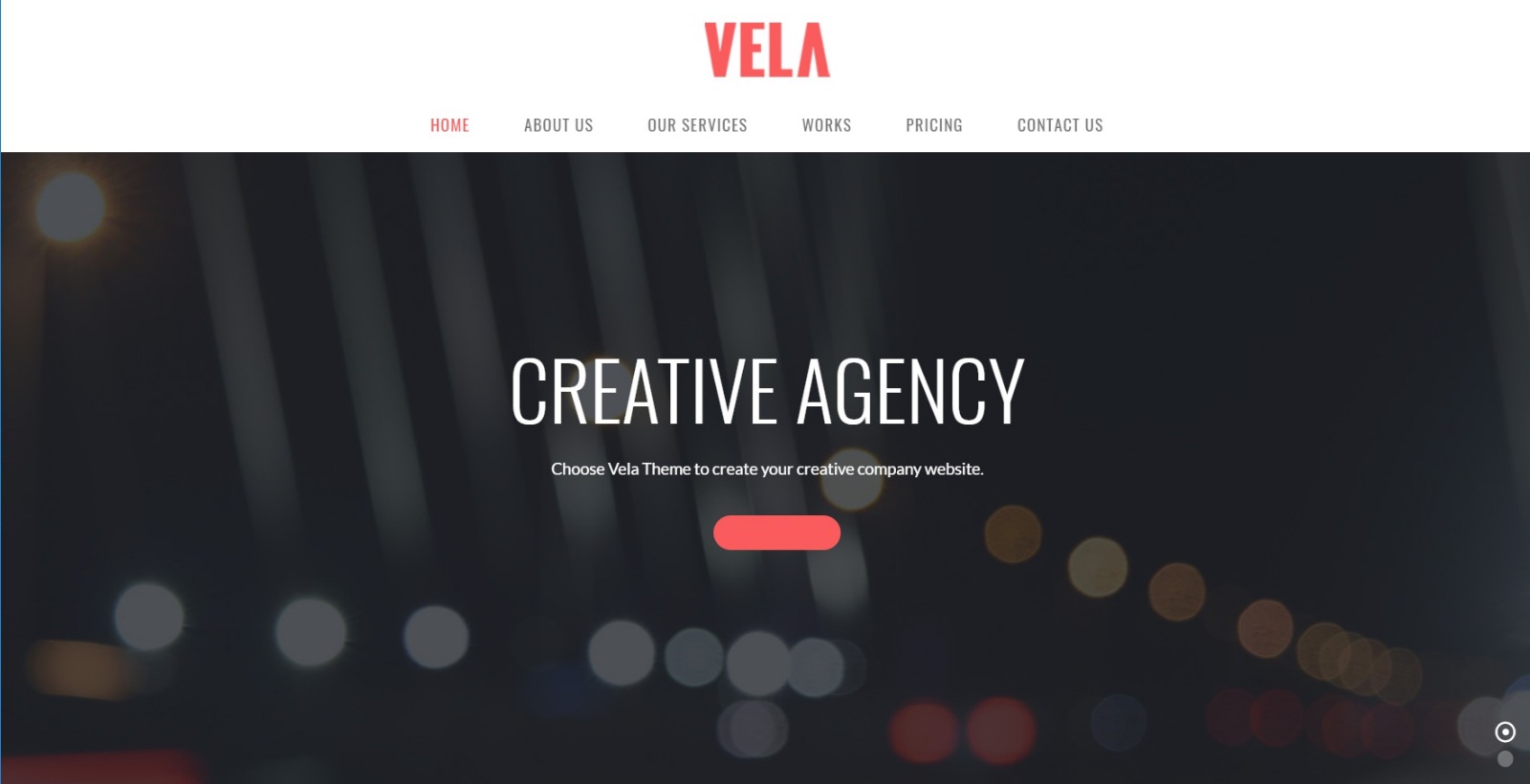 Beyond that, it also includes fullscreen and parallax sections/sliders, the WPBakery Page Builder, AJAX live search, and neat AJAX page transitions.
Vela also comes with various demos for both personal portfolios and business sites to help you to get started.
Price: $39 | Demo | Full Details
– by Wyde.
Brooklyn
Brooklyn is a multipurpose theme for creatives. While it's not limited to one-page designs, it includes a variety of one-page demos, as well as the ever-popular parallax effect that so many one-page themes offer. If you're doing anything creative, Brooklyn, and its 36-plus included demos, is a great option.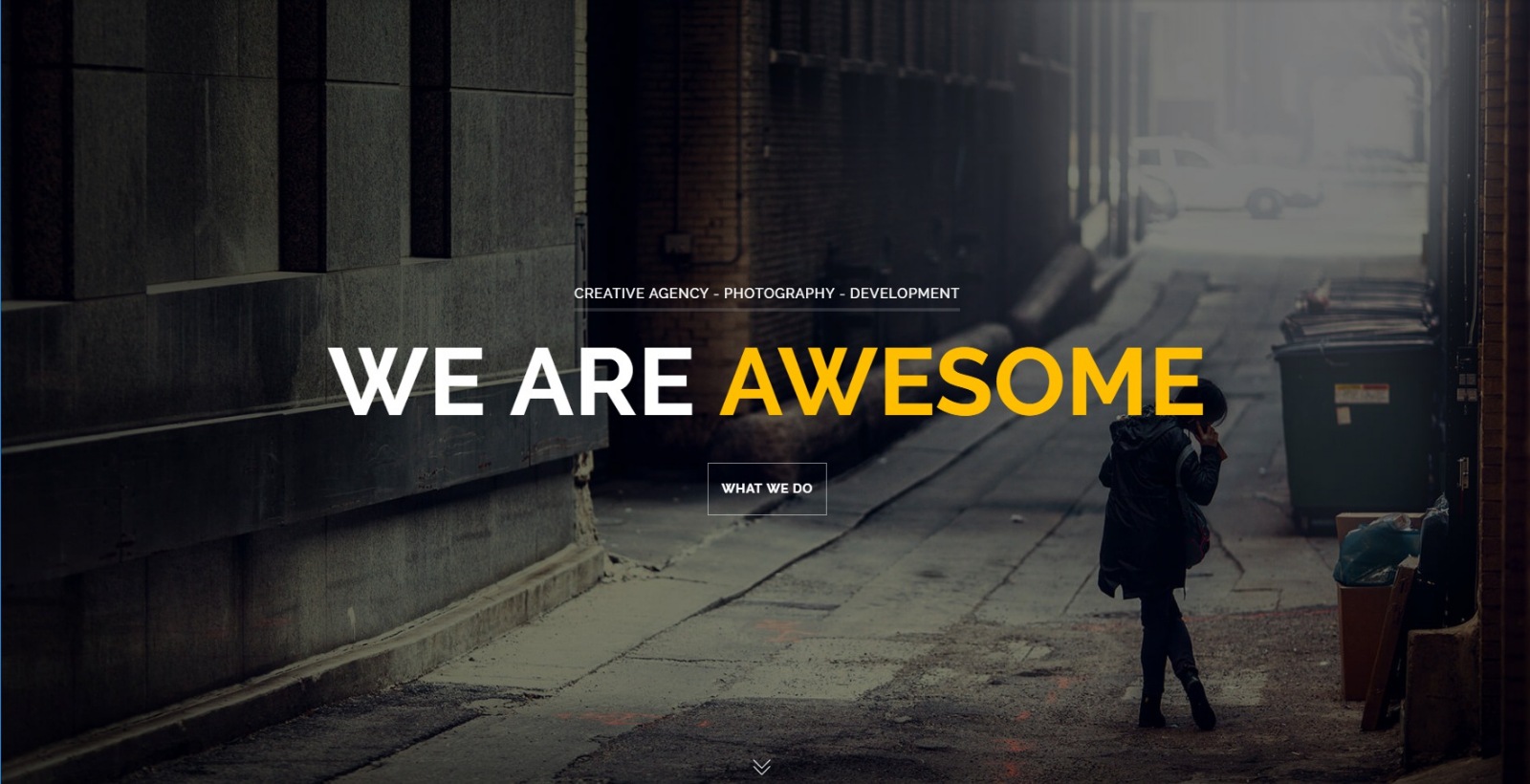 Price: $39 | Demo | Full Details
– by UnitedThemes.
One Page Pro
As the name suggests, One Page Pro is focused exclusively on creating one-page websites. With that being said, it's still pretty flexible. You can choose from vertical or horizontal navigation, 19 different header styles, and further customize things using the GoodLayers Page Builder.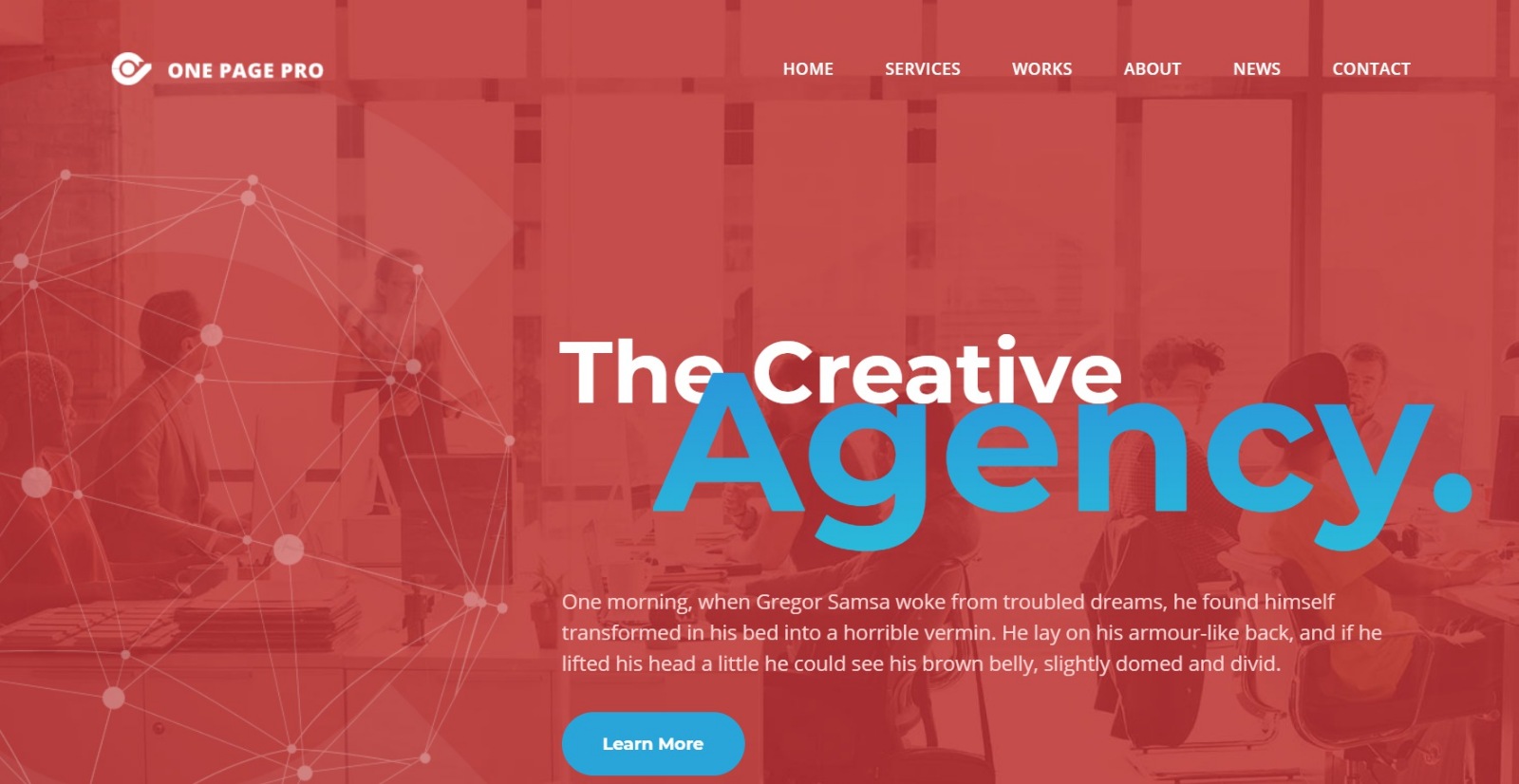 One Page Pro also comes with three different demos for:
Price: $52 | Demo | Full Details
– by GoodLayers.
Blanka
Unlike all of the other themes on this list so far, Blanka is a relative newcomer at ThemeForest. But it has a great modern look for creatives and agencies that gives it a solid chance of joining the ranks of the best-selling one-page themes soon.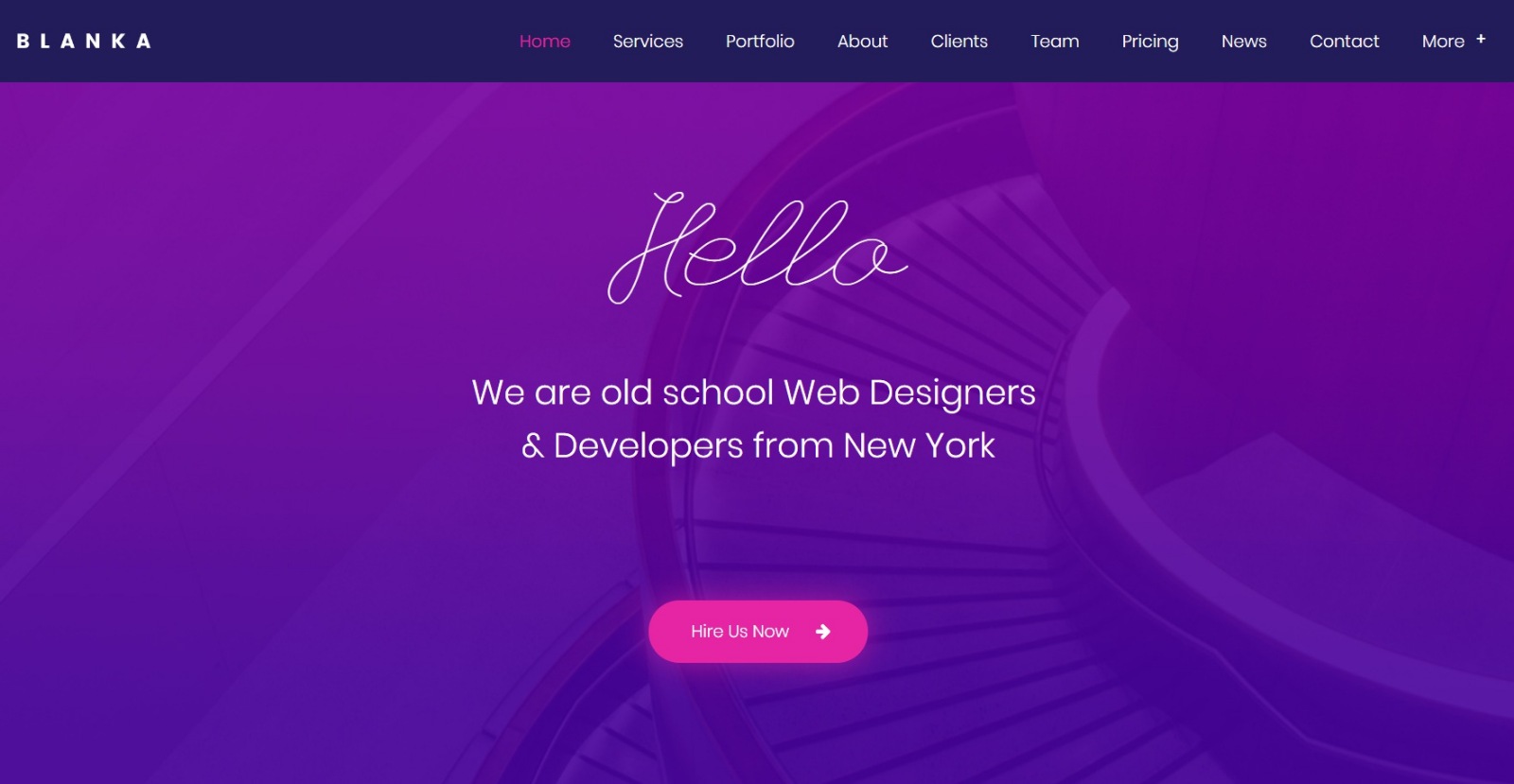 Blanka comes with nine pre-made sections, smooth scrolling, a dedicated portfolio custom post type, and plenty more.
Price: $39 | Demo | Full Details
– by CocoBasic.
One
One is a single-page modern WordPress theme for creative portfolios. It comes with four portfolio layouts, two menu styles, WooCommerce compatibility, a 16-module page builder for creating easy layouts, photo galleries/albums, video background support and heaps more.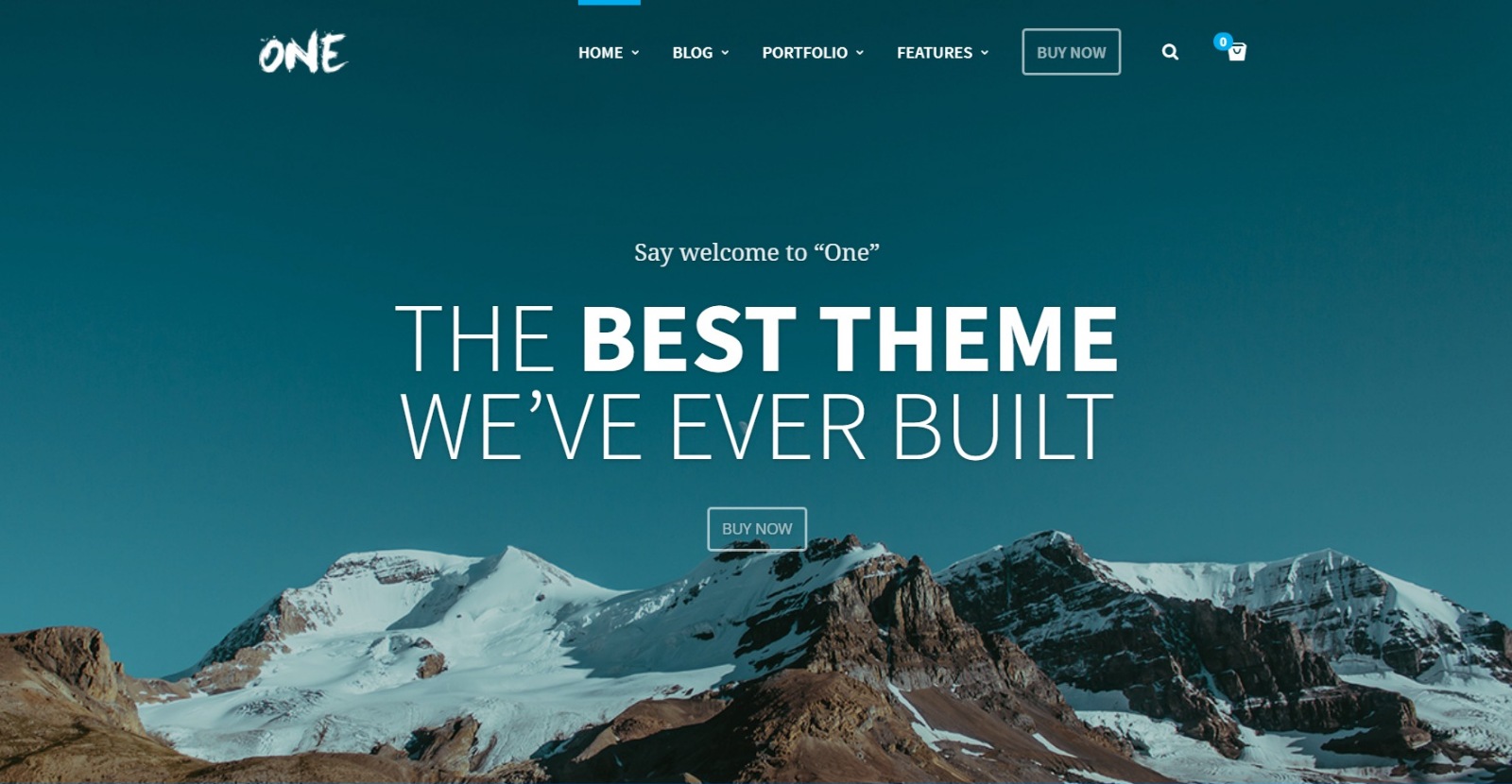 Finally, the 60 FPS scrolling makes for a snappy, user-friendly one-page layout.
Price: $59 | Demo | Full Details
– by THBThemes.
Scalia
Scalia is a multipurpose one-page theme that ships with pre-made demos for everything from corporate websites to landing pages and creative portfolios (the one-pager demo offers a great starting point for a one-page website).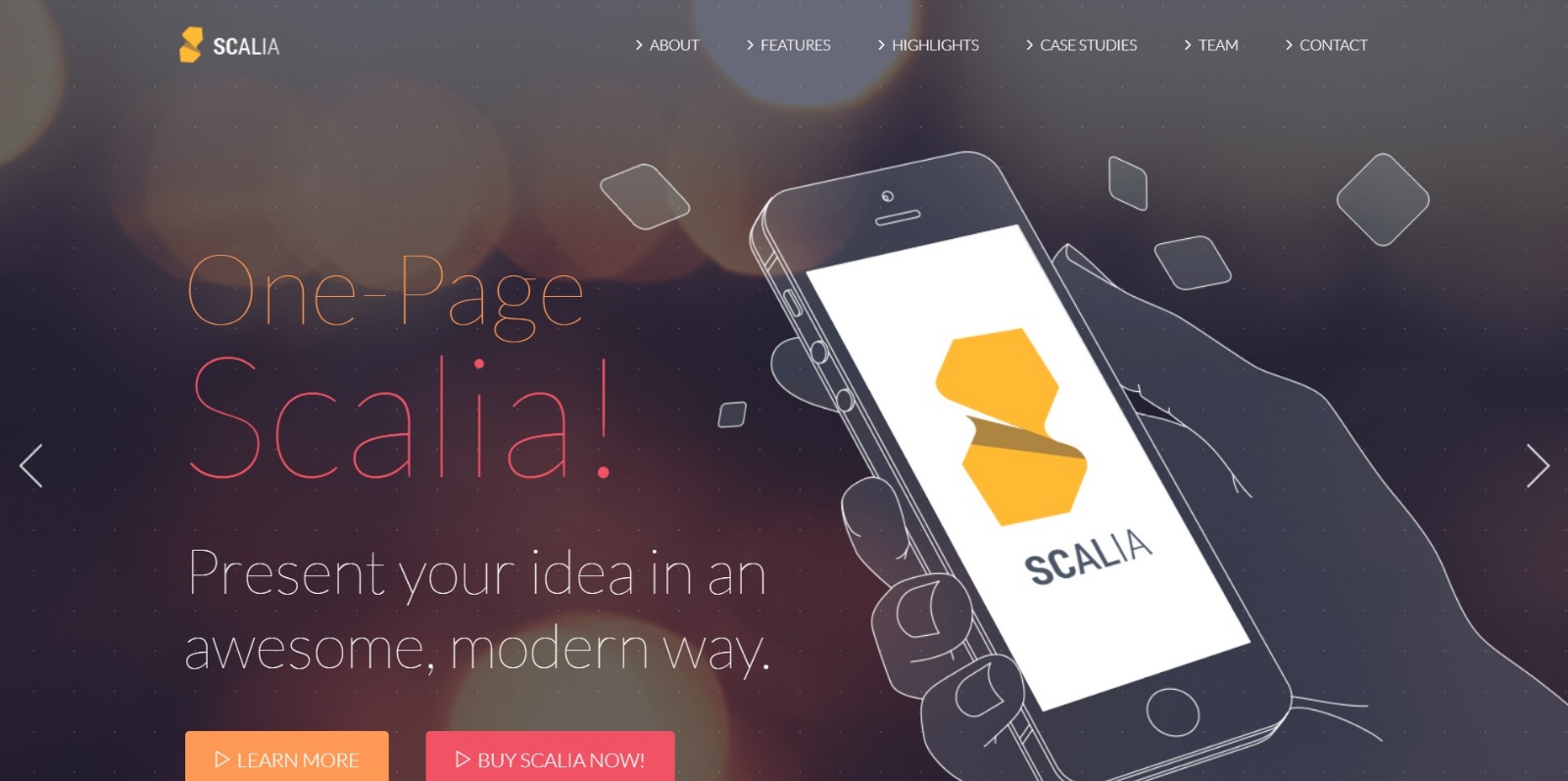 The theme includes a flexible header and footer, tons of page layouts, a dedicated one-page website option, and plenty more. In addition, while Scalia does include WPBakery Page Builder, it also offers its own 'Homepage Constructor' for easy one-page designs.
Price: $59 | Demo | Full Details
– by CodexThemes.
Incubator
While Incubator markets itself as a WordPress theme for startups, you could easily adapt its one-page designs to any type of business. Incubator includes 12 different prebuilt demos, many of which are single-page designs.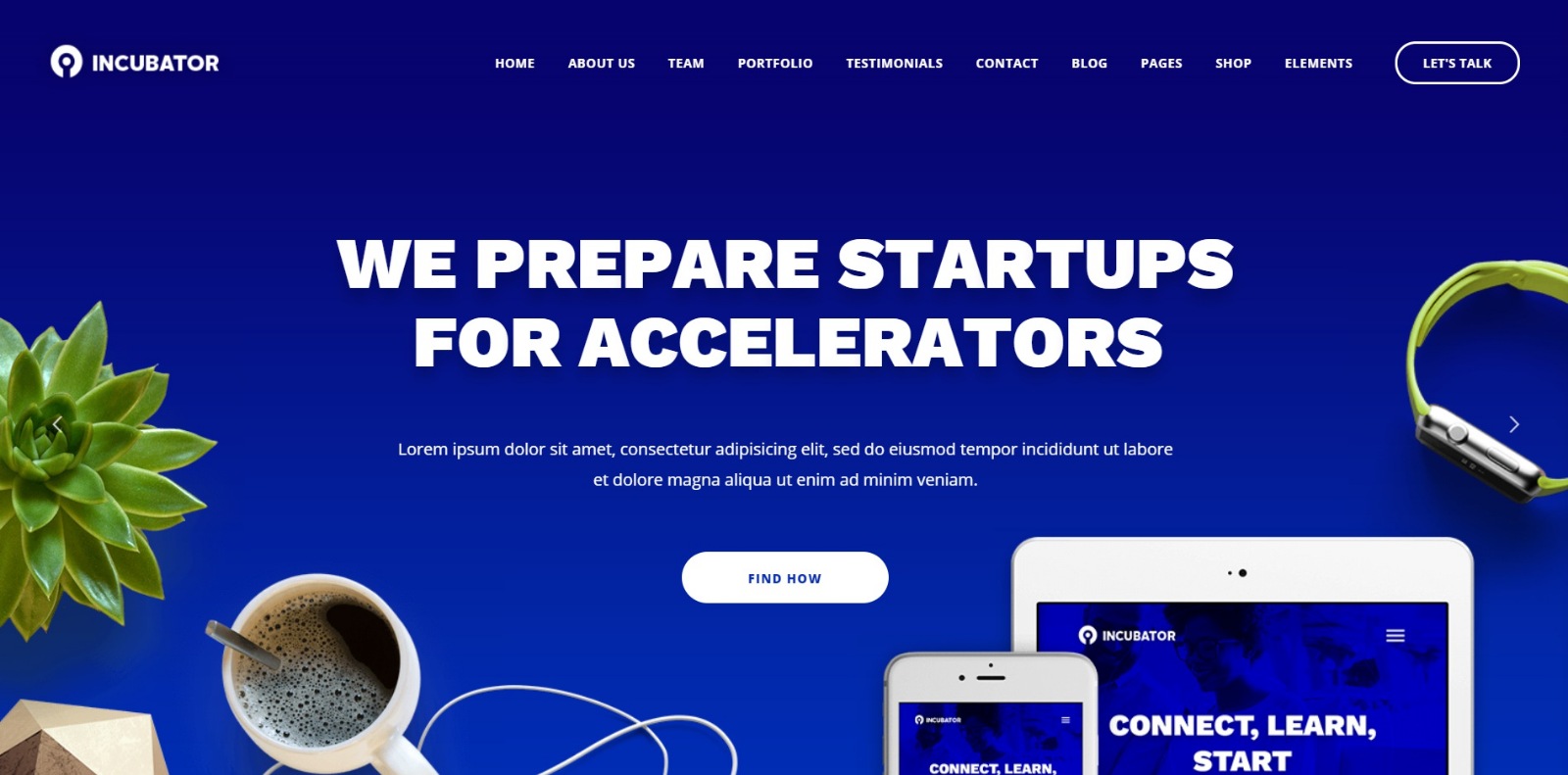 Beyond that, you get lots of nice CSS3 animations, parallax scrolling, WPBakery Page Builder, and plenty more.
Price: $49 | Demo | Full Details
– by Key-Design.
Summing Up…
Depending on what type of one-page website you want to create, some of these themes may have jumped out at you more than others. But, beyond looks and basic functionality, there are other things to consider when choosing a WordPress theme, so make sure to really dig into the demo and verify that it can do everything you need it to do.
Used/using any of these themes? Or maybe you can recommend another one-page WordPress theme not on our list?
All comments are held for moderation. We'll only publish comments that are on topic and adhere to our Commenting Policy.