WinningWP content is free to all. If you make a purchase through referral links on our site, we earn a commission (
learn more
).
ThemeForest vs Elegant Themes Compared – Which to Choose and Why?
When it comes to building websites, WordPress is a great choice. The software is free to use and it's flexibility allows it to be used to create simple or advanced websites. Whilst a new WordPress installation can be created at the click of a button, with tens of thousands of free and premium WordPress themes on the market, it is not uncommon for website owners to spend weeks selecting a design for their website.
To make your life easier, in this article I will compare two of the most popular places to buy a premium WordPress theme today: ThemeForest and Elegant Themes.
ThemeForest is a marketplace where thousands of different authors sell WordPress themes. In contrast, Elegant Themes develop all of their themes themselves.
Despite their business models being different, the trajectory of both companies has been similar. Both ThemeForest and Elegant Themes launched in 2008 at a time when the vast majority of WordPress themes on the market were free to download. They both quickly established themeselves as leaders in the premium WordPress theme market and, 13 years later, the designs from ThemeForest and Elegant Themes continue to be used on millions of websites.
Let's take a closer look at how ThemeForest and Elegant Themes compare.
A Different Approach to Selling WordPress Themes
ThemeForest was not Envato's first digital marketplace. In 2006, the company had launched a marketplace for Adobe Flash assets called ActiveDen, and a year later, Envato launched a tutorial website called PSD Tuts and a job board called Freelance Switch (which are now called Tuts+ and Envato Studio, respectively).
So by the time ThemeForest was launched in 2008, Envato was able to use their existing customer base to launch their new design marketplace with a bang. Theme developers flocked to ThemeForest as it allowed them to tap into a large targeted audience without spending any time or money on marketing.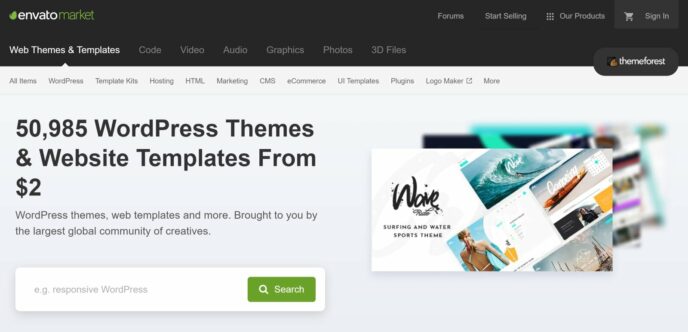 Today, over 11,000 premium WordPress themes can be found on ThemeForest. That's nearly three times more than themes than are in the official WordPress theme directory.
The most popular WordPress designs sell for around $40 to $60, however many themes are sold at lower price points to increase sales. All-in-One WordPress themes that come packaged with many different theme skins dominate the ThemeForest best sellers page, however ThemeForest also sells many WordPress themes that were designed for one particular type of website.
Since is launch, Elegant Themes have always sold WordPress themes under a membership business model where a single membership gives you access to all Elegant Themes products. For the first five years, the main reason to become an Elegant Themes customer was value. At launch, their $19.95 per year membership gave you access to around a dozen WordPress themes, but by 2013, their $39 per year membership now gave you access to a whopping 86 WordPress themes.
The large number of available WordPress themes on offer was the focus of their marketing efforts for many years, however the reality was that Elegant Themes only really had a couple of stand-out WordPress themes. Most designs were bland and outdated.
That all changed at the end of 2013 when Elegant Themes announced the release of their new flagship All-in-One WordPress theme Divi. This new theme looked great, was easy to use and was highly customisable.
When Divi was initally released, all functionality was built directly into the theme itself, with its Divi Builder page builder taking centre stage in posts and pages. Divi Builder was later released as a standalone WordPress plugin so that Divi functionality could be used with other WordPress themes. Elegant Themes later migrated all functionality into the Divi Builder WordPress plugin, making Divi Theme more of a framework design.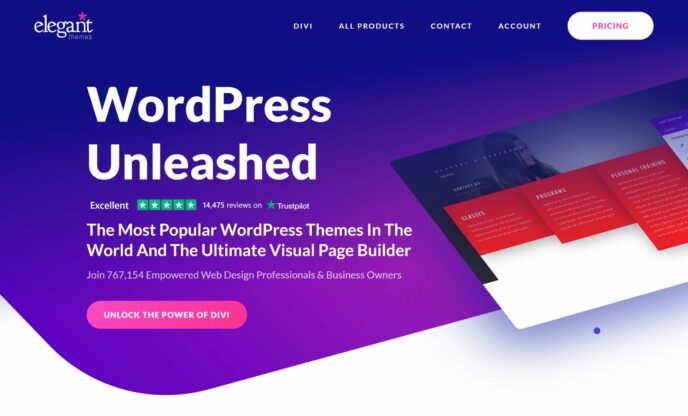 Although it would be a few years before they removed older themes from their membership, the message was clear. Elegant Themes was now focusing on quality, not quantity. This change of direction has allowed them to spend years developing highly-refined WordPress products that competitors continue to take inspiration from.
Today, an Elegant Themes membership costs either $89 per year or a one-off fee of $249. A membership gives you access to their flagship theme Divi, a Divi-inspired magazine theme called Extra and the standalone Divi WordPress page builder.
The membership also gives you access to an email opt-in WordPress plugin called Bloom and a social medial sharing WordPress plugin called Monarch.
As you can see, it is difficult to make a direct comparison between ThemeForest and Elegant Themes because they are so different. That is why you need to consider many factors.
It's All About Choice
Over 11,000 premium WordPress themes are sold on ThemeForest. You can find every type of design in their marketplace including blog designs, business designs, eCommerce designs and portfolio designs. There are also WordPress themes to help you build niche websites such as real estate agencies, discussion forums, membership websites and online directories.
No other WordPress marketplace or theme company can match ThemeForest on the variety of themes on offer.
Be sure to take advantage of ThemeForest's filtering and sorting options to help you browse their extensive library of WordPress themes. Themes can be sorted by sales, newest, best rated, trending and price.
There are filters for design categories, tags, price range, number of sales, rating, release date, software version and more. These are paritcularly useful if you are searching for something specific.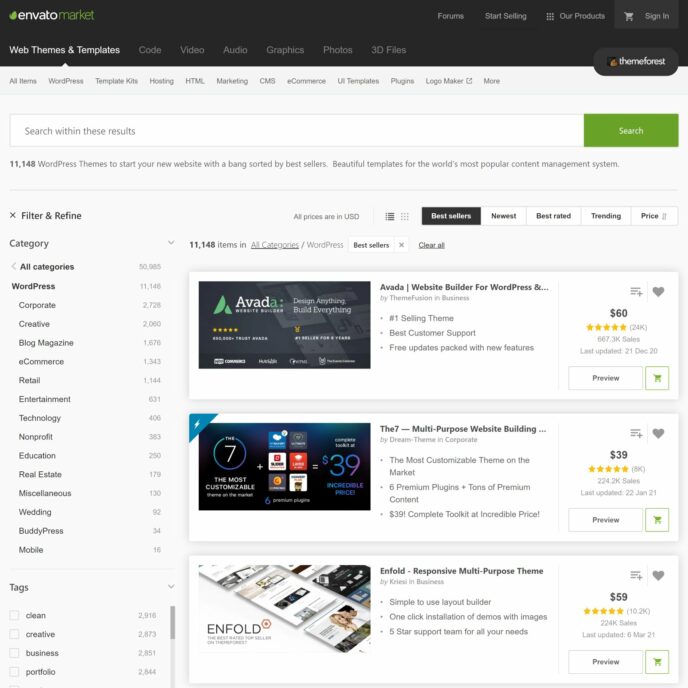 The old adage goes that the cream rises to the top and this is true on ThemeForest. All of the WordPress themes on the ThemeForest Best Seller's list are high-quality, well supported and updated regularly.
At the top of the tree is the All-in-One theme Avada. Released in August 2012, Avada boasts its own unique page builder system, fantastic WooCommerce integration, dozens of design elements and 80 beautiful pre-made website designs.
It's an amazing WordPress theme and a solid alternative to Divi. Check out our full review of Avada to learn more about what it can do.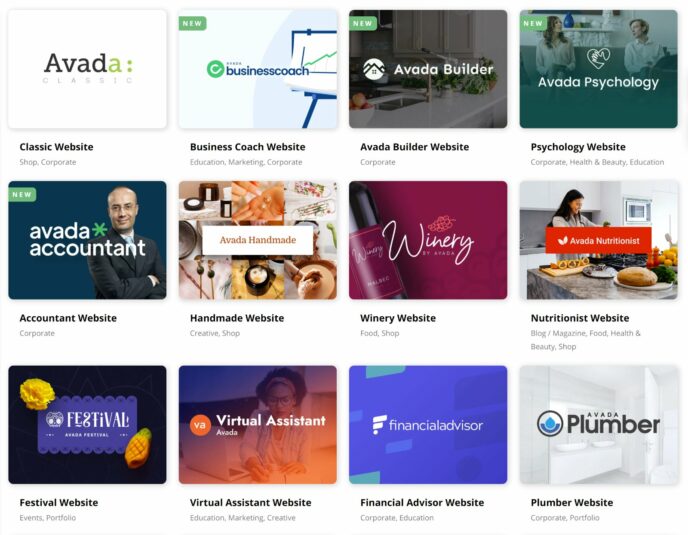 Many other WordPress themes in the best seller's list are multi-purpose themes like Avada that come packaged with a large selection of pre-made website designs (also known as theme demos or theme skins). This includes The7, Enfold, BeTheme, X The Theme, Bridge and Jupiter.
Due to their flexibility, multi-purpose themes are generally more popular than niche WordPress themes that are designed for a specific task, however a few niche WordPress themes have fought their way into the best seller's list.
If you are searching for the perfect design for your website, the top WordPress themes on ThemeForest are a great starting point, but don't restrict yourself to the themes at the very top of the sales list or you will miss out on some amazing themes.
Focused On Quality
An Elegant Themes membership gives you access to two WordPress themes and three WordPress plugins, however the central focus of Elegant Themes is the Divi Builder WordPress plugin.
It's one of the best WordPress page builders on the market, but as you can imagine, there is still a little confusion as to what Divi refers to as Elegant Themes call their flagship theme Divi too.
Allow me to clarify.
Divi Builder WordPress Plugin – Page builder that allows you to create unique layouts and import pre-made designs
Divi Theme – A minimal framework WordPress theme that has Divi Builder integrated into it
Extra Theme – A variation of Divi Theme that is optimised for blogs, magazines and news websites
Essentially, Divi Theme and Extra Theme act as blank canvases so you can get the most out of Divi Builder.
So is Divi Builder as good as everyone says it is?
Yes it is.
The main visual editor is a gorgeous front-end page builder that lets you create complex layouts in minutes (the older back-end page builder can still be activated from the settings area too). It features a large number of content elements that can be inserted into your pages using drag and drop.
Changes can easily be reverted and re-applied too and its built-in templating system allows you to save and re-use layouts whenever you want.
In addition to using your own custom layouts, you can take advantage of one of the 200+ layout packs that Divi comes packaged with. Hundreds of layouts are also available from fellow Divi users and third-party designers.
All you have to do is select the layout you want and after a few seconds, your website will match the layout demo. You can then customise the design to suit your needs and save it as your own custom layout.
Although Divi Builder steals the show, the included Divi and Extra themes are fantastic products too. These themes ensure you get the most out of Divi Builder by avoiding any potential theme conflictions. The Bloom and Monarch WordPress plugins are also great additions.
Check out our full review of Divi for a better understanding of what it offers.
The Risk of Using ThemeForest
ThemeForest is home to many fantastic WordPress themes, but it is important that you aware of the potential risks of purchasing a WordPress theme from their marketplace.
Theme authors are responsible for support and updates, not ThemeForest, which means that the quality of care you receive varies greatly from seller to seller.
The marketplace is highly competitive, which means that even great WordPress themes are not guaranteed to generate many sales, yet one of the biggest risks you can take on ThemeForest is buying a new WordPress theme from an author with an unproven track record.
It's a tough challenge for new authors and Envato's fee structure makes things more difficult. Authors who choose to sell exclusively through ThemeForest are charged an initial author fee of 37.5%, a buyer fee and taxes too. The author rate for developers who also sell their themes outwith ThemeForest increases to 55%, which means that if an author sells a theme at $16, they would only make $5.26.
All of this contributes to a Hit & Run culture on ThemeForest where theme developers push out multiple designs until one becomes a success . If a new theme author generates many sales within the first month, you should receive good support, bug fixes, security updates and new features.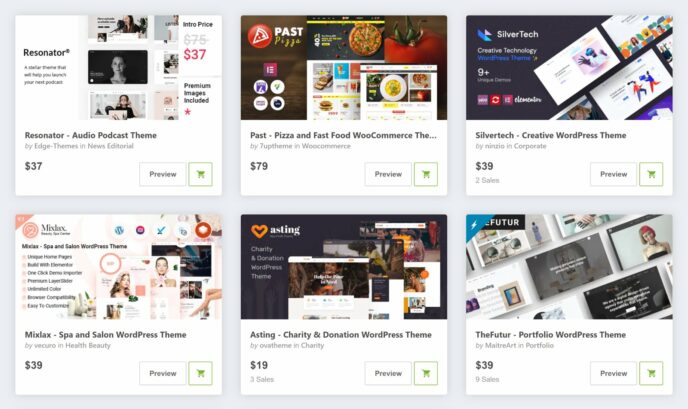 Unfortunately, it's a different story when a theme does not sell well. I have purchased WordPress themes from ThemeForest since the marketplace launched and many themes did not receive a single update after they were released. Sellers frequently didn't reply to support tickets either and on multiple occasions, the theme was removed from the marketplace altogether, which meant that I could no longer download the theme I purchased.
To their credit, Envato have worked hard at improving the review process on ThemeForest to ensure the quality of themes and sellers is better, though once a theme has been released, there is still no guarantee that the theme will be actively updated or supported.
Do not let these pitfalls prevent you from using ThemeForest as it's still a great place to buy a WordPress theme. You just need to have due diligence and research each theme thoroughly before buying.
Here are some recommendations.
Don't buy WordPress themes that have just been released. Wait a few months to see how many sales are generated, how many updates are rolled out and how responsive the seller is to comments from users.
Avoid WordPress themes that haven't been updated in several months and don't support the latest version of WordPress.
Pay attention to theme sales and the ratings from ThemeForest users
Post some pre-sale questions via the ThemeForest comment area and through the company's support ticket system to see how responsive the seller is. Look at comments from customers too.
Take advantage of public theme demos to test themes extensively before buying
Colin Newcomer spoke about all of these issues in his article "A Must-Read Guide To Finding – And Buying – Themes On ThemeForest!". I encourage you to read the article as Colin delves deep into what you should look out for when buying a WordPress theme on ThemeForest.
The Cost of Using ThemeForest & Elegant Themes
ThemeForest prominently displays the price of each WordPress theme in their marketplace. Themes are occasionally placed on sale and sold as low as $15, however in general, WordPress themes cost between $39 and $59. The true cost of using ThemeForest, however, may be higher.
The price you see displayed is for a ThemeForest regular license. This grants you lifetime updates and six months of support. A further six months of support can be added for around 30% of the initial sale price, however this is only available when you purchase the theme. Afterwards, six months of support costs around 50% to 60% of the initial sales price though the exact price you pay depends on the WordPress theme you purchase.
With Avada, for example, the theme costs $60 initially and you can extend support from six months to 12 months for an extra $18. When support expires, it costs $42 for six months of support.
A few WordPress themes on ThemeForest are GPL-friendly, however the majority of WordPress themes there do not adhere to the GNU Public License. This unfortunately means that you only receive support and updates for one website. Should you want to use the WordPress theme on other websites, you are required to purchase an additional license.
To summarise, the true cost of buying a WordPress theme on ThemeForest depends on:
Which WordPress theme you purchase
Whether you need support
How many websites you plan on using the theme on
Elegant Themes still retains the simple membership pricing model it launched with back in 2008. You can either choose to pay $89 per year or a one-off fee of $249 for lifetime access.
Both licenses give you access to all Elegant Themes products, layout packs, updates and support. There is no restriction on how many websites you use their products on.
As you can see, Elegant Themes may prove to be the cheaper solution for many people due to its unlimited license. If you only need a WordPress theme for one website and don't need support beyond the first year, you could save money selecting a high-quality WordPress theme from ThemeForest instead.
Final Thoughts
In my opinion, when it comes to "ThemeForest vs Elegant Themes", there is no outright winner. It all comes down to which WordPress theme you need for a particular project.
An Elegant Themes membership remains an attractive package that offers great value. It's easy to recommend if you have tested Divi and like how it works, but please remember that ThemeForest is home to many advanced All-in-One WordPress themes too.
My recommendation is to do as much research as you can before selecting a WordPress theme. Cost is an important factor to consider, however I do not recommend it being the deciding factor on which direction you go. If you pick the right design, you won't have to change your WordPress theme later.
Used/using ThemeForest or Elegant Themes? Thoughts and experiences on each?
All comments are held for moderation. We'll only publish comments that are on topic and adhere to our Commenting Policy.