Astra WordPress Theme Review – An Ideal Beginner Theme Boasting 70 Designs!
Astra is a beautiful WordPress theme that can be used for portfolios, blogs, businesses, online shops and more.
The free version is being used on more than 1,000,000 websites, and it has amazing support for page builder WordPress plugins — letting you customise your whole website via the WordPress theme customiser.
Giving you the ability to import dozens of high-quality website designs, Astra lets you transform your website at the click of a button.
You can extend the functionality by upgrading to the pro version of the theme, but a number of free extensions are also available.
↪️ Note: still undecided which WordPress theme is the ideal one for your site? Check out this post of ours on The Top 15 Best Multipurpose WordPress Themes.
In this article, I'll show you why Astra is so popular (making it a strong competitor to both Divi, from Elegant Themes, and Elementor), walk you through the free version of the plugin and explain the benefits of upgrading to Astra Pro, and what it will cost you.
The Team Behind Astra
Astra is developed by Brainstorm Force — a WordPress development company that have been operating for more than ten years, and have over 60 employees.
It's no surprise that Astra integrates with page builders so effectively, as Brainstorm Force launched the Ultimate Addons for Beaver Builder and Ultimate Addons for Elementor plugin extensions, so have an advanced understanding of how popular WordPress page builders work.
They're also behind the email opt-in and lead generation plugin Convert Pro, the Schema markup plugin Schema Pro and the portfolio plugin WP Portfolio.
Brainstorm Force are incredibly active within the WordPress community. They frequently attend WordCamps from around the globe and their free WordPress plugins are updated regularly.
What Does Astra Offer?
Astra is a highly customisable WordPress theme that has many amazing features.
It's super lightweight, and the developers say that, with default WordPress data, a website using Astra should load in less than half a second. They've taken a number of steps to achieve this, including disabling jQuery and keeping resources under 50kb.
One thing that distinguishes Astra from many other designs is its native support for popular WordPress page builders. It integrates beautifully with page builders such as WPBakery Page Builder (formerly Visual Composer), Beaver Builder, Thrive Architect, Elementor, Divi Builder, Brizy and Gutenberg.
As you'll see later, the starter site system requires you to use Elementor, Beaver Builder, Gutenberg, or Brizy. However, you only need to use one of these four page builders if you're importing a website design.
The support for page builders is a major selling point for Astra, as there are many WordPress themes that haven't been designed with modern page builders in mind. This can result in situations where a stylish page created by a page builder doesn't fit in well with the activated WordPress theme.
When you activate Astra, a new settings box becomes available when you edit posts, pages and other custom post types. You can change many common page settings here, such as where the sidebar is displayed and whether the content is boxed or full width. Features such as the header, page title, featured image and footer bar can be completely disabled from here.
The great thing about this setup is you can customise how everything looks on a page-by-page basis.
When it comes to design, Astra has you covered. Anyone, regardless of their technical experience, can customise their website design through the WordPress theme customiser.
One problem many WordPress users — including me — sometimes face is that it can be difficult to modify a theme's design to your liking. This isn't something to worry about with Astra.
If you activate the Astra Starter Sites plugin, you can import a number of prebuilt website designs.
More than 70 designs are available, and you'll find prebuilt options for blogs, businesses, online shops, portfolios, and more.
For me, this is one of the best reasons to use Astra, because it essentially makes it 70 WordPress themes in one (or 35 in one if you're using the free version).
Astra was designed so beginners could create professional websites without touching any code. However, the theme has been created with developers in mind too.
It's ready for custom post types and has great support for WooCommerce. The theme follows WCAG 2.0 standards and follows SEO best practice. The design is also translation and RTL ready.
Hooks and filters allow developers to insert content into websites easily, while non-developers can use the free Astra Hooks plugin, which makes inserting unique content and code into your website a breeze.
Astra is 100% open source, so, if you want to examine the theme's code, you can do so on Github.
Customising Astra
Astra can be downloaded from WordPress.org, or from directly within the themes area of your WordPress admin area.
The theme doesn't force you to install any WordPress plugins to work, but you will need to install the Astra Starter Sites WordPress plugin if you want to import a design into your website (more on this later).
You'll find the 'Astra Options' page under the WordPress appearance menu.
This page is more of a hub than a settings page, as all options for the theme are contained within the WordPress theme customiser.
You'll find links to key options, as well as links to free and premium plugins that extend Astra, while this page also links to the Astra documentation area, Facebook group and contact page.
All customisations options can be found in the WordPress theme customiser, which means you can preview any changes you make in real time. You can also switch the preview mode from desktop to tablet or mobile.
The options are spread across eight top-level sections and many sub-sections. This uncluttered layout makes it easy to find the settings you want to change, though you do have the option of adding a search box in the theme customiser via a plugin.
There are many useful options within the WordPress theme customiser.
For blog posts, you can change the structure and enable and disable meta information. In the footer, you can change the layout easily and add custom text.
Colors and typography can be modified easily too, and there are quick links to your WordPress menus and widgets.
Please be aware that the screenshots above demonstrate what options are available in the core version of Astra. If you upgrade to the pro version, or install one of the many free plugin extensions available, you'll see many more options in the WordPress theme customiser.
Astra Starter Sites
The Astra Starter Sites WordPress plugin is referenced in the main Astra Options page on the right-hand side. This plugin is free to download.
Once you've activated it, you'll see a new page in the appearance menu called 'Astra Sites'.
You'll be asked to choose your favourite page builder: Elementor, Beaver Builder, Gutenberg or Brizy.
If you select a design that uses, say, Gutenberg, you'll need to have the Gutenberg page builder activated for it to work properly. This is because each design was created using page builder elements from a particular page builder plugin.
When you've selected a page builder, the starter website designs will be displayed with a note on how many designs are available for it.
It notes that 70 designs work with Elementor and Beaver Builder, ten with Gutenberg, and 20 with Brizy. These designs can be further filtered by type of design: All, Blog, Business, eCommerce, Free and Other.
Premium designs are marked with an 'Agency' label, which refers to the Astra Pro bundle packages.
At the time of writing, there were 35 free designs and 35 premium designs.
The standard of all designs, free and premium, is very high.
Brainstorm Force have done a magnificent job with the whole system.
When you select a design, you're shown a full preview, and by browsing different pages you can get a feel for what the design can do.
At the left-hand side of the page is a list of the plugins required for the design to work correctly.
For the Yoga Instructor design you can see in the screenshot below, I was required to install Contact Form 7, Elementor and Ultimate Addons for Gutenberg.
The 'Install Plugins' buttons at the top and bottom of the page will install all required plugins.
I ran into a slight problem at this stage as Elementor was already installed on my test WordPress website. Therefore, when the installer tried to install the plugin, it said the destination folder already existed. To resolve the issue, I had to delete Elementor so that I could install the plugin again from this page. This is clearly a bug they need to address in a future update.
Once all plugins are installed, the 'Install Plugins' buttons will change to 'Import This Site'.
A warning appears when you choose to import a website design. This is a reminder that you shouldn't perform the import on a live website and that copyrighted images will not be imported.
Once the website design has been imported, the button changes to 'Done. View Site!'. Clicking on this will load your website and let you see what the design looks like.
Apart from a couple of copyrighted icons and images, my website looked identical to the one displayed in the preview area.
Check out the Astra Starter Sites page on the official Astra website to see a list of all of the designs that are available.
Extending Astra with Free Plugins
In the Astra Options page, you'll see a box that says you can extend Astra with free plugins. A total of 12 plugins are listed here.
The Unlist Posts & Pages plugin was created by Nikhil Chavan, but all other free plugins listed were created by Brainstorm Force.
Five of the free plugins were designed specifically for the Astra WordPress theme.
There's a good argument for this additional functionality being integrated into the main theme, but I do appreciate that by keeping this functionality separate they keep the core version of Astra lightweight.
The Astra Hooks plugin adds a new Hooks section to the WordPress theme customiser to help you to easily insert content, shortcodes and Javascript.
The Astra Customizer Reset plugin adds an option in the theme customiser to reset all settings. It's a useful plugin, although it does surprise me that this hasn't been built directly into the theme customiser.
Another cool Astra-only WordPress plugin is Home Page Banner for Astra Theme. As the plugin name suggests, this adds an option in the WordPress theme customiser to add a banner to your home page.
It allows you to change the style of the banner, the image, the text, padding and more.
The other free plugins work great with Astra, but can also be used with other WordPress themes.
Custom Fonts and Custom Typekit Fonts can be used to install custom font files and Typekit fonts.
If you're using Gutenberg, you may want to give Ultimate Addons for Gutenberg a try. It adds 16 additional blocks to your page builder, such as an info box, post layouts and price list. Check out their official website to see demos of each block.
Sidebar Manager is a useful plugin too. It's a lightweight solution that simplifies the process of creating new sidebars and managing them.
The last free plugin that's recommended is Templator. This is an interesting new plugin that allows you to save your pages and templates in the cloud. You can then export them to any website.
At the moment, it only works with Elementor. However, they'll be adding support for Beaver Builder and Divi Builder in the future.
Astra Pro
It's easy to see why the free version of Astra is installed on more than 200,000 websites. It's easy to use and has a great selection of website designs, and there are additional plugins available that extend functionality further.
If you want to unlock the full potential of the Astra WordPress theme, you need to upgrade to the premium version.
In addition to receiving priority support from the developers, Astra Pro offers many new features via modules. Those who purchase one of the bundle packages will also gain access to the full starter site design library.
A total of 18 pro modules are included with Astra Pro.
Most of the modules expand and enhance the functionality that's available in the WordPress theme customiser, and you can activate and deactivate modules as you see fit.
The Colors & Background module can be used to change the color of just about any part of your design, while the Typography module adds many more options for customising and styling your fonts. The Spacing module adds more options for margins and padding.
If you're looking to change your blog or to archive pages more, you should activate Blog Pro. It lets you display an author bio underneath blog posts, load a previous blog post under the current one and remove padding from the featured image.
Astra Pro adds many additional layout options too.
Mobile Header allows you to display a custom header on responsive devices such as tablets and smartphones.
Header Sections adds a new section above and below the header, which is useful for adding banners and other content. You can also use the Sticky Header module to display a fixed header at the top of the page.
The Page Headers module lets you create more advanced headers. You can display the page title against a large background image and show breadcrumb navigation links.
One of the coolest modules is Nav Menu, which lets you transform your boring old navigation menus into complex mega menus.
You can display menu items in columns, use colors, use background images, highlight labels and more.
These additional features can greatly improve navigation as you can display many more links within the same menu.
The Custom Layouts module gives you the ability to save custom layouts for your header, footer, 404 pages and hook locations. Layouts can be saved and easily added into other areas of your website.
In contrast, the Site Layouts module enhances the WordPress theme customiser by giving you more control over the design's width and container.
Scroll To Top lets you add a scroll to top button to the bottom-left or bottom-right of pages. You're given full control over its styling and the icon sizes, as well as whether it's displayed on desktops, mobile devices or both.
Footer Widgets offers seven different layouts for your footer area.
You're given control over the padding and width of the widget area. Color and typography settings are available too.
Integration modules are available for Easy Digital Downloads, WooCommerce, LearnDash and LifterLMS. Activating these modules will give you more control over how these plugins integrate with your website's layout and styling.
The last module is White Label, which you can use to rebrand Astra as your own product. This is something design agencies will find beneficial, as it stops clients from knowing what WordPress theme the agency is using to create their website.
I believe most website owners who use Astra will upgrade at one point as the additional modules unlock hundreds of new options — especially as Astra Pro is available from only $59 per year.
Astra Pro Pricing
Astro Pro is an affordable WordPress theme. Those who want to upgrade can select one of three packages, all of which include the Astra Pro modules I covered in the last section.
The Astra Pro package costs $59 per year, the Essential Bundle costs $169 per year and the Growth Bundle costs $249 per year. These packages can be purchased on a lifetime basis with no yearly fees at a cost of $249, $499 and $699, respectively.
All packages come with a 14-day no fuss 100% money-back guarantee, and there's no restriction on how many websites you can install the theme on.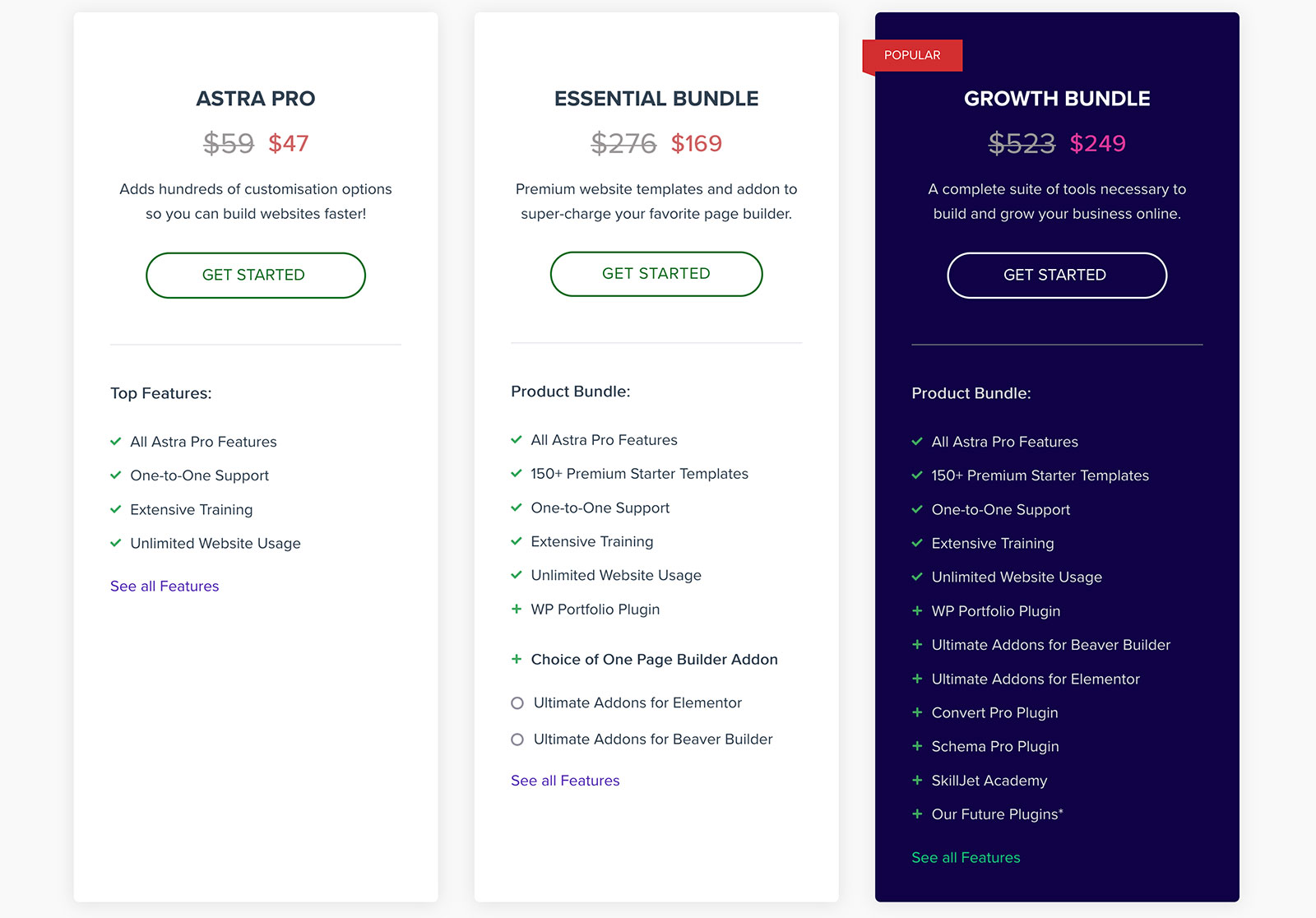 The Astra Pro package gives you all of the Astra Pro modules and access to premium support from the theme developers.
Upgrading to the Essential Bundle grants access to all starter site website designs and Brainstorm Force's WP Portfolio plugin.
You can also select either Ultimate Addons for Beaver Builder or Ultimate Addons for Elementor. Both of these plugins work smoothly with Astra Pro, so are a good addition.
On top of everything mentioned above, upgrading to the full Growth Bundle gives you both of these builder plugins together with Convert Pro and Schema Pro.
In other words, when you upgrade to the full Growth Bundle, you gain access to Astra Pro and all other Brainstorm Force products.
Which Astra Pro Package Should You Choose?
Which Astra Pro package is right for you will depend on your requirements and also your budget.
The entry-level package is perfect if you don't need access to additional starter site designs and don't want to use any of the additional plugins Brainstorm Force sell.
On their own, WP Portfolio retails from $49 per year, Ultimate Addons for Beaver Builder from $69 per year, Ultimate Addons for Elementor from $49 per year, Convert Pro from $99 per year and Schema Pro from $79 per year.
If you're already planning on buying some of these plugins, it makes sense to upgrade to one of the higher-tier premium bundles. If not, I'd recommend saving money and sticking with the entry-level package.
Final Thoughts
Astra is without doubt one of the best free WordPress themes around.
The theme lets you easily import dozens of professional-looking website designs, and there's a good selection of free plugins that extend functionality.
I'm sure most users will appreciate that all options are contained within the WordPress theme customiser too, as it makes customisation simpler.
Despite the free version being solid, I believe most WordPress users who use Astra on a live website will eventually upgrade to Astra Pro.
From only $59 per year, it gives you premium support and hundreds of new styling and layout options. Those who select one of the higher-tier premium bundle package will also be able to use the starter sites website designs marked as 'Agency' and be able to download other premium Brainstorm Force plugins.
(Update: Astra have kindly provided us with a special deal entitling WinningWP readers to a 10% discount — view coupon)
Note: if you're interested in looking through some examples of sites actually using Astra, here's an excellent showcase.
Related Reading:
Used/using Astra? Thoughts?