WinningWP content is free to all. If you make a purchase through referral links on our site, we earn a commission (
learn more
).
Thrive Themes Review – Quality Themes and Plugins to Improve Conversions!
Thrive Themes started out (way back in 2014) as a WordPress themes and plugins club. However, over the years its focus has shifted away from themes and moved towards creating powerful plugins to help WordPress users generate more leads and conversions from their websites.
If you're an affiliate marketer, service provider, product supplier or just a blogger who wants to engage with your audience more effectively, Thrive Themes could have the tools you're looking for.
However, these tools from Thrive Themes are now only available as a single product called Thrive Suite. Described as an all-in-one toolbox for creating WordPress websites that convert visitors into leads and customers, Thrive Suite consists of multiple plugins and a theme.
Some examples of the Thrive Suite tools include a theme builder for creating custom WordPress websites, a page builder for designing unique landing pages and other content, and an opt-in form and pop-up builder for capturing leads. There are other tools, too, which I'll cover in this article.
In this Thrive Themes review, I'll look at the tools that make up Thrive Suite, exploring what they're like to use and how they work. By the end of this guide, you'll know whether or not this is the right package for you, your website and your goals.
Let's get started…
Thrive Suite Overview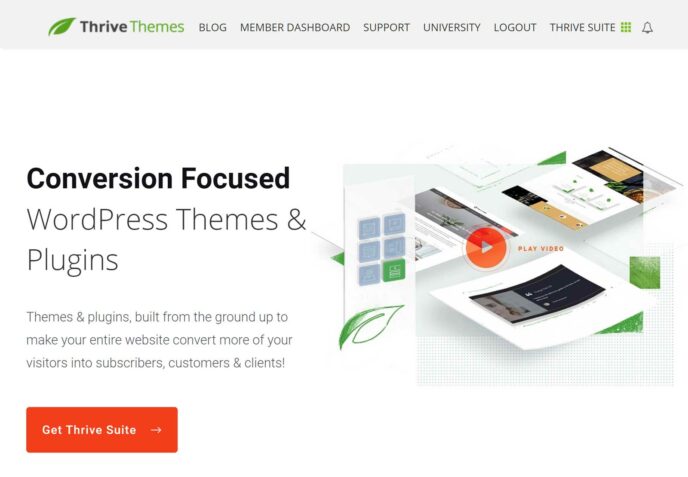 Before we explore the WordPress tools that make up the Thrive Suite from Thrive Themes, here's a brief overview of each of them to give you a quick idea of whether or not this is something that's right for you:
As these products are all available in a single package, let's take a quick look at the Thrive Suite pricing.
Thrive Suite Pricing
There are two options for purchasing the Thrive Suite of WordPress tools:
Quarterly: $90 a quarter (equivalent to $30 a month).
Yearly: $328 a year (equivalent to $19 a month).
As you can see, if you choose to pay for a year upfront, you'll get better value than paying quarterly. If you're worried about paying for a year in advance before you've tried the products, there is a 30-day full money-back guarantee.
Both payment options let you use the products on 25 websites, and, aside from the price, there's no difference between them.
If you decide not to renew your subscription, you can still continue to use the products. However, you'll no longer get access to support, updates or the premium templates.
Now we've covered the pricing, let's explore Thrive Suite products in more detail, starting with the flagship Theme Builder.
Thrive Theme Builder and Shapeshift
To start using any of the Thrive Themes products, you first need to install the Thrive Themes Product Manager plugin on your WordPress website. After that, you can activate the Thrive Suite products from inside your WordPress dashboard.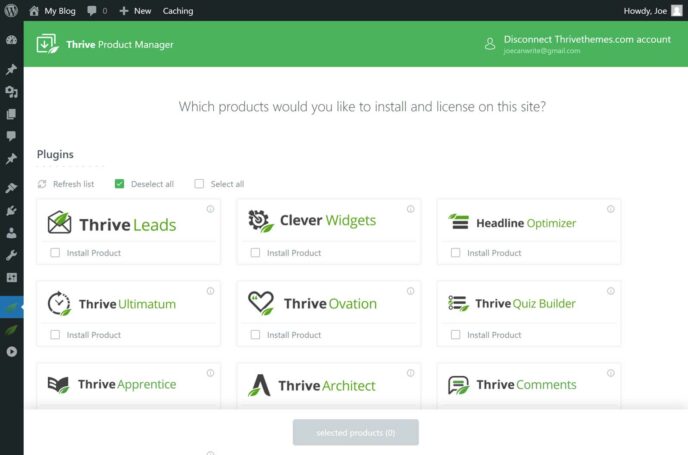 Once you activate Thrive Theme Builder, the Shapeshift theme will be installed and activated on your website as well.
As all of the Thrive Theme Builder functionality is incorporated into this theme, you can't use this tool with any other WordPress theme.
However, if you've already chosen a theme for your website, you can still use other Thrive Suite tools, such as the Thrive Architect page builder tool, to enhance your website — you just won't get as much control over the entirety of your site (the header, footer and theme templates) unless you install Thrive Theme Builder.
Full WordPress Website Editing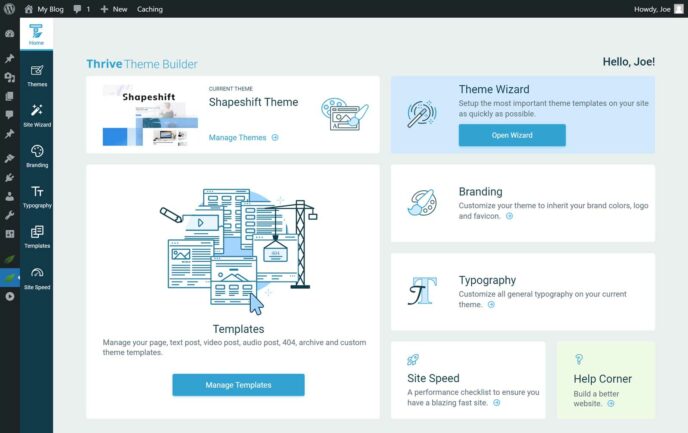 The main difference between the Thrive Theme Builder and Thrive Architect — and many other WordPress page builder plugins for that matter — is that the former lets you customize every aspect of your website, and not just the post and page content areas.
The header and footer, as well as the post and page templates, can be edited with Thrive Theme Builder and the Shapeshift theme.
Because of this, you can build a totally unique WordPress website, without the need to edit any code yourself.
Thrive Theme Builder vs Thrive Architect
To confuse things slightly, Thrive Architect (the Thrive Themes page builder tool) is incorporated into Thrive Theme Builder.
Therefore, if you decide to use Thrive Theme Builder, Thrive Architect is also activated on your site to provide the interface and functionality needed to customize your theme and website content.
However, as mentioned, you can only customize the theme areas of your site, such as the header, footer and templates, if you install and activate the Thrive Theme Builder and Shapeshift theme. Thrive Architect on its own only lets you create custom post and page designs.
The Shapeshift WordPress Theme
The Shapeshift theme looks good out of the box. However, for most people, the main reason to choose it will be for its customization potential.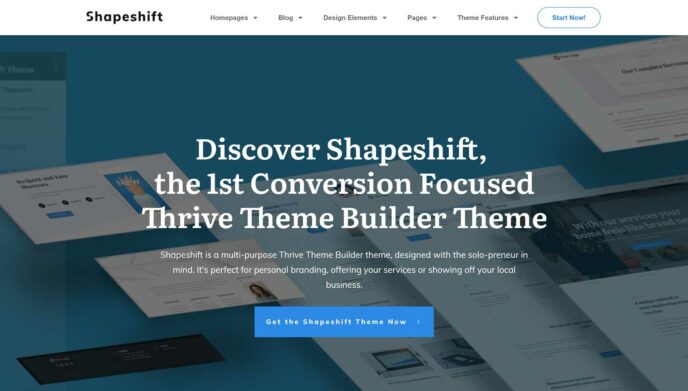 Viewing the Shapeshift demo should give you a good idea of what your website could look like when using this theme with its default settings. However, as the Thrive Theme Builder features give you full creative control over your website, you can make your site look exactly how you want.
Shapeshift Setup Wizard
To help you to start work on your new site, Shapeshift has an optional helpful wizard.
By walking you through the 11 main stages of setting up a WordPress website, including uploading a logo, setting up the header and footer, defining the menus, and choosing the default templates for your posts and pages, you'll be well on your way to launching your new site with this tool.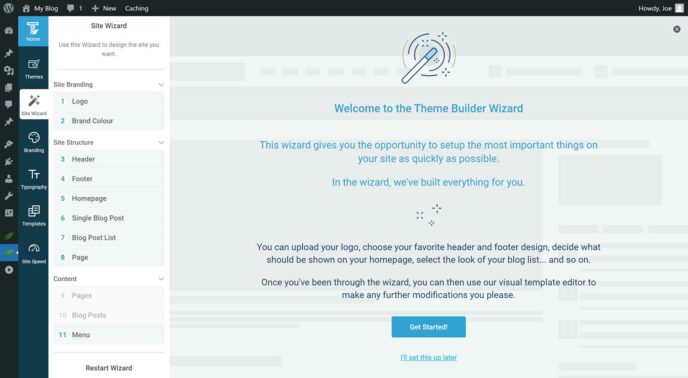 At each step of the wizard, you're provided with options to choose from, such as multiple header layouts or predefined colors. However, you can get more hands-on with the building of your site once you've exited the wizard.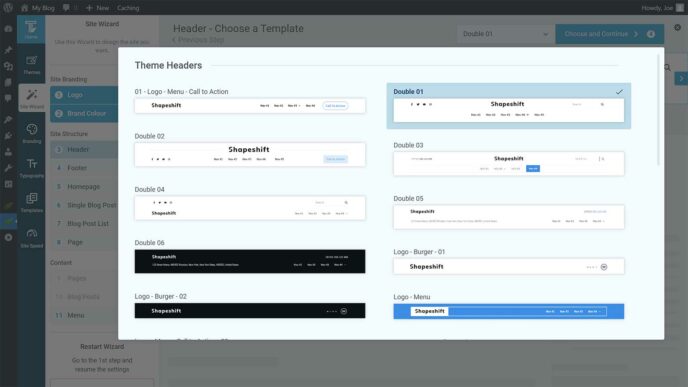 The other steps in the wizard let you choose the templates that define how your single blog posts are displayed, and how the archive list of blog posts is presented. You can also choose the default template that's used by all of your pages.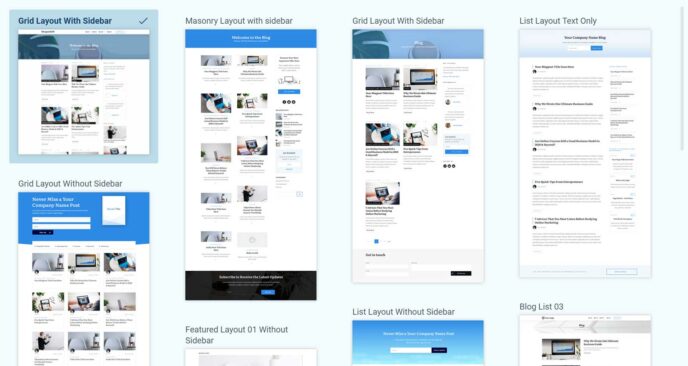 Although you set the default templates for parts of your site, such as the blog posts and pages, during the wizard, you can override these at the individual post and page level. As Thrive Suite comes with more than 200 premium editable templates, you get lots of options to choose from each time you publish a new piece of content on your site.
The wizard is a really good idea. In just a few steps, you can set up your new site in the way you want, using a combination of predefined settings and purpose-built templates. Surprisingly, a wizard such as this isn't something you see often with premium themes. Because of this, if you're looking for a theme that's easy to set up and configure, Shapeshift is a good option.
Customizing Your WordPress Website
Once you've completed the wizard, you can move on to the other ways you can customize your website. This mainly covers the finer details of your site, including the color accent, the typography settings, setting the logo link, and uploading a favicon.
As mentioned, the Thrive Theme Builder customizer is powered by Thrive Architect. We cover Thrive Architect in more detail in the next section of this review. But to give you an idea of what this means, when you're creating a new page or post, editing one of the templates, or customizing the theme areas of your site, such as the header and footer, you do so through an intuitive drag-and-drop editor.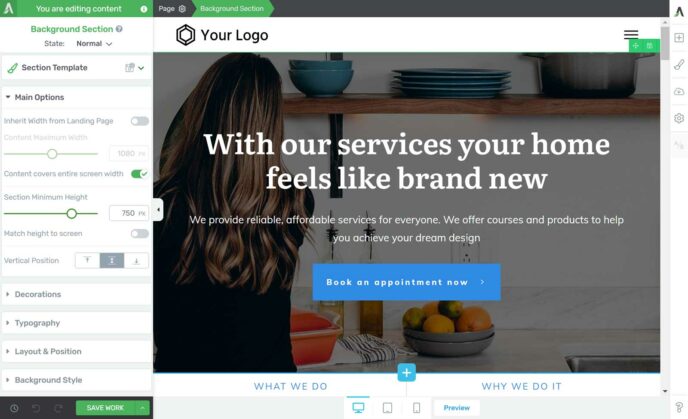 Thrive Theme Builder (and Thrive Architect) provide you with lots of prebuilt sections that make it easy to customize your site. For example, if you want to change the header of a template, you can easily choose from many other header options. If necessary, you can then edit that section through the Thrive Theme Builder interface.
You can also add new sections or elements to your pages, giving you the ability to build unique designs using prebuilt content. You can then edit those sections and elements to ensure they look exactly how you want.
If you've ever wanted to create a custom WordPress website, Thrive Theme Builder is a powerful tool that makes it possible to do so.
Thrive Architect
Unlike Thrive Theme Builder (which is integrated into the Shapeshift theme), Thrive Architect works with any WordPress theme.
Therefore, if you want to add a powerful drag-and-drop page builder to your existing WordPress website, or you've already chosen a theme for your new site, Thrive Architect is the tool from Thrive Themes that would work best for you.
To get started with Thrive Architect, all you have to do is create a new post or page on your site or open an existing one and click the appropriate button.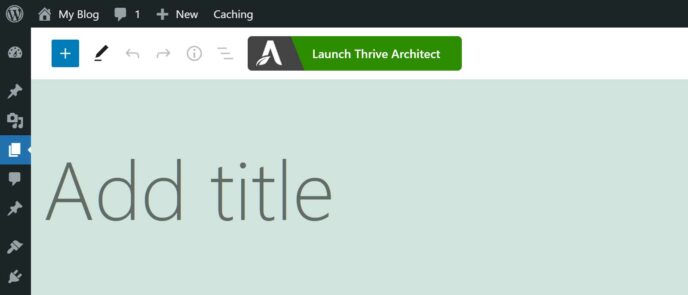 Choosing a Template
Once Thrive Architect has launched, you have the option of starting with a blank page that uses the default template of your theme, or importing one of the 200+ pre-built templates from Thrive Themes.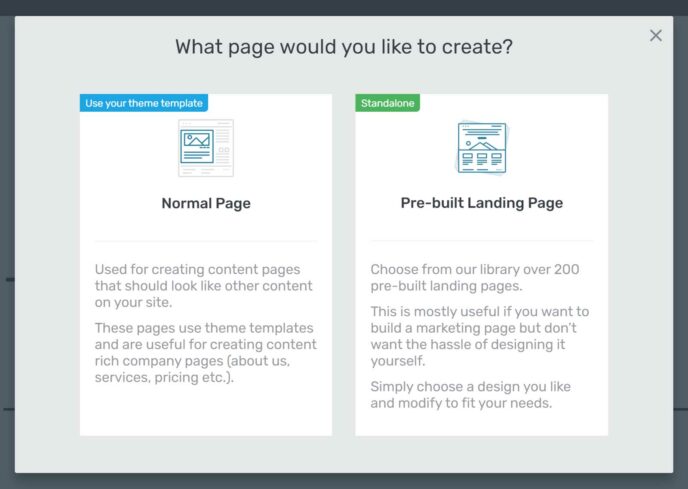 These templates are divided into sets, which are groups of templates that work well together and cover some of the pages a conversion-focused website may need.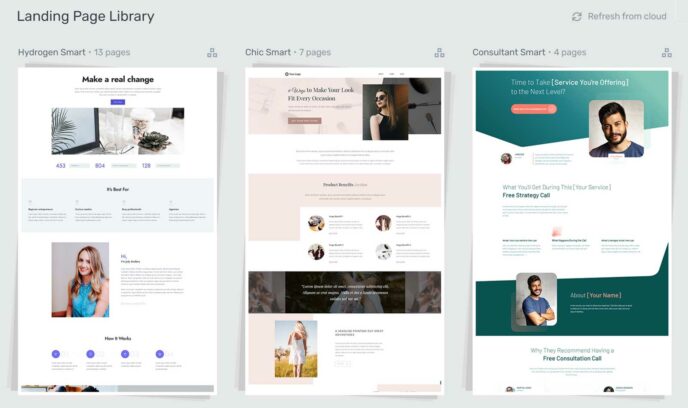 For example, a set might include templates for the homepage, landing page, sign up confirmation page, product promotion page and other types of sales-focused content.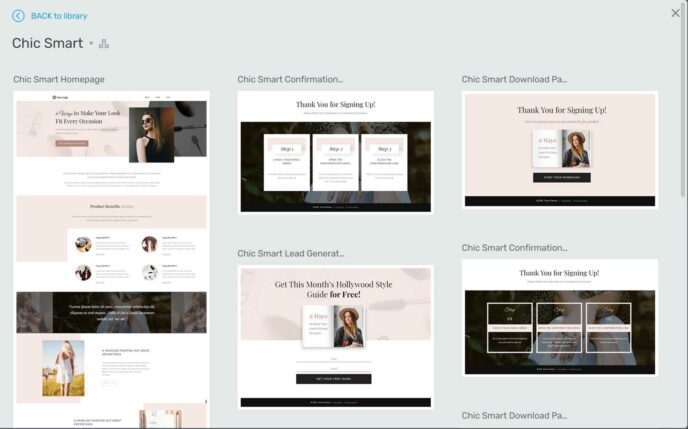 Presenting the templates as sets is helpful, because you get access to multiple items in the same style. Because of this, you can quickly build a website with a consistent design. However, you're free to mix and match the templates as much as you want. As they're all easily editable, you can adapt a template from one set to fit in with the templates from another or match the overall style of your site.
Creating a Custom Page Design
Whether you import a template or start with a blank page, you get full creative control over the appearance of your content.
To start building, you can either click on an existing element, such as a block of text, an image or a button, or instead add a new element to your page.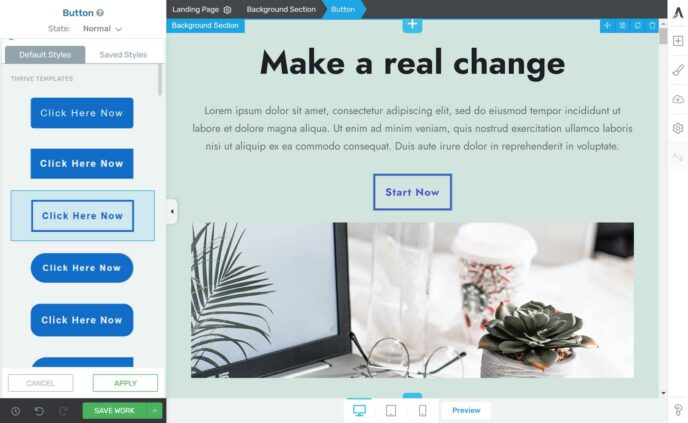 Once you've clicked on an item, its controls are automatically displayed in the sidebar. You can then start making changes via the visual inputs, such as the sliders, drop-down menus or text fields. Any changes you make are immediately applied to the element, giving you real-time feedback on your decisions.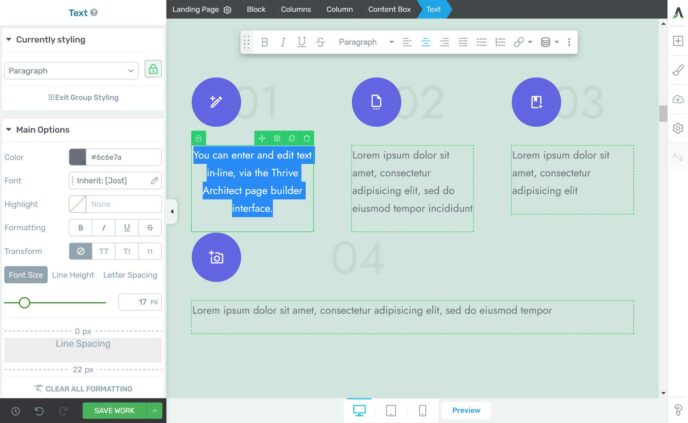 Insert Elements and Blocks
Thrive Architect comes with lots of editable elements that you can add to your pages, including many with a strong focus on generating leads and making sales. Some examples of these elements include calls-to-action, countdown timers, pricing tables, email opt-in forms and many more.
Another option is to add a block to your page. In Thrive Architect, blocks are pre-built page sections that can be combined to create custom layouts. As well as adding blocks to a blank page, you can just as easily insert them into the pre-built page templates, too.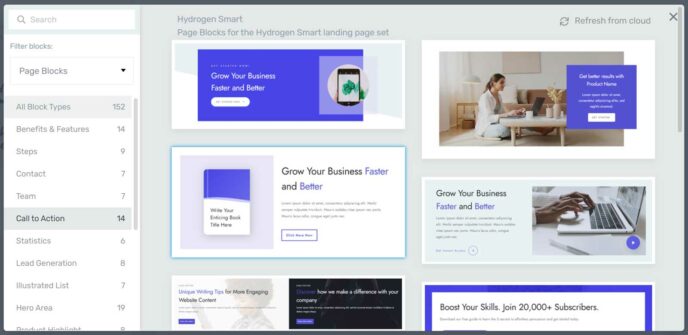 The blocks are all editable and cover many popular page features, such as contact forms, team member profiles, calls-to-action and testimonials. There are multiple versions of each type, and, with 152 blocks available at the time of writing, Thrive Architect makes it easy to build a page that has exactly the type of content you require, simply by assembling the different pre-built blocks.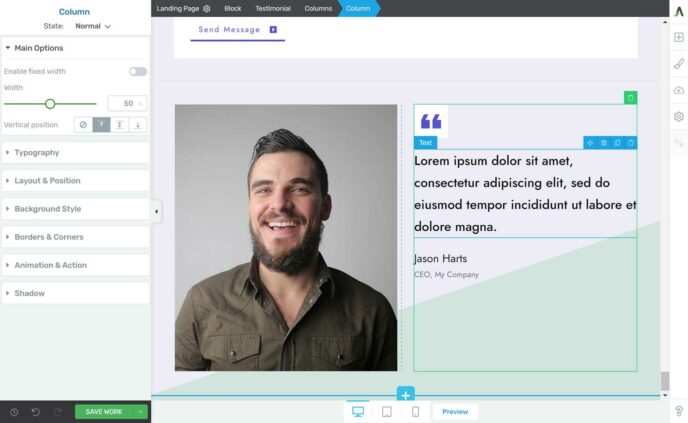 Thrive Architect is one of the most powerful page builder plugins for WordPress. The impressive selection of high-quality page templates, well-designed content blocks, and conversion-focused elements can help you to build the right type of website for your project, especially if it's a website that will be promoting products or services online.
The user interface has been well implemented, too, and, despite the huge amount of customization controls and options, it's relatively easy to use.
Whether you decide to use Thrive Theme Builder or Thrive Architect for your site, you'll be getting access to a powerful web design tool that lets you create totally unique content. These tools will appeal to those who prefer working with pre-configured settings and pre-built content templates, as well as anyone who wants to start from scratch and build their pages from the ground up, all through an intuitive drag-and-drop interface.
Thrive Leads
Thrive Theme Builder and Thrive Architect are definitely two of the highlights of Thrive Suite, but Thrive Leads is another powerful tool.
As well as capturing leads, such as email newsletter sign-ups, Thrive Leads can also be used to generate more product sales, webinar registrations or any other action you want your audience to take.
Reports state that 70 to 96% of visitors who leave a website never return. Because of this, doing all you can to persuade the people who reach your site to join your email list so you can stay in touch with them is highly recommended.
Pop-up and Opt-in Types
To help you to generate more leads, Thrive Leads lets you add pop-ups, notification bars, in-content forms, whole-screen overlays, sidebar widgets and more to your website.
These elements can contain custom content, including sign-up forms, buy buttons and calls-to-actions. Thrive Leads provides you with a good selection of templates for these elements, making it very easy to add well-designed lead generation assets to your site.
Editable Lead Generation Templates
However, you can also use the functionality of Thrive Architect to edit these templates or create your own unique custom designs.
Unlike many other lead generation plugins, such as OptinMonster and Bloom, the powerful customization options of Thrive Leads give you full creative control over how your pop-ups and other assets look. Also, as you can insert a wide range of elements into your lead generation assets, beyond just forms and buttons, Thrive Leads is ideal for anyone with requirements that go beyond simply eliciting a click or an email opt-in from their audience.
Some of the other features of Thrive Leads include:
Advanced Triggers: Take full control over when and where your pop-ups and other assets are displayed.
Split Testing Tool: Optimize your pop-ups and opt-ins by running A/B tests.
Easy Integration: Connect your forms and pop-ups with a large number of third-party services.
Thrive Leads is one of the most powerful and versatile WordPress lead generation plugins around. The large number of options and different ways this tool can be implemented may not make it as simple to use as the more basic alternatives out there, but if you want as few limitations as possible Thrive Leads is hard to beat.
You can read our in-depth Thrive Leads review for more information about this plugin.
Thrive Theme Builder, Thrive Architect and Thrive Leads are the main products from Thrive Suite. The other plugins are well worth a mention, though, so here's a quick overview of some of them and what they can do:
Thrive Optimize
If you like the idea of running tests to optimize all of your website — and not just the lead generation elements via the split testing features of Thrive Leads — Thrive Optimize will be of interest.
Once this plugin is running on your website, you can test two different designs of a page with your audience. One page could feature a video, while the other uses an image. Or maybe you want to test the wording of a button to see which variation gets the most clicks.
Thrive Optimize makes it easy to set up A/B experiments just like this. The plugin will handle showing the different options to portions of your visitors and recording how they interact with your content. Once enough data has been collected, you'll know which version has generated the most conversions.
Thrive Optimize is very easy to use. It only takes a few steps to set up a new optimization experiment and start taking the guesswork out of website design.
Thrive Quiz Builder
Thrive Quiz Builder gives you an easy way to create surveys, questionnaires and fun quizzes for a range of purposes.
One effective way to use this plugin would be to ask your visitors a series of questions before presenting them with a solution to their problem, based on their answers. This solution could come in the form of a specific article on your website or a product they can purchase. If you connect this tool to Thrive Leads, you could ask for an email address during the questionnaire.
You can also create entertaining quizzes, such as personality type questionnaires. When a visitor gets their results, they're encouraged to share the quiz on social media, promoting your website in the process.
If you want to start using surveys and other types of quizzes on your website, Thrive Quiz Builder is a user-friendly plugin for WordPress.
Quizzes could be another way to increase conversions.
Thrive Apprentice
Thrive Apprentice is a tool that makes it possible to build and publish online courses on your WordPress website.
Courses can be free or paid, and you can build and publish as many of them as you need. Each course can consist of modules, chapters and lessons to help you to clearly organize your content. The drag-and-drop course builder simplifies the process of setting up your courses.
Whether you want to start a business selling courses online or add online courses to your existing business, Thrive Apprentice was built with you in mind.
There are a few other useful plugins included in the Thrive Suite package, including a WordPress comment system, a scarcity marketing tool, and a testimonial and social proof publishing tool, so be sure to check them out.
Final Thoughts
The Thrive Themes products have definitely been built to a high standard.
Their focus on marketing and generating conversions means they should appeal to anyone who wants to use their website to sell products, promote services or make money online in any other way.
However, if you only want one or two of the products from Thrive Suite, such as the page builder and the course publishing plugin, paying $328 to access them isn't the best value option out there. There are alternatives to most, if not all, of the Thrive Themes tools, that, when purchased individually, are available for a lower price.
However, if you're looking for a package of powerful tools that all work well together, share similar user interfaces and are all focused on helping you to build a custom conversion-focused website, then Thrive Suite starts to look like a much better-value and more appealing option.
It's also worth pointing out that the Thrive Themes products are well supported and have been regularly updated and improved over the years. There's also the Thrive University, which will not only help you to get the most out of the products, but also teach you all about marketing, conversion optimization and more.
Using/used anything from Thrive Themes? Thoughts?
All comments are held for moderation. We'll only publish comments that are on topic and adhere to our Commenting Policy.