WinningWP content is free to all. If you make a purchase through referral links on our site, we earn a commission (
learn more
).
Top Eight Best Email Subscription Popup Plugins for WordPress
Since the internet's earliest days, marketers have understood the importance of cultivating an email list full of targeted, engaged subscribers. As one of the most effective ways of generating a profit online, it's a fundamentally important component of any website's marketing strategy.
But why are list-building and email marketing so effective?
In short, they're highly personal ways to build a relationship with an audience. As the trust builds, that audience is more likely to buy your product.
Of course, once you've committed to building a list, the biggest question is: How do you get more subscribers? A great-looking optin form and a strong incentive to subscribe are vital for generating email list optins — without these, why would anyone sign up?
But, even with a nice form and compelling incentive, the most important thing of all is to give the optin form maximum visibility on your website. The more visitors who view an optin form, the more subscribers it will generate — it's that simple.
Without doubt, the most effective way to get eyeballs on your optin form is via popups.
Popups jump out at visitors, guaranteeing maximum attention and ensuring the content gets read. This is why they're so effective at generating conversions.
Some of you may argue that popups are intrusive and hurt the user experience, but this is only true when they're overused. Some websites spam visitors with popups on every page, thereby giving them a bad name.
If popups are used sparingly — and in conjunction with great content — few will object, especially if you throw in a genuinely valuable signup incentive. If you use popups this way, people will want to see them, so they can subscribe to get awesome updates and freebies!
However, this isn't a lesson on the whys and hows of using popups — I'm here to show you eight of the best WordPress popup plugins, so you can add great-looking popups to your website and grow your email list.
Let's dive in!
OptinMonster (from $144 a year)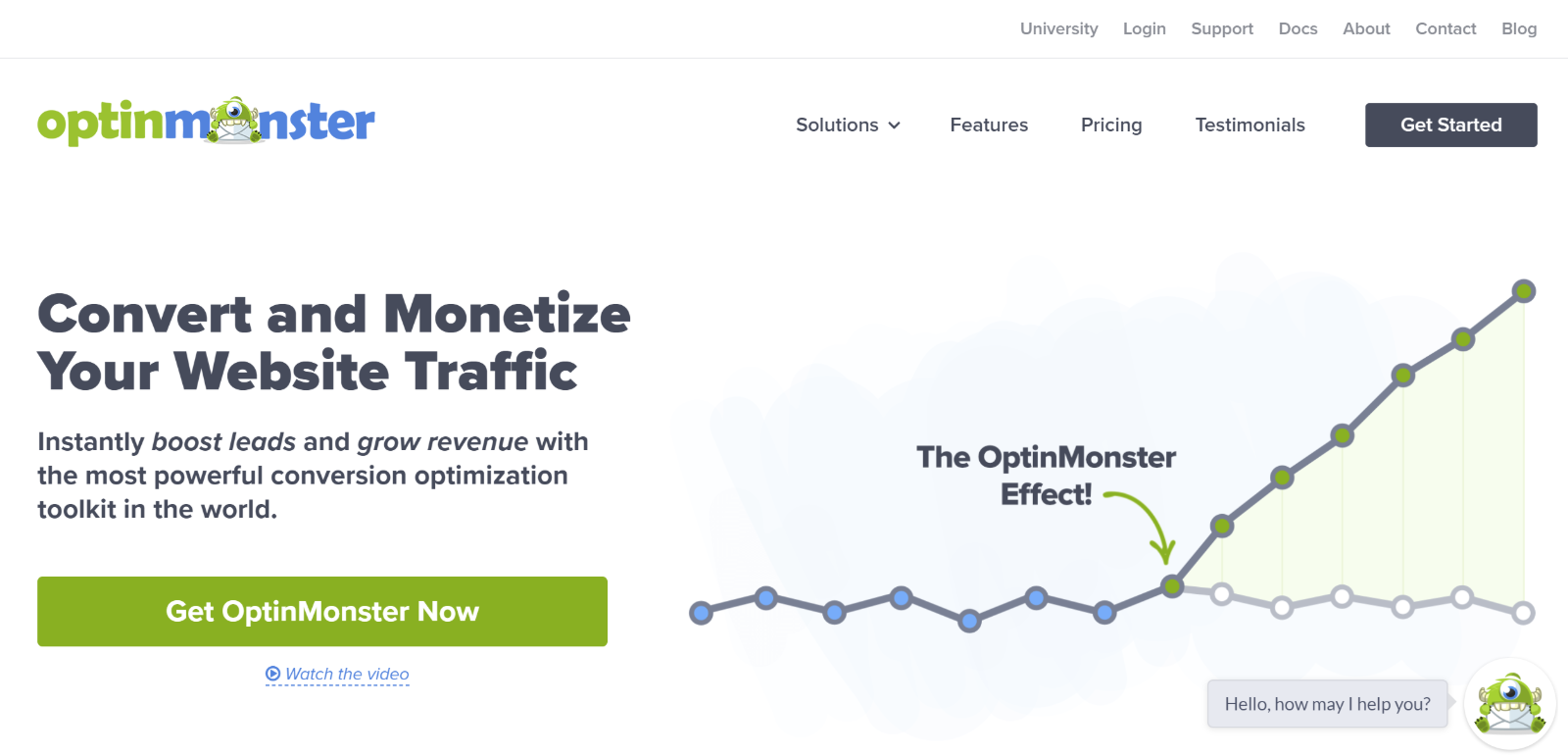 OptinMonster is the most advanced popup plugin on the market, offering a wide range of sophisticated functionality.
First off, OptinMonster is for more than just popups, letting you also create slide-ins, welcome mats, notification bars, inline forms and more.
Each type of form comes with a set of stunning templates to choose from (the exact number of templates depends on the form type). From there, you can customize every element of the form using OptinMonster's new visual drag-and-drop builder.
You also have complete control over when the popups are displayed to visitors — this could be the moment they hit your page, after a specified number of seconds or when they reach a certain point in an article.
OptinMonster was also one of the first to adopt exit intent technology, which ensures your visitors will only see a popup when they're about to leave your website. Since some visitors may never come back to your site, this maximizes the value of each visit.
It also supports page-level targeting, which lets you tailor your popup's content to appeal to specific audience members based on the content of the article. And you get lots of other targeting rules for criteria, including:
user's device
referring URL
geolocation
Adblock usage
…plus a lot more.
The plugin includes in-dashboard analytics, so you can quickly and easily track which popup is converting best. Within analytics, you can also set up A/B testing to continually improve conversions.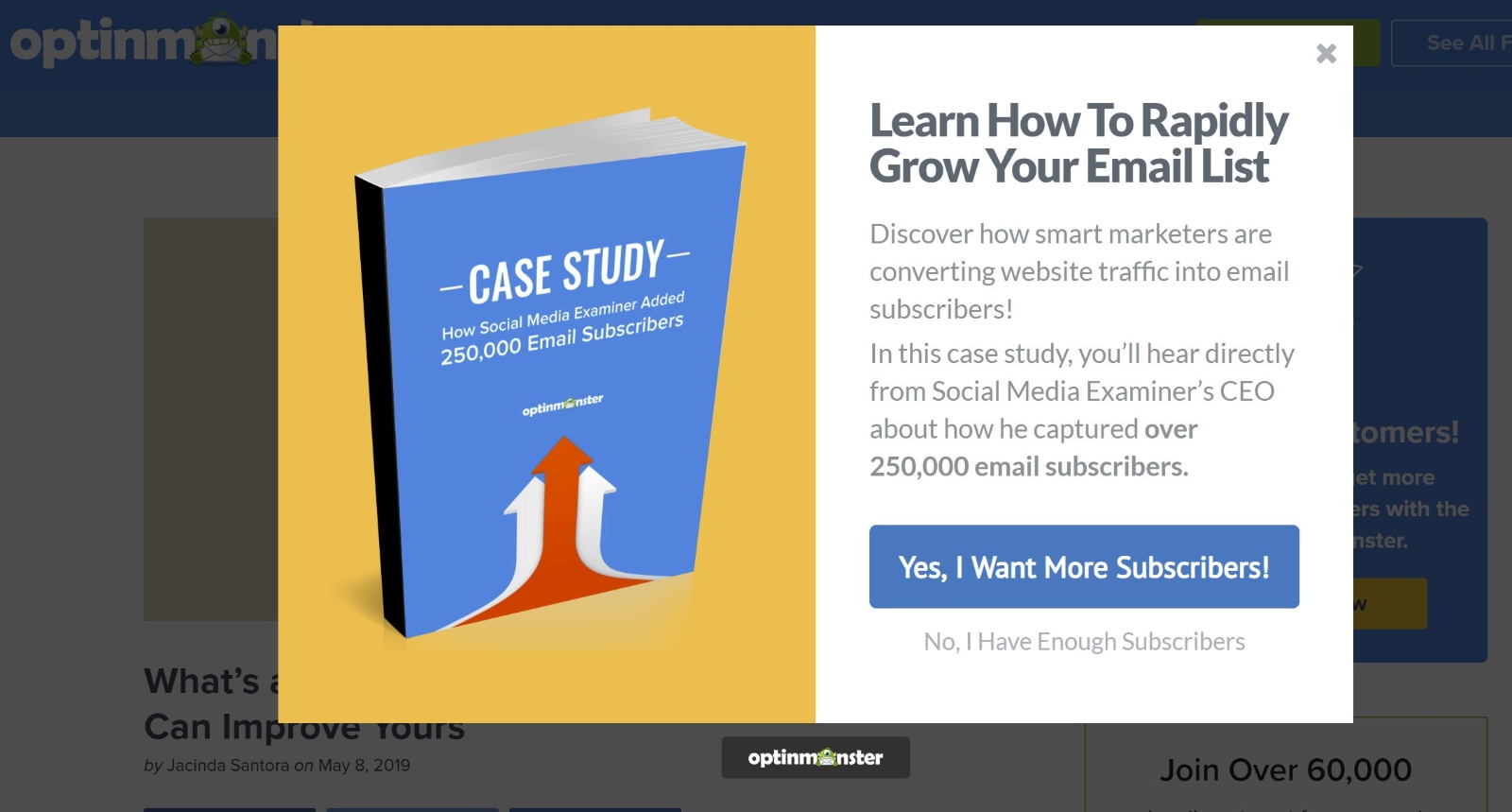 You can integrate OptinMonster with 30-plus email marketing services, including all of the big names.
A basic license will set you back $144 a year, but if you want sophisticated functionality — including A/B testing and more targeting rules — you'll need at least the $300 Plus plan.
Bloom (from $89)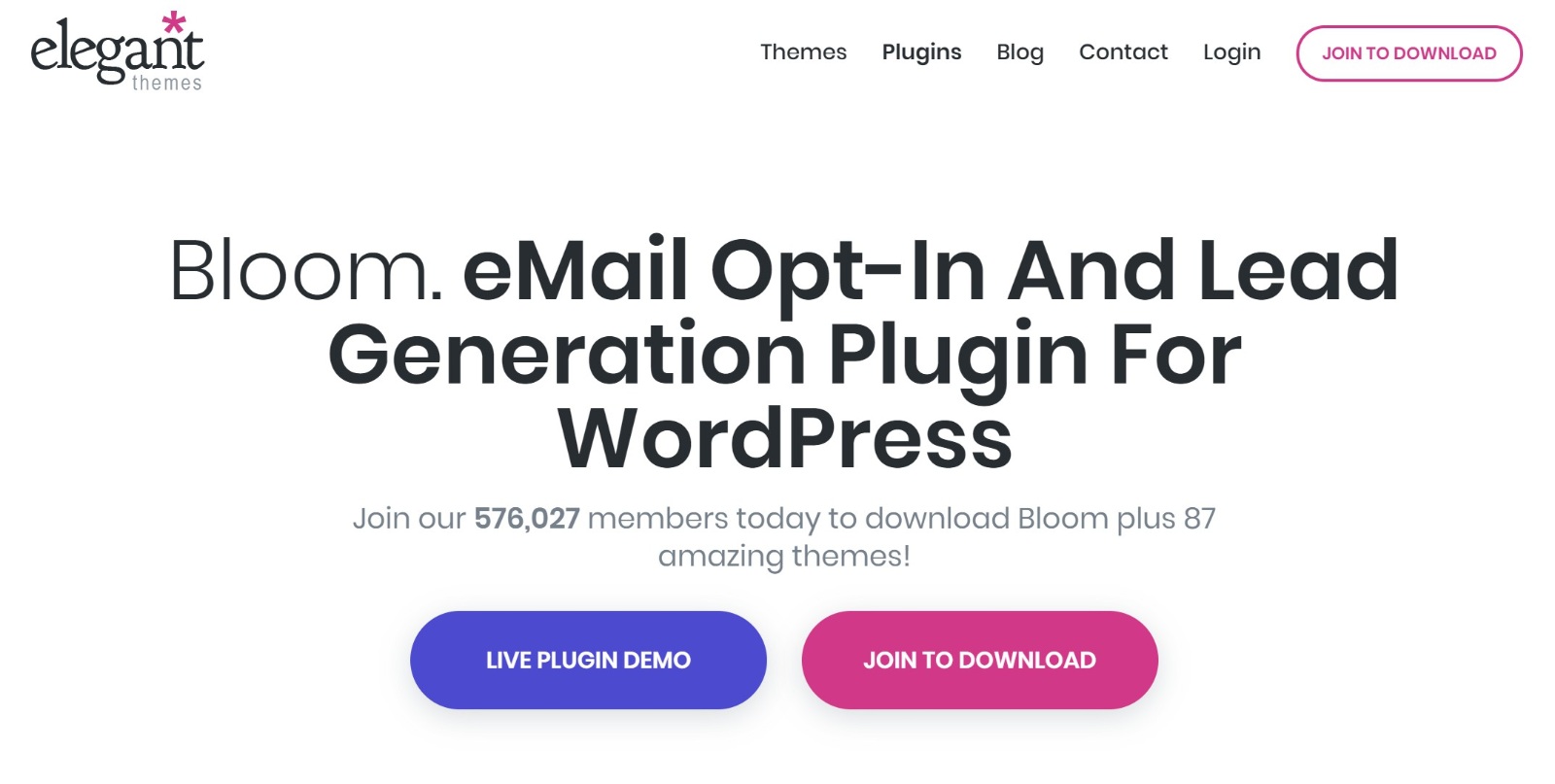 Next up, we have another big player in the email subscription plugin market: Bloom.
Bloom is a product of the highly respected Elegant Themes (makers of Divi), and supports an intuitive, custom-built UI. You can use this interface to produce visually stunning optin forms.
This brings me on to one of Bloom's biggest strengths: Templates. It's not unusual for optin plugins to include templates, so what makes Bloom so special?
On one hand, it's the quality — Bloom boasts some of the best-looking templates around. On the other hand, it's the sheer quantity, as Bloom supports a whopping 115 prebuilt templates.
Each template is fully customizable, with loads of different border styles, full control of image orientation, and infinite colors to choose from. This allows you to craft an optin form that fits with your website's style.
Bloom also supports six different optin form types:
Popups
Fly-ins
Widgets
Inline
Below content
Content Locker
This last type is particularly innovative, allowing you to offer premium content in exchange for a visitor's email address.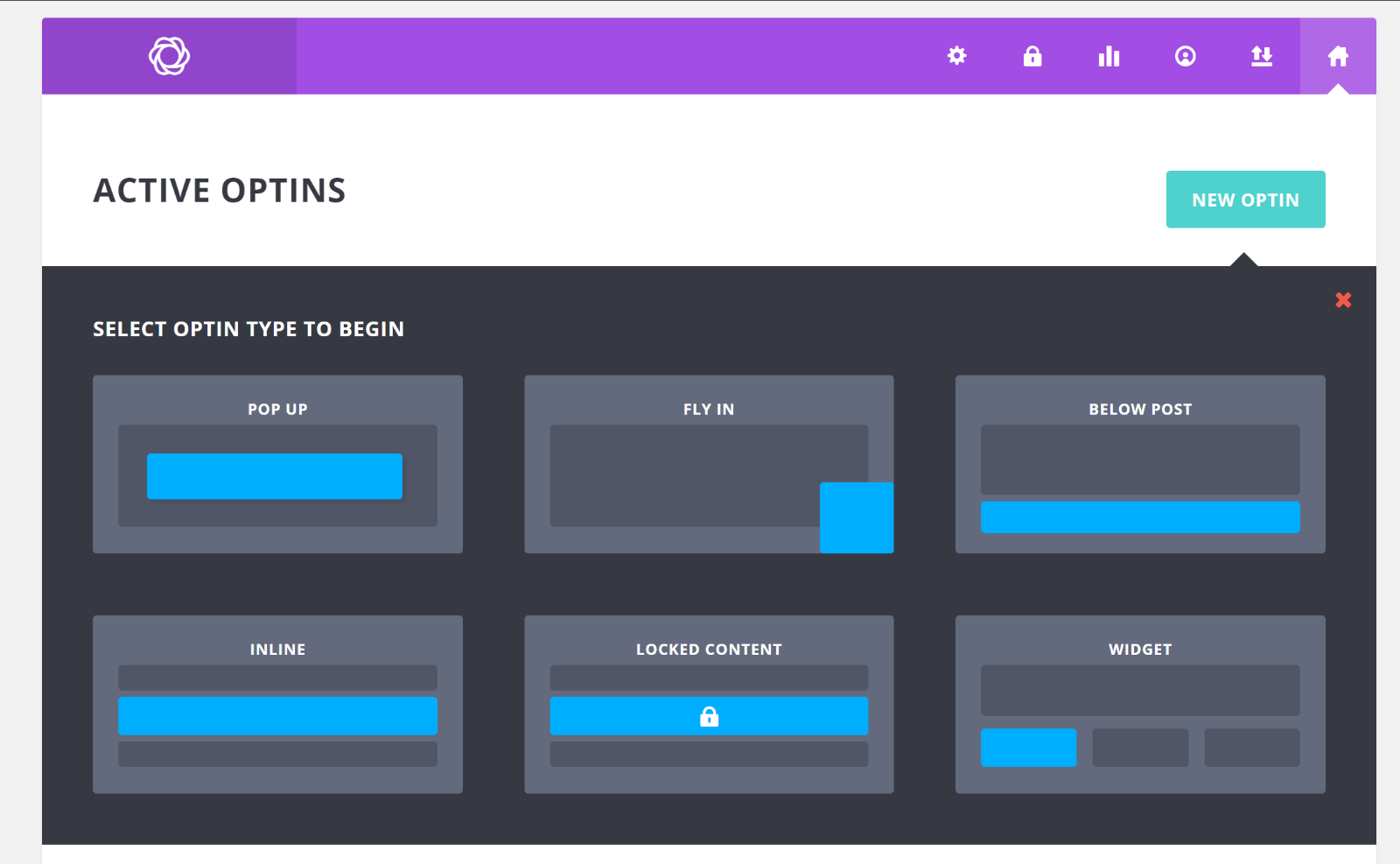 In addition to this, Bloom gives you extensive control over where and when your optin forms are displayed. This includes a page-level targeting feature that you can use to specify which posts, pages or categories you want a specific optin form to appear on.
To avoid your optins being too intrusive for your visitors, you can also configure the perfect moment to display your forms. There are six triggers to choose from:
Time delay — displays after a preconfigured wait.
Bottom of post — detects when a visitor reaches the bottom of your post.
After scrolling — triggers when a visitor reaches a pre-defined point in your post.
After commenting — only displays after a visitor leaves a comment.
After purchasing — displays the optin after a visitor completes the checkout process.
After inactivity — recaptures a visitor's attention after a specified period of inactivity.
There's one notable omission: You don't get an option to use an exit-intent trigger.
Bloom also helps you to increase conversions by using an effective A/B testing function, plus you can track all of your statistics and activity from its stylish dashboard. Bloom works with 16 email marketing services, too, with all of the major ones supported (as you'd expect).
The only downside of Bloom is that, unlike some of the other tools, there's no drag-and-drop form builder. So, while you can fully customize the pre-existing templates, you can't create the 100% unique designs that you can with OptinMonster and some of the other tools.
You can start using Bloom by signing up for an Elegant Themes membership. This is priced at $89 a year, but also includes access to all of Elegant Themes' plugins and themes — including the awesome Monarch social media plugin and Divi theme/page builder plugin.
For more details, click here to read our extensive Bloom review.
MailOptin (Free, Pro From $69)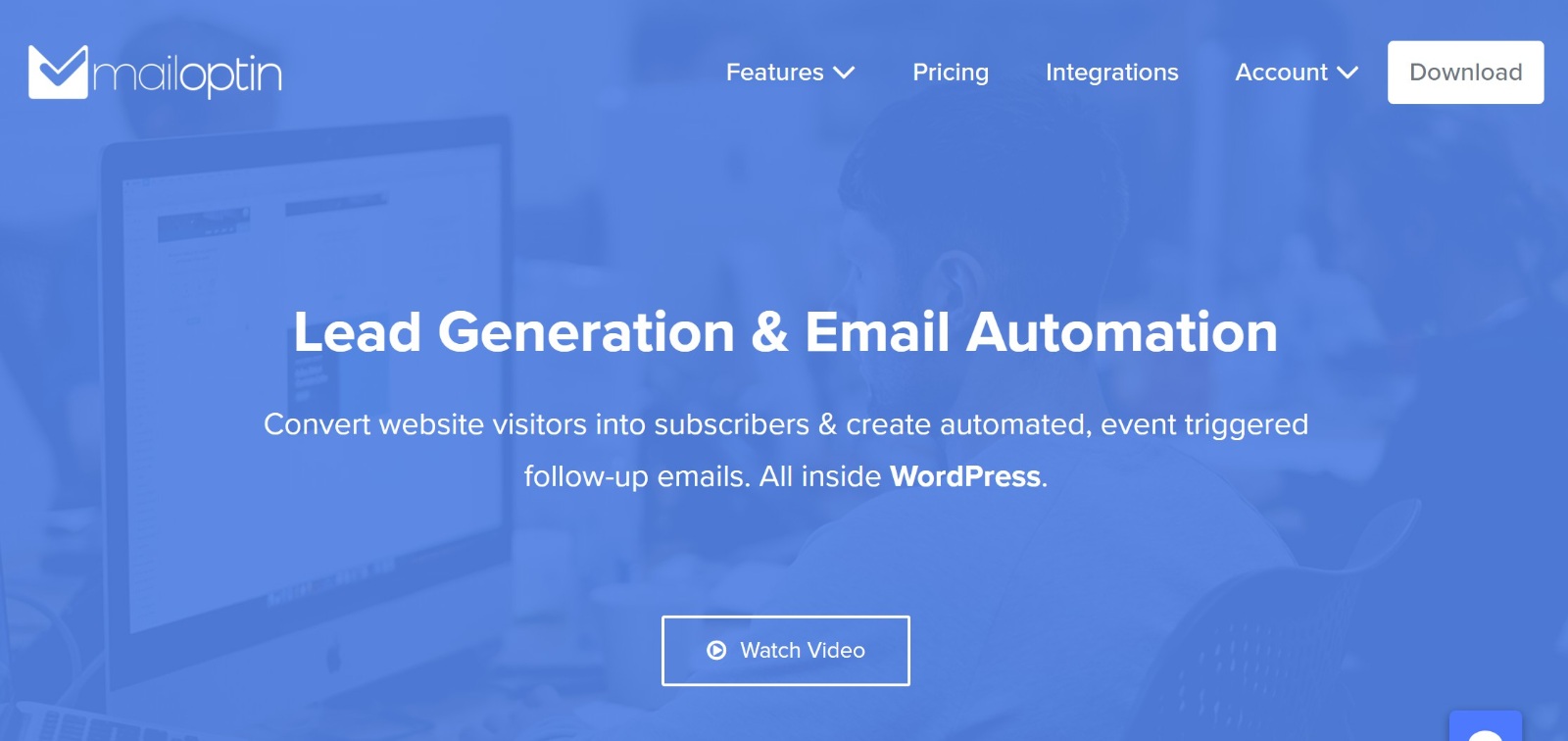 MailOptin is a newer entrant to the email list-building plugin field, and comes in both a free version at WordPress.org and a premium version with a lot more functionality. I'll focus mostly on the premium features — just remember you can check it out for free.
MailOptin allows you to create different optins, including popups, in-post forms, notification bars, slide-ins, sidebar/widgets forms and content upgrades.
It comes with a number of templates to choose from, which makes it super easy to build beautiful, high-converting forms. One downside is that it has fewer customization options, but it makes up for that with an easy custom CSS feature.
Unlike those that come with their own custom visual builder, MailOptin uses the WordPress Customizer, which you already know and love.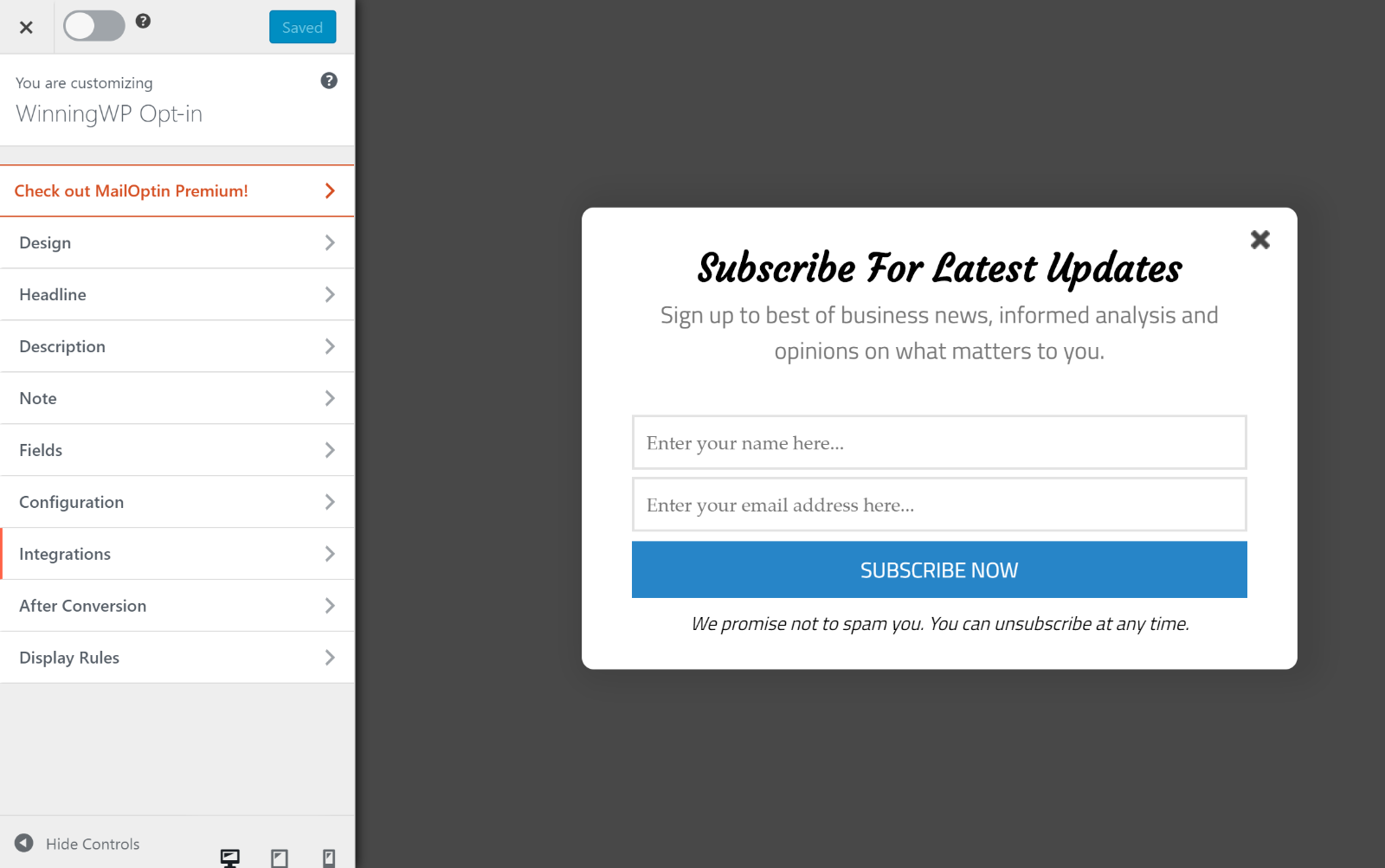 It ships with an A/B split testing feature that helps you to make data-driven decisions about which forms convert the best. By measuring the impact any changes have on your metrics, you can ensure each one produces positive results.
There's also a Lead Bank feature that saves all leads in WordPress. This is particularly useful in cases where your email service provider is down, you lose your account with them, or you prefer not to use any third-party service.
Another thing that makes MailOptin unique is that it can also help you with email automation. For example, it can automatically send newsletters containing your blog posts immediately after you publish them or as a daily, weekly or monthly email digest.
MailOptin is available for free in the WordPress plugin repository. If you need more advanced features, such as the lead bank, analytics, Adblock detection, and other display rules and triggers, consider upgrading to the paid version.
Convert Pro (from $99)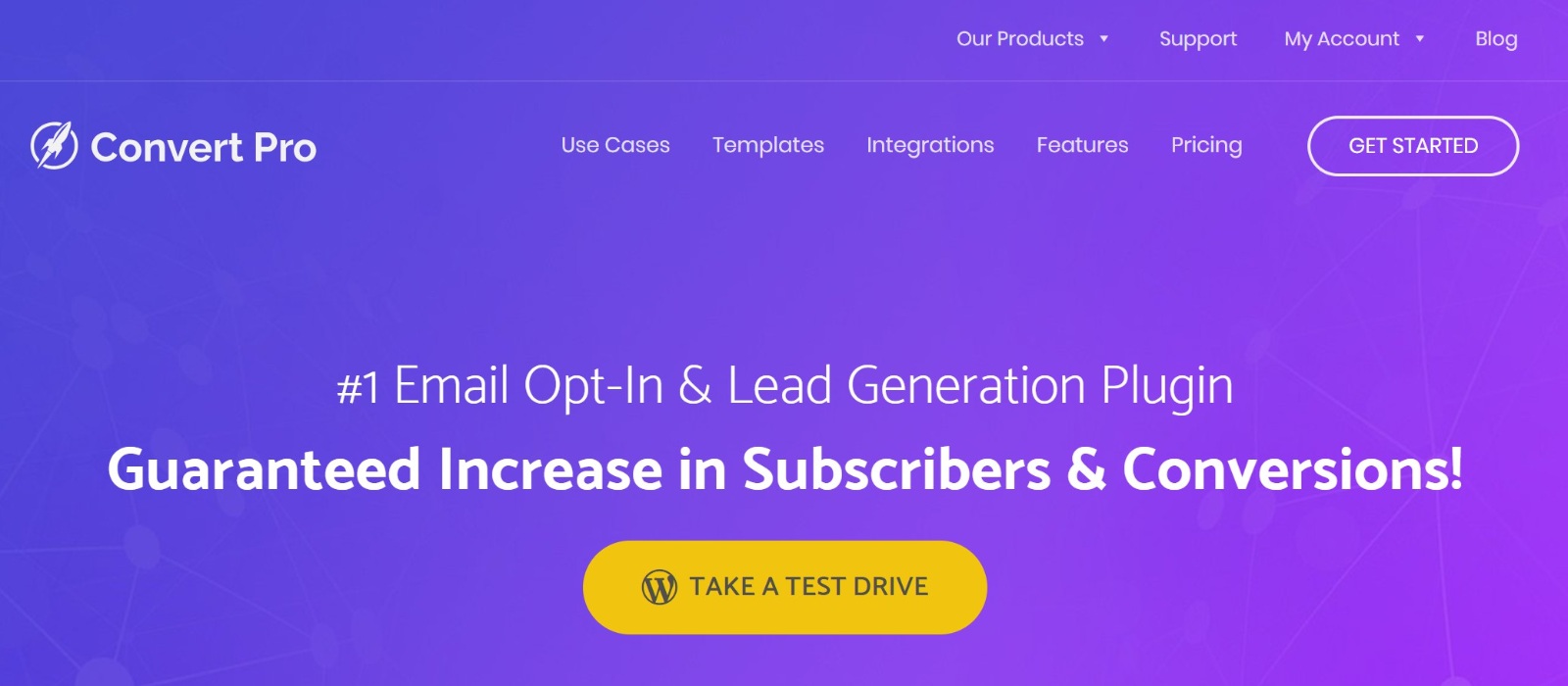 Convert Pro is a standalone WordPress email subscription plugin from Brainstorm Force — the same folks behind the popular Convert Plus plugin at CodeCanyon, and the Astra theme.
In terms of functionality, Convert Pro has a lot of similarities to the OptinMonster service you saw above. However, the big difference here is that Convert Pro is a true WordPress plugin. That is, everything happens on your own server — you're not connecting to a service's server as you are with OptinMonster.
First off, Convert Pro lets you create a variety of different email subscription forms, with options for:
Popup
Slide-in
Info bar
Inline/in-content
Widget
Convert mat
Screen filler popup
For all of those different forms, you can choose from a bunch of great-looking templates. Or you can edit those templates, or build your own from scratch using the full drag-and-drop editor.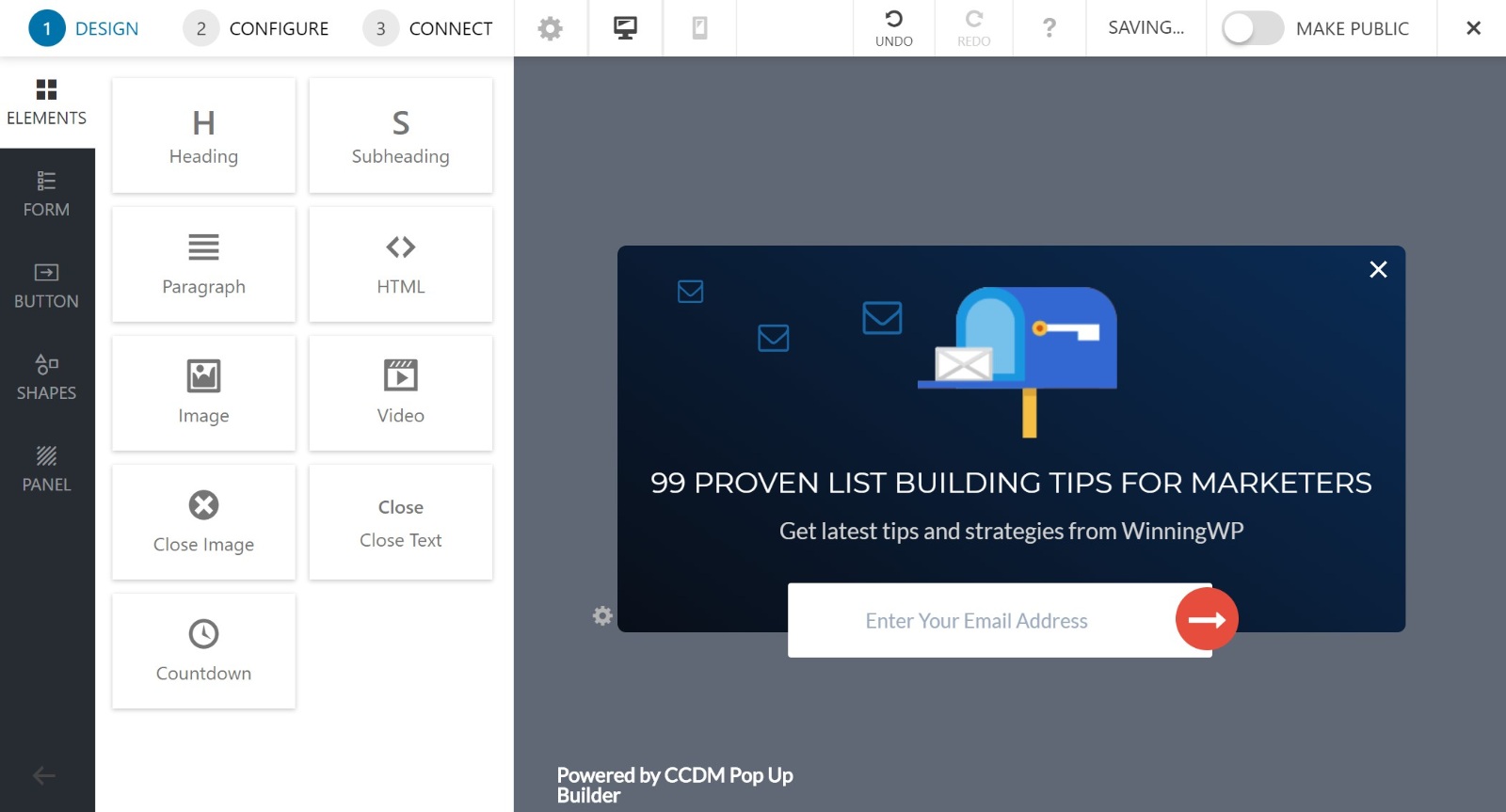 Like OptinMonster, Convert Pro excels when it comes to controlling when and where your forms appear.
You can target your forms to specific WordPress content, devices (e.g. only mobile users), referring URLs, plus a lot more. You can even target forms based on whether or not a visitor is logged in to your WordPress site.
And to control when your forms appear, you can use triggers such as time on site, scroll depth, and that great exit intent technology that lets you wait until a visitor is about to leave.
To analyze and optimize your forms, you get in-dashboard analytics, as well as built-in A/B testing to compare different forms against one another.
Finally, Convert Pro has 35-plus integrations to ensure you're able to sync up with your favorite email marketing service.
Convert Pro starts at $99, which is a little pricey. However, that price lets you use it on unlimited websites, which makes it a great deal if you plan to use it on multiple sites.
Thrive Leads (From $67)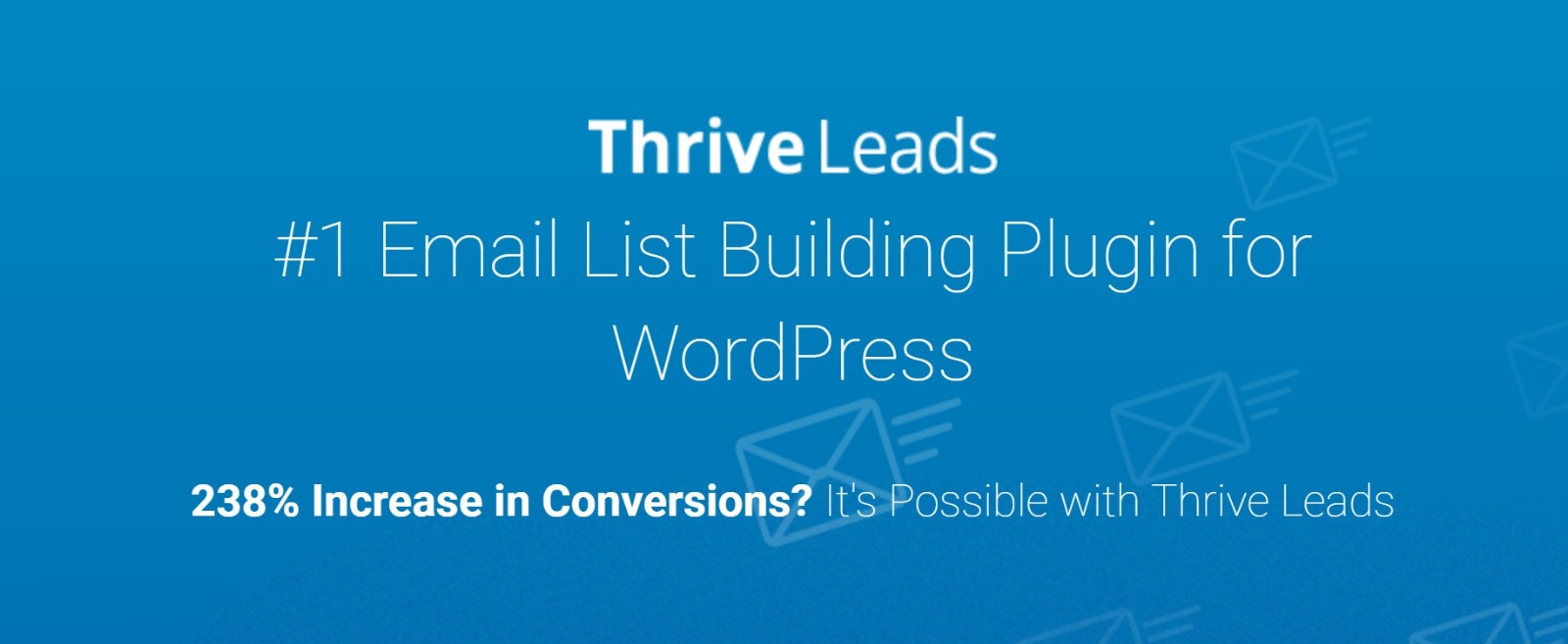 Thrive Leads is a powerful list-building plugin that comes packed with tons of optin form types, lots of targeting/triggering rules, and built-in analytics and A/B testing to help you to optimize your email subscribe forms.
Let's start at the beginning…
Thrive Leads lets you create ten different types of email subscribe forms, all of which you can connect to your choice of a big list of email marketing services:
Lightbox popup
Notification bar
Inline forms
Two-step opt-in forms
Slide-ins
Widget
Screen filler overlay
Content locker
Scroll mat
Yes/No
For each form, you can choose from a bunch of premade templates or build your design from scratch. Designing forms is one of Thrive Leads' strong points, because you get to use a stripped-down version of the visual drag-and-drop Thrive Architect page builder.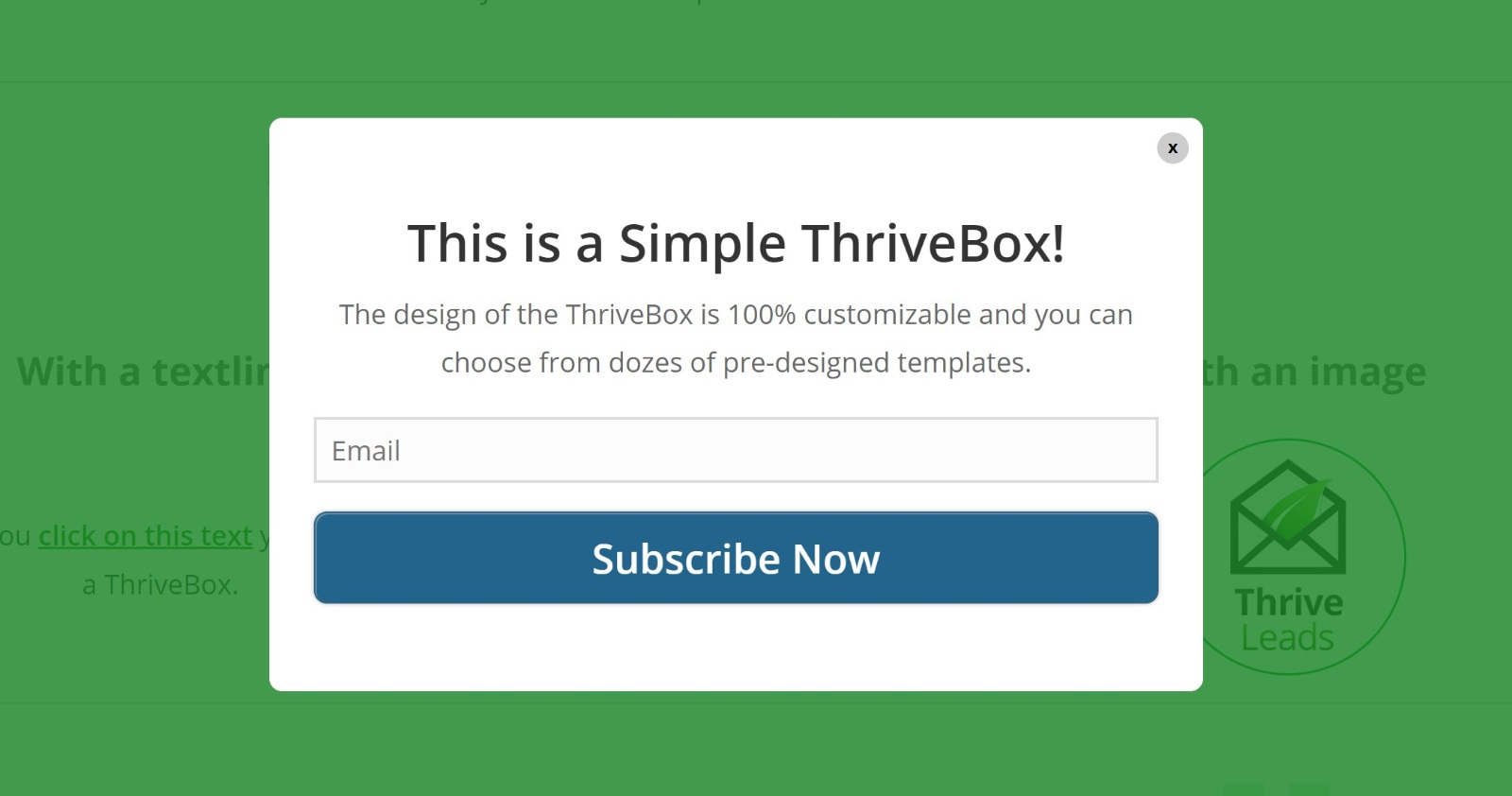 From there, you can use laser targeting to target your forms to specific WordPress content, user devices and so on, and you also get tons of triggers to control when your forms show up, with options for:
Finally, Thrive Leads includes a really nice analytics dashboard to let you see your forms' conversion rates. And you can also quickly set up A/B tests to see how different variations compare.
Thrive Leads starts at $67 for use on a single site. However, one of the nice things about Thrive Leads' pricing structure is that you get lifetime updates. So, you'll only need to renew your license if you want to continue receiving support after the first year.
If you'd like to learn more, check out our full Thrive Leads review.
Icegram (FREE, or Pro From $97)

If you're looking for a free option, consider checking out the Icegram plugin.
For a free plugin, Icegram is surprisingly feature-rich. You can build popups, action bars (top or bottom), messenger popups and toast notifications.
If you're looking to build a popup, you get a bunch of templates to choose from, even in the free version: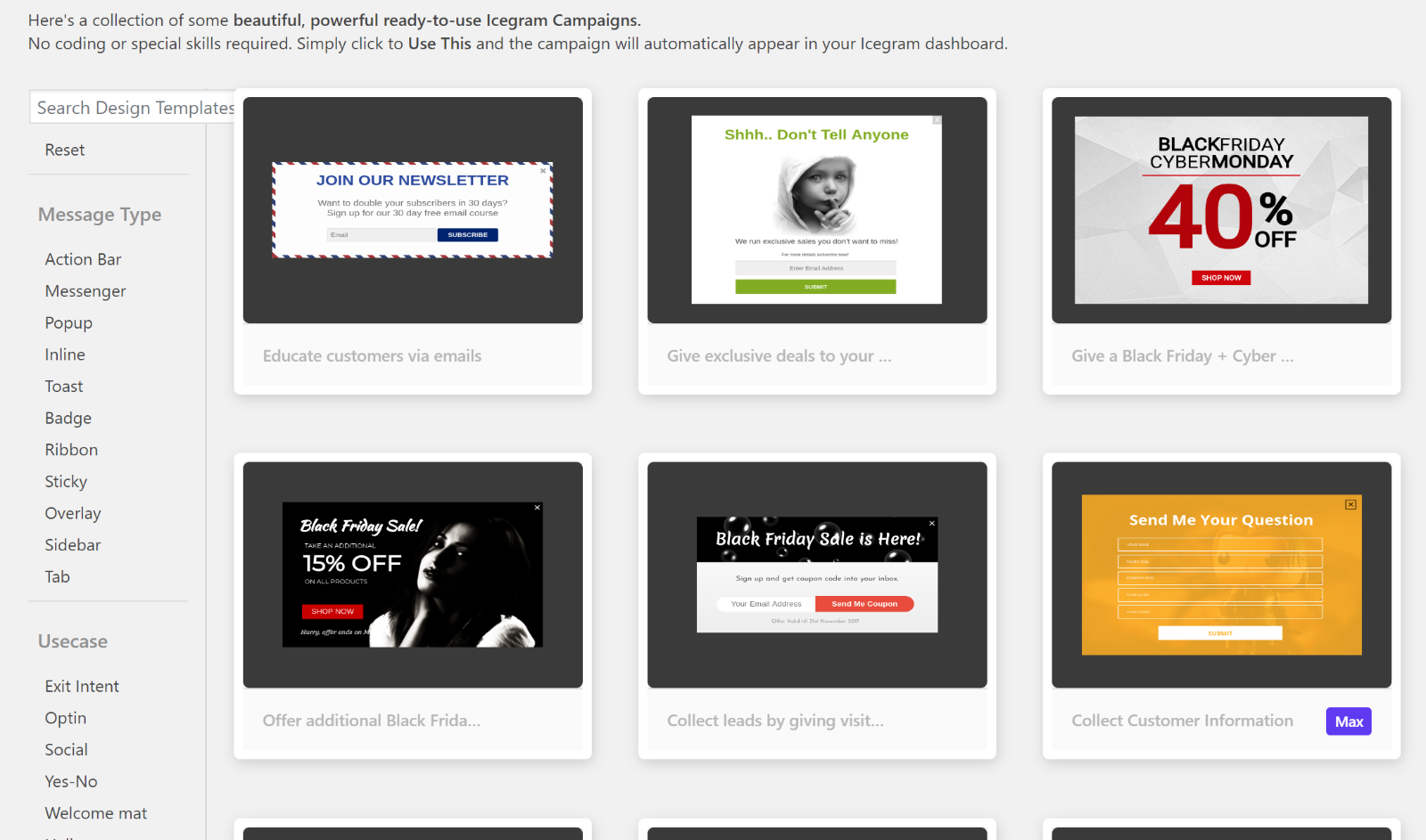 There's no visual builder, so the interface is a little tricky to get the hang of — instead, you have to build your popup using the WordPress visual editor. This is hardly a deal-breaker, but it's not particularly user-friendly either.
The plugin does, however, make it incredibly easy to create a targeted campaign for your completed popup. You can configure when it appears (including on which pages, after how many seconds, and between what dates), and also on which devices it should be shown.
The campaign screen also lets you control all of your popups in one handy location, including other styles, such as action bars. Icegram works with all of the major email marketing services — another big plus point.
If you need more functionality, there's a premium version that adds support for:
Exit intent targeting
User behavior targeting
Analytics
More form types, including stickies and ribbons
17-plus new themes
A/B testing (only on the highest tier)
Geotargeting (only on the highest tier)
The Pro version starts at $97, but you'll need the $147 version for A/B testing, geotargeting and some other advanced features.
Ninja Popups ($26)

Launched in 2012, Ninja Popups has established itself as one of CodeCanyon's top-selling WordPress plugins of all time, with well over 34,000 paid downloads to date.
The plugin lets you build visually stunning popups using tons of prebuilt templates, called 'themes'. Within each theme are a variety of color scheme presets, as well as several layout options. This means you can make vastly different popups using the same theme with just two mouse clicks.
You can also build your popups with different goals in mind — you can grow your email list, encourage social shares, or display videos in your popups.
To build your popups, you can use a visual, drag-and-drop editor (though I don't find the editor to be as intuitive as other tools' editors):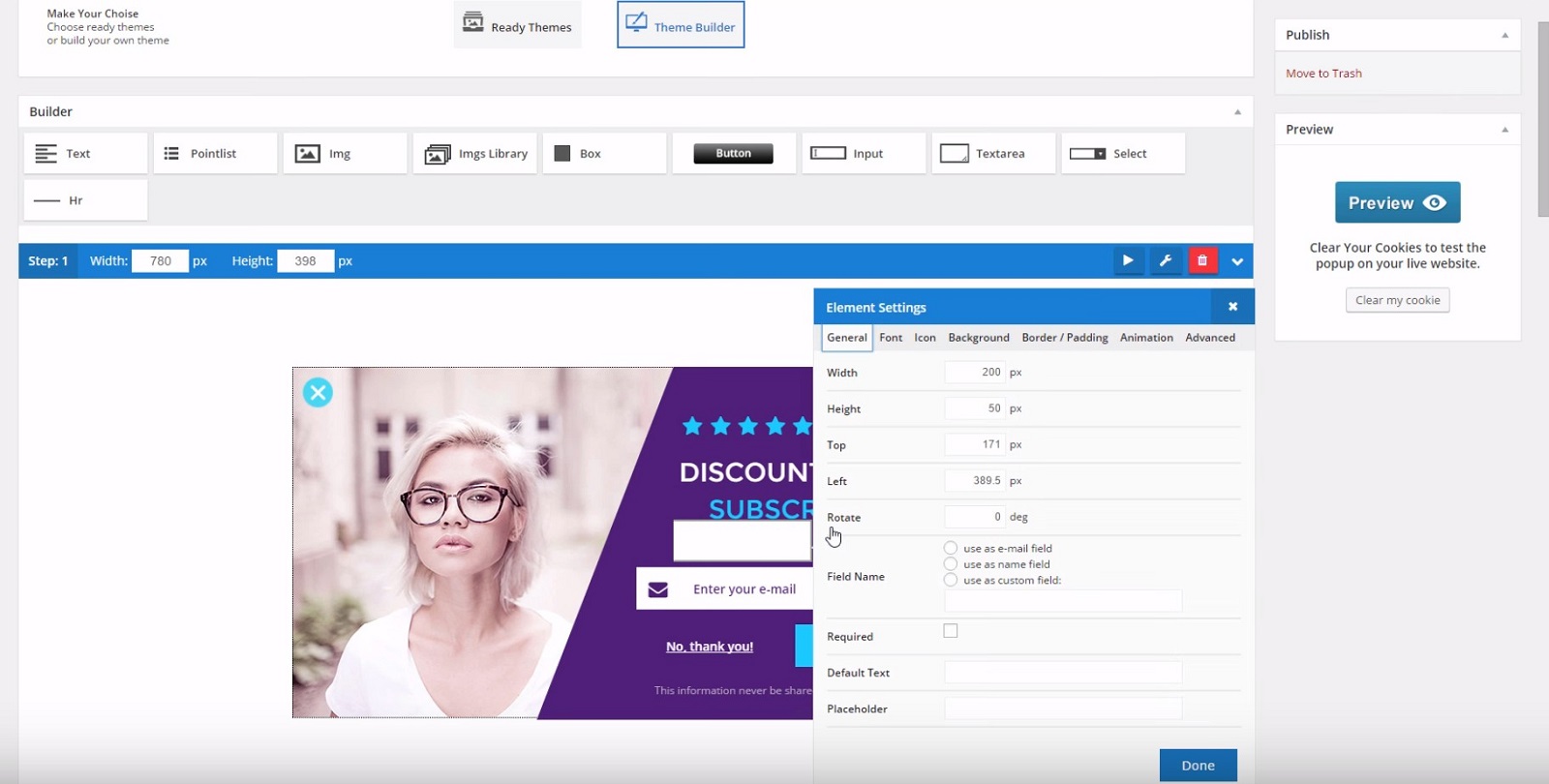 The finished popups look great, with a polished, professional appearance that's very impressive for a plugin costing a one-off $26. The popups are fully responsive, too, meaning they display perfectly on mobile devices.
To control when your popups display, you get plenty of trigger options, with choices for exit intent, user inactivity, time delay, scroll depth, and more.
The plugin can be integrated with 40-plus email marketing services and CRMs, and it also includes built-in analytics and A/B testing functionality to help you to optimize your forms.
In addition to the core plugin, there are three premium Ninja Popups extensions. These allow you to add extra themes, optin bars, and widget area optin forms, and cost between $9 and $13 each.
Hustle (FREE)

From the guys behind WPMU Dev, Hustle (formerly WordPress PopUp) is one of the most popular free popup plugins on the market, with more than 80,000 sites actively using this plugin.
This lite version is quite limited, though, only allowing you to build one email opt-in, with some additional limits on functionality and design options.
That said, if you only require a simple popup solution, Hustle is undoubtedly a good plugin. It's lightweight and quick-loading, with a simple interface that makes it easy to create your popup.
While simple, the popups look stylish and professional right away: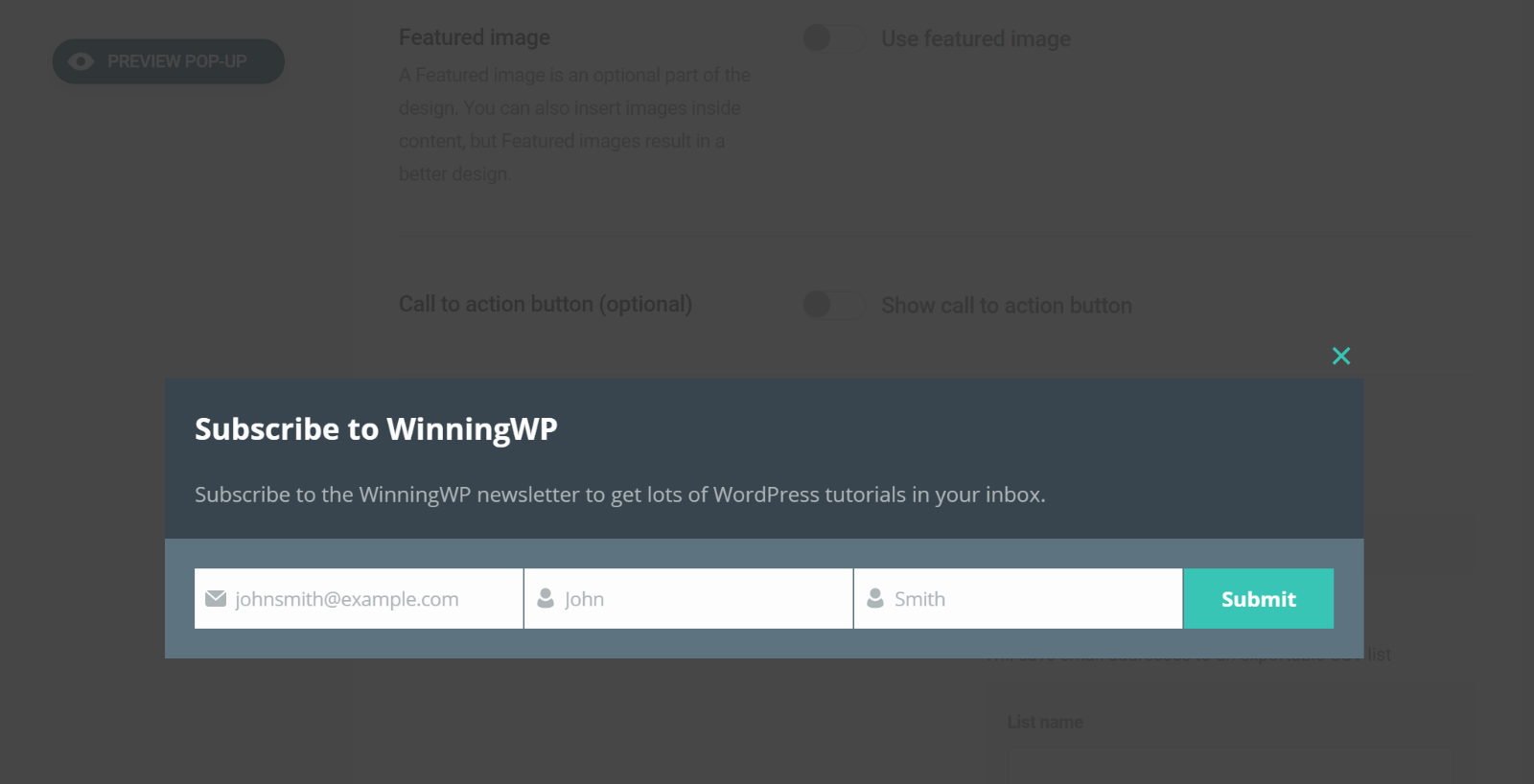 You can integrate your popups with most popular email marketing services. Or, you can save new subscribers in your own lead bank.
To control when and where your popups display, you get lots of display rules and triggers. In fact, Hustle is one of the better free options you'll find when it comes to targeting and trigger rules.
You can target specific content, logged-in users, user devices and so on, and to trigger your popups, you can use options for:
time delay
scroll depth
click
exit-intent
Adblock usage
If you like the free version of Hustle, consider upgrading to the pro version for the full experience — it's available as part of the $49-a-month WPMU Dev membership.
Final Thoughts
If you're serious about building an email list — and increasing your website's profit — then a popup plugin is a tried-and-tested solution for attracting subscribers. As long as you don't go overboard with your popups, there's no better way to grab a visitor's attention and encourage a signup.
Because a good popup plugin can add a lot of value to your business, the best ones don't come cheap. However, when you consider how much extra revenue a bigger email list can drive, the costs look insignificant, and it feels like a good investment.
However, if you just want to test the waters, there are some really good free popup plugins out there too.
All the plugins featured in this list will add stylish popups to your website. Some are more powerful than others, and they come with templates that suit different tastes, so I highly recommend you test out the demo of each plugin before choosing a favorite.
Used/using any of the above? Thoughts?
All comments are held for moderation. We'll only publish comments that are on topic and adhere to our Commenting Policy.