Seven Best Email Subscription Popup Plugins for WordPress (2019)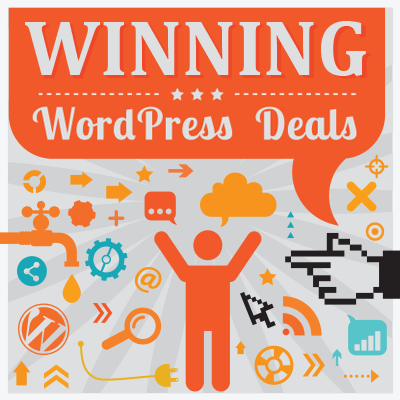 Since the internet's earliest days, marketers have understood the importance of cultivating an email list full of targeted, engaged subscribers. It's one of the most effective ways of generating a profit online — making it a fundamentally important component of any website's marketing strategy.
But why is list-building and email marketing so effective?
In short, it's a highly personal way to build a relationship with an audience. As the trust builds, that audience is more likely to buy your product.
Of course, once you've committed to building a list, the biggest question is: How do I get more subscribers? In my opinion, a great-looking optin form and a strong incentive to subscribe are prerequisites for generating email list optins — without these, why would anyone sign up?
But even with a nice form and compelling incentive, most important of all is that the optin form is given maximum visibility on your website. The more visitors who view an optin form, the more subscribers it generates — it's that simple.
Without doubt, the most effective way to get eyeballs on your optin form is via popups.
Popups jump out at visitors, guaranteeing maximum attention and ensuring the content gets read. This is why they're so effective at generating conversions.
Some of you may argue that popups are intrusive and hurt the user experience. In my opinion, this is only true when they're overused. Some websites spam visitors with popups on every page, thereby giving them a bad name.
If popups are used sparingly — and in conjunction with great content — few will object, especially if you throw in a genuinely valuable signup incentive. If you use popups this way, people will want to see them so they can subscribe to get awesome updates and freebies!
However, this isn't a lesson on the whys and hows of using popups — I'm here to show you six of the best WordPress popup plugins, so you can add great-looking popups to your website and grow your email list. Let's dive in!
OptinMonster (from $49)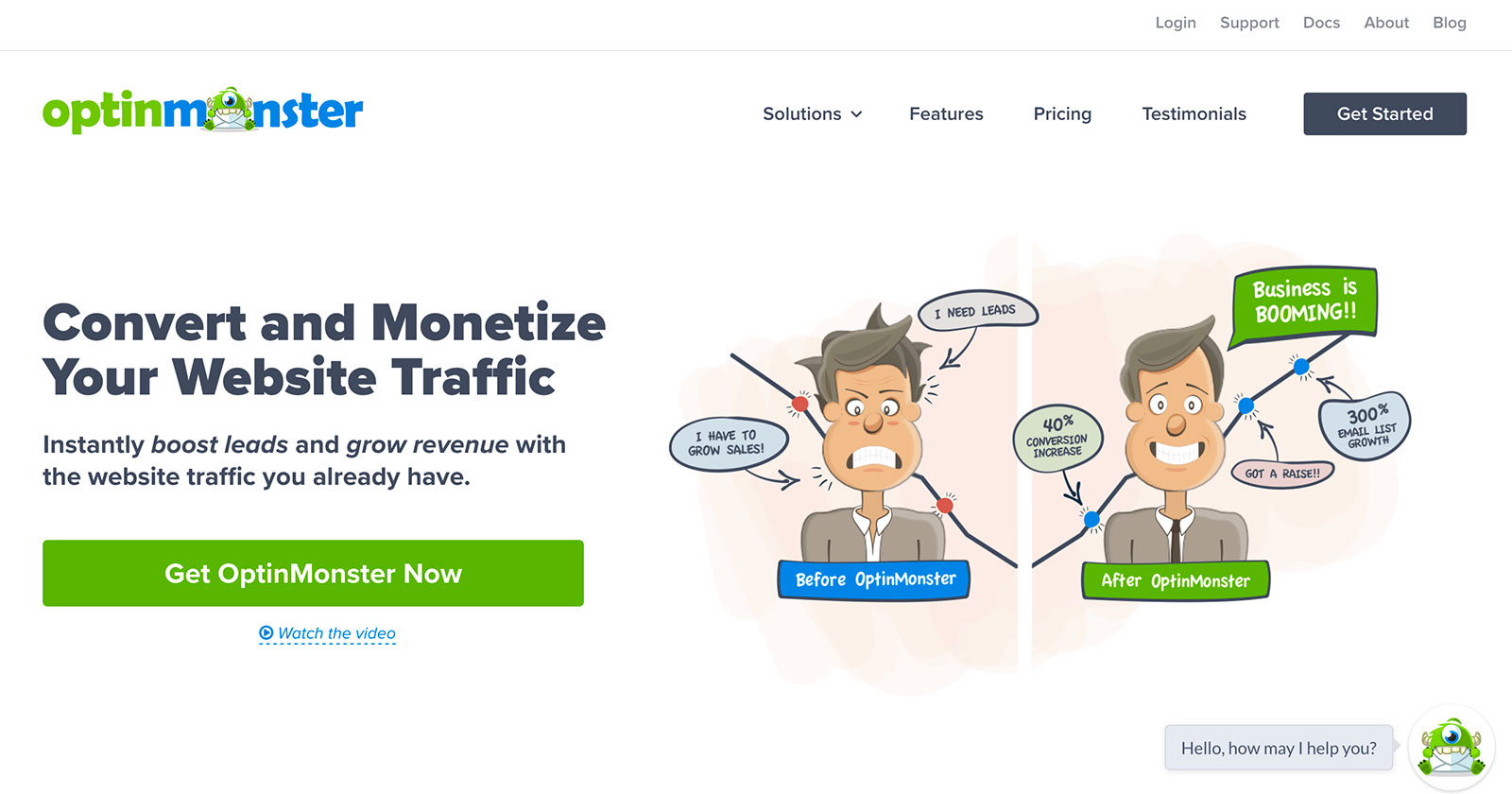 OptinMonster is the most advanced popup plugin on the market, offering a wide range of sophisticated functionality.
The plugin lets you build beautiful, professional popups using a dedicated visual builder. There are nine stunning templates to choose from, though every element of the popup is fully customizable — including colors, fonts, and sizes. The popups look great, and are among the best of any plugin available — and you can view them in real time, with a live previewer displaying changes as you make them.
You also have complete control over when the popups are displayed to visitors — this could be the moment they hit your page, after a specified number of seconds, or when they reach a certain point in an article.
OptinMonster also supports a revolutionary exit intent technology that can be activated at the click of a button. Exit intent is one of OptinMonster's biggest selling points, ensuring your visitors will only see a popup when they're about to leave your website. Since some visitors may never come back to your site, this maximizes the value of each visit.
It also supports page-level targeting. This means you can create popups that are only displayed on targeted pages, letting you tailor your popup's content to appeal to specific audience members based on the content of the article.
The plugin includes built-in analytics, so you can quickly and easily track which popup is converting best. Within analytics, you can also set up A/B testing to continually improve conversions.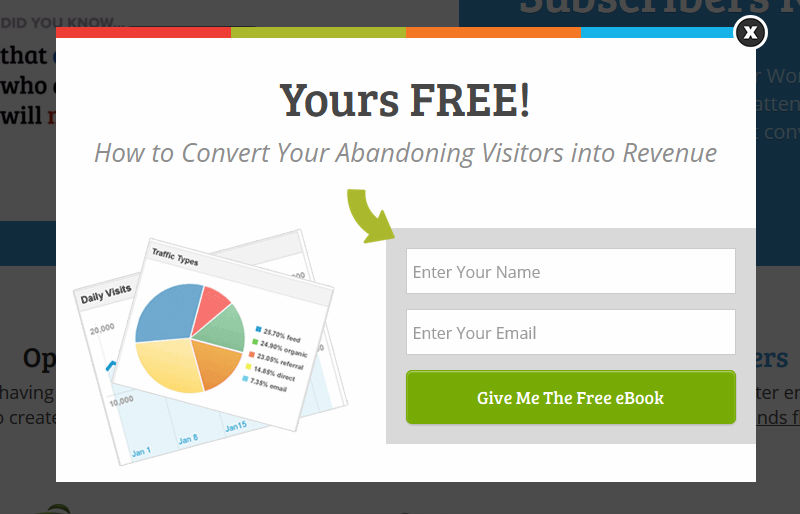 It isn't just popup optin forms you can build with OptinMonster, either. You can build footer bar, after post, slide-in, and sidebar forms — all of which can help you grow your email list. If you object to using popups, these other forms give you an effective alternative.
Then there's the canvas form, which is basically a blank canvas. It requires some coding know-how, but it enables you to use a popup for any purpose — such as encouraging social media shares, or taking a customer straight to a 'buy now' page.
OptinMonster can be integrated with 12 of the major email marketing services. A basic license will set you back $49 a year, but if you want sophisticated functionality — including exit intent and canvas forms — you'll need a $199 a year pro license.
Bloom (from $89)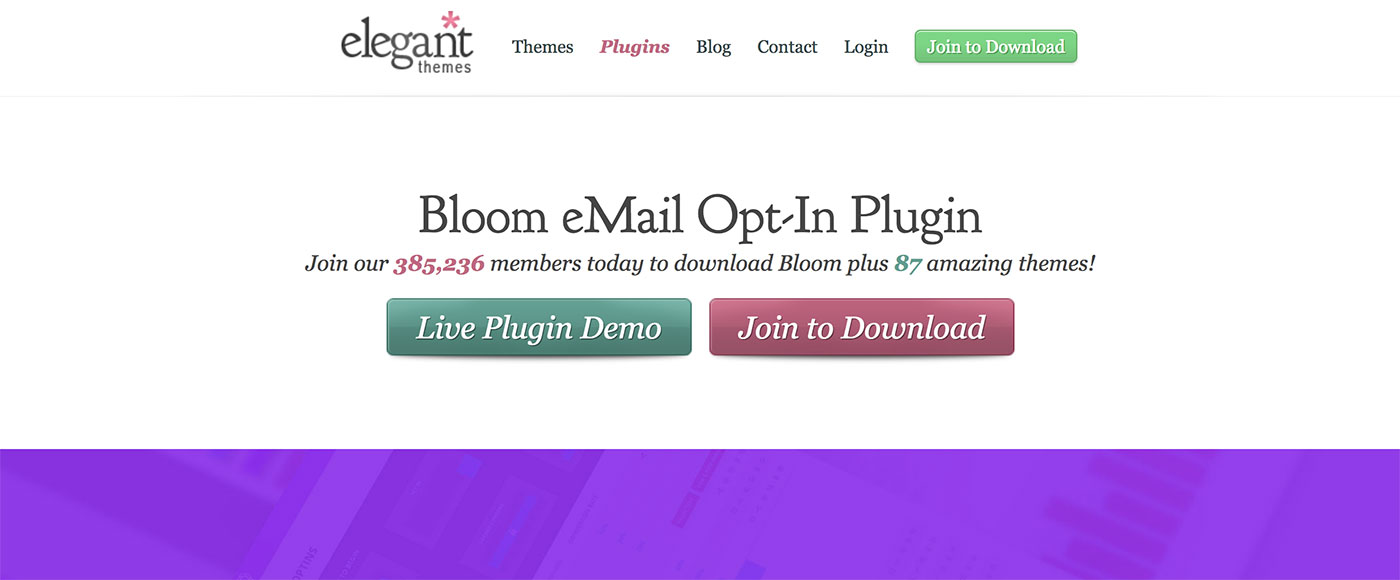 Next up, we have another big player in the email subscription plugin market: Bloom.
Bloom is a product of the highly respected Elegant Theme developers, and supports a beautiful, intuitive, custom-built UI. You can use this interface to produce visually stunning optin forms.
This brings me on to one of Bloom's biggest strengths: Templates. It's not unusual for optin plugins to include templates, so what makes Bloom so special?
On one hand, it's the quality — Bloom boasts some of the best-looking templates around. On the other hand, it's the sheer quantity, as Bloom supports a whopping 115 prebuilt templates.
Each template is fully customizable, with loads of different border styles, full control of image orientation, and infinite colors to choose from. This allows you to craft an optin form that fits with your website's style (or contrasts with it, should you prefer your forms to stand out).
Bloom also supports six different optin form types: pop-ups, fly-ins, widget area, inline with content, below content, and optin lockers. This last type is particularly innovative, allowing you to offer premium content in exchange for a visitor's email address.

In addition to this, Bloom gives you extensive control over where and when your optin forms are displayed. This includes a sophisticated page-level targeting feature that you can use to specify which posts, pages or categories you want a specific optin form to appear on.
To avoid your optins being too intrusive for your visitors, you can also configure the perfect moment to display your forms. There are six triggers to choose from:
Time delay — displays after a preconfigured wait.
Bottom of post — detects when a visitor reaches the bottom of your post.
After scrolling — triggers when a visitor reaches a pre-defined point in your post.
After commenting — only displays after a visitor leaves a comment.
After purchasing — displays the optin after a visitor completes the checkout process.
After inactivity — recaptures a visitor's attention after a specified period of inactivity.
Bloom also helps you to increase conversions by using an effective A/B testing function, plus you can track all your statistics and activity from its stylish dashboard. Bloom works with 12 email marketing services, too, with all the major ones supported (as you'd expect).
You can start using Bloom by signing up for an Elegant Themes Developer membership. This is priced at $89 a year, but also includes access to 87 premium themes and five other plugins — including the awesome Monarch social media plugin.
For more details, click here to read our extensive Bloom review.
SumoMe List Builder (FREE)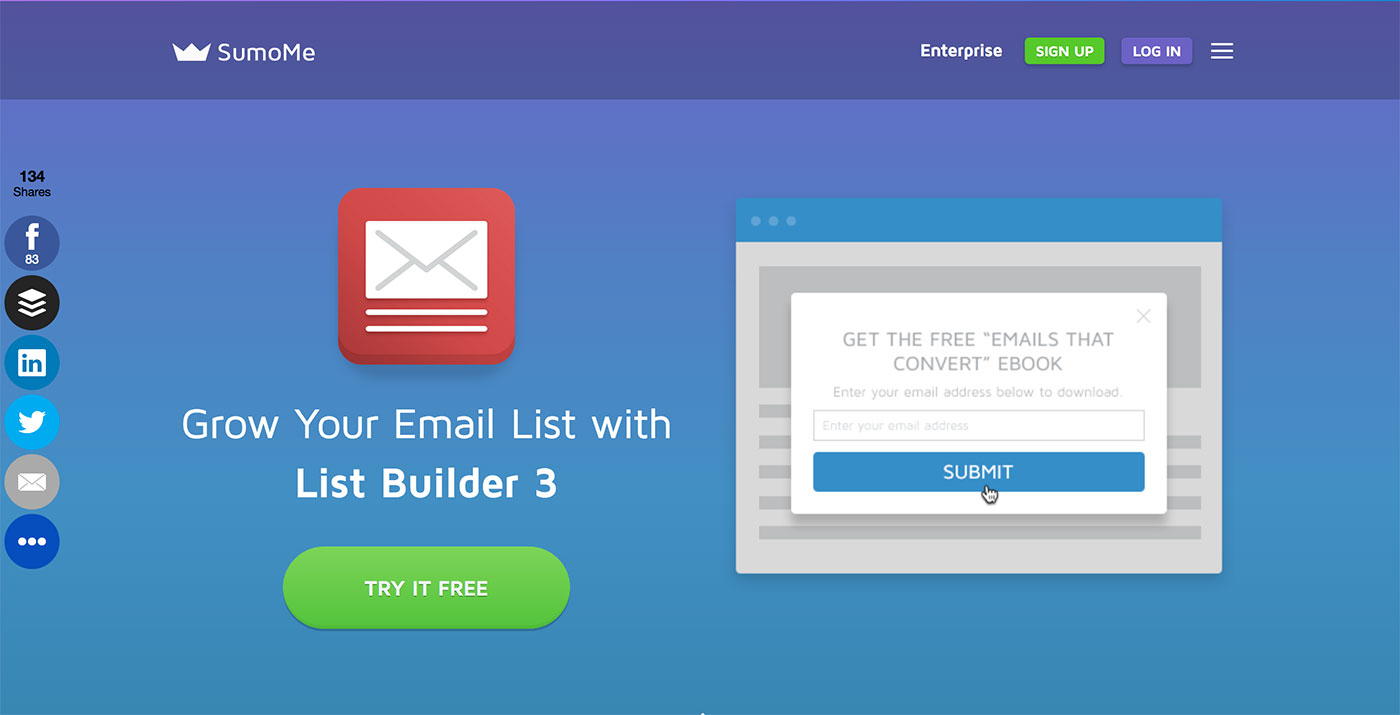 SumoMe is a fantastic free popup plugin for WordPress users.
To add the popup function to your website, you have to go to the SumoMe website to download the core plugin. Once it's installed, you'll be asked to register for a SumoMe account — don't worry, it's free.
When you've done this, you'll be able to add dedicated functionality to your website by installing apps. For popups, you need the free List Builder app, but SumoMe also has loads of other cool apps to try — most of which are available at no extra cost.
The free version of List Builder lets you use and edit the default template, but there are seven more advanced templates available ($6 each). The free template may be simple, but it looks professional and can be fully customized using the intuitive interface — one that feels like it very much belongs in a premium plugin.
You can choose when your popup is displayed by manually selecting a delay, or by choosing the smart display option, which automatically determines the best time to display the popup. What's more, you can use a set of conditional rules to configure the pages of your website on which you want the popup to display.
Throw in a simple analytics system that's updated daily and you really do have a lot of features — pretty outstanding for a free plugin.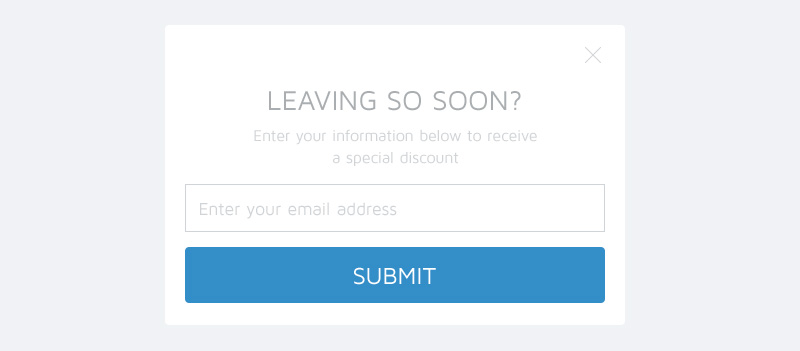 SumoMe List Builder works with 12 email marketing services, and a pro version of the plugin is available for $50 a month, which gives you access to the seven premium templates and removes the SumoMe branding.
MAILOPTIN (FROM $69)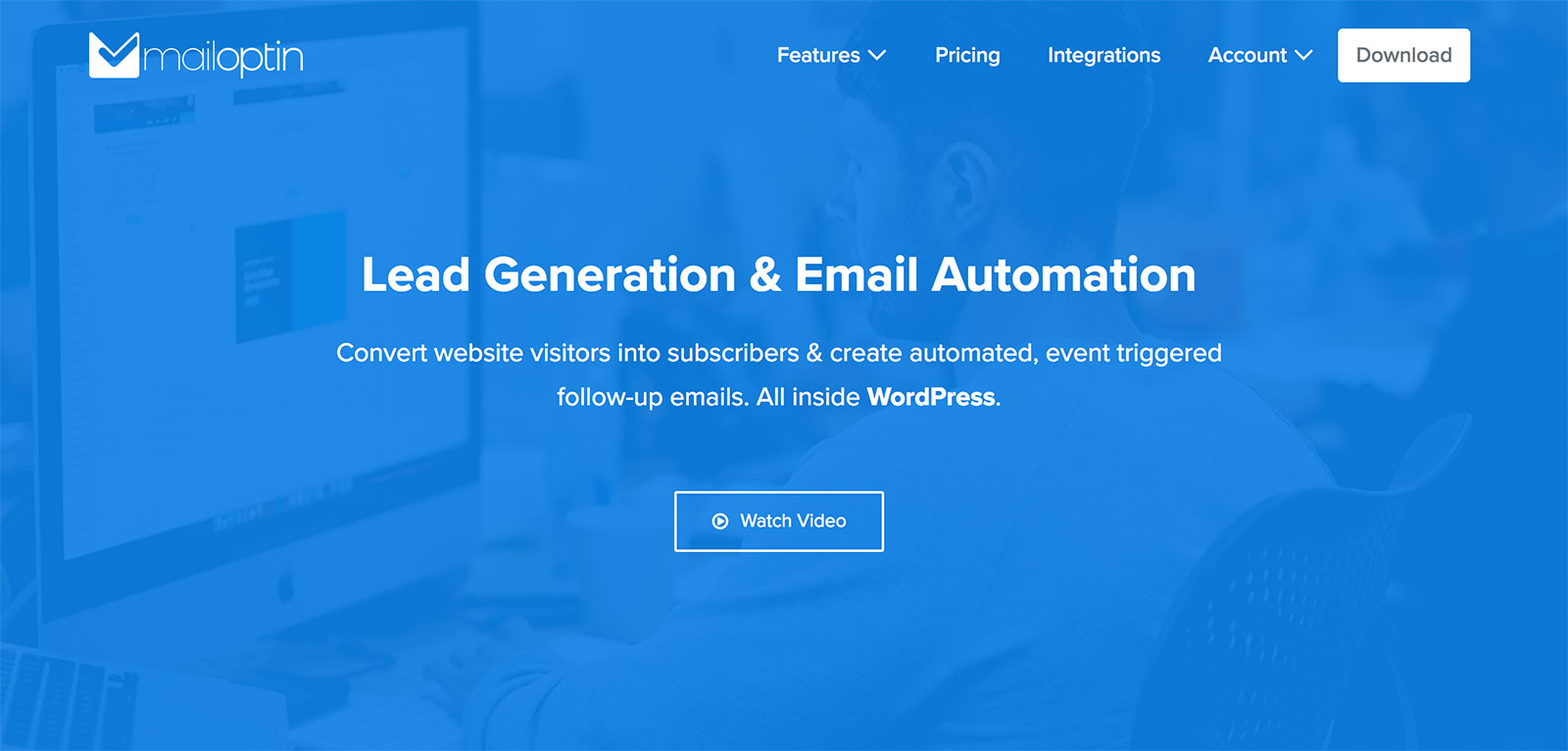 The latest entrant to the email subscription plugin market is MailOptin.
MailOptin allows you to create different optins including popups, in post forms, notification bars, slide-ins, sidebar/widgets forms, content upgrades.
It comes with a number of templates to choose from which makes it super easy to build beautiful, high-converting forms but with has less options for customization which I think it makes up for that with the custom CSS feature.
Unlike others that comes with their own visual builder, MailOptin uses the WordPress customizer that you already know and love.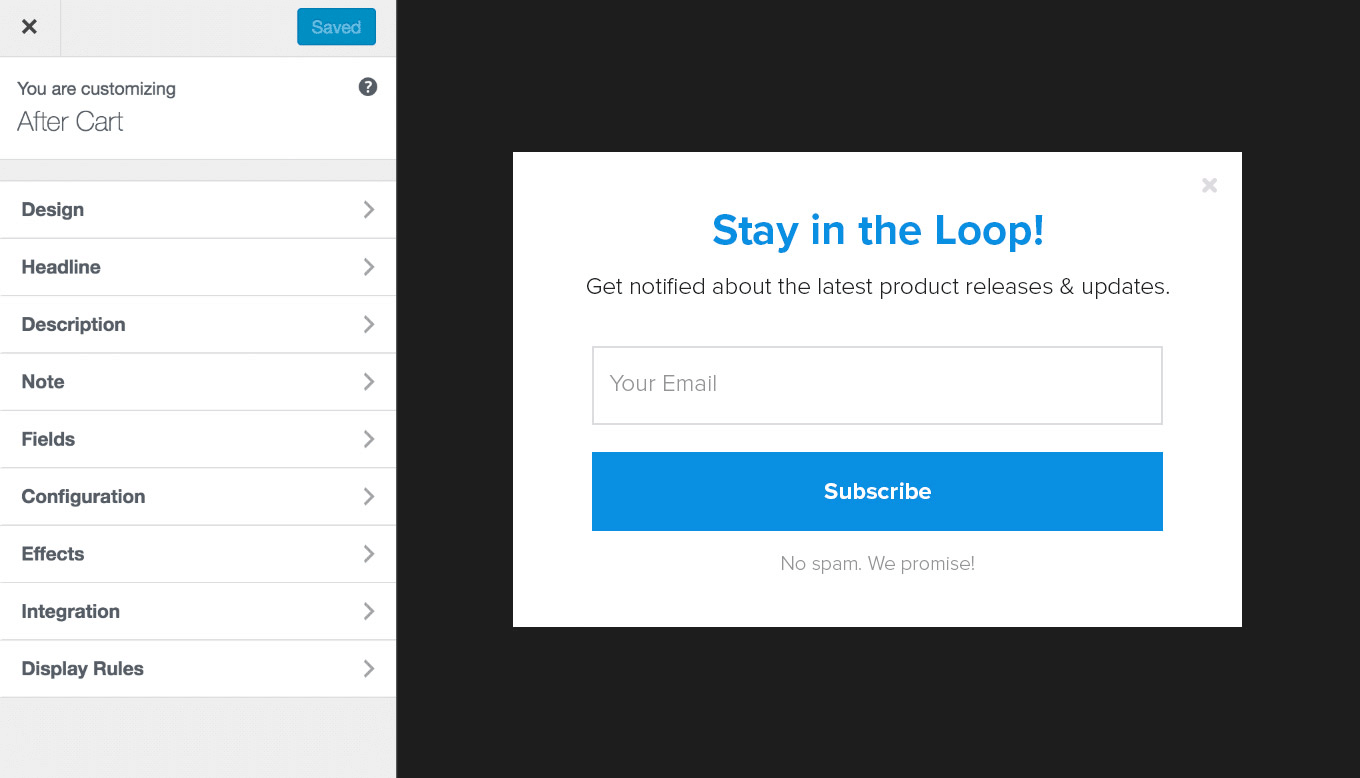 It ships with an A/B split testing feature that helps you make data-driven decisions that will eliminate guesswork about what drives site visitors to convert. By measuring the impact that the changes have on your metrics, you can ensure that every change produces positive results.
There is a Lead Bank feature which saves all leads in WordPress. This is particularly useful in cases where your email service provider is down, you lose your account with them or you prefer not to use any third-party service.
I will like to mention MailOptin also does email automation. For example, it can automatically send newsletters of your posts immediately you publish them or as a daily, weekly or monthly email digest to your list subscribers in MailChimp, ActiveCampaign, MailerLite, Constant Contact etc.
MailOptin is available for free in the WordPress plugin repository. If you need more lead generation features such as lead bank, analytics, Adblock detection and other display rules and triggers, consider upgrading to the paid version.
Icegram (FREE)

If you're looking for something a little bit different, consider checking out the new, all-in-one Icegram plugin — the core plugin is free.
For a free plugin, Icegram is surprisingly feature-rich. You can build popups, action bars (top or bottom), messenger popups, and toast notifications. You won't find this many popup types in any other free alternative.
If you're looking to build a popup, there are six stylish templates to choose from. (Note: At the time of writing, you could get a theme pack extension for free, giving you six more templates.)
There's no visual builder, so the interface is a little tricky to get the hang of — instead, you have to build your popup using the WordPress visual editor. This is hardly a deal-breaker, but it's not particularly user-friendly either. Furthermore, there's no way to customize backgrounds and button colors, which means you have to work with what the template gives you.
The plugin does, however, make it incredibly easy to create a targeted campaign for your completed popup. You can configure when it appears (including on which pages, after how many seconds, and between what dates) and also on which devices it should be shown.
The campaign screen also lets you control all your popups in one handy location, including other styles, such as action bars. Icegram works with all email marketing services and all form/lead capture plugins — another major plus point.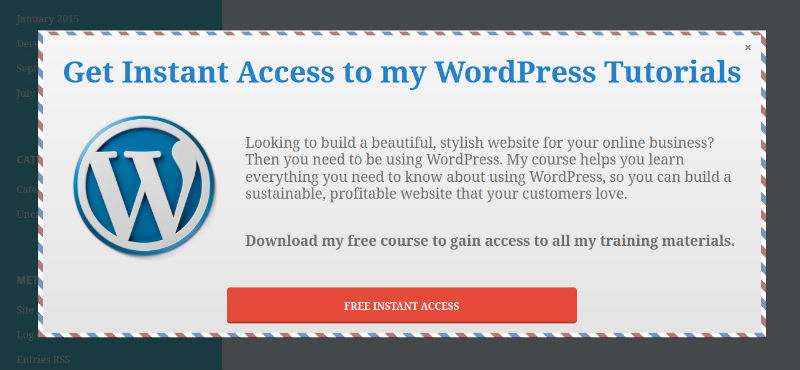 If you want to get more from Icegram, you can extend the core plugin with a wide range of add-ons. These include:
analytics (currently free)
behavior triggers, including exit intent and scroll position ($7)
geo-targeting ($9)
sidebar optins ($9)
in-content optins ($9).
All in all, it's an affordable way to add premium functionality to your website.
Ninja Popups ($20)

Launched in 2012, Ninja Popups has established itself as one of CodeCanyon's top-selling WordPress plugins of all time, with well over 10,000 paid downloads to date.
The plugin lets you build visually stunning popups using one of 27 prebuilt templates, called 'themes'. Within each theme are a variety of color scheme presets, as well as several layout options. This means you can make vastly different popups using the same theme with just two mouse clicks.
You can also build your popups with different goals in mind — you can grow your email list, encourage social shares, or display videos in your popups.
Adding content to your popups is incredibly easy, with dedicated fields allowing you to fill the gaps for each section. To make sure you're on track, you can preview the changes you're making as you progress.
The finished popups look great, with a polished, professional appearance that's very impressive for a plugin costing a one-off $20. The popups are fully responsive, too, meaning they display perfectly on mobile devices.
In addition to building amazing popups, Ninja Popups also has some sophisticated mouse-tracking technology to determine the perfect time to display them. This includes displaying after a specified period of inactivity, or when a visitor is about to leave your website. You can also configure a time delay or a trigger point in the article.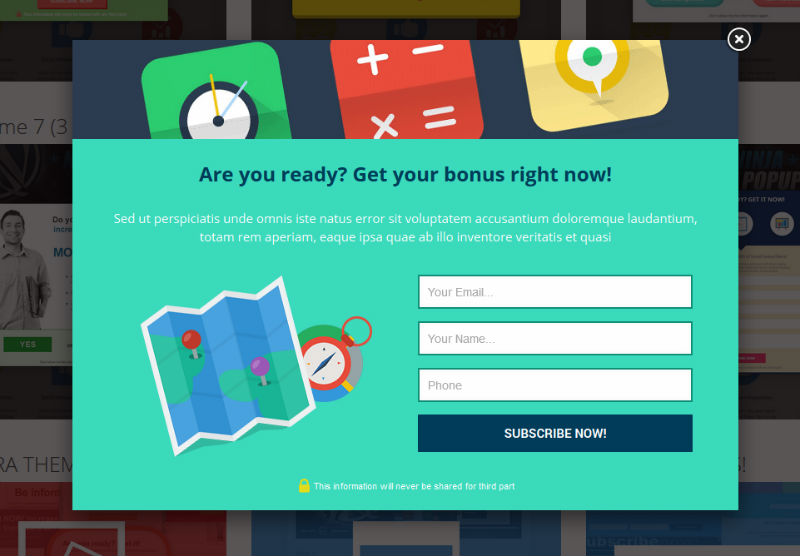 The plugin can be integrated with 13 email marketing services and five social media networks, and it also supports a sophisticated analytics and an A/B testing function.
There are three premium Ninja Popups extensions. These allow you to add extra themes, optin bars, and widget area optin forms, and cost between $5 and $6 each.
WordPress PopUp (FREE)

From the guys behind WPMU Dev, WordPress PopUp is one of the most popular free popup plugins on the market, with more than a quarter of a million downloads to date.
This lite version is quite limited, though, allowing you to build only the most basic popups. Most of the sophisticated functionality and customization options are saved for the pro version — at a cost of $19. This means no templates, no color customization, and only one active popup per site if you want to stick with the free version.
That said, if you only require a simple popup solution, WordPress PopUp is undoubtedly a good plugin. It's lightweight and quick-loading, plus the interface makes use of the familiar WordPress visual editor. On this point, it executes it far better than Icegram, with a more intuitive layout and a live preview option.
While simple, the popups look stylish and professional.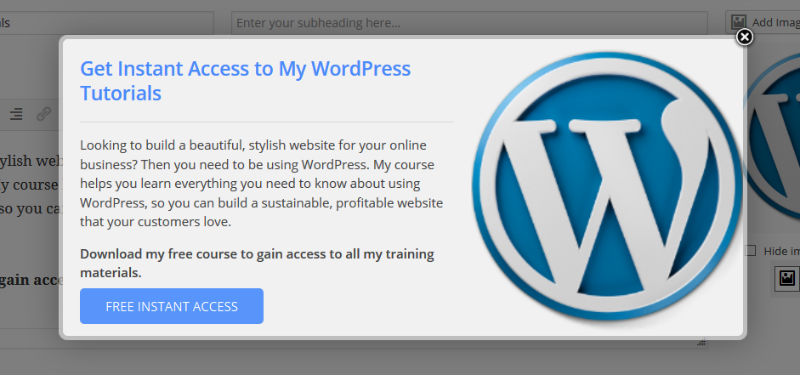 You can also choose a time delay before your popup is displayed, as well as a detailed set of display conditions to ensure your visitors aren't barraged with them.
If you like the lite version of WordPress PopUp, consider upgrading to the pro version for two extra templates, unlimited popups per site, more control over when the popups are displayed, and more than 30 popup display animations.
Final Thoughts
If you're serious about building an email list — and increasing your website's profit — then a popup plugin is a tried-and-tested solution for attracting subscribers. As long as you don't go overboard with your popups, there's no better way to grab a visitor's attention and encourage a signup.
Because a good popup plugin can add a lot of value to your business, the best ones don't come cheap. However, when you consider how much extra revenue a bigger email list can drive, the costs look insignificant, and it feels like a good investment. In fact, some case studies have shown popups increasing optins by up to 600%, which yields a significant return on the initial price paid.
However, if you just want to test the waters, there are some really good free popup plugins out there too — these can be extended to add extra functionality as your business grows, and effectively turns the free plugin into a premium one.
All the plugins featured in this list will add stylish popups to your website. Some are more powerful than others, and they come with templates that suit different tastes, so I highly recommend you test out the demo of each plugin before choosing a favorite.
Used any of these popup plugins? Which would you say is the best? Let us know in the comments.