WinningWP content is free to all. If you make a purchase through referral links on our site, we earn a commission (
learn more
).
Modula vs Envira Gallery – Which Is The Best WordPress Gallery Plugin?
Trying to choose between Modula vs Envira Gallery to create a gallery on your WordPress site?
If you search for the best WordPress gallery plugins, these are two of the first names you'll encounter. Both are popular and highly rated — Modula with a 4.7-star rating on more than 340 reviews and Envira Gallery with a 4.8-star rating on more than 1,370 reviews (both according to WordPress.org).
So, how can you choose the right gallery plugin for your needs?
Well, that's the goal of this post. By going hands-on with both plugins and comparing them in a number of key areas, I'll aim to help you to understand the key similarities and differences between the two.
In general, both plugins are excellent options, but I think they have slightly different focuses. Modula is a better option for casual users, such as bloggers, while Envira Gallery is a better option for heavy-duty users, such as photographers or users who want to go beyond just images and video in their galleries (for example, creating a gallery of WooCommerce products).
To find out how I reach my conclusions, keep reading the full comparison!
Quick Introductions to Modula and Envira Gallery
Let's kick things off with some basic introductions…
Modula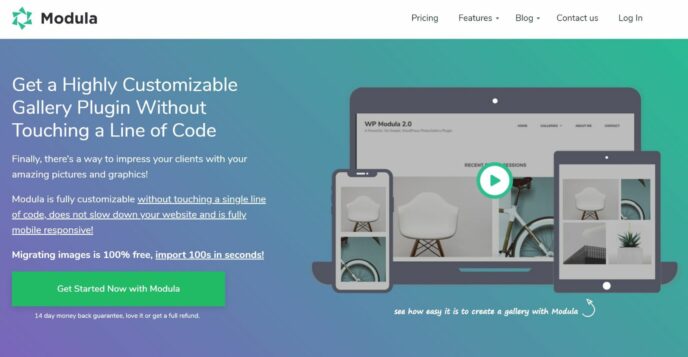 Modula is a WordPress gallery plugin from WP Chill, the same team behind the Kali Forms and Strong Testimonials plugins.
Modula focuses mainly on creating great-looking WordPress image and video galleries for regular WordPress users. For example, if you're a travel blogger and you want to create a gallery of your travel images, Modula is aimed at you.
In my opinion, you can see the evidence of this focus as I compare the plugins.
According to WordPress.org, Modula is active on 90,000+ sites with a 4.7-star rating on 340 reviews, including 293 five-star reviews.
Envira Gallery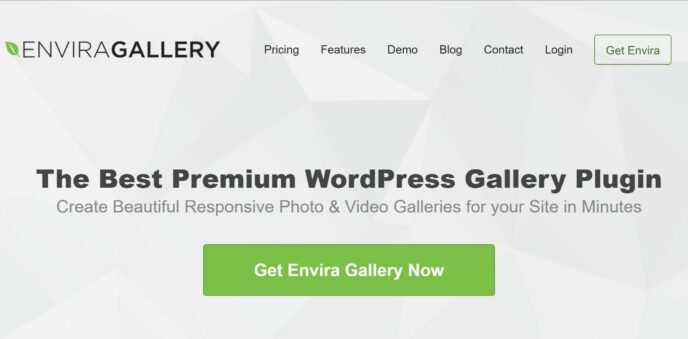 Envira Gallery originally got its start as part of Syed Balkhi's WPBeginner empire of plugins, which includes other big names such as WPForms, OptinMonster, MonsterInsights, and more.
However, it was sold to a new owner (Nathan Singh) in early 2018. Nathan also went on to acquire the popular NextGEN Gallery plugin in early 2020, so Envira Gallery and NextGEN Gallery are now under the same roof, and the current owner is definitely the biggest player in the WordPress gallery plugin space.
Envira Gallery can make a great option for both casual users and advanced users. However, you'll see it's a little more focused on photographers and power users via features such as image proofing (for working with clients), eCommerce support, an Adobe Lightroom integration, and more.
Again, this is my opinion, but I think you'll see this focus played out in the features.
According to WordPress.org, Envira Gallery is active on 100,000+ sites with a 4.8-star rating on 1,374 reviews, including 1,242 five-star reviews.
Comparing Features
In this section, I just want to do a quick comparison table-style rundown of each plugin's features, so you can get a basic understanding of how they compare at a high-level.
Overall, you can see Envira Gallery is a little ahead in terms of the number of features it has, especially when it comes to advanced features such as eCommerce support and client proofing.
However, Modula also has some unique tricks up its sleeve, such as its custom grid builder, which I'll show you later on.
| | | |
| --- | --- | --- |
| | Modula | Envira Gallery |
| Image galleries | ✔️ | ✔️ |
| Video galleries | ✔️ | ✔️ |
| WordPress content galleries (posts, products, etc.) | ❌ | ✔️ |
| Grid galleries | ✔️ | ✔️ |
| Masonry galleries | ✔️ | ✔️ |
| Slider galleries | ✔️ | ✔️ |
| Custom grid builder | ✔️ | ❌ |
| Lightbox popup | ✔️ | ✔️ |
| Hover effects | ✔️ | ✔️ |
| Albums | ✔️ | ✔️ |
| Ajax gallery filters | ✔️ | ✔️ |
| Deeplinking for SEO | ✔️ | ✔️ |
| Watermarking | ✔️ | ✔️ |
| Password protect galleries | ✔️ | ✔️ |
| Instagram import | ❌ | ✔️ |
| Adobe Lightroom integration | ❌ | ✔️ |
| Client proofing | ❌ | ✔️ |
| eCommerce integration | ❌ | ✔️ |
| Social share buttons | ✔️ | ✔️ |
| Image downloads | ✔️ | ✔️ |
| Right-click protection | ✔️ | ✔️ |
| Lazy loading | ✔️ | ✔️ |
| Image optimization | ✔️ | ❌ |
| Scheduling | ❌ | ✔️ |
Note: Many of these features require the premium versions of both plugins.
Comparing Interfaces
In this section, I'm going to compare the basic process of creating a gallery with each plugin. This should help you to understand the core user experience in each plugin.
Overall, both plugins are fairly similar, so there isn't a clear winner in either direction. You should have no issues no matter which gallery plugin you choose.
Modula
When you create a gallery with Modula, you'll see an interface that looks a lot like the classic WordPress content editor.
You'll get a 'content editor' at the top to control your gallery content, and then a Settings box below to control its functionality. To rearrange images, you can just drag and drop them: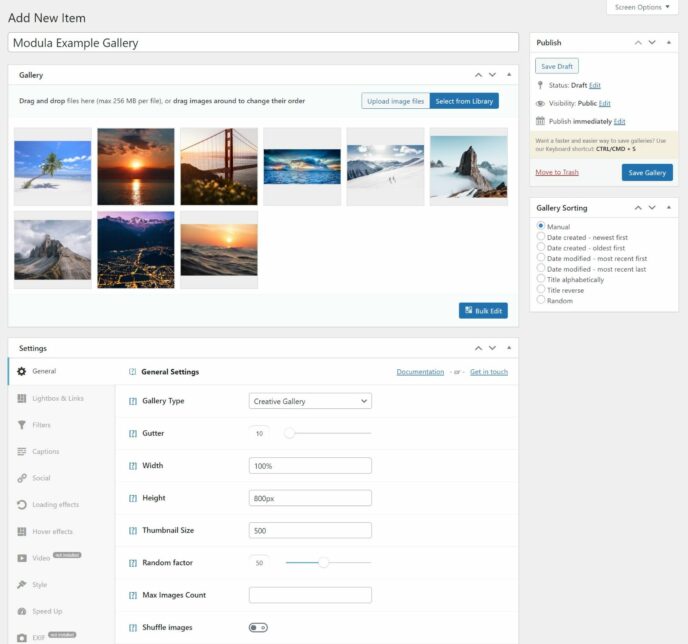 The settings area is divided into a bunch of different options. You may or may not have access to every single option depending on your license and the add-ons you've installed, but you can see the full list of potential settings below: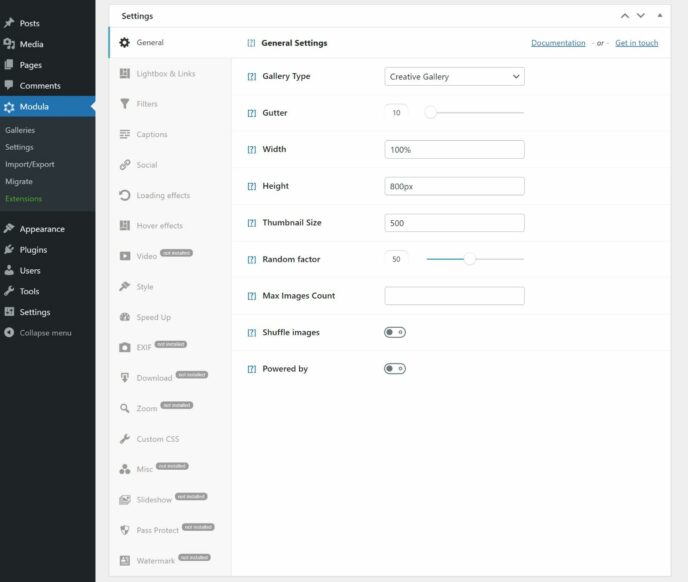 Once you're happy with your gallery, you can embed it using a shortcode or block. One nice thing about the embeds is you get two options:
You can embed the gallery directly.
You can display a link that visitors can click to open the gallery (kind of like a two-step opt-in).
Envira Gallery
Envira Gallery uses the same basic approach to its gallery creation interface.
At the top, you can choose the source for your gallery content (more on that later). Once you choose the content, you'll see the images appear in the Gallery tab of the meta box. You can also use the other tabs to configure how your gallery works (you'll get access to more tabs if you install the premium add-ons):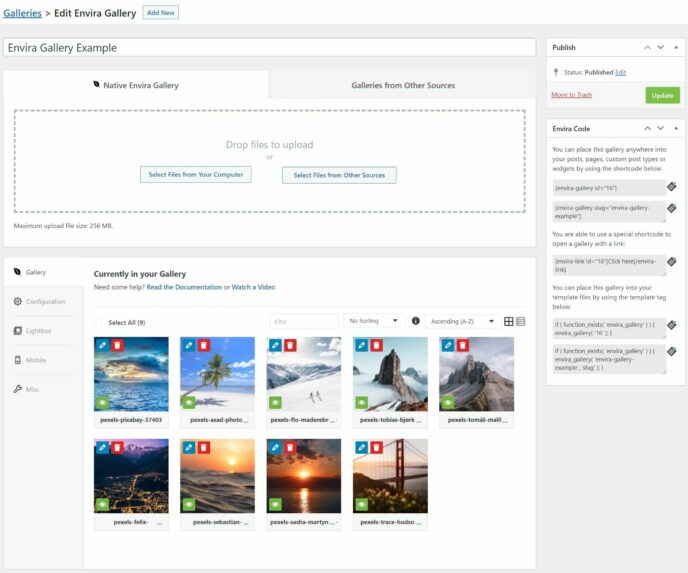 To embed your gallery, you get the same options as Modula. That is, you can use a shortcode or block, and you can also choose between embedding the gallery directly or adding a button that opens the gallery.
Comparing Gallery Layout Options
Next, let's look at the types of gallery layouts each plugin lets you create. Overall, Envira Gallery gives you slightly more flexibility in terms of built-in gallery layouts, but I give the edge to Modula because of its custom grid builder.
Modula
Modula comes with four gallery types:
Creative Gallery — an automatically generated masonry-style gallery.
Columns — a straightforward grid/column layout.
Custom Grid — I'll highlight this below — you can build your own custom grid using a drag-and-drop builder.
Slider — convert your gallery into a slider.
You also get built-in lightbox gallery support and album support.
Modula's most unique layout option is its custom grid builder, which I personally think is awesome. With the custom grid builder, you can use a simple drag-and-drop interface to control the actual grid your gallery uses: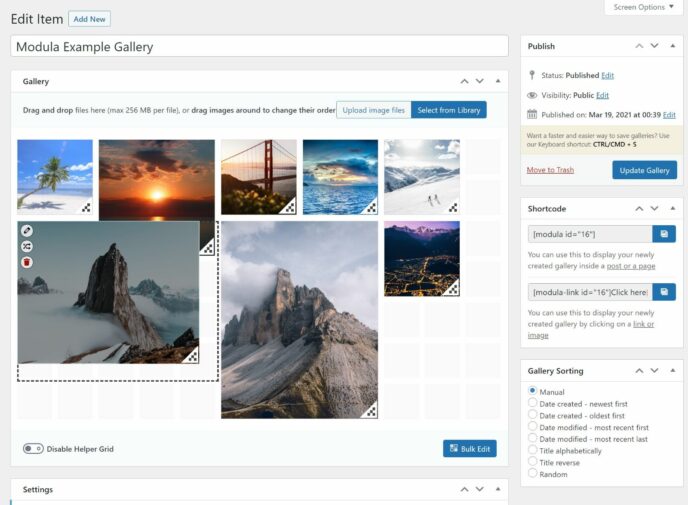 I love it because it gives you pixel-perfect control over your gallery, rather than relying on the automatic masonry generation.
It's the same grid builder from the less-popular Gallery PhotoBlocks plugin, which WP Chill (Modula's developer) acquired a while back, and then merged into Modula.
Envira Gallery
Envira Gallery comes with five built-in gallery layouts:
Automatic — a justified image grid.
Mason — a masonry gallery.
Grid — a straightforward column gallery.
Square — a sort of Instagram-style gallery.
Blogroll — lists your images one-by-one.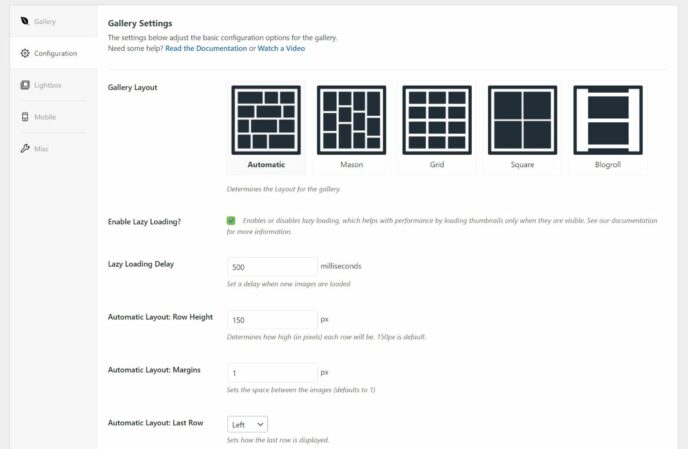 You also get built-in lightbox galleries, as well as album support.
Overall, you get all of the important gallery layout types, but you don't get the custom grid builder Modula offers.
You can check out demos of the different galleries here.
Comparing Gallery Content Sources
Most people use gallery plugins to create image galleries. So, if you just want to create a gallery from images you upload to your site, there's no difference between these two plugins.
But if you want to create a gallery from other content sources, Envira Gallery is more flexible than Modula.
Modula
Modula lets you create unlimited image galleries in the free version. Then, if you upgrade to the premium version, you can also create video galleries.
Those two content sources alone should cover most use cases, but that's all you get with Modula.
Envira Gallery
Envira Gallery is a lot more flexible than Modula when it comes to content sources. Like Modula, Envira Gallery gives you images in the free version and videos in the premium version. But then the premium version also goes a lot further…
First off, with the Featured Content add-on, you can create galleries to feature WordPress content by pulling in the content from any WordPress post type. This lets you use a gallery to feature your latest blog posts, WooCommerce products, testimonials, projects, and so on — you can check out a demo here.
Second, Envira Gallery also includes tools to help you to import gallery items from third-party sources. For example, you can import Instagram images to your gallery or sync your gallery with a folder on Dropbox.
If you're a photographer, you'll also like that you're able to sync your gallery with Adobe Lightroom.
Finally, with the Dynamic add-on, Envira Gallery also lets you create galleries on the fly by automatically populating a gallery with the images that are attached to a post.
If you're just creating simple image or video galleries, all of these extra bells and whistles may not matter. However, power users may appreciate the flexibility Envira Gallery offers here.
Comparing Pricing
Modula and Envira Gallery both operate on a freemium model. You can find free versions of both plugins at WordPress.org, as well as premium versions with more features.
For their premium versions, both plugins use an 'add-on' model, with different add-ons available to you depending on the plan you choose.
Modula Pricing
Modula's premium plans start at $34 and range up to $124 for one year of support and updates. After the first year, you can continue using the plugin, but you'll need to renew your license if you want to keep getting support and updates.
You can see which features the plans have in the comparison table below: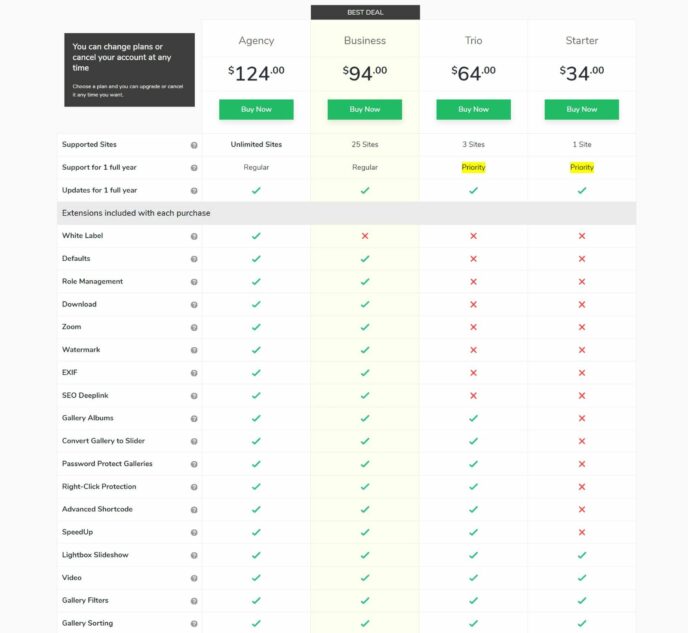 Envira Gallery Pricing
Envira Gallery's premium plans initially start at $14 and range up to $49 for the one-year license. Or, you can pay $269 for a lifetime license on unlimited sites.
I can't fit the full comparison table into the screenshot, but you can view it if you go to the pricing page: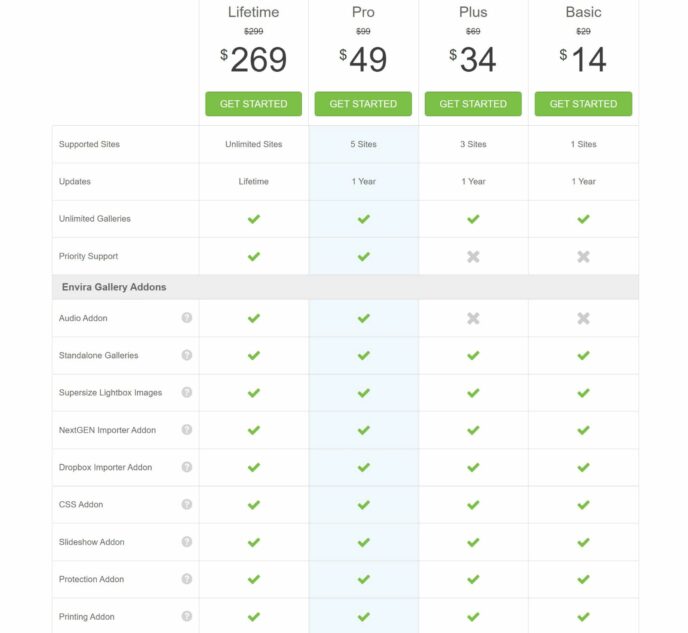 One key thing to understand with Envira Gallery's non-lifetime pricing is the price in the screenshot above only applies to your first year. If you want to renew your license after the first year to continue receiving support/updates, you'll need to pay 'full price', which is the crossed-out number above the price in the screenshot above.
Comparing Performance
Performance optimization should be a key factor in every single WordPress plugin you choose to use on your site. With that in mind, this section is focused on whether Modula or Envira Gallery is better-suited to helping you to get a fast-loading WordPress site.
To test this, I set up an identical gallery using each plugin and ran it through Pingdom to see what was happening in terms of the page size and HTTP requests. I used the same theme — GeneratePress — and identical settings for the galleries.
The results? Both plugins are virtually identical in terms of performance.
My test site using Envira Gallery had one fewer HTTP request — 22 requests vs 23 for the Modula site. Envira Gallery was also a few KB smaller (5.3 KB, to be exact). Honestly, those differences are just nitpicking and there's pretty much zero performance difference between these two plugins.
| | | |
| --- | --- | --- |
| | Modula | Envira Gallery |
| HTTP Requests | 23 | 22 |
| JavaScript Size | 90.1 KB | 95.8 KB |
| CSS Size | 41.8 KB | 29.5 KB |
| HTML Size | 9.4 KB | 10.7 KB |
| Total Non-Image Page Size | 141.3 KB | 136 KB |
Note: All of these numbers include GeneratePress — the HTTP requests and code sizes aren't just from the plugins.
Here are the full breakdowns — you can see the image size is identical because I used the exact same images…
Modula:

Envira Gallery:

How to Improve the Performance of Both Plugins
I tested both plugins in their default state, but both also give you features to help you to improve the performance of your galleries.
For example, both Modula and Envira Gallery have built-in lazy loading features. I didn't enable these for the initial tests, but they'd make a big improvement by waiting to load your gallery's images/videos until a user scrolled to the point of interacting with the gallery.
Modula also includes a unique built-in content delivery network (CDN) feature on its Trio plan and above. This feature, available via the Speed Up add-on, lets you optimize your gallery images using ShortPixel's algorithms, and then serve them up via StackPath's global CDN.
This is definitely a nice feature to have, but I think you'd be better off implementing this at the site level for all of your images, rather than just your gallery images. To that end, you could achieve something similar by just using the ShortPixel plugin and then setting up a CDN for all of your images. You could use StackPath, KeyCDN, Bunny CDN or other CDN networks. Or, you could use ShortPixel's Adaptive Images plugin, or Optimole.
Should You Use Modula or Envira Gallery?
Overall, I don't think there's one clear winner when it comes to Modula vs Envira Gallery. Instead, it really just depends on what you're looking for in a WordPress gallery plugin.
In general, I'd say Modula is the slightly better option for casual users who just want to create image or video galleries. I mainly prefer Modula for this use case because of its custom grid builder, as I find that to be a really nice feature for basic gallery usage. Envira Gallery can also get the job done, though, so I don't think the difference is huge for this casual use case.
On the other hand, I think Envira Gallery is definitely a better option for photographers or other heavy-duty users, and it's also a better option if you want to go beyond basic image or video galleries (such as creating a gallery of your WooCommerce products or blog posts).
For photographers and heavy-duty users, Envira Gallery just plain has useful features that Modula doesn't have:
Client proofing — great if you're a photographer who needs to share images with clients.
eCommerce support — you can sell images. Pair this with client proofing and you get a solution where clients can proof the photos and then immediately purchase the images they want.
Adobe Lightroom integration — sync your Lightroom workflows with your gallery.
Envira Gallery is also a lot more flexible when it comes to dynamically sourced galleries, letting you create galleries from WordPress posts, WooCommerce products, Instagram, a Dropbox folder, and more.
Both plugins are high-quality tools, so it's really just about choosing the option that best fits your needs.
Used/using Modula or Envira Gallery? Thoughts?
Related Posts:
All comments are held for moderation. We'll only publish comments that are on topic and adhere to our Commenting Policy.