The Six Best Slider Plugins for WordPress (2019)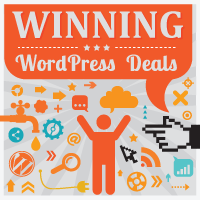 It's no coincidence that the vast majority of WordPress themes support some form of image slider functionality straight out of the box.
But why is this? Why have site owners and internet users gone image slider crazy?
In my opinion, it's a matter of first impressions. Images are far more engaging to look at than text, and the moving parts of an image slider make a website feel more dynamic and interactive. If you make a killer first impression, visitors are more likely to spend time on your website, read your content, and buy your products — awesome, right?
Image sliders can do more than display pretty pictures, though. The top image slider plugins offer a truly interactive experience for your visitors, and can be used in a number of ways, such as improving navigation by linking to top content, playing videos, and even integrating shortcode functionality from your other plugins.
Whatever your reason for wanting an image slider plugin, WinningWP has your back. I'll be running through six of the best WordPress image slider plugins, and, to appeal to all budget levels, I'll also include a mixture of free and premium options.
All of the sliders featured in this post are fully responsive, which means they'll look stunning on any size device.
Soliloquy (from $19)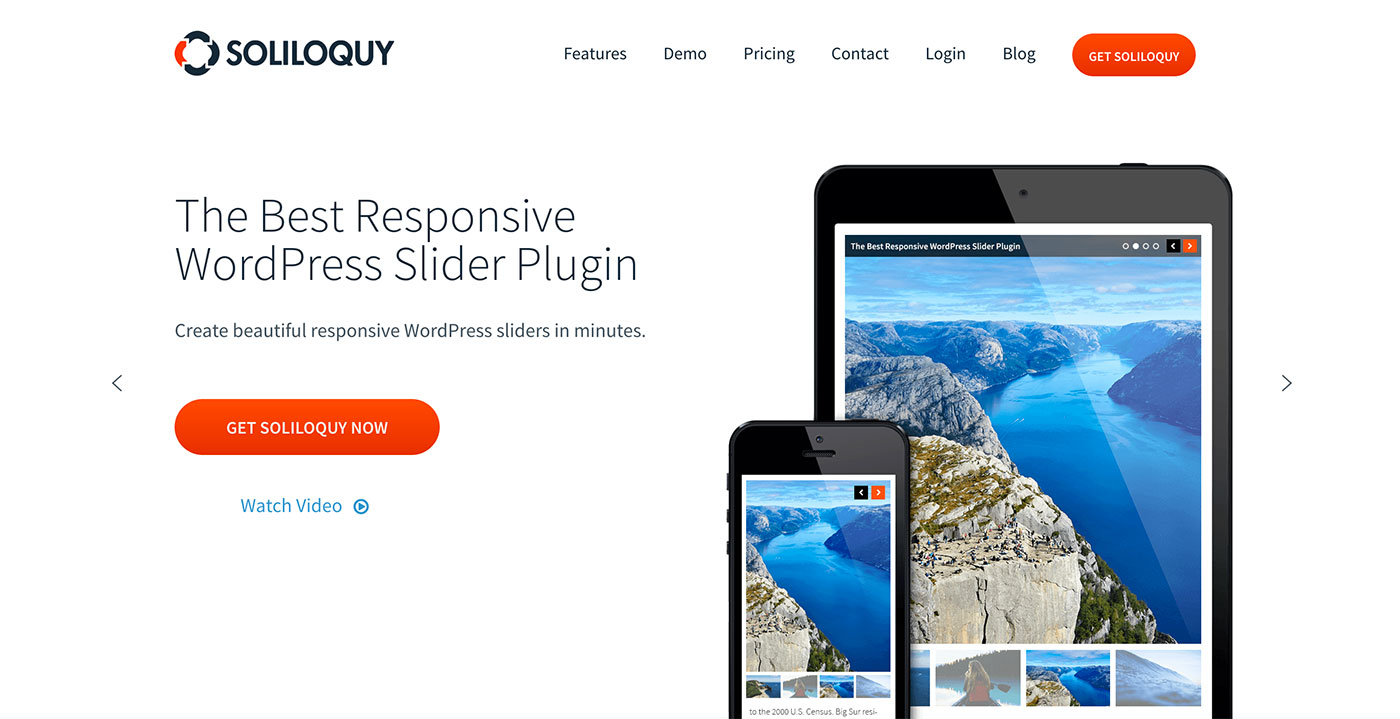 I want to kick off with one of the top-rated slider plugins on the market: Soliloquy.
Soliloquy was developed by the WP Beginner team, whose plugins owe their popularity to their exceptional code quality — producing consistently lightweight plugins and lightning-quick results. In fact, the other two plugins in the WP Beginner collection, OptinMonster and Envira Gallery, are also featured in our rundowns of the top WordPress pop-up and gallery plugins.
Enough of that, though — let's dig deeper into why Soliloquy is so highly regarded.
For a start, Soliloquy is the fastest slider on the market — proved by Chris Lima's excellent slider plugin performance comparison — courtesy of its dynamic asynchronous ajax preloading capabilities. If performance is your priority, this is the slider plugin you need.
Another important, albeit less glamorous, consideration is security — and Soliloquy is one of the most secure plugins on the market. Mark Jaquith himself performed and extensive data security audit on it, and gave it a glowing recommendation.
Moving on to usability (which we've already covered extensively in our in-depth Soliloquy review), and Soliloquy again scores highly. The plugin features a streamlined, bloat-free interface that's incredibly intuitive. This makes for a frictionless slider-building process — you can have a great-looking slider built within minutes.
The user-friendly drag-and-drop functionality, can be used to upload and reorder your images with ease — you can also use Soliloquy to manage your images' SEO alt tags. If you'd prefer video, you can embed these from YouTube, Vimeo, and Wistia.
Soliloquy boasts deep levels of customization options, too, including more than 100 configurable hooks and filters, image dimensions, and slide durations. You can also customize your slider's appearance with several stylish skins and transition styles (more available with add-ons).
If you want more advanced slider functionality, Soliloquy is fully extendable. The core plugin is available with a Personal license, which costs an affordable $19 and can be used on one site. Of course, upgrading gives you access to all the other goodies — a $49 Multi-license can be used on three sites, and also allows you to install four 'Basic' add-ons. These are:
Instagram — build sliders using your Instagram photos.
Pinterest— insta-share images on Pinterest via a Pin It button added to the top of each image.
Schedule — display certain sliders at specified time intervals.
Themes — four more beautiful slider skins.
If that's not enough, you can upgrade to a Developer license. Costing $99, this license allows you to use the core Soliloquy plugin, the basic add-ons, and five more 'Advanced' add-ons on an unlimited number of websites. Want a quick run through of the advanced add-ons? Here they are:
Carousel — lets you build image carousels from your images.
Dynamic — a further simplified slider-building process, which also allows you to pull images directly from NextGen and WordPress galleries.
Featured Content Slider — link your slider images to featured content.
Lightbox — visitors can view each image in a stylish lightbox.
Thumbnail — adds thumbnail navigation to your sliders.
If you want a slider plugin that's user-friendly, powerful and versatile, Soliloquy is a great option. If you want to test the plugin's functionality before you buy, you can also download Soliloquy Lite from the WordPress repository for free.
Meta Slider (FREE)

Meta Slider is the first free option on today's list. A premium version is also available from $19, but I'd prefer to focus on the viability of the free plugin. And, with more than 2.5 million downloads, it's one of the most popular WordPress plugins of all.
This is largely down to an impressive range of functionality for a free plugin. In fact, Meta Slider is effectively a four-in-one offering, combining the functionality of the following four plugins:
Combined, this gives you a carousel mode, 22 transition effects, and four unique themes — not bad for a free plugin, right?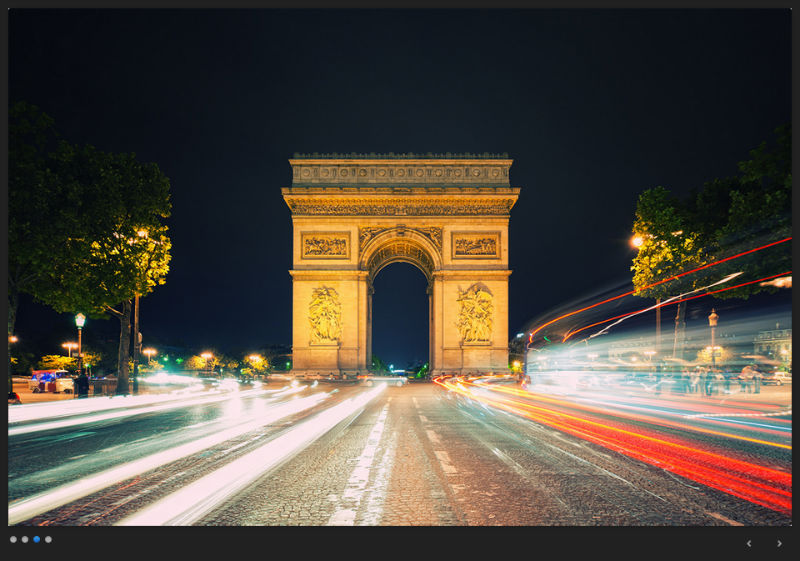 Meta Slider has an intuitive interface that makes it super easy to build sliders, and includes drag-and-drop reordering and smart image cropping. There are also simple setting fields that allow you to select your image dimensions (including full-width mode), slider style, and transition effects.
If you do decide to upgrade to Meta Slider Pro, you'll gain access to some nice premium features, such as additional skins and layered slides, and also multi-media slides integrating video, HTML, and dynamic content.
Smart Slider (Free – Premium from $35)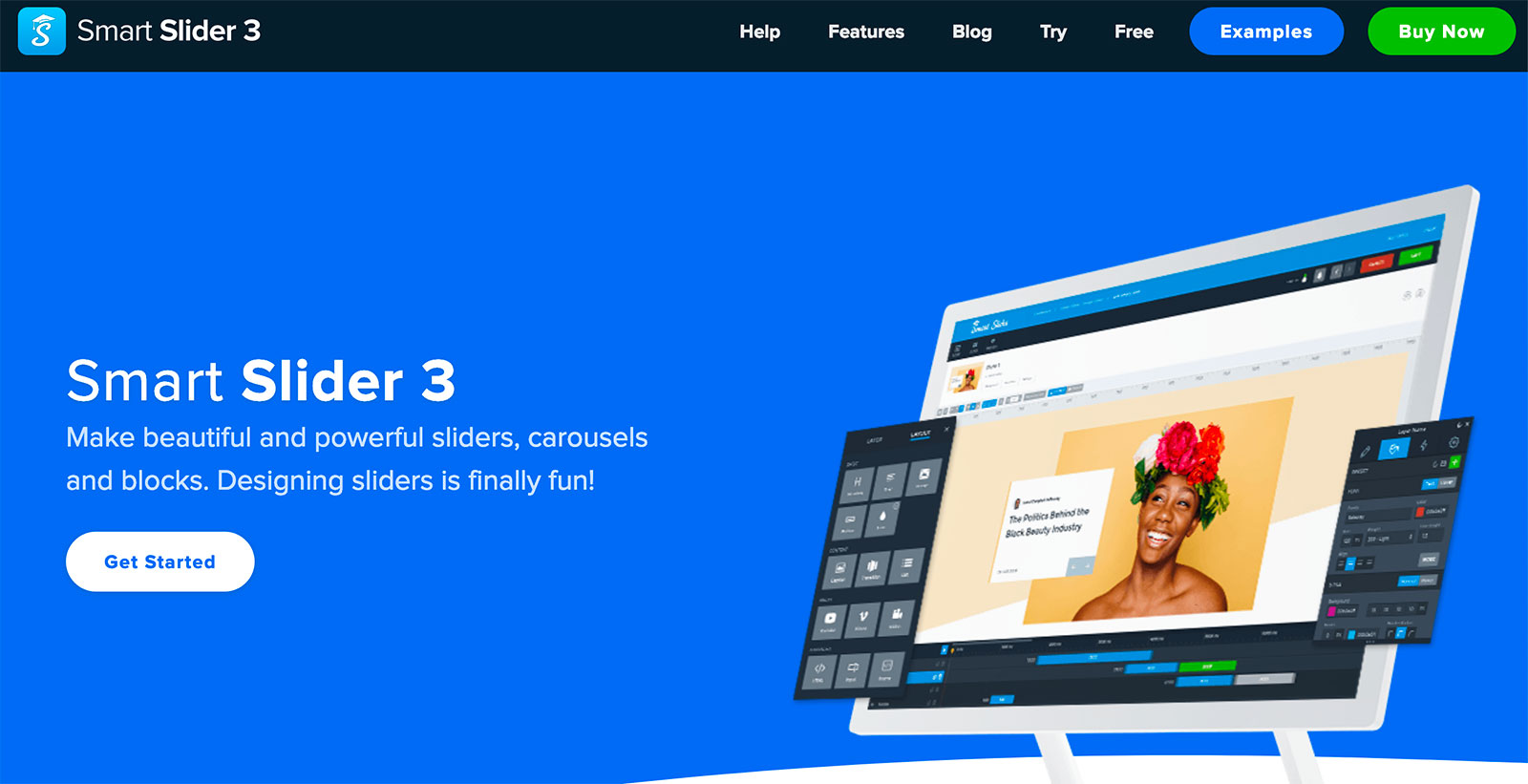 One of the fastest growing slider plugins on this list is Smart Slider 3. According to WPTrends.net, Smart Slider 3 has 300,000 active installs, with over 15,000 new installs in just the past four weeks. In fact, its growth outpaces all other free slider plugin at WordPress.org.
So what makes Smart Slider 3 so special? For a start, its one of the best free slider plugins in the WordPress repository. It offers just the right number of features so you can create a beautiful slider with a complex design, all without feeling forced to upgrade for something as simple as layers (layers are included, unlike other free slider plugins).
There are two different visual editing modes for creating sliders that are fun to play around with: content and canvas mode. These modes do take some getting used to, but theyre what set Smart Slider 3 apart from the competition. In content mode, the slider behaves like a page builder, while in canvas mode gives you the freedom to work with your layers unobstructed, much like you would in Photoshop.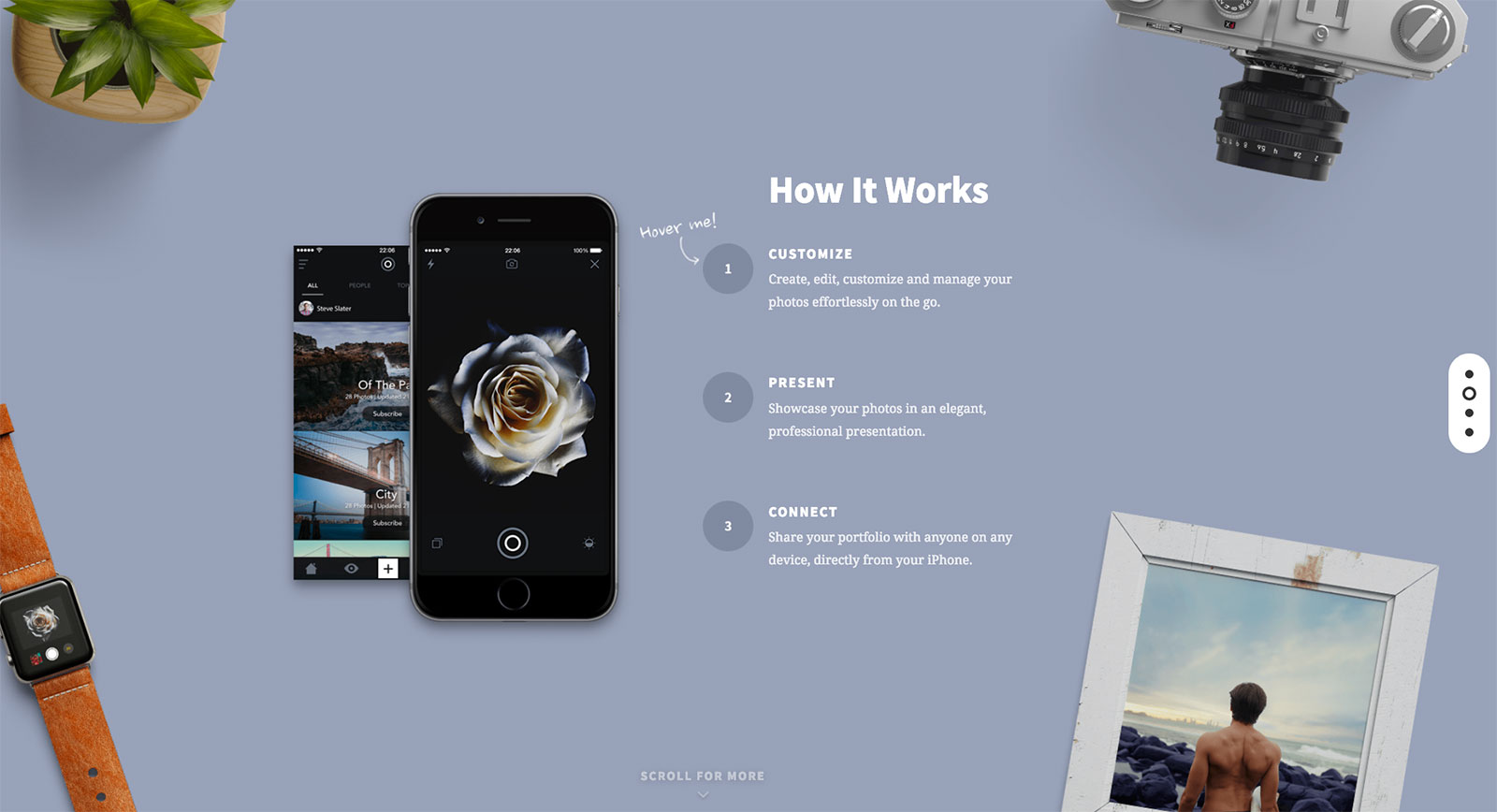 You can do a lot with the free version and leave it at that. But for advanced functionality, youll need to upgrade to a Smart Slider 3 Pro for a one-off payment of $35. It gives you access to:
All 100+ sample sliders
Layer animation builder
Live timeline
9 extra layer types
4 extra slider types
All generators for dynamic slides
Extra background animations (more than 54)
Built-in lightbox
Built-in image editor
Advanced controls and more control presets
A ton of expert settings
Premium support
One of Smart Slider 3's cooler features is that you can pull in dynamic content from loads of different sources, including WordPress posts, WooCommerce products, Instagram, YouTube, Dribbble, Pinterest and more. You can even mix regular images slides with dynamically generated slides. This is ideal if you have a hero header that you want to regularly update with new content.
The slide library in the pro version comes with 100+ pre-designed sliders for everything from product carousels and hero sliders to parallax sliders and magazine layouts. I recommend that you check out the plugins collection of example sliders so you can get a feel for what you can build with Smart Slider 3.
Which brings me to the fact you can create just about anything in Smart Slider 3. It's really more of a visual builder than a slider plugin. Yes, you can create sliders, but you can also create fullscreen blocks, app showcases, and pages that pull in dynamic content like YouTube video and WordPress posts. I guess you could say its part page builder, part slider plugin.
If speed is a concern, Smart Slider 3 is just as fast, if not slightly faster than its closest competitor, Slider Revolution (check out this comparison post). It also offers in-plugin performance settings.
If you want a slider plugin thats feature-rich, user-friendly, and optimized for performance, Smart Slider 3 is a versatile option.
Slider Revolution ($19)
Next up in today's list: Slider Revolution. With almost 65,000 downloads to date, Slider Revolution is CodeCanyon's second best-selling WordPress plugin of all time — second only to Visual Composer.
But what makes Slider Revolution so popular? Well, that's all down to the quality of the sliders it produces. I recommend that you check out the plugin's demo so that you can see a collection of the visually stunning sliders built using Slider Revolution.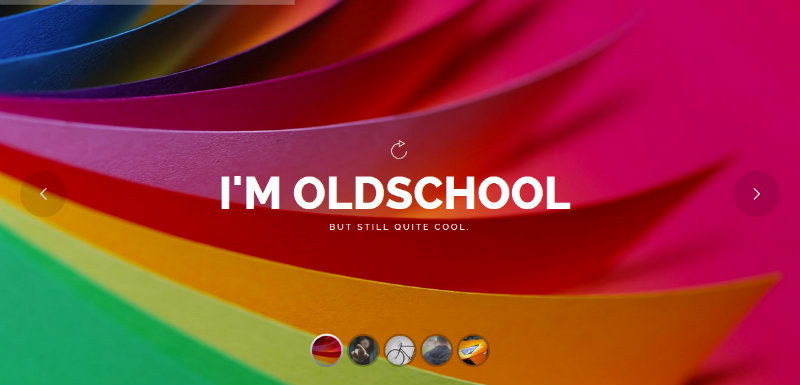 The thing that immediately strikes you about Slider Revolution is the depth of each slide. You can add an unlimited number of layers to each, allowing you to stack different types of media in one place. This includes images, videos, text, shortcodes, buttons, and HTML content. Each layer is animated separately, making for some truly eye-catching results.
Despite the complexity of the sliders, the actual building of each slide is relatively simple. For a start, Slider Revolution allows you to seamlessly pull content from a variety of sources, including WordPress posts, YouTube, Vimeo, Twitter, Facebook, Flickr, and Instagram. The different parts of each slide are crafted in an intuitive graphical user interface, which also supports drag-and-drop, and bringing the slides to life is made easy by an impressive number of stylish animations.
Beyond classic sliders, Slider Revolution is actually quite a versatile plugin. It can be used to build image carousels, homepage sliders, and, my personal favorite, one-page websites.
Under the hood, the plugin is also SEO optimized, speed optimized (supporting lazy loading), and professionally audited to ensure that it's fully secure.
LayerSlider ($18)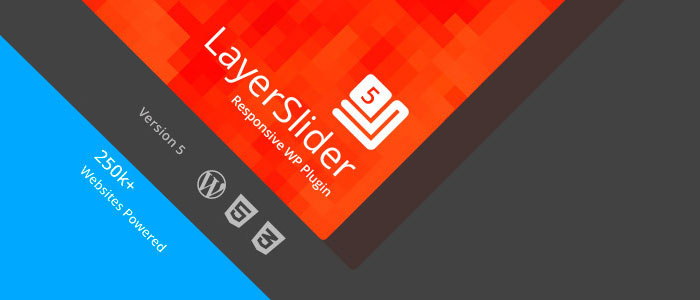 Next up is LayerSlider — another popular slider plugin available from CodeCanyon.
If you're primarily concerned with style and mind-blowing effects, LayerSlider is the slider plugin for you — boasting 13 beautiful skins and a staggering 200-plus transition effects. This is more than any other slider plugin on the market, with the transitions split between 2D and 3D effects. There's scope for adding your own custom transition effects, too.
LayerSlider allows you to build complex, eye-catching slides, courtesy of multi-layer support. You can add an unlimited number of layers to each, meaning you can mix-and-match different types of content — including text, image, video, audio, and custom HTML — resulting in sliders that make your website feel dynamic and exciting.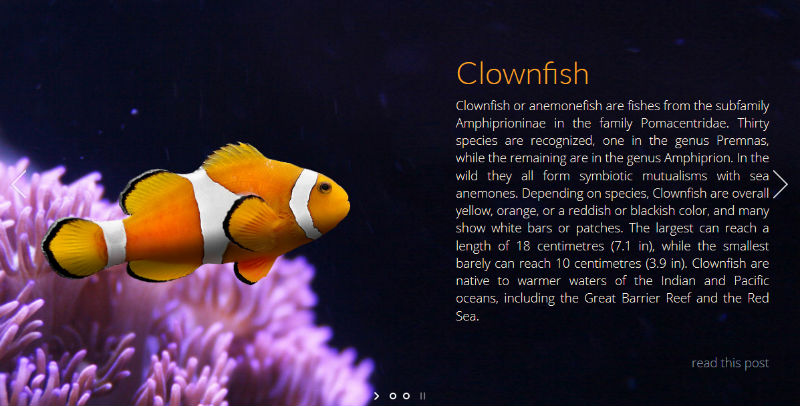 Because of the potential complexity of the slides, a user-friendly interface is needed — and LayerSlider more than delivers in this area. The WYSIWYG editor, complete with drag-and-drop functionality, makes crafting slides super easy. To help you configure the right timings for each layer, there's a useful timeline view, allowing you to set up your slides using a movie editor-esque interface.
The plugin is also really versatile, and can be used in a number of ways: Full-width sliders; WordPress content sliders; image carousel and slideshow mode, to name a few. You can add a logo in a fixed position on every slide, too, which is great for reinforcing your branding.
RoyalSlider ($23)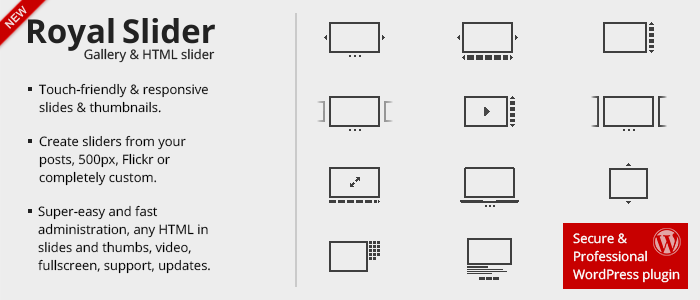 For the last plugin on this list, we're heading back to CodeCanyon for RoyalSlider, available for $23.
The plugin allows you to add almost any type of content to your slides, including images, video, HTML text, and shortcodes (this last option allows you to use the functionality provided by your theme or other plugins). There's also support for animated blocks, so you can add and animate different HTML elements — for example, animated captions.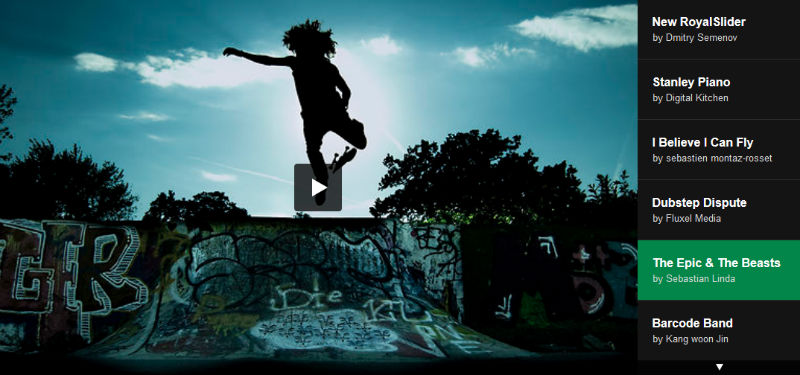 There's also good news for any photographers reading this: RoyalSlider allows you to pull images straight from your Instagram, Flickr or 500px account.
The plugin is fully optimized for SEO and performance, too, with image markup, image caching, and lazy loading functionality.
The developers pride themselves on the plugin's speed, performance, and stability, rather than the bells and whistles found on so many slider plugins — so it delivers an excellent experience for all users, across all browsers and all devices.
That being said, the plugin still supports a solid number of customizations. This includes five different skins, more than 100 options, and 11 slider templates. Each template delivers a different experience, with some of my favorites including:
Carousel
Slider in lightbox
Vertical slider
Slider in laptop view
Video gallery
Full-width slider
Final Thoughts
Image sliders can be used in a number of ways, and the plugin you choose will depend on your requirements. If your budget allows, though, I'd go for one of the premium options.
Why? Because the premium options all come loaded with truly impressive functionality, offer excellent support and a user-friendly interface, and are (usually) lightning quick.
If you're still unsure of which to choose, I recommend looking at each plugin's demo. Because image sliders are dynamic, it's difficult to do them justice using a static screenshot. Every plugin featured on this list comes highly recommended, so check a few of them out and see if one of them catches your eye.
Used any of these image slider plugins? Which do you think is best?
All comments are held for moderation. We'll only publish comments that are on topic and adhere to our Commenting Policy.
Our commenting form also supports the use of Markdown.