WinningWP content is free to all. If you make a purchase through referral links on our site, we earn a commission (
learn more
).
Soliloquy Review: Add Beautiful, Responsive Sliders to WordPress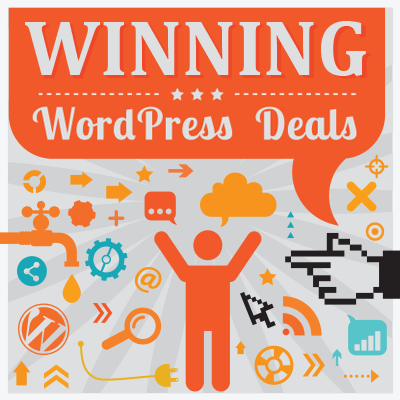 When used well, a slider can be an excellent way to improve the appearance of your website, better utilize screen real-estate and — presuming the visitor will stick around on the page long enough to see more than the first slide* — draw the attention of new visitors to any additional content or information you'd like to show off! A well-considered slider will help you in putting your audience exactly where you'd like them and boosting conversion rates!
But which slider plugin to use? With so many different WordPress slider plugins available, knowing which to choose can be a challenge! Here's a quick review of one of the best on the market: Soliloquy.
One of the most popular slider plugins around, Soliloquy essentially comes in three flavors: a basic or 'Personal' version (priced at $19), a 'Multi' version (priced at $49) which includes priority email support and a number of basic add-ons, and a 'Developer' version (priced at $99) which, in addition to all that the Multi version has to offer (more on this below), also includes a number of more advanced add-ons (more info).
Getting Started
Once installed and activated, creating your first image slider with Soliloquy is surprisingly easy — simply select Soliloquy from the main WordPress dashboard menu, then select Add New.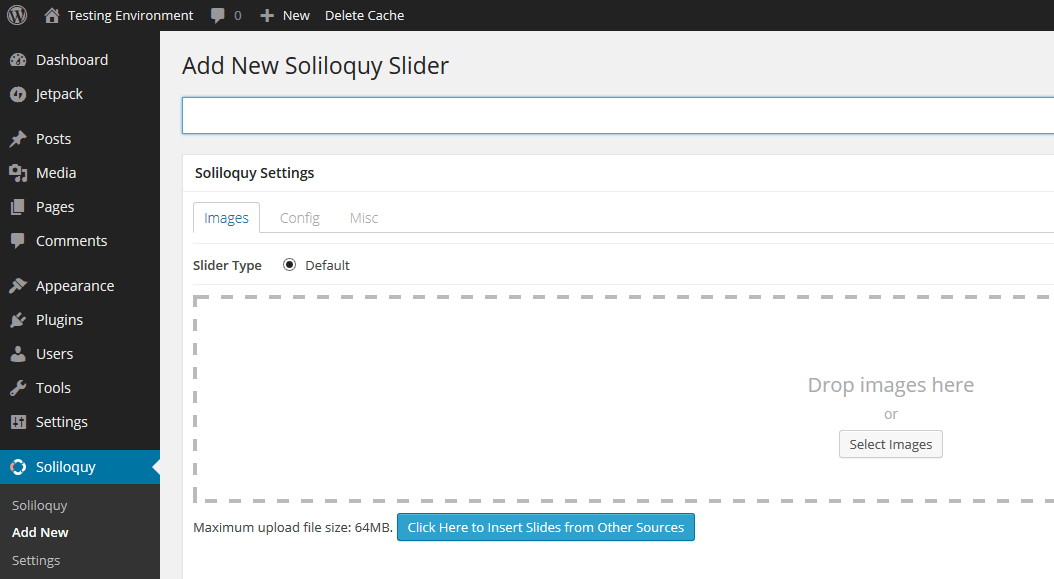 You can add your image via the Images tab — either with the drag-and-drop interface, or by using existing images previously uploaded to your WordPress media library. Once successfully uploaded and added to the interface, your images will appear directly below the drag-and-drop area.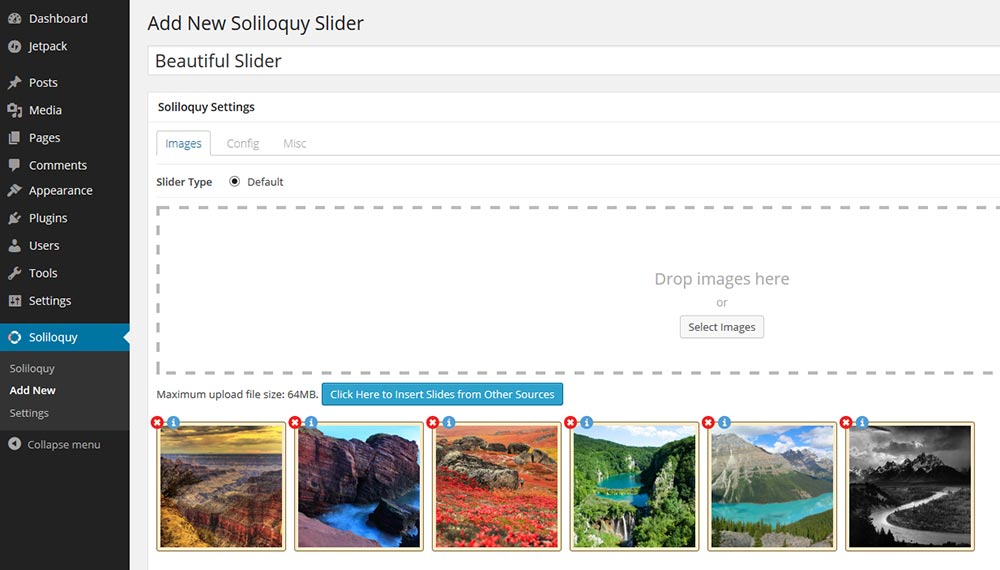 Having uploaded your images, if you want, you can then go back and edit their details by simply clicking on the desired image — bringing up a window in which to change things like the image title, alt text, and the caption. You can also specify a target URL to open if the image is clicked, as well as whether or not the corresponding hyperlink should open in a new tab.
And that's it — slider created! In short: The Soliloquy interface makes it incredibly quick and easy to create your slides and do all the important SEO stuff in just a few clicks!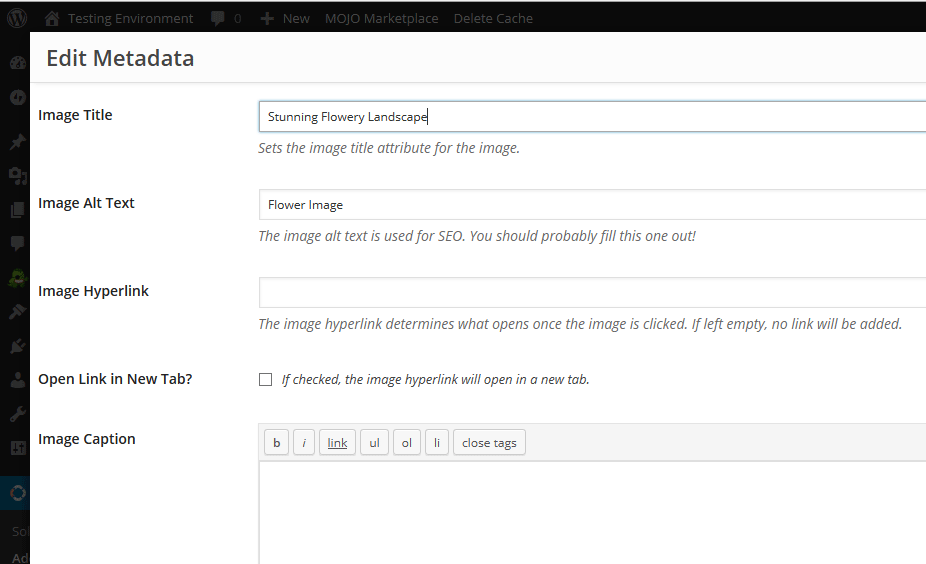 However, Soliloquy doesn't limit you to using just images. You can also create video slides — using, for example, either YouTube or Vimeo videos. All you have to do is click on the "Click Here to Upload Images from Other Sources" from within the Images tab and you'll be presented with options to create either Image Slides, Video Slides or even HTML Slides. To make a video slide, for example, just select Video Slides and hit the blue Add Video Slide button. Now you can insert the relevant video URL and presto, you have a video slide — simple!
Configuring the Slider
With your images (or videos) added, it's time to configure the slider. Click on the Config tab to access Soliloquy's configuration options.
You can then set the slider theme (there are two default options: "classic" and "base" and we're using the basic version in this review), the dimensions, the transition style (from fade, scroll horizontal, and scroll vertical), the time between transitions, and even the actual transition speed.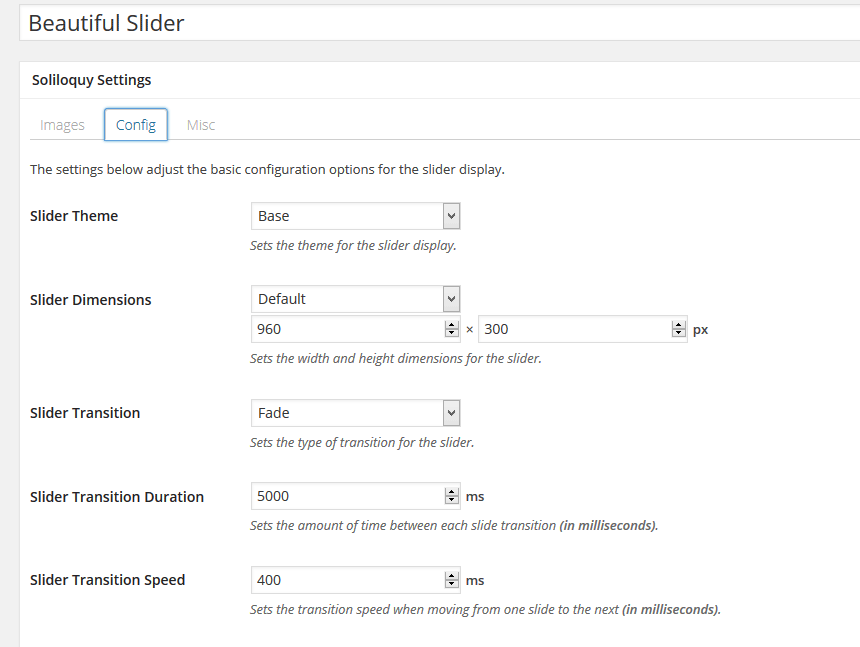 If you want your slider more mobile-friendly (which is a good idea), then you can also choose how you'd like your slider to display on such devices.
Additionally, you can also choose to randomize the order of your slides, pause the slider when a visitor hovers over it, and whether or not to allow visitors to manually flick through the slides — just to give you a taste of the possibilities!
The options are all well-explained. It's easy to understand what each option will do, and similarly easy to work with by using simple drop-downs and checkboxes.
In short, there are loads of configuration options for you to choose from, allowing you to get things exactly how you'd like them. However, there's one thing missing: the ability to preview your slider immediately after creating it. Maybe this seems like a very small inconvenience, but it's some functional food for thought for the developers if they're aiming for perfection since, currently, it seems the only way to test out and view your final creation is to create a new post, add the slider you've made and then preview the post or page containing it.
For the more technical users, there's also a final Misc tab from which to add a title, a slug and any custom CSS classes — and built-in importing/exporting mechanisms to import/export slides to/from other sites.
The Finished Slider
Once finished, you can add your slider to any post, page, custom post, or widget area using either a simple Soliloquy-provided shortcode or the Add Slider button that appears above the standard WordPress text editor.
If you need to go back in to make any further edits, you can do so — just remember to hit the Update button when you're done to ensure the shortcode you've used will display the latest version of your slider.
Here's one I made earlier using the "base" skin. (Screenshot only, I'm afraid!):

Although you can't see them here, the transition animations both load well and look great!
Speed and Performance
A common complaint lobbed at sliders is speed; this is due to the fact that added use of images, Javascript and CSS styles can — when handled badly — dramatically impact page loading speeds. Luckily, Soliloquy's developers have obviously put a lot of work into ensuring this particular slider plugin is ahead of the pack — since, I'm happy to report, Soliloquy is easily one of the fastest WordPress slider plugins on the market!
Furthermore, Soliloquy is exceptionally well-coded, not only in terms of ensuring that it's easy to use and loads quickly, but also with regards to both security and integrating seamlessly with the WordPress UI.
In the words of lead WordPress developer Mark Jaquith:
"Soliloquy is just as easy to use as you'd hope, and its underlying code is solid. It follows WordPress coding conventions, is securely coded, and blends into the WordPress UI perfectly."
For those of you who care more for numbers and statistics, in April, WordPress-guru (and all-around nice guy) Chris Lema tested the performance of six leading slider plugins: Soliloquy, Royal Slider, LayerSlider, Slider Revolution, and Slide Deck 2.
Here's a quick summary of his findings:
Slider load times:
Soliloquy: 0.44 seconds
SliderPro: 0.53 seconds
Layer Slider: 1.12 seconds
Royal Slider: 2.40 seconds
SliderDeck 2: 4.14 seconds
Revolution Slider: 4.95 seconds
(note: if you're interested in reading more about Chris' findings, here's a link to his original article)
In summary: compared to the slowest loading slider (Revolution Slider) Soliloquy loaded more than ten times faster — adding less than half a second to the page-load speed according to Chris's findings!
Extensions for Soliloquy
If you want to get most out of the Soliloquy plugin (i.e. more than the most basic slider-creating ability), the plugin offers a selection of extra functionalities via nine premium add-ons. These add-ons have all been built with the same coding philosophies for optimizing performance, but bring a variety of more sophisticated features to the table.
Opting for the Multi-license (priced at $49), gives you access to various basic add-ons.
Basic add-ons:
Schedule: Schedule specific slides to appear only at certain times of the day
Themes: 2 extra skins for your sliders — both look great
Pinterest: Add a "Pin It" button to the image in each slide to allow visitors to share slider images on Pinterest
Instagram: Add images directly from your Instagram account to sliders
Opting for the Developer license (priced at $99) gets you access to an additional set of more advanced add-ons.
Advanced add-ons:
Featured Content: Create a slider to display your most recent posts in specified categories — ideal for your homepage
Dynamic: Create sliders directly from your NextGen or WordPress galleries
Carousel: Build beautiful, responsive image carousels
Lightbox: Expand images by clicking on them — perfect for displaying a portfolio
Thumbnails: Thumbnail images of each slide are displayed below the slider
You'll probably be finding yourself wanting to use many of these features, so be sure to take a little time before jumping in to be sure you get all the features you need from the license you choose!
(Read more about the official add-ons)
The Verdict
Overall, I'm a big fan of Soliloquy. With the right add-ons, Soliloquy does just about everything you could want a slider plugin to do.
Performance is obviously huge factor when choosing a plugin, and Soliloquy outperforms its rivals (some of them by a considerable margin) in terms of both additional server requests and speed.
What's more, from a usability perspective Soliloquy is excellent. Creating a slider is incredibly quick, easy, and most of all fun. It's not at all difficult to have a beautiful, fully configured slider up and running within minutes; and because everything about this plugin is so intuitive, WordPress users of all levels will likely feel at home using it.
The core product is a steal at $19. That said, it's worth bearing in mind that the core product only provides limited functionality and you may find yourself needing a little more (depending on what it is exactly that you want it to do). Be prepared to pay a bit extra if need be (see the list of basic and advanced add-ons listed above) and opt for either the Multi or Developer license — enabling you to do things like build a featured posts slider for your homepage, and greatly extending the ways in which you can use Soliloquy.
And finally, if you're interested in giving Soliloquy a whirl, remember WinningWP fans can receive a welcome 25% discount using our handy Soliloquy Discount Code!
If you haven't already, check it out over on the official website for more info!
*something which, since you can never really guarantee, means you should always be sure to make the content of the first (indeed, perhaps the only) slide your visitors see really count and treat the content of all other slides as a helpful yet non-essential added bonus!
Using Soliloquy? Thoughts?
All comments are held for moderation. We'll only publish comments that are on topic and adhere to our Commenting Policy.