WinningWP content is free to all. If you make a purchase through referral links on our site, we earn a commission (
learn more
).
Top Seven Best Plugins to Clone/Duplicate a WordPress Website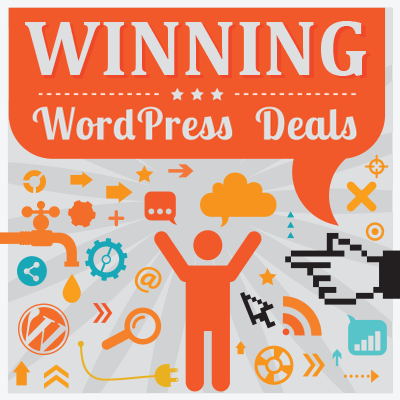 Cloning a WordPress website involves not only backing it up, but also restoring it at the new location.
Website owners often duplicate a website in this way when they've changed web host and need to restore their website on a new server, and, depending on your setup, you may have to do this if you change your domain name too.
By cloning a live website to a staging environment, you can perform updates safely before pushing them to your live website, while having an exact copy of your website is great for doing general testing too.
WordPress has a useful guide that shows you how to move WordPress manually. Manually duplicating your website to another location isn't difficult, but the process of backing up your WordPress database and files, and restoring them at a new location, can be time-consuming.
This is why most website owners use a WordPress plugin to create a clone of their website; WordPress migration plugins simplify the process of copying and moving a WordPress website to a new location. These plugins are incredibly popular, with many of them being active on millions of WordPress websites.
In this article, I'll show you seven great WordPress plugins for cloning and duplicating WordPress.
1. Duplicator (FREE/$59-plus)
Duplicator is a popular WordPress plugin that helps you to move and clone WordPress websites.
Within the plugin, backups are referred to as packages, and, when you're creating a new package, you can choose to exclude files and database tables from being backed up. There's also an option for you to pre-fill the destination MySQL server information into the backup file.
Duplicator completes a scan of your website to make sure everything is okay, which also highlights large files that can be excluded from the backup.
This may be necessary when using the free version, as it only supports backups up to 500MB in size. Additionally, it only allows you to back up files to your website server, so you'll need to upgrade to Duplicator Pro if you want to back up using FTP, or to a cloud storage service such as Dropbox, Google Drive, Microsoft OneDrive or Amazon S3.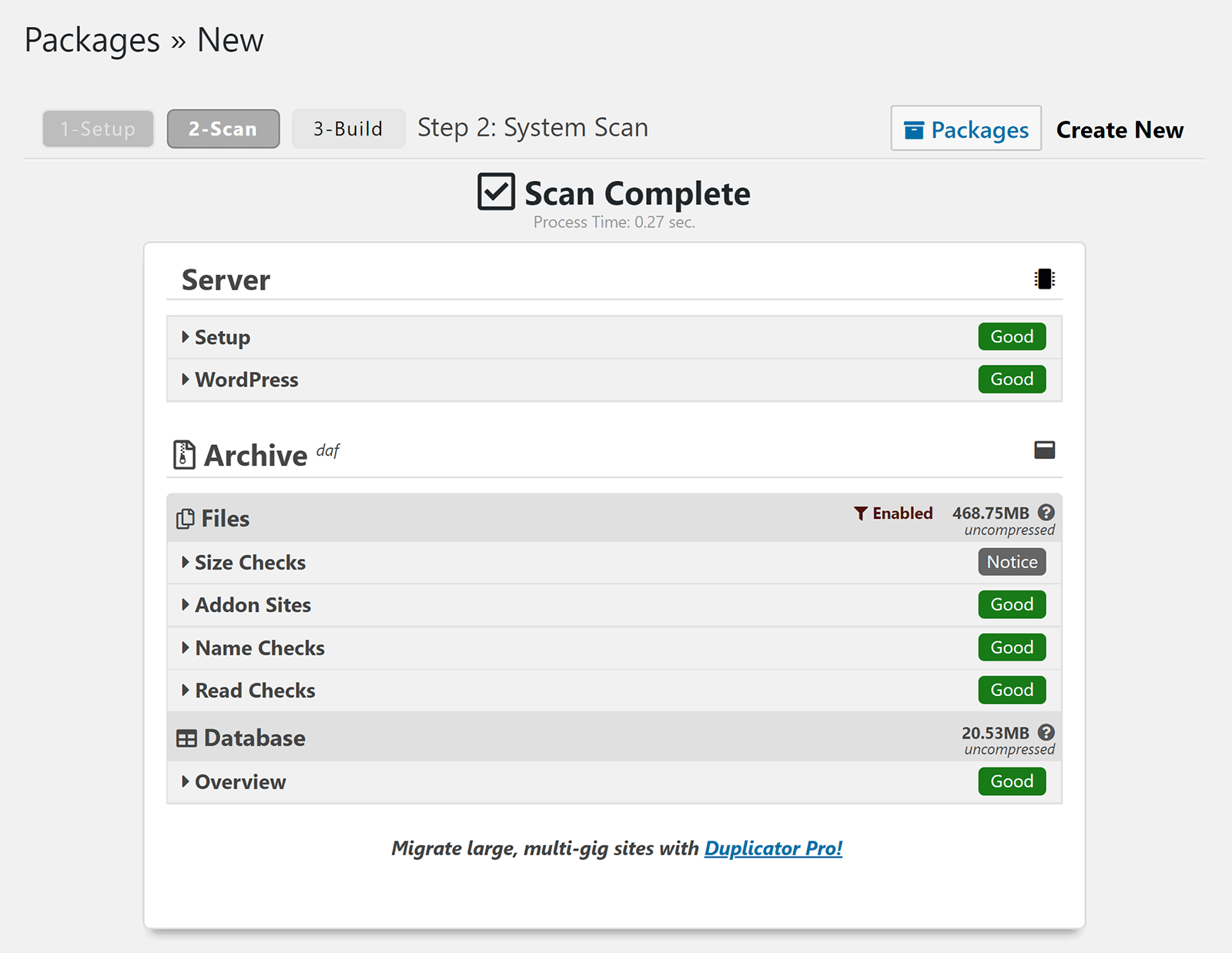 If you want to restore a website, you need to download the archive backup file, and the corresponding installer.php file, and upload them to the new location. WordPress doesn't need to be installed at the new location, as the installer handles this, but you will need to create the database if you haven't already done so.
Duplicator's free version is a good solution for those who have a small website under 500MB in size, but established websites should upgrade.
In addition to removing the backup file size restriction, Duplicator Pro has many useful features to help larger websites. This includes support for WordPress multisite, multi-threading so backups are processed quicker, and support for larger databases. It also allows you to create new databases and users in cPanel from inside the package creation area.
A personal license for Duplicator Pro costs $59 and gives you support and updates for three websites for a year. If you upgrade to the freelancer license at $79, you increase support to 15 websites and also unlock additional features such as hourly schedules, installer branding, and installer salt and key replacement.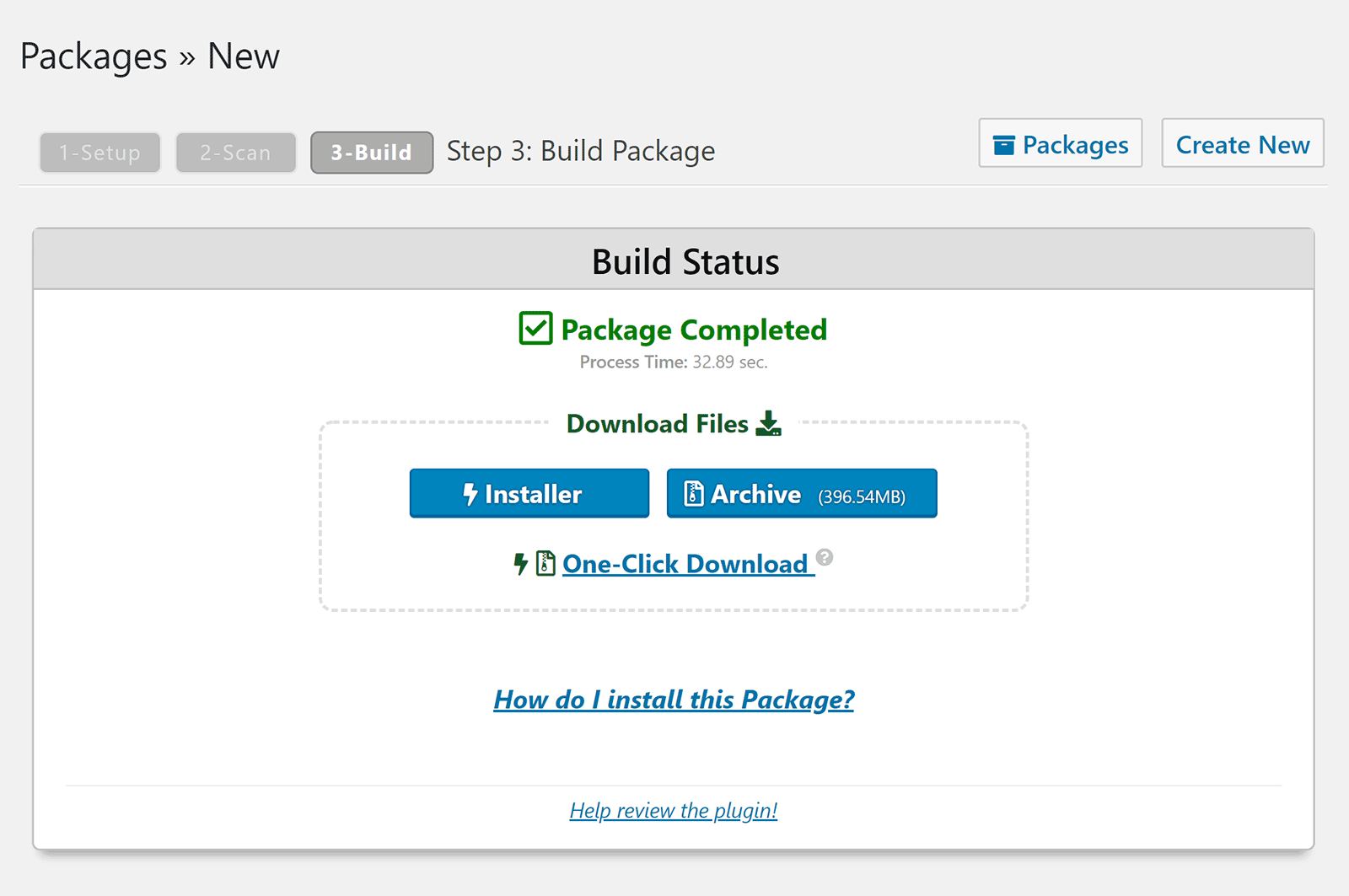 Duplicator is a useful WordPress plugin that can help you to duplicate small websites with ease. There's no way to remotely restore backups to a specific location, but the restoration process is still significantly quicker than copying a website manually.
Those of you with established websites should consider upgrading to the pro version, as it's better suited to handling larger websites and gives you more storage options too.
2. UpdraftPlus (FREE/$30-plus)
It's easy to see why UpdraftPlus is one of the most popular WordPress backup solutions on the market.
Despite being free to download, UpdraftPlus offers many features that alternative backup solutions charge for. For example, it allows you to schedule multiple backups on a daily basis via FTP to its UpdraftVault service, and to over a dozen cloud storage services.
You can choose exactly what's backed up, and it supports incremental backups too.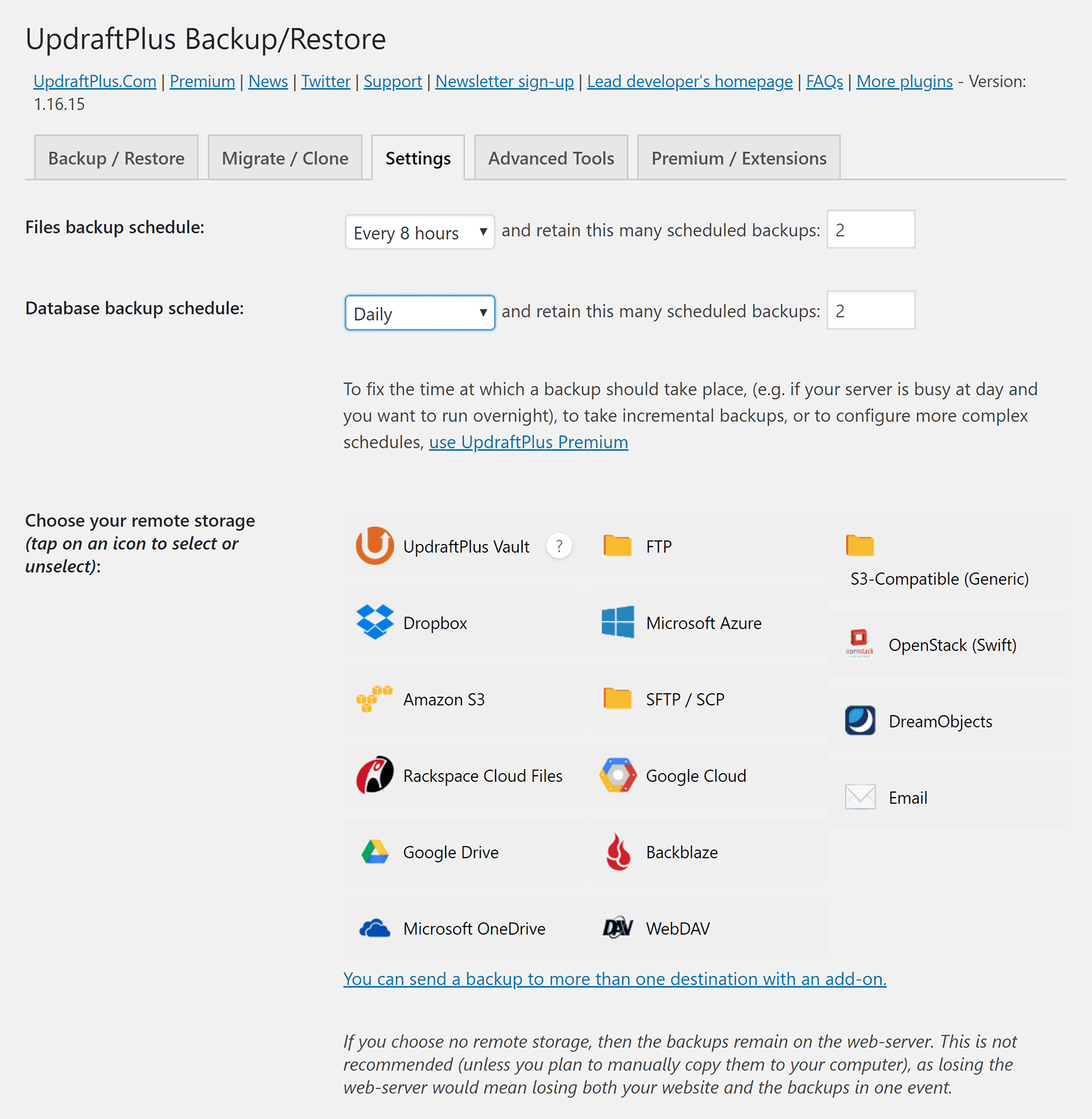 Functionality for cloning and migrating websites are available as premium upgrades.
Cloning service UpdraftClone lets you create a cloned website and store it on the UpDraftPlus servers. This is a good choice for those who need website staging or a testing environment.
To use UpdraftClone, you need to purchase tokens. It costs one token to clone a website and one token to extend it for a week. Five tokens, which will keep your cloned website for around a month, can be purchased for a one-off fee of $15 or a monthly subscription of $12.
The company's migrator plugin is called UpdraftMigrator. Retailing from $30, it can be used to clone your website to any custom URL, and, since you're not using UpdraftPlus servers, there's no restriction on how many migrations you can perform.
The migration tool has a search and replace feature, so you can replace URLs and make other changes to reflect the new location of your WordPress website.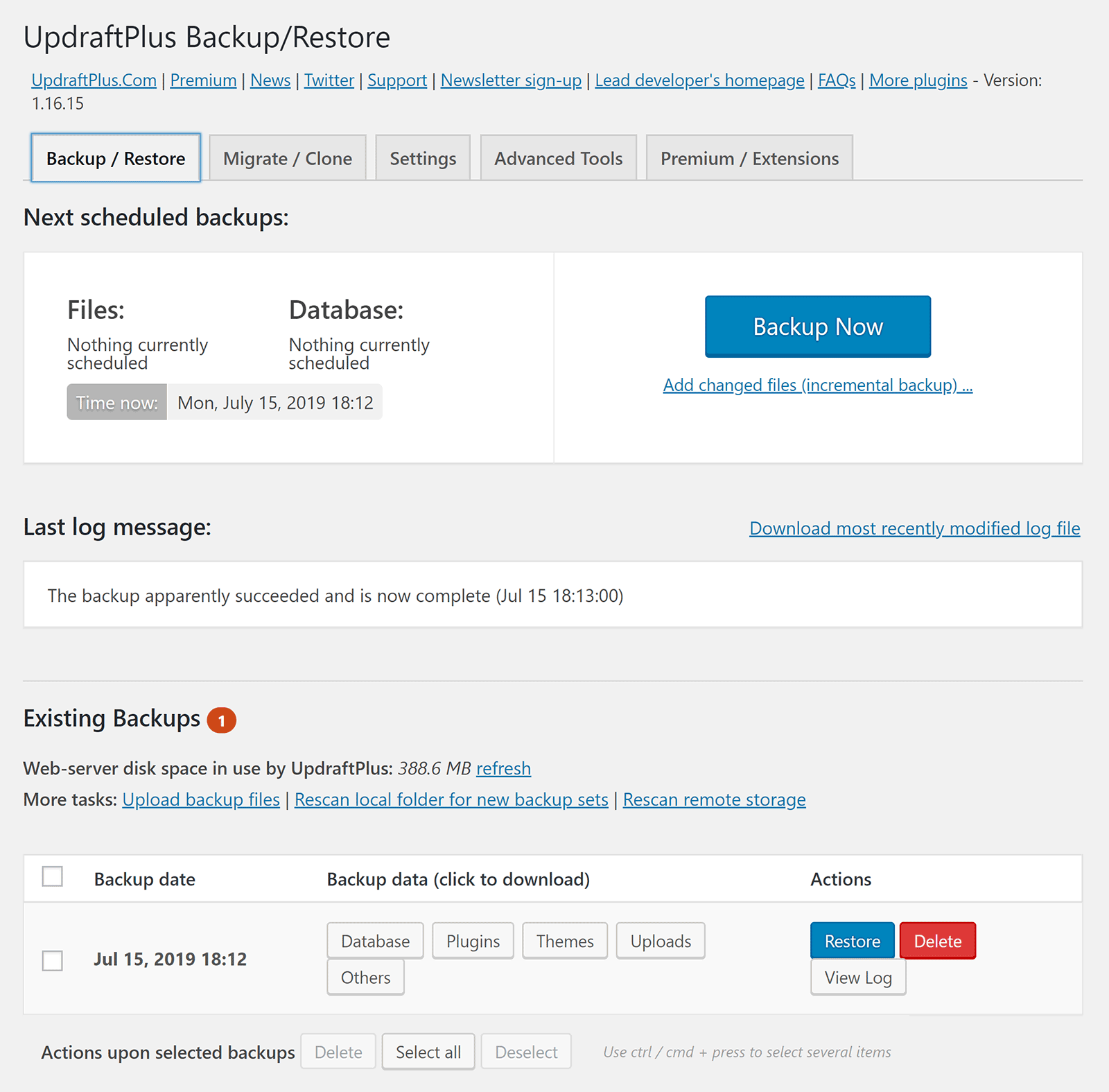 UpdraftPlus is a fantastic solution for backing up a website, but, if you're looking to clone or move websites, you'll need to spend money. UpdraftClone is useful for testing, but UpdraftMigrator is the better option if you're moving WordPress websites frequently — and it only costs $30.
UpdraftMigrator is also included with UpdraftPlus Premium. Retailing from $84, the premium plans unlock all UpdraftPlus addons together with a year's subscription to their vault service and tokens for UpdraftClone.
3. All-in-One WP Migration (FREE)
All-in-One WP Migration is a user-friendly WordPress migration plugin that bypasses the maximum file upload restrictions many website hosting companies enforce. It does this by uploading in chunks.
When you're creating a backup of your website to copy over to another location, you can find and replace text. This is useful for changing the website URLs in the backup file to the new location.
You can also exclude things such as spam comments, media files and post revisions from the backup. There isn't, however, any way to exclude specific database tables or files.
To restore a website, you simply need to activate All-in-One WP Migration on the other WordPress website, and select to import the backup file from the method you chose to back up.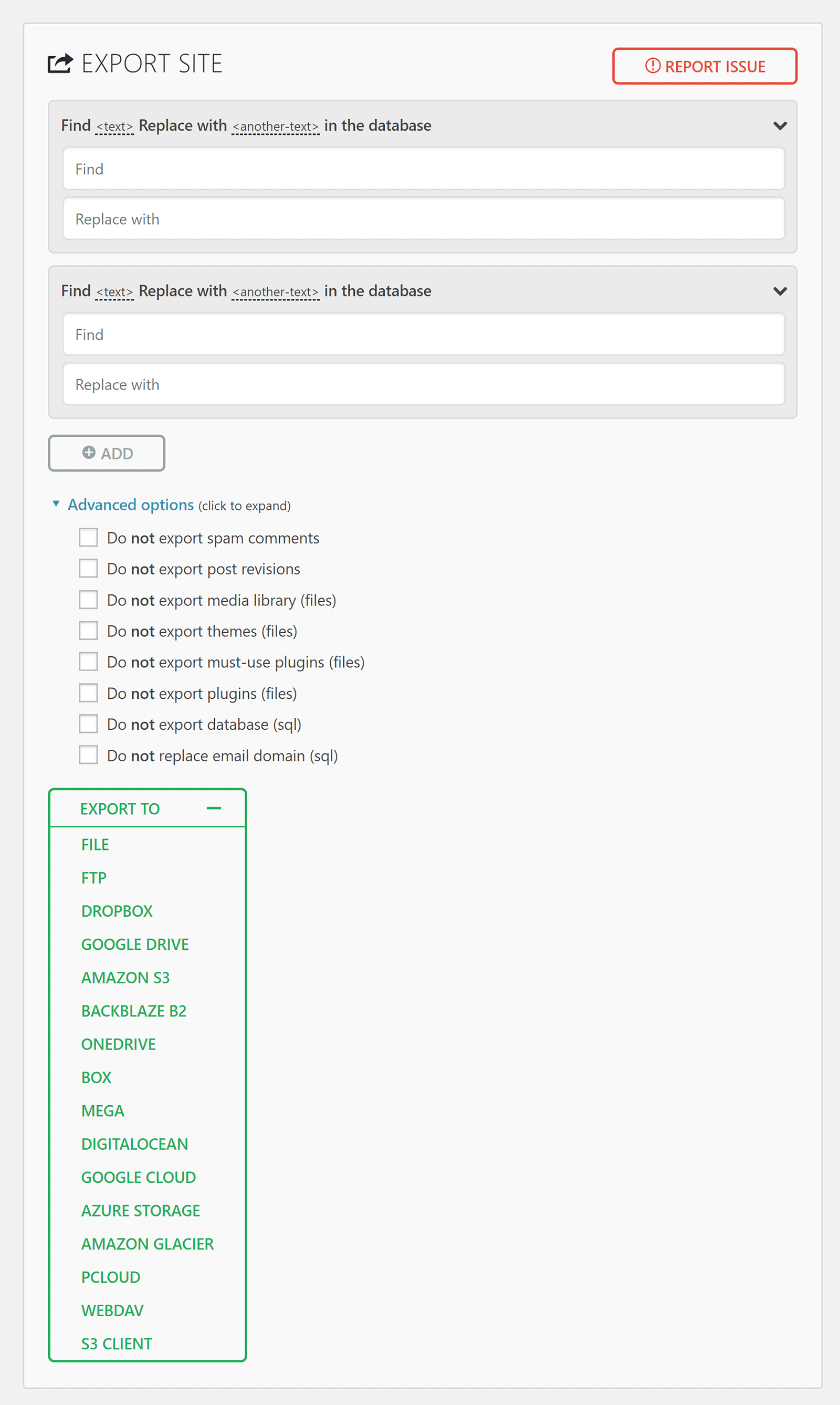 All-in-One WP Migration is the perfect solution for those who want to move a small WordPress website. Unfortunately, you can't realise the true potential of the WordPress plugin unless you spend a lot of money, as most functionality is only made available through premium extensions.
If you want to restore a backup from your server, or remove the 512MB import limit, you need to purchase the Unlimited Extension for $69. Should you want to export and import your backups via FTP, it will cost you $99.
It's $199 to add support for WordPress Multisite, and adding support for the dozen or so cloud storage services will cost you $99 per cloud storage website.

There's no doubt that All-in-One WP Migration is a versatile WordPress cloning and migration solution. The free version of the plugin is fine for small WordPress websites under 512MB, but most website owners are going to have to spend a few hundred dollars to unlock all of the features they need for their setup.
4. BackupBuddy ($80-plus)
BackupBuddy is a popular premium backup solution for WordPress that was launched in 2010. The plugin lets you choose what's backed up, and lets you download the zip file and store backups in several cloud storage services, including Amazon S3, Google Drive and Dropbox.
Scheduled backups are supported, and, during each scan, it'll check for malware, hacks, deleted files, user errors and more, while one-click restores make restoring your websites a breeze.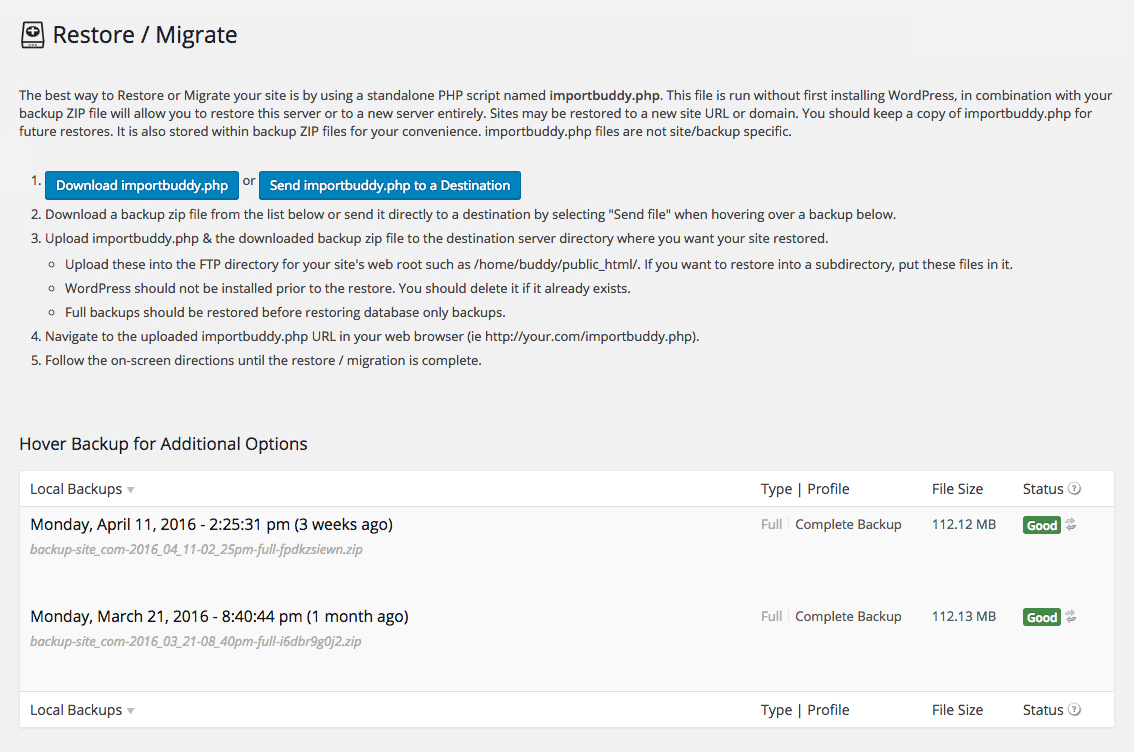 The ImportBuddy tool can be used to clone WordPress, migrate WordPress or create a website staging area.
All you have to do is upload importbuddy.php at your new location with your backup zip file. When you run the installer, you can enter your new database details and new URL.
A single license for BackupBuddy retails at $80, which, in addition to a year of updates and support, grants you 1GB of BackupBuddy Stash and one year's access to Stash Live.
All WordPress backup and migration solutions have their pros and cons, but I believe BackupBuddy is one of the most well rounded, as it offers automated backups, many customisation options, security scanning and a dedicated import tool for cloning and migration.
5. WP Migrate DB (FREE/$99-plus)
WP Migrate DB is a simple WordPress backup and migration tool that lets you export your WordPress database. It's a great alternative to backing up via phpMyAdmin, as it allows you to exclude spam comments, transients and post revisions.
A find-and-replace tool also allows you to modify the database that's exported without affecting your live website.
As you can see from the screenshot below, you need to upgrade to WP Migrate DB Pro to unlock all features.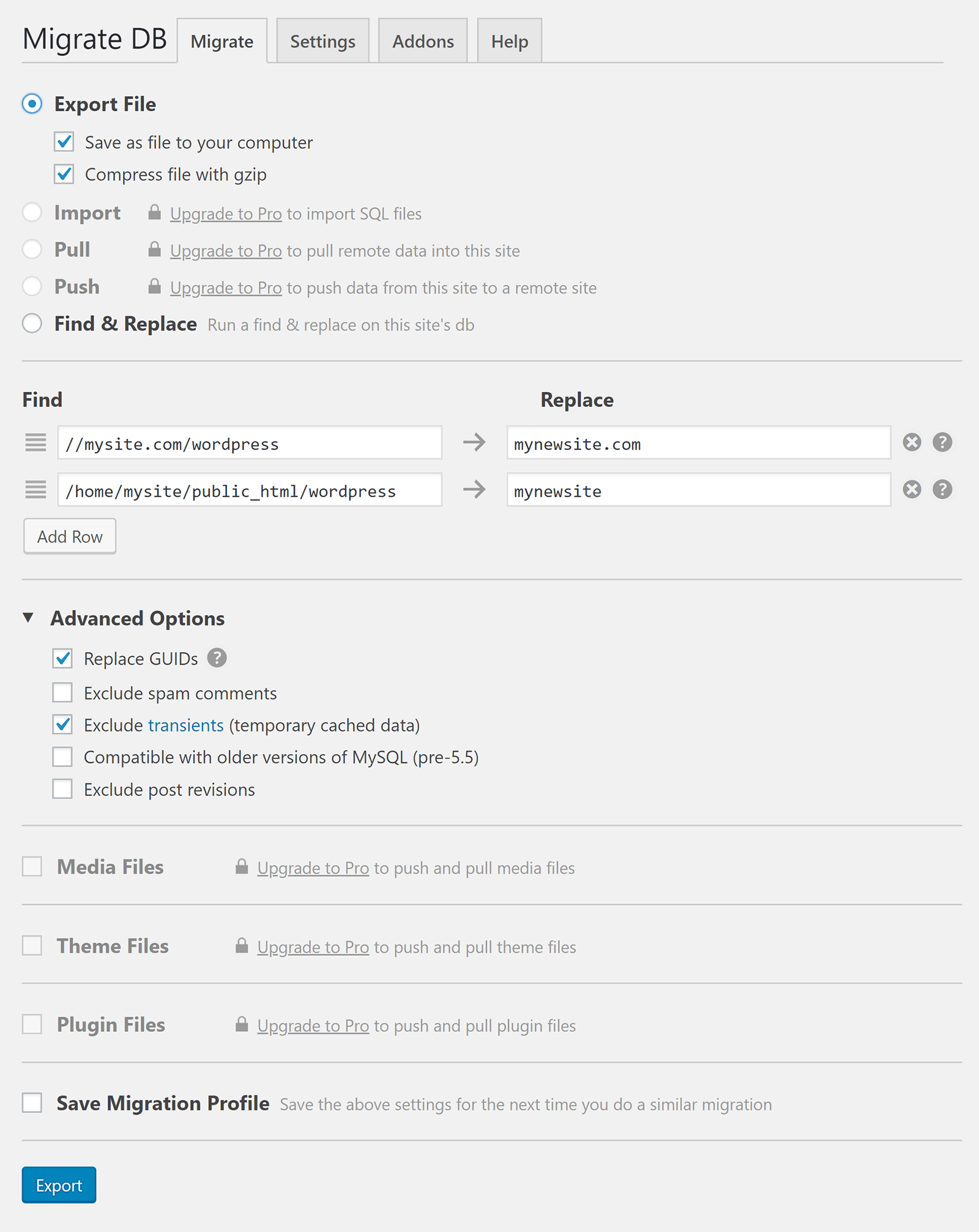 WP Migrate DB Pro allows you to import SQL files — something that's sorely missing from the free version. It also lets you pull data from another WordPress website and push data to a remote WordPress website. This is a fantastic feature that will help you to clone websites and create staging areas and test websites.
Migrations can be performed from the command line using the CLI addon; the theme and plugin files addon and media files addon can be used to push and pull theme files, plugin files and media files.
A Multisite tools addon is also available, which adds support for WordPress Multisite.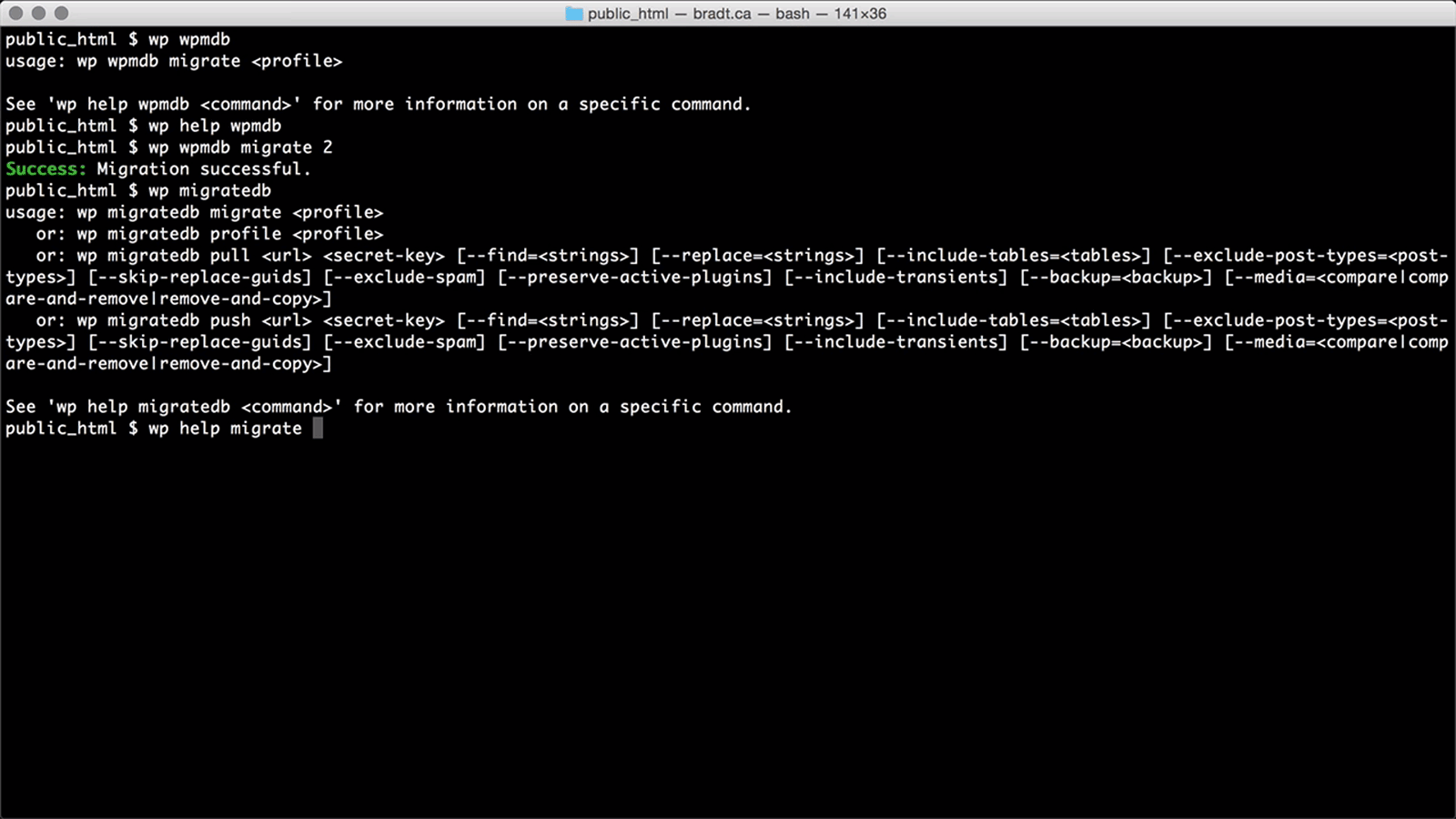 A personal license for WP Migrate DB Pro retails at $99 and comes with one year of support and updates. This license will unlock importing, pushing and pulling functionality.
To unlock the four available addons, you need to jump up to the developer licenses at $199, which increases usage to 30 websites and makes all functionality available to you.
If you're used to manually transferring SQL files between WordPress installations, the free version of WP Migrate DB can help you to select what's added to the SQL backup file. However, I encourage you to check out the pro version as the push and pull features are fantastic.
Check out our extensive review of WP Migrate DB Pro to find out more about what it can do.
6. WP Staging (FREE/€89-plus)
WP Staging is a migration and cloning WordPress plugin with a settings area that lets you change the CPU load, file copy limit and database copy query limit.
When you're creating a new staging environment, you can select which database tables and WordPress folders are backed up. The staging environment has a notification message in the WordPress admin bar to remind you that you're viewing the staging website.
In the free version, the staging website is created as a sub-folder of your main WordPress installation; in the pro version, you can install your staging website remotely by defining the database information, URL and target directory for the new location.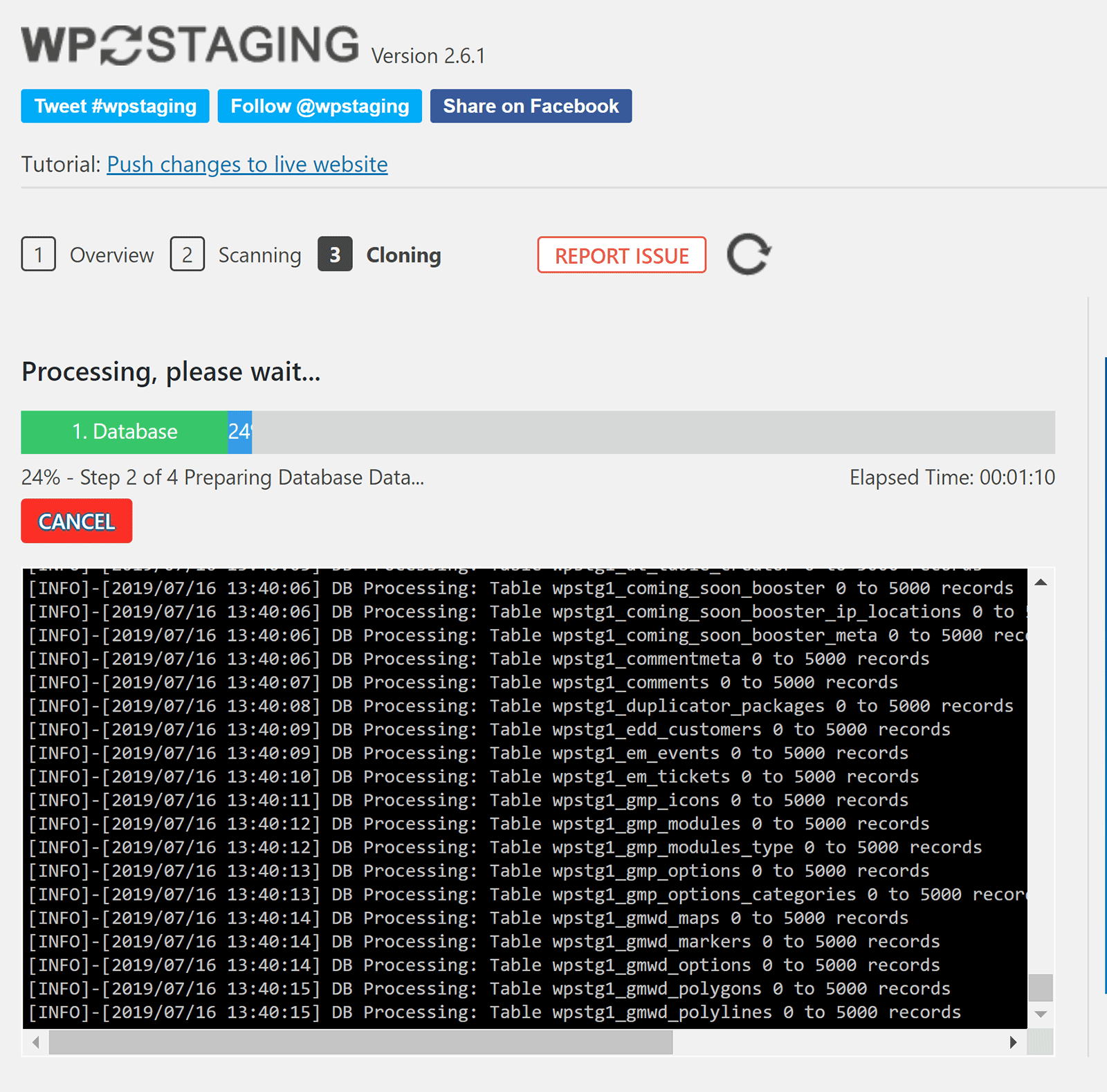 WP Staging Pro is required if you want to clone your website to a separate domain. WordPress multisite is supported in this version, and you can set custom user roles for accessing your staging website.
WP Staging Pro is available from €89. One of the best features of the pro version is you can push your whole staging website to a live website.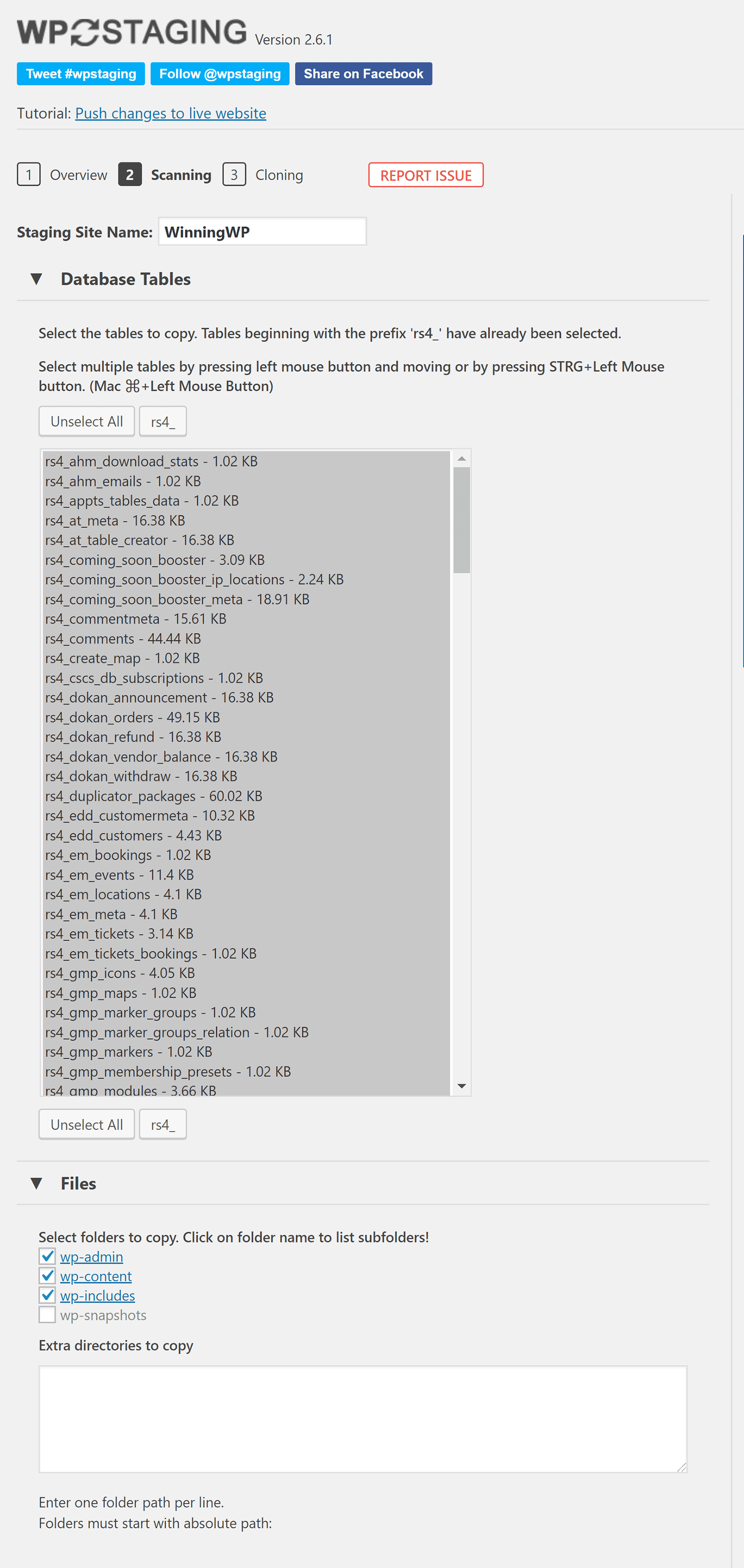 The free version of WP Staging is perfect for setting up a test environment for trying out new WordPress plugins and themes.
If you're looking to duplicate a WordPress website to a new location, or create a staging area for performing website updates, WP Staging Pro is the better choice.
7. XCloner (FREE)
XCloner is a backup and restore WordPress plugin that's 100% free to use.
The plugin gives you complete control over how backups are generated. You can define the backup location and select which tables and files are saved, but there are also useful options, such as automatically backing up before a WordPress upgrade is performed and an option to only back up WordPress database tables.
Limits can be applied to backups, and you can automatically delete backups that are older than a specific date. Backups can be downloaded in zip format, or be backed up via FTP or cloud storage services such as Google Drive, Amazon S3 and Dropbox.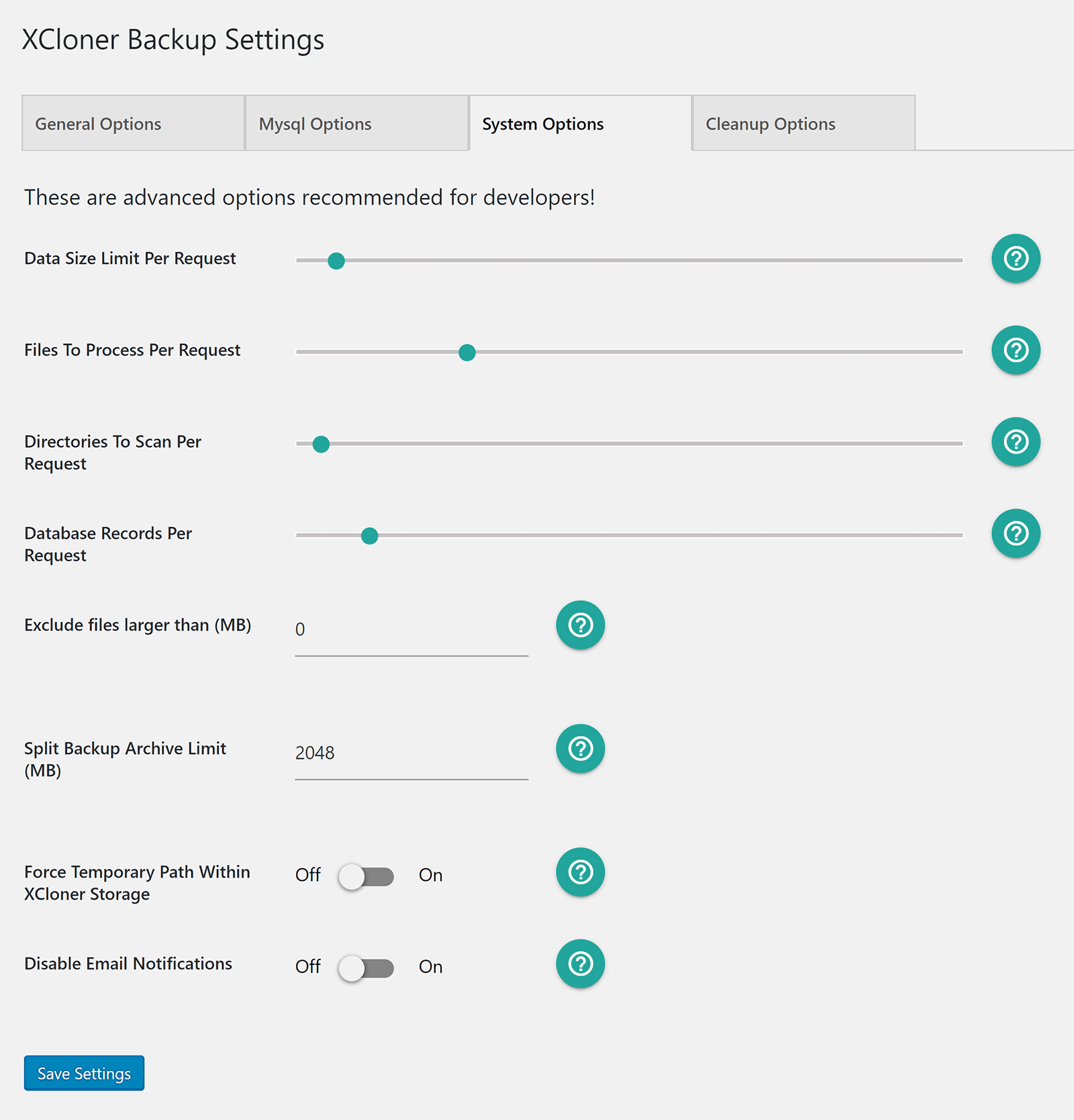 Backups can be restored at your new location using the xcloner_restore.php restore script. Once the script has been uploaded, you can define the target path and the specific backup you want to restore there.
The target database details have to be entered for your new setup, and you can do a search and replace at this stage too.
The plugin can also update the wp-config.php file at the new location and automatically delete the restore script and the temporary backup folder.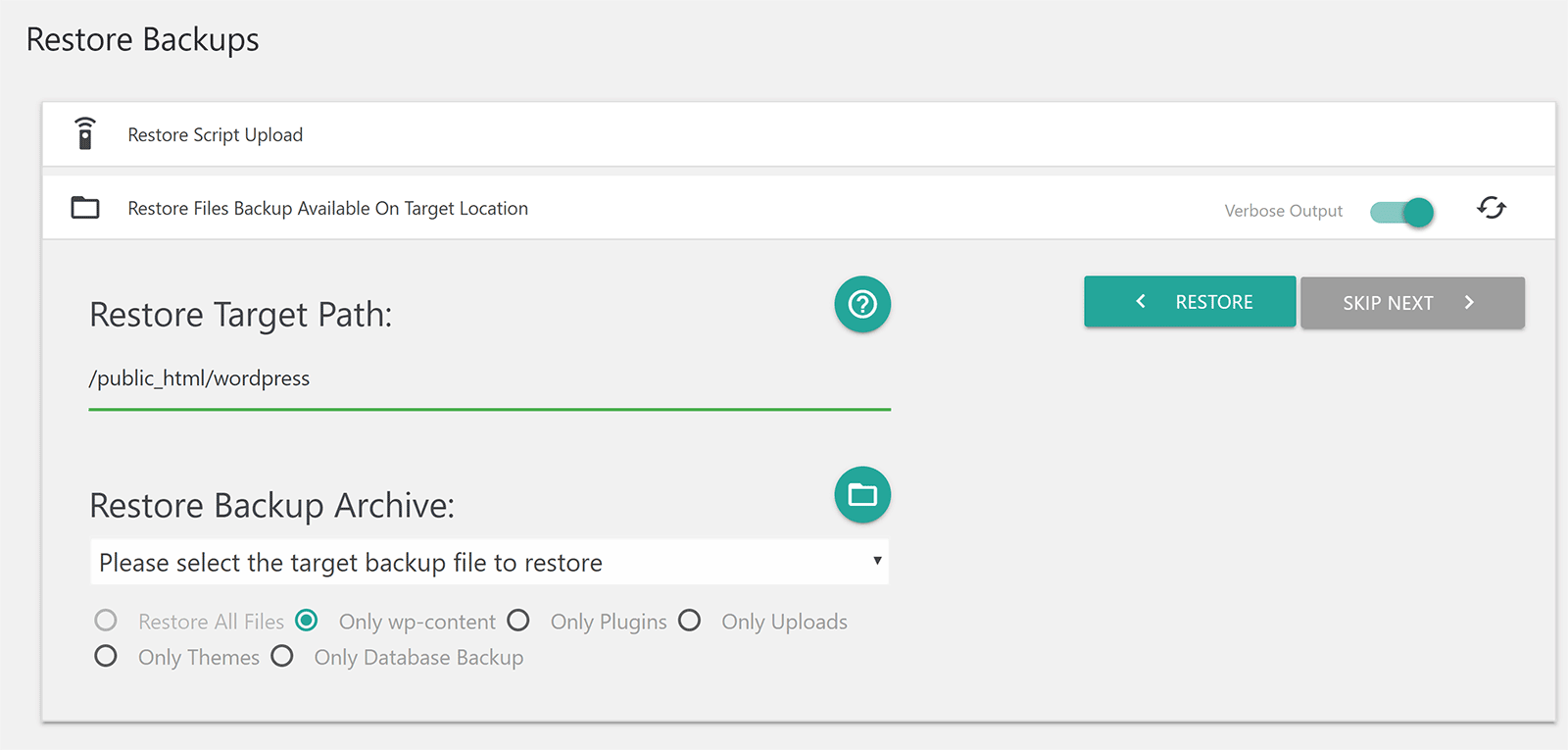 XCloner is a great solution for backing up your website and duplicating it to another location.
It's free to download and use, and gives you full control over the migration process and how the target website is configured. Recommended.
Honourable Mentions
During our research, we came across many great WordPress migration and cloning solutions that just missed our list. In this section, I'd like to reference a few good plugins that you may also want to consider.
WP Stagecoach is a premium WordPress staging service that can be used to create a copy of your website on the WP Stagecoach servers. It's incredibly quick to set up, and, once you've made your changes, you can apply them to your live website at the click of a button. Pricing starts from $120 a year.
WPvivid Backup Plugin is a fantastic backup and restore solution that's free to use. It supports FTP and cloud storage for backups, and it has an auto-migration tool to help you to transfer websites to a new location.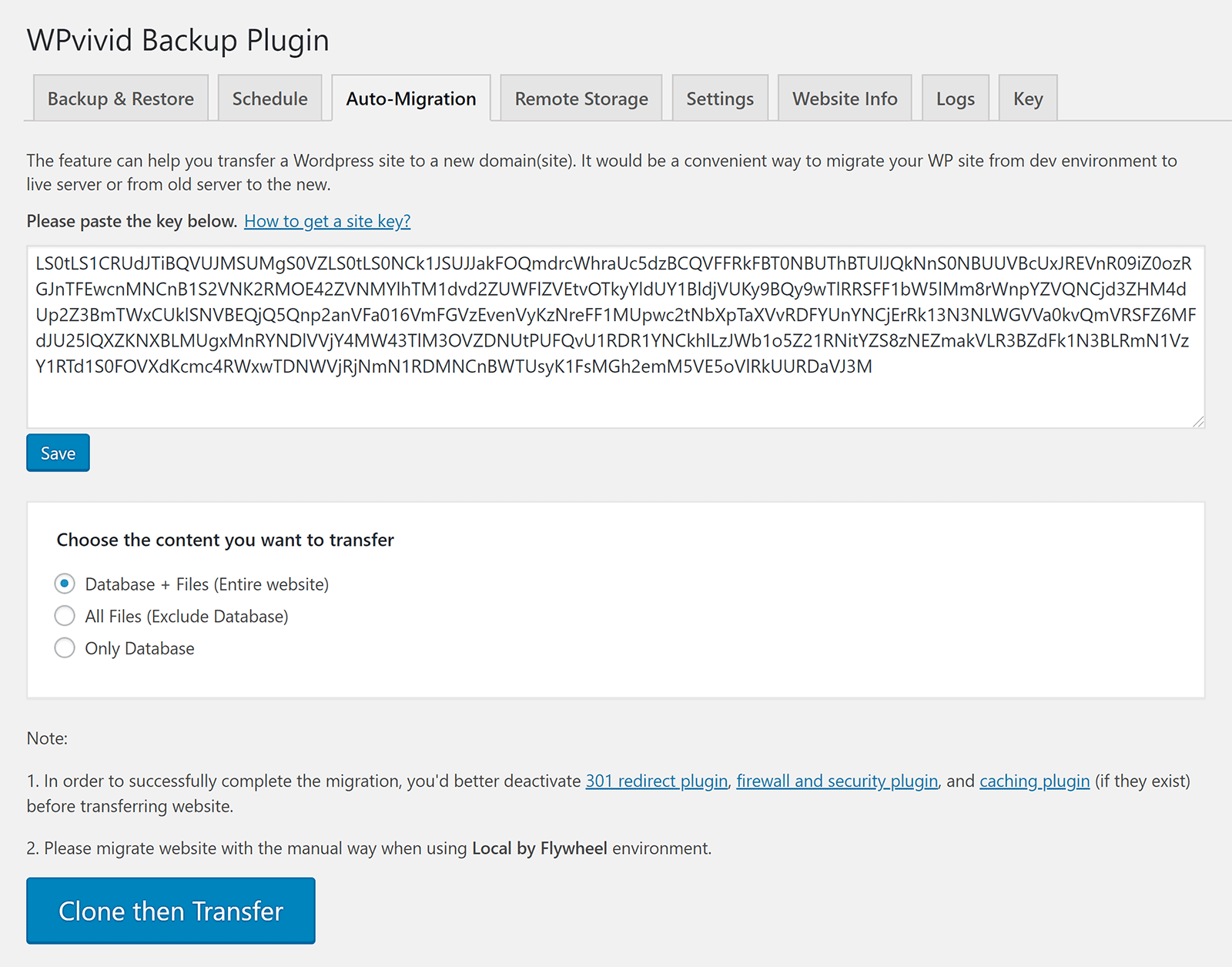 Another free migration WordPress plugin to consider is Migrate Guru. Developed by BlogVault, the plugin was designed to help website owners transfer their websites to a new hosting setup. It also supports FTP transfers so you can use it to move your website anywhere.
Backup Guard is a useful backup solution too. The free version lets you create custom backups to your computer or to Dropbox. The pro Version retails from $25.
Upgrading unlocks their migration feature, which can be used to move your WordPress database and files to a new location. URLs can also be changed during the migration process to reflect your website's new location.
Final Thoughts
There are many great WordPress plugins on the market that can help you to copy and migrate WordPress websites.
XCloner is a great starting point as it's 100% free to use. This is in contrast to most other solutions that restrict many features to the pro versions. Of course, if you're regularly transferring WordPress websites from one location to another, it's worthwhile spending some money to get the best solution.
As always, I encourage you to test as many of these cloning and migration plugins as you can. This will help you to see which one suits you best, whether you're looking to create a simple test website or a staging area that requires pushing and pulling to a live website, or if you're migrating your website to a new web host.
Used/using any of these plugins? Thoughts?
All comments are held for moderation. We'll only publish comments that are on topic and adhere to our Commenting Policy.