Five of the Best Plugins to Clone/Duplicate a WordPress Website (2019)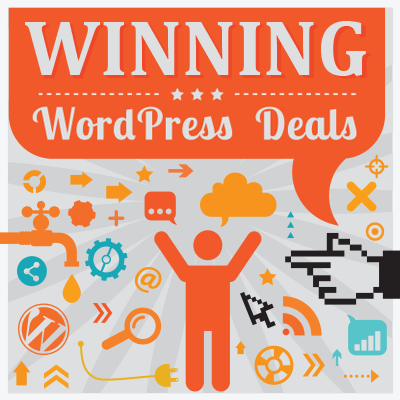 There are many reasons why you might find yourself cloning a WordPress website. You could be moving from local development to production server or vice-versa; you might be setting up a testing environment or staging server online. Maybe you're migrating your site to a different provider, or need a copy for a similar project. Perhaps you simply want to back it up.
In any case, it's crucial that the content corresponds exactly to the original. After all, what good is it to fiddle with your development version if the changes don't translate to the live site? No good, that's what!
Of course, you can clone your WordPress site manually. Generally speaking, this usually involves the following steps:
Copying your files and database
Uploading both to the new location
Updating the database references
Editing wp-config to fit the new environment
Let's be honest, though — manually copying a WordPress site is a pain in the butt. If you've ever found yourself thinking there's got to be a better way, today is your lucky day!
Below we'll look at a handful of the best plugins that make cloning your WordPress site faster, easier, and much more convenient.
Five of the best cloning plugins around:
Some of the plugins on this list are free, others are paid. Some have a freemium model in which they offer extra features for the money. For each one, we'll list up their advantages and disadvantages so you can make an informed decision about which one best fits your needs.
Duplicator

Price: Free (Pro version $39-$119)
Duplicator is a free plugin from the WordPress repository. As of this writing, it has more than 400,000 active installs and boasts a 4.9/5 rating. It can be used to backup WordPress sites or to migrate, copy or clone them one location to another.
How does it work?
Duplicator will create two files from your WordPress site: an archive file and an installer file. The archive contains both your site data and the MySQL database. The installer file is a PHP file that will extract and install the archive in the new location.
During setup, you can configure what should and shouldn't be included in the archive, and include all necessary information for the site's new location in the installer file. Doing this will automatically populate the wp-config.php with the values of the new host.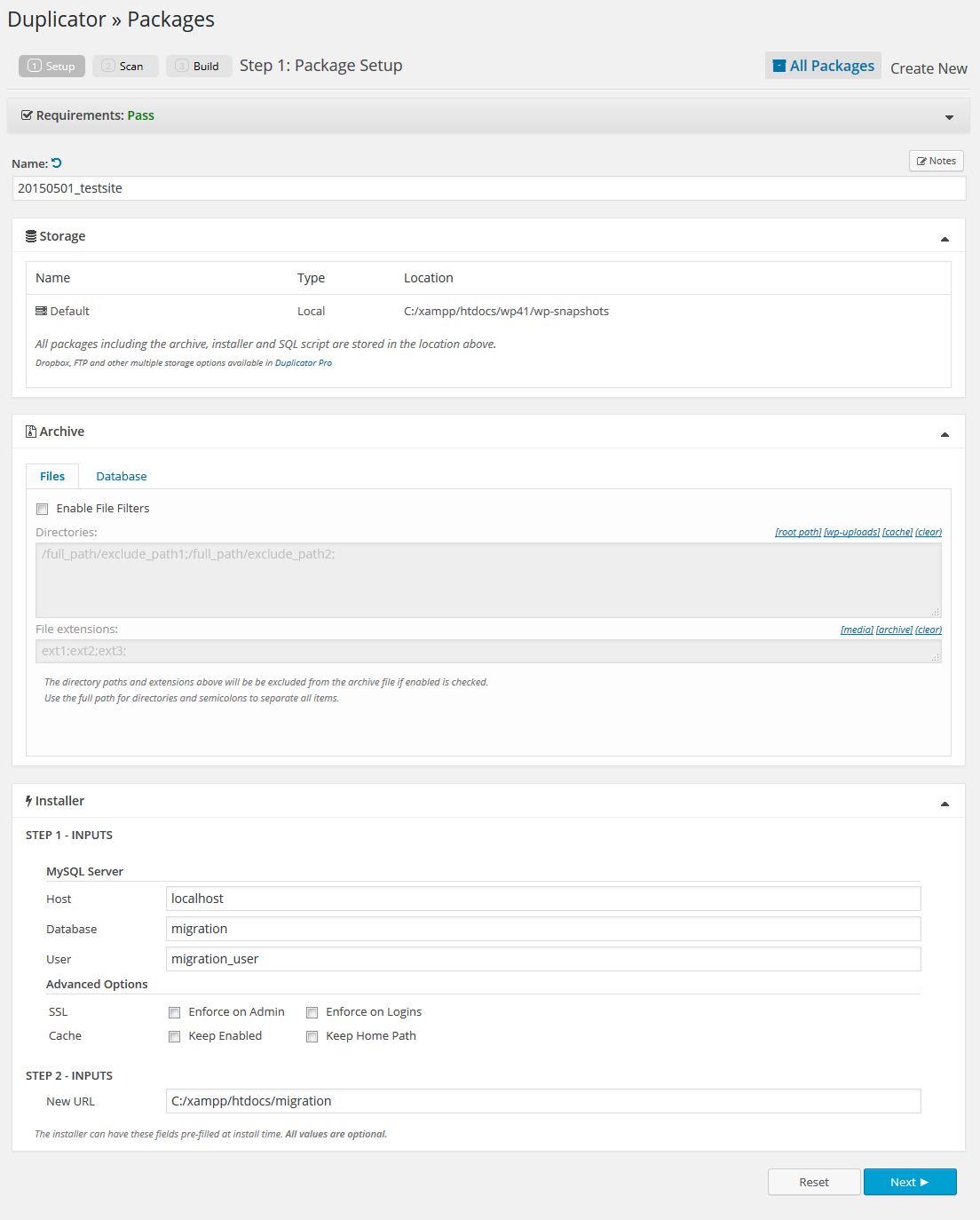 After configuration, a backup of your site is created with just two clicks. You can download both files directly at the end of the process or find them inside the wp-snapshots folder in your WordPress installation.
Redeployment of the site is just as simple as creating the package was. All you need to do is upload both the installer and archive files to the new location of your site (i.e. the server), and access the installer.php file via your browser. The installation will then let you either create a new database or connect your site with an existing one.
As a final step, you can determine which database tables should be scanned to replace the old URL and whether plugins included in the installation should be activated or not. A click on "Run Update" will then redeploy your site.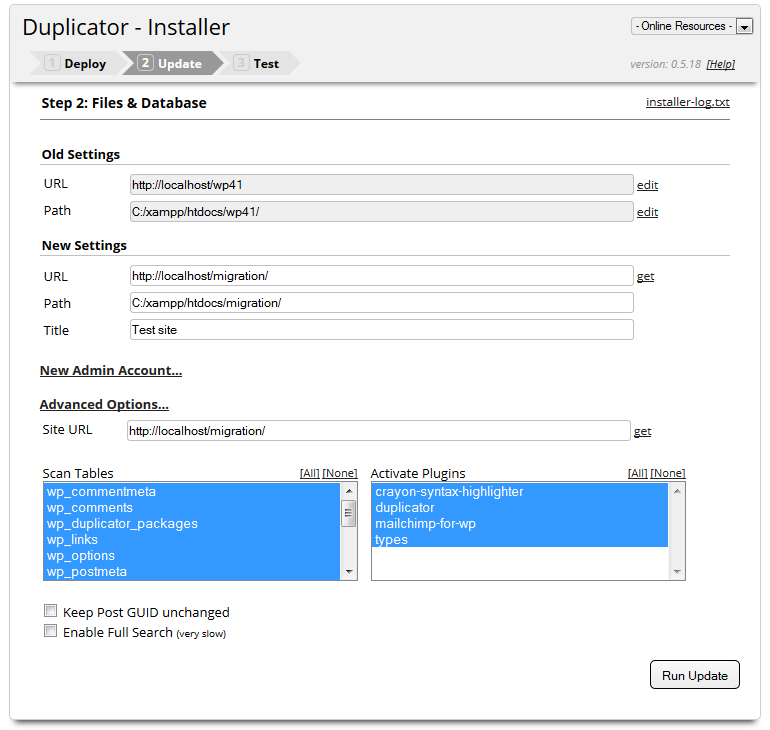 Lastly, Duplicator will also give you a report on possible problems and point out a few other points to note, such as updating your permalinks and cleaning up temporary files.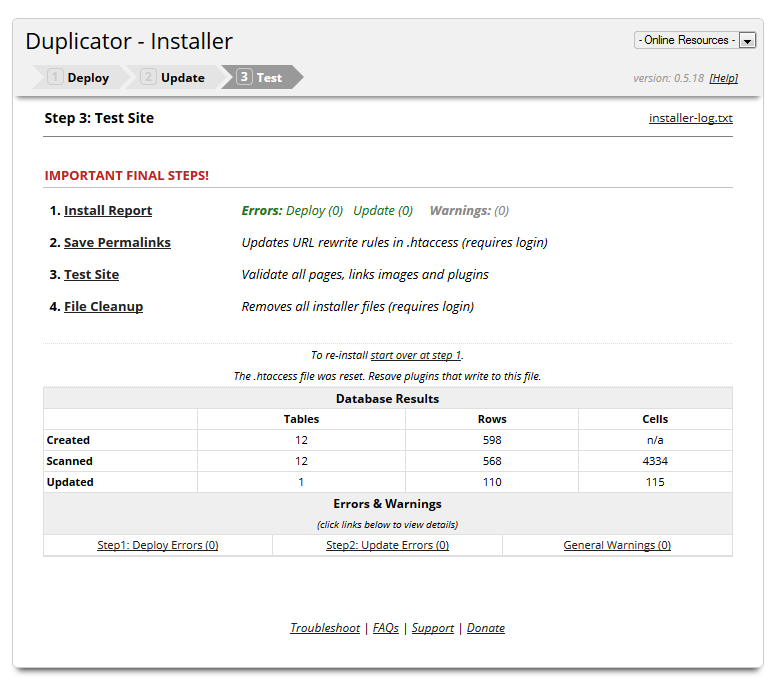 Duplicator – The Pros
Working with Duplicator is a breeze. While not necessarily meant for beginners, if you have some basic experience working with WordPress and MySQL databases, you shouldn't encounter any serious problems.
Although it doesn't offer a whole heap of settings, the few settings that duplicator does offer make a lot of sense. For example, you can exclude certain directories and file extensions from being included in the archive. The same is also possible for database tables.
Duplicator will also perform several scans and checks throughout the process to make sure your site and environment meet its requirements and that all content has been deployed successfully. During my test run, I didn't encounter any problems and was able to migrate my test environment from one location to another in just a matter of minutes.
Duplicator – The Cons
As mentioned earlier, the plugin might not be as easy to understand for beginners as some of the others in this list. The creators assume quite a bit of pre-existing technical knowledge on the part of the user and many newbies will probably have to refer to the help section (which is prominently available throughout the process).
Another downside is that Duplicator creates its own menu item right in the WordPress main menu, which is not everyone's favorite practice. Despite the fact that this is probably because it requires several submenu items.
What would be nice to have ‐ and is missing from the free version — are scheduled backups and the ability to store packages in the cloud. If you're interested in such features, you'll have to drop some cash for the Pro version.
Official Site: Duplicator
UpdraftPlus

Price: Free (but needs addon or Premium version for cloning/migration at $30-$145)
Our next contender, Updraft Plus, boasts similar favor with the WordPress community. It's got a solid 4.8 rating, with an equal number of users as Duplicator. Originally a backup solution, the plugin can also be used for cloning and site migration.
How does it work?
UpdraftPlus works differently than Duplicator. For one, There is no installation file. The plugin saves your data in the form of zip and SQL files.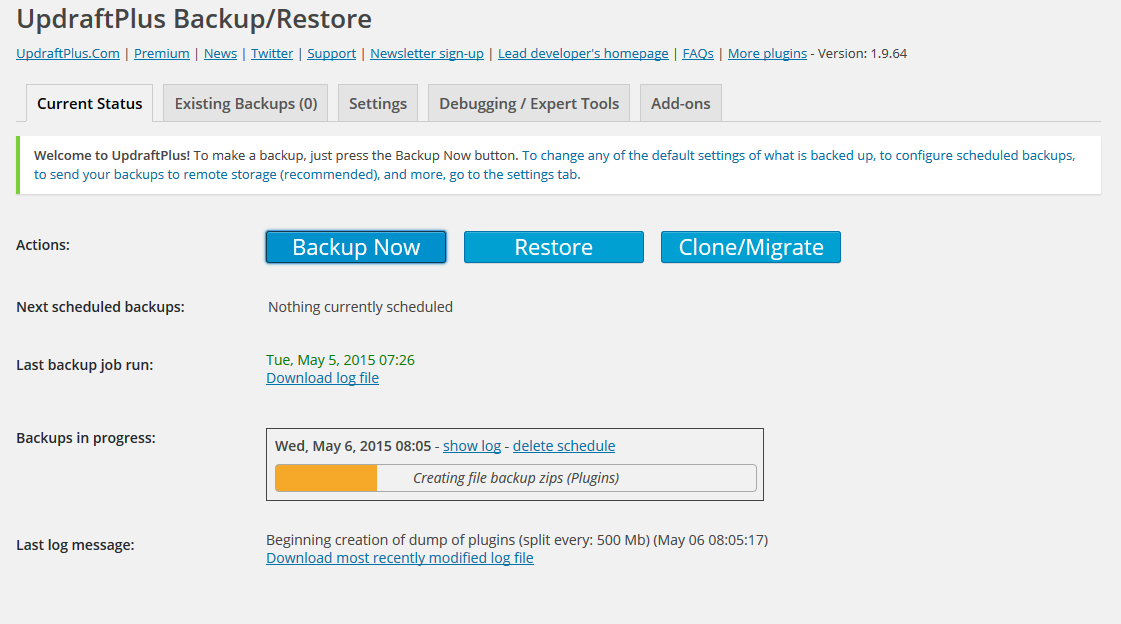 Secondly, in order to migrate your website to another location, you need to restore a saved backup in an already existing site. That means that in order to clone your WordPress site somewhere else, you'll first have to install fresh versions of WordPress and UpdraftPlus, then import your content.

To accommodate the new environment, UpdraftPlus can replace the old references in your database with the new site location during the restore process. What's quite comforting about this is that the plugin will automatically glean the old and new location from the data at hand. No need for manually entering in both URLs!
UpdraftPlus – The Pros
UpdraftPlus is an excellent product, and its many positive ratings are no accident. Plus, as opposed to Duplicator, even the free version allows you to backup your site to a remote location including Dropbox, Google Drive, an FTP server, to email and more. It also offers something not all backup solutions do — an automatic restore process.
UpdraftPlus – The Cons
However, if you want to restore your site in a different location, you'll need the Premium version or the Migrator addon at an extra cost. My attempts to imitate the missing functionality with the Search and Replace script during migration were unsuccessful. And let's face it: Even if it worked this would sort of defeat the purpose of using the plugin in the first place.
What I also didn't like is that the plugin needs an existing WordPress site with UpdraftPlus plus addon already installed in order to restore a backup. Duplicator, on the other hand, lets you set up your site directly into an empty server space.
Apart from that, the interface of the plugin is a bit complicated, and WordPress beginners will have a hard time finding their way around it. In my opinion, this aspect could be cleaned up a bit.
Official Site: UpdraftPlus
All-in-One WP Migration

Price: Free (additional features in Unlimited version for $59)
Next up is All-in-One WP Migration. While it doesn't have the high number of active installs as the previously mentioned solutions do, the people who do use it seem to really like it, and this is evident in its 4.8/5 rating. As with most of the plugins on this list, besides migration, All-in-One WP Migration also offers simple site backups.
How does it work?
As far as interfaces go, this plugin has the simplest one yet. Choose the strings to be replaced in the database during migration, exclude parts of the site that don't need moving (including post revisions and spam comments) and choose the destination of your backup file.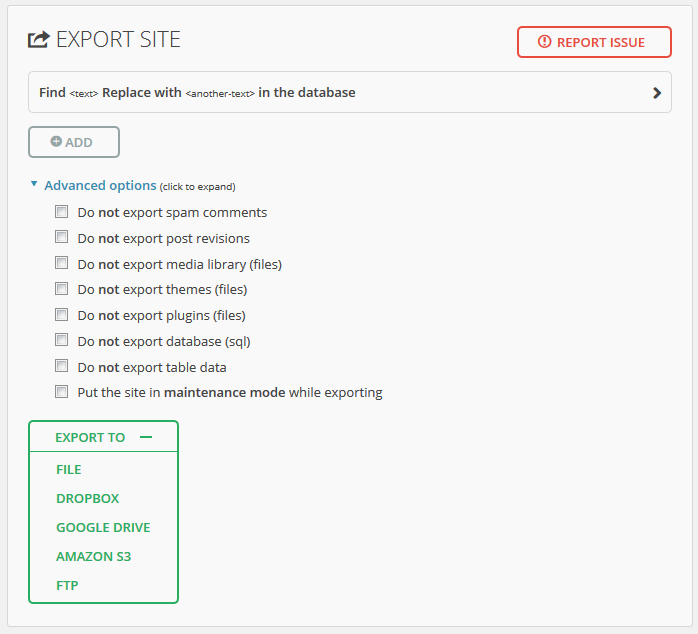 At the end of the creation process, you can then download the backup file immediately. To migrate your website copy to a new location, you'll need an active WordPress install with All-in-One WP Migration installed and activated.
Go to the 'Import' section, and either drag-and-drop your file in there, or choose a location to pull it from (again, the choice is limited if you haven't purchased any addons). The import starts automatically once you have chosen a file.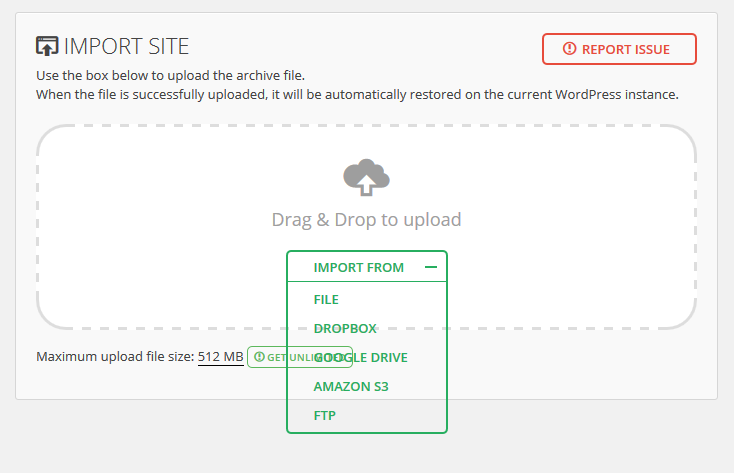 You get a warning before any data is overwritten. Start by clicking 'Continue', then it's time to sit back and relax.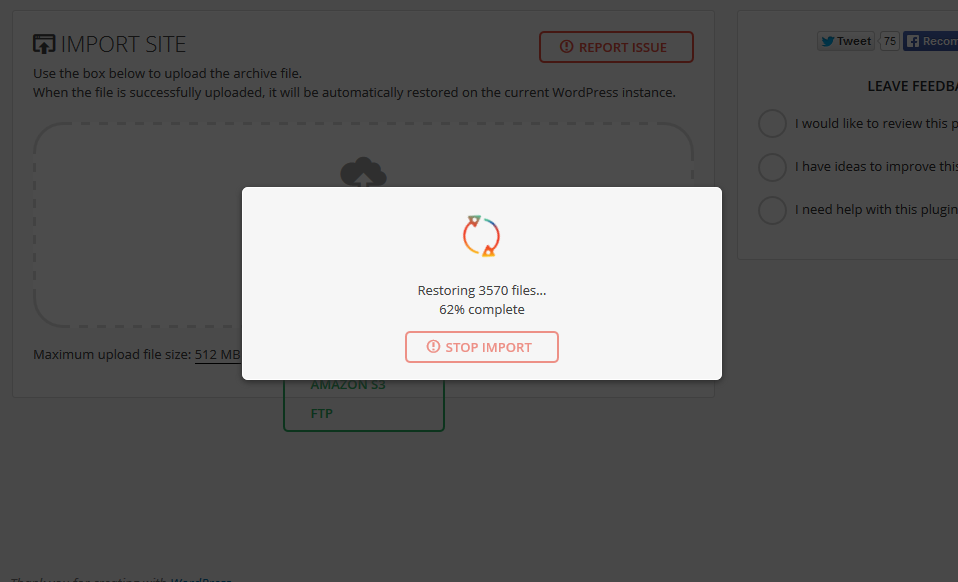 After a new login and saving your permalink structure (twice, for some reason), your site has been successfully cloned in its new location. For me, the entire process went without a hitch.
All-in-One WP Migration – The Pros
This plugin's greatest strength is its simplicity. The interface is minimal and doesn't overwhelm users with a plethora of options and settings that need adjusting. Simply export, import, and done!
Something I also particularly like is that it automatically detects the old and new site URL and performs all necessary database adjustments by itself. There's no need to double-check whether you're inputting the correct strings — thereby avoiding possible errors.
All-in-One WP Migration – The Cons
When it comes to the downsides of this plugin, again, the biggest one is that you need to set up a fresh WordPress site in the new location and install the plugin before you can import your old data. Because I'm still in love with how Duplicator handles this part of the process, this was a sticking point for me with All-in-One WP Migration.
Despite the ease of use and reduced number of steps involved in its process, a few more helpful messages would be appropriate. For example, I wasn't entirely sure about the automatic database updates until I had already imported my old site. What's more, the additional option for replacing specific strings in the database makes this part kind of confusing. More clarification would go a long way towards making the whole experience simpler across the board, in my opinion.
Finally, the plugin is kind of slow. Creating the backup file with All-in-One WP Migration took the longest of all the plugins I tried, and it also resulted in the biggest file.
Official Site: All-in-One WP Migration
BackupBuddy
Price: $80-$297
The next plugin we'll be looking at is BackupBuddy by iThemes. Its authors are the makers of the excellent iThemes Security (used on over half-a-million WordPress sites). This particular plugin is the sole premium-only solution in our list. Unfortunately, there is also no trial version available, and they also don't have a refund policy — so if you're interested in using this one, you'll have to jump in with both feet.
How does it work?
First and foremost, as you've almost certainly already inferred from its name, BackupBuddy is a backup solution. However, bundled into the plugin is the ability to clone WordPress to a new location. The migration happens conveniently right from the WordPress backend. You can move your entire site to a new location without ever having to leave the dashboard!
Since BackupBuddy allows you to save a copy of your site in remote locations, you can use this feature to have the plugin restore your website on an FTP server of your choosing. All you need is a database to point to during the migration process — and if your server is running on cPanel, the plugin can even create the database for you! What's more, URL references will automatically be updated. Here's a video that explains the process.
In addition to migrating automatically, you also have the option to migrate manually. You start with downloading a zip archive of your site together with an installation file and upload it to your server. After accessing the installation file through your browser, the migration then happens in the same way as before.
BackupBuddy – The Pros
BackupBuddy features what's probably one of the most convenient ways ever to clone a WordPress site. Being able to perform the entire operation from the dashboard of your existing website seems almost too good to be true. Yet, iThemes makes it possible.
Having such a renowned author behind the plugin is another plus. Their other products are among some of the most popular in the WordPress community. Plus, being a commercial plugin promises great customer support.
BackupBuddy – The Cons
One of the main pain drawbacks, however, is the price. Yes — it makes sense to pay for quality, but shelling out $80 for a two-site license for one year seems a little steep for a product that you can't test drive first. A trial or lite version would do a lot to sway customers still sitting on the fence.
Official Site: BackupBuddy
WP Migrate DB Pro

Price: $90+
WP Migrate DB Pro (a plugin WinningWP has already covered in considerable depth in a previous review) is a superb premium cloning/migration plugin that also comes as a free version in the WordPress directory, with 4.9/5 rating and 100,00+ active installs. It allows you to export your database, as well as change URLs and file paths to a new environment. However, if you want to clone your entire site, you'll need to opt for the paid version.
How does it work?
With WP Migrate DB Pro installed on the two sites, you have the luxury to directly push and pull databases between them — an awesome feature for developers looking to develop a site locally before going live with new changes. You just have to configure the connection and you'll be good to go. No need for downloading files or doing anything manually — everything happens at the click of a button.
As you'd expect from a premium plugin of this calibre, there are many customization options such as excluding unnecessary tables, certain post types and spam comments from being moved. You can also back up your existing database before migrating it. To get a better impression of how this process works, check out this video.
WP Migrate DB Pro – The Pros
The beauty of this workflow is clear. Being able to seamlessly update the database between staging and production server without downloading or manually installing any files is like Christmas for web developers. In fact, I just put WP Migrate DB Pro on my Christmas list!
Judging from the many positive testimonials on the product's site, other people seem to be of the same opinion. The plugin has been used and tested by many big names in the WordPress field — such as Chris Coyier (master and commander of all-things CSS-Tricks) and Pippin Williamson (one of the WordPress-community's leading plugin developers) — and can handle all kinds of different sites: even Multisite installations.
Another plus point for this particular option is it also comes with a '100% No-Risk 60-Day Money Back Guarantee' AND 1-year of email support — something that few others on this list offer at all!
WP Migrate DB Pro – The Cons
Quality and comfort come at a price, though. A Personal license will set you back $90. The most popular Developer option, which also contains an addon for syncing media files across different WordPress installs, is a nice $199. Additional licenses for higher demands are also available at enterprise-level prices.
Official Site: WP Migrate DB Pro
Summing up…
Producing an exact copy of a WordPress site and moving it to a new location is something just any serious WordPress user will likely have to do any number of times in their life/career. While it's possible to do the whole thing manually, it quickly gets too cumbersome (not to mention time-consuming) when done on a regular basis.
The above plugins aim to help developers make this task a lot easier. As you've seen, their approaches and price ranges are quite different, with unique advantages and disadvantages to each one.
During my testing, of the plugins I tried out, Duplicator and WP Migrate DB Pro emerged as my clear favorites for reasons ranging from ease of use to their price-to-power ratio. Which one you opt for will depend on your own needs and preferences.
Make sure to do your homework and thoroughly investigate each plugin's offerings on their official sites before deciding which one best suits your needs.
How do you clone and migrate WordPress? Any other tools or tips to add?
All comments are held for moderation. We'll only publish comments that are on topic and adhere to our Commenting Policy.
Our commenting form also supports the use of Markdown.