Six Best Plugins for Creating Tables in WordPress (2018)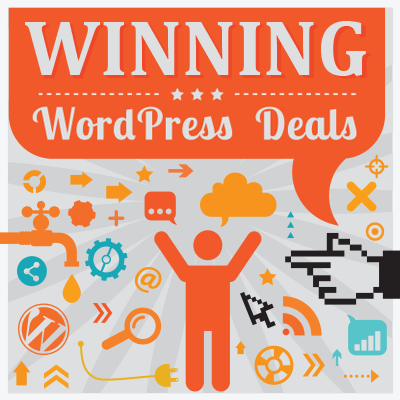 At present, WordPress is undoubtedly the most popular content management system (CMS) available. Its versatility and user-friendliness are second to none. However, that doesn't mean that WordPress comes without its faults.
In reality, WordPress has several less-than-perfect aspects that pop up from time to time. One especially frequent annoyance is the fact that even after nearly 12 years of development and updates, WordPress still has no built-in table creation function.
It's certainly puzzling. You'd think that the most evolved blogging software in the world would have thought to offer table support as a native functionality. Particularly when you consider that adding table support is by no means a complex coding task.
But no. As of right now, it isn't an option.
Despite this, it's not a fatal issue. Thankfully, due to WordPress's immense plugin index and the hordes of WordPress developers, you don't have to look far to find perfectly adequate table-creating solutions.
Below, I've gathered a list of the top six table plugins that build support for data tables into WordPress. Two are paid plugins, five are free — and all of them are excellent products.
Let's take a closer look.
wpDataTables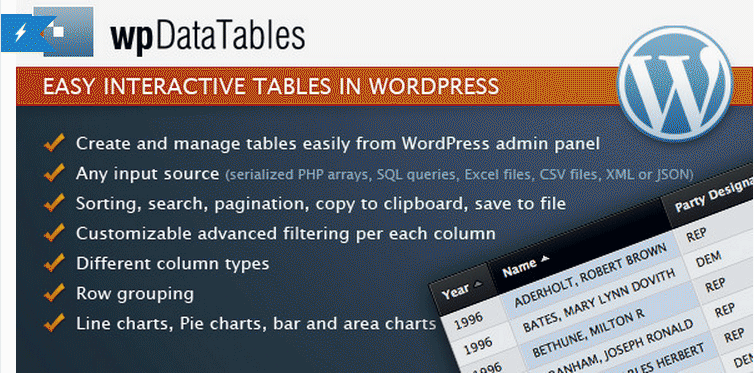 Price: $28 | Download
wpDataTables is a premium plugin that pays an incredible amount of attention to detail. It has a set of options so comprehensive that even just the table creation page actually had me a little intimidated!
All those customization options, however, are what makes the fact that it doesn't have support for front-end editing so perplexing.
Any input you use to create your tables has to be imported from one of these data sources: Excel, CSV, MySQL queries, XML, or JSON. With wpDataTables you don't have the option to create a table right from the comfort of your WordPress dashboard — even the most basic free plugin on this list comes with live editing from within WP admin.
Once you have your data in one of those formats, simply navigate to wpDataTables >> Add New Page, select your import format, and then either upload the file or insert the file URL there.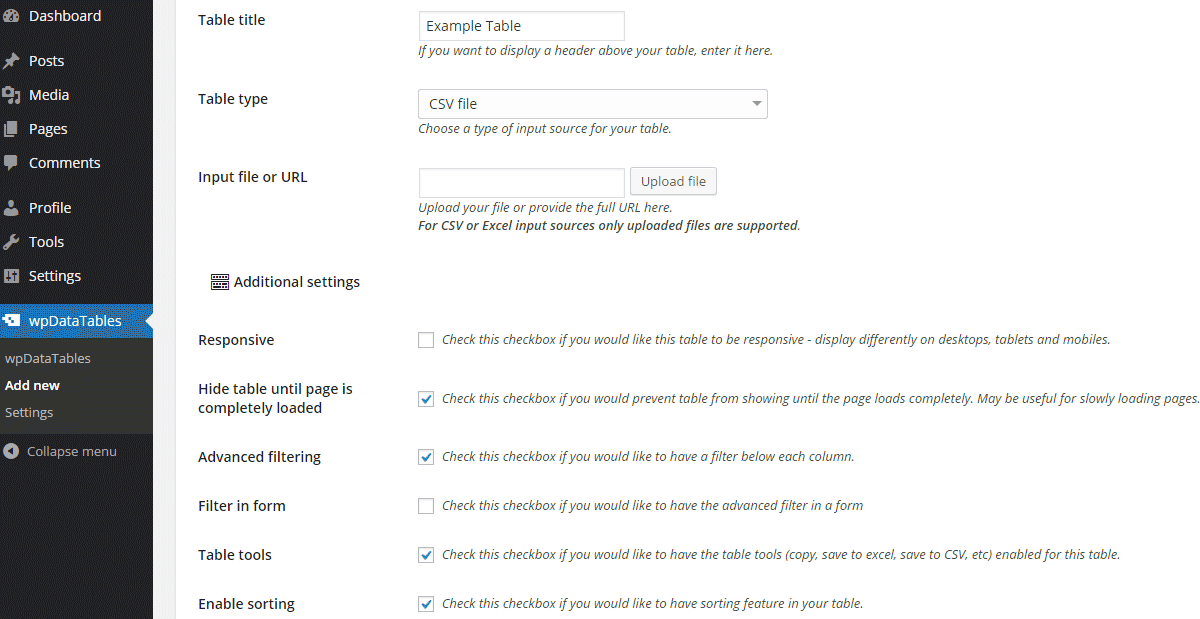 Hop on to the settings page of the plugin, and you're exposed to a host of further design and input options where you can really begin customizing. You can customize back-end settings by setting up a unique MySQL connection or choosing the number of tables you want displayed in the wpDataTables admin page. For the front end, you can also specify table widths for mobile and tablet screens, change font colors, add hover effects, setup color alternation by row, or insert custom JavaScript/CSS. It really has a mind-boggling amount of customization ability; great value for money if you can get past the lack of built-in table creation.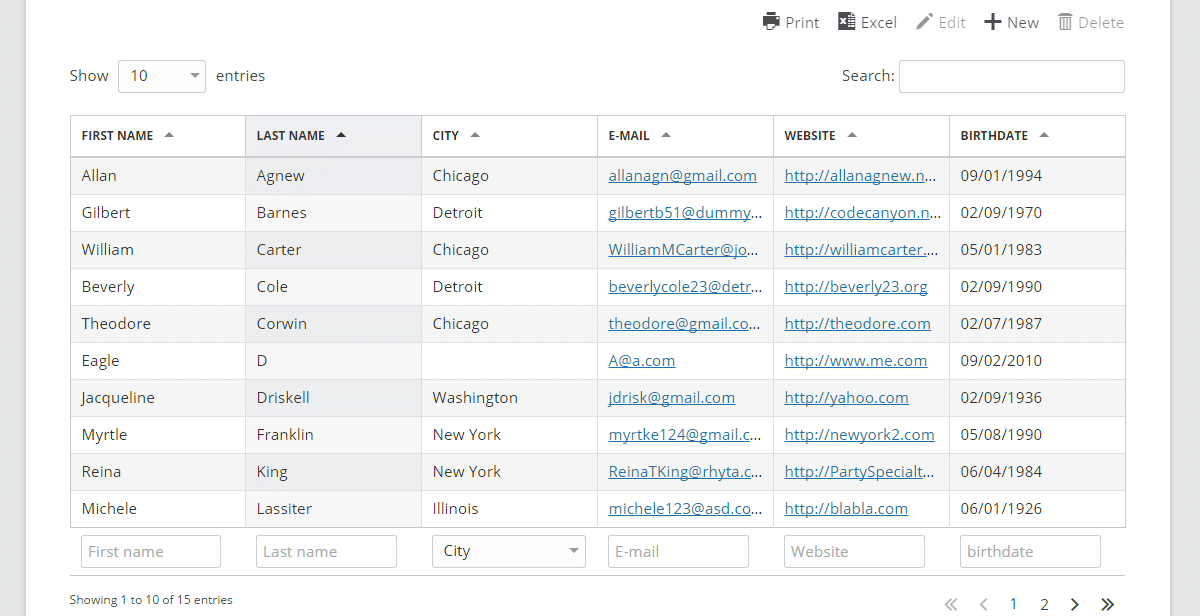 Features:
Render charts from table data
Users can copy tables to clipboard, print, or export as CSV/Excel/PDF
Searchable (by the whole table or by a specific column)
Responsiveness can be toggled on/off for each table
Source data from: Excel, CSV, MySQL queries, XML, JSON
40+ languages supported
Insert custom CSS/JS
Order tables by specific columns
Back-end customizability
Almost unlimited color and font options
Fresh styling
Cons:
The interface is a little intimidating to new users. It takes a while getting used to and could have done with a little more organization.
There's no front-end table editing/creating.
It's a bit pricey. A version 1.6 update, due soon, will up the price even further.
League Table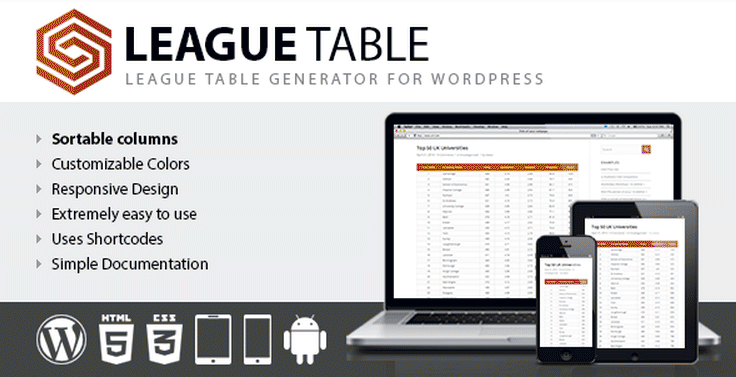 Price: $14 | Download
League Table is the second and last of the premium plugins on this list. Although it was built with sports websites in mind, it's still a great choice for your average table-creator.
The editor is a simple one. Just setup the number of columns and rows, key in the table heading, then type away into the cells. Once you've got all the data entered, you can sort the table by specific columns.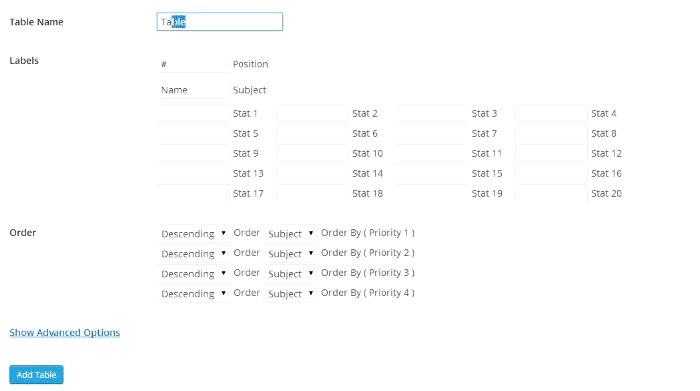 Clicking on "Show Advanced Options" reveals a respectable amount of customization ability. Alternating row coloration, to-the-pixel table dimensions, and logo display are all possible.
League Table also goes to the trouble of allowing you to set very specific responsiveness settings and conditions. For instance, if you're creating a very wide table with a higher number of columns, you can adjust it so that specific columns are hidden when the table is viewed on a mobile display.
When your table is all ready to be shown to users, insert a simple shortcode into a post to display it.

One glaring fault (especially for a paid plugin), is the lack of import/export capabilities. You're stuck with creating tables right from scratch; no data from Excel spreadsheets, CSV files, or the like can be imported.
Features:
Render tables in widget
Simple data entry
Font and color customization
Responsiveness settings
Very detailed video documentation
Cons:
It's not too much bang for your buck. (wpDataTables offers comparatively much more.)
There's no import/export capability.
There's no search/sorting capability for users.
TablePress

Price: Free | Download
TablePress is easily the most popular table plugin on the WordPress.org repository, with over 300,000 downloads and — more impressively — a perfect 5-star average rating.
Producing a new table in TablePress is straightforward, albeit a bit time-consuming. You can create a table from scratch on the TablePress >> Add New Table page. First, you type in the name of the table and the description, then select the desired number of columns and rows.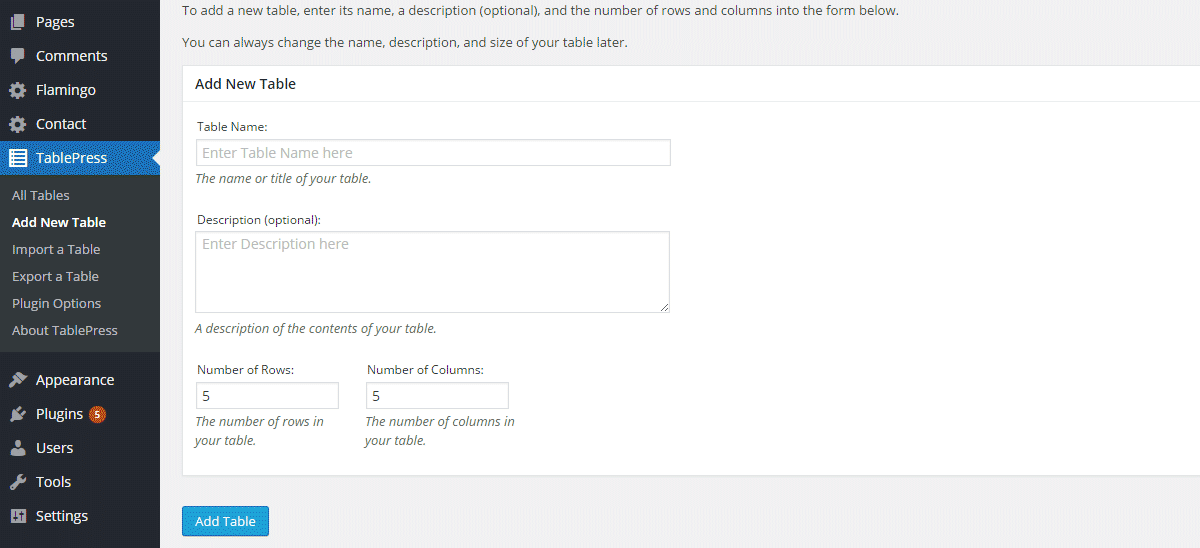 On the next page, you'll enter the data for each cell individually in a spreadsheet-like interface. You can insert images and clickable links into cells. There's also an Advanced Editor option, which basically allows you to format your text (bolding/italicizing, inserting code, etc.).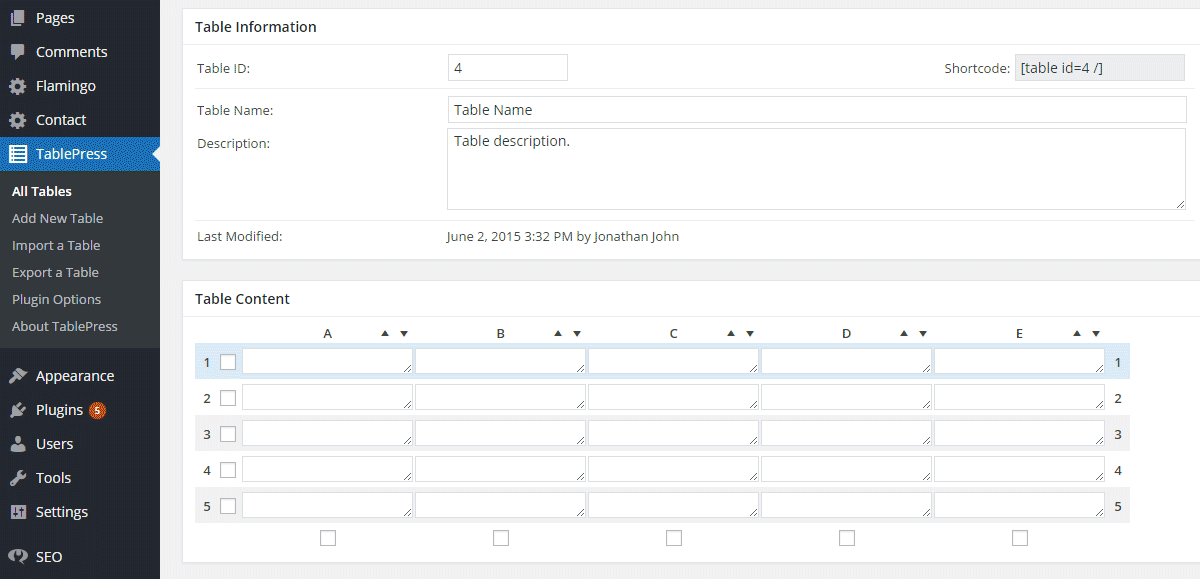 You display the finished table via shortcode.
Alternatively, if you have a table all ready to go, you can import it in CSV, HTML, XLS, XLSX, and JSON format via direct file upload or by linking to the file URL.
Below is a picture of the type of styling you can expect on a finished table.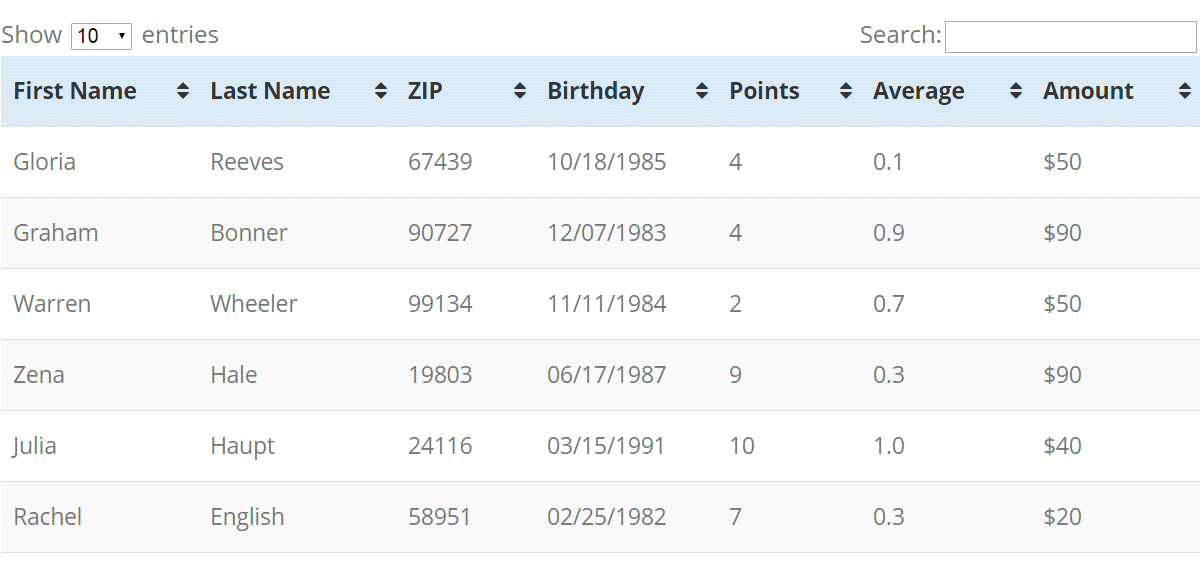 Features:
Searchable
Very straightforward data entry
Pagination
Multilingual support
Source data from: CSV, HTML, XLS, XLSX, or JSON
Insert custom CSS
Nice design
Export created tables in CSV, HTML, or JSON
Cons:
Although simple to grasp, the table creation/editing is a little slow and time-consuming (especially with the advanced editor).
It's slightly limited in its customizability.
It's not responsive.
Ultimate Tables

Price: Free | Download
Ultimate Tables may only have about 10,000 users and a 4-star rating, but don't let that fool you. Unless you need to create very large data sets, it's an excellent solution.
To start creating a table, you navigate to Settings >> Ultimate Tables and click the "Create New Table" button. The page will then refresh, displaying the table's unique shortcode, and also an edit button you can click to start entering data.

Once the edit button is hit, a new page section drops down where you can enter the title, customize the display, and insert data into cells.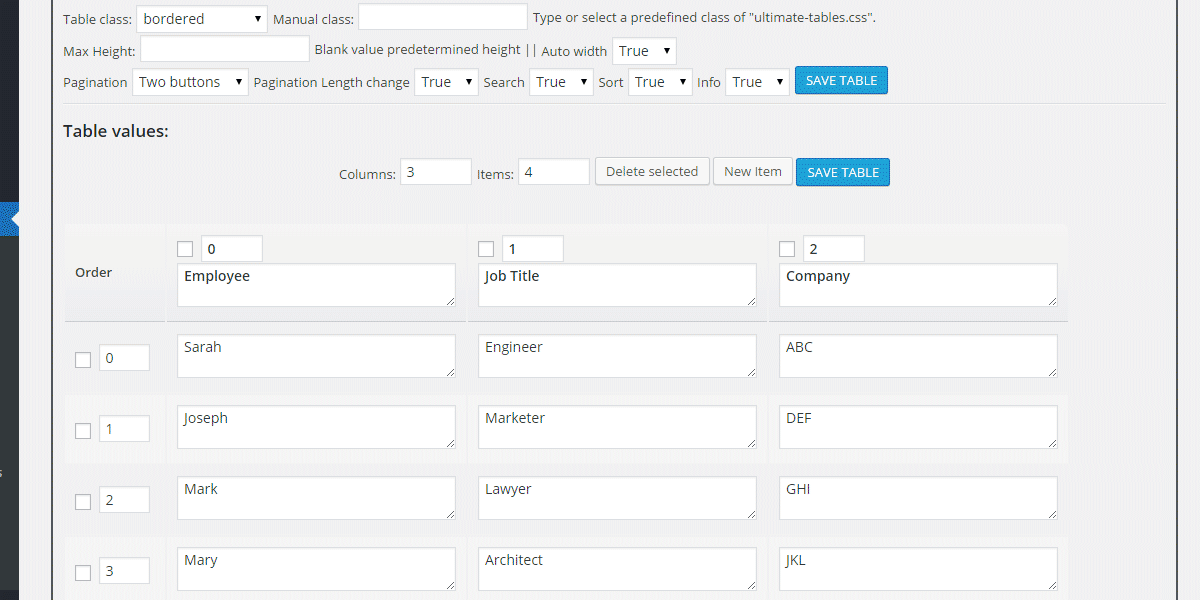 To preview the table, you'll have to paste the table's shortcode into a post (no built-in preview). Below is an example of the type of styling you can expect. Aside from some preset skins, very few other customizations are possible.

Features:
Nice styling
Easy to use
Pagination
Searchable
Sortable in the back end
Multiple skins
Cons:
It's limited for customization.
It's not responsive.
Lacks import/export capability.
Some users have reported that with > 200 rows, the sorting feature can mess up data (while testing I experienced no issues, however).
Easy Table

Price: Free | Download
Easy Table is a unique plugin that goes about table creation in a very different way than any of the other plugins on this list. It's quite popular as well, with over 90,000 active installs and a 4.6-star rating.
Easy Table is one of only two plugins on this list that allow you to create a table right in the WordPress visual editor. All you need is the data and a single shortcode: [table]. Simply type in [table], and then enter your data, using commas to differentiate columns and spaces to differentiate rows (see example below).

This is what the output looks like. It's pretty basic, with no pagination or search capabilities, although you do have the option to tint it blue (no other color customization settings included).

The only other significant features Easy Table offers are sorting, custom CSS, and CSV file import. It's not an extremely sophisticated plugin, but it does excel at its main mission: being intuitive, simple, and just plain easy to use — hence the name.
Features:
Render tables in widgets
Very easy to use
Minimal design
CSV file import
Two skins: cuscosky (blue) and minimal (white)
Cons:
It offers very limited customization.
It's not responsive.
No search/sorting function available.
Only one import format (CSV) is available.
Visual Table Formatting Lite

Price: Free ($14 pro upgrade available) | Download
Visual Table is by far the least-known plugin on this list, with only 1,000 active installs to its name and only one user rating (but it's five stars). The lack of popularity is a little difficult to understand because VTF is easily one of the simplest and newbie-friendly table plugins on this list.
Like Easy Table, all the table editing is done right in the post editor. Unlike Easy Table, though, VTF uses a much more user-friendly interface to input data. Here's how it works:
Once you install the plugin, a new button will appear on the Visual Editor.

Once you click that button, a popup will appear where you can set table dimensions, enter data, and do some basic color and font customization.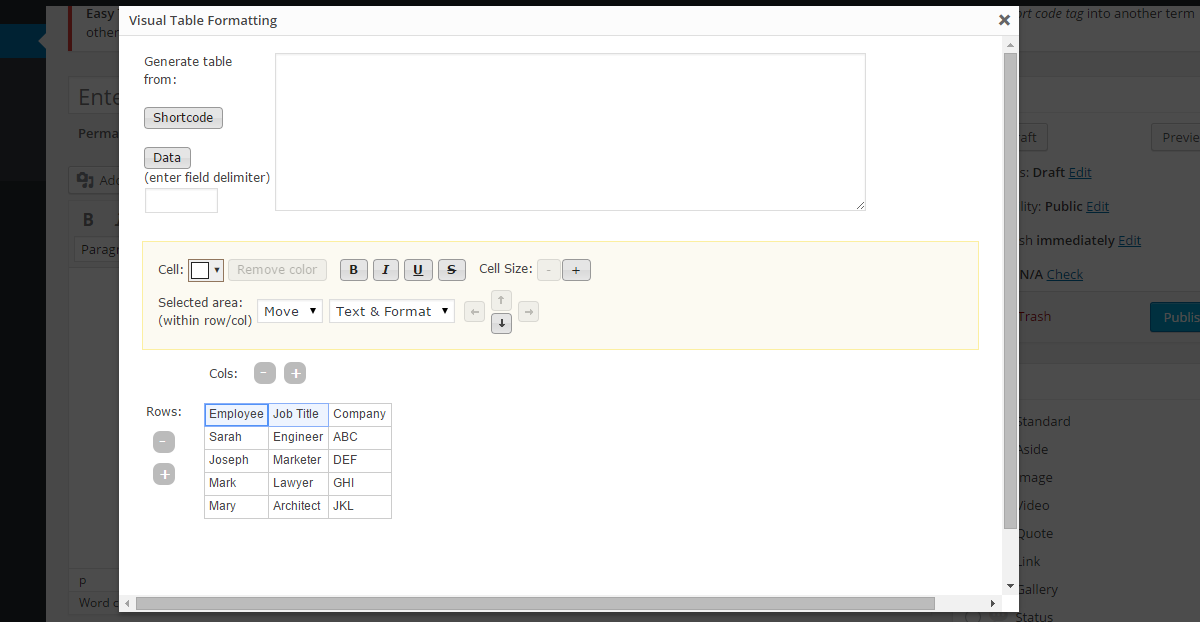 After you're done editing the table, you click the "Insert Shortcode Into Editor" button at the bottom, which will insert the data into the visual editor.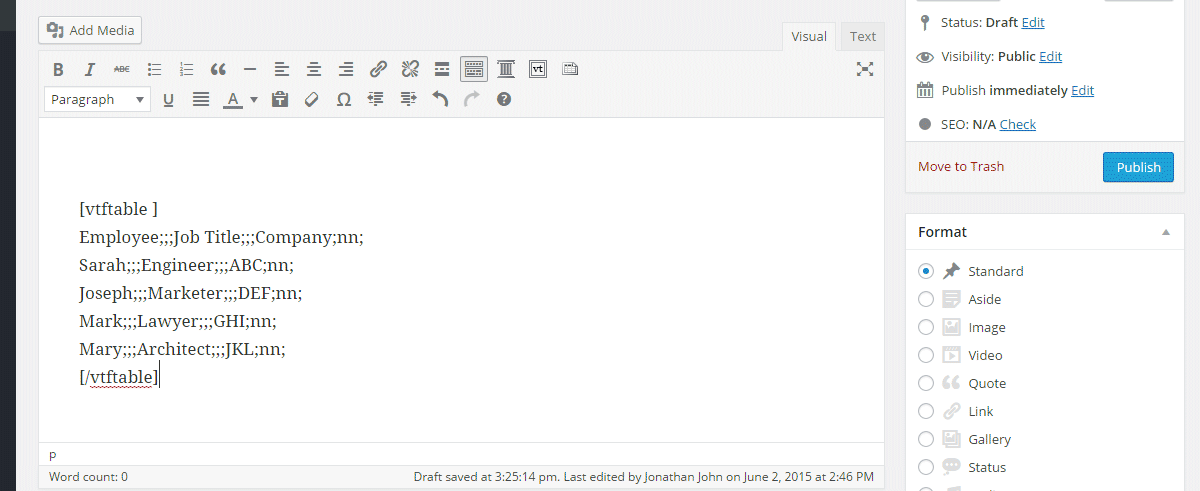 Click preview, and this is what you'll see (I chose to go with the default white color palette, but almost any color is possible).

The principal gripe I have with the plugin is with the way you customize the color. There are no preset skins available with alternating color by row or anything of that sort, so any complex color customization you do has to be done one cell/column/row at a time.
If you want the ability to unlock more customization (such as specific table widths, cell padding, easier color tweaking, etc.) you can upgrade to the Pro version for $18.
Features:
User-friendly editor
Simple to learn and use
Basic customization is possible
Very basic look
Cons:
It's time-consuming to customize.
The look is very basic.
There's no import/export/search/sorting capability.
It's not responsive.
Which Plugin is Right for You?
We've covered six plugins that are all perfectly capable of extending table functionality to your WordPress site. But which one is right for you? After trying my hand at all of them, here is how I'd recommend each plugin and for whom.
wpDataTables: Use this plugin if you have money to spend, and if you're looking to import a lot of data through external formats.
League Table: If you're on a shoestring budget, but still want to go for something paid that offers a bit more customization and responsiveness than the free plugins, get this. Ideally, though, wpDataTables is a better choice if you're going premium, since it offers more than twice the features and customizability for less than twice the price.
TablePress: If you simply want something that's just plain reliable, then this one is for you. It does exactly what you want it to do with no fuss.
Ultimate Tables: If you have only small data sets and value a clean look, Ultimate Tables is a great plugin.
Easy Table: This is best if you're looking to use it only occasionally for small data sets. It's quick input style in the Visual Editor makes it an inherently user-friendly plugin (although long data sets would be time-consuming to create).
Visual Table Formatting Lite: VTF is up your alley if you really, really want a spreadsheet interface, and you don't need much customizability.
Personally, my choice from among the free plugins is TablePress, for two reasons. One, I'd probably be importing a lot of tabulated data, and it's nice to have a variety of import formats available. Two, it gets the job done while still offering a fair amount of customization.
Which plugin will you be going with? Share your thoughts in the comments below!
All comments are held for moderation. We'll only publish comments that are on topic and adhere to our Commenting Policy.
Our commenting form also supports the use of Markdown.