Top Six Best Pricing Table Plugins for WordPress (2017)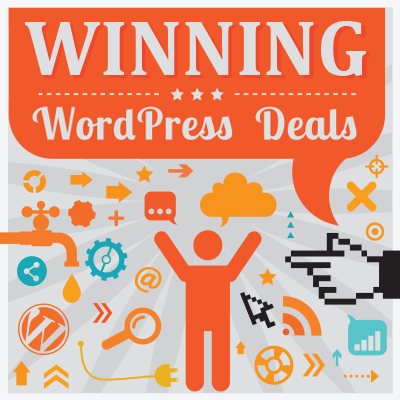 Pricing tables help visitors make an informed decision by displaying all options in an easily comparable format. Without this information, visitors will feel in the dark, so why would they open their wallets? As such, choosing a pricing table plugin can generate improved conversion rates and a healthier bottom line.
Consumers like choice — or at least we think we do. When asked, most of us claim we jump up and down with rejoice when presented with a huge variety of options. In reality, though, we're more likely to feel confused and postpone the decision for later — a phenomenon called analysis paralysis. No conversion for you, no solution for your customer, so bad news all round.
Despite this, I, and many other businesses, firmly believe that choice is a good thing. Hosting is a good example — almost without fail, web hosts offer a range of hosting plans.
You see, choice allows you to target consumers at a variety of price points. It lets you charge a hefty premium for your most advanced features. And, with the prospect of bigger profits, you're more likely to innovate to stay ahead of the field — and innovation benefits consumers, too.
Choice is not the enemy. Knowing how to present the choices is where difficulties arise.
Enter the pricing table.
The Benefits of Pricing Tables
Pricing tables are the go-to solution for businesses looking to display their full range of options to customers. One simple table provides a snapshot of each option's price and features, pros and cons. Visitors can then evaluate their options until they find the one that's right for them.
As such, pricing tables are a must for any business that sells more than one service, product, or plan that's comparable by nature. Today, I want to help you find the best solution by presenting six of the best pricing table plugins for WordPress users.
The Psychology of Pricing
Before we start, though, let me share this quick tidbit.
As well as reducing analysis paralysis and boosting conversions, pricing tables can also push customers towards higher price points — thus increasing profits. It plays on the nuances of human psychology, as demonstrated in a pricing experiment featured in William Poundstone's book, Priceless.

With two price points offered next to each other, 80% opted for the more expensive option, 20% the cheaper. Good news, right?
Well, sort of.

Researchers found that by adding a third price point at the top end of the pricing scale, profits were increased.
Not wanting to pick the cheapest option of three, 85% went for the middle price (previously the more expensive one), up from 80%. Better still, only 5% chose the cheapest option — down from 20%. That left 10% opting for the new super-premium choice — you'll find that some people will always want the best.
This demonstrates how your price points can impact a customer's selection. With this in mind, you can make more money by offering three choices.
Even if you don't seriously expect anyone to purchase your most expensive option, its existence pushes people away from the cheapest one. It also makes the middle option seem more affordable in comparison to the most expensive one. And, you'd be surprised how many people will go for the top-of-the-range option, regardless of price.
Interesting, huh?
Now it's onto the meat of today's post, as we introduce the six best pricing table plugins for WordPress. Enjoy!
Go Pricing ($25)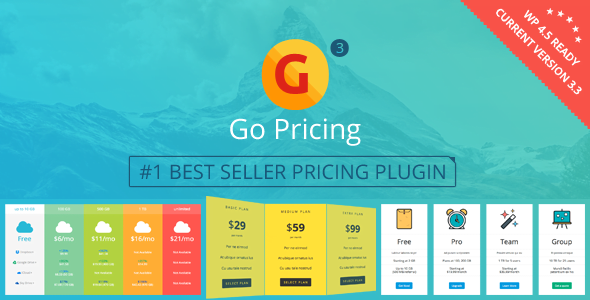 Let's start with one of my favorites, and CodeCanyon's best-selling pricing table plugin, Go Pricing.
If your number one criteria for choosing a pricing table plugin is design options, this is the plugin for you. Go Pricing ships with a whopping 250+ templates, which come in a multitude of bright and whacky color combos.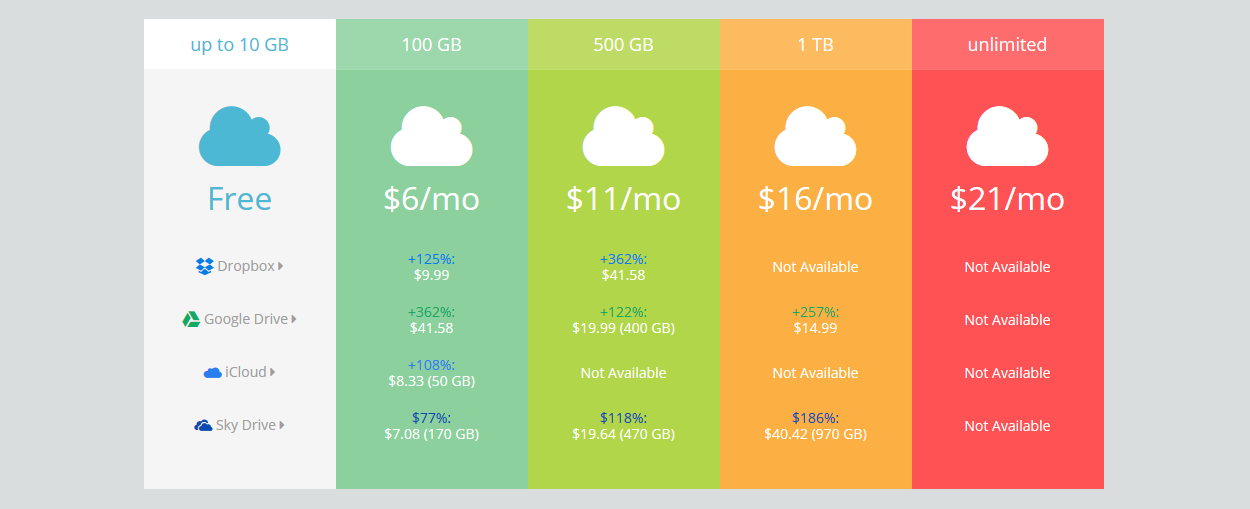 These templates look simply fantastic. They're fully responsive, of course, and the design styles are impressively varied. The colors can be fully customized, too, letting you build eye-catching tables that complement your branding. Pricing tables also come with support for images of various sizes.
If you want to guarantee attention, you can even add videos or interactive maps to your tables. Then there are 39 transition animations, hundreds of fonts, and font awesome icons for you to play with. Simply put: Go Pricing's designs are difficult to beat.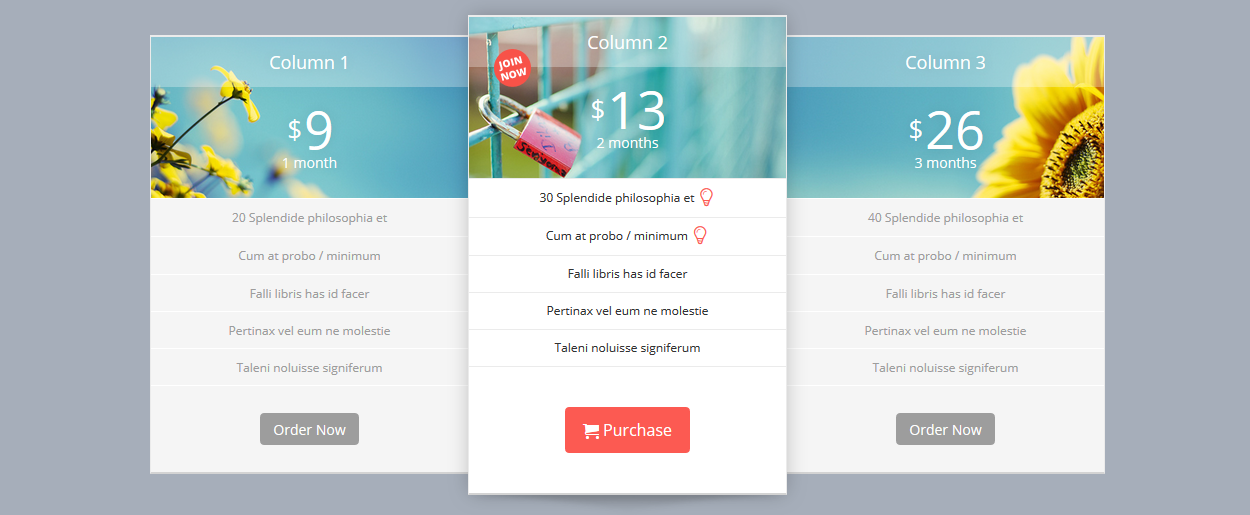 With so many options, you might assume the pricing tables are difficult to configure. Wrong.
Go Pricing supports a clean and intuitive interface that makes it super-easy to build your tables. The plugin isolates the header, body, and footer areas, which means you can work on each section in turn. At any point, you can check out your handiwork using the live preview feature.
You can also add unlimited rows and up to 10 columns to your table, so there's plenty of room for product details. Other cool features include PayPal integration, tooltips, and full compatibility with Visual Composer.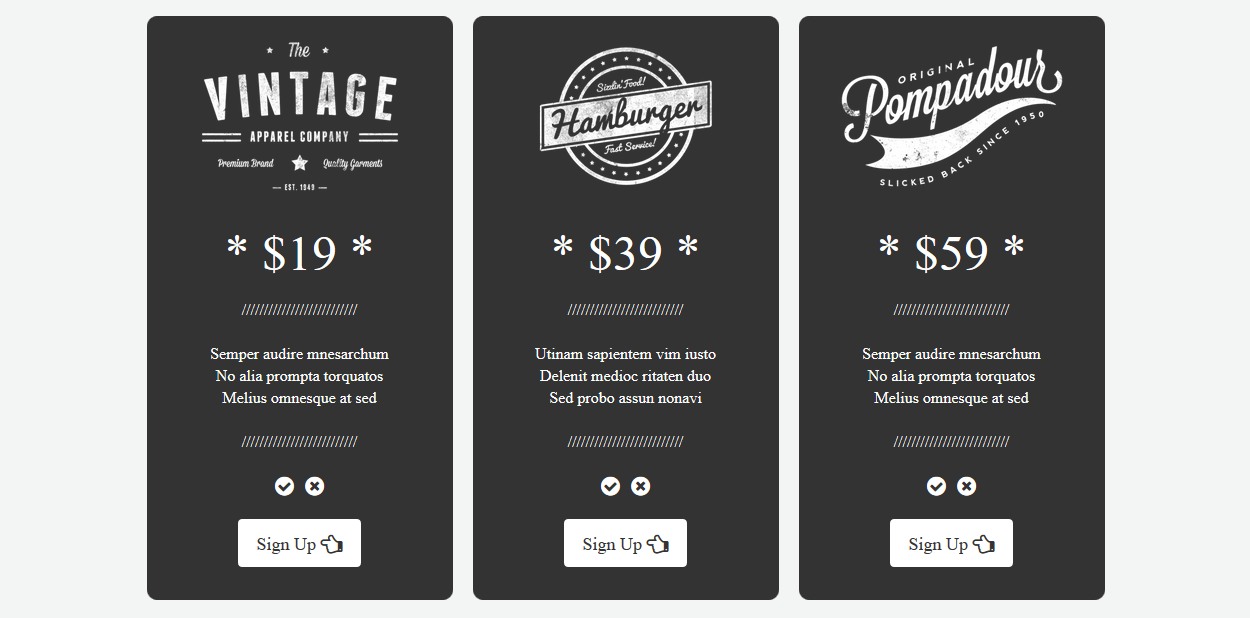 Arguably best of all, the plugin developers take an active interest in its users. New features are added regularly as per user requests, and the developers even conduct surveys to ask the community what new features they'd like to see. So expect this plugin — great as it already is — to be continuously refined and improved going forward!
Easy Pricing Tables Lite (FREE)

Introducing Easy Pricing Tables Lite, the first of two free options in today's list.
As with the vast majority of free plugins, you need to weigh up the cost savings against the inevitable sacrifice of features — is it worth it? That's for you to decide, but Easy Pricing Tables is undoubtedly a capable plugin.
The plugin comes with a straightforward interface, letting you add unlimited columns and rows, add feature lists, set a price, and also point the purchase button at the right place. You can easily organize and re-order your columns using the plugin's drag-and-drop.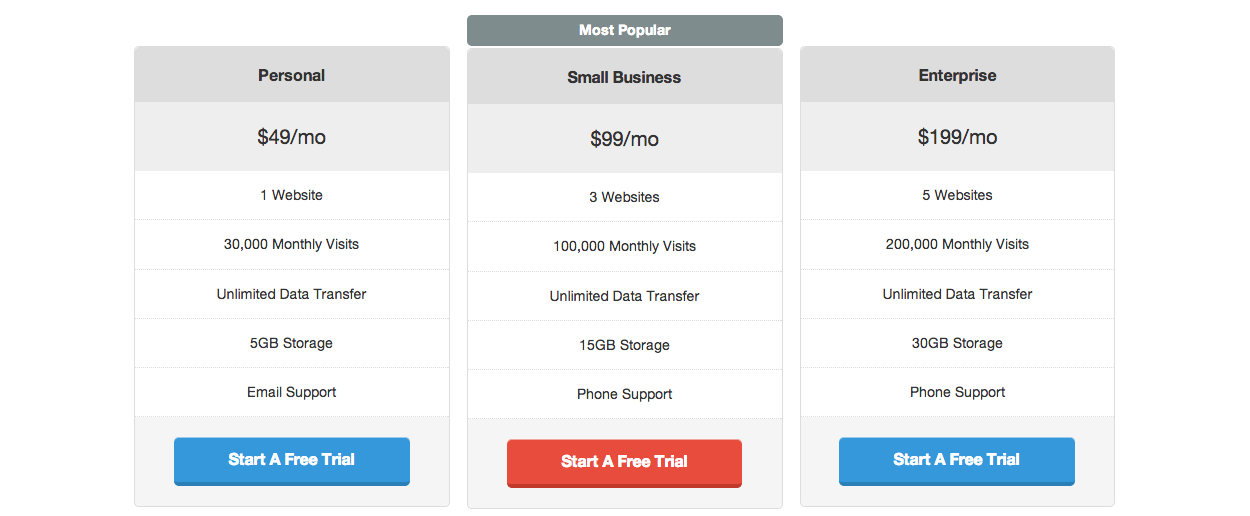 Customization options are more limited — it's those downsides of choosing a free plugin again — but you can configure custom colors, font sizes, and rounded borders. Pricing tables are then added to your content using a dedicated shortcode.
If you like the functionality of the free plugin, you could always upgrade to the premium version — prices start at $29. Easy Pricing Tables Premium utilizes the same intuitive interface but includes ten stylish designs, tooltip functionality, and premium email support.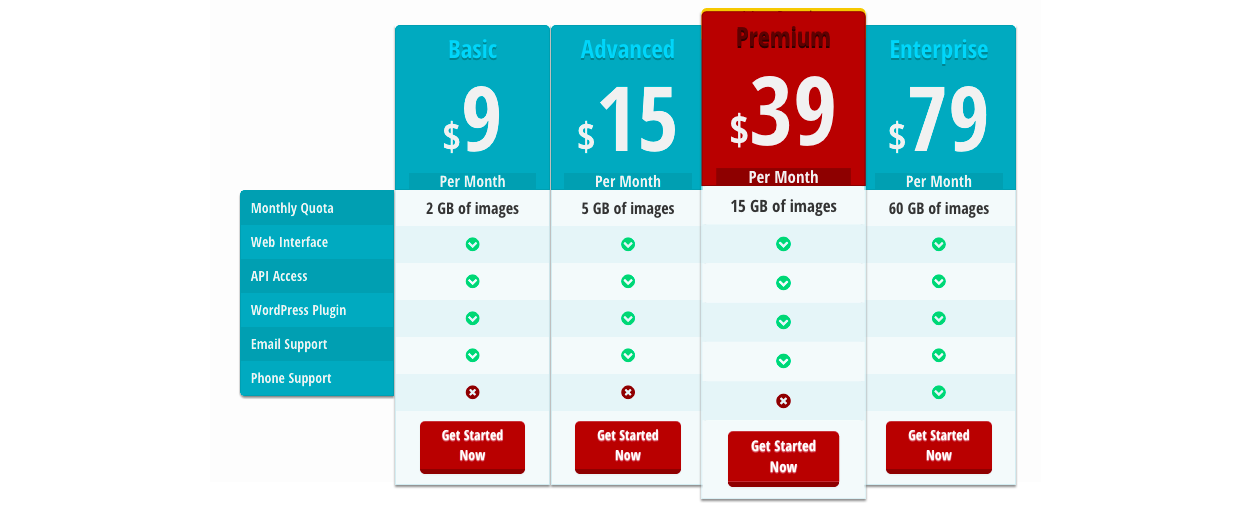 A $49 license unlocks the full catalog of add-ons, too, which includes pricing toggles (for displaying monthly/yearly prices or multiple currencies) and bucket loads of integrations — including WooCommerce, EDD, Google Analytics, and Stripe.
CSS3 Responsive WordPress Compare Pricing Tables ($18)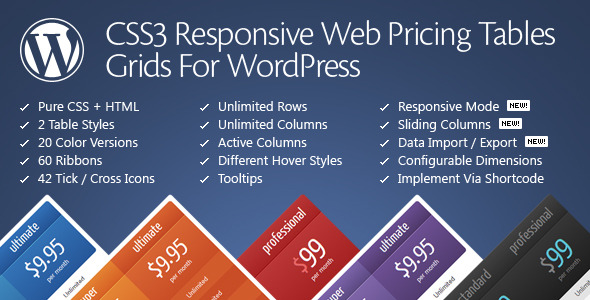 If you can forgive the plugin's awkward name, CSS3 Responsive WordPress Compare Pricing Tables is a reliable option that ships with plenty of styling options.
Rather than creating pre-defined templates, however, this plugin's developer has added lots of variations of the different elements that make up the pricing tables. The user can then mix-and-match these elements to build up their pricing table.
The possibilities are nearly endless. The plugin boasts two table styles, 20 color variations, 60 ribbons, and 42 icons. Of course, you can further customize your pricing tables by creating a custom color scheme, too.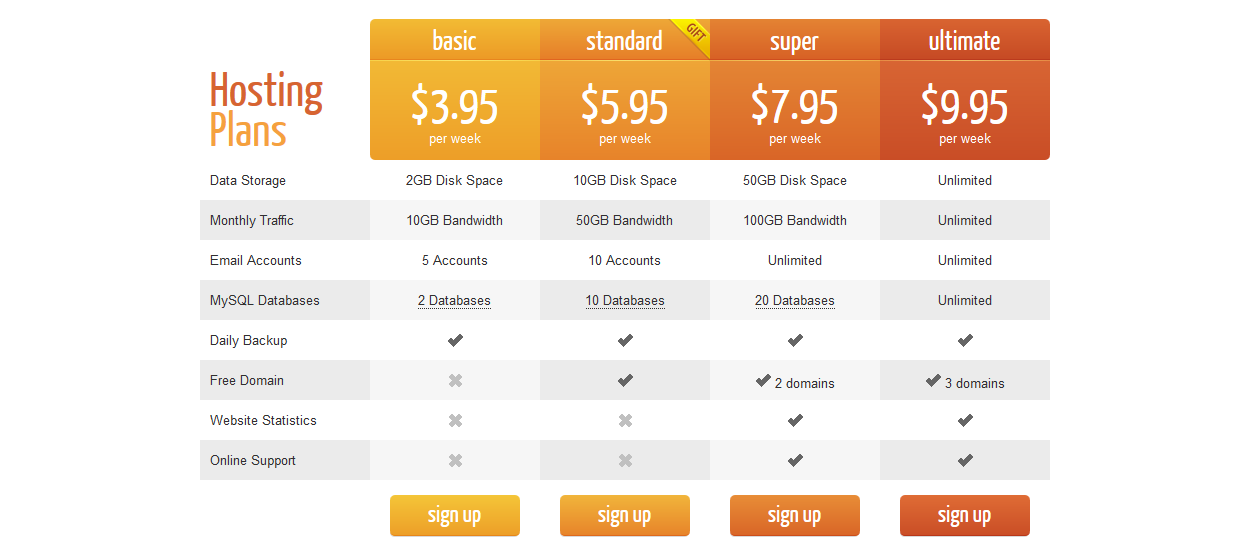 The pricing tables support both images and videos, plus you can add an unlimited number of columns and rows to your tables.
For larger pricing tables, where displaying all columns at one time may get confusing, the plugin can build gorgeous carousel-style pricing tables, which gradually transition from one column to the next.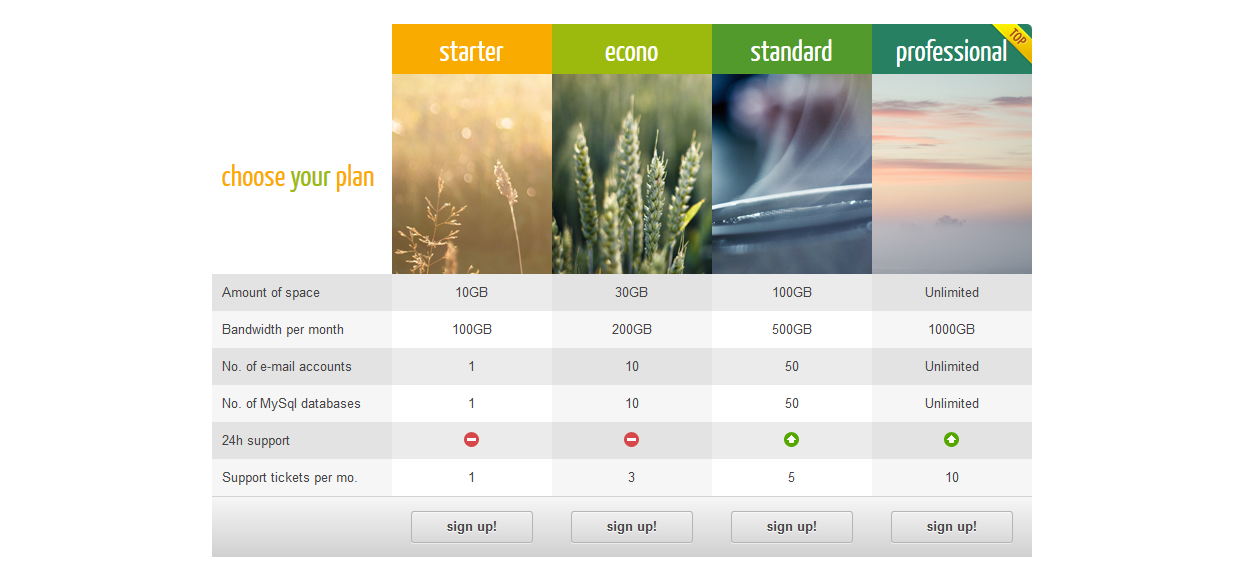 Configurations are conducted via one intuitive control panel. This lets you configure just about anything — including the width, padding, and font sizes for individual columns. You can also turn on/off responsive display, tooltips, and hover animations at the click of a button.
CSS3 Vertical Web Pricing Tables for WordPress ($16)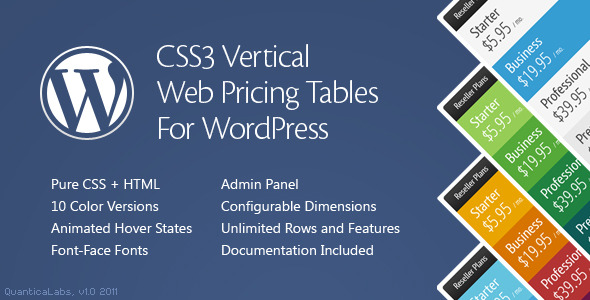 Built by the same developers as the plugin above, CSS3 Vertical Web Pricing Tables for WordPress offers something completely different to the other plugins in today's list.
It boasts all the same features and design options as the plugin above, but with one key difference: pricing tables are organized by rows rather than columns. Instead of showing the options side by side, they are displayed in a vertical layout.

That means you can still benefit from unlimited rows/columns, ten color schemes, gorgeous hover animations, and plenty of customization options. However, you get to build pricing tables that look and feel completely different to anything else that's out there.
Responsive Pricing Table (FREE)

Responsive Pricing Table is the other free pricing table plugin included today. It comes without the bells and whistles of the other plugins in this list. However, if you're time short and simply want a pricing plugin that does the job, this might fit the bill.
Now, customization options are somewhat limited. You'll find just one table design, and the only part you can customize (other than the text) is the color. However, the design is clean and elegant and I actually really like it.
Of course, if the design isn't for you, look elsewhere. To avoid you wasting any more of your time, here's a screenshot.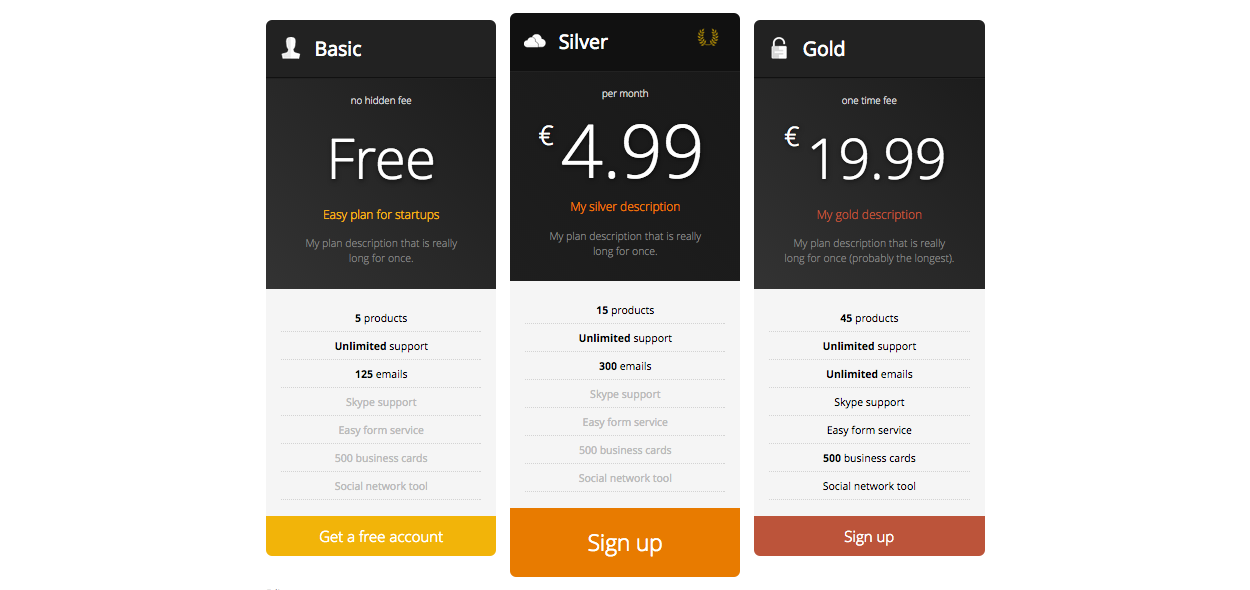 Back to the plugin's plus-points then. First of all, it's ridiculously easy to configure. Every part of the pricing table is broken down into individual fields — with fields for price, a description, an unlimited number of features, button text, and button URL. You can also upload a custom icon to use in the header, should you wish.
At the bottom of the configuration screen, you'll be able to choose the color of each column, with a choice of unlimited colors. The plugin supports up to five columns in total.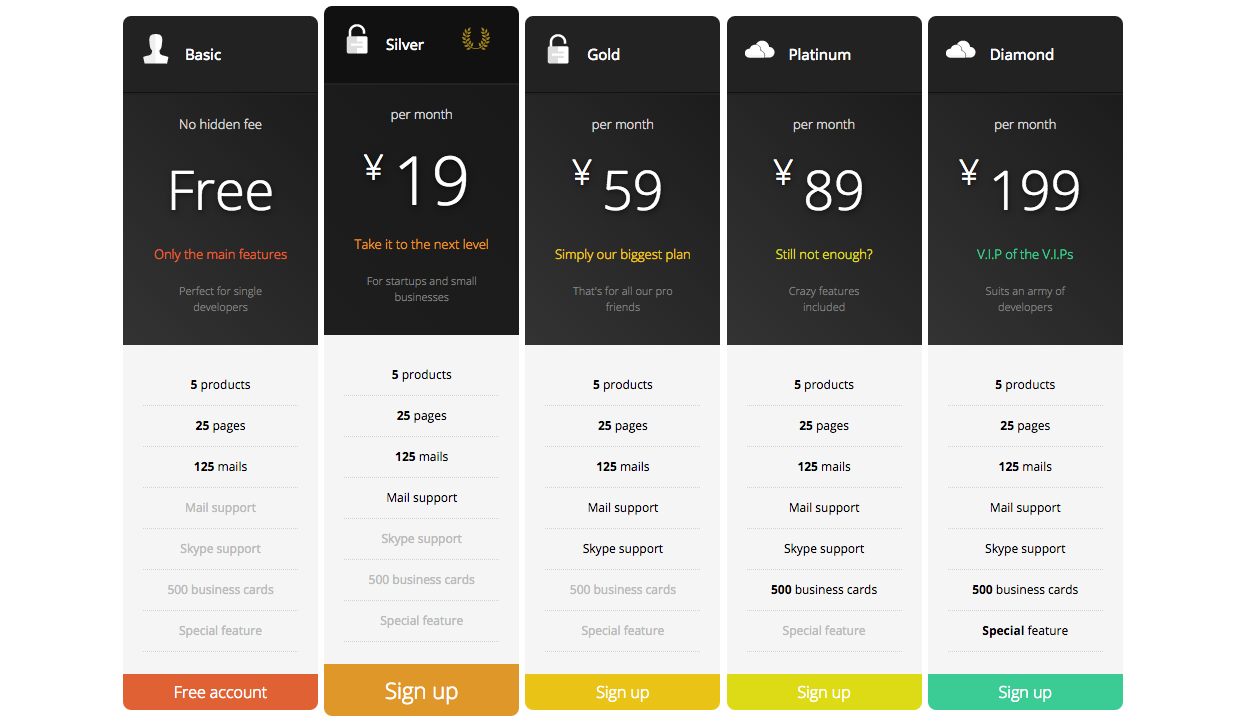 And that's all there is to it. The plugin is quick and easy to use, plus it produces great-looking tables without overcomplicating things.
And, if you want more features, a Pro version is available for just $19. The premium version maintains the plugin's easy-to-use functionality, while also adding a variety of stylish skins, tooltips, and custom buttons.
ARPrice ($21)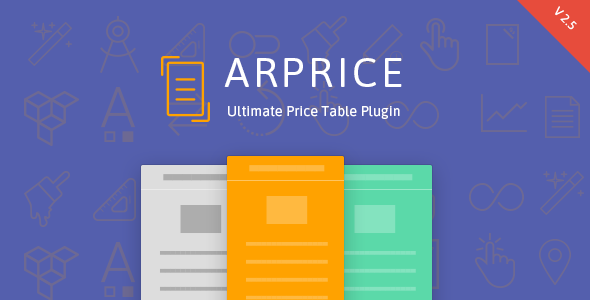 ARPrice is the only plugin that can compete with Go Pricing for sheer variety of designs. Like Go Pricing, it comes with support for a jaw-dropping 250+ styling options, consisting of 20 templates and a variety of skins for each.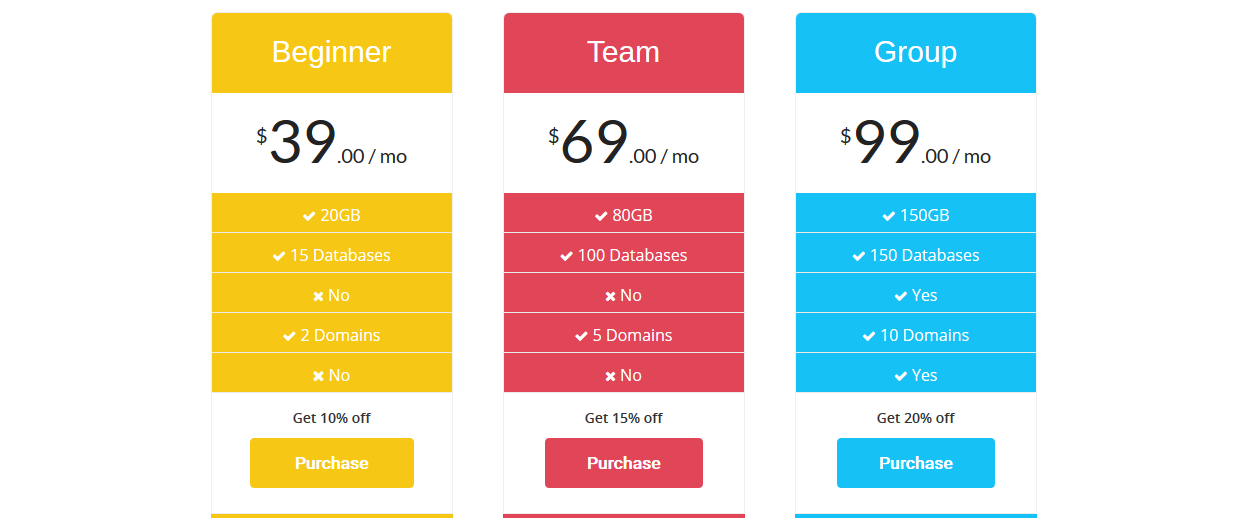 The plugin is equipped with customization galore, too. It boasts the full complement of Google fonts, unlimited custom colors, and 2,400+ icons. This gives you as much flexibility and versatility as you could possibly hope for.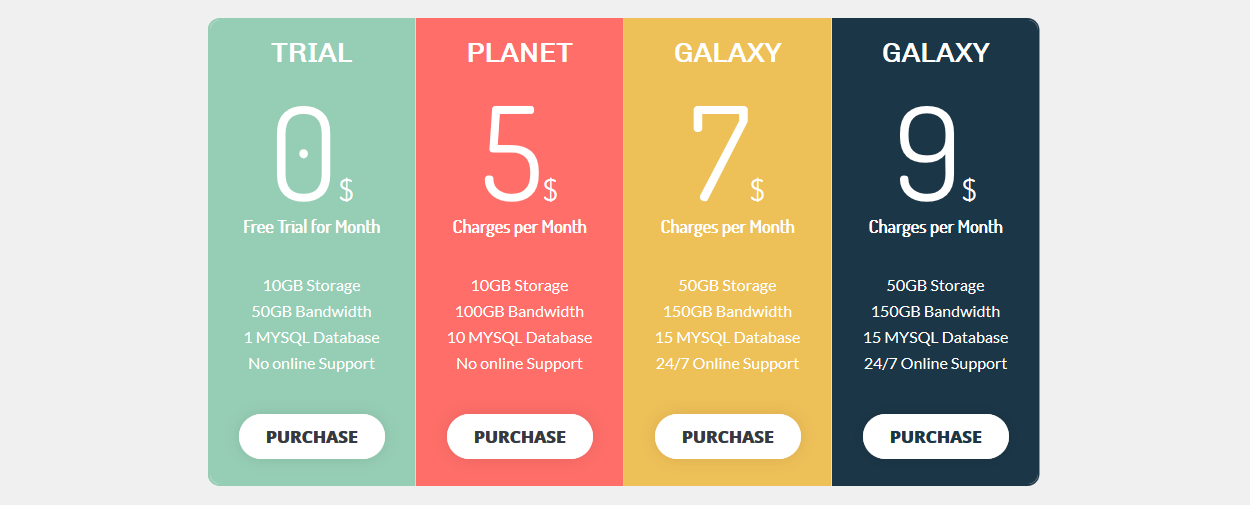 Other styling features include custom animations; monthly-yearly pricing toggles; and support for images, video, audio, and interactive Google maps. You can also integrate PayPal buttons into your pricing tables for instant checkouts.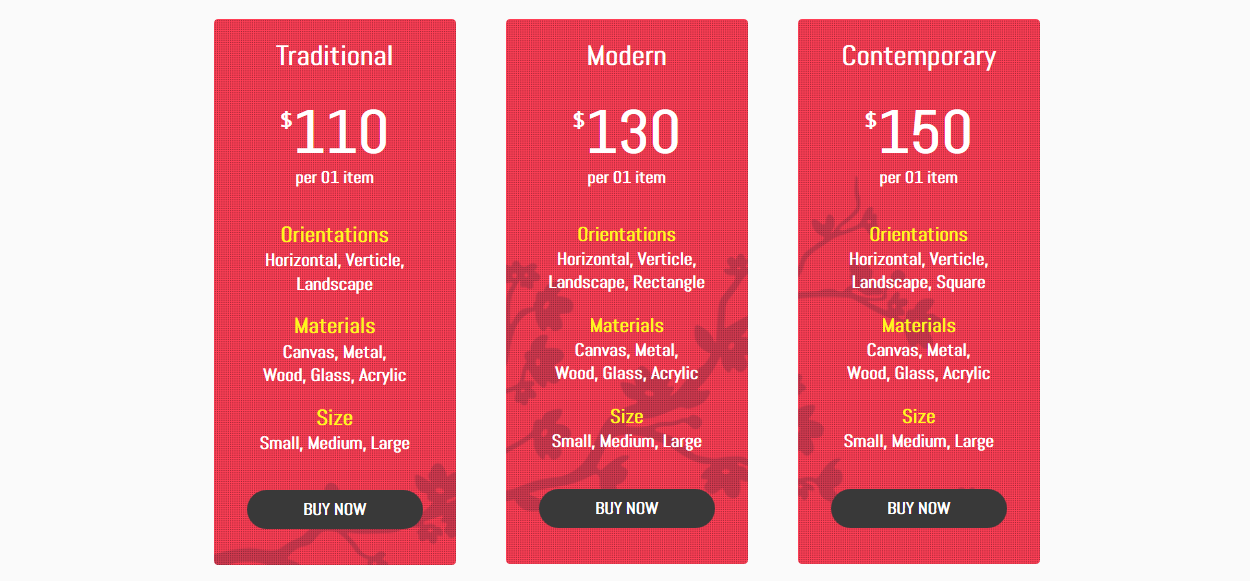 Many of these features overlap with Go Pricing, so you're left choosing your favorite based on the quality of design.
However, ARPricing does have one trick up its sleeve: an analytics function. This lets you see how many time an individual table has been viewed and, more importantly, how many times your buttons have been clicked — thus letting you calculate the pricing table's conversion rate.
Final Thoughts
Because pricing tables are used to promote the products and services you're selling — and thus have a direct impact on conversion rates and, in turn, your bottom line — I recommend going with one of the premium options. At $25, if it results in just one or two additional conversions (and let's face it: it could be hundreds), the plugin will have paid for itself.
Which of the premium options should you choose? Well, I'd say it really depends on which of these plugins provides the design/s you're looking for. Most of the premium plugins featured in this list have a relatively large overlap in terms of functionality, so the major differential is really just usability and design.
Each of the featured plugins has a demo page where you can sample the quality of the pricing tables produced. However, with over 250 templates included in a plugin like Go Pricing, you likely won't have to search for very long in order to find a design that suits your site.
Using any of these? Thoughts?