Top Ten Best WordPress eCommerce & WooCommerce Themes (2022)
WooCommerce can be used with any WordPress theme, however, if you want your online store to stand out from the crowd, it pays to use a design that has been optimised for the plugin.
There are many great free and premium eCommerce WordPress themes that offer deeper integration with WooCommerce. These designs boast more styling options for online shops and more customisation options for creating unique store home pages, shop catalogues and product pages.
The popular WordPress theme Avada, for example, features a unique product gallery template, product carousels and full support for WooCommerce shortcodes. Over 20 pre-made eCommerce designs are also included with the theme to help you launch your store.
In this article, I would like to share with you what I consider to be the top ten WordPress eCommerce themes for WooCommerce.
1. Storefront – FREE
If you check out the official WooCommerce theme directory, you'll find eCommerce designs created by the WooCommerce team and approved third-party WordPress theme companies. One of the standout designs in the directory is Storefront.
Developed by the WooCommerce team, Storefront is a free WordPress theme that was created to offer deep integration with WooCommerce. The design is based on Underscores, which ensures the theme is lightweight, loads quickly and has great support for search engine optimisation.
Like Underscores, Storefront is meant to be a starter theme that acts as the foundation of your own custom design. Being a blank canvas, the core version of Storefront looks simplistic, however, in the WordPress theme customiser, you can adjust colours, populate widget zones and change many other theme settings.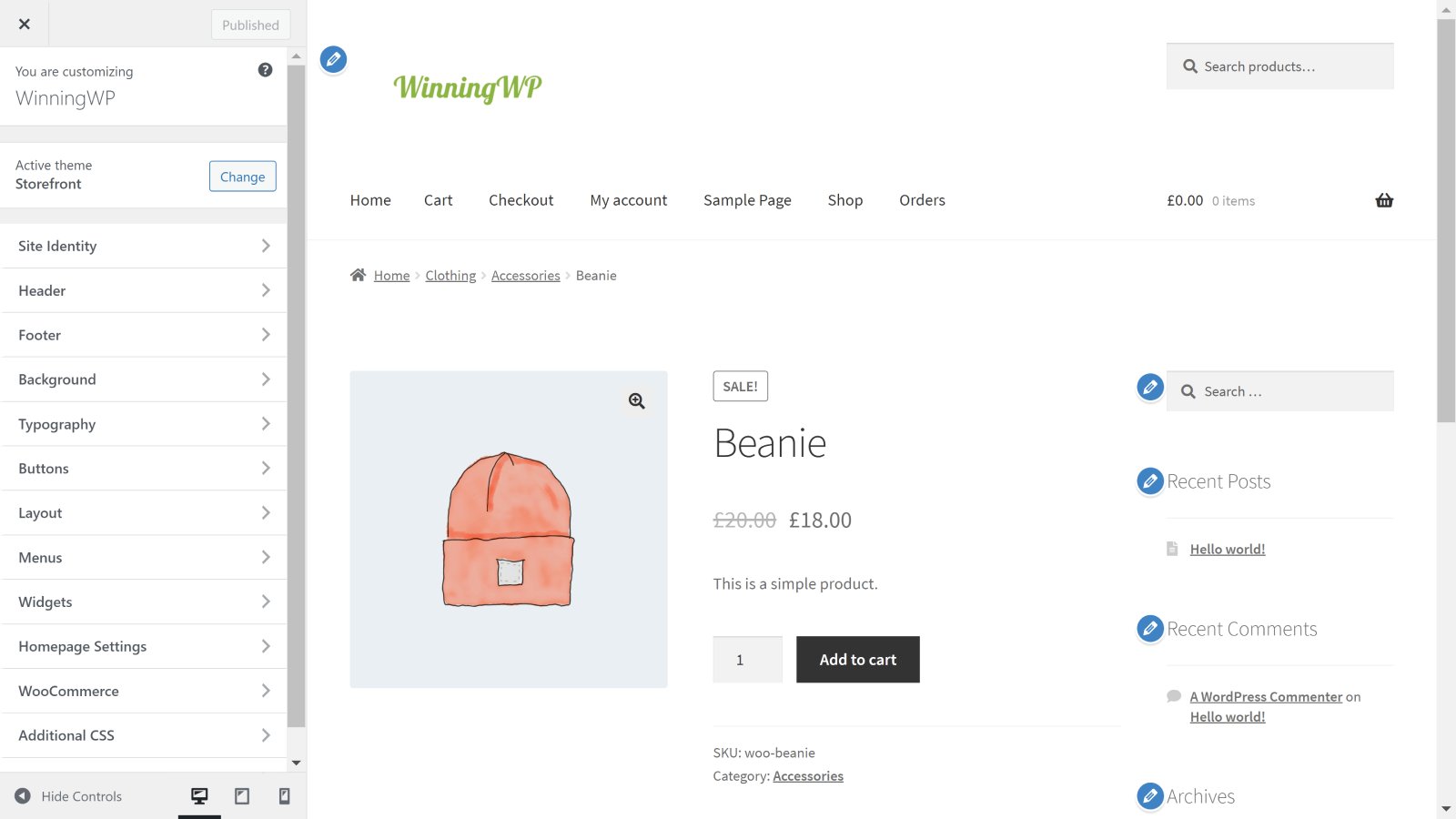 If you're not a developer, I highly recommend looking at the 11 plugin extensions that are available for Storefront as they unlock functionality which is sorely missed in the core version. These plugins range from $19 per year to $59 per year each, so it makes sense to purchase the $69 per year plugin bundle instead as it gives you access to all plugins.
Storefront Powerpack is one of the most useful extensions as it adds dozens of additional styling options to help you customise your website. There's a blog customiser plugin too and you'll also find extensions that add reviews, product sharing and mega menus.
Your Storefront store can be instantly transformed by installing one of the 14 available child themes. The Deli and Boutique designs are free to download, whilst the remaining designs retail at $39 per year. Unfortunately, the official child themes have not been updated in a couple of years, so it is difficult to recommend them.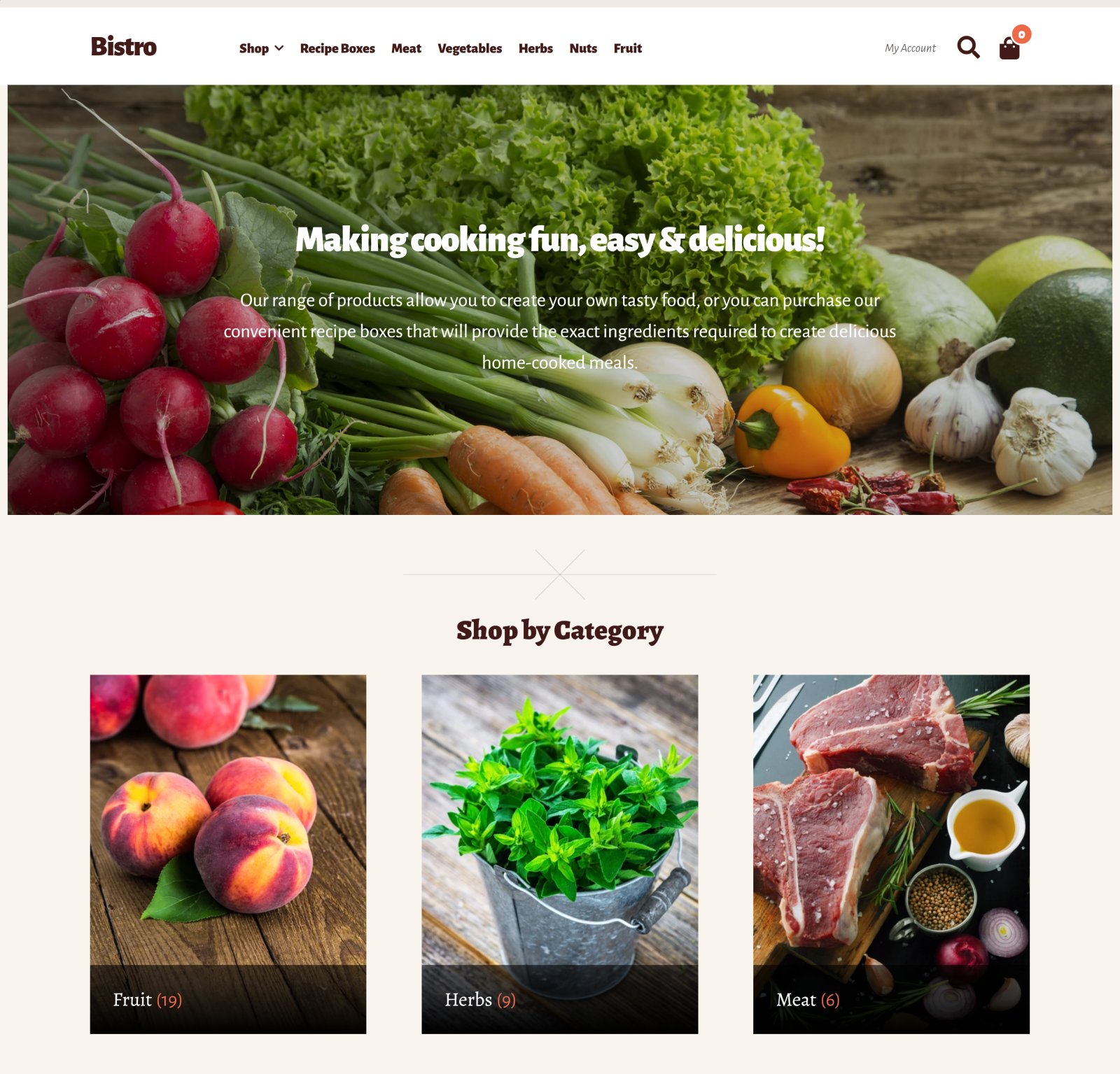 Storefront is a fantastic WooCommerce theme for developers as it gives them a flexible lightweight framework to create their own unique design. Unfortunately, general users will find the core version of Storefront difficult to work with due to a limited number of customisation options. The $69 per year plugin extension bundle addresses this issue, however there are better solutions available in this price range.
Please read my full review of Storefront for a more detailed look at what the theme offers and see why developers love Storefront so much.
Storefront: Official Website | Download From WordPress.org
2. Elementor & Hello Theme – $49+
Over the last few years, WordPress theme developers have moved away from "All in One" designs, choosing to place settings and design features in plugins instead. So it should be no surprise that one of the best WooCommerce themes is actually a WordPress page builder.
Elementor is an advanced WordPress page builder that has great support for WooCommerce. Whilst Elementor will work with any WordPress theme, Elementor's very own Hello Theme is arguably the best design to use with it as it's super lightweight and acts as a blank canvas for the page builder (plus it's free to download!).
Whilst Elementor is free to download, you need to upgrade to Elementor Pro in order to gain access to WooCommerce Builder. The builder helps you create unique product pages and archive pages using a host of product widgets and page widgets.
Once you've spent a little time with WooCommerce Builder, you start to appreciate how powerful it is. To create a professional product page, all you have to do is drag and drop the product widgets you want onto the page and then adjust its content and styling. Product showcases and collections can be created in this way too.
One of the strengths of Elementor is its powerful template system. Any custom design you create, for your main website or for your online store, can be saved as a custom template and reused later.
Elementor boasts hundreds of high-quality pre-made blocks and page templates to get you started. The content blocks for single products and product archives are excellent. They're so good that many stores use these pre-made designs without modifying them.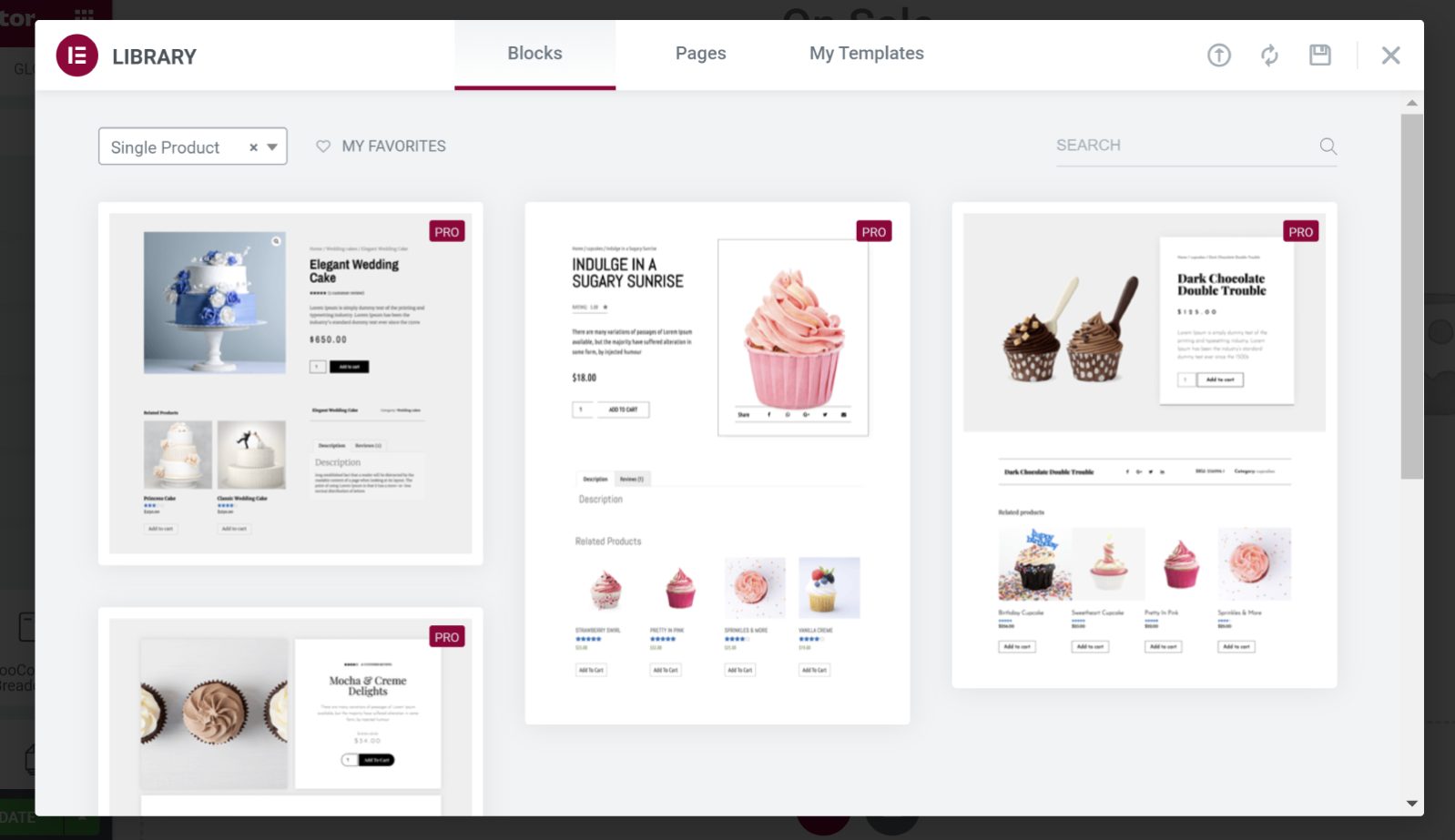 Elementor is undoubtedly one of the best WordPress page builders on the market and for just $49 per year, you can upgrade to Elementor Pro and create stunning online stores. It may not be the obvious choice for an eCommerce website, however I believe it's one of the best ways to create a beautiful eCommerce website.
Hello Theme is one of the best WordPress themes to use with Elementor, though I encourage you to check out my "Top Ten Best Elementor Themes for WordPress Websites" article to see which other WordPress themes work well with it too.
Elementor: Official Website | Download From WordPress.org
Hello Theme: Official Website | Download From WordPress.org
3. Astra – Free / $44+
One of the standout WordPress themes from the last few years is Astra. Installed on over one million WordPress websites, Astra is a fast-loading WordPress design that has great support for WooCommerce. The theme boasts many customisation options and works with all major page builders, such as the WordPress block editor, Elementor and Beaver Builder.
The free version of Astra is impressive. Using the WordPress theme customiser, you can change your website's global colours, typography and layout. Header and footer builders are also available here, which let you create unique designs using drag and drop. Several plugin extensions for Astra can also be downloaded from WordPress.org free of charge. These add functionality for exporting customiser settings, adding custom fonts and managing sidebars.
WooCommerce has great support in the free version of Astra too. Through the WordPress theme customiser, you can display products in a grid, create a product catalogue, add a dropdown shopping cart, optimise widgets for shop pages and more.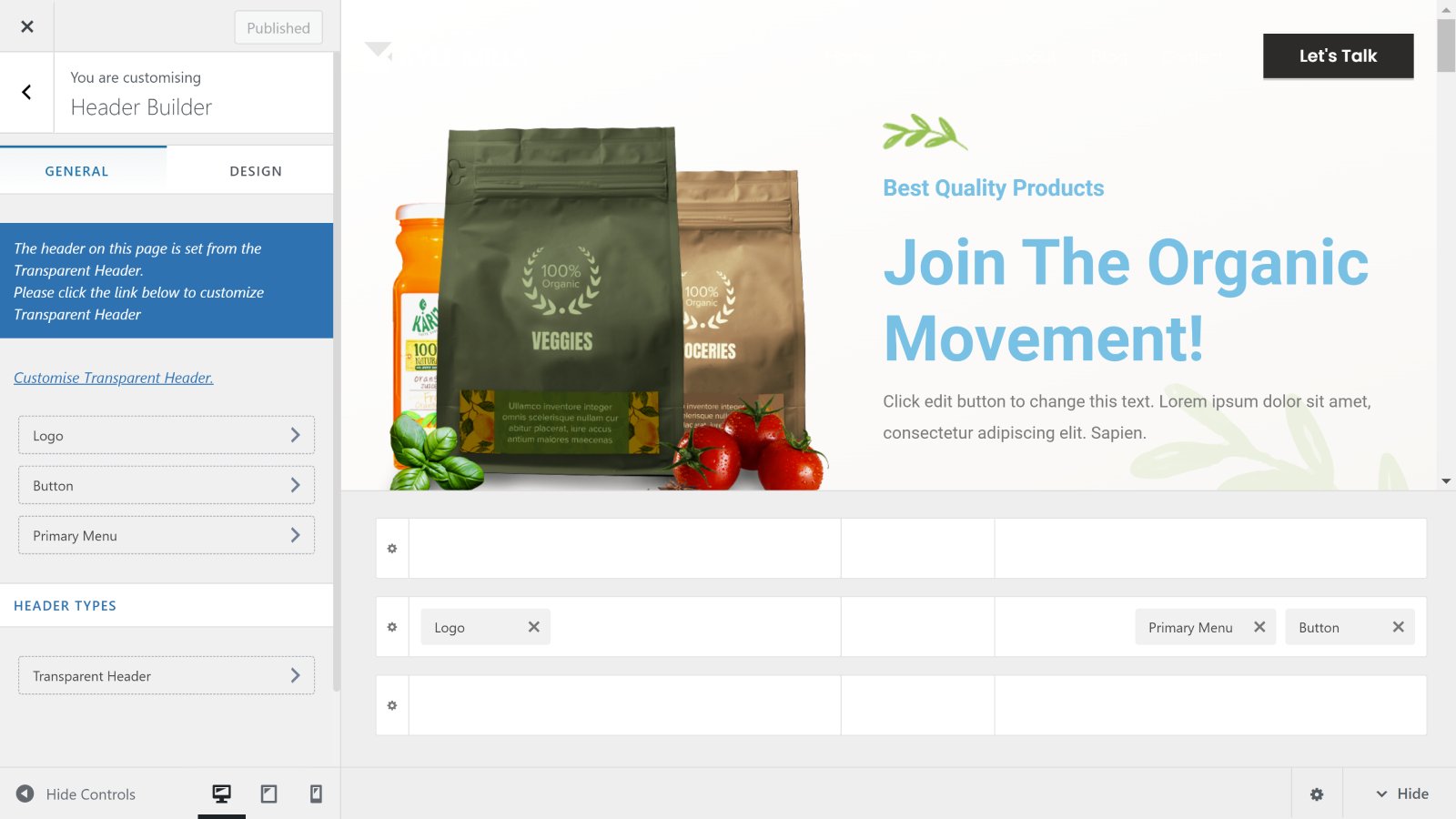 One of the biggest attractions of Astra is its large collection of pre-made website templates. These designs are available through the free WordPress plugin Starter Templates. Each design was created using one of four WordPress page builders: Elementor, Beaver Builder, Brizy and the WordPress block editor. All of the designs have been created to a high standard and can be imported into your website in seconds. Over one hundred of these designs are available to use free of charge, including many great WooCommerce store designs
Interestingly, the Starter Templates plugin works with any WordPress theme, however, if you upgrade to Astra Pro, hundreds of additional pre-made designs are made available to you.
Pre-made designs aren't the only reason to upgrade to Astra Pro. If you upgrade, you'll gain access to 15 pro modules. This adds hundreds of customisation options for your navigation menu, blog, headers, colours and more. For WooCommerce users, Astra Pro adds infinite scrolling, an off-canvas sidebar, product quick viewing and additional options for galleries and checkout pages.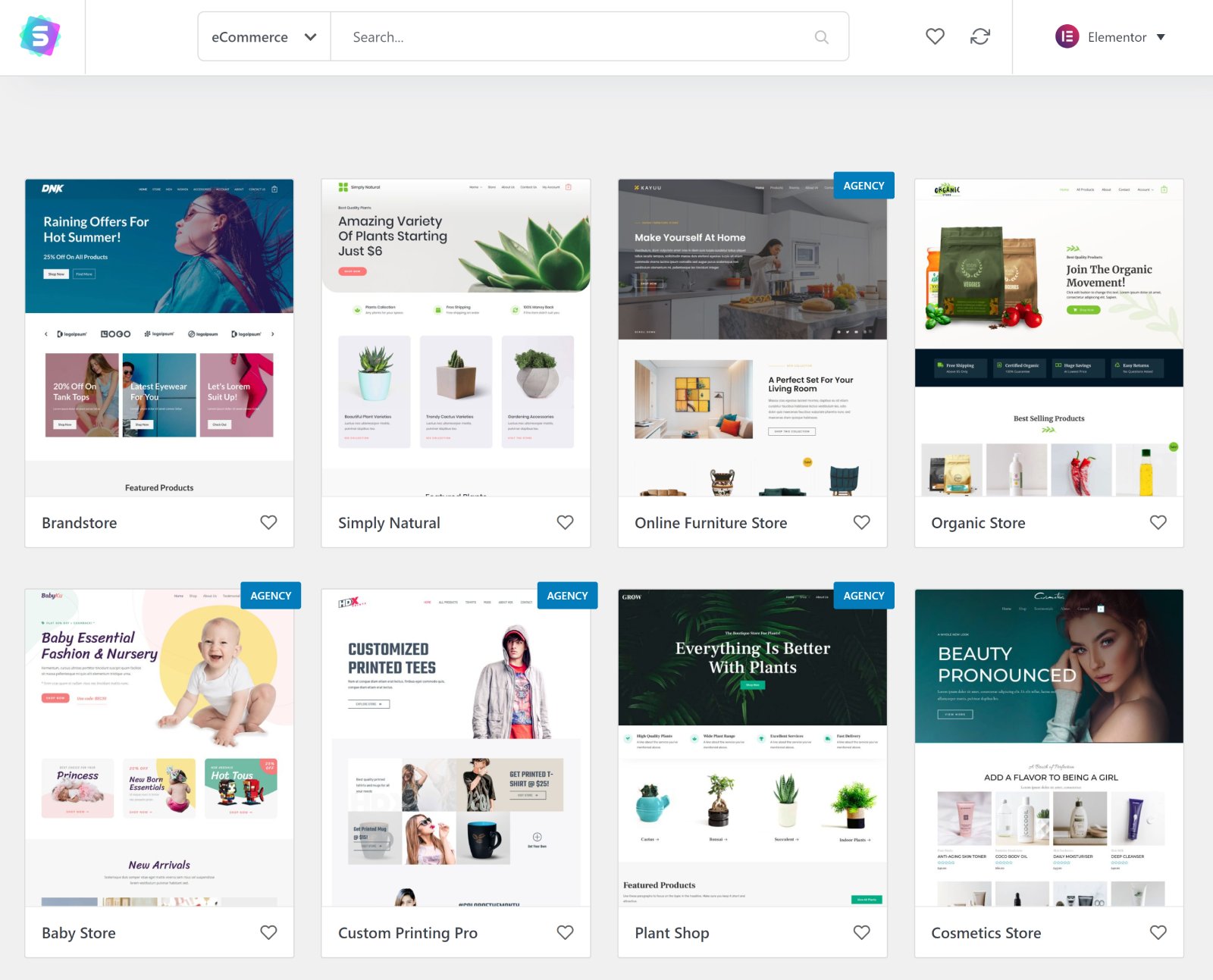 Astra is easy to recommend. It has great support for WooCommerce and features hundreds of customisation options. The free version is fantastic in its own right, but from only $47, you can upgrade to Astra Pro and gain access to more features and more high-quality website designs.
Check out my full review of Astra to learn more about what it offers.
Astra: Official Website | Download From WordPress.org
4. Flatsome – $59
If you're searching for a versatile WooCommerce design for your online store, check out Flatsome. Although it's a multi-purpose design that can be used for any type of website, it has many fantastic features for shop owners. This has helped it become the number one selling WooCommerce theme on ThemeForest.
Flatsome supports the WordPress theme customiser, however, it also boasts its own WordPress page builder called UX Builder. The UX page builder is impressive. It features an in-depth slider and banner system, unique grid layouts, responsive page options and a live text editor.
Designs can be created using 30 content elements and five layout elements. All you have to do is drag and drop them into the canvas area and then change its content and styling. An additional nine shop elements are available to help you customise your store.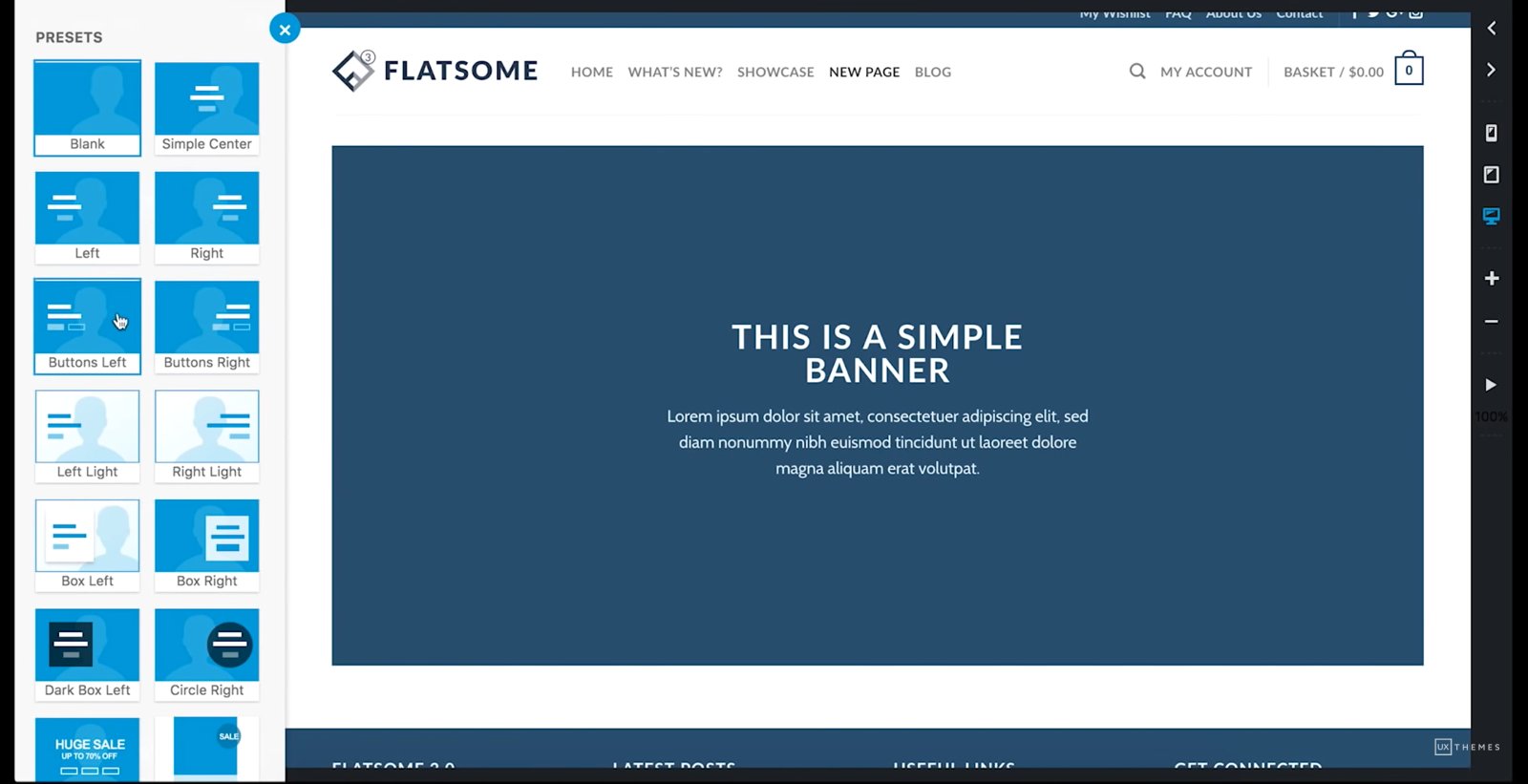 Flatsome comes packaged with dozens of beautiful pre-made theme demos that were created specifically for shops. All designs are search engine friendly, have been optimised for speed, and boast modern features such as mega menus and parallax scrolling.
For shop category pages, Flatsome offers features such as live searching, product quick viewing, custom content at the top of each page, sales bubbles and floating buttons for adding products to carts and wishlists. There's a variety of category list styles, layouts and modes too.
Unique product pages can also be created easily. You can add product videos, product galleries, product variations, navigation menus and more.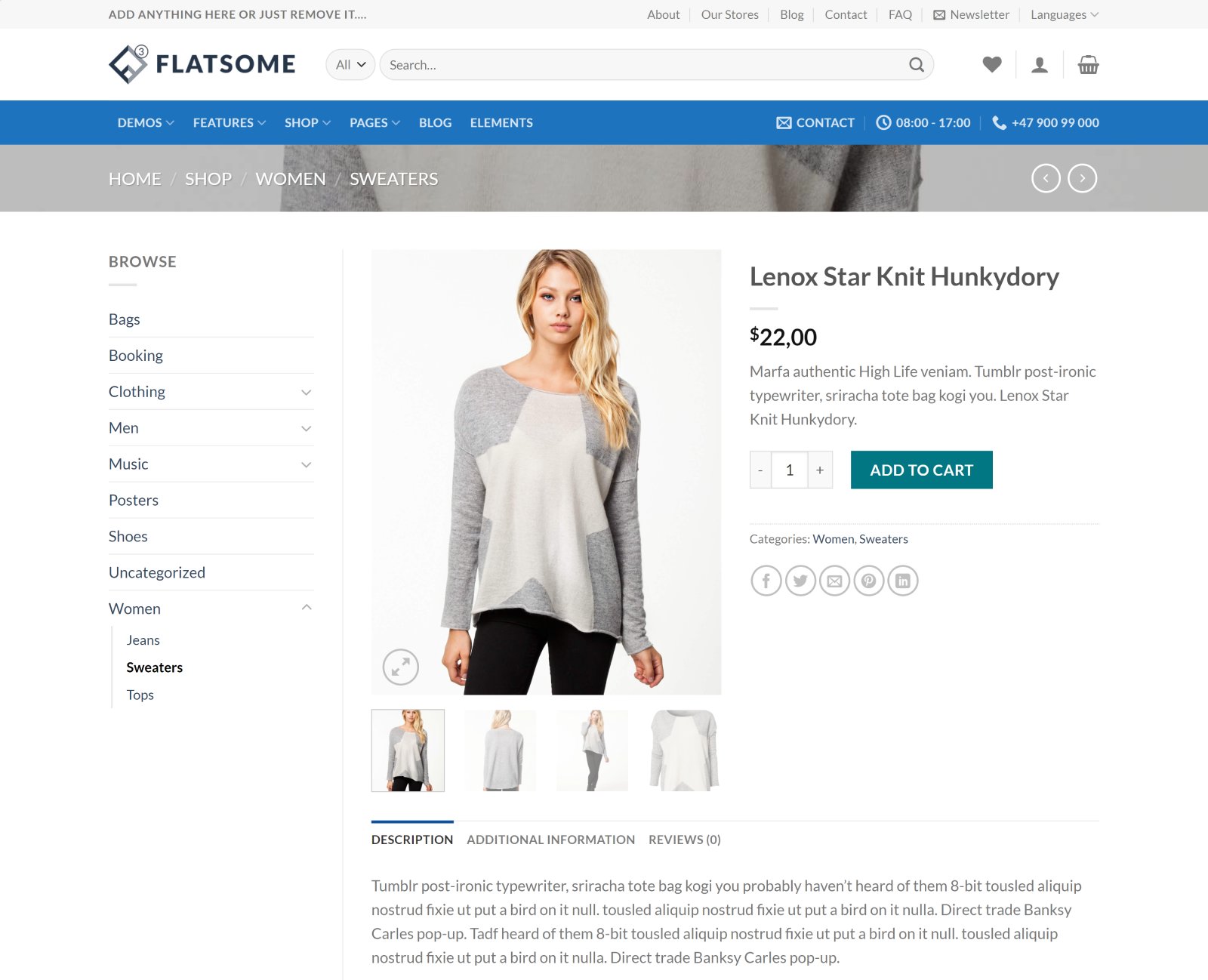 It's easy to see why so many shop owners have purchased Flatsome. The developers have integrated many fantastic features and customisation options for shop owners into their design and the included theme demos look professional.
Flatsome is available from ThemeForest for a one-time fee of $59. Every purchase comes with lifetime updates and six months of support, however, this can be extended to 12 months for just $17.63.
Flatsome: Official Sales Page
5. Shoptimizer – $39
CommerceGurus is a WordPress theme company that focuses exclusively on eCommerce designs. The company sell several great WordPress themes, though the one that stands out for me is their flagship design Shoptimizer.
All Shoptimizer website settings can be found within the WordPress theme customiser. There are options for styling, layouts, typography and performance. Unlike "All in One" WordPress themes, Shoptimizer does not have an extensive library of pre-made website designs, however, all major page builders are supported by the theme, including Elementor, Beaver Builder, SiteOrigin and Visual Composer. This gives you access to thousands of eCommerce shopping layouts from third-party companies.
Throughout the design, you'll find useful tools and features for your store. Auto-complete searching, for example, will display the top search results for products as the customer is searching. You can also add products and shop categories to your drop-down navigation menus.

Shoptimizer loads quickly and has great support for accessibility tools and search engines, yet it's clear that the design has been created from the ground up with conversions in mind. For example, you can utilise distraction-free checkout pages which remove the header, footer and sidebar. This helps reduce the number of customers who click the back button.
Product details can be displayed at the top of product pages as the customer scrolls through the page and you can also display additional information for each product such as shipping costs. There's an option for allowing customers to add their phone number so you can call them back too.
Other cool conversion features include trust badges at the checkout stage, timers that countdown sales and slide up notifications for promotions.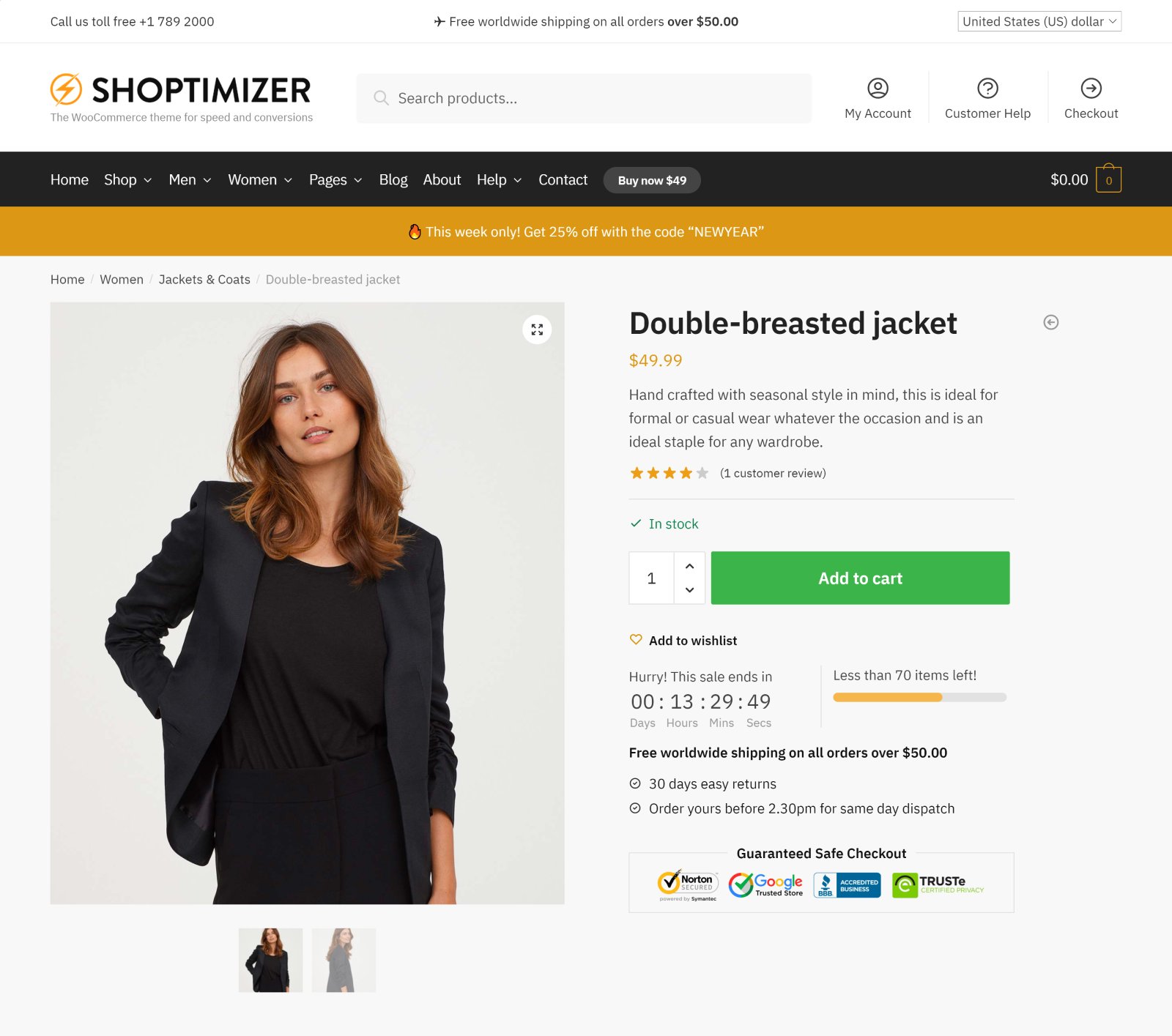 Shoptimizer is a great choice if you are looking to build a professional online store as it includes so many additional features and tools to help you generate additional sales.
The theme is available for only $39 at the moment and comes with one year of support and updates.
Shoptimizer: Official Website
6. Avada – $60
Those of you who are familiar with the WordPress theme market should not be surprised that Avada is on my list of the best eCommerce WordPress themes. This versatile "All in One" WordPress design has been the top-selling WordPress theme on ThemeForest for eight years.
Avada is a theme that can do everything. When you first activate the theme, I recommend selecting one of the 82 high-quality pre-built website designs that come packaged with Avada as they are the perfect starting point for your own custom design. 20 of these designs were created specifically for online shops and they can all be activated at the click of a button.
The number of options in Avada for customising your website is incredible. There's a dedicated theme options page and a back-end page builder called Avada Builder, however, the star of the show is the front-end builder called Avada Live. Avada Live is a live editing solution that is both a page builder and a theme builder. On any page of your website, you can add beautiful content to the content area and then change your website's colours, styling, padding and more. All from one interface.
* Please note that Avada Builder was formerly called Fusion Builder and Avada Live was formerly called Fusion Builder Live.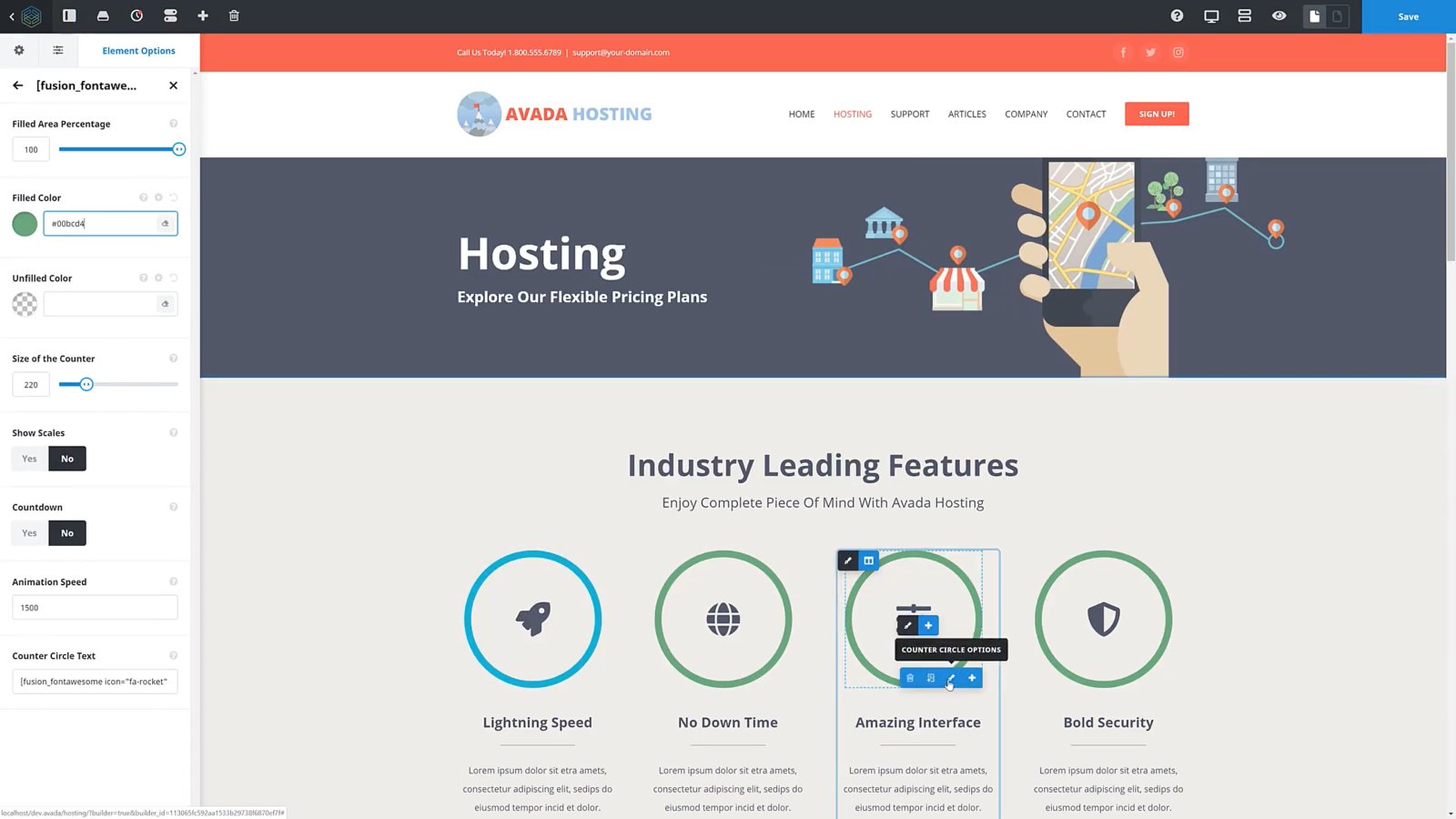 Within Avada Live, you will find website builders for your header, footer, forms, content pages and more. Over 120 design and layout elements are available to help you create new layouts.
Avada also has a dedicated WooCommerce builder for creating shop home pages, product pages, category pages and checkout pages. You can change the layout and styling of all of these pages and add features such as product quick viewing, pricing tables, coupons, product sliders and more.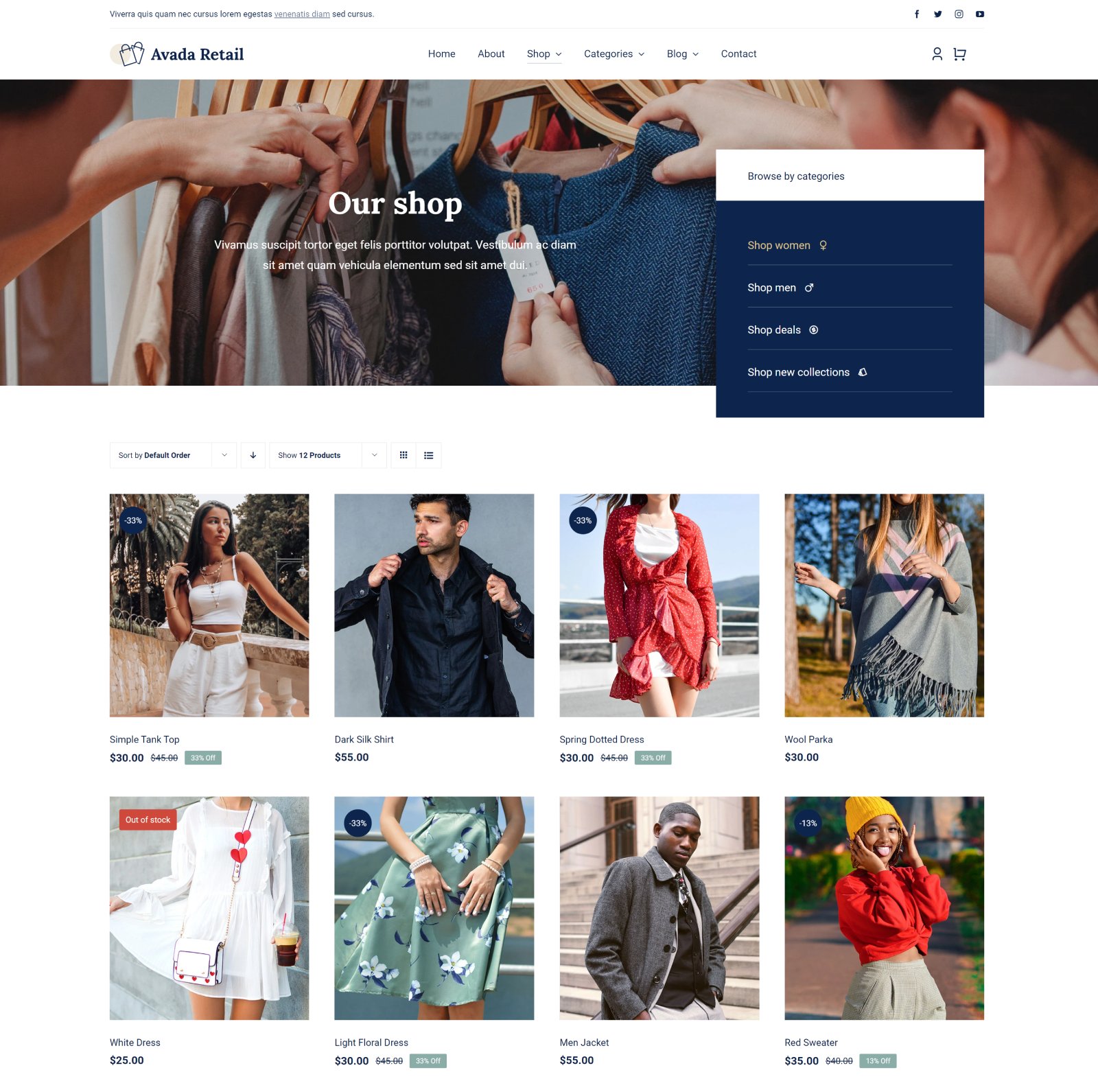 Avada is one of the most feature-rich WordPress themes on the market and it's the perfect choice for building an online store. The theme retails on ThemeForest for a one-off fee of $60. It comes with lifetime updates and six months of support, which can be extended to 12 months for only $18.
Please check out Joe Fylan's full review of Avada for a more extensive look at what the theme offers. Joe has also published a comparison of Avada with X and Enfold and on WPMaramalade, you'll find my comparisons of Avada with Astra and OceanWP.
Avada: Official Sales Page
7. ShoppingCart – FREE / $59
Shopping Cart is an eCommerce WordPress design that can be downloaded free of charge from WordPress.org. The theme utilises free WordPress plugins such as Contact Form 7 and Max Mega Menu in order to display its designs correctly.
The whole theme can be modified through the WordPress theme customiser. You can change colours, meta information and the slider, product categories and featured products, that are displayed on the home page. Key aspects of the page, such as the search bar and menus, can also be deactivated at the click of a button.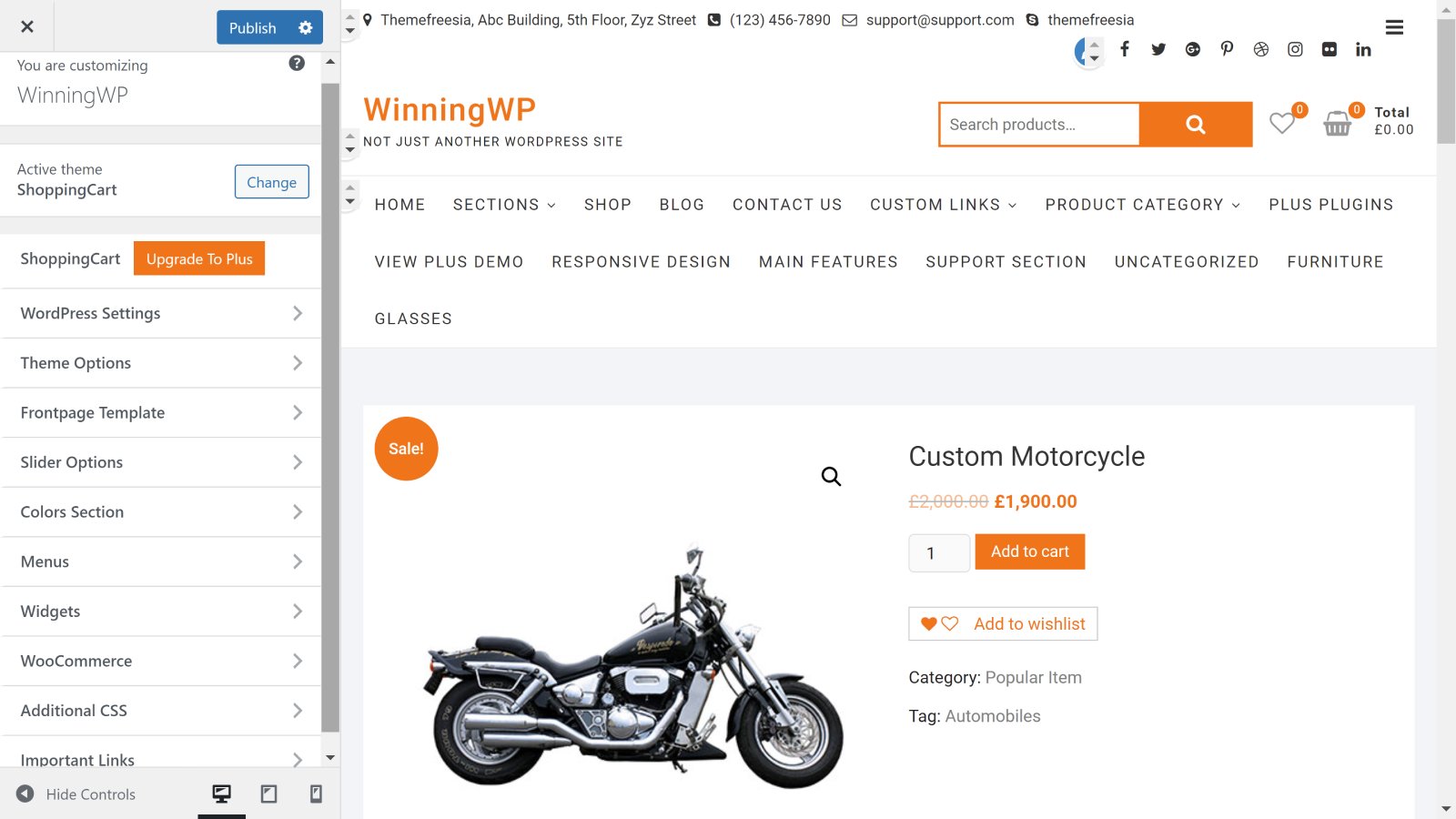 The pro version of ShoppingCart retails from $59 for a single license. It unlocks two additional online store designs called ShoppingCart Plus and Diamond Store. Like the default design, ShoppingCart Plus is more suited towards medium to large online stores, however the Diamond Store design can easily be adapted for small online shops.
ShoppingCart Pro also adds support for over 800 Google Fonts and adds additional layouts and colour options to the customiser. An option to add banner advertisements to your website is available too.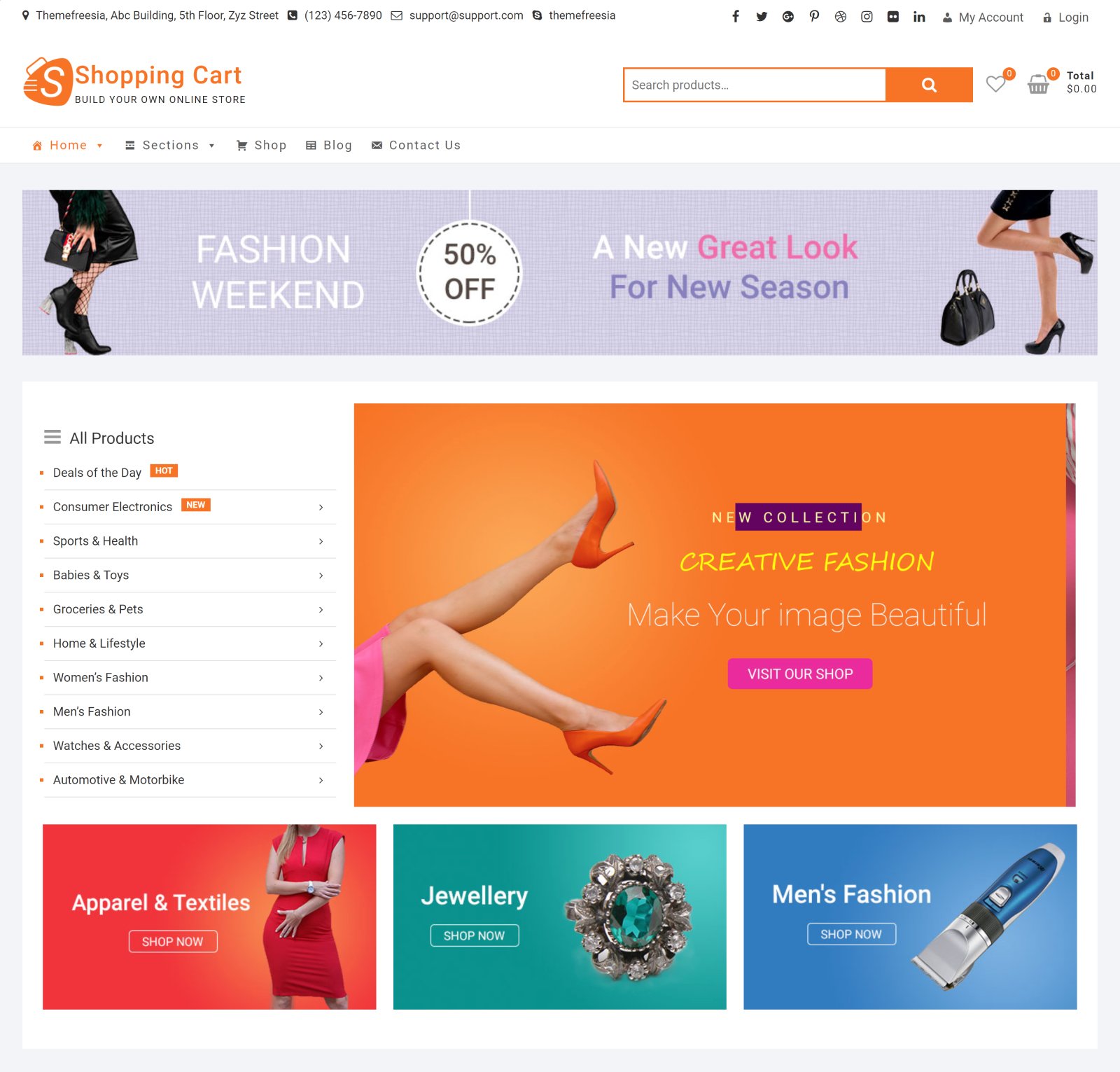 If you're looking for a free eCommerce WordPress theme for a large online store, I recommend checking out ShoppingCart as it has many useful customisation options. Given the high standard of premium eCommerce themes available online, it is difficult to recommend ShoppingCart Pro as there's better solutions for the money.
ShoppingCart: Official Website | Download From WordPress.org
8. Porto – $59
Porto is a multi-purpose WordPress theme that has hundreds of layout and design customisation options. All major options can be found within the WordPress theme customiser, including a drag and drop header builder, layouts, sliders, sidebars and page templates.
The number of layout variations is outstanding. With website headers, for example, there are six presets and 17 header types. Similar layout variations are available for your footer, pages and categories, and you can use display conditions to define which areas of your website layouts are displayed.
Porto also features a template builder and it has support for four WordPress page builders: The WordPress block editor, WPBakery Page Builder, Visual Composer and Elementor. To help you get the most from page builders, the developers created Porto Studio, which is a large library of pre-made layouts, elements and sections. These extend the content which is already available within popular page builders.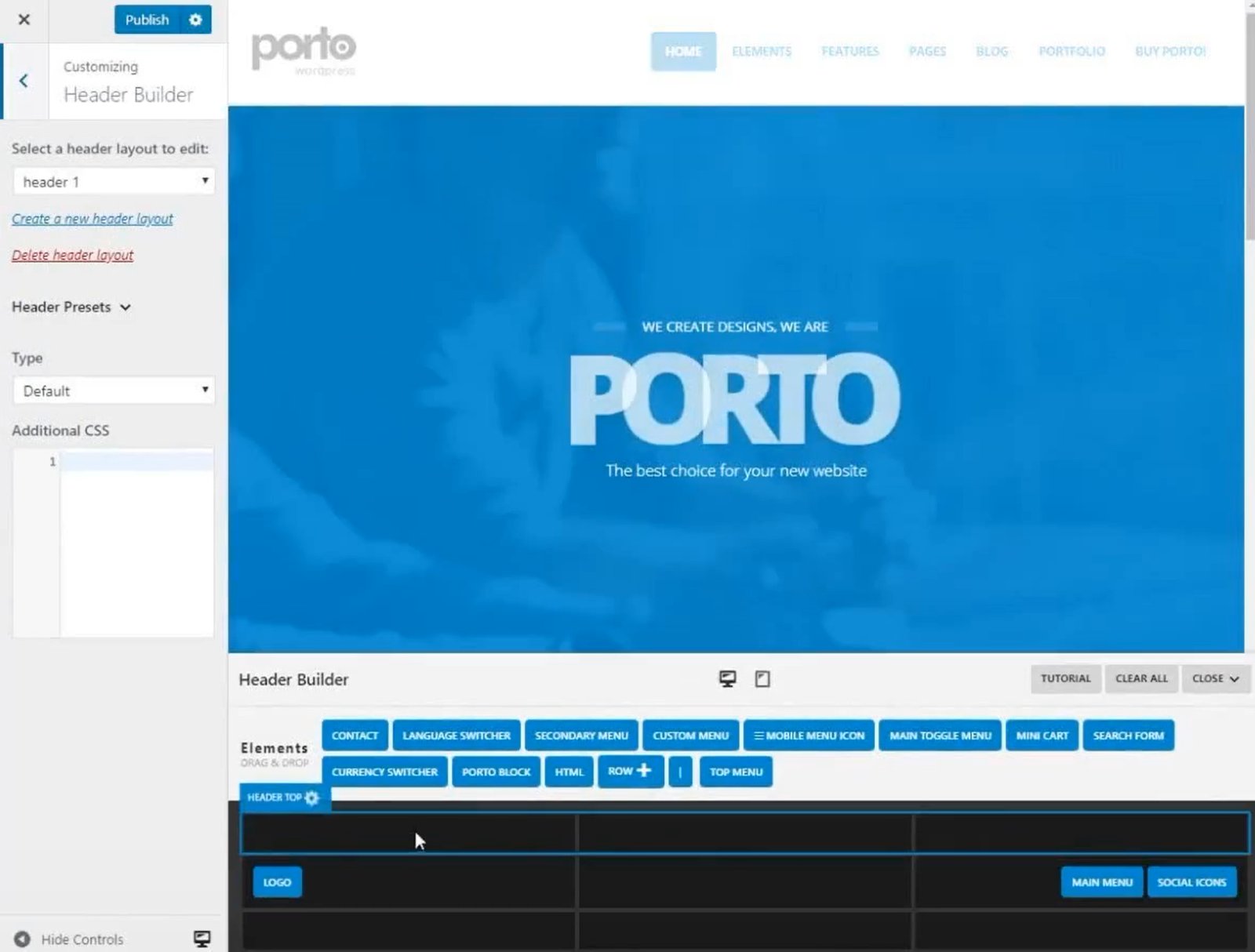 A whopping 121 website theme demos are included in Porto. 79 of these designs are classed as multi-purpose and 42 were designed specifically for online shops.
WooCommerce features have been integrated throughout Porto. There are nine different product pages and nine product layouts. Custom layouts can be created and saved too and there are also options to define WooCommerce products filters.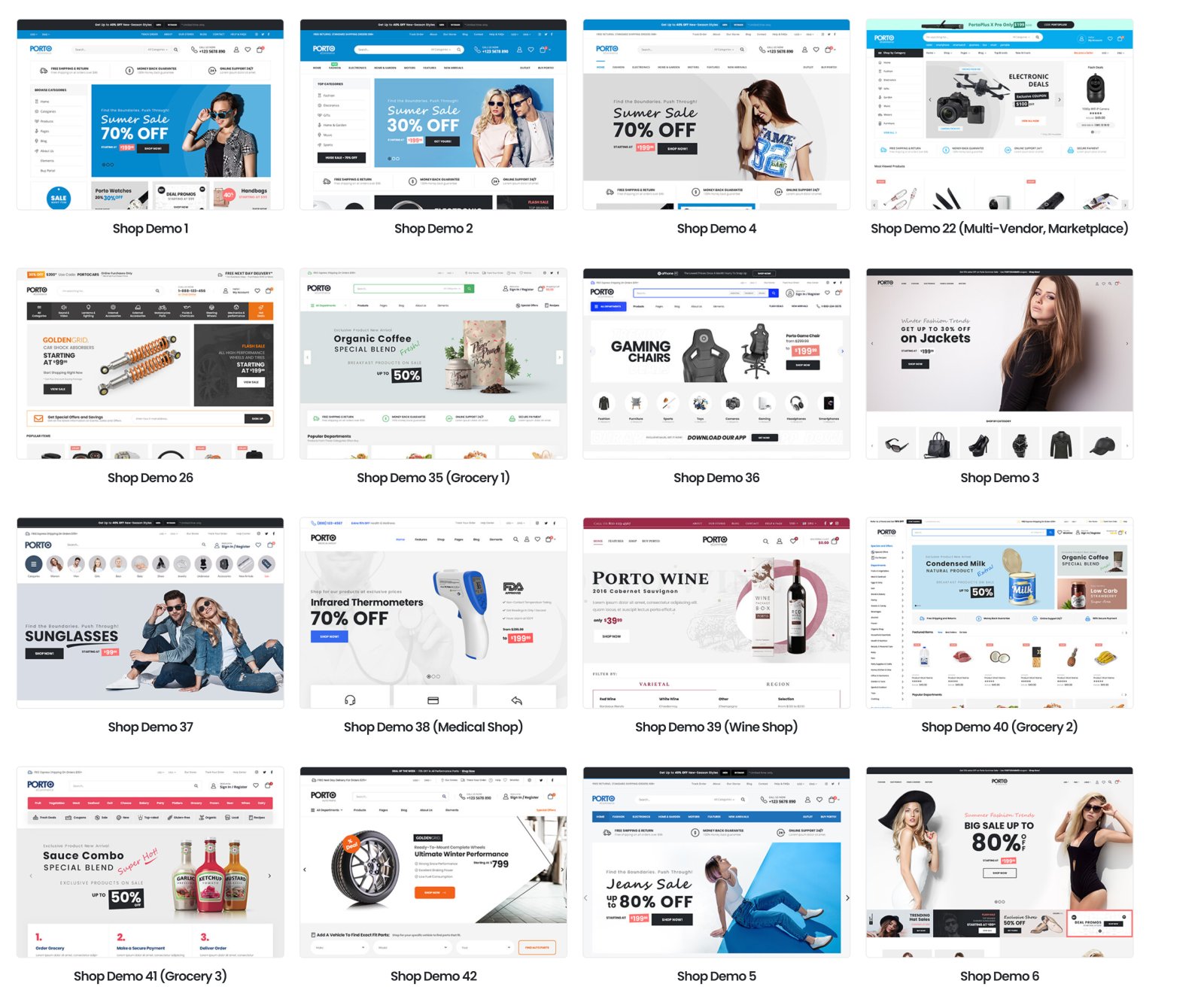 In Avada, the developers created their own custom page builder and theme builder. Porto does things differently, placing most theme customisation options within the WordPress theme customiser and offering great support for popular third-party WordPress page builders. For many shop owners, this method will be preferable.
Porto is available from ThemeForest for a one-off fee of $59. Lifetime updates and six months of support are provided with each purchase. If you wish, support can be extended to 12 months for only $17.63.
Porto: Official Sales Page
9. Electro – $59
Electro is a WooCommerce WordPress theme that was created specifically for electronic stores. You can, of course, easily adapt Electro for any type of online shop.
Built on top of the Underscores framework theme, Electro features two unique mobile designs, nine home page layouts, several header layouts, 17 unique widgets, light and dark colour schemes and nine colour variations. Three unique product pages are also available to help you showcase your products to customers.
The theme is fully compatible with WordPress page builders such as Elementor, Visual Composer and WPBakery Page Builder. Visual Composer actually comes packaged with Electro alongside the popular slider WordPress plugin Slider Revolution.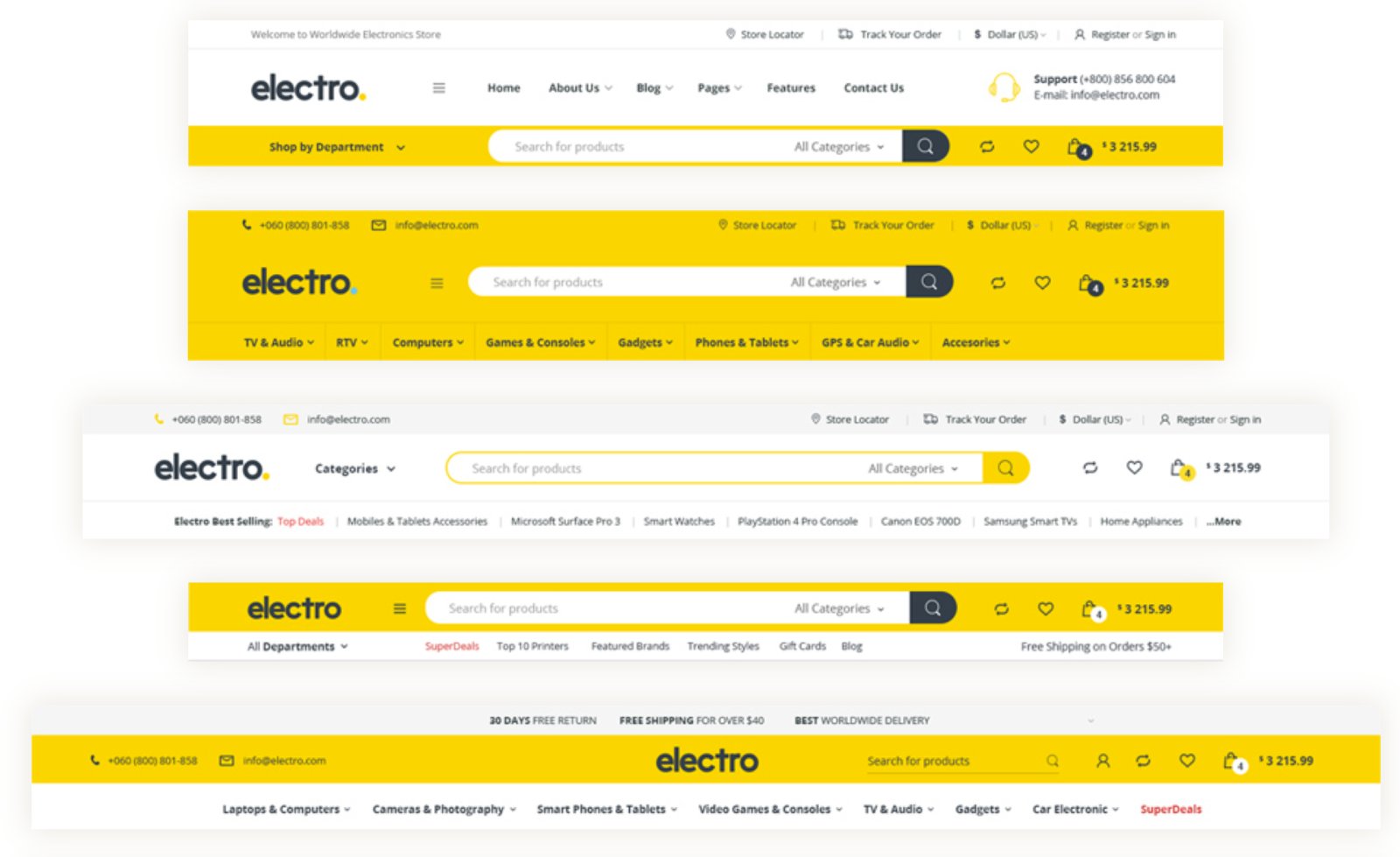 Many shop related features are only available after activating the Electro Extensions WordPress plugin. This plugin unlocks advanced live search, product carousels, product deals, product reviews, advanced menus, a store directory and more.
One standout feature of Electro is that it can also be used for marketplaces and multi-vendor shops. All major multi-vendor solutions are supported, including Dokan, WC Vendors, WCFM Marketplace and Webkul's WooCommerce Marketplace Extension. Several multi-vendor designs are included with Electro to help you build your marketplace.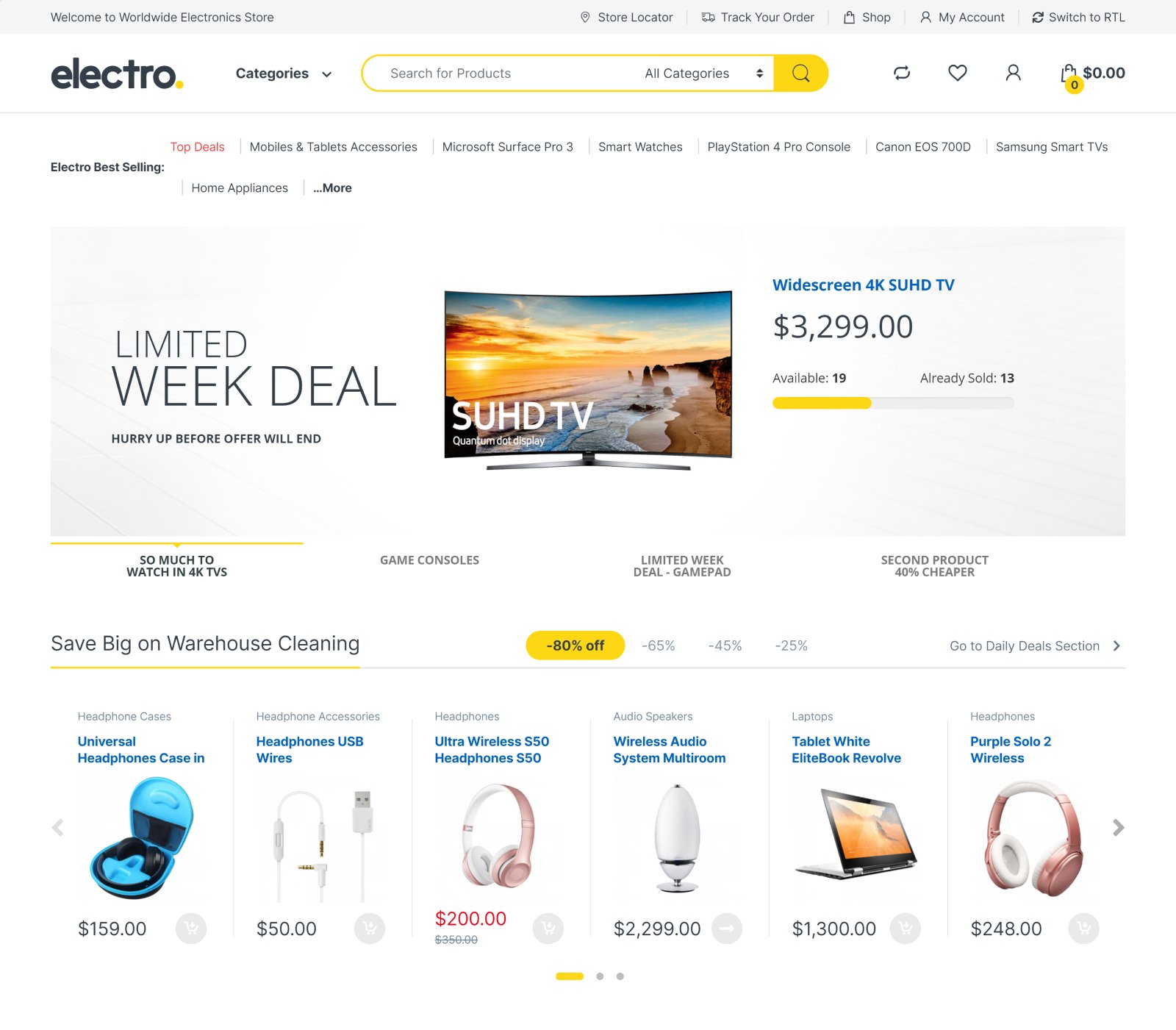 With multiple colour schemes and many different layout variations, Electro has everything you need to create a WooCommerce store or multi-vendor marketplace.
You can pick up Electro from ThemeForest for a one-off fee of $59. Like all ThemeForest designs, Electro comes with lifetime updates and six months of support. It costs $17.63 to extend support to twelve months.
Electro: Official Sales Page
10. Shopix – FREE
Our final recommendation is a fast-loading lightweight eCommerce design called Shopix. Unlike other high-quality eCommerce designs available on WordPress.org, the developers of Shopix have chosen to release the full version of their theme to everyone. Therefore, you won't find any restrictions in the theme.
Shopix comes with two designs: Fashion and Electronics. Both of these designs can be imported easily through the WordPress admin area and require the Elementor WordPress page builder to display correctly. The theme has a dedicated page in the WordPress Appearance area that links to the theme demo import page, documentation and support, however, all customisation options are displayed in the WordPress theme customiser.
I was really impressed by the number of options available in Shopix. In the WordPress theme customiser, you can change colours, buttons, background images and typography. There are also multiple layouts for your header, top bar, blog archives and single posts.
For your WooCommerce store, Shopix gives you full control over your product catalogue page, product page and checkout page. With product catalogues, for example, there are three different layouts and dozens of options for changing styling, rows and sorting.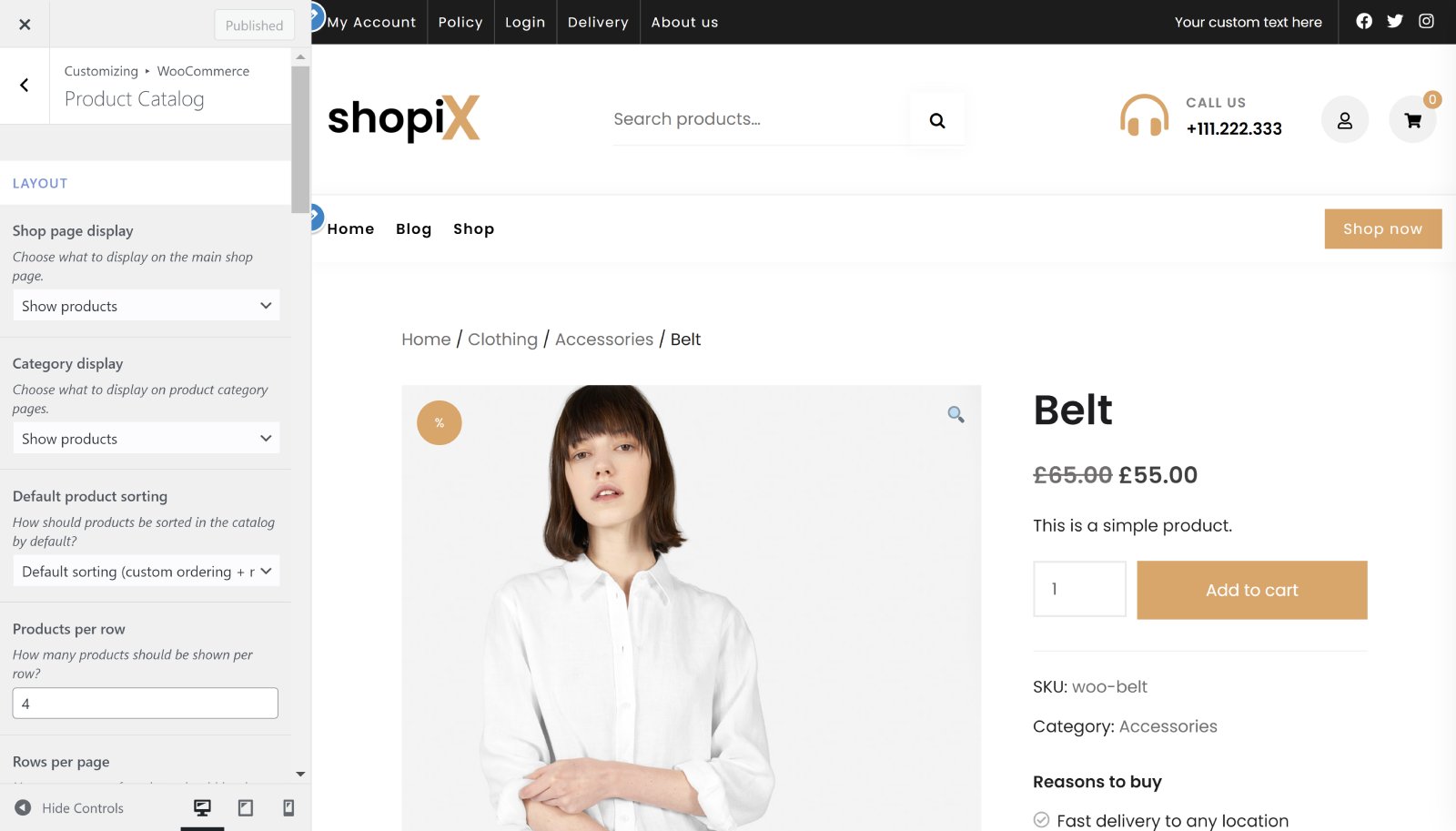 With an impressive number of customisation options and two great looking theme demos, Shopix is undoubtedly one of the best free WooCommerce themes on the market and a viable alternative to premium eCommerce designs that have more bells and whistles.
Shopix: Official Website | Download From WordPress.org
Final Thoughts
There are thousands of WooCommerce-friendly WordPress themes available to shop owners. Whilst some are available free of charge, the majority of WooCommerce designs will cost you around $60 per year. This should work within budget of most online shop owners.
As you have seen, there are many factors to consider when selecting a design for your store. You need to consider the type of design you want, the number of available designs and the additional shop and WooCommerce features which are available with the theme. Some WordPress themes may give you exactly what you need out of the box, whilst others will require some modifications. Therefore, you need to consider how hands-on you want to be and which WordPress page builder you will use with the theme.
What's your favourite eCommerce design for WordPress? Leave a comment below!
All comments are held for moderation. We'll only publish comments that are on topic and adhere to our Commenting Policy.