WinningWP content is free to all. If you make a purchase through referral links on our site, we earn a commission (
learn more
).
Kinsta vs SiteGround: Performance Compared – Which is Better for WordPress?
If you're looking for high-quality WordPress hosting, Kinsta and SiteGround are two names that commonly come up.
Both have built great reputations in the WordPress community, and both offer high-quality managed WordPress hosting products.
If you're trying to choose between Kinsta (read our in-depth Kinsta Review here) and SiteGround (read our in-depth SiteGround Review here), though, you're probably more interested in the differences than the similarities — and that's what I'm here to cover today.
I'll go hands-on with both hosts, give you a look at the dashboards, run some performance tests, and share some other relevant information.
In the end, I think both are great options, but there are some key differences that may lead you to choose one over the other. SiteGround are affordable and offer great bang for your buck when it comes to features and performance, while Kinsta offer the overall best performance and user experience, though at a higher price point.
There's a lot more to it than that, though, so let's get hands-on to help you to make your hosting decision…
Kinsta vs SiteGround: Key Feature Comparison
Both Kinsta and SiteGround offer a variety of essential and concierge features. That is, both offer key features that all WordPress sites need, as well as convenient features to help you with the day-to-day management of your website.
| | | |
| --- | --- | --- |
| | Kinsta | SiteGround |
| WordPress Installer | ✅ | ✅ |
| Auto WordPress Updates | ✅ | ✅ |
| Custom Hosting Dashboard | ✅ | ✅ |
| Automatic Backups | ✅ | ✅ |
| On-Demand Backups | ✅ | ✅ * |
| Staging Sites | ✅ | ✅ * |
| Server-Level Caching | ✅ | ✅ * |
| PHP 7.3+ | ✅ | ✅ |
| Free SSL | ✅ | ✅ |
| Free CDN | ✅ | ❌ ** |
| Email Hosting | ❌ | ✅ |
| Data Centers | 21 | 5 *** |
Some Notes:
* Not available on the cheapest plan tier
** SiteGround advertise a free Cloudflare CDN and makes it easy to integrate, but this isn't really unique to the platform and you can use Cloudflare with any host. Kinsta actually give you access to a premium CDN service.
*** SiteGround only let you choose one data center for your entire account, whereas Kinsta let you choose a different data center for each individual WordPress site.
As you can see, both offer a stellar feature list, though not all of the features are available on SiteGround's cheapest tier. That means if you want the most comparable feature specs, you'll want to go with SiteGround's GrowBig plan or above (more on pricing later on).
One important feature difference is that Kinsta do not offer email hosting, while SiteGround do.
That is, SiteGround let you create your own email address ([email protected]) from your hosting dashboard.
If you want to create your own email address with Kinsta, you'll need an external email hosting solution, such as Google's G Suite. This isn't a big deal, and many people actually recommend using something like G Suite over your host's email hosting. But you should expect to pay something like $5 a month for the privilege. Or, you could use a free email hosting service such as Zoho Mail.
Kinsta vs SiteGround: User Experience Comparison
Both Kinsta and SiteGround offer custom hosting dashboards that make for easy website management.
Both offer a great experience, though Kinsta offer a few more advanced tools that power users may appreciate. For example, Kinsta offer much more detailed analytics, as well as New Relic monitoring and an in-dashboard redirect management tool.
In the past, SiteGround utilized a standard cPanel hosting dashboard, and older SiteGround accounts still use cPanel. However, all new SiteGround accounts now use the new custom hosting dashboard detailed below.
Kinsta
Kinsta offer a 100% custom hosting dashboard that makes it really easy to manage your WordPress sites, and view key analytics and usage metrics.
The main dashboard page gives you a high-level look at your account usage, as well as showing any important notices: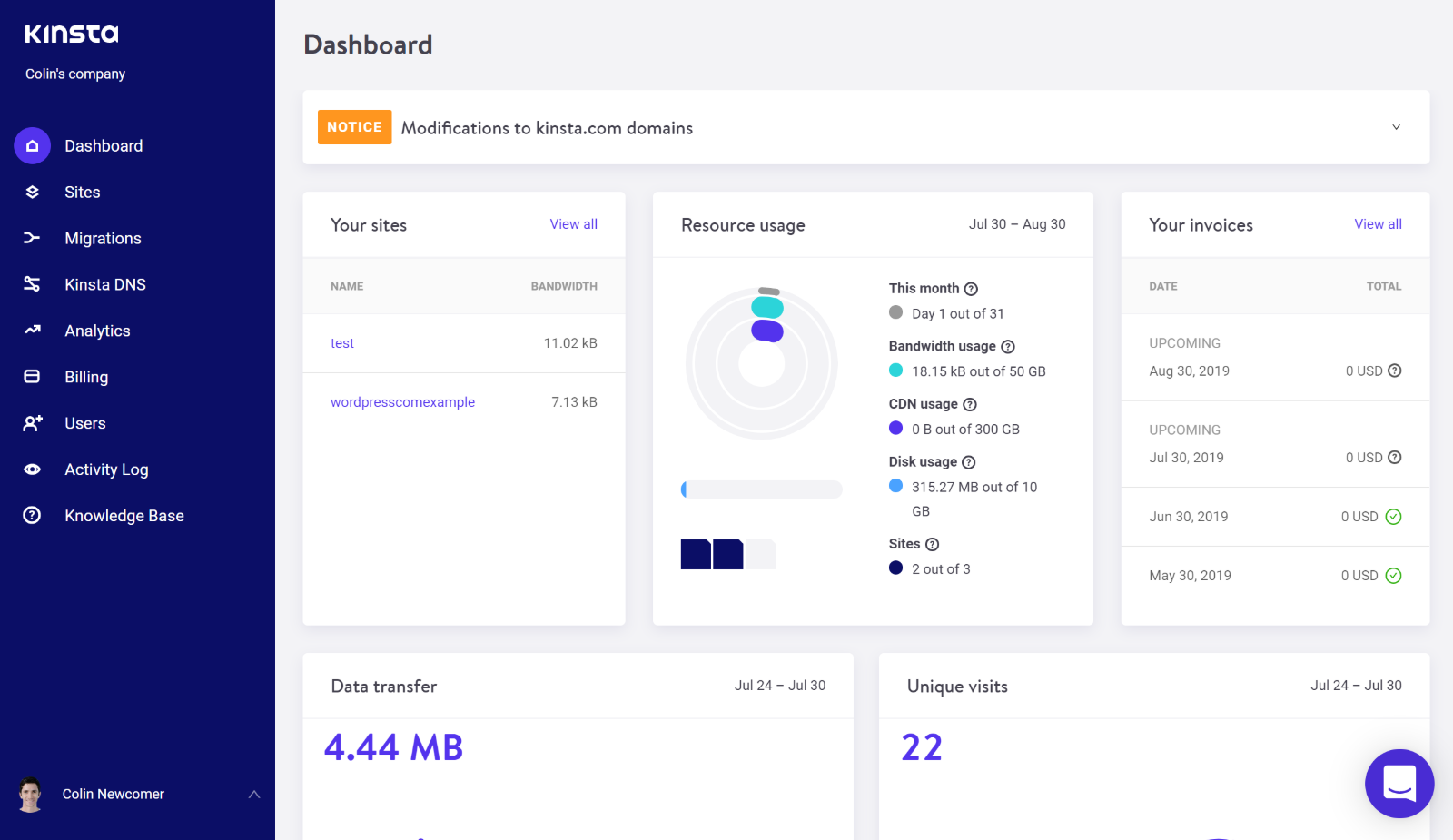 From there, you can open separate dashboards for each site located at your account.
Here, you'll see basic details about your site — such as your server's IP address and your SFTP account — as well as a list of tools and options: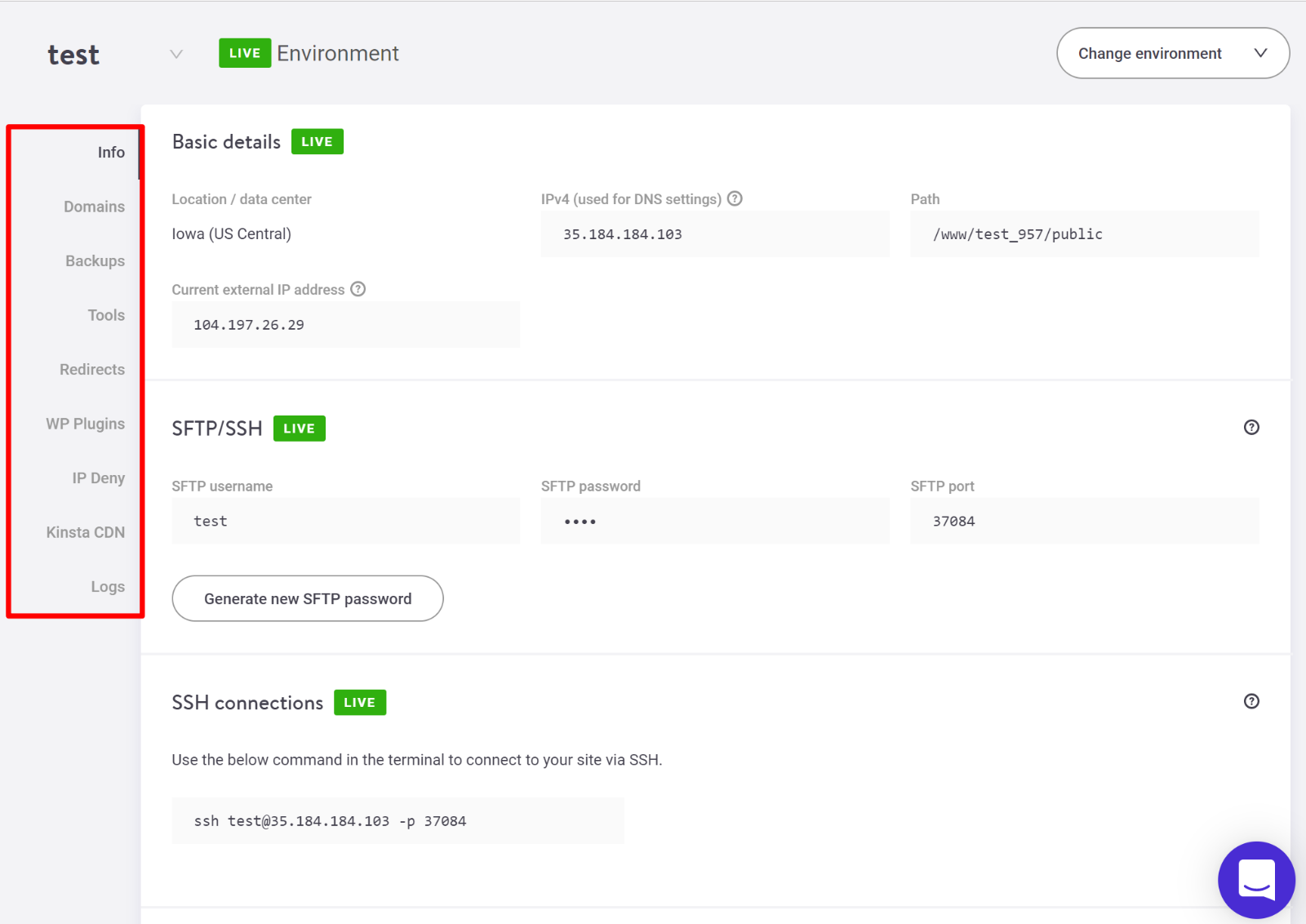 One of the most helpful tools here is the Backups tab, where you can manage the automatic backups Kinsta take every day, and also take a manual backup when needed: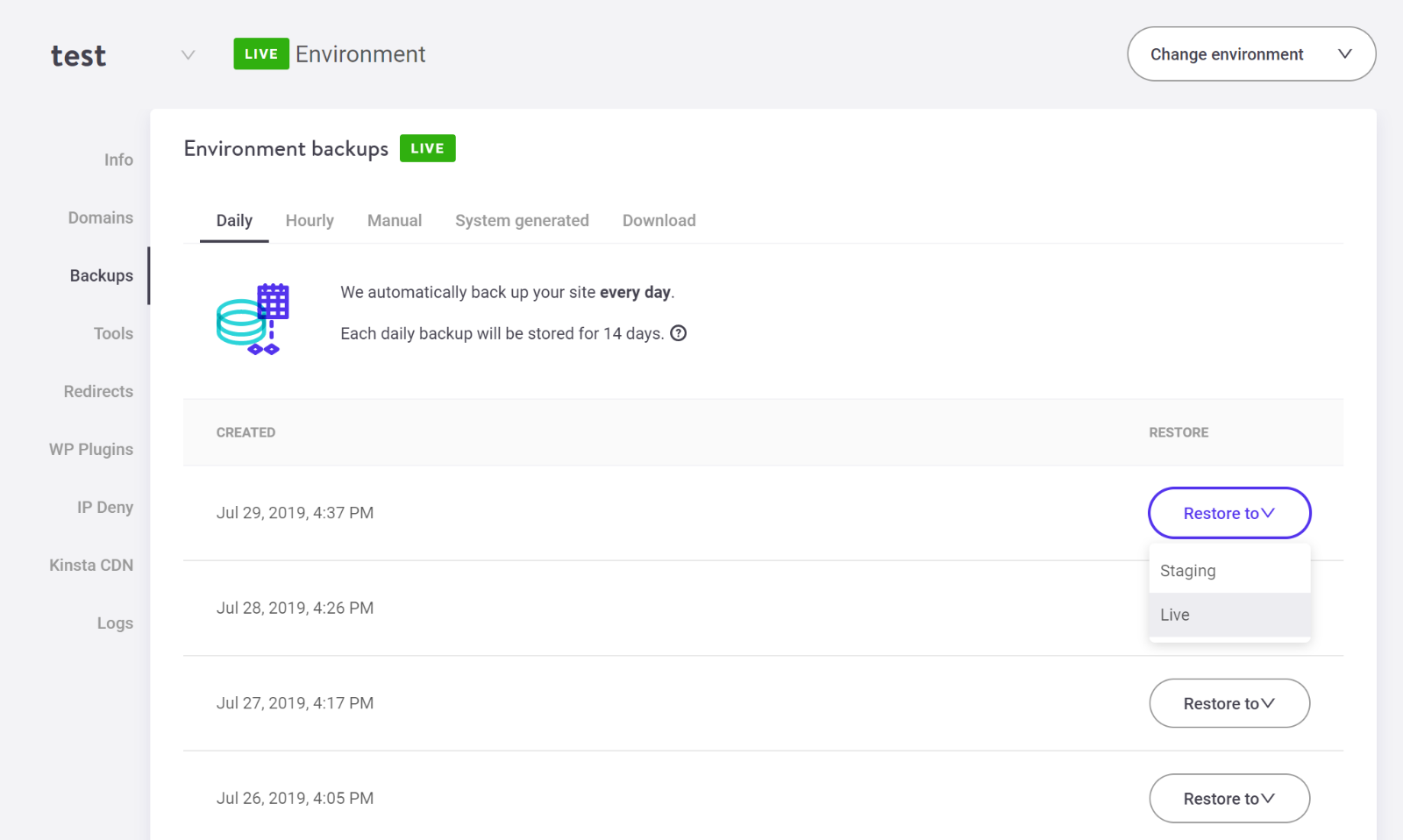 Kinsta also make it super easy to restore a backup to either your live server or your staging server.
Speaking of staging servers, you can also use the Change environment drop-down to quickly switch between your live server and your staging server.
You'll get an identical dashboard for your staging site, which makes it easy to test changes. You also get a new option to Push Staging to Live: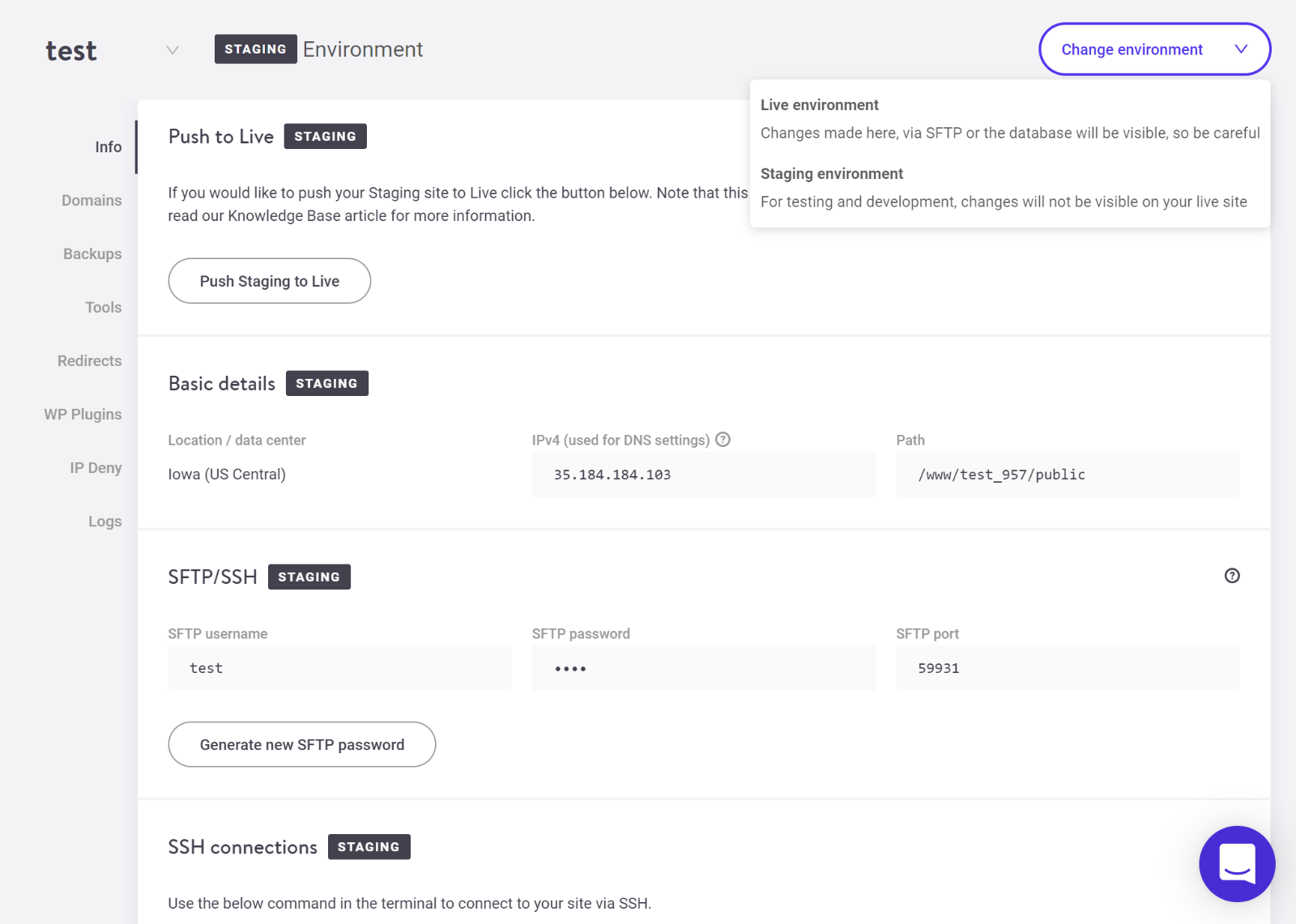 To add a new WordPress site to your account, Kinsta include an easy installer tool that, in addition to installing a blank core install, can also help you to install WooCommerce or set up WordPress Multisite: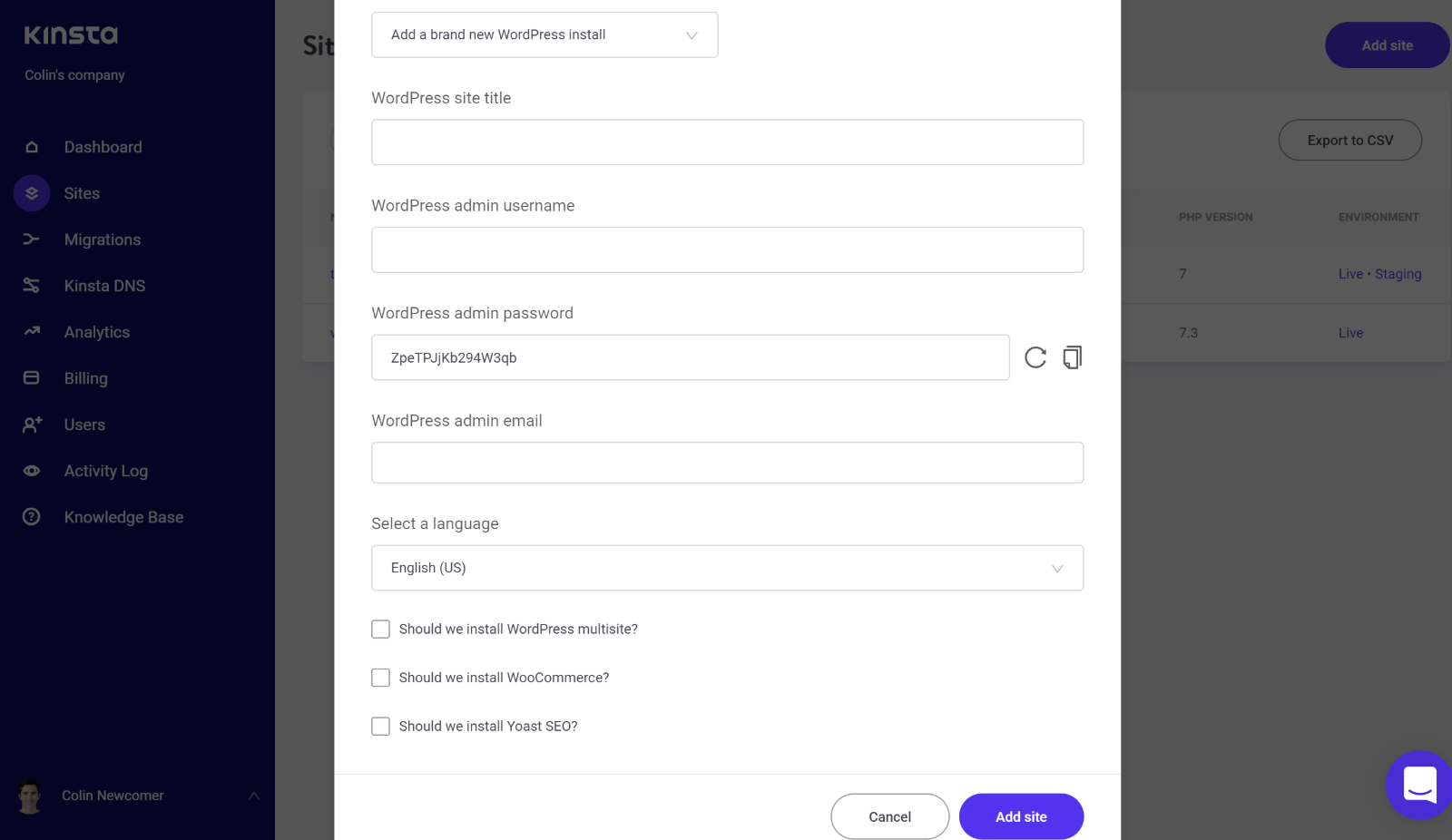 If you're a power user, you'll love the Analytics area, which lets you dig into the usage for your entire account or individual sites: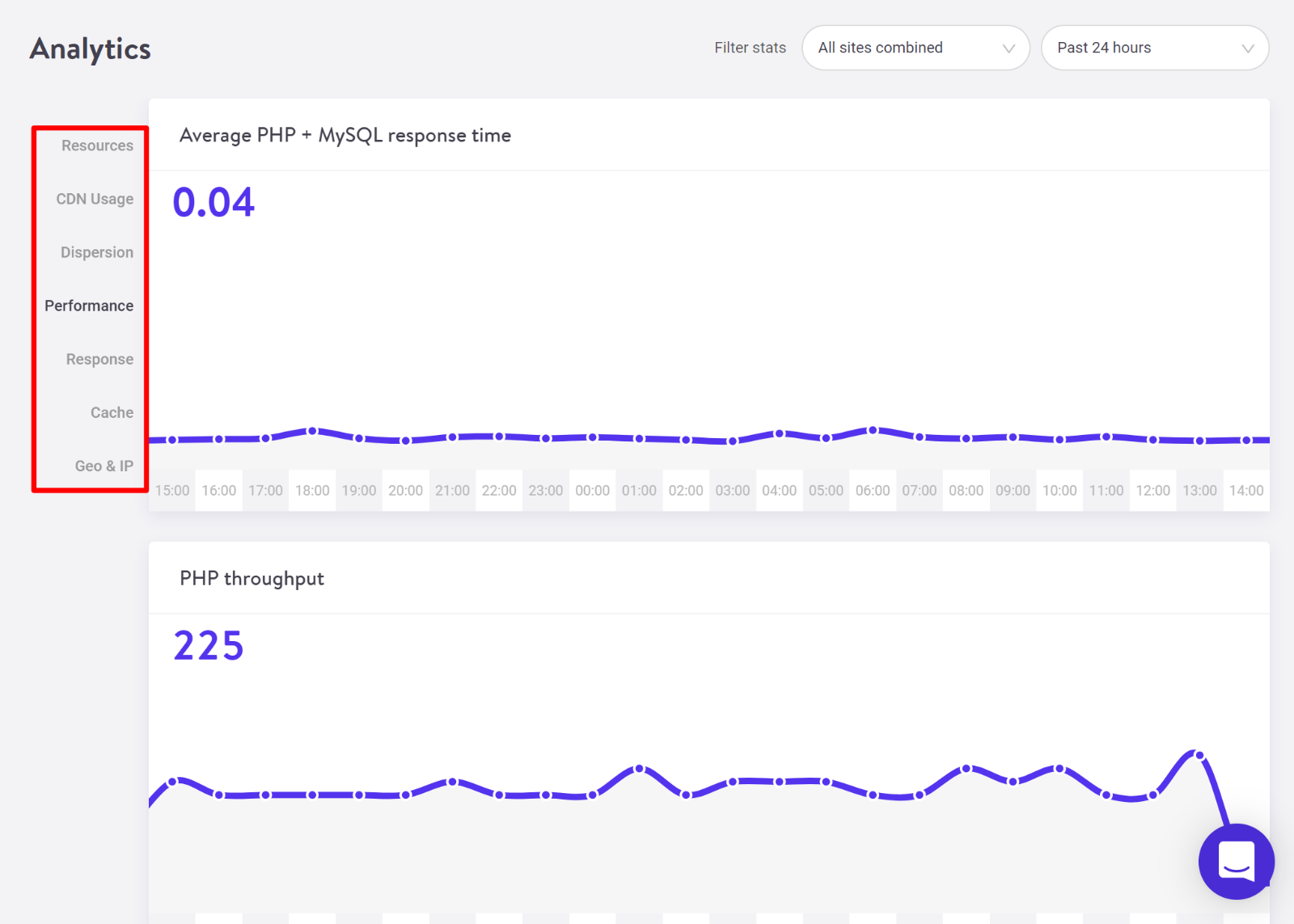 And, finally, if you have multiple people on your team, you'll like that Kinsta include a detailed user permissions system that lets you give other people access to your hosting account and control how much power they have: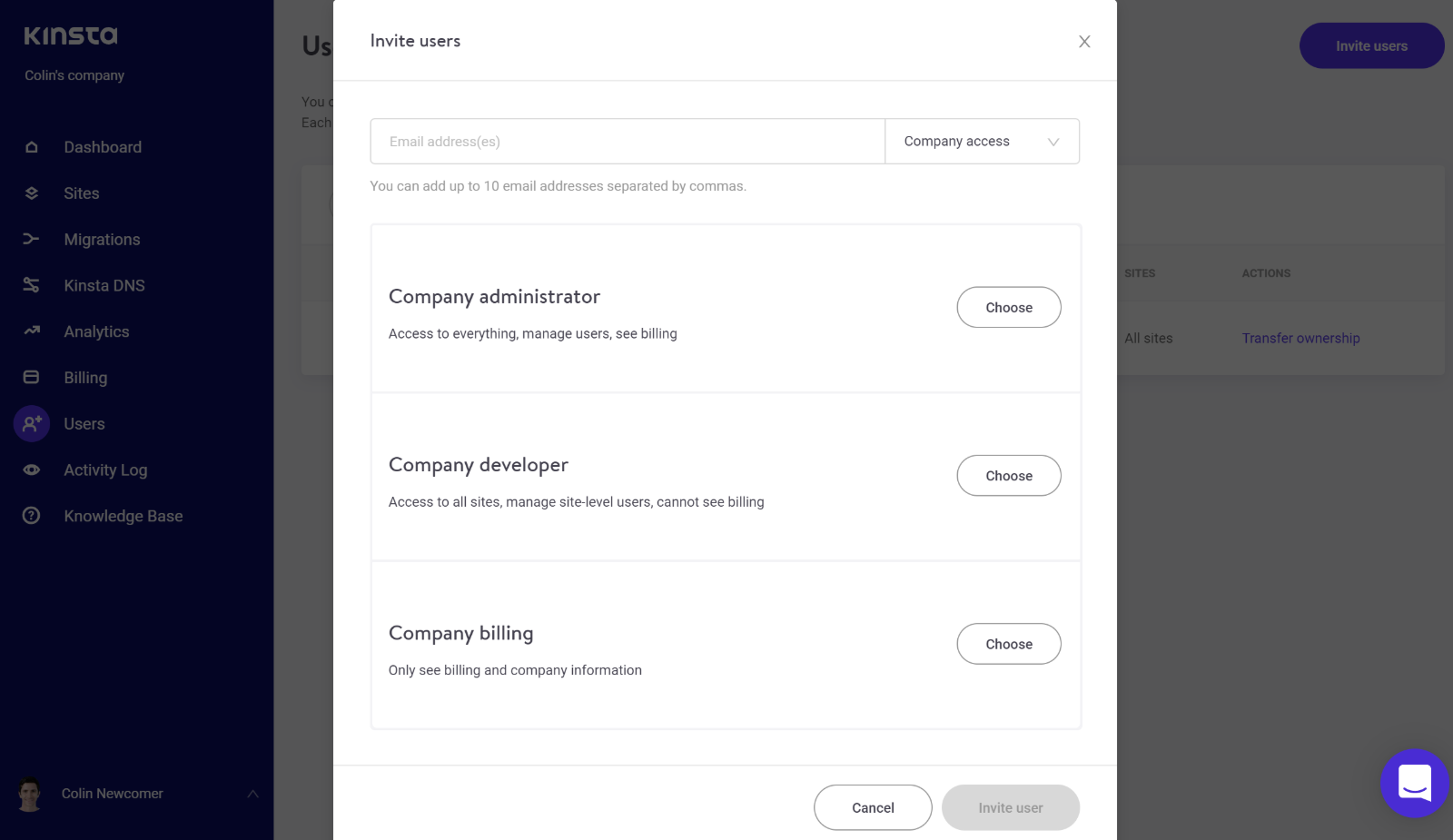 All in all, the Kinsta hosting dashboard is a joy to use and one of my favorite user experiences.
SiteGround
The new custom SiteGround hosting dashboard is a huge upgrade over their previous use of cPanel. Going to this custom solution let SiteGround offer a much more user-friendly experience, along with a variety of helpful tools.
This is a big change, and I think it puts SiteGround's user experience closer to Kinsta's, and also much above many other WordPress hosts at a similar price point.
When you first open the new account dashboard, you'll see a basic summary and some tips for getting the most from your account: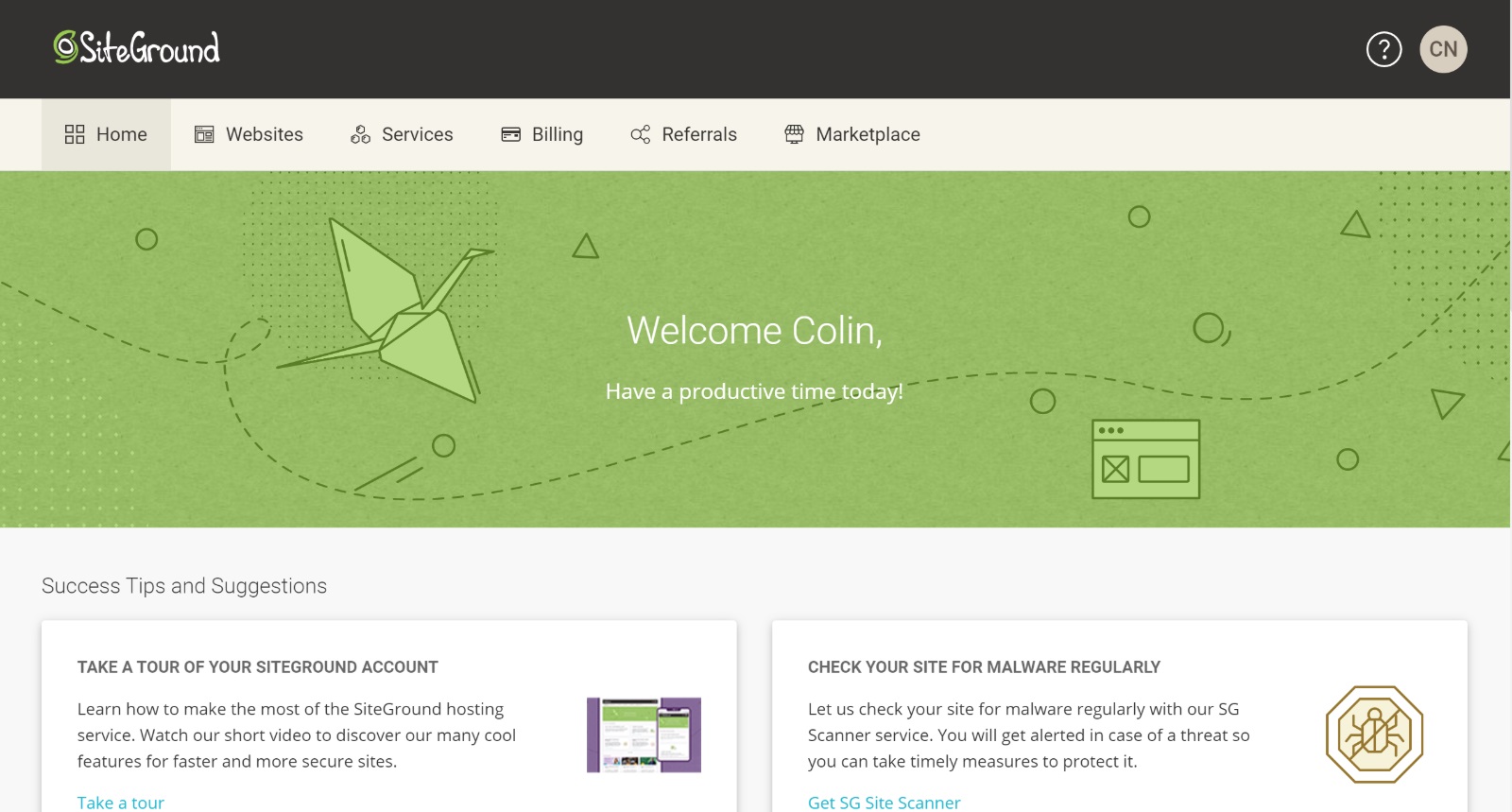 From there, you can access the various areas of your account from the top, including adding new services and managing your billing details.
You'll spend most of your time in the Websites tab, though, which is where you'll manage all of the websites in your account.
Here, you'll see an overview of all of your sites, as well as options to access two areas for each site:
Site Tools
WordPress Kit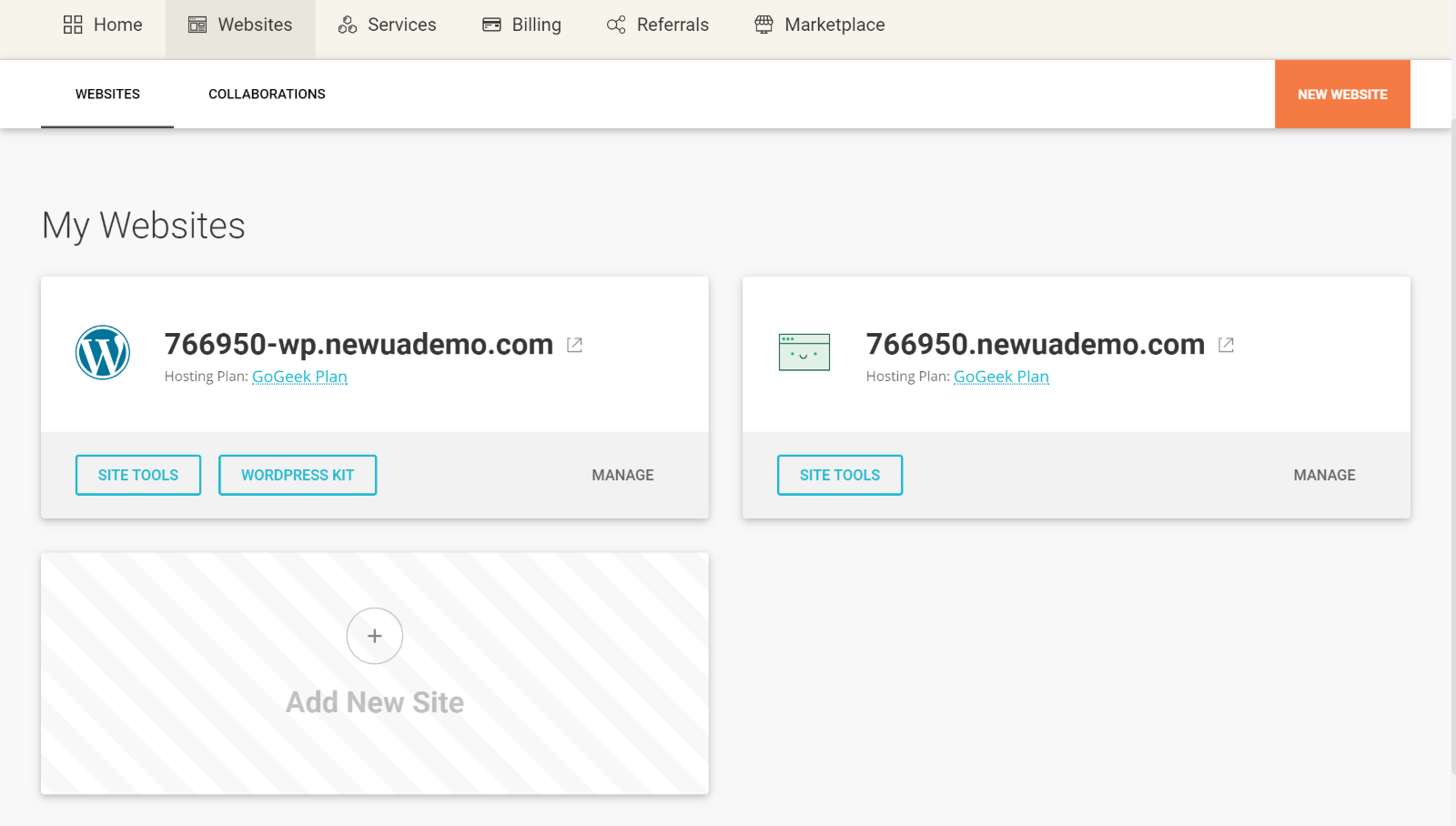 In the Site Tools area, you can manage email accounts, use an in-dashboard file manager and view some basic analytics for your site: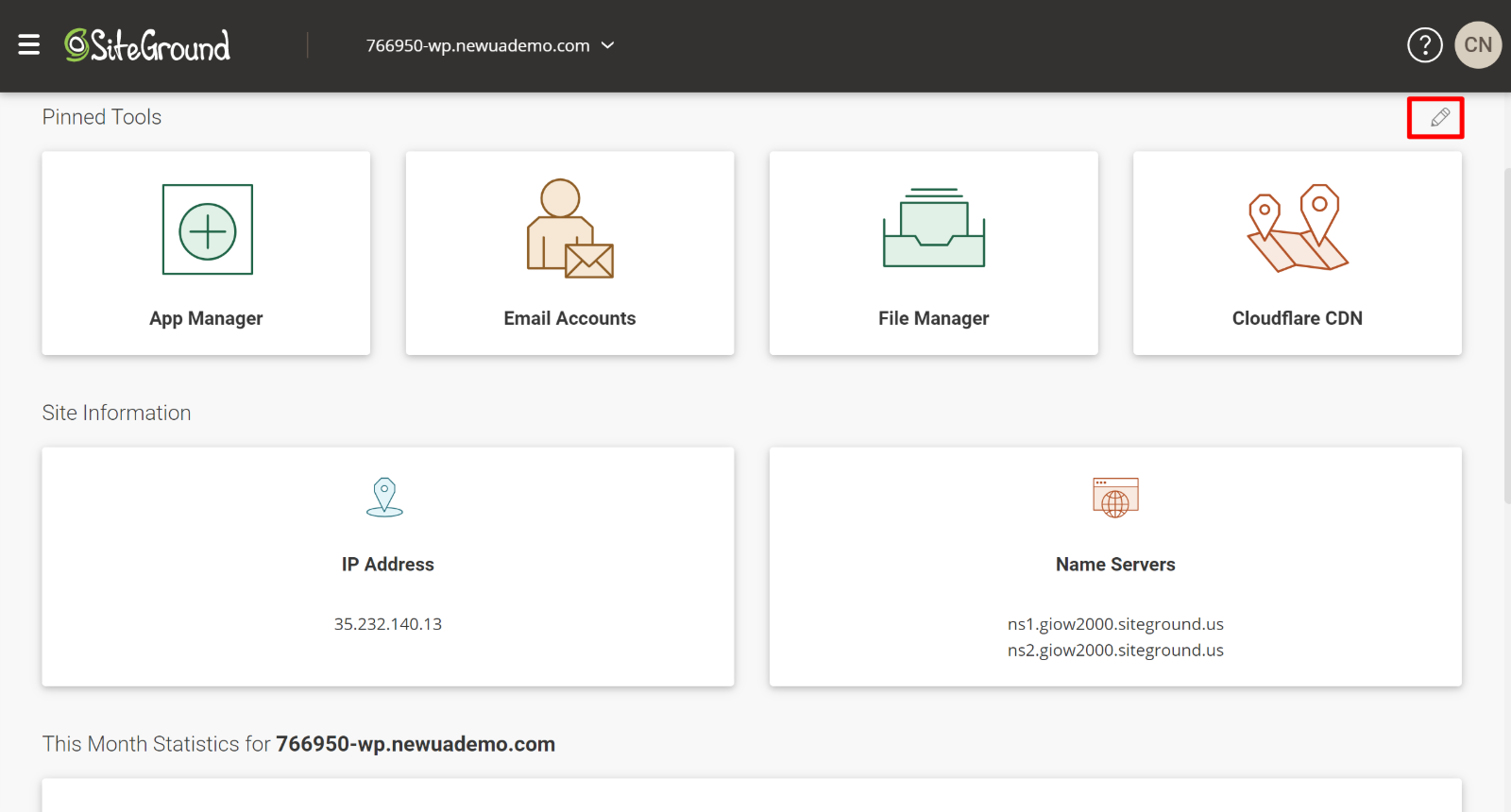 One of the neat things about this area is that you can 'pin' your favorite tools to the top of the interface, which lets you create your own custom dashboard view that meets your own workflows.
In the WordPress Kit area, you'll get tools to manage:
Caching
Automatic updates
Staging sites
On-demand backups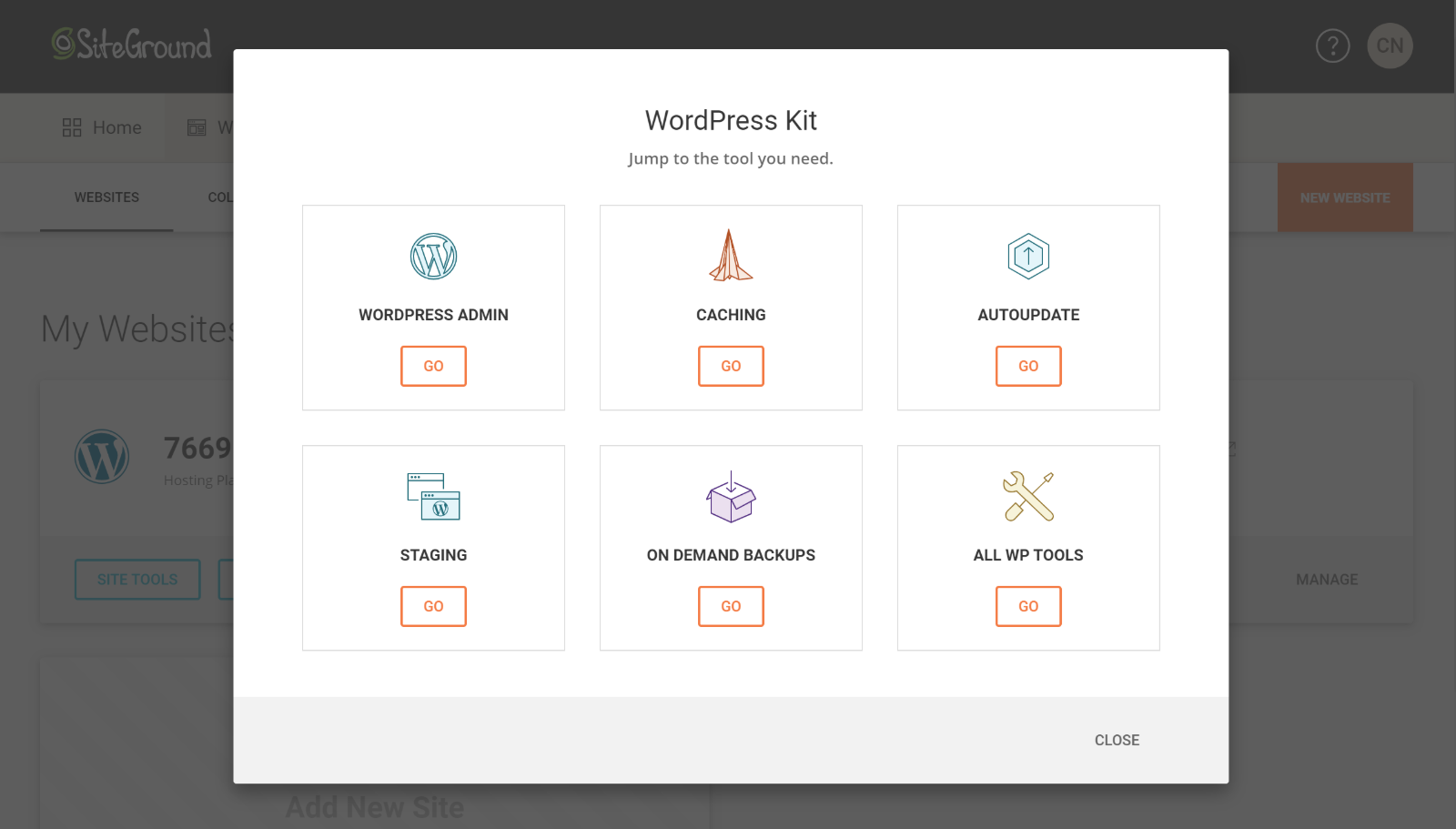 If you want to add a new site, SiteGround also include a really convenient WordPress installer tool that lets you create a new blank WordPress install, or get started with an eCommerce store with pre-installed WooCommerce: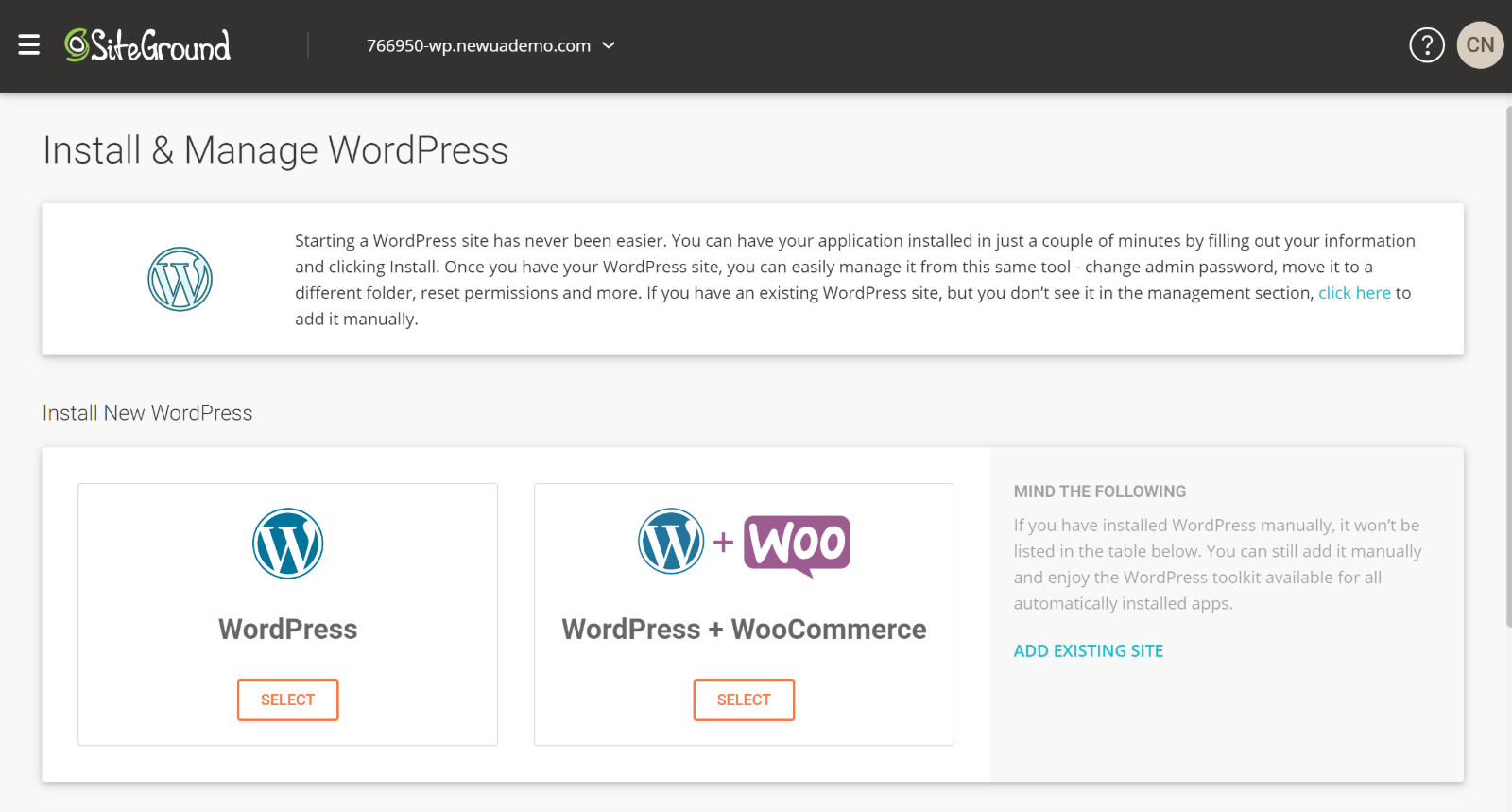 Like with Kinsta, the new SiteGround dashboard also offers a new Collaborations feature that lets you grant access to your account. However, you don't have quite as much control over user permissions as you get with Kinsta: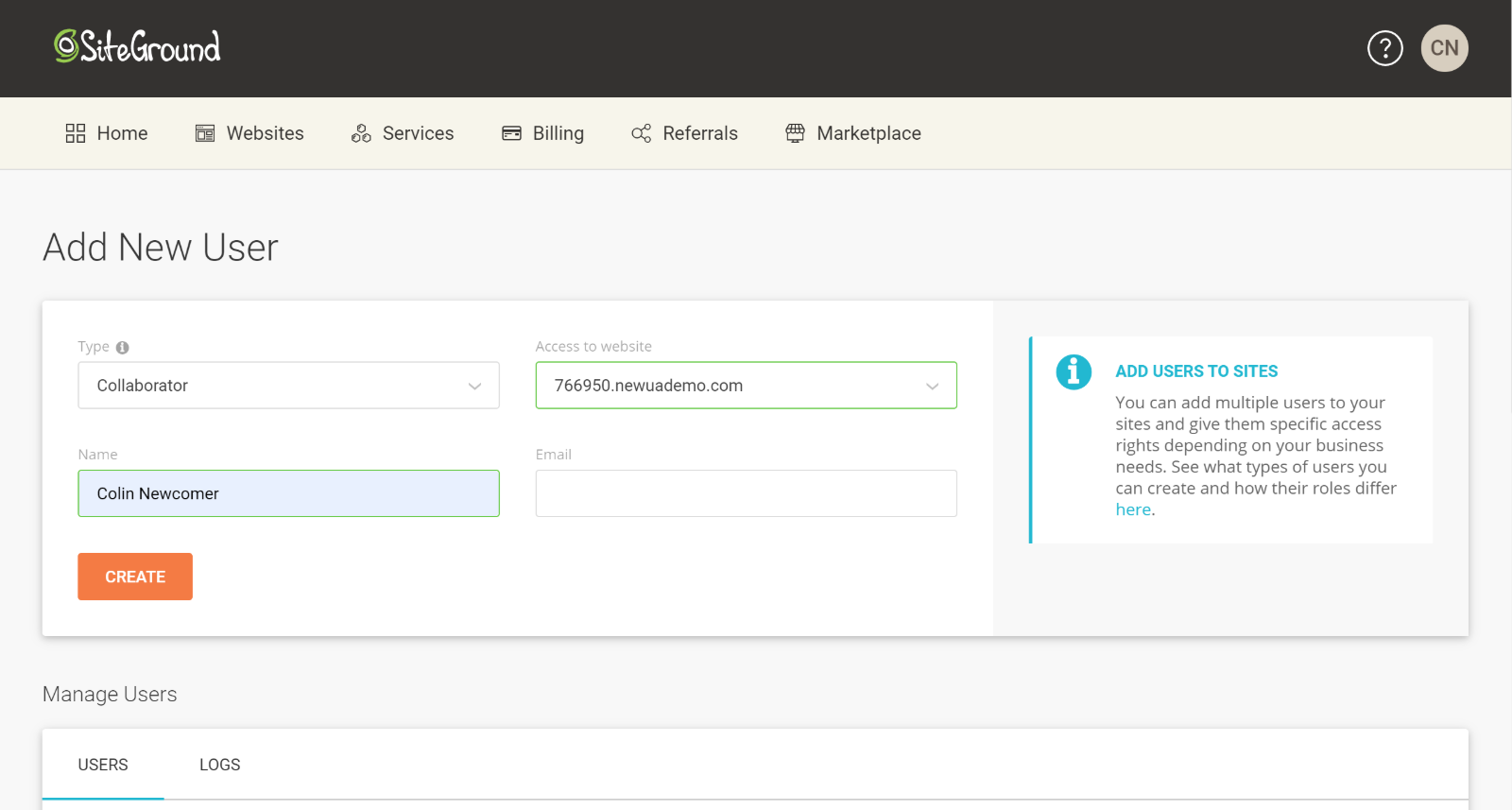 Kinsta vs SiteGround: Performance Comparison
To get a feel for how these hosts compare from a performance perspective, I set up identical test sites on both hosts hosted on data centers in the same geographic area.
I wanted this comparison to mimic the real-world as much as possible, so I imported a full demo site built with the popular Avada theme. If you want to see what my test site looks like, you can check out a full screenshot here.
In terms of performance optimizations, I didn't make any of my own performance tweaks, but, as I mentioned in the features section above, both hosts do implement server-level caching.
At SiteGround, you have the option of disabling this caching to use your own caching solution, or you can integrate SiteGround's server-level caching with WP Rocket.
At Kinsta, the server-level caching is always-on, but you can also combine it with WP Rocket, and the two do integrate together.
To collect the actual performance test data, I used WebPageTest to run ten separate speed tests with the following configuration:
Chicago, Illinois test location
20 Mbps connection, which is about the average Internet speed in the US
First, I'll just share the raw data. Then, I'll take the average and draw some conclusions.
Kinsta
The average across all ten tests was 3.06 seconds.
| | | | | |
| --- | --- | --- | --- | --- |
| Test 1 | Test 2 | Test 3 | Test 4 | Test 5 |
| 4.040 s | 2.647 s | 2.913 s | 2.728 s | 2.922 s |
| Test 6 | Test 7 | Test 8 | Test 9 | Test 10 |
| 3.730 s | 3.159 s | 2.942 s | 2.864 s | 2.657 s |
You can view the full results at WebPageTest:
SiteGround
The average across all ten tests was 3.46 seconds.
| | | | | |
| --- | --- | --- | --- | --- |
| Test 1 | Test 2 | Test 3 | Test 4 | Test 5 |
| 3.523 s | 3.735 s | 3.988 s | 3.382 s | 3.163 s |
| Test 6 | Test 7 | Test 8 | Test 9 | Test 10 |
| 3.701 s | 3.606 s | 3.342 s | 3.011 s | 3.109 s |
You can view the full results at WebPageTest:
Putting It Together
Putting the average page load times together, here's how things shook out:
| | | |
| --- | --- | --- |
| | Kinsta | SiteGround |
| Average Page Load | 3.06 s | 3.46 s |
As you'd expect, Kinsta beat out SiteGround when it comes to performance, offering notably faster page load times with my 20 Mbps test connection.
So, if performance is of the utmost importance to you, you'll want to go with Kinsta if you can afford it.
Kinsta vs SiteGround: Support Option Comparisons
In terms of support, both Kinsta and SiteGround offer 24/7 support, though SiteGround give you more channels through which you can access that support.
With respect to quality, both Kinsta and SiteGround are two of the better hosts when it comes to support.
No matter which host you choose, you'll be able to connect to friendly, knowledgeable support staff without waiting around too long. What's more, both hosts are pretty good at actually fixing any underlying problems for you.
Kinsta
Kinsta exclusively offer live chat support — they actually make a point of not offering phone support, which they explain here.
Kinsta uses Intercom to manage its live chat support, which offers a really convenient way to access support.
Rather than needing to open a new chat when you need help, you can use the omnipresent Intercom widget to chat with Kinsta support from anywhere in your Kinsta dashboard. You can also keep chatting or access old chat logs even if you move to another part of your dashboard: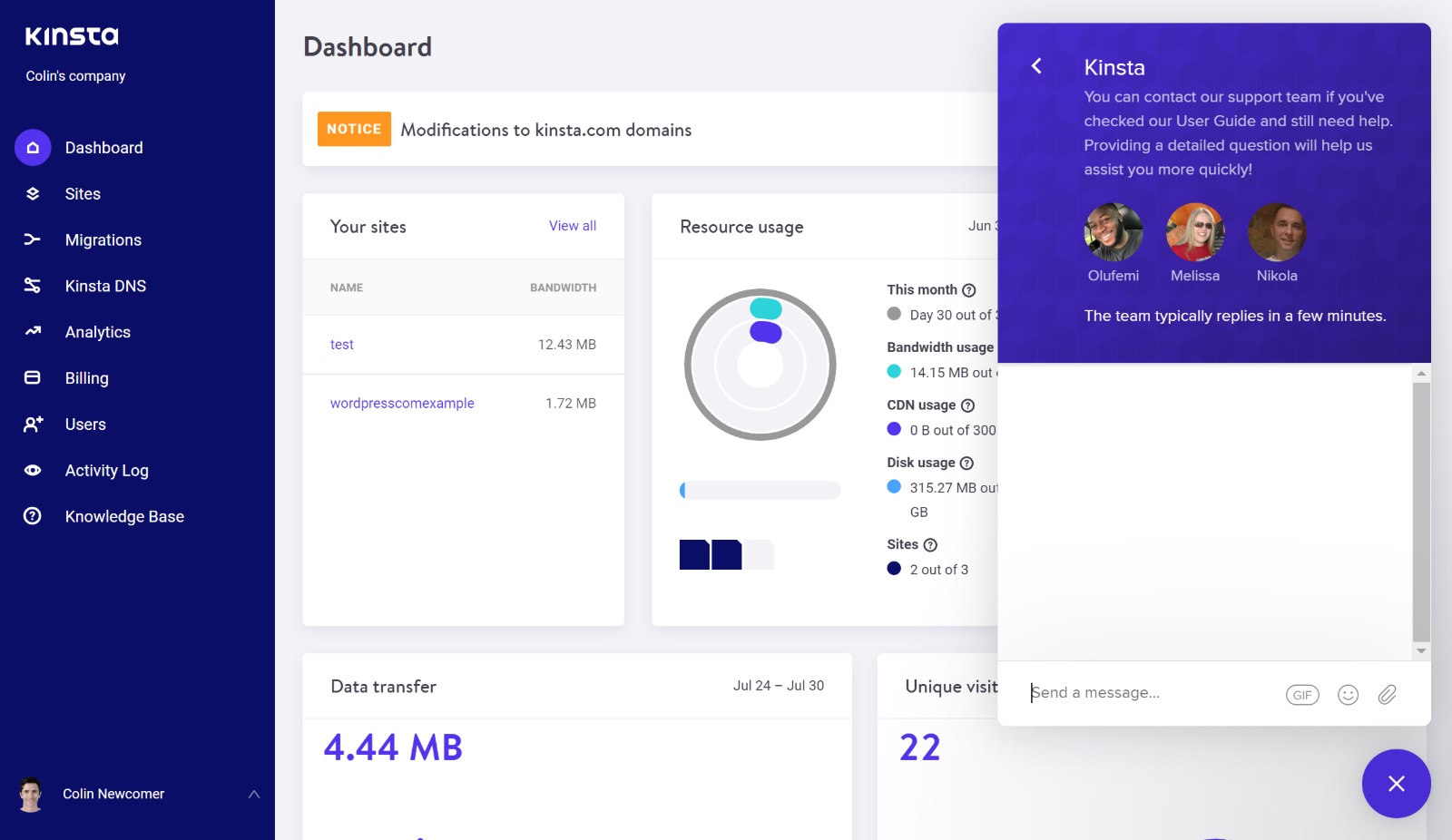 SiteGround
SiteGround offer 24/7 support via phone, live chat or ticket. So, if you like being able to get someone on the phone, that's something in SiteGround's favor, as SiteGround are the only one to offer phone support.
However, SiteGround's live chat service isn't quite as convenient — you'll need to open a live chat window and keep that window active for the duration of your chat.
This is a bit nit-picky, but Kinsta's live chat implementation is a little more convenient.
Kinsta vs SiteGround: Pricing Comparison
When it comes to pricing, SiteGround are significantly more affordable than Kinsta. SiteGround also offer promotional pricing that can save you a bundle on your first billing cycle, but it's important to remember that you'll need to pay regular price for every billing cycle after that.
To give you an idea of how the two hosts compare, I'll look at both the entry-level tier, and the next tier up (AKA the second tier). Remember that you need SiteGround's second-tier plan to access some managed WordPress features, such as staging and on-demand backups.
Entry-Level Plan:
| | | |
| --- | --- | --- |
| | Kinsta | SiteGround |
| Promo Price (Month) | N/A | $3.95 |
| Regular Price (Month) | $30 | $11.95 |
| Billing Cycle | Monthly | Yearly |
| Websites Allowed | 1 | 1 |
| Traffic | 25,000 | 10,000 |
| Storage | 10 GB | 10 GB |
Second-Tier Plan:
| | | |
| --- | --- | --- |
| | Kinsta | SiteGround |
| Promo Price (Month) | N/A | $5.95 |
| Regular Price (Month) | $60 | $19.95 |
| Billing Cycle | Monthly | Yearly |
| Websites Allowed | 2 | Unlimited |
| Traffic | 50,000 | 25,000 |
| Storage | 20 GB | 20 GB |
In addition to just the price difference, another important thing to note is that SiteGround let you host unlimited sites on their second-level tier and above, while Kinsta always limit you to a certain number of sites.
So, if you have a bunch of low-traffic sites, you'll definitely want to go with SiteGround, while Kinsta make a better option for a small number of high-traffic sites.
Additionally, SiteGround are a little more generous with their storage limits. However, if you need to exceed the storage limits, you can always consider offloading your media files to a cheaper object storage service such as Amazon S3.
Finally, one more important thing to note is those traffic limits — i.e. the number of visitors you can have per month.
With Kinsta, those visitor limits are an actual limit. Kinsta will never shut off your site just because you exceed those limits, but they will charge you an overage fee if you exceed your limits ($1 per thousand visits). Note: Kinsta automatically exclude bot visits, so these limits only apply to human visitors.
With SiteGround, however, the limits are more of a 'suggested estimate'. They help to give you an idea of what your plan can handle, but SiteGround actually limit your account by CPU usage, not traffic. I've found that, with an optimized site and smart caching, you can actually exceed these traffic estimates by a good amount without running into issues.
Conclusion: Should You Choose Kinsta or SiteGround?
Both Kinsta and SiteGround are high-quality options for hosting a WordPress site, so I don't think you're going to make a bad decision here.
Instead, your choice should really just come down to your budget, as well as how much you value certain features.
From a budget perspective, SiteGround are obviously a lot more accessible. With plans starting at just $3.95 a month (promo pricing) or $11.95 a month (regular pricing), SiteGround are a lot cheaper than Kinsta's entry-level $30-a-month plan.
Additionally, SiteGround will let you host unlimited sites (though not on the cheapest tier), which makes them a great budget option for lots of small sites, and their traffic limits aren't hard limits, whereas Kinsta will charge you for going over your traffic limit (though Kinsta will never cut off your site just for exceeding the limits — don't worry!).
However, despite offering a budget price, SiteGround still manage to pack in a lot of convenient features that other budget hosts don't offer. For example, you'll still get a custom hosting dashboard, staging sites (not on the cheapest tier), automatic backups/updates, and so on. You can learn more in our SiteGround review.
With that being said, Kinsta kick things up a notch with a more premium product. You'll get faster page load times, a really nice dashboard with lots of convenient tools, and great support. As much as I like the new SiteGround hosting dashboard, Kinsta's dashboard is still superior in my opinion, and I really love some of the automatic workflows they've added (like automatically backing up your site any time you push your staging site live).
So, if you have a small number of sites and are willing to pay a premium price for a premium service, Kinsta won't disappoint and do offer a superior product to SiteGround when you remove price from the equation. You can learn more in our Kinsta review.
Pick the one that works for your budget and hosting needs, and I don't think you'll come away unhappy either way.
Used/using Kinsta or SiteGround? Thoughts?
Related Posts:
All comments are held for moderation. We'll only publish comments that are on topic and adhere to our Commenting Policy.