WinningWP content is free to all. If you make a purchase through referral links on our site, we earn a commission (
learn more
).
Top 5 Best Kinsta Alternatives: For Either Better Or Cheaper WordPress Hosting?
Searching for a Kinsta alternative? Kinsta are a great WordPress host and they consistently rank as one of the best options in the managed WordPress hosting space when you look at third-party opinion aggregators. However, that doesn't necessarily mean they're the right host for everyone.
You may be getting sticker shock when you look at the prices, you could want a little more flexibility or maybe you just didn't have a great experience with Kinsta for some reason.
No matter why you're searching for other choices, there are plenty of great WordPress hosting options that may offer a better place for your site(s) than Kinsta. In this post, we'll share five of the best options — including hosts that are both cheaper than Kinsta and that are more expensive, but with stronger features in some areas.
Let's dig in…
Why Look for an Alternative to Kinsta?
The biggest reason you may be looking for an alternative is price. While Kinsta are competitively priced for the 'premium' managed WordPress hosting space, the $30 entry-level plan for a single site is still a tough pill to swallow for a lot of webmasters. That pill gets even tougher if you need to host multiple websites or have a lot of traffic, as your next cheapest options are $60 for two websites or $100 for five websites.
You can definitely find cheaper alternatives that still offer a very good-quality product. They may not be quite as good as Kinsta in every single way, but they can be a lot cheaper and still offer fast performance and useful features.
The other reason might be that you're unhappy with the features Kinsta offer for some specific reason. For example, maybe you want to use a high-availability setup or you want full root access to customize things. Kinsta don't offer those features, so you'll need to go with an alternative if those are important to you.
With those reasons out of the way, let's get into the best alternatives…
1. Flywheel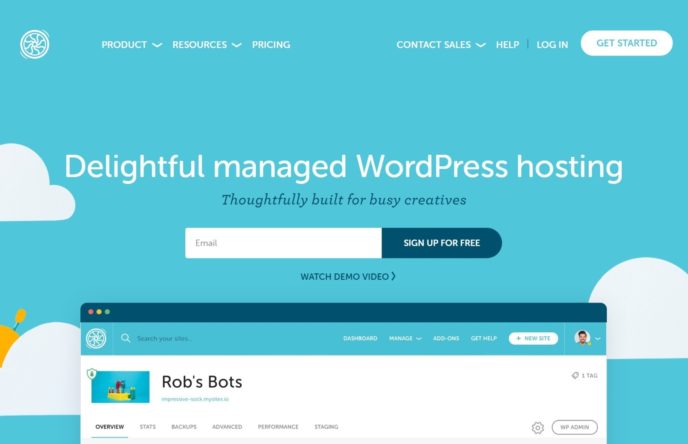 Flywheel are another popular managed WordPress hosting service. Beyond being popular with others, they're also the very service that we use here at WinningWP.
In terms of what you get, Flywheel share a lot of high-level similarities with Kinsta. You get the following features:
User-friendly custom hosting dashboard.
Google Cloud infrastructure, just like Kinsta.
Automatic daily backups.
Easy one-click staging sites.
Free one-click SSL certificates.
Proactive security rules and a hack fix guarantee.
Server-level caching and other performance optimizations.
Flywheel's plans start at $15 a month:
One website.
5,000 visits.
5 GB storage.
20 GB bandwidth.
*Note — Back in 2019, Flywheel were acquired by WP Engine, another host on this list. The two are still run separately, though.
Pros and Cons of Flywheel as an Alternative
There are a few reasons why Flywheel can make a good alternative to Kinsta.
First off, they have a much cheaper entry-level plan that still gives you pretty much all of the same features you'd get from Kinsta — the Tiny plan, which costs just $15 a month. However, it'll only work for very low-traffic sites, which is something to keep in mind.
Flywheel are also a lot more affordable if you need to host more than five sites. Flywheel's Freelance plan will let you host up to ten sites with 100,000 visitors for $115 a month, while Kinsta's Business 1 plan only lets you host up to five sites with 100,000 visitors for $100 a month. If you wanted to host up to ten sites at Kinsta, you'd need at least the $200-a-month Business 2 plan.
Finally, Flywheel have some really convenient features for agencies/freelancers who build websites for clients. For example, you get easy billing transfer to clients and some really nice local development integrations via Flywheel's Local tool. If you build a lot of websites for clients, that may make Flywheel a better choice than Kinsta.
2. Pressidium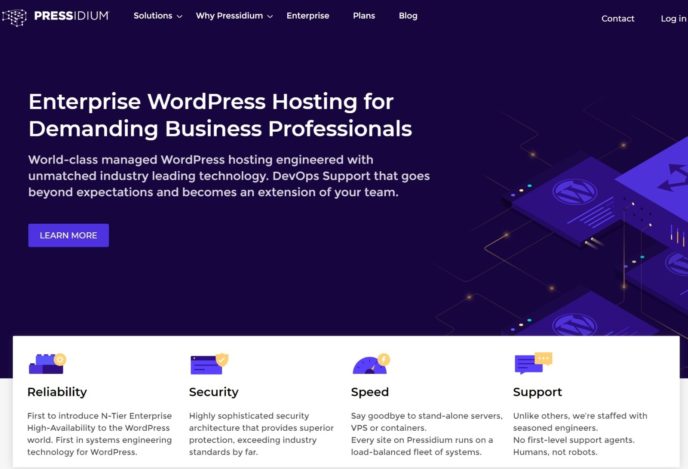 Pressidium are a premium managed WordPress host that, while not cheap, offer excellent performance, a user-friendly dashboard/companion plugin and expert support straight from developers.
The most unique thing about Pressidium is they use high-availability infrastructure on all of their plans — even the cheapest one. Most WordPress hosts only host one version of your site, so, if that version goes down, your site goes down as well.
With Pressidium's high-availability approach, they host multiple identical copies of your site in parallel (called nodes). If one version goes down, Pressidium can still shift all traffic to the other version to avoid downtime. This also lets you use load balancing and makes for easy horizontal scaling (you can just spin up new nodes if your site is experiencing a traffic spike).
Pressidium's plans start at $24.90 a month:
One website.
10,000 visits.
5 GB storage.
Pros and Cons of Pressidium as an Alternative
The most unique thing about Pressidium in comparison with Kinsta is their high-availability infrastructure. Kinsta don't offer high-availability hosting — they only run one version of your site in a single Linux container (though Kinsta do offer a 99.9% SLA-backed uptime guarantee). So, if you like this high-availability approach, that's a big advantage in Pressidium's favor.
Pressidium also offer a very well-designed hosting dashboard and useful tools. I would say the dashboard is every bit as good as Kinsta's (which is a big deal because I think Kinsta have one of the better dashboards of any WordPress host).
The one downside of Pressidium as an alternative is price. While Pressidium's plans start at just $25 a month, that plan doesn't have nearly as many resources as Kinsta's entry-level plan:
Pressidium entry-level plan — $25 a month for up to 10,000 visitors and 5 GB storage.
Kinsta entry-level plan — $30 a month for up to 25,000 visitors and 10 GB storage.
So, for an extra $5 a month, Kinsta basically get you double the resources.
However, one nice thing about Pressidium's pricing is they don't charge you overage fees if you go over your visitor limit (whereas Kinsta do). If you go over your limit, Pressidium will keep hosting your site like normal — you won't experience any downtime and you won't be charged anything extra. However, if you're consistently blowing by your limits, they will ask you to upgrade to a higher-tier plan.
3. Cloudways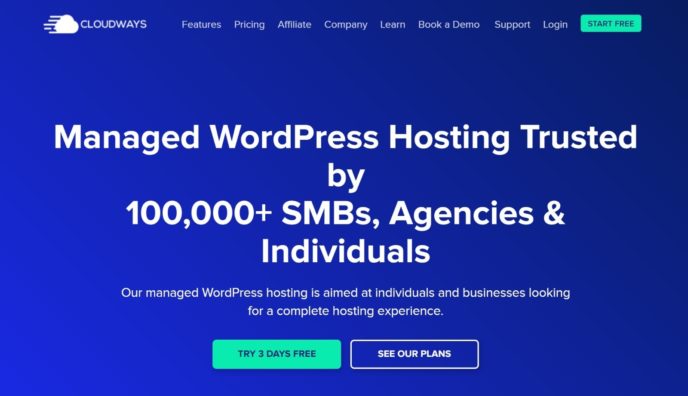 Cloudways are a managed hosting service with a unique twist — Cloudways themselves don't provide the underlying hosting infrastructure. Instead, you can choose your own preferred cloud hosting provider from the following list:
DigitalOcean
Linode
Vultr
AWS
Google Cloud
Once you choose your desired cloud VPS and resources, Cloudways will set it up and manage it for you, and they generally work just like managed WordPress hosting from then on. In fact, Kinsta themselves use Google Cloud for their infrastructure, so you could even mimic that same basic approach if you'd like (though Kinsta's tech stack is a bit different from Cloudways).
Despite this unique approach, Cloudways still give you the managed WordPress hosting features you'd expect:
Server-level caching, easily managed via Cloudways' Breeze plugin.
Automatic daily backups.
Easy staging sites.
Free one-click SSL certificates.
Integrated CDN.
Cloudways' pricing depends on the cloud provider and resources you choose. The cheapest option is the entry-level DigitalOcean plan at $10 a month.
Pros and Cons of Cloudways as an Alternative
The big advantage of Cloudways is you can get surprisingly impressive performance for much cheaper than Kinsta. Even with just the $10-a-month DigitalOcean plan, I've still personally experienced load times under one second for a simple (but real) website.
Another pricing advantage is that Cloudways' plans don't have any arbitrary website or visit limits. As long as the resources of your chosen cloud VPS can support what you need to do, you can do it. And, if you run into bottlenecks, it's easy to scale a server up. If you have low-traffic sites, you could probably run a few different sites on just the entry-level $10 DigitalOcean plan alone (especially if you're using full page caching).
The main downside of Cloudways is they're not as simple as Kinsta. If you're a beginner, you may feel a little overwhelmed trying to navigate choosing the right cloud VPS. It's also a little more complicated to work with WordPress sites, though it's still certainly something that a non-developer can handle.
Bonus — if you like the idea of Cloudways and want some other options, check out SpinupWP and GridPane. These tools are a little more advanced because they're technically WordPress-specific server control panels rather than managed services like Cloudways. However, if you're an advanced user, they offer another great way to harness the power of cloud hosting. They're an especially good option for high-resource servers, as they can be a lot more affordable than Cloudways in that scenario.
4. WPX Hosting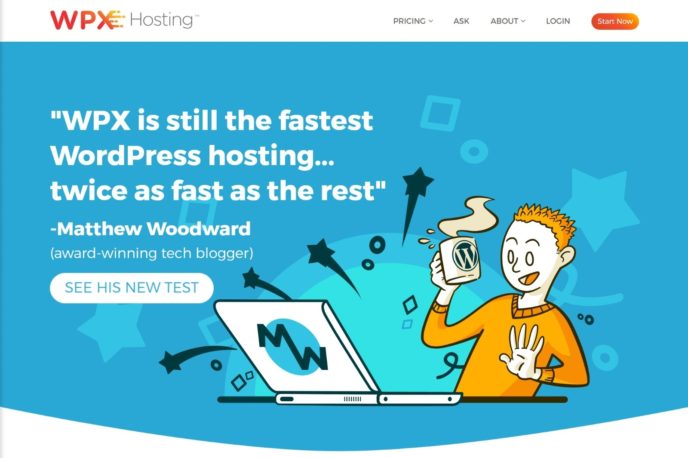 WPX Hosting are an affordable managed WordPress host that offer stellar performance and excellent support for a surprisingly low price, especially if you're hosting multiple sites. This makes them especially popular with bloggers and affiliate marketers, though anyone can benefit from WPX Hosting.
All plans come with the following features:
Staging sites.
A built-in CDN.
Automatic and on-demand backups.
Free/easy SSL certificates.
Proactive security rules including malware scans and DDoS protection.
Free malware removal if needed.
Plans start at $24.99 a month:
Five websites.
10 GB storage.
100 GB bandwidth.
Pros and Cons of WPX Hosting as an Alternative
WPX Hosting are a great alternative if you need to host multiple websites, because even WPX Hosting's entry-level plan supports up to five websites for just $25 a month. However, one thing to consider is that WPX Hosting include staging sites in that website count, so the deal isn't quite as sweet as it may look at first if you plan to use staging sites. For example, if you have one live website and a staging site for that live website, that counts as two websites for billing purposes.
Another advantage is that WPX Hosting don't use visit limits for billing — you'll only pay based on your site's actual storage and bandwidth usage. Personally, I think this is a fairer way to bill for hosting, but it does make it a little more complicated to figure out your usage.
One disadvantage, though, is that the WPX Hosting dashboard isn't nearly as nice as Kinsta's. It also doesn't offer quite as many tools. However, for most WordPress users, it's still totally functional, so this is definitely not a dealbreaker.
Additionally, WPX Hosting don't offer server-level caching as Kinsta do. Instead, they opt to install and pre-configure the W3 Total Cache plugin. They can still load your site quickly, but Kinsta's server-level approach is a little better.
5. WP Engine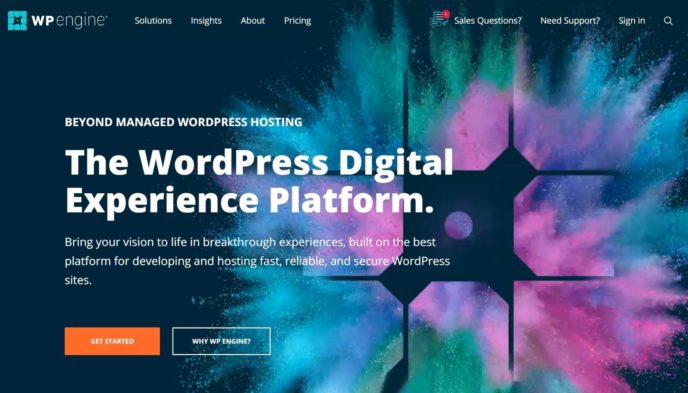 WP Engine are undoubtedly the biggest name in the managed WordPress hosting space. In terms of high-level features, they offer virtually everything you get with Kinsta at an almost identical price point (for the entry-level at least).
With all of their plans, you'll get the following features:
Server-level caching with Varnish and Memcached.
Integrated CDN.
Multiple staging environments (Dev/Staging/Production).
Free/easy SSL certificates.
Proactive security rules and firewalls.
As a nice value-add, you'll also get access to the Genesis Framework and all StudioPress child themes at no extra cost.
WP Engine's plans start at $30 a month:
One website.
25,000 visits.
10 GB storage.
50 GB bandwidth.
Pros and Cons of WP Engine as an Alternative
Honestly, WP Engine and Kinsta are fairly similar products at similar price points, so I don't really see any big reasons to choose them over Kinsta. It just feels weird not to include WP Engine on this list because they're the most popular managed WordPress host and they offer pretty much all the same features you'd get with Kinsta.
In terms of the resources you get on the entry-level plans, both WP Engine and Kinsta offer the same: 25,000 visits for $30 a month.
The downside is that WP Engine's overage fee is higher than Kinsta's if you do exceed your limits. WP Engine charge $2 per thousand visitors over your limit, while Kinsta charge just $1.
Additionally, WP Engine have fewer plans, which makes it more difficult to scale as your site grows. For example, WP Engine's second-tier plan jumps from $30 to $115 per month — there's no in between option like Kinsta's $60-a-month plan.
Finally, on the plus side, WP Engine offer phone support on the Growth plan and above, while Kinsta only offer live chat on their plans. If you love being able to get someone on the phone, that might tip things in WP Engine's favor.
Which Is the Best Alternative for You?
To finish things off, here are some quick recommendations on how to pick the best Kinsta alternative for your specific needs.
First, let's talk about how to choose an alternative if price is your primary motivation, as this is probably the biggest factor for most people. Here's how I'd recommend you pick:
Flywheel — much cheaper if you only have a single low-traffic site. Can also be cheaper if you need to host more than five WordPress sites.
WPX Hosting — much cheaper if you need to host multiple WordPress sites. The entry-level plan is a little bit cheaper than Kinsta, while still supporting up to five websites (just remember that WPX Hosting count staging sites as 'websites' for billing purposes).
Cloudways — can be much cheaper while still performing very well, even with the $10-a-month plan. Just remember that it's going to be a little more complex than Kinsta, so it may not be a great choice for beginners.
On the other hand, if you're not very concerned about price but aren't happy with Kinsta's quality for some reason, then I would recommend checking out Pressidium. While Pressidium are a bit more expensive than Kinsta (for the same resources), you get some advantages for your money:
High-availability infrastructure on all plans.
No overage fees if you exceed your traffic limits because of a one-time spike.
Direct access to engineers for support — there are no different 'support tiers'.
WP Engine may also be another one to check out here. Personally, I prefer Kinsta to WP Engine, so I'm not sure you'll be happy with WP Engine if you're already unhappy with Kinsta. However, a lot of people like WP Engine, so you may lean the other way. Basically, WP Engine are a great host — they just have a lot of the same strengths/weaknesses as Kinsta, so it's tough to single out any specific areas where you'll have a notably different/better experience.
Used/using any of these alternatives? Thoughts?
All comments are held for moderation. We'll only publish comments that are on topic and adhere to our Commenting Policy.