Pressable Review – One Of The Best Managed WordPress Hosting Services?
Pressable are one of the original providers of managed WordPress hosting (along with the likes of WP Engine, Kinsta and Flywheel). If you're looking for a new home for your existing site, or if you want to launch a new WordPress website with a high-quality host, read on.
To help you to decide if Pressable are right for you, we'll be highlighting their best features, pointing out some of their weaknesses, examining their pricing, and also sharing the results from a series of performance tests — including Pingdom and Load Impact testing (see below for more details).
With so many options out there, choosing a host can be difficult, but by the time you've finished reading this review you should know whether or not Pressable are the right company to trust with your website.
Let's dive in…
About Pressable Web Hosting
Pressable were founded in 2010, making them one of the most well-established players in the managed WordPress hosting space, along with Pagely and WP Engine.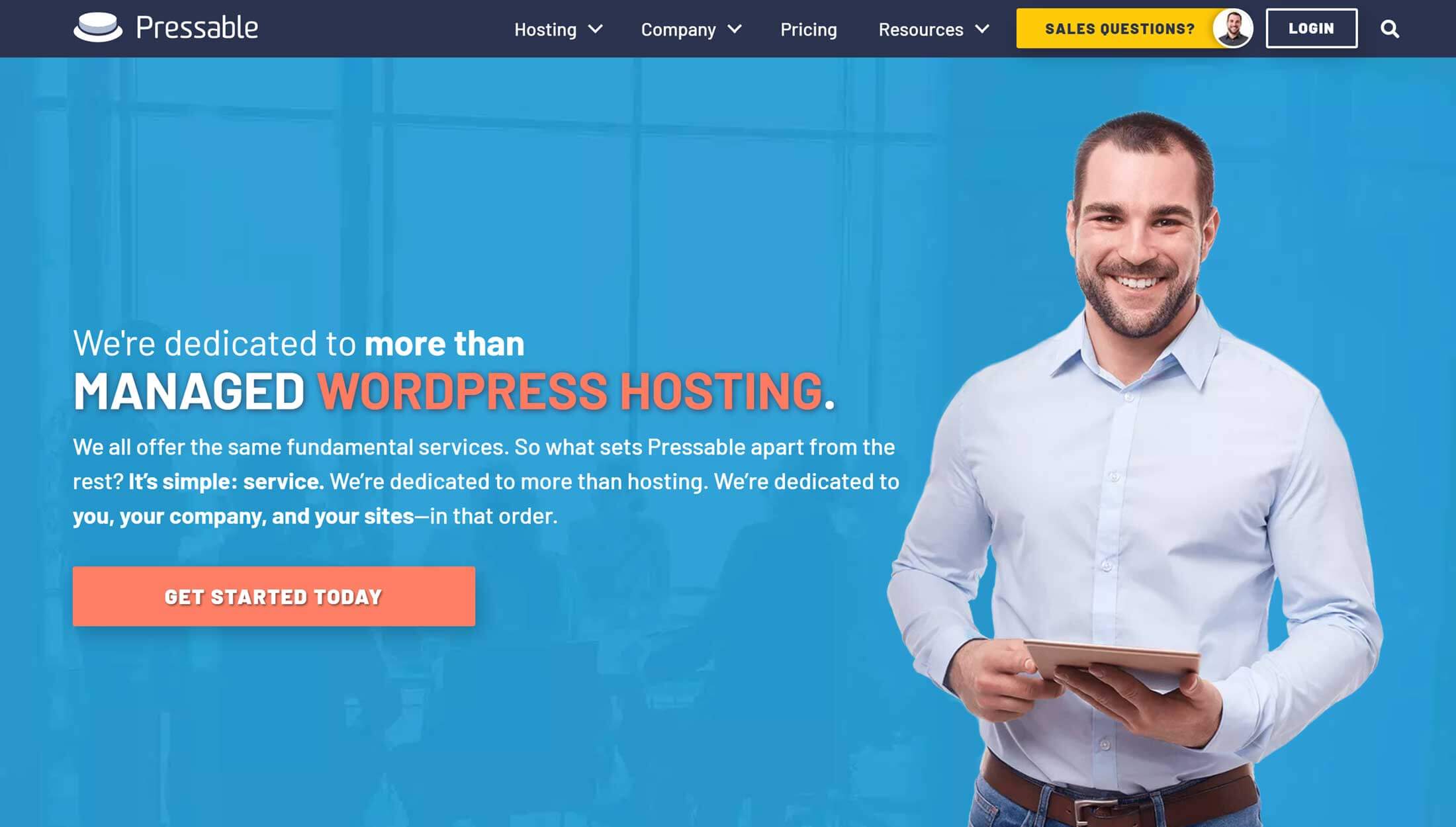 After a few years of successfully hosting WordPress websites, they were acquired by Automattic, the company founded by Matt Mullenweg, co-founder of the WordPress software. Automattic also created (and owns) other WordPress-related projects, including WordPress.com and WooCommerce. So, if you're looking for a well-established hosting company with strong ties to the WordPress project Pressable certainly check those boxes.
Along with their many years in the business, Pressable only host WordPress websites, so, if you sign up for one of their plans, you'll be working with a company that's highly experienced in supporting WordPress users and meeting their needs.
WordPress-Optimized Managed Hosting
As part of the service, your website will be hosted on an infrastructure that's been optimized for the WordPress software to hopefully deliver fast loading times and give your site the ability to handle multiple visitors at once without any costly downtime.
The test results, which we'll go into later, will reveal whether or not that really is the case, but, without giving too much away just yet, if speed and resilience are a priority, Pressable should definitely be on your shortlist.
What Makes Pressable Different?
With so many other WordPress-focused web hosts out there, why should you consider Pressable?
Pressable actually address this point on their website, stating that managed WordPress hosts all offer the same fundamental service, but that they aim to differentiate themselves from the competition by delivering exceptional service.
We'll be exploring whether or not that's true, but, to give you a quick insight, they do have a few features that should help you to get your website up and running, such as free migrations and a concierge approach to customer care.
Before we get to the results of our performance tests and take a look at some of Pressable's best features — and some of their drawbacks — here's a quick overview of their hosting plans.
Hosting Plans
Pressable have a good selection of hosting plans to choose from, making them suitable for a wide range of website owners.
Interestingly, unlike many other managed WordPress hosts, all of their plans include unlimited SD storage:
Personal: $25 a month for one WordPress install and up to 60,000 page views.
Starter: $45 a month for up to ten WordPress installs and up to 200,000 page views.
Pro: $90 a month for up to 20 WordPress installs and up to 400,000 page views.
Agency: $135 a month for up to 30 WordPress installs and up to 600,000 page views.
Agency 2: $180 a month for up to 40 WordPress installs and up to 800,000 page views.
Agency 3: $225 a month for up to 50 WordPress installs and up to a million page views.
They also have some VIP plans, starting at $750 a month, that support up to 150 WordPress installs and 10 million page views — and they can also create custom plans if those allowances aren't generous enough.
All of their plans also include a subscription to the Premium plan of Jetpack from Automattic, worth $99 a year, at no extra cost. We'll cover exactly what this means, but, in short, it's definitely a suite of tools worth having access to.
Overage Charges
As each plan has a page view limit, you may be wondering what happens if you go over this allowance. Well, the good news is Pressable won't automatically charge you for exceeding the traffic limit on your plan — at least according to one of their customer service agents.
However, they do offer additional page views on an as-needed basis. This suggests you can be charged for exceeding your limit, but it also means you can choose to pay to increase your allowance during busy periods — say, if you anticipate seasonal traffic spikes — rather than moving up to a more expensive plan.
Hosting Plans Summary
As the details of the hosting plans above show, Pressable are just as focused on helping those with one or two WordPress websites as they are those with large portfolios of sites. So, whatever your budget or requirements, there's likely to be a Pressable plan that's a good match.
However, if $25 a month is too much, a lower spec, cheaper shared hosting provider may be a more suitable option.
As all of the Pressable plans come with unlimited storage, the main points to consider when choosing one of their managed WordPress hosting plans are the number of websites you'd like to host on your account and the number of page views you'll be receiving.
Key Pressable WordPress Hosting Features
Aside from unlimited storage, there are, of course, other features Pressable customers get access to. Here's a quick overview of those features and how they work.
Personalized Onboarding
All plans include free WordPress website migrations, so if you're already hosting one or more sites somewhere else you can get them moved over to Pressable once you've signed up. They also have their own WordPress migration plugin to simplify the process of manually moving a site to their servers.
When you sign up with Pressable, as part of their commitment to delivering high-quality customer support, you're assigned a staff member who'll help you to set up your account, start a new site or manage your migration.
Customers also get access to the premium video tutorials from WP101 that cover how to use WordPress. You can find out more about these tutorials in our WP101 review, but, if you'd like access to high quality, narrated video tutorials that cover all aspects of using WordPress, you'll appreciate this extra.
As Pressable are focused on delivering excellent customer service, this is one way they differentiate themselves from the competition. So, if you're new to WordPress, or to creating websites in general, this could be an attractive aspect.
WordPress Website Management
Apart from increased performance and faster loading times, one of the main reasons to choose managed WordPress hosting over cheaper alternatives is that many of the tasks involved in looking after your website are taken care of for you.
With Pressable, this means the WordPress software for your website is updated on your behalf when a stable release is available. They'll also back up your WordPress website every day (more on how this works later).
Some other tasks are handled by Pressable, such as proactive site maintenance and performance analysis, but that's only if you choose one of their Enterprise plans. Although, as these plans start at $750 a month and support a hundred WordPress installations or more, they may be overkill for some readers' needs.
Although plugin and theme updates are your responsibility on most of the plans, thanks to the Jetpack Premium subscription that's available to all Pressable customers, you can enable automatic updates for plugins you've installed that are available from the WordPress.org Directory.
Automatic WordPress Website Backups
Pressable will automatically back up your site every day as part of their managed WordPress hosting service, but it's recommended that you also enable the Jetpack backup tool, which all customers get access to.
After you've enabled the Jetpack Premium backup feature, your site will also be automatically backed up by this service every day. However, unlike the Pressable daily backup service, the Jetpack Premium backup feature lets you easily restore these backups through a web-based dashboard. You can also download the Jetpack backups yourself — something you can't do with the standard Pressable system.
With the Pressable backups, you have to ask the support staff to restore a backup for you, which may not be convenient if you need to get it done quickly (perhaps after you've broken something on your site).
Another backup option from Pressable is to sign up to the paid Amazon S3 or Rackspace Cloud Files online storage solutions and connect them to your Pressable account. Making the connection between your two accounts isn't straightforward, but you only have to do it once, and, after that, a backup of your website files and the database will be automatically transferred to your online storage account every day.
The benefit of transferring your backups out of Pressable is your files will be stored in a safe location and retained for as long as you need them, compared with the 30 days they're kept with the Pressable and Jetpack Premium backup solutions (although you can download the Jetpack backups for safekeeping).
It's worth mentioning that if you want to restore a backup that's been sent to Amazon S3 or Rackspace you'll need to manually do so via FTP and phpMyAdmin.
Using a third-party WordPress backup plugin is another option, although if Pressable detect that your choice of backup plugin is causing performance or resource issues it will be disabled and removed.
Overall, the Pressable backup system does work. However, some other hosts provide better backup solutions, such as the WordPress.com Business plan which includes access to the superior VaultPress backup tool.
Account and Website Management
In line with their dedication to helping their customers achieve success, Pressable's account area is very easy to use. For starters, creating a new WordPress website on your account is very straightforward: Simply enter a name for your new site, and it'll be ready in a few seconds.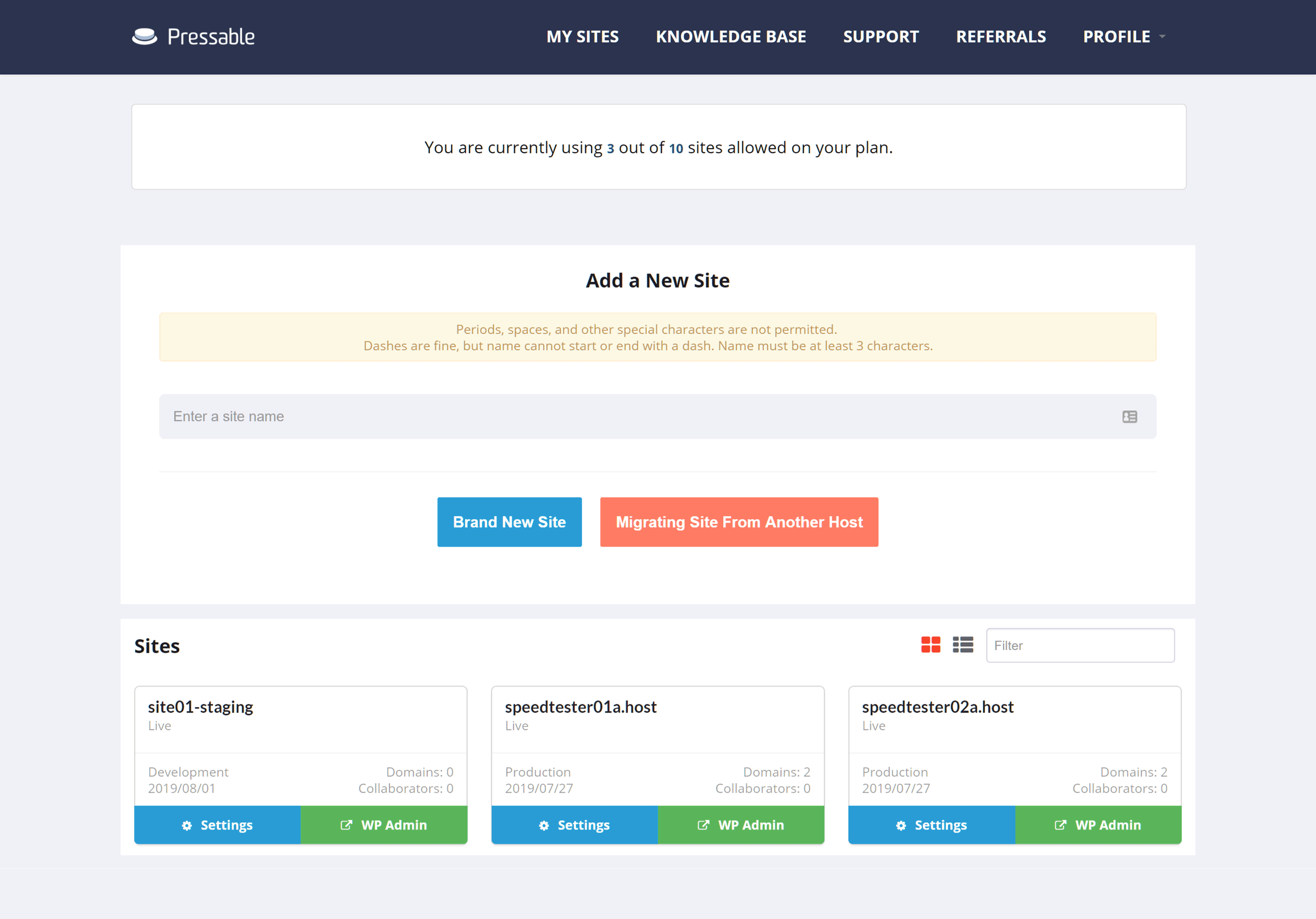 Once it's ready, you can then configure some settings for the site through the Pressable dashboard, or jump straight to the WordPress admin area via the quick link. If you want to migrate an existing WordPress website to Pressable, you can start the process from this screen as well.
They don't offer a domain registration service, so you'll have to make your own arrangements for securing a domain for your site. However, doing so is pretty straightforward. Until you're ready to point your domain to the new site, it'll be hosted on a Pressable subdomain and kept in the private development mode until it's time to go live.
Website Settings
The site settings in the Pressable dashboard cover enabling the Jetpack Premium subscription, purging the cache, enabling the free Let's Encrypt SSL certificate and a few more options. You can configure the connection to Amazon S3 or Rackspace that allows your website backups to be stored in your cloud account.
The WordPress Dashboard
Pressable don't make any changes to the default WordPress experience, with just the Akismet, Classic Editor and Jetpack plugins installed. Unlike some hosts, as demonstrated in our recent SiteGround review, no modifications are made to the default WordPress installation process, such as adding a site setup wizard or bundling in extra third-party themes and plugins.
As it's likely you'll be using Jetpack to take advantage of the features of the Premium plan you get access to as a Pressable customer, you can also manage your WordPress website through the WordPress.com dashboard.
Some readers may prefer to manage their website through the WordPress.com dashboard — especially if they're moving from the hosted WordPress.com service to hosting their website with Pressable.
Creating a Staging Website
Making a clone of your site to create a test or development environment where you can safely try out new plugins, themes and other changes to your website is straightforward with Pressable.
However, rather surprisingly, there's no feature for pushing the cloned site back to the live site it was created from — or pushing it anywhere else, for that matter.
Although the features page mentions creating staging sites, upon closer inspection, this refers to the process of creating an initial development site that you can work on in private until it's ready to be launched. There's no facility for quickly transferring the contents of a site between different environments as there is with some other hosts, such as Kinsta and SiteGround. One way to get around this is to delete the live site, then rename or create a clone of the test site, but that's not the most user-friendly workflow.
Website File and Database Access
As is the case with many web hosts, if you need to access the database of your WordPress website, there's a quick link that makes it available via phpMyAdmin.
Unfortunately, there's no browser-based online file manager, but you can access your server space via SFTP and your file transfer software client of choice.
Information on how everything works can be found in the helpful Pressable online knowledge base.
Overall, the style of the dashboard user interface isn't going to win any awards, but its lack of clutter makes finding what you're looking for straightforward enough. If you'd prefer a web host with a visually appealing user interface, the Flywheel dashboard is hard to beat.
Four Data Centers and a CDN
Pressable's new "PressableEdge" infrastructure utilizes four data centers plus a CDN. CDN access is included with every plan via their proprietary, in-house CDN! Thanks to this, your website content is stored around the world to deliver faster loading times to your global audience.
WordPress Website and Account Support
As mentioned, one of the ways Pressable aim to differentiate themselves from the competition is through their commitment to supporting their users and providing excellent customer care.
So, with that in mind, it's a little disappointing to see that the entry-level $25-a-month Personal plan doesn't include access to the 24/7 live chat channel. Instead, customers on the entry-level plan can contact the support staff via the email ticketing channel, which is staffed 24/7. Telephone support is reserved for those on the $750-a-month VIP 1 plan and above.
For comparison, the entry-level Flywheel, Kinsta and WP Engine managed hosting plans all include 24/7 live chat support. So, if you prefer to chat to the helpdesk staff in real time, you may want to consider one of those hosts or go for one of the higher-tier plans, such as the $45-a-month Starter plan, instead.
The good news is, if you do get access to the live chat channel, you should be able to connect to the helpdesk staff very quickly — at least based on our experiences researching this review. The team were also very helpful when answering questions and resolving issues.
As well as the support options, contacting the expert WordPress.com support staff via the priority email channel is another way of getting help with your website, thanks to the Jetpack Premium access.
Jetpack Premium Subscription
As mentioned earlier, all of the plans from this host include a subscription to the Jetpack Premium plan. Not only does this give you access to some genuinely useful features, but if you were to sign up for Jetpack Professional yourself it would cost you $99 a year.
While the Premium plan doesn't include access to all of the Jetpack features — you'd need a Professional subscription for that — it does provide you with some useful tools and extras, including:
daily automated website backups that are kept for 30 days
brute force attack protection
downtime monitoring
automated malware scanning
automatic security fixes
unlimited image and video hosting
priority email support from the WordPress.com experts
Overall, the Jetpack Premium subscription makes a great addition to almost any WordPress website, helping to keep your site safe, secure, and running smoothly. For more information, you can get a full overview of this set of tools in our comprehensive Jetpack plugin review.
Pressable aren't the only managed WordPress host to include a Jetpack subscription with their plan, however. The $25-a-month WordPress.com Business plan includes the more feature-rich Jetpack Professional plan, as does the $24.95-a-month DreamPress Plus plan from DreamHost. The main advantages of the Professional plan over the lower-priced Premium plan are the selection of more than 200 premium WordPress themes and the use of VaultPress, arguably the best backup system for WordPress.
Downsides of Pressable
There are lots of good reasons to sign up with this host. From the unlimited storage allowance to the $99-a-year Jetpack Premium subscription, not to mention the impressive loading times we're about to get to, Pressable are certainly a competitive managed WordPress hosting solution.
However, there are a few drawbacks to the service that may give you pause, depending on your requirements and preferences. So, before we get to the results of our performance testing, here are some of the potential drawbacks.
No Access to Premium WordPress Themes
Although there are countless stylish free WordPress themes to choose from, premium themes often have better designs, more templates and longer feature lists.
To entice more customers, some hosts now offer access to premium WordPress themes as part of their plans. These include WP Engine and the high-quality StudioPress themes their plans include, as well as the premium themes from WordPress.com that the DreamPress Plus and WordPress.com Business plans include.
Limited In-House Backup System
It's true that Pressable will automatically back up your WordPress website each day. However, as mentioned, if you want to restore a backup, you'll need to contact the helpdesk and ask them to do it for you.
If you're in a rush to restore a backup, maybe after something has gone wrong with your site, this, and the lack of access to the live chat support channel on the entry-level plan, could slow you down.
Many other premium managed hosts, such as Kinsta and WP Engine, make website backups accessible and actionable from within the customer account dashboard.
Thankfully, the Jetpack Premium plan that comes with the Pressable plans has its own daily backup system that helps to overcome this issue, as does your ability to install your own WordPress backup plugin of choice.
No Jetpack Professional Subscription
While the Jetpack Premium subscription is greatly appreciated, a subscription to the more expensive and feature-rich Jetpack Professional plan would be better. The backups that are created automatically in real time whenever a change is made to your site, and are kept indefinitely instead of 30 days, as well as the access to 200-plus premium WordPress themes it provides, would be valued by most website owners.
As it is, the Jetpack Premium subscription is still a good feature of Pressable.
Lack of Live Chat Support on Entry-Level Plan
If your preferred method of contacting the support staff of your host is via live chat, then the entry-level plan may not be for you. The $45-a-month Starter plan that supports ten WordPress installs and 200,000 page views a month — and the plans above it — does include 24/7 live chat support, but for those on the $25 a month entry-level Personal plan the only option is via the email ticket support channel.
The negative aspects of Pressable certainly aren't going to be dealbreakers for everyone, but they're definitely worth highlighting to help you to make an informed decision on whether to sign up with this host or not.
With that out of the way, it's time to look at the levels of performance Pressable are able to deliver.
Hosting Performance Test Results
As we've just seen, their plans include some useful features that'll help you to create and manage a WordPress website. However, no hosting review would be complete without a look at the type of performance you can expect for your website.
To find out how they performed in this area, we used the Pingdom and Load Impact services to measure the speed and resilience of our test WordPress websites.
For the first set of tests, Pingdom was used to monitor the speed of our sites to find their average loading times. Then, Load Impact was used to see how one of the test sites handled multiple visitors accessing it at the same time, and what effect this had on the response times of the site.
The availability of the sites was also monitored by Pingdom to give you an idea of what levels of uptime Pressable could achieve.
If you'd like to know how your website might perform if you choose this host, this section of our review will give you a good idea.
Loading Time Test Results
To find out how fast sites hosted with Pressable might load, we created two WordPress websites and then installed a lightweight theme on one of them and a heavyweight theme on the other.
The loading times of the two sites were then recorded by Pingdom every 30 minutes. After seven days of testing, we had an average loading time for each site. Here are the results…
Lightweight Theme Site Speed Results
We've used the lightweight Twenty Nineteen theme — the one currently enabled by default on new WordPress websites — so anyone planning to create a basic blog or simple website can get a good idea of how fast their site might load if they choose Pressable as their host.
After setting up the test site, a simple page was created containing text and an image. After seven days of recording the speed of that page at 30-minute intervals, the average loading time was 538 milliseconds.
To give you an idea of how well Pressable compares with other web hosts in the same price bracket, our previous reviews showed that a similar site hosted on the DreamPress managed hosting plan from DreamHost loaded in 581 milliseconds, while the results from our WordPress.com Business hosting review were slightly slower at 603 milliseconds.
Heavyweight Theme Loading Time Results
Avada is one of the best-selling WordPress themes available. By installing this heavyweight theme on our other test site and importing one of the Avada demos, we should be able to give anyone intending to launch a feature-rich website a good indication of what loading times they can expect if they host their site with Pressable.
Once Avada had been installed and the Agency demo imported and set up, the speed of the homepage was recorded by Pingdom every 30 minutes. After seven days of monitoring, the average loading time was 957 milliseconds.
Compared with the loading times of some of the other managed WordPress hosting companies we've tested, Pressable performed very well when hosting a large website using the Avada theme.
For example, the test site using Avada from our Kinsta review had an average loading time of 1.25 seconds, while the same site from our WP Engine review had a loading time of 1.43 seconds. The Avada test site from our DreamPress review was even slower, with an average loading time of 1.89 seconds, although the WordPress.com Business plan did a good job of hosting a site using Avada in our recent review, coming the closest to Pressable with an average speed of 1.06 seconds, compared with the 957 milliseconds of the Pressable hosted site.
Although the homepage of the Agency demo looks great, it won't be suitable for all projects. So, with that in mind, a blog post from the Avada test site was monitored to give you an idea of how fast your site could load if you used this theme without importing one of its demos. After seven days of testing, the blog post with the smaller file size had an average loading time of 1.39 seconds, coming in surprisingly slower than the speed of the larger homepage.
Loading Time Summary
As expected, the site using the lightweight theme had faster loading times than the site using the heavyweight theme. However, the site using the Avada theme still had very respectable loading times, especially the homepage with its large size of 4.53 megabytes.
As our site speed results have shown, whether you plan to use a lightweight theme such as Twenty Nineteen, or a heavyweight option such as Avada, Pressable are a very capable web host.
Load Impact Performance Testing Results
As well as monitoring the loading times of our test websites with Pingdom, we also wanted to know how well Pressable were able to host sites that received a large number of visitors.
To find this out, we used the Load Impact service to simulate multiple users accessing one of the test sites at the same time. In our performance test, the number of virtual users accessing the homepage of the site using the Avada theme increased from one to 200, over a five-minute period. During this period, the response times of the site were recorded at regular intervals to see if the site remained stable.
The graph below shows the results from our Load Impact test, with the blue line representing the number of virtual users (VU) accessing the site simultaneously, while the green line displays the response time of the page being tested.
As you can see from the results above, the response time of the test URL wasn't affected as the number of virtual users accessing the site increased from one to 200 over a period of five minutes. If you want to know more about this test, you can see the results for yourself on the Load Impact website.
Based on these results, if you're looking for a web host that can handle spikes in traffic or multiple visitors regularly accessing your site, Pressable are a more than capable option.
However, as these results are comparable to the results from our tests of other similarly priced managed WordPress hosting plans from companies including DreamHost, Kinsta, WP Engine and the WordPress.com Business plan, Pressable aren't the only company to offer this level of performance at this price.
Uptime Test Results
Pressable have a 100 percent uptime guarantee in place, and, according to Pingdom, our two test sites didn't experience any downtime during our seven days of monitoring.
However, if your site does experience downtime while hosted by Pressable, or, to be more precise, if the Pressable data center network is unavailable, you could be eligible for a refund of 5 percent of the hosting fees for each 30 minutes of network downtime, up to 100 percent of the fees.
However, our sites didn't experience any downtime while they were monitored by Pingdom.
Technical Details
Here are some more technical details on Pressable and their managed WordPress hosting plans to help you to decide if they're the right choice for your website:
Website caching: Pressable have an in-house caching system that covers object caching, page caching and static asset caching to improve website performance.
Content Delivery Network (CDN): All Pressable plans include access to their global CDN.
PHP: All Pressable hosted websites run PHP 7.2.
HTTP/2.0: HTTP/2.0 is enabled on all of the Pressable plans.
SSL: Free SSL certificates from Let's Encrypt are available to your site, or you can use your own certificates from elsewhere.
SFTP: You can access your server space via SFTP and your choice of client.
Server file manager: There's no browser-based file manager for access to the server space and its files.
Database access: The WordPress website databases can be accessed via phpMyAdmin.
Email service: The Pressable plans don't include any email services, but the recommended options for domains hosted with Pressable are Rackspace, GoDaddy Workspace and G Suite.
WordPress website management: As part of the managed service, the WordPress software is automatically updated. Although plugin updates are the responsibility of the customer, you can set Jetpack to update plugins from the WordPress.org Directory automatically.
Plugin restrictions: Certain plugins are disallowed, including some caching and optimization extensions.
Security measures: Pressable continually monitor the sites they host for suspicious activity. Jetpack Premium, which is available on all plans, provides additional security features.
Post-hack clean-up services: Pressable can provide assistance in removing any malware or restoring a site to its pre-hacked status.
Data center locations: Pressable has server locations around the world (Amsterdam, Burbank, Washington D.C., and Dallas/Fort Worth). The CDN access included on all plans will distribute your website content globally.
Staging sites: A limited staging service is available on all plans.
WordPress website migration: Plans include free migrations carried out by the support staff. There's also an in-house plugin to help users manually migrate their WordPress websites.
Uptime checks and guarantee: They continually monitor site uptimes and guarantee their data center network will be available 100% of the time in a given month, excluding scheduled maintenance, with refunds available if this isn't achieved.
Support channels: All plans include 24/7 ticket support, and all plans, apart from the entry-level Personal plan, include 24/7 chat support. Those on the VIP plans get access to telephone support and a dedicated Slack channel as well. The Jetpack Premium plan that all Pressable customers get also includes an email support service.
Hopefully, that answers any remaining questions you may have about the service.
Final Thoughts
So, should you sign up with Pressable?
With prices starting at a reasonable (for managed WordPress hosting at least) $25 a month and impressive loading times with the ability to handle multiple simultaneous visitors, Pressable should be a serious contender for anyone seeking high-performance hosting.
There are a few areas where they aren't as strong as some of the competition, such as the slightly inferior backup system, the lack of a fully featured staging tool and the absence of live chat support on the entry-level plan.
As you can get most, if not all, of these features from other premium managed hosts, including Flywheel, Kinsta and WP Engine, you may want to shop around if they're important to you.
However, if email support and the perfectly adequate Jetpack backup tool are good enough for you, and you don't need the ability to push content between different environments at the touch of a button, Pressable could be a great home for your WordPress website. For reference, if 24/7 live chat support is essential, it can be unlocked by upgrading to the $45-a-month, ten-website Starter plan.
Related Posts:
Used/using Pressable? Thoughts?