WinningWP content is free to all. If you make a purchase through referral links on our site, we earn a commission (
learn more
).
Flywheel vs SiteGround – Which Offers the Best WordPress Hosting?
If you're looking for a high-quality web hosting experience that won't break the bank, Flywheel and SiteGround are two companies that are probably already on your radar.
Sure, there's cheaper hosting out there, but many people are prepared to pay a bit extra for SiteGround (read our in-depth SiteGround Review here) and Flywheel (and read our in-depth Flywheel Review here) in exchange for better performance, enhanced customer support and more features than you'd generally get when paying less elsewhere.
Also, Flywheel and SiteGround are cheaper than the most popular managed WordPress hosting services (here's Flywheel pricing – and here's SiteGround's pricing), without making many sacrifices. All this makes them both a good middle ground between budget shared hosting and premium managed hosting.
In this Flywheel vs SiteGround comparison, I'll explore the best features of these two hosts, check out what it's like to host a WordPress website with them and use the paid Pingdom service to find out which one is fastest.
By the end of this comparison, you'll know whether Flywheel or SiteGround are the right host for your website, or if you should look elsewhere.
Let's begin…
Quick Overview
Before you can make a decision between SiteGround and Flywheel, you need to know the main differences between these two hosts.
One key difference is Flywheel are considered a genuine managed WordPress host — a type of hosting that's known for high performance and advanced features — while SiteGround are more of a shared hosting provider — hosting where prices are low, but corners are often cut.
At first glance, it may seem unfair to compare a managed WordPress host with a shared host.
However, SiteGround now have many of the features you typically get from a good managed host, not least the fact that, like Flywheel, they now use the Google Cloud Platform as the core of their hosting infrastructure.
Unlike many managed WordPress hosts, Flywheel have a relatively affordable entry-level plan that makes them an option those seeking low-cost hosting may consider.
Because of this, SiteGround and Flywheel are good candidates for a hosting comparison.
So, let's start this comparison by looking at their hosting plans, before moving on to the level of performance you can expect from them. After that, I'll compare their other key features and show you what these hosts are like to use.
Pricing
The SiteGround plans are definitely cheaper than those from Flywheel, but, as this comparison will cover, there's more to choosing a host than just the financial cost.
Also, as both hosts offer a discount, which in the case of SiteGround only applies to your first invoice, comparing the advertised prices isn't entirely straightforward.
With Flywheel, paying annually gets you a discount that works out to two months of free hosting a year, compared with if you chose to pay monthly. This promotion is available every year when you renew, and not just for new sign-ups.
With SiteGround, the discounts are more generous. For example, if you pay for a year of the entry-level plan upfront, you'll save 66 percent compared with paying monthly.
However, SiteGround only apply this discount to your first invoice. When you renew, you'll pay the full price. This can be quite a lot more than the promotional rates. For example, in the case of the entry-level StartUp plan, it's $4.99 vs $14.99. So, do take this into account when deciding which plan matches your budget.
The prices listed below are the monthly equivalents based on the best promotional rates available for new accounts.
Flywheel Hosting Plans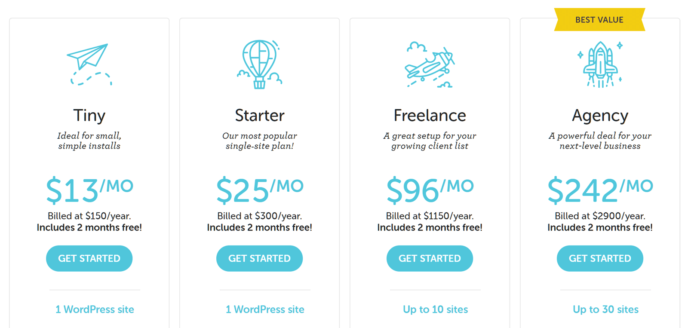 Flywheel have four main managed WordPress hosting plans available:
Tiny: From $13 a month for one website, 5,000 monthly visits, 5 GB storage and 20 GB bandwidth.
Starter: From $25 a month for one website, 25,000 monthly visits, 10 GB storage and 50 GB bandwidth.
Freelance: From $96 a month for ten websites, 100,000 monthly visits, 20 GB storage and 200 GB bandwidth.
Agency: From $242 a month for 30 websites, 400,000 monthly visits, 50 GB storage and 500 GB bandwidth.
Overage fees are charged if you go over these limits. For the full details, check out the plan comparison page of the Flywheel website.
Flywheel also offer custom plans for anyone who wants to host more than 30 websites on a single account or would like larger storage, bandwidth and visit allowances.
SiteGround Hosting Plans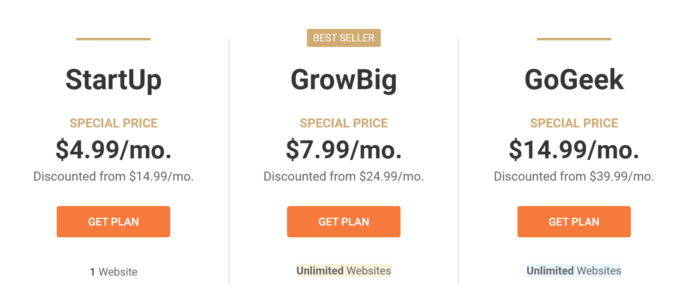 SiteGround have three shared hosting plans for you to choose from:
StartUp: From $4.99 a month for one website, ~ 10,000 monthly visits and 10 GB storage.
GrowBig: From $7.99 a month for unlimited websites, ~ 25,000 monthly visits and 20 GB storage.
GoGeek: From $14.99 a month for unlimited websites, ~ 100,000 monthly visits and 40 GB storage.
Unlike the Flywheel plans, which have a bandwidth allowance, the SiteGround plans all include unlimited bandwidth.
Also unlike Flywheel, there's no limit on the number of monthly visits. Instead, the number of visits listed above should be used as a guide to help you to decide which plan would be best for your needs, based on how many visits you currently receive or expect to receive.
Unlike with Flywheel, each SiteGround plan is allocated a different amount of server resource. Roughly speaking, the more visitors your site receives, the more server resources it will consume. Also, the more server resources your site has access to, the faster it should load. So, while there are no limits on bandwidth usage and visits, you'll need to either resolve the issue or move to a higher plan if you consume too many server resources.
Later on in this comparison, we'll see whether Flywheel or SiteGround are the fastest. However, if you check out our full SiteGround review, you'll see that our test sites hosted on the more expensive GoGeek plan were faster than those on their lower-priced StartUp plan.
Free Domain Registration & SSL
Unlike many hosts, including Bluehost and GoDaddy, you don't get a free domain name registration for your website with either SiteGround or Flywheel. However, once you've purchased one from a domain registrar, you can easily point it to your hosting account.
Both hosts do provide you with a free SSL certificate to keep your site secure, or you can use an SSL certificate you've registered yourself if you'd prefer.
Verdict: SiteGround win here as their plans are cheaper, even if you ignore their promotional rates. You also get more for your money in terms of storage allowances and unlimited bandwidth.
Performance
As mentioned earlier, the higher the SiteGround plan you choose, the faster your website should load. With Flywheel, on the other hand, all plans should deliver the same level of performance.
But how fast are these hosts? And which one should you choose if you want the best site speed possible?
For this section of my comparison, I used Pingdom to monitor the speed of two test websites hosted by Flywheel and SiteGround.
After seven days of monitoring, an average load time for each host was established. The two sites were set up to be as similar as possible, using the free and lightweight Twenty Twenty WordPress theme.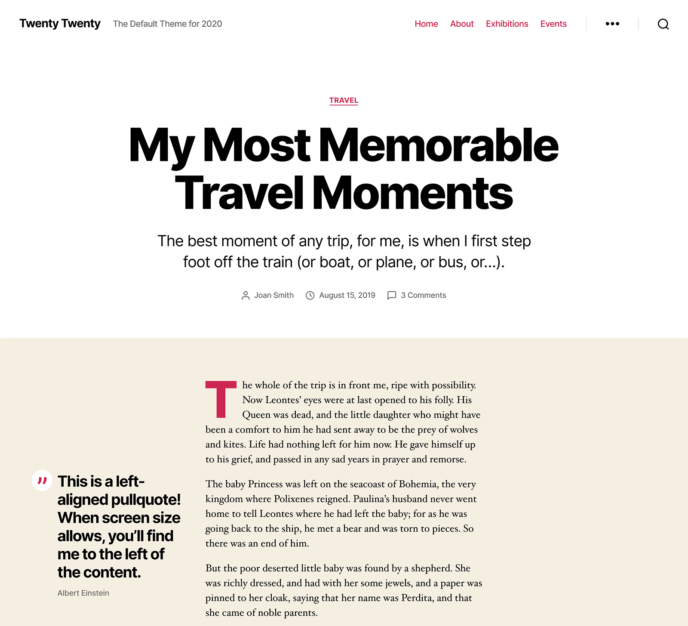 No plugins were added, apart from SG Optimizer, which SiteGround pre-install and activate on the sites they host. The default configuration from each host was used, and, for a fairer comparison, no attempt was made to optimize the WordPress websites.
Here are the results…
Flywheel Performance Test Results
The test page from the WordPress website hosted by Flywheel had an average load time of 320 milliseconds or .320 seconds.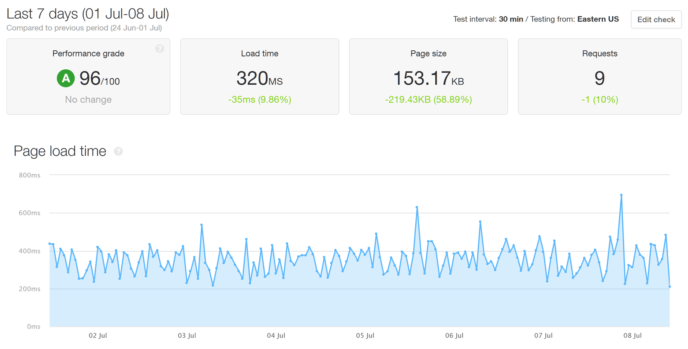 SiteGround Performance Test Results
For the site hosted by SiteGround, the test page had an average load time of 289 milliseconds or 0.289 seconds.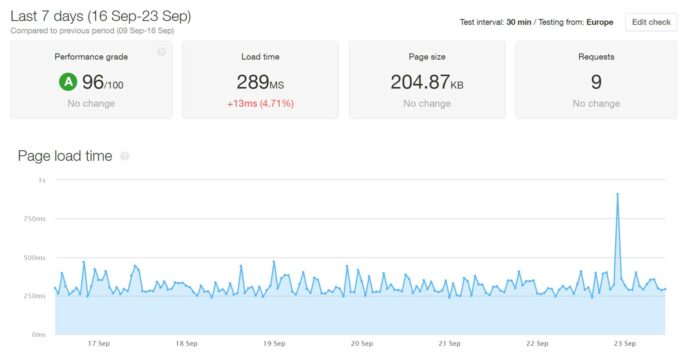 Performance Summary
According to my test, the site hosted on the entry-level SiteGround StartUp plan was faster than the site hosted by Flywheel:
Flywheel average load time: 320 milliseconds.
SiteGround average load time: 289 milliseconds.
Despite their differences, both hosts were very fast. They performed better in these tests than some of the hosts in our other comparisons, such as Bluehost vs DreamHost, GoDaddy vs Bluehost and HostGator vs GoDaddy.
As you can see, the page being tested from the site hosted by SiteGround had a smaller file size than the one hosted by Flywheel. Although the pages were created in the same way, this difference could be due to the optional optimization features used by SiteGround, including the image and front-end optimization features that are enabled by default.
Flywheel also have their own caching and optimization features that are enabled by default, including FlyCache and a global CDN. However, this wasn't enough to outperform SiteGround in my test.
Verdict: When using a lightweight theme and creating basic web pages, SiteGround were able to deliver a faster load time than Flywheel.
WordPress Themes
While you can install your choice of WordPress themes on all of the plans from these hosts, Flywheel customers get access to ten premium themes from StudioPress.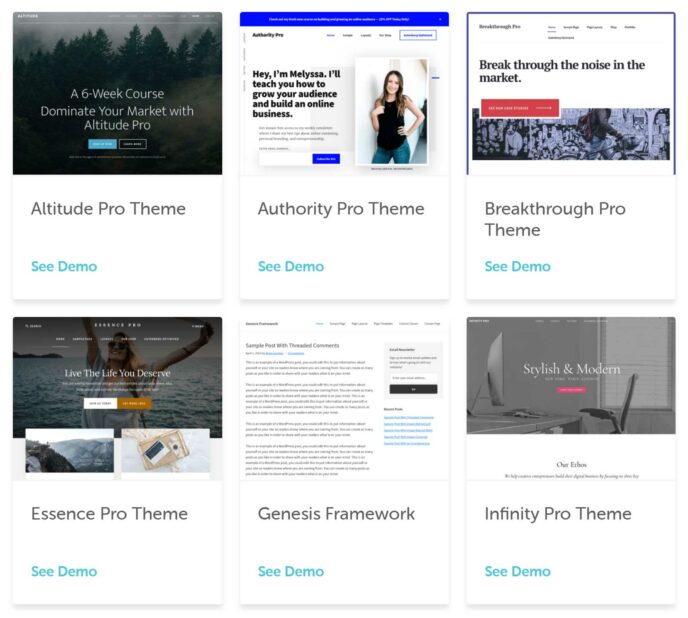 Because these themes cover a range of projects, from agency sites and blogs to online portfolios and eCommerce stores, you should be able to find a suitable one for your website from the available options.
We've actually published a review of the best StudioPress themes, which is worth checking out if you want to know whether any of them will be right for your website. Because premium WordPress themes generally start at around $50, getting access to a StudioPress theme could help you to save some money.
Verdict: Flywheel win here because access to the StudioPress themes could prevent you from having to spend $50+ on a premium theme from elsewhere.
Website and Account Backups
A key feature to help you to manage your WordPress website effectively is a reliable backup and restore tool. However, surprisingly, this isn't something that's always provided by a host, especially at the cheaper end of the market.
Thankfully, both Flywheel and SiteGround have easy-to-use WordPress website backup features. With both hosts, your website will be automatically backed up each day, and you can then restore the backups as and when needed.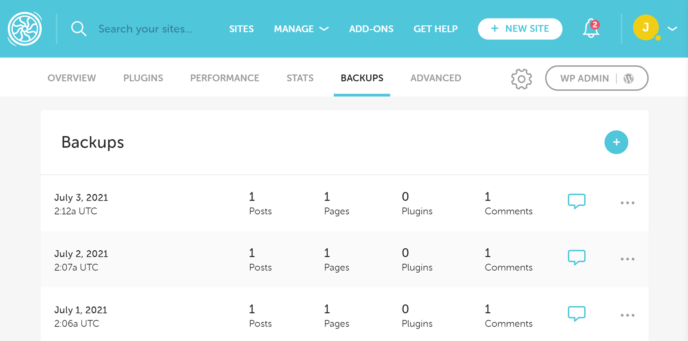 Flywheel do edge ahead here, as they also let you create as many backups on demand, regardless of which plan you choose — something worth doing just before you update WordPress, activate a new plugin or make some other change to your site.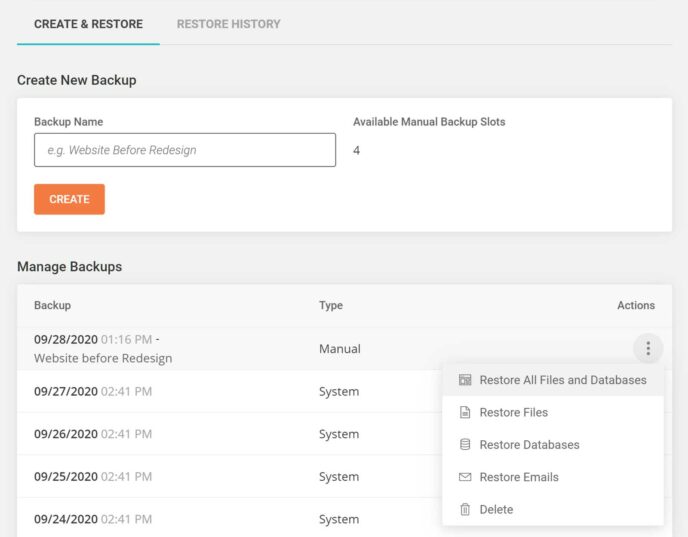 With SiteGround, you can create a limited number of on-demand backups on their top two plans. On the entry-level plan, you have to pay a fee to do so.
Verdict: Flywheel win here as all of their plans include a more feature-rich backup and restore tool.
WordPress Website Updates
Keeping the WordPress software, as well as the themes and plugins you've installed, up to date is key when it comes to running a secure and speedy website.
To take these tasks off your hands, both hosts have some automatic update features.
Flywheel will automatically update the WordPress software for you, although you can opt out of major release updates if you're not ready for them.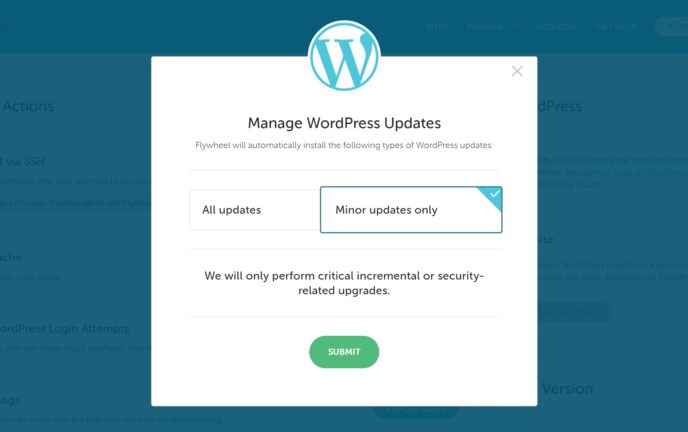 However, despite being a managed WordPress host, managed plugin updates aren't included as standard on their plans. Instead, they're a paid add-on which starts at $25 a month. That being said, this service doesn't just update the plugins. It also uses AI technology to check that the updates haven't broken anything on your site. If an error is detected, the update will be automatically rolled back and one of the support staff will examine the issue.
With SiteGround, you can enable automatic updates for the WordPress software itself and any plugins. You can also delay updates to give you time to test them.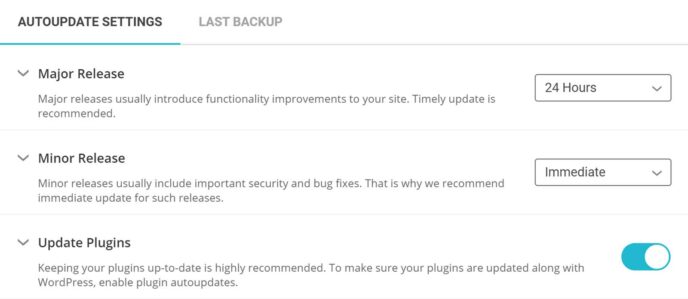 While these are good features to have, WordPress does now have this functionality baked into its core, and there are also free plugins that give you more control over the process. Therefore, unless you choose to pay for the Flywheel paid managed update service, you're not really getting access to anything that isn't available with WordPress anyway.
Verdict: Flywheel win here, but it's close. Although both hosts offer automatic updates, Flywheel have an optional paid service that makes automatic updates safer.
Setup Wizards
Both hosts make it very easy to create a new WordPress website. All you need to do is enter a few details before a new site is created for you.
However, SiteGround go one step further by providing a wizard that walks you through setting up your WordPress website, choosing a theme and adding some content. With Flywheel, you're left to your own devices when it comes to performing these tasks.
If you're an experienced WordPress user, or don't mind figuring things out for yourself, then the Flywheel approach definitely isn't an issue. After all, there are countless guides online that cover how to make a WordPress website.
However, if you're new to all of this and would rather have a step-by-step guide that helps you to take care of the essentials, the SiteGround WordPress wizard will be appreciated.
Verdict: SiteGround win here as their new website starter tool should help anyone unfamiliar with WordPress to get started.
Developer and Agency Features
While SiteGround offer a general-purpose WordPress hosting service, Flywheel have a strong focus on freelancers and agencies that are creating and managing sites for their clients.
That's not to say Flywheel aren't suitable for anyone who simply wants a reliable host for their website, it's just that they have some interesting features that developers and web designers should find useful.
However, SiteGround have recently added some agency-focused features of their own, although they're not as impressive as what you get with Flywheel.
Here's a quick overview of these agency and developer features:
Flywheel Growth Suite
If you're running an agency or looking after multiple client sites, then you may be interested in the Flywheel Growth Suite service.
Image: Flywheel Growth Suite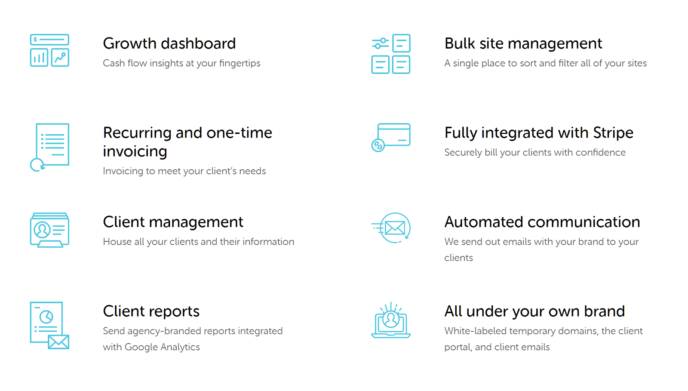 Designed as an all-in-one solution for a growing agency, these plans provide you with branded client reporting, billing and host reselling features to make your service look more professional.
Easy Local Development
Flywheel also have an impressive tool called Local for creating local WordPress installations on your computer.
With Local, you can build your WordPress website in private locally, then, when it's ready, transfer it to your Flywheel hosting account.
Although you can do this with any host and the right third-party tools, Local makes the whole process very straightforward for Flywheel customers.
You can also use Local to transfer a copy of your live site to your computer. You can then work on that copy of your site, test out plugins or set up a new theme. You can then quickly push the changes to your live site.
Staging Tool
SiteGround have a staging tool that does give you a safe place to work on your site in private. However, it's not quite as feature-rich as the Flywheel approach.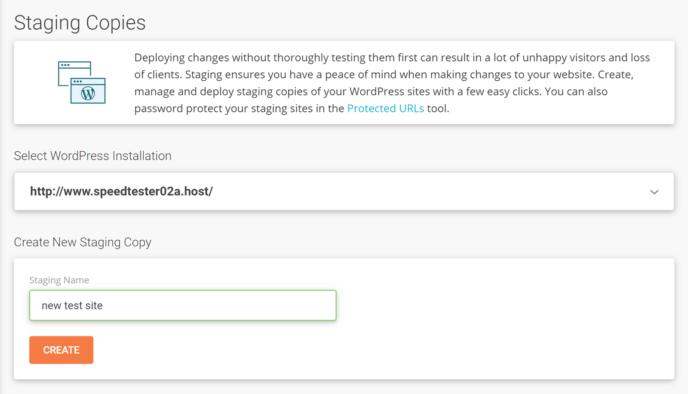 For example, with Local from Flywheel, you can share a private site with clients to get their feedback before you publish it. You can also easily change environment settings for testing purposes, such as the PHP or MySQL version. If any of this sounds appealing, you can check out the Local website to see the full list of features.
Some other interesting developer-focused features of Flywheel include:
the ability to create free demo sites for clients with no need to pay for the service upfront
the ability to easily transfer ownership and billing of sites to clients
Blueprint feature that let you save your theme and plugin configurations as easily deployable packages
tools to simplify multiple team members working on the same site
the ability to easily and securely add collaborators to a site
a site cloning tool that makes duplicating a site very straightforward.
Flywheel also have an agency partners directory that you can apply to join to promote your services.
With SiteGround, you can also transfer sites to clients in a few clicks, add team members as collaborators, and register users as clients in your account area. You can also remove any SiteGround branding to avoid confusing your clients. These agency features are only available on the top two SiteGround plans, GrowBig and GoGeek, as well as their more expensive Cloud hosting service.
Verdict: While SiteGround have made a good attempt to catch up with the agency focus of Flywheel, the latter host win as they have more features for this type of user.
SiteGround vs Flywheel Summary
Before we get to the end of our comparison, here's a quick overview of what we've covered, as well as some extra details about Flywheel and SiteGround:
Pricing: SiteGround have cheaper plans, but be sure to take the full price into account and not just the discount rates.
Performance: Both hosts are fast, but, in our tests, the lowest-priced SiteGround plan was faster than the lowest-priced Flywheel plan.
User Experience: Both SiteGround and Flywheel have done a great job of making it very easy to create and manage a WordPress website, thanks to their well-designed control panels and the SiteGround setup wizard.
Website Updates: You can enable automatic WordPress software, plugin and theme updates on the SiteGround plans. With Flywheel, the WordPress software is updated automatically, but managed plugin updates is a paid extra.
Backups: Your website will be automatically backed up daily on all of the SiteGround and Flywheel plans. While all of the Flywheel plans also let you create backups on demand, this is only included in the top two SiteGround plans — although it is available as a paid extra on the entry-level SiteGround plan.
Storage Space: You get more storage with SiteGround. For example, the entry-level SiteGround and Flywheel plans have 10 GB and 5 GB of web space respectively.
Support: All Flywheel plans include 24/7 access to support via live chat, as well as via phone on the Agency plan. All SiteGround plans include 24/7 support via live chat, ticket and phone.
Migration: Flywheel will migrate your existing WordPress websites to their service for free. SiteGround have a free migration plugin to help you to transfer your site, or you can pay for them to do it for you.
Staging: Both Flywheel and SiteGround provide their customers with a staging tool for creating a safe space for development work. However, Flywheel also have a tool for creating a local version of your site.
Refund Policies: You can get a full refund from SiteGround if you cancel your shared hosting account within 30 days of signing up. Flywheel don't offer refunds if you decide to cancel your plan.
Uptime Guarantee: Both hosts guarantee 99.9% network uptime. However, only SiteGround give refunds if uptime falls below this number. When testing these hosts, my websites didn't experience any downtime.
Extras: Flywheel customers get access to more than 30 high-quality WordPress themes from StudioPress for free. Both hosts also have features aimed at agencies that make it easier to manage multiple team members and websites.
Now, it's time for my final thoughts on SiteGround vs Flywheel.
Final Thoughts
For the average website owner, SiteGround are probably the better option.
Compared with Flywheel, you get more for your money, including storage, bandwidth and the number of WordPress websites you can host on plans above the entry-level option. A faster loading time in the performance test definitely shouldn't be overlooked either.
However, if you're creating websites for clients, then Flywheel have some very useful features that could save you a lot of time and effort, and could therefore be worth paying extra for. Some examples of this include the Blueprints, Organizations and client billing transfer features, as well as the easy-to-use local WordPress website development and staging tools. Getting access to the StudioPress themes is another notable benefit. SiteGround do have some similar agency-friendly features, but they're not as impressive.
If the extras of Flywheel are appealing, and you don't mind paying more for them, then I expect you'll be happy with this host. However, if you're on a tighter budget, you just don't need the extra features or you're impressed by the results from the site speed test, then SiteGround are probably the host for you.
Which one will you choose? SiteGround or Flywheel?
All comments are held for moderation. We'll only publish comments that are on topic and adhere to our Commenting Policy.