WinningWP content is free to all. If you make a purchase through referral links on our site, we earn a commission (
learn more
).
AffiliateWP Plugin Review – How Good Is It? What Can It Do?
If you want to create and manage your own affiliate program, then AffiliateWP is a popular and highly functional WordPress plugin that lets you do just that.
Once installed on your WordPress website, it can help you to grow your business and make more money by setting up an affiliate program that incentivizes your audience to send new customers to your site.
Because AffiliateWP lets you run this program from inside your WordPress dashboard, you have total control over how it works, and you won't have to share your profits with a third-party affiliate network either.
In this review, I'll be checking out the main features of this plugin and exploring the user experience. I'll also look at the add-ons that are available and discuss the options for purchasing this tool.
Let's begin…
Why Create an Affiliate Program?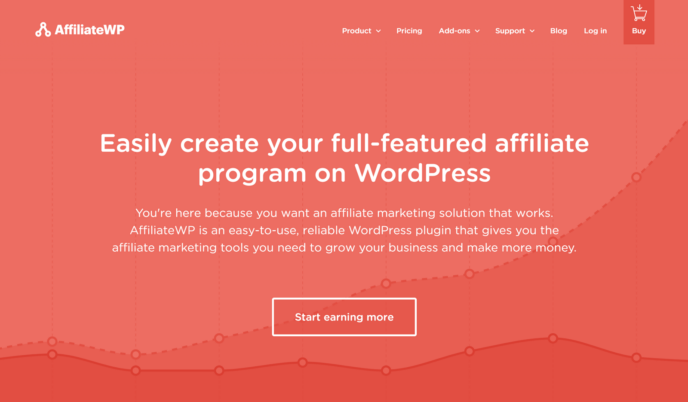 With most programs such as this, those who sign up to become affiliates are paid a commission when they refer customers to a business. The business wins by getting new customers, the affiliates win by earning commission and the customer wins by being introduced to a great new product.
Unlike other forms of sales generation, such as paid advertising, business owners typically only incur costs when the affiliates generate a sale. Because of this, there's no need to pay upfront for exposure with the hope that your efforts will generate sales in the future.
With your affiliate program, you only have to pay your affiliates after they've been successful in sending you new customers or clients. This performance-based model makes affiliate marketing a very appealing way to grow a business.
While keeping track of sales and commissions may sound difficult, the AffiliateWP WordPress plugin has everything you need to manage your own program and team of affiliates.
What Can AffiliateWP Do?
As well as having all of the essential affiliate-related functionality, AffiliateWP also has a number of appealing additional features.
Here's a quick overview of some of the best features (many of which we'll go on to cover in more detail):
Front-end affiliate registration forms for easy sign ups.
Auto or manual approval of affiliate applications.
Front-end dashboard with reports and tracking information for affiliates.
Real-time reporting that tracks visitors, referrals and earnings.
Support for coupon codes.
Integration with other plugins such as WooCommerce and MemberPress.
Support for global fixed or percentage amounts for referral fees.
Custom referral rates for individual affiliates.
Multiple options for paying affiliates.
Publish your own creatives for your affiliates to use.
Export and import affiliates, referrals and settings.
Assistant to help to migrate from other systems.
Library of free, paid and third-party add-ons.
Here's a quick look at some of the main AffiliateWP features in more depth…
Ready-Made Sign Up Forms
AffiliateWP makes it easy to add the necessary forms to your website, such as the registration and login forms.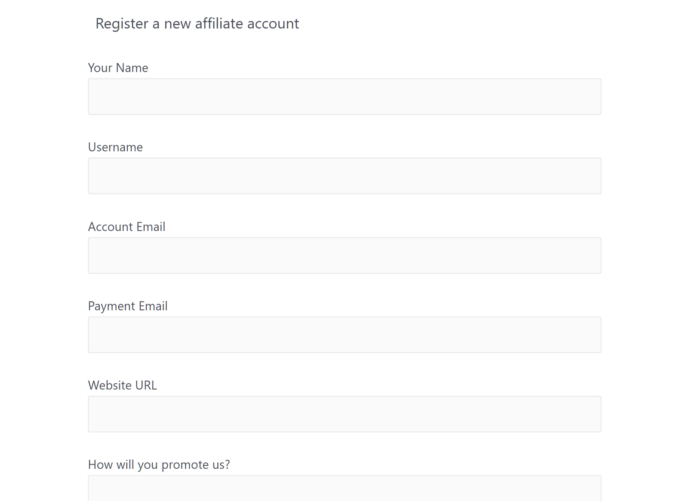 Applications made via the registration forms can be set to be either auto-approved or to require manual approval by the site admin users.
WordPress Editor Blocks
The ready-made forms can be added to your website via blocks that are accessible through the WordPress Editor and Customizer.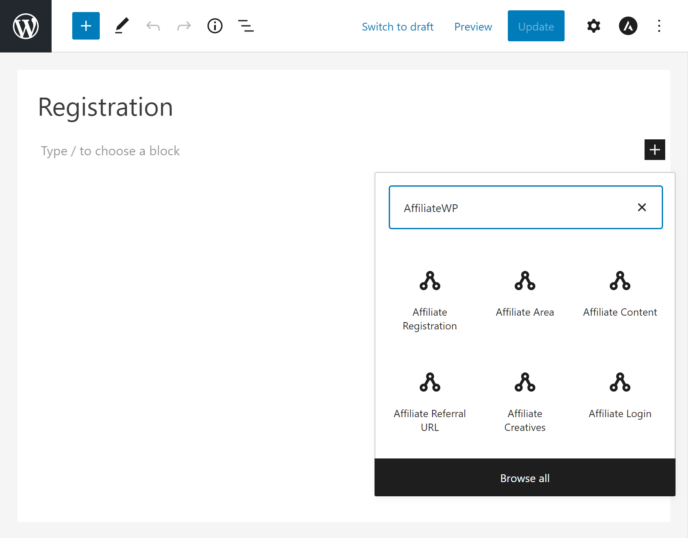 As well as blocks for adding the AffiliateWP forms to your site, there are also blocks for creating the affiliate dashboard, displaying the referral URL for the affiliate viewing the page and displaying creatives that your affiliate can use to promote your products.
You can also use the AffiliateWP blocks to hide content on a page, so only logged-in affiliates can see it.
Affiliate Management
As well as letting visitors sign up directly at your site, you can also handle registrations yourself. Because of this, it's possible to keep your program private and only allow affiliates you've hand-picked to join, rather than displaying publicly available sign-up forms on your site.
If you have multiple affiliates you'd like to add to your program, AffiliateWP supports CSV file imports — something you should find useful if you're migrating from a different system.

AffiliateWP automatically tracks conversions, including which affiliate sent the visitor to your website. However, referrals can also be entered manually by admin users.
Simple Affiliate Payouts
Enabling the integrated Payouts Service can help to keep your affiliates happy by activating faster payouts. Through this service, you can pay affiliates directly from your bank account or debit card, all via your WordPress dashboard. There are other ways to pay your affiliates, too.
Create Flexible Affiliate Programs
When setting up your program, you get a lot of flexibility, especially regarding how much affiliates can earn.
You can set this on a global level, such as a flat fee or percentage of each sale.
However, you can also override this setting for individual affiliates. If you want to attract an affiliate you know will benefit your business, you can use this feature to offer them a higher fee than your regular affiliates.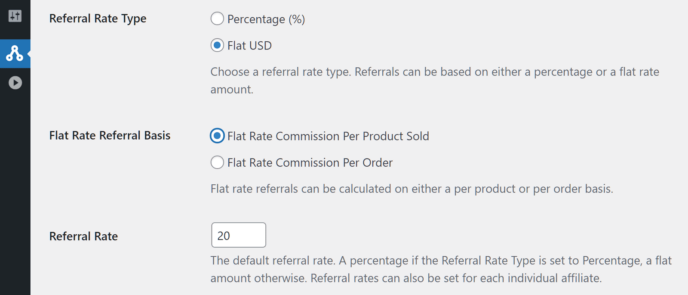 You can also set how long tracking cookies last, controlling how long referrals from affiliates are valid.
Detailed Tracking and Reporting
Site owners get access to an informative dashboard that makes it easy to keep track of how their affiliate program and their individual affiliates are performing.
It's also possible to quickly view a detailed log of all payouts that have been made to affiliates, from inside the WordPress dashboard.
Integration Options
AffiliateWP has some pretty impressive integrations with many of the major eCommerce and membership plugins for WordPress.
It integrates seamlessly with the Contact Form 7, Gravity Forms, Ninja Forms and WPForms WordPress form builder plugins, as well as the Paid Memberships Pro, MemberPress and OptimizeMember WordPress membership site plugins, plus a number of eLearning and payment processing plugins.
In addition, the plugin is, reassuringly, being used by a number of high-profile WordPress products you may already be familiar with, such as SearchWP and Easy Digital Downloads, which goes to show it's a robust system.
What's more, to help you to get started as quickly as possible, and then master the more advanced features of this plugin, AffiliateWP comes with a wealth of well-written online documentation and tutorials.
How to Set up Your Own Affiliate Program
Now you know what AffiliateWP can do, let's take a look at the user experience to get an idea of how easy, or not, this plugin is to use.
After activating the plugin, the best place to start is the settings page. This will give you a good idea of how the plugin can be customized to meet your needs, and, most importantly, also give you a general idea of how it works.
Define Your Affiliate Program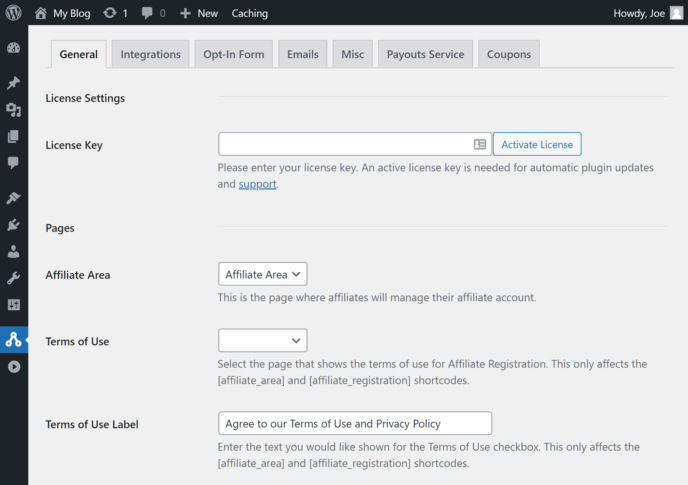 Under the General tab of the Settings page, you can carry out essential tasks such as deciding between paying your affiliates a flat referral rate or a percentage.
You can also set how long the tracking cookie is valued for, and which currency your site uses.

Once you're happy with the general settings for your affiliate program, you can move on to the next task.
Enable Integrations
Through the integrations tab, you can connect AffiliateWP to the supported plugins in just a few clicks. Thanks to this, it can track sales made on membership sites and eCommerce stores, as well as leads generated through forms.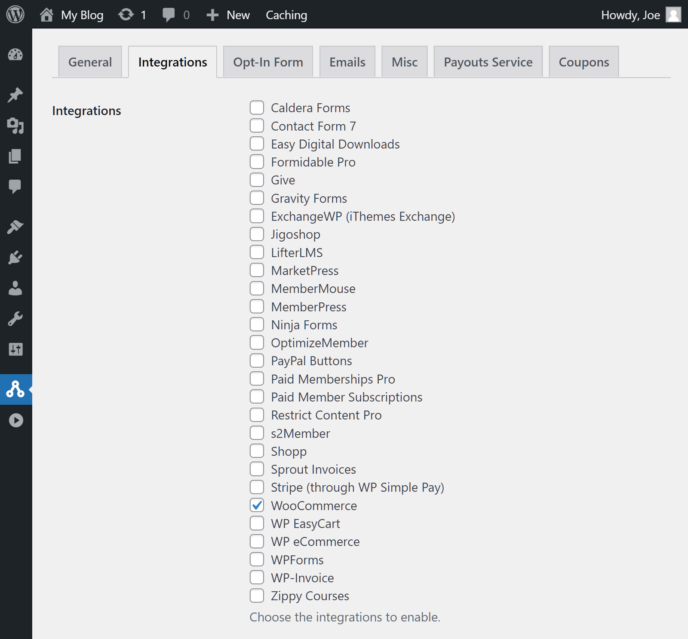 However, if a plugin you're using isn't listed, it shouldn't be a problem. AffiliateWP has a generic referral traffic script for just this purpose.
Publish a Registration Form
If you want to give your visitors the ability to sign up to become affiliates themselves, you can use the included blocks to insert the registration forms into any of the posts and pages of your website.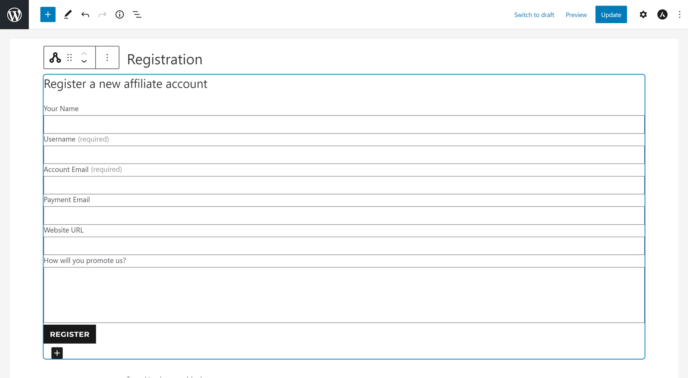 Once published, the forms will be displayed to anyone who isn't a logged-in affiliate. The forms take on the styling of your WordPress theme, meaning they'll integrate seamlessly with the rest of your website.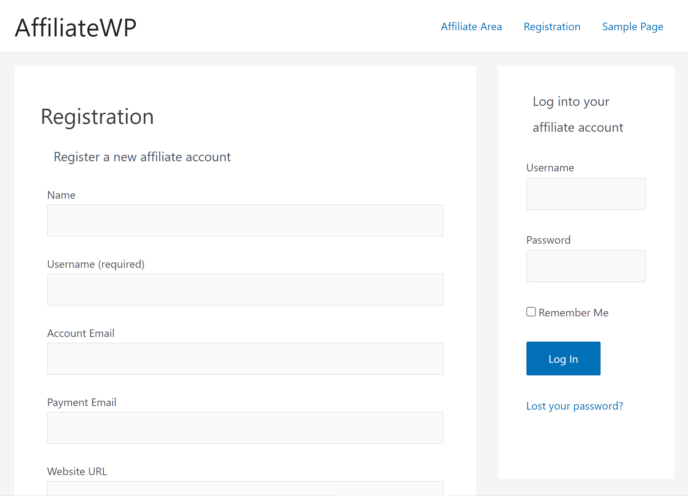 To save you even more time, the latest version of AffiliateWP now adds a page to your website titled Affiliate Area. Once logged in, your affiliates can see the affiliate dashboard on this page.
Publish Affiliate-Only Content
There are also a number of other blocks that come with the plugin, such as one for generating affiliate referral URLs, publishing creatives and displaying the affiliate login form. There's also a block for hiding content on a page, so only a logged-in affiliate can see it.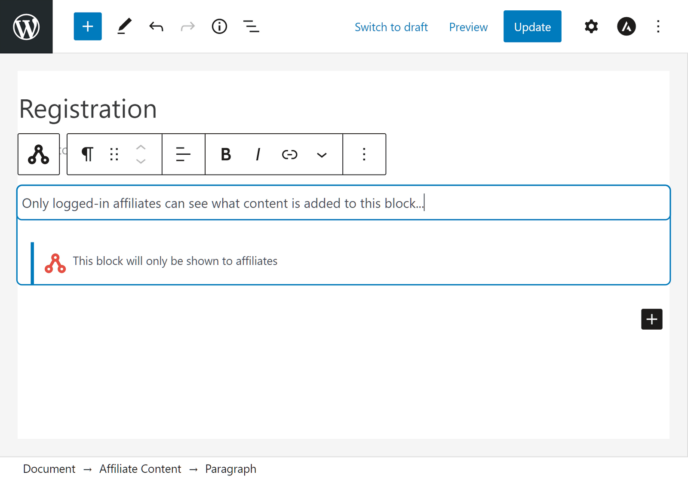 Once you've set up the registration and login pages, you'll (if all goes well) start to get visitors applying to promote your products and services to earn a referral fee.
Affiliate Management
From the affiliates page in the back end, you can view all of the affiliate accounts on your site — including pending and rejected applications. You can also view earning totals and other information related to the performance of each affiliate.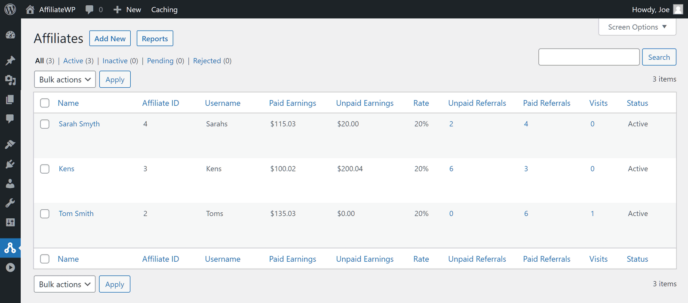 Through the settings, you can also enable email notifications for when a new application is received, allowing you to approve or reject them at your earliest convenience.
Publish Creatives
To help your affiliates to promote your products and services, you can add banner images, graphics, text links and other items to your website through the creatives section of the AffiliateWP area of your WordPress dashboard.
For each creative, you can easily upload or add an image or link text, and then specify a URL to a page on your website.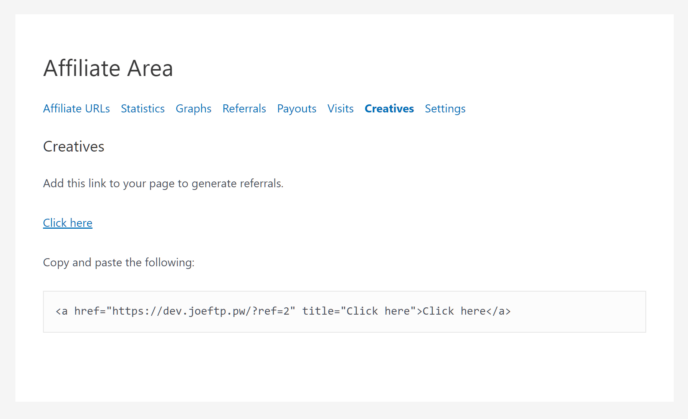 Your affiliates can access these creatives from their dashboard area once they're logged in.
What's more, the way the plugin displays the HTML that needs to be copied and pasted to add the links to a post or page makes it as easy as possible for your affiliates to use the creatives.
They can also quickly generate referral links once they've logged into their area.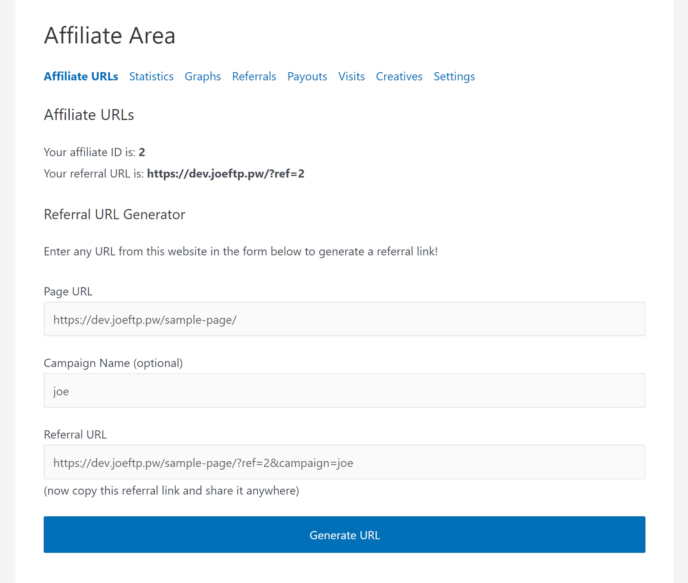 Once you've configured the plugin by setting the currency type and referral rates, published your registration forms and added a few creatives, you should then be all set up and ready to go.
Monitor the Reports
The reporting tools in the AffiliateWP area of your WordPress dashboard allow you to quickly get an overview of how your affiliates are performing.
There are helpful charts and graphs for visualizing the data. You can also view performance reports for your affiliate program via the Payouts tab. These reports make it easy to see the total earnings paid out over time, or for a specific custom date period.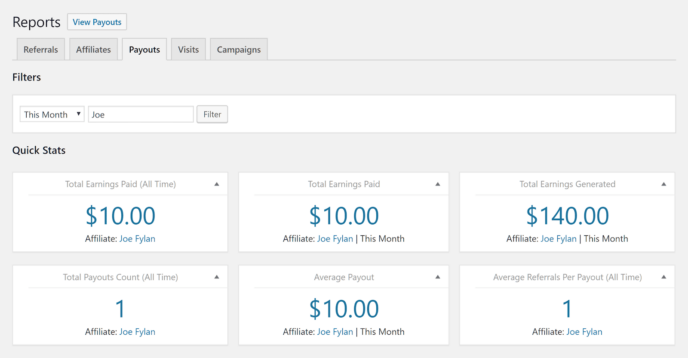 You can now also generate performance reports for the individual affiliates on your website, and so quickly see who your most valuable affiliates are. The charts on the report screens make it easier to visualize the data.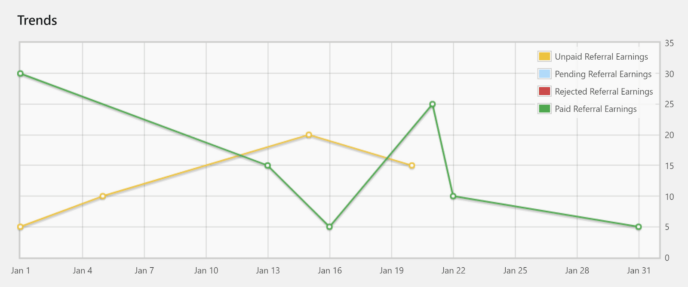 Exporting visits to your site generated by each affiliate in CSV format, for further analysis in software such as Excel, is now part of the functionality of AffiliateWP.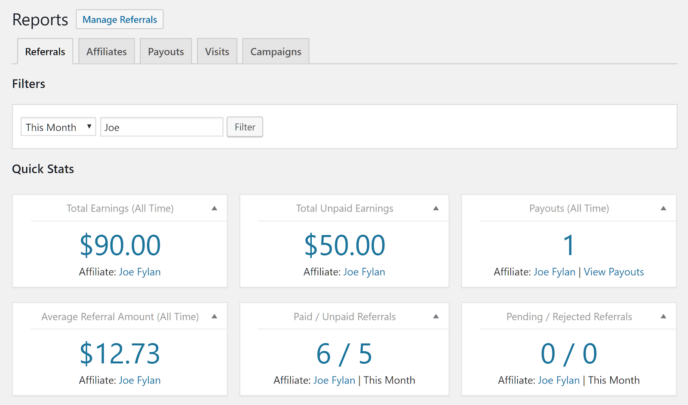 All being well, all that's left for you to do at this stage is to keep creating or listing great products and services that your affiliates will be happy to promote, and then make the commission payments for the successful referrals.
Paying Affiliates
When it comes to paying your affiliates, you can use the Generate Payout file tool on the referrals page in the back end. This will create a CSV file containing the payment details for all of the unpaid referrals in a date range of your choosing.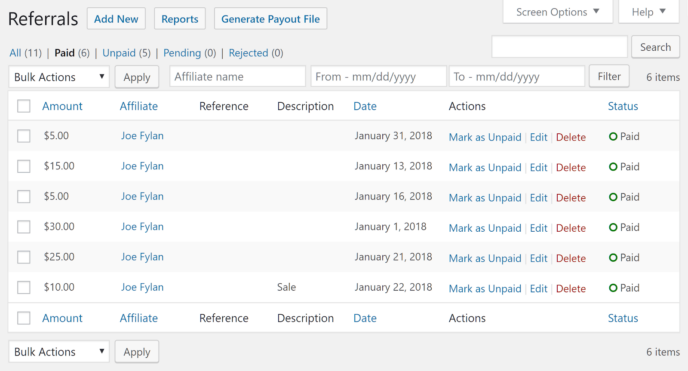 This file can then be imported into a payment processor, such as PayPal, saving you the effort of making each payment individually.
However, enabling the Payouts Service for AffiliateWP is a more convenient way to pay your affiliates. It lets you pay your affiliates who've opted into this service via your credit/debit card or ACH transfer.
Payouts Service does charge a fee, so be sure to check it out before enabling this feature.
AffiliateWP Add-Ons and Extensions
The official AffiliateWP extensions are available to plugin license holders.
While the core AffiliateWP plugin includes everything you need to run your own affiliate program, there's also a good selection of official and third-party add-ons available to extend the functionality even further.
I'll cover the pricing options next, but those who purchase the two cheapest AffiliateWP packages get access to the official free add-ons, while those who purchase the most expensive Professional package get access to the official Pro add-ons (plus the free add-ons).
These official AffiliateWP add-ons aren't available for purchase individually, but there are third-party AffiliateWP add-ons that you can buy from their creators.
Some examples of the AffiliateWP add-ons you may find useful include:
As well as the add-ons mentioned above, there are a number of code snippets on GitHub that can help you to modify how the plugin works.
Furthermore, as the AffiliateWP plugin is well regarded for its clean code, developers should be able to make their own adjustments if necessary.
AffiliateWP Pricing
AffiliateWP is a premium plugin available on three pricing plans:
Personal: $149.50 — one site license.
Plus: $199.50 — three site licenses.
Professional: $299.50 — unlimited site licenses and 15 Pro add-ons (plus all future Pro add-ons).
The prices listed above are special introductory prices and are actually half the full price.
All pricing options include one year of access to plugin updates and support. After that, you'll have to renew your subscription and pay the full price, not the special introductory pricing listed above.
AffiliateWP has a 14-day 100% money-back guarantee policy, so you can try this plugin without financial risk.
Final Thoughts
AffiliateWP is a very good affiliate program plugin for WordPress that's surprisingly easy to use. Setting up and managing your own affiliate program sounds very complicated, yet this plugin makes it possible to have a relatively easy-to-manage program up and running on your website in no time at all.
The developers have included all of the features most people will need to manage their own affiliate program as standard. For everyone else, the selection of add-ons and code snippets available should provide any extra functionality that's required.
The most difficult part of the process will likely be planning and promoting your affiliate program. This means it's definitely worth spending some time figuring out what sort of referral commissions you want to offer, and how you'll decide who can and can't become an affiliate for your products.
For most users, actually setting up and using AffiliateWP will probably be the easiest part of the process. And, thanks to the plugin's relatively low cost, it's something just about anyone thinking about creating an affiliate program can consider adding to their site and experimenting with at their own pace.
If you want the ability to leverage the affiliate model to promote your products on a no-win-no-fee commission-only basis, AffiliateWP is a feature-rich, easy-to-use solution that you should definitely consider!
If you haven't already, check it out on the official AffiliateWP website.
Using AffiliateWP yet? Thoughts?
All comments are held for moderation. We'll only publish comments that are on topic and adhere to our Commenting Policy.