Restrict Content Pro Review: An Easy to Use WordPress Membership Plugin from Pippin Williamson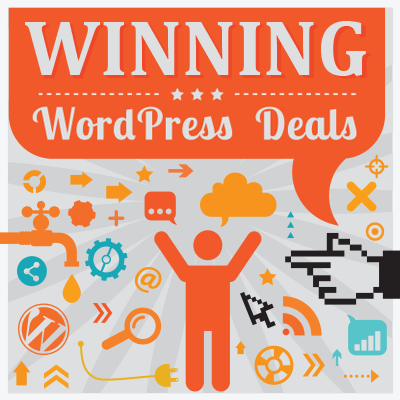 Another of Pippin's Plugins, Restrict Content Pro is a WordPress membership plugin that allows you to charge people for viewing premium content.
It supports multiple membership levels and even allows you to offer discounted trial-periods in order to give people the opportunity to try things out before committing to a full-priced membership.
Developed by master WordPress-plugin-developer Pippin Williamson, Restrict Content Pro offers similar functionality to other popular WordPress member plugins such as aMember and s2Member.
Where I feel Restrict Content Pro excels is its simplicity. It does lack some features that its competitors boast; but as a result of this, it's less complicated and therefore easier to use.
In this Restrict Content Pro review, I will be looking at what the plugin can do and how it can be used to generate income on your website.
Subscription Levels
Adding new types of subscriptions is straight forward. The Add New Level page allows you to define the WordPress user level, subscription duration, and the price. The plugin is quite flexible with subscription levels. For example, you could offer visitors a basic free membership, a trial premium membership for 7 days for $10, and a yearly membership for $97.
The signup fee option allows you to increase or decrease the first payment of a subscription. You can also define the user group someone will be assigned to once they sign up to a particular subscription.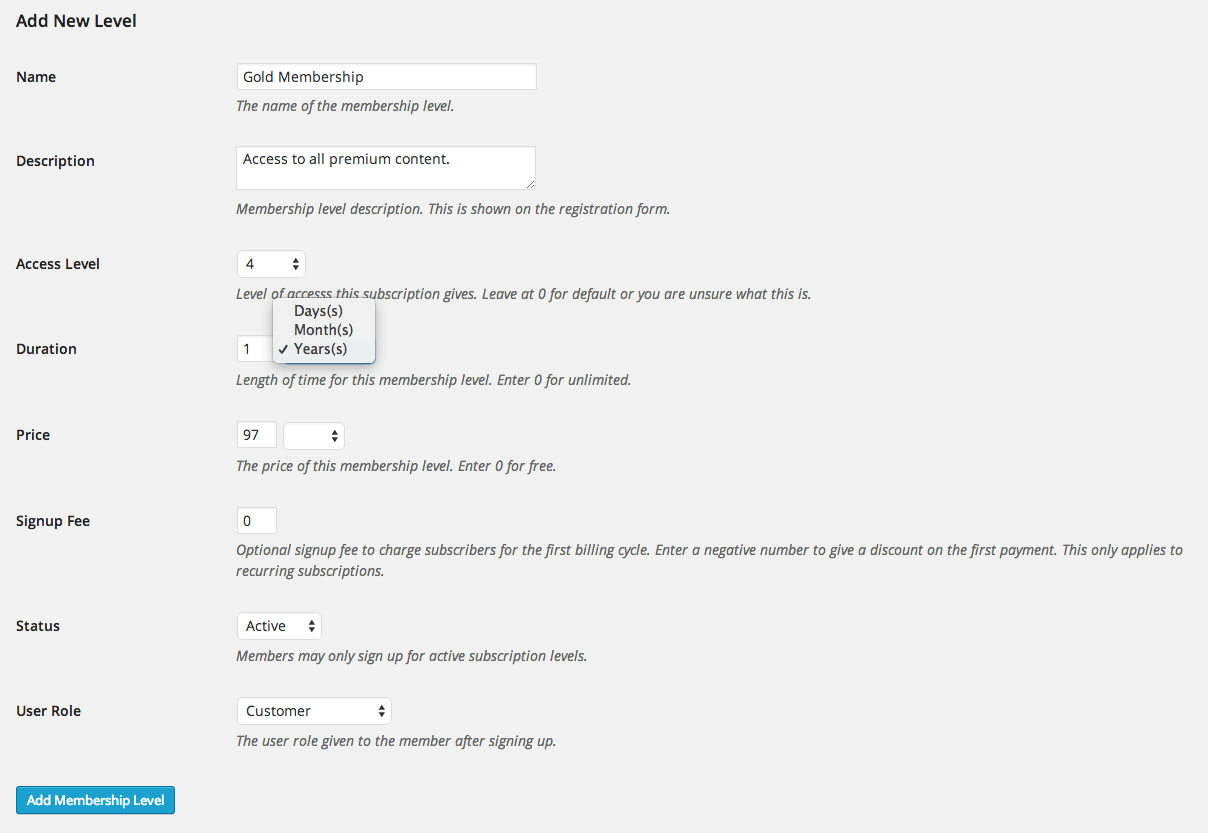 Membership registration forms can be displayed by using the shortcode [register_form]. All you have to do is add the shortcode to a post or page for the form to be displayed.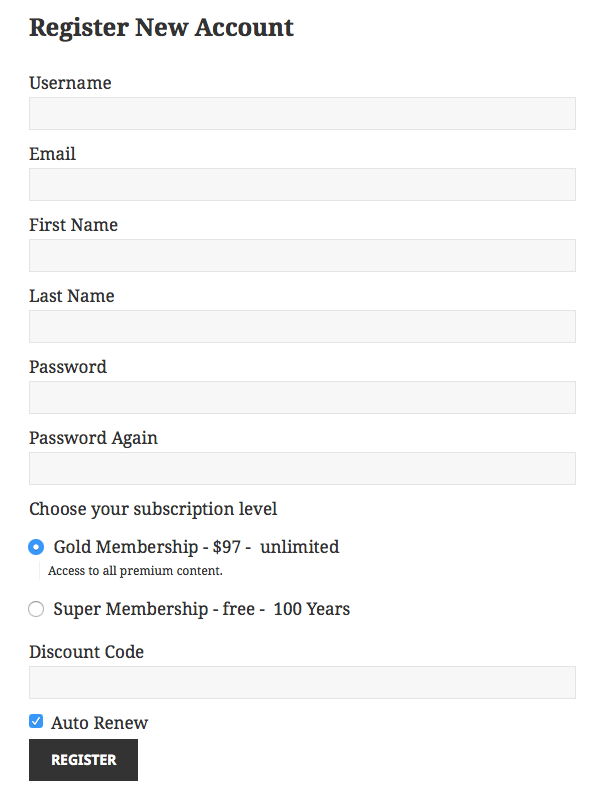 Alternatively, you can assign an existing user to a membership directly via the admin area. Simply choose the user you want to add to the subscription, the subscription level, and the expiration date.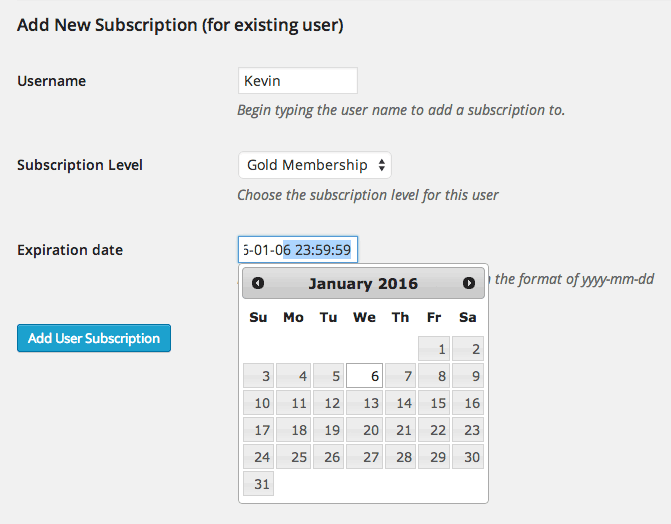 Subscriptions can be changed for a member using the Edit Member page. Unfortunately, there does not seem to be a way to assign a member to multiple subscription levels.
For example, on my test website I created a gold membership and a super membership. When editing a member, I could only assign them to one membership, not both. This could prove limiting in certain situations.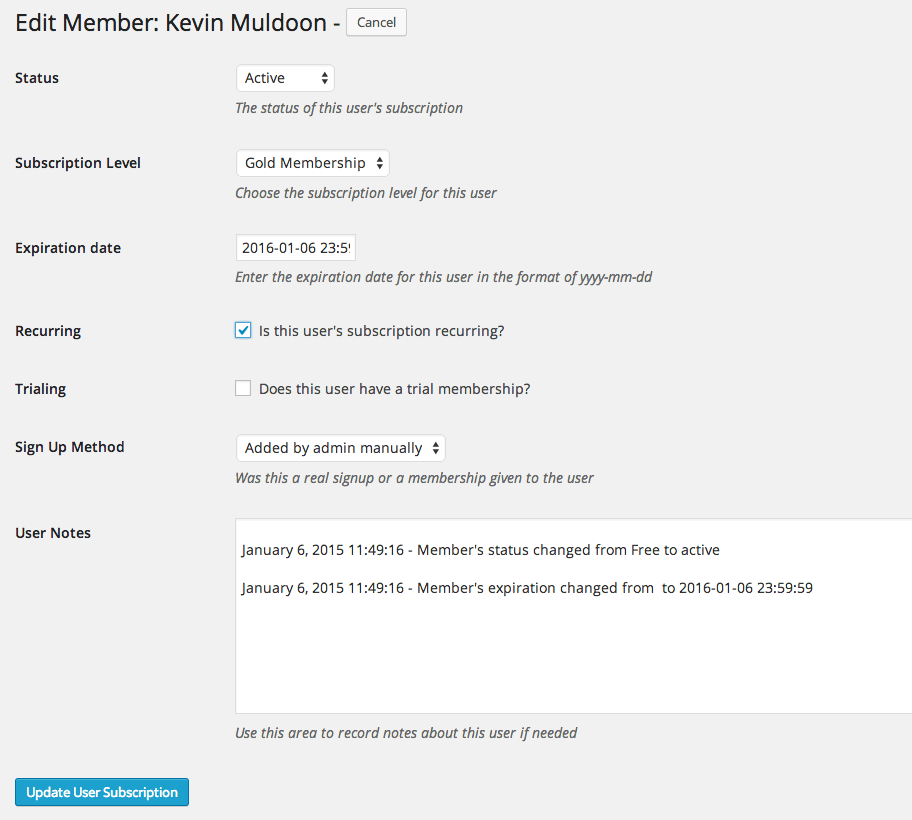 Discount Codes
Discounts are an important way of promoting digital products. Restrict Content Pro lets you apply both fixed and percentage discounts to any type of subscription.
It also allows you to set an expiration date for each discount and whether or not the discount code should be set to have a limited number of uses.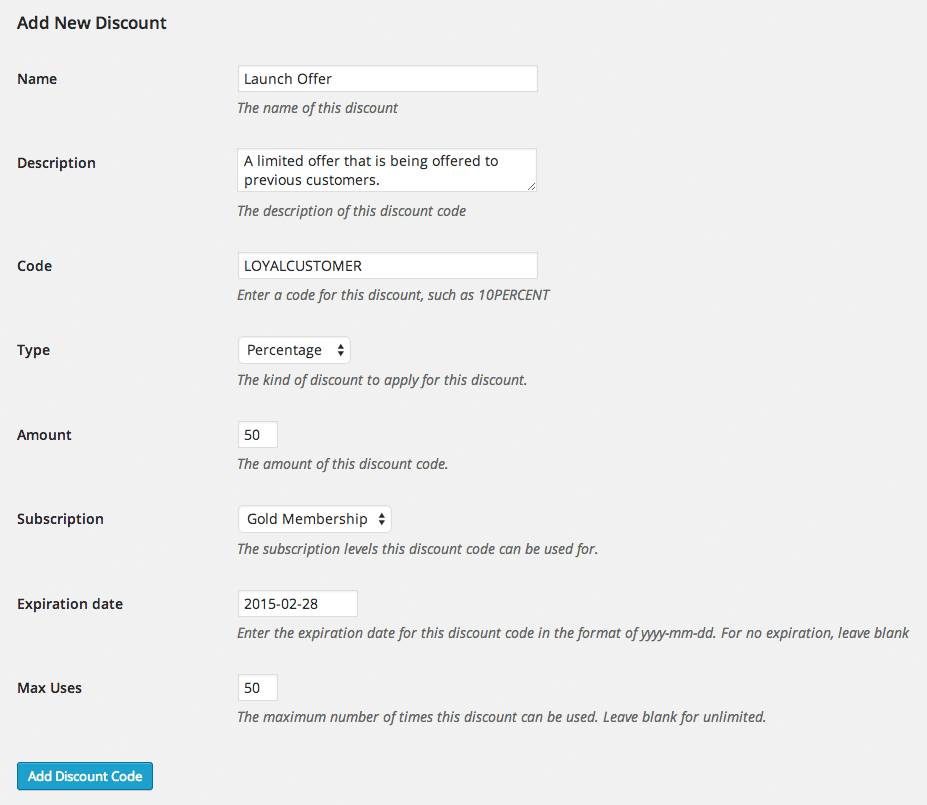 There does not appear to be a way to restrict discount codes to specific user groups. For example, it would be good to restrict certain discounts to those that had signed up for a trial or for those that had a membership previously. Hopefully this is something we'll see in a future version.
Restricting Content
Content can be restricted on any page on your website by placing it within the [restrict] and [/restrict] shortcodes.
If you prefer, you also have the option of restricting the full content of a post or page by clicking on the Paid Only checkbox in the Restrict this content box that is displayed underneath the post editor. Furthermore, there's also an option to display an excerpt to visitors and an option to hide this excerpt from your RSS feed.
Content can also be restricted to users of a particular access level, users who have purchased a particular subscription, and users who belong to a specific WordPress user group.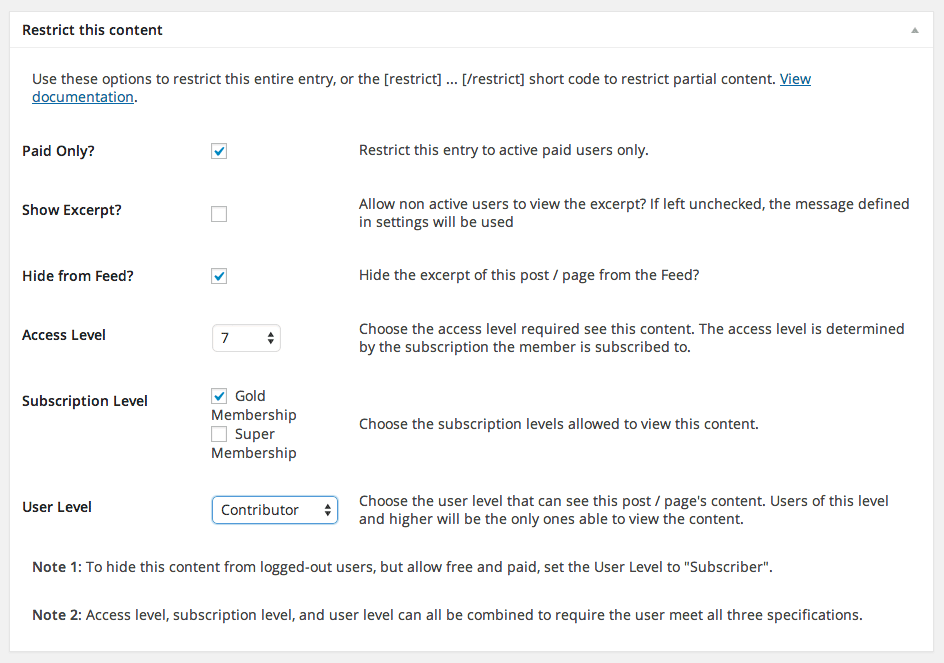 The plugin has a fantastic help page that explains how to use the plugin. In this area you will find video tutorials and dozens of additional shortcodes you can use to restrict content in various ways.

There are shortcodes for displaying custom messages to visitors and for restricting parts of content for specific subscription levels. You will also find shortcodes for displaying content to those who do not have a membership, those who are logged in, or those with specific user levels. Forms, premium post lists, and subscription details, can all be displayed using shortcodes too.
The help area also has a useful template tag reference to help you integrate plugin functions into your theme file.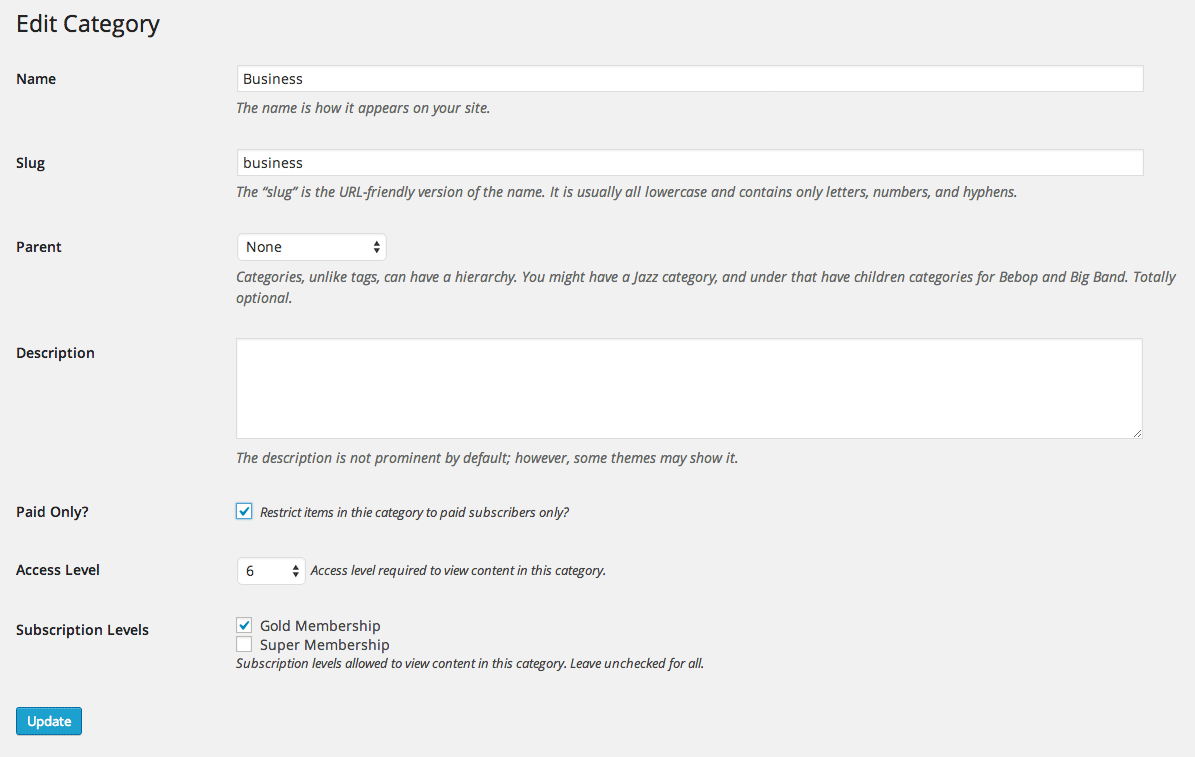 By far my favorite feature is the ability to restrict content for categories. You can do this through the Edit Category page under your post menu. For example, you could publish all of your premium content in certain categories and then restrict access to specific access levels or subscription levels.
Payments and Reports
The payments page allows you to see a list of all the payments that have been made to you. Payment records can be added manually — which is useful if a customer decides to pay you using a different method, such as with a check or via a bank transfer for example.
Reports can be viewed for earnings and sign ups. Data can be filtered by date and by subscription level.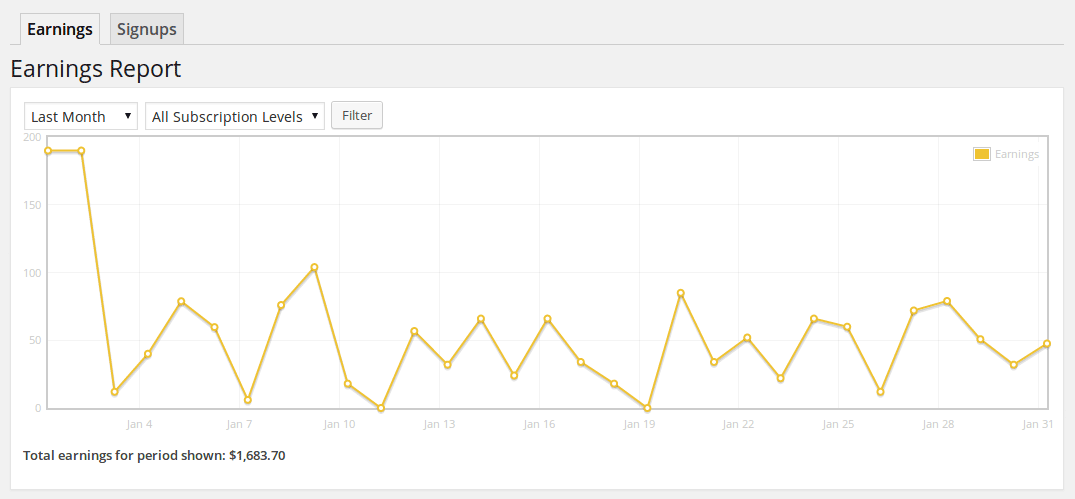 Plugin Settings
Restrict Content Pro was designed to accept payments via PayPal. Your license information and PayPal payment information can be configured via the general settings page.
Through the settings area, you can customize the message that is displayed to free and premium members. You can also define the registration page that contains the [register_form] shortcode and the page that members are redirected to after registration. Other settings, such as whether subscriptions are automatically renewed, can also be defined.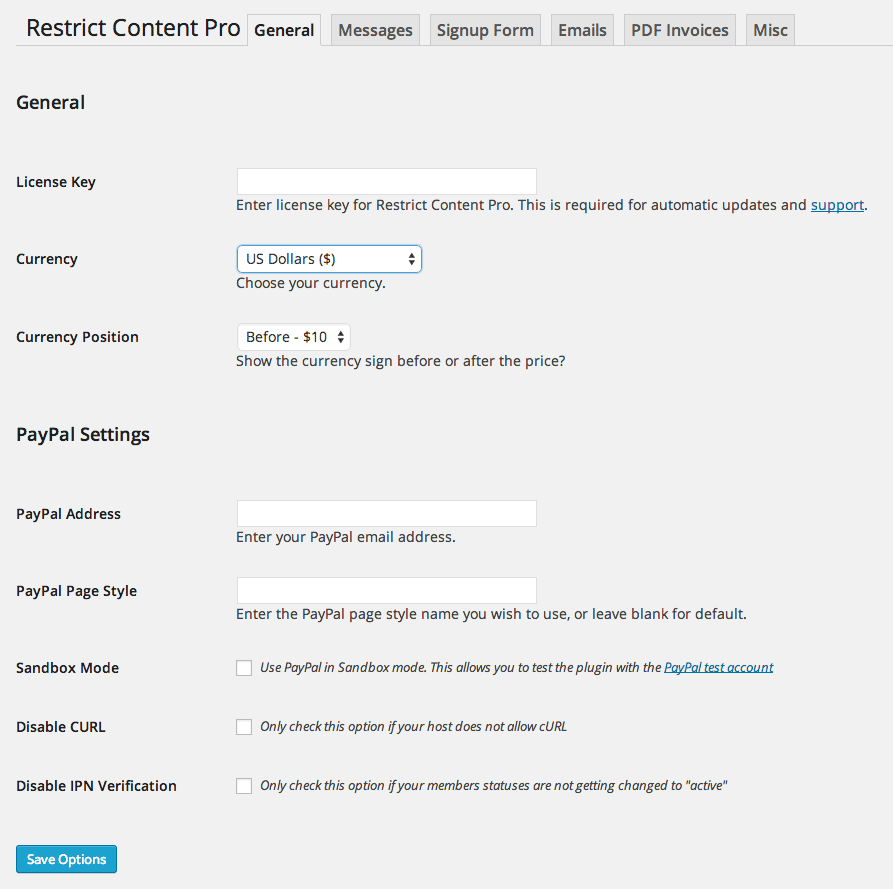 Confirmation emails and notification emails can be configured via the email settings page. A range of template tags are available to allow you to customize the emails that are sent to customers. You can customize your PDF invoices too.
The miscellaneous settings page lets you define the login page and the page non-customers are directed to when they try and access premium content. There is also an option to prevent multiple users sharing accounts; which will help you deter customers sharing login information with others.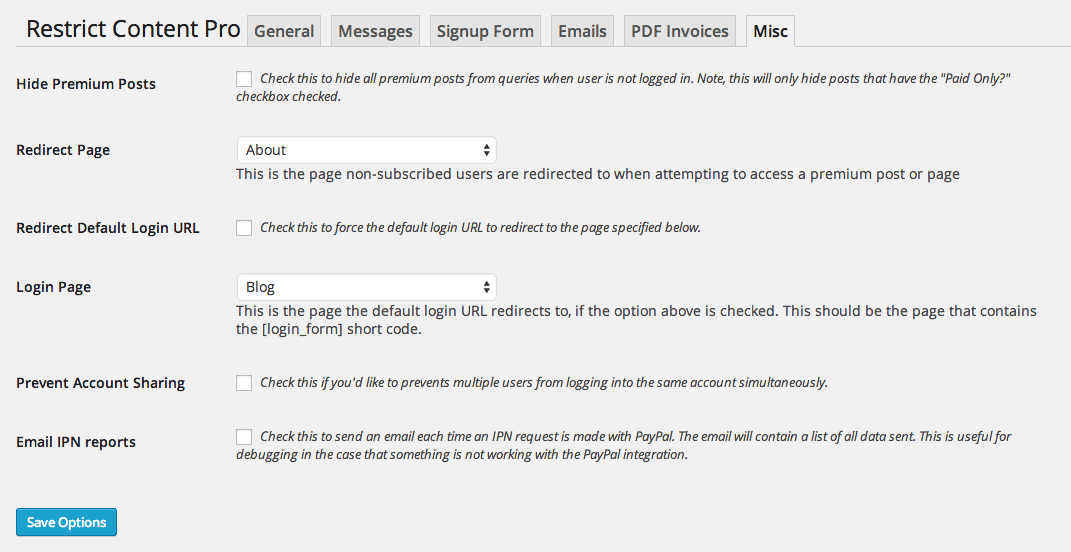 All of your data can be exported in CSV format via the export page. You can choose to only download member data for members of a certain subscription level or those of a particular status (active, pending, expired, cancelled, and free).
Payment data can also be exported for specific months or years.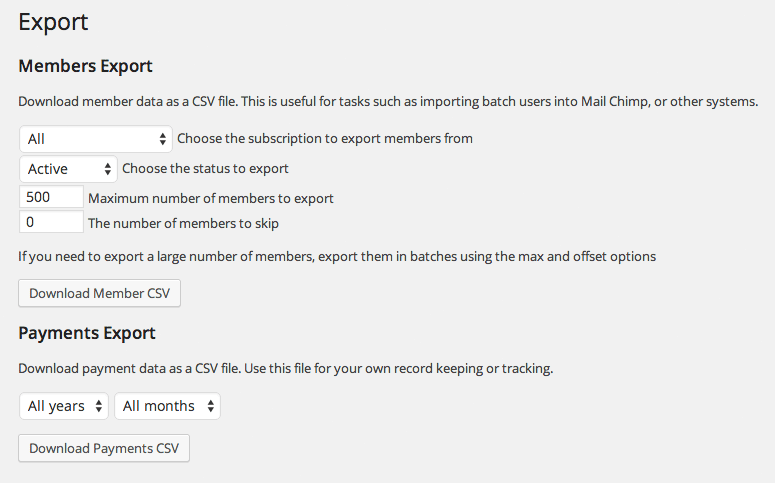 Pricing
A single site license for Restrict Content Pro retails at $42. A license for 2 to 5 websites retails at $86 and an unlimited license retails at $132. An unlimited license is available with extensions for $155.
In my opinion, the unlimited license with extensions offers better value for money than the unlimited license, as for only $23 more you gain access to all Restrict Content Pro extensions, such as Braintree Payment Gateway (worth $67) and Math Verification (worth $14).
When you consider that a license for aMember costs $179.95 and only offers 6 months of updates, the one off cost of Restrict Content Pro is pretty competitive!
Final Thoughts
All in all, I was pleased with what Restrict Content Pro can do. It's incredibly simple to use and flexible enough to protect content on both individual and multiple pages (using categories).
It lacks the advanced features that some other member plugins have, such as multiple payment gateways, forum integration, and support for an affiliate program. However, not everyone needs these additional features. Plus the simplicity of the plugin and the lower price point makes Restrict Content Pro an attractive option for many WordPress users.
I hope that a future version of the plugin will add the option to assign members to multiple subscriptions. It's something that would enhance the functionality of the plugin considerably.
Additionally, at the moment there's no native support for digital files, such as eBooks, PDFs, and Zip files. You can, of course, restrict the URL of downloadable files by placing them inside the [restrict] shortcode; however, there's no way to restrict access to digital files to those who have purchased a specific subscription.
With most WordPress plugins, I recommend trying out the free version to give you an idea of how the premium version works. Unfortunately, the free version of Restrict Content is severely limited. All it really allows you to do is hide content from specified user groups using a shortcode.
You can, however, get a relatively good idea of what Restrict Content Pro can do from this video introduction from Pippin Williamson (and by reading the above review of course).
If you haven't already, check it out over on the official 'Restrict Content Pro' website.
Using Restrict Content Pro? Thoughts?