WinningWP content is free to all. If you make a purchase through referral links on our site, we earn a commission (
learn more
).
MemberPress Review: How Good Is It? Worth The Money?
One of the best ways to build a sustainable business online is to create a paid membership program — and, if you're a WordPress user, you can do this easily by using a membership plugin. In this MemberPress review, I'll take a comprehensive look at one of the most popular plugins for this purpose.
Promoted as the 'all-in-one' membership plugin for WordPress, MemberPress is known for its easy setup and numerous integrations. In this guide, I'll be covering the following:
What to look for in a membership plugin
How to use MemberPress
The overall quality of MemberPress
What types of businesses will benefit most from the MemberPress plugin
By the end, you'll know whether or not MemberPress is a good option for you and your site.
Let's jump in…
What to look for in a membership plugin
There are several things to consider when looking for a membership plugin:
Content dripping: This is the practice of releasing content to members at pre-set intervals over a period of time — for example, a course that sends modules out by email once a week. This is a common feature in membership plugins, but some are limited to the creation of locked website content.
Content expiration: This option allows you to limit the length of time members have access to certain content.
Community creation: One of the best ways to get people invested in your membership site is to turn it into a community. Some membership plugins offer built-in community functions, such as forums; others offer integrations with specialized forum plugins.
Subscription types: Some plugins may only allow you to create one type of paid membership, while others offer tiered payment plans.
Subscription management: Your members should be able to change their subscription level, pause their subscription or cancel at any time.
Coupons: You want to be able to offer coupons and other types of discounts to new members during promotional periods.
Ecommerce integration: If you eventually want to sell locked content as products, look for a plugin capable of integrating with WooCommerce or another ecommerce plugin.
Email marketing integration: The membership plugin you choose should integrate with your current email marketing service provider. This will allow you to send automated members-only campaigns via email.
Customization: Look for a plugin that allows you to customize the checkout process. You may also want to be able to customize the appearance of pages involved in the checkout process.
Payment processing options: Some plugins are only compatible with PayPal; others accept payment via credit card using Authorize.net or Stripe. To maximize your money-making capabilities, look for a plugin that allows customers to choose their preferred payment method.
Ease of use: The best membership plugin is the one that feels intuitive to use, so you should be able to set things up without extensive tech knowledge.
Documentation and support: When you don't know what to do, you should have an easy time finding answers, so the membership plugin you choose should have comprehensive tutorials available. You also want to consider what level of support is available — and look at reviews to determine how helpful that support actually is.
MemberPress Review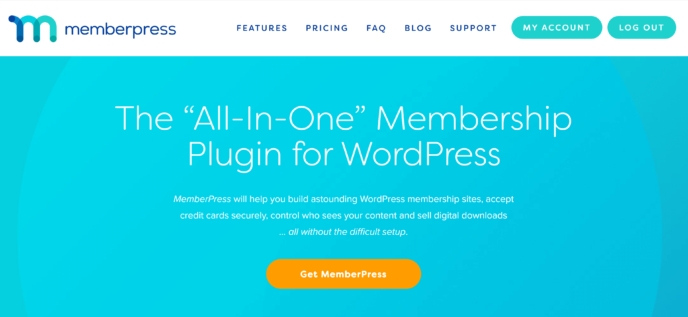 MemberPress Features
The following features are available with the MemberPress Basic plan:
Easy setup
Unlimited membership levels
Ability to create paid content subscriptions
Fully customizable access rules for all types of content
Fully customizable pricing pages
Customizable coupons
Content dripping
Subscription management options for users
Easy connection to PayPal Standard, PayPal Express Checkout and Stripe
Detailed reporting
Comprehensive documentation, including an excellent user manual and an email course
How to Use MemberPress
Get MemberPress working on Your WordPress Site
The first thing you'll need to do is sign up for the plan you want. The signup process is simple, requiring only your email address and your payment. Once you've paid, you'll be prompted to enter some information about your business.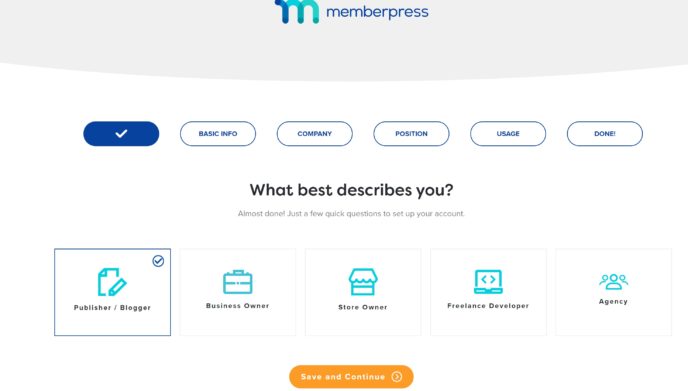 Once you've entered the appropriate information, you'll be redirected to the overview tab of the MemberPress dashboard. Click on the 'Downloads' link.

This will take you to a page where you can download the MemberPress plugin, and where you can also find the activation key, information about your renewal date and a full list of MemberPress add-ons.
Click on the orange 'Download' button to grab your plugin.

Once you've downloaded MemberPress, open your WordPress admin panel in a new tab, and select 'Plugins > Add new' from the menu. This will take you to a page where you can upload a plugin or search for plugins in the WordPress database. Click 'Upload Plugin', select the MemberPress ZIP file and press 'Install'.

WordPress will then unpack the ZIP file. This should only take a couple of minutes, and you'll automatically be asked to activate the plugin when it finishes installing.
Next, go to the 'Settings' area of the MemberPress plugin, and copy and paste the license key from your MemberPress account into the box provided. This will ensure your MemberPress account automatically receives updates.
Connect a Payment Gateway
The first thing you want to do once the MemberPress plugin is installed and activated is connect a payment gateway. To do this, return to the 'Settings' area of the MemberPress plugin and navigate to the 'Payments' tab. Once there, click on the grey '+' button.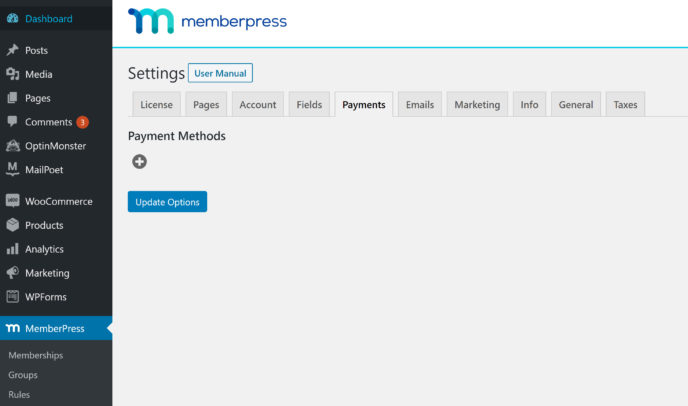 A box will appear to ask for some basic information. Name the payment method and select the appropriate gateway from the dropdown menu.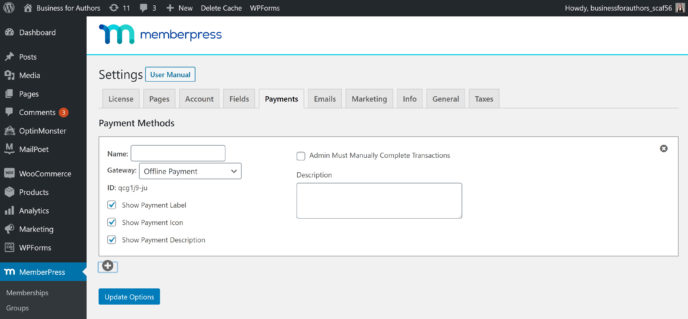 Next, MemberPress will ask you to fill in some account information for the payment gateway you've chosen — this will vary based on the specific platform you've chosen.
When all of the information is completed, you can click 'Update Options' at the bottom of the page to save your new payment method.
Create Your First Membership Level
Now you've connected a payment gateway, it's time to explore how to create membership levels. To do this, you'll need to click on the 'Memberships' link in your sidebar, which will take you to an area where you can manage your membership tiers. Press the 'Add New' button near the top of the page and you'll be taken to the membership creation page.
At the top of the page, you'll find areas for the level title and description. These areas use the WordPress blogging software, allowing you to format your membership description as you would any other page.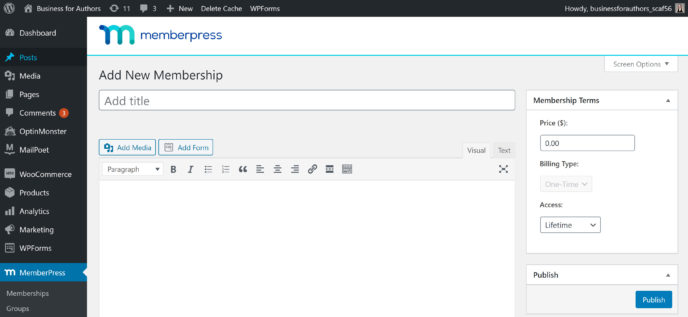 The right sidebar on this page allows you to set the terms for this membership level. Enter the desired price first to unlock the ability to choose between one-time payments and recurring payments. If you choose recurring payments, you'll be given further options for customization: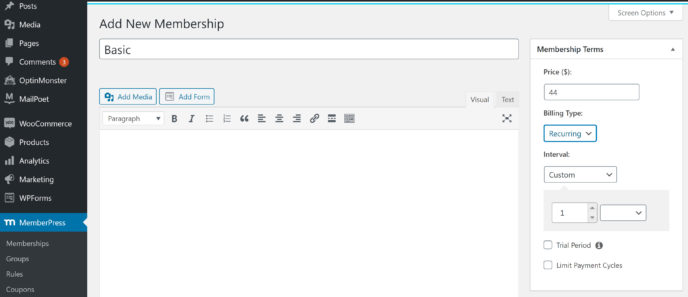 You can require recurring payments on a variety of intervals:
Weekly
Monthly
Every three months
Every six months
Yearly
You can also choose to include a free or paid trial period. If you choose to include a trial period, you can specify the precise number of days and cost of the trial.
Next, scroll down the page to the Membership Options area.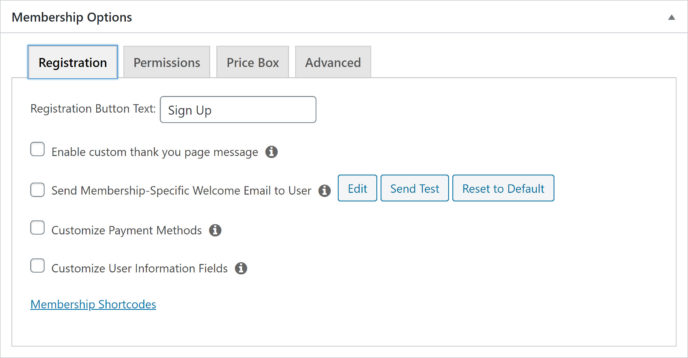 This area allows you to customize numerous aspects of the user experience at this level:
The 'Thank You' page customers see upon purchase
The welcome email
Payment methods
What information is requested from users
Who can purchase this level of membership
The appearance of the price box
Where customers with this level of membership are sent when they log in to your website
When you've finished customizing this part of the membership, you're ready to publish using the 'Publish 'button in the right-hand sidebar. You may also choose to add a featured image to the membership, although this isn't required.
Create Rules
The next step of building memberships is to create rules for how they can interact with your content. You can do this by going to the 'Rules' section of MemberPress and clicking the 'Add New' button near the top.

This will take you to a page where you can determine the specifics of your new rule, allowing you to choose what content is protected by this rule and what requirements users must meet to access the content.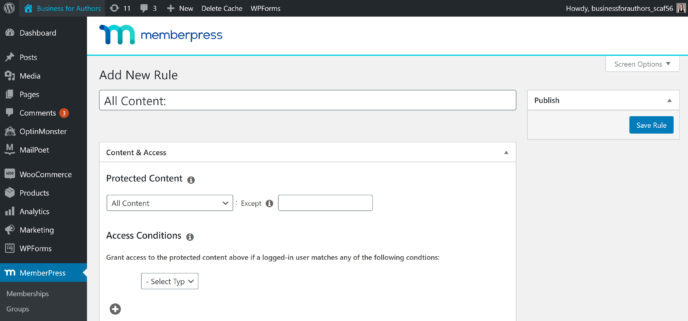 Further down the page, you'll find two checkboxes that allow you to enable content dripping or expiration. If you choose one of these options, MemberPress will prompt you to specify what triggers this event. You must also specify the length of time between the triggering action and the release of this content.

Once you're satisfied with these settings, you can scroll back up the page and click 'Save Rule' in the right-hand sidebar. This will immediately put the rule into action.
Add-ons and Integrations
You can further improve your membership offerings with MemberPress add-ons. There are two main types of add-ons included with the Basic plan:
Email marketing integrations: MemberPress offers integrations with numerous email marketing tools, including AWeber, Constant Contact and MailPoet (read our review). These integrations allow you to create automated members-only email campaigns.
MemberPress expansions: These are add-ons created to give MemberPress additional functions, such as the creation of PDF invoices.
MemberPress also offers some integrations with other tools, such as bbPress.
All of these add-ons can be installed on your WordPress site with a single click. If the add-on connects to an outside service, you'll need to manually connect MemberPress to your account with the service.
Analytics
To review the success of your membership program, go to the 'Reports' area of MemberPress. This will take you to a page where you can view the details of how members are interacting with your site: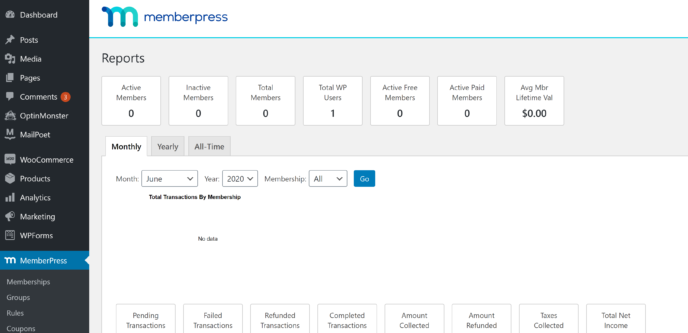 This page also features line graphs to track different types of transactions.

You can access even more detailed MemberPress analytics through the Pro subscription to the MonsterInsights plugin. For the purposes of this MemberPress review, I'll assume you don't wish to purchase any additional plugins.
MemberPress Pricing
The Basic MemberPress plan is available for $249 a year. At this level, MemberPress costs roughly the same as other top membership plugins, such as WP Courseware.
MemberPress also offers two other plans:
Plus: Available for $399 a year, this plan offers all of the features of the Basic plan on up to two sites. It also allows you to accept payments through Authorize.net, sell corporate memberships and access more integrations.
Pro: Available for $549 a year, this plan offers all of the features of the Plus plan on up to five sites, as well as exclusive add-ons. Last but certainly not least, choosing the Pro plan also gives you access to Affiliate Royale, a plugin that allows you to create an affiliate program.
MemberPress Review: My Experience
MemberPress is, for the most part, a real pleasure to use. The interface operates smoothly as part of the WordPress admin panel, and even the most advanced features are easy to work with.
I did, however, find myself disappointed with some of the things not included in this plugin. Several of the add-ons provided capabilities that felt like they should have been built into the plugin, such as the ability to add a Captcha to the signup process.
Another thing I found lacking was the form-building capacity. There's no ability to choose custom fields for the user login, registration or account forms. It's also impossible to customize the appearance of these forms.
MemberPress Review: The Pros
Easy setup.
Highly customizable membership levels.
Ability to create as many membership levels as you want.
Customizable content dripping.
Customizable content expiration.
Integration with numerous email marketing services and other tools.
Highly customizable coupons.
Ability to segment membership levels with Groups.
Comprehensive reporting.
MemberPress Review: The Cons
Lack of customization for registration and login forms.
No lifetime purchase option, making the plugin quite expensive over time.
Features that should be built-in are sometimes billed as add-ons.
Lack of built-in forum technology.
Is MemberPress for You?
MemberPress is a simple, effective plugin for creating a membership site. It's great if you want to:
build a simple membership site with walled content
run courses
offer subscriptions to your content.
However, it isn't for everyone. If you're looking to build a paid community, you may want to consider a membership plugin with built-in forum technology, such as LearnDash (read our review). You may also want to consider another plugin if MemberPress doesn't offer integration with your email marketing service, such as WP Courseware.
Used/using MemberPress? Thoughts?
All comments are held for moderation. We'll only publish comments that are on topic and adhere to our Commenting Policy.