LearnDash Review – The Best LMS Plugin for WordPress?
LearnDash is one of the most well-known and well-regarded online course builder plugins for WordPress. In fact, it's reportedly used by Fortune 500 companies, major universities and training organizations, and entrepreneurs who publish learning content online.
But, while it's clear LearnDash is a capable eLearning plugin, is it right for your project?
That's the question this review will help you to answer. After all, LearnDash isn't an inexpensive plugin (here's their various pricing plans), and there are other options out there.
Once you've finished reading this review, you'll know all about what it can and can't do, if it has the features you need, is within your budget and, perhaps most importantly, is a tool you'll be able to use.
Let's begin…
Who Is LearnDash For?
LearnDash is aimed at anyone who wants to publish courses online — regardless of whether they want to add a few educational resources to an existing WordPress website, or create their own eLearning platform or learning management system (LMS).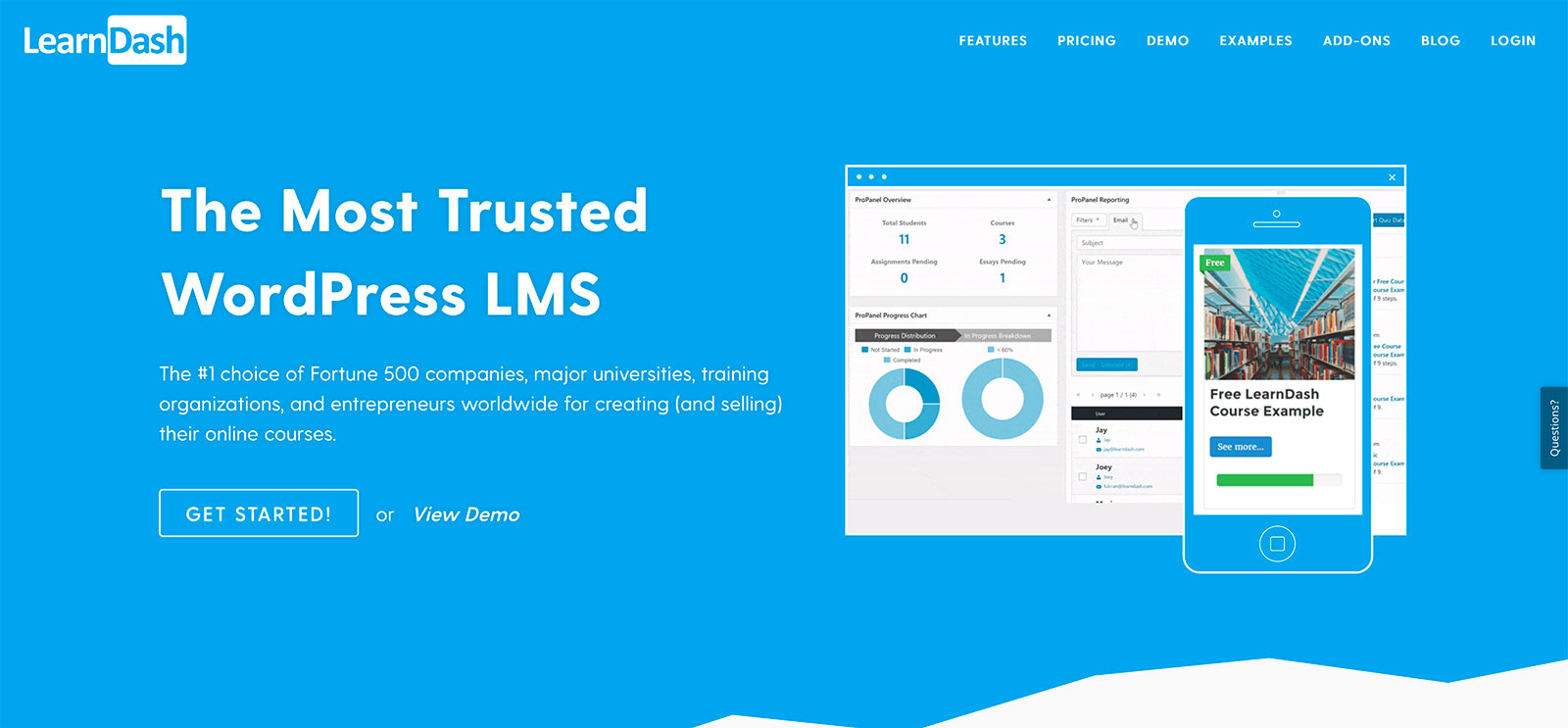 After installing the LearnDash plugin on your WordPress website, you'll be able to create courses, lessons, and quizzes to teach and assess your users. Certificates can be awarded to your users based on custom criteria, while the reporting tools give a good insight into how your students are progressing.
It lets you charge your users a fee for accessing your courses in a number of ways. There's also a library of official and third-party add-ons, as well as plenty of integration options that let you combine LearnDash with other plugins and services to create an even more powerful online learning platform.
In fact, the LearnDash feature list is so long and the options so varied that there's a chance using this plugin could become overwhelming. However, as we'll see later in this review, the plugin creators have done a good job of simplifying the user experience as much as possible, while still ensuring power users can create the courses they need. If you'd like to see how others are using this plugin, you can view some case studies on the LearnDash website.
We'll cover theme and plugin compatibility in more detail later on in this review, but, in case you're wondering, LearnDash should work with many of the best WordPress plugins and all well-coded themes. Because of this, it should fit right in to your existing website. If you haven't started your site yet, LearnDash comes with a high-quality theme that's been optimized for this plugin.
So, now you have a good overview of what this plugin can do and who it's for, let's take a look at some of its best features and its main drawbacks.
LearnDash Best Features
Before we explore the user experience of this plugin, to help you to decide if this is a tool you'll be able to use, here are some of the most interesting and useful features of LearnDash, followed by the downsides you should consider before making a decision.
Create Unlimited Online Courses
As the main purpose of LearnDash is creating online courses for WordPress websites, it's great to see you can publish as many courses as you like. There are no limits on the number of lessons and quizzes you can add to your courses either.
Thanks to a recent update, the LearnDash course builder has been upgraded, and the new drag-and-drop interface does a good job of simplifying the process of creating courses and structuring them.
Having a clear overview of the components of a course, with the ability to quickly move lessons and quizzes to new locations, makes the user experience much more intuitive than some of the other LMS plugins and solutions out there. You can see for yourself how the courses and other content look when published by accessing the LearnDash online demo.
A Wealth of Settings and Controls
Although you can quickly create the structure for a course using the default settings, LearnDash really comes into its own when you start exploring the options for each feature.
With controls that cover who can access your courses, whether a course has prerequisites, and the availability of the course content, to name just a few, it's surprising how much control you get with this plugin.
Charge for Access to Courses
If you want to monetize your online courses, LearnDash integrates with PayPal out of the box to enable payment collections through your website. In the past, it was only possible to charge a one-time fee for course access, but LearnDash now supports recurring payments, too.
While the core payment functionality of LearnDash could be enough for most users, for those with more demanding requirements, the plugin integrates with all of the best ecommerce solutions for WordPress, including WooCommerce and Easy Digital Downloads.
Other extensions allow you to use Stripe as your payment processor instead of PayPal and integrate LearnDash with membership plugins, such as MemberPress, to give you more control over user access to your courses. As well as helping with payment collection and user access, the free and paid add-ons do a really good job of enhancing the already impressive capabilities of LearnDash.
Powerful Reporting and Administration Tools
Creating learning content is just one part of running a successful online course. You also have to be able to manage your users and understand how they're interacting with your site.
LearnDash has some useful features in this area that both help to empower your users and simplify your role as course administrator.
For starters, logged in users can view their profiles on the front end of your website. They can view how many courses are available to them, how many they've taken and other details about their progress, all through one easy-to-access portal.
The reporting tools also allow administrators to quickly view the activities of individual users, including how long they've spent on a course, how they've performed on quizzes, and their overall progress through the content that's available to them.
It's worth pointing out that most of the reporting features are provided via the ProPanel module that's available on the top two license options, but not the entry-level plan.
LearnDash also has the ability to send out email notifications based on certain triggers, helping to automate some of the tasks involved in running online courses. Some examples of these triggers include: When new content is available to users; if access to a course is about to expire; and if a user hasn't logged in for a certain period.
Helpful User Documentation
All of this useful functionality does come with a cost, and that's the time required to truly understand this plugin and get the most out of it.
Thankfully, LearnDash is accompanied by lots of online documentation to help you to get started, and then develop a better understanding of how the plugin works and what you can do with it.
As well as the instructional content available on the LearnDash website, the plugin embeds some useful tutorial videos into your WordPress Dashboard to help you to get started. There's also a Facebook group for LearnDash users where members can discuss best practices and share tips.
Drawbacks of LearnDash
LearnDash undoubtedly has some great features that will help you to create courses and build an online learning platform with WordPress. However, the plugin isn't without its drawbacks. So, with that in mind, let's explore some of the reasons why LearnDash may not be the right LMS plugin for you.
There's a Lot to Get to Grips With
One of the greatest strengths of LearnDash could also be one of its biggest weaknesses, and that's its long list of features. If you're looking for the most powerful eLearning plugin for WordPress, then LearnDash is right up there with the best. However, if your needs are more modest, then you could find that LearnDash is overkill for your project.
While you could just ignore the features you don't need, that isn't so easy with LearnDash. As you'll see in the next section of this review — where we walk through the LearnDash user experience — there are lots of settings and options on offer at almost every step of the way. So, if you just want to create a simple quiz, for example, you may find yourself distracted, or even confused, by all of the different types of quizzes you can create, along with all of the settings and options that go with them.
It's good to see that some functionality, such as the integrations with other plugins, has been shipped out to add-ons, making them accessible only to those who actually need them. However, the core plugin still contains lots of functionality that could be overwhelming for some.
If you do need access to one of the most powerful LMS tools around, then this risk of overwhelm and steep learning curve are costs you should probably be prepared to pay. But, if you don't need everything LearnDash is capable of, you may find the scope of this plugin is too much to handle. Later on in this review, we'll have a quick look at some of the alternative plugins that are available.
Most Powerful Reporting Features Lacking from Entry-Level Plan
As mentioned earlier, one reason to choose LearnDash is the powerful reporting features that give you and your users a good insight into your website. Thanks to this, site owners and course creators can see how their content is being accessed, while students get a good view of their progress.
However, the most powerful reporting features are available through the ProPanel, which is only available on the Plus and Pro plans, and not the lower-priced entry-level Basic option. Therefore, if you need access to this kind of reporting functionality, you're going to have to spend more than you may have been planning, which brings us on to the next drawback of LearnDash….
LearnDash Isn't Cheap
At the time of writing, the price of LearnDash ranged from $159 for the entry-level plan to $329 for the top-end package, which included all features and a 25-site license.
LearnDash does have a long feature list, but, even so, that's still quite a high price for a WordPress plugin, and there are cheaper alternatives, such as LifterLMS, as well as the freemium LearnPress and Sensei plugins. Although, as we'll see later, some of the add-ons for these plugins can be surprisingly expensive.
On the other hand, when compared with hosted services such as Teachable, with plans that start from $29 a month, the price of LearnDash isn't unreasonably high. It's just that if you don't need the majority of its features, or a well-designed user interface isn't a top priority, you may find one of the other options better value. We'll look at the LMS plugins soon, and, for some readers, they'll definitely be worth considering.
When it comes to deciding if these drawbacks are relevant to you, it's recommended that you consider the price of the plugin, as well as whether you're prepared to invest the time required to understand how LearnDash works, and so get the most out of it.
Hopefully, you now have a good understanding of what LearnDash can do and if it will be a suitable choice for your project. Now, let's take a look at the user experience.
Exploring the LearnDash User Experience
To give you an idea of how user-friendly LearnDash is, this part of our review walks you through the process of creating a basic online course with the plugin and demonstrating its functionality and usability.
Getting Started with LearnDash
To help you to get started with LearnDash, a link to a mini boot camp is displayed once the plugin has been activated on your site.
Although it's not quite the type of setup wizard you get with plugins such as WooCommerce, which walk you through the key steps of configuring the plugin and creating your first course, there is a series of video guides that cover the core features of LearnDash, with links to the relevant sections of the online documentation.
After purchasing the plugin, you're also sent a welcome email with links to the LearnDash Facebook group and YouTube channel. There's a getting started guide too, with information for anyone who's new to WordPress, covering topics such as choosing a theme and finding the right hosting.
As we're about to see, the settings and options of LearnDash are very detailed, so it's well worth taking the time to watch these videos before creating a course.
Creating a Course
As mentioned earlier, after a recent update, the course builder has been completely redesigned to make it more powerful and user friendly. As part of this upgrade, you can now use the latest version of the WordPress Editor to create the descriptions for your course and set any tags and categories.
Once the course has been created, existing lessons and quizzes can be added to it through the LearnDash builder. Thanks to the drag-and-drop interface of the builder, you can simply move lessons from the sidebar into the course structure.
If this is your first course, you probably won't have created any lessons yet. However, that's not a problem, as you can quickly create new lessons through the course builder and add content at a later date. Doing so lets you quickly plan out the structure of the course before you've created all of the lessons and quizzes it will include. While this may seem a little counterintuitive, it's actually very convenient to be able to create an outline for your course from one screen.
Alternatively, you can save the course and navigate to the lessons section, where you can start work on the educational content that will make up the course. We'll cover what that looks like shortly, but first let's take a quick look at the course settings.
Configuring the Courses
As well as the global site-wide settings that are applied to all courses, individual courses have their own settings. Some examples of these include: Choosing who can access the course; defining the course prerequisites; and assigning a certificate to the course to be awarded on successful completion.
You can also use the course points feature to set how many points a user needs to access it, as well as how many points are awarded for completing the course. At first glance, this may not seem like much, but, if you're going to be creating multiple courses that are all related, you can use the points system to fully control course progression and craft the learning journey of your users.
It's also possible to take a less-structured approach to course access and switch from linear progression to free-form access that allows the user to plot their own journey through the available course content.
Other settings of the course builder make it easy to control how many days a user will have access to the course from their enrollment date, as well as whether a user's data is deleted when their access expires.
Although there are lots of controls, many of them are optional, so you can either quickly launch a course with the default settings or spend more time configuring the course to meet your requirements.
Nearly all of the settings have tooltips that can be activated by clicking on the question mark icon or hovering over the controls to display helpful information. Because of this, using LearnDash and its many features is about as close to self-explanatory as you can get. If you do run into any problems, the online documentation covers all of the features and settings in more detail than the tooltips.
Once you've created the structure of your course, you can move on to creating its lessons.
Creating Lessons
As mentioned, courses in LearnDash are populated with lessons, and these, in turn, can be populated with topics. So, to add content to your course, you'll need to create some lessons and topics. Conveniently, the same interface is used for creating courses and lessons, so the more you use LearnDash, the quicker the content creation process will become.
Once you've created a lesson and given it a description, you can start configuring it through the settings tab. While defining the lesson, you can add the content, including any videos you want to feature.
As usual, LearnDash gives you a good amount of control over each lesson you create. Some examples of the lesson settings include making it a requirement to watch a video before the user can progress or making it mandatory for the user to upload an assignment before they can move on. Alternatively, you can use the forced lesson timer feature to prevent the user from progressing to the next lesson until a set amount of time has elapsed.
Some more useful LearnDash functionality lets you make a lesson publicly available to all of your website visitors, enabling you to create sample lessons that can be used to promote a course.
You can also set the lesson release schedule to stagger or drip feed content to your users, rather than making everything available from the outset. The intuitive settings of LearnDash make it very easy to configure these features.
As these lesson settings demonstrate, LearnDash gives you lots of control over how your learning content is delivered and consumed by your users.
Creating Quizzes
Quizzes can be added to your lessons to make them more interactive, and creating them is just as straightforward as building courses and lessons. Thanks to the wealth of options and settings, you again have lots of control over how your quizzes work.
Once you've created a quiz, you can start defining how it will work through the settings tab. As with courses, there's a good range of settings to ensure you can create quizzes that are right for your content and your users.
As well as setting prerequisites and controlling whether only registered users or everyone can take the quiz, you can also set a passing score and assign a certificate. To choose where the quiz will be available, simply associate it with a course and a lesson.
As we're about to see, although the term 'quiz' may suggest a question-and-answer-type assessment, you can do a lot more than that with this feature of LearnDash.
Creating Quiz Questions
Once you've created and configured your quiz, it's time to start creating some questions.
With quiz options that include multiple choice, free choice and fill in the blank, as well as the ability to accept essays and file uploads, you can add a wide range of assessments to your courses with LearnDash.
As you can see, whichever way you want to assess your users you should be able to implement it with LearnDash.
Publishing Courses
Once you've finished creating the course and its content, it can be published on your website.
Depending on how you've configured the course, it could be available to everyone or only those who are willing to pay for access. However, the prerequisites feature and other access settings give you more options for controlling who can access the courses. Also, as mentioned, LearnDash integrates with many of the best WordPress membership plugins, so you can control access using the functionality of those tools if you'd prefer.
Regardless of the access settings of your course, LearnDash lets you quickly publish your courses using shortcodes. As with the other aspects of LearnDash, you can use the shortcodes in multiple ways, including inserting the courses into your posts and pages or inserting lessons into your courses, and much more.
You can control the shortcodes' output by using parameters, such as only displaying specific courses, or displaying all courses that have been assigned certain tags or categories. Furthermore, after recent updates, LearnDash now makes impressive use of the upgraded WordPress Editor.
The plugin includes a selection of blocks that you can insert into your posts and pages through the WordPress Editor. These blocks use the shortcodes, but, because of the way the upgraded WordPress Editor works, rather than seeing the shortcodes, you can instead view the shortcode output while you're working on the post or page.
It's great to see plugins embracing the enhanced functionality of the WordPress Editor, and LearnDash does a good job of leveraging its new capabilities.
After previewing or publishing the post or page you're working on, you can experience the course in the same way your users will. As LearnDash should work with any well-coded theme, there shouldn't be any problem displaying the courses and other content on your website.
Furthermore, the LearnDash content is all fully responsive to ensure your users can access the courses on their smartphones and tablets. However, you'll need to be using a responsive theme to ensure your courses can be accessed on these smaller screen devices.
If you're looking for a LearnDash-friendly theme for your project, the Astra WordPress theme comes with LearnDash and seamlessly integrates with it. However, all modern themes should work with the plugin.
That about covers creating a basic course with LearnDash, and our look at the user experience. As you can see, this isn't a lightweight plugin that offers a few tightly defined eLearning and learning management features. Instead, it's a powerful tool that's highly configurable, and can be used in any number of ways.
LearnDash Pricing Options
LearnDash is a premium WordPress plugin, and there are three different options for making a purchase.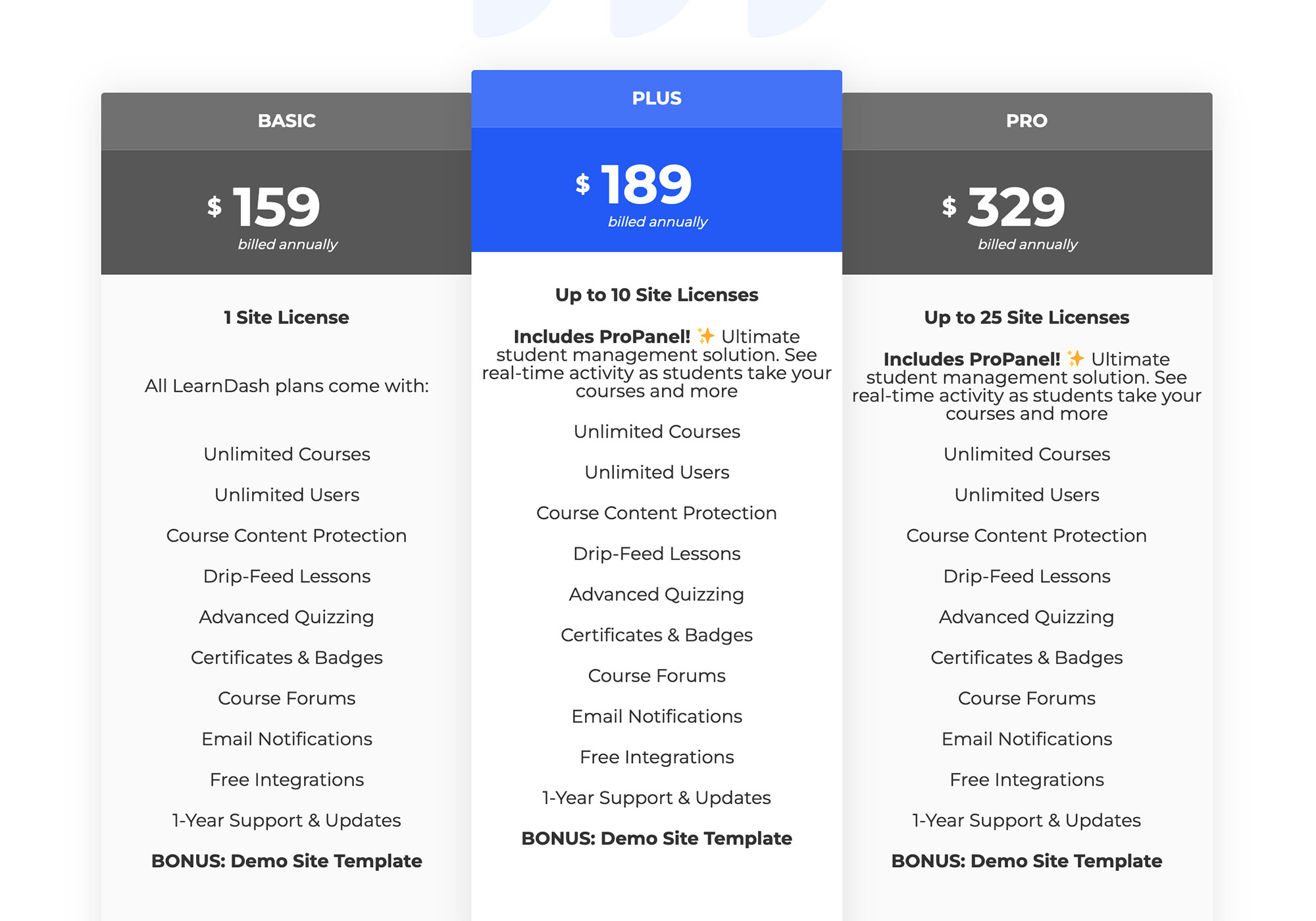 Basic: $159 for access to all features except ProPanel, and use on one website.
Plus: $189 for access to all features including ProPanel, and use on ten websites.
Pro: $329 for access to all features including ProPanel, and use on 25 websites.
These prices include one year of access to plugin updates and support, and your license will be automatically renewed annually unless you cancel your subscription.
Purchases are covered by a 30-day money-back guarantee that allows you to try LearnDash risk-free.
LearnDash vs the Competition
As mentioned, LearnDash isn't the only online course builder plugin for WordPress, so let's have a quick look at some of the other options.
LifterLMS
One of the most popular options in this category, alongside LearnDash, is LifterLMS, a plugin with a limited version you can download for free, and paid options with additional features.
Depending on which features you need access to, LifterLMS could be cheaper than LearnDash, possibly making it more suitable for those on tighter budgets. However, if you plan to charge for access to your courses, for example, the cost of the recommended LifterLMS ecommerce extensions quickly starts to add up.
Overall, on paper, LifterLMS and LearnDash have similar features, but, in most cases, LearnDash gives you more flexibility for publishing courses online, while also making it easier to display those courses in an attractive way on your WordPress website.
Sensei LMS
Sensei was created by the WooThemes team, who are now owned by Automattic, the company behind tools and services such as Jetpack, WooCommerce and WordPress.com. Because of this, it's highly likely Sensei LMS will continue to be looked after, updated and improved for many years to come.
As it's a freemium LMS plugin, you can try Sensei and get a good overview of how it works before investing any money. Like LifterLMS, if you do want to sell courses online, you will need to purchase a premium add-on to enable this functionality. The Sensei add-ons aren't cheap, though, so be sure to factor in the cost of the features you think you'll need if you're making a decision on which plugin to use based on price.
Sensei LMS does have a user-friendly interface, but the features can't compete with the broad and deep functionality of LearnDash.
LearnPress
LearnPress is another option where the core features are available via a free plugin, with the option of purchasing commercial add-ons. Unlike some of the other freemium options, the core LearnPress plugin does give you the ability to collect payments in exchange for access to your courses.
However, to access sophisticated payment functionality that's similar to what's provided by LearnDash, you will need to purchase one or more of the premium extensions. These add-ons are more reasonably priced than the extensions for Sensei LMS and LifterLMS.
LearnPress is a good value option that has a useful set of freely available features, with the ability to unlock extra functionality through the relatively affordable add-ons.
So, should you choose LearnDash over the competition? The answer really depends on your requirements.
However, after looking at the other options, it seems like LearnDash is the most advanced plugin in terms of features and functionality. You could probably find some, or maybe most, of the LearnDash features elsewhere, but you'd have to install add-ons, purchase extensions and effectively assemble the right set of tools yourself. As we've just seen, the cost of some of these add-ons isn't much, if at all, cheaper than LearnDash. Plus, you'll have to take into account the time involved in choosing the right extensions for your project, and then managing them once they've been installed.
Unless your needs are very basic and are covered by a free LMS plugin, or your budget is very tight, then, in many cases, LearnDash will probably be the best option in terms of functionality, ease of use and even value.
Final Thoughts
LearnDash is one of the most popular LMS and online course builder plugins for WordPress, and, after exploring the features and checking out the user experience, it's easy to see why.
Thanks to its huge list of features and extensive settings and options, if you want to publish courses online, LearnDash should be on your shortlist. It's highly unlikely you won't be able to create the types of courses or online learning platform you want with LearnDash and its library of add-ons and third-party plugin integrations.
However, because of the impressive functionality and flexibility of this plugin, LearnDash may not be for everyone. If you have very basic online course creation needs, or you don't have the time or inclination to explore the LearnDash features and settings, this plugin may not be compatible with your goals. As we've also seen, LearnDash isn't cheap and there are lower-priced alternatives out there, including some free options.
LearnDash should be suitable for most eLearning projects, though, from creating basic courses to building online learning platforms and everything in between. However, despite all of the tutorial videos and other resources, the learning curve and wealth of settings may just be too much for some users.
But, if you do need access to the features of LearnDash, and you don't mind investing a bit of time in exploring all of the settings, this plugin is hard to beat.
If you're still not sure, the tutorial videos on the LearnDash website do a great job of explaining the features and user experience in more detail.
Used/using LearnDash? Thoughts?
Related Posts: