Top Six Membership Plugins for WordPress (2019)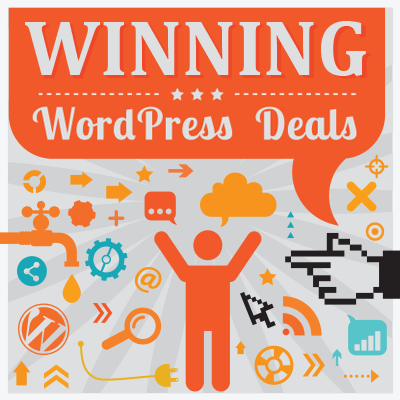 Membership websites let you try for one of the Holy Grails of business: Recurring income. Tempt someone in with your exceptional content just once, and that person could remain a paying customer for months to come — or, if you're lucky, maybe even years.
Thanks to a superb collection of membership plugins, WordPress is, without doubt, one of the best-equipped platforms for powering a fully fledged membership website.
These membership plugins provide lots of useful features: They restrict content, let you create tiered membership levels, and facilitate billing cycles. With a membership plugin taking care of all the fussy behind the scenes tasks, you're free to focus on crafting the excellent content that'll keep your membership site ticking over.
Remember, though: good content is vital — for your membership website to succeed, it'll need to provide real value. If you've cracked the art of creating outstanding content, and know exactly how to reach your potential audience, recurring membership riches await!
But which membership plugin should you choose? Let's take a look at six of the very best WordPress membership plugins available (both free and premium)…
Restrict Content Pro ($42)
We kick things off with Restrict Content Pro. This plugin's part of the highly regarded Pippins Plugins family, which also includes Easy Digital Downloads and AffiliateWP. As such, you can trust that you're in safe hands.
Priced at just $42, Restrict Content Pro is one of the more affordable membership plugins on today's list. However, don't let the price tag fool you: Its functionality packs a serious punch, and it's user-friendly throughout.
For a start, you can create an unlimited number of membership levels, meaning you can implement a multi-tiered membership structure — for example: Free, silver, gold, and platinum memberships. You can also configure trial memberships and discount codes to entice visitors.
Premium memberships are paid for using one (or several) of the built-in payment gateways — PayPal Standard, PayPal Pro, Stripe, and Braintree. Payments are collected automatically, meaning you won't have to worry about any unpaid fees.
Restrict Content Pro also includes some useful back-end functionality, including easy-to-digest analytics reports. These reports let you track membership numbers over custom time periods, giving you the opportunity to monitor growth levels. You can also view and manage an overview of all members, past and present, from one handy screen.
Creating and protecting content is super easy, too. Directly below the WordPress visual editor, you'll find a meta box titled restrict this content. From here, you can choose what membership levels are able to view the content, plus whether or not to display an excerpt for non-members. This meta box can be used to restrict access to any post, page, or custom post type.
Throw in a plethora of add-ons — including MailChimp Integration (FREE), Download Monitor (FREE), and Math Verification ($4) — and Restrict Content Pro is, quite simply, one of the best membership plugins in the WordPress sphere.
MemberPress ($99 a year)
Next, we have arguably the best-known membership plugin available to WordPress users: MemberPress.

For just $99 a year, you can access what the developers claim to be "the easiest membership site software you've ever seen." And it's hard to disagree.
In just a few clicks, MemberPress lets you restrict access to any post, page, or custom post type you wish. If you'd like to restrict access in bulk, you can lock entire categories or tags, too. You can also restrict access to any files in your WordPress media library, which allows you to create, say, PDFs that only members can download.
As with most membership plugins, MemberPress lets you create premium memberships. The $99 a year license lets you integrate a PayPal and/or Stripe payment gateway, while upgrading to $199 a year will also grant access to the Authorize.net gateway.
Payments are collected automatically at predetermined intervals, and if a payment fails a user's access to the site is instantly revoked. There's also a members' section, where users can upgrade or cancel their subscriptions.
Obviously, the more paying customers you have, the healthier your website's financial position — and MemberPress ships with plenty of cool features for maximizing conversions.
For a start, this includes pretty pricing pages (another way of saying stylish pricing tables). You can play around with the content, organization, and styling of these tables — with several built-in themes to choose from — to see how conversions are impacted.
Email marketing is still as powerful a weapon as ever, and MemberPress is compatible with 11 auto-responder services. You can integrate the plugin with MailChimp, Aweber, and Constant Contact, among others, just by installing the relevant add-on, and all add-ons are free to users.
However, my favorite conversion-driving feature has to be the inclusion of the Affiliate Royale plugin — valued at $85. Use Affiliate Royale to create your own affiliate programs, which incentivize others to promote your website. As well as setting affiliate bounty levels and automating payments, Affiliate Royale also ships with useful tracking software.
Not enough? MemberPress also supports content drip, coupon codes and premium, member-only forums.
WooCommerce Memberships ($199)
I'm sure you're already familiar with the excellent WordPress eCommerce solution, WooCommerce. The next item on today's list, WooCommerce Memberships, extends the core WooCommerce plugin, letting you create awesome, scalable membership websites.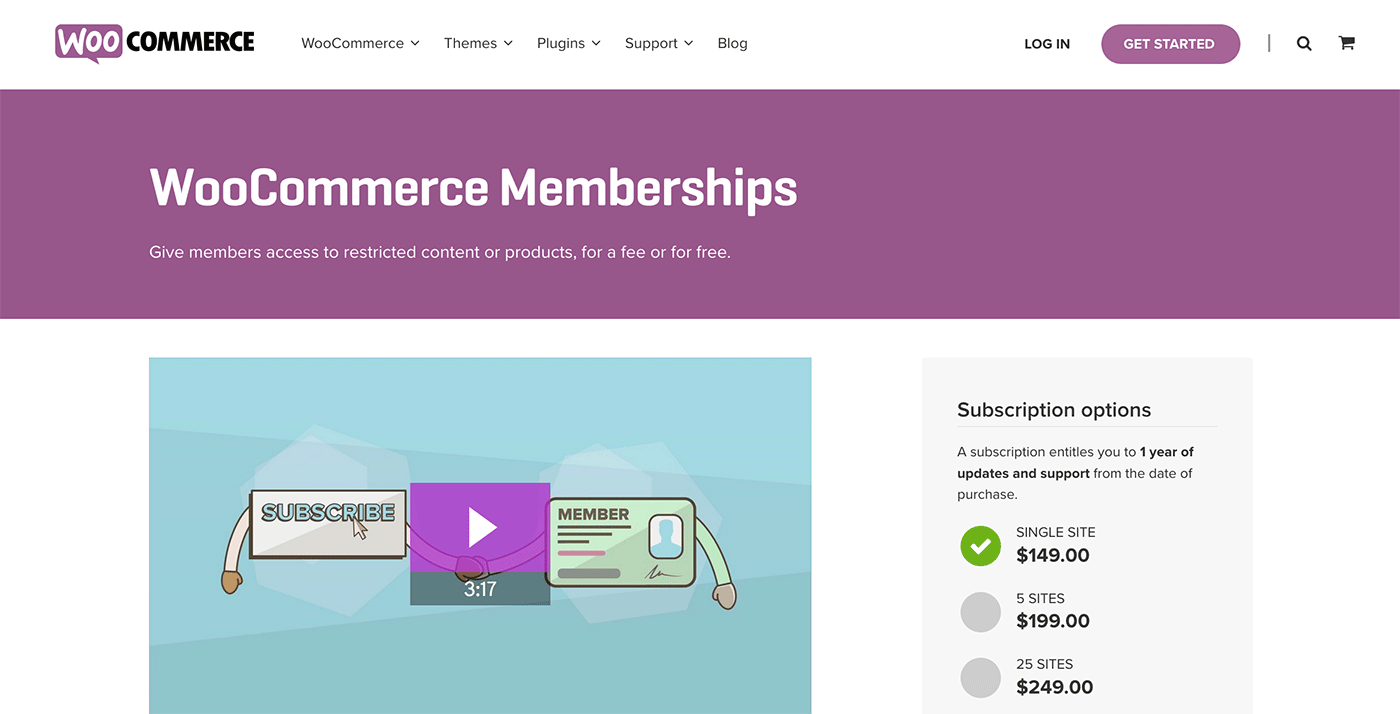 As you may expect from such tight-knit integration, this extension enables you to use all of WooCommerce's relevant functionalities. Most importantly, this includes any of the 124 WooCommerce-compatible payment gateways — PayPal, Stripe, Amazon Payments, Authorize.net, you name it, WooCommerce supports it. Members can also use the WooCommerce customer area to manage their memberships.
WooCommerce Memberships also supports all of the standard membership plugin functionalities — restricting content, drip-feeding content, and premium memberships, among others.
However, it's the plugin's partnership with WooCommerce that makes things really exciting. Thinking outside the box, there are a lot of cool things that WooCommerce Memberships can do.
For example, you could combine your membership website with an existing eCommerce store selling physical products. Because WooCommerce Membership enables you to restrict custom post types — such as product pages — you could feasibly offer some physical products exclusively to members, or create member-only discount codes.
The one feature lacking from WooCommerce Memberships is recurring billing. However, you can add this functionality by integrating another extension, WooCommerce Subscriptions, for $199.
The WooCommerce Subscriptions extension is arguably the best recurring payment plugin for WordPress, and, when used in conjunction with WooCommerce Memberships, it lets you add important features, such as trial memberships, recurring billing, and member upgrades/downgrades.
MemberMouse (from $19.95 a month)
MemberMouse is arguably the most powerful and scalable membership plugin on this list. Despite possessing plenty of advanced features, the plugin remains impressively user-friendly. In fact, it's versatile enough that it can be used to power your entire business — and several multimillion dollar businesses use it to do just that.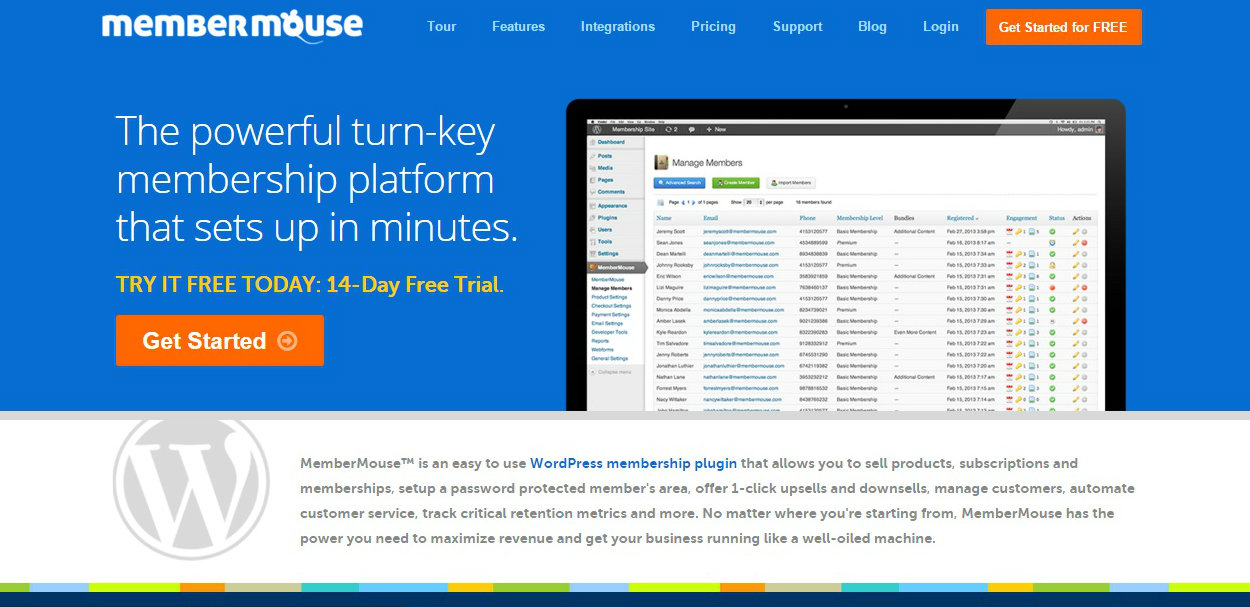 MemberMouse allows you to restrict access to any published post, page, or custom post type, controlled via a grant access button, found next to the default publish button. In just a few short seconds, you'll be able to specify which membership levels can access what content — plus, you can drip-feed content by configuring a time release.
Included with MemberMouse is one of the most detailed reporting suites found in any membership plugin. This is accessed from the WordPress dashboard, and includes lots of key metrics you can target to increase profits, such as total members, average retention duration, and average customer lifetime value.
If you want complete control of your billing, you'll love some of MemberMouse's more advanced features, such as one-click up and down-sells, which are displayed during checkout.
However, my favorite feature is split test pricing, which lets you optimize your pricing strategy to maximize subscribers and revenues.
MemberMouse is also big on integrations: There are eight payment gateways (including Stripe and PayPal) and four autoresponder services (such as MailChimp and AWeber) for you to integrate.
Want to recruit an army of affiliate marketers to sing your praises and promote your website? Great, because MemberMouse is compatible with any affiliate network. The plugin's affiliate functionality includes mobile push notifications and pixel tracking, plus you can directly integrate MemberMouse with your preferred affiliate platform's API.
With such an impressive feature set, MemberMouse isn't exactly cheap. Pricing is split into three packages, then operates on a sliding scale based on your membership figures. For example, the most affordable package starts at $19.95 a month for up to 1,000 members. Increase membership levels to 10,000, and you can expect to pay $59.95 a month.
WP-Members (FREE)
For those of you working on a tight budget, WP-Members represents the free option on today's list; its free core lets you block access to content for non-registered users, converting your WordPress-powered website into a fully functional membership site.

Content is restricted via a simple settings screen, from which you can blanket-restrict all of your posts or pages, or restrict individual post or pages.
WP-Members can also auto-generate excerpts for restricted content — based on the number of characters — or you can create excerpts for yourself. This is a neat feature, because carefully crafted excerpts can be leveraged for SEO purposes.
Another cool feature is the plugin's login/registration system. The login form is displayed in-line with your content, preventing visitors from snooping around the default WordPress login page. There's also a login/registration form widget that can be placed in a sidebar.
As a free plugin, there are two obvious limitations. First, you can't create custom menus for registered users, so even casual visitors will be able to view your menus in full.
However, the biggest limitation is that you can't charge for memberships — not unless you upgrade to the Site Membership Subscription plugin, costing $59 a year.
Upgrading grants access to priority support, premium code snippets, exclusive tutorials, and a members-only support forum. It also means you can access the 12 premium add-on modules, which include:
iThemes Exchange Membership ($97)
This is a membership solution to rival WooCommerce Memberships, but, this time, using the iThemes Exchange platform. The iThemes Exchange Membership add-on is available from $97 individually, or as part of the pro pack (containing more than 30 add-ons) for $197.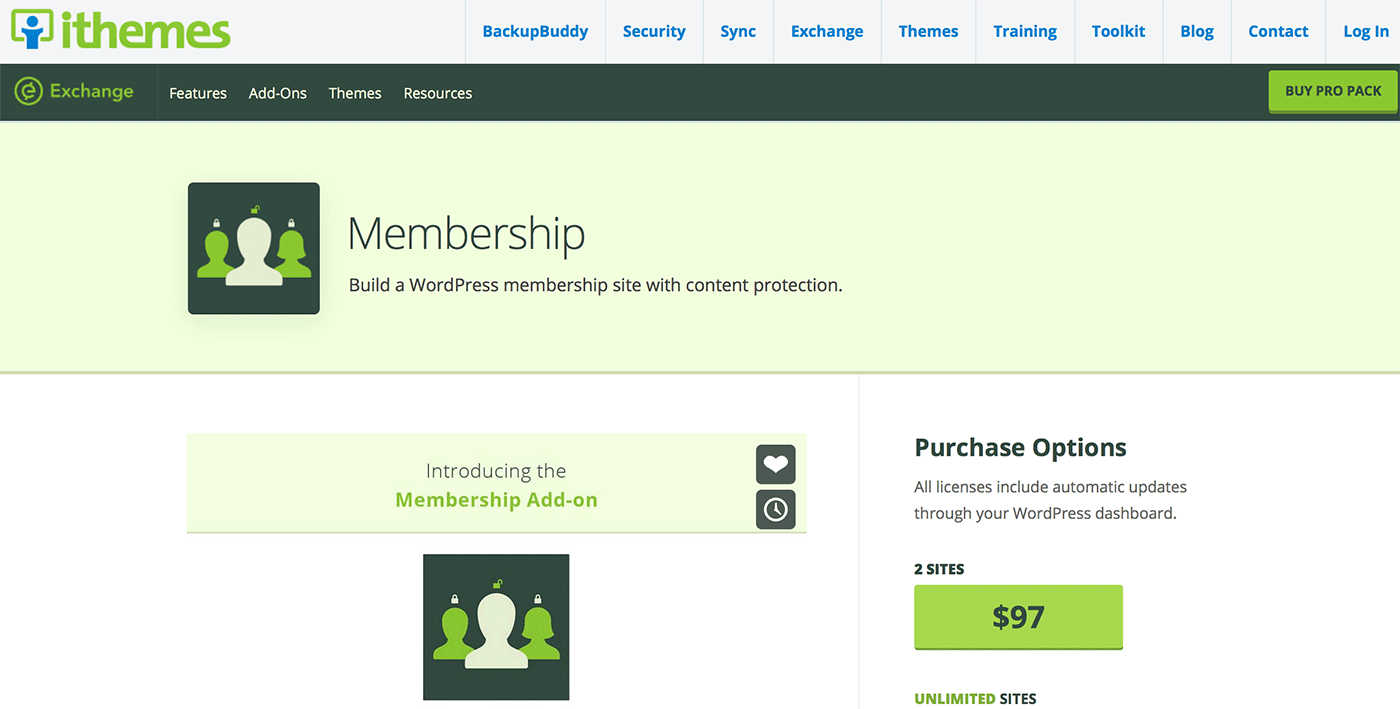 The plugin lets you create 'membership products' and sell them using any of the payment gateways supported by iThemes Exchange — such as PayPal or Stripe. A recurring payments add-on is also included, which automates payment collection.
The iThemes Exchange core ships with a digital download module, which you'll find useful for your membership website, as it lets you protect downloadable files. This is great if, for example, you create an exclusive PDF for your members, and you want to ensure it doesn't fall into the wrong hands.
If you decide to upgrade to the pro pack — which represents fantastic value and is highly recommended — you'll also gain access to three membership-relevant extensions:
Final Thoughts
WordPress users are spoilt for choice when it comes to membership plugins. As a result, narrowing today's post down to just a handful is far more difficult than usual — the list could easily have been three times as long!
All of the plugins featured represent excellent selections, though — each is easy to use and comes equipped with all the essential membership features needed to satisfy most users. This includes the ability to 'lock' content, monetize your website by selling premium memberships, and drip-feed content to increase membership lifespans.
However, it's the additional features that'll determine which membership plugin's right for you — and this is where the plugins stand apart from each other.
For example, if you want the most powerful reporting suite, go with MemberMouse; if you want to command an army of affiliates, MemberPress may be the best option. If you want to bolt a membership website on to an existing eCommerce store, pick WooCommerce Memberships or iThemes Exchange Memberships.
Figure out which features are essential for your website, then check to see whether your preferred plugin supports them.
And, with so many great membership plugins available, you can afford to be picky, so consider any advanced functionalities you'll need. Chances are you'll find these features in at least one plugin.
Using any of the above membership plugins? Thoughts?
All comments are held for moderation. We'll only publish comments that are on topic and adhere to our Commenting Policy.
Our commenting form also supports the use of Markdown.