WinningWP content is free to all. If you make a purchase through referral links on our site, we earn a commission (
learn more
).
Top Five Best WordPress Affiliate Plugins – Compared
Affiliate marketing programs are excellent tools for encouraging customers and influencers to recommend your brand. This technology used to only be available to large companies, such as Amazon, but now WordPress affiliate plugins make running these program accessible to anyone with a WordPress site.
In this article, I'll explore the below:
Why affiliate marketing programs work.
What makes a good WordPress affiliate plugin.
The five top WordPress affiliate plugins.
How to choose the best option for your business.
By the end of this guide, you'll be ready to start working with an affiliate marketing plugin.
Why Affiliate Marketing Programs Work
Affiliate marketing programs turn customers and reviewers into sales representatives with a commission-based system, where every sale through their affiliate link earns them a small portion of the profits. This gives them a financial incentive to recommend your work passionately and often.
Affiliate marketing is also a massive industry, accounting for 15% of all digital revenue and more than 16% of all ecommerce sales in the US and Canada. Many blogs, review sites and influencers rely on this type of marketing for some or all of their income. And, as one of the best ways to earn passive income, affiliate marketing draws thousands of new marketers in every day. In fact, the industry is set to grow by 10% over the next few years.
In other words, affiliate marketing is one of the best ways to harness the power of your audience for increased sales.
What Makes a Good WordPress Affiliate Plugin?
The primary thing to look for in an affiliate plugin is ease of use. You shouldn't need to learn code or convoluted processes to perform basic functions. Once set up, the plugin should operate the whole affiliate program, with your main duty being to find affiliates.
Look for an affiliate plugin that makes it easy to perform the following tasks:
Customize the commission rate affiliates receive.
Create affiliate links.
Manage affiliate links.
Build shareable referral links.
Track sales and conversions made through your affiliate program and top affiliate campaigns.
Easily add affiliate links to your posts and pages.
Create an easy-to-use affiliate portal where marketers can find links and details of the affiliate program agreement.
Offer a referral link generator in the affiliate portal.
Track referrals.
Set up automated payouts for affiliates.
Customize any emails affiliates receive when they apply for/are accepted to your affiliate program.
Some affiliate plugins may also offer advanced features, such as the ability to create multiple affiliate levels or provide special rewards for top-grossing affiliates.
Last, but certainly not least, you want a plugin that works well with the tools you're already using. It should offer integration with WooCommerce (or your preferred ecommerce system) and a variety of membership plugins.
Top Five WordPress Affiliate Plugins
AffiliateWP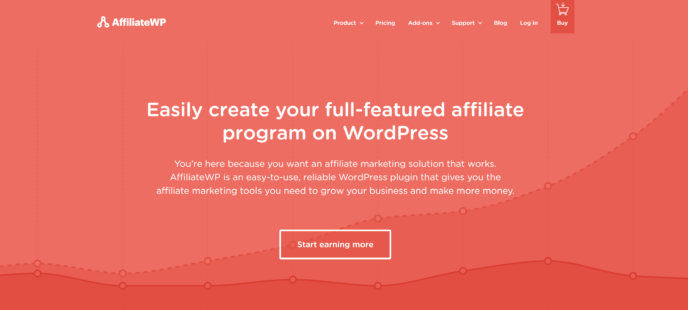 Notable features
Easy setup.
Unlimited affiliates.
Affiliate tracking.
Real time reporting on affiliate-referred visits, referrals, affiliate registrations and earnings.
Automated affiliate creation.
Easy affiliate registration.
Manual affiliate approval.
Easy affiliate management.
Ability to create tiered referral rates.
Affiliate dashboard.
Referral link generator.
Customizable emails.
Detailed payout logs.
Payment integration.
Integration with a variety of ecommerce tools and membership plugins.
Developer tools for full customization.
Overview
AffiliateWP offers a robust affiliate management system integrated with your WordPress dashboard for easy use. This includes detailed analytics and real-time reporting on affiliate registrations, sales and payments.
On the affiliate side, this plugin offers an easy-to-use dashboard where members can grab affiliate links and view detailed reporting on their conversions. This dashboard also includes a referral link generator.
AffiliateWP also offers a variety of advanced customization options, including the ability to customize registration, acceptance and rejection emails. Developers can also access a range of developer tools for adding custom features and functionality.
Last, but certainly not least, AffiliateWP lets you customize several types of referral rates, including tiered affiliate rates, product rates, lifetime commissions and recurring referrals.
Pricing: AffiliateWP has three pricing plans:
Personal: $149 a year. Includes all core features for use on one site, plus 17 free add-ons and an integrated payout service.
Plus: $199 a year. Includes all features of the Personal plan for use on up to three sites.
Professional: $299 a year. Includes all features of the Plus plan for up to ten sites, plus an additional 15 add-ons and access to all future add-ons.
The plugin also offers custom pricing for large businesses with specialized needs.
Who this plugin is best for: AffiliateWP is an excellent choice for people who want to create a multi-tiered affiliate program.
WordPress Affiliate Manager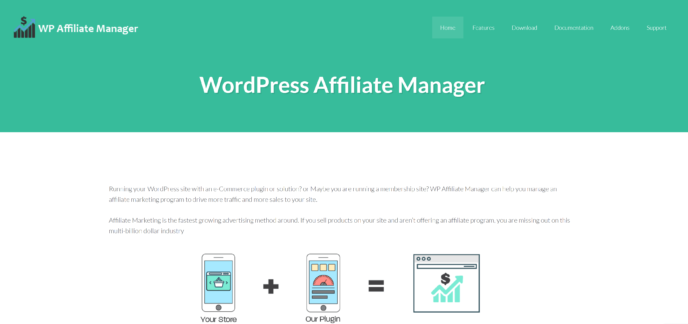 Notable features
Unlimited affiliates.
Real-time sales reporting.
Flat rate or percentage-based payouts.
Manual adjustments and payouts.
Set payout rate per affiliate.
Affiliate dashboard.
Host unlimited creative assets.
Activate/deactivate individual assets at any time.
Impressions tracking on all creative assets.
Customizable email templates.
Mass payment through PayPal.
Integration with popular tools, such as WooCommerce, Easy Digital Downloads, iThemes Exchange and Paid Membership Pro.
Numerous translations available, including French, German, Hebrew and Spanish.
Overview
WordPress Affiliate Manager is a free affiliate plugin with several impressive features. Most notably, the plugin lets you customize payments in a variety of ways. Manual payouts can be used to provide bonuses, and payout rates can be customized per affiliate, letting you reward your most successful marketing partners.
Another reason this plugin makes the list is the advanced management of creative assets. Each banner and link is tracked for impressions, making it easy to experiment and improve.
The integration list consists mostly of payment systems and ecommerce solutions. I was a bit disappointed at the lack of integrations for marketing tools, but for a free plugin the WordPress Affiliate Manager is excellent.
Pricing: Free.
Who this plugin is best for: WordPress Affiliate Manager is an excellent choice for business owners who want to create a simple affiliate program. This plugin is also ideal for businesses with a tight budget.
Affiliate Royale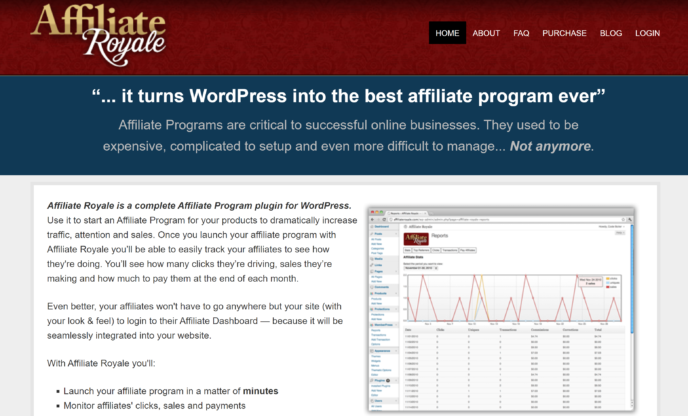 Notable features
Easy setup.
Admin panel integrated with WordPress dashboard.
Easy creation and management of affiliate levels with custom pay rates.
Up to 99 affiliate levels.
Track commissions on recurring payments.
Easy-to-use affiliate dashboard.
Ability to manage a variety of creative assets, including banners.
Affiliate payment with a variety of payment systems including PayPal and Authorize.net.
Integration with shopping cart systems such as WooCommerce, WP Commerce and Easy Digital Downloads.
Overview
Affiliate Royale is an easy-to-use WordPress affiliate plugin from WP Engine, the creators of MemberPress. The plugin integrates seamlessly with WordPress and a variety of popular WordPress plugins.
On the affiliate side, users can enjoy a personalized dashboard with detailed reporting on their campaigns. This page is highly customizable, including the ability to restrict certain creative assets to use by certain affiliate levels.
The final thing that stands out about Affiliate Royale is the ability to integrate with a variety of payment and ecommerce systems.
Pricing: There are two levels of Affiliate Royale licenses:
Merchant: Available for $85. Offers full access to Affiliate Royale features and integrations for use on one site, plus access to members-only training and one year of automated updates.
Developer Edition: Available for $165. Includes all features from the Merchant plan for use on unlimited sites.
You can also purchase Affiliate Royale in a bundle with MemberPress.
Who this plugin is best for: Users whose primary concern is easy setup and maintenance.
Post Affiliate Pro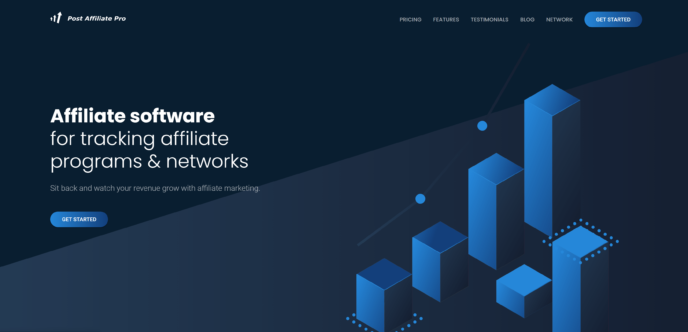 Notable features
Customize several commission types, including lifetime commissions and signup commissions.
Create performance rewards for top-earning affiliates.
Advanced banner management and unique banner types.
Unlimited banner storage.
Customizable affiliate dashboard.
Customizable affiliate registration.
Automated mass payments.
Detailed reporting on individual banners, campaigns and affiliates.
Top affiliates report.
Top URLs report.
Trends report.
Overview
Post Affiliate Pro is an advanced affiliate plugin with robust customization options, including the ability to customize several commission types. These include common customization options such as the ability to create affiliate tiers (referred to as 'Groups') and more unusual options, such as signup commissions.
Another standout feature of Post Affiliate Pro is the ability to create several unique banner types. These include custom HTML banners, Page Peel promotions, SmartLinks banners and ZIP banners.
Post Affiliate Pro also offers some of the most extensive tracking in the industry. This includes use of numerous tracking methods and several types of reports.
Price: Post Affiliate Pro has three pricing plans:
Pro: Available for $97 a month. Offers access to advanced affiliate features, full reporting, unlimited affiliates and up to one million tracking requests a month.
Ultimate: Available for $197 a month. Comes with everything in the Pro plan for up to 5 million tracking requests a month. Also allows for the use of multiple administrators and advanced SEO tools.
Network: Available for $477 a month. Comes with everything in the Ultimate plan for up to 20 million tracking requests a month. Also allows for unlimited merchant partners. Users at this level get a one-on-one consultation to get the plugin fully set up.
Who this plugin is best for: Businesses with a moderate-to-large budget and audience.
YITH WooCommerce Affiliates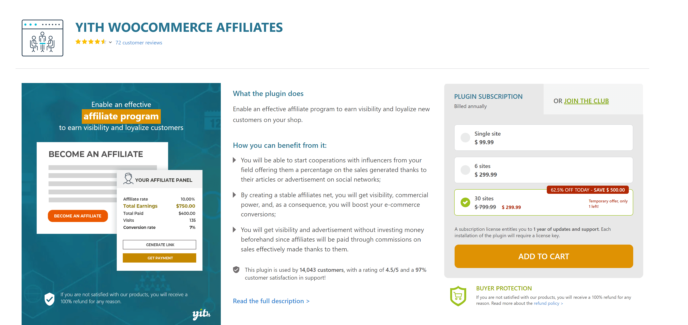 Notable features
The following features are available with the premium license for YITH WooCommerce Affiliates:
Turn users registered on your site into affiliates.
Customize payment rate per affiliate.
Set a custom time for referral cookies to last, allowing affiliates to earn money from sales that aren't made in the initial referral session.
Shortcode for affiliate registration.
Commission status changes automatically when order status changes.
Affiliate dashboard.
Affiliate coupons.
'Generate Link' shortcode.
Set automated payments when a certain earnings threshold is reached.
Set automated payments for a specific date each month.
Only pay commissions older than a certain number of days.
Advanced reporting.
Overview
YITH WooCommerce Affiliates is a specialized affiliate plugin for WooCommerce users. This plugin makes it easy to register, view and manage affiliates through your WordPress dashboard. YITH WooCommerce Affiliates also uses shortcodes for a variety of functions, including affiliate registration.
One advantage of this plugin is the ability to set automated payments for when affiliates reach a certain earnings threshold. You can use this to eliminate micro-transactions and reduce the overall number of payments made.
However, this plugin does have its drawbacks. First, the affiliate coupon system is clunky and poorly tracked. Second, YITH WooCommerce Affiliates only offers integrations with WooCommerce tools — there are no integrations for other ecommerce tools, marketing tools or membership plugins.
Pricing: YITH offers a free plugin with access to shortcodes and other basic affiliate management features. The premium plugin is available for a one-time payment of $99 for one site, and you can also purchase a six-site license for $299 or a 30-site license for $299 (regular $799).
Who this plugin is best for: WooCommerce users who want to create a simple affiliate program.
Final Thoughts
All of these plugins make it easy to create your own affiliate program, so the best choice for your business depends on your resources and goals:
Which WordPress affiliate plugin are you most interested in? Let us know in the comments below!
All comments are held for moderation. We'll only publish comments that are on topic and adhere to our Commenting Policy.