WinningWP content is free to all. If you make a purchase through referral links on our site, we earn a commission (
learn more
).
The Top 7 Best WordPress Popup Plugins for Generating Optins and Leads
If you want to display a popup on your WordPress website, there are some excellent paid plugins, as well as a few capable free options.
Some are basic tools for simply displaying an email optin form or custom message in a popup window, while others can be used to run sophisticated marketing campaigns on your website. A few of them also have advanced tracking and reporting tools, as well as features for running split tests and experiments on your popups.
Customization options range from being able to change a few colors and text content to using an advanced drag-and-drop builder to create unique designs.
There really is something for everyone when it comes to popup plugins.
By the time you've finished reading, you'll know which one is right for your website.
Whether you want to generate more email optins or leads, or display custom messages to your visitors, a popup plugin can really help — provided you choose the right one.
Let's get started…
Best WordPress Popup Plugins
If you just want to know which one is best, OptinMonster is my favorite, but it's also the most expensive. Elementor Pro is an excellent value option. Bloom and Thrive Leads are good too, but they won't be right for everyone and aren't as affordable as Elementor Pro.
Out of the free plugins, Popup Maker is my pick, but it's definitely limited compared with the paid options.
If you want to know more, read on to get my thoughts on the popup plugins below. Alternatively, click on a name to jump straight to the summary for that tool:
The Best Popup Plugins for WordPress
When choosing a popup plugin, think about what content you want to display in your popups, such as email optin forms or your own custom content.
Also, consider how many templates you'd like access to and what they should look like. The amount of control you get over your popup designs and when and where they're displayed also varies between plugins, as do integration options and split testing and optimization features.
Thinking about these things will help you to find the right tool for your website.
OptinMonster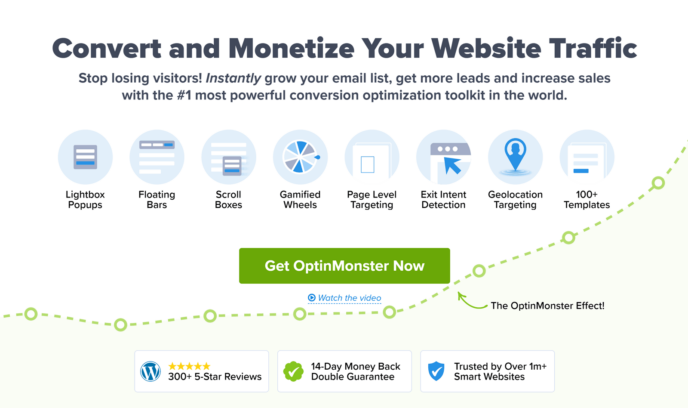 OptinMonster is probably the most powerful and feature-rich popup plugin for WordPress. It's also very easy to use.
However, while the pricing plans start out quite reasonable, unlocking all of the features of OptinMonster is much more expensive. Read on to find out if OptinMonster is right for you, and, if so, which features you want.
OptinMonster Features
As mentioned, OptinMonster has lots of features to help to make your popups a success, whatever your goals are.
Popup Types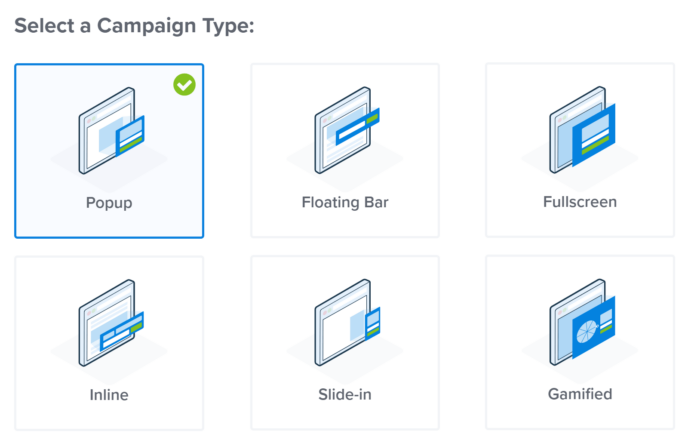 OptinMonster lets you create a wide range of popups and lead generation assets, or campaigns, as it calls them. These campaigns come in many forms, including lightbox popups, full-screen popups and slide-in popups.
Other types of campaigns include:
OptinMonster has a gamified spin-to-win campaign that you can add to your popups, giving you another way to encourage your visitors to opt in or take some other action.
Templates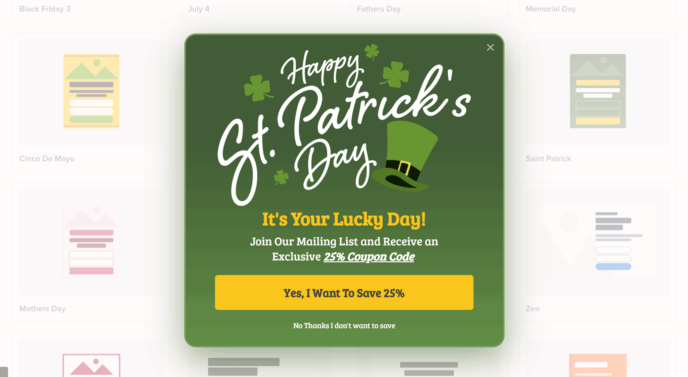 A major highlight of OptinMonster is the large library of really well-designed templates for your popups and other campaign types.
Furthermore, all of the templates can be easily edited through the intuitive OptinMonster drag-and-drop builder.
Because you can add more than just optin forms to your popups, OptinMonster is perfect if you want to use them to display custom messages to your audience.
Integrations
In addition to integrating with all of the best email marketing services, OptinMonster also integrates with lots of eCommerce platforms, including WooCommerce. One benefit of this is it enables you to trigger popups based on the items a customer has in their cart or the total value of their cart.
You can also integrate OptinMonster with Zapier to then connect it with countless other third-party services.
Triggers and Targeting
OptinMonster gives you a huge amount of control over when your popups are triggered and who they're shown to.
Some examples include using the Exit-Intent trigger to display a popup when a visitor is about to leave your site or using the InactivitySensor to trigger a popup when a visitor has stopped interacting with your site for a set amount of time.
You can also use targeting to display a popup when a visitor is viewing a specific page on your site or they've viewed a certain number of pages. Another option is to trigger popups when links are clicked on, using the MonsterLinks feature.
You can also target new visitors or retarget returning visitors. There's a location-based trigger too. Because you can create multiple popups for your site, each with its own triggers and targeting rules, you can really optimize each popup for a specific scenario or type of visitor.
As I pointed out in my recent OptinMonster review, once you start exploring the features of this plugin, you're sure to come up with lots of creative ways to generate more leads on your site.
As you'd expect from a leading popup plugin, anything created with OptinMonster is fully mobile-friendly.
A/B Testing
OptinMonster has an easy-to-use yet powerful split-testing tool. It only takes a few clicks to set up an experiment to help you to optimize your popups for the best results.
OptinMonster Pricing
The entry-level OptinMonster plan is currently $108 a year. However, to get the most out of this plugin, you'll probably need to pay for one of the higher-priced plans to unlock its best features.
OptinMonster Verdict
OptinMonster is my favorite popup plugin. It's easy to use and has the best features. The only area that's lacking, compared with the competition, is that you can do more with the Elementor Pro and Thrive Leads popup editors. That said, those extras weren't that valuable to me, at least not enough to make them my preferred choice.
However, because the higher plans of OptinMonster quickly get very expensive, this definitely isn't the tool for everyone. For more information, check out my OptinMonster review.
---
Thrive Leads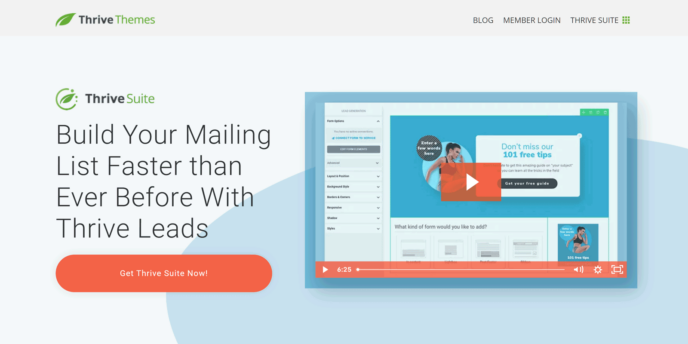 Thrive Leads is a very powerful popup plugin. While its templates may not be as attractive as the ones you get with OptinMonster, its builder tool gives you a lot of control over the design and content of your popups. Thrive Leads isn't the cheapest premium popup plugin, but it does come with lots of other useful products.
Thrive Leads Features
As mentioned, Thrive Leads has the most powerful page builder feature out of the best WordPress popup plugins. Its popup templates aren't as good as some of the competition's, so, if that's a priority, be sure to check them out.
Popup Types
Thrive Leads isn't short on popup types. In addition to the traditional lightbox popup, there are full-screen and slide-in options. You can also add your optin forms and other popup content directly to your posts and pages, as well as display bars at the top and bottom of your site.
Templates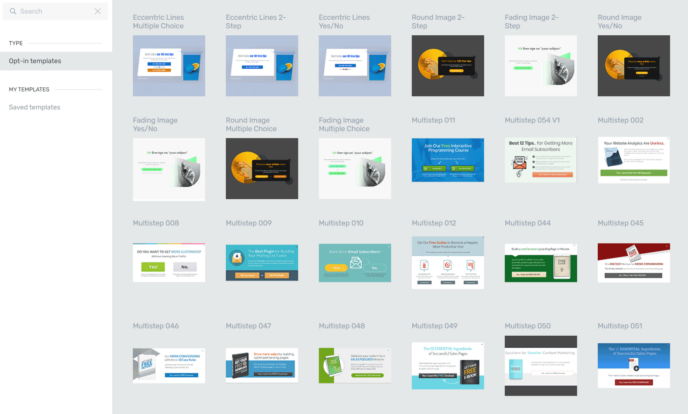 As mentioned, the Thrive Leads popup templates aren't as attractive or modern as some of the competition. However, there are lots to choose from, covering a range of situations, beyond just email optin forms.
Where Thrive Leads does excel compared with the competition is its popup and optin builder. Based on the builder found in the popular Thrive Theme Builder and Thrive Architect products, there's not much to constrain you when it comes to creating content for your popups.
When using the builder, you can insert a wide range of elements into your popups, going beyond what's possible with most plugins of this type. Some examples of these elements include video players, pricing tables, custom buttons, and much more.
Integrations
As well as working with all of the most popular email marketing services, Thrive Themes also connects to Zapier for even more integration options. If you want to use your popups to promote webinars, Thrive Leads integrates with a few of those services too.
Triggers
The Thrive Leads triggers can be divided into four main groups: Time, scroll, click and exit-based. You can also target your popups to specific parts of your site, such as just the homepage, all inner pages or posts assigned to certain categories.
A/B Testing
Thrive Leads has a powerful testing tool that lets you compare all aspects of your popups, including different form types, triggers, content and offers. The general and testing reporting of Thrive Leads is some of the most detailed available. If you want a deep insight into how your popups are performing, Thrive Leads is hard to beat.
Thrive Leads Pricing
Thrive Leads is only available as part of Thrive Suite, a package of WordPress plugins and a theme that costs $228 a year, or $90 a quarter.
Thrive Leads Verdict
Thrive Leads has many, if not all, of the main features of OptinMonster, my pick of the popup plugins. However, as the user experience isn't as nice, and the templates aren't as attractive, it's not my favorite. However, it's still a great option, and if you need the other tools, the Thrive Suite is a good value package.
Read our Thrive Leads review for more information.
---
Bloom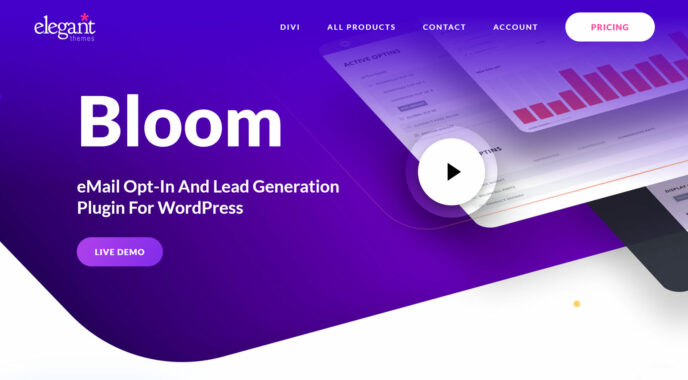 Bloom is a premium popup and optin form plugin from Elegant Themes. Unlike OptinMonster and Thrive Leads, you can only really use Bloom to display email optin forms in your popups, rather than any type of content you like.
However, if growing your email list or collecting emails for some other reason is your goal, Bloom has lots of relevant features.
Bloom Features
Bloom's best features are its popup types and templates. However, it definitely lacks some of the features found elsewhere.
Popup Types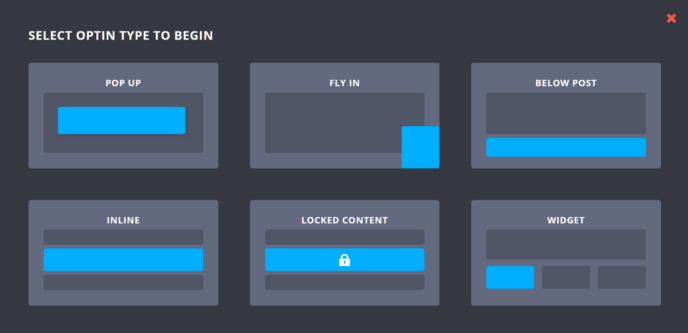 Bloom has just two popup types: The popular lightbox popup and the slide-in optin. However, you can display the contents of your popup in a few other places on your site, via the optin widget, the in-content optin and the below-content option. There's also a content lock optin that hides your page content until the visitor enters their email address.
Templates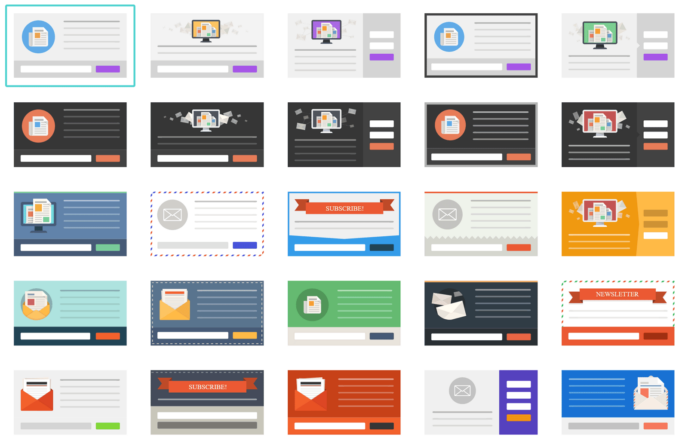 When creating your popup, Bloom gives you a lot of templates to choose from. However, after closer inspection, you'll quickly notice they're all quite similar. They're well designed though, so that's not so much of a bad thing. It's just that you don't get the variation of plugins as you do with Elementor Pro, OptinMonster and Thrive Leads.
You can change the Bloom templates, but you don't get a builder to work through. It's just settings on the page in your WordPress dashboard that let you do things such as changing the fonts, text color and border styles. Like the other paid popup plugins, you can apply an animation effect when a popup is displayed.
Integrations
Bloom does integrate with many email marketing services, and it's also compatible with WooCommerce, so you can display a popup after a purchase has been made.
However, it doesn't work with Zapier, so you don't get the integration options you do with OptinMonster and Thrive Leads.
Triggers and Targeting
Bloom lets you define exactly where on your site each popup is displayed, including one specific page, multiple pages and content assigned to specific categories or tags.
When it comes to triggers, you can set popups to load after a visitor has been on your site for a set amount of time or after a period of inactivity. You can also trigger a popup when a visitor has scrolled down a set percentage or reached the bottom of a page. There's no exit intent trigger to catch those visitors about to leave your site, though.
A/B Testing
Bloom does have an A/B testing feature to help you to optimize your forms. It works very well and is easy to use.
Bloom Pricing
Bloom isn't available on its own. Instead, it's part of the Elegant Themes package, which costs $89 a year or $249 for a lifetime license. As this package includes the powerful and stylish Divi and Extra themes, plus a few other useful products, it's a pretty good deal if you don't need or want to pay for the extra functionality of OptinMonster and Thrive Leads.
Bloom Verdict
Bloom is a good, if a little basic (for a paid popup plugin), option. You can create popups for displaying optin forms, but not much else. While the user experience and interface aren't particularly modern, Bloom is still very easy to use, and the templates do look good.
You can find out out more in my Bloom plugin review.
---
Elementor Pro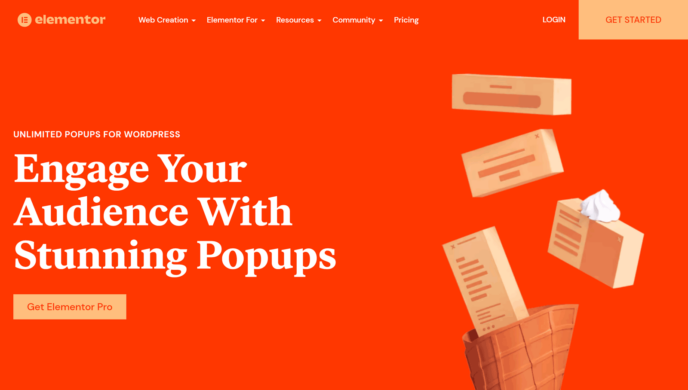 Elementor is one of the best website builder plugins for WordPress. Furthermore, the premium version includes a feature-rich popup builder, complete with its own set of attractive editable popup templates.
Elementor Pro Features
Like Thrive Leads, Elementor Pro gives you lots of control over how your popups can look and what they can contain. The popup templates are another highlight.
Popup Types
With Elementor Pro, you can create popups that are displayed in the center, right or left of your page as well as at the top and bottom of the screen. You can also use the animation effects to create a popup that slides in from any direction, recreating the slide-in options of Bloom, OptinMonster and Thrive Leads. You can choose any size for your popups, including full width and height.
Templates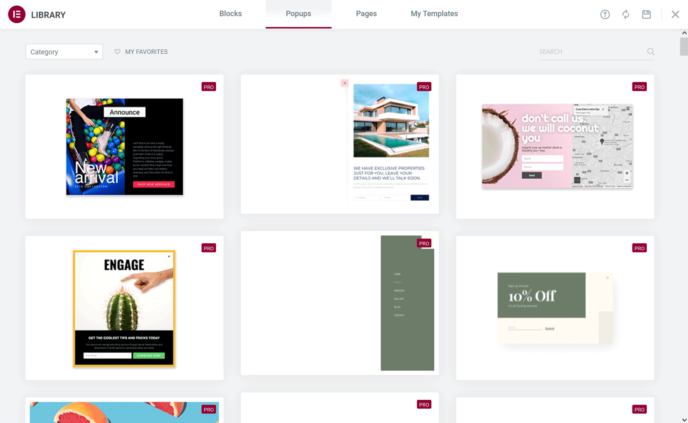 Elementor Pro has a good selection of editable popup templates. They cover email optins, general promotional messages and social sharing buttons. They come in a range of sizes, including full-screen options.
The Elementor Pro templates are as good as the OptinMonster templates — although different in style — and better than the options from Bloom and Thrive Leads.
When it comes to creative freedom over your popups, including editing the templates and creating popup content from scratch, Elementor Pro really excels. You get more freedom than with Bloom and OptinMonster, and about as much as with Thrive Leads.
Also, because Elementor Pro is probably one of the easiest page builder plugins to pick up and start using, it shouldn't take you long to design the perfect popup for your website.
Integrations
Elementor Pro integrates with all of the main email marketing services, plus many other tools. There are also lots of free and paid third-party add-ons for extending Elementor Pro.
Triggers and Targeting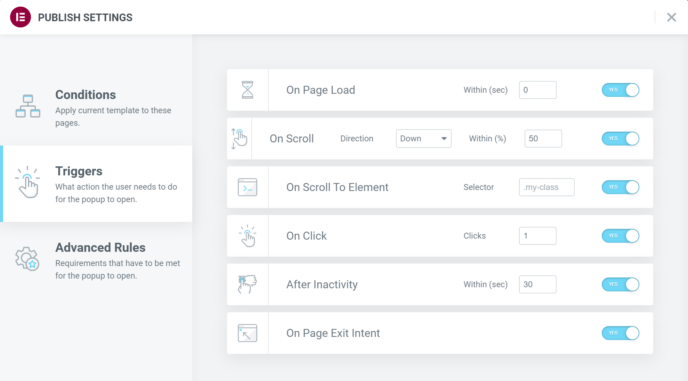 Once you've created a popup, you can then define where on your site it's displayed and how it's triggered. Like the rest of the best WordPress popup plugins, Elementor Pro lets you choose individual pages to display a popup on, as well as restrict it to only content assigned to certain tags or categories.
When it comes to triggering a popup, you can wait a set amount of time, once a visitor has scrolled a certain amount of the page or when they reach a specific page element.
Like OptinMonster and Thrive Leads, Elementor Pro has an inactivity and exit intent trigger.
The advanced rules give you the option of triggering a popup after a set number of page views or sessions. The URL a visitor came from before arriving at your page can be used as a trigger, as can their referral source, such as search engines or an external link. Another option is to only show a popup on certain devices or browsers.
A/B Testing
Unlike Bloom, OptinMonster, and Thrive Leads, Elementor Pro doesn't have a built-in A/B testing feature. However, you can use third-party tools to add split testing to Elementor Pro, including the freemium Split Test For Elementor plugin.
Elementor Pricing
There's a free version of Elementor, but it doesn't include the popup builder. Therefore, you must purchase a premium Elementor license — which start at $49 a year — to get access to this tool.
Elementor Pro Verdict
Elementor Pro is definitely a powerful popup plugin in its own right.
However, Elementor Pro is similar to Bloom and Thrive Leads in that it's also a great choice if you're also looking for a content builder or a new theme for your WordPress website.
Just as Bloom comes with the highly editable Divi and Extra themes, and Thrive Leads comes with the Thrive Theme Builder, Elementor Pro comes with Hello and also has full site editing capabilities.
Our Elementor review has more information on this plugin.
---
Popup Maker

Popup Maker is a popular free WordPress plugin for adding popups to your website. There's a paid version that has more features, but the free option does let you create popups that contain custom content. For a quick overview of what types of popups you can make, this short YouTube video from the creators is worth checking out.
Popup Maker Features
If you don't need templates, and just want to quickly create a popup that displays custom content for free, Popup Maker could be for you.
Popup Types

Popup Maker lets you create popups of any size, and they can also be displayed in a range of positions.
Because of this, it's possible to create popups for the center, top, bottom and corners of your site, including popups that slide into view.
Templates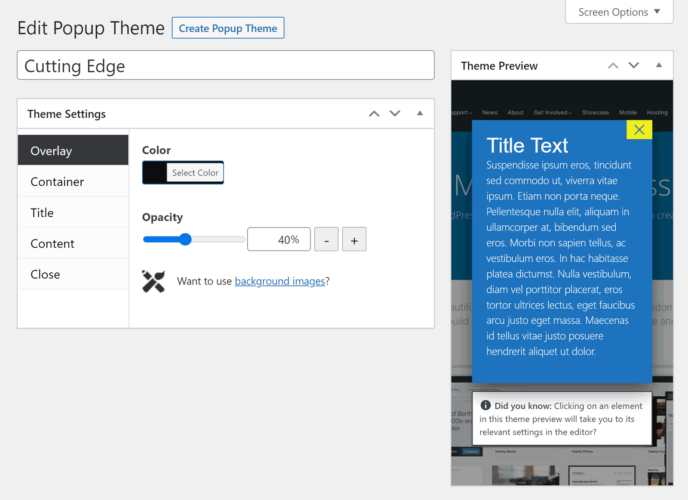 While Popup Maker doesn't have templates in the same way plugins such as Bloom, Elementor Pro, OptinMonster and Thrive Leads do, it does have themes. These themes control the overall style of your popups, dictating the background colors, border styles and other display properties.
The themes are all fully editable through visual controls, giving you an easy way to adjust how your popups will look. However, they don't compare to having a selection of high-quality templates at your disposal, as you get with the paid popup plugins.
Adding content to your popups takes place in the WordPress editor. This does give you a lot of creative freedom, although not as much as you get with the paid plugins (apart from Bloom), which have their own powerful drag-and-drop popup builder interfaces.
If you have some content for your popup already, such as an image, or your email marketing service provides you with email optin form templates, or you don't mind creating the content yourself in the WordPress editor, then the lack of proper templates shouldn't be a problem. For everyone else, though, this could be an issue.
Integrations
Unfortunately, you'll have to take care of any integrations yourself. If you want to use your popup to grow your email list, you'll need to get the HTML optin form code from your email marketing service and add it to the popup yourself.
It's not a massive issue, but, again, it doesn't compare with the easy integrations of the paid popup plugins.
Triggers and Targeting
Popup Maker only has a few triggers, including time delay, auto open, on click and after a form submission. You do get a good amount of control over whether or not popups are shown to the same visitor more than once, and, if they are, under what conditions.
The plugin also gives you a good amount of control over which parts of your site the popups are displayed on or not. The options cover all posts and pages, specific posts and pages, and content assigned to certain tags and categories.
The free version of Popup Maker doesn't have any of the more advanced triggers found elsewhere, such as time on site, pages viewed, exit intent or user location.
Popup Maker Pricing
As mentioned, Popup Maker is free for everyone to use, with a paid version that starts at $87 a year. Although I haven't used the paid version of Popup Maker, based on using the free version and checking out the website, Elementor Pro seems like a much better investment as it costs less and appears to have more features.
Popup Maker Verdict
Popup Maker definitely lets you quickly and easily make popups for a WordPress website for free.
If you just want to display a basic message in your popup, or you don't mind designing the popup content yourself, probably in another tool, then this basic plugin should suffice.
However, if you want to quickly create a popup with a stylish design, then Popup Maker probably isn't for you.
---
Popup Builder
Although not as widely used as Popup Maker, the free Popup Builder is still a popular option. It also has paid upgrades for those who want more features.
Popup Builder Features
A lack of templates might immediately rule out Popup Builder for some. However, it does have a relatively good selection of popup types and triggers for a free tool.
Popup Types

The options for creating a popup with this plugin include starting with a blank canvas and using the WordPress editor to design the popup content, building an image-based popup, and using the subscription option to ask for the name and email address of your visitors and store them in your WordPress dashboard. You also have the option of creating a popup that contains Facebook content.
The use of the WordPress editor for popup design keeps things simple, but it's not as user-friendly as the paid plugins covered already, or as powerful as Elementor and Thrive Leads.
Templates
Unfortunately, like Popup Maker, Popup Builder doesn't have any templates. However, there are a few themes or design presets that can be applied to your popup. These themes control the properties of the lightbox window overlay, the borders of the popup, and a few other cosmetic settings.
Popup Builder does let you create popups of any size, including full-screen designs, using percentages or pixels for the dimensions.
As there aren't any templates for your popup content, you'll have to design that yourself. Your main options here are using the WordPress editor, using the image popup and uploading a file, or using the subscription popup to display an optin form.
Integrations
You can display forms created with Contact Form 7 in your popups, giving you a free way to build optin and other types of forms. While Popup Builder doesn't directly integrate with any third-party services, you can use the HTML provided by your email marketing service to add an optin form to your popups.
Triggers and Targeting
The Popup Builder triggers, or events as they're called here, consist of page load (with or without a time delay), click, hover and via CSS class. The basics are definitely covered, but there's no scroll-based, number of pages viewed or exit intent triggers in the free version of Popup Builder.
Like Popup Maker, Popup Builder also integrates with the free Contact Form 7 plugin, letting you trigger a popup after a form entry has been submitted.
When it comes to defining which parts of your site a popup is active on, Popup Builder gives you a good amount of control via the display rules.
A/B Testing
Like the other free popup plugins featured here, Popup Maker doesn't have any testing features.
Popup Builder Pricing
While the core version of Popup Builder is free, you can upgrade it by installing premium extensions. The extensions can be purchased individually, starting at $5 a year. Alternatively, you can get access to all extensions for $39.95 a year on the Starter license.
Popup Builder Verdict
Popup Builder is the least user-friendly popup plugin here. It wasn't impossible to use, but the interface wasn't very well designed, at least compared with the other options I looked at. As the free version of Popup Builder doesn't really have any extra features over the competition, this all makes it hard to recommend.
However, the comparatively low price of the premium upgrade and ability to purchase extensions individually make the paid version of Popup Builder worth considering if you need access to features such as geo targeting, an inactivity sensor or the exit intent trigger, and your budget doesn't stretch to $49 (for Elementor Pro) or beyond.
---
Icegram

Icegram is another free WordPress plugin for adding popups to your website. Like Popup Maker and Popup Builder, there's a paid upgrade available too, but, for this article, I'm just looking at the free version.
Icegram Features
Overall, Icegram has a pretty limited selection of features. However, it does have a good range of popup types for a free plugin.
Popup Types
As well as the popular popup that's displayed with a background lightbox effect, there are also bars for the top and bottom of your page that pop into view, a popup that slides in from a corner of your choice, and a full-screen overlay that fills the whole browser window.
You can also add your popup content to the sidebar and insert them into your posts and pages. Interestingly, there's a tab-style button that expands to reveal a message when clicked.
Templates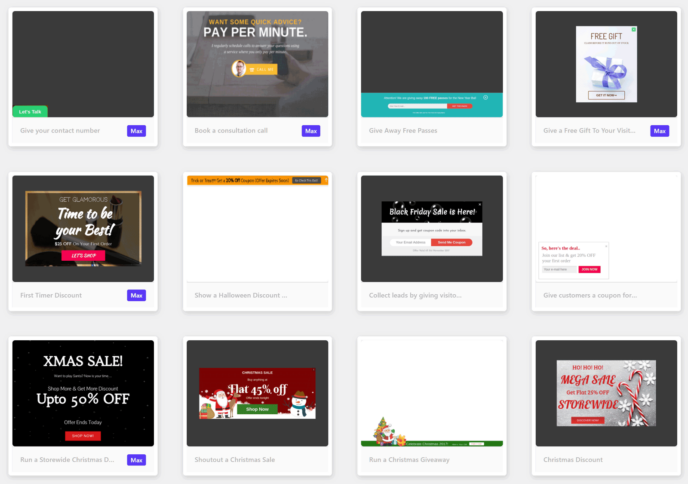 Icegram has a lot of templates for a free plugin. They're not as modern or well designed as the ones from premium popup plugins such as Elementor Pro or OptinMonster, but, overall, they're pretty good.
The main drawback of Icegram is revealed when you try to customize a popup.
There's no visual editor for personalizing the design of the popup. Instead, you must edit CSS to do things such as change the background image, switch the fonts or edit the design of the close button. There is documentation on the Icegram website, but the process definitely isn't straightforward compared with any of the other plugins in this guide.
When it comes to editing the contents of the popup, the work takes place through a modified version of the WordPress editor. Again, the process isn't very user-friendly, but it does work.
Integrations
Icegram can be connected to many email marketing services, but, again, setting up the integration isn't straightforward. It's definitely not as streamlined as the paid popup plugins, which typically require just a few clicks.
Triggers and Targeting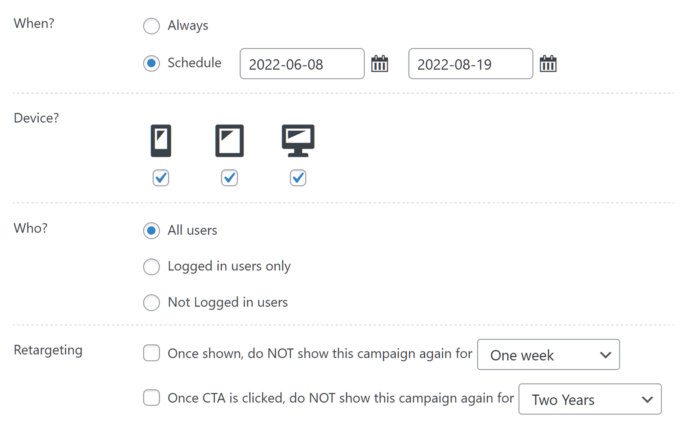 Setting how long to wait after a page has loaded before a popup is displayed is the only trigger available with Icegram. There's no exit intent or anything sophisticated like that unless you upgrade.
The options for setting the display rules are a little better. You can choose to display the popup site-wide, on the homepage or on selected pages. However, to display it on selected pages, you have to manually enter the URL of each page. There's no option to select the posts and pages through a visual interface as you can with all of the other plugins in this guide.
You can schedule popups by date, though, which is a useful feature. Setting which device to display them on is easy, too. You also have a few retargeting settings to work with.
A/B Testing
A/B testing is only available on the most expensive Icegram plan.
Icegram Pricing
As the core version of Icegram is free to use, this plugin does make it possible to add popups that contain an optin form or custom content to your WordPress website without spending any money.
There are two paid plans for Icegram, starting at $97 a year. Although I haven't used the paid versions, based on the experience of the free version, I wouldn't recommend them, especially at those prices. Bloom and Elementor Pro are both cheaper.
Icegram Verdict
If there's a popup template that's right for your project, then Icegram may be a good option for your site. The different popup types are quite competitive for a free plugin.
However, if you have to do any customization work, using Icegram probably won't be an enjoyable experience. Also, the integration experience isn't great, either.
Because of this, Icegram is best for using your popups to display a custom message rather than an email optin form that's connected to your email marketing service. Although, if you don't mind customizing CSS and copying and pasting code, or you don't need a sleek user interface, then you may find Icegram works for you.
---
Final Thoughts
After using the best WordPress popup plugins, I can confidently say there's a massive gap between the free and paid options.
All of the free plugins do let you add a popup to your WordPress website, but they all have major weaknesses in different areas. Saying that, if you don't want to invest in a popup plugin, and your needs are very modest, it's possible to add popups to WordPress for free.
If you can afford it, spending $49 a year for Elementor Pro opens up a whole world of possibilities for your popups — plus you get access to an excellent website editor plugin. If you can afford $588 a year for the top-tier OptinMonster license, I don't think you'll be disappointed. The other paid options priced in between, including Bloom, Thrive Leads and the lower-priced OptinMonster plans, are all good, but you'll have to check out exactly what features they have to make sure you pick the right one for your project.
Considering popups can have a direct impact on your business, such as by collecting more emails and generating more leads, this could be a paid plugin that's worth investing in.
Used/using any of the above? Thoughts on each?
All comments are held for moderation. We'll only publish comments that are on topic and adhere to our Commenting Policy.