Six Best Event Calendar Plugins for WordPress (2018)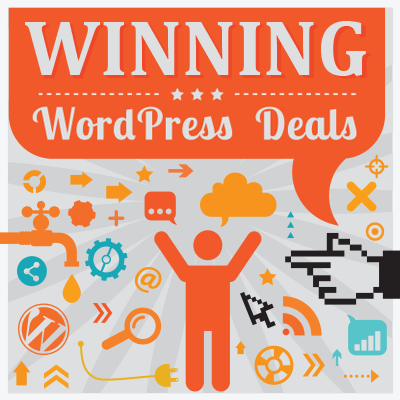 Does your WordPress-powered business need to schedule and display conferences, meetings, or other types of events? Yes? Then you'll be pleased to know there's a number of plugins aimed at helping you do just that!
Event calendar plugins allow you to consolidate and display all the relevant information for your site's events into one handy place. But that's not all: many such plugins also come with numerous advanced features, like recurring events, front end event submissions (so your visitors can create events by themselves), data import, and more.
We've sifted through heaps of different solutions to try and find the best event calendar plugins currently available!
Here goes:
Events Manager

Events Manager is a very powerful calendar plugin with plenty of awesome features, such as the ability to parse Google Calendar feeds and display the events as either a calendar grid or a simple list within a page, post or widget.
To create a new event, you'll navigate to Events >> Add Event and fill in the necessary information. You have some very cool options here — for one, you can mark the event as virtual by selecting the "This event does not have a physical location" checkbox.

You can also choose to enable/disable registration for the event or set the event as an all-day affair. If you choose to allow registrations, then you can set the event as a paid one for which attendees have to purchase tickets. You can even set different levels of tickets for different privileges, and limit the number of registrants.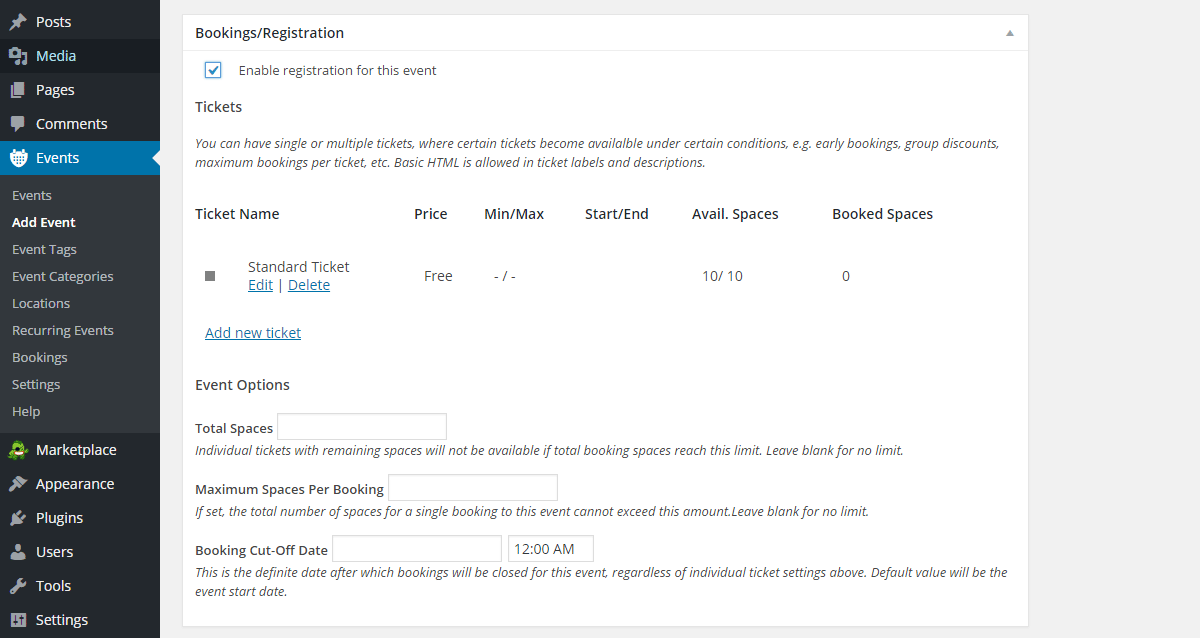 I very much like the layout of the final result. The important information is obvious, the Google Map is unobtrusive, and there's no funky formatting.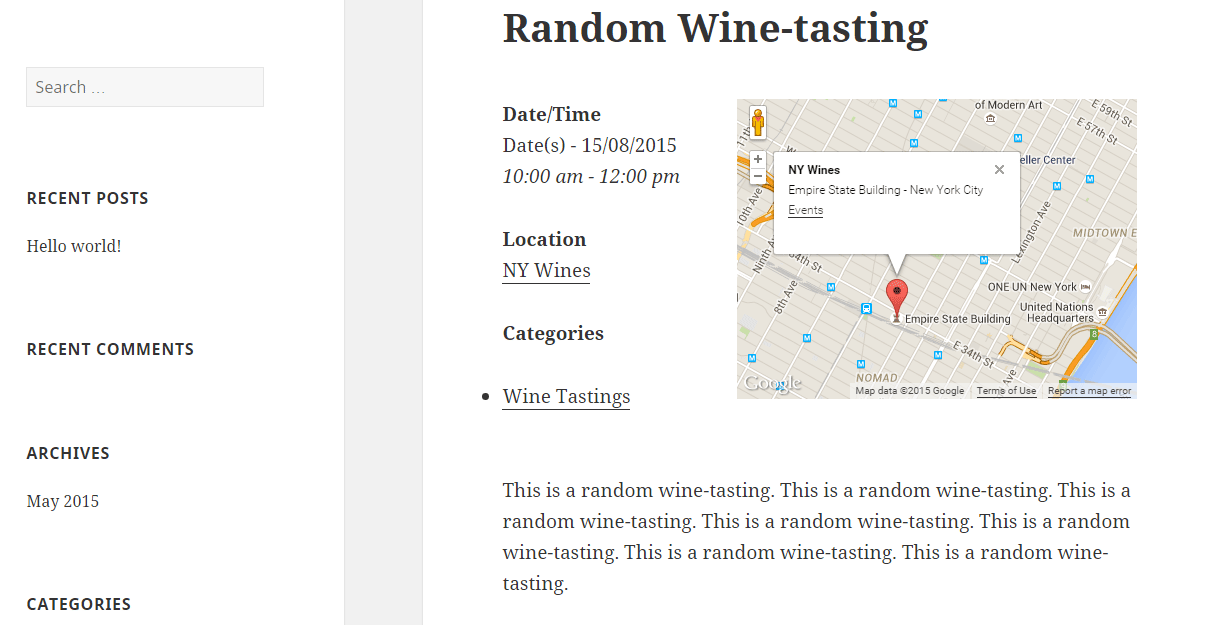 To insert an Ajax-enabled calendar of events into a post or page, just use the [events_manager] shortcode.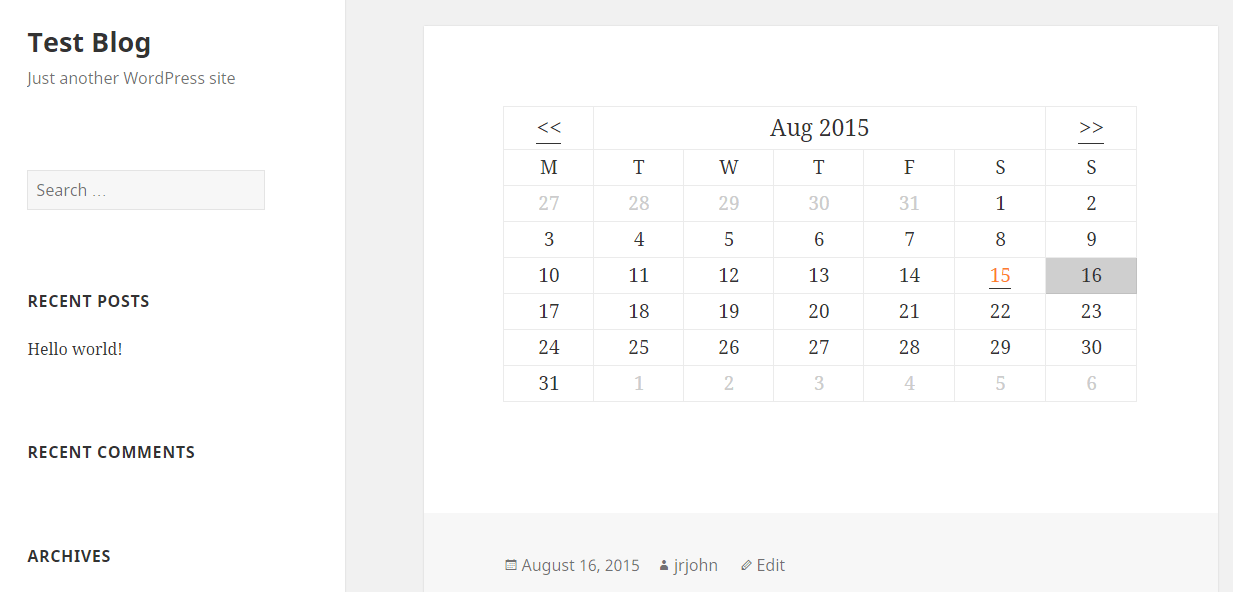 You can also create recurring events under the Events >> Recurring Events tab. In the settings page, you can choose to disable several of the functions, such as tags, categories, thumbnails, bookings, custom fields, etc. You can also choose default locations and whether or not you want to include a "Powered by Events Manager" link at the bottom of your posts. User capabilities for each level of user can also be customized right from the plugin.
Using the [event_form] shortcode, you can also allow event submissions from front end users. More advanced styling, formatting, and performance options are also available for customization.
Events Manager Pro costs $75 and features email reminders, built-in payment gateways (PayPal & Authorize.net), customizable booking forms, premium support, and other extras.
Features:
event bookings
all-day events
event tags & categories
recurring events
venue manager
Ajax-enabled calendar
nearly unlimited customization ability
advanced backend options
customize user capabilities
nice styling
Google Maps integration
Cons:
UI can be a little intimidating because of the extreme number of options
The Events Calendar

The Events Calendar is the most popular of all the six plugins on this list. It's a release from the folks over at Modern Tribe, a small WordPress company that's been steadily growing in popularity. It's been approved and worked on by several WordPress expert developers, including core developer & security expert Mark Jaquith and Pippin Williamson (one of Pippin's own plugins features on this list as well).
To create an event, navigate to Events >> Add New. After filling in the copy in the post editor, you'll add all relevant event details in the widget below. There are a whole lot of fields to fill out and checkboxes to tick, but don't be intimidated — the UI is actually quite user-friendly.
First of all, you'll set the event date and time (there's also an option to make it an all-day event). Secondly, you'll enter in the venue info (you can save a flibrary of venues). You also have the option to display a Google Map for the location info.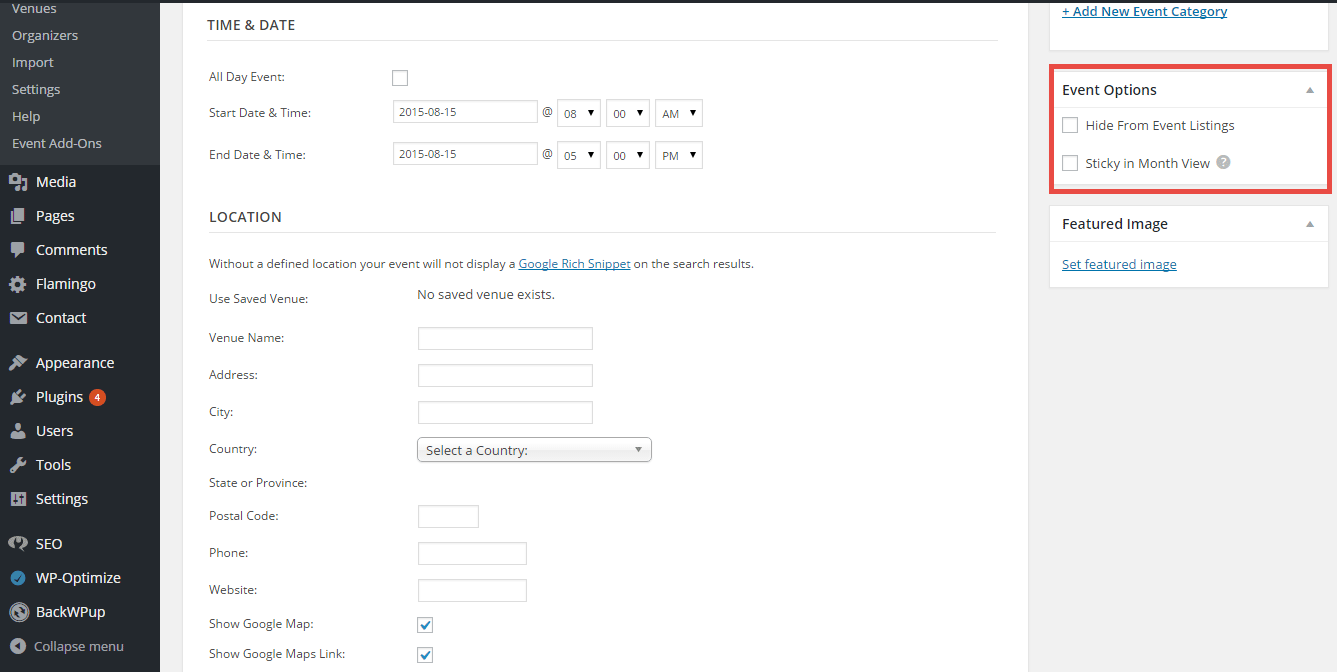 Thirdly, you'll enter in the contact details and name of the event organizer/planner. The last steps are to key in the URL & costs for the event (if applicable).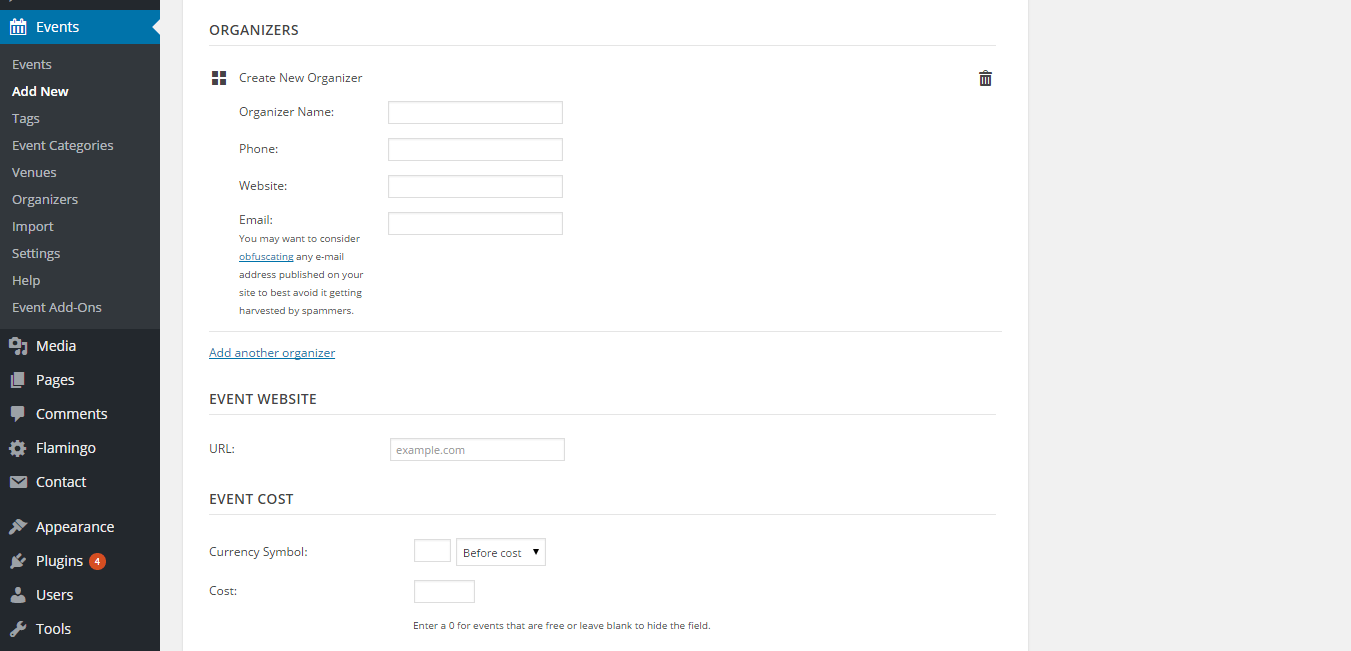 Here's what the output looks like. Note the links for visitors to export the time information to Google Calendar or iCal.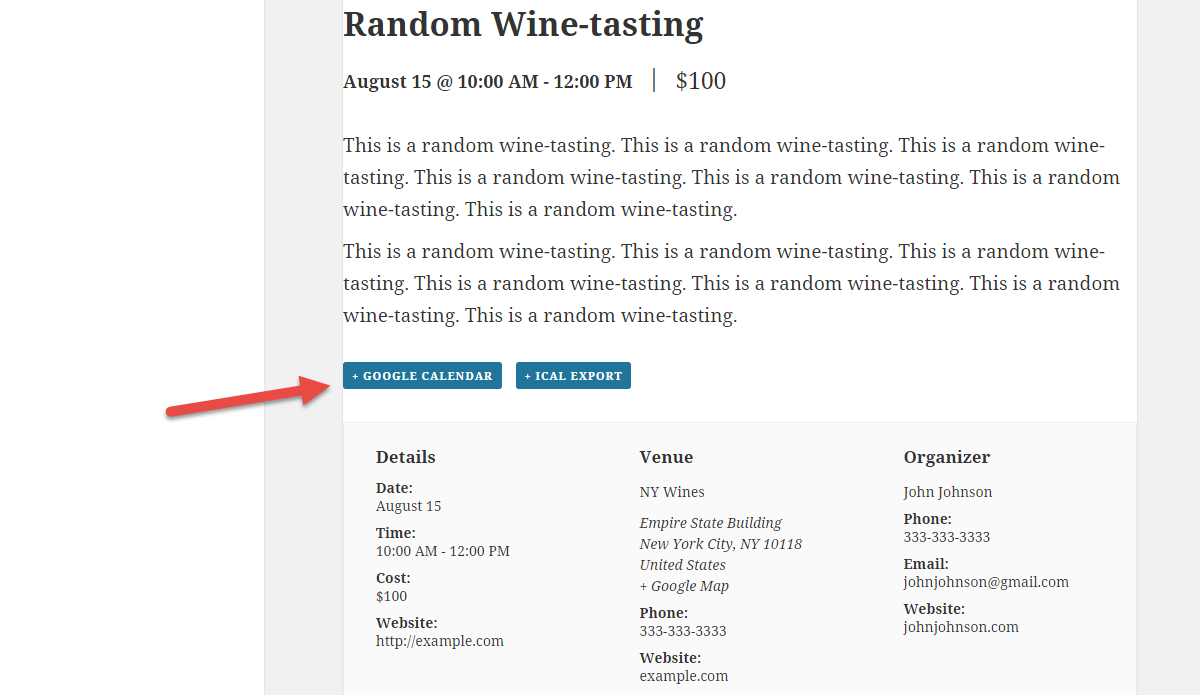 You can also play around in the plugin's settings. You can create tags, categories, and/or additional organizers & venues. A few display options, such as Google Map zoom level and currency symbols, can be customized. Visitors can also view a calendar of your schedule events (searchable and filterable by date) at the URL example.com/events.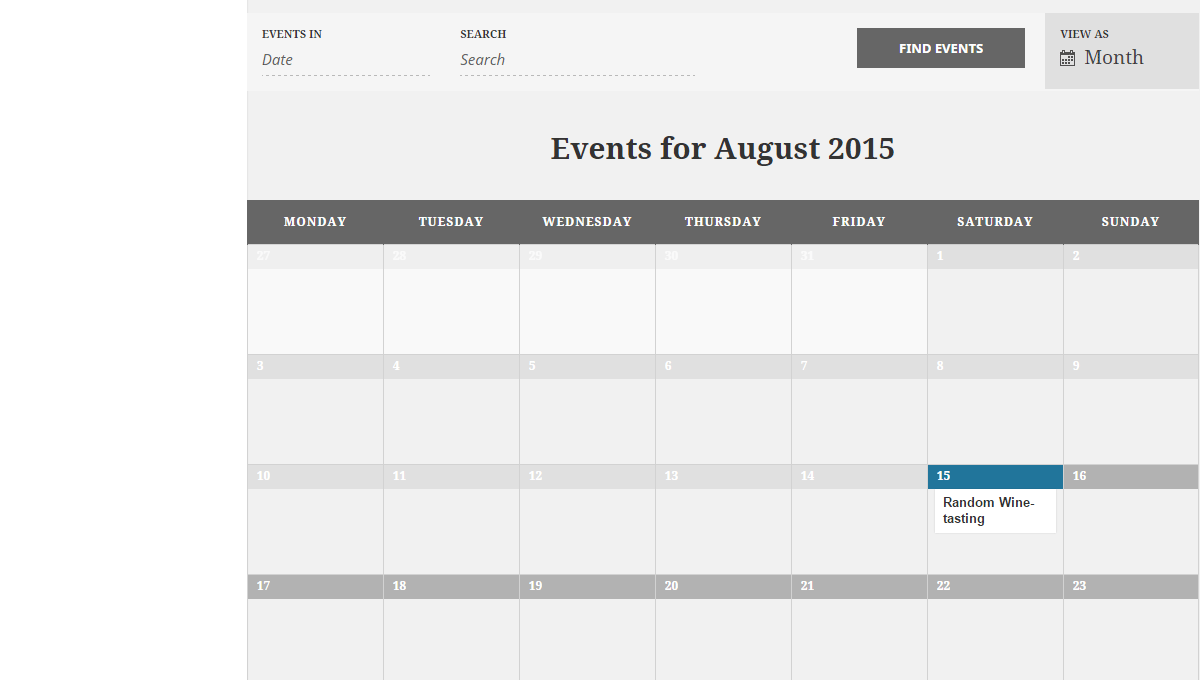 The Events Calendar comes with several addons like WooCommerce/Facebook integrations, user submission of events, recurring events, and more. You can also go for the pro version for $89 to get premium support plus a few of the addons built-in.
Features:
venue & organizer managers
event categories
event tags
all-day events
import data from CSV files
available add-ons
display options
Google Maps integration
Ajax-enabled calendar
Cons:
styling looks a little dated
no recurring events
Google Calendar Events

Google Calendar Events is an excellent calendar choice if you're looking to extract your Google Calendar and feed it into a WordPress site.
Naturally, to start with, you'll create an event in the Google Calendar UI.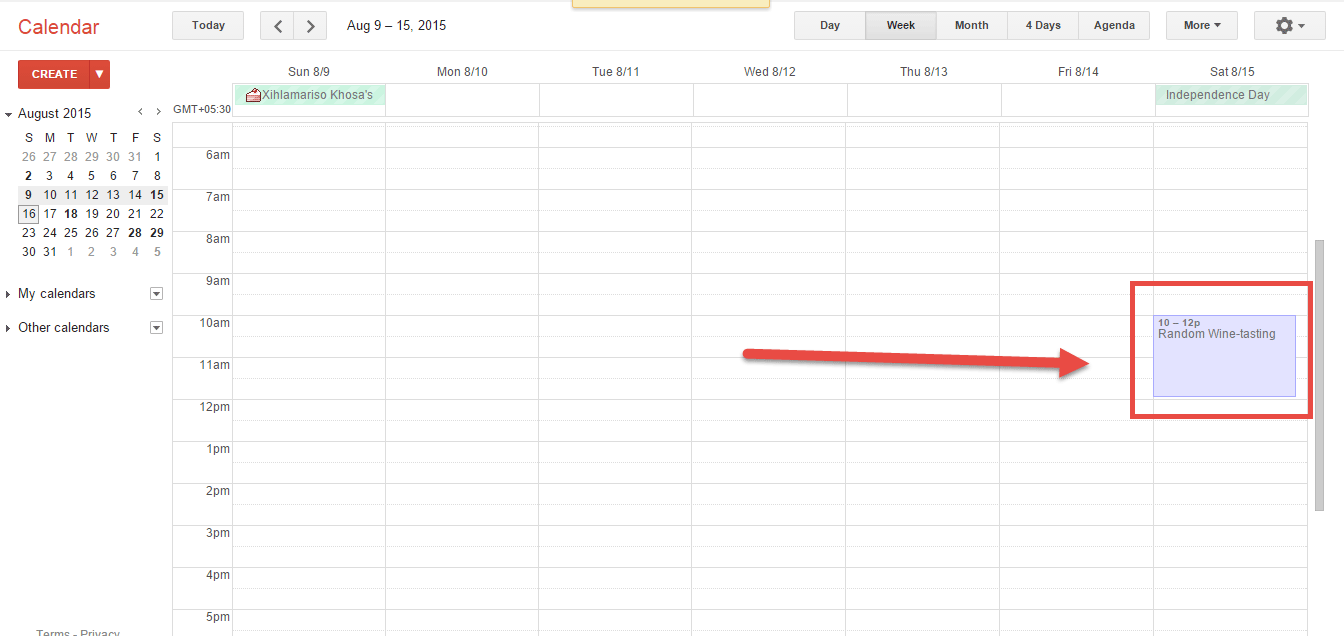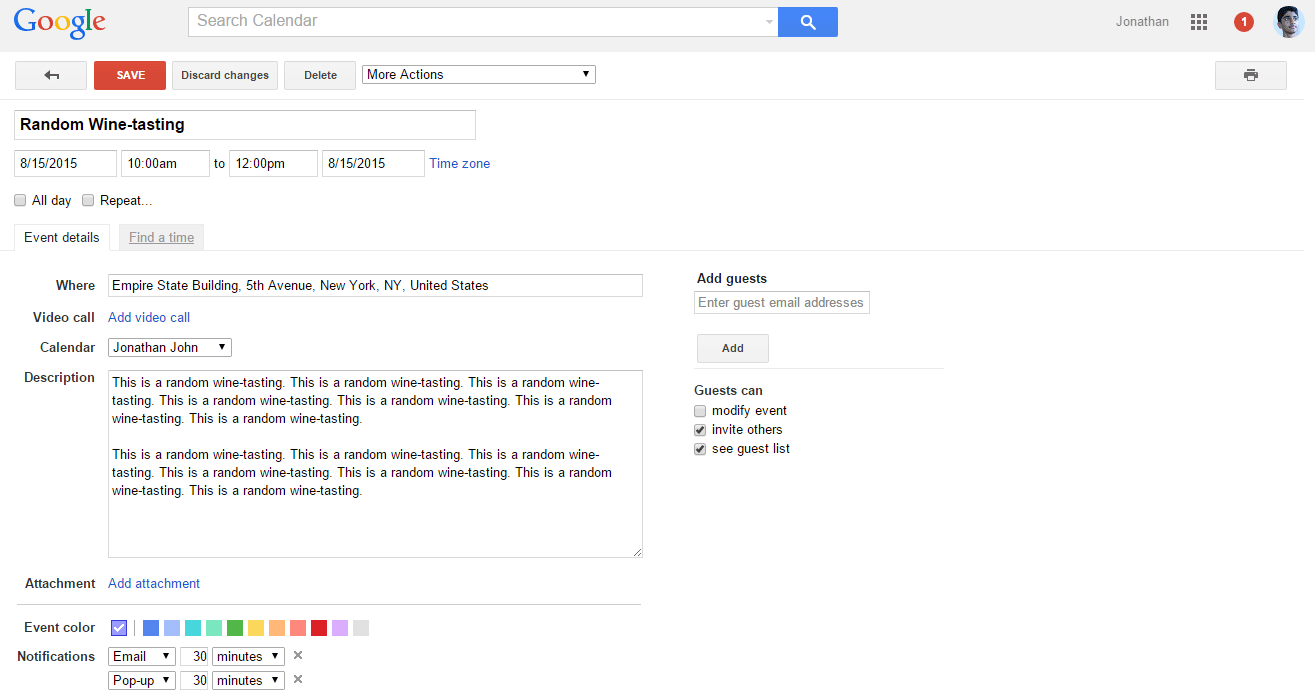 Then, you'll head back over the WordPress and navigate to GCal Events >> All GCal Feeds. The post editor will auto-fill with all the necessary shortcodes that will extract and display data from your Google Calendar.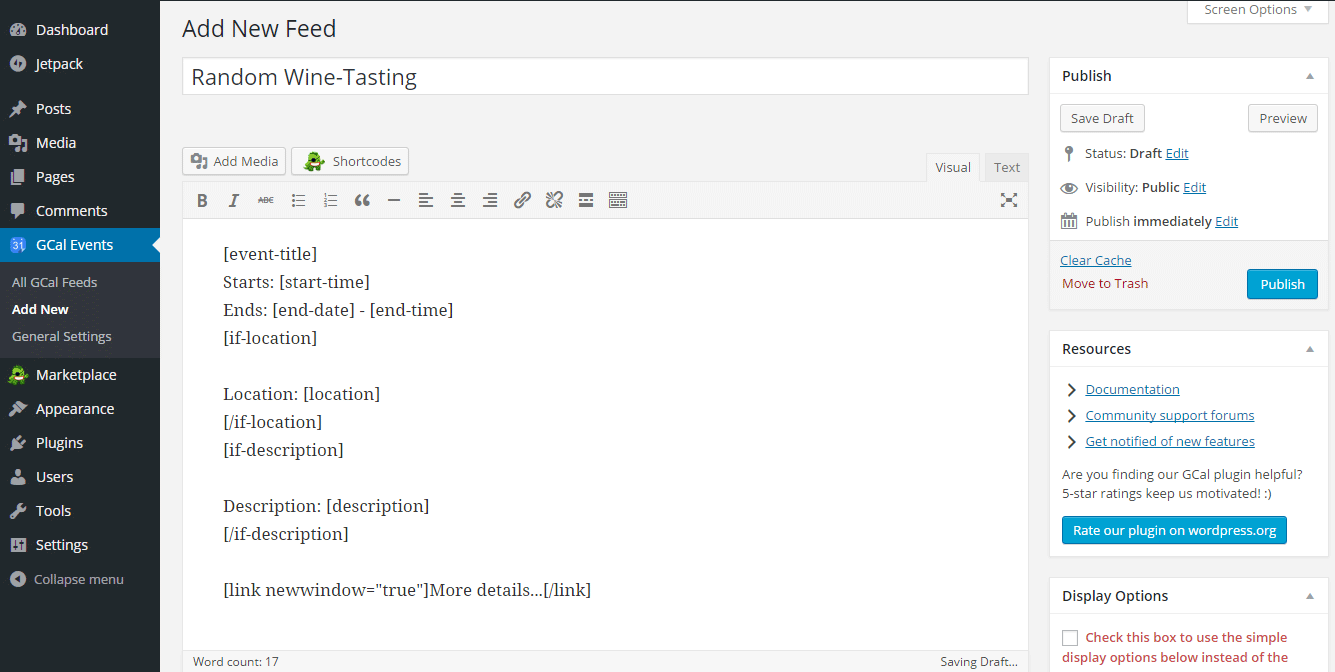 Scroll further down, and you'll see the fields to add the calendar feed. You'll need your Google Calendar ID to do so (here's how to find it). There are a ton of settings you can customize for your calendar, including display modes, events per page, pagination, date & time formatting, etc.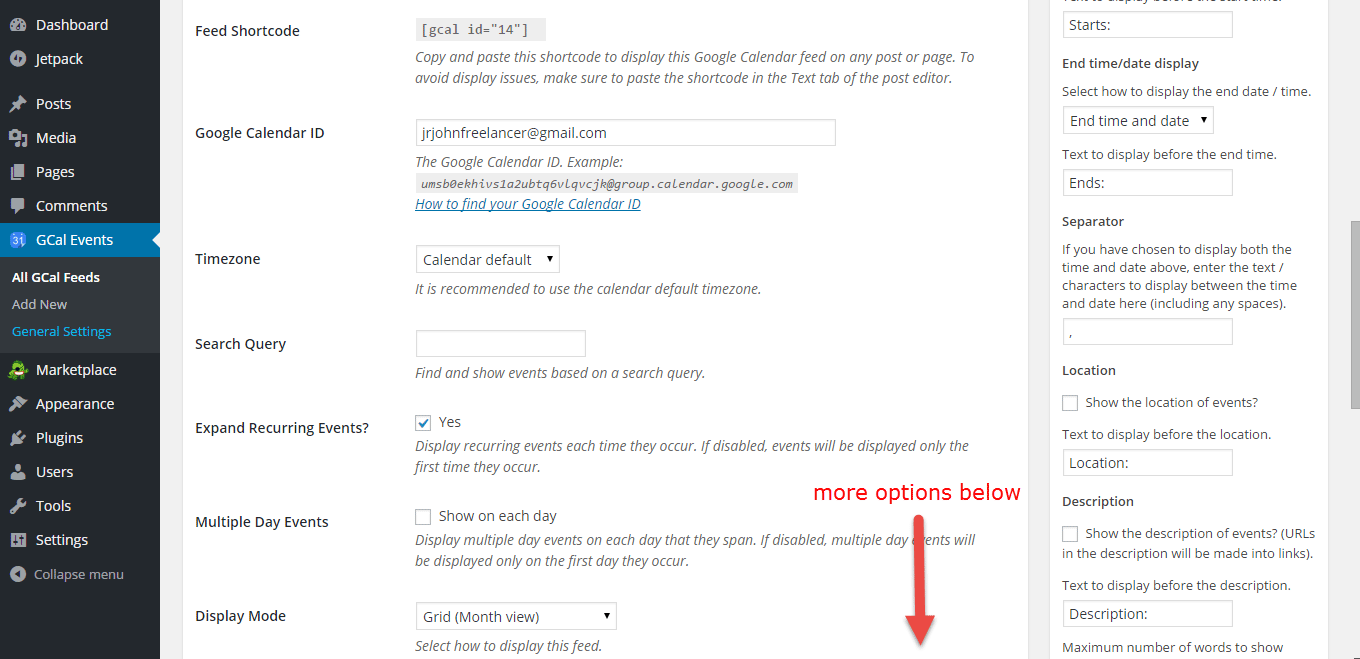 Here's what the output tends to look like.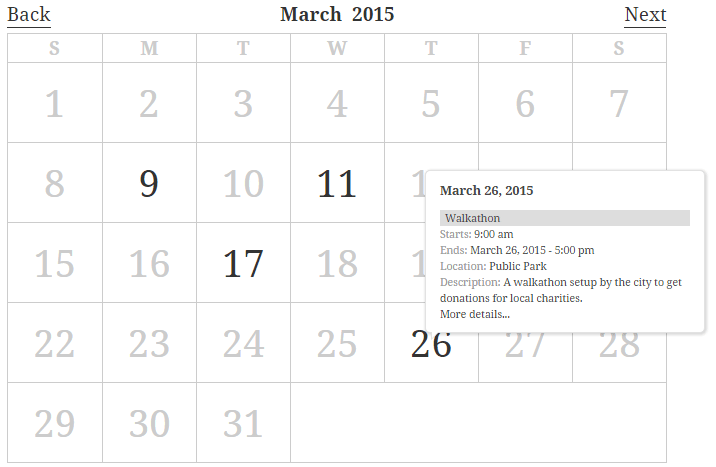 In the General Settings, you can change the API key, enable/disable script enqueuing, enable/disable plugin CSS, and save the plugin settings should you choose to you uninstall it.

Features:
import multiple Google Calendar feeds
customized display options
date/time formatting
recurring events
advanced backend options
styling options
tooltips
Ajax-enabled calendar
Cons:
styling looks a little dated
My Calendar

My Calendar is a popular and well-rated event calendar plugin (4.7 stars on WordPress.org after 40,000+ installs) from Joe Dolson.
Events are created under My Calendar >> Add New Event. Although you can't create custom organizer profiles for each event, you can assign an event to one of your WordPress user accounts. Tickets aren't built-in, but you can use Joe's free My Tickets plugin (a standalone platform for selling event tickets that integrates with several plugins).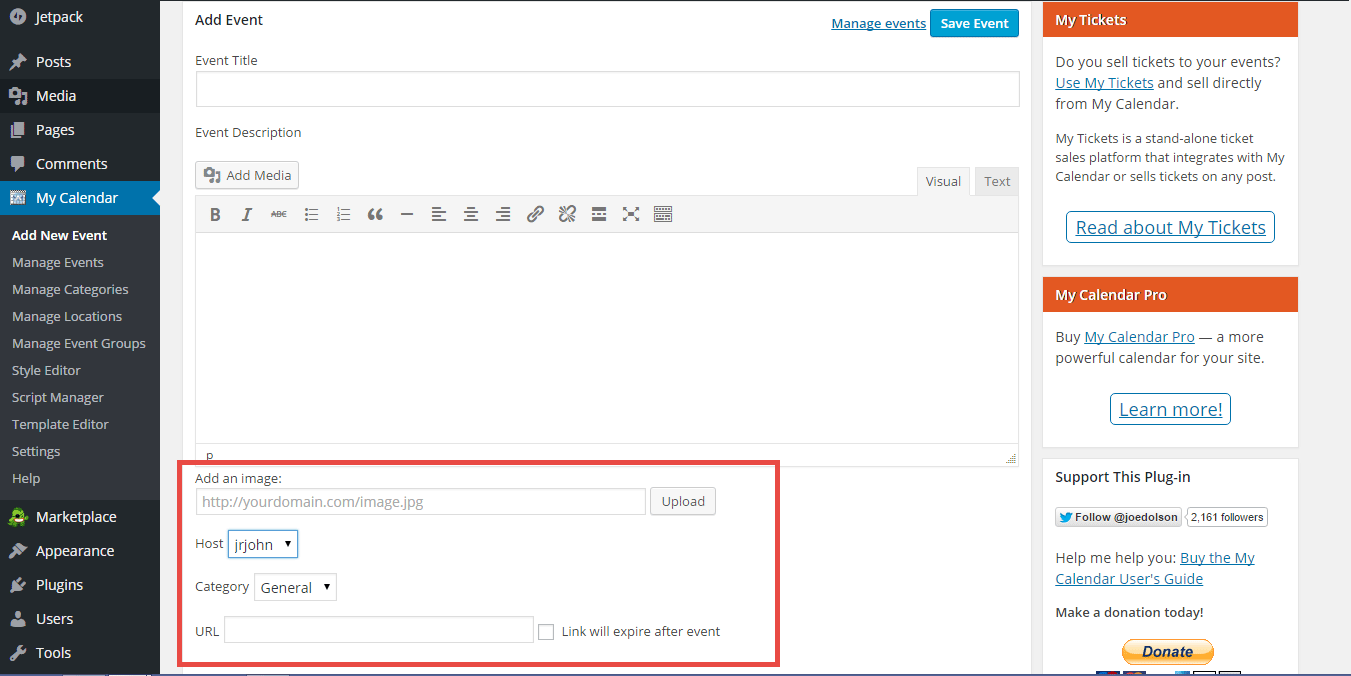 You can customize date & time (all-day events possible), add location info, set recurring events, and also (here's a unique feature) customize event accessibility (e.g. for any folk with disabilities).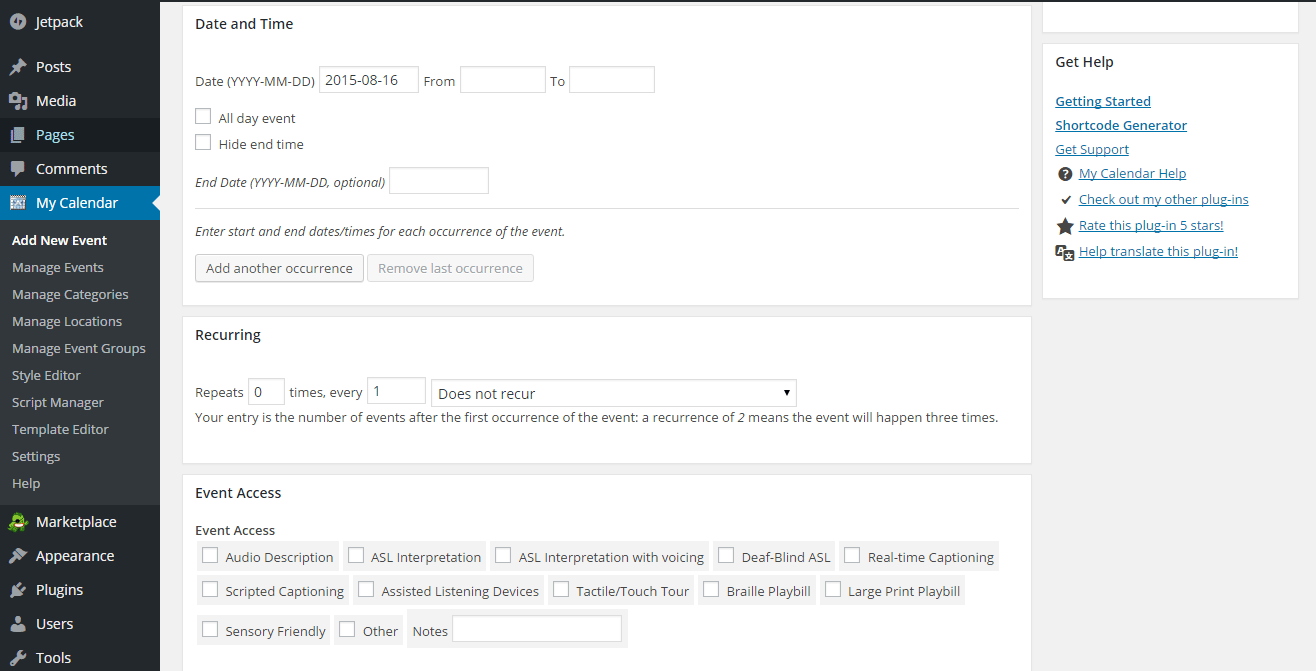 In the event manager, you can also create groups of events for mass editing. There are also style & temp editors, as well as a script manager. Finally, there's also a shortcode generator built-in you can use to format and filter your calendars.
The final calendar can be viewed at example.com/my-calendar or by inserting the [my_calendar] shortcode into a post/page.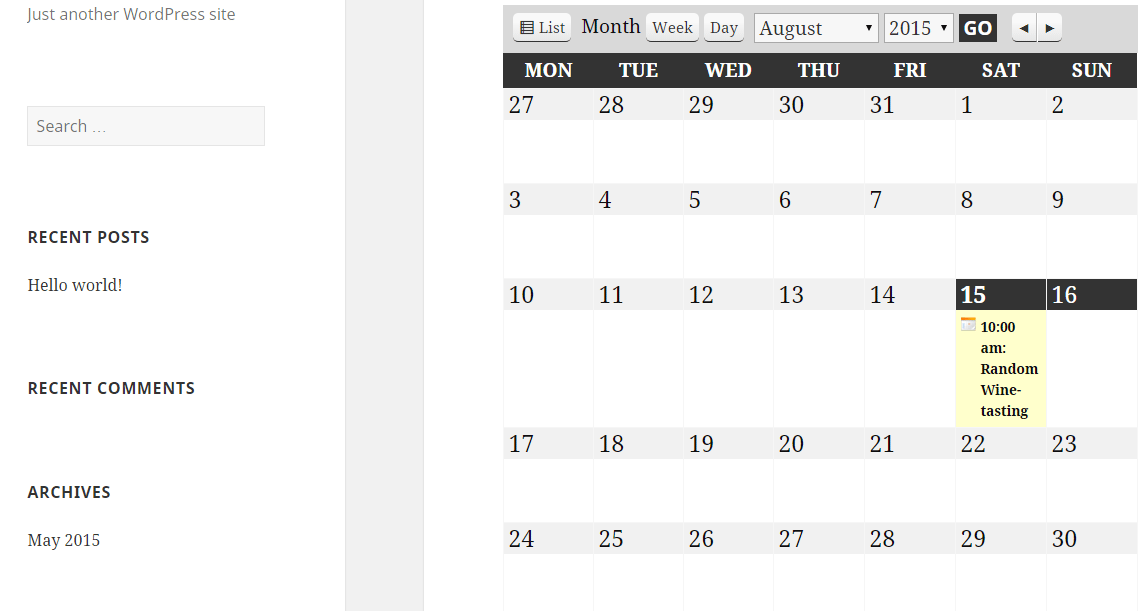 My Calendar Pro can be had for $39, and it comes with front end user submission, payments built-in, discounts, and more.
Features:
venue manager
recurring events
event accessibility tags
all-day events
Ajax-enabled calendar
style & template editor
shortcode generator
nice styling
script manager
Cons:
the UI (User Interface) is a little difficult to deal with (e.g. locations have to be created in a separate page from the event creator)
the User's Guide for the plugin is a paid extension
Sugar Events Calendar Lite

Sugar Events Calendar Lite is a popular event calendar plugin from the highly reputable developer Pippin Williamson.
To create your first event, you'll navigate over to Events >> Add New, where you'll input the title and the copy for the event in WordPress's standard post editor. The only new screen widget is the area for event details (date & time).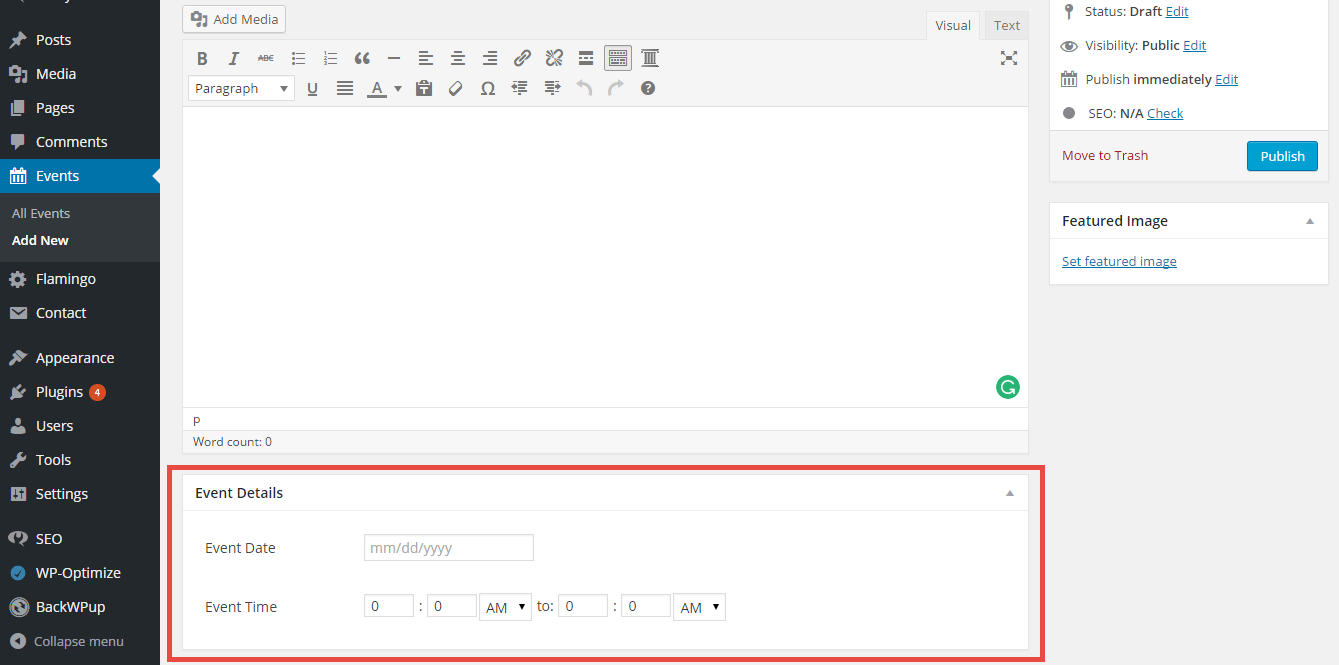 As you can see, this is a lightweight plugin with limited functionality. As is the case with several of Pippin's plugins, the main goal appears to be simplicity, and Sugar Events Calendar Lite achieves that goal easily. Here's a preview (note that there's virtually no extra formatting or styling).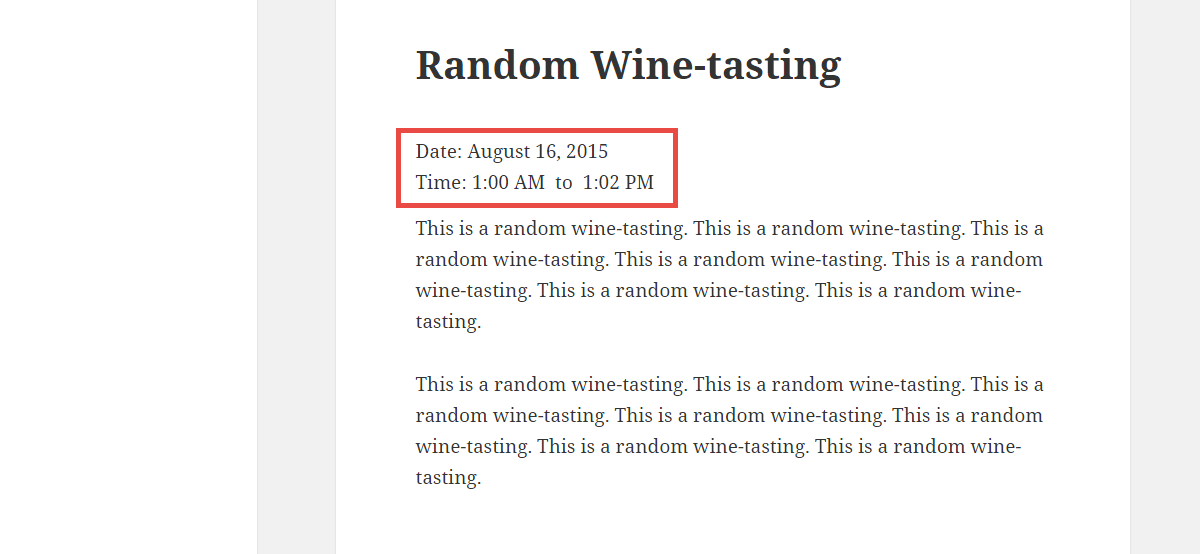 You can view your archive of events under Events >> All Events tab. The archive can be filtered by date.
Lastly, you can also show use the [sc_events_calendar] shortcode to display an Ajax-enabled calendar of your events on a post or page.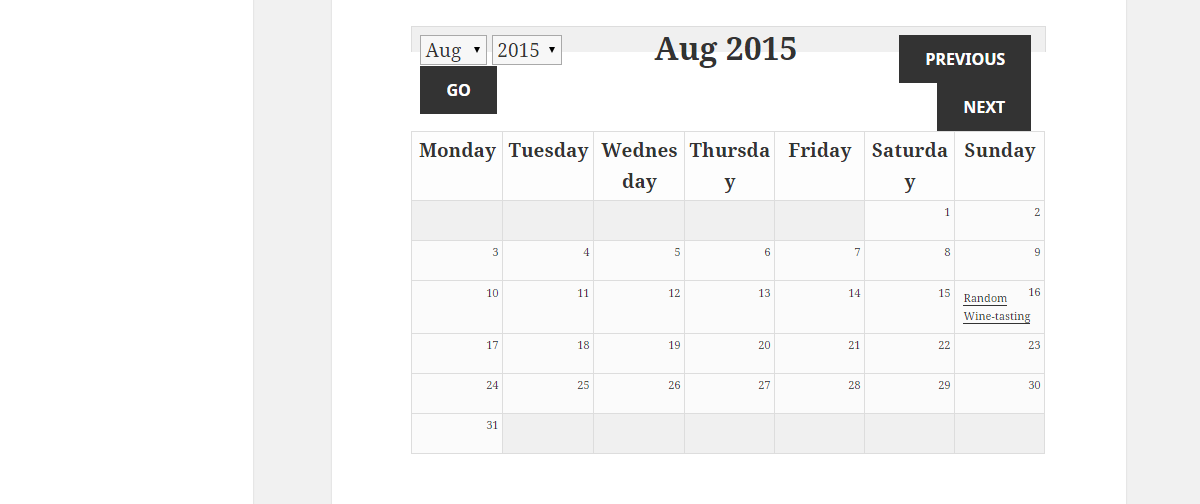 The pro version builds in significantly more functionality, including recurring events, calendar styling, categories, and widgets. It'll set you back $18 for use on a single site.
Features
very simple & easy to use
Ajax-enabled calendar
Cons:
limited functionality and no styling options
Calendarize.it

Calendarize.it is a premium WordPress plugin that's racked up 5,650 sales on CodeCanyon and a 4.27 star rating. It's very powerful, and comes with both premium features and beautiful styling.
The UI is simple and functional, and looks nice to boot. The calendar can be customized extensively from the backend in a visual "point and click" interface.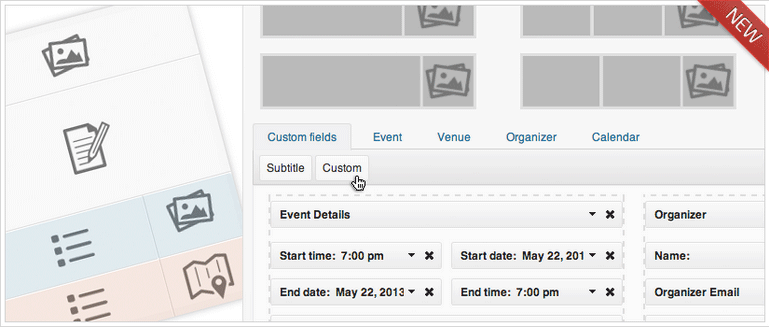 You also get recurring events and can edit events by the user who created them. You can also create custom taxonomies and use them to filter your calendars. The plugin also comes with a built-in sidebar widget, eight shortcoes, and custom user capabilities. Venue managers, date and time formatting, and custom color schemes (with eight preset ones included) are all possible.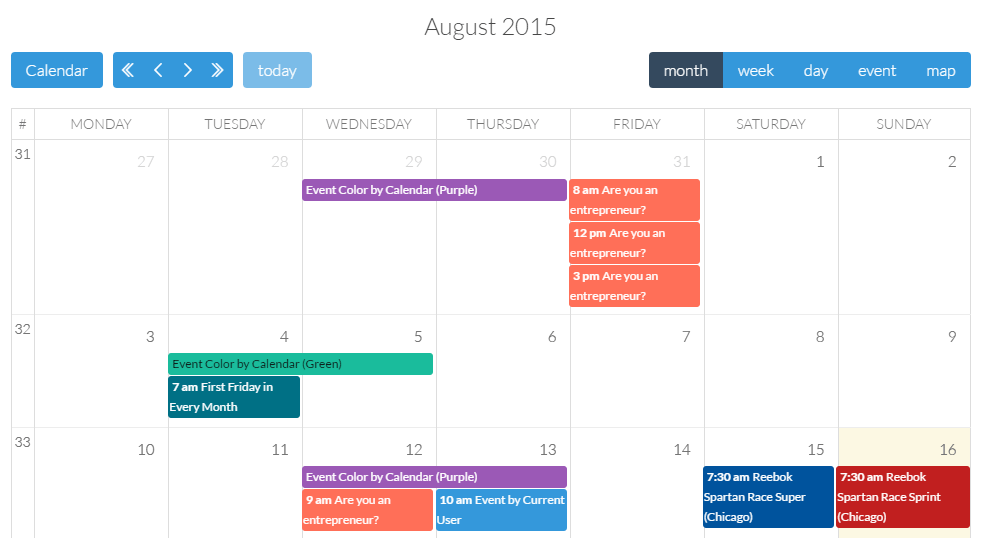 Calendarize.it is priced at just $29, which is pretty good bang for buck considering its extensive functionality.
Features:
user-friendly interface
recurring events
venue manager
custom taxonomies with filtering options
sidebar widget
8 shortcodes
customize user capabilities
date & time formatting
Google Map integration
Cons:
Wrapping Up
Of these six event calendars, my plugin of choice would be Events Manager. The amount of built-in functionality and the customization offered are very much worth the time spend having to navigate the ever-so-slightly tricky user interface (in my opinion).
Which plugin do you plan to use for your event calendars? Thoughts?