WinningWP content is free to all. If you make a purchase through referral links on our site, we earn a commission (
learn more
).
Top 7 Best Squarespace Alternatives For Making Your Own Website
Searching for the best Squarespace alternatives to help you to make a website or online store?
Squarespace is one of the most popular website builders, but it's not the right tool for everyone. It has some frustrating limitations when it comes to the features you can add to your website, and it can also be a bit expensive if you just want to launch a simple site.
Thankfully, there are plenty of great Squarespace alternatives that can solve these pain points and offer a website building experience that's more in line with your needs and budget.
To help you to find the best option for you, I've collected the seven best alternatives in this post. For each alternative, I'll explain what it does better than Squarespace… and also where it falls short of Squarespace. After all, Squarespace is a quality tool, so none of these alternatives are better in every single area. It's all about trade-offs and finding the right balance for your needs.
Why Look for Squarespace Alternatives?
There are a few reasons why you may be looking for Squarespace alternatives. The exact reasons why you're searching will affect which tool you choose, so it's useful to quickly summarize them:
Feature flexibility — Squarespace doesn't have a third-party app marketplace like many other tools, so you're limited to the built-in integrations. Because of this, you can find much more flexible alternatives.
Design flexibility — if you value design flexibility, you can find alternatives that give you the option to start from a blank canvas and include a lot more design options.
Integrations — because there are no apps, you're limited to just the built-in integrations (unless a tool offers a JavaScript embed code). If you value having integrations, you'll probably want an alternative with a more open app marketplace.
Price — Squarespace's prices are pretty competitive with other tools, but you can find cheaper alternatives for some situations.
Simplicity — while Squarespace is already pretty simple, you can find even simpler tools if you still find Squarespace's learning curve to be too high.
eCommerce — while Squarespace can help you to make a store, there are better options if you're 100% focused on eCommerce.
With that in mind, let's get into the best alternatives…
1. WordPress (Self-Hosted)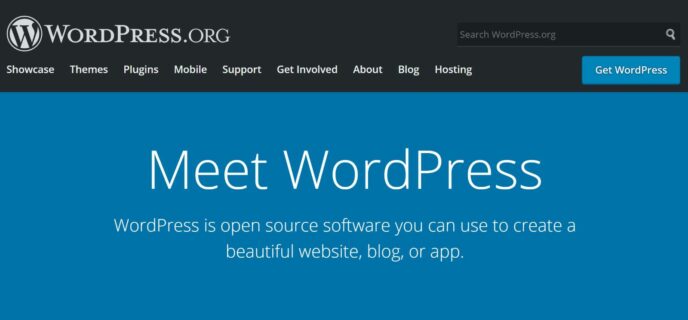 By the numbers, the self-hosted WordPress software is by far the most popular way to make a website. According to W3Techs, WordPress powers 39.1% of all websites, which is, quite frankly, just incredible. If you're wondering, Squarespace powers about 1.4% of all websites.
To use it, you'll actually install the open-source WordPress software on your own web hosting, which adds a tiny bit of complexity vs Squarespace. However, because WordPress is so popular, most web hosts have made it super easy to install.
👉 How to make a website with self-hosted WordPress
Why Self-Hosted WordPress Makes a Good Alternative
The biggest advantage self-hosted WordPress has over Squarespace is flexibility. You get more flexibility when it comes to pretty much anything. You can build more types of websites, integrate with more services, make more customizations to your site, and so on.
The biggest reason for this is WordPress's huge library of 55,000-plus plugins, which add new features to your site (you can also think of them as 'apps').
For example, let's say you want to create a membership site where you also offer online courses as part of the membership. You could install a membership plugin to control user registration, add a learning management system plugin to create your courses, and so on.
The same is true for integrations. Because WordPress is so popular, pretty much every single service offers a dedicated WordPress integration plugin. Using HubSpot? There's an integration. Salesforce? Yup, that too. ShipStation? Yup. You get the idea…
You can also use plugins to add new features to your backend WordPress experience. Want a visual, drag-and-drop builder such as Squarespace offers? All you need to do is install a page builder plugin such as Elementor and you're set to jet.
Finally, if there's something WordPress can't do, you can always edit the underlying code yourself, because you have full access to your site's code. Or, if you're not a developer, you can hire one to do it for you.
Beyond flexibility, self-hosted WordPress can also be a lot cheaper than Squarespace (though not always — it can also be more expensive depending on your needs). For a basic site on affordable shared hosting, you could pay as little as ~$5 a month to run a self-hosted WordPress site.
Downsides of Self-Hosted WordPress as an Alternative
The big downside of self-hosted WordPress is that it's a little more complex than Squarespace. Squarespace is a hosted tool, which means you never need to worry about maintaining the software/hardware that underlies your site.
With self-hosted WordPress, that's not the case. You'll be responsible for security and maintenance tasks such as backups, software updates, and so on. Now, that's not a huge deal, and you don't need to be a tech master to do things, but it is some added responsibility vs Squarespace.
You can get around a lot of these tasks if you use a type of hosting called managed WordPress hosting, but this is a bit pricier than regular WordPress hosting and it eliminates WordPress's 'cheap' advantage.
2. Wix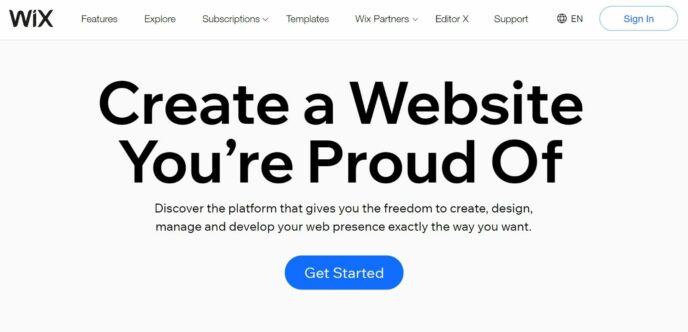 When it comes to hosted website builders, Wix is the other big name alongside Squarespace. It uses the same basic approach, so you won't find any surprises there. You just sign up for a Wix account and start building your site using pre-made templates and a visual drag-and-drop editor.
Wix has a very limited free plan that works if you're okay with using a Wix subdomain and having ads. Otherwise, most people will want to start with the $12.50-a-month Unlimited plan, which makes Wix a little cheaper than Squarespace for the features you get.
For a broader comparison of these first two tools vs Squarespace, check out our Wix vs WordPress vs Squarespace comparison. Or, check out some examples of Wix websites to see what it can do.
Why Wix Makes a Good Alternative
While Wix is still a hosted website builder just like Squarespace, it does give you a little more flexibility in a few key areas.
First off, Wix allows third-party apps, which gives you more options for extending your site and integrating it with other services you use. There are still only ~250 apps to choose from, so you don't have nearly as many options as WordPress, but it's definitely broader than Squarespace's built-in integrations.
Second, Wix is also more flexible when it comes to working with your site's code. With Corvid, you can work directly with Wix's APIs and add custom JavaScript to your site. You can also edit code in an integrated development environment (IDE). These are pretty advanced features, but advanced users will appreciate these extra options.
Finally, for basic sites, Wix can be a little cheaper than Squarespace.
Downsides of Wix as an Alternative
These downsides are a bit subjective. But, overall, I'd say I prefer Squarespace's visual editor to Wix's, and I think most other people will as well. Wix's editor feels a little 'busier' and complex — I just generally find Squarespace's editor to be a lot simpler and more pleasant to use.
Additionally, I think Squarespace's templates look better than Wix. Many of Wix's templates are pretty basic and a little boring, which is especially true if you're in a creative space.
3. Webflow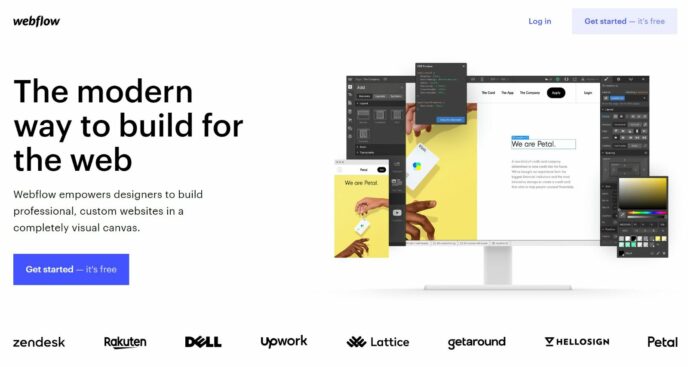 Webflow is a visual, drag-and-drop website design tool that's especially popular with designers and web developers. It gives you some of the simplicity of a website builder, while still also giving you full access to your site's underlying HTML, CSS and JavaScript.
For more complex sites, it also lets you hook into an underlying CMS to create and manage your content (e.g. blog posts). Then, it handles hosting and maintaining everything for you on AWS infrastructure.
All in all, Webflow is a great tool for designers or advanced users who know their way around CSS. However, it's not as simple as Squarespace, so it's probably not a good alternative for non-technical users.
Webflow's pricing plans start at just $12 a month for a basic site, which puts it pretty much on par with Squarespace.
Why Webflow Makes a Good Alternative
The biggest advantage of Webflow is that it gives you a lot more design control/flexibility, which is why it's such a popular tool for web designers. You can start from either a blank canvas or a pre-built template and customize every single element on your page.
Webflow is also a lot more flexible when it comes to dynamic content. You can create any content type, and then design a template for it with Webflow. For example, you could create 'events', 'job listings' and more.
Downsides of Webflow as an Alternative
Webflow isn't as simple as Squarespace, which is the biggest downside. If you're a casual user who's never worked with CSS, Webflow is probably more complicated than you need.
For that and other reasons, Webflow is just generally not the best Squarespace alternative for casual users.
4. WordPress.com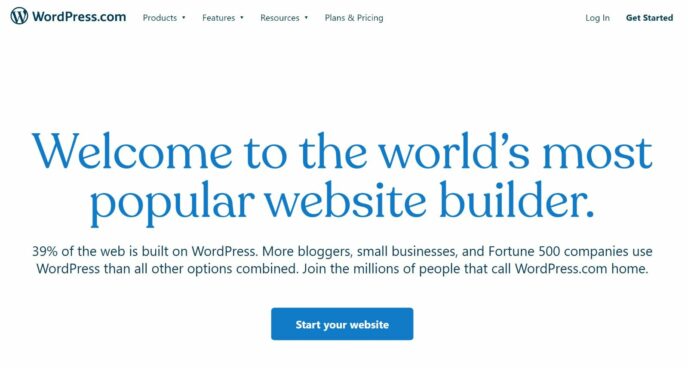 You may be saying, 'Hey, Colin — didn't you already put WordPress on this list?' You're correct — but in the other item, I was talking about self-hosted WordPress. Now, I'm talking about WordPress.com, which is a whole different ball game.
Don't get me wrong — WordPress.com still uses the WordPress software to help you to create a website. However, the key difference is you're no longer responsible for self-hosting WordPress. Instead, much like Squarespace, you can just sign up for a WordPress.com account and start building your website right away.
This greatly simplifies the experience of using WordPress, but at the expense of some flexibility because you're relying on WordPress.com's platform instead of your own hosting. You can learn more about the differences in our WordPress.com vs self-hosted WordPress comparison.
WordPress.com does offer a limited free plan and some affordable basic plans. However, if you want to be able to use your own WordPress themes and plugins (which is a must in my opinion), you'll need to go with at least the $25-a-month Business plan (learn more about it). This puts WordPress.com right on par with Squarespace's Business plan, but more expensive than Squarespace's entry-level plan.
Why WordPress.com Makes a Good Alternative
The main advantage of WordPress.com is that, with the Business plan, you get most of the flexibility of self-hosted WordPress but in the same simple, hosted approach that Squarespace offers.
Unlike self-hosted WordPress, you won't have to worry about basic maintenance, updates, and so on — because it's a hosted solution, WordPress.com takes care of all of that for you.
Downsides of WordPress.com as an Alternative
Because you need the WordPress.com Business plan to unlock the true flexibility of the WordPress software, WordPress.com is a little bit more expensive than Squarespace. Again, you need this plan to install your own themes and plugins, which is a huge part of what makes WordPress flexible.
You could opt for WordPress.com's free plan or one of the cheaper plans. However, you'll be sacrificing a lot of flexibility to save that money.
5. Shopify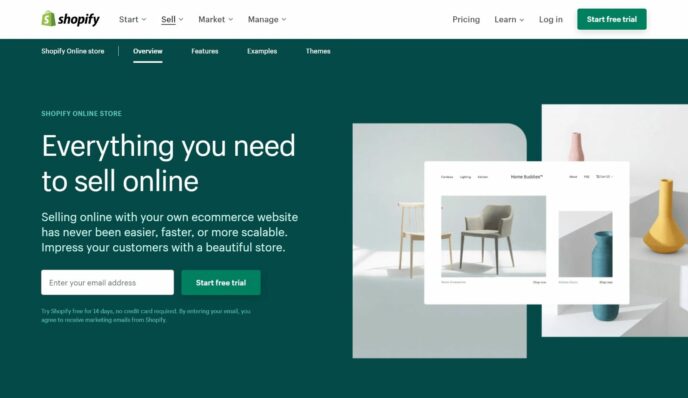 Shopify is a popular eCommerce platform that makes it super easy to launch your own online store. It's 100% focused on eCommerce, so this is only an alternative to Squarespace's eCommerce functions, but if you are mainly interested in eCommerce, Shopify is definitely one of your best options.
Like Squarespace, you just sign up for a Shopify account and you can launch your store right away. You never need to worry about maintenance, security, and so on — Shopify handles all of that for you.
Shopify's cheapest plan starts at $29 a month, which is pretty much exactly the same as Squarespace's Basic Commerce plan.
Why Shopify Makes a Good Alternative
Because Shopify is 100% focused on eCommerce, it's able to offer a much more feature-rich, robust eCommerce platform than Squarespace. Don't get me wrong, Squarespace's platform is totally fine for basic eCommerce stores, but, for serious eCommerce stores, using Shopify is a much better choice.
Additionally, Shopify also has a vibrant third-party app marketplace that lets you integrate with external services and also add new features to your site. For example, you can integrate with your accounting or shipping/fulfillment tools, grow your email list, recover abandoned carts, and more.
Let's look at one example to illustrate that — abandoned cart recovery. According to Baymard Institute, about 70% of all shopping carts are abandoned, so finding ways to recover abandoned carts is essential for eCommerce stores. Squarespace actually does let you send a single abandoned cart email, but it's quite limited. You can't change the timing or add more emails to your sequence.
With Shopify, not only is the built-in feature a lot more flexible, but you also get access to tons of new tools in the app marketplace that add even more flexibility. You can add emails, fully adjust the timing, and so on.
Basically, for a serious eCommerce store, Shopify is a much better choice.
Downsides of Shopify as an Alternative
The main 'downside' of Shopify is the same as its main advantage — it's 100% focused on eCommerce. Sure, it does include some basic features that let you add a blog to your store, but Shopify is still only for websites where your online store is going to be the 'main' part of your website.
If you want to, say, add a small merch store to an otherwise standalone site, Shopify isn't a great option. Squarespace is better at these types of 'bolt-on' eCommerce scenarios.
6. Weebly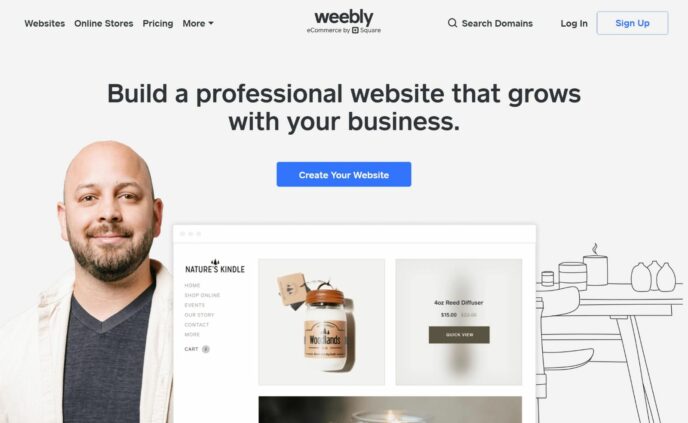 Weebly is another popular website builder that was acquired by payment processor, Square, in 2018. Since that acquisition, Weebly has leaned a bit more into helping you to create online stores, but you can still use it to build any type of website.
One of Weebly's biggest selling points has always been that it offers a free plan. And even with the paid plan, it can still be more affordable than Squarespace, especially for a basic site.
Why Weebly Makes a Good Alternative
Weebly is one of the simplest website builders out there, which makes it a great option for casual users who just want to build a basic website or store. While Squarespace is certainly still pretty simple itself, Weebly is even more simple, and has a smaller learning curve.
Weebly also allows third-party apps, and currently has more than 360 apps on offer, which gives you a little more flexibility than Squarespace in that area.
Finally, Weebly has a limited free plan. You can also pay just $5 a month to connect your own custom domain name, which is more affordable than anything Squarespace offers.
Downsides of Weebly as an Alternative
One area where Squarespace beats Weebly is the pre-built templates. Squarespace offers a much wider selection of templates and, at least in my opinion, Squarespace's templates look better.
Squarespace is also a little better than Weebly when it comes to mobile responsive design. While Weebly's templates are responsive, Squarespace gives you more control over the responsive design with a dedicated mobile editor.
7. Leadpages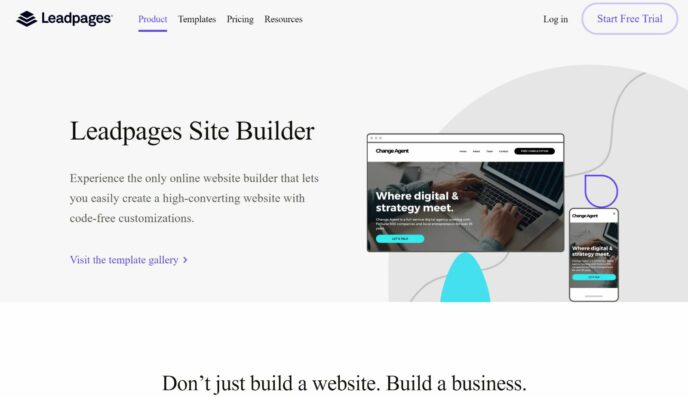 Unlike all of these other tools, Leadpages didn't get its start as a website builder. It started as a landing page builder and then later morphed into a full-service website builder.
This origin story results in Leadpages putting a little more emphasis on marketing and conversion rate optimization than other tools, which can make it a good alternative if you're a marketer looking to specifically build marketing websites.
However, Leadpages is a little bit more expensive than Squarespace as a result — plans start at $27 a month with annual billing.
👉 Learn more in our full Leadpages review
Why Leadpages Makes a Good Alternative
The big differentiator is that, because Leadpages started as a landing page builder, it offers way more in the way of conversion optimization tools than Squarespace. For example, you'll get built-in A/B testing to help you to optimize your designs, as well as a variety of different ways to grow your email lists.
For that reason, Leadpages can be a good alternative for marketers who are specifically looking to drive action.
Downsides of Leadpages as an Alternative
There are a few downsides of Leadpages as a Squarespace alternative.
First off, it's a good bit more expensive than Squarespace, especially as you move into the higher-tier plans. For example, even just the $59-a-month second-tier Pro plan is already more expensive than anything Squarespace offers.
Additionally, while Leadpages does offer tools to accept online payments, it doesn't have the full eCommerce functionality that Squarespace offers.
Finally, Leadpages is mostly focused on marketing websites, so it's not a great option if your primary goal is not marketing-related. It can do that — you'd just be paying a premium for a bunch of tools you won't use.
Which Is the Best Squarespace Alternative for You?
Okay, at this point you're probably wondering which of these seven tools is best for your situation.
I think your first question needs to be whether you want to stick with Squarespace's simple hosted approach or if you're okay with a self-hosted tool. If you're okay with self-hosting your site, self-hosted WordPress is a great first stop.
Again, it's by far the most popular way to make a website, and it has huge advantages when it comes to flexibility and, potentially, price. The only major downside is that it adds a little more complexity than Squarespace.
To learn how to get started, check out our guide on how to make a WordPress website.
For the other hosted tools, here's a quick recap to point you in the right direction:
Used/using any of the above? Thoughts?
Related Posts:
All comments are held for moderation. We'll only publish comments that are on topic and adhere to our Commenting Policy.