Top 5 Best Landing Page Builder Plugins for WordPress (2020)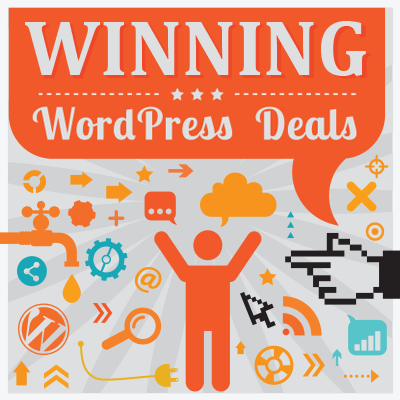 In this post, we'll be looking at the best landing page builder plugins for WordPress available in 2020. Use any of these to craft a landing page quickly and effectively.
Have you ever tried building a landing page in a standard WordPress setup and actually gotten any usable, worthwhile results? This isn't a trick question. Give yourself a minute to think about it.
Chances are, the answer is "no." As great as WordPress is at many things, landing pages simply are not one of them. That is why, in this post, we look at some plugins that will give you a helping hand.
Features that the best landing page builder plugins for WordPress should have
Here are the features you need from your ideal landing page builder plugin for WordPress:
Removable navigation
The best landing pages use almost no navigation elements whatsoever – not even a link to the homepage. This sort of unusual page structure improves your click-through rates and conversions overall (data below).
However, most WordPress themes, if not all of them, put a hard-coded menu somewhere in the header. And yes, you can always erase it (no matter what theme you're using), but not without some coding chops – unless you have a good landing page plugin.
Removing navigation is done to focus the visitor's attention on the main call to action instead of letting them wander around all over the site. An experiment done by HubSpot proves that this practice can result in a 28% increase in conversion rates.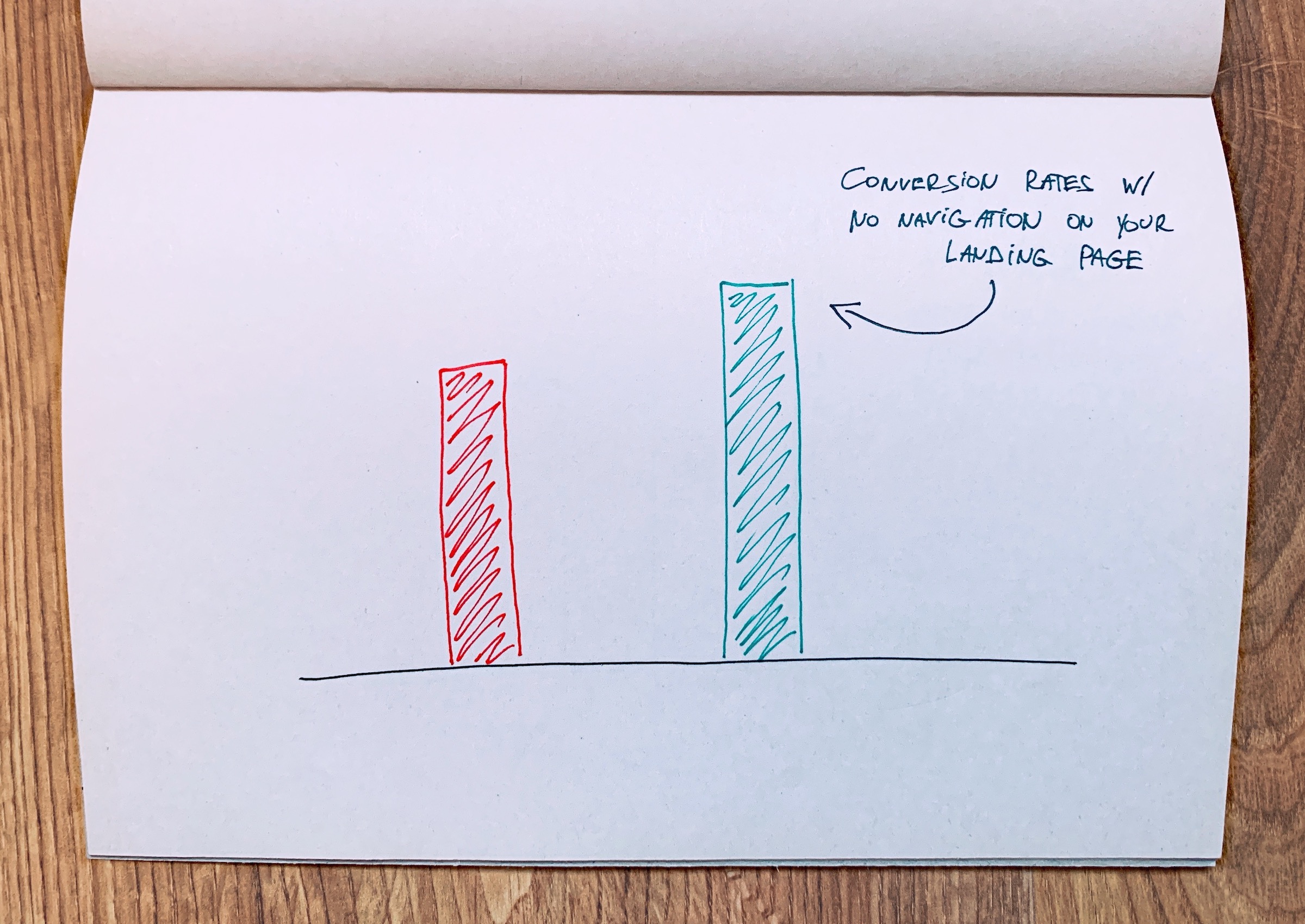 Freehand layout
Most WordPress themes come with one main layout structure that your website can use. If you're lucky, you'll get a full-width version as well, but that's where things usually end.
Landing pages must be a bit more fluid and should allow you to go from a single column to a grid layout, content-sidebar, etc. – all within the same page. In short, you need a more freehand layout.
A great way of building freehand layouts in 2020 is via drag-and-drop page builder interfaces.
Pre-built templates
Sometimes you don't want to or don't have the time to build a landing page from scratch. That's where pre-built templates come in handy.
The more of such templates you have access to, the better.
This is both about the quality and quantity of the templates.
For instance, if you're running a promo for a restaurant, then it would be nice to have a landing page template that's optimized for this line of business.
A/B split testing
With landing pages, you don't want to leave things to chance. The best way of using landing pages is always to have two versions of a given landing page competing against one another.
That way, you can see which one brings better results, take that winning version, make it your "control," and repeat the process by creating a new landing page to run against it.
Split testing is how you end up with the most effective version of your landing page over time. Your landing page plugin should allow you to set up split tests like this.
Best landing page builder plugins for WordPress in 2020
The plugins on this list have been carefully selected. Every plugin allows you to take full control of your landing pages and set up completely custom designs/structures that are independent of your current theme.
Elementor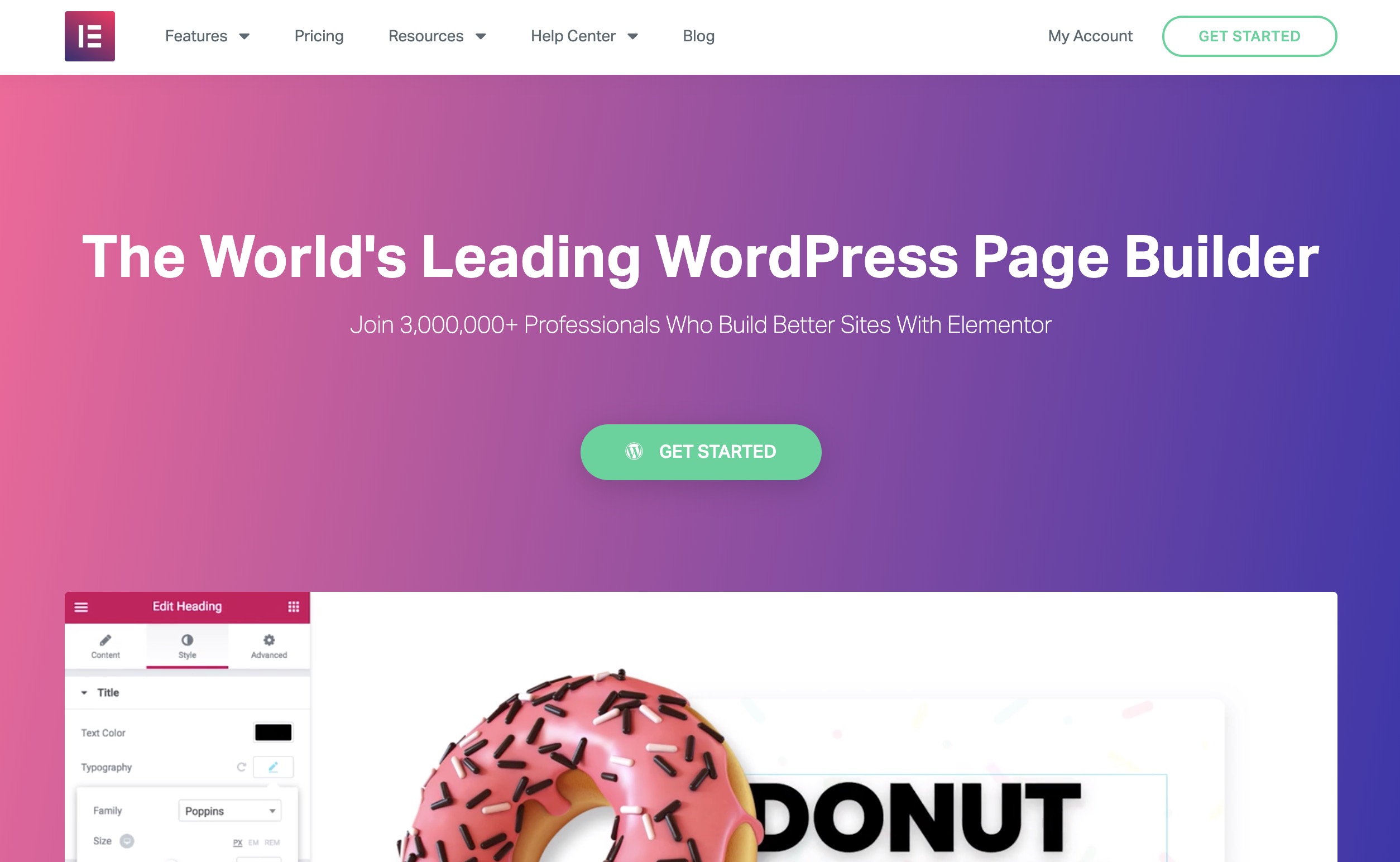 💰 Price: FREE | Pro version from $49 / year
💾 Official website | WordPress.org listing
Elementor is the most popular page builder plugin in the market today – active on more than 3 million WordPress websites.
It's not marketed as a landing page plugin per se, but it still does an excellent job as one and gives you access to all the features you might need.
The main benefit of Elementor is that you get a fully-featured drag-and-drop builder interface. The interface is 100% visual, and you can see the results of your work immediately. No coding skills are required; just grab onto any element on your landing page and move it around.
Additionally, there are more than 150 ready-made page templates available for free. Among those, 10 templates are meant for landing pages specifically, and they are all fully customizable. The templates cover fields like apps, real estate, webinar registration, travel, and product launches. You can import them with a couple of clicks and then fine-tune everything to your liking.
🧰 Features
Visual page builder tool with drag-and-drop. You get to edit your landing pages in real-time.
More than 90 content elements to include on your pages – things like texts, image blocks, headings, buttons, testimonials.
Integrates with third-party plugins to let you embed contact forms, opt-ins, or other conversion elements on your landing pages.
Landing pages are mobile-responsive and ready for SEO.
150+ free page templates and 300+ more if you decide to upgrade to Elementor Pro.
👍 Pros
Great free solution with no hidden costs.
Top-of-the-line visual page building interface.
No design skills needed to use it.
You can ditch your theme's default navigation, header, and footer areas.
You can include an email subscription form or some other conversion mechanism easily.
You can customize what your landing page looks like on mobile vs desktop.
👎 Cons
It doesn't come with any native A/B testing module. But there are guides on how to set up split tests with Elementor in the official docs.
Only ten landing page templates available for free.
Brizy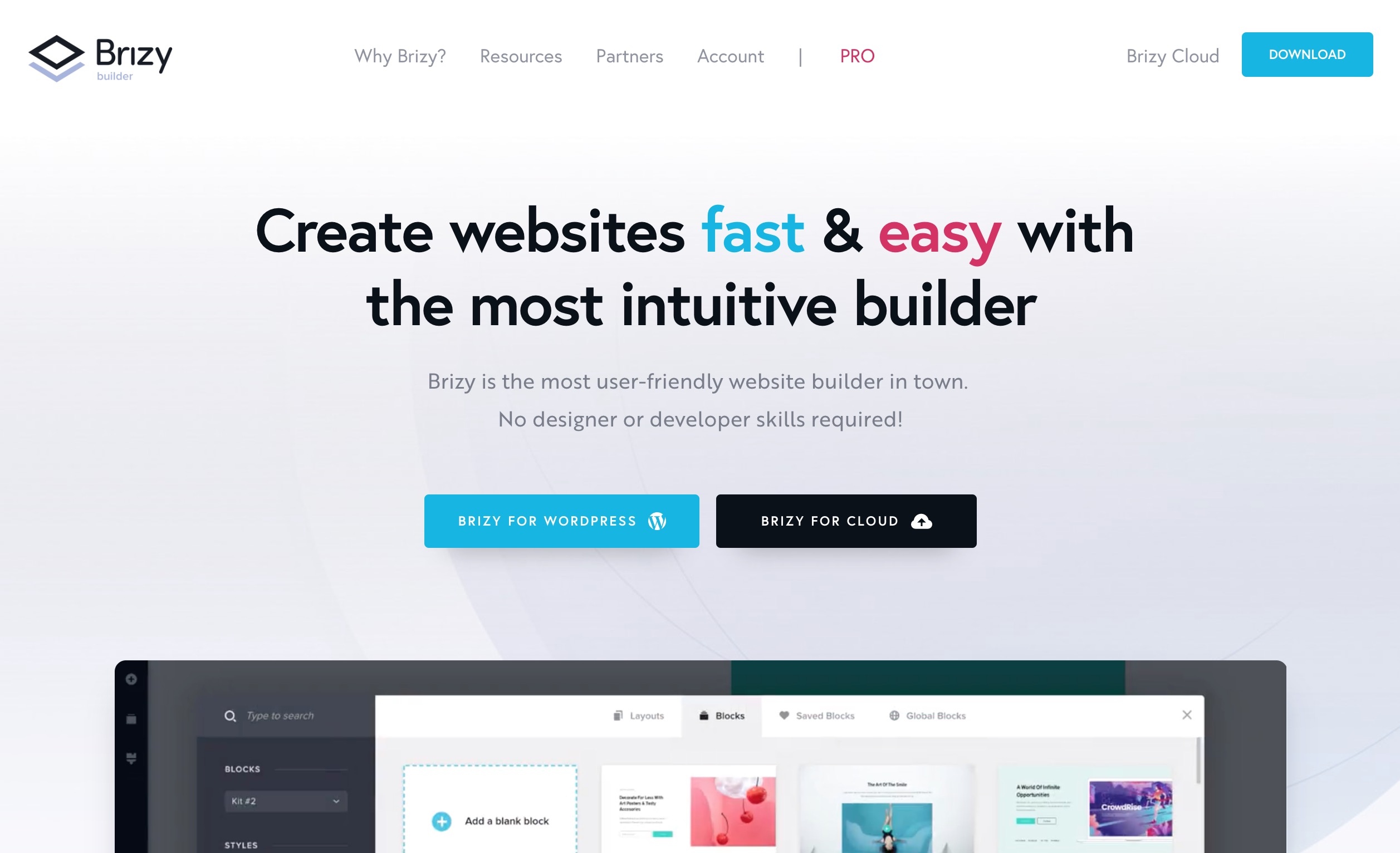 💰 Price: FREE | Pro version from $49 / year
💾 Official website | WordPress.org listing
Brizy is a relatively new player in the page builder market, but it's been making a name for itself quickly. In some ways, it's similar to Elementor, but the landing page building interface is structured in a bit different way.
Brizy's main idea is to give you access to a set of blocks that you can put on your page canvas one after another. Those blocks aren't single content elements, but rather collections of elements that have been pre-designed to go well together.
For example, you get blocks for e-book downloads, app downloads, classic opt-ins, product offers, and more. It's very easy to take a couple of those blocks, put them together, and end up with a nice looking landing page.
🧰 Features
Visual page building with drag-and-drop.
More than 400 pre-made content blocks, including light and dark modes.
Slider functionality – you can turn any block into a slider.
Integrated forms.
Animations.
Integrates with various custom fields plugins for WordPress (useful if you want to build a more advanced landing page).
👍 Pros
Very intuitive and easy to use. No design skills needed.
The ready-made designs are attractive and modern.
Great typography and color adjustment controls.
All content blocks are nicely designed.
The light and dark mode designs look great.
Lets you erase your theme's header and footer.
👎 Cons
No A/B testing available currently, but the official website says it's going to be added soon.
No landing page templates (in whole); only content blocks that you can stack on top of each other to build your page.
OptimizePress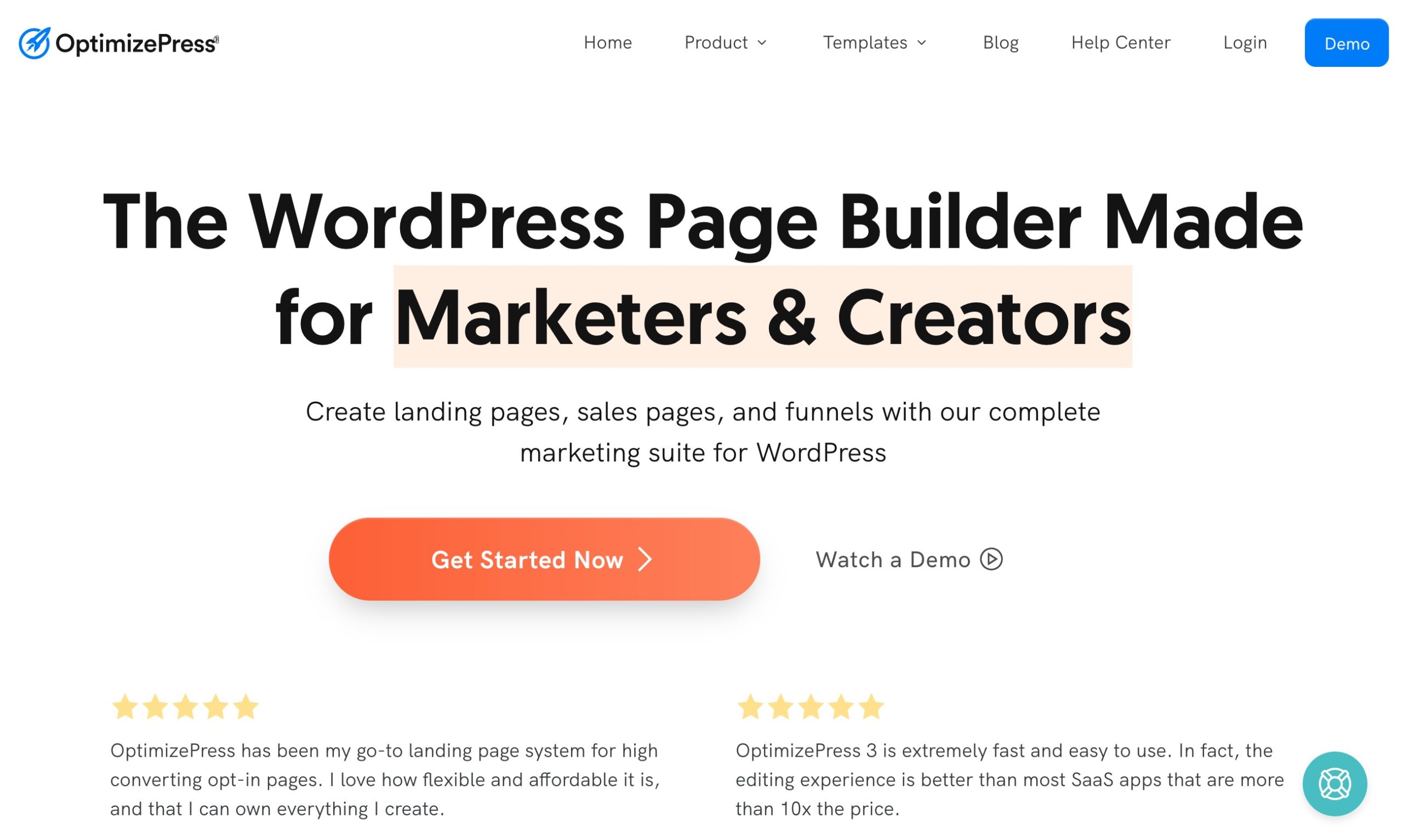 💰 Price: from $99 / year
💾 Official website | WordPress.org listing
OptimizePress is the first tool on this list that's not a general page builder plugin. This one is about landing pages specifically! As in, it's meant to give you tools to create beautiful landing pages quickly, integrate them with your email marketing tool, and run everything together on your website.
OptimizePress comes in the form of two plugins (OptimizePress Dashboard and OptimizeBuilder) – you get those from your OptimizePress profile as soon as you sign up. In the same user profile, you also get access to great user guides and video tutorials to get you through the setup.
Creating landing pages with OptimizePress is very easy. Right off the gate, you get around 50 landing page templates that are optimized for different purposes, like email subscriptions, webinar registrations, product sales, lead magnets, and more.
The builder interface is similar to that of Elementor's or Brizy's, with drag-and-drop support, different content elements you can place on the landing page, and a similar range of real-time page editing features.
🧰 Features
Around 50 landing page templates for different purposes, such as classic email opt-ins, product sales, online courses, services and consulting, coaching, book launches, and more.
Sales pages that integrate with WooCommerce and other shopping cart systems.
Visual page builder tool for working on your landing pages.
Integrations with all popular email marketing tools.
Light and dark mode landing page blocks.
Mobile-responsive.
GDPR ready.
👍 Pros
The first tool on this list that focuses specifically on landing pages.
Great onboarding with a welcome guide, a whole library of video tutorials, plus a knowledge base and monthly coaching webinars.
The landing page templates cover all common scenarios and are optimized for performance.
You can remove your current theme's header and footer, plus there's a custom WordPress theme bundled in if you need it.
Lets you set up a beautiful landing page quickly.
30-day money-back guarantee.
👎 Cons
No free version or free trial available.
Also one of the more expensive solutions on this list.
A/B testing not available on the entry-level plan.
Beaver Builder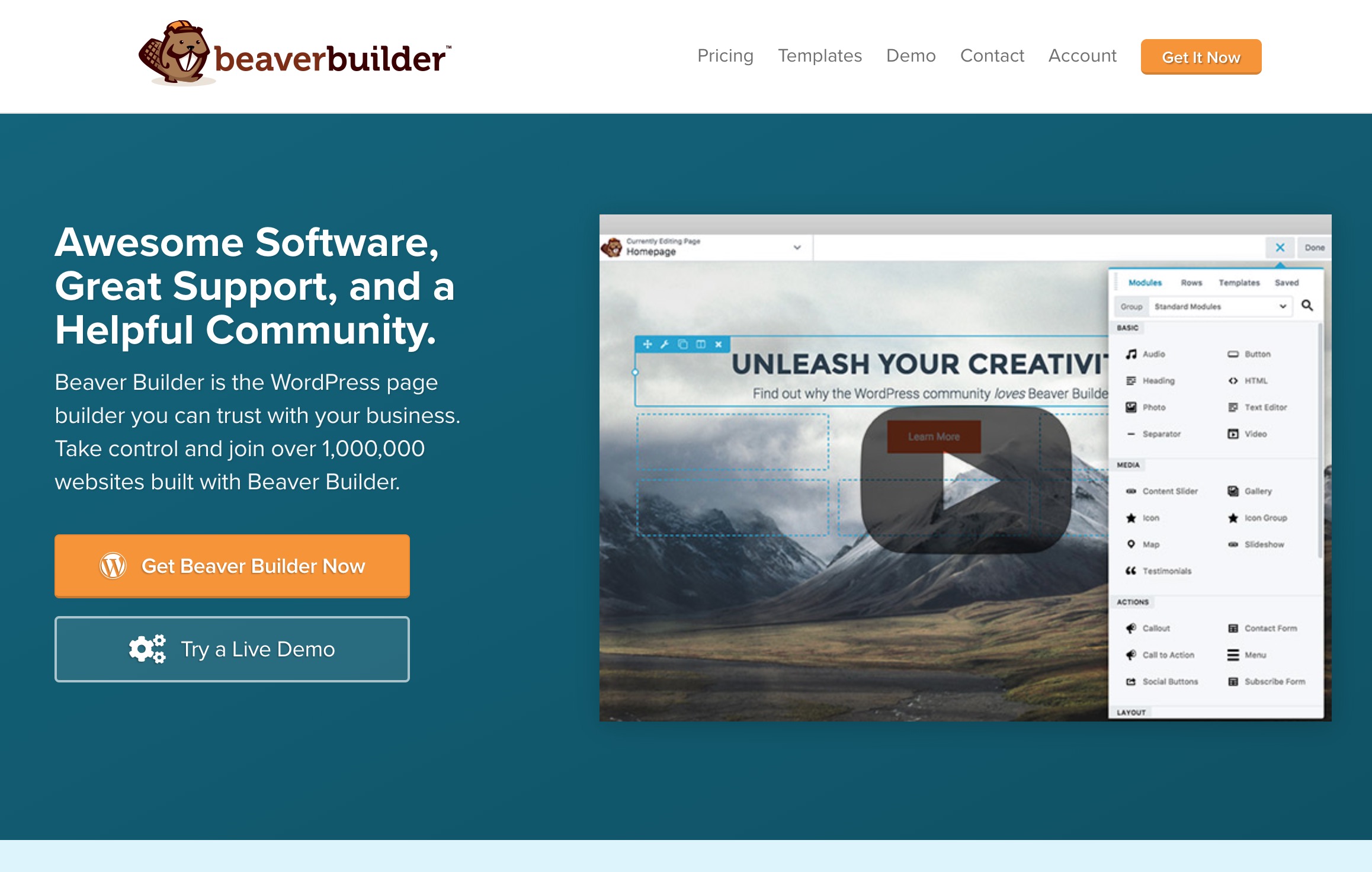 💰 Price: FREE | Pro version from $99 / year
💾 Official website | WordPress.org listing
Beaver Builder is one more fully-featured page builder plugin on this list. This is yet another spin on the idea of visual page building with drag-and-drop.
Once again, we get a similar range of features delivered in a different wrapper and slightly different user interface. Overall, the effects you can get with this plugin are very similar to what Elementor and Brizy have to offer.
That being said, Beaver Builder doesn't come with as many page templates as the other plugins – just around 30. Also, only a couple of them can be considered classic landing page designs (with an email opt-in form included).
🧰 Features
Visual page building interface with drag-and-drop.
Around 30 page templates to choose from (the Pro version).
More than 30 content blocks to put on your pages such as text, headings, images, buttons, etc. (the Pro version).
The pages are mobile-responsive and SEO-friendly.
👍 Pros
Easy to use, especially for beginners.
No HTML or CSS skills required.
Even though the Pro plan is more expensive than that of Elementor's and Brizy's, you can use it on an unlimited number of sites.
Nice typography.
👎 Cons
Very few content elements available in the free version.
The free features are somewhat limited but should be enough to get you started.
It doesn't allow for removing your theme's header or footer.
No built-in A/B split testing, but there are add-on plugins available (paid separately).
Leadpages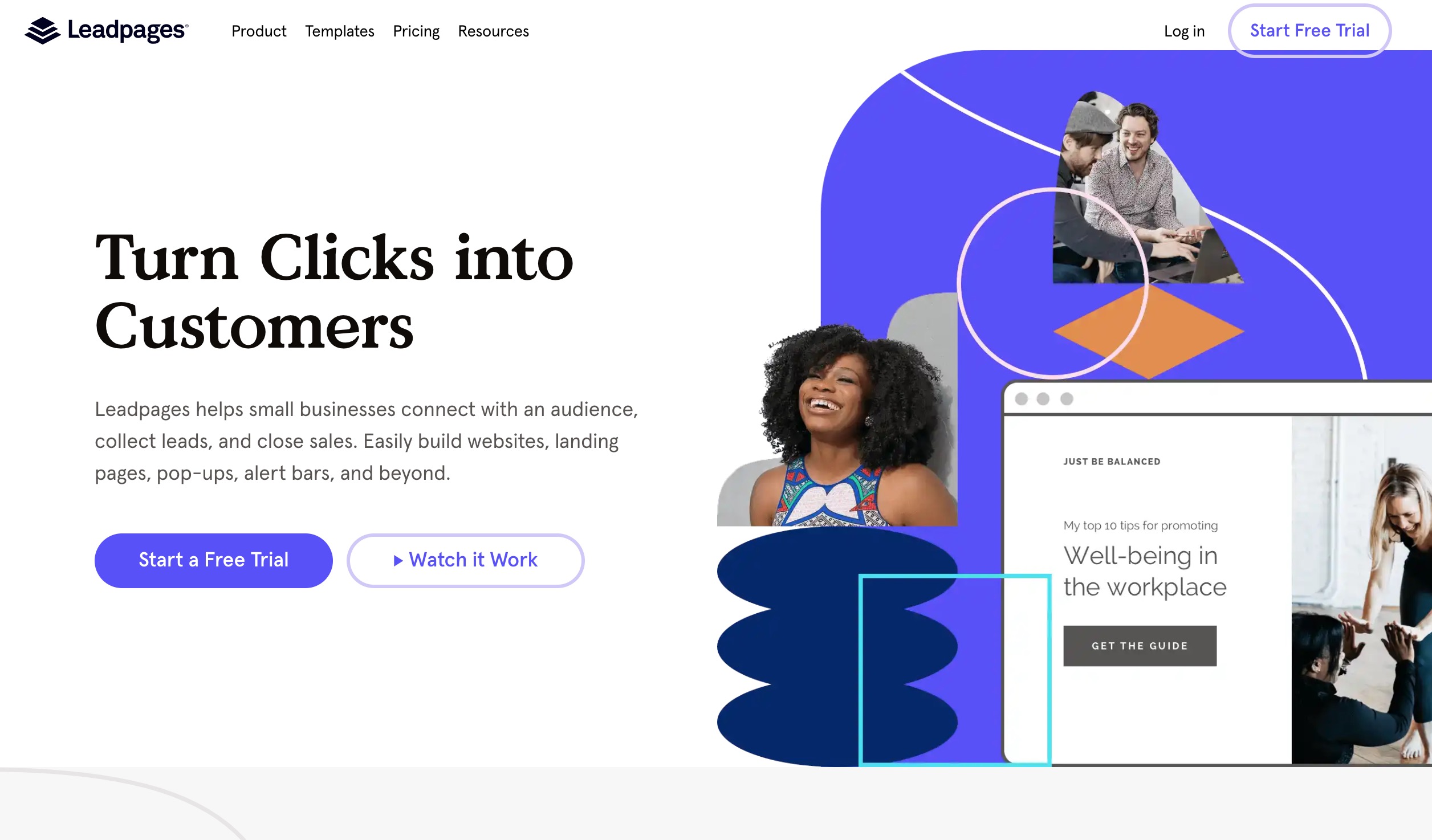 💰 Price: from $300 / year
💾 Official website | WordPress.org listing
Leadpages was among the first batch of original landing page tools on the web that were actually any good. In fact, it was Leadpages that introduced many site owners to the concept of landing pages in the first place.
In its core, Leadpages' WordPress plugin is only an integration layer that lets you connect your website with the main Leadpages tool. You don't actually build your landing pages through the WordPress dashboard, but inside Leadpages' own interface on their website.
This is a lot simpler than it sounds, and launching a new landing page only takes a couple of minutes. Once you have the landing page created in Leadpages, all you have to do is select it from the plugin's section in the wp-admin and set where you want it displayed on your site (as a standalone page, homepage, 404 page, or make it a welcome gate for new visitors).
Leadpages stands out in a number of ways. First, of all the tools on this list, it offers the most extensive library of landing page designs (more than 150). These templates cover all possible angles and things you might want to do with a landing page – no matter if you want to promote a newsletter, a product, a consulting service, a discount, a giveaway, etc., you will always find a landing page that fits.
Like with all the other tools here, your landing pages can be customized via a handy visual builder tool. And, of course, you can then integrate them with any email marketing tool you might have.
Moreover, Leadpages also gives you tools to analyze your results and A/B split test your landing pages (available on the more expensive plans).
🧰 Features
Full drag-and-drop support and front-end editing within the Leadpages interface.
Three types of licenses available, with three different payment plans for each.
Huge library of landing page templates (150+).
Mobile-friendly and optimized designs.
Possibility to import your own landing page designs.
A/B split testing.
Various types of opt-in boxes (and ways of getting leads in general).
Integrates with all major email service providers.
Sub-accounts for coworkers.
Facebook and Instagram ad builder.
👍 Pros
You get not only access to landing pages but also pop-ups and alert bars, which you can use for lead capture.
You get access to tested landing page templates – and I do mean it. The Leadpages community is known for sharing the results they get with various landing pages, and the developers then turn those top-performing pages into templates for you to use.
The size of the landing pages library is stunning – the biggest among the landing page plugins featured here.
Leadpages allows you to offer different email opt-in gifts (lead magnets) from each subscription form.
👎 Cons
The priciest solution on this list. But also the most functional.
If you want A/B testing, you'll need to upgrade from the entry-level plan and go for the PRO that's $576 a year.
The winner?
As always, pointing out the winner is a hard thing to do, especially since we all have different requirements and expectations regarding what the best landing page builder plugins for WordPress should offer.
So, just to sum up, let's tackle this from a couple of different angles and talk about why you might want to use each specific plugin on this list.
If you're a beginner to this whole world of landing pages and you're not sure what you can get out of it yet, go for either of the top free solutions on the list: Elementor or Brizy.
Both offer a similar range of features, with the main difference being how those features are delivered. There are some differences in user interfaces and the catalog of ready-made designs as well. The chances are that most beginners will find their perfect landing page plugin among these two.
Alternatively, you can also check out Beaver Builder, which can serve a similar purpose, but it does offer fewer features in the free version than the other two, so I'd recommend using it last.
If you're the kind of user who's serious about your landing page efforts and you're ready to make them an essential part of your marketing and lead/customer acquisition strategies, then give a shot to Leadpages or OptimizePress.
Leadpages gives you all the features you might ever need to make your landing pages work. Apart from beautiful landing page designs, you'll also find great features to help you optimize your landing pages and make them as effective as possible. The only downside is the price. Leadpages is the most expensive tool on this list.
OptimizePress delivers a little less than Leadpages, but it's also more affordable.
Each of the plugins featured here has its pros and cons, so I encourage you to visit their websites and check out the official materials and tutorials before making a decision. Sniff around a bit to find out which one is the most likely to work for your site.
All things considered, here are my recommendations:
💸 Best free landing page plugin for WordPress: Elementor. Has all the features that beginner users will need.
⭐ Best landing page tool overall: Leadpages. Provides a ton of possibilities in terms of options, tested landing page designs, lead capture methods, and so on. In short, it's the best solution on this list if you can afford it.
In case you're wondering if this whole landing page game is worth playing, let me quote one experiment documented by Conversion-Rate-Experts.com. A while ago, they shared the results they got when working on a single landing page experiment for Moz. It reported a 52% increase in sales (Moz PRO membership) and $1 million of additional revenue a year.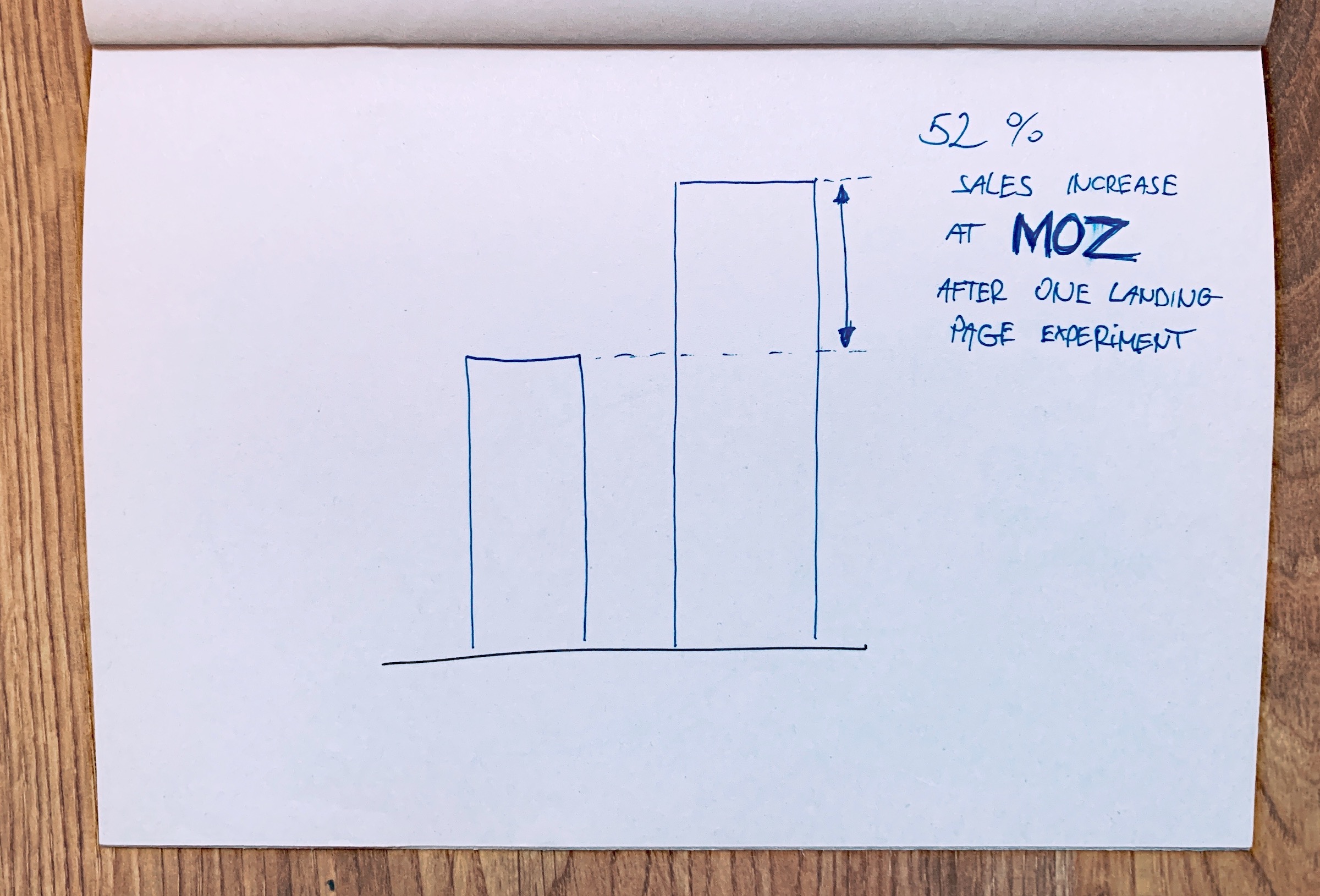 It sounds like a lot, and especially considering that setting up additional landing pages and testing them against one another costs nothing.
Moreover, as it turns out, the more landing pages you have, the better your results. According to HubSpot, sites with 10-15 landing pages get 55 percent more conversions than those with less than 10 landing pages.
Using/used any of the above landing page plugins? Which is best? And why?
All comments are held for moderation. We'll only publish comments that are on topic and adhere to our Commenting Policy.
Our commenting form also supports the use of Markdown.