WinningWP content is free to all. If you make a purchase through referral links on our site, we earn a commission (
learn more
).
WordPress.com WooCommerce Hosting Reviewed – How Good Is It? Worth The Money?
Searching for the best place to host your WooCommerce store?
When most people think about 'WooCommerce hosting', they think of a host for the self-hosted WordPress software — and for good reason. Self-hosted WordPress is the right choice for a lot of people looking to create a WooCommerce store.
But self-hosted WordPress may not be the right choice for everyone. For non-technical creators who are looking for a simple, secure way to create a high-performing WooCommerce store, the WordPress.com eCommerce plan may be a better option.
WordPress.com's eCommerce plan gives you the hands-off nature of WordPress.com, but in a package optimized for WooCommerce. While it's not quite the same as self-hosted WordPress, you'll still be able to install your own themes and plugins, and you'll also get full FTP and phpMyAdmin access.
In this review, I'll help you to decide whether you should use this hybrid offering for your own WooCommerce store.
Let's dive in…
What Is the WordPress.com eCommerce Plan?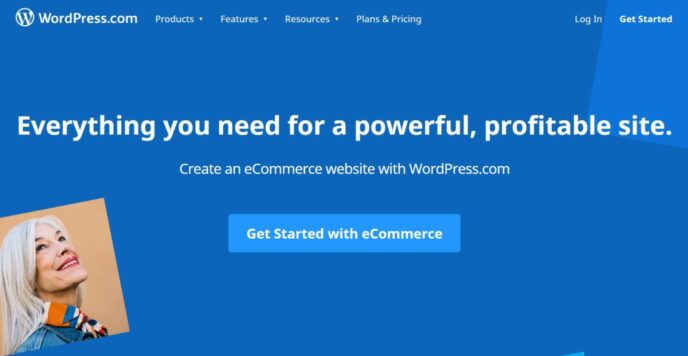 The WordPress.com eCommerce plan is a premium offering that's targeted specifically to people looking to create an eCommerce store.
As such, it comes with pre-installed WooCommerce and a helpful onboarding tool, along with free access to WordPress plugins and tools to help you to create your store.
Unlike the free WordPress.com plans that you may be familiar with, the WordPress.com eCommerce plan is a lot closer to self-hosted WordPress than you may think.
You can:
install your own plugins
install your own themes
upload files and access files on your server via FTP
access your database via phpMyAdmin.
Basically, it gives you everything you need to create a functioning WooCommerce store. However, it's still WordPress.com, so it's not quite the same as using self-hosted WordPress.
Let's talk a little bit more about how it's different from regular self-hosted WordPress.
How Is It Different From Regular WooCommerce Hosting?
There are a lot of differences between WordPress.com and self-hosted WordPress in general, but when specifically comparing the eCommerce plan with your average self-hosted WordPress host I'd break the differences down into three key categories:
Managed experience
Above-and-beyond support
Bundled plugins
Managed Experience
One of the key differences is WordPress.com manages everything for you. You never need to worry about your hosting environment like you would with a self-hosted WordPress site — WordPress.com will handle everything when it comes to the following:
Security
Performance
Updates
If you're not a technical person, that's a pretty appealing setup. Yes, a good managed WordPress host will also help you in those areas, but WordPress.com's eCommerce plan goes above and beyond to where you pretty much don't need to think about those issues.
Above-and-Beyond Support
With a self-hosted WordPress host, the job of the support staff is typically to help you with the hosting, not WooCommerce itself. So, if you're experiencing hosting errors because of WooCommerce, the support staff will help you with that, but they won't actually teach you how to use WooCommerce.
WordPress.com's eCommerce plan is different — they actually help you to learn how to use your entire website, not just the hosting infrastructure.
When you sign up for the eCommerce plan, you get two free 30-minute onboarding calls. These are screen-sharing calls with audio where a WordPress.com Support Engineer will literally take you through setting up your store.
You'll also get ongoing support via email or live chat (depending on if you pay annually or monthly).
Again, for non-technical users who may not be super comfortable with WordPress and WooCommerce yet, that's a really appealing benefit.
Bundled Plugins
The final major difference with the WordPress.com eCommerce plan is that it comes bundled with a lot of key core plugins for your store that you'd otherwise need to purchase.
You can browse the full list here, but some of the useful paid plugins include the following:
You get all of these plugins at no extra cost as part of your subscription.
Some WooCommerce hosts such as Nexcess and GoDaddy have started bundling in free plugins as part of their services, but this type of bundled WooCommerce hosting product is still pretty rare.
WordPress.com eCommerce Limitations vs Self-Hosted WordPress
While WordPress.com is different from self-hosted WordPress in good ways, there are also some disadvantages to its approach. Most of these limitations have to do with 'flexibility', as WordPress.com's setup is inherently more limited than self-hosted WordPress, because you don't get access to the underlying hosting infrastructure for your site (which is how WordPress.com is able to make everything so simple for you).
Basic Limitations
First off, there are some basic requirements to use the plan, such as using the bundled Jetpack plugin. It comes pre-installed and you aren't able to deactivate it. Below, you can see there's no deactivate button by Jetpack, even though there is for other plugins: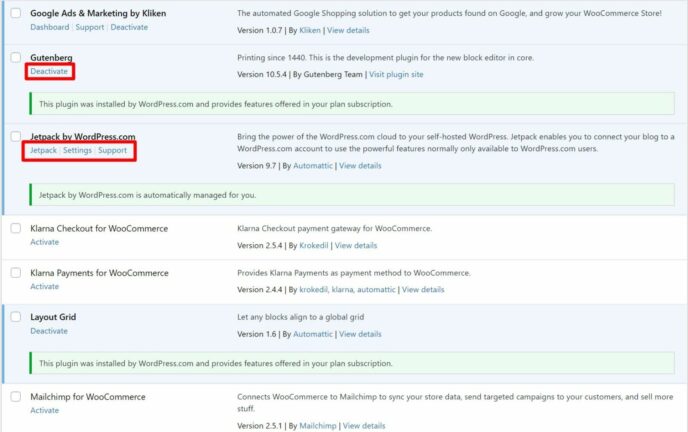 Second, WordPress.com also bans some plugins. This is pretty normal for managed WordPress hosting, but the list is a good bit longer than a true managed WordPress host.
Third, you're not able to use a staging site with WordPress.com, which is a bit frustrating because it means you don't have an easy way to test changes/updates on your store. If you're used to normal managed WordPress hosting, this may be a shock.
Hosting Environment Limitations
The biggest limitations, though, come in the form of your hosting environment. Simply put, you just don't have as much access to and control over your hosting environment as you would with a regular host.
This is because the WordPress.com eCommerce plan kind of blurs the line between managed WordPress hosting and a hosted website builder. There are a lot of consequences, but here are some examples:
No SSH access.
No WP-CLI.
You can't install your own PHP modules. For example, WordPress.com's plans don't include ionCube Loader, which means you may not be able to use some WooCommerce plugins (especially some popular dropshipping plugins).
Are these limitations something most casual WordPress users will notice? Probably not. I mean, if you're not a technical person, you're probably not going to use WP-CLI anyway, so it doesn't really matter whether or not it's available.
But for serious WooCommerce stores where you may be working with a dedicated developer (either on a full-time or contractor basis), I think these limitations are too much, and you should probably stick with self-hosted WooCommerce, so you or your developer have more control over your store's hosting environment. I'll talk about this more in the conclusion at the end of this post.
Creating a Store With the WordPress.com eCommerce Plan
One of the stand-out features of the WordPress.com eCommerce plan is that you get a really user-friendly setup tool to create your store. This is one of the reasons why I think WordPress.com can make a good option for non-technical people who are creating their first store — you don't need to mess around with some of the basic configuration that you'd need to do if you were creating a self-hosted WooCommerce store.
Basic Setup
When you first create or sign in to your WordPress.com account, WordPress.com will prompt you to choose the domain name for your store.
You can purchase it directly through WordPress.com (or get a free one if you pay for an annual plan). Or, if you'd prefer to use a different domain registrar, you can use that and connect it to your WordPress.com site later: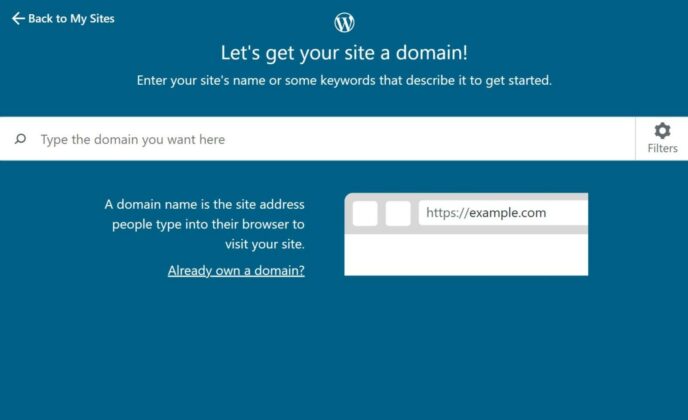 You'll then need to pay for the eCommerce plan to continue.
Once you finalize the payment details, you'll see a prompt to Create your store: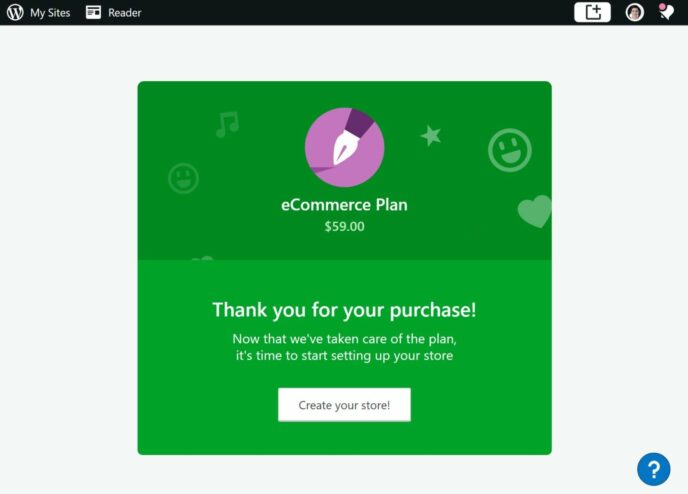 Store Creation Wizard
Now, you'll be in the store creation wizard, which is a slightly modified version of the standard WooCommerce onboarding wizard.
First, you'll enter the basic details for your store, such as the address and industry: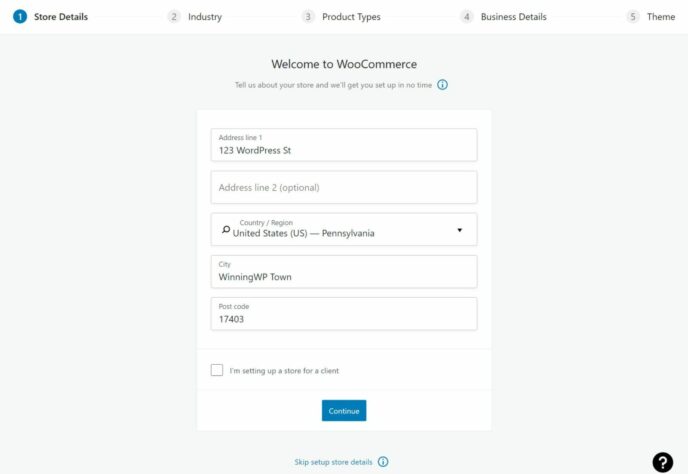 You can choose to sell physical products, digital products or both: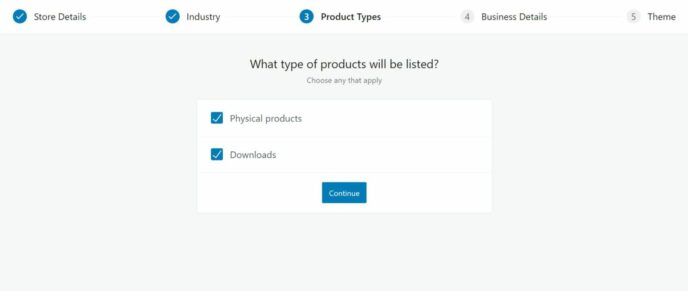 You'll choose how many products you want to display, as well as whether you're selling via any other channels (such as another eCommerce platform or physical stores/events):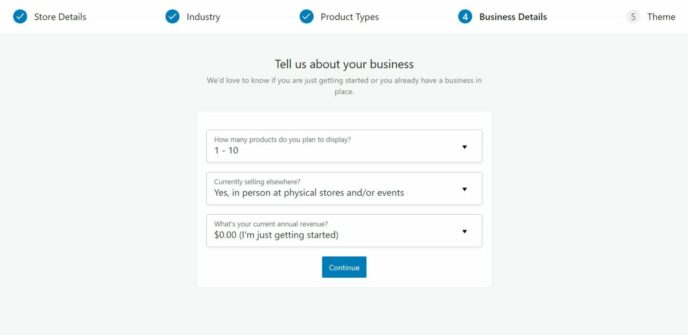 You'll then have an option to add 'recommended business features', which are divided into two categories.
1. The 'Basics'
2. Grow Your Store:
WordPress.com includes a few different email services, which is a bit odd. I'd recommend using MailPoet (which WooCommerce purchased, so it comes from the same team), which means you can uncheck Mailchimp and Creative Mail: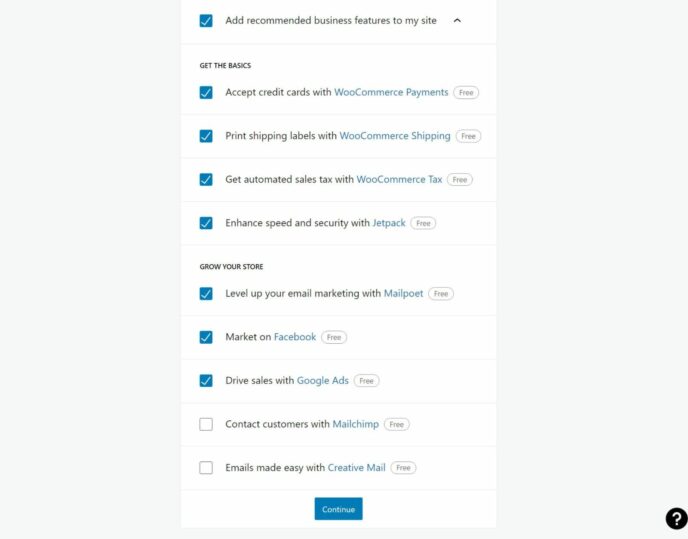 Finally, you can choose a theme for your store to finish things off. WordPress.com will suggest the Storefront theme (our review), along with some child themes for it, but you also have the option to upload your own theme: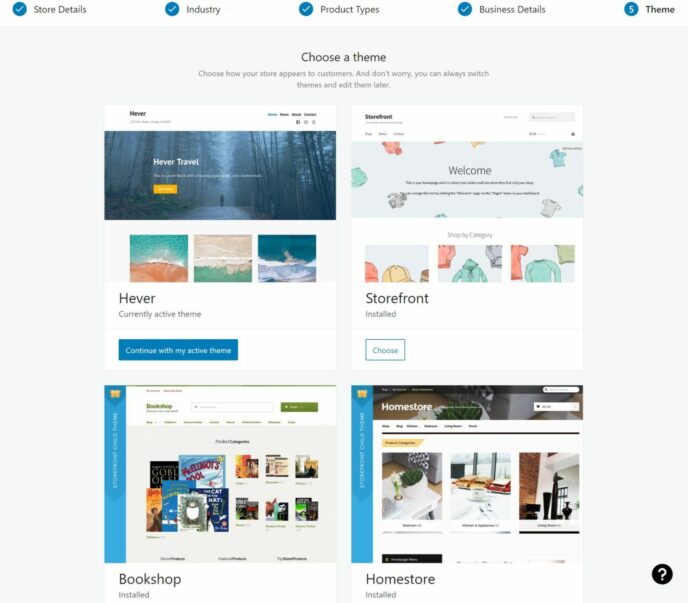 And that's it! You now have a working WooCommerce store.
Onboarding Call With Support
Another setup perk you won't get with most regular WordPress hosts is a free onboarding call. If you need some help getting up and running, you can schedule a one-on-one video call with an Automattic support engineer to help you to learn how to set up and launch your store.
Managing Your Store With the WordPress.com eCommerce Plan
Managing a WooCommerce store with WordPress.com is pretty similar to managing a store with self-hosted WordPress. However, it's not identical because, even though you get all of the same settings and features, the interface is a little bit different.
Let's go through it…
Main Dashboard
When you use WordPress.com, the main dashboard looks like this: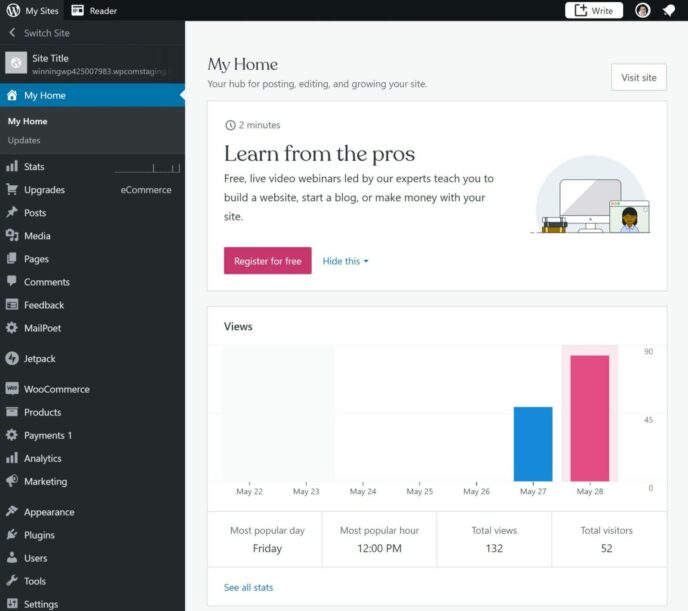 You can see that it's pretty similar to self-hosted WordPress. You still get the same options in the sidebar… it's just a little bit different.
For example, if you go to the Settings area, you'll get a different interface in Settings → General: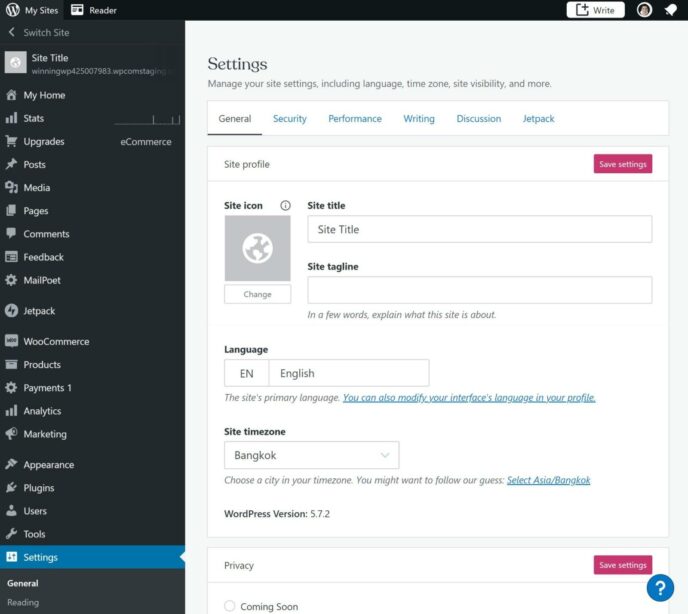 You can still access the same general settings area from self-hosted WordPress, you just need to go to Settings → Advanced General to see it.
WooCommerce Dashboard
The WooCommerce dashboard is a little bit more customized, but it still shares a lot of similarities with a self-hosted WooCommerce store. The main dashboard looks like this: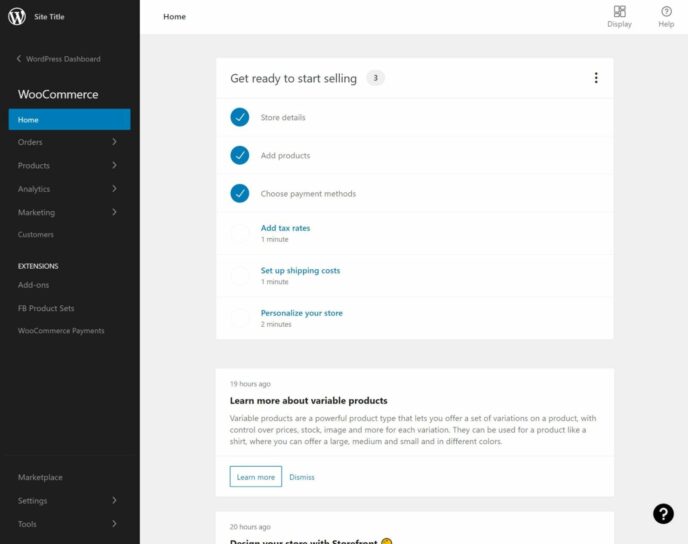 You can see that the sidebar is a bit different from a self-hosted WordPress install because you get a dedicated area for just your WooCommerce store.
In general, though, it's pretty similar to self-hosted WooCommerce. For example, if you go to the Products area, you'll see the same layout that you would on a self-hosted install: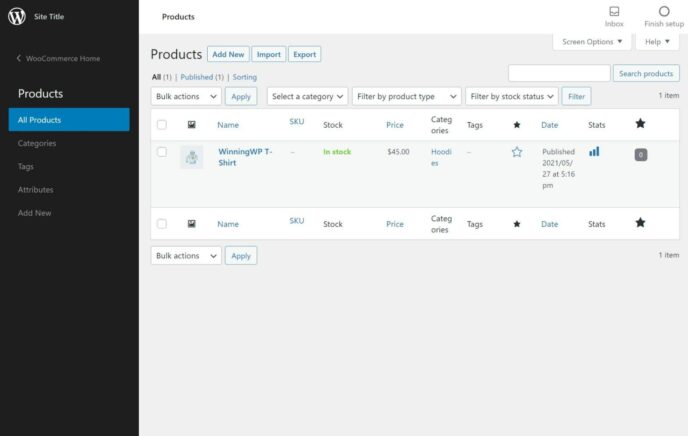 The WooCommerce settings area is a bit nicer because you can jump between different settings in the sidebar, rather than the awkward top-level tabbed navigation that you'd have with self-hosted WooCommerce installs: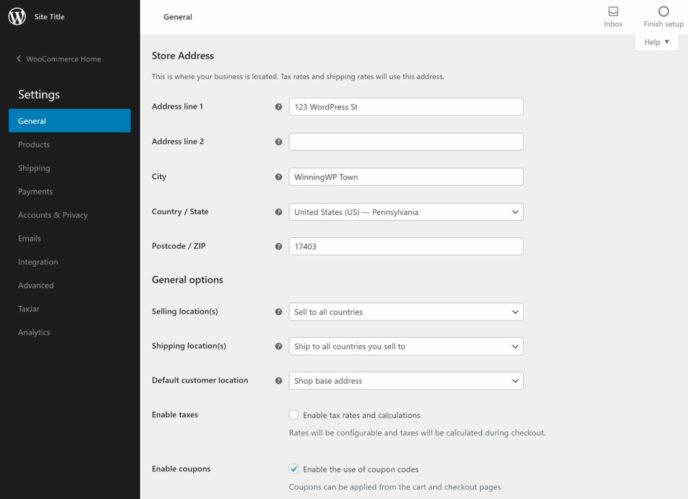 The actual settings themselves are the same, though.
Overall, I'd say I have a slight preference for the WordPress.com WooCommerce dashboard, but it's not a big deal either way.
Plugins and Themes
Unlike the free or cheap plans, the WordPress.com eCommerce plan gives you full access to install your own plugins or themes, just like you can with self-hosted WordPress. You can install plugins/themes directly from WordPress.org or upload a ZIP file to manually install them.
Plugins function exactly the same as self-hosted WordPress: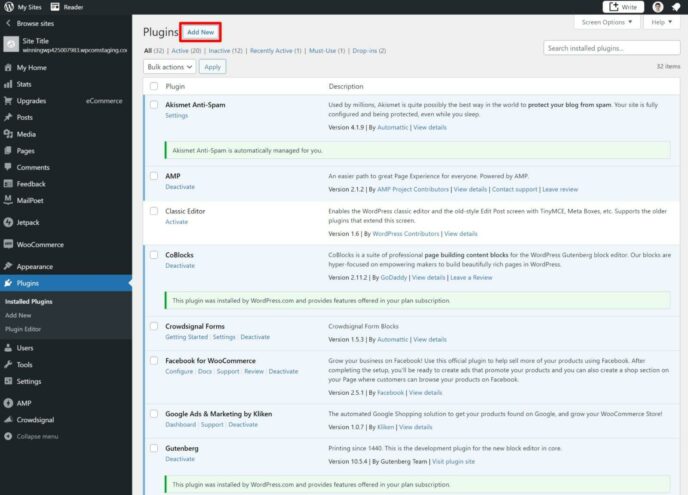 As I mentioned earlier, one of the perks of the WordPress.com eCommerce plan is that you get access to a lot of bundled plugins for free. WordPress.com instals all of these plugins when you create your store, but it leaves most of them deactivated by default.
If you want to enable any of the plugins, you can activate them just like you would any plugin on self-hosted WordPress.
For themes, the interface is a little bit different, but you still get all of the same options. If you go to Appearance → Themes, you'll see the special WordPress.com theme area. But if you go to Appearance → Add New Theme, you'll see the same interface self-hosted WordPress installs have: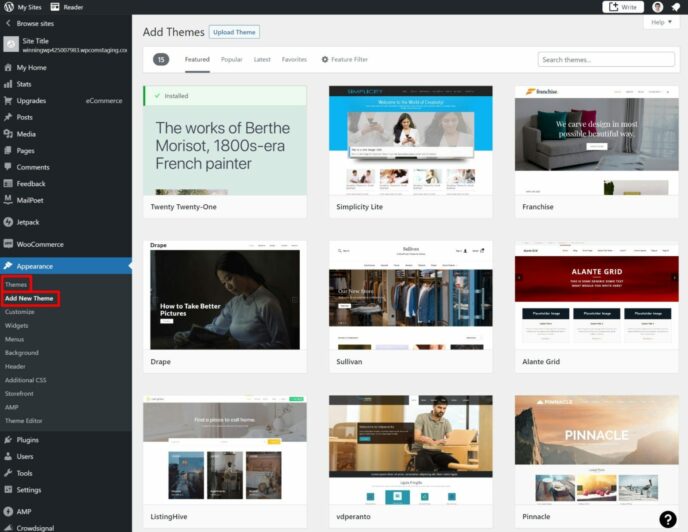 Hosting Details
Another key difference between the WordPress eCommerce plan and WordPress.com's free/cheaper plans is that the eCommerce plan gives you FTP and database access, which you can find by going to Settings → Hosting Configuration.
To connect to your server, you can create SFTP credentials. And to access your database, you get phpMyAdmin, which is the same tool most WordPress hosts offer.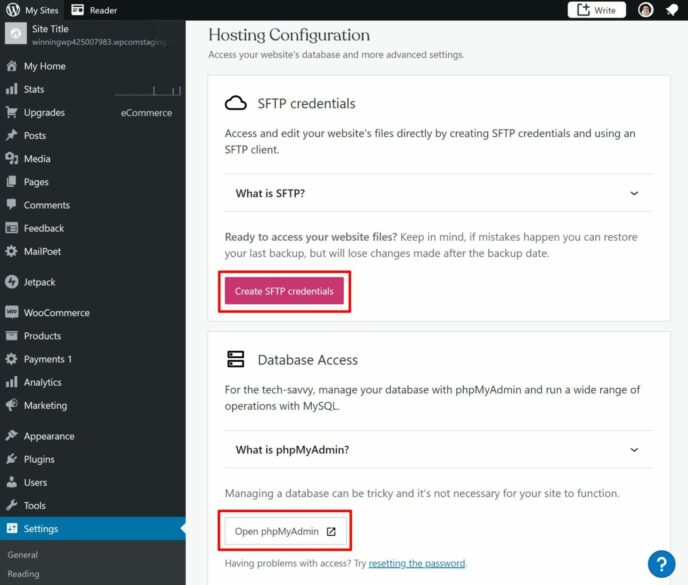 As I mentioned earlier, though, you don't get quite as many access options as you would with a true WordPress host. For example, you don't get SSH access, which means there's also no WP-CLI.
Still, most non-technical users will never need SSH access, so this certainly isn't a dealbreaker for the types of people who are likely to use WordPress.com.
Built-In Stats
One neat feature is that WordPress.com comes with built-in visitor analytics. It's not as in-depth as Google Analytics, but it includes all of the data most people need in a more user-friendly interface.
I think this fits with WordPress.com's target audience. Serious stores will probably set up Google Analytics Enhanced eCommerce Tracking and custom goals. But most casual store owners probably just want to see where their visitors come from and what their most popular products and content are: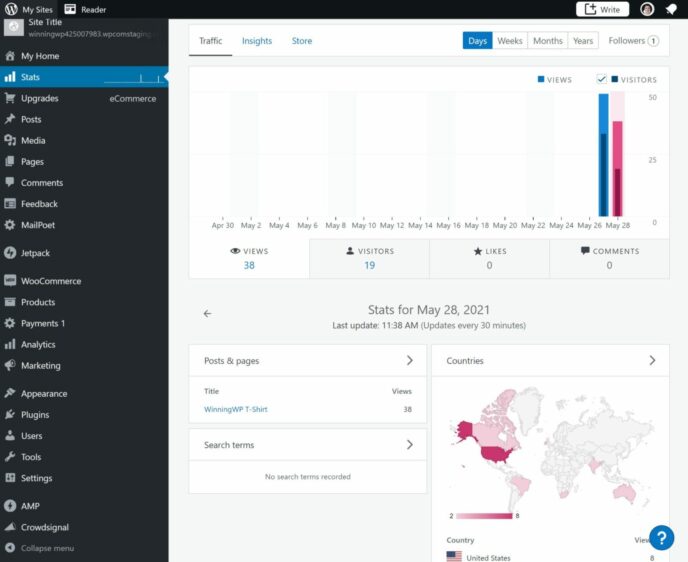 There's also a separate Store tab that lets you see your most popular products, along with details such as:
Products purchased
Products per order
Coupons used
Refunds
Shipping
Tax
WordPress.com eCommerce Plan Performance Testing
Because WordPress.com's infrastructure is different from your average self-hosted WooCommerce store, I was especially interested to see how it performed.
You get unlimited traffic and bandwidth with all of the paid plans, which is something you'll never see with self-hosted WordPress (beyond cheap shared plans, which aren't really unlimited).
To test worldwide performance, I ran my test site through a few different speed test tools. One of WordPress.com's benefits is global infrastructure, so I was especially interested to see how the global load times stacked up.
WordPress.com also includes other built-in performance optimizations, such as a built-in Page Optimize plugin that handles code optimization.
For all of these tests, I'm testing a single product page from my store using one of the suggested StoreFront child themes. Since this is an eCommerce plan, I think it's useful to focus on the actual WooCommerce pages.
Fast or Slow
Since WordPress.com's plans have a content delivery network (CDN), I expected the global load times to be pretty consistent… and WordPress.com didn't disappoint.
You can see the time to interactive is pretty consistent around the world, no matter if the test is from Brazil, Japan, Australia, Germany or the USA. There are a few spikes in Bahrain, India and South Africa, but even those are still pretty speedy at under two seconds.
Additionally, the maximum Largest Contentful Paint time was still just 1.23 s, which is well under Google's recommended time of 2.5 seconds.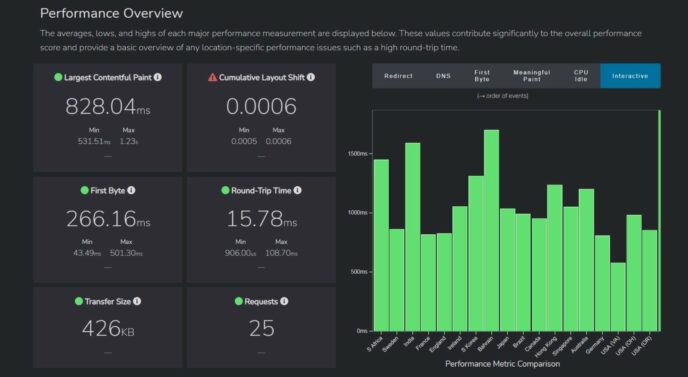 SpeedCurve
SpeedCurve is an automatic testing tool based on a fork of WebPageTest. I configured it to run tests every day for four days from three different places:
Australia
England
USA West Coast
Below, you can see the data for all three locations. You'll notice three things:
There wasn't a big difference between any location. Australia was a little bit slower, but not by much.
The overall average is quite good (the numbers at the top).
The load times were consistent (the graph).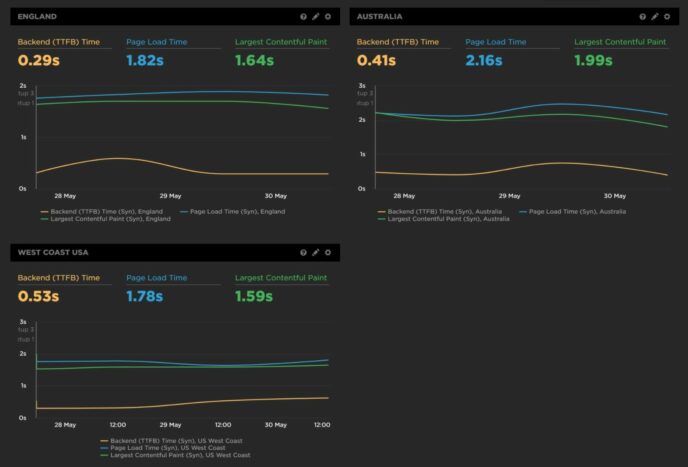 Load Focus
So far, I've focused on tests that only simulate a single visit at a time. For this last one, I'm going to use a load testing tool called Load Focus to hit the single product page with 20 visitors browsing at the same time.
Here again, WordPress.com nailed the test, with an average response time of just 283 ms and a 90th percentile response time of 410 ms (which means that 90% of visits had a response time lower than 410 ms).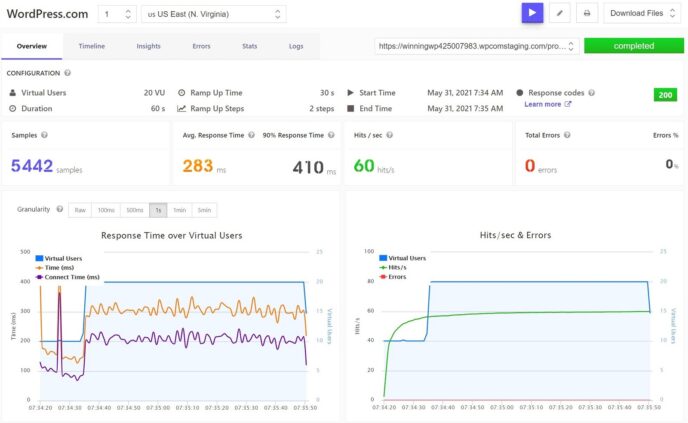 These numbers are right in line with, or even a little bit faster, than other hosts such as Kinsta (our review) or WP Engine (our review).
Performance Conclusions
Overall, I was impressed by the performance of the WordPress.com eCommerce plan. The load times were uniformly good across the entire world, and they were also excellent when I upped the traffic a bit with Load Focus. When you combine that with no limits on traffic or bandwidth, you get a very appealing package.
I think the best part is how hands-off all of this was. I didn't need to make any manual performance improvements to my store — WordPress.com handled everything out of the box. Again, as I've mentioned a few times, this is great for non-technical users who don't feel comfortable digging into WordPress performance optimization.
WordPress.com eCommerce Support
All WordPress.com plans come with free support via the support forums, but if you're on the eCommerce plan you also get access to 24/7 email or live chat support (depending on your plan).
WordPress.com doesn't offer phone support on any of its plans, though.
The live chat support is a bit tricky because it's only available if you pay annually. That is, you don't get live chat support if you opt to pay monthly, even if you're still paying for the same eCommerce plan. This is a bit odd in the hosting space, as I've never seen any other host set it up like that.
You do still get 24/7 support on the pay-monthly plan — it's just that you'll only be able to get help via email.
Sending an email is still pretty convenient because you can do it right from the support widget, or via a dedicated form: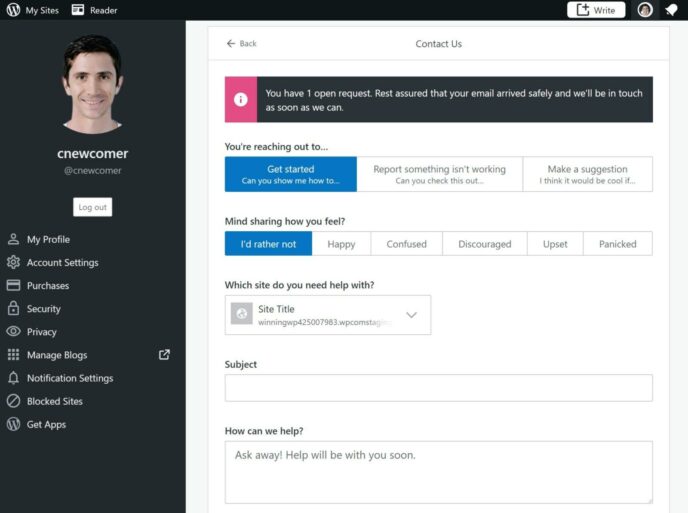 While email support is available '24/7′, Automattic says it normally respond in 24 to 48 hours, so it's definitely not instantaneous in the way live chat would be. With that being said, I got responses to my questions in more like six hours or so, so I think the 24 to 48 hours is just a worst-case scenario, and you'll usually get responses faster.
Still, if you can afford the upfront cost, I'd highly recommend paying for an annual plan, so you can get live chat support (and also save money on the monthly rate).
As I mentioned earlier, eCommerce plan users also get access to two free 30-minute support sessions. You can schedule these to get a one-on-one video/audio walkthrough, which I think is a really valuable benefit for WordPress newbies: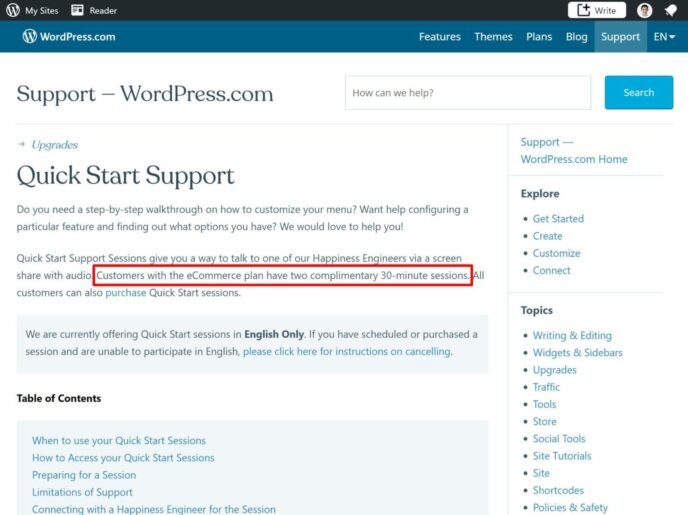 After you use up your two free 30-minute sessions, you can still purchase additional sessions for $99 each.
WordPress.com eCommerce Plan Pricing
While most people probably know WordPress.com for its free blogging plans, you'll need one of the paid plans to create an eCommerce store.
In this post, I've focused specifically on the dedicated eCommerce plan, but you can actually still technically install WooCommerce and create a WooCommerce store on the cheaper Business plan (which we reviewed here).
There are some downsides to choosing the Business plan over the eCommerce plan, though. You don't get…
access to the optimized eCommerce onboarding process
access to the free bundled plugins that I mentioned earlier in this review
the two complimentary onboarding sessions.
Still, it's an option if you want to save some money and you're okay with those trade-offs.
For both plans, you can either pay annually or monthly.
| | | |
| --- | --- | --- |
| Plan | Monthly Billing/mo. | Annual billing/mo. |
| Business | $33 | $25 |
| eCommerce | $59 | $45 |
| Storage limit | 200 GB | 200 GB |
* WordPress.com has slightly different prices depending on your currency/billing region. The prices above are for USD and are the highest possible, but they may be lower if you're using a different currency (such as Indian rupees).
Beyond the price differences, there are two other key differences between monthly and annual billing:
You only get 24/7 live chat support on the annual plan. The monthly plan only allows 24/7 email support.
You only get a free domain name on the annual plan. The domain name is only free for the first year.
Final Thoughts
The WordPress.com eCommerce plan is clearly well put together, but it's definitely not for everyone.
Let's go through when it makes sense and when it doesn't make sense.
Who Should NOT Use the WordPress.com eCommerce Plan
While I think WordPress.com has done a nice job of creating a streamlined onboarding experience, offering a user-friendly dashboard, and bundling in key free plugins for affordability, I also think self-hosted WordPress is still going to be the best choice for 'serious' eCommerce stores.
By a 'serious' store, I mean something you're really running as a business, where you may even hire a full-time or contractor developer to work on things for your store. For these types of stores, you want 100% control over your server/website environment, which means self-hosted WordPress and WooCommerce is really the only way to go.
You can check out our collection of the best WooCommerce hosting to see some great options for self-hosted WooCommerce stores.
Who Should Use the WordPress.com eCommerce Plan
Where I think the WordPress.com eCommerce plan really shines is for non-technical users who are just looking for a simple way to sell online. For example, if you're creating a side hustle to sell some handmade goods, or if you're looking for a simple merch store for your band or something… those are the types of situations where the WordPress.com eCommerce plan can be a good choice.
Without requiring any technical knowledge, your store will load quickly and be secure, with no limits on traffic or bandwidth. What's more, you also get 24/7 help if needed, either via email (all plans) or live chat (if you pay annually), along with nice goodies such as two free one-on-one video onboarding calls.
As an added bonus, you get bundled access to some of the core plugins most stores need at no extra cost, which saves you money and simplifies your billing (since you won't have renewing payments for a bunch of different plugins).
For non-technical people, those are all pretty appealing benefits, which is why I think the WordPress.com eCommerce plan can be a great choice for simple WooCommerce stores.
Used/using the WordPress.com eCommerce plan? Thoughts?
Related Posts:
All comments are held for moderation. We'll only publish comments that are on topic and adhere to our Commenting Policy.