WinningWP content is free to all. If you make a purchase through referral links on our site, we earn a commission (
learn more
).
Top 6 Best WooCommerce Hosting Plans/Services Compared
Choosing the best WooCommerce hosting is much like choosing the best bicycle.
It all depends on what your needs are.
If you're all about taking it to the limits on mountain roads, you should get a light road bike. For off-road riding, a classic mountain bike would be better. For wandering around the city, you should probably get a commuter or a city bike.
But, wait — why am I even telling you this?
There's one main idea I want to convey here, and it's that everyone's perfect bike is a different bike.
It really is the exact same thing with hosting — the best WooCommerce hosting especially.
So, instead of comparing various hosting plans number by number and parameter by parameter, I'm going to focus on you instead.
This post is divided into a couple of sections. Each section represents a single user persona and points out which hosting options are the best for their requirements.
How to read this resource: Find the persona that sounds the most like you and get the recommended solution (or don't — hey, it's your decision).
TL;DR
Here's a quick summary:
💸 Budget pick: SiteGround — $3.95 or $5.95 a month; give you all of the features and parameters an online store starting from scratch might need.
⭐ Overall best: Nexcess — from $190 a year; the best all-around WooCommerce hosting solution on the list.
💪 Power pick: Cloudways — from $36.51 or $33.30 a month; for high-end server performance, pick one of the plans based on Amazon AWS or Google Cloud.
👉 Shortcut: Click here to scroll to our roundup of the best WooCommerce hosting.
What to Look for in the Best WooCommerce Hosting For You
Before I can point out optimized WooCommerce hosting solutions based on your needs, I want to take a minute to talk about a handful of web hosting features/traits that are particularly important in the eCommerce world (and for WooCommerce hosting as well).
Hosting plans come in all shapes, sizes and price points. Some of them are just ~$4 a month, while others are $100-plus. Knowing what makes them different will help you to understand why the more expensive plans might be worth their price tags, and also what trade-offs you have to make when opting for a cheaper one.
Onwards, then! Here are some of the things your best WooCommerce hosting should offer:
PCI compliance
Back in 2006, something called the Payment Card Industry Security Standards Council was established. It makes sure that transactions are safe, money gets where it should and that no bad guys are looking over your shoulder and stealing your credit card data.
Now, the part that concerns you is this (source):
The PCI DSS applies to ANY organization, regardless of size or number of transactions, that accepts, transmits or stores any cardholder data
In other words, if you intend to do anything at all with the credit card data of your customers, then you have to make sure your server is PCI compliant.
Unfortunately, the general rule of thumb is that cheap shared hosting plans aren't run in environments that are PCI compliant. Always look for this specific piece of info on your web host's sales page or in the docs.
Now, with that said, there is a workaround. Modern payment gateways — the tools that actually handle the payments online — work in a way that doesn't store or process any credit card data on your server. The data gets sent straight to the payment processor without spending a second on your site.
For example, if you're only going to be accepting PayPal payments, then your server doesn't have to be PCI compliant.
Dedicated IP Addresses and SSL Certificates
An IP address is simply the address that identifies your site on the internet.
Most of the cheap WooCommerce hosting plans will assign you a dynamic IP address that's shared with other people. When you sign up for a slightly better hosting plan, you'll get an exclusive private IP address — a dedicated IP.
Think of it as living in an apartment with ten other people versus living in it on your own. I'm sure it's clear that if you run a business under a certain address, then you don't want ten other people living there, right? It's the same thing on the web: Dedicated IP addresses are generally better for SEO and eCommerce.
This is also where the other piece of the puzzle comes into play — an SSL certificate.
An SSL certificate supports encryption and authenticates your business on the web. In other words, it reassures customer that you really are who you claim to be.
SSL certificates can be purchased either directly from your host or from a third party. The certificate can then be installed on the aforementioned dedicated IP address.
The good news is you can get an SSL for free from an organization called Let's Encrypt, and most web hosts do offer them included with their hosting plans (free of charge) — just make sure the host you're choosing has that.
In the end, if you expect anyone to submit their contact data or credit card data and purchase anything from you, you must have an SSL certificate.
Uptime Parameters
The more uptime your hosting company can give you, the better. In simple terms, when your eCommerce website is down, nobody can buy from you.
The top-of-the-line providers run on data centers classified as Tier 4, which means you can expect to have less than 0.8 hours of downtime a year. Tier 1 data centers can give you less than 28.8 hours of downtime a year, while Tier 2 and 3 fall somewhere in between (here are the detailed numbers on this). In short, the better the tier, the higher the price.
That being said, this doesn't mean you always have to go for a Tier 4 server — some downtime over the span of a year won't hurt you much. Just be aware that every once in a while your site may be less accessible.
Speed
People are rather impatient when it comes to browsing an eCommerce store. Amazon and its fast response times are probably partly to blame here — shoppers have got used to the experience!
Anyway, if you want to stop your customers from abandoning their shopping carts, you need to go with a provider that offers good machines (good and fast specifications with lots of RAM).
But also, you should look into where the company's data centers are. One of the main things affecting how quickly your visitors can access your store is the distance between them and your server, so go for companies that offer servers near your target audience's location.
Good Support
This sounds basic, but having access to a reliable support team really matters a lot when running a WooCommerce store. In case anything goes wrong, you need to be able to contact your web host directly, and they should be there to fix the problem for you.
Easy-to-contact 24/7 support is a must. Online chat is best, email will do as well, and priority support over the phone is even better!
Good Backup Solution
Make sure your web host offers a good backup solution, with frequent backups and a simple way of restoring your site.
And I really want to emphasize that second part — a simple way of restoring your site. Any backup by itself is worthless if it can't be used for restoring your site quickly.
Ideally, you want your host to handle automatic backups on your behalf.
Firewalls, Threat Detection, Other Security Mechanisms
As a rule of thumb, the more specific web hosts are about the security measures they take to keep their customers' sites safe, and the more details they list regarding their whole security infrastructure, the better.
You don't necessarily need to know all of the specifics of how things work — just like you don't need to understand all of the security mechanisms in your car — but you do want to know they're there.
With all that in mind, let's see what the market of best WooCommerce hosting has to offer:
Best WooCommerce Hosting up Close
Pick the persona that best describes the type of user you are:
'I'm Starting from Scratch with Only an Idea'
Read if:
you'll be running a small operation with only a handful of products (or maybe even just one)
you want to keep things as low-budget as possible
you don't have a storefront location
you have no employees and low running costs.
This is the most common scenario among people looking up companies offering the best WooCommerce hosting.
You're probably sitting on a great idea, and you want to bring it to market as soon as possible. You've looked up 'building an online store', and the pairing of WordPress and WooCommerce came up — so now you're here looking for some quality hosting for your future store. Sounds about right?
You're the DIY user! Luckily, WordPress and WooCommerce have been made with you in mind!
For users who are just starting out and want to sell only a very limited catalog of products — while also not expecting huge volumes of traffic — there are tens of viable WooCommerce hosting plans out there.
Although WooCommerce is quite a resource-hungry script, its effects aren't that apparent when the website has a relatively low volume of traffic.
I have one favorite company in the realm of budget WooCommerce hosting. While you'll find other firms advertising similar plans, their reviews tend to vary when you do some more research. That's why I like to stick to the tried-and-tested:
SiteGround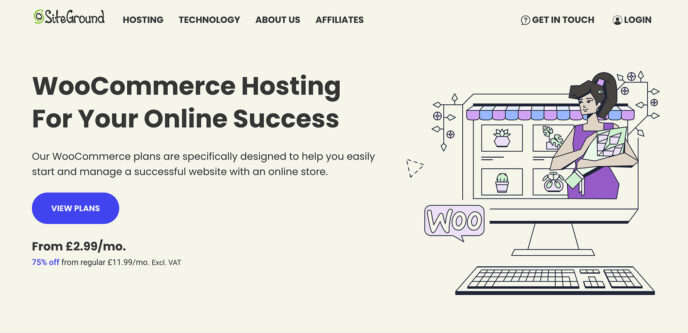 SiteGround are a recognizable brand in the WordPress community. They've been very active and have been perfecting their WordPress-specific hosting for years now.
The hosting plans they offer are very affordable and come with a number of automations to make your life easier, and they also give you customer support that's been highly praised.
When you choose SiteGround, you also don't have to deal with installing WordPress or WooCommerce on your own — it's all done for you. What you'll effectively be walking into is a blank WooCommerce store that's ready to have your products added.
There are three main plans available with SiteGround: $3.95, $5.95 and $11.95 a month, and you can use either one to launch your first eCommerce store. However, you'll probably want to keep things on a budget and opt for either the $3.95 or $5.95-a-month plan.
For $3.95, you can build a single WordPress/WooCommerce website, use up to 10 GB of disk space and handle 10,000 visitors monthly.
You also get a free WordPress and WooCommerce installation, automatic updates, an SSL certificate, CDN access (makes your site faster), daily backups and 24/7 support.
For $5.95, you can build unlimited websites, use up 20 GB of disk space and handle 25,000 visitors monthly.
You get everything the cheaper plan gives you, plus a website transfer service, SiteGround's SuperCacher (caching makes your site faster), one-click staging, a Web Application Firewall with custom in-house written rules, and an AI bot actively looking for threats and keeping your online store safe.
In the end, SiteGround are your best choice when it comes to entry-level affordable WooCommerce hosting.
👉 Read our SiteGround review
👉 Go to SiteGround
'I Already Have a Business Running, but No Ecommerce Presence'
Read if:
your business already exists in the offline and generates sales
you want to take your business online at a reasonable cost
or you're still starting from scratch, but you're ready to invest in quality hosting.
If you've already been operating your business for a while, and you are generating revenue offline, then your hosting considerations should be a bit different from those of someone who's starting from scratch.
First off, you're probably already dealing with a lot of ongoing expenses involved in running a business, such as meeting payroll, paying suppliers, handling the electricity bill, rent and so on. These things aren't cheap. At the same time, you do realize the importance of having all of those elements in place, and their role in letting you generate profit.
Therefore, looking for good WooCommerce hosting for a business that's already operating isn't so much about minimizing hosting costs to the extreme and saving a couple of bucks every month, as it is finding a reliable solution that will perform.
Moreover, with an existing business, you probably have a customer base you've built over time. These people will be interested in checking out your offering online, which means you can expect more web traffic from day one (vs new stores with no pre-existing customer bases). You don't want to disappoint your regular customers with a slow-performing website.
With that in mind, here are my recommendations for the best WooCommerce hosts that will let you run your online store hassle-free, and that also offer great performance and reliability.
Cloudways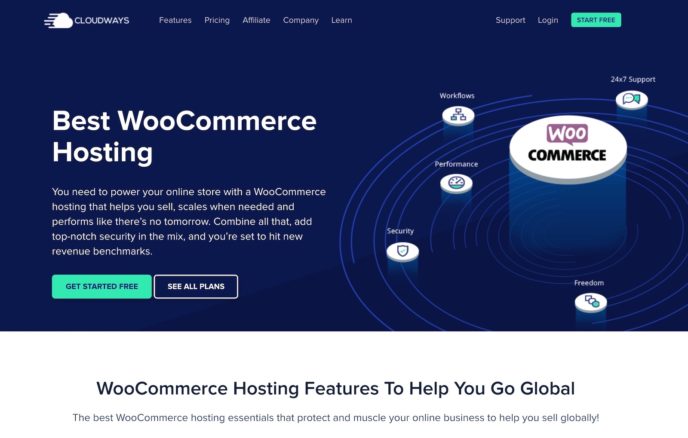 Cloudways are a smaller company — by hosting industry standards — but they do offer excellent plans with good reliability and performance.
The fact that they actually use machines by industry-leading server houses, such as DigitalOcean and Amazon, probably has something to do with that reliability and performance.
In other words, Cloudways use third-party server infrastructure and makes it more accessible to everyday users.
Their WordPress hosting plans offer advanced cache features, server stacks that are optimized to work with WooCommerce, their CloudwaysCDN setup, dedicated firewalls to keep your store safe, one-click SSL installation, automated backups, seamless scaling as your store grows in traffic, 24/7 live support and many more features that can be called pro-level.
The prices start from $10 a month using DigitalOcean servers. For that price, you get access to a capable machine that will be able to handle your store no problem.
👉 Go to Cloudways
SiteGround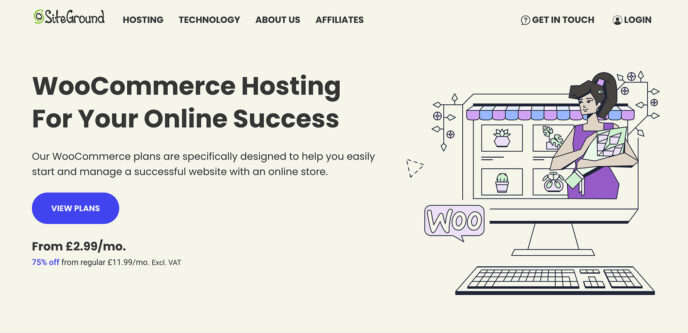 I know I recommended them (SiteGround) earlier in this post already, but they're equally capable of serving stores with higher requirements.
Particularly, SiteGround's $11.95-a-month plan will do a great job here, letting you build unlimited stores, welcome 100,000 visitors a month and use up 30 GB of disk space.
You get a free WooCommerce installation and a website transfer service if needed, automatic updates, an SSL certificate, daily backups, 24/7 priority support, SiteGround's SuperCacher, a one-click staging environment, a Web Application Firewall and an AI security bot.
It's also worth mentioning that SiteGround's data centers provide power and hardware redundancy.
👉 Read our SiteGround review
👉 Go to SiteGround
'I'm Already Running an Online Store, but My Host Is Sub-Par'
Read if:
it's time for a WooCommerce hosting change because of issues with your current host.
WooCommerce isn't just a plugin — it's actually a whole advanced package of online software that happens to be delivered as a WordPress plugin.
What this means in plain English is that the sole fact of having WooCommerce on your site can slow it down noticeably (some sources claim the average impact is in the range of two-plus seconds).
This means every visitor will have to deal with two additional seconds when browsing your store. Depending on the kind of audience you cater to, this could result in lost sales.
All hosts are technically capable of running a WooCommerce store, but they may not be the most efficient at it. And, if you're reading this, then this is probably the case.
Here are my top three recommendations — hosts who will make your online store run smoothly:
Nexcess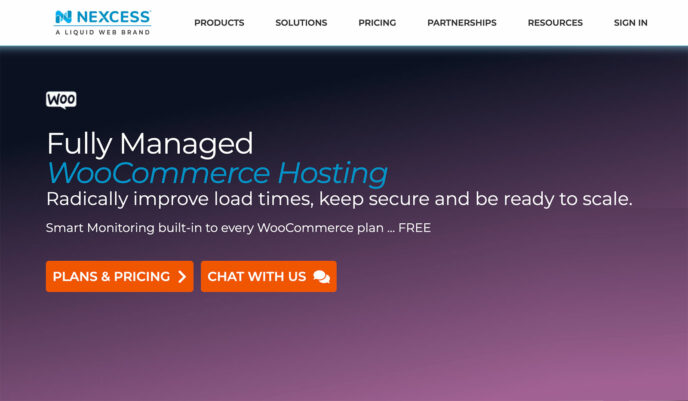 Nexcess are a company known in the hosting industry for their specialized hosting offerings ranging from cloud hosting to dedicated servers, VPS, server clusters, database hosting and even compliant hosting for the healthcare industry.
The most interesting thing for us, though, is that they also offer managed WooCommerce hosting plans.
These plans are hosted entirely on the cloud, which means they're exceptionally scalable, the setup time is rated at less than ten minutes and you get what Nexcess call a SaaS-like simple control panel (not cPanel, which is the standard in the industry, although not the most user-friendly solution).
However, those managed WooCommerce hosting plans aren't only about the server infrastructure. You also get access to extra software that will make managing your store easier.
For example, Nexcess have partnered with Jilt (an email service for eCommerce) to help you to take care of abandoned carts and improve your communication with customers in general.
There's also migration support when moving your store over to Nexcess, 24/7 support, an integrated catalog of WordPress themes you can choose from and a selection of dedicated WooCommerce plugins by IconicWP.
All this you get without any extra charges above your standard hosting bill. Speaking of which, you get all of these features starting from $19 a month, or $190 a year when paid annually (you basically get two months for free).
If you need more server resources, you can upgrade to more powerful plans ($79, $299, $549 and even $999 a month).
Nexcess are the best all-around WooCommerce hosting solution on this list when looking at the price-to-value ratio.
👉 Go to Nexcess
DreamHost
DreamHost are best known for their entry-level hosting plans, but they're also a big player in the market of more powerful WooCommerce setups.
Starting from $16.95 a month (when paid annually), DreamHost give you access to a cloud-based hosting environment with isolated resources — you're not sharing them with other people hosting with DreamHost.
The server is ready to handle up to 100,000 monthly visitors, and you get 30 GB of storage for your files and media.
Looking through the list of available features, the things that stand out are one-click staging, built-in caching, free SSL for your store, automatic daily backups, SFTP and shell access.
If you need it, DreamHost give you a free domain name and the possibility to set up email accounts for your store, and host them on the server as well (not always the standard with more specialized hosts).
If you need more server resources — capacity for more visits and more disk space — you can upgrade to the $24.95 or $71.95-a-month plans.
DreamHost have really high ratings on Trustpilot and PCMag.com, and are also a platform officially recommended by the WordPress.org team (full disclosure, SiteGround have the WordPress.org seal of approval as well).
👉 Read our DreamHost review
👉 Go to DreamHost
Cloudways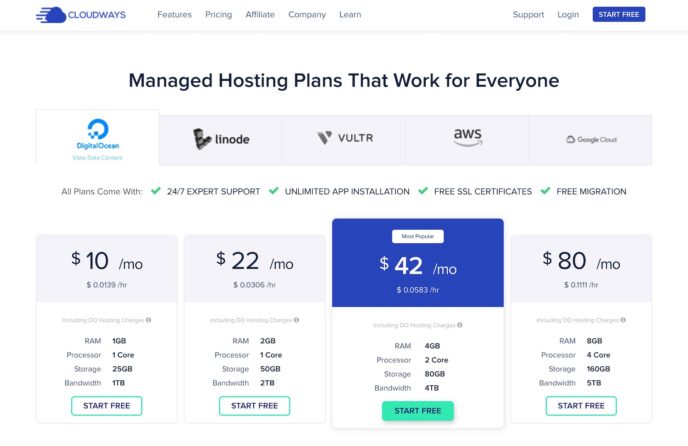 Cloudways will also do an excellent job for stores that have a sub-par experience with their current hosts.
Since Cloudways allow you to pick the provider of your server infrastructure, you get a lot of freedom as to how you want to set up your environment and how high-end you want to go on the server parameters spectrum.
For example, if performance is the number one thing on your list, you can choose to put your WooCommerce store on Amazon AWS or Google Cloud — both of which are available through Cloudways — starting from $36.51 and $33.30 a month, respectively.
You also get all of the other features that come with Cloudways setups — we talked about those in the previous sections (click to scroll).
👉 Go to Cloudways
Best WooCommerce hosting summary
We've just covered a handful of the best WooCommerce hosting options on the market. Here are my recommendations in a nutshell:
🌱 Top selection for users starting from scratch with only an idea for an eCommerce store:
SiteGround — the $3.95 or $5.95-a-month plans will give you all of the features and parameters an online store starting from scratch might need.
🏪 Top selections for businesses that are already running, but have no eCommerce presence:
Cloudways — at $10 a month they're a great solution if you're looking for a good balance between performance and affordability.
SiteGround — the $11.95-a-month plan will give you more server performance than SiteGround's cheaper plans, and can handle more visitors each month.
💪 Top selections for businesses that already have an online store, but their current hosting experience is sub-par:
Nexcess — the best all-around WooCommerce hosting solution on this list; $190 a year.
DreamHost — their cloud-based setups for WooCommerce come with a lot of features, and also remain affordable at $16.95 a month.
Cloudways — for high-end server performance, pick the Cloudways plans that are based on Amazon AWS or Google Cloud, starting from $36.51 and $33.30 a month, respectively.
I hope this resource has been helpful, and that you've made your pick of the best WooCommerce hosting for your needs.
If there's anything else you'd like to know about the best WooCommerce hosting, ask away in the comments — we're happy to help!
All comments are held for moderation. We'll only publish comments that are on topic and adhere to our Commenting Policy.