WinningWP content is free to all. If you make a purchase through referral links on our site, we earn a commission (
learn more
).
Bluehost vs WordPress.com – Which Offers The Best WordPress Hosting?
If you're looking for an easy and low-cost way to start a WordPress website, Bluehost and WordPress.com are two of the most noteworthy services to consider, with both offering exceptionally popular web hosting services. A particularly striking difference between the two, for example, is that, in addition to a variety of paid hosting plans, WordPress.com also offers a free plan! This free plan, however, isn't without drawbacks…
In this Bluehost and WordPress.com comparison, I'll look at the range of hosting plans offered by both of these companies, explain how each service works, point out their main differences, assess which one has the fastest loading times, and more.
↪️ Note: Looking for WordPress-specific hosting? Here's another post of ours you may also be interested in Comparing The Best Cheap WordPress Hosting Services.
If you want to start a new WordPress website but aren't sure whether Bluehost or WordPress.com hosting is the best option, this guide is for you.
Let's begin…
A Quick Overview of WordPress.com and Bluehost
Although the WordPress software is free to use and can be downloaded from WordPress.org, you'll still need to sign up with a web host that will make your WordPress website available online.
One option is to choose a low-cost general-purpose shared hosting provider, such as Bluehost, while another is to sign up with WordPress.com and let them take care of hosting your website.
At the WordPress.com website, you'll find free and paid hosting plans that enable you to sign up and launch a new WordPress website in just a few clicks.
Over at the Bluehost site, you'll find paid plans that also let you launch a new WordPress website very easily.
While it may sound like Bluehost and WordPress.com provide the same service — hosting your WordPress website — there are lots of differences between these two options, including ease of use, freedom, features and performance, all of which I cover in this comparison.
WordPress.org or WordPress.com?
With two very similar-sounding websites — WordPress.com and WordPress.org — you may find the presence of these two sites a bit confusing.
In short: At the WordPress.org website you'll find the WordPress software that lets you build websites you host yourself (by signing up with a web host); at the WordPress.com website, you'll find a service that will host your WordPress website for you.
If you want to know more about the freely available WordPress software and the WordPress.com hosting service, we created a WordPress.com vs WordPress.org explainer video that provides more details.
Now we know what the WordPress.com and Bluehost services are, let's look at what you get with each one.
WordPress.com vs Bluehost Pricing
Both hosts have a range of plans to suit budgets of all sizes. Also, with both hosts you get better rates by paying for 12 months or more upfront. If the idea of committing long-term to a service you haven't used before isn't appealing, Bluehost have a 30-day money-back guarantee, while the WordPress.com refund policy ranges from seven to 14 days.
One of the other main differences between these two services is that WordPress.com has a free plan. I'll cover the differences between all of the WordPress.com and Bluehost plans throughout this article, but one big downside of the free plan is that ads from WordPress.com (that won't earn you any money) will be displayed on your site.
Bluehost Shared Hosting Plans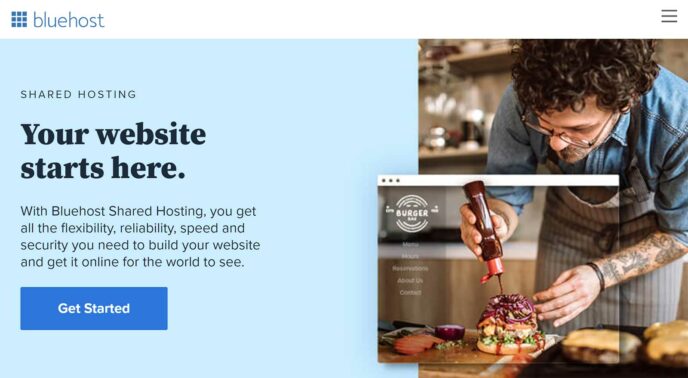 Here's a quick overview of the main details of the shared hosting plans from Bluehost:
Basic: From $3.95 a month to host one website.
Plus: From $5.95 a month to host unlimited websites.
Choice Plus: From $6.95 a month to host unlimited websites with extra features.
Pro: From $13.95 a month to host unlimited websites with extra features and better performance.
The prices above are for new contracts, and, once that contract expires, you'll have to pay the renewal rates.
WordPress.com Hosting Plans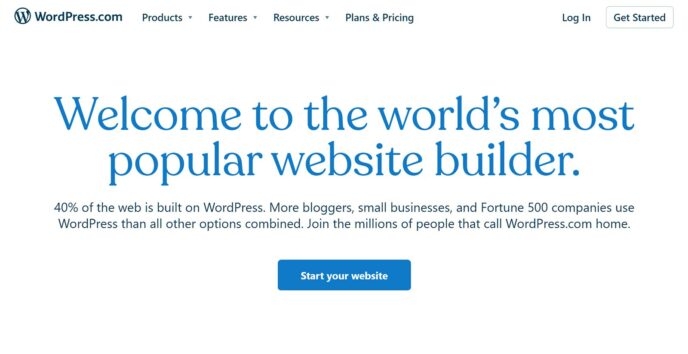 Like Bluehost, WordPress.com has a number of plans. Here's a quick overview of the different options and who they're aimed at, according to WordPress.com:
Free — best for getting started.
Personal — best for personal use: $4 a month billed annually or $7 a month billed monthly.
Premium — best for freelancers: $8 a month billed annually or $14 a month billed monthly.
Business — best for small businesses: $25 a month billed annually or $33 a month billed monthly.
eCommerce — best for online stores: $45 a month billed annually or $59 a month billed monthly.
You can easily upgrade your account at any point, so, if you'd like to try WordPress.com hosting, you can start out with the free option, and then move up the plans as and when needed.
Free Domain Registration
With both WordPress.com and Bluehost, you get a free domain name registration if you pay for a year or more upfront. However, you'll need to pay to renew the domain name after the first year.
Both hosts will apply an SSL certificate from Let's Encrypt to your domain to ensure data transfer is secure. You can read more about this on the SSL page of the WordPress.com website.
Verdict: The Free WordPress.com plan makes it the winner for anyone who wants to start a website without any financial outlay. However, the cheapest Bluehost plan is slightly cheaper than the lowest-priced WordPres.com plan. But really, the price of the plan that best meets your requirements will define which one offers the best value hosting for you.
Now we've covered the prices of the hosting plans from Bluehost and WordPress.com, it's time to compare their main features.
User Experience
One of the main reasons to sign up with WordPress.com is ease of use. As it only hosts WordPress websites, it's been able to really simplify and streamline the onboarding process to make it as easy as possible to get started.
Bluehost have improved their WordPress-focused user experience a lot in the past few years. For example, with Bluehost, you can now choose to have the WordPress software automatically installed for you during signup.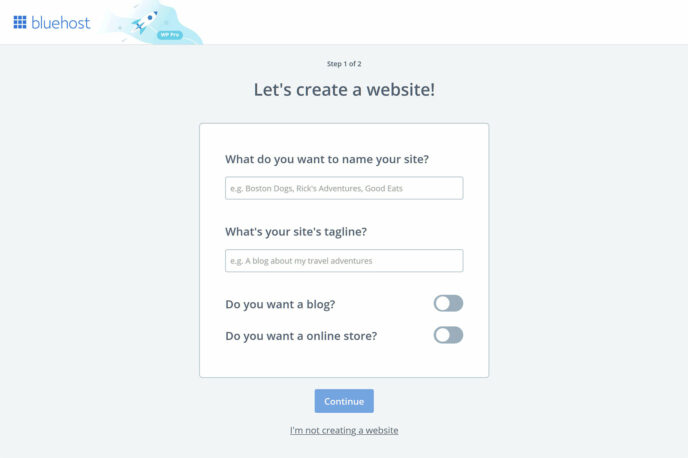 Both WordPress.com and Bluehost have helpful wizards that will walk you through the process of setting up your WordPress website and publishing your first pieces of content. If you're new to WordPress, this can really help you to get started and find your way around.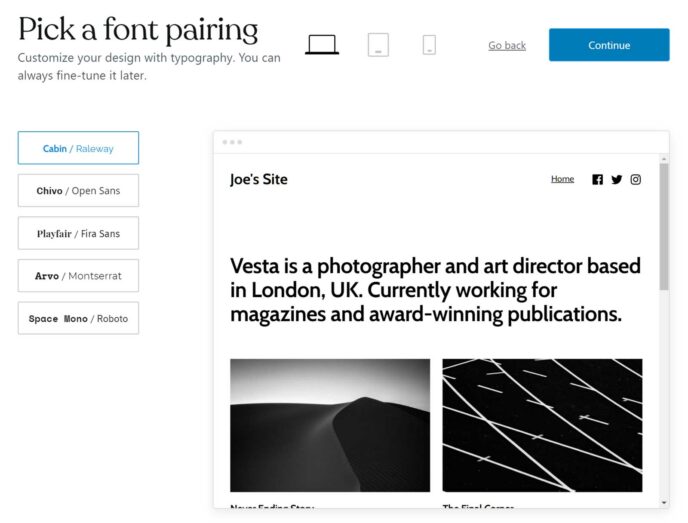 However, as you can do a lot more with Bluehost than you can with WordPress.com, such as create other types of websites, manage subdomains, and lots more via their control panel, the overall user experience can feel a bit more overwhelming. This is especially true if all you want to do is have a WordPress website and aren't interested in the other features.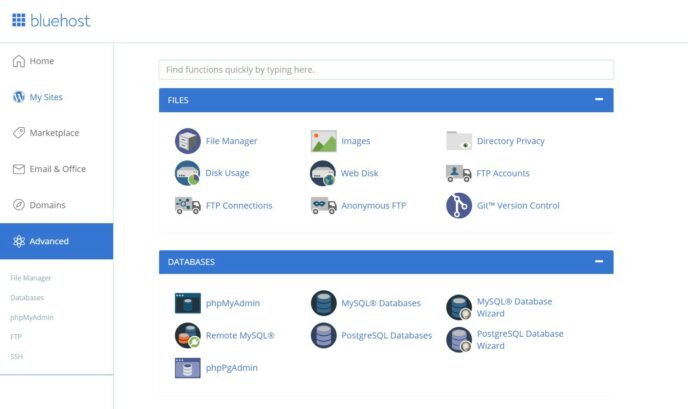 You get more freedom with Bluehost, such as the ability to build your website in other ways apart from using WordPress, as well as more flexibility in how you manage your WordPress website. Because of this extra freedom, you get more options in your account area, which, in turn, has the potential to make the experience of using the service more confusing — or at least require more input from you compared with the WordPress.com account area.
The above mostly refers to the signup process, control panel, and account management side of things. However, there are also differences between the experiences of using the WordPress software itself.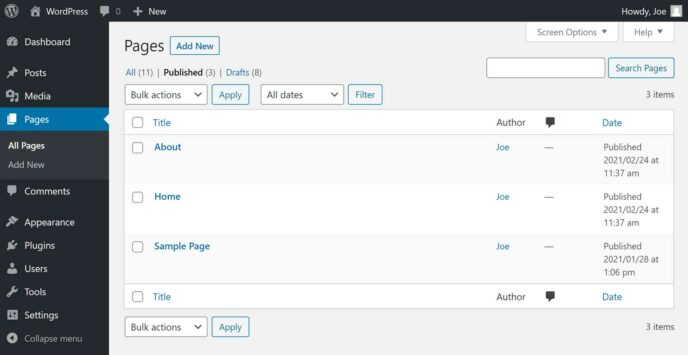 As we see in the next section, some of the WordPress.com plans are quite restrictive compared with the Bluehost self-hosted WordPress experience.
Because of this, the experience of building your website with WordPress can be quite different, depending on whether you sign up with Bluehost or WordPress.com, and, if you choose the latter, which WordPress.com plan you pick.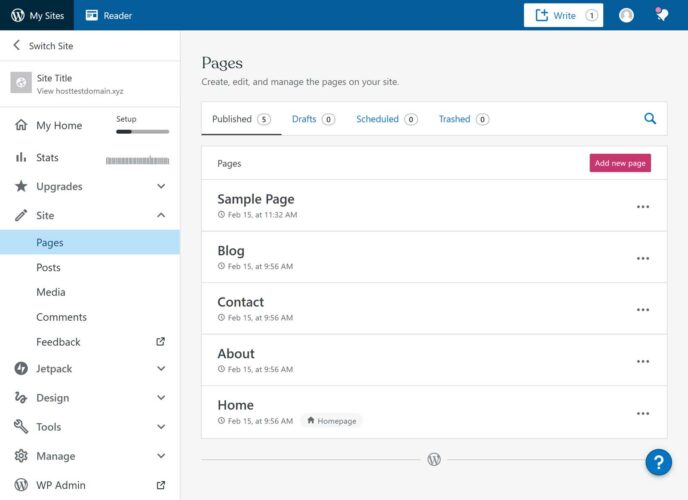 Verdict: If you want to keep things as simple as possible and sign up with a service that's focused entirely on helping WordPress website owners succeed, then WordPress.com wins when it comes to user experience and ease of use.
That's not to say that the Bluehost experience isn't user-friendly, it's just that, in exchange for greater freedom, the account area interface has more controls and settings. There are often more steps involved in getting to where you want to go in the Bluehost account portal, too.
WordPress Themes
Your choice of theme will define the look of your WordPress website. Depending on which theme you choose, you can transform a basic WordPress installation into a professional-looking marketing website, a creative photography portfolio, an online store, or almost anything else you can think of.
Themes can also be easily customized to ensure your website has a unique design. The huge library of free and paid themes available for WordPress is one of the main reasons for its popularity.
Free and Premium Themes
If you sign up with Bluehost, you can use any WordPress theme on your website. However, their plans don't include access to any themes, so you'll have to source them from elsewhere, such as through ThemeForest or the Bluehost marketplace. Because of the way WordPress works, you can also browse and install free themes from inside your WordPress dashboard with Bluehost.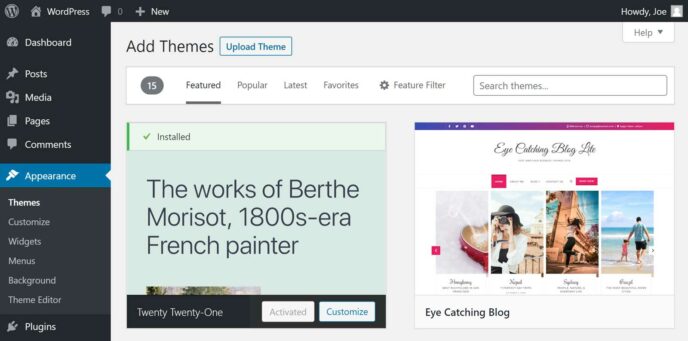 With WordPress.com, all of the plans include easy access to a selection of just over a hundred free themes. If you choose the $8-a-month Premium plan or above, you'll also be able to use the premium themes that are available from WordPress.com.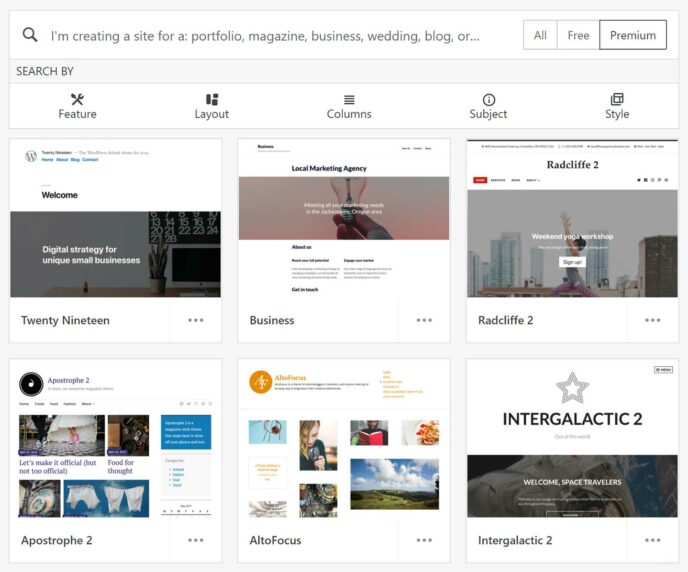 These themes have been made by the WordPress.com team and third-party developers, giving you a variety of options to choose from that cover a wide range of website projects. As these premium themes can cost as much as $150, getting access to a paid theme as part of the price of your plan could make paying for the Premium WordPress.com plan or above more appealing.
You can view these premium themes on the WordPress.com themes page and compare them with the freely available ones that are your only options on the Free and Personal plans.
Uploading WordPress Themes
Unlike with Bluehost, though, you can only upload your own choice of themes on the Business or eCommerce WordPress.com plans, which start at $25-a-month and $45-a-month respectively.
If you don't want to pay for the Business or eCommerce plans to get the ability to upload your own choice of theme, then it's vital you check out the themes available on the WordPress.com Free, Personal and Premium plans to see if there's an option that works for your website.
Verdict: While you get access to some premium themes on some of the WordPress plans, the fact that you can upload your own choice of themes on all of the Bluehost plans makes them the winner here.
WordPress Plugins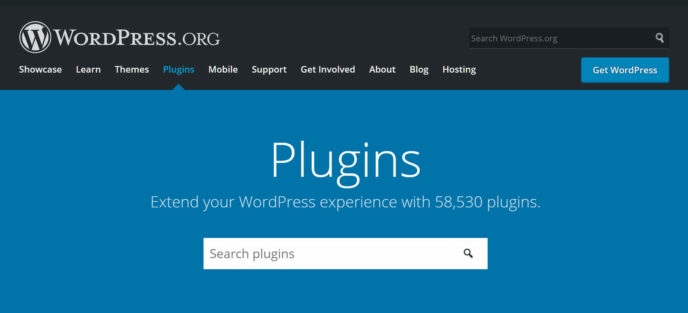 Plugins give you an easy way to add countless new features to your WordPress website. While themes control the design of your website, plugins control its functionality and how it works.
Depending on which plugins you install, you can change a basic WordPress blog into a powerful online store, a lead generation tool, a business directory, and countless other options. You can also use plugins to add a single feature to your blog, such as a contact form, a page builder or a backup system, often for free.
Like themes, the hundreds of thousands of free and paid plugins available for WordPress are another key reason for the success of this software.
Despite this, you can only use plugins on the $25-a-month Business and $45-a-month eCommerce WordPress.com plans. While the lower price plans from WordPress.com do come with lots of useful features that I cover in this comparison, you can't add any extra features via plugins.
Also, although you can upload plugins on the Business or eCommerce plans, there are some plugins that aren't allowed. However, you'll find that most of the features of these banned plugins, such as caching and backups, are included on these WordPress.com plans. Because of this, you're not really missing out on any features on these two plans, you just don't get to choose how those features are delivered.
You can view the list of disallowed plugins and the reasons why they're not allowed on the relevant page of the WordPress.com website.
Regardless of which Bluehost plan you choose, you'll be able to install any WordPress plugins.
Verdict: Bluehost are the clear winner here, as you can use any plugin on all of their plans. The WordPress.com approach of including a set of core features by default does help to keep things simple, as there's no need to worry about plugins.
Also, as the features are all provided by WordPress.com, the user experience is more consistent, compared with installing plugins from a range of different developers as you might do with Bluehost.
However, you're giving up a lot of freedom in exchange for this. Furthermore, the lower-priced WordPress.com plans don't include nearly as many features as the higher-priced ones.
Performance
Having a fast-loading website is vital if you want to keep your visitors happy. Both WordPress.com and Bluehost claim to offer high-performance hosting, but who's the fastest?
To find out, I created identical (as much as possible) test websites with both services, and then used Pingdom to monitor the speed of a page on both sites. For both sites, the free lightweight Twenty Twenty theme was used, and the test page included an image and some text.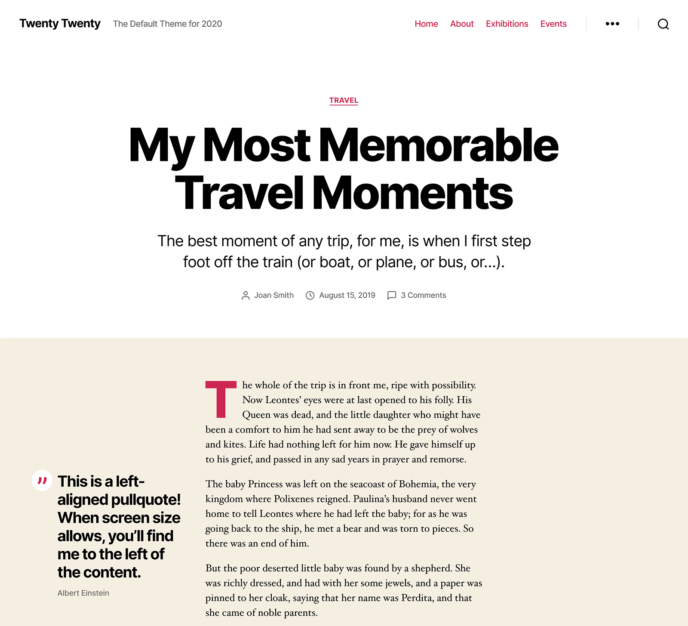 Pingdom recorded the speed of the page every 30 minutes for seven days to find the average load time.
Here are the results…
Bluehost Performance Test Results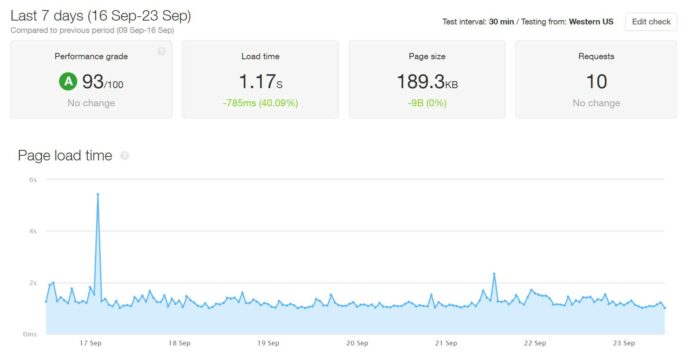 The WordPress website hosted with the Bluehost shared service had an average load time of 1.17 seconds. This site was hosted on the standard-performance Bluehost Plus plan.
The Bluehost Pro shared plan has more speed and processing power, so you should get faster loading times with that plan, although you'll have to pay more for it.
WordPress.com Performance Test Results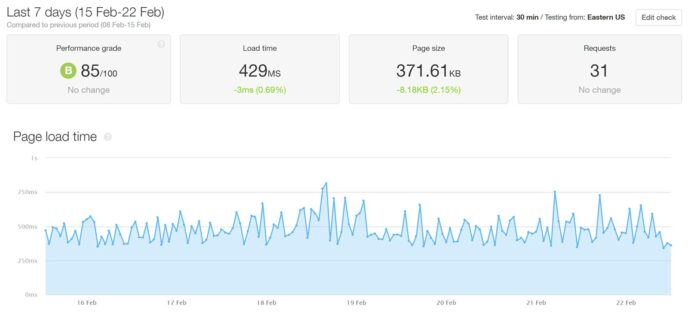 The WordPress website hosted with WordPress.com had a faster average load time of 429 milliseconds or .429 seconds.
This site was hosted on the WordPress.com Premium plan, although, unlike Bluehost, all of the WordPress.com plans have the same level of performance.
WordPress.com and Bluehost Performance Summary
As you can see, the test site hosted with WordPress.com was much faster than the same site hosted with Bluehost. In fact, it was 63 percent faster, with a difference of 0.741 seconds.
Therefore, based on my tests, choosing WordPress.com over the Bluehost shared hosting service will get you a faster website. In fact, WordPress.com is much faster than the fastest low-cost shared host we've tested so far, based on the results from our SiteGround review.
While the 1.17-second average load time of the Bluehost site is okay, the faster your website, the more engagement and better search engine rankings you should achieve.
If you'd like to know how well websites hosted by these two companies handle multiple visitors accessing them at the same time, check out our in-depth WordPress.com hosting review and our Bluehost vs DreamHost comparison to see the results from our other performance tests.
Verdict: WordPress.com is the clear winner here, as it achieved much faster loading times than Bluehost.
Storage Space
All but the entry-level Bluehost plan come with unlimited storage for your website files.
While the entry-level Bluehost plan includes a generous 50 GB of storage, with WordPress.com the Free plan only has 3 GB, while the Personal and Premium plans have 6 and 13 GB respectively. The top two plans have 200 GB of storage space.
All of the Bluehost and WordPress.com plans have unlimited bandwidth, so you don't have to worry about how many visitors your website receives.
Verdict: Bluehost win here as their plans have much more generous storage allowances.
WordPress Website Backups and Restores
If you don't want to lose your website and its content should something go wrong, you're going to have to have some sort of backup system in place.
Thankfully, the top two Bluehost shared hosting plans, Choice Plus and Choice Pro, include access to a premium backup and restore tool called CodeGuard. Because of this, your website will be automatically backed up every day, giving you the ability to restore your site to a previous state.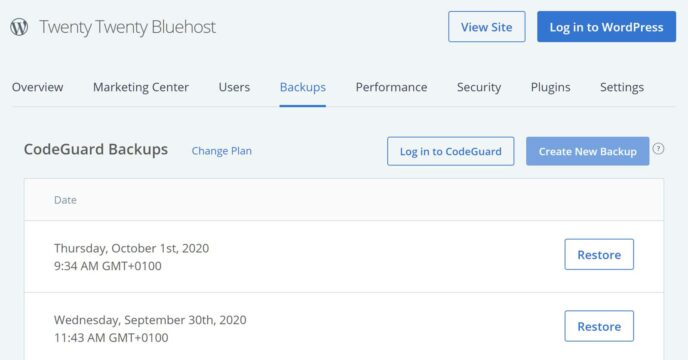 If you choose the bottom two Bluehost shared plans, Basic and Plus, which don't include access to this tool, you can still add a backup system to your WordPress website by installing a free plugin such as BackWPup or UpdraftPlus, or paying for a CodeGuard subscription.
With WordPress.com, only the top two most expensive plans, Business and eCommerce, include access to a backup and restore tool. As you can't install a backup plugin on the lower-priced plans, the only way to have the ability to restore your site to a previous version is to choose one of the more expensive plans.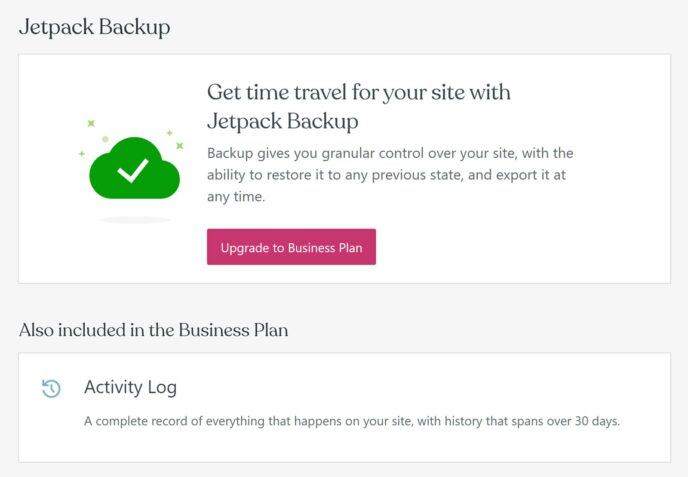 Verdict: Although the WordPress.com backup and restore tool is very powerful, the fact that it's only available to those paying $25 a month or more makes Bluehost and their support for backup plugins the winner.
WordPress.com vs Bluehost Comparison Summary
That brings us to the end of our WordPress.com vs Bluehost comparison. Here's a quick summary of the two services:
Price: WordPress.com has a free plan, while the lowest-price Bluehost plan is cheaper than the entry-level WordPress.com paid plan.
User Experience: WordPress.com provides a more user-friendly experience, although Bluehost aren't hard to use.
WordPress Themes: Some WordPress.com plans include access to paid themes, but none of the Bluehost plans do. All Bluehost plans let you upload any theme, but you can only do this on the two most expensive WordPress.com plans.
WordPress Plugins: You can upload plugins on all Bluehost plans, but can only do so on the two most expensive WordPress.com plans.
Performance: WordPress.com was faster than Bluehost in our load time test.
Monetization: Some WordPress.com plans include good monetization features, but they have stricter rules on how you can monetize your site. Thanks to support for plugins on all plans, Bluehost give you more monetization options overall.
Storage Space: The Bluehost plans have much more generous storage allowances.
Backups: The more expensive plans from both hosts include a backup and restore tool, but you can also install backup plugins on all of the Bluehost plans.
Staging: Bluehost provide their customers with a staging tool for creating a copy of their site where they can test changes safely. WordPress.com doesn't have this feature.
Server and Database Access: All Bluehost plans include access to the server and database, whereas with WordPress.com this is only available on its top two plans.
Support: You can contact Bluehost support via telephone or live chat. WordPress.com has email support on all plans and live chat on some of the more expensive plans.
Final Thoughts
If you're not sure if you need a website, or if you're unsure if you'll still want one in a few months' time, then the Free WordPress.com plan is a great way to quickly get started without the need to spend anything.
However, as we've seen, the Free plan is very limited compared with the true WordPress experience. So, if you start to get serious about your website, you'll probably want to upgrade to one of the paid WordPress.com plans. Those plans can get quite expensive, especially if you want the freedom to use your own choice of themes and plugins or customize your website as much as possible.
On the other hand, if you know you want a WordPress website, you'd like the full WordPress experience and you don't want to pay $25 a month for the WordPress.com Business plan or above (which includes the full plugin and theme functionality of WordPress), then signing up with Bluehost makes the most financial sense.
You might end up with a slower website compared with WordPress.com, but you'll get more freedom regarding how your website looks, how it functions and what you can do with it.
If speed and freedom are important to you, and you don't mind paying for it, then the more expensive WordPress.com Business or eCommerce plans, which let you install plugins and themes, would be your best option here.
Used/using either of these two services? Thoughts and experiences with each?
All comments are held for moderation. We'll only publish comments that are on topic and adhere to our Commenting Policy.