WinningWP content is free to all. If you make a purchase through referral links on our site, we earn a commission (
learn more
).
SiteGround vs WordPress.com – Which is the Best Choice for Starting a WordPress Website?
Both SiteGround and WordPress.com can help you to launch a new WordPress website quickly and easily. Both services have good reputations, and affordable plans — WordPress.com even has a free one — and offer money-back guarantees that let you try their services risk-free.
So, which one should you choose?
In this SiteGround vs WordPress.com comparison, I'll highlight the best aspects and main drawbacks of each service. I'll also share the results from my paid performance tests that show whether SiteGround or WordPress.com is the fastest.
↪️ Note: Looking for WordPress-specific hosting? Here's another post of ours you may also be interested in that Compares The Best Cheap WordPress Hosting Services.
By the time you've finished reading, you'll know which of these two choices is the best option for your website.
Let's begin…
Quick Overview of WordPress.com and SiteGround
Anyone can download the WordPress software from WordPress.org and use it to build a website. However, to get your website online and available to the world, you'll need to sign up with a web hosting company
WordPress.com and SiteGround are two such companies, and, while both will set up your website and host it online, they provide this service in slightly different ways.
For example, SiteGround are a more traditional hosting company (here's some of the best value choices). They provide you with online web space where you can publish your WordPress website or any other type of website. WordPress.com, on the other hand, only lets you host WordPress websites on its service.
While there are other differences between the two services, which this comparison covers, this important one will rule out WordPress.com for any readers who want to do more than create a WordPress website, such as publish HTML files, build a Magento eCommerce store, or host an app.
However, if your only goal is to create a WordPress website, both SiteGround and WordPress.com are definitely worth considering.
It's also worth mentioning that SiteGround provide a few different types of web hosting, including Cloud Hosting. However, for this comparison, I'll be looking at their affordable shared hosting service with its three plans
WordPress.org or WordPress.com?
If you're a bit confused about the existence of the WordPress.org and WordPress.com websites and entities, that's perfectly understandable.
To try to clear things up, WordPress.org is the website where the open source WordPress software can be freely downloaded, while WordPress.com is the website where you'll find a commercial service that hosts the WordPress software for you.
There's more to it than that, and the full details can be found in our video that explains the differences between WordPress.org and WordPress.com.
However, all you really need to know at this point is that if you sign up with either SiteGround or WordPress.com, you'll be able to create a website with WordPress that's available for anyone to view online.
WordPress.com vs SiteGround Pricing
When it comes to pricing, both services have affordable entry-level plans, as well as more expensive higher-performance and feature-rich options.
Also, WordPress.com has a free plan that ensures you can create a website even if you don't have a budget. However, as we'll see in this article, the free plan definitely has some limitations.
As mentioned, both hosts also have money-back guarantees, so you can try without risk. While you get 30 days to change your mind with SiteGround, the WordPress.com guarantee period ranges from seven to 14 days.
As is often the case with hosting, you'll get a discount if you decide to pay annually rather than monthly. SiteGround also offer a deep discount to new customers that's applied to their first invoice. After that, you'll pay more to renew your plan, so bear that in mind when assessing the long-term affordability of these hosts and their plans.
SiteGround Shared Hosting Plans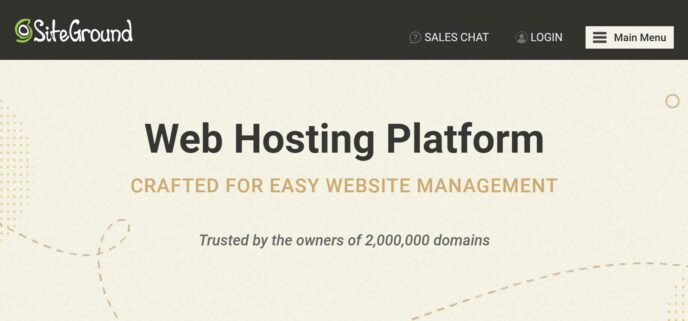 SiteGround have three shared hosting plans to choose from:
StartUp: From $6.99 a month for one website, 10 GB of web space, and ~ 10,000 monthly visits.
GrowBig: From $8.99 a month for unlimited websites, 20 GB of web space, and ~ 25,000 monthly visits.
GoGeek: From $14.99 a month for unlimited websites, 40 GB of web space, and ~ 10,000 monthly visits.
As well as a difference in features, the three SiteGround shared hosting plans have access to different levels of server resources. Because of this, the more you pay, the faster your website should load, and the better it will handle more visitors.
Although you're allowed to host an unlimited number of websites on the top two SiteGround plans, the actual number you can create will be constrained by how much web space you have access to. The monthly visits is the approximate number of visits each plan is suitable for, rather than a restriction.
Other differences between the SiteGround plans include whether or not you get access to on-demand backups (GrowBig and GoGeek plans only), access to the advanced priority support (GoGeek only), and access to the staging tool (GrowBig and GoGeek plans only). You can view the full list of what you get on each plan on the SiteGround shared hosting page.
The SiteGround hosting fees vary depending on how many months you pay for up front. New customers get a discount rate for their first invoice period, which can be as long as 36 months. After that initial period is up, you'll pay the regular rate.

SiteGround also have a WordPress hosting service listed on their website, but it's the same as the shared hosting we're looking at in this comparison.
WordPress.com Hosting Plans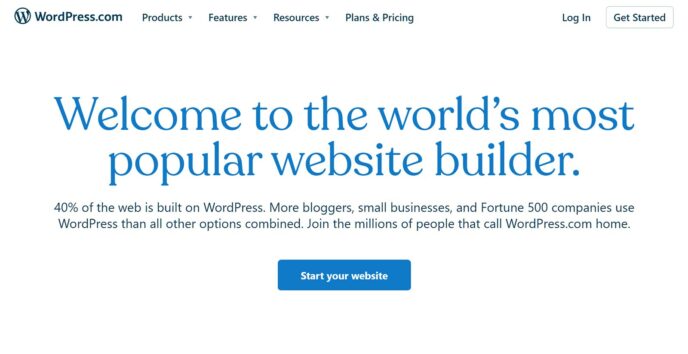 Here's a quick overview of the plans available from WordPress.com and who it suggests they're suitable for:
Free: Best for getting started.
Personal: Best for personal use — $4 a month billed annually or $7 a month billed monthly.
Premium: Best for freelancers — $8 a month billed annually or $14 a month billed monthly.
Business: Best for small businesses — $25 a month billed annually or $33 a month billed monthly.
eCommerce: Best for online stores — $45 a month billed annually or $59 a month billed monthly.
As you can upgrade to a paid plan at any point, the Free plan gives you a great way to try out this service. However, you won't get the full WordPress.com experience on the Free plan as it's lacking many of the features of the other plans, such as the ability to upload themes and plugins, earn ad revenue, back up your site, as well as more feature that I cover in this comparison.
Unlike SiteGround, you can only host one website on each WordPress.com plan, and, also unlike SiteGround, the plans all have the same level of performance. Because of this, you should experience the same load times regardless of how much you pay. We'll find out later on in this comparison whether that level of performance is better than what you get with SiteGround.
The amount of storage space you get with each plan does vary, so be sure to check the full details before making a decision.
Free Domain Registration
As well as hosting, your website will need a domain name. If you choose to pay annually for WordPress.com, you'll get a free one-year domain name registration. Your other options are registering one yourself or using a free WordPress.com subdomain.
SiteGround don't have such a deal, so you'll have to register a domain with them or elsewhere. Like WordPress.com, SiteGround will provide you with a temporary one until you register a domain.
Performance
There are many benefits of having a fast-loading website, including improved user experience, higher conversion rates and better search engine rankings. Therefore, it's important to take performance into account when choosing a web host.
So, to show what sort of loading times you can get from SiteGround and WordPress.com, I created two identical (as possible) WordPress websites, using the popular, free and lightweight Twenty Twenty theme. One site was hosted with SiteGround and the other with WordPress.com.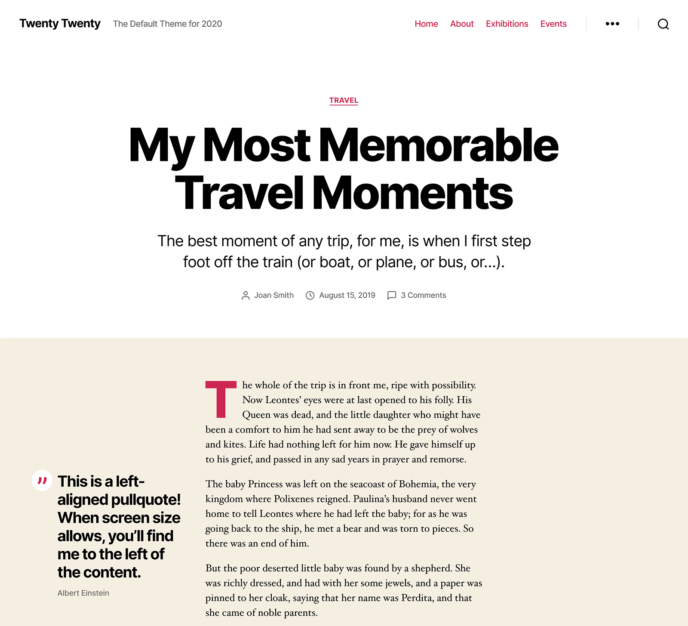 I then used the paid Pingdom service to monitor the speed of a page from those sites for seven days to find the average load times of the two hosts.
Here are the results…
WordPress.com Performance Test Results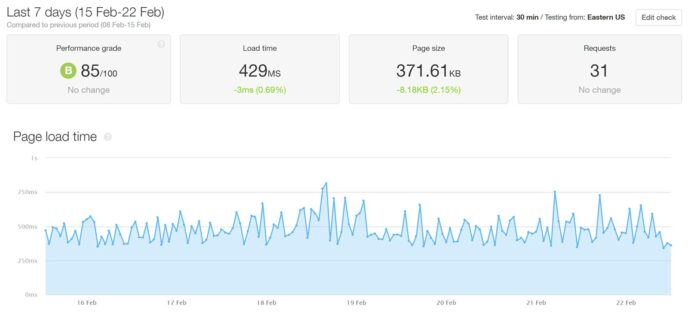 After seven days of monitoring, Pingdom recorded an average load time of 429 milliseconds or .429 seconds for the site hosted by WordPress.com
Our test site was hosted on the WordPress.com Premium plan, but, regardless of which plan you choose, you should experience the same levels of performance.
SiteGround Performance Test Results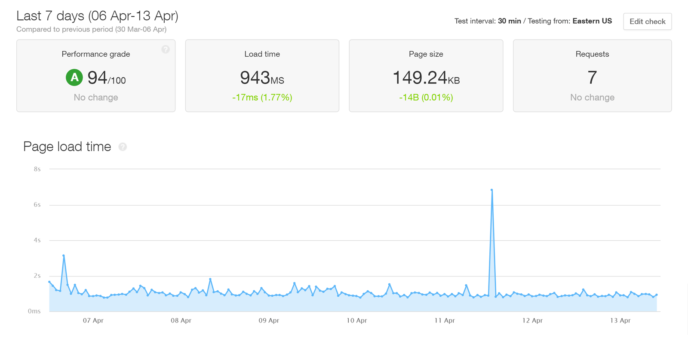 Pingdom recorded an average load time of 943 milliseconds or .943 seconds after seven days of monitoring the site hosted by SiteGround.
WordPress.com vs SiteGround Performance Summary
This test site was hosted on the entry-level StartUp plan. Although we saw in our recent SiteGround review that the more expensive GoGeek was faster, the GoGeek loading times were still not as fast as WordPress.com.
Based on our results, you'll get a faster WordPress website if you host it with WordPress.com rather than SiteGround.
In fact, your site could be more than twice as fast if you host with WordPress.com instead of SiteGround.
That's not to say that SiteGround aren't a fast host. They still scored a respectable time in this test. Also, compared with the other general-purpose shared hosts we've tested, SiteGround are the fastest. You can find out how they stack up against the competition in our SiteGround vs DreamHost and SiteGround vs Bluehost comparisons.
You can also find more information on the performance of the WordPress.com service, including what happens to the sites they host when multiple visitors access them at the same time, in our in-depth WordPress.com review.
While site speed is very important, it isn't the only thing to consider when choosing a host. As we're about to see, there are many other differences between SiteGround and WordPress.com, and among the WordPress.com plans themselves.
Verdict: WordPress.com wins here as it is the faster host.
WordPress Themes and Plugins
Perhaps the biggest difference between WordPress.com and SiteGround is you can install themes and plugins on your website on all of the SiteGround plans. With WordPress.com, though, you can only do this on the top two $25-a-month Business and $45-a-month eCommerce plans.
Why's this important? Well, themes and plugins are one of the main reasons why WordPress is such a popular and powerful website building tool.
With themes controlling the design, and plugins allowing you to add new features, you can easily turn a basic WordPress installation into almost any type of website imaginable. From professional-looking business homepages and lead generation tools to membership sites and online shops, there isn't a type of website you can't build with WordPress and the right themes and plugins. You can even create your own themes and plugins to further personalize your site.
So, with that in mind, it's disappointing you can't install your own choice of themes and plugins on most of the WordPress.com plans. However, that's not to say you don't get access to any themes or useful features.
For example, the Free and Personal WordPress.com plans let you choose from just over a hundred free themes, while the $8-a-month Premium plan and above include access to around 80 premium themes. As some of these premium themes cost as much as $150, this could help make WordPress.com a great value option.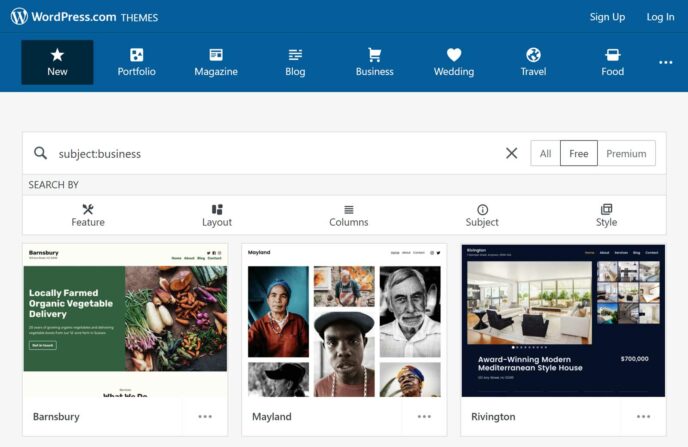 While you can upload any WordPress theme to your website if you sign up with SiteGround, including thousands of free ones, you don't get access to any premium themes as part of your plan. With popular premium themes selling for around $60, this is a cost you should factor into your project if you plan to use such a theme.
If you can justify the price of the $25-a-month Business and $45-a-month eCommerce plans from WordPress.com, you'll get access to the theme and plugin support as you would with the lower-priced SiteGround and other similar shared hosts. However, even on those plans, there are some plugins that aren't allowed. As we saw earlier in the performance test, you'll also be getting a faster website if you sign up with WordPress.com
Verdict: SiteGround are the winner as they let you install any theme or plugin on your website with any plan, although the fact that some WordPress.com plans include access to premium themes shouldn't be overlooked.
User Experience
While some of the WordPress.com plans may be lacking the plugin and theme-related options you get with SiteGround, one benefit of signing up with WordPress.com is the service is very easy to use.
As you can only host a WordPress website on your account at WordPress.com, the process for getting started, configuring your site and managing your account is very straightforward.
With SiteGround, you get a lot more freedom and functionality, such as the ability to create multiple websites (check which plans), host other types of websites, set up subdomains, and create multiple email accounts. Because of this, there are more opportunities to get lost or make mistakes with SiteGround compared with WordPress.com.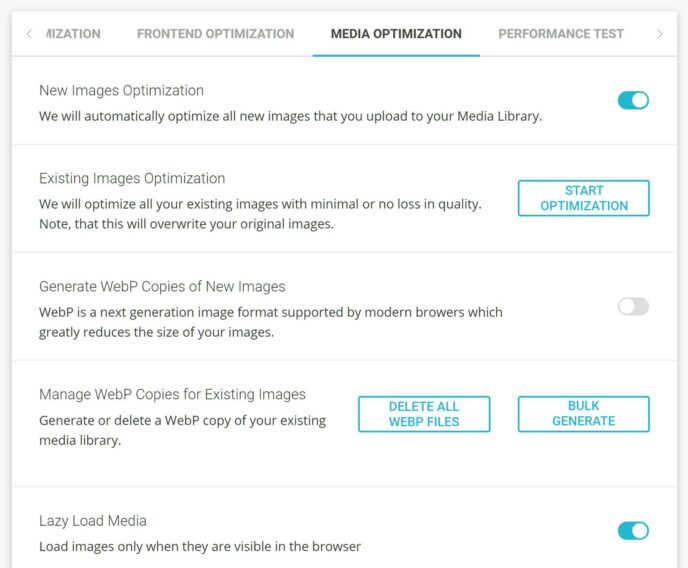 That's not to say that launching and managing a new WordPress website with SiteGround is difficult. For example, when signing up, you can choose to have WordPress automatically installed for you. Also, like WordPress.com, your website software is automatically updated if you host your site with SiteGround.
SiteGround also have a WordPress starter tool that guides you through the process of building your site.
Verdict: The WordPress.com approach definitely keeps things simple. If you just want to host a WordPress website and don't care about having the option to create other types of sites, then signing up with WordPress.com is probably one of the easiest and quickest ways to launch a new WordPress website.
SiteGround isn't difficult to use by any means. It's just that the extra freedom and options you get could be overwhelming for some. You're given more freedom and a bit more responsibility with SiteGround, which some people may not want, making WordPress.com the better option in terms of user experience.
WordPress.com vs SiteGround Summary
With the most important aspects of choosing between these two hosts covered, here's a quick summary of what we've looked at so far, along with an overview of the other main features and differences of SiteGround and WordPress.com:
Pricing: WordPress.com has a limited free plan, and its entry-level paid plan ($4 a month) is cheaper than the lowest-priced SiteGround plan ($6.99 a month). However, the more feature-rich plans from WordPress.com are more expensive than the top-level SiteGround plan.
Performance: Although both hosts are fast, our test site hosted with WordPress.com was just over twice as fast as the same site hosted with SiteGround.
WordPress Themes and Plugins: You can only install themes and plugins on the top two most expensive WordPress.com plans, whereas all of the SiteGround plans let you do this. However, some of the WordPress.com plans include access to premium themes at no extra cost, while the SiteGround plans don't.
User Experience: Both hosts make it easy to launch, create and manage a WordPress website, but WordPress.com provides a more user-friendly experience overall.
Monetization Options: From displaying ads to installing eCommerce plugins, there aren't any significant or unexpected monetization restrictions with SiteGround. WordPress.com has stricter rules on monetizing your site, but some of its plans do include some useful monetization features built-in.
Storage Space: The storage of the SiteGround plans are 10 GB, 20 GB, and 40 GB, while the WordPress.com plans range from 3 GB to 200 GB.
Backups: Only the $25-a-month WordPress.com Business plan and above include a backup and restore tool, while all of the SiteGround plans have daily automatic backups and a restore feature.
Support: Email support is available on all of the WordPress.com plans and live chat on the Premium plan and above. All SiteGround plans include telephone, chat and ticket support.
Server and Database Access: You get server access via SFTP and database access via phpMyAdmin with SiteGround, but with WordPress.com, this is only available on the top two plans.
Staging: A staging tool is available on the top two SiteGround shared plans but not at all with WordPress.com.
That covers the main aspects of these two services. Now it's time for my final thoughts on WordPress.com vs SiteGround.
Final Thoughts
Because of its Free plan, WordPress.com should appeal to anyone with little-to-no budget. The fact that you can easily switch to the paid plans at any time gives you a lot of flexibility if your situation changes.
However, the SiteGround plans do give you more for your money. Automatic daily backups, a useful staging tool, more storage, and telephone support are just some examples of this. The price of the most feature-rich plan from WordPress.com is $45 a month, while the top-level SiteGround GoGeek plan starts at $14.99 a month (although it's discounted from $39.99). Based on this, you could argue that SiteGround provide greater value for money if you want the best each host has to offer.
However, there's one big point to consider, and that's site speed.
Although SiteGround aren't slow, WordPress.com is much faster. If you plan to use your website to generate business leads, product sales or newsletter sign ups, then it could be worth paying extra for WordPress.com (if you also need access to the features that are restricted to its higher-priced plans). This is because of the impact load times have on conversions.
In short, I think it's fair to say WordPress.com offers faster loading times and a slightly more user-friendly experience, while SiteGround give you more freedom, features and options for your money. However, paying for the top WordPress.com plans does overcome some of these issues, such as feature access and the ability to install themes and plugins.
Used/using SiteGround or WordPress.com? Thoughts on each?
All comments are held for moderation. We'll only publish comments that are on topic and adhere to our Commenting Policy.